Original Link: http://www.anandtech.com/show/4533/silverstone-temjin-tj08-fat-case-in-a-little-coat


Introducing the SilverStone Temjin TJ08-E
While vendors have been all too happy to send us larger enclosures (and we've been all too happy to receive them), our coverage of Mini-ITX and Micro-ATX cases has been a little lacking. That's why we're pleased today to present SilverStone's new Temjin TJ08-E. SilverStone's Temjin line has been a popular one, and with the TJ08-E mini tower they're confident they have a winner on their hands. It has the kind of clean exterior design we've been clamoring for more of, but can it perform?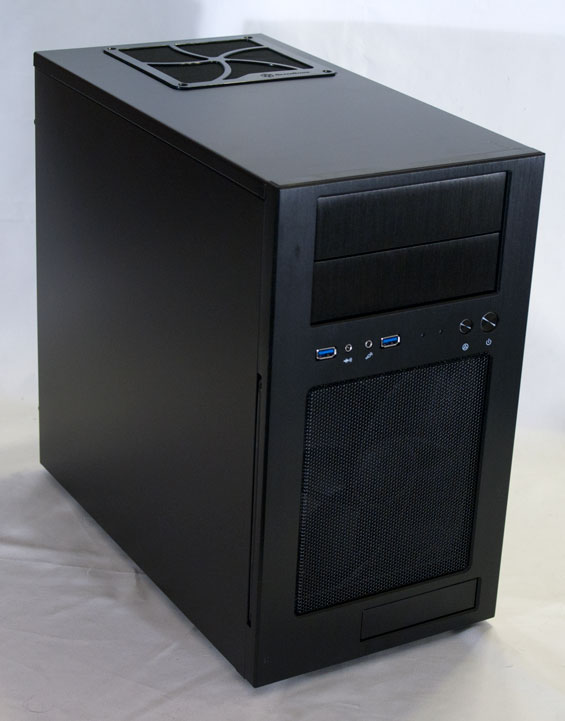 I had a chance to take a look at the TJ08-E back at CES and fell in love with it almost immediately. While I wouldn't say I'm biased towards SilverStone, I'm definitely very fond of them. When most other vendors are reiterating and refining traditional ATX case designs, the mad scientists they call engineers seem to be constantly experimenting and tweaking, making some radical changes and some less so. The results are generally enclosures that are a bit more difficult to work with than more standardized designs, but are never dull, almost always eye-catching, and sometimes that mad science pays off.
As a mini tower the TJ08-E still feels a little bit bigger than most, though it's still not as big as Antec's P180 Mini. In some ways it's a reminder that Micro-ATX isn't that micro, but SilverStone has crammed an awful lot of expandability into this enclosure.
SilverStone Temjin TJ08-E Specifications
Motherboard Form Factor
Micro-ATX, Mini-ITX
Drive Bays
External
2x 5.25", 1x 3.5" (can also store a 3.5" drive internally)
Internal
4x 3.5", 1x 2.5"
Cooling
Front
1x 180mm fan
Rear
1x 120mm fan mount
Top
-
Side
-
Bottom
-
Expansion Slots
4
Front I/O Port
2x USB 3.0, headphone and mic jacks
Top I/O Port
PSU vent
Power Supply Size
ATX
Clearance
13.25" (Expansion Cards), 150mm (CPU HSF), 160mm (PSU)
Weight
11.68 lbs.
Dimensions
15.16" x 8.27" x 14.72"
Price
$99
If you think about it, that's an awful lot of expansion space for an otherwise reasonably small mini tower. On paper at least, all I'd have to do is change out the motherboard in my video editing workstation and I could fit the entire machine, complete with all the hard drives, into the TJ08-E. As you'll see, though, something had to give to get everything inside the TJ08-E.
In and Around the SilverStone Temjin TJ08-E
Superficially the SilverStone Temjin TJ08-E looks like a simple, clean brushed aluminum mini tower with design cues that wouldn't seem out of place on a Lian Li enclosure. There's a single large vent on the front for the intake fan, two USB 3.0 ports, the standard mic and headphone jacks, and two 5.25" external drive bays. At the bottom is even a 3.5" external bay, although the placement seems a little awkward and the cover rotates a bit in the bay. Still, if you're not interested in putting a floppy drive or card reader in, internally that bay will support an additional 3.5" drive. When you get to the top of the case you'll see the typical top vent, but that vent really is anything but typical.
Your first clue that everything in the TJ08-E is a little topsy turvy is going to be when you look at the back and realize that everything has been flipped: the motherboard mounts to the opposite side of the enclosure, and the power supply bay is at the top and designed to mount the PSU upside-down. There's a major benefit to all this, though: the motherboard is now lined up behind the front 180mm intake fan.
Opening the enclosure is a three part process. Both side panels are secured with thumbscrews and you'll want to remove them. The top panel of the TJ08-E also comes off, and this is something I really wish SilverStone had simplified: you have to remove six screws to take it off, and when you're installing hardware you will need to have it removed.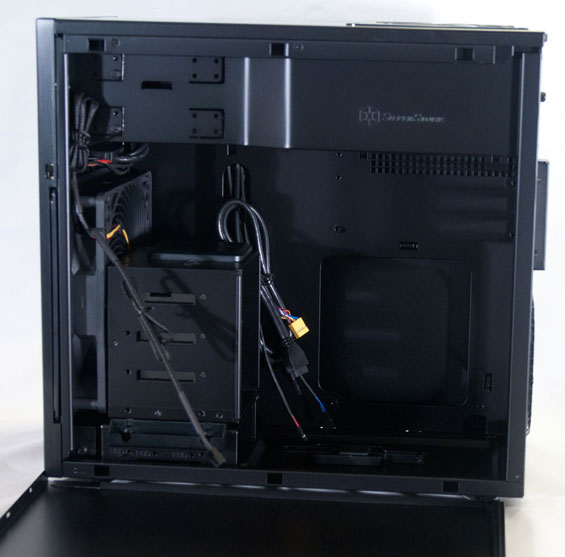 Once you're inside you'll be met with a fairly generous amount of space behind the removable motherboard tray; that removable tray is a nice enough touch and SilverStone recommends you remove it during installation, but during assembly I actually found that step was unnecessary. There's a decent-sized backplate cutout in the motherboard tray and a few holes surrounding it for routing cables.
There are also two drive cages stacked on top of each other; the top one is intended to support four 3.5" drives and is lined with a soft material to dampen vibration. I'd prefer if the drive cage were rotated with the drive ports facing the back to simplify cable routing, but space is really at a premium inside the TJ08-E with everything SilverStone packed in here. Below the top cage is a second cage that can be used to house an external 3.5" drive or an internal one, and then below that are four holes in the bottom of the enclosure used to mount a 2.5" SSD.
SilverStone also includes two features of potentially questionable value, though I think they're really ideal more for shipping than anything else, and they certainly don't hurt. There's an adjustable support on the bottom of the enclosure for larger coolers to reduce stress on the motherboard (the standoffs of which are built into the motherboard tray, thankfully), and then the top of the drive cages is raised and flat in such a way that it can support longer graphics cards to reduce stress. SilverStone includes a rubber pad that can be affixed to the cage to close the gap, too, preventing vibration in the process.
Assembling the SilverStone Temjin TJ08-E
While generally I'm a true rebel, defiantly throwing instruction manuals to the wind before diving whole hog into an assembly, SilverStone's enclosures are seldom immediately obvious, and at first glance they seem like oversized puzzle boxes. Thankfully once you understand how installation is intended to go, these puzzle boxes seem to want to be solved like big black Lament Configurations, except instead of being rewarded with Cenobites and everlasting torment (pain and pleasure intertwined, etc.) you just get a sweet case with good cooling performance.
As I mentioned on the previous page, you'll want to remove the side and top panels, but I found the removable motherboard tray, while a nice feature, wasn't necessary for our Mini-ITX testing board. The motherboard would prove to be the easiest and unfortunately the only really easy part of the installation, a casualty of how densely packed the internals of the TJ08-E can become.
Virtually nothing about the SilverStone Temjin TJ08-E is tool-less, so have a screwdriver handy, and preferably a power one. Installing the SSD meant removing two screws to take the top drive cage off, another two to remove the bottom one, and then the SSD mounts to the bottom of the enclosure. I was concerned about cabling being difficult with the SSD, but the bottom cage actually has a cutout that sits flush against the back of the SSD, allowing the ports to be easily accessed. Installing a hard drive in the top cage is fairly old school, requiring you to screw it in on both sides: nothing tool-less here. Installing the optical drive means unscrewing the drive bay shield and popping it out, and while drives can be slid in through the front of the case, you'll still need that top panel off to cable them.
Installing expansion cards is unfortunately also more involved than we'd like. Because the back of the enclosure is almost perfectly flat, an extrusion is needed to mount the cards. For the sake of looks, that extrusion is covered by a small ventilated piece attached with two screws, and that piece has to be removed before you can mount anything. I'm not necessarily sure there's a much easier way to go about this short of making the entire case a little longer and using a more traditional mounting system.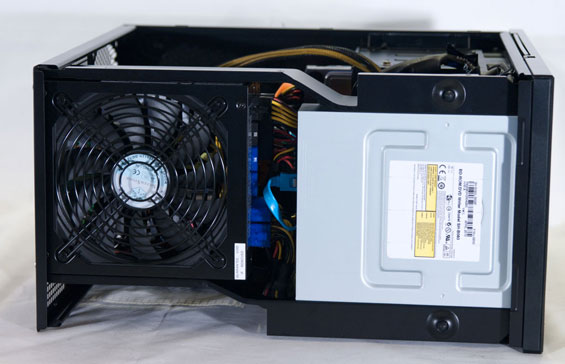 Finally, we come to the worst part: installing the power supply and routing cables. This is probably where the biggest sacrifice had to be made to fit everything into this enclosure. The power supply has to be "dropped" in from the top, and it's preferable to install it upside-down so the PSU's intake doesn't steal air from the GPU fan. Power supply clearance is at a premium, too: you'll need a 160mm PSU, period, end of discussion, and honestly you may want to see if you can find a fairly short optical drive as well. Our BD-ROM is about 185mm long and while there's enough room to cable everything, it's miles from ideal.
I also strongly suggest builders use modular power supplies wherever possible and here it might actually be a requirement. There's clearance behind the tray for routing cables, but unfortunately routing everything was just a little bit too fraught, and so our end testing build winds up feeling more cluttered than I'd like and I'm sure more than SilverStone would prefer.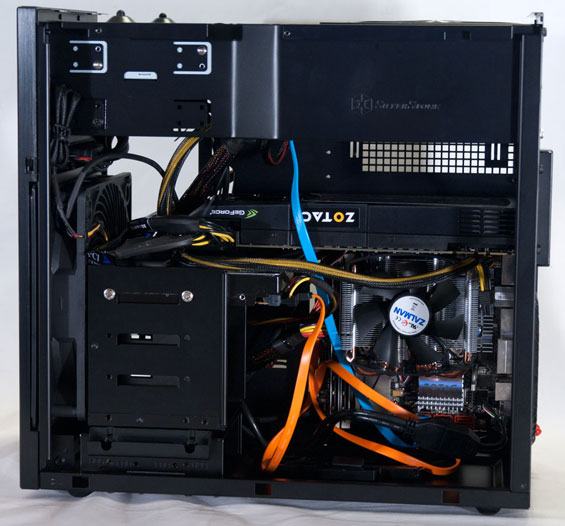 Honestly for this build it seems like the best choice for end users may very well be to just use a single HDD and a single SSD, and get rid of the top drive cage entirely. Likewise, the Samsung BD-ROM we use for testing is a popular one and there may be smaller drives; if you can find one that might be a smart route to take too.
Testing Methodology
For testing Micro-ATX and Mini-ITX cases, we use the following standardized testbed in its stock configuration and a Zotac GeForce GTX 580 in cases that support it to get a feel for how the case handles heat and noise. Due to the power supply clearance constraints of the TJ08-E, SilverStone provided us with a slightly different PSU for testing.
A refresher on how we test:
Acoustic testing is standardized on a foot from the front of the case, using the Extech SL10 with an ambient noise floor of ~32dB. For reference, that's what my silent apartment measures with nothing running, testing acoustics in the dead of night (usually between 1am and 3am). A lot of us sit about a foot away from our computers, so this should be a fairly accurate representation of the kind of noise the case generates, and it's close enough to get noise levels that should register above ambient.
Thermal testing is run with the computer having idled at the desktop for fifteen minutes, and again with the computer running both Furmark (where applicable) and Prime95 (less one thread when a GPU is being used) for fifteen minutes. I've found that leaving one thread open in Prime95 allows the processor to heat up enough while making sure Furmark isn't CPU-limited. We're using the thermal diodes included with the hardware to keep everything standardized, and ambient testing temperature is always between 71F and 74F. Processor temperatures reported are the average of the CPU cores.
For more details on how we arrived at this testbed, you can check out our introductory passage in the review for the SilverStone FT03.
Last but not least, we'd also like to thank the vendors who made our testbed possible:
Thank You!
We have some thanks in order before we press on:
Noise and Thermal Testing, IGP
SilverStone includes a small fan control switch recessed on the right side of the face of the Temjin TJ08-E that can be used to set the 180mm intake fan between high and low speeds, and so we tested with both settings. More and more I'm beginning to appreciate fan controls as just a way to make the case quieter rather than actually improving the airflow and temperatures, as you'll see in our results.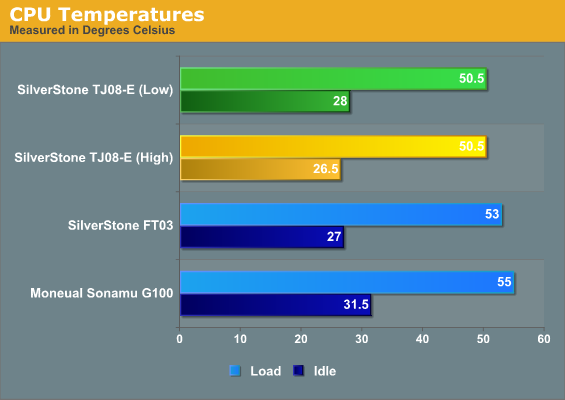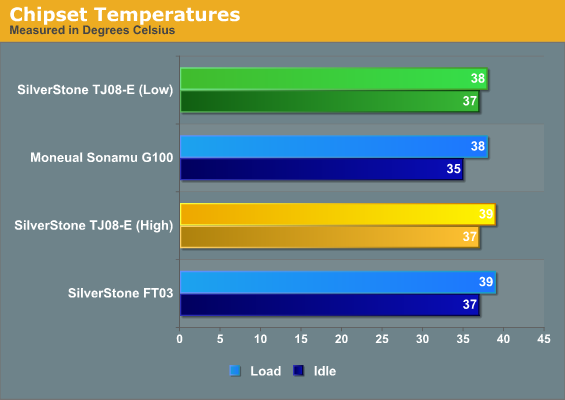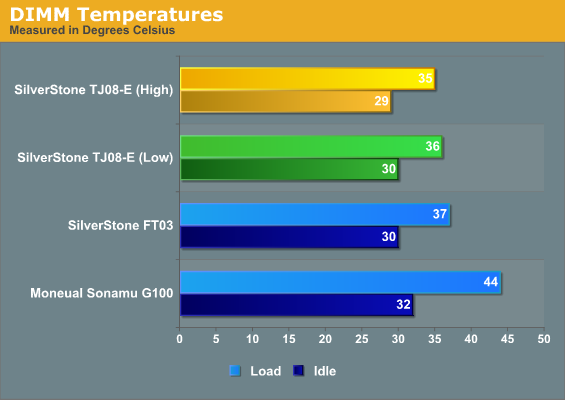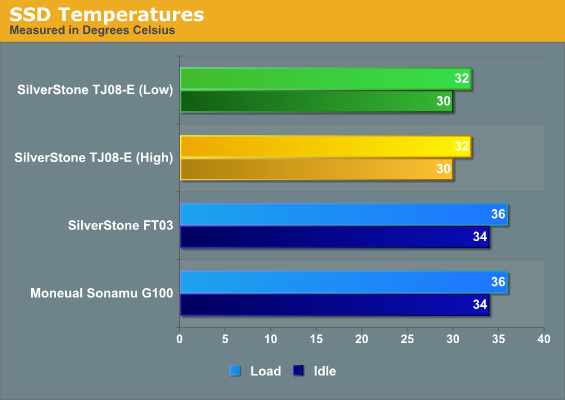 Right off the bat the TJ08-E puts in a hell of a showing. Such a good showing, in fact, that it even embarasses SilverStone's FT03. Switching between high and low fan speeds doesn't seem to do much to change thermal performance appreciably; however...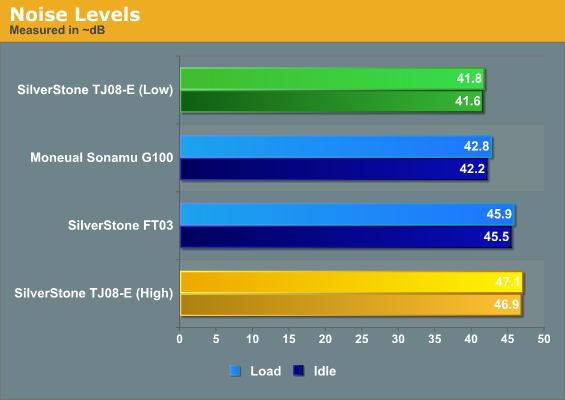 ...the low fan speed certainly helps to reduce noise level, with the high speed being the loudest Mini-ITX/Micro-ATX case we've tested. On the other side of the chart, at the low fan speed, the Temjin is the quietest of the cases we've tested. 41dB may seem like a bit much, but our testing cooler has a tendency to run a bit loudly and unfortunately the Zotac board's fan controls are anemic at best. Still, the directed wind tunnel cooling design seems to pay off well when we're using the IGP in our Intel Core i3, but let's see how well the TJ08-E handles the substantially increased thermal load brought by our Zotac GeForce GTX 580.
Noise and Thermal Testing, GeForce GTX 580
While I hesitate to suggest the SilverStone Temjin TJ08-E is really designed to handle the kinds of gaming hardware something like the more robust FT03 was designed for, the fact that I can fit a single GeForce GTX 580 in there means I have to try. I do have some concerns about the blower-style cooler being effective enough with the card inverted, but that's what testing is for.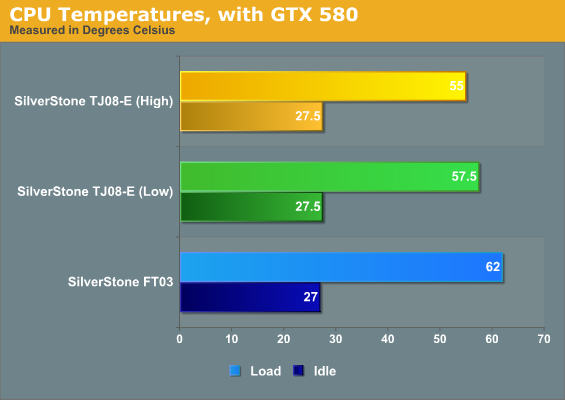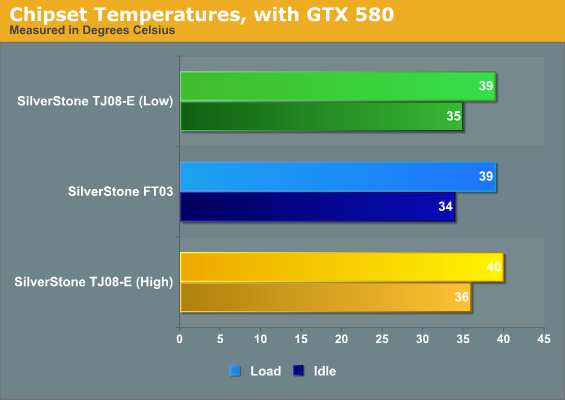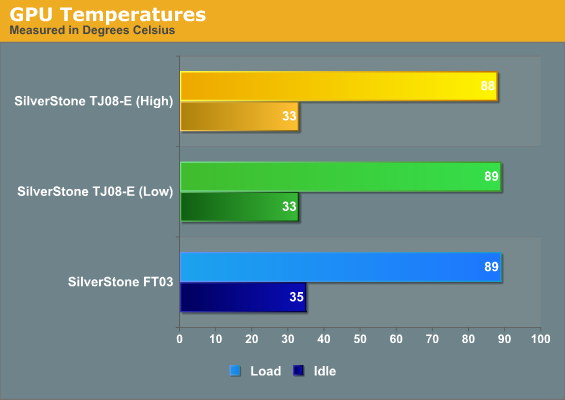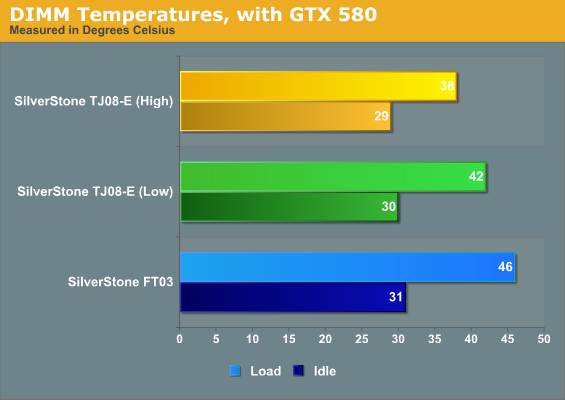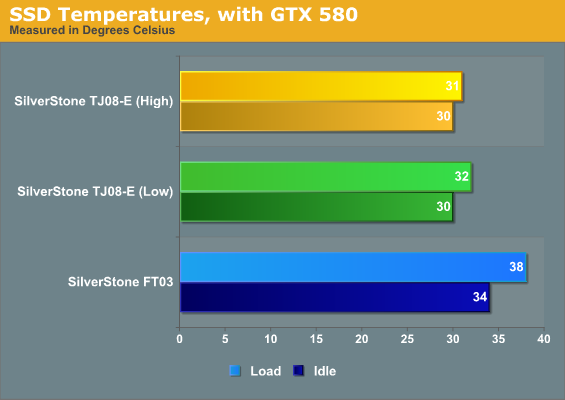 Wow. The Temjin performs consistently better than the FT03. I'd still argue that due to the way the video card is situated in a multi-GPU configuration might be too much for the TJ08-E, but at this point it's obvious you can put a pretty powerful system into the enclosure without much trouble.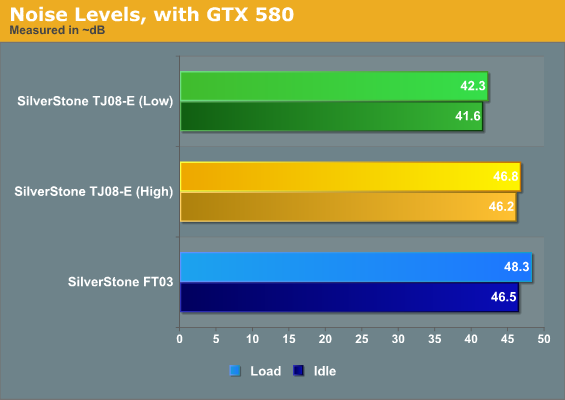 And once again, noise levels are comparatively good. The wind tunnel design of the TJ08-E is both fairly quiet and remarkably efficient. Given the temperatures, there's really no reason to use the high fan speed setting for most users.
Conclusion: Awesome Performer, But Needs Care
It's awfully hard to argue with results. I was excited to get a chance to test the SilverStone Temjin TJ08-E and now I understand why: SilverStone's design, however offbeat it may seem, ultimately proves itself when it comes to raw thermal performance. If you want to build a powerful computer in a small enclosure, odds are good you can do it with the Temjin.
Unfortunately there are some sizable caveats for building inside the TJ08-E. While I'm used to some difficulty with SilverStone's designs, the cramped quarters internally coupled with the unusual layout made cabling the entire thing borderline nightmarish. Frankly, you absolutely need a small power supply, and you need it to be modular, period, end of discussion. SilverStone is happy to sell you one, but that's definitely an addition to the pricetag that needs to be considered.
Clearance for optical drives is also pretty foggy, and while I think the case would definitely put in an even better performance with a tower-style CPU cooler and proper fan control from the motherboard (at least acoustically), you're not going to be able to fit anything huge in here. Thankfully, Cooler Master's Hyper 212 Plus is reasonably small, good, and cheap. You can also fit a big ol' video card into the TJ08-E without too much trouble, but I'd really hesitate to go for an SLI or CrossFire configuration. While it's true in our testing the Temjin performed markedly better than the more expensive FT03, the FT03's design seems better suited for multi-GPU configurations and our experience with the DigitalStorm Enix seems to confirm this.
With all that said, while the Temjin can be a royal pain to actually assemble (and thus is a poor choice for people who like to tweak their hardware or change it out frequently), for anyone who's going to build once and then maybe add something a year or so in the future it's an excellent choice. There's definitely room for improving the cooling and acoustics by the end user, which I like to see, but the overall thermal design is surprisingly effective.
The best part may just be the pricetag. At $99 the SilverStone Temjin TJ08-E is a very attractive, modern case that in some ways competes with the mid-towers we've tested. Nothing about it feels cheap, and the brushed aluminum face is a particularly nice touch. SilverStone also includes two USB 3.0 ports on the front instead of USB 2.0; these ports use a motherboard header instead of a passthrough, and SilverStone actually includes an adaptor to let them plug into a USB 2.0 header instead. If you're building from the ground up you'll want to spend some extra on the power supply (which you really should be doing anyhow), but at least the Temjin won't break the bank and will give you a heck of a lot of value for your $99. It's a fantastic enclosure...now if they could just make it easier to build.