Original Link: http://www.anandtech.com/show/4522/ecs-p67h2a-review-a-visit-back-to-lucids-hydra


If you remember back to October 2008, there were distinct murmurings about Hydra - an encompassing hardware and software solution to bring multiple GPUs together to act as one. Then, in January 2010, Ryan tested the Hydra chip, with the end result being: more development required. In my hands is the ECS P67H2-A, the latest board to include the Hydra solution. Armed with the latest version of the Hydra software too, I'm here to review this board, to see if it works as a suitable P67 solution, and if Hydra has anything to offer.
In terms of the P67H2-A itself, there are still quite a few areas that need polishing in order to improve the end user experience. There are BIOS issues relating to usability; there's a serious overclocking issue in the case of multithreading over 4.4 GHz, and the Hydra solution still isn't what we want (but you could say it's getting there, possibly). Out of the box, very few people would have issues. But it's when you get into the meat of the product where some slightly uncomfortable ridges occur, which other competitors have potentially worked on to get the better product.
Visual Inspection
The P67H2-A is a Black Series model from the ECS line-up, which means it gets the Black Series treatment - the silver, black and grey livery makes its way onto the PCB, all the slots and connectors, and the power delivery heatsink at least looks styled. The heatsink is a dual copper heatpipe design, which ECS states gives a 15-20ºC reduction in PWM temperature.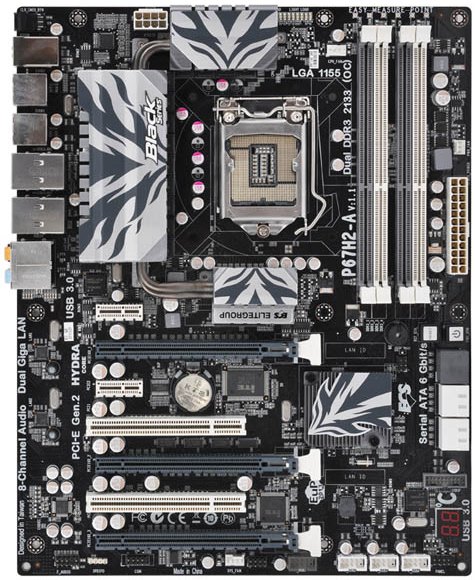 Along the top we find a 2x4-pin 12 V CPU power connector, and a series of lights indicating how many of the power phases are being utilised under different CPU loads. Next to this is a 4-pin CPU fan header – one of only three fan headers on the board (a PWR on the other side of the DIMM slots, and a SYS at the bottom of the board). Having only three fan headers on a high end board is rather shocking. Beyond the CPU fan header above the DIMM slots are voltage read points for vCore, DIMM, IMC, PCH and PLL – these require direct contact rather than easy slot in connectors, and given my experience of overclocking below, not required.
Working down the right hand side of the board, beyond the four DDR3-2133 (OC) memory slots, are onboard power and reset buttons. The PCH provides the standard two SATA 6 Gbps and four SATA 3 Gbps ports, all supporting RAID 0, 1, 5 and 10. It is odd not to find another controller provided on this board to give more internal SATA ports, given that so many others at this price range typically have another two SATA 6 Gbps ports provided by a controller. Instead, we have a controller for the eSATA 6 Gbps ports on the rear I/O panel.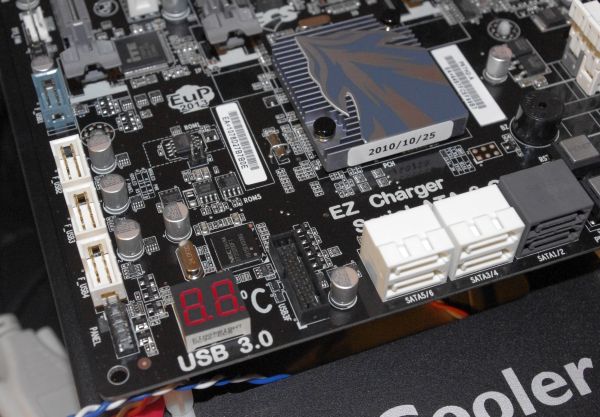 Underneath this is a USB 3.0 port, which in my eyes is in a very odd place – this is a Hydra board, designed to aid multi-GPU situations. Yet if I use two medium level GPUs (e.g. 5850s at 9.5 inches long) in the appropriate slots, this obscures the USB 3.0 header completely. This seems to be an oversight in ECS' design. Further below this port is a debug LED, which should according to the documentation double up as a 'live' temperature monitor after POST - however, this doesn't happen. Also of note is that this board doesn't have a screw hole in the bottom right, for affixing the board to a case – a hole is there, but it's neither in the right place nor the right type.
Underneath the heatsinks, this board contains a Hydra 200 chip. This chip is providing two important functions on this board – to serve as a bypass to requiring SLI certification, and also like an NF200 by organising extra PCIe lanes. As a result, the three full length PCIe x16 slots will run at x16/x16/x0 or x16/x8/x8 depending on if two or three graphics cards are used. Like the NF200, we expected this to result in a small decrease to performance compared to true x16/x16 native chipset implementations, but there may also be associated overhead in using the Hydra hardware (as well as the software). I examine the Hydra results in detail later in the review.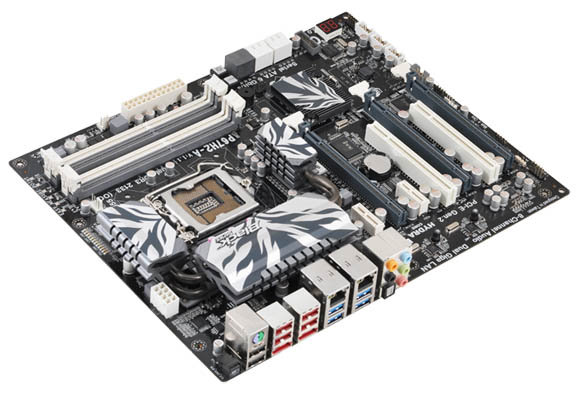 The PCIe layout itself is a mix of good and bad, using an x1, x16, x1, PCI, x16, PCI, x16 configuration – however the first x1 can be limited by the heatsink in terms of width, stalling any wide PCIe x1 cards. The only full length x1 will be blocked by any dual slot GPU. If the top two PCIe x16 slots are populated with GPUs, then the user could use the bottom PCIe x16 slot for the x1 card, however I'm unsure as to whether the slot would run in x8 mode (as all the PCIe are populated) or in x0 mode (because the GPUs are in the first two PCIe x16). It can be very hard to organise a tri-GPU motherboard and please everyone in this regard.

The back panel is a fairly reasonable layout of what would cover most people – a PS/2 port for mouse or keyboard, six USB 2.0 ports, four USB 3.0 ports (NEC controller), dual gigabit Ethernet (Realtek) which supports Teaming, a clear CMOS button, 8-channel audio jacks (Realtek) and an optical S/PDIF output.
I never claim that my sight is the best in the world, but I definitely had to strain to see ECS' latest attempt at a GUI BIOS in terms of the colour scheme. What we have here is essentially a blue background with yellow text (which works well), but when highlighted, the text turns light green, which for me at least, is hard to tell apart from the yellow, particularly when glancing at the screen.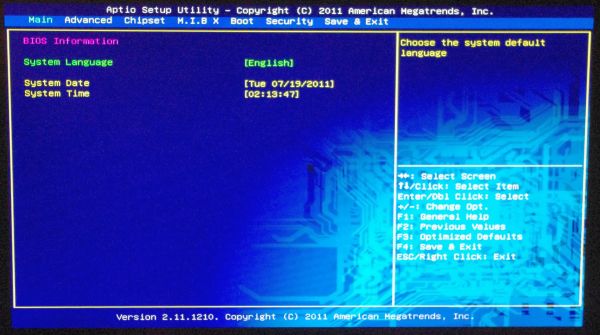 I like a BIOS to be functional and forthcoming with information. The data I want on the first screen should be a complete description of the system at hand - CPU, clock speed, temperatures, motherboard model, BIOS version, memory amount (and possibly speed), fan speeds and voltages. ECS provide almost none of these when you go into the BIOS. Arguably the BIOS version is there, but not in a version number you will recognise on their website. This is basic stuff! Surely it wouldn't take a BIOS engineer more than a day to make it more functional, and easily port that code into new versions of the BIOS over the range of products.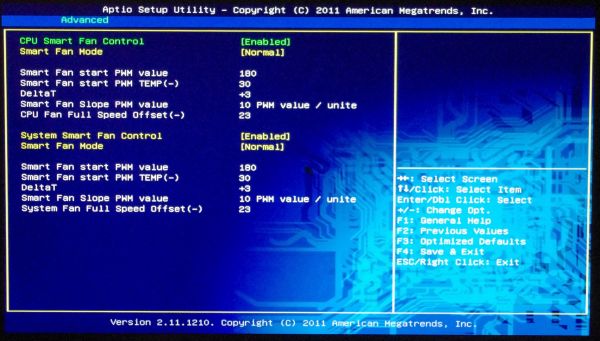 Fan control in the BIOS is more varied than using the OS utility - here we can control the CPU and SYS fan headers. The fan control labels are needlessly complicated for some unknown reason - a simple 'initial speed', 'ramp' and 'goal' temperature would have been sufficient.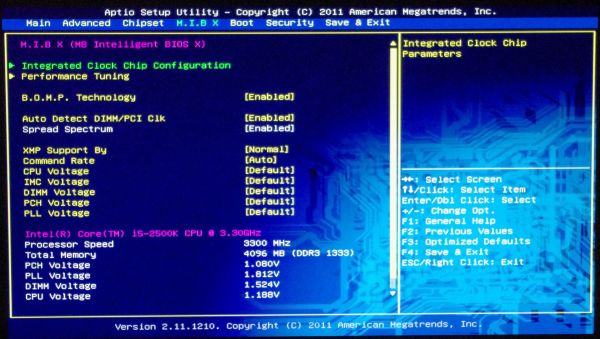 The 'overclocking' system is identical to that seen on the P67H2-A2, such that from the main overclocking section front screen there isn't much to do, apart from change voltages and set a memory XMP Profile. With the voltages, even with the latest version of this BIOS, we still see the same issues:
If you select +100 mV offset on the CPU, the voltage (according to the BIOS) is applied immediately. When you reset the motherboard and go back into the BIOS, if you change this offset, to say, 120 mV, then the BIOS directly adds the original offset to the new offset making the total voltage +220 mV from default. This is a very scary concept if it's being directly applied to the CPU at that instant - all it takes is a slip of the hand to apply another 630 mV (the max setting) on to your already overclocked processor. On reset however, the voltage returns to the latest offset setting.
Multiplier overclocking is found under the Performance Tuning -> CPU Configuration menu, along with adjusting CPU power limits. The bus speed overclocking though is found hidden under the Integrated Clock Chip Configuration -> ICC Enable set to Enabled -> ICC Overclocking -> DIV-2S, which is a stupidly elaborate way of getting to the bus speed. This option should be pulled out of this menu and placed in a dedicated overclocking menu, which was what I thought the front MIB screen was in the first place. In order to adjust the bus speed in the OS through software, the 'ICC Set Clock Enables' and 'Send ICC Lock Registers' options in the Integrated Clock Chip Configuration menu both need to be set to 'Enabled'.
Memory overclocking is in the Performance Tuning -> Chipset Configuration menu, and consists of a multiplier option and the ability to change the four main memory timings.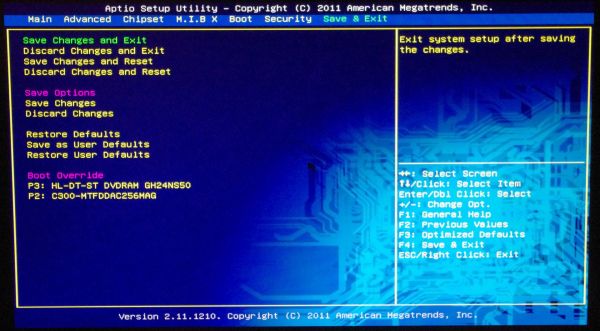 There's no system in the BIOS from which we can update the BIOS via USB, which is disappointing. But one good thing I can say about the BIOS is the boot override section, enabling a one-time boot from a different device (DVD, USB, etc.), which is something I now expect on all the motherboards I review.
Overclocking
Interestingly, when applying an XMP profile to my Patriot Viper Xtreme DDR3-2133 CL9 11-9-27 3T memory (from SPD profile), in the OS it reports it as being run at 2133 CL8 10-8-24 1T, which is a substantial shift in clock speeds. On a 16GB kit of GSkill RipjawsX DDR3-1866 CL9 10-9-28, the XMP profile was executed correctly.
With no automatic overclock options, the user is left to their own devices in overclocking from the BIOS. Initially I set the board to a 44x multiplier, but when loading to the OS a BSOD appeared, indicative of the CPU having enough voltage (note, the CPU voltage was still in the 'Auto' setting). At 43x, the board successfully booted, giving 1.296 V at load, and a Particle Movement score of 435.86 in multithreaded mode.
By upping the voltage offset in the BIOS to +200 mV (~1.46V), increasing the multiplier failed at 49x, but succeeded at 48x, where at idle 0.912 V is seen. However, at this speed, under multithreaded load, the CPU reduces itself to the 43x/44x multipliers, flickering between the two. Even by upping the power limits to 250W, this is still observed (and we saw this on the P67H2-A2 as well).
At 48x, the bus speed was increased from 100.0 MHz in small steps, eventually being stable at 101.2 MHz. At this level, under multithreaded load a CPU voltages of 1.476 V was seen (~56ºC on the Corsair H50), and under single threaded load, 1.5 V. However, the CPU still throttled back to 43x/44x for the multithreading programs.
In terms of benchmark improvements, the Particle Movement single threaded version increased from 113.08 to 149.47 (4855.8 MHz), and the multithreaded version increased from 343.16 to 444.29 (4350.1-4451.4 MHz),
Board Features
ECS P67H2-A
Market Segment
Performance
CPU Interface
LGA 1155
CPU Support
i3/i5/i7 Sandy Bridge
Chipset
P67
Base Clock Frequency
100 MHz by Default, 38.1 MHz to 655.35 MHz
DDR3 Memory Speed
1333 MHz by Default, 1067 MHz to 2133 MHz supported
Core Voltage
-200 mV to +630 mV offset
CPU Clock Multiplier
CPU Dependent
DRAM Voltage
-200 mV to +630 mV offset
DRAM Command Rate
Auto, 1T or 2T
Memory Slots
Four DDR3-DIMM
Maximum 16 GB, Non-ECC Unbuffered
1067, 1333, 1600, 1867 and 2133 MHz supported
Expansion Slots
3 x PCIe x16 (x16/x16/x0 or x16/x8/x8)
2 x PCIe x1
2 x PCI
Onboard SATA/RAID
2 x SATA 6 Gbps (RAID 0, 1, 5, 10)
4 x SATA 3 Gbps (RAID 0, 1, 5, 10)
2 x eSATA 6 Gbps (Marvell 88SE9128)
Onboard
2 x SATA 6 Gbps
4 x SATA 3 Gbps
3 x Fan Controllers
4 x USB 2.0 headers
1 x USB 3.0 header
Power/Reset buttons
Debug LED
Front Panel Audio header
SPDIF output header
Serial Port header
Front Panel header
Onboard LAN
Dual RealTek RTL8111E Gigabit Fast Ethernet Controllers with Teaming
Onboard Audio
Realtek ALC892 8-Ch High Definition audio CODEC
Power Connectors
1 x 24-pin ATX
1 x 8-pin 12V
Fan Headers
1 x CPU
1 x SYS
1 x PWR
IO Panel
4 x USB 3.0 Ports (NEC Controllers)
6 x USB 2.0 Ports
1 x PS/2 Port
2 x Gigabit Ethernet
2 x eSATA 6 Gbps
1 x Clear CMOS button
1 x Optical SPDIF output
Audio Jacks
BIOS Version
08/04/2011
Warranty Period
3 Years
In The Box
6 x locking SATA 6 Gbps cables
USB 3.0 Front Panel
Driver CD
Manual
Quick Start Guide
Nothing too much out of the ordinary from the box bundle - at this level, the USB 3.0 Front panel should be standard (even if you can't use it with two full length GPUs in there), and ECS fill their box with enough SATA cables to plug a drive into every internal SATA port.
Software
We've previously looked at ECS' software package in our coverage of the ECS P67H2-A2 and the ECS H67H2-M. Not much has changed - even the issues I found are still here. For example, the BIOS Live Update utility did not detect the latest version on the website, so I had to search for it manually, the BCLK can only be changed with the right BIOS option enabled, and as the voltage continually switches between states, actually setting it in the OS can be hazardous if you set the idle state high (so the load state goes even higher) or set the load state low (so the idle state goes even lower) - this is all due to the BIOS using voltage offsets, rather than actual values.
eSF (Smart Fan)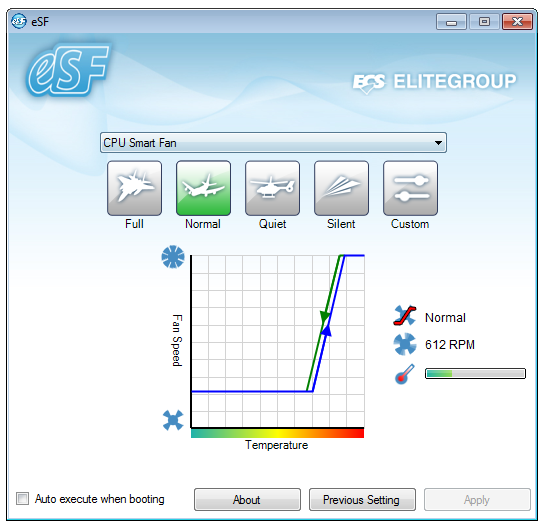 The Smart Fan utility controls the CPU fan header only for the P67H2-A, in either one of the preset modes, or the custom setting allows for hysteresis on the speed up/down modes.
eBLU (BIOS Live Update)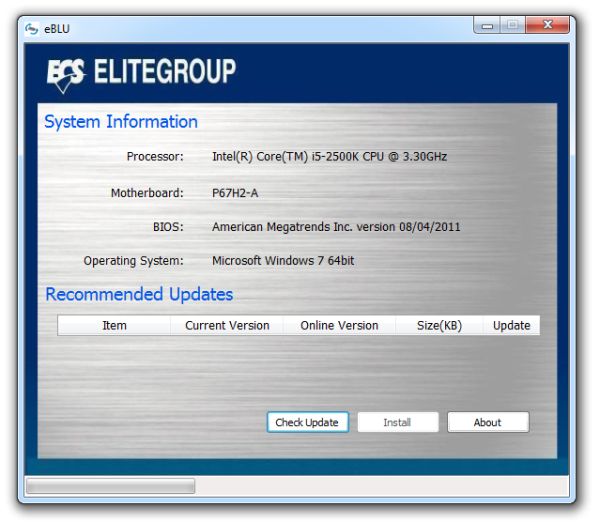 The Live Update software, as mentioned above, could not find the latest version of the BIOS on the ECS servers, and thus I had to search for the BIOS myself.
eDLU (Download Live Update)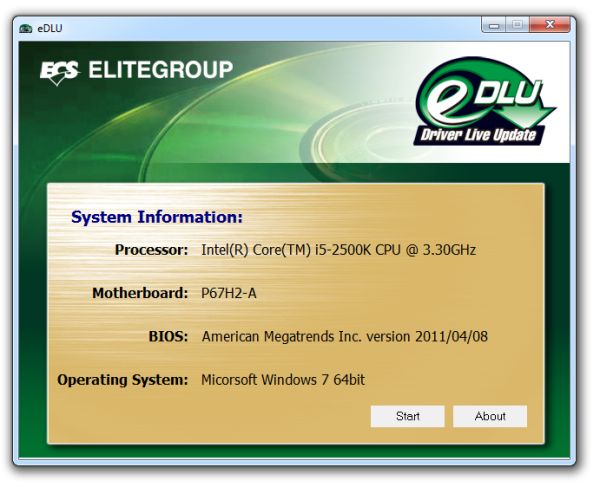 The Download Live Update system is not what you think - rather than searching your OS for the state of the drivers, and then probing the ECS servers to check the versions, and asking the user to download them from the software, eDLU is essentially just a link to the driver update page for the P67H2-A on the ECS website.
eGS(Green Saver)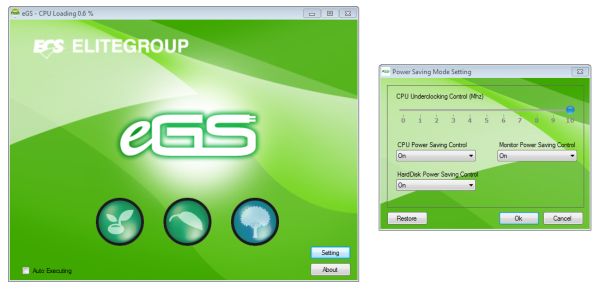 The eGS software is relatively redundant on the Sandy Bridge platform. With this utility, the idea is that the software will reduce the CPU clock speed in idle situations. Sandy Bridge processors do that anyway, reducing to the 16x multiplier when idle.
eOC (Overclocking)
In terms of what we have seen from other overclocking utilities from other manufacturers, eOC is pretty low down on the ladder to begin with - it is essentially software from the socket 775 era software, modified for P67.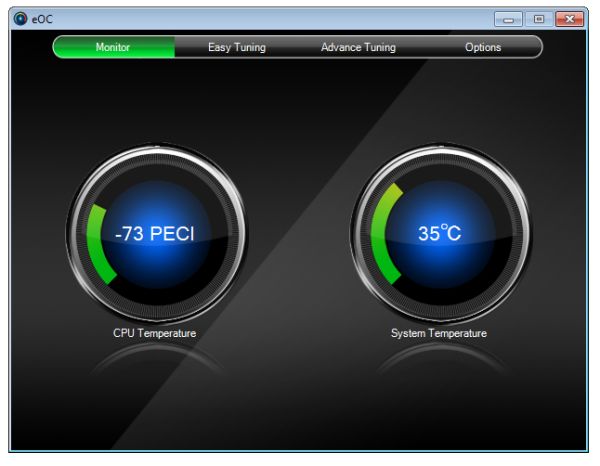 The main page is a simple temperature monitor for the CPU and 'System' temperatures. The CPU temperature is measured in terms of PECI, or the number of degrees before the CPU is throttled due to thermal limitations, rather than an absolute value.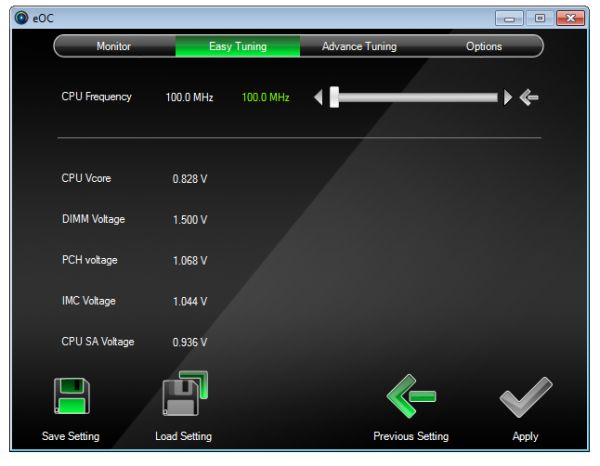 The Easy Tuning tab gives voltages and a CPU Frequency slider, allowing you to adjust the CPU frequency. This slider is the throwback from socket 775 days, when BUS frequencies could reach several hundred MHz—as such, it offers between 100 MHz and 200 MHz in 1 MHz intervals, even though a Sandy Bridge processor can only manage a few MHz due to its integrated clock generator subsystem. Given my stress in getting this option to work when it was on the P67H2-A2, I know now that two obscure BIOS options need to be enabled (both 'ICC Set Clock Enables' and 'Send ICC Lock Registers') for the eOC software to apply a CPU frequency. As we're limited to per MHz values, it's pretty coarsely grained. Also, any change here directly changes the values in BIOS.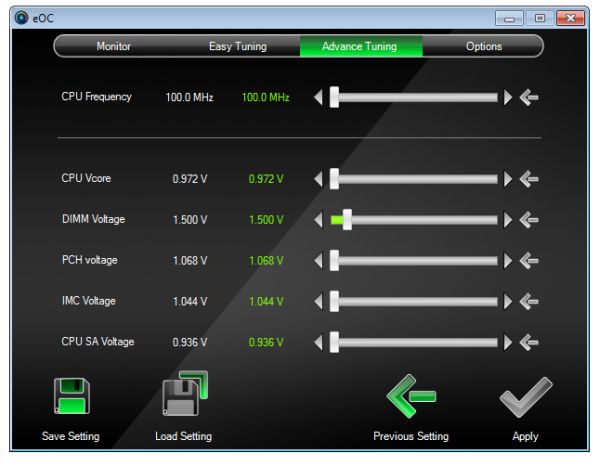 The Advance Tuning menu gives you power over the motherboard voltages. These settings work out of the box, but as mentioned previously and found on the P67H2-A2, the issue here is with the CPU voltage. On idle, the CPU will flicker between various low state voltages, and this slider value will flicker too. So if you want to select 1.2 V, you need to make sure what state the CPU is in at the time and apply it at the right moment. If a high voltage is selected at a low CPU state, you could end up with a potentially damaging high voltage in a full CPU load scenario.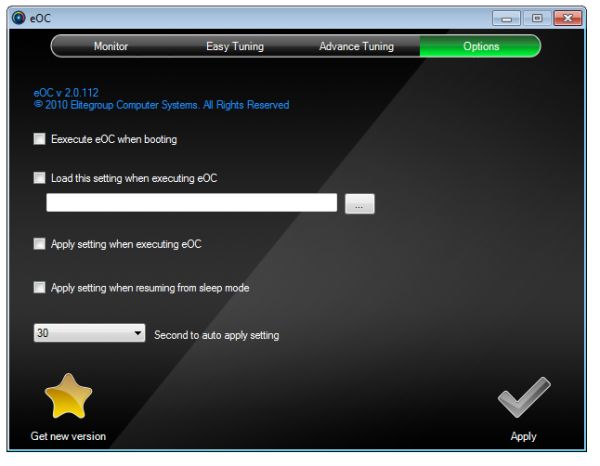 The Options menu, apart from the spelling mistake, doesn't really do much, apart from enabling a saved eOC to enable itself at bootup.
eJiffy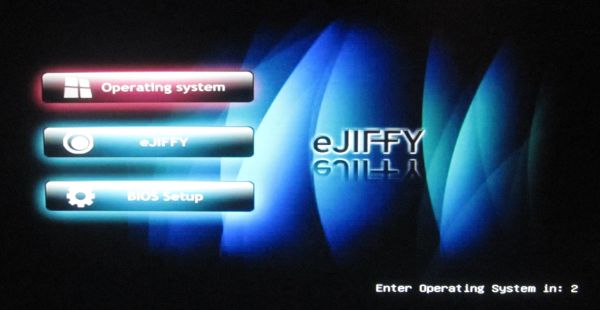 The eJiffy software is a quick-boot technology which loads the user into a simple Linux interface through which they can access the web. Loading into eJiffy is very quick compared to an SSD and Windows combination, and gives a simple Mozilla type web browser, suitable for when a user wants nothing more than to browse. We covered eJiffy in more detail in our H67 ECS review as it is a pretty neat addition and we rather like it—read here for more details.
Test Setup
Many thanks to...
In order to perform the Hydra tests, ECS were very kind enough to send me two of their GTX 580 graphics cards, for this review and future reviews. The ECS NGTX580-1536PI-F contains 512 CUDA cores, running at 770 MHz, with 1536 MB of memory at 1 GHz (4 Ghz effective). These units are currently on sale at Newegg.com for $505 with a warranty of three years for parts, and two years for labor.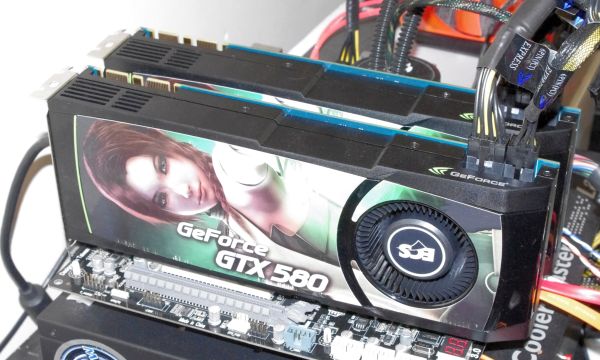 Comparison to Previous Results
Where applicable, the results in this review are directly compared to the following chipsets and boards which we have reviewed previously:
Power Consumption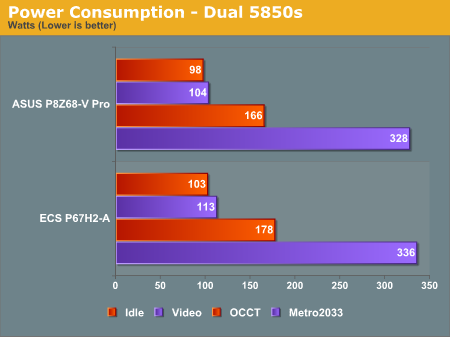 Unfortunately for this power supply we don't have many figures to compare the P67H2-A against, but the ASUS P8Z68-V Pro uses less power in this regard.
CPU Temperatures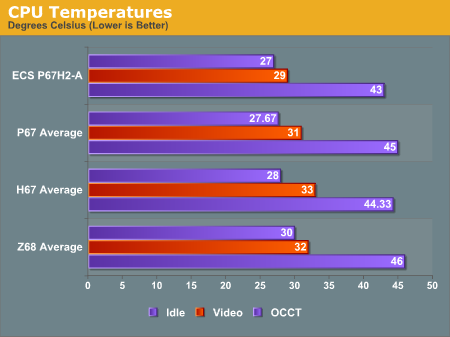 The ECS does well in the temperature readings compared to other boards we have tested, especially during HD video playback.
LAN Speed Test
LAN Speed Test is a freeware program designed for testing the network connection between two PCs on a home network. The speed of the transfer is limited by the lowest common denominator on the network, so if you have gigabit Ethernet capable computers but a 100 Mbit capable router, you are limited to 100 Mbit transfer. Note that this is really a formality – if a network port is rated at 1 Gbps, then chances are that it will hit at least 90+% of this value. The main test here is CPU usage, and how much is offloaded by the controller. For this test, we use LAN Speed Test to transfer a 1000 MB file across a home network with a 100 Mbps lowest common speed to the same machine each time, in a read/write scenario. CPU usage is taken as a visual max/average from task manager.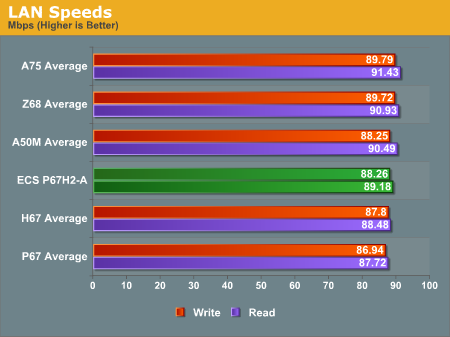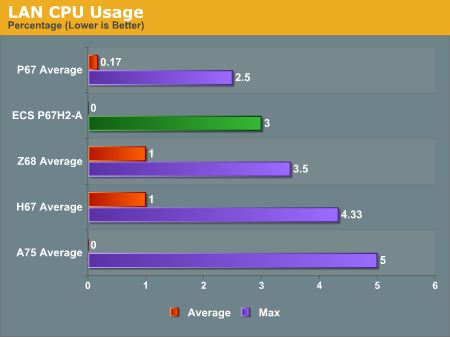 The P67H2-A falls relatively in the middle compared to other boards we've tested in terms of network performance, and below the P67 average overall in peak CPU usage.
USB Speed
For this benchmark, we run CrystalDiskMark to determine the ideal sequential read and write speeds for the USB port using our 64GB Patriot SuperSpeed USB 3.0 drive. Then we transfer a set size of files from the SSD to the USB drive, and monitor the time taken to transfer. The files transferred are a 1.52 GB set of 2867 files across 320 folders – 95% of these files are small typical website files, and the rest (90% of the size) are the videos used in the Sorenson Squeeze test.
USB 2.0 write speed is fairly lacking on the ECS board in terms of sequentials, losing 3 MBps to the P67 average.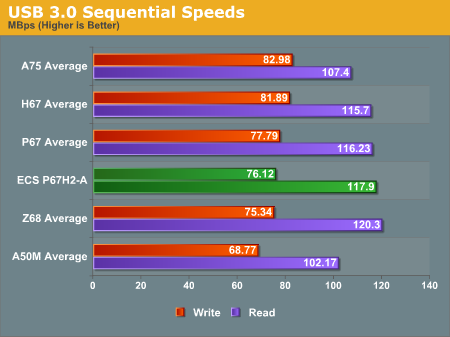 Also here, the USB 3.0 sequential write speeds are below the P67 average.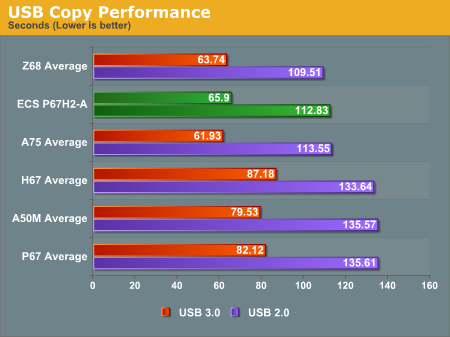 In terms of real world copy performance however, it looks like the ECS driver does the job compared to almost every other board tested.
SATA Testing
We also use CrystalDiskMark for SATA port testing. The operating system is installed on the Micron RealSSD C300, which is rated at 355 MB/s read and 215 MB/s write, and the sequential test is run at the 5 x 1000 MB level. This test probes the efficiency of the data delivery system between the chipset and the drive, or in the case of additional SATA ports provided by a third party controller, the efficiency between the controller, the chipset and the drive.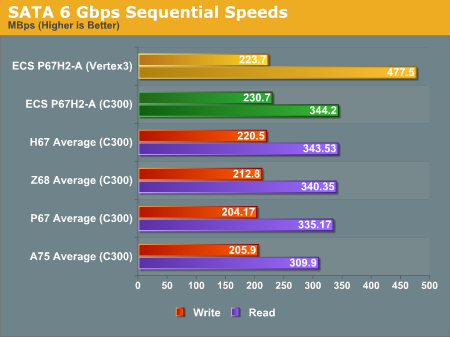 At peak speeds with the C300, the ECS board is one of the best we've tested on the SATA 6 Gbps PCH ports.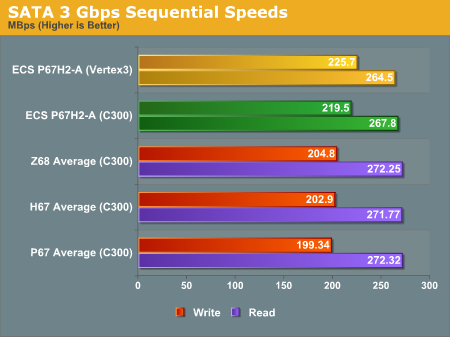 This is also echoed in the SATA 3 Gbps results.
DPC Latency
Deferred Procedure Call latency is a way in which Windows handles interrupt servicing. In order to wait for a processor to acknowledge the request, the system will queue all interrupt requests by priority. Critical interrupts will be handled as soon as possible, whereas lesser priority requests, such as audio, will be further down the line. So if the audio device requires data, it will have to wait until the request is processed before the buffer is filled. If the device drivers of higher priority components in a system are poorly implemented, this can cause delays in request scheduling and process time, resulting in an empty audio buffer – this leads to characteristic audible pauses, pops and clicks. Having a bigger buffer and correctly implemented system drivers obviously helps in this regard. The DPC latency checker measures how much time is processing DPCs from driver invocation – the lower the value will result in better audio transfer at smaller buffer sizes. Results are measured in microseconds and taken as the peak latency while cycling through a series of short HD videos - under 500 microseconds usually gets the green light, but the lower the better.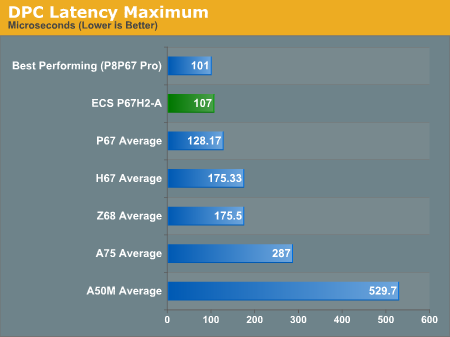 The ECS board is one of the best we've had in terms of DPC latency.
3D Movement Algorithm Test - link
The first benchmark ran is actually one I have written. My full time job involves computational chemistry, so this first benchmark uses various algorithms for three-dimensional simulation and movement of independent particles. The algorithms both employ uniform random number generation or normal distribution random number generation, and vary in various amounts of trigonometric operations, conditional statements, generation and rejection, fused operations, etc. The benchmark runs through six algorithms for a specified number of particles and steps, and calculates the speed of each algorithm, then sums them all for a final score. This is an example of a real world situation that a computational scientist may find themselves in, rather than a pure synthetic benchmark. The benchmark is also parallel between particles simulated, and we test the single thread performance as well as the multi-threaded performance.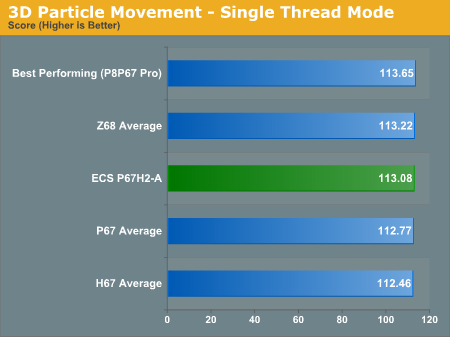 In terms of pure throughput, the ECS board brings up no surprises and falls well within the margin of error compared to other boards.
WinRAR x64 3.93 - link
With 64-bit WinRAR, we compress the set of files used in the USB speed tests. WinRAR x64 3.93 attempts to use multithreading when possible.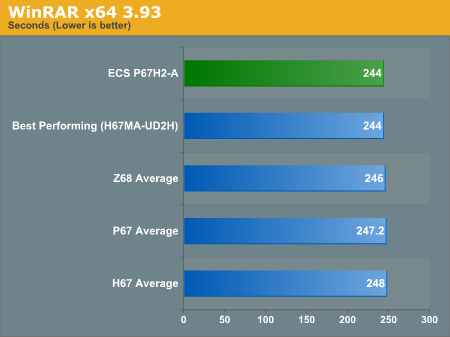 In this test, the ECS board equals our best ever result of 244 seconds.
FastStone Image Viewer 4.2 - link
FastStone Image Viewer is a free piece of software I have been using for quite a few years now. It allows quick viewing of flat images, as well as resizing, changing color depth, adding simple text or simple filters. It also has a bulk image conversion tool, which we use here. The software currently operates only in single-thread mode, which should change in later versions of the software. For this test, we convert a series of 170 files, of various resolutions, dimensions and types (of a total size of 163MB), all to the .gif format of 640x480 dimensions.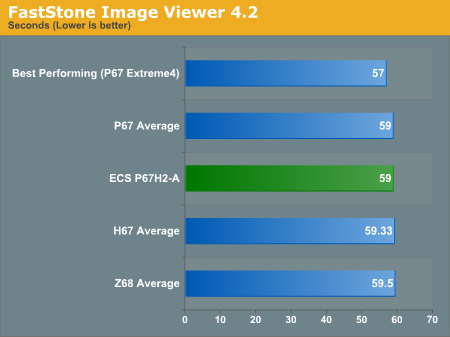 Sorenson Squeeze 6.0 - link
Sorenson Squeeze is a professional video encoder, complete with a vast array of options. For this test, we convert 32 HD videos, each a minute long and approximately 42 MB in size, to WMV 512KBps format. Squeeze can encode multiple videos at once, one for each thread.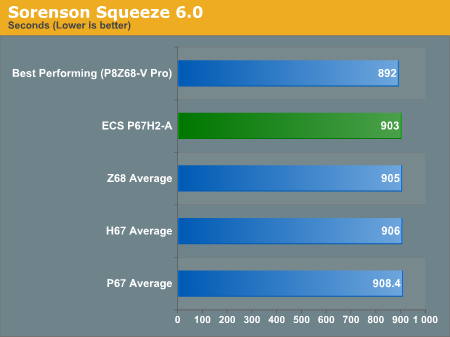 Left4Dead2
Left4Dead2 is a classic Steam FPS DirectX 9 shooter. It changes very quickly from GPU to CPU bound over a certain limit - our test is a timedemo taken from a run through of the first level.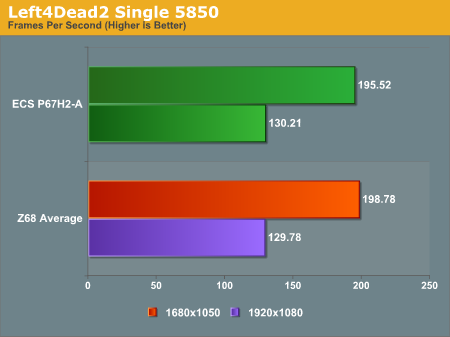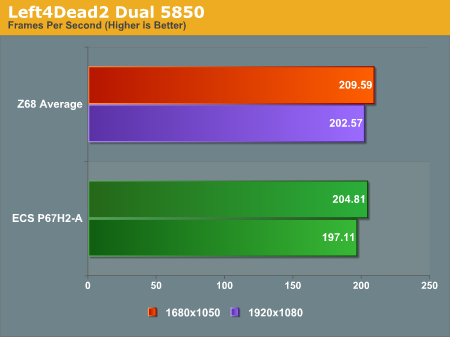 As L4D2 hasn't been in our bench suite long, we can only compare it to our Z68 results. At every level apart from 1920x1080 on a single GPU, the benchmark is essentially CPU or memory limited - however the ECS board only outperforms at 1920x1080 on a single GPU but is behind in every other result.
Dirt 2
Dirt 2 came to the PC in December 2009, developed by Codemasters with the EGO Engine. Resulting in favorable reviews, we use Dirt 2's inbuilt benchmark under DirectX 11 to test the hardware. We test two different resolutions at two different quality settings using a discrete GPU, and an appropriate integrated GPU setting.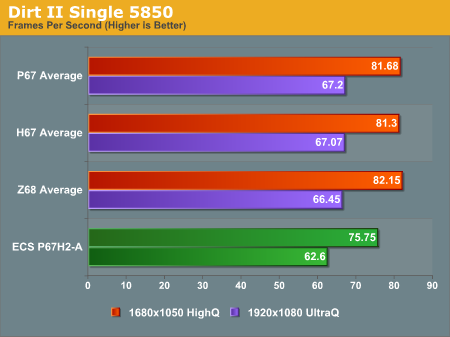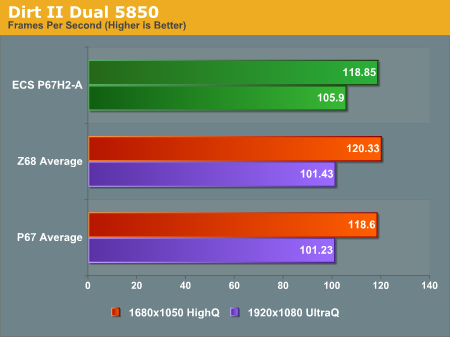 Oddly, in single GPU mode, Dirt II gives a much worse result than any other board tested. I went back and retested these numbers, and got the same result. In contrast, in the dual GPU settings, at 1920x1080, the P67H2-A takes a clear lead by 4.5 FPS, possibly due to the x16/x16 PCIe layout.
Metro 2033
Metro 2033 is the Crysis of the DirectX 11 world (and it's even more demanding than Crysis 2), challenging every system that tries to run it at any high-end settings. Developed by 4A Games and released in March 2010, we use the inbuilt DirectX 11 Frontline benchmark to test the hardware.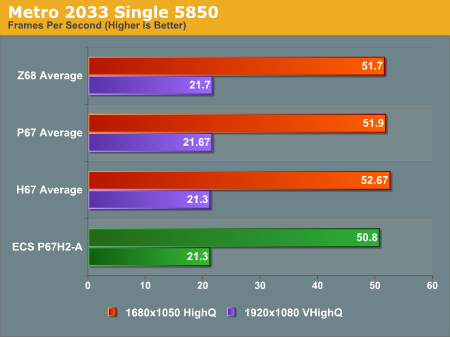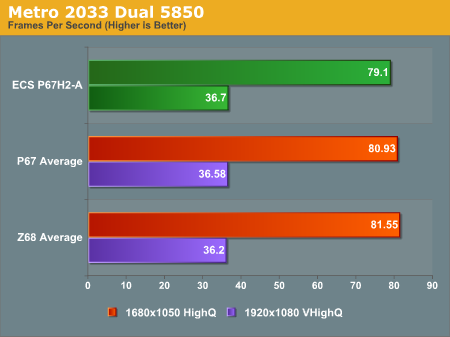 No surprises here - all results are within a reasonable margin of error.
For those who have never come across Lucid Hydra before, at release, it was heralded as the end of all other multi-GPU solutions. Using this hardware and software interface, all DirectX and OpenGL calls would be intercepted and managed between the GPUs available on board, regardless of manufacturer, make, model, power, memory size, everything. In reality, things were tougher than they seem.
I'm not going to speak about how Hydra works in detail - Ryan's tests and explanation have covered that in significant detail. Today, I'm purely looking at how it performs in the market against some of the current retail titles, and how well the solution works.
ECS provide the Hydra software on the CD in the motherboard set, but unfortunately this is the 1.6.1 version, which predates October 2010. The latest edition is available from the LucidLogix website, and currently rings in at version 1.7.105. This version is still a few months old though, and it shows. With the Hydra solution, you are limited to which drivers can be used - in terms of NVIDIA, the latest compatible drivers are 266.58, and with AMD it is the 11.3 ones you have to use.
The Hydra solution supports most combinations of AMD and NVIDIA hardware - NVIDIA support is for the GF 9xxx, 2xx, 4xx and 5xx series (excluding GTX 295 and GTX 590), AMD support is for the HD 4xxx, 5xxx and 6xxx series (except HD 5970 and HD 6990). Within this hardware list, Hydra only supports similar performance configurations - otherwise the overhead of supporting a powerful GPU and a HTPC GPU may be more than what the HTPC GPU can offer. Here are the diagrams Hydra provide in their documentation:
AMD+AMD: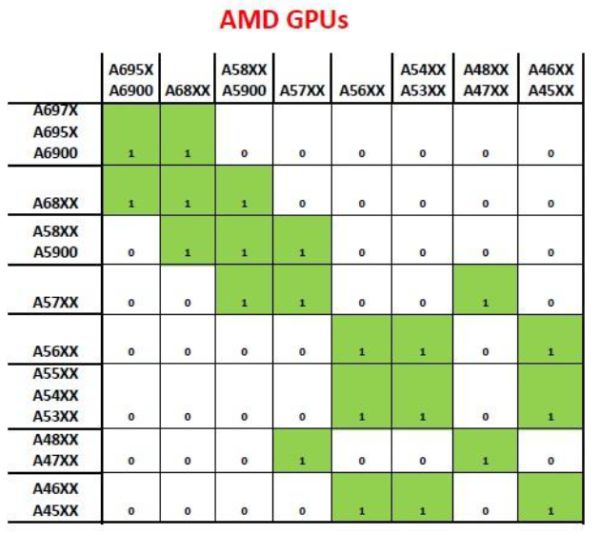 NVIDIA+NVIDIA: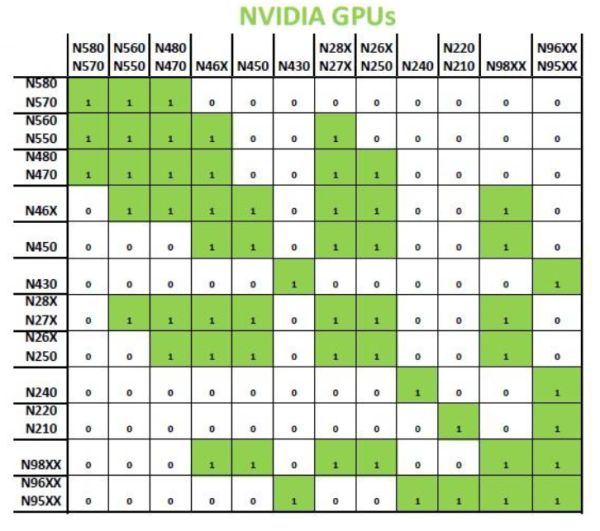 AMD+NVIDIA: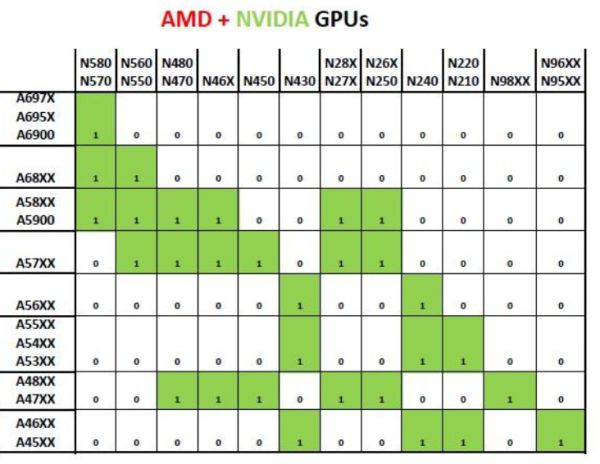 The Hydra solution is limited in other ways as well. The idea for this was that it would automatically intercept calls to the graphics cards and distribute the work accordingly. In reality, the Hydra software needs to be told which programs to intercept, and the way it is performed is actually misleading. The software itself will list 200+ games and benchmarks that Hydra will detect, but the Hydra system will actually only work with 43 according to the documentation. These are, in alphabetical order:
1. 3DMark 11
2. 3DMarkVantage
3. 3DMark 06
4. Aliens vs Predators
5. Aliens vs Predators benchmark
6. Batman: Arkham Asylum
7. Burnout Paradise ultimate
8. Call of Juarez
9. Company of Heroes
10. Cryostasis
11. Crysis Warhead
12. Devil May Cry 4
13. Devil May Cry 4 Benchmark
14. Fallout 3
15. Far Cry 2
16. Fear 2
17. Hawx
18. Call of Duty: Black Ops
19. Call of Duty: Modern Warfare – Single Player
20. Call of Duty: Modern Warfare – Multi Player
21. Call of Duty: Modern Warfare 2 - Single Player
22. Call of Duty: Modern Warfare 2 - Multi Player
23. Jericho
24. Left 4 Dead
25. Left 4 Dead 2
26. Mini Ninjas
27. Operation Flashpoint Dragon Rising
28. Prince of Persia: The Forgotten Sands
29. Resident Evil 5 Japanese (Biohazard)
30. Resident Evil 5
31. Stone Giant
32. Stormrise
33. Supreme Commander
34. Supreme Commander 2
35. The Witcher - enhanced
36. Tomb Rider
37. Trackmania Forever
38. Trackmania Nations
39. Velvet Assassin
40. Unigine Heaven 2.1
41. Wanted Weapons of Fate
42. World in Conflict
43. Wolfschanze 2
This is rather disappointing. Using the Hydra solution as an SLI certification bypass doesn't really work if there are only this many applications that the system supports.
Nevertheless, we've tested it on a few programs - Alien vs. Predator, Hawx, Far Cry 2, and a synthetic, 3D Mark Vantage. I've put a synthetic in there for one reason - it should give an indication of the maximum performance a combined multi-GPU setup should give. A synthetic doesn't really mimic real-world performance, as the algorithms used in them will try and use all the GPU capabilities all the time, but as an upper rung it might be worth taking a look.
For the tests, ECS provided us with a pair of their GTX 580 GPUs, which are the default factory versions with ECS stickers. Using these in conjunction with a pair of HD 5850s allows the following GPU combinations:
GPU 1
GPU 2
GPU 3
Hydra / CrossFire
580
5850
580
580
Hydra
5850
5850
Hydra
5850
5850
CrossFire
580
5850
Hydra
5850
580
Hydra
580
5850
5850
Hydra
5850
580
5850
Hydra
5850
5850
580
Hydra
5850
580
580
Hydra
580
5850
580
Hydra
580
580
5850
Hydra
The reason for doing combinations such as 580+5850+5850, 5850+580+5850 and 5850+5850+580 are both for compatibility and to see if moving PCIe slots (and going from 16x to 8x lanes) makes a difference. Hypothetically speaking, we would expect the system to work best when the most powerful cards are first in the list.
3DMark Vantage
Now for some results - first, 3DMark Vantage. Here we take the GPU score of the benchmark: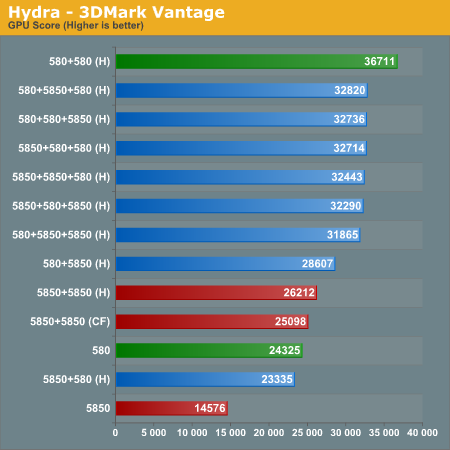 Quite a few issues come through here:
- A single 580 is better than a 5850+580 combination in Hydra
- The 580+5850 combination outperforms the 5850+580 due to the more powerful card being first
- 5850+5850 in Hydra beats the same combination in CrossFire
- All the three card setups perform roughly the same.
- Two 580s in Hydra outperform all the three card setups.
Aliens vs. Predator
For DirectX11, we've taken the Aliens vs. Predator benchmark, and run through the GPU combinations: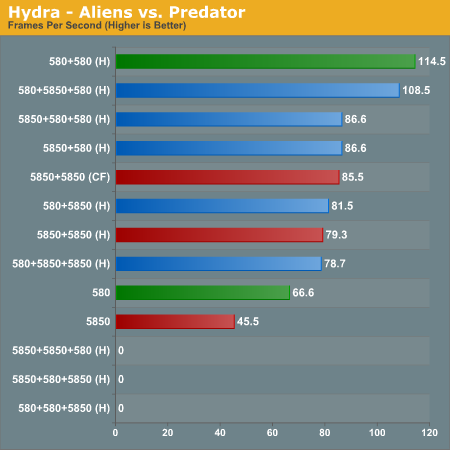 This time, other issues arise:
- When using two 5850s in a three card setup, if a 5850 was in the first slot, the program would not recognise the 580 and run in AMD only mode.
- A similar occurrence happened when two 580s were used with a 5850, but only when the 5850 was in slot three. In this configuration, the application would run in NVIDIA only mode.
- The 5850+580+580 mode gave the same value as the 5850+580 mode, suggesting the third GPU was not detected properly by Hydra.
- The 5850+5850 Crossfire combination beat the 5850+5850 Hydra score, unlike in 3DMark Vantage.
- The 580+5850+580 three card setup outperformed all the other three card setups, but was still beaten by two 580s in Hydra mode.
Hawx:
For a real world DirectX10 benchmark, we chose Hawx, the action/flight simulator. Using the internal benchmark in DirectX 10.1 mode, with all the settings turned up to max at 1920x1080, the following results were achieved: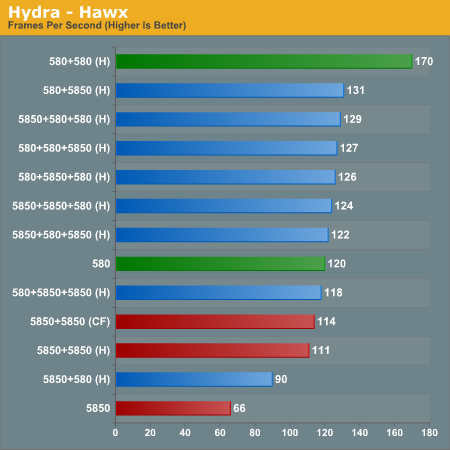 Unfortunately, there were quite a few issues running Hawx in many of the modes. In all the three card modes, some long distance texture flickering was observed:
- 5850+580 Hawx: flickering
- 5850+580+580 Hawx: flickering
- 5850+580+5850 Hawx: flickering
- 5850+5850+580 Hawx: flickering
- 580+5850+5850 Hawx: flickering
- 580+580+5850 Hawx : flickering
- 580+5850+580 Hawx: stutter, flickering
Ultimately, all these three card modes performed similarly anyway (118 -129 FPS). The dual 580 Hydra still comes top here, but the 580+5850 setup beats all the three card setups as well.
FarCry 2:
Our last test was FarCry 2, using the built-in GPU benchmark, looped 4 times and an average taken. Unfortunately, despite being a supported application on the Hydra platform, results were very poor all around: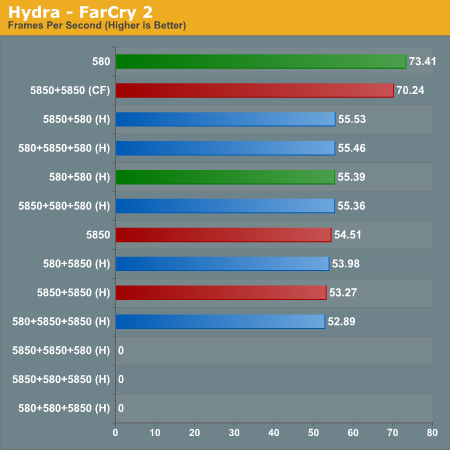 The issues found in Aliens vs. Predator with combination card setups running in AMD or NVIDIA mode surfaced here as well. But even more astonishing is that every Hydra setup failed to give a boost in performance. It seems that they have all defaulted to a 5850 - and even the dual 580 Hydra setup performed worse than a single 580. The only card combinations worth working were the single card setups and the two 5850s in Crossfire.
Conclusions
The Hydra solution is still a long way from being viable and commonplace on motherboards. It is a sneaky way around SLI certification, but only on a few products. As it also supplies some extra PCIe lanes to run in x16/x16 or x16/x8/x8 mode, it makes me wonder if the price of the Hydra chip is cheaper than SLI certification and the NF200. Nevertheless, the software needs both a driver update as well as a longer list of working titles. However I fear that Lucid are more preoccupied with their Virtu technology on Z68, rather than Hydra.
When the ECS P67H2-A was released, it retailed at $290. Now, it's available at Newegg.com for $240, or $190 with the current mail-in rebate (expires 7/31), putting it in the path of the majority of the P67 boards we've reviewed this year.
The board itself performs as you would expect out of the box, but there's nothing special in that. Feature wise, excluding the Hydra for a moment, this board could come in as a good tri-AMD GPU board. The internal SATA port count is a bit low compared to the other boards around in this price range (two rather than four), however that is at the expense of supplying two eSATA 6 Gbps on the I/O panel. The distinct lack of fan headers is also worrying. In contrast, there is an abundance of USB ports on the back (6 USB 2.0, 4 USB 3.0) and headers on board - though unfortunately the USB 3.0 header is obscured by any board length GPUs in the second PCIe x16 slot.
The BIOS needs work, this much is certain. It's not really user friendly - the color scheme could use a nudge, and trying to find overclocking options can be a hassle. There's no easy front screen with all the important information, but it does offer the boot override feature. Inside the box includes a bunch of SATA 6 Gbps locking cables and a USB 3.0 front panel, which is what we'd expect in a product like this.
In terms of performance, this is technically the best Sandy Bridge overclock we've had to test in this year. But the main issue in that regard is that under multi-threaded load, this board slows down to the 43x/44x multipliers. This has been seen on other ECS boards this year, and there hasn't been a BIOS update recently (the last one was in April) to fix it, which is highly unfortunate.
At $190, it's a contender against the ASUS, ASRock, Gigabyte and MSI boards we've had in. The main issue for a lot of people will be the potential lack of support updates, as shown from the ECS website. No proper SLI certification rules out NVIDIA users, as Hydra isn't really up to the job yet. At $240, going for this board may be a stretch, especially as other products can offer more, from both the P67 and Z68 range.