Original Link: http://www.anandtech.com/show/4483/motorola-droid-x2-review-a-droid-x-with-tegra-2


Almost exactly one year ago we reviewed and thoroughly explored the Motorola Droid X. At that point, its 1 GHz OMAP 3630 made it a competent performer and a worthy successor to the original Motorola Droid, and likewise competition for 1 GHz QSD8250 Snapdragon. A lot of things have changed since then, and and it's time for the original Droid X to finally get replaced with something even more powerful, the Tegra 2-packing Motorola Droid X2.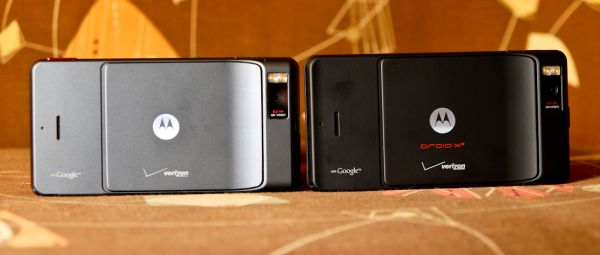 Motorola seems to have taken an 'if it isn't broken, don't fix it' approach with the X2, as the new handset is superficially identical to its predecessor. In fact, it's literally the exact same size, shape, and weight. I borrowed a friend's Droid X and stuck the X2 alongside it for comparison. With both turned off, I doubt most people could tell the two apart.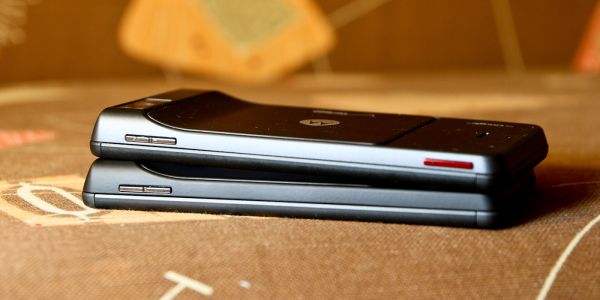 The X2 even fits inside the original X case and uses the same battery. The only physical difference between the X and X2 is that the dedicated two-step camera button is now gone. It's a bit odd considering how much of a fuss Motorola originally made about being one of very few Android handsets that actually offer a camera capture button, allowing you to quickly get into the application by holding the button, and make captures without tapping the screen and potentially losing the shot.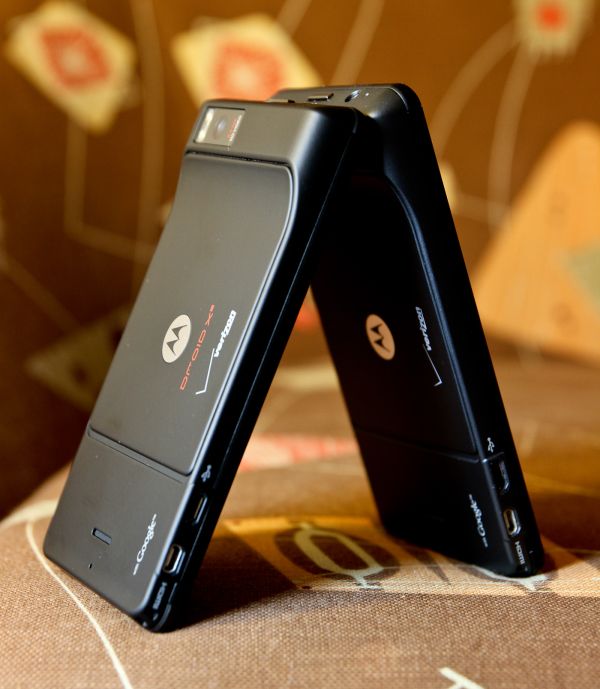 The nice thing about the two phones' superficial similarity is that cases are backwards compatible, though you'll get some useless bulge for the absent camera button. I stuck the X2 in my friend's X case, and it fit perfectly inside. Likewise, the X2 uses the same exact BH5X 5.6 Whr battery that the original X used, so if you've got extra batteries laying around or are replacing an X, you can continue using them.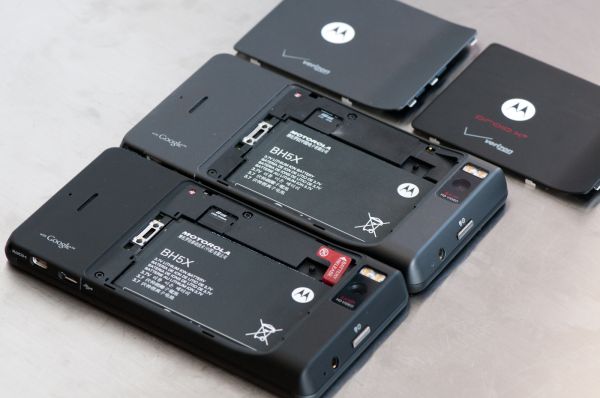 I see a lot of people carrying the X around just about everywhere - it's clearly a hugely successful device for Motorola. Building some rapport with end users by keeping the design the same and doing things like using the same battery are a good way to keep people that bought Moto buying Moto a second time. It's nice to see that we've moved on (at least somewhat) from the era where upgrading handsets meant having to re-buy almost all accessories but the charger.
Physical Comparison
Apple iPhone 4
HTC Thunderbolt
Motorola Droid X
Motorola Droid X2
Height
115.2 mm (4.5")
122 mm (4.8")
126.5 mm (4.98")
126.5 mm (4.98")
Width
58.6 mm (2.31")
67 mm (2.63")
65.5 mm (2.58")
65.5 mm (2.58")
Depth
9.3 mm ( 0.37")
13.2 mm (0.52")
9.9 - 14.4 mm (0.39"-0.57")
9.9 - 14.4 mm (0.39"-0.57")
Weight
137 g (4.8 oz)
183.3 g (6.46 oz)
149.2 g (5.26 oz)
148.8 g (5.25 oz)
CPU
Apple A4 @ ~800MHz
1 GHz MSM8655 45nm Snapdragon
1 GHz OMAP3630
1 GHz Dual Core Cortex-A9 Tegra 2 AP20H
GPU
PowerVR SGX 535
Adreno 205
PowerVR SGX530
ULP GeForce
RAM
512MB LPDDR
768 MB LPDDR2
512 MB LPDDR2
512 MB LPDDR2
NAND
16GB or 32GB integrated
4 GB NAND, 32 GB microSD class 4 preinstalled
8 GB NAND, 16 GB microSD class 4 preinstalled
8 GB NAND, 8 GB microSD class 4 preinstalled
Camera
5MP with LED Flash + Front Facing Camera
8 MP with AF/Dual LED flash, 720p30 video recording, 1.3 MP front facing
8 MP with AF/LED Flash, 720p24 video recording
8 MP with AF/LED Flash, 720p30 video recording
Screen
3.5" 640 x 960 LED backlit LCD
4.3" 800 x 480 LCD-TFT
4.3" 854 x 480 LCD-TFT
4.3" 960 x 540 RGBW LCD
Battery
Integrated 5.254 Whr
Removable 5.18 Whr
Removable 5.65 Whr
Removable 5.65 Whr
There's so much that's similar between the X and X2 that it's easier to just call out what all is different. First off, the X2 of course is built around a 1 GHz NVIDIA Tegra 2 AP20H SoC, which consists of two Cortex-A9 processors alongside a ULP GeForce GPU. There's still 512 MB of LPDDR2 present. We'll talk about the SoC and performance more in a bit. The second huge change is a that the X2 includes a qHD (960 x 540) LCD display with an RGBW PenTile subpixel layout. That's up from the FWVGA (854 x 480) display on the Droid X. Again, we'll talk about what all RGBW means in the display section, but this is similar to the display which Motorola shipped in the Atrix. Third, the X2 has an improved camera, which at first glance looks the same on paper (both are 8 MP with AF and dual LED flash), but as we will show later, produces much higher quality images.
The X2 also appears to be outfitted with a slightly darker grey shell than the original X. Alongside the X which I borrowed, the X2 looks almost black. It's hard to say whether that's just because his X has faded considerably, or whether the X2 has been intentionally made darker so people can tell the two apart. It's probably a subtle thing similar to the way Apple made logos chrome between the 3G and 3GS to differentiate the two.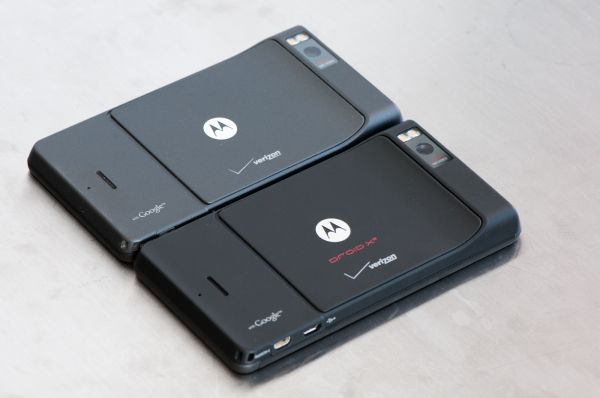 The other obvious way to differentiate which one is which is by looking at the back cover. The X2 has its name in red written below the metallic Motorola logo on the battery door. Otherwise even the two battery doors are identical. The trademark thickness bulge where the camera is located also persists on the X2. This is one area that I think could have benefited from some slimming, although it's physically impossible to reduce the throw (depth) of some camera systems.

Button placement on the X2 is likewise the same as the X. At the top is power, centered and raised slightly. Just offset from it is the headset jack and then a microphone for noise cancellation on calls.
On the right side is the volume rocker which is identical to the one on the X. It's a solid piece of plastic with a small detent in the center. The buttons are still sufficiently clicky. Of course, at the very bottom of the right side is where the two-step camera button would have been, should Motorola have decided it was worth keeping.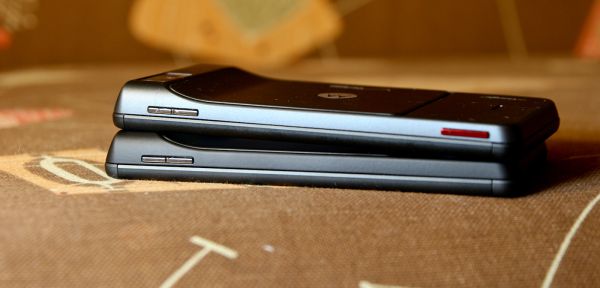 The bottom has a small lip with the same physical, backlit Android buttons. Thankfully these are in the same order as they were on the X, so there's no relearning if you're upgrading. Dead center below buttons is the primary microphone for calls, just like before.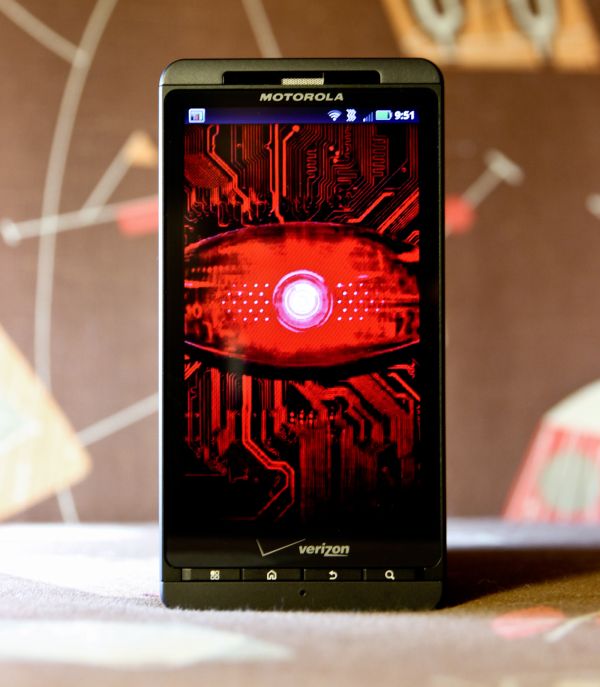 The left side of the X2 is still home to microUSB and a microHDMI port. Back when we reviewed the X, I was disappointed with how HDMI was implemented. You could output certain types of media to the TV, but not do full mirroring. Instead, the display turned into a small control panel, and the attached HDMI monitor became the playback canvas. It felt half-baked back then.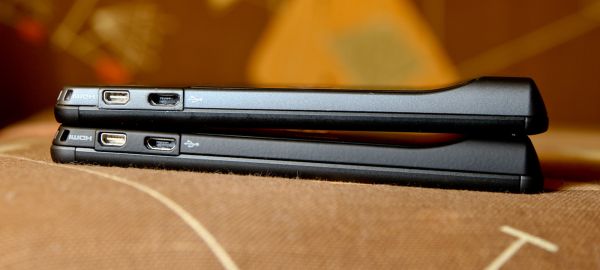 This time, you can do full mirroring with overscan control. What's odd, however, is that rotation isn't implemented like it was on the Optimus 2X.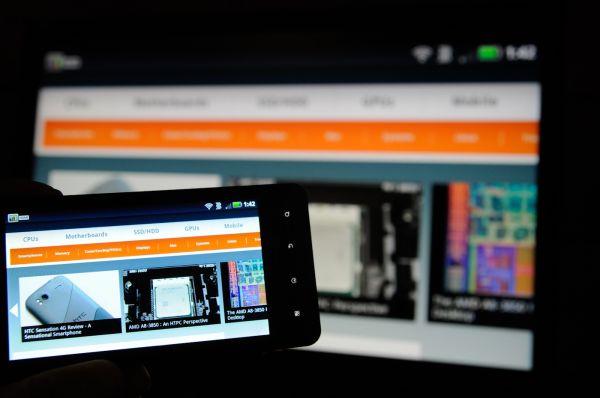 Plug an HDMI monitor in, and the whole interface rotates to landscape and stays there. If you have an application which only has portrait support, it will appear rotated 90 degrees on the TV, instead of rotating properly like the LG Optimus 2X does.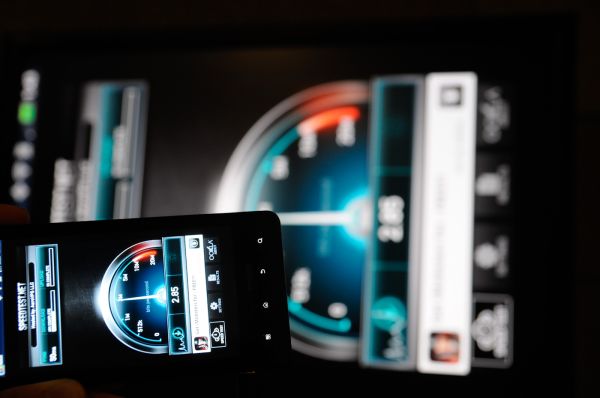 The phone's display is upscaled to 1080p using what looks like nearest neighbor, so things are blocky, but it works.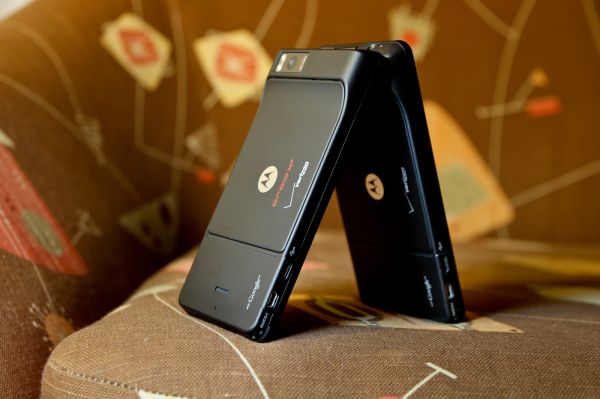 Proximity sensor and the notification LED are still hidden in the black strips up near the earpiece. Again, it wouldn't surprise me if all of this was exactly the same as it was on the original X just because of how virtually nothing is physically different on the outside of the X2. I guess that actually sums up what there is to say about the exterior - if you liked the angular and masculine aesthetics of the original X, you'll like the X2 because it's essentially the same thing. Similarly, if you disliked the way the X looked, you'll dislike the X2.
Motoblur by any other name...
When I reviewed the original X, it was on Android 2.1. At that time, most of my criticisms centered around the fact that 2.2 was out, and that the device already felt subjectively behind because everything around it was on 2.2, including even the original Droid.
It's sort of frustrating that we're repeating essentially the same scenario but bumped up one version of Android. This time, the X2 is launching running 2.2.2 in a world where 2.3 is king. Ironically, this time around, the original X is running 2.3.3 at the same time.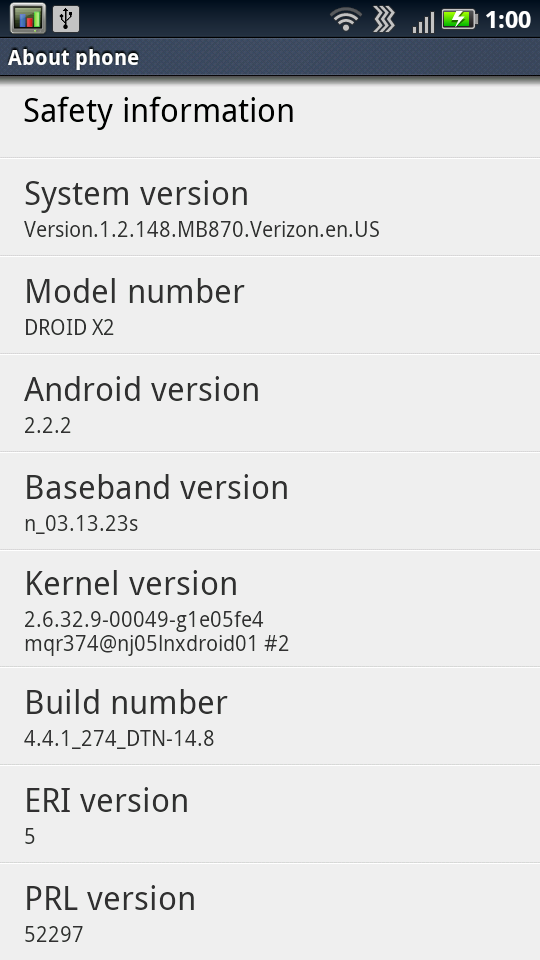 The other thing that's changed is that while Motoblur is still around, it isn't called Motoblur. Head over to Motorola's specifications page for the X2, and you'll find no references to anything called Motoblur, which used to have its own section for the X. It's all semantics, however, because Motoblur is still present on the X2.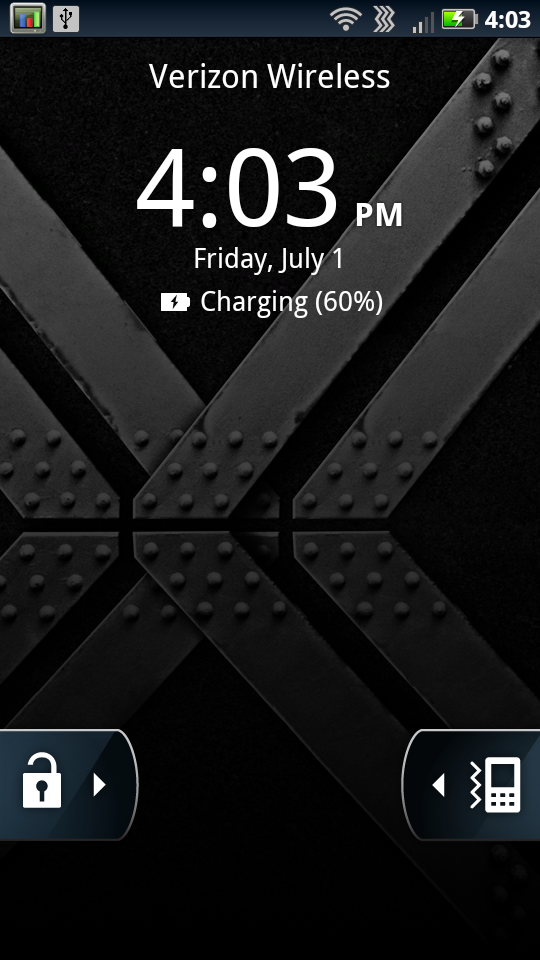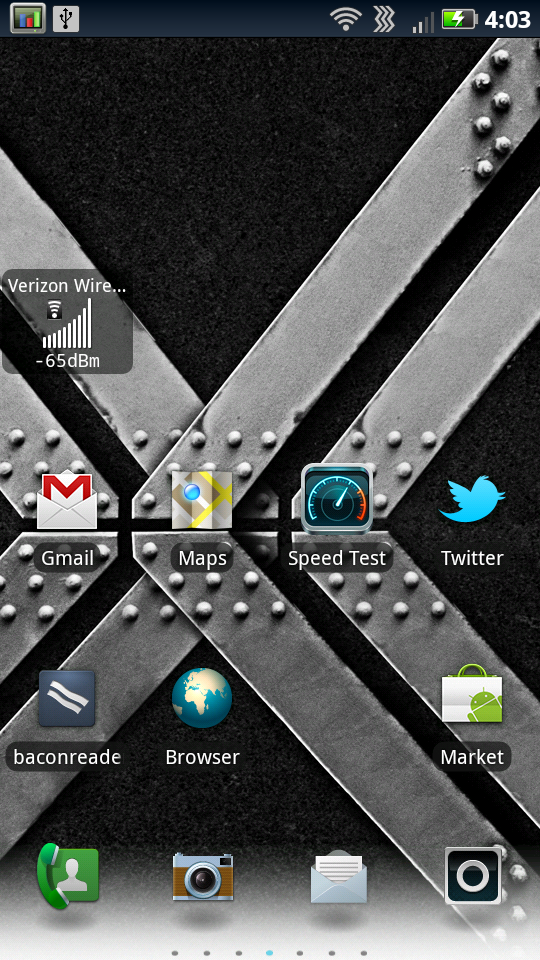 That said, I'm finding Motoblur a lot less annoying this time around. First off, the color scheme has changed to a much darker blue theme. Previously, everything was black on white. Now things are white on black. This same theme has made its way onto the X as well, so if you're already familiar with how things look and feel there, you can probably skip all of this.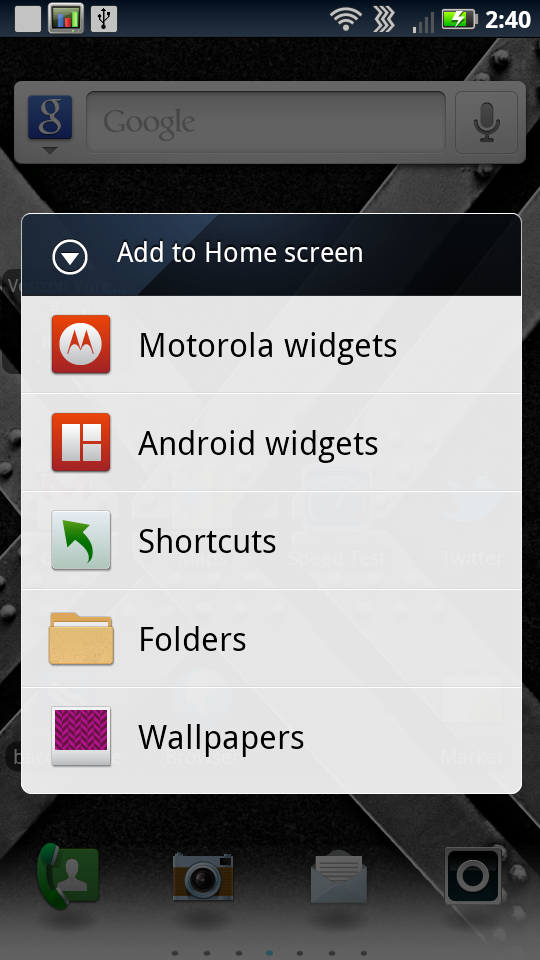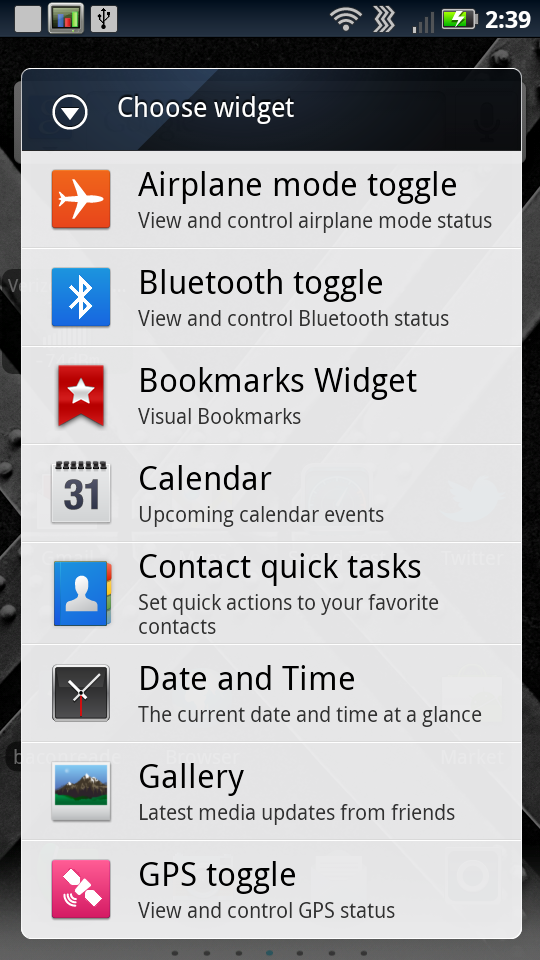 Motoblur essentially consists of a combination of UI skin, multitouch keyboard, special widgets, a different launcher and application switcher, and optionally some account management. For the most part, the first three are acceptable, the fourth decent, and the last one something to avoid.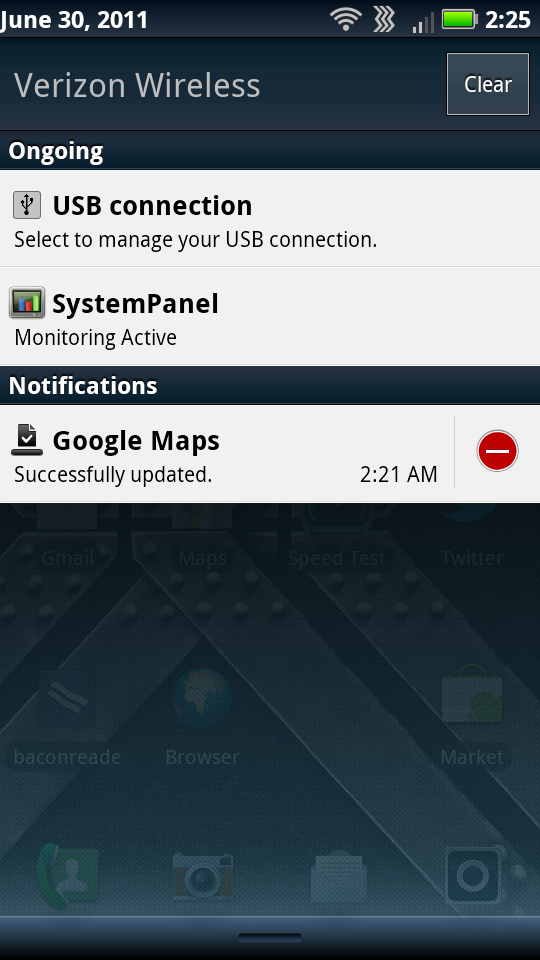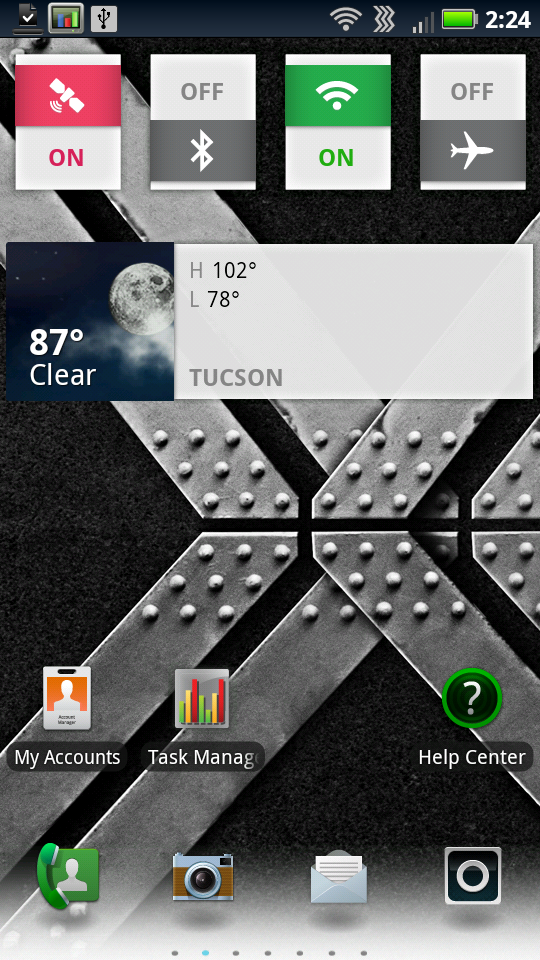 I stated that things are more blue now, which is definitely the case. The status bar up at the top is blue and has white iconography. Likewise, drag the shade down and you'll see lots of blue everywhere. I can live with this, especially considering some of the other atrocious color choices I've seen UI skinners make (both handset OEMs and enthusiasts alike).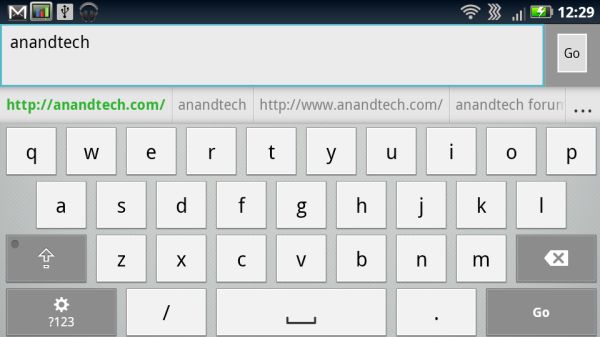 Likewise, under this UI menus and dialogs get a blue/grey makeover. Motorola also still includes its own multitouch keyboard, which was a welcome breath of fresh air back when it was included on 2.1. Since then, Google has made its own multitouch keyboard in 2.3, but Motorola's still is impressive and gets the job done. I sound like a broken record but yet again if you've gotten used to the keyboard on the X, there's no re-learning necessary on the X2. Motorola even keeps the buttons the same size despite the X2's higher PPI display - a subtle but much appreciated thing.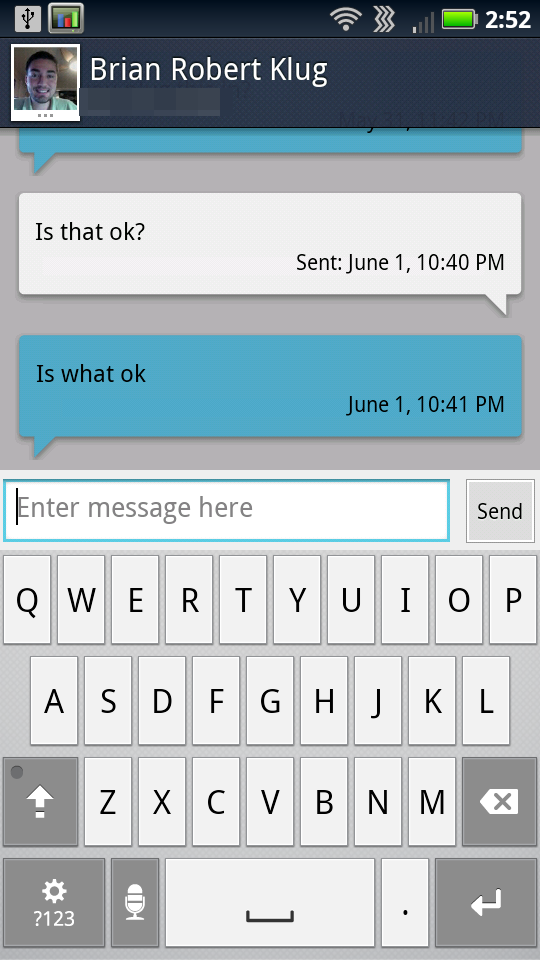 Motoblur widgets haven't changed since I last saw them, they're still stylized and overtly colorful, if sometimes a bit garish. Like we discussed in the X review, you can resize most of them by long pressing and then dragging the corners. Not everything always re-sizes vertically and horizontally, but usually you can experiment and make things fit accordingly. The default widget layout on each homescreen actually is just how I remember it being on the other X as well.
Launcher and application switcher are next. There's a bottom row of icons on the home screen that persist - this is essentially Motoblur's riff on iOS's dock, and it seems like a feature that every OEM UI skin implements. What's curious is that the text underneath doesn't show up on this row of icons, instead you're supposed to know what each does just based on the icon.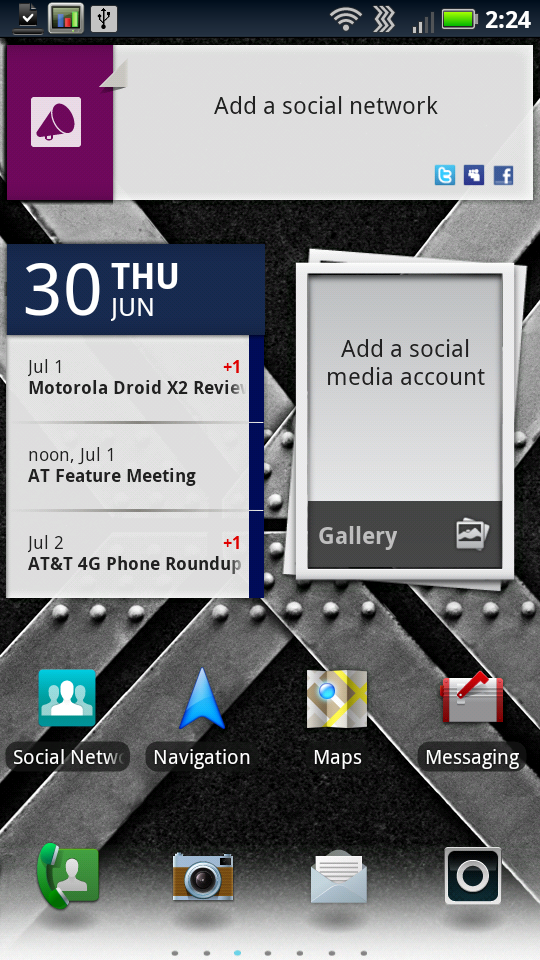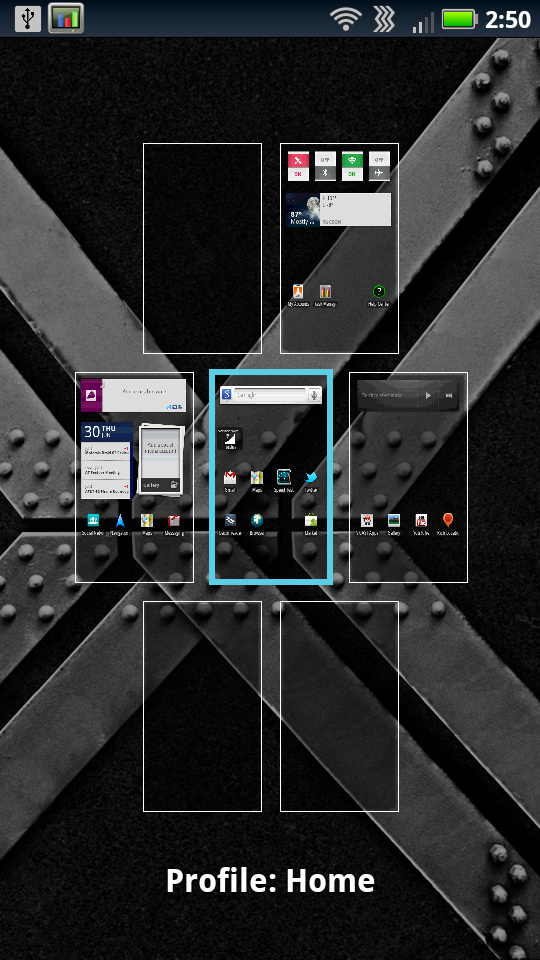 One thing that's thankfully changed is the homescreen switcher. Previously, swiping from one homescreen to another would bring up a bottom panel with a bunch of dots. The problem was that this would sit there for a second or so and then go away, but often times after switching homescreens one would want to tap on the application launcher icon. It looked like this: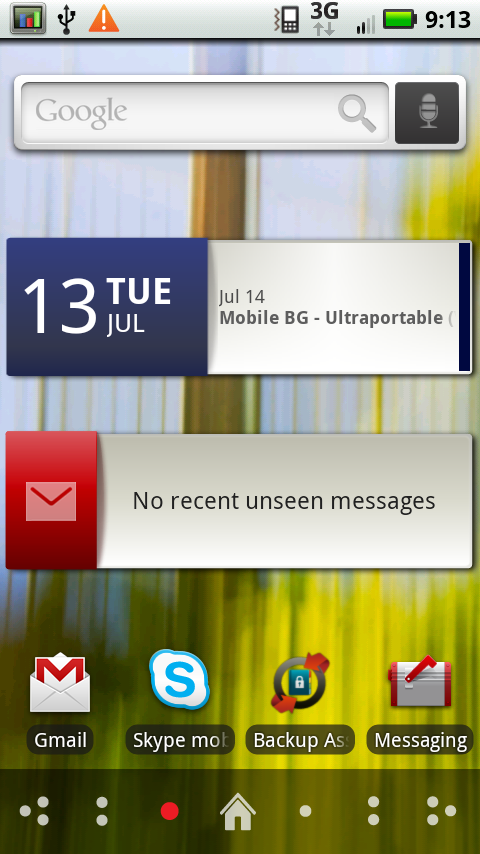 Thank goodness this is changed now. Instead, we get dots that turn blue depending on what homescreen is active, and no obscuration of that app launcher button. Thank goodness.
Hit the application launcher and you get a four icon wide grid of apps that scrolls up and down. This is pretty standard fare, and relatively smooth. Tapping on the top left corner brings up a menu that lets you switch the sorting from all, to recent, to downloaded. You can also optionally make your own and then add applications to it.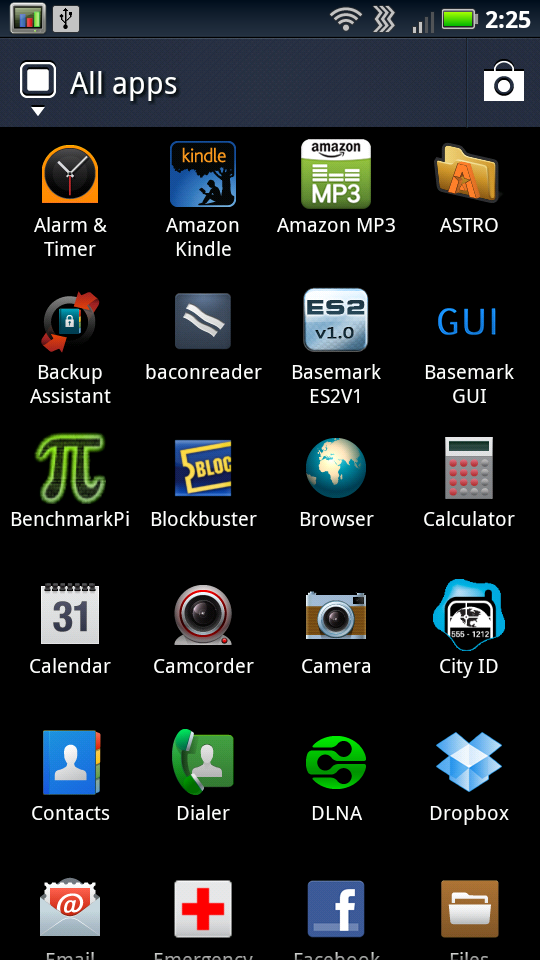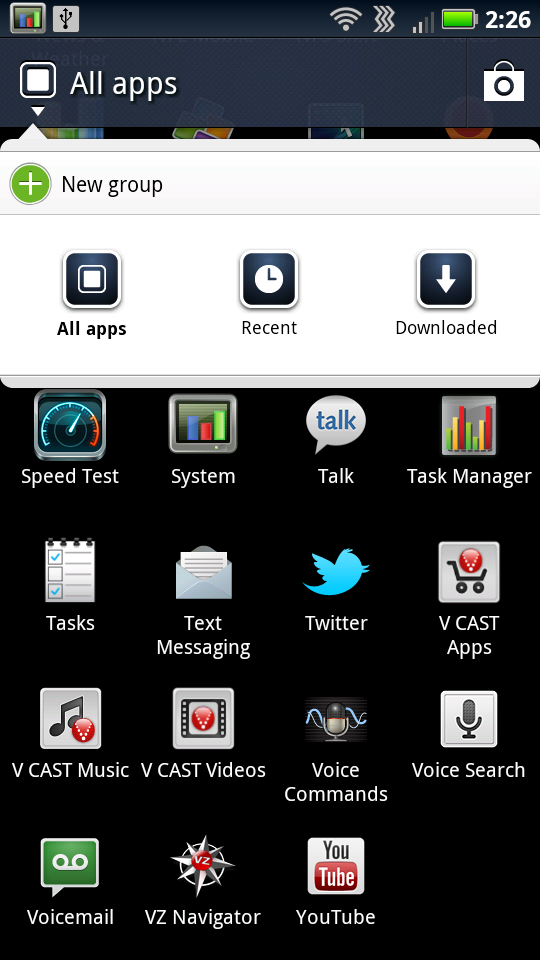 The application switcher (toggled by holding the home button) does a clever trick. Instead of bringing up a real switcher, it simply is a shortcut to the recent list of applications.
The final Motoblur customization is of course account management. Ideally, Motorola wants you to configure and log into all your social media accounts using their software, and then their widgets and special unified messaging application will populate accordingly. It's great, and I'm sure it works for some people, but it still isn't something for me. It's better to just get the first party through each service's respective application at this point.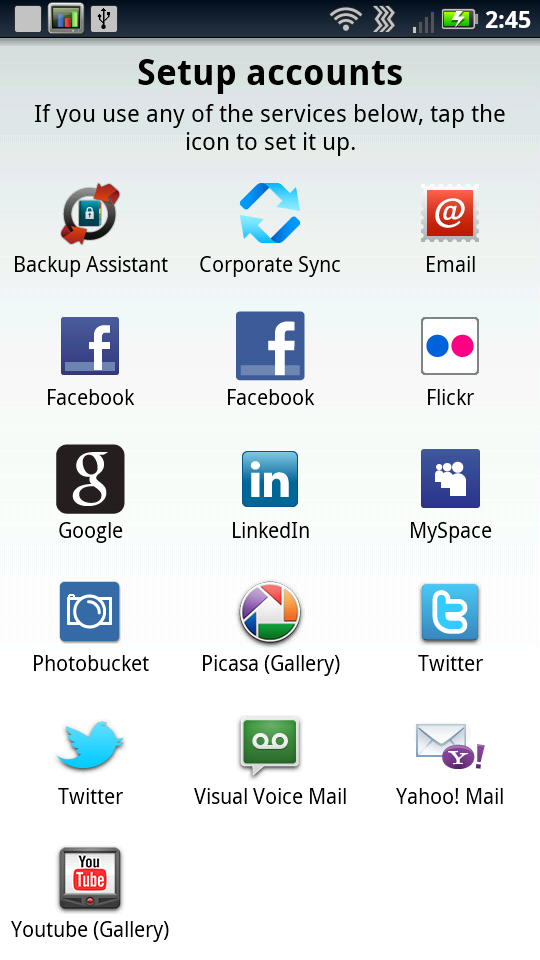 All of that basically sums up Motoblur, which superficially just makes Android look different. Love it or hate it, it's still here and will likely stay around for some time. It made it onto Android 2.3 on the X, and will likely do the same with the X2. There's no way to remove it either without flashing another ROM, and at this point the X2 still has a locked bootloader (no fastboot oem unlock, trust me, I tried), so if you want to be rid of it (or install a custom ROM) you could be waiting a while.
I should note that the X2 doesn't have the even newer version of Motoblur which we've seen running atop leaked photos of the Bionic or Droid 3 as of this writing. That hopefully will come at some point in the future - or maybe not in retrospect, depending on how you feel about that version of the UI skin.
Preloaded Bloat
The X2 also comes with a bunch of preloaded applications, but no more than I've become used to seeing on other devices in Verizon's smartphone lineup. That includes Amazon MP3, Blockbuster, City ID, Lets Golf 2, NFL Mobile, NFS Shift, Slacker, and four Verizon applications.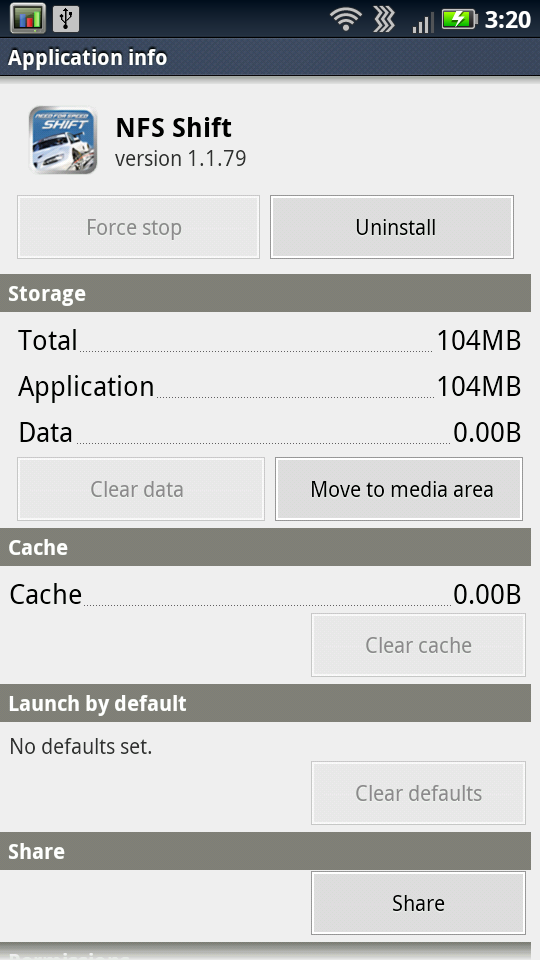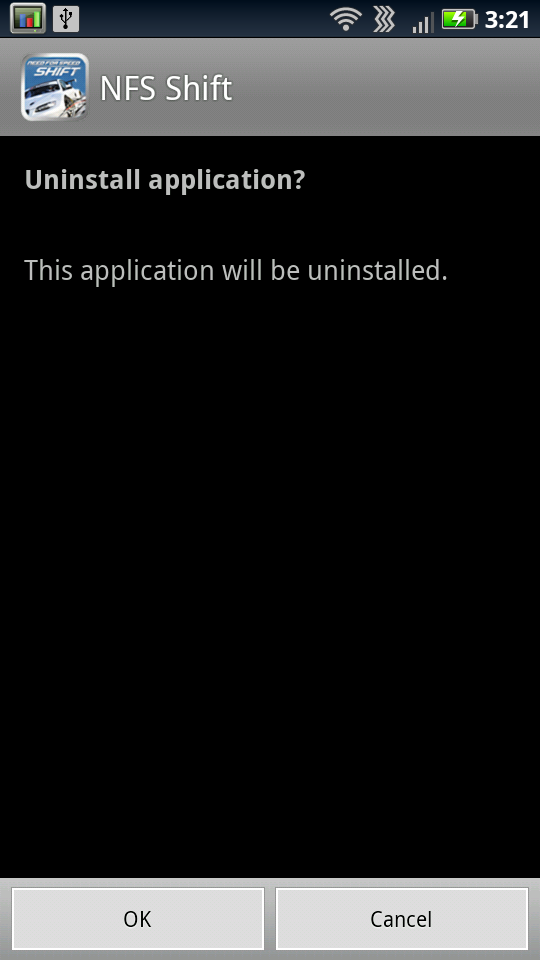 However, the good news is that you can finally uninstall some of this stuff. I successfully nuked Lets Golf, NFL Mobile, and NFS Shift. However, things like Blockbuster and the Verizon apps cannot be removed. Slowly but surely, we're getting to the point where users can actually have some control over and remove carrier-preloaded garbage without needing root.
Display - qHD RGBW PenTile
Probably the most significant change (other than Tegra 2) between the X and X2 is of course the display. As we mentioned before, that has been upgraded from a 4.3" FWVGA (854 x 480) IPS LCD to a qHD (960 x 540) LCD with the same diagonal size. What's special about the X2's screen, however, is that it comes with an RGBW PenTile subpixel rendering layout.
We've talked about the RGBG PenTile subpixel structure before in the context of devices which came with AMOLED or Super AMOLED displays. The chief complaint back then was that black text on webpages and UI elements didn't always look super sharp. RGBW is a different layout with different purpose, and dare I say different results.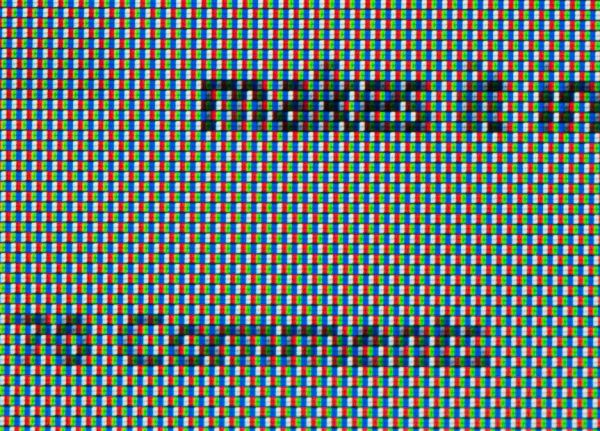 A 100% crop of the AT homepage on the Droid X2's RGBW display
As its name implies, RGBW PenTile includes a fourth, white, subpixel. The idea here is that light throughput for the panel can be vastly increased by simply adding a subpixel with no color filter. That increase in throughput then can be exploited to either get equivalent visual brightness with less backlight power, or you can crank things up all the way and get extreme brightness for the same backlight power. That translates to power savings most of the time, and extremely bright whites other times when you need it. It actually does make a lot of sense, especially when you consider things like browsing webpages which is still largely black text on a white background.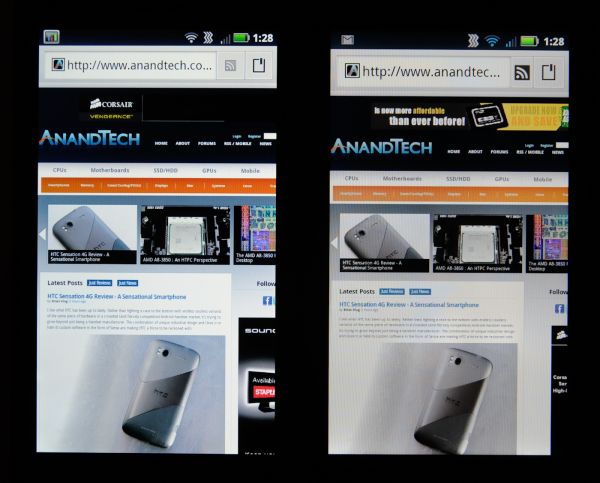 Left: Droid X2, Right: Droid X
On webpages, RGBW actually looks pretty good, with black text being nice and sharp on a white background. This is one place where RGBG just never could do a perfect job, but RGBW does. I actually have no problem with RGBW for black text on white backgrounds.
Droid X: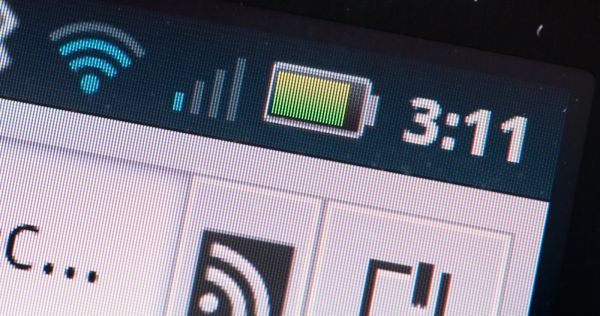 Droid X2: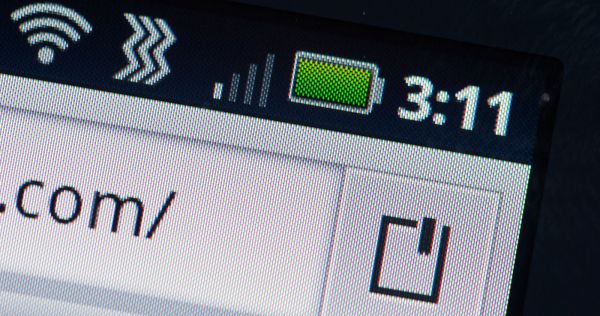 The only place you can still dramatically tell that this is PenTile is either by looking at regions that are solid green, or red. At green in particular, you can see a bit of that grain from the subpixel structure - green is most visible because visual acuity peaks in the green. Red is also sometimes also shows a bit of that telltale grain, but nothing too dramatic. Human visual acuity isn't very good for blue, so that looks pretty homogeneous.
In our tests, the X2 results definitely show how much having that white subpixel can help.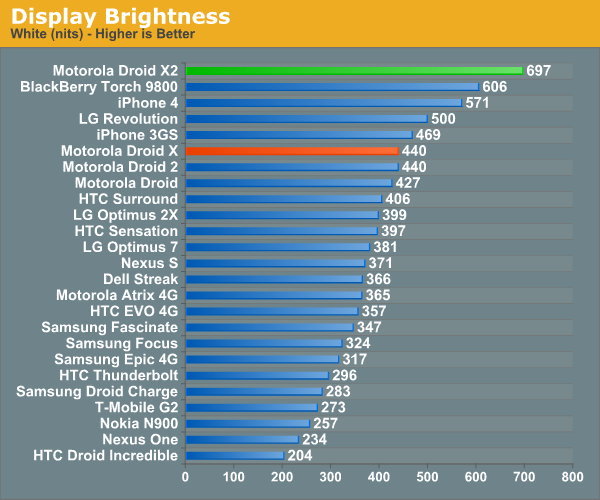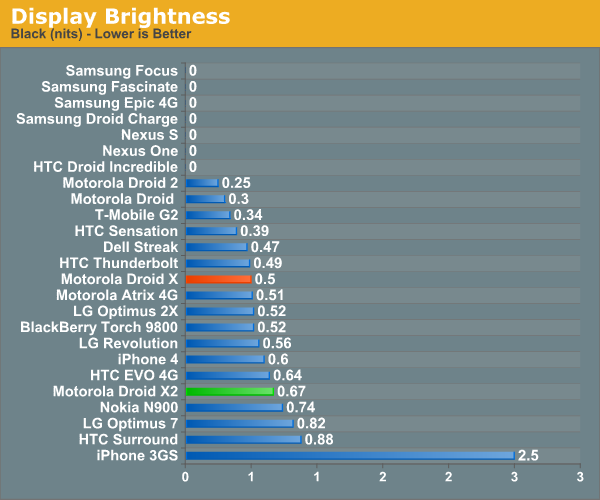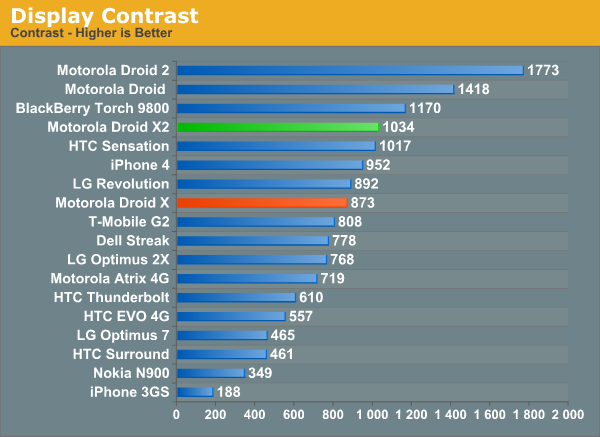 Motorola has had a pretty steady track record for putting great displays in their devices, going all the way back to the original Motorola Droid which included an IPS display. It's nice to see that they haven't compromised with the X2 either.
We've also been measuring display brightness and white point at 25% brightness increments on displays lately, and the X2 is no exception from this treatment. Alongside the Motorola Droid X, the X2 looks substantially bluer. Looking at the white point on the X2 it's easy to see where that comes from. At 7500K it's closer to sanity than the 8500K for Super AMOLED Plus, but still not quite perfect.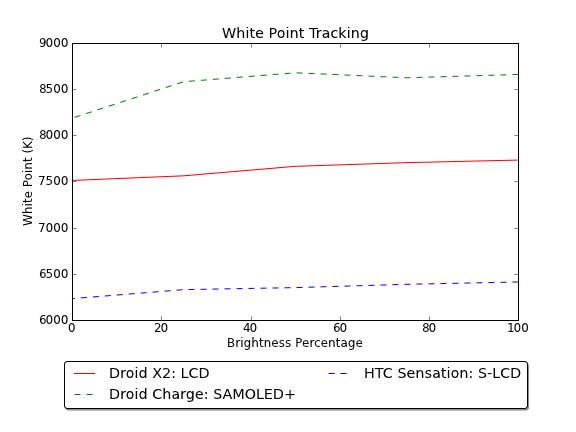 Moving onto the brightness (white and black) graph, we can see something finally reminiscent of a LCD, showing steady contrast as black and white both climb in a nice linear fashion as we ramp up brightness. The Droid X2 stays pretty contrasty, moreso than we originally measured the Droid X as being, but still not quite chart topping.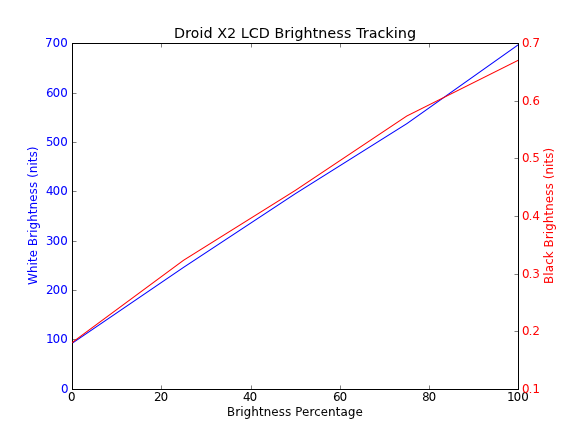 Viewing angles on the X2 seem subjectively better than the original X. You can see colors on the X fade off and turn strange at the extreme vertical angles and a bit as well at horizontal extreme angles. I don't remember the X looking this bad, it could be that the device I borrowed has a worse panel than the original X we were sampled last year.
Outdoors the X2 seems pretty readable, no doubt thanks to having that white subpixel and extremely high brightness. Even in the extremely bright, direct Arizona sunlight the X2 seemed a bit more readable than other devices from recent memory.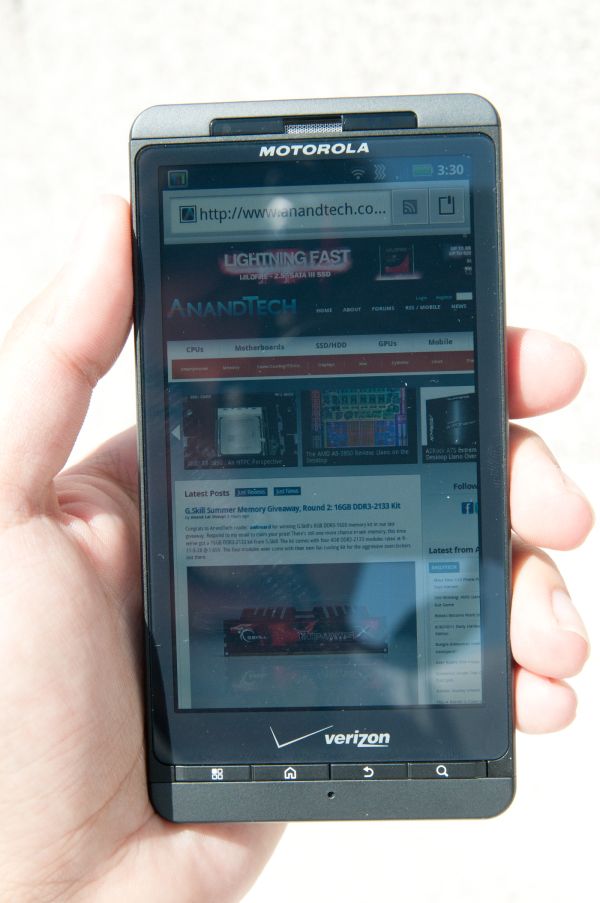 Again the real nice thing about the X2 display is that qHD resolution which makes it able to both have a bit more text smoothing on webpages, and also just look better. I was especially thankful for that extra resolution when using things like remote desktop and maps from the X2, as a result, things on similarly sized WVGA displays look cartoonishly huge.
Camera - Upgraded
Captured image quality is getting better with time, thanks to both improved image signal processing (ISP), software, optics, and of course sensors. Thankfully the X2 brings the entire package of improvements to the table. First off, the most obvious difference is that the mechanical shutter is gone (whose purpose I never quite understood), and the first vertex of the camera seems to have a larger diameter, meaning it has improved light collection over the X.
The original X was one of the first smartphones we tested with 720p video capture after the iPhone 4 made its debut. At that time, the X captured 720p24 8 Mbps MPEG-4 video with 1 channel 96 Kbps AAC audio. The X2 bumps video capture up to 720p30 H.264 at 12 Mbps with 128 Kbps single channel AAC audio.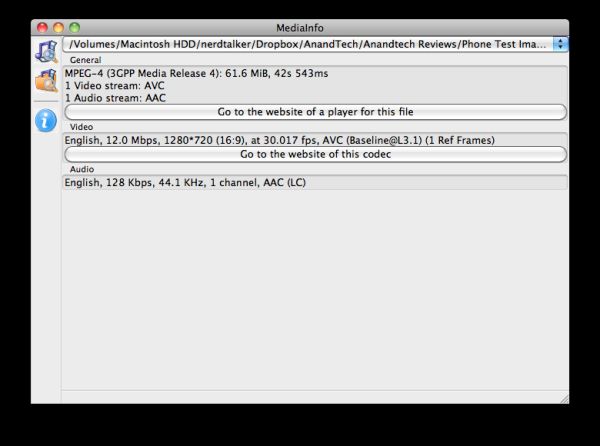 Obviously the Tegra 2 SoC inside the Droid X2 could capture at 1080p, but we'd honestly rather see high quality 720p like the X2 shoots over lower bitrate 1080p. Honestly, 1080p still remains a checkbox feature today until bitrates get higher or encoders get better.
I initially noticed a serious problem with video capture on the X2. Set to capture to the external SD card (by default), video had second long dropouts and stalls, like this. Around 12 and 19 seconds, the fun starts:
On the device itself, capture would correspondingly pause, hang, and even crashed once. I shot two or three videos to confirm to myself that it wasn't just a fluke, and also closed every application to see if RAM consumption was a problem. After some googling and discovering similar complaints on forums, I stumbled on the problem - set the capture destination to internal storage, and the stuttering goes away. I went and re-captured the video, and boom, no stuttering:
What's curious about the whole thing is that the card shouldn't be the problem. I tested the 8 GB class 4 microSD card inside the X2 (which comes preinstalled) in a new USB 3.0 Lexar card reader with CrystalDiskMark and found that it had sequential writes of just over 5 MB/s. Far more than the 1.5 MB/s which would be required for the X2's 720p video + audio stream. Testing with a 32 GB class 2 resulted in no stuttering, and after a format the supplied microSD card went back to not stuttering. Either way, if you experience problems, switch to internal storage, format the external, or get another microSD card.
The X2 includes an 8 MP camera with dual LED flash, just like the previous X. However, there's more to image quality than just MP numbers, which would have you thinking that everything is the same.
Still image quality on the X2 is improved from the original Droid X. In some ways it's considerably better, others the same.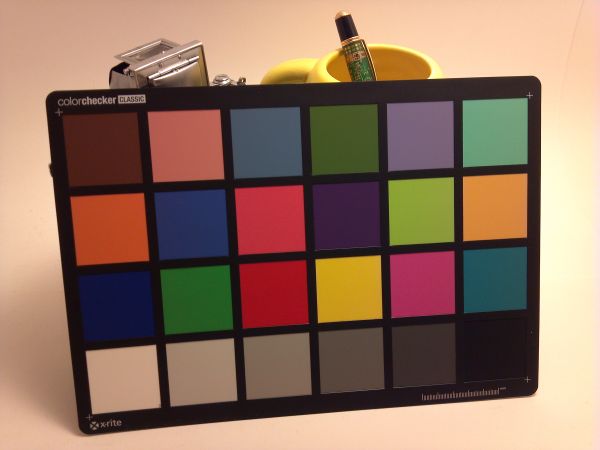 White balance in our lighbox test is a bit warm, as are a few outdoors test shots. There's some chromatic aberration at the extreme angles in the lightbox test as well, evidenced by the red circle around the image. That said overall sharpness seems better.
What I miss from the Droid X is that camera button, which (as I mention in the video review) Motorola seriously emphasized the first time around as a distinguishing feature for the X. The problem isn't so much that it's gone as it is that the camera software now relies on an awkwardly placed software capture button. What I mean is that the X2 uses the exact same camera UI as the original X, which obviously was tailored around using the shutter button instead of the software shutter button. As a result, more often than not I would press near (but not on) the button and just toggle the OSD instead of taking a photo.

WiFi and Cellular Connectivity
The X2's included cellular connectivity is the standard fare for Verizon in the USA. That means 800 / 1900 MHz 1x and EVDO Rev.A for the cellular side supplied courtesy a Qualcomm MDM6600. There's no GSM or UMTS connectivity for if you travel abroad. As a refresher, the Droid X used a Qualcomm QSC6085. I think the X2 hasn't seen as much attention as its predecessor primarily because it doesn't include any LTE connectivity. On the brighter side, you get better battery life as a result.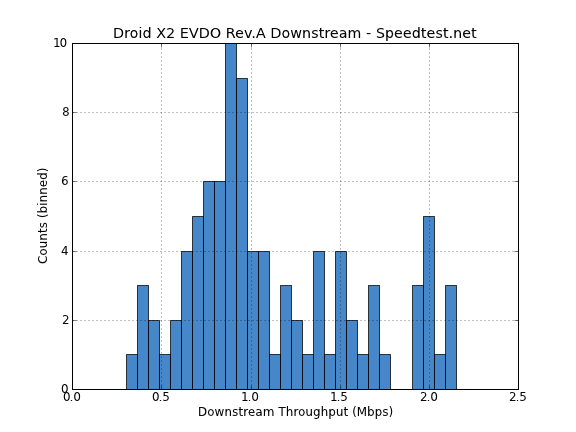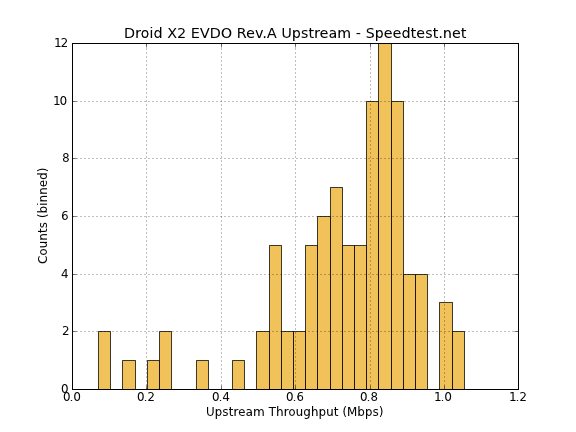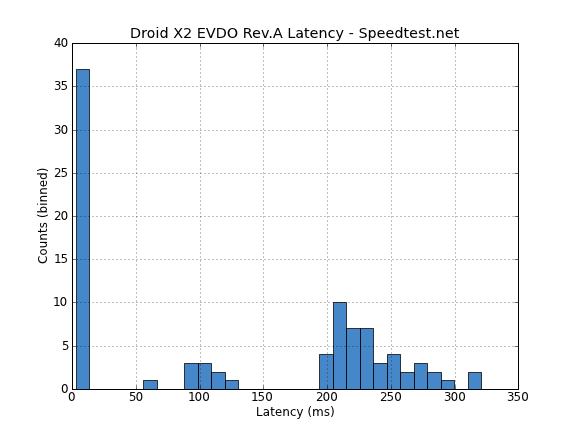 I ran just shy of 100 speedtests on the X2 and created histograms as always. Let me just say that it's hard coming down off of LTE's order of magnitude faster performance to EVDO Rev.A, seriously. Downstream performance is between 0.5 and 2 Mbps, about what I'm used to seeing for Verizon's EVDO Rev.A network. Upstream is centered around an admittedly fast 0.8 Mbps. Latency has a bunch of erroneous results clustered down in the single digit ms response times which are just the speedtest.net application glitching out for some reason.
I neglected to put the X2 through our attenuation test suite, but again the device has receive diversity with cellular antennas at the top and bottom of the handset and should perform just as well as the first device. Likewise I didn't notice any unwarranted drops in signal while using the handset and holding it. Over in field test (##program followed by 000000), the X2 reported signal usually within 1-2 dBm of the original Droid X.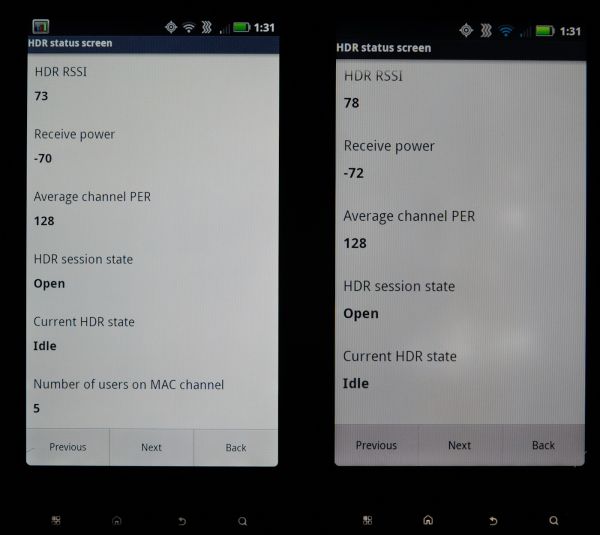 Left: Droid X2, Right: Droid X
If you've been reading any of our smartphone reviews, you should be able to guess what WLAN and BT chipset is inside the Droid X2. Yes, it's another smartphone with Broadcom's BCM4329 combo chip, which means it has 802.11n single stream support on 2.4 GHz.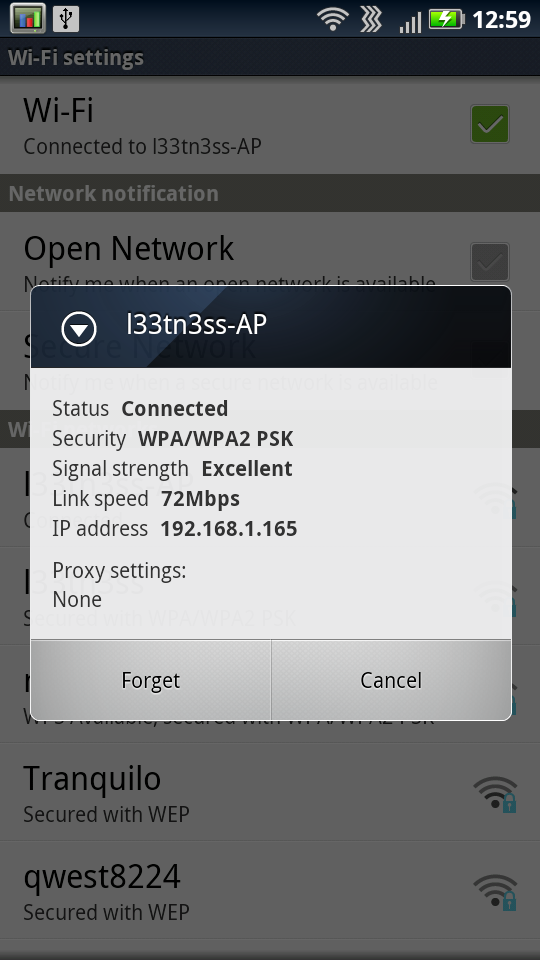 Performance is pretty speedy on our WiFi transfer test which consists of a 100 MB PDF being downloaded from a local server. WiFi range is also virtually unchanged from the Droid X, again I walked around my house with RSSI visible and watched the X and X2 sit within 1-2 dBm of each other, odds are it's the same antenna inside.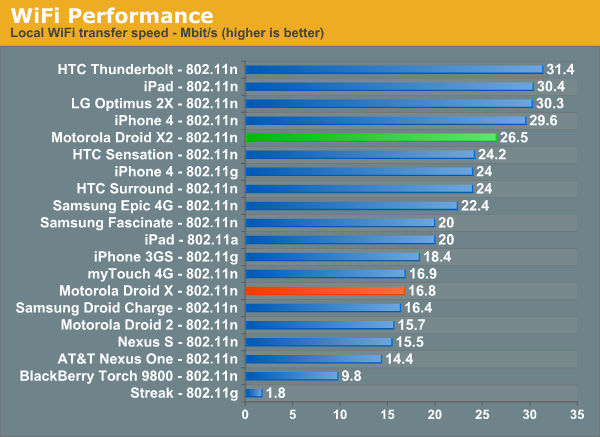 Things have indubitably sped up in part due to the X2's WLAN stack giving the 72 Mbps short guard interval rate instead of 65 Mbps long guard interval 802.11n speeds on the X.
WiFi Hotspot
Although the X2 we were sent wasn't provisioned to use the WiFi hotspot functionality, I could indeed test the settings pages, verify that it worked, and at least get to the Verizon provisioning page. Motorola's hotspot app lets you change DHCP server settings (or at least define the subnet), and also change the channel, something super important if you're in a crowded spectrum environment.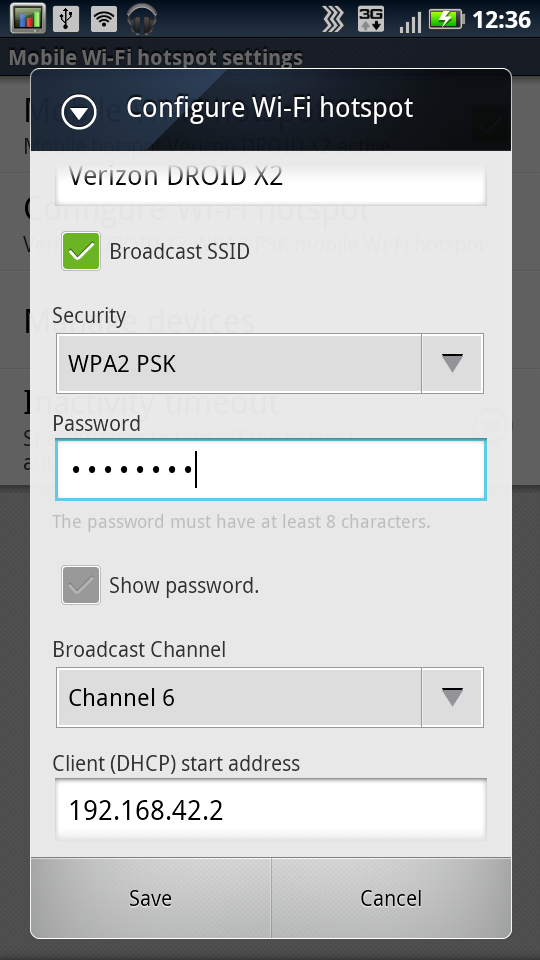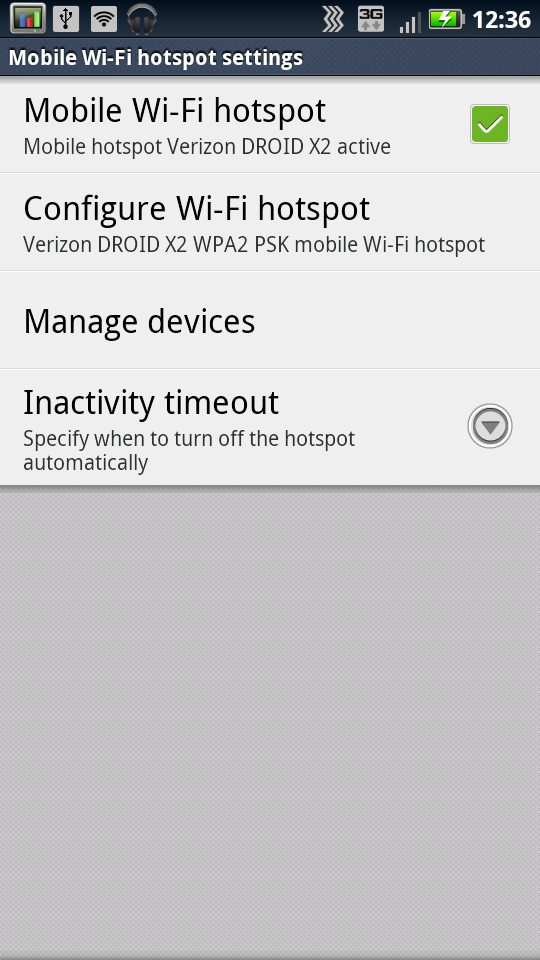 Beyond that, I really can't speak to the hotspot side of things, nor could we run our WiFi hotspot battery life test.
Speakerphone Loudness
Speakerphone on the X2 is a bit disappointing. For all the things that could and should have carried over from the X, speakerphone clearly wasn't one of them. The actual port on the back of the device is the same as the X, however volume isn't.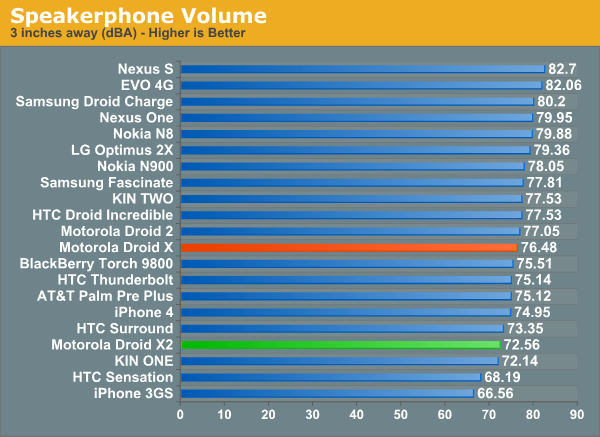 It's just odd that this isn't better. I listened to both side by side doing our call test, and the X2 simply isn't as loud. Having a louder speaker is just so important, especially if you intend to use the device for playing music or frequently using Google Navigation.
Call Quality
Audio quality on the X2 over the earpiece is very good. Similar to other Motorola phones, you can also change the voice coder by dialing ##program, entering "000000," tapping test mode, going right three pages or so, then changing from EVRC to either EVRC-B, or 13K.
I recorded some examples of the X2's 1x voice quality by doing line-out to a computer and simply recording. Subjectively I think things sound good, and again the X2 has a second microphone for ambient noise suppression when on calls in loud locations. I was unable to find out what audio codec is inside the X2 for those concerned with how music sounds through the audio jack, though I'd expect similar performance to the original X.
GPS
Finally we have GPS on the X2, which locks extremely quickly and shows similar performance to the original X. I'm not entirely certain, but it's possible the X2 is using Qualcomm's GPS on the MDM6600, or at least it would make a lot of sense to. Again, fixes happened extremely quickly on the device when given a good swath of visible sky. Even indoors, the X2 frequently was able to get a good 3D GPS fix, which is more than I can say for a number of other Android handsets.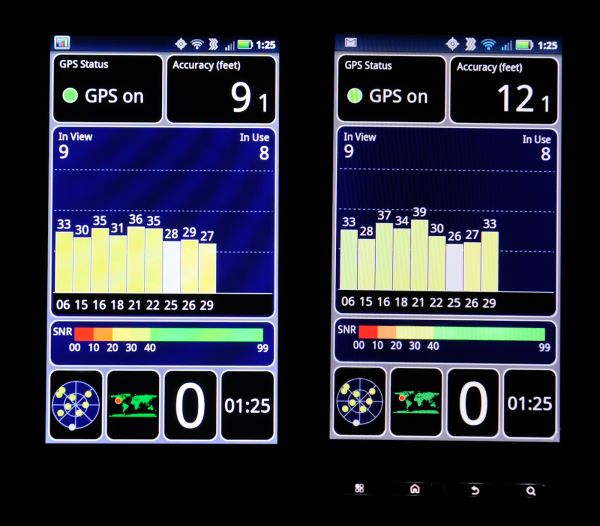 Left: Droid X2, Right: Droid X
Performance
The X2 is powered by a 1.0 GHz Tegra 2 SoC which consists of two Cortex-A9 CPUs and NVIDIA's ULP GeForce GPU. Anand has already detailed the architecture pretty thoroughly in our Optimus 2X review, which was the first handset to be built around Tegra 2, so if you're interested check that out. Since then Tegra 2 has scored a lot of Motorola design wins, starting with the Atrix, the Xoom, and hopefully the unreleased Bionic.
I've also gone ahead and borrowed a Motorola Droid X from a friend, which I then proceeded to wipe (don't worry, they're used to this kind of behavior) and install the 2.3.3 update on. I then re-ran our benchmarks and updated things to give a better perspective of what the performance delta looks like right now with the X2 running 2.2.2 and the X running 2.3.3, both of which are current as of this writing.
First up are our web benchmarks, which primarily test JavaScript and page rendering. We're still running SunSpider 0.9, though we'll soon switch to 0.9.1 and report that alongside. JavaScript performance on Motorola's themed browser is actually very good, and comes in nearly at the top of our charts, alongside the Optimus 2X.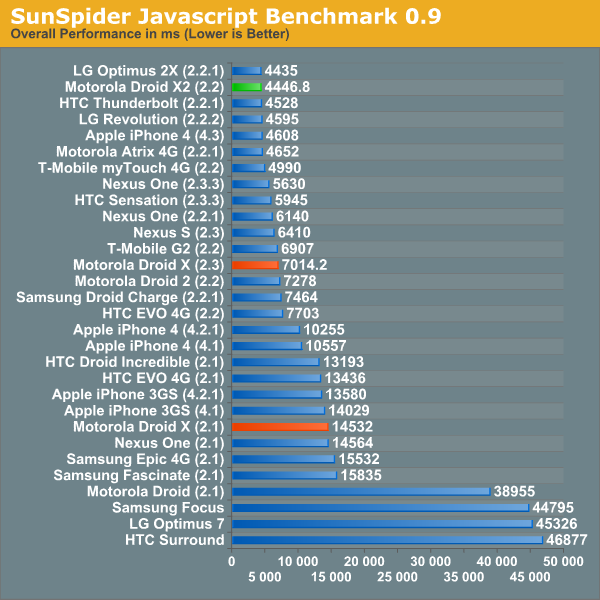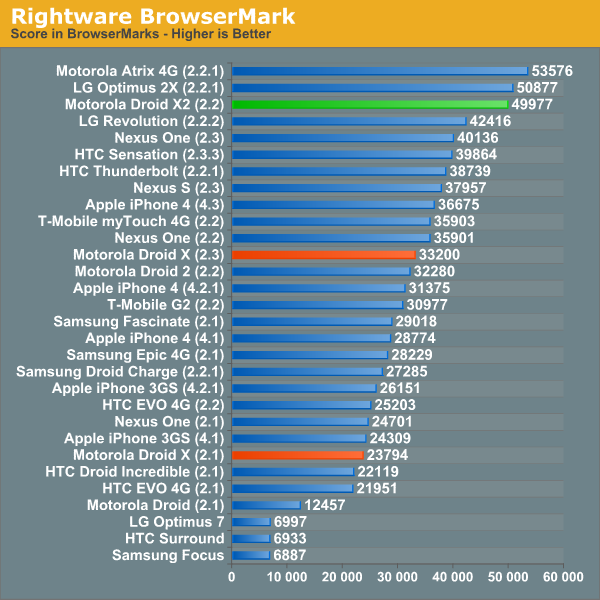 Flash is next, and here the X2 delivers very good performance that's on par with the Optimus 2X, even though we're dealing with a qHD screen compared to WVGA.
GLBenchmark 2.0 is a regular in our benchmarking section, and the X2 gets a run through this test as well. Performance is pretty close to the Atrix but just behind it, perhaps due to the Atrix having 1 GB of LPDDR2 compared to the X2's less inspiring 512 MB of LPDDR2.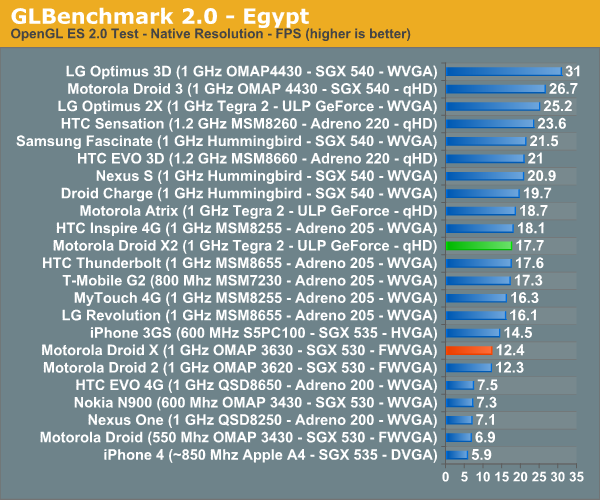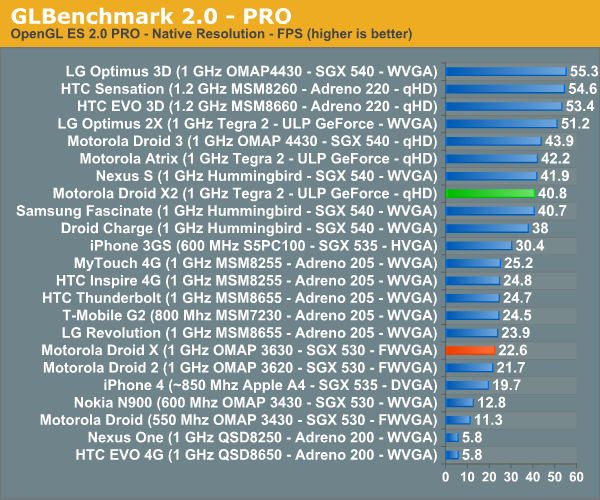 Next is BaseMark ES2.0, which is a slightly updated version of 3DMarkMobile ES2.0. Here we run at the default resolution, which is VGA, and thus get a picture without being constrained to just native resolution constantly.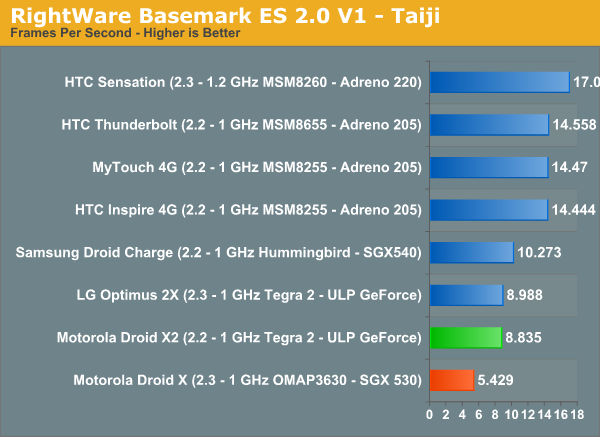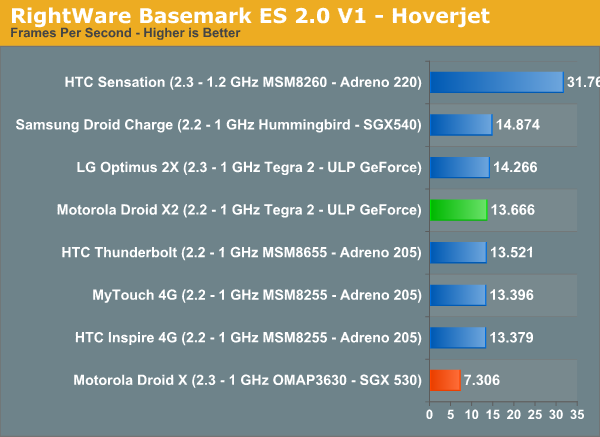 The Android port of Quake 3 is what we sort of started all of this with, and we're still running it even if it's starting to hit vsync in parts. The results look strange here until you realize that this is a qHD phone, not WVGA.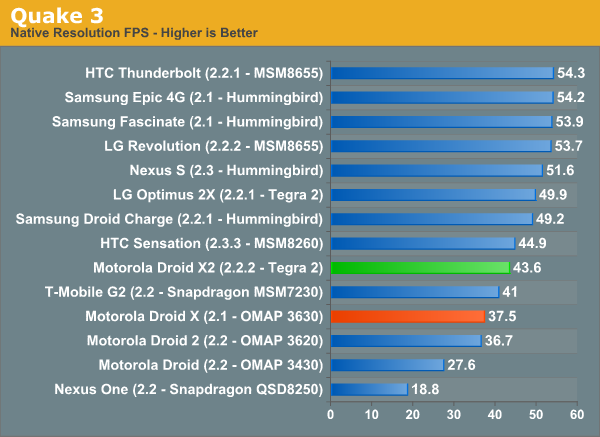 Next up is Linpack, which added a multi-threaded version of the benchmark earlier this week. I've run it on all the dual core devices I could get my hands on.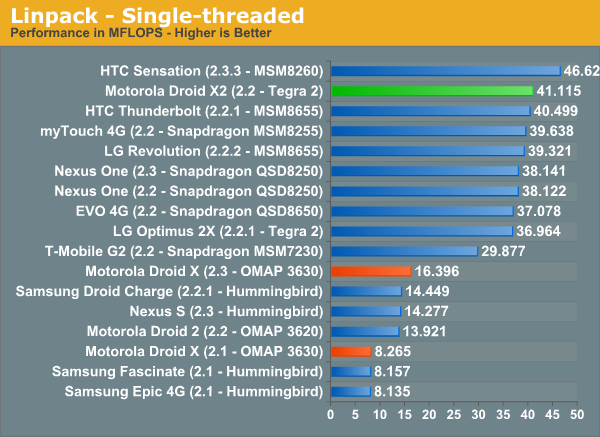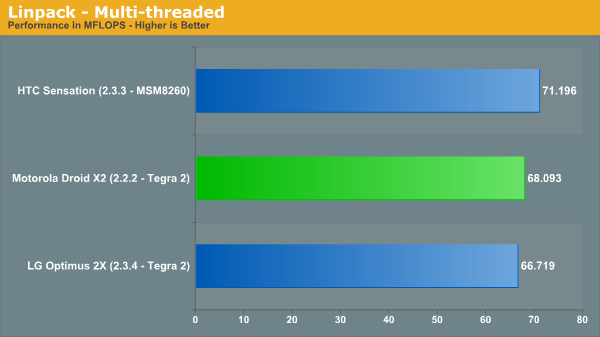 Last up is Quadrant which will be depreciated pretty soon as it's at the framerate cap in its 3D tests, has overall little to no documentation for most of the subtests, and generally is woefully out of date. The X2 does extremely well in the I/O test thanks to it using EXT3 for most partitions.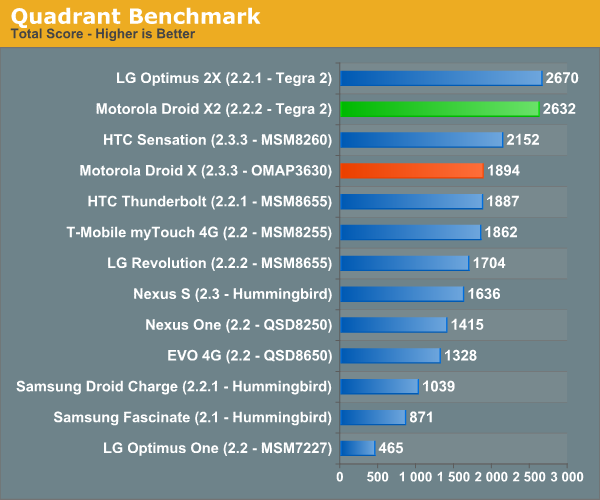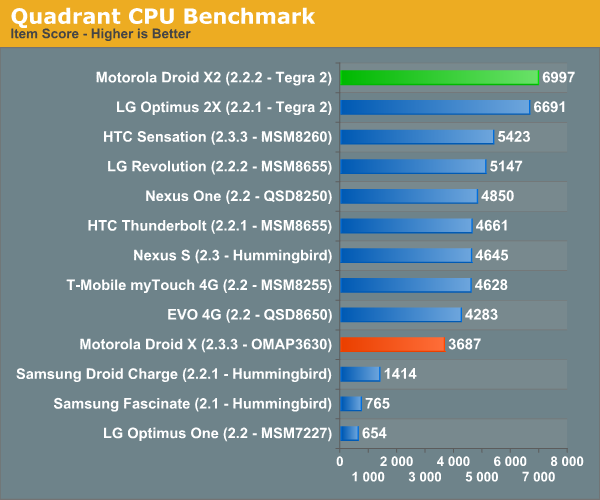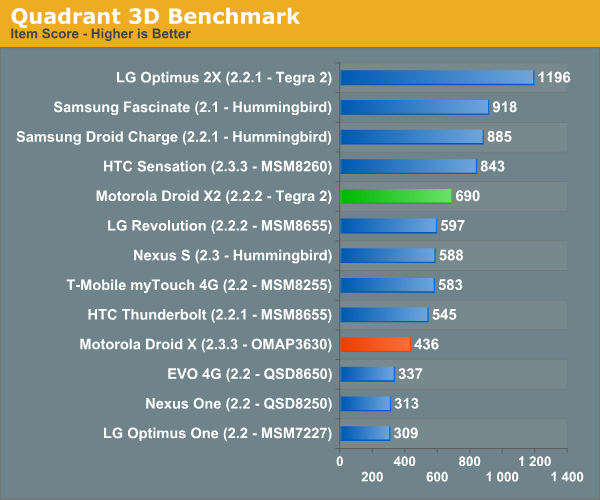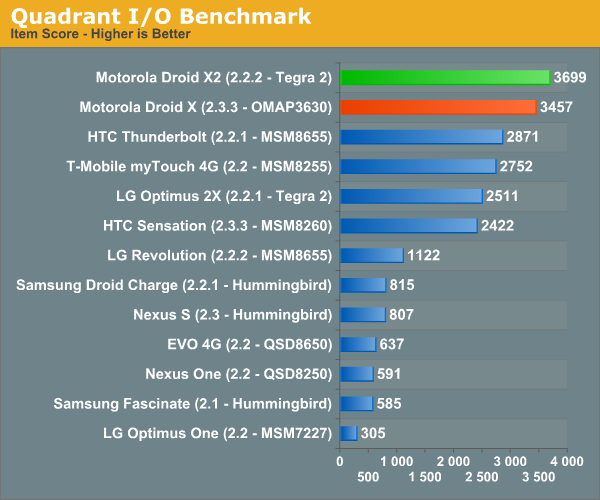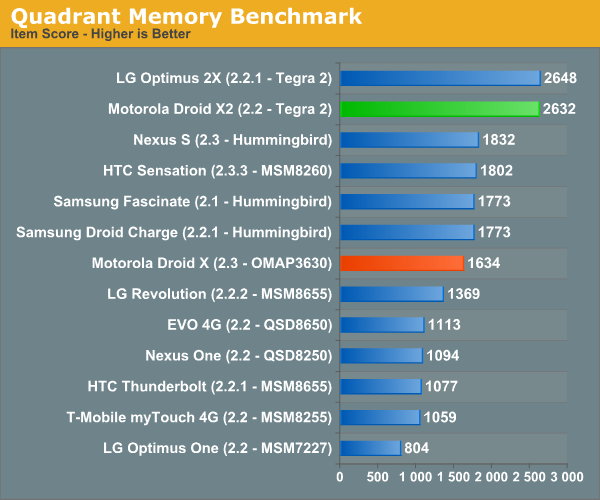 Battery Life
I've saved it for last, but battery life on the X2 is very close to where it was with the X. Both share the exact same battery as I mentioned earlier, and the X2 manages to include a dual core SoC and higher resolution screen, all the while gaining battery life in all three categories. Motorola continues to dominate our call test charts with now four devices at the very top - I'd like to know what their special sauce is.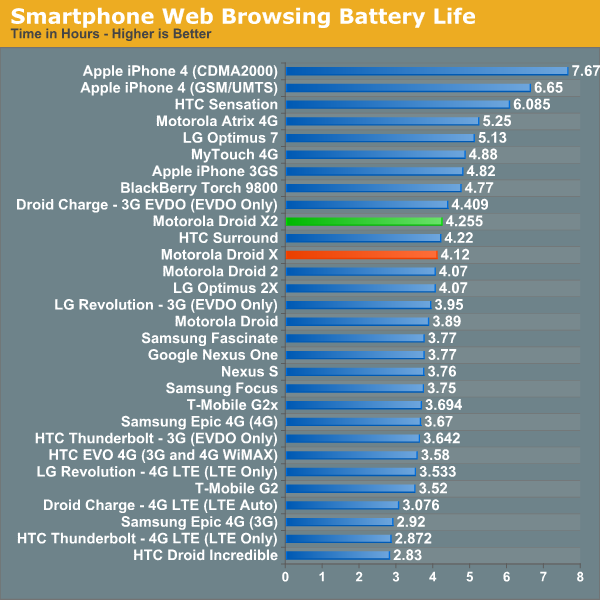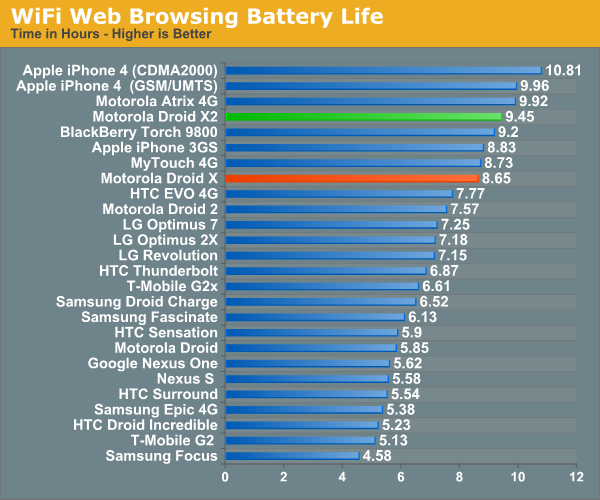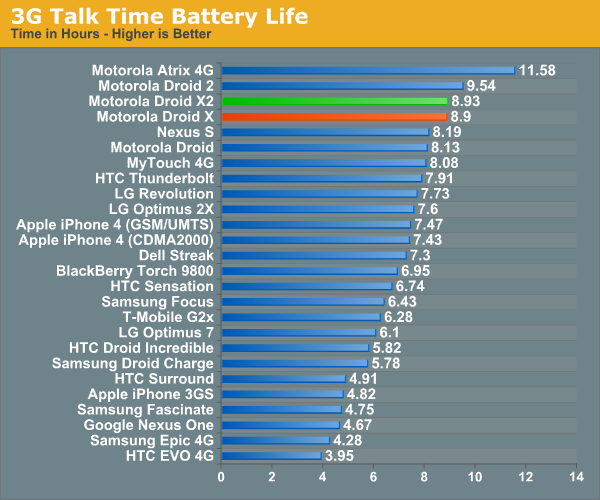 Again due to the WiFi hotspot service not being provisioned on the device Motorola sent us we were unable to test actual WiFi hotspot battery life.
Conclusions and Final Thoughts
We're almost exactly one year after the launch of the original Droid X, and now dual core smartphones with higher resolution screens are the norm. With those two critiera as the bar for success, the X2 does pass. That said, it's hard to get super excited about the X2 on a carrier where every flagship device seems to have 4G LTE connectivity.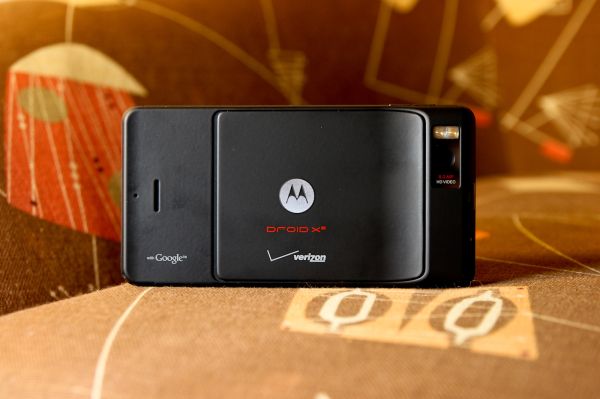 The product launched online with minimal fanfare, and then quietly showed up in stores later - it just didn't excite the Verizon Android fanbase as much as the original X launch did. Moreover, I find the X2 refresh a bit too safe, with no major outward physical differences to distinguish the X2 from its predecessor other than a subtle color change and a line of red text. No, that excitement seems to be building up to a fever pitch for the Bionic.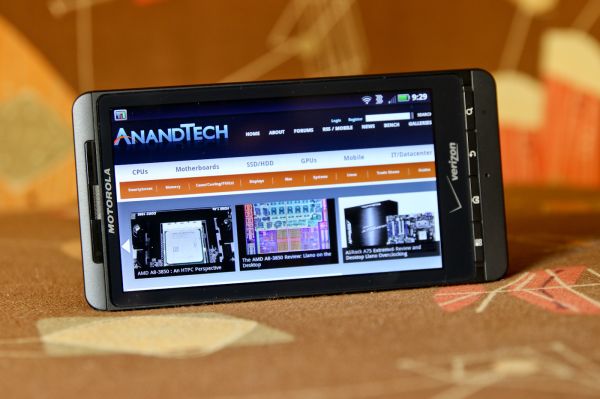 Lack of excitement aside, the X2 does however play an important role in Verizon's smartphone lineup. Namely, it's a device for customers who don't want 4G LTE connectivity and the (admittedly) poor battery life (and current $50-$100 price premium) that comes with it. If you aren't in an area slated to get LTE this year, waiting for the Bionic (which boils down to essentially being an X2 with larger display, newer motoblur, and LTE) doesn't really make all that much sense, and in that circumstance the X2 seems like a better purchase. Likewise, if you're an X owner and already have a dock, case, extra battery, and are looking for much faster hardware to upgrade to (or perhaps have recently broken a Droid X), the X2 is an easy shoe-in. I guess it all boils down to each individual situation.