Original Link: http://www.anandtech.com/show/4479/amd-a83850-an-htpc-perspective


Present day consumers use their PCs for multimedia intensive tasks such as HD video playback. These HTPC tasks are not very power efficient when done using the x86 processor alone. Gamers have remained the main focus of the GPU developers. However, the GPU architecture (coupled with a dedicated video decoder on the same silicon) is quite useful for video playback and post processing also. This lightens the load on the x86 processor, and so, even consumers who rarely game opt to go for a discrete HTPC graphics card.

Intel used to integrate the GPU into the chipset till the GMA X4500. In Clarkdale, the integrated GPU became a part of the processor package itself, and eventually became a part of the main die in Sandy Bridge. The GMA X4500 and later models have a very efficient decoder, and renders a discrete HTPC graphics card redundant for most entry level users. AMD, unfortunately, had support for integrated graphics in only some of their chipset models. That is set to change today, as Lynx (the desktop version of the Llano) makes its way into the market. Ever since AMD acquired ATI, a processor with AMD's x86 CPU and ATI's GPU on the same die was hotly expected. The Lynx integrates a number of AMD Stars cores and also an updated Redwood class GPU (called Sumo) into the same die.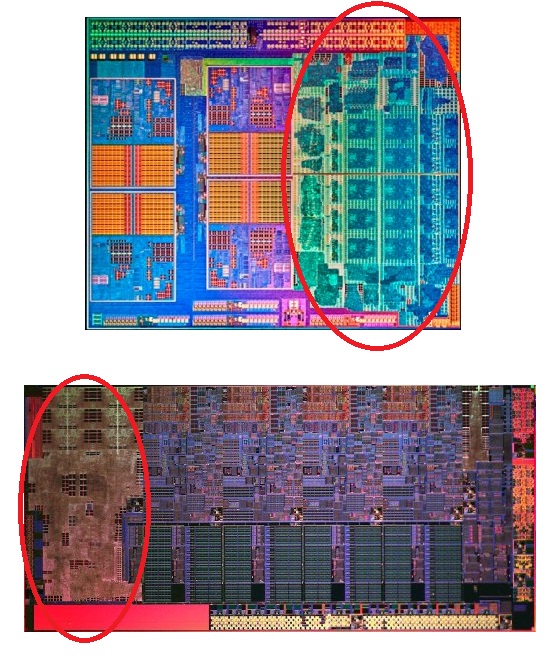 GPU Area in the Llano vs. GPU Area in Sandy Bridge (Die shots approximately to scale)
GPU support for basic HD video decoding and the 3D fad (Blu-rays) is provided by all the current platforms from Intel, AMD and NVIDIA. From an HTPC perspective, mainstream consumers have started feeling the need for good, flexible video post processing capabilities also. Discrete AMD GPUs are well respected in the HTPC community, and the Redwood class GPUs have been used to override the Clarkdale's IGP in many a setup. Can the Sumo wrestle the spot away from Intel HD3000 Graphics in HTPCs?
AMD provided us with an A8-3850 CPU and an ASRock A75Pro4 ATX motherboard for the review. Purists might balk at the idea of a 100W TDP processor being used in tests intended to test the HTPC capabilities. However, we have to make do with whatever sample was sent to us. A look at the Lynx lineup indicates that the same product with a 2.6 GHz core clock (A8-3800) has a 65W TDP. I intended to underclock the CPU to 2.6 GHz. However, Llano clock adjustments are a minefield, as Ian points out in his ASRock Extreme6 review. The idle power usage in my testbed was good enough (as we shall see in a later section). My time was better spent debugging the HTPC related issues, and therefore, I didn't take the trouble to underclock.

As soon as I finished setting up the testbed, I found that Blu-rays would play correctly, but local file playback had a host of issues. Noise reduction and cadence detection wouldn't get activated for local files with ESVP on. Turning it off resulted in dropped frames and high load on the GPU. It was turning out to be very similar to the DDR3 based MSI 6450 we had reviewed earlier.

Being a new platform, BIOS updates for the ASRock A75 Pro4 were flying thick and fast. To confound the issue, different BIOS versions had different behaviors with the default UEFI settings. With some BIOS versions, even Blu-ray playback had the same issues as local files.

After going back and forth with AMD about the local file playback issue, we discovered that the BR softwares use a proprietary API for video playback from discs with DRM. For local file playback, most players use the DXVA API. These are different code paths and may result in different GPU utilization numbers.

Couple of days back, AMD finally discovered that the BIOS was forcing the shared GPU memory to an absurdly low value. The GFX memory settings forced by the user in the BIOS were also not honored. There was an update to the BIOS to fix this and set the default GFX memory to 512 MB. After this, both Blu-ray and local file playback improved enough for us to be able to get down to exhaustive testing. AMD did acknowledge that there exists an issue with local file playback having higher than normal GPU utilization, but that hasn't been resolved as yet.
The table below lists the components in our Llano HTPC testbed.
AMD Llano HTPC Testbed Setup
Processor
AMD A8-3850 - 2.90GHz, 4MB Cache (1MB/core)
Motherboard
ASRock A75Pro4 ATX
OS Drive
OCZ Vertex 2 120 GB
Memory
G.Skill Ripjaws Series 4GB (2 x 2GB) SDRAM DDR3 1333 (PC3 10666) F3-10666CL7D-4GBRH CAS 7-7-7-21
Video Cards
None / Sapphire DDR3 6570 (for Crossfire)
Optical Drives
ASUS 8X Blu-ray Drive Model BC-08B1ST
Case
Antec Skeleton ATX Open Air Case
Power Supply
Antec VP-450 450W ATX
Operating System
Windows 7 Ultimate x64
Display / AVR
Acer H243H / Onkyo TX-SR 606 + Toshiba Regza 37RV530U
.
The most important part of the testbed from a reviewer's perspective was the open air case from Antec. I had used the Antec VERIS Fusion MAX for the NAS / Fall 2010 HTPC testbed. The case was a HTPC beauty, and kept my lab neat and orderly (instead of having components all over the table and the floor). However, the fact that I had to open the case to swap PCI-E cards in and out made it slightly impractical.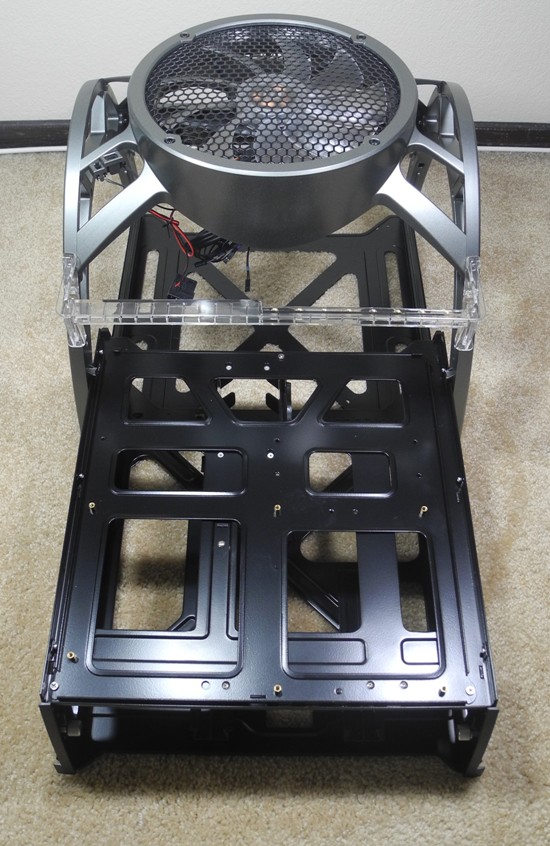 The Antec Skeleton is a full ATX open air enclosure, and what really sealed the deal for me was the fact that the motherboard was easily accessible, and upto 4 SATA drives could be mounted on the side. It also has support for upto three 11" PCI-E cards. There are Quick Relase 5.25" and 3.5" bays, but I chose to mount only one optical drive in the 5.25" bay, leaving the rest open to route the cables. The four externally mounted 3.5" bays can also be used to mount 2.5" drives, as I did with the OCZ Vertex 2 SSD in the gallery below.
I keep moving my testbeds back and forth between the home theater setup with the bitstreaming / 24 Hz capable gear and the test lab upstairs with the ordinary monitors (so as to not disturb my family's usage of the HT gear). In the Antec Skeleton case, the grips on the top railing (on either side of the top fan) can be used as handles. This makes it very easy to carry around.

The fancy LED lights on top around the huge fan make it look very attractive and it is sure to turn heads.
The last thing was from an OC / gaming enthusiast viewpoint and not really from a reviewer's perspective!
Let us now proceed to the actual HTPC benchmarking of the Llano.
HTPC enthusiasts are often concerned about the quality of pictures output by the system. While this is a very subjective metric, we have decided to take as much of an objective approach as possible. We have been using the HQV 2.0 benchmark in our HTPC reviews to identify the GPUs' video post processing capabilities. The HQV benchmarking procedure has been heavily promoted by AMD, and Intel also seems to be putting its weight behind that. The control panel for the Sandy Bridge GPU has an additional skin tone enhancement option which the Clarkdale drivers used to lack.
HQV scores need to be taken with a grain of salt. In particular, one must check the tests where the GPU lost out points. In case those tests don't reflect the reader's usage scenario, the handicap can probably be ignored. So, it is essential that the scores for each test be compared, rather than just the total value.
The HQV 2.0 test suite consists of 39 different streams divided into 4 different classes. In our HTPC(s), we use Cyberlink PowerDVD 11 with TrueTheater disabled and hardware acceleration enabled for playing back the HQV streams. The playback device is assigned scores for each, depending on how well it plays the stream. Each test was repeated multiple times to ensure that the correct score was assigned. The scoring details are available in the testing guide from HQV.
Blu-rays are usually mastered very carefully. Any video post processing (other than deinterlacing) which needs to be done is handled before burning it in. In this context, we don't think it is a great idea to run the HQV benchmark videos off the disc. Instead, we play the streams after copying them over to the hard disk. As we noted in the previous section, the capabilities of the APU vary between Blu-ray and local file playback. How much difference does that cause in the HQV scores? How do the scores look when compared to the HD3000?
In the table below, we indicate the maximum score possible for each test, and how much each GPU was able to get. The HD3000 is from the Core i5-2520M with the Intel 15.22.2.64.2372 drivers. The Lynx was tested with Catalyst 11.6, driver version 8.862 RC1
HQV 2.0 Benchmark
Test Class
Chapter
Tests
Max. Score
Intel HD3000
AMD 6550D (Blu-ray)
AMD 6550D (Local file)
Sapphire 6570
Video Conversion
Video Resolution
Dial
5
5
4
4
5
Dial with Static Pattern
5
5
5
5
5
Gray Bars
5
5
5
5
5
Violin
5
5
5
5
5
Film Resolution
Stadium 2:2
5
5
5
5
5
Stadium 3:2
5
5
5
5
5
Overlay On Film
Horizontal Text Scroll
5
3
5
5
5
Vertical Text Scroll
5
5
5
5
5
Cadence Response Time
Transition to 3:2 Lock
5
5
5
5
5
Transition to 2:2 Lock
5
5
5
5
5
Multi-Cadence
2:2:2:4 24 FPS DVCam Video
5
5
5
5
5
2:3:3:2 24 FPS DVCam Video
5
5
5
5
5
3:2:3:2:2 24 FPS Vari-Speed
5
5
5
5
5
5:5 12 FPS Animation
5
5
5
5
5
6:4 12 FPS Animation
5
5
5
5
5
8:7 8 FPS Animation
5
5
5
5
5
Color Upsampling Errors
Interlace Chroma Problem (ICP)
5
2
5
2
5
Chroma Upsampling Error (CUE)
5
2
5
2
5
Noise and Artifact Reduction
Random Noise
SailBoat
5
5
5
5
5
Flower
5
5
5
5
5
Sunrise
5
5
5
5
5
Harbour Night
5
5
5
5
5
Compression Artifacts
Scrolling Text
5
3
3
3
5
Roller Coaster
5
3
3
3
5
Ferris Wheel
5
3
3
3
5
Bridge Traffic
5
3
3
3
3
Upscaled Compression Artifacts
Text Pattern
5
3
3
3
3
Roller Coaster
5
3
3
3
3
Ferris Wheel
5
3
3
3
3
Bridge Traffic
5
3
3
3
3
Image Scaling and Enhancements
Scaling and Filtering
Luminance Frequency Bands
5
5
5
5
5
Chrominance Frequency Bands
5
5
5
5
5
Vanishing Text
5
5
5
5
5
Resolution Enhancement
Brook, Mountain, Flower, Hair, Wood
15
15
15
15
15
Video Conversion
Contrast Enhancement
Theme Park
5
5
5
5
5
Driftwood
5
5
5
5
5
Beach at Dusk
5
2
5
5
5
White and Black Cats
5
5
5
5
5
Skin Tone Correction
Skin Tones
10
0
7
7
7
Total Score
210
173
190
184
197
A look at the above table reveals that Intel has caught up with the competition in terms of HQV scores. There is not much to choose betwee 173 and 184. But, does it pass the video quality stress streams? How does the Llano fare in that? We will see in the next few sections. But, first, we will look at the discrepancy between the Blu-ray and local file playback with respect to chroma upsampling.
One of the most glaring issues we found with local file playback was the chroma upsampling error. Initially, we suspected that the MPC Video Decoder (our preferred H.264 decoder for use in MPC-HC running on AMD GPUs) was at fault.

Screenshots are not allowed while playing back Blu-rays in either PowerDVD or Total Media Theater. Thankfully, playing a mounted ISO enabled screenshots while apparently retaining the same playback quality as the original Blu-ray. Since the ArcSoft video decoder is the easiest to get working with MPC-HC, we grabbed screenshots when playing back the ISO and the M2TS files using Total Media Theater. To put things on a equal footing, we took the ArcSoft decoder from Total Media Theater 5 and enabled its usage in MPC-HC. Presented below are the screenshots from approximately the same timestamp for the three cases.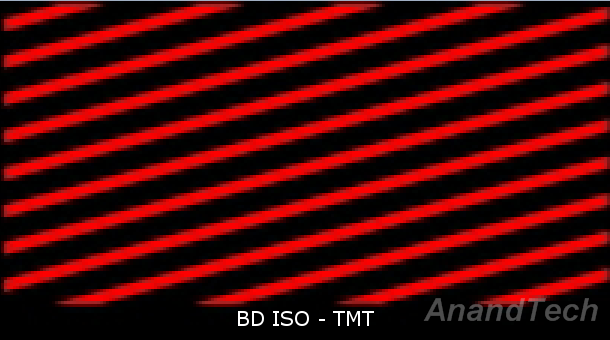 Considering that the video decoder used in all the cases is the same, the difference is only in the renderer / driver applied post processing. Even assuming that the EVR CP renderer used by MPC-HC lacks the quality of the ArcSoft renderer, there is a definite difference between the local file played back from within TMT and the ISO. It can only be concluded that the AMD drivers are enabling certain post processing steps only for Blu-ray playback. Will AMD rectify this issue? Only time will tell.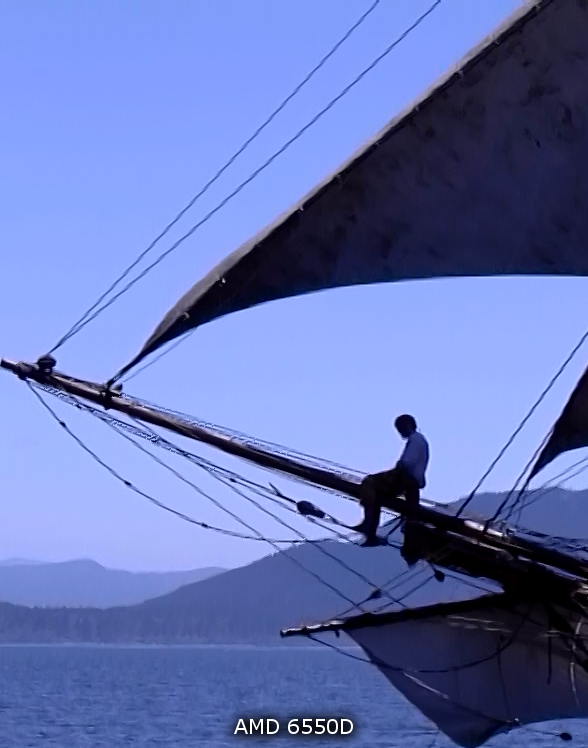 From a deinterlacing perspective, the AMD 6550D looks better. However, the default video post processing settings with ESVP seem to wash out the details (for example, near the shoreline) when compared to the Intel HD 3000.
DXVA Checker indicates the various capabilities of the AMD6550D, as exposed by the drivers.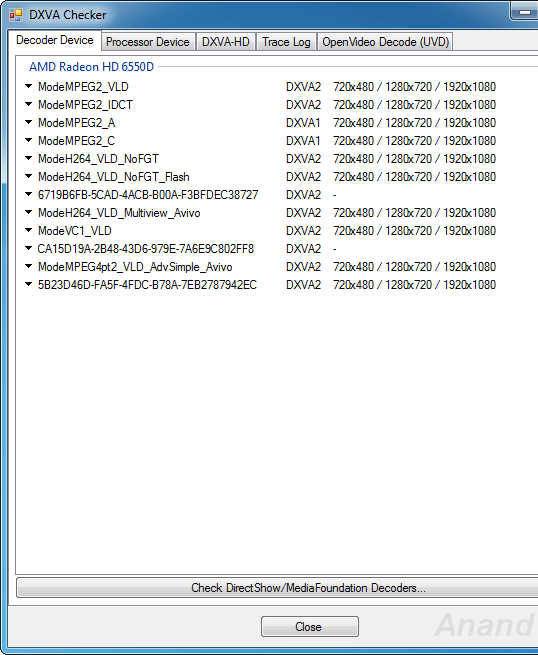 The only puzzling aspect is the missing ModeH264MVC_VLD_Avivo entry which is present in the AMD 6xxx cards with UVD3. Instead, we have ModeH264_VLD_Multiview_Avido, which means that the Blu-ray players will have to interface with this new entry. AMD let us know that the 6550D doesn't have full hardware acceleration for 3D Blu-Rays. Some sort of extra assistance from the host CPU will be needed.

Our grouse with the low end AMD GPUs like the 6450 and 5450 was the fact that they were not certified for 1080p60 H.264 playback. Instead, they confined themselves to Blu-ray specs. With the advent of camcorders capable of 1080p60 recording, we believe this restriction should not be in place. What about the AMD 6550D?

We fired up DXVA Checker, and tried to benchmark a 1080p60 clip from a camcorder.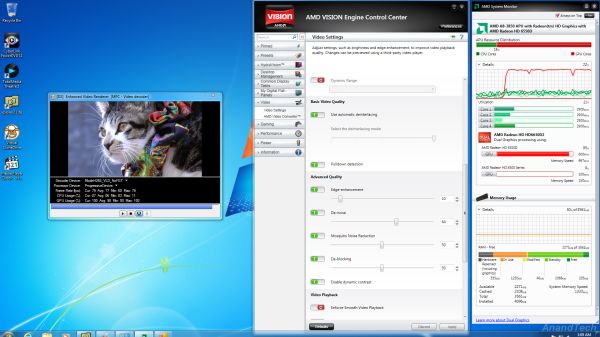 With all post processing steps enabled, I was pleased to find that the clip benchmarked at 77 fps, well beyond the 60 fps necessary to avoid frame drops.

With full hope, I tried playing back the clip in MPC-HC. As it turned out, approximately half the frames were dropped with ESVP on. Manually disabling all post processing options enabled us to play back the clip without frame drops (except for the initial startup trouble).
The discrepancy between DXVA Checker and MPC-HC was a surprise. They tallied without issues when we were benchmarking the discrete GPUs earlier this month. Either DXVA Checker or MPC-HC has problems with the AMD 3550D, and hence, we decided not to carry out the FPS benchmark for various codecs.

According to AMD, Blu-ray content shouldn't have any such issues. We took a 1080i60 clip from a Blu-ray (M2TS file) and tried playing it back in PowerDVD. Unfortunately, it looks like nothing other than Vector Adaptive (VA) deinterlacing is available, as shown in the gallery below.
In our opinion, it is not good for mainstream integrated GPUs to skimp on video post processing for Blu-ray videos itself.
All in all, even without running the DXVA benchmark, we have encountered a host of issues in playing back files at their native frame rate. Once the drivers get mature and the discrepancy between MPC-HC and DXVA Checker get resolved, we will probably revisit this. But, we wouldn't be surprised if AMD puts up its hands and says that the unit's functionality and performance are as per expectations.
One of the main reasons for HTPC purists to override the Intel integrated GPUs was the lack of a proper 23.976 Hz refresh rate. AMD GPUs have a history of consistently supporting 23.976 and 24 Hz refresh rates. With the AMD 6550D, setting up these refresh rates was quite easy.
We have seen that Intel is able to achieve 23.976 Hz refresh of sorts by disabling UAC on Windows 7 systems. There is currently an Intel driver in the works which removes this restriction (and I have my hands on it! Expect to see how it performs when I review ASRock's CoreHT 252B in the coming days).
Back to the Lynx system, setting a 23 Hz refresh rate gets us the same sort of accuracy as was obtained with other AMD GPUs. Playback frame rate locks to 23.977 fps and the refresh rate oscillates on either side of 23.977 Hz. Instead of a repeated frame every 42 seconds, we get one every 1000 seconds, long enough for most people not to notice.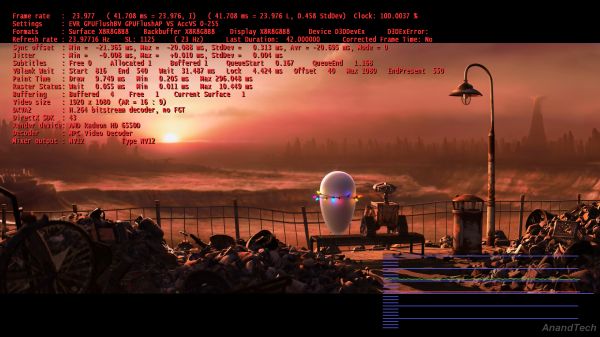 24 Hz refresh rate support is equally good.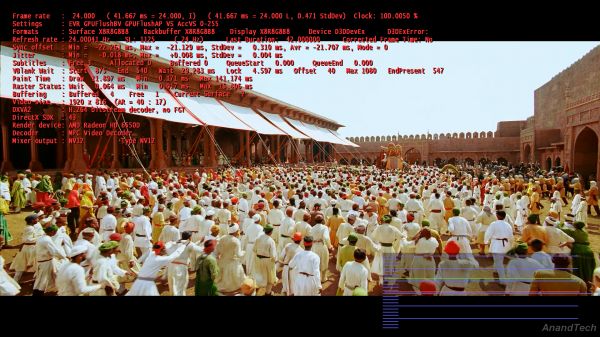 We would like AMD to provide custom resolution and refresh rate support similar to what NVIDIA does. This would enable end users to tweak the pixel clock and related settings to appropriately match their setup.
3D Blu-ray Playback CPU Load

We saw in one of the previous sections that the 6550D doesn't have the same MVC decode feature of the 6xxx GPUs. We took the 3D Blu-ray version of Alice in Wonderland for a spin and played it on the 6550D as well as the 6570 (not in CrossFire mode). As expected, the 6570 had marginally lesser CPU utilization. The GPU load (not recorded here) was also lesser compared to the 6550D (that is to be expected because of the difference in the DRAM and GPU core clocks). We also recorded the CPU load while playing a 2D Blu-ray (HQV Benchmark) on the 6550D. It gives an indication of the CPU assistance required by the 3D Blu-rays.
Blu-ray Playback CPU Usage
Alice in Wonderland [3D] (6550D)
21%
Alice in Wonderland [3D] (Sapphire 6570)
16%
HQV 2.0 Benchmark Blu-ray [2D] (6550D)
12%
Steady Video

AMD is also advertising 'Steady Video', a feature to make your shaky hand held videos such as those from the PlaySports and the Flips look more stabilized. This requires the CPU and the GPU to work in close conjunction. The good aspect is that 'Steady Video' is available even when playing back videos in MPC-HC. For reasonably steady videos, it works wonders, but fails in places where it really matters (like videos taken while walking, where there is a lot of scene change as well as shakiness). The bad aspects come in when one tries to be aggressive with the steady video algorithms. Sometimes, the image quality suffered, while there were lip sync errors in other cases. Even in videos where it is effective, there are slight periodic jerks.
All in all, our opinion is that this is a good feature for the marketing department to advertise. Note that Cyberlink has been having a True Theater Image Stabiliser for camcorder videos since PowerDVD 10. That feature works across all CPU / GPU combinations.

YouTube and Netflix

The good news is that hardware acceleration is present and works for both YouTube and Netflix, as the screenshots below show.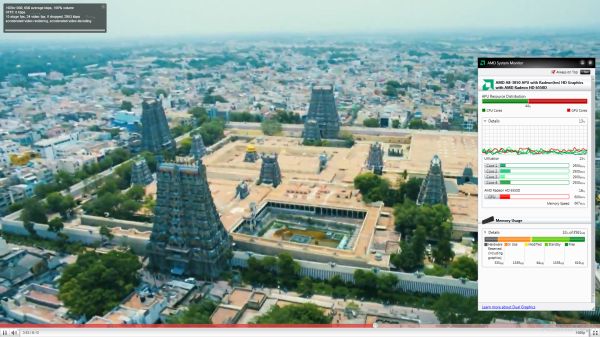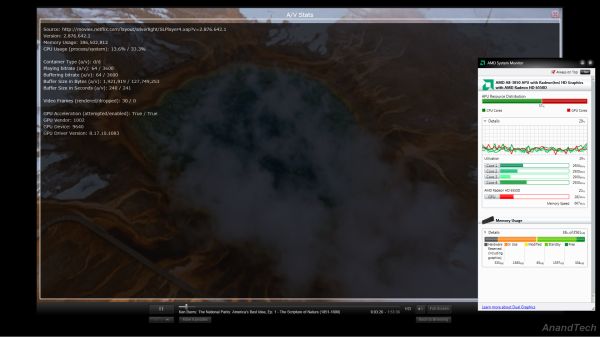 Power Numbers

We put our testbed through some typical activity and recorded the average power consumption numbers. Note that these numbers are relevant only when compared with the idle playback power consumption. Different testbeds may end up with different power consumption numbers.
Llano HTPC Testbed Average Power Consumption (W)
Idle
36.1
1080p MKV from SSD
49.1
2D Physical Blu-ray Playback
57.1
Call of Pripyat Benchmark (Max. settings)
91.8
Prime 95 + Furmark
141.2
Miscellaneous Notes
We are yet to evaluate some important aspects like RGB - YUV colour conversion accuracy and audio channel mapping in 7.1 channel configurations. AMD is looking into the local file playback having high GPU load issue also. By the time we evaluate the next HTPC / HTPC GPU, some Catalyst releases should have passed by. Expect further analysis of the AMD 6550D in those pieces, particularly with respect to the aspects we have missed covering in this review.
The AMD 6550D in the A8-3850 is much better than the Intel HD 3000 Graphics in video post processing quality. However, this leads to increased expectations like support for full post processing on Blu-ray videos. Unfortunately, the 6550D has a number of issues which prevent it from fulfilling the requirement.

The Enforce Smooth Video Playback feature needs more work if it is going to get enabled by default. Instead of having pre-defined conditions, it would be beneficial to activate this feature on the fly. Currently, the monitor resolution, input video resolution and bitrate are taken into account while deciding to enable or disable ESVP. This very feature causes botched playback of streams which play properly on the Sandy Bridge systems.

Does the AMD 6550D render a discrete HTPC GPU redundant? With the current state of affairs, we have to say that the market for GPUs such as the GT 430 and the AMD 6570 will remain in place for some time to come.

Features like CrossFire support indicate that AMD seems to have targeted the gamers more than the HTPC enthusiasts with the 6550D. It is also unfortunate that AMD doesn't offer a way to take advantage of a discrete GPU (outside of CF) from a HTPC perspective. SteadyVideo is a nice feature to have, but it comes with its own disadvantages.
There is no QuickSync-like efficient transcoding support in the A8-3850. However, we do not believe it is currently a con for AMD from the perspective of HTPC enthusiasts. QuickSync may become beneficial to HTPC users once open source support materializes or x264 is able to utilize some part of that dedicated silicon encoder, both of which seem unlikely to happen in the near future. [Update: Andrew Van Til has QuickSync support in his DVRMSToolBox utility, but we are looking for more FOSS developers to jump onto the QuickSync bandwagon]
Retaining low end GPU performance for Brazos could have been accepted, but having the same restrictions on the APUs for the mainstream market doesn't pass muster. The 6550D may be a good first step for AMD to counter Intel's GPUs in the HTPC market, but our expectations from the desktop Llano were much higher.