Original Link: http://www.anandtech.com/show/4476/amd-a83850-review


Ever since the arrival of Conroe back in 2006, we've only really recommended AMD for its (sometimes incredible) value. Recommending AMD for those looking for absolute performance pretty much ended when the Pentium 4 retired.
AMD is looking to change that with the arrival of its first Fusion APUs. These APUs marry one or more AMD x86 cores with dozens if not hundreds of Radeon "cores" on a single die. While today the APU is little more than a cohabitation of these two computing architectures, the end goal is something far more integrated: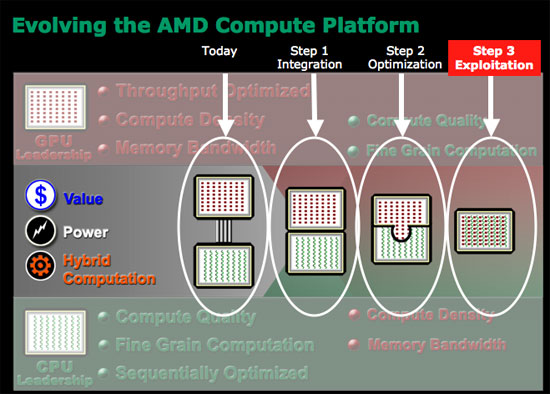 Llano is AMD's second Fusion APU, the first being Zacate which we met earlier this year. Llano shouldn't be all that unfamiliar to you either, the notebook version of the APU launched just two weeks ago. Our conclusions were as you'd expect: sub-par x86 performance but competitive battery life and great gaming performance for a value notebook. If gaming is going to be the most intensive thing you do on your notebook, you may find yourself wanting one based on a Llano APU.
Now it's time to look at Llano on the desktop. We previewed the desktop Llano alongside the mobile version but today we're back with much more detail. This article will focus on the basics: CPU performance, GPU performance and the associated details. Ian has a final review of one of the first desktop Llano motherboards - the ASRock A75 Extreme6 as well as a look at overclocking the new desktop APU. Finally Ganesh's article takes an in-depth look at how Llano works as an HTPC platform.
The APU
Although mobile Llano has to worry about fitting into thin and light notebooks, the desktop version has a lot more breathing room and as a result it comes to us in a pretty traditional package. Motherboard backwards compatibility is thrown out the window as you need pins to get video output from the APU to an on-board VGA/DVI/HDMI header and as a result we have a new platform: Socket-FM1.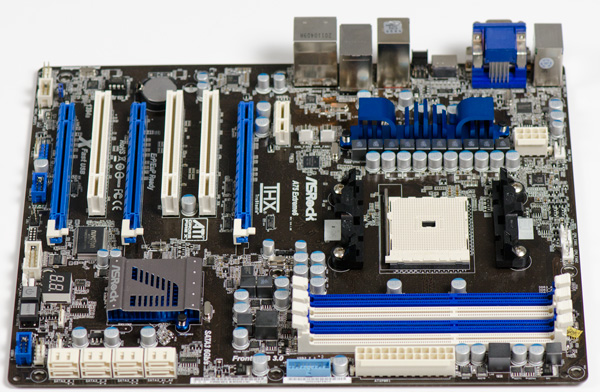 Socket-FM1 is a 905-pin ordeal that looks reminiscent of the original Clawhammer CPU: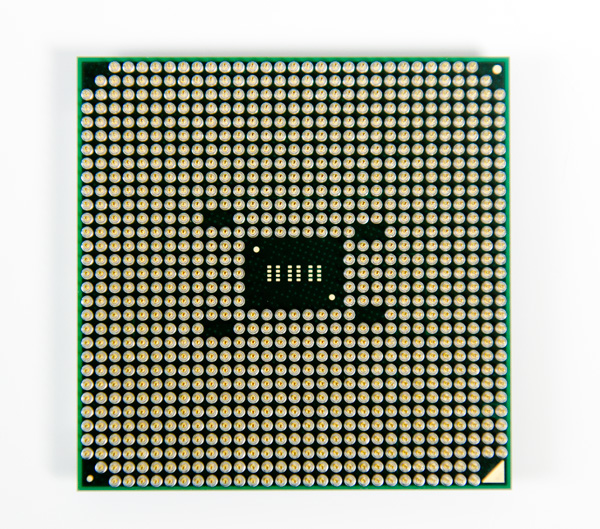 Despite the socket change, heatsink specifications haven't changed. All existing Socket-AM2/AM2+/AM3/AM3+ heatsinks should work just fine as long as they can handle the rated TDP of the chip you're cooling.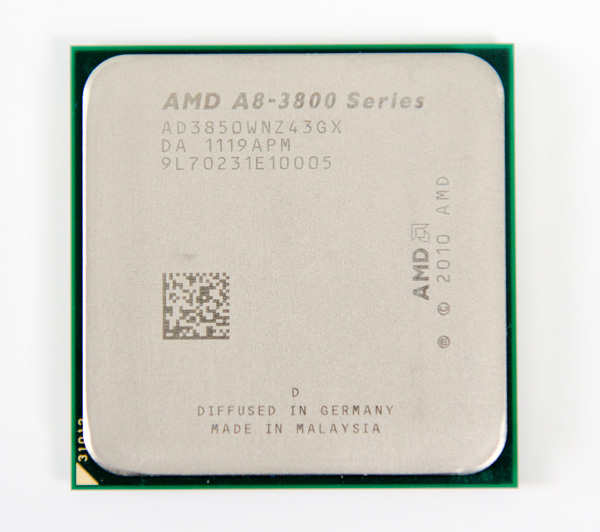 The desktop Llano launch starts small. AMD is only introducing four parts today, two of which will be available later:
AMD Llano Desktop Lineup
GPU
Total TDP (GPU + CPU)
CPU Cores
CPU Clock (Base/Turbo)
GPU Cores
GPU Clock
Price
AMD A8-3850
Radeon HD 6550D
100W
4
2.9GHz
400
600MHz
$135
AMD A8-3800
Radeon HD 6550D
65W
4
2.4/2.7GHz
400
600MHz
$??
AMD A6-3650
Radeon HD 6530D
100W
4
2.6GHz
320
443MHz
$115
AMD A6-3600
Radeon HD 6530D
65W
4
2.1/2.4GHz
320
443MHz
$??
The A8-3850 and A6-3650 are going to be the first Llano APUs available, both carry a 100W TDP rating. While this may seem high, do remember that 100W is for the CPU and GPU combined.
Although Llano does support AMD's new Turbo Core technology, neither of the parts launching today have it enabled. The A8-3850 and A6-3650 run at 2.9GHz and 2.6GHz, respectively. The 3800 and 3600 will drop base clock speeds to hit a lower TDP but allow you to turbo up depending on workload. For an explanation of how Turbo Core works, flip back to our mobile Llano article.
Pricing is pretty reasonable. For $98 you can buy an Athlon II X4 640 running at 3.0GHz. For $37 more AMD will sell you an A8-3850 APU, effectively determining the price of the integrated GPU. AMD expects to see desktops built around the A6 to sell for $500 - $600, and A8 based systems to go for between $600 and $700
CPU Specification Comparison
CPU
Manufacturing Process
Cores
Transistor Count
Die Size
AMD Llano 4C
32nm
4
1.45B
228mm2
AMD Thuban 6C
45nm
6
904M
346mm2
AMD Deneb 4C
45nm
4
758M
258mm2
Intel Gulftown 6C
32nm
6
1.17B
240mm2
Intel Nehalem/Bloomfield 4C
45nm
4
731M
263mm2
Intel Sandy Bridge 4C
32nm
4
995M
216mm2
Intel Lynnfield 4C
45nm
4
774M
296mm2
Intel Clarkdale 2C
32nm
2
384M
81mm2
Intel Sandy Bridge 2C (GT1)
32nm
2
504M
131mm2
Intel Sandy Bridge 2C (GT2)
32nm
2
624M
149mm2
Architecturally desktop Llano is no different than its mobile counterpart. These are all quad-core parts with updated 32nm cores, boasting a ~6% increase in IPC over their 45nm Athlon II predecessors. Each core has a private 1MB L2 cache for a total of 4MB per quad-core APU.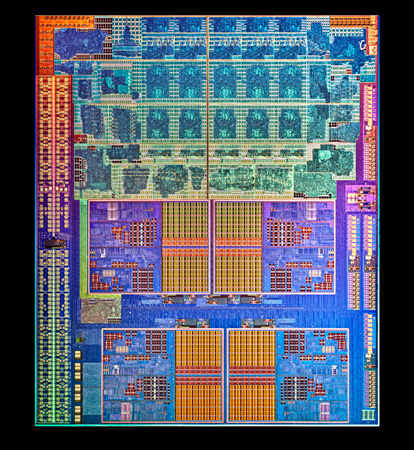 The GPU side isn't different architecturally either, you're still looking at a Sumo core derived from AMD's Radeon HD 5570. Desktop Llano is available with either 400 GPU cores or 320 cores (you can get the mobile part with only 240 cores enabled as well). While the mobile parts top out at 444MHz, the extra TDP available in a desktop chassis allows AMD to ratchet up the GPU clock to 600MHz for the A8-3850.
AMD calls the two GPU configurations the Radeon HD 6550D and 6530D. Just like you can with mobile Llano, you can also pair a desktop Llano APU with a discrete GPU to have them both run in an asymmetrical CrossFire mode (with limitations of course):
AMD Radeon Dual Graphics Branding
Discrete GPU
6550D
6530D
HD 6670
HD 6690D2
HD 6690D2
HD 6570
HD 6630D2
HD 6610D2
HD 6450
HD 6550D2
HD 6550D2
The Chipset
I hate to keep drawing comparisons between desktop and mobile Llano APUs but we also have two chipsets on the desktop side: A75 and A55. The A75 chipset is the high end option with 6 x 6Gbps SATA ports and 4 x USB 3.0 ports: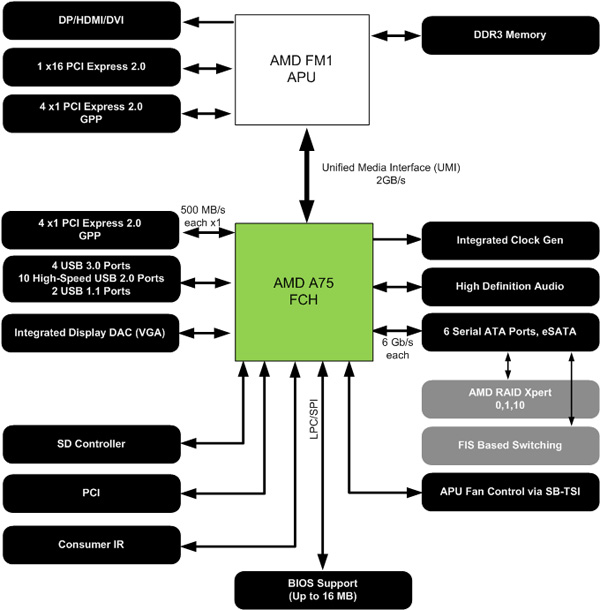 The A55 is the lower power, cost effective option that gets rid of all USB 3.0 support and backs down to 3Gbps SATA: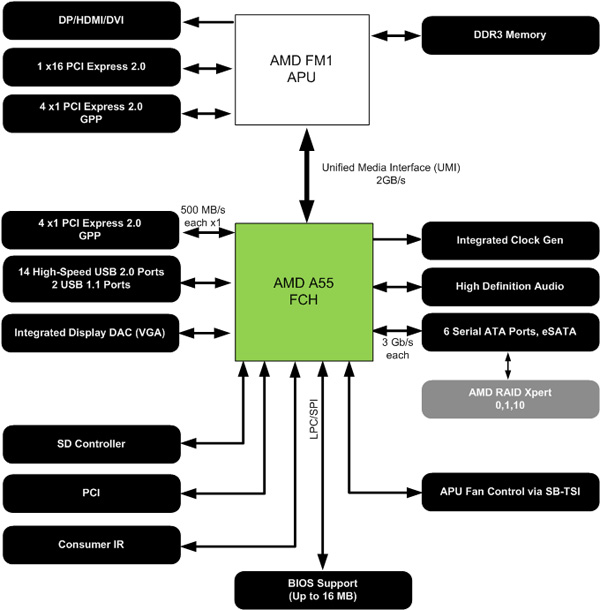 The Direct Competitor: Intel's Core i3-2105
When Intel launched Sandy Bridge the only way you could get the faster integrated graphics option (Intel HD 3000) on the desktop was to buy one of the more expensive K-series chips. The logic didn't make a ton of sense given that lower priced systems are usually the ones that depend on integrated graphics. In the weeks before Llano's arrival however, we met a new member of the Sandy Bridge family - the Core i3-2105: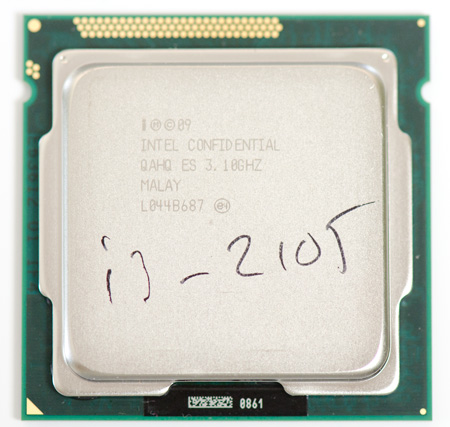 The 2105 is virtually identical to the 2100 it augments. It's still a dual-core processor (HT enabled) with a 3MB L3 cache . There's no turbo boost and you still get all of the same checkbox features (e.g. Quick Sync, VT-x, no VT-d, no AES-NI, etc...). There are only two differences between these two parts. The i3-2105 has an Intel HD Graphics 3000 core vs 2000 in the 2100, and the 2105 is priced at $134 (one dollar cheaper than the A8-3850).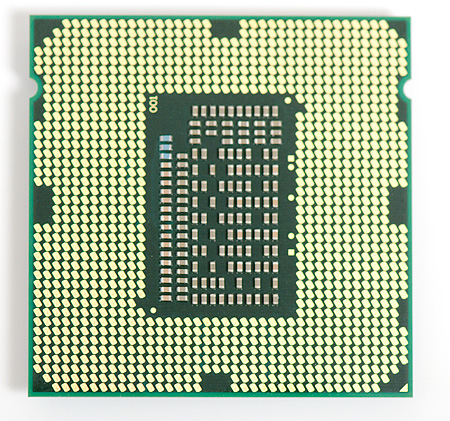 It's clear that this HD 3000 equipped Core i3-2105 is intended to compete directly with the A8-3850.
The Test
The CPU tests in this review use an identical configuration to everything else in Bench (4GB memory, Intel X25-M SSD, discrete GPU etc...). The table below is for the processor graphics comparisons. All Intel HD 3000 numbers were generated using the Core i3-2105.
All discrete GPUs use our standard GPU testbed (3.33GHz Nehalem). This does prevent our usual efforts to keep our testbeds identical, however with low-end GPUs the contamination should be minimal as we're GPU bound and then some, rather than being CPU bound.
CPU:
AMD A8-3850
Intel Core i3-2105
Motherboard:
ASUS P8Z68V-Pro (Intel Z68)
ASRock A75 Extreme6 (AMD A75)
Chipset Drivers:
Intel 9.2.0.1025
AMD Catalyst 8.862 RC1
Hard Disk:
Corsair P256 SSD (256GB)
Memory:
G.Skill DDR3-1866 2 x 4GB

Video Drivers:
AMD Catalyst 8.862 RC1
Intel 2372
Desktop Resolution:
1920 x 1200
OS:
Windows 7 x64
CPU Performance
For the full breakdown of x86 CPU performance head over to Bench and compare away. As I mentioned in our preview of the A8-3850 a couple of weeks ago, general purpose performance isn't that great. Although AMD has tweaked the A8's cores, the 2.9GHz 3850 performs a lot like a 3.1GHz Athlon II X4. You are getting more performance at a lower clock frequency, but not a lot more.
Compared to the Core i3-2100/2105 the A8-3850 really doesn't change the current state of AMD vs. Intel. If you're running lightly threaded apps, the Core i3 just has much better performance. Look at our single-threaded Cinebench scores below and you'll see a 50% performance advantage.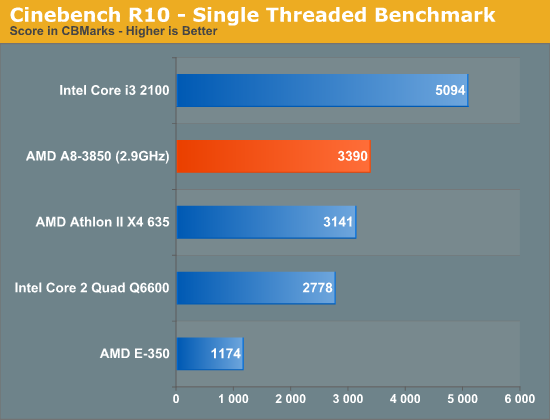 CPU bound gaming performance is also an area where the A8 falls behind the i3. Here you're looking at a 25 - 50% advantage for the i3-2100/2105: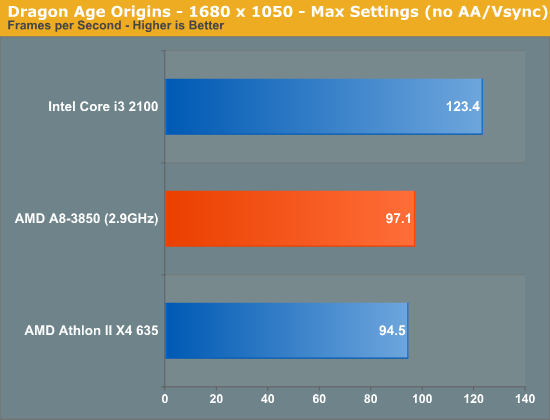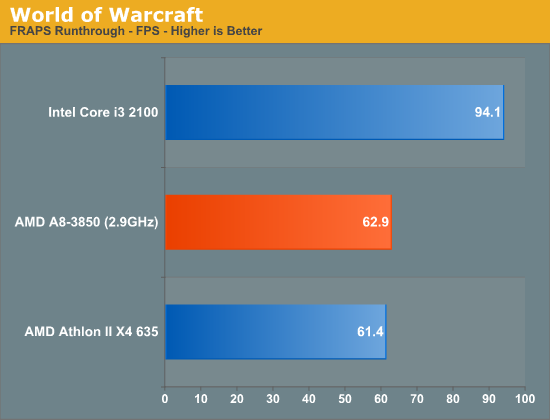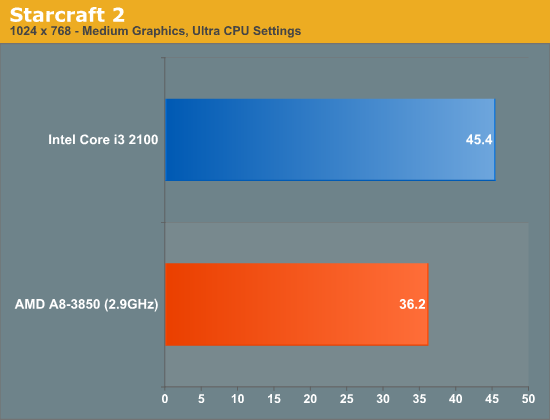 Applications that are a mix of one or more CPU intensive threads still favor the Core i3 as you can see from the Photoshop performance results: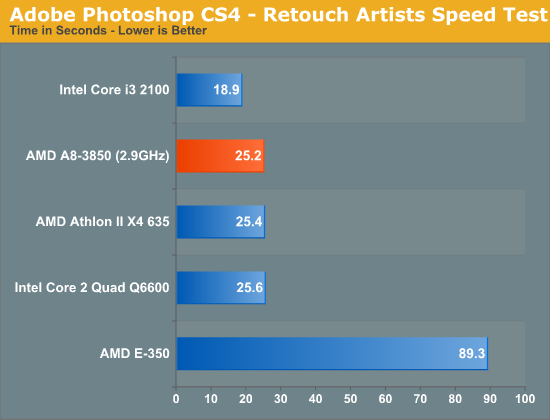 Go to the other end of the spectrum and load the A8-3850 up with CPU intensive threads, and it'll actually hold its own. As strong as the Core i3 is, there's no replacement for more cores when it comes to these thread heavy workloads. I should add that despite the A8's core count advantage, it's biggest victory in these heavily threaded tests is still only 9%: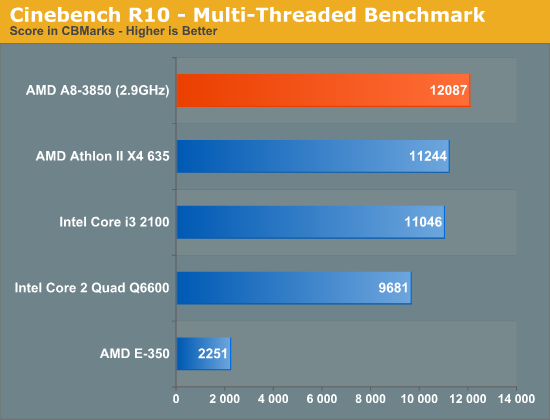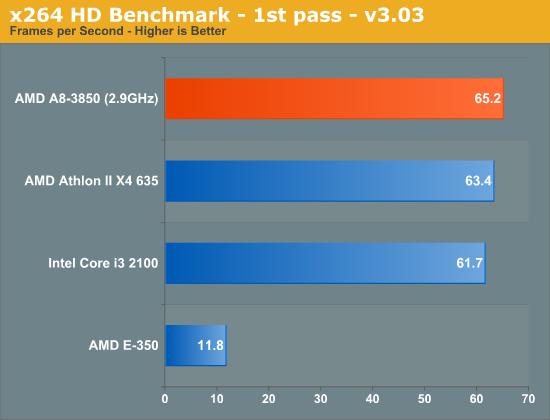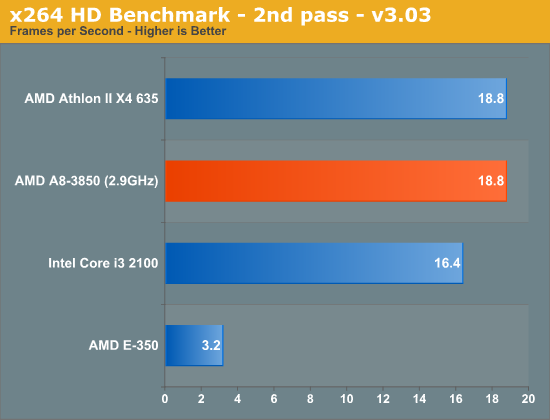 There's not much more to be said here. The A8-3850 isn't going to set any records for general use performance. If your primary use for your PC is going to be gaming however, Llano has something to offer you...
Llano GPU Performance vs. DDR3 Speed
Desktop Llano processors feature the same dual-channel memory controller as their mobile counterparts. Their memory support however is far more robust. You get a maximum of four DIMM slots on a desktop Llano motherboard (up from two SO-DIMM slots on a mobile Llano), and the chip officially supports memory speeds up to DDR3-1866 (1600 is the limit for mobile Llano). The added memory bandwidth is most useful in feeding the on-die Radeon GPU.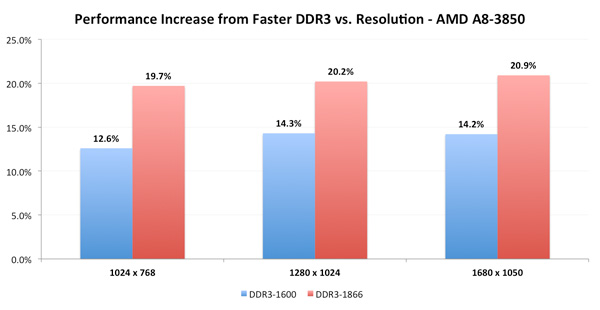 Across our seven titles we found that on average DDR3-1600 resulted in a 12.6% increase in performance over DDR3-1333 at 1024 x 768. Moving up to higher resolutions only increased the advantage by under 2%. Using DDR3-1866 showed around a 20% increase in performance over DDR3-1333.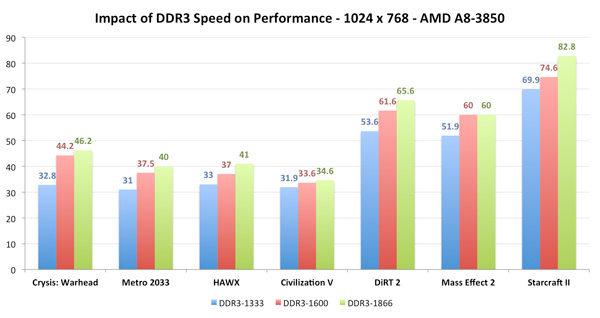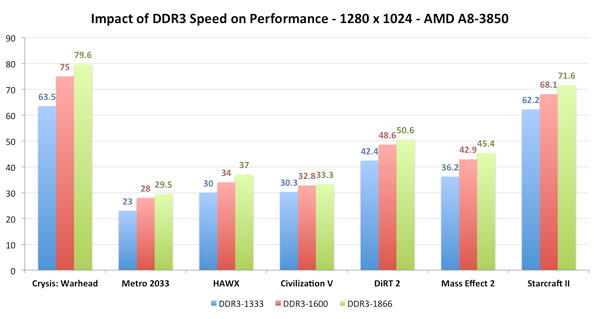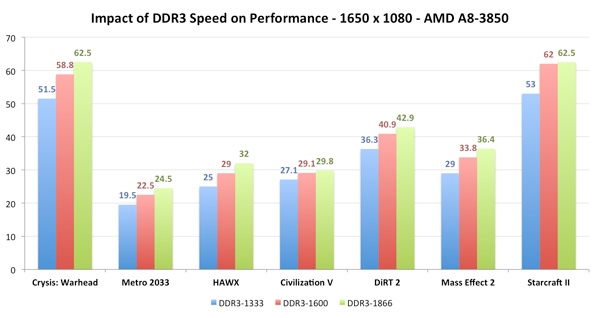 Note that this is in stark contrast to Intel's Sandy Bridge, which based on our testing does not seem to gain a lot from faster memory: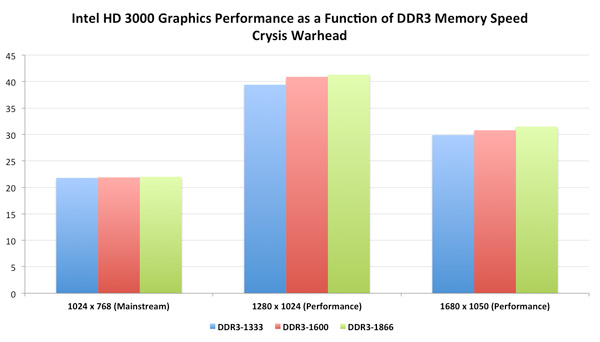 Although we're just showing Crysis Warhead here as an example, we couldn't find any tangible evidence of performance scaling with faster memory speeds across any of the other titles we tested as well.
With memory pricing being as low as it is these days, it makes the most sense for someone building a Llano machine with intention of gaming to equip it with DDR3-1866 memory. A quick survey of Newegg shows the cheapest price for a 4GB DDR3-1333 or 1600 kit as $35 while 1866 will set you back $60.
GPU Performance
As we mentioned in our preview, the integrated Radeon HD 6550D generally performs between a Radeon HD 6450 and 5570 depending on memory speed. Compared to the Core i3-2105 you're looking at a nearly 2x performance advantage on average in all of our tests, regardless of resolution. Note that we've now shifted to using our low end GPU test exclusively since the A8 is actually able to post reasonable scores in these tests.
For the most part the Radeon HD 6550D can play all of these titles at 1024 x 768 at reasonable quality settings. We're actually able to hit playable frame rates at 1680 x 1050 in a few titles (DiRT 2, Starcraft 2, Mass Effect 2). While Intel's HD Graphics 3000 set a new minimum bar for integrated graphics, Llano sets the standard for livable integrated graphics.
Crysis Warhead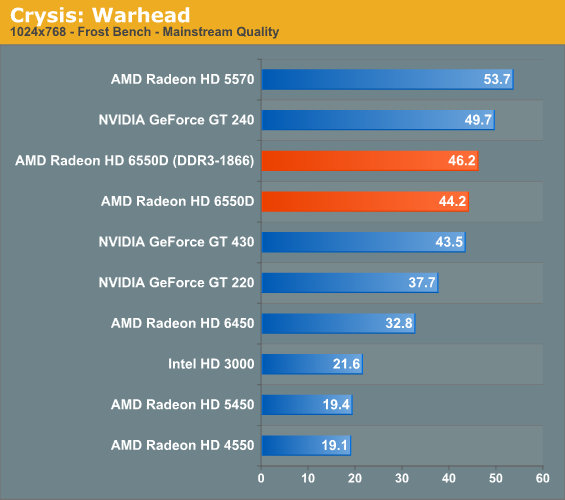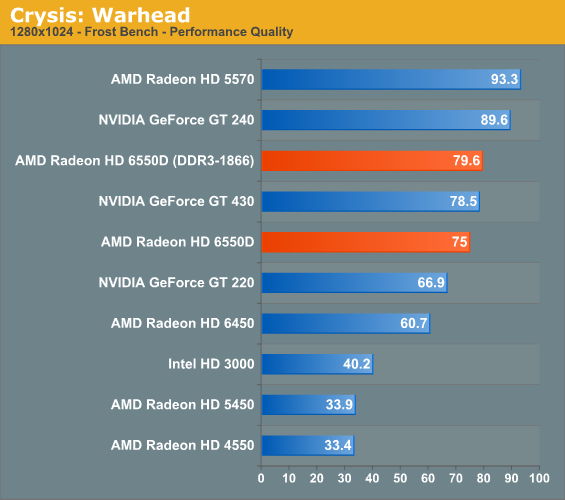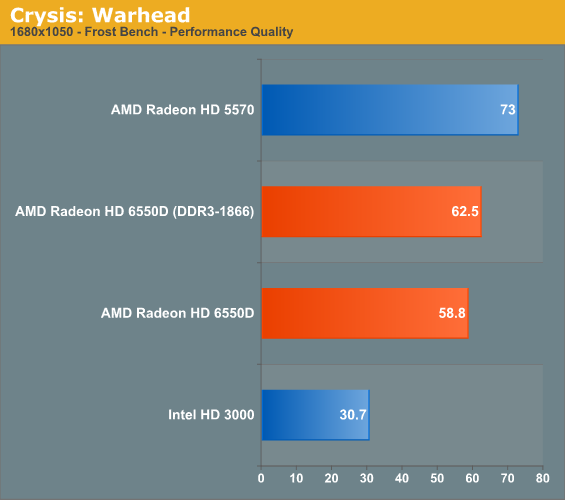 Metro 2033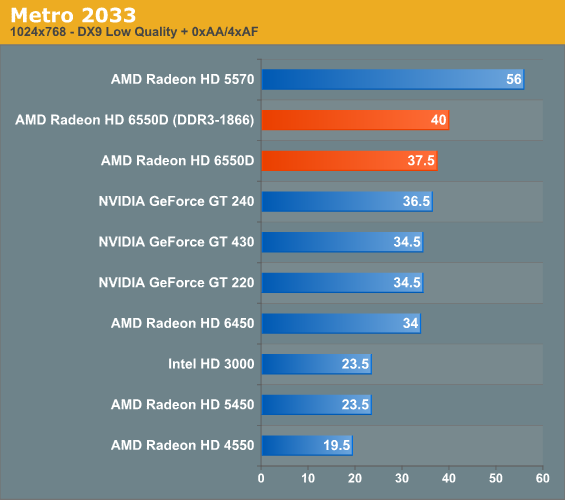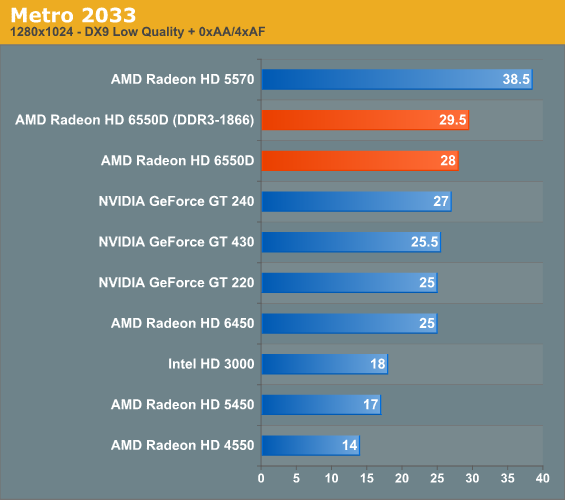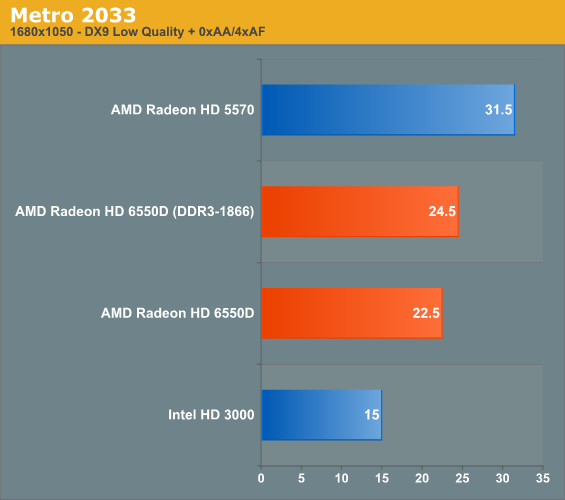 HAWX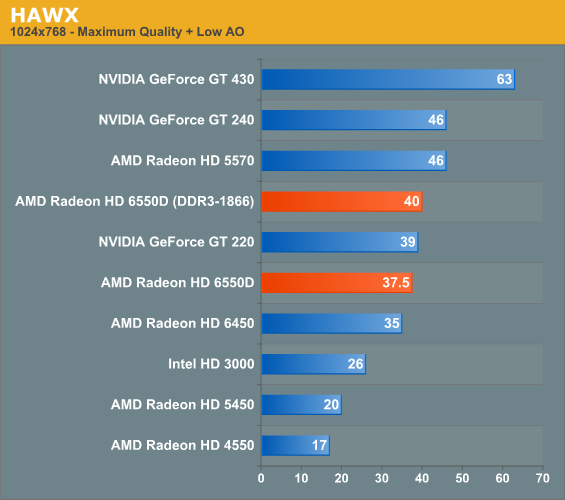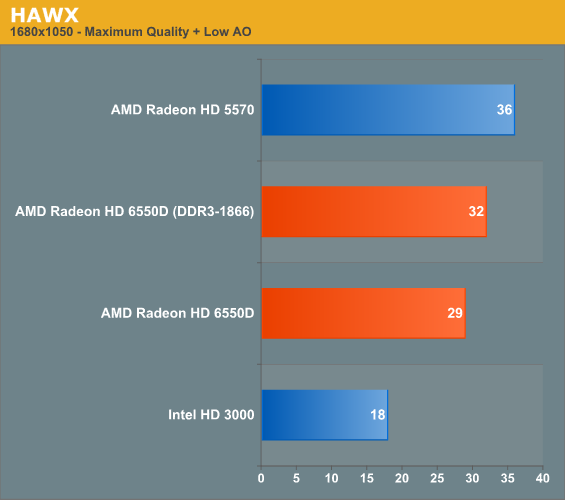 Civilization V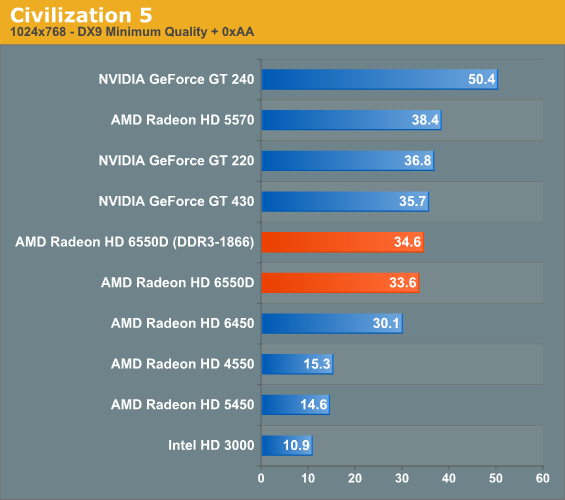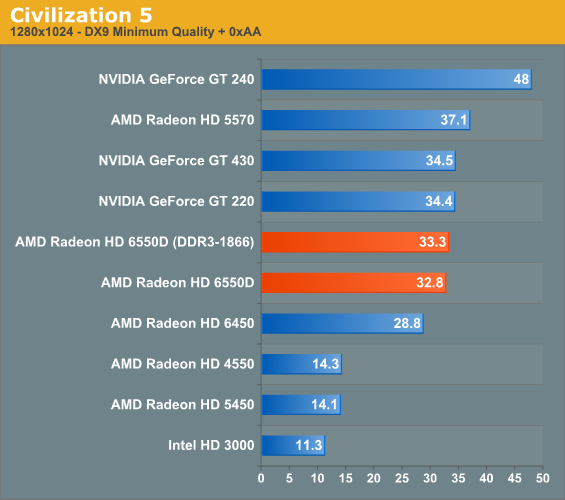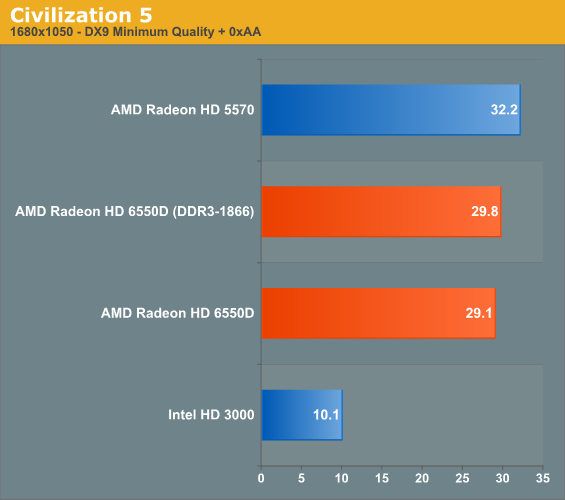 DiRT 2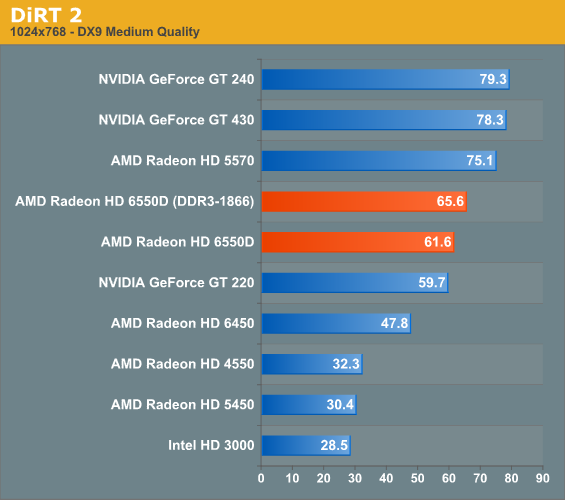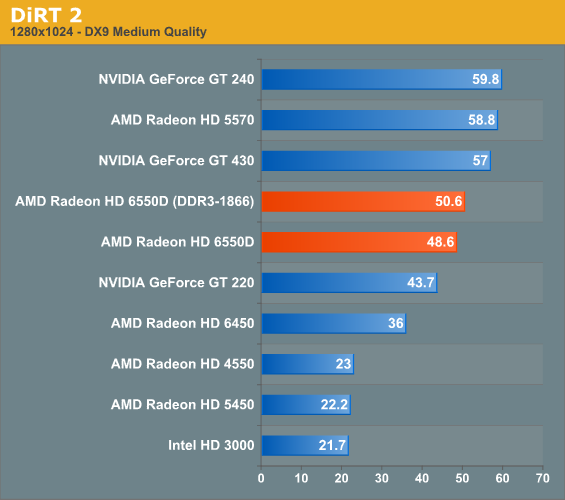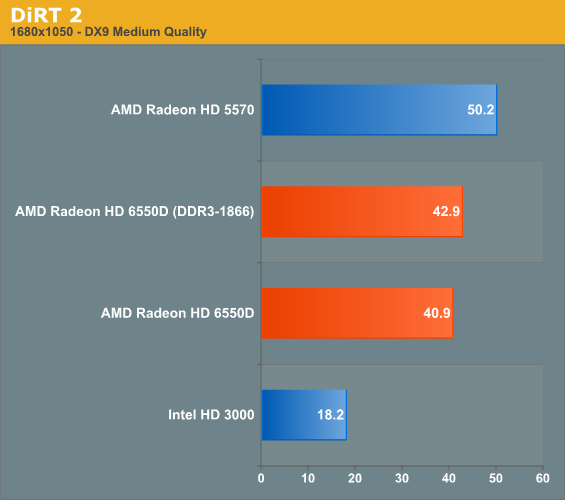 Mass Effect 2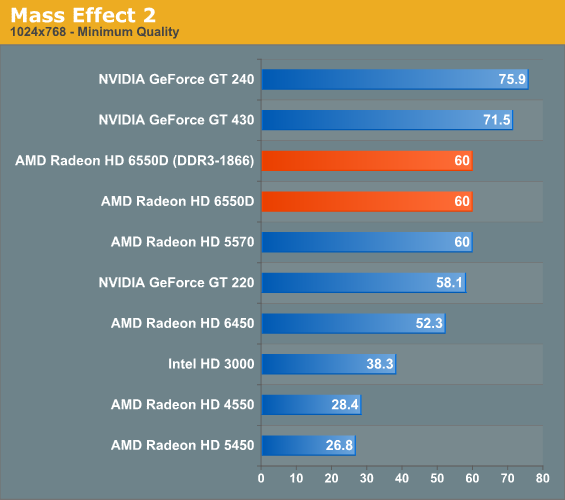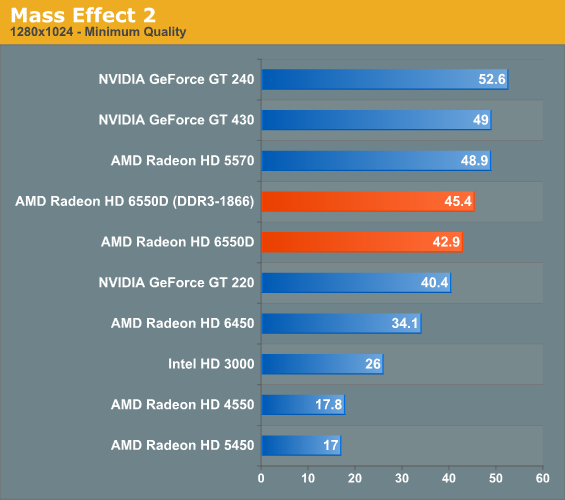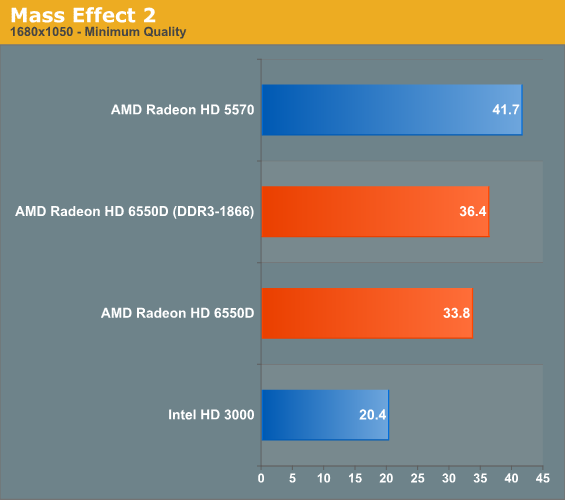 Starcraft II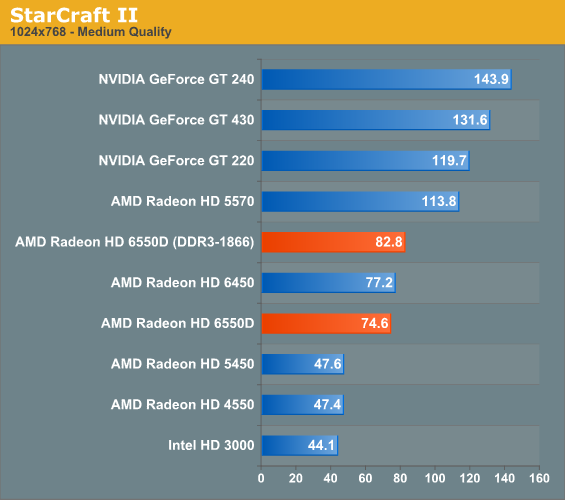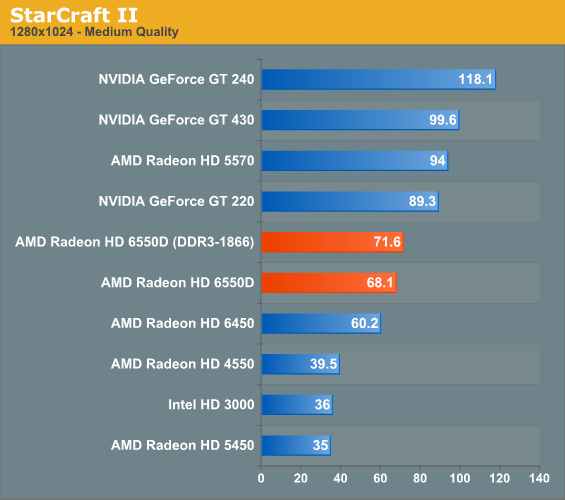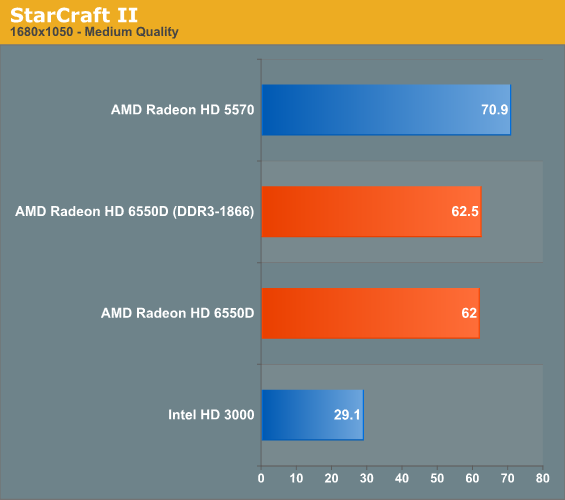 Asymmetric CrossFire
Asymmetric CrossFire is supported by desktop Llano APUs. You can combine your A6 or A8 with a Radeon HD 6450, 6570 or 6670 and have both GPUs work in tandem. There are some limitations as we found - mainly asymmetric CF only works in DX10 or DX11 games. While DirectX 9 titles will still function, performance will be suboptimal as you'll soon see.
AMD Radeon Dual Graphics Branding
Discrete GPU
6550D
6530D
HD 6670
HD 6690D2
HD 6690D2
HD 6570
HD 6630D2
HD 6610D2
HD 6450
HD 6550D2
HD 6550D2
Getting asymmetric CrossFire working was a breeze. ASRock's BIOS was setup by default to allow for a secondary discrete GPU to function in dual-graphics mode, all I had to do was install a Radeon HD 6570. My monitor remained plugged into the motherboard and the driver handled the rest: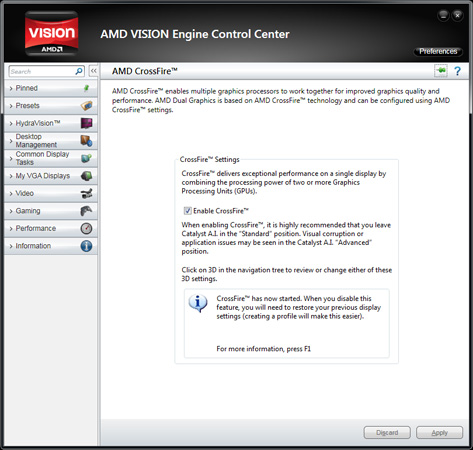 If you're running a DX10/DX11 game you can get positive scaling, however the gains vary. In Crysis we saw a 68% increase in performance over the APU alone, but only a 12% increase over the discrete GPU by itself: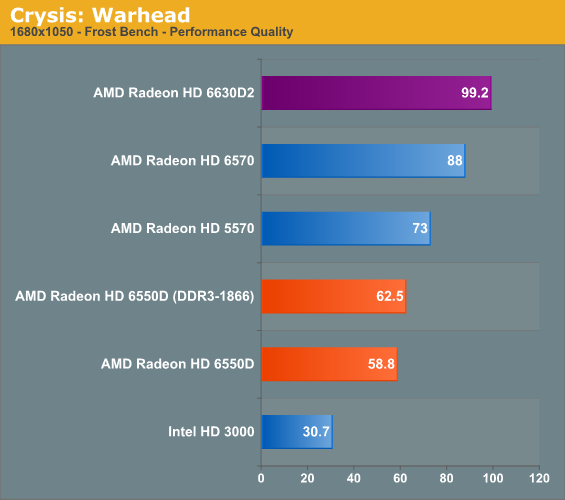 HAWX showed us bigger gains on both sides. We saw a more than 2x improvement over the APU alone and a 32% increase over the Radeon HD 6570 by itself: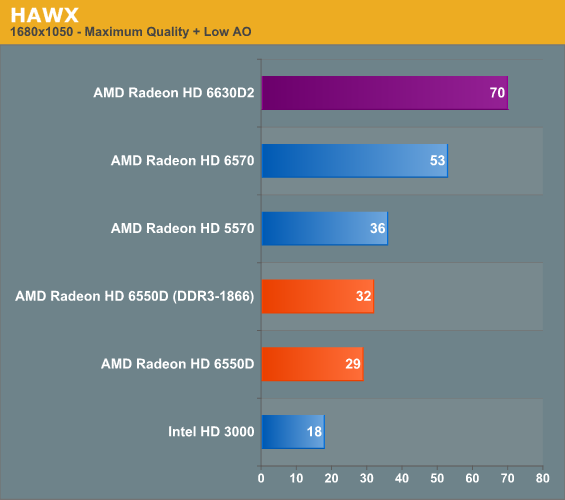 Fire up a DX9 game (or a DX10/11 game in DX9 mode) however, and the results are disappointing. You actually get lower performance than if you had stuck with the discrete GPU alone: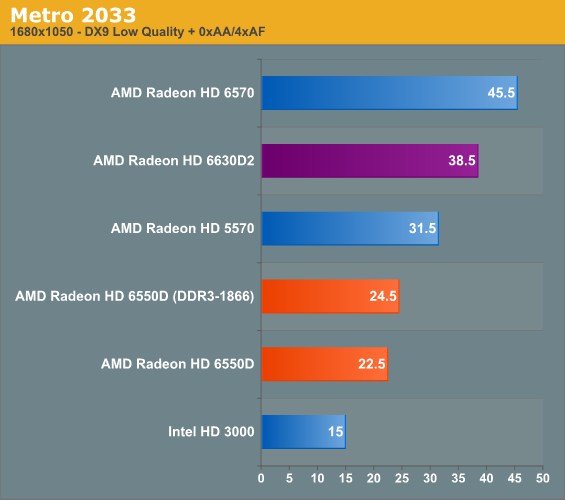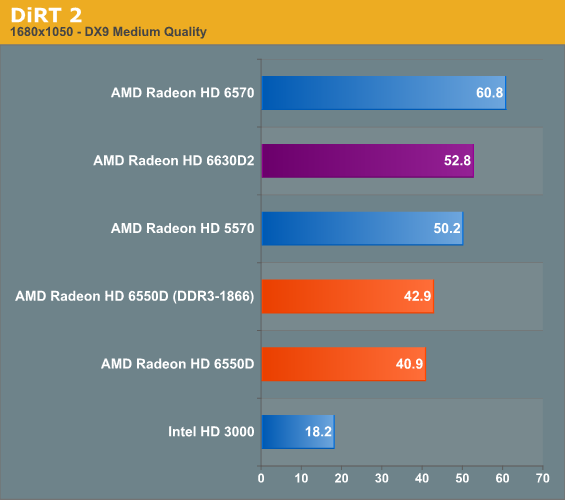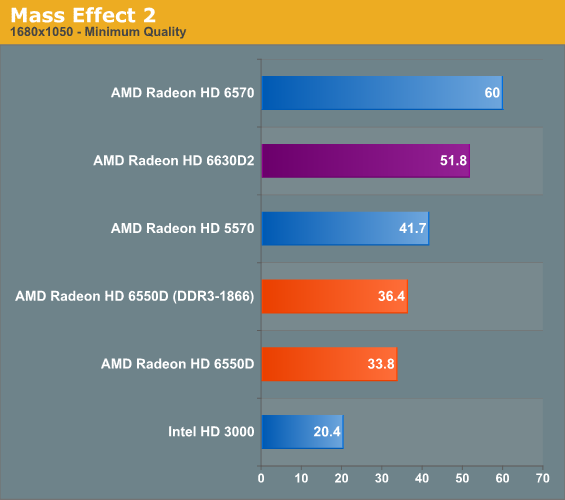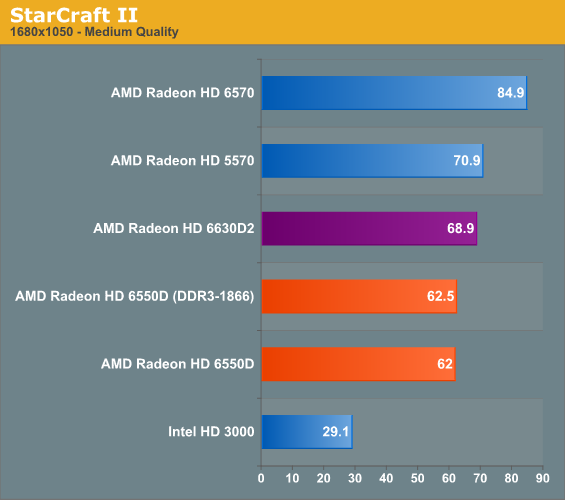 Performance in Older Games
In response to our preview a number of you asked for performance in older titles. We dusted off a couple of our benchmarks from a few years ago to see how Intel's HD 3000 and AMD's Radeon HD 6550D handled these golden oldies.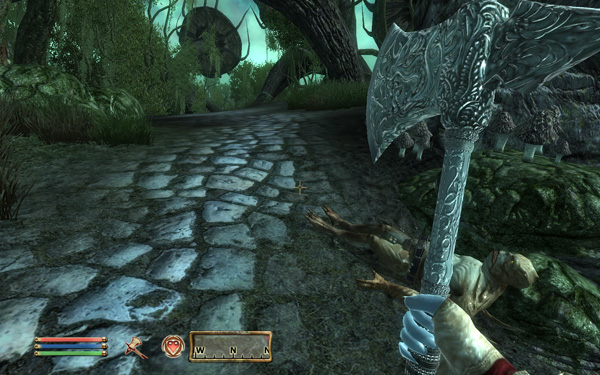 First up is a personal favorite: Oblivion. Our test remains unchanged from when we used to run this test, the only difference is we're actually able to get playable frame rates from integrated graphics now. We set the game to High Quality defaults, although the Intel platform had to disable HDR in order to get the game to render properly: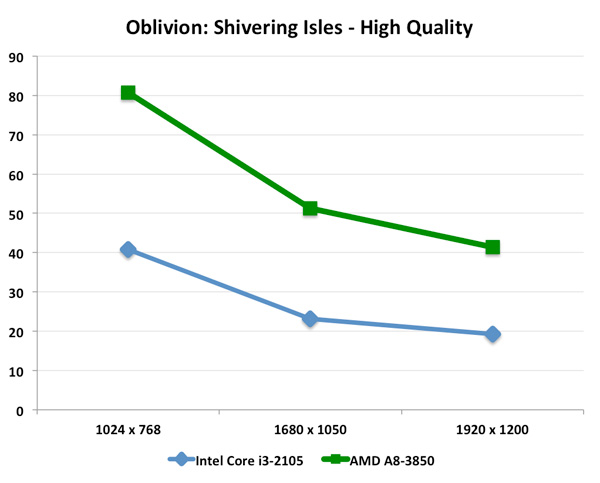 The Core i3-2105 with its HD Graphics 3000 can actually deliver a playable experience at 1024 x 768 with just over 40 fps. Move to higher resolutions however and you either have to drop quality settings or sacrifice playability. The A8-3850 gives you no such tradeoff. Even at 1920 x 1200 the A8 manages to deliver over 40 fps using Oblivion's High Quality defaults.
We saw similar results under Half Life 2: Episode Two: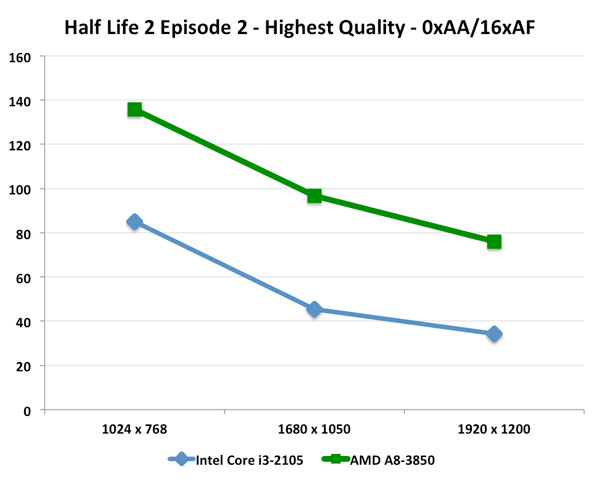 Here the Core i3 maintains playability all the way up to 1920 x 1200, but you obviously get much higher frame rates from the Llano APU.
Compute & Video Transcoding Performance
AMD's hope with Fusion is that the GPU transistors will regularly be used for more than just 3D gaming. Today we're still hunting for good uses for GPU compute, but we do have a few benchmarks that we can use to illustrate Llano's GPU compute prowess.
Our compute benchmark comes from Civilization V, which uses DirectCompute to decompress textures on the fly. Civ V includes a sub-benchmark that exclusively tests the speed of their texture decompression algorithm by repeatedly decompressing the textures required for one of the game's leader scenes. Note that this is a DX11 benchmark and obviously can't run on Intel's Sandy Bridge GPU.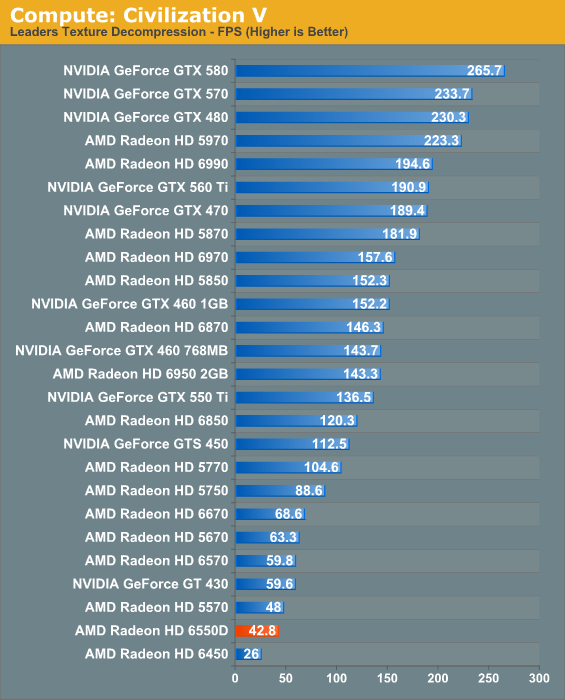 The Radeon HD 6550D performs as expected - it offers performance close to the 5570 and above that of the 6450. Memory bandwidth constraints are less of an issue here apparently as the 6550D delivers 89% of the performance of the 5570.
One area where we can compare the Radeon HD 6550D and Intel's HD Graphics 3000 is in video transcoding performance. For that we turn to ArcSoft's MediaConverter 7 and measure performance transcoding a 15Mbps H.264 encoded 1080p Quantum of Solace rip to a 4Mbps 720p iPhone 4 compatible file:
Video Transcoding Comparison
AMD A8-3850
Intel Core i3-2105
Frames Transcoded per Second
63.7 fps
165.2 fps
While the A8-3850 can exploit its GPU cores for transcoding, Intel's Quick Sync continues to be the faster method of transcoding video as we found in our original Sandy Bridge review.
Power Consumption
Both the A8-3850 and Intel's Core i3-2105 are built on a 32nm process and both feature extensive power and clock gating. By virtue of having lower power cores the A8 manages to beat the Core i3 in idle power consumption. Under CPU load however the A8-3850 does consume more power as it simply has more cores that can be loaded up. We also see higher power consumption in 3D gaming, but we do get much higher performance and as a result much better performance per watt.
Power Consumption Comparison
AMD A8-3850
Intel Core i3-2105
Idle
43.6W
51.7W
GPU Accelerated Video Transcoding
126W
85W
3D Gaming (Metro 2033)
126W
101W
CPU Load (x264 Encode)
123W
87.6W
Final Words
If you're building an entry level gaming PC and have to rely solely on integrated graphics, it's clear that Llano is the only solution on the market today. You easily get 2x the frame rates of Intel's Core i3-2105 and can use that extra headroom to increase resolution, quality or sometimes both. The performance advantage is just one aspect of what Llano offers in this department. You do also get better overall game compatibility, DX11 and GPU compute support although the latter is still missing that killer app.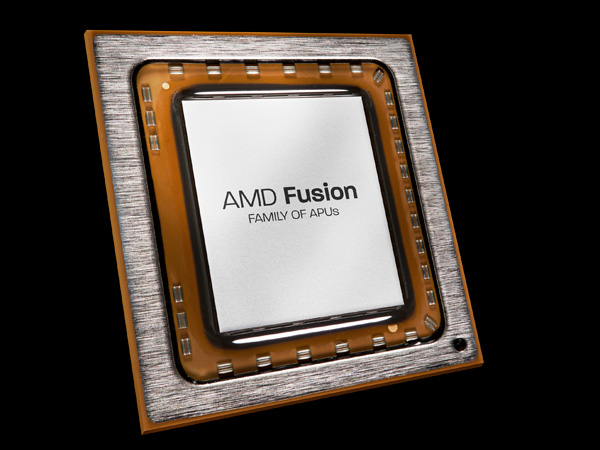 AMD's dual-graphics (asymmetric CrossFire) is an interesting solution to the argument that you could just buy a cheaper AMD CPU and a low end discrete GPU and get better performance. For example, you could get better performance if you bought a Radeon HD 6570 and an Athlon II X4 640 for $175 vs. a A8-3850 for $135. With dual-graphics in play you could add a discrete GPU to the A8-3850 and have better overall performance (in theory) than the discrete card by itself. In practice, limiting dual-graphics to only DX10/11 titles does hurt some of its potential. In my opinion the better solution here would be more aggressive pricing on the Llano APUs. The Athlon II X4 + Radeon HD 6570 is a better buy (unless you want the power savings of the A8), the only way to truly combat that is for the A8-3850 to drop in price.
If gaming isn't something you're going to be doing then you're better off with Sandy Bridge. And at that point there's no need to spring for the Core i3-2105, the standard 2100 will do just fine.