Original Link: http://www.anandtech.com/show/4471/htc-sensation-4g-review-a-sensational-smartphone


I like what HTC has been up to lately. Rather than fighting a race to the bottom with endless soulless variants of the same piece of hardware in a crowded (and fiercely competitive) Android handset market, it's trying to grow beyond just being a handset manufacturer.
I hate starting reviews with history lessons, but in this case we really do need to step back to see where HTC is coming from. In the beginning, HTC was a nameless OEM for other more famous brands. Its clients were smartphone and Pocket PC names like Palm with its Treo, Compaq with its iPaq, Dell with a number of the Axim PDAs, and UTStarcomm. As Windows Mobile aged and showed little signs of improving, HTC took its first step outside the bounds of being just a hardware assembler by taking on an ambitious project to revitalize Windows Mobile with a software skin. The fruits of this effort were TouchFlo, and later TouchFlo 3D UIs - which eventually would become HTC Sense. Somewhere between the release of the HTC Mogul and HTC Touch Pro, HTC realized that its future wasn't purely in manufacturing devices for other handset vendors, but in leveraging its own brand. The combination of continually improving industrial design, software, and its own direction have turned HTC into the device manufacturer it is today.
Things have come a long, long way since the HTC Dream, and today we're looking at HTC's latest and greatest with the HTC Sensation.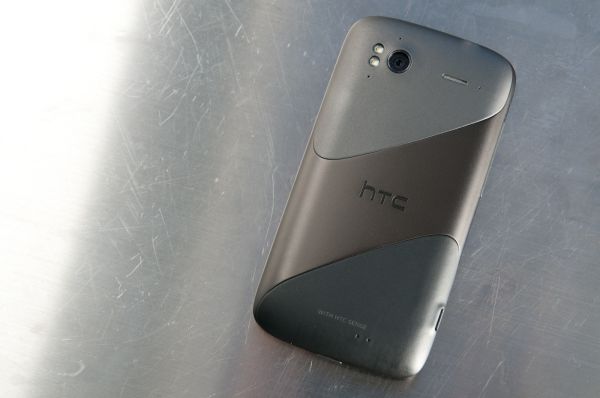 I get a bit excited every time I look at the HTC Sensation. It's a device with perhaps the strongest and most bold design language of any HTC phone to date. You can pretty much chart HTC's design language by looking at each generation of its international handsets.
The HTC Desire was essentially an international version of the Nexus One, with hardware buttons but the same 65nm single core Snapdragon QSD8250 SoC. The second generation was the HTC Desire HD, which brought a larger 4.3" screen and 45nm Snapdragon MSM8255 SoC. The third step is the HTC Sensation, which ups resolution from WVGA 800x480 to qHD 960x540 and brings a 45nm dual core Snapdragon MSM8260 SoC.
Physical Comparison
Apple iPhone 4
HTC Thunderbolt
LG Optimus 2X/G2x
HTC Sensation
Height
115.2 mm (4.5")
122 mm (4.8")
123.9 mm (4.87")
126.3 mm (4.97")
Width
58.6 mm (2.31")
67 mm (2.63")
63.2 mm (2.48")
65.5 mm (2.58")
Depth
9.3 mm ( 0.37")
13.2 mm (0.52")
10.9 mm (0.43")
11.6 mm (0.46")
Weight
137 g (4.8 oz)
183.3 g (6.46 oz)
139.0 g (4.90 oz)
148 g (5.22 oz)
CPU
Apple A4 @ ~800MHz
1 GHz MSM8655 45nm Snapdragon
1 GHz Dual Core Cortex-A9 Tegra 2 AP20H
1.2 GHz Dual Core Snapdragon MSM8260
GPU
PowerVR SGX 535
Adreno 205
ULP GeForce
Adreno 220
RAM
512MB LPDDR1 (?)
768 MB LPDDR2
512 MB LPDDR2
768 MB LPDDR2
NAND
16GB or 32GB integrated
4 GB NAND with 32 GB microSD Class 4 preinstalled
8 GB NAND with up to 32 GB microSD
4 GB NAND with 8 GB microSD Class 4 preinstalled
Camera
5MP with LED Flash + Front Facing Camera
8 MP with autofocus and dual LED flash, 720p30 video recording, 1.3 MP front facing
8 MP with AF/LED Flash, 1080p24 video recording, 1.3 MP front facing
8 MP AF/Dual LED flash, VGA front facing
Screen
3.5" 640 x 960 LED backlit LCD
4.3" 800 x 480 LCD-TFT
4.3" 800 x 480 LCD-TFT
4.3" 960 x 540 S-LCD
Battery
Integrated 5.254Whr
Removable 5.18 Whr
Removable 5.6 Whr
Removable 5.62 Whr
Physically it's obvious that each successive device builds on the former. They're all backed with HTC's trademark purple-grey metal and have similar in-hand feel as a result. When I look at the Sensation, I see the Desire crossed with the Desire HD. When I actually hold the Sensation, I feel like I'm holding a grown-up Nexus One.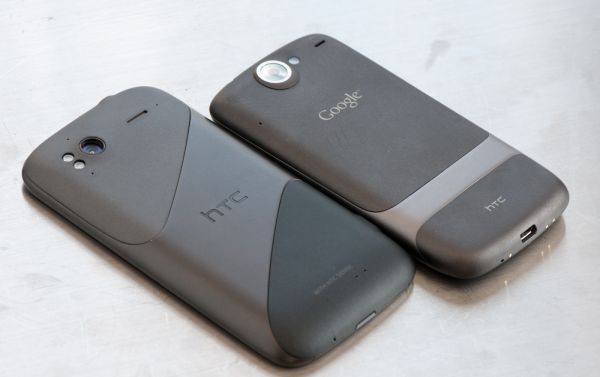 The two share that trademark combination of slightly rubbery plastic and metal, and as a result the device feels grippy, solid, and confident. What the Sensation also really continues from the other devices is the lack of a hard lip of any kind at the edge, instead every corner rolls off giving the phone a smooth feeling. The sensation of holding something rigid and expensive is communicated by that combination of materials, rather than the cheap plasticky feel conveyed by a number of other handsets.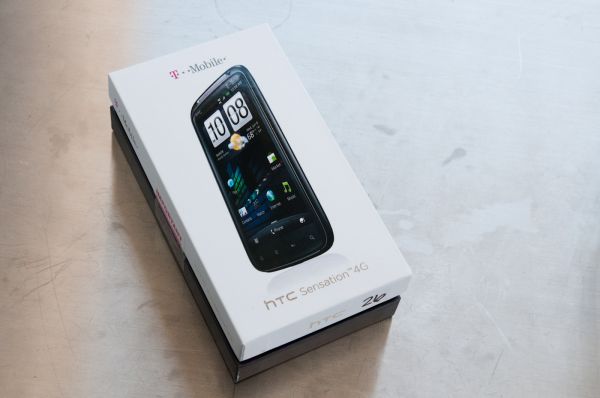 The Sensation comes in the same style of packaging that we've seen other T-Mobile phones arrive in. It's a two-part box with a thin middle strip. The top lifts off revealing the phone, and underneath that is the usual paperwork, HTC AC adapter and microUSB cable, and earbuds.
I started off making one monolithic video for the Sensation, but that ended up being unwieldy, so I split it into multiple parts. The first one is simply a look at the hardware from all angles, torn down, and how it compares to both HTC's legacy devices and some of its modern contenders.
The Sensation has a unibody construction, meaning the frame is milled out of one solid piece of metal. You can see some machining marks inside the metal case from where no doubt CNC was used to remove material in the right places. As a result, the Sensation doesn't have a battery cover that snaps onto the back so much as the phone itself snaps into one monolithic case.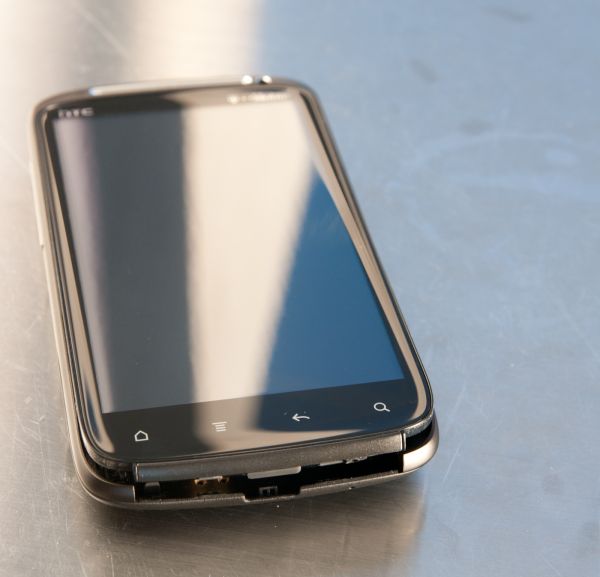 There's a spring loaded button at the bottom of the Sensation which presses in, at which point the device releases and can be lifted slightly. A downward tug then pulls the Sensation out of its metal exoskeleton.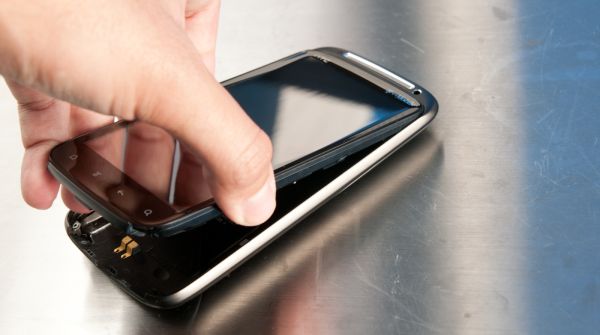 To reassemble the Sensation, the front speaker, camera, and LED all insert into a lip, and then press down. With the phone disassembled, you can get at the battery, SIM slot, and microSD card.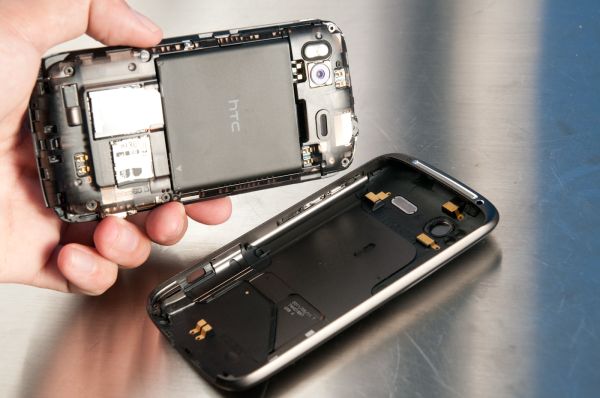 There's a bit of an opportunity for dirt to creep in here, but only when the phone is open like this. The only place that things are a bit sensitive are the top front where the front facing camera, speaker, and LED light sit - you can easily get dust in here that will affect the camera.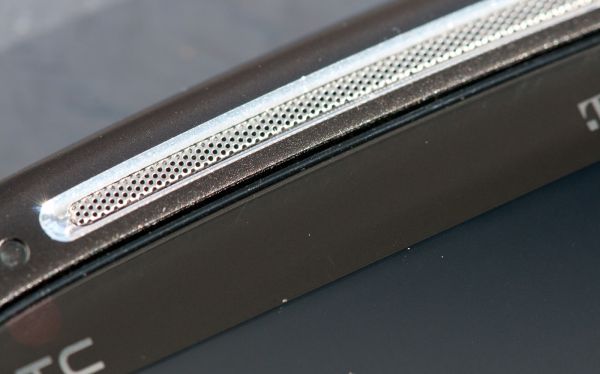 While we're talking about the LED notifications light, I should note that it still is located behind the speaker grille, this time at the far right next to the camera. This was something a lot of people complained about on the Desire HD, and I can understand why - it simply isn't as visible this way because the grille is recessed.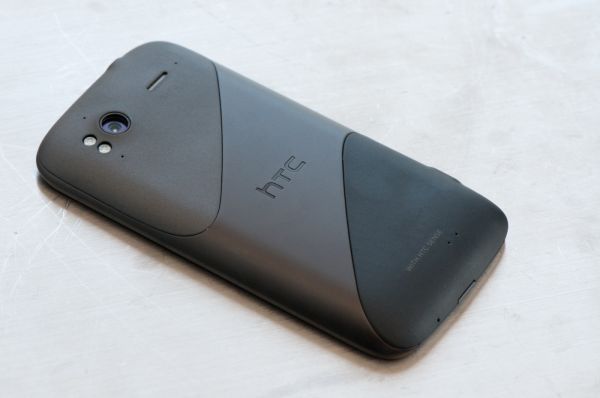 The back camera however remedies the problem we've talked about with a few other HTC devices that have snap on rear covers. There's no longer a removable plastic layer that's part of the battery cover on the Sensation, and as a result no opportunity for dust, grime, fingerprints to scatter light and create glare and haze. The circular camera cutout allows the module to stick through slightly.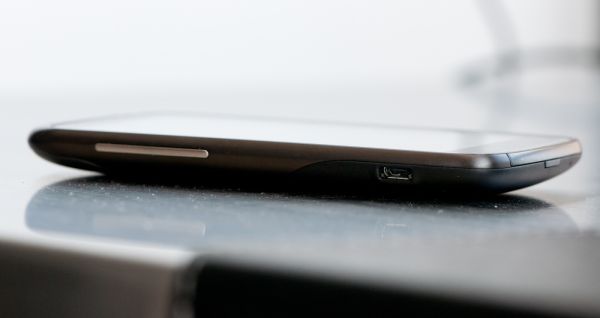 The volume buttons on the Sensation are thankfully very communicative and protrude enough to be located easily. I'm a bit less enthused with the power button, which is a bit small, and sits flush on our review unit. HTC also put the microUSB port on the bottom left side of the phone, another one of those love it or hate it things.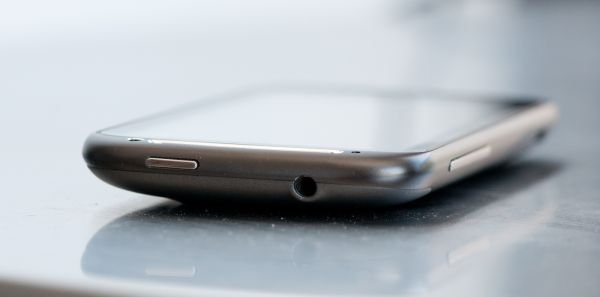 I'm impressed with how well the Sensation sits inside this cage, it doesn't rattle or move around at all inside, which is quite a testament. The only evidence that the Sensation literally isn't one solid piece is a tiny gap at the top where the display meets the speaker grille.
Of course the Sensation needs RF windows for antennas (this is a cell phone after all), so unfortunately the entire backside can't be metal. Apple isn't the only one getting creative with where it hides antennas, as HTC patterns them onto the back of the two discrete plastic parts inserted into the metal structure. This is very similar to how the HTC Thunderbolt uses its back case as an antenna, and likewise to how the Desire HD used its battery and SIM slot covers.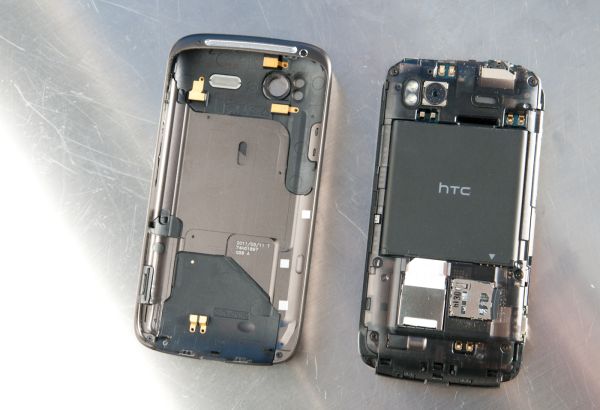 With the Sensation removed from its exoskeleton, you can see the four separate gold antenna connectors which mate up with gold pins on the rear of the device. It doesn't affect the majority of smartphone shoppers, but HTC has also chosen to go with Torx #5 screws throughout the Sensation. I didn't take it apart, but just thought it worth mentioning for those of you interested in ease of disassembly.
We should also talk about the display on the Sensation, starting with the display's slightly concave lip. Curved glass seems to be a trend lately, and the Sensation does something unique on the Sensation that I wish everyone did.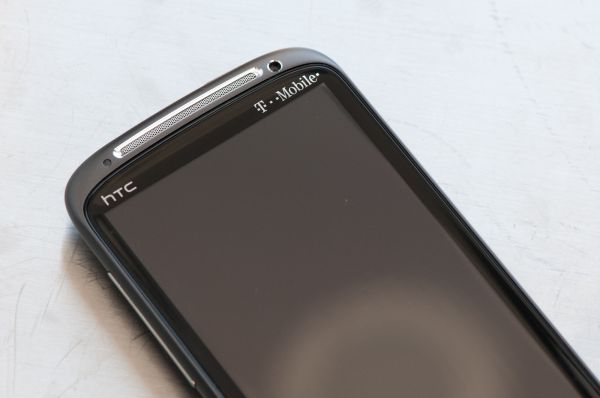 Instead of leaving the display completely a completely flat piece of glass, HTC created a top glass layer that is slightly curved at the edges, thus recessing the main display and interaction area by just shy of a millimeter. It's a very subtle concave structure. As a result, the display doesn't rest completely coplanar with flat surfaces when you placed face down, and is far less likely to get scratched. It's just a small detail that shows HTC has been paying attention to the subtle things when it comes to designing its hardware.
Display
I suppose that's as good a segue as any into the Sensation's display. It's a 4.3" qHD (960x540) "Super LCD" display. As the displays editor in addition to smartphone editor here at AT, I have to admit that I'm granted an interesting perspective. On one hand, you have the traditional desktop LCD market, which is currently mid-stroke in a frenzied race to the bottom, and on the other, the new and emerging world of sub 10" mobile displays. Well, anything tablet sized and below.
I find myself more excited and concerned with mobile displays at any given time than desktop LCDs because that's where everything exciting is going on. Further, it's mobile displays where all the new innovation and competition is happening - Super LCD, AMOLED, Super AMOLED with and without Plus, qHD LCD, and qHD LCD with PenTile, all in just the last year! On the desktop side, it seems everyone wants to outdo each other at shaving another $20 off mediocre 1080P TN panels.
In the mobile game right now, you need to have some sort of non garden variety display on a flagship device, and more and more that means one of three things. Either you have to have a display that's inordinately huge, has extremely high DPI, or is one of three AMOLED varieties.
If you remember, about a year ago HTC started marching down the AMOLED path. The Nexus One, then the Incredible, and Desire had first generation 3.7" AMOLED displays with PenTile. As things went on, availability constraints made the Incredible supplies scarce, and forced HTC to switch to Super LCD with the Desire. Depending on the content you spent most time looking at, the Super LCD Desire variant also got better battery life. I suspect that things are a bit more balanced with Android 2.3's black-heavy theme, but back in the 2.1 days the Incredible and other AMOLED-topped displays ate battery. Since then, HTC has stuck to its guns with exclusively Super LCD displays, although they don't underscore the Super part of that descriptor as much anymore.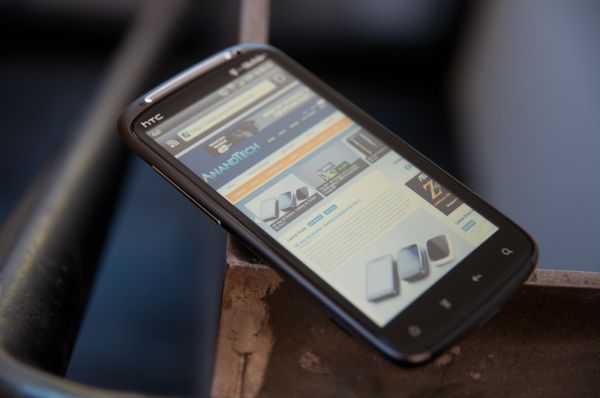 So what is Super LCD? Earlier I mistakenly stated that it was IPS - it's actually a PVA derivative. So why PVA? Well, remember AMOLED's strengths - excellent (completely off) blacks, extremely fast response times, and good viewing angles. It's easy to nail the first and last with IPS, but I wager that HTC also wanted to eliminate any chance of smear, and went for S-LCD which (thanks to its PVA heritage) offers a nice balance of the three. In addition, the S-LCD panels use a traditional RGB (3 subpixel per pixel) stripe rendering layout, making it even better in some ways than the original AMOLED for things like web browsing and sharp-edged or one pixel thick UI elements. Panel types aside, S-LCD is good enough that it's hard to tell apart from IPS. Right now the options are either to get WVGA with SAMOLED+ sans pentile, or qHD with an LCD. Soon we'll have a third option, Super AMOLED qHD but with pentile. I wonder what that'll be called - at this rate, perhaps Super AMOLED Extreme HD MAX?
So how does the Sensation's qHD 4.3-incher stack up? I'd argue that it performs very well. First off are our usual charts where we report brightness (white and black) and resulting contrast measured using an i1 Pro at maximum brightness.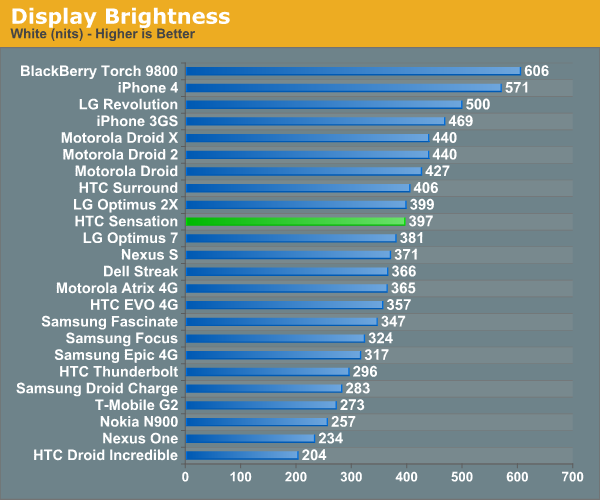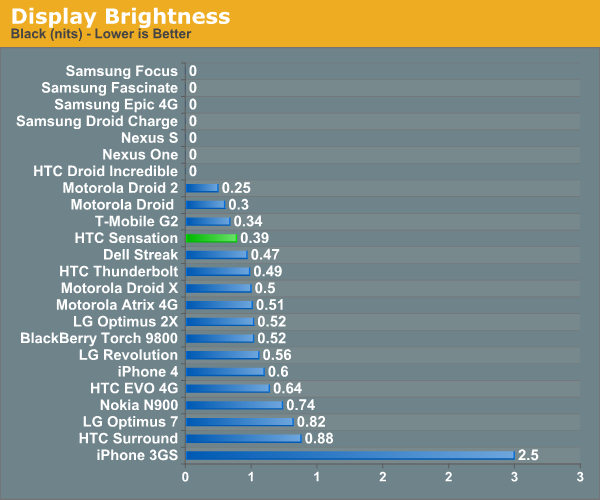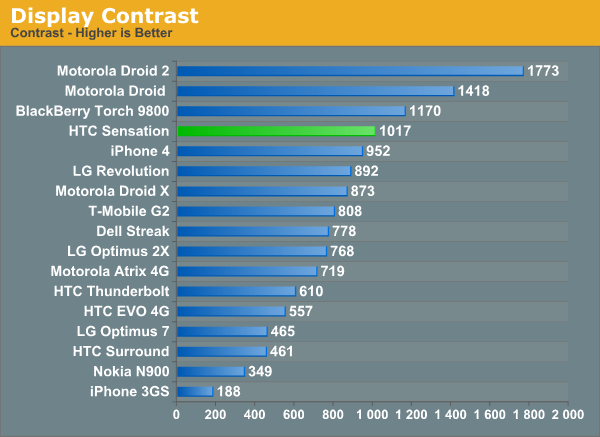 Here the Sensation is actually almost top of the charts when it comes to contrast and its blacks. It isn't the brightest display at just short of 400 nits, but does very well in the tests. I suspect the Sensation could benefit from more brightness in general, but it isn't a huge thing.
The previous charts are at maximum brightness, I also want to continue looking at how whites, blacks, and white point change across the brightness scale. To do this, we measure all three at steps of 25% on the brightness slider and create some graphs.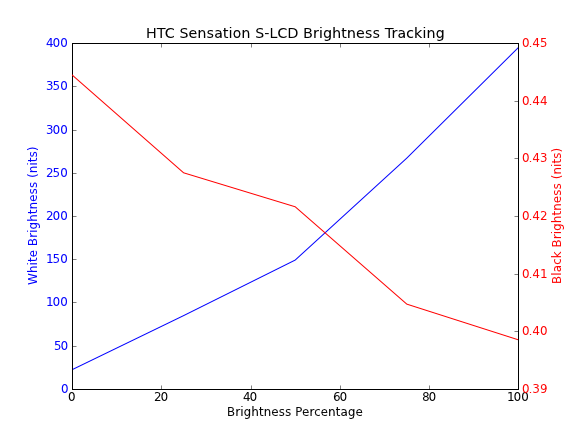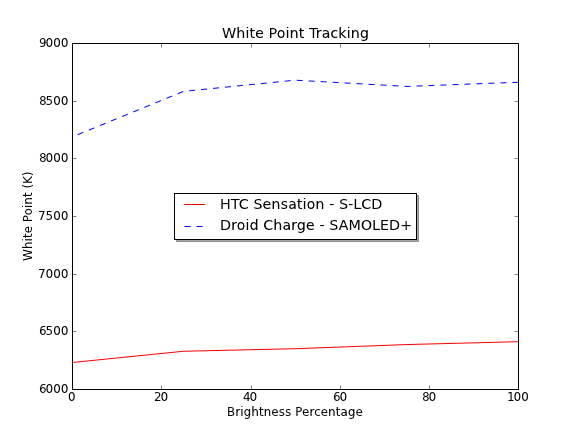 We've just started doing this, beginning with the Droid Charge, so we're also learning here, but the HTC Sensation has some interesting behavior. Blacks strangely enough get better at maximum brightness by a small margin, and again we see that brightness for white is pretty close to linear. Where I'm very impressed with the Sensation is its white point, which is nearly 6500K at maximum brightness. Contrast that to Super AMOLED Plus, which we showed was up past 8000K (blue).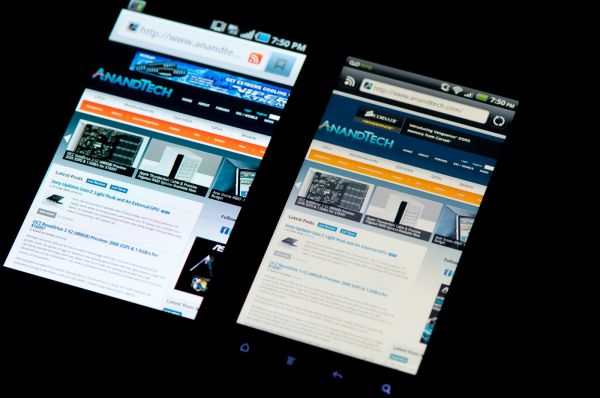 I'd say that mirrors my experience and what I see, especially because I end up pulling down tons of screenshots over ddms on my own calibrated display, and can simply compare side-by-side to the handset. When it comes to faithful color rendering, S-LCD is a clear winner.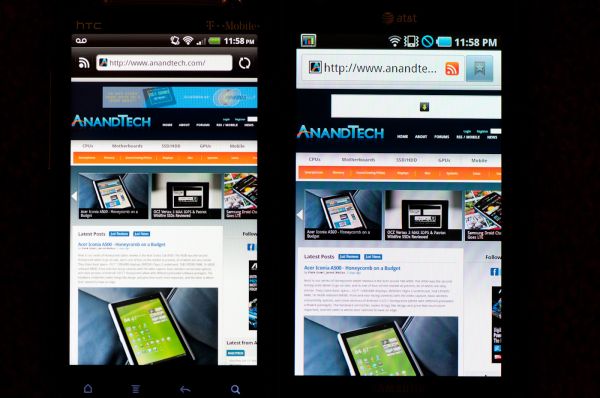 Side by side with another Super AMOLED Plus packing smartphone, the AT&T Infuse 4G (which we're still working on), this is readily apparent. This is essentially a 0.2" bigger but completely comparable version of the Charge / Galaxy S 2 display. Here you can see that the Super AMOLED Plus panel looks bluer, and by comparison the Sensation a bit warmer. In addition, colors are more saturated on the Infuse.
The biggest difference for me however is resolution. I was initially skeptical about qHD purely because it isn't really a default or "blessed" resolution in the Android developer guidelines. In terms of PPI, the Sensation (and all qHD 4.3" screens) are at 256 pixels per inch, and 4.3" WVGA (800x480) is at 217 pixels per inch. In addition, the aspect ratio is a true 16:9 on qHD as opposed to being a bit more square at WVGA. It's up to individual developers to make sure their applications are PPI agnostic, and for the most part individual applications do a good job.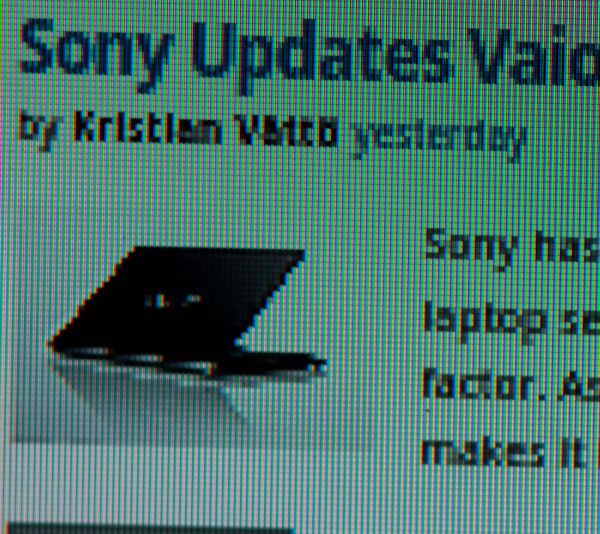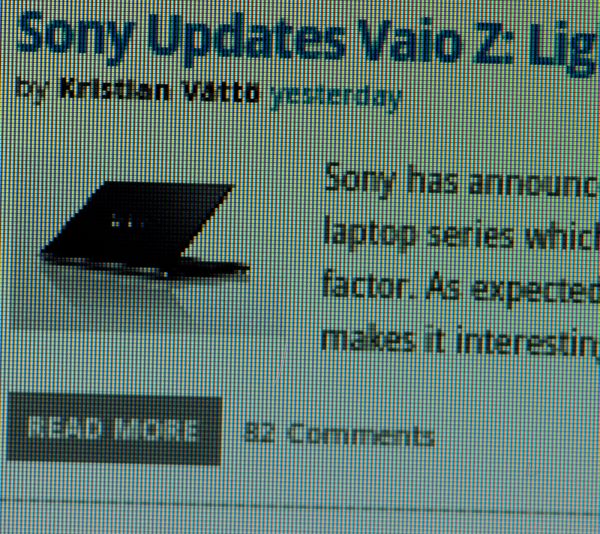 Same Magnification Images of Samsung Infuse (Left - WVGA 4.5"), HTC Sensation (Right - qHD 4.3")
Most high profile titles are agnostic enough to utilize the full 960x540 resolution. Twitter for example uses the entire display canvas, same with Angry Birds. One place where I was definitely appreciated that extra resolution was running remote desktop sessions using Xtralogic's RDP client.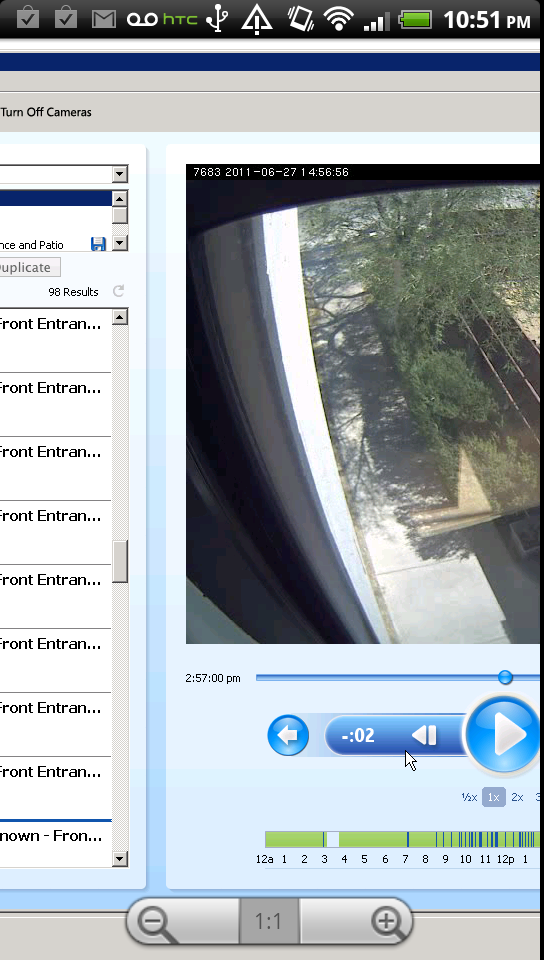 The other mode of operation is essentially 1:1 rendering - you end up with black surrounding the display, just like you do with apps on Honeycomb that don't properly handle the radically larger display canvas. Take speedtest.net for example, one of my... ok I'll admit it, my fourth most frequent application. Black bars around it.
I'm told by a number of sources that the next generation of Android tablets will have upwards of 328 ppi displays, so the time for Android developers to get this down pat is right now. 320 ppi is even there in the Android developer guidelines now, which seems to make QSXGA tablets a certainty.
Even first-party Android applications have some work to do. I've noticed that badges, icons, and previews in the Android market are noticeably (and at times smearily) upscaled. That's to say nothing about how bad the application screenshot thumbnails have always look, which is even more exacerbated.
Anyhow I digress. Almost without exception, the extra PPI afforded by having a qHD display has spoiled me to the point where graphical elements now look cartoonishly huge on a similarly sized WVGA display. It's incredibly apparent when looking at webpages zoomed all the way out - that extra resolution now makes text razor sharp and readable.
You can also really tell the development cycle for devices now. The iPhone 4 really catalyzed this high PPI craze on mobile, with its 330 PPI display. While qHD at 4.3" isn't quite that high, 256 PPI isn't anything to sneeze at either. It's readily apparent to me that qHD is the Android handset maker's answer to the retina display, and that answer has come almost a full year later. I spoke with HTC when we previewed the EVO 3D and Sensation about their development cycle, and they told me anywhere between 12 to 18 months is typical, from speccing out a phone, to development board, to reference hardware, shopping that around to carriers, to finally having a phone on store shelves. Given the time it took for us to start seeing qHD, 12 to 18 months seems about right.
The other part of the display story is outdoor viewing. Super AMOLED Plus has largely caught up to LCD's outdoor readability (until overheat protection comes in and kills a quarter of the brightness, that is). In that regard, I consider the Sensation's S-LCD panel and Samsung's Super AMOLED Plus about equally matched. The Sensation could be better with a bit more backlight oomph and a better front glass AR coating. Honestly outdoor display quality remains less than stellar for everyone, especially in direct sunlight.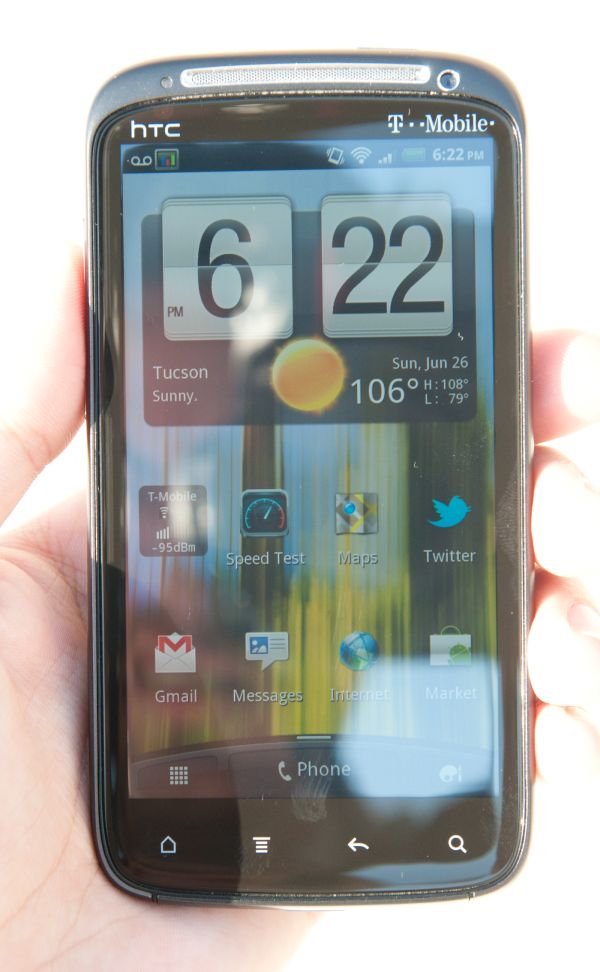 The Sensation includes lit capacitive Android buttons. You can tell the latest generation HTC phones apart from the last refresh based on the style of these buttons. The new ones are much more contemporary and modern looking. They're sensitive but not prone to errant taps. I think the age of frustrating capacitive Android buttons is thankfully behind us.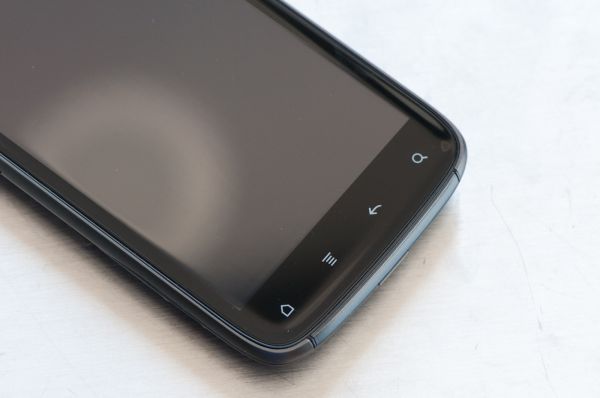 There's one final thing under the display category which is Mobile High definition Link support, or MHL. MHL is essentially an interface allowing up to 1080p video with HDCP and 8 channel audio out over USB. MHL equipped TVs won't be available for some time, but in the meantime you can use an MHL to HDMI adapter and output to current displays. The Sensation is one of a small list (HTC Flyer, Galaxy S 2, and Samsung Infuse) of devices that include MHL support instead of a second micro-HDMI port.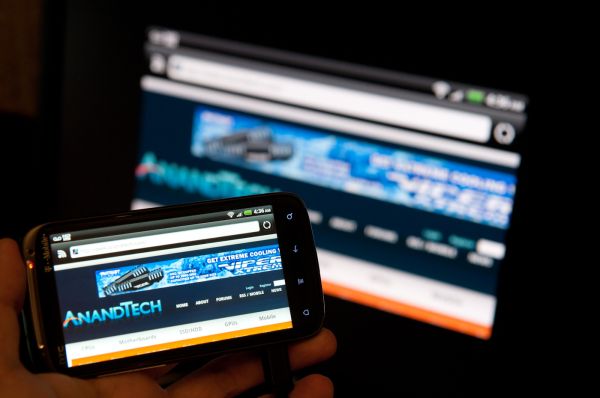 I attached a dongle to the Sensation and found that MHL indeed does work. Unfortunately, the display size seems limited to 720p at present, so display side upscaling is required to fill the displays over 720p.
At present, the Sensation simply mirrors display output over MHL and rotates between portrait and landscape appropriately, though portrait is a bit disappointing since those 960 lines get compressed into a 720 pixel tall frame. It does work, however.
HTC Sense 3.0
Before we get ahead of ourselves, let's talk about the other side of HTC's strategy. I mentioned at the beginning that one half of that is unique industrial design and hardware, the second angle is software differentiation. The Sensation is running Android 2.3.3, but for the most part the angular, contrasty, dark visage of Gingerbread is hidden under a UI skin. That brings us to the oft-maligned HTC Sense, which the Sensation includes the very latest version of, Sense 3.0.
HTC feels very strongly about Sense, and again if you go back in time you can almost understand why. Sense's earliest relatives helped keep Windows Mobile as a platform afloat, and likewise kept HTC in the business of selling Windows Mobile phones until Android became the obvious next step. Along those lines, handset makers are scared to death of Android commoditization, and like it or hate it, UI skins are one superficial way of preventing that. On a higher level, HTC strongly believes that Sense makes the Android experience easier and more user friendly for ordinary smartphone shoppers.
I used to be staunchly against UI skinning (and for the most part I still am) but Sense 3.0 finally adds some things that I think go beyond just being eye candy that woos in ordinary smartphone shoppers. Those features are namely things like Sense 3.0 lock screen informatics and shortcuts, and htcsense.com features. I've put together a video with all the important changes which you can watch, or just read everything below.
For the most part, HTC Sense 3.0 is very similar to its predecessor. There are a number of minor changes, such as a face-lift for the clock widget which includes a ton more detail inside the Sense weather app. First is an animated overview with current conditions. Tapping on the upper right icon exposes more detail with information details including hourly and 5-day views. The hourly view is especially cool, as it shows a graph of predicted temperature.
The homescreen and launcher views also get some changes. Homescreens now circularly swirl in after an unlock, and this animation is impressively smooth. Swiping from the left to the right to view different homescreens now results in a 3D cube like animation. It's like HTC's own rendition of compiz's cube desktop switcher.
Swiping fast also results in the whole affair spinning very fast, which seems to be the first thing everyone does when they pick up an HTC Sense 3.0 equipped phone. Framerate is impressively smooth here.
You can now also rearrange homescreen order in the zoomed out view by long-pressing on individual windows. The selected homescreen then snaps around easily.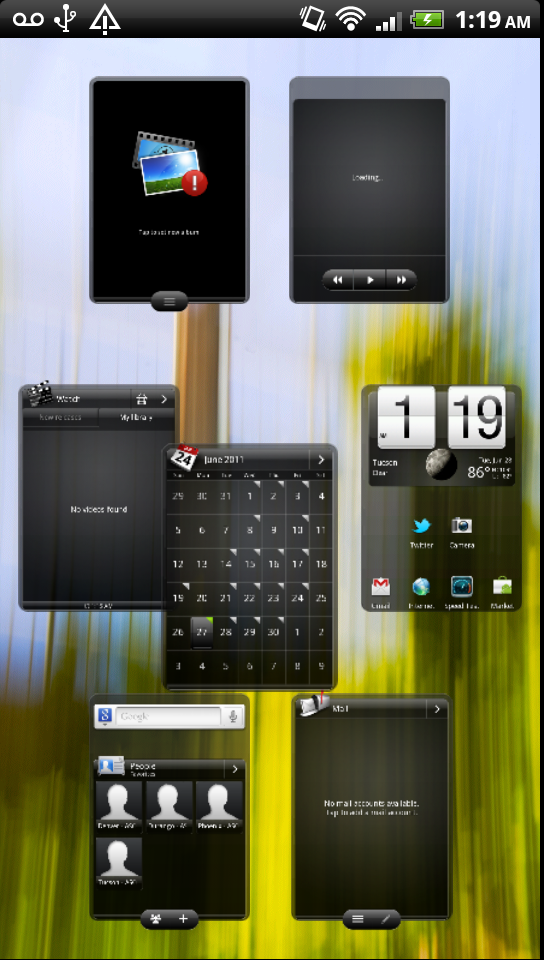 The application launcher also gets some interesting tweaks. First off is probably the most polarizing - scrolling is now done by pages (each comprised of a 4 x 5 grid of icons), instead of in a fluid smooth manner. Swiping up and down slides you through these pages, which get snapped to. I initially hated this, now I've gotten used to mentally going to a specific page and then locating an application. There's no way to disable this, which is the thing I think will enrage some people.
The other major change are the three icons at the bottom, which act like tabs. The first is just the default application view, which can be sorted by alphabet or date. The next sorts applications by launch frequency, and the final one is simply a list of downloaded applications.
I'm intrigued by the frequent view, which after training makes a lot of sense for speeding up getting into the applications that matter most. To be honest, I feel like that's a lot of what HTC was targeting with Sense 3.0 - to reduce friction in places and implement things that have been popping up in lots of custom ROMs.
Next up is the notifications shade, which gets a side-swipeable list of recent applications. Down below that is the normal notifications area.
At the bottom however is a new tab - Quick Settings. Ice Cream Sandwich will indubitably bring this into mainline smartphone Android, as it essentially already exists in Honeycomb. Regardless, tap on this and you get a way to quickly toggle a things like WiFi, GPS, and Bluetooth. I'd like to see airplane mode, a brightness slider, and screen rotation in here, but alas nothing is perfect.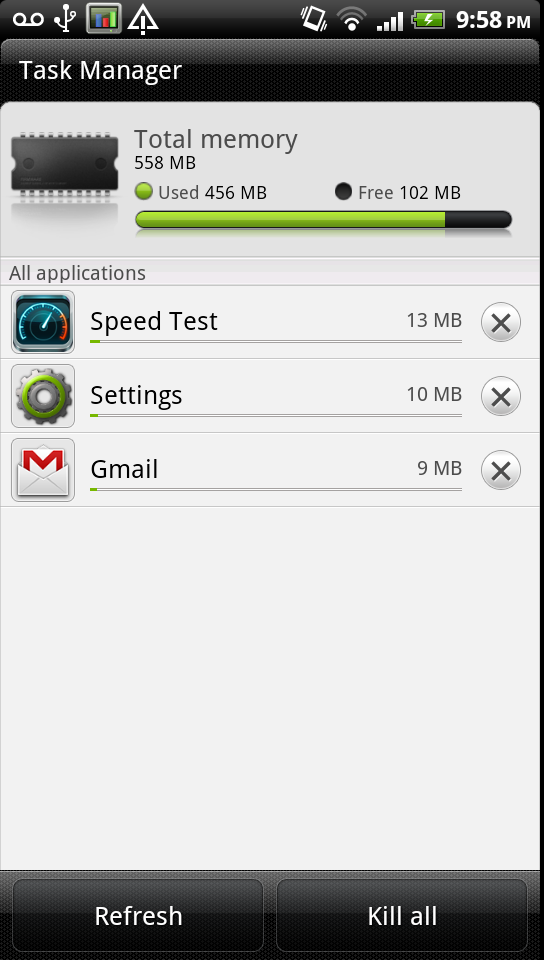 Tapping on task manager brings you into a Sense-themed task killer with total memory and individual applications. It's probably one of the cleaner and most actionable task killers I've seen in a while.
HTC also changed up its IME keyboard, which now includes something very similar to swype by default. Did I say similar? I meant exactly the same, but HTC calls it the "trace" keyboard.
You don't need to change modes either, and the keyboard still works as well as it did for normal tap typing.
Messaging also gets a facelift with a new theme that gives messages a bit of a 3D pop. It's nice to see people going beyond emulating the iPhone 4's glossy bubble threaded messaging style with something else. I like what HTC has done here, and the font size doesn't make it impossibly challenging to read a long discussion.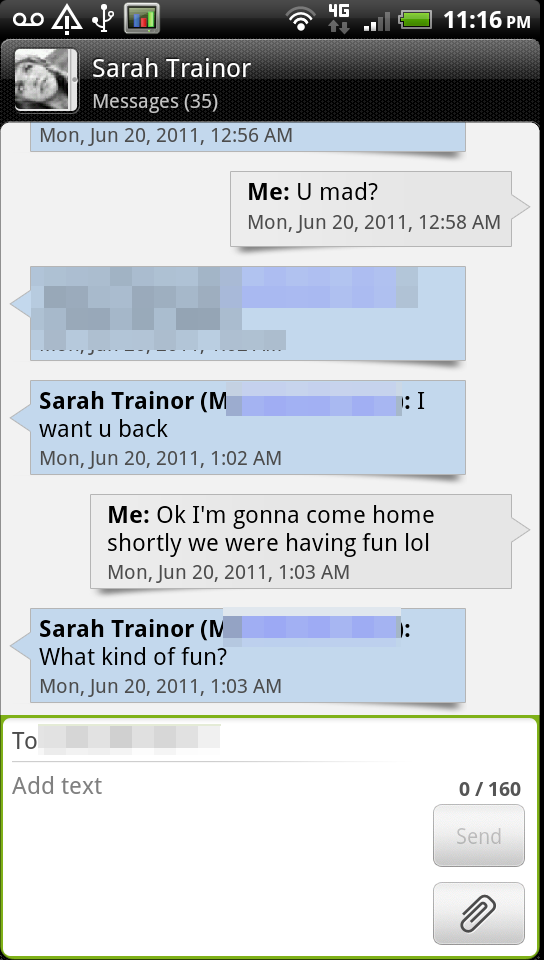 I've saved my two favorite features for last, ones that I've already slightly touched on. The first is informational lock screens. Head into personalize, tap on lock screen, and you can select from six different lock screens: a wallpaper, photo album, friend stream, current weather, stocks, and another clock. I opted for weather most of the time. Tap settings, and you can change the lock screen shortcuts to any app you desire.
Back on the lock screen, dragging these to the ring results in the phone unlocking and launching the selected application. This makes a ton of sense, and makes it easy to get into most frequent apps like messages and camera. It's a feature I think HTC has executed very well.
The next one is htcsense.com, which is part backup, part remote device management. Similar to Find My iPhone, you can remotely lock, erase, and ring the phone.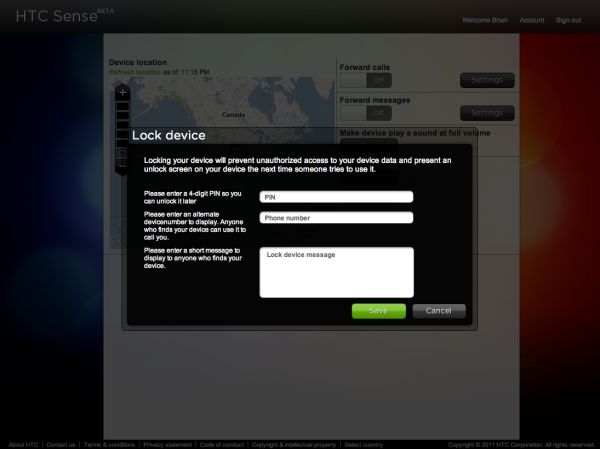 I tried all three and found that they do indeed work, and impressively enough remote wipe does include a full format of the SD card. It does require decent connectivity for things to happen quickly - if signal is marginal, it can take a while for anything here to push through.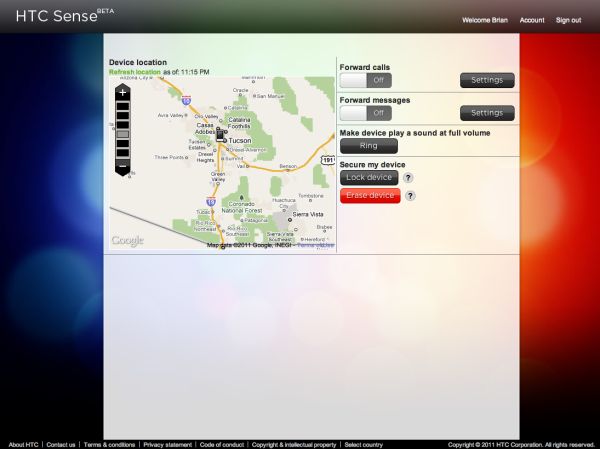 There's also a map with the device's location on top of google maps, and some toggles for forwarding messages and calls. I suppose that makes sense if you've lost the phone or just want the convenience.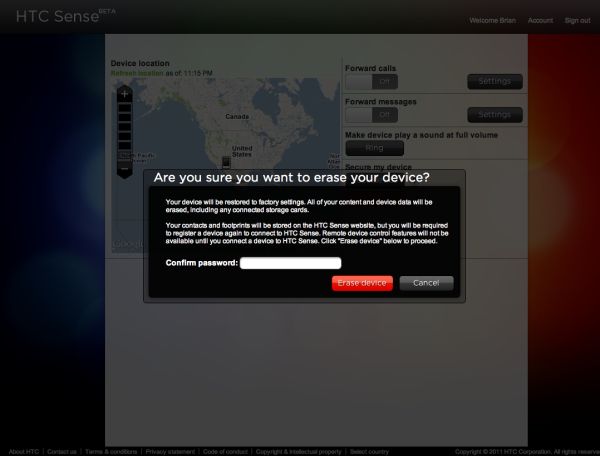 I fear that htcsense.com won't see super high attach rates because it isn't part of the initial setup wizard in the way it should be. On other devices like the Inspire 4G (htcsense.com isn't really a 3.0 feature, but bears going over) initial setup prompts you to create an account and explains what all having one affords you. On the Sensation with T-Mobile's build, you have to go into the HTC Hub, get prompted, then setup and log into your account. I wasn't ever asked unless I went and found it directly.
I think skins like Sense have a place as long as it can offer features beyond just being eye candy. Sense 3.0 adds some features that do enhance usability out of the box, although to be honest you can get the same thing with a custom ROM or by assembling it yourself. That brings me to my final thoughts about Sense. For the majority of people, Sense does make a lot of, well, sense. For power users that want it removed, there should be an option, or at the very least an unlockable bootloader so custom ROMs can be flashed on. HTC has promised to make the second a reality, though the Sensation as it is right now doesn't fastboot oem unlock, trust me, I tried. This will hopefully come in a later update.
Performance
I've been skirting around it for no real reason, but the obvious other big important feature on the Sensation is that it's the first dual core 45nm snapdragon SoC we've looked at in a shipping device. The HTC Sensation is built around a 1.2 GHz Qualcomm MSM8260 SoC with Adreno 220 graphics and integrated Previously, we looked at 3D performance on a 1.5 GHz Qualcomm MSM8660 in a Mobile Development Platform, and briefly in our initial hands on preview piece at Uplinq. There, we saw that performance was about where it should be given the difference in resolution between what we had tested (WVGA - 800x480) and the Sensation's qHD (960x540) display.
The elephant in the room is what CPU performance on MSM8x60 is like. Dual core snapdragon consists of two scorpion cores clocked at up to 1.5 GHz. Anand is going to give a much deeper CPU architecture dive when he looks at the MSM8660 inside the EVO 3D (again, the x in MSM8x60 merely denotes which modem is onboard), but for now I'm going to present all the benchmark results for the Sensation.
First up are our web benchmarks, which primarily test JavaScript and page rendering. We're still running SunSpider 0.9, though we'll soon switch to 0.9.1 and report that alongside. JavaScript performance on HTC's browser isn't as good as it should be, and I'm a bit disappointed here that things aren't better. We've seen HTC's browser result in lower scores before, but it still is at odds with what Qualcomm has told me about how closely the two collaborate to optimize V8 for scorpion.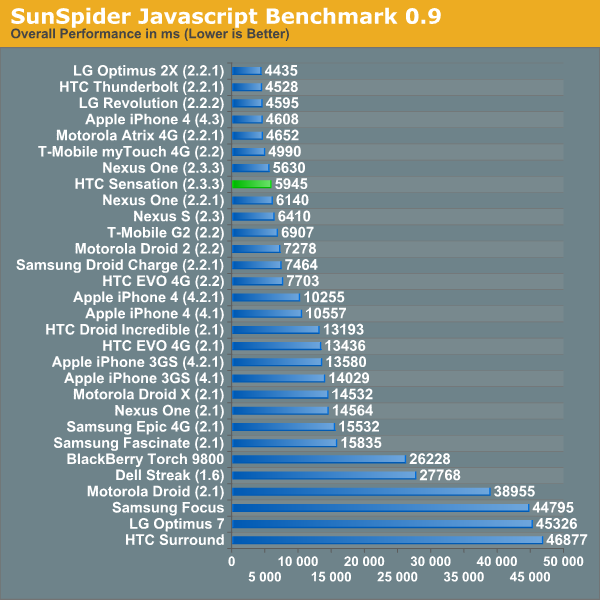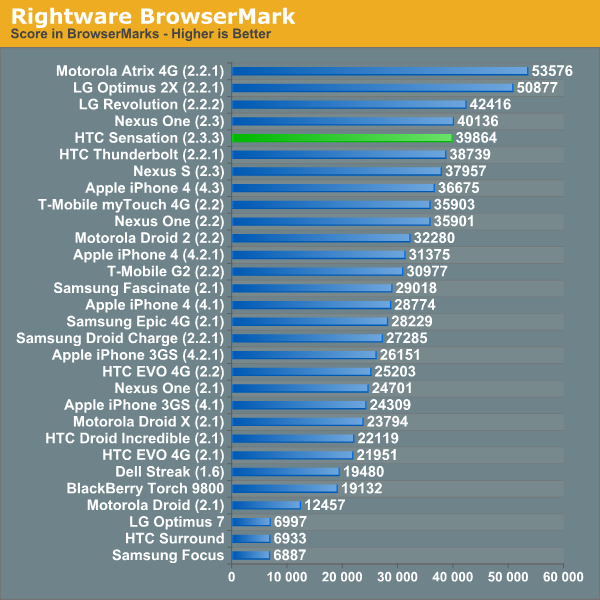 Flash is next, and here the Sensation delivers pretty good performance. It's hard to make a direct comparison against the Optimus 2X again because we're dealing with WVGA versus qHD, and we run this test aspect scaled.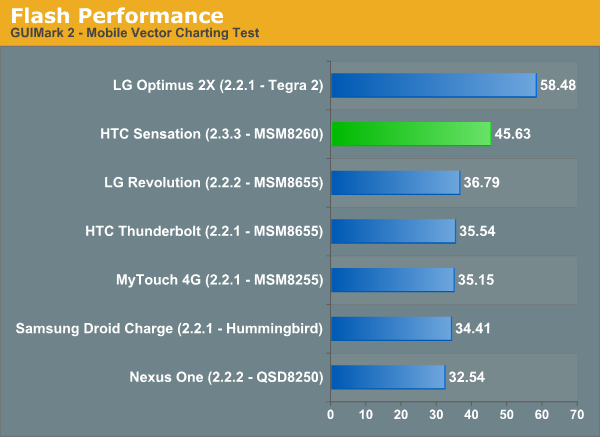 I'm putting Neocore up next because I want to mention again that we're capped at vsync. We had some hope for a while that we could turn vsync off on handsets, however this is only possible on development hardware, not final ROMs that ship in devices. Odds are you won't see this pop up again in our suite unless we can make it actually say something. We're at the Surround's 60fps wall even at qHD.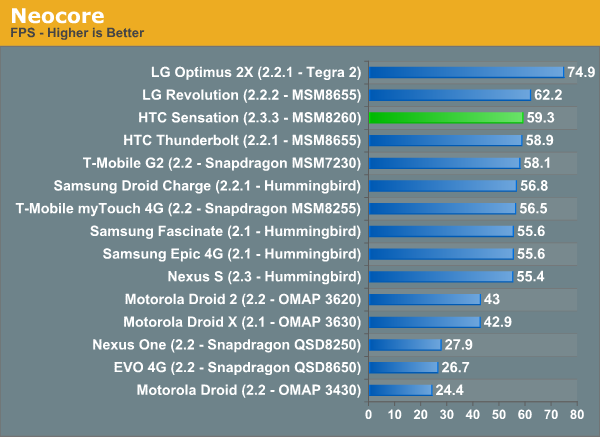 GLBenchmark 2.0 is a mainstay in our benchmarking section, and I've already broken down results in our HTC Sensation hands on back at Uplinq. Things have actually improved a bit since that hurried benchmark run over dinner in San Diego, with the Sensation posting around 2fps higher in Egypt and Pro. Again keep in mind the resolution differences between everything here, there's a 1.35x increase in pixels going from WVGA to qHD.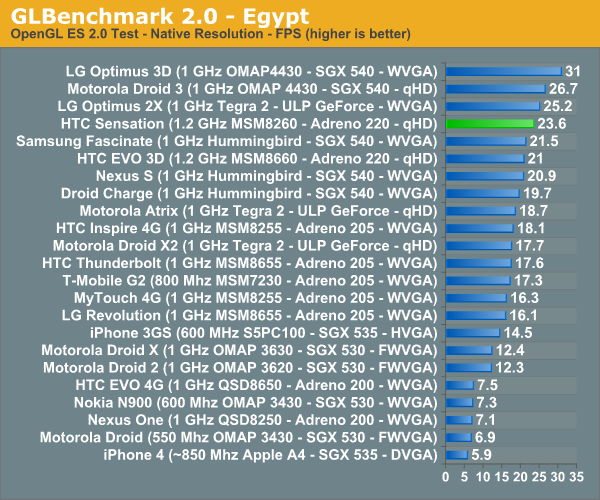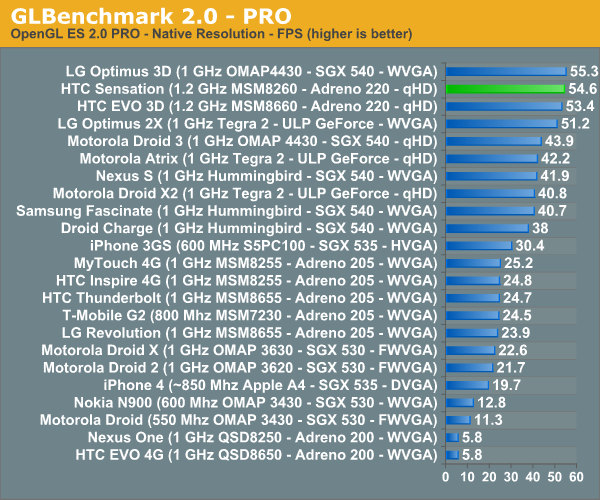 Next is BaseMark ES2.0, which is a nominally updated version of the hugely popular, industry-standard 3DMarkMobile ES2.0. Here we run at the default resolution, which is VGA, and thus get a picture without being constrained to just native resolution constantly. This one is a bit new for us, and I expect that Anand and I are going to explain things a bit more in the EVO 3D story. For now, just take away that MSM8x60 appears very speedy.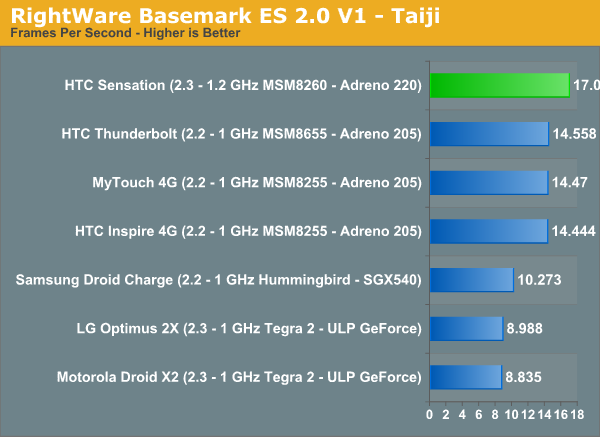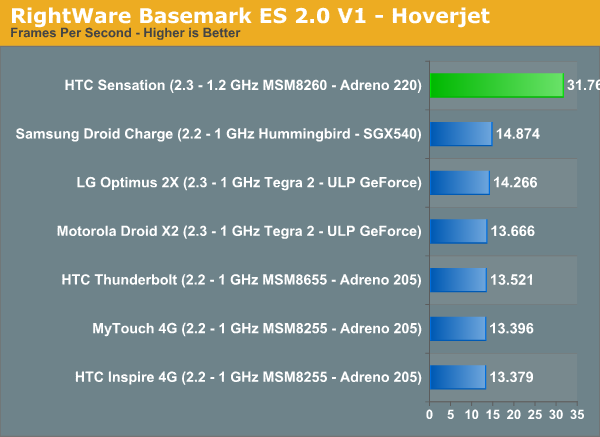 The Android port of Quake 3 is what we sort of started all of this mobile 3D benchmarking with, and we're still running it even if it's starting to hit vsync. The results look strange here until you realize that this is again running at native qHD resolution on the Sensation.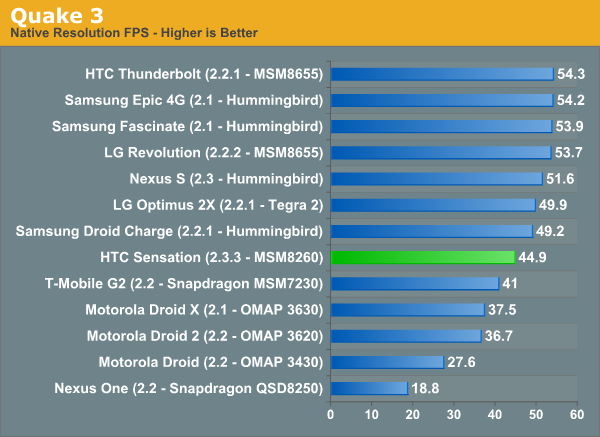 Next up is Linpack, which added a multi-threaded benchmark mode earlier this week. I've run it on all the dual core devices I could get my hands on. The initial multi-threaded version had some issues which were fixed on Tuesday, giving more accurate results. We'll still run the single-threaded version alongside. The 20% jump in clocks shows itself nicely on the Sensation in single-threaded linpack compared to all those 1 GHz MSM8x55 phones we've tested.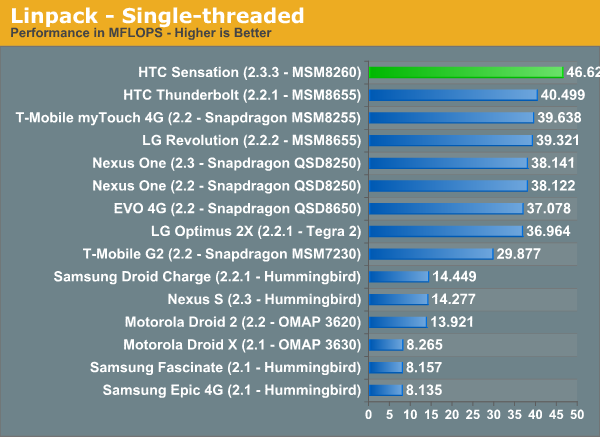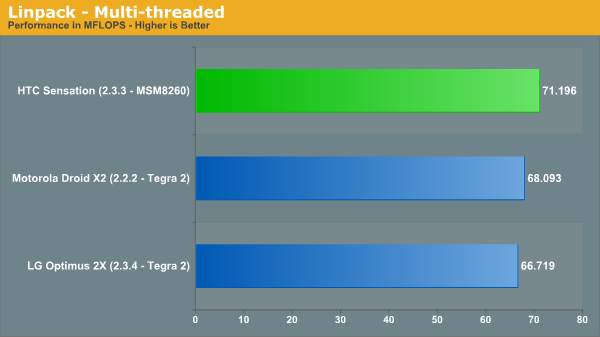 Last and most definitely least is Quadrant, which I think we've gone over our numerous reasons for disliking a few times. The tests themselves are starting to look seriously dated, including 3D tests which render improperly on Android 2.3 and are themselves up against the 60fps vsync cap through their respective runs. I'm sure that the rest of the poorly documented subtests are equally as subpar, however it's become something of a de-facto standard in certain circles.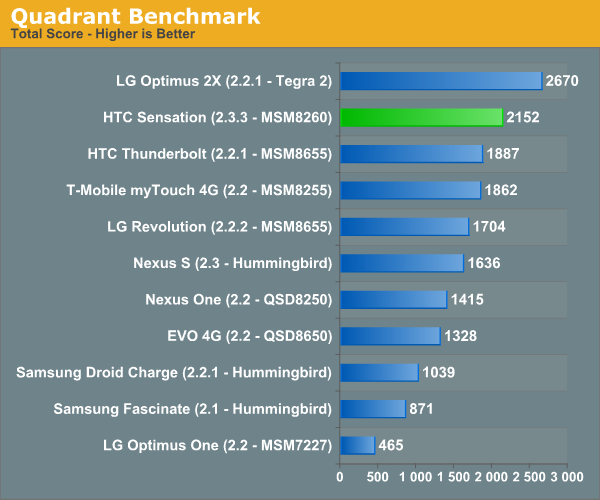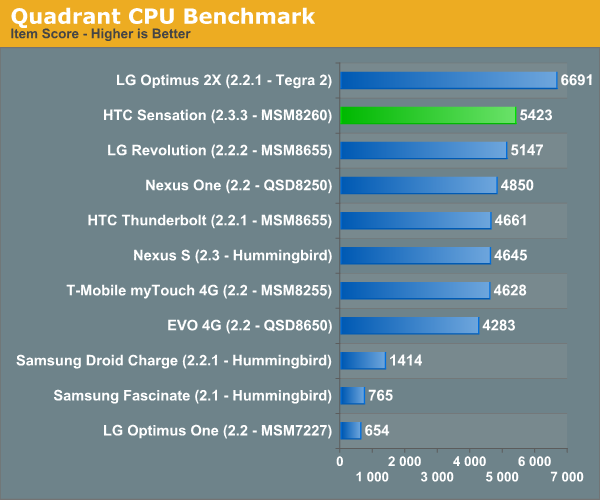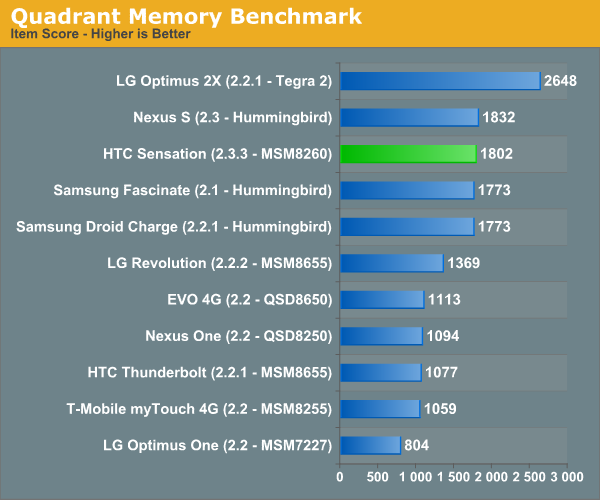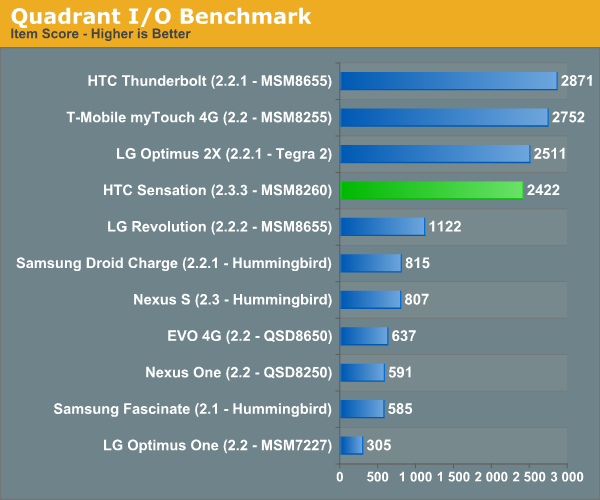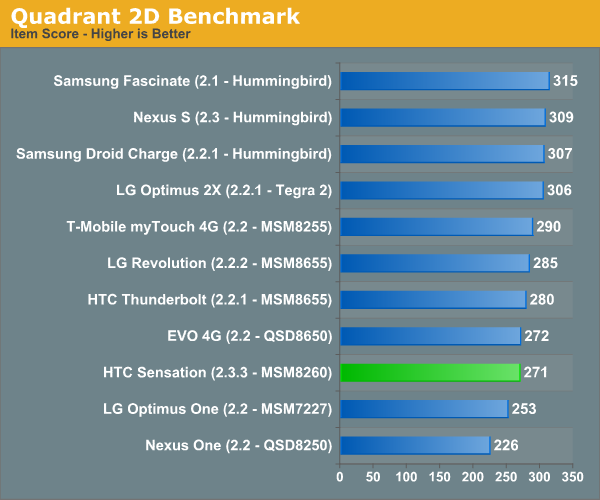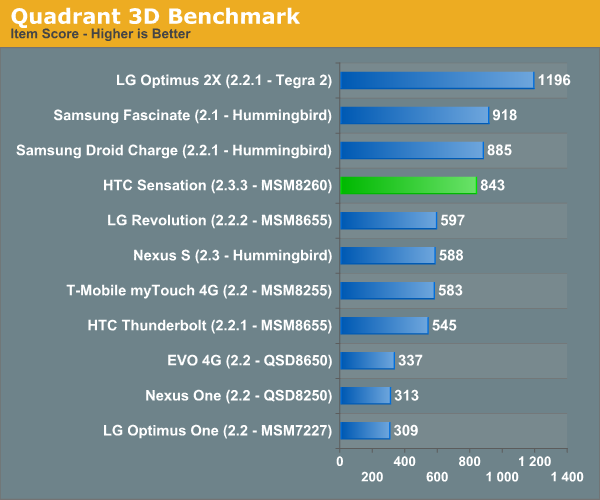 As an aside, I don't think we'll see Quadrant around for much longer, as there are better, more robust, fully documented tools by some established big names coming to the Android market (for free) shortly. All of those will probably quickly and thankfully replace Quadrant, as they all are gunning for its "go-to standard" status as the tool everyone runs, at least from the Android market. I have no doubt they'll quickly succeed.
The state of benchmarking on Android right now is a bit unbalanced, and what everyone wants is a system trace or general use benchmark that will show more than how the CPU does in synthetics and the GPU in synthetics. I fully expect all of that to change this calendar year. Just be patient.
Connectivity - WiFi and Cellular
The Sensation includes 802.11b/g/n WiFi and uses a Broadcom WLAN stack (likely the ever-popular BCM4329 yet again), I saw it connect at 72 Mbps just like I'm used to seeing for single spatial stream smartphones running 802.11n. Actual WiFi range is good, and largely on par with the iPhone 4 and other devices widely accepted as being decent. I watched Sensation RSSI hover around plus or minus 1 or 2 dBm from an iPhone 4 throughout my house connected to an 802.11n AP.
What's odd about the Sensation is that to get those numbers required holding the phone portrait. The Sensation doesn't appear to have a very isotropic antenna, as holding it screen-up yielded less signal than if I held the Sensation with the display facing me.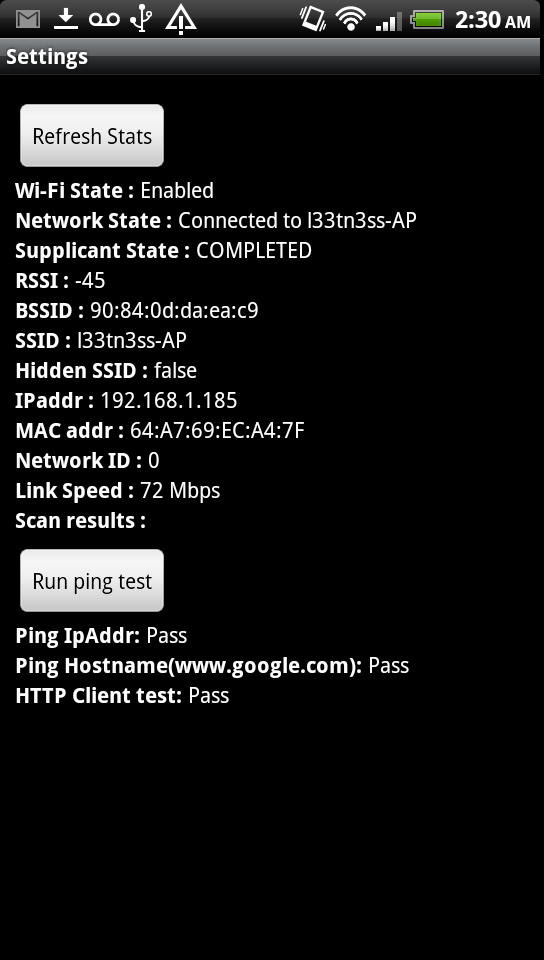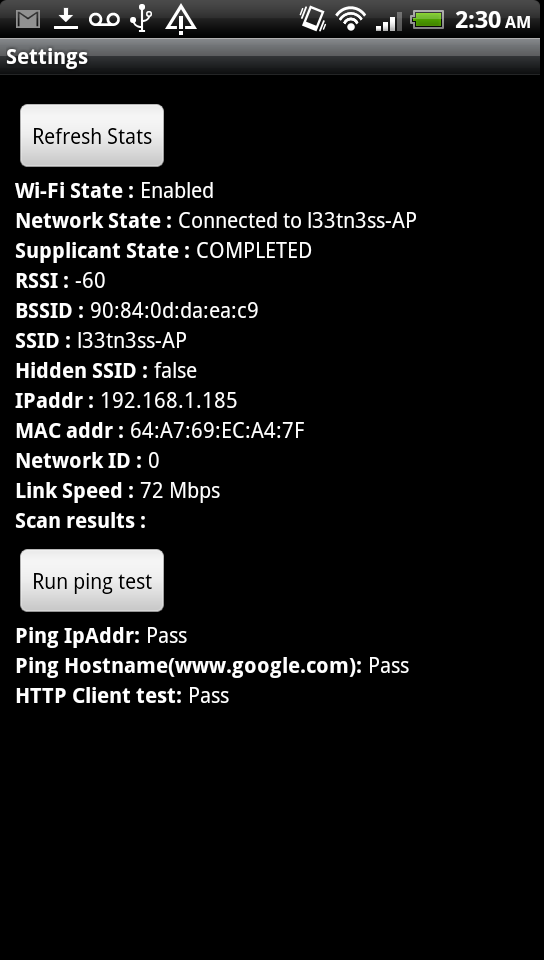 Before (left) and after (right) having the top portion cupped in the hand - note RSSI changes by 15 dB.
Back with the Desire HD, there was some outcry about the device having its own form of deathgrip, thanks in part to the WLAN antenna being integrated into the battery door and surrounded by metal. Things have improved somewhat with the Sensation, but you can still drop 15 dB by cupping the top plastic area where the WLAN antennas are patterned.
Throughput is likewise decent in our 100+ MB PDF local download test, though it isn't as super as some other phones of late.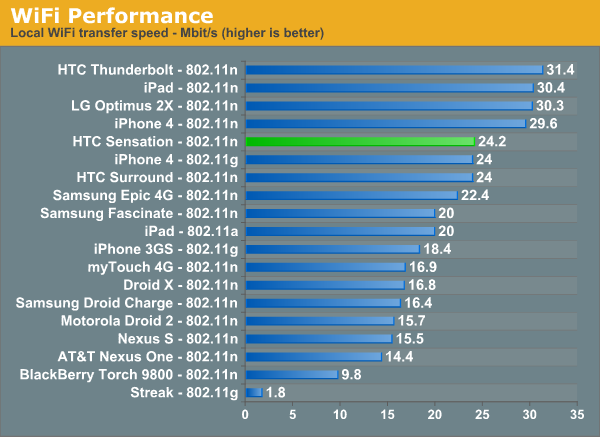 Cellular connectivity on the Sensation is courtesy of the MSM8260's onboard baseband, which is HSPA+ capable and supports HSDPA 14.4 / HSUPA 5.76 on 900 / 1700 / 2100. There's quad-band GSM/EDGE support for 850 / 900 / 1800 / 1900 as well. Remember that the x in MSM8x60 denotes which mode is present - 2 for single mode UMTS, 6 for multi mode UMTS and CDMA. The baseband on the MSM8260 is effectively the same modem as what was in MSM8255.
I ran 249 tests on the Sensation connected to T-Mobile's HSPA+ network. On the Sensation, that shows up with a big bold "4G" logo. When you've fallen back to EDGE you get a sans-bold "2G," and on GPRS just a G. I don't think there's much of an argument to be made for HSPA being "4G" until most of the carrier is running dual carrier HSPA or MIMO. Even then, without much faster backhaul and compatible phones, things aren't going to change much. T-Mobile's coverage isn't exactly perfect in my area, but I ran tests whenever I saw HSPA in both Tucson and Phoenix Arizona, and Los Angeles California. Those are all HSPA+ enabled markets, and since the Sensation isn't a 64QAM device it isn't like things were faster in one than the other.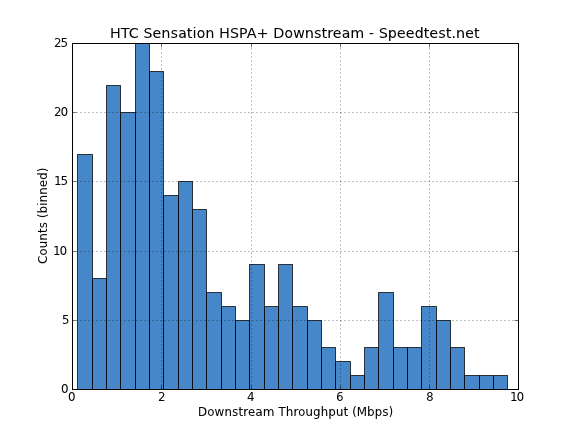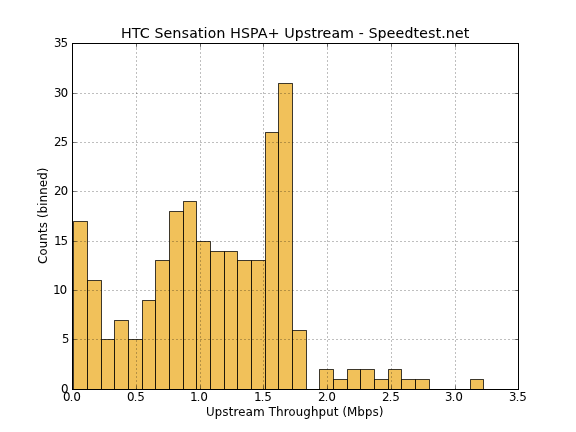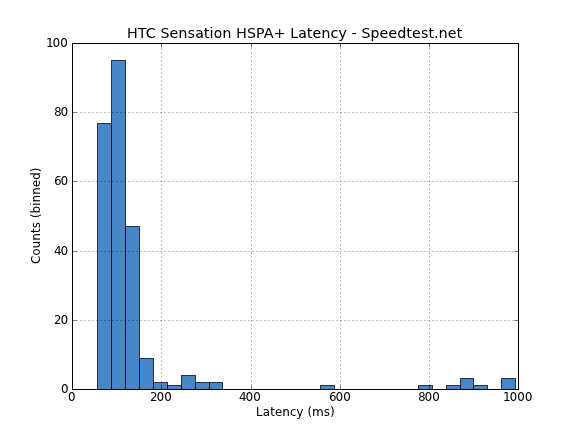 There's a clustering of results at the bottom between 0.5 and 3 Mbps, but there are impressive tests going all the way up to just shy of 10 Mbps. I've seen just over 11 Mbps tethered and parked within close line of sight to a T-Mobile cell site. When signal is good, T-Mobile will get you an awesome occasional 9-10 Mbps. When you're not within line of sight to the tower, (in average coverage), you'll get that 1-2 Mbps or so. Keep in mind, this is when you're actually connected to HSPA+ — I did spend considerable time just stuck on EDGE in parts of some markets, and likewise in the wrong parts of town and my house. T-Mobile seems to be pushing the adoption of higher and higher HSDPA and HSUPA categories on its network, including moving to higher order modulation and dual carrier, which deserves applause, but at the same time more cell sites seem a necessity.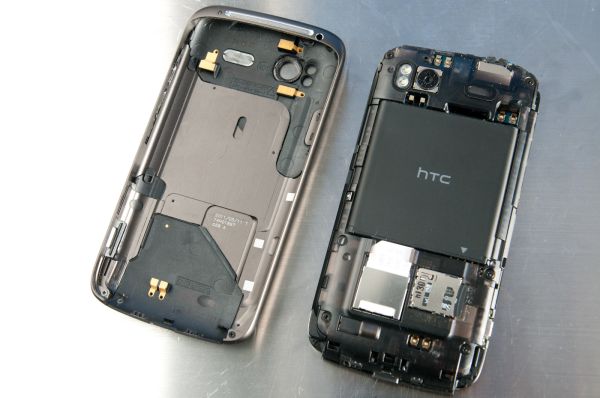 The most sensitive cellular region on the Sensation seems to be at the bottom of the back case, which is what we're used to almost always seeing for smartphones because of how the FCC tests. In addition, the Sensation seems to have Rx diversity, with one antenna up in the top plastic region, one at the bottom. The good bits of the FCC reports are still locked down until around October, but there honestly aren't too many question marks to fill in with regards to the Sensation.
Signal Attenuation Comparison in dB - Lower is Better
Cupping Tightly
Holding Naturally
Holding in Case
On an Open Palm
HTC Sensation
15.0
10.0
8.0
0.0
Samsung Droid Charge
10.0
10.0
5.0
0.0
HTC Thunderbolt - LTE
5.3
2.5
-
4.4
HTC THunderbolt - EVDO
6.5
0.8
-
7.2
Verizon iPhone 4
16.5
15.5
9.0
7.9
LG Optimus 2X
13.7
9.3
-
5.9
Nexus S
13.3
6.1
-
4.3
Droid 2
11.5
5.1
-
4.5
BlackBerry Torch
15.9
7.1
-
3.7
Dell Streak
14.0
8.7
-
4.0
Droid X
15.0
5.1
-
4.5
AT&T iPhone 4
24.6
19.8
7.2
9.2
iPhone 3GS
14.3
1.9
3.2
0.2
HTC Nexus One
17.7
10.7
7.7
6.7
Attenuation from holding the phone isn't a big deal with the Sensation. If anything, I think HTC is due for some well-deserved kudos for trying something different with its latest crop of antenna designs. I'm impressed with how the Desire HD maintained a metal package and hid antennas in plastic RF windows that double as covers, and the Sensation is even more interesting with them being built into the two plastic triangles which snap into the back cover. Of course, if you take the metal exoskeleton off, you lose all signal, but that's to be expected. I've actually taken the cover completely off sometimes and seen EDGE hang on.
WiFi Hotspot
The Sensation includes HTC's own WiFi hotspot software, and nothing much is changed between it and previous versions. It's still limited to 5 users maximum, and you can view and manage each one's connectivity. I don't remember them being options before, but the Sensation also lets you change the WiFi channel and DHCP server settings in the advanced menu alongside the standard power timeout options. I tested the Sensation's hotspot capabilities pretty extensively and found that things work out perfectly well. Thankfully there aren't any bugs to speak of, which is more than I can say for the hotspot software on some other recent smartphones.
Speakerphone
Speakerphone on the Sensation isn't quite as loud or as high quality as we'd like it to be. To be honest, this is probably the only really glaringly bad part of the whole device. I used the phone for navigation a lot while driving the 400 miles to and from California, and then on a trip or two to Phoenix, and the speakerphone volume just isn't high enough. Listening to music at maximum, it isn't adequate. For calls, it's disappointingly quiet and grainy. I'm not sure what happened here or if something needed to go with the phone for it to fit into this form factor, but clearly the speakerphone took a back seat during testing and design, or there's something flat out wrong.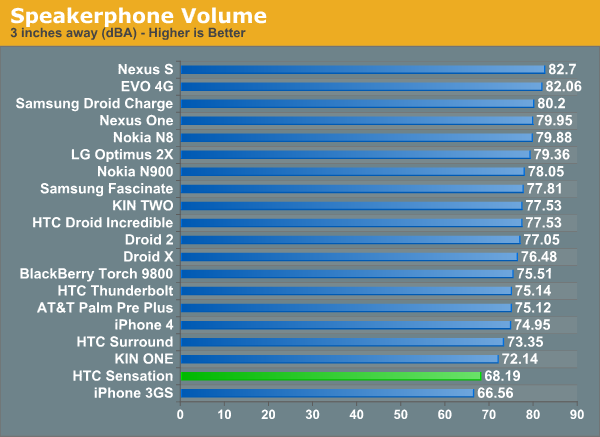 There's a grille on the plastic back of the Sensation, then another metal grille. There is a small rubbery ring around the thing as well, so it isn't like sound is disappearing into a void between the metal case and the plastic back. It just isn't loud enough.
Voice Calls and Audio Codec
We're still trying to create an even better way of characterizing and presenting voice quality for smartphones. Until then we've provided a recording of the Sensation calling the local ASOS weathe report station by connecting the headset jack to line in. The Senation's headset audio quality and earpiece volume also are good. The Sensation, like most modern phones, also has ambient noise cancellation which I tested by calling a friend in a very loud environment. Background noise around me was hard to detect on his end. HTC is no doubt using the Fluence noise cancellation audio chain onboard MSM8260.
I listened to lots of Google Music on the Sensation using my pair of Shure SE535 earphones, and found things overall pretty good. The Sensation uses TI's very low power TLV320AIC3254 stereo audio codec.
Qualcomm's GPS
Last but not least in this section is GPS performance. The Senation uses Qualcomm's Gen 8 GPS which supports standalone and assisted (A-GPS) mode. I tested and verified that I get a fix from cold start both with cellular connectivity and without WiFi or cellular connectivity. It works and it works well.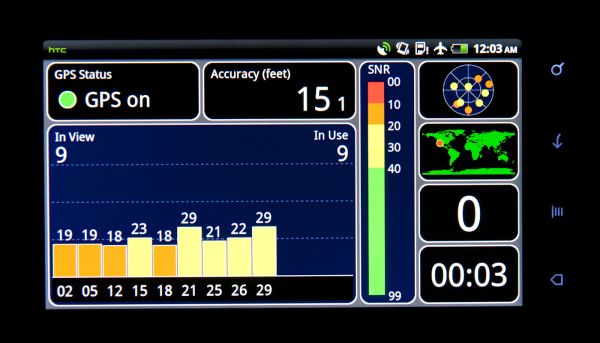 Note that airplane mode is on.
In addition, the GPS on the Sensation locks astoundingly quickly. It's almost instantaneous, which is especially impressive after using the Droid Charge for weeks before, which often took either a few seconds or a full 30 to get a 3D fix.
1080p Video Quality
Back when we had the MDP, I took a number of 1080p video samples just to get a feel for what MSM8x60's ISP and encoder performance were like. Things have improved considerably since then, and compared to the MDP the Sensation shoots much better videos. I had Ganesh, our resident media guru and HTPC reviewer, take a look at everything the Sensation produced and do some analysis, and his initial impressions really mirrored mine. Image and video quality both are better than they were on the MDP, and dynamic range is also improved.
The Sensation lets you shoot in 1080p, 720p, and native qHD resolution, in addition to a number of lower resolution options. Video is encoded at H.264 baseline with 1 reference frame, just like we saw Tegra 2 do on the Optimus 2X. At 1080p you get around 10 Mbps bitrate, and at 720p you get 5 Mbps. Just like the Optimus 2X, "1080p" really works out to 1920x1088. Video is shot at 30fps, though in practice we've noticed the Sensation dipping below 10 fps a few times, and to be honest we'd rather see steady 720p30 than 1080p10-30.
We've done the usual thing and uploaded everything in a 245MB zip to the AT servers, and also to YouTube as shown.
Bench Video:

Sample:

The Sensation is one of a small percentage of smartphones I've seen that also record stereo audio, which is encoded in 128 Kbps AAC. I've taken some video with stereo turned on and off, as there is a toggle in the camcorder menus, though I don't see why anyone wouldn't record with stereo enabled all the time.
Stereo:

Mono:

With some digging, I determined that the Sensation is using Samsung's 8 MP S5K3H1GX 1/3.2" 3264x2488 CMOS sensor with 1.4 µm square pixels on the rear camera. It's the same 8 MP sensor as used in the Desire HD/Inspire 4G. This supports FullHD by cropping, and optionally HD by binning. Fire up the camcorder and you'll see that HTC has opted for the former, and crops the sensor down to 1920x1088 for recording videos. As a result, magnification appears to increase due to the crop factor, something that's old hat for iPhone 4 users.
Front Facing Bench Video:

The front facing sensor is a Micron/Aptina MT9V113 1/11" VGA CMOS sensor with 2.2 µm square pixels. Video on the front facing camera is shot at 1.6 Mbps VGA in H.264 baseline with 2 channel AAC audio as well. It isn't anything to phone home about, but no doubt will suffice for video chats and such.
Still Images
The actual camera application on the Sensation is HTC's standard fare, and as such I don't think it bears much going over. The menus are relatively straightforward to navigate, and the icons rotate from landscape to portrait shooting so you know images will have the right EXIF data embedded. I'm a bit disappointed that the menus are still somewhat laggy - opening and closing the settings drawers sometimes just seems sluggish.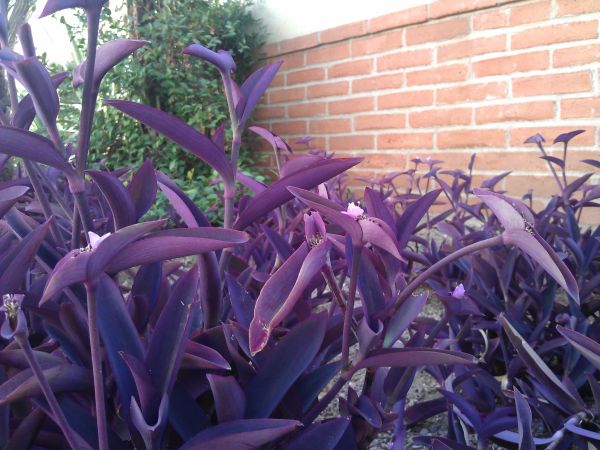 The actual preview image is of good framerate however, and the preview resolution seems to be 1:1 with the screen, no cheating here. HTC also still sets the shooting mode to widescreen by default, so to get the full potential out of the sensor you need to go into the menu and uncheck widescreen and shoot in 4:3 aspect ratio.
As a reminder, locations 1, 2, and 5 are unavailable anymore, but 3, 4, 6, and 7 still are being actively used.
Image quality on the Sensation is pretty good with lots of light. In fluorescent light things can get a bit off, as evidenced by colors in location 7. I've said before that HTC's current crop of cameras far exceeds the previous ones, and I'm still thinking that after having taken lots with the Sensation. It's clear to me that HTC has been paying attention, as there no longer is a piece of plastic between the camera and outside world. Instead, the last surface of the camera really is that surface, and it's inset slightly so as to not be a contact point for scratching. The camera module sticks through the rear case slightly, and there's a small squishy seal to keep dirt and grime from getting inside.
Battery Life
I generally end up putting battery life details at the end, but to be honest it's probably one of the most important things on a smartphone, and one of the more important points to explore when talking about the Sensation. This is the second dual core SoC we've looked at, and thus the results are even more interesting. Qualcomm's MSM8260 also differs from NVIDIA's Tegra 2 in how the SoC scales voltage and frequency. On MSM8x60, each core has its own voltage and frequency plane, meaning that when we're dealing with a heavy single-threaded workload, the second core can slow down and lower voltage. On Tegra 2, there's a single voltage and frequency plane across both cores. The latter makes a lot of sense for primarily multi-threaded workloads, since they can be divided across both cores, and voltage is lowered accordingly. Voltage scaling generally wins out in the long run, but right now things in Android have a single-threaded bias.
First up is our cellular web browsing test, where we load a few dozen pages endlessly with the display set to 200 nits until the phone dies. The Sensation posts a very impressive result here scoring a spot at the top of the Android charts.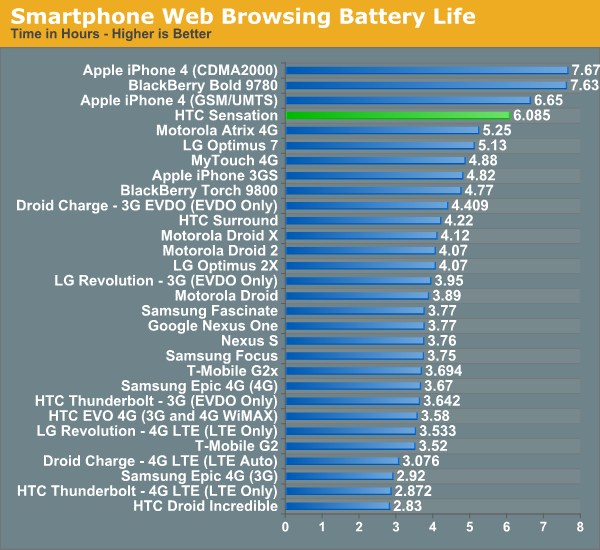 Next up is WiFi, which is essentially the same thing as our cellular test but connected to an 802.11n AP until the phone dies. Here things strangely aren't all that great. The Sensation posts a number similar to the cellular test, but compared to other devices doesn't see a big jump in battery life on WiFi.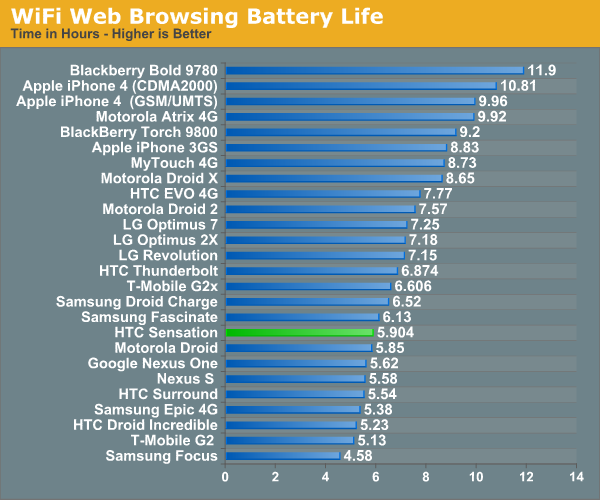 Third is the call test, which is pretty self explanatory. We have the phone in test call another device, and play music at both ends to simulate a typical voice call. That runs until the phone dies, and the display is off.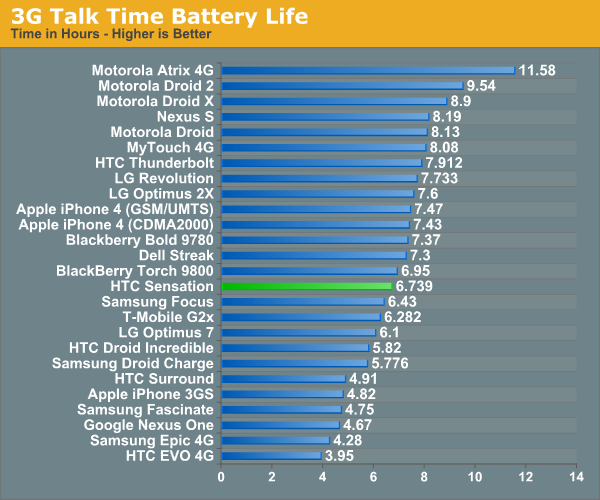 Finally is our newest test, in which we make the smartphone a hotspot, connect up an 802.11n client, and load four tabs of our page load suite alongside a nonstop 128 Kbps audio stream. This simulates a number of people using the hotspot pretty aggressively and doesn't let the baseband suspend itself. The display is also off.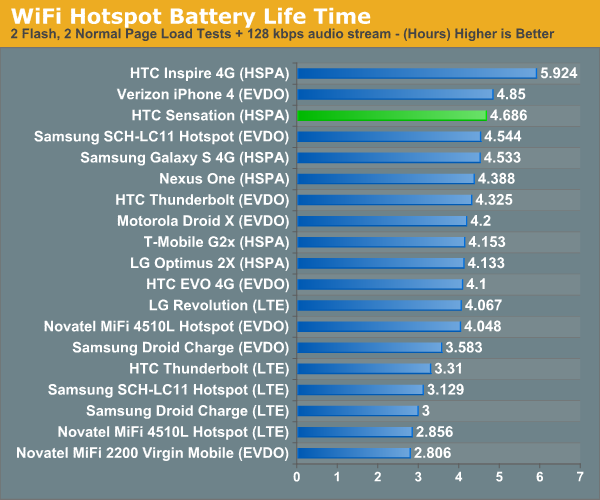 Here again we see the Sensation take an impressive top position. The comparison I'm looking at is between the Optimus 2X, G2x, and Sensation. As a reminder, the Optimus 2X/G2x both have a 5.6 Whr battery, and the Sensation has a 5.62 Whr battery. The sensation blows away Android competition in the cellular web browsing test and hotspot test, and delivers middling performance in the WiFi web browsing and call test suite.
Conclusion and Final Thoughts
I'm pretty impressed with the Sensation. In most ways, it sets a baseline for what we should expect for this upcoming generation of devices - a dual core SoC, fast connectivity, some sort of specialty display (either high PPI or AMOLED), and unique industrial design that makes the device stand out.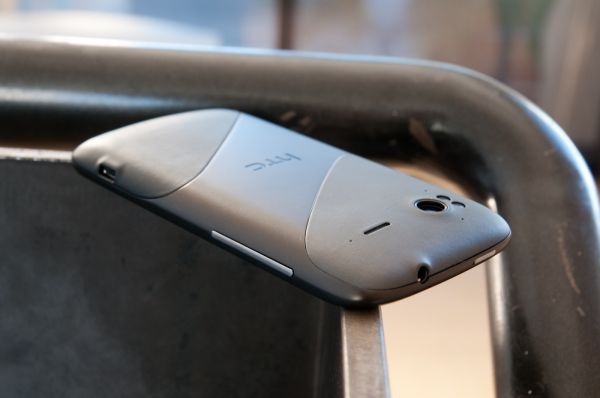 I feel like HTC always is sure to save its best execution for the international version of its handsets, and in this case T-Mobile did the right thing by not messing with it. Beyond the branding on the front and a couple instances of T-Mo purple in the applications list, it really is an international device. Even the band support is the same as the international edition.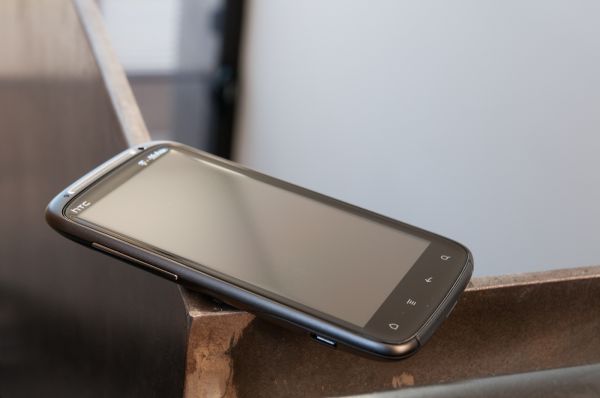 The Sensation impresses all around, and has very few shortcomings. First on that list is the absolutely horrendous speakerphone, which seems to either have something broken or the gain set really low in software, and a much more minor second is the small gap at the top which lets pocket lint intrude. Other than that, the only thing I'd seriously change about the Sensation would be to add penta-band WCDMA support so I could buy one and use it in the USA on AT&T for my personal device.
If you're on T-Mobile, the obvious phone to compare with is the LG G2x, which performs very close to the Sensation and has similar overall size. Where the G2x gets edged out is display size plus resolution, and battery life in some areas. There's also the fact that the Sensation is shipping with Android 2.3, and the G2x still is officially 2.2, though that's going to change soon.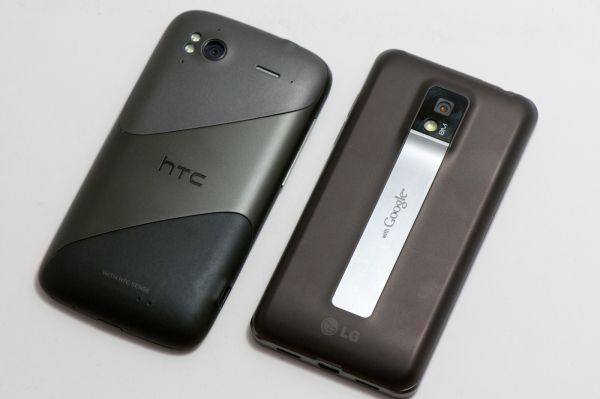 Internationally, things get a bit more complicated, since the Sensation is up against the Samsung Galaxy S 2, which we still haven't taken a formal look at. The competition is fierce, and I'm eager to find out (and maybe even settle) the matter of which one is better.