Original Link: http://www.anandtech.com/show/4465/samsung-droid-charge-review-droid-goes-lte


Samsung is doing something interesting lately. Instead of outright releasing Galaxy S 2 in the US, each carrier is getting a mid-cycle refresh of the Galaxy S with 4G compatibility and more recently Super AMOLED Plus. T-Mobile was first with the Samsung Galaxy S 4G, then came the Droid Charge on Verizon which we're looking at now, and finally AT&T got the Samsung Infuse 4G. The latter two have Super AMOLED Plus displays and different basebands. Right now we're looking at Verizon's second 4G LTE device, and the first to earn the 'Droid' level branding - the Samsung Droid Charge.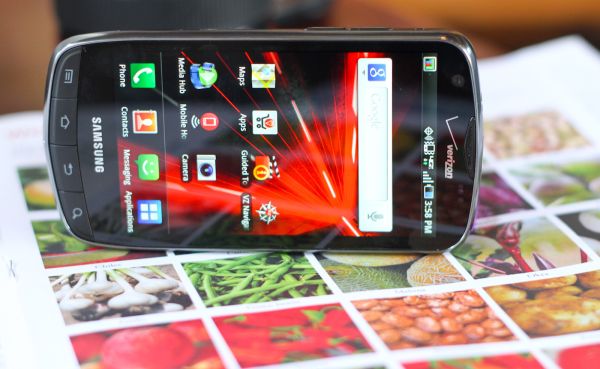 The Droid Charge (henceforth just Charge) is an interesting mid-cycle refresh of the Samsung Fascinate (which we reviewed back when it came out), retaining much of the handset's core features. Notably, both run Android 2.2 and are based around a 1 GHz Samsung Hummingbird SoC with SGX 540 graphics. Where the two differ is the inclusion of 512 MB of LPDDR2, a 4G LTE baseband, front facing 1.3 MP camera, and 4.3" WVGA Super AMOLED display. There are other differences such as more storage both internal and external, but the primary difference is inclusion of 4G LTE and that huge display.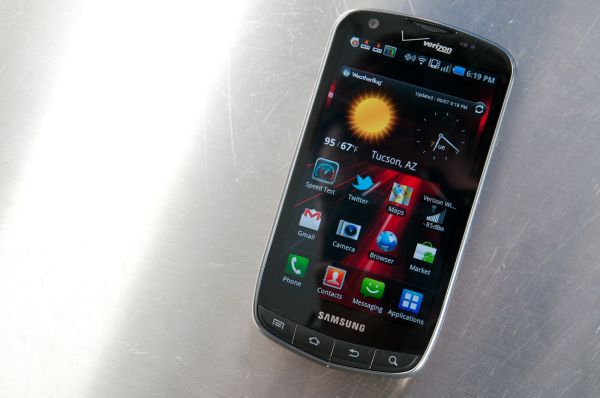 The Charge's industrial design is a bit unique, resembling something of a cross between the iconic B-2 Spirit stealth bomber and a Nexus S. I'm not sure I'm a huge fan of yet another design that clearly is inspired by radar-deflecting angles and the homogenous grey color of iron-ball paint radar-absorptive material. It's just a totally tired design direction. The device is ringed with chrome (a common Galaxy S motif) and is slightly angled up in the front.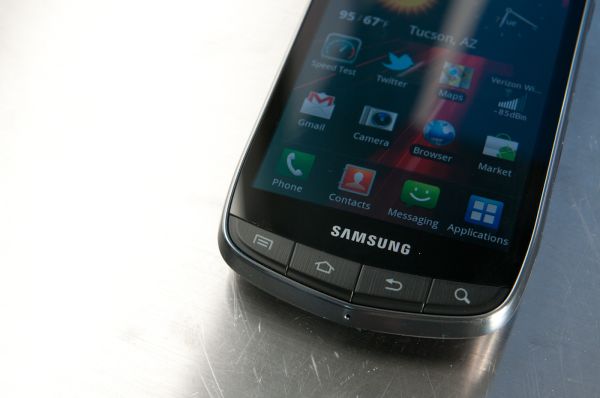 There's an angular point in the front middle where the microphone port is, and below it a small space to shove a thumbnail into and remove the battery cover.
This angular motif is continued everywhere on the Charge - the earpiece grille up at the top matches it with a similarly shaped triangle, and on the back the chrome ringing the camera and flash also has an angled style. It all kind of comes off in a way that makes the Charge feel masculine, but at the same time carries a bit of prepubescent opulence.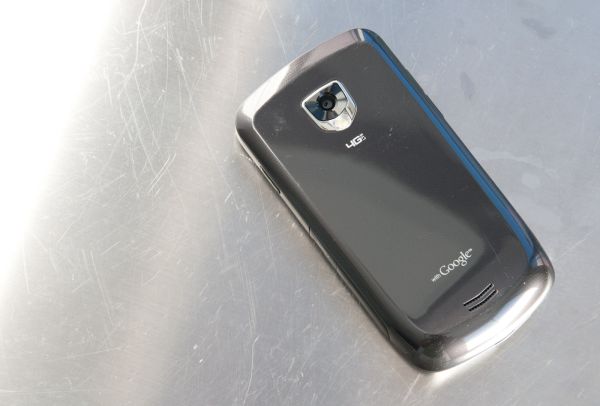 The Charge reminds me a lot of the Nexus S because of its bulge on the bottom. The phone doesn't lay completely flat, instead it rests on three points formed by the upper back and the center of the backside bulge. The speaker slot is located on the side of the bulge and as a result isn't muffled when the phone is placed face up on a table for speakerphone or conference calls.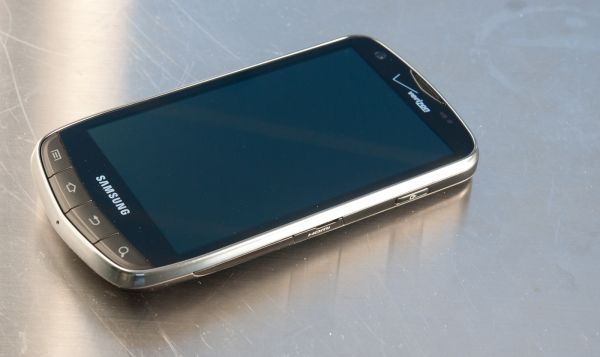 One of the things I haven't seen for a while (outside of the Droid X and X2) are physical android buttons. The Charge's four buttons are both adequately clicky and backlit evenly. The four buttons are actually two groups of two, with with the leftmost two and rightmost two buttons each being discrete buttons. You can sort of tell that they're the same piece, because clicking one moves the other button, but so far I haven't experienced any errant clicks.
It's a bit weird using something with physical buttons after months using phones with capacitive – more than once I found myself lightly pressing on the region and then waiting, puzzled why nothing happened. In addition, pressing any of the four Android buttons while the device is off does not turn the handset on, so you can put your fears that hardware buttons will lead to errant in-pocket power-ons to bed. Only the power button does that duty.
The left side of the Charge is home to the microUSB port and volume buttons, which are adorned with a small chrome ridge. The volume buttons on the Charge are precise and clicky, no complaints there. Having the USB port located here remains something of a point of contention for many people, though I'm starting to warm up to it.

The right side packs the Charge's HDMI port which is underneath an attached plastic cover. Get a thumb inside there and the cover pries off and swivels around exposing the HDMI type-D port. Just north of that is the power button, which like the volume buttons is the right balance between clicky and resistive enough to not lend itself to errant presses, and is easily locatable thanks to its raised shape. I'm impressed with all the buttons on the Charge - a small thing that definitely makes a difference for actual in-hand impressions in the long run.

Up at the very top of the Charge is an offset headphone jack, microphone for noise cancellation in calls, and a "Digital by Qualcomm" sticker. As we'll discuss later however, there's no Qualcomm parts inside, but if you license CDMA2000 you still need this sticker on the handset.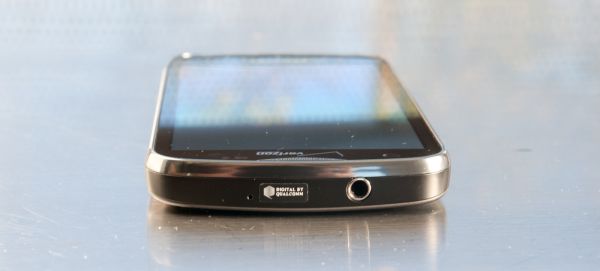 Where the Charge falls apart in the physical department is the back cover. This is something we've harped endlessly on about with the Galaxy S series, with the Fascinate, with the Nexus S, and in essentially the entire new Samsung Android lineup other than the Charge, it's fixed. On the Galaxy S 2, the back is now textured instead of one featureless slick plastic face like it is with the original Galaxy S and now the Charge.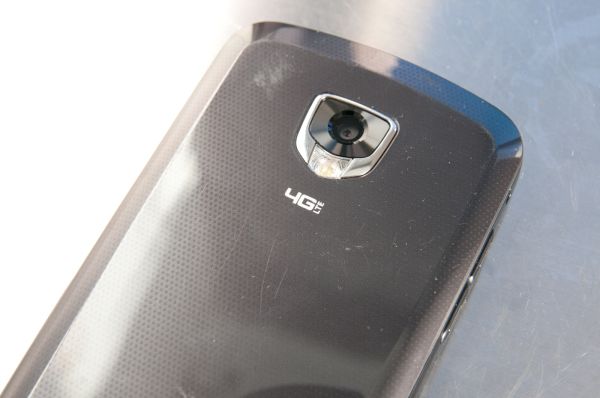 As a result, the Charge picks up scratches on the back disappointingly quickly, just like its predecessors. The plastic that Samsung used for this generation seems especially prone to picking up what are called "sleeks" - fine scratches that are only visible from light incident at an angle.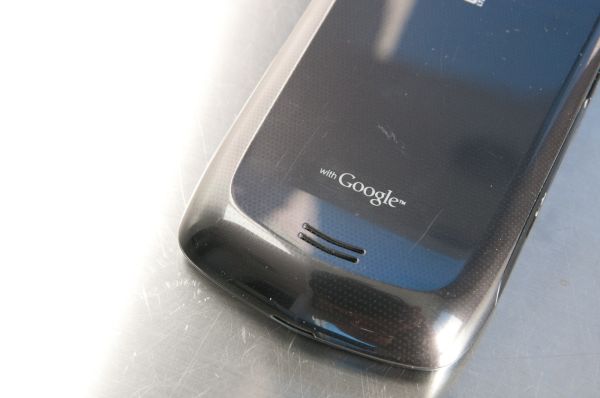 It's just frustrating because otherwise the Charge has an excellently balanced in-hand feel thanks to its ergonomic lip on the back, and overall impressive build construction. Though the entire exterior of the Charge is plastic, the internal frame is metal, and that rigidity certainly shows through.
Physical Comparison
Apple iPhone 4
HTC Thunderbolt
LG Revolution
Samsung Droid Charge
Height
115.2 mm (4.5")
122 mm (4.8")
129.8 mm (5.11")
129.9 mm (5.11")
Width
58.6 mm (2.31")
67 mm (2.63")
66.9 mm (2.63")
67.5 mm (2.65")
Depth
9.3 mm ( 0.37")
13.2 mm (0.52")
13.6 mm (0.54")
11.90-14.96 mm (0.47"-0.59")
Weight
137 g (4.8 oz)
183.3 g (6.46 oz)
172 g (6.08 oz)
143 g (5.04 oz)
CPU
Apple A4 @ ~800MHz
1 GHz MSM8655 45nm Snapdragon
1 GHz MSM8655 45nm Snapdragon
1 GHz Hummingbird S5PC110
GPU
PowerVR SGX 535
Adreno 205
Adreno 205
PowerVR SGX 540
RAM
512MB LPDDR1 (?)
768 MB LPDDR2
512 MB LPDDR2
512 MB LPDDR2
NAND
16GB or 32GB integrated
4 GB NAND with 32 GB microSD Class 4 preinstalled
4GB NAND with 16 GB microSD preinstalled
2 GB NAND + 32 GB microSD preinstalled
Camera
5MP with LED Flash + Front Facing Camera
8 MP with autofocus and dual LED flash, 720p30 video recording, 1.3 MP front facing
5 MP with AF and LED flash, 720P video capture, 1.3 MP front facing
8 MP with AF and LED flash, 720p30 video capture, 1.3 MP front facing
Screen
3.5" 640 x 960 LED backlit LCD
4.3" 800 x 480 LCD-TFT
4.3" 800 x 480 LCD-TFT
4.3" 800 x 480 SAMOLED+
Battery
Integrated 5.254Whr
Removable 5.18 Whr
Removable 5.6 Whr
Removable 5.92 Whr
Probably the most poignant comparison for the Charge however isn't Galaxy S, it's the HTC Thunderbolt and LG Revolution. Compared to the Thunderbolt, the Charge is a fair amount taller - nearly 8 mm in fact. However, the Charge is 1.3mm thinner and around 30 grams lighter. The LG Revolution has roughly the same outline as the Charge and is 0.4 mm thicker than the Thunderbolt. Thickness and overall mass are prime considerations for smartphone shoppers, and I think in this category the Charge's thinner overall profile makes it more attractive than the other phones purely from a physical perspective.
Update: My thickness numbers in the table for the Charge were previously incorrect, and have been corrected now. Thanks everyone.
Software
The Charge as of this writing runs Android 2.2.1, which seems to be par for carrier-backed phones launching now, though comparatively old and a bit indicative of how long the device has been either been going through Verizon's own testing or Samsung's development cycle. The sad reality is that all the 4G LTE Verizon handsets are running either Froyo 2.2.1 or 2.2.2, which is a continual frustration considering how long Gingerbread has been out, and the eventual launch of the Droid Bionic which will hopefully come with 2.3.x.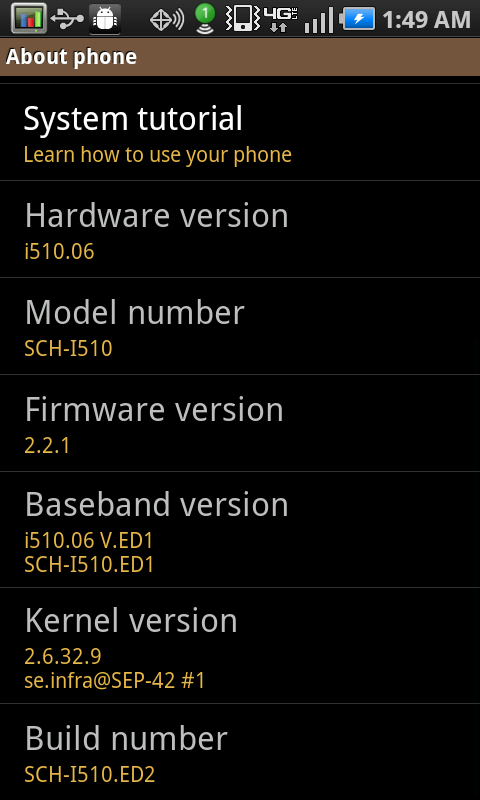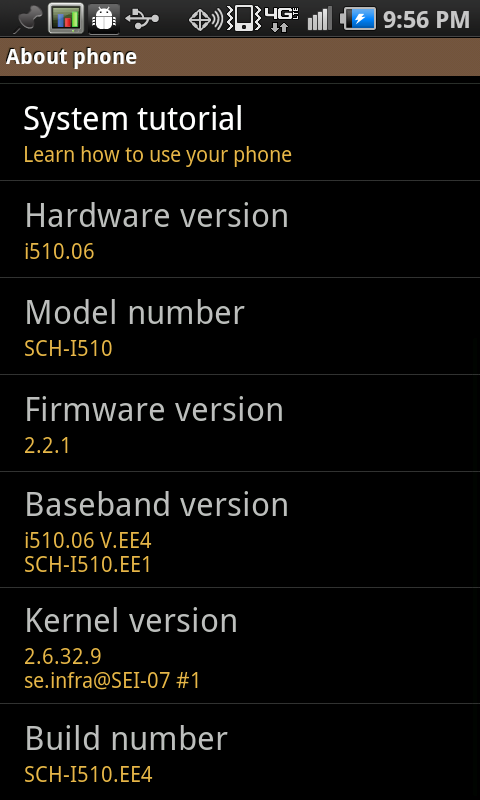 Left: Original Software Build ED2, Right: Updated to Build EE4. Notice how the signal bars are different now.
One of the things changed when the Charge was flashed with the EE4 update was those status bars at the top, which now look vaguely like Android 2.3 style. Don't let that fool you, the Charge is still very much Froyo.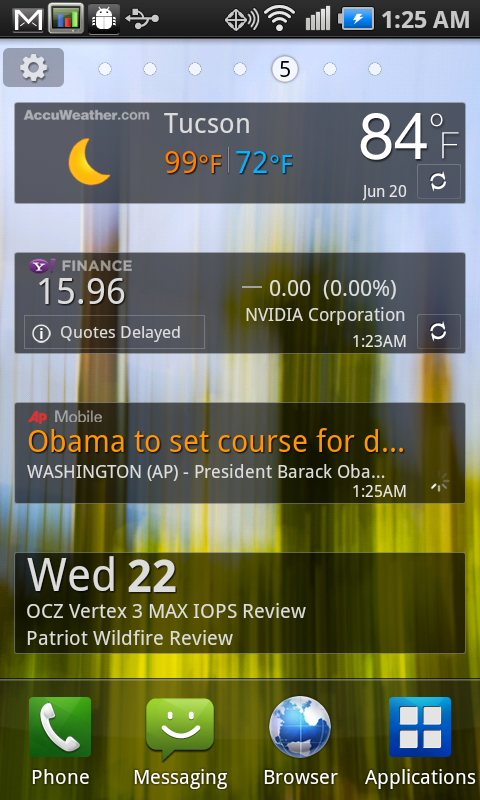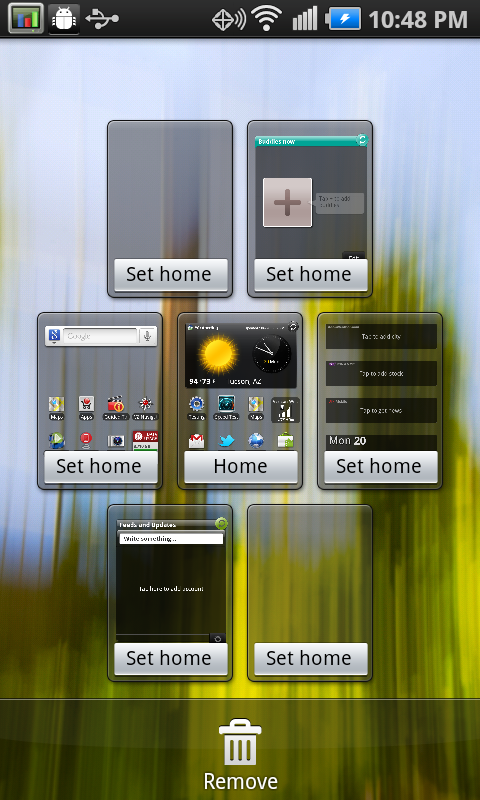 The Charge also is adorned with Samsung's TouchWiz UI, which includes a different launcher, icons, widgets, system skin, and shade. I can get behind what Samsung has done to the notifications shade, in fact, including quick-access toggles for WiFi, Bluetooth, GPS, data, and rotation seems to be the way most custom ROMs go and like something Google will eventually steal adopt in future Android releases like it has already started in Honeycomb.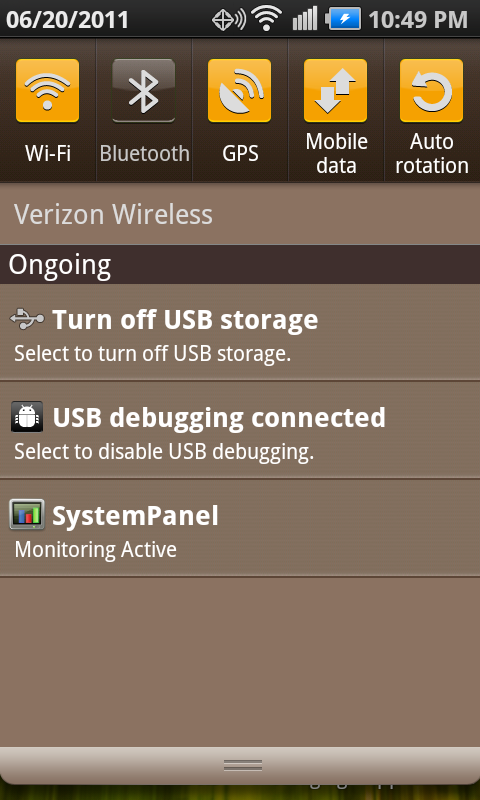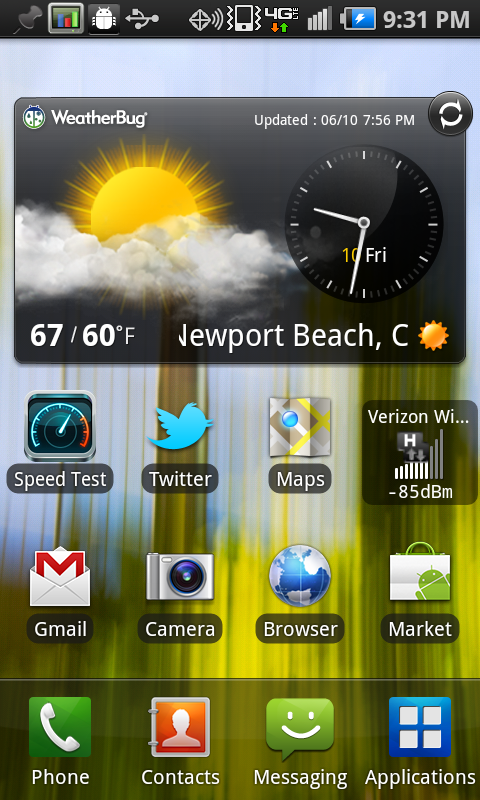 The system color for the Charge seems to be an earth brown with orange accent, which doesn't really seem like the most striking choice and doesn't really match the handset's stealth bomber grey in most places. It works though.
There's a bottom row of icons on the home screen that you can edit which persist across each home screen. It's essentially iOS' bottom dock embodied in Android style. Samsung also changes the launcher to consist of different windows that scroll left and right with icons, instead of the stock Android cube launcher.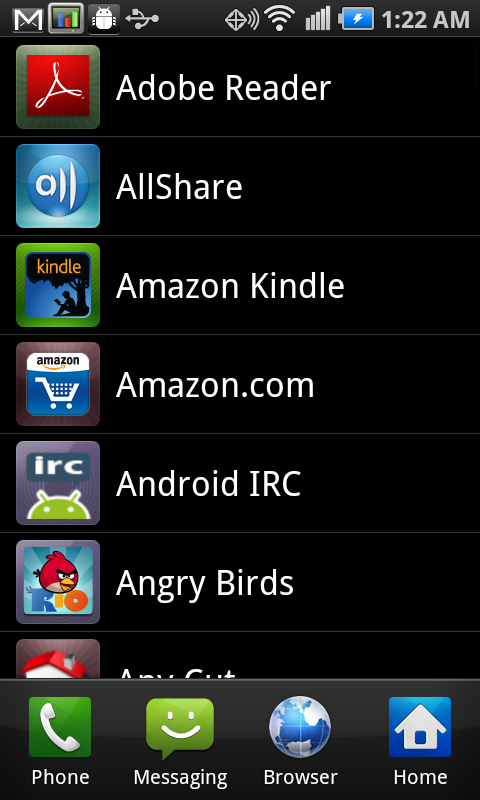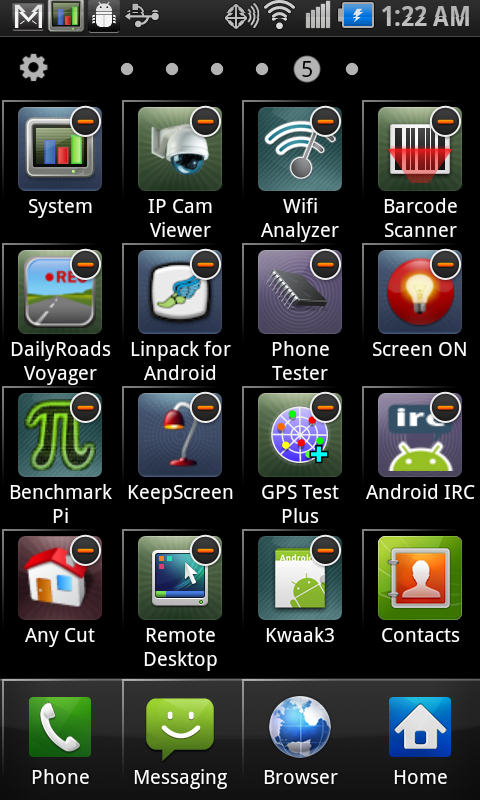 There's a grid and list view, with the former populating icons in the order things are installed, and the latter being alphabetically organized. Tap the settings gear and you can re-order applications in the grid view, delete applications from the launcher, and rearrange the dock.
Honestly the TouchWiz widgets are pretty barebones, and consist of solid transparent grey with text on top. It's a far cry from HTC's own Sense widgets. The only widget with any styling is the main clock and weather widget, which admittedly does work well and reports based on your current location.
The Charge doesn't come super overloaded with bloatware, but does include some noteworthy pieces. Among those are Lets[sic] Golf 2, Bitbop, Blockbuster, CityID, Rhapsody, Rock Band, and all the usual Verizon applications. You can see the entire assortment in the gallery below. Thankfully there isn't any Bing branding everywhere like what the Fascinate was saddled with, but it's still software that can't be removed, though thankfully none auto launch and consume RAM. Clearly Verizon does treat Droid branded devices a bit differently when it comes to selecting what bloatware to put on.
The Charge doesn't have any bootloader shenanigans, and as a result you can easily flash custom ROMs. I've seen a few pop up already for the Charge, and if you're an enthusiast and are bothered by bloatware this is clearly the way to go.
Display
Of course one of the most compelling features of the Charge is the 4.3" Super AMOLED Plus display. We've talked about Super AMOLED before - for a quick refresher, SAMOLED is simply an AMOLED panel with the display, digitizer, and top glass bonded using optical adhesive. Every time light encounters an air-glass interface, a certain amount of light is reflected, usually around 4%. That adds up fast when you consider that each contributes to glare, less light making it out, and additional thickness, with each incurring a transmission loss and back reflection. Optically bond the entire thing together, and the stack behaves like one continual piece of glass instead of three separate pieces. That's the "Super" in Super AMOLED.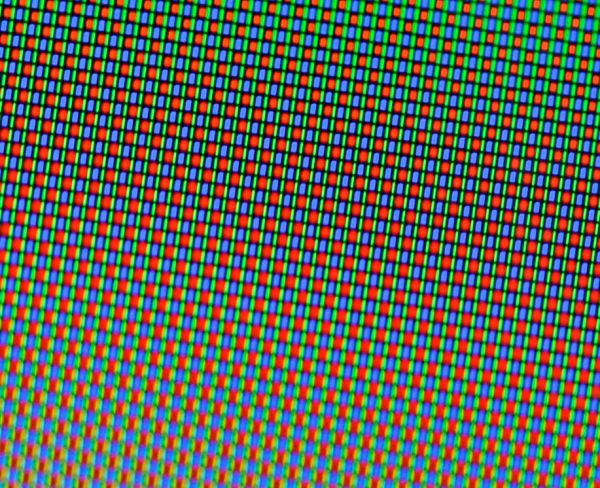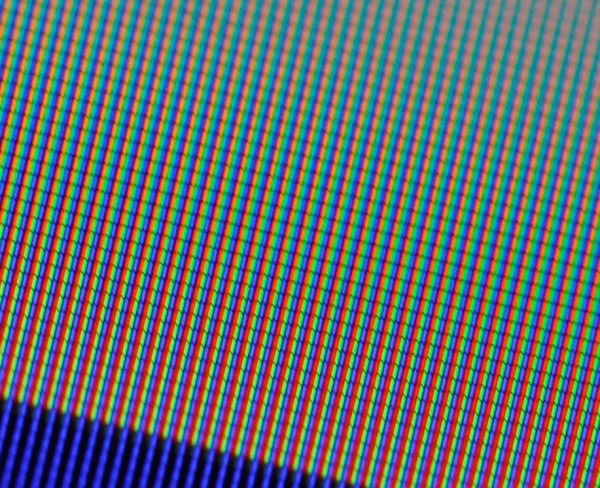 Left: Samsung Galaxy S with RG-BG PenTile subpixel layout (Super AMOLED), Right: Droid Charge with RGB stripe subpixel layout (Super AMOLED Plus)
The next part is Plus. Both Super AMOLED and the original AMOLED use a PenTile subpixel rendering layout. Instead of 3 subpixels per pixel (RGB), AMOLED uses sets of 2 subpixels per pixel (RG-BG) to create the perception of the same effective resolution of an RGB stripe. The result is better informational efficiency - fewer subpixels to convey the perception of the same image. RG-BG PenTile is great in practice for things with organic structure, and not good for one pixel thick graphics, lines, or UI elements. Unfortunately, that includes text. Note that RGBW PenTile for LCD displays actually renders text brilliantly, but that's a discussion for the Droid X2 review.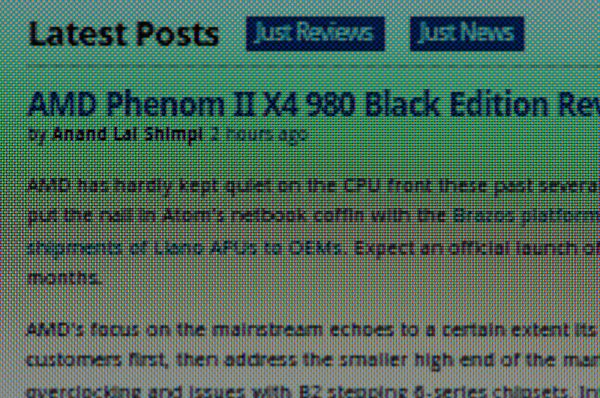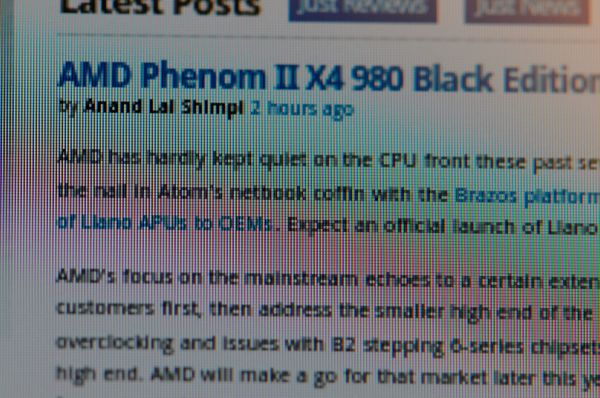 Left: 100% zoom of Super AMOLED, Right: 100% zoom of Super AMOLED Plus (note that the color banding is aliasing from the camera sensor sampling)
As a result, Samsung has moved on from PenTile and introduced Super AMOLED Plus which brings all the benefits of an AMOLED display (blacks that are completely off, power savings on black, effectively infinite contrast, e.t.c.) with a full 3 subpixel per pixel RGB stripe that renders text and one pixel thick UI elements without any loss of resolution.
Subpixel layouts aren't of course all there are to talk about with Super AMOLED Plus. One of the things original AMOLED was often criticized for having was saturated colors, and rendering white with a definite blue cast. Moreover, one of my chief complaints has been that it used to seem like white point wasn't stable across the brightness scale on older panels. We're going to do display brightness reporting a bit differently from now on. Instead of just measuring at the maximum brightness, we will measure white point, white, and black at 100%, 75%, 50%, 25%, and 0% brightness on the device and report those, so we can track how linear the scale is, and white point. Inside the graph we will still report maximum brightness data.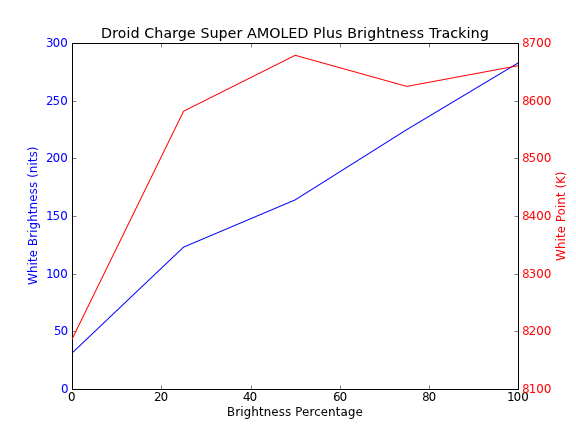 The display brightness scale on the Charge is nice and linear, almost perfectly so. Unfortunately it appears that Super AMOLED Plus still retains a slightly blueish cast as evidenced by color temperature above and around 8500K. Contrast still is as impressive as we're used to seeing for AMOLED though, with essentially no reading on blacks due to the pixels being essentially off.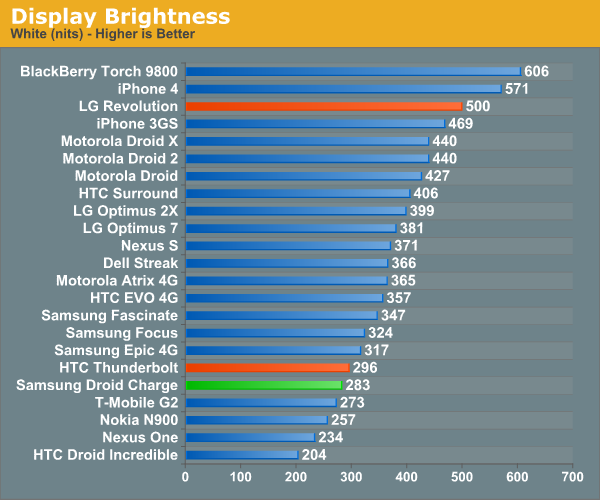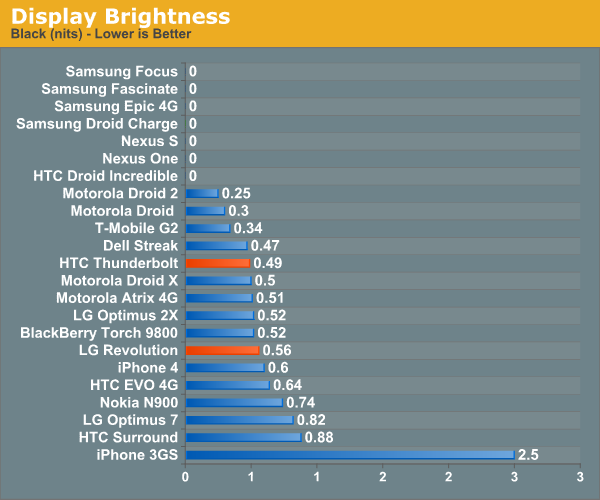 The Charge's display is exactly the same as what's being used in the Galaxy S 2 - both are 4.3" WVGA 800x480 SAMOLED+. I feel like 4.3" is as big as one really should go with WVGA, and having seen qHD screens that are the same size, I find myself wishing that Samsung somehow had been able to make a qHD SAMOLED+ display. Alas, one can't have one's cake and eat it too, at least not yet.
Viewing angles on the Charge's SAMOLED+ display are also stellar, there's virtually no color distortion as you move to extreme angles horizontally or vertically. It simply falls off to zero as you exceed some critical angle at the most extreme of angles, and that's a good thing.
That said, I do have a problem with SAMOLED+ right now, one that I didn't notice ever with any other SAMOLED or AMOLED display. The problem is especially severe in my climate, where at the time of this writing it's literally 110 F (43 C) outside - overheating.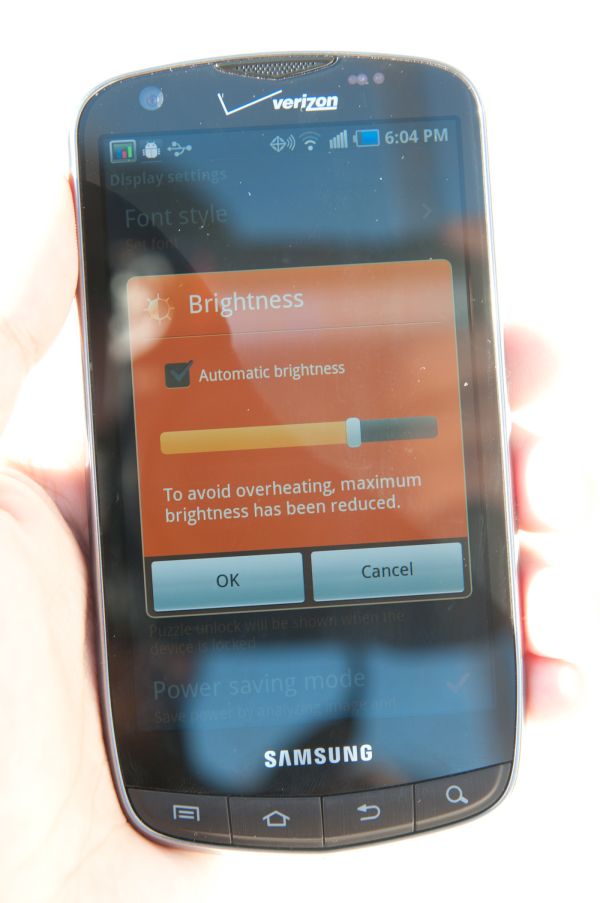 I've carried the Charge around for some time now, and noticed that when I spend lots of time outside using it in the sun, or leave it on my dashboard for navigation, the device will overheat and restrict maximum brightness to a little over half. As a result, display brightness is restricted right when you need it the most. If you let things get out of hand more, the Charge will disable battery charging to prevent the battery from exceeding safe operating temperatures in addition to keeping the display brightness low.
I've had phones on my dashboard, in my pocket, and outdoors in the 110+ F climate here all the time, and never have I experienced this much overheating. I stood outside with the Charge and an IR thermometer and saw this behavior take place when the front glass hit 105 F consistently, which seems a bit low for restricting things, although inside it's probably substantially warmer. I suspect I'll see the same SAMOLED+ overheat brightness restrictions kick in with the Galaxy S 2 as well. If you're in a cool climate, you essentially can ignore this, or if you're in a warm climate but not going to use the device for Google navigation on your dashboard, this isn't a huge concern either. However, in climates like mine, it's a day to day annoyance if you're outside with the phone in hand for any amount of time. I'm not even an outdoors person (by any stretch of the imagination), and even then I've seen the Charge do this little overheat dance a few times already.
Cellular and 4G LTE
We've now talked about the cellular architecture of the HTC Thunderbolt and LG Revolution, it's now the Droid Charge's turn. The Thunderbolt has the privilege of being the sole 4G LTE smartphone capable of doing simultaneous voice and data on both 3G EVDO and 4G LTE. The LG Revolution and Droid Charge can both transact voice and data at the same time only when connected to 4G LTE.
The Charge does this with a very interesting combination of two basebands. 4G LTE connectivity is accomplished with Samsung's very own CMC220 baseband, which is a category 3 device (same as Qualcomm's MDM9600, and LG's L2000) - 50 Mbps / 100 Mbps for upstream and downstream respectively on 20 MHz channels.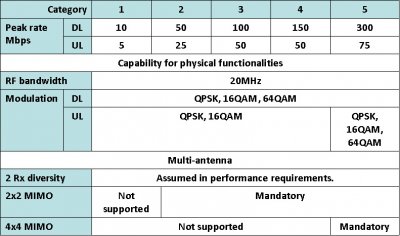 Like all the other devices, the Charge uses Verizon's 4G LTE network on its 700 MHz spectrum, in LTE Band 13. We've talked extensively about Verizon's 4G LTE network architecture in an exploratory piece already, but for a quick refresher Verizon currently is using 10 MHz channels with FDD, and has a total of 22 MHz of bandwidth. Even in markets where Verizon has licenses for additional spectrum, currently only upper C is being used. This is my first time seeing Samsung's CMC220 on Verizon.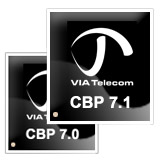 What's particularly curious about the Charge is that there's no Qualcomm baseband for CDMA2000. Both 1x and EVDO are handled by VIA Telecom's CPB7.1 baseband. This is very interesting, as it's the first time in a long while I've seen something other than Qualcomm used for a CDMA2000 baseband inside the United States, though in China Via Telecom is apparently a major player. For comparison, the Samsung Fascinate used Qualcomm's QSC6085 baseband. This combination of things makes the Charge one interesting and unique device from a cellular perspective.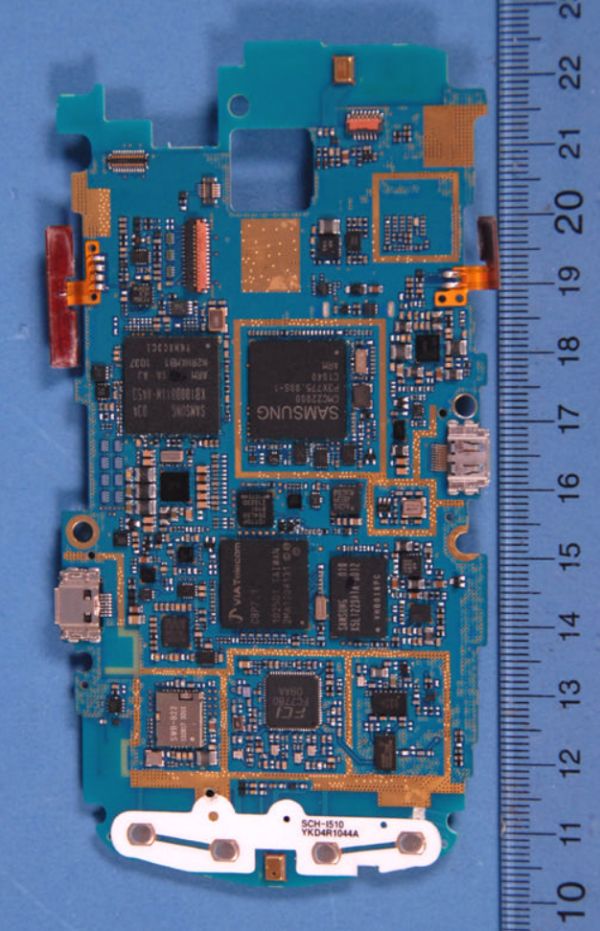 We don't have to disassemble anything either, as the FCC has some nice shots of the Charge's main PCB showing both basebands sitting pretty next to Hummingbird and its PoP LPDDR2. Center bottom is the VIA Telecom 7.1 (you can even make out VIA), and above it is the Samsung CMC220.
Before we get to performance, let's also go over what the Charge exposes for controlling these two radios. Inside Wireless & Network and Mobile Networks is a system selection toggle. Tap this and you can change from "LTE automatic" to "CDMA mode." The former lets the Charge hand up to LTE whenever it is available, the latter forces the Charge to only use EVDO and 1x data. If you're in an LTE market and want to save some power, this is handy. However, there's no 'LTE only' mode that would force the Charge to hang onto LTE a bit longer, although its behavior wouldn't offer any power savings.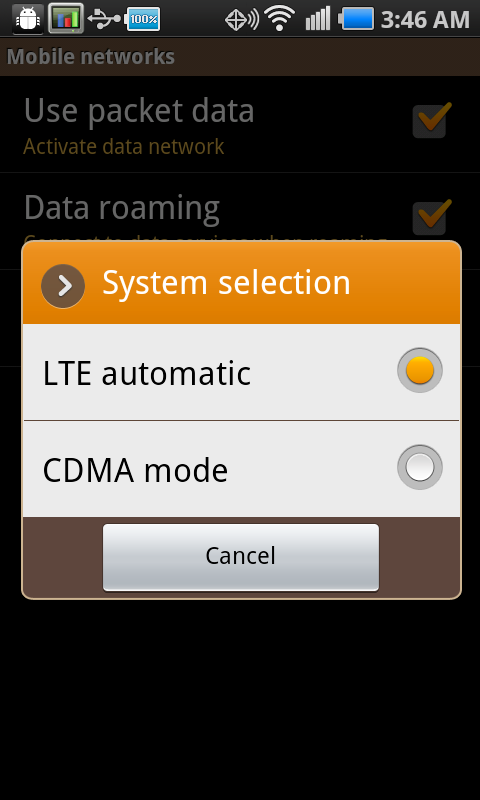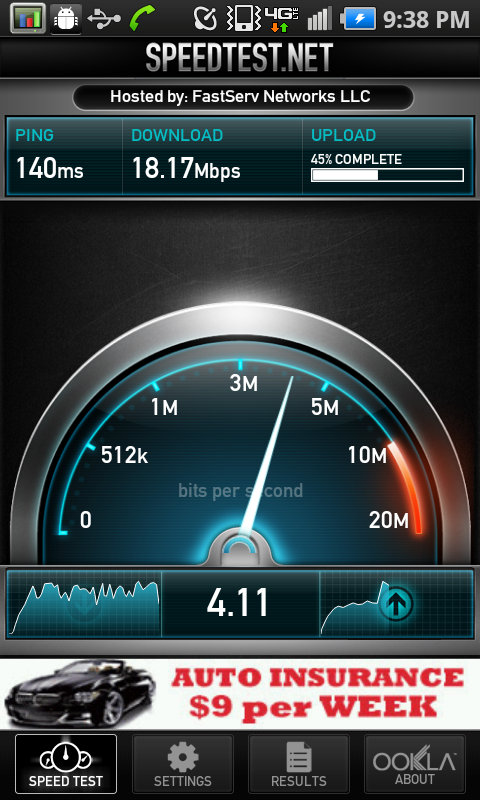 I was very impressed with the way the Charge hands over from EVDO to LTE most of the time, and never found myself want for more low-level control. In this regard, Samsung has done a nice job keeping data sessions working across the two basebands. My only complaint is that every once in a while, the LTE data session sometimes stalls briefly – sometimes for a a few seconds, other times for a few minutes. When that happens, you'll see the uplink green arrow blink, but no orange downlink arrow. Rebooting the device fixes things.
I seem to have developed the bad habit of taking so long with devices that they see their first firmware update and fixes. Then issues that I've identified in the launch software are addressed, and I have to go re-test everything to find what new issues have appeared in their stead. The Charge received its first major update last week, which both fixed the broken WiFi hotspot functionality (which previously stopped working exactly when May ended), and also changed the Charge's bars to closely mimic those of Android 2.3.
The update purports to improve handover between 3G EVDO and 4G LTE, improve call time battery life, improve call quality, enhance browser performance, and also improve GPS fix times among other things. I honestly couldn't detect a measurable improvement in handover (the stall issue I mentioned still persists), and as I'll show later call time battery life is better by a very small margin. I'll talk more about the other changes in their respective sections.
One subtle difference I noticed is that I can't update the PRL on the Droid Charge the same way I could on the Thunderbolt. Dialing *228 to do an over the air PRL download yields the following: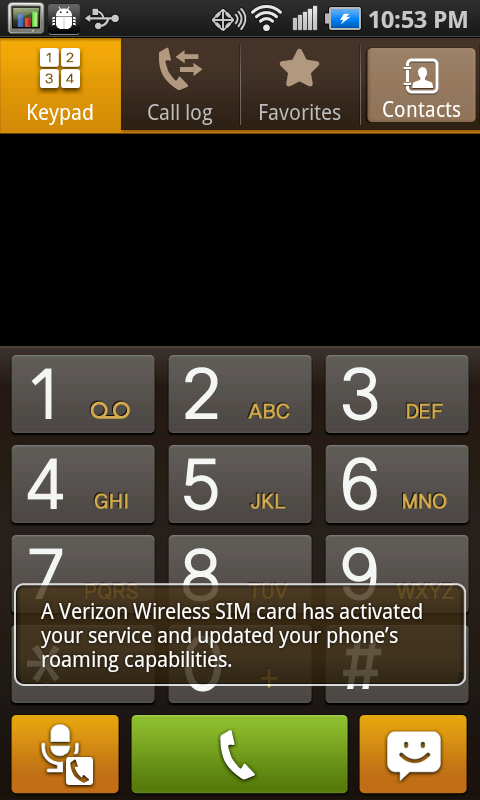 It appears that we now have confirmation that both LTE and CDMA are using the USIM/CSIM in the device for both their roaming capabilities and cellular identities. I asked Vivek to do the same on his LG Revolution evaluation unit and he saw the same behavior. Back with the Thunderbolt, the OTA download would appear to complete happily just like any other CDMA handset. Regardless, in theory, you should now be able to swap SIMs (and thus your number, account, and service) between at least three handsets on Verizon – wow, that's one sentence I wouldn't have ever believed I'd write a year ago.
Cellular performance on 4G LTE is actually quite good with the Charge. Samsung's CMC220 seems to be a top-notch performer among the LTE basebands we've seen thus far on Verizon's LTE network. I performed all my testing in the Phoenix, AZ and surrounding area market, and the Los Angeles, CA market. I ran 361 tests on the Charge connected to Verizon 4G LTE, and like we've done before have them reported below in histogram form.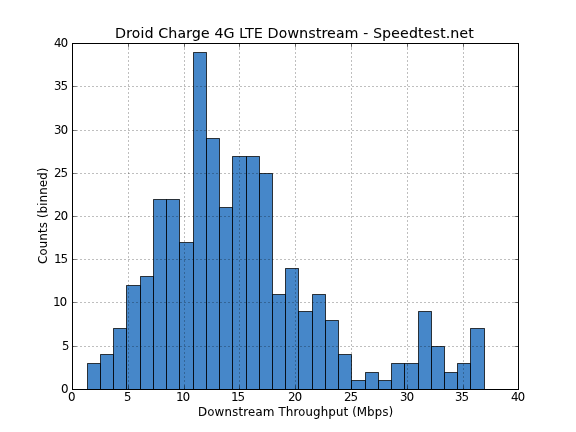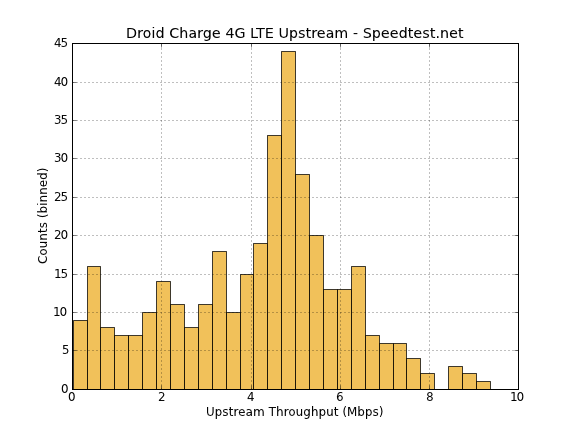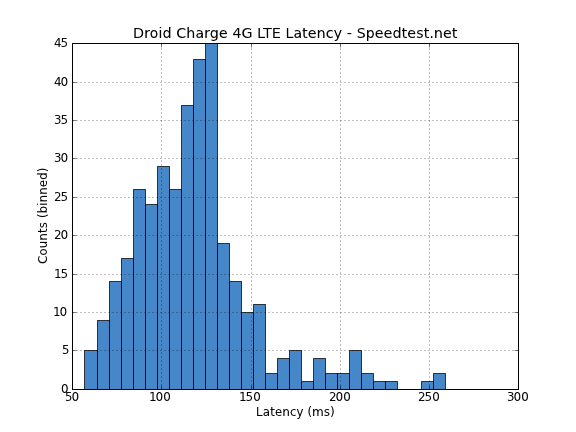 It's really nice to see a very distinct normal distribution emerging on the downstream throughput tests, with a standard deviation about 5.5 Mbps centered around 13.0 Mbps. I saw a maximum downstream speed of 36.8 Mbps to speedtest.net's LA server, and an average of 15.2 Mbps. Upstream throughput is likewise starting to show something of a distribution centered around 5, but the distribution is flatter here. Keep in mind that we have a lot more data here for the Charge than we did the Thunderbolt, and honestly it looks like the two would have developed similar distributions with much more testing.
I also did something out of the ordinary and thought it might make an interesting thing to report alongside these results. I made a few artists available offline on the Charge in Google Music, and recorded a video of monitored throughput in System Panel, which is an Android monitoring app and task killer.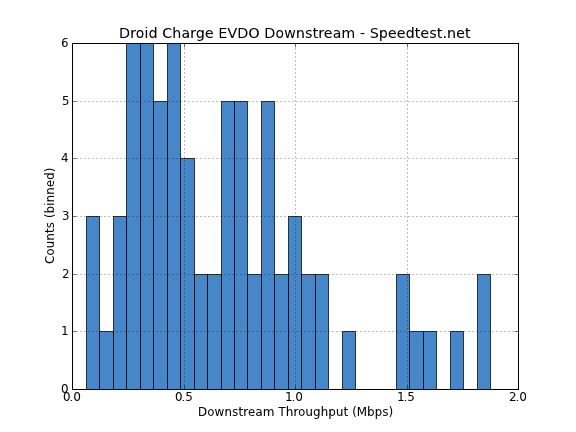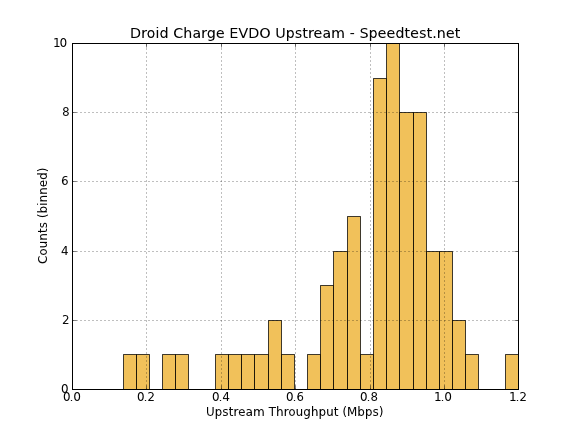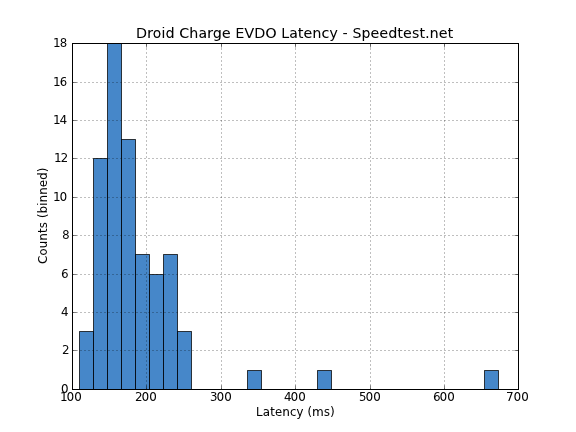 Things are a bit less interesting when it comes to EVDO performance. I'm getting used to seeing a sort of flat distribution of downstream tests ranging between 0.2 Mbps and just shy of 2 Mbps on EVDO Rev.A. On upstream the Charge shows a clustering results between 0.6 and 1.1 Mbps which actually seems a tad faster than the Thunderbolt's. The Charge in this respect looks like it doesn't suffer any ill consequences despite having a non Qualcomm CDMA baseband.
The Charge only reports signal from both the CMC220 LTE baseband and the VIA Telecom 7.1 in steps of 10 dBm. As a result, measuring the phone's in-hand attenuation was a bit challenging, and ultimately not too exciting. The Charge simply isn't prone to errant deathgrip again thanks to mandatory Rx diversity.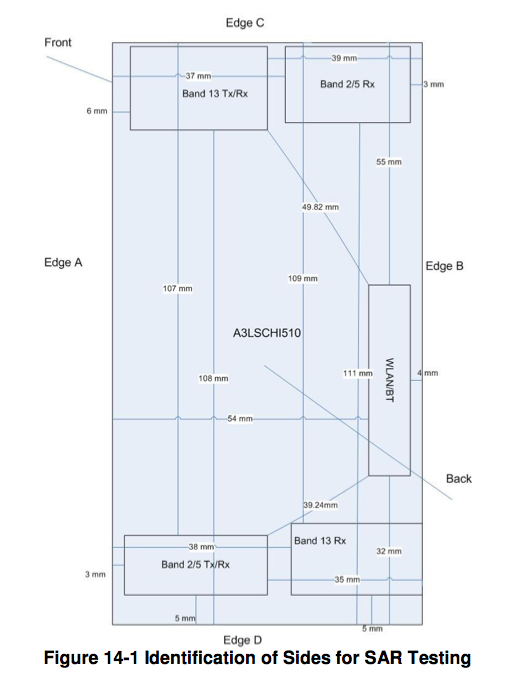 The Charge doesn't use the same antennas to do double duty across either baseband - each gets its own set, and each does its own Rx diversity. There's a clearly visible strip on the back of the Charge that runs alongside the right of the battery compartment which does WiFi and BT duties. The FCC supplies a nice diagram of how this all works out - Band 13 is for LTE on the CMC220, and bands 2/5 are of course for the VIA 7.5 to do CDMA/EVDO.
WiFi, Hotspot, Audio Quality, Speakerphone, GPS
The Charge is yet another smartphone to use Broadcom's BCM4329 for Bluetooth 3.0 + EDR and 802.11b/g/n WiFi. Thus, it connects at 72 Mbps using one spatial stream on 2.4 GHz WiFi. Range is just what I'm used to seeing with the Charge, there's nothing to report here that's out of the ordinary, as the Charge hands on and off of WiFi predictably well just like every other BCM4329 based device.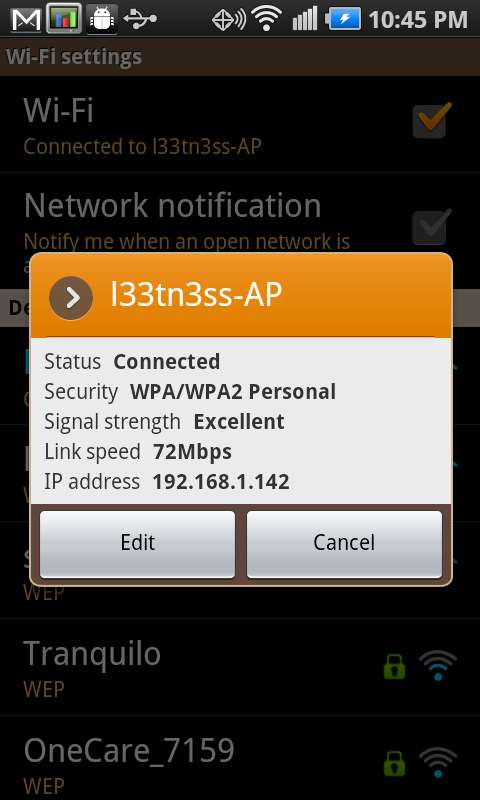 Likewise the Charge supports WiFi hotspot creation, though Samsung rolled its own software for the Charge and doesn't use the native Android hotspot utility.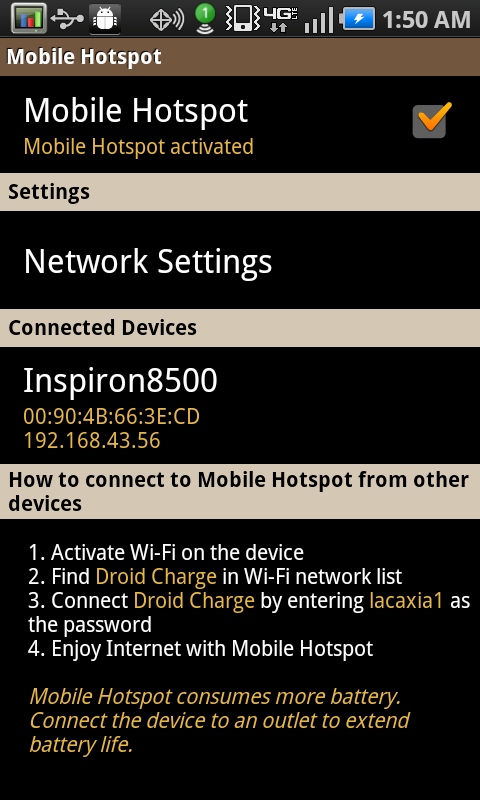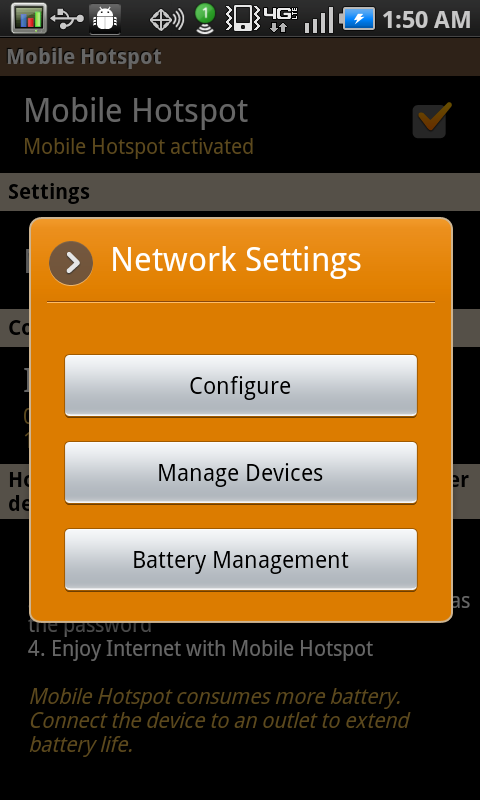 The Charge originally received a lot of press for being able to support 10 WiFi clients on 4G LTE and 5 on 3G EVDO, which has been free thus far. Hotspot functionality worked fine through the end of May, at which point it stopped working unless you manually set your date back inside May. After the EE4 update, functionality was restored, but I've encountered some problems of my own despite the free LTE hotspot creation period being extended.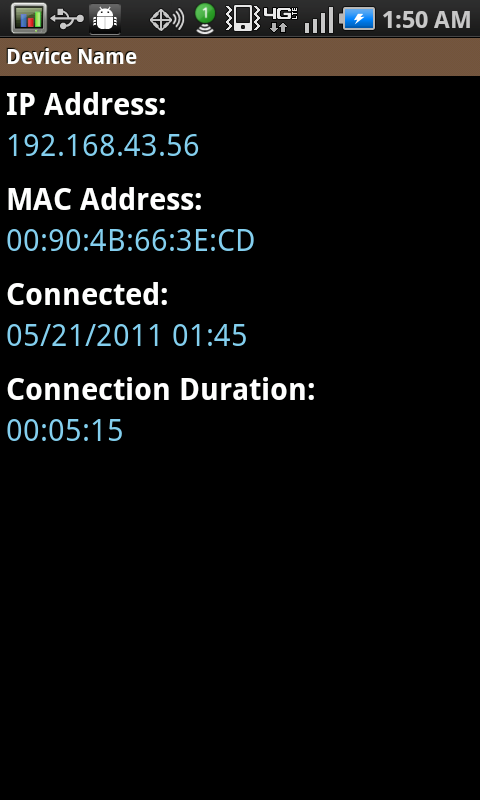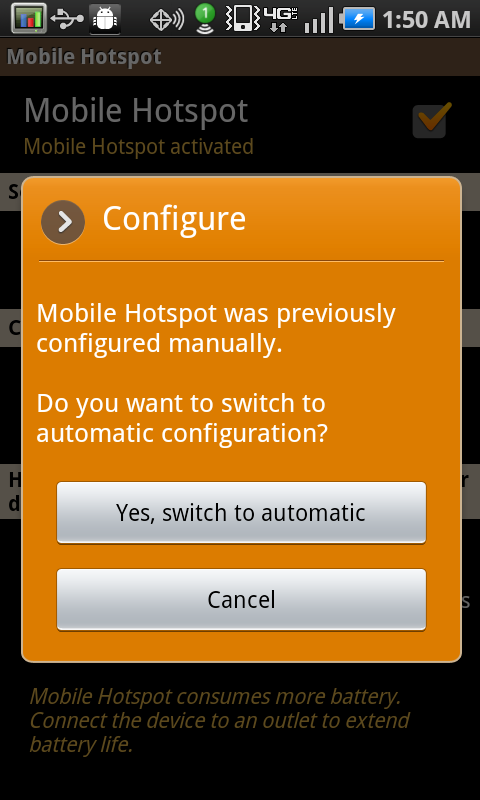 Though it's a bit wonky, the Charge hotspot software is relatively standard fare and lets you do the usual things like set an SSID, WPA/WPA2 pre-shared key, timeout, and view details on individual connected clients. I didn't get around to trying to have 10 devices connect, but I'm sure it would have worked. As an aside, it seems odd that Verizon's 4G LTE handsets support more attached users than their dedicated portable hotspot products, and the latter come with tiered data. Something is very wrong with that picture.
I know that audio performance is another huge concern for many smartphone shoppers, and I've heard more than one request for some analysis going forward. We're absolutely going to start doing so, for now however I can say that the Charge has the same Wolfson Microelectronics WM8994 multi-channel codec as Galaxy S. I listened to lots of Google Music tracks on the Charge using some Shure SE535s and the whole thing sounded great to me.
Samsung Droid Charge - 1x Voice by AnandTech
The other important voice quality metric is how actual calls sound. The Charge of course has a unique baseband, and thus I was initially curious to see how calls were going to turn out. I don't remember ever thinking calls were bad sounding before the update, but after the update things sound excellent. I took a recording using the same method we used in the Thunderbolt to illustrate how good the Charge sounds - there's no squealing or random drop-outs. I'm actually very impressed.
Next up is speakerphone volume which is another important metric. We measure using a digital Extech sound-level meter while calling that same number on speakerphone at maximum volume. The Charge is nice and loud here, and that extra loudness is especially useful for more than calls – it's also nice to have when using Google Navigation.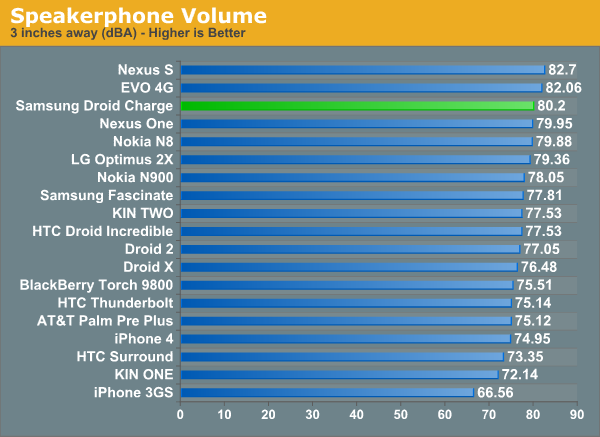 I guess that brings me to GPS performance. The original Galaxy S series had some big headline-grabbing GPS problems, and the Verizon variant seemed to never quite shake them either.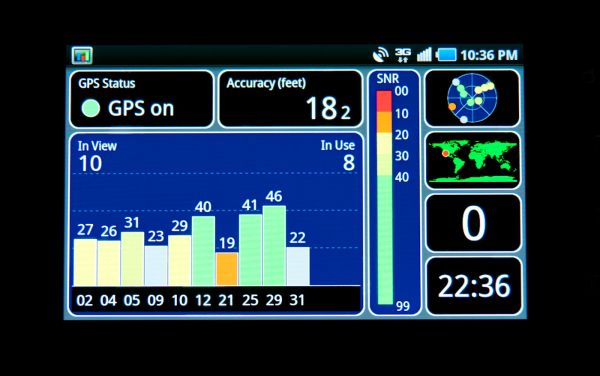 I tested anywhere between 4-10 seconds from complete reboot to a good GPS fix on the Charge's GPS with WiFi turned off. This is a far cry from how broken GPS used to be with every other device. I used the Charge for Google Navigation and drove just north of 800 miles without GPS ever flaking out - trust me, this GPS is tested and passes. That said, that time to fix could still be a bit faster, and you do need a large swath of unobstructed sky for things to work nicely, but it isn't anywhere near the flustercuck that was Galaxy S GPS.
Camera Performance
The Charge includes an 8 MP rear facing camera with single LED flash, and perhaps most notably a front facing 1.3 MP camera. For comparison, the LG Revolution has a 5 MP rear camera and 1.3 MP front, and the Thunderbolt has an 8 MP rear.
The camera on the Charge isn't overwhelmingly good, just above average. The Charge appears to have a shorter focal length than the Fascinate (and thus Galaxy S), and has slightly better white balance on the rear camera. Autofocus happens with the LED turned on, and in the dark the Charge performs pretty well. The front facing camera looks like a smartphone camera from two years ago, like it probably is. It's a fixed focus optical system that seems to have a very close hyperfocal length, and thus still works fine for close-up things like a face for video chatting. Front facing camera quality is par for right now.
We've done the usual thing and taken comparison photos in the lightbox with a small test scene. Our camera bench is going to change slightly - moving and construction at the test site has made locations 1, 2, and 5 inaccessible, and 6 is next due to some construction that's just getting started. We're going to standardize things shortly between the whole team, but just a quick heads up that this is why 1, 2, and 5 are missing for the Droid Charge. The Charge also has the same standard fare camera application as the Galaxy S series, and I don't think it's really worth going over again since nothing is changed.
Video on the Droid Charge is recorded in 720P 30fps MPEG-4 baseline with 1 reference frame at 12.0 Mbps, with a single channel 60.9 Kbps AAC audio stream on the rear camera, and at VGA 15fps MPEG-4 with 1 reference frame at 1.5 Mbps with the same audio stream on the front camera.
Video on the Charge is actually pretty good quality wise. There's continual autofocus going on and doing its job in the video, not too much wind noise, and nice detail in high spatial frequencies. I should note that the Charge actually records 720P at a higher bitrate than some smartphones do 1080P video recording, and as a result things look nice here.
The front facing camera flips things horizontally and looks about as good as you'd expect VGA to look. It isn't super stellar, but it's adequate for video chats. As usual we've uploaded videos both to YouTube and in their original form to the AT servers for your enjoyment.
Performance
There's honestly not too much to say about the Charge from an applications performance perspective. We've explored Hummingbird performance comprehensively in a number of other reviews on older and newer versions of Android, and at this point the SoC is fairly well understood. For a quick refresher, the Charge is running a 1.0 GHz Samsung Hummingbird (S5PC110) SoC which includes PowerVR SGX 540 graphics and 512 MB of PoP LPDDR2. The drag with the Charge is that it's still using the RFS filesystem which is slow, tired, and disappointing. If you can, root the thing, install a custom ROM with another filesystem, and also move past Android 2.2.1 while you're at it.
We've run all the usual benchmarks on the Charge for your viewing pleasure. Things are pretty close between the two 45 nm Snapdragon (MSM8655) phones and the Hummingbird-based Charge with the exception of one or two outliers. At this point there's not enough of a huge difference to really make either of the two standout dramatically, though the Charge lags in the browser department and leads when it comes to GPU-heavy tests like GLBenchmark.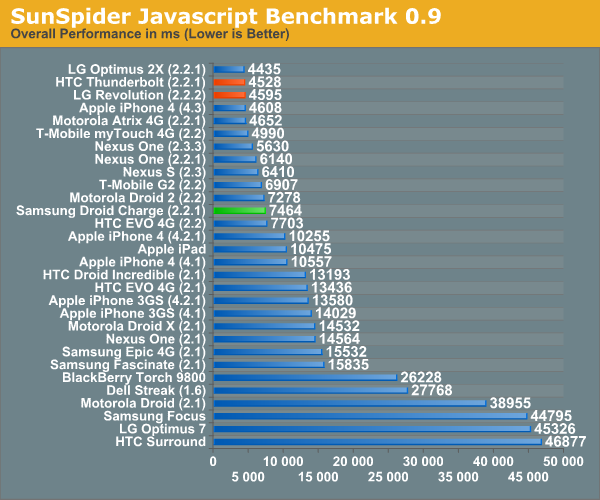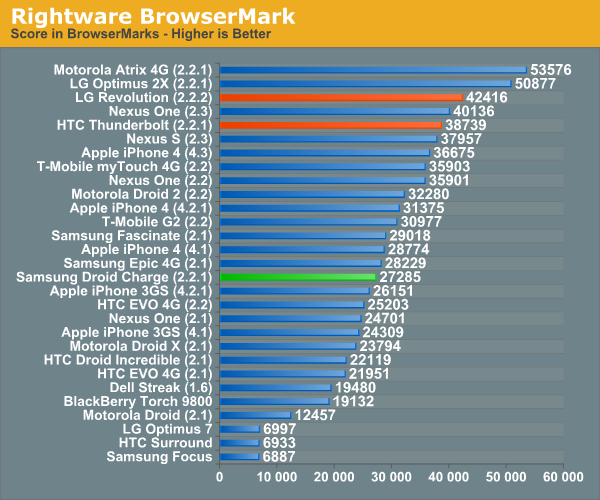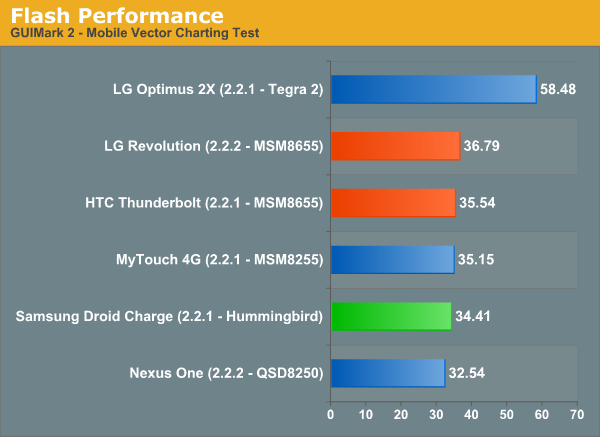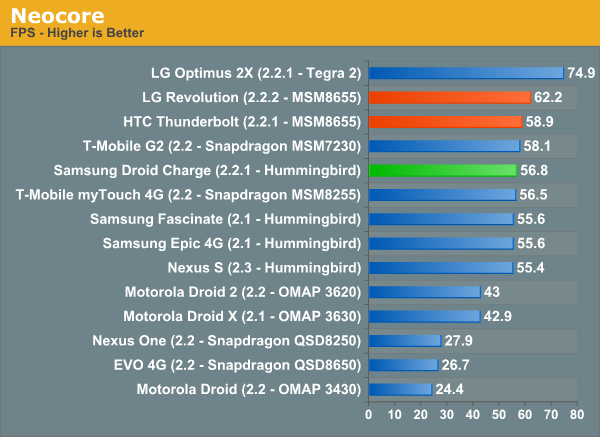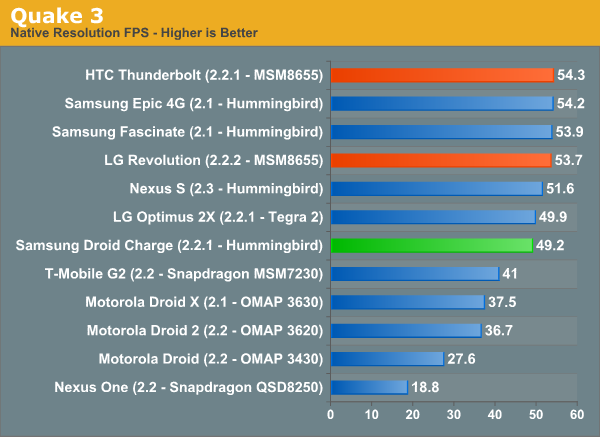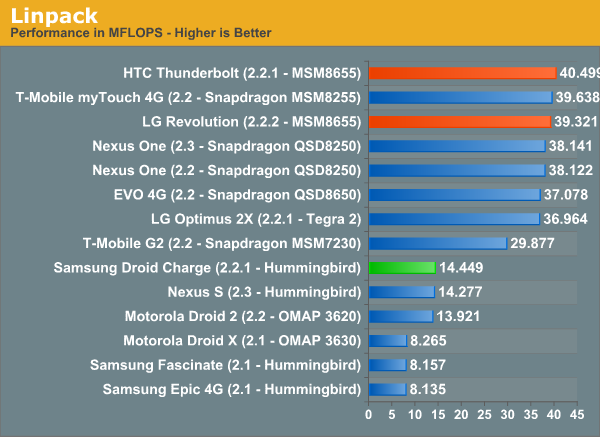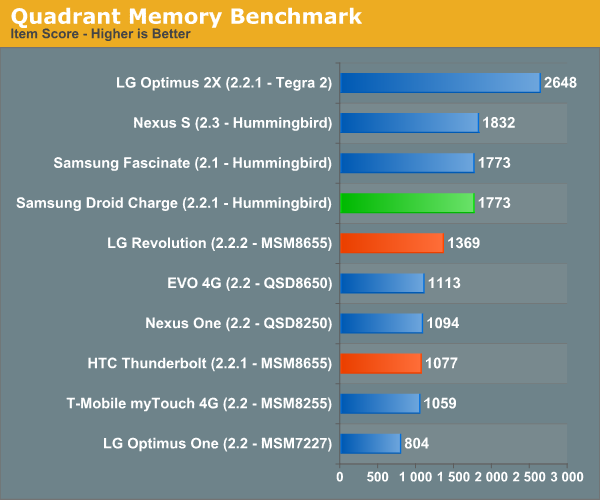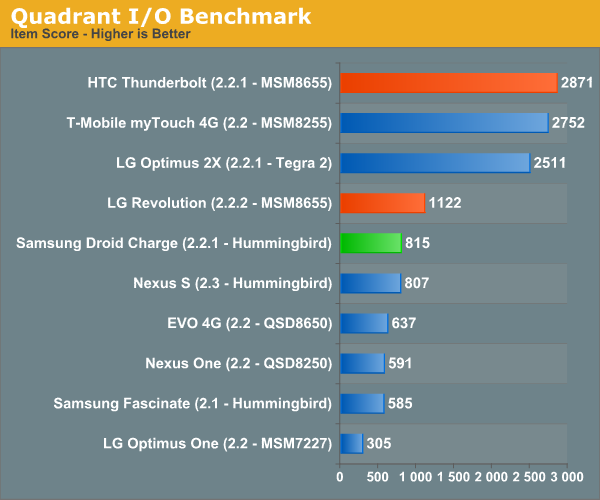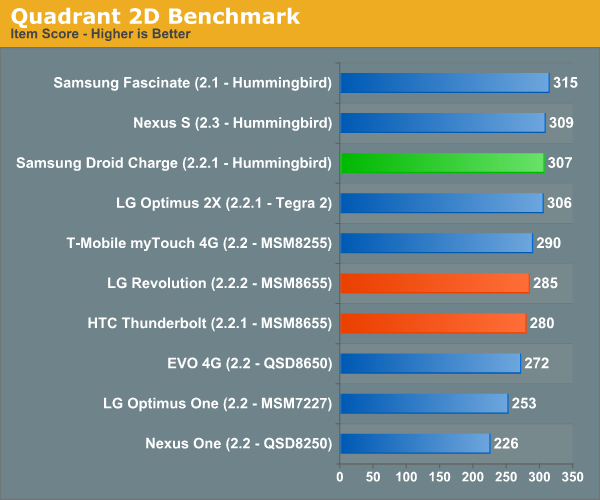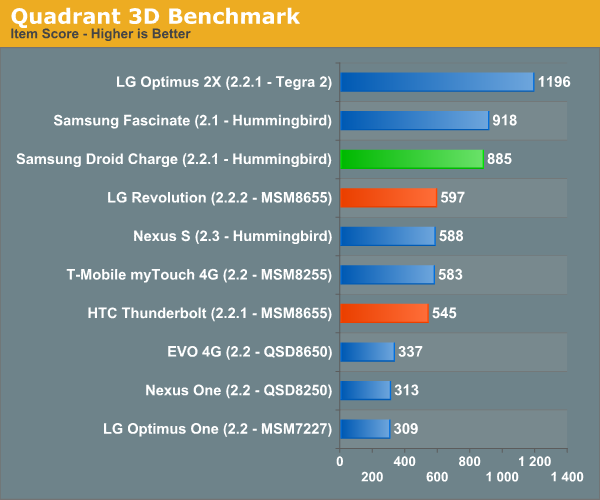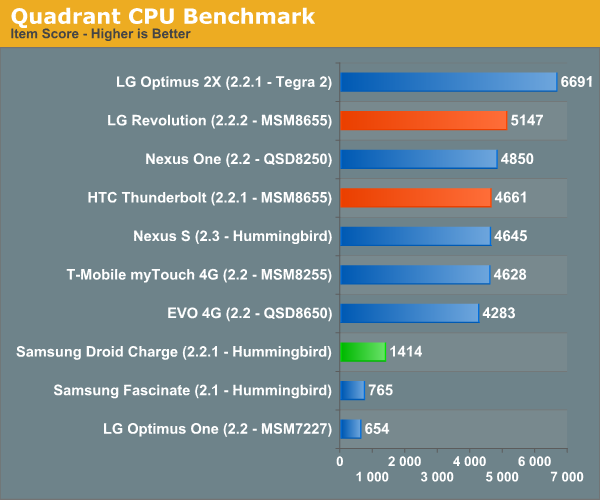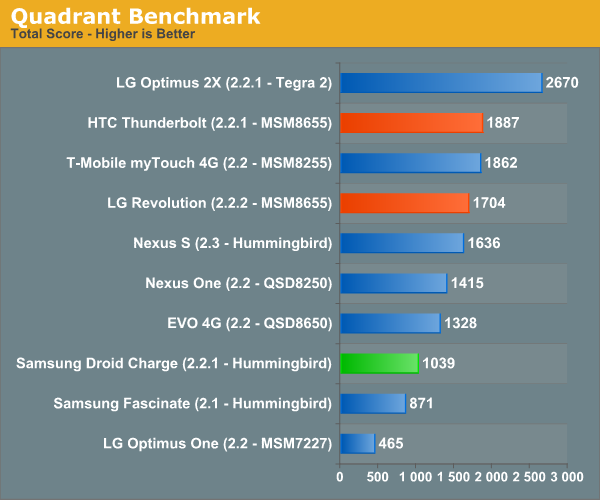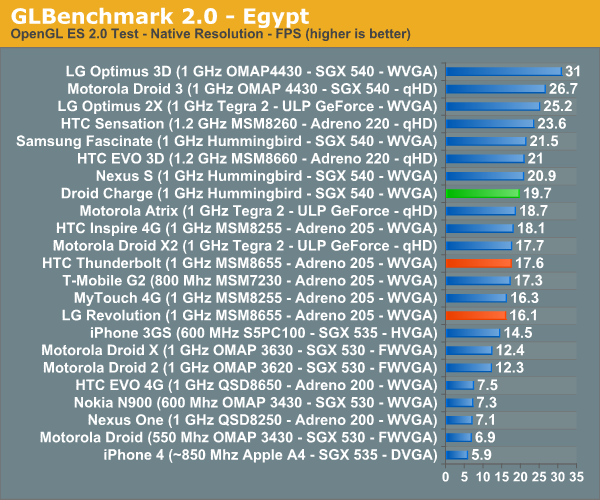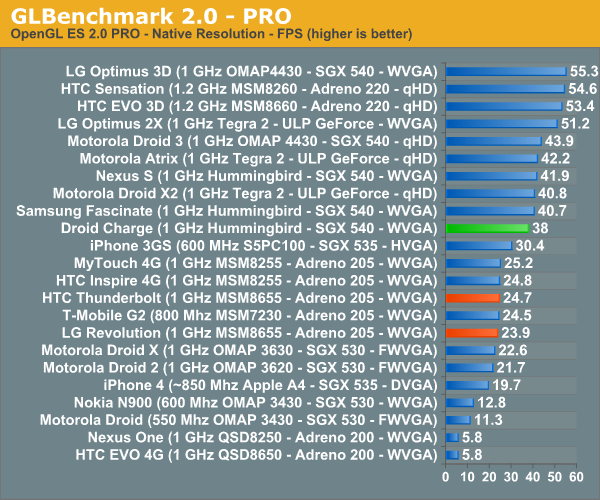 Battery Life
When there are really only three 4G LTE handsets, each with essentially the same level of application performance, in my mind the question of which handset is best comes down to extras and battery life. We've gone over all the rest, so what about that all-important battery life?
I've read a number of anecdotal reports which assert that the Charge has better battery life than the Thunderbolt. We ran the Charge through all of our battery testing suite and found that it's about the same. The Charge has a 5.92 Whr (1600 mAh 3.7 V) battery inside. For comparison, keep in mind that the HTC Thunderbolt comes with a 5.18 Whr battery, and the LG Revolution with a 5.6 Whr battery, all of our numbers below were obtained using those stock batteries.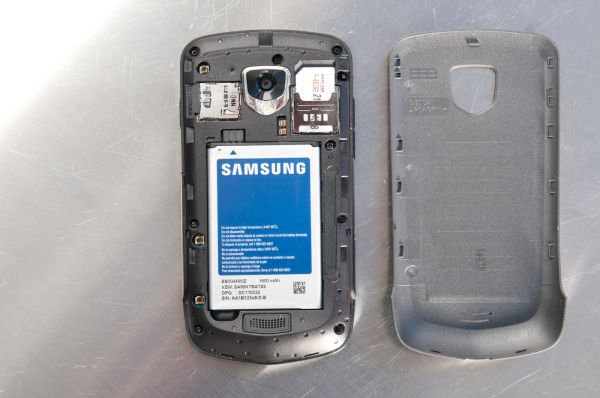 As an ironic aside, the Charge takes a long time to charge, I timed close to 3 hours from completely empty to fully charged.
First off is cellular web browsing battery life. In this test, we load a few dozen pages endlessly with the screen set to 200 nits until the phone dies. Everything is turned off except cellular data. I ran the Charge through this particular test three times and averaged.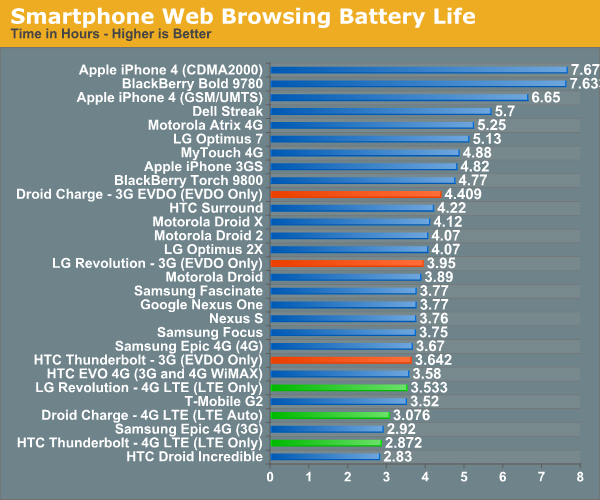 When it comes to 4G LTE battery life, things are pretty close, with the Charge narrowly edging out the Thunderbolt, and the LG Revolution leading by a half hour. Still, the difference here is pretty small between the three, and that translates to not a very perceptible difference when spread across an entire day. On EVDO the Charge does widen its lead, but I suspect 4G LTE is what most are concerned with.
We repeat the same test connected to WiFi as well, and here the Charge comes in last among the three 4G LTE handsets, but things are very close.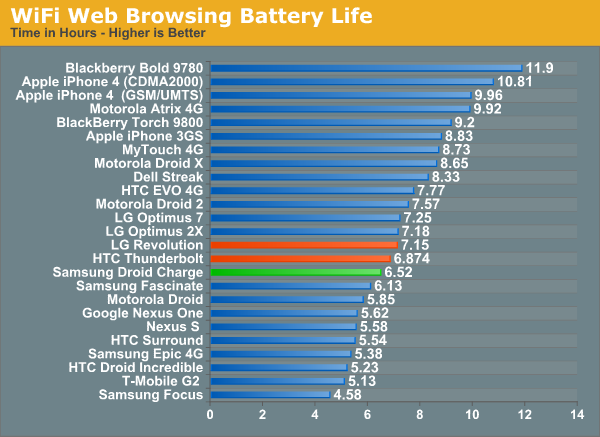 Next up is cellular talk time, which consists of a call placed between two phones that we let run until the phone under test dies and disconnects. The display is off during this test, and sound is played at both sides to mimic a conversation.
Here the Charge lags the LG Revolution and Thunderbolt by over two hours - what we're seeing is effectively the power efficiency of Qualcomm's MSM8655 when transacting a 1x voice call compared to the VIA 7.1 baseband in the Charge. I ran this test again after the EE4 update, and things moved up slightly, but not much at all.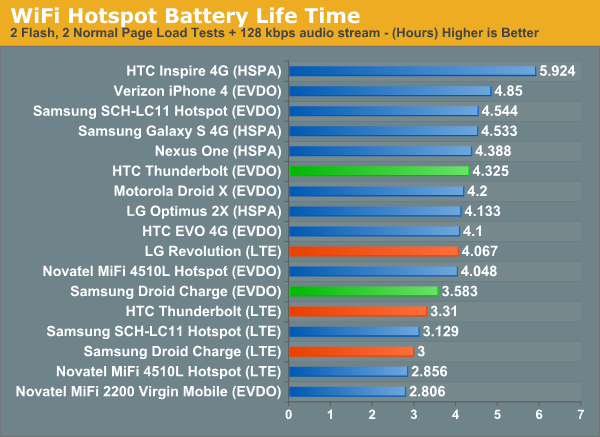 Finally is the WiFi hotspot test, which is a decent gauge of how the phone behaves with only cellular traffic in the picture. We connect a wireless client to the phone's WiFi hotspot, and load a total of four page load tests, and a 128 kbps MP3 audio stream until the phone dies. Here the Charge trails the Thunderbolt and LG Revolution in LTE mode, and the Thunderbolt in EVDO mode. Vivek didn't run the Revolution WiFi hotspot test, but again I suspect we'd see it too beat the Charge.
Conclusion and Final Thoughts
I have to admit that I like the Charge a lot. It's thinner and lighter weight than the other 4G LTE handsets, and SAMOLED+ is both super contrasty and remedies my number one concern with AMOLED and SAMOLED by giving PenTile the axe. The phone has a lot going for it, and is an all around excellent performer both in throughput tests and application performance, minus the obtuse inclusion of RFS which brings it down in filesystem-centric benchmarks. I carried the thing around long enough to definitely get to know it well, and overall I came out impressed with Samsung's 4G LTE handset, even if it really is a rebooted Galaxy S with a few Galaxy S 2 features and new basebands. To be honest, the Charge has gotten me incredibly excited for Samsung Galaxy S 2, which we're going to finally review very soon.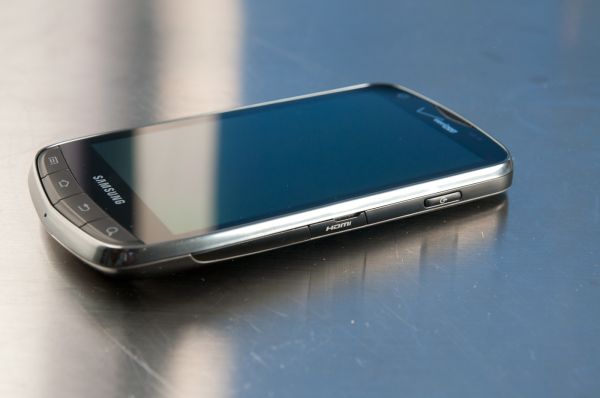 Positive things about the Charge said and done, the handset's positioning by Verizon leaves me totally and completely confused. My confusion is namely over why Verizon picked the Charge as its premiere 'Droid' level 4G LTE handset over the Thunderbolt. The HTC Thunderbolt offers 256 MB more RAM, 2 GB more internal NAND, the best cellular architecture of the three with SVDO support, and on average better battery life with the stock battery (were we to normalize out the Charge's 0.73 Whr battery size advantage, the TB is a fair margin more efficient).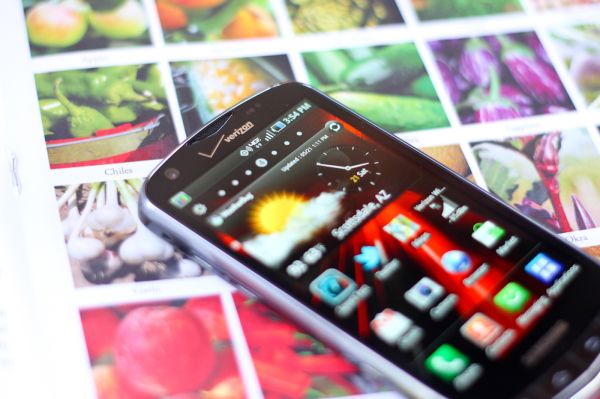 The main leg up the Charge has is Samsung's much thinner and lighter build profile, Hummingbird SoC, and SAMOLED+, all of which earns the phone a $299 on-contract price. That's a whole $50 premium over the already higher than normal $249 Thunderbolt and Revolution. I'm sure there's some political reason for the whole thing, but it still is confusing. The pricing structure just seems wrong - the Thunderbolt and Charge seem like obvious front runners, followed by the LG Revolution for shoppers that want an LTE handset but don't want to pay way more than the usual $199 contract price.
Zoomed way out, the optimal cross section of features still is LTE alongside a dual core SoC. Right now web browsing is more CPU bound than network bound, and having another core will help balance things out so the smartphone browsing experience is finally almost indistinguishable from the desktop.
My last parting thought concerns LTE data use. See this screenshot: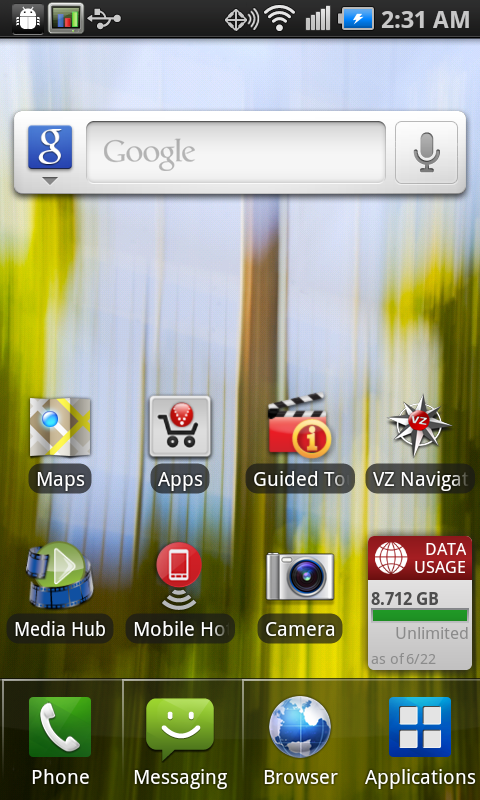 8.712 GB of unlimited. That gave me a bit of pause as well, considering that this entire month I've done no tethering thanks to the Charge hotspot being disabled. Every bit of that data was used on the handset. LTE is stupid fast, and I've found that I now eat correspondingly more bandwidth doing things like remote desktop, watching my five network cameras, making artists on Google Music available offline in the airport, watching long flash videos, and of course running endless speedtests. Unlimited Verizon 4G LTE data ends with the introduction of tiered data plans on July 7, after which point using this much data will get much more expensive than $30/month.
Anand and I both have a bit of a backlog, and have a bunch more devices to get through this week. I have an odd Sensation that the next one will be exciting...