Original Link: http://www.anandtech.com/show/4463/the-htc-flyer-review


I hate taking big quotes from past articles and using them as the premise for an introduction because it feels like I'm using previous work as a crutch. That being said, I've been meaning to reference something I wrote about HP three years ago and now is as good a time as any to dust it off:
"These PC OEMs could either wait for Microsoft to deliver with Windows 7 and hope that it will be enough to compete with Apple, or begin to try and solve the problem themselves....While these are mostly unpolished attempts at freeing OEMs from being Microsoft dependent, this is just a starting point. I'm not suggesting that PCs in the future will be completely devoid of Microsoft software, there will simply be another option.
HP noticed this same Microsoft dependency issue, just like the rest of the PC OEMs and over the coming years you're going to see companies like HP and Dell become more like Apple, offering systems as complete packages of hardware and software solutions. We'll see broader adoption of Linux and open source software and finally some out of the box thinking."
The lesson I learned back then wasn't that everyone had to be free of Microsoft in order to survive in the future, but rather that you need to actually own some tangible IP in order to differentiate yourself. There's this entire category of manufacturers that I like to call glorified parts assemblers. They simply pull technologies from other companies, bundle them all together and sell the final product without contributing anything substantial on their own. These companies are the gift wrappers at the mall, they don't really contribute to the gift inside, they just make it look pretty. When times get tough, they are going to be the first to go.
It's not just device manufacturers I'm talking about either. The SoC market has over half a dozen players in it today, and based on how pretty much every market matures over time - the majority of them aren't going to be players over the long term.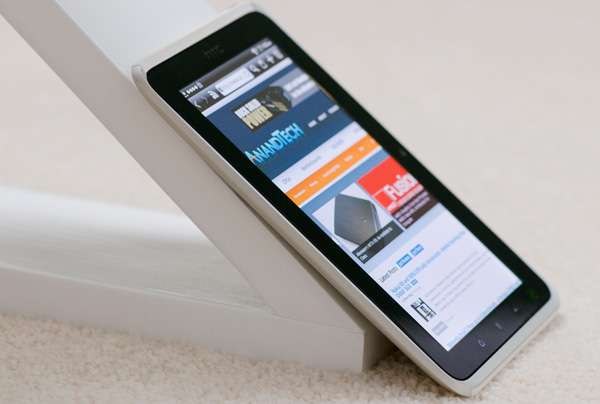 I bring this up at the beginning of a HTC device review because I feel like HTC is really trying to be more than just a gift wrapper at the mall. Sure HTC makes a whole lot of smartphones, many of which look very similar and rely on the underlying hardware to make them successful, but HTC is also pretty active in software development as well. Its Sense UI started as a bandaid to fix shortcomings in Google's Android OS. Over time, as the Android experience improved, I questioned the need for 3rd party skins. Most of them are just cumbersome and don't really contribute much positively to the overall experience. For the most part I do prefer the stock Android experience. The UI skins and enhancements are generally not as polished, cohesive or functional as the plain old Android. However, as I alluded to above, the mobile market today is far from mature. There are no right answers today, only a mixed bag of attempts that make varying degrees of sense. The fact that HTC is still trying with its custom UI and apps isn't just a sign that it needs differentiation to remain relevant, but also that perhaps Google doesn't yet have all of the answers. There is room for improvement, or at least an alternative take on functionality, and HTC wants to have a hand in providing it.
Which brings us to the device at hand: the HTC Flyer. This is HTC's first tablet and unlike the Android tablets that launched last year, it doesn't suck. At the same time, unlike those that came out this year - it doesn't run Honeycomb. You see, NVIDIA was Google's target partner for Honeycomb and Qualcomm was pretty behind on porting the OS to its hardware. As a result the only Honeycomb tablets on the market today use Tegra 2.
Qualcomm is a minority shareholder in HTC and as a result the Taiwanese manufacturer tends to only ship Qualcomm SoCs in its products. With the NVIDIA option pretty much off the table, so was Honeycomb.
2011 Tablet Comparison
Apple iPad 2
ASUS Eee Pad Transformer
HTC Flyer
Samsung Galaxy Tab 10.1
SoC
Apple A5 (Dual ARM Cortex A9 @ 1GHz)
NVIDIA Tegra 2 (Dual ARM Cortex A9 @ 1GHz)
Qualcomm APQ8055 (Scorpion @ 1.5GHz)
NVIDIA Tegra 2 (Dual ARM Cortex A9 @ 1GHz)
GPU
PowerVR SGX 543MP2
NVIDIA GeForce
Adreno 205
NVIDIA GeForce
RAM
512MB
1GB
1GB
1GB
Display
1024 x 768 IPS
1280 x 800 IPS
1024 x 600
1280 x 800 PLS
NAND
16GB
16GB
16GB
16GB
Dimensions
241.2mm x 185.7mm x 8.8mm
271mm x 175mm x 12.95mm
195.4mm x 122mm x 13.2mm
256.6 x 172.9 x 8.6mm
Weight
601g
695g
420g
565g
Price
$499
$399
$499
$499
Yet HTC clearly saw it as very important to deliver a tablet this year. I'm getting close to overusing this quote but I will never forget what AMD's Eric Demers told me: the best way to lose a fight is to not show up. The tablet battle has only just begun and only through tireless iteration will we see clear leaders emerge, so not showing up to this early fight isn't an option for most of the players.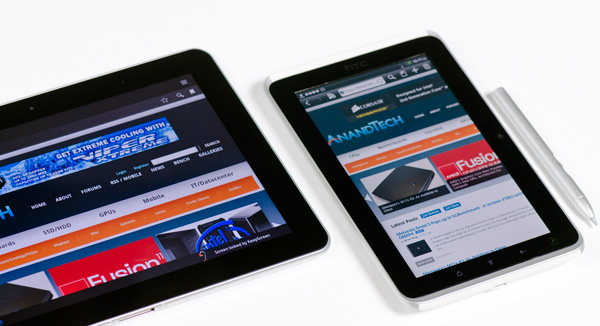 If you don't have the hardware platform to ship Honeycomb on time and all non-Honeycomb tablets seem to fail horribly, what is a company left to do? Try something different of course.
The Hardware
Compared to early Android tablets the Flyer doesn't look very different. It's a 7-inch almost 16:10 tablet with a 1024 x 600 resolution. In the grand scheme of things however, this is a pretty different form factor - particularly for a tablet released in 2011. Apple set the tone for at least the first generation of tablets with the iPad: nearly 10-inches, and at least a 1024 x 768 display. Steve brought forth the iPad and it was good. The only problem with this approach is that tablets, like notebooks, aren't one-size fits all. People are different sizes (tiny vs. large hands) and usage models vary (couch surfing vs. portable computing device). While the iPad has clearly done very well, it's clearly not the only answer.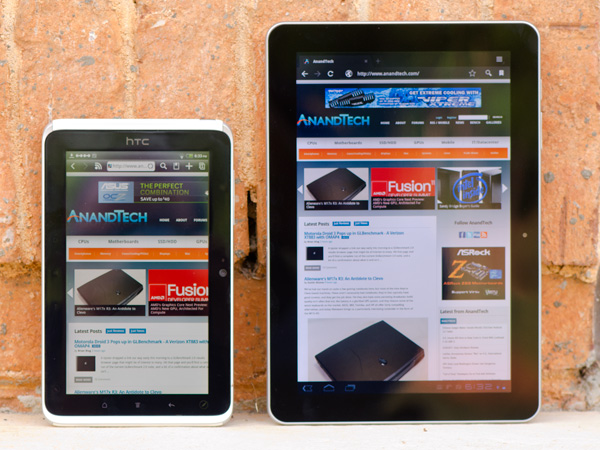 HTC Flyer (left) vs. Samsung Galaxy Tab 10.1 (right)
Viewed through iPad colored glasses, the Flyer starts out very different. In fact, it takes a page from RIM's playbook (giggle) and aims for portability rather than the comfort of a large screen size. I'll say the same things I said about the PlayBook about the Flyer: it's far more comfortable to carry around with me, but at home it's not as enjoyable to surf the web on. I think that's ultimately what separates the 7-inch tablets from the 10-inch models, portability vs. ease of use at home. It remains to be seen if Samsung's forthcoming 8.9-inch Galaxy Tab can really provide the best of both worlds.
I don't have particularly large or small hands but I can actually hold the Flyer with a reasonable level of comfort in the palm of one hand with my fingers gripping the outer edges.


Samsung Galaxy Tab 10.1 (left) vs. HTC Flyer (right)
The Flyer isn't thin. At its thickest point it's 13.2mm, that's around half an inch. Even the original iPad is thinner. The back however curves out to that point and because there's not a lot of surface area it actually doesn't feel overly thick. I'd go as far as to say that the Flyer feels like it has a good grip to it.

The device is light by tablet standards at only 420 grams. Even the Galaxy Tab looks porky on paper by comparison. Again, in a smaller package the Flyer ends up feeling more dense despite its light weight. You can definitely hold the Flyer in a single hand without much fatigue, but I personally got the feeling that HTC's first tablet was about 10 - 20% over weight for its size. It's not bad, but not perfect. Don't feel too bad though HTC, in my opinion no one else has really gotten the whole form factor thing perfect either.
The HTC logo on the front panel implies that the Flyer is designed to be held in portrait mode, although obviously rotation is supported. In landscape mode there's a 1.3MP front facing camera in the center of the top bezel. Around back there's a 5MP rear facing camera as well.
You can't rotate the Flyer in all directions however. Either the HTC logo or the front facing camera have to be at the top of the tablet. Holding the Flyer the other two ways won't rotate the screen. HTC does this because it actually has two sets of backlit capacitive buttons in the bezel around the screen - one set are illuminated in landscape mode, the other set in portrait mode: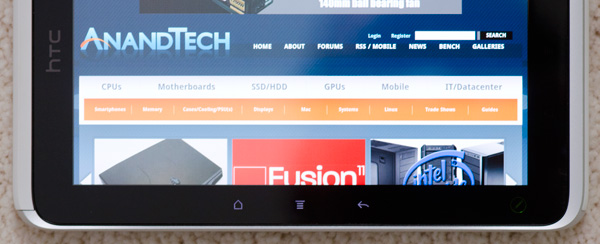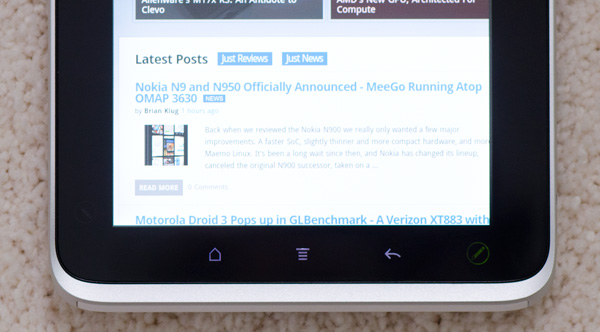 It's a nice addition but one that forces HTC to limit the rotational freedom of the device. It's not a huge tradeoff, but one that doesn't exist on Honeycomb tablets since they integrate the standard Android buttons into the OS itself.
HTC only includes three standard capacitive buttons on the Flyer. From left to right there's home, menu and back. The search button is gone but not missed. Honeycomb also only includes three buttons (home, back and recently used apps), but it's just as quick to get a listing of recently used apps on the Flyer by holding down the home button. Some might argue that it's a quicker way of switching tasks than Honeycomb offers.
There's a fourth button on the Flyer, but this one is only accessible via the optional HTC Scribe - a battery powered digital pen accessory. I'll get to that bit in a moment.
Up top there's a power/lock button with integrated status LED. The LED blinks green for notifications (e.g. new email) or glows orange when charging. If you don't do your homework it turns red. Next to the power/lock button is a tapered 1/8" stereo headset jack. The Flyer doesn't come with any earbuds, you'll have to supply your own.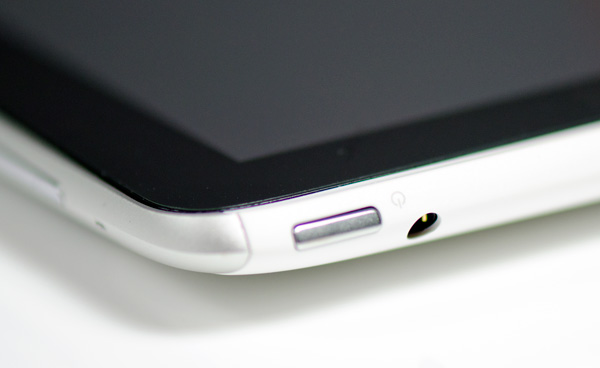 The left side of the device is barren and the right is home to volume up/down buttons as well as two microphones. Along the bottom of the Flyer is HTC's proprietary dock connector that's used for getting content onto the device as well as charging it.

The Flyer comes with a power brick as well as a dock to USB cable. Unlike larger tablets the Flyer can charge (very slowly) off of a standard USB port while running.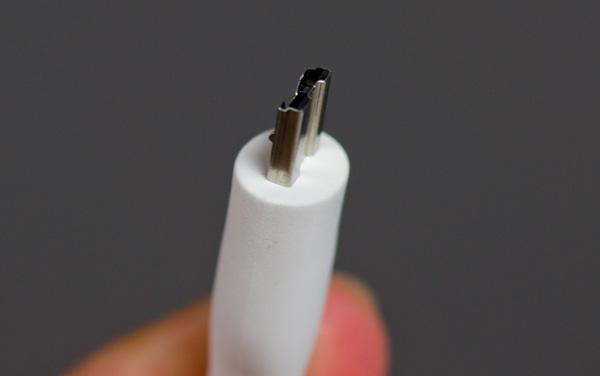 The back of the Flyer is all aluminum save for two plastic inserts. The bottom insert is immovable and feels equally stuck in place.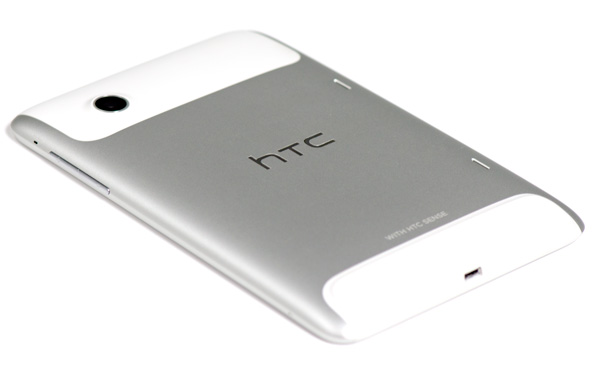 The top insert is a removable cover that hides the Flyer's microSD slot. I'm not a fan of hiding microSD slots behind large removable covers - it seems silly to have to remove something so big to access something so small. With the Flyer the removable plastic cover seems to somewhat ruin the point of the device's aluminum back. The removable cover definitely flexes under your grip and just doesn't feel as solid as the rest of the device.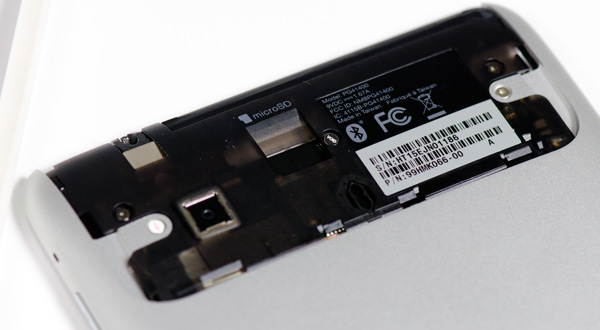 There are two tiny speaker grills on the back as well for stereo sound. Sound quality isn't anything to write home about, the speakers get loud but harsh at the same time.
Gingerbread & Sense 3.0
The Flyer doesn't ship with Honeycomb but instead it comes with Android 2.3.3, a solid but not-quite-tablet optimized build of Google's mobile OS. Since the Flyer isn't your traditional tablet however, it actually works reasonably well with Gingerbread.
The UI is pretty smooth and in many cases actually smoother than many Tegra 2 tablets running Honeycomb. With a lower screen resolution (1024 x 600), the Flyer's GPU has less work to do and thus maintains a high (albeit not perfectly smooth) frame rate most of the time. Swiping between home screens is pretty smooth, even web browsing is relatively smooth. The overall experience still isn't quite as stutter-free as iOS, but it's definitely livable if you're ok with a UI that dips below 30 fps.
Gingerbread is partially GPU accelerated which is responsible for the relatively pleasant experience on the Flyer. It's worth pointing out that although Qualcomm wasn't the Gingerbread SoC partner, the port to its hardware seems to work very well.
Android 2.3 is only part of the software story here. The rest comes by way of HTC's Sense UI, version 3 to be exact. It all starts with the lock screen: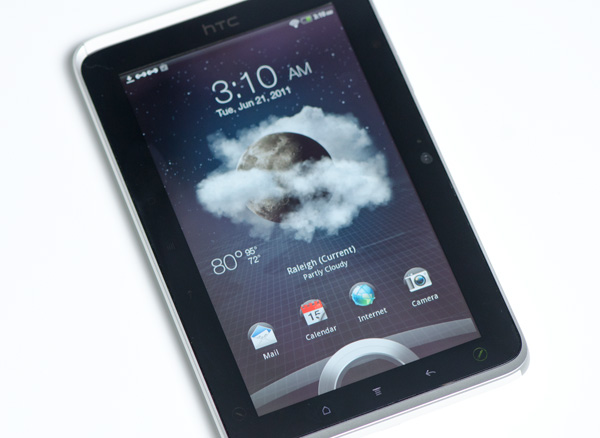 By default you get time, date, a giant ring and four application icons. Drag the ring up to unlock the Flyer or if you want to dive straight into Mail, Calendar, web browsing or the camera just drag one of those icons down into the ring. Doing any of the latter will unlock the Flyer and immediately launch you into the selected application. I can't stress enough how simple and cool this feature is, it's a productivity booster and it makes a ton of sense (bad pun, bad).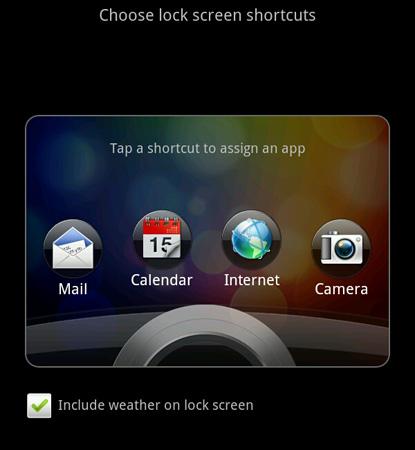 HTC even lets you customize what apps you can launch from the lock screen, you are limited to four shortcuts however. The only other trick the lock screen will do is display the weather based on your current location. I had problems with the Flyer getting an accurate location lock for weather regularly. Far too often I'd just get an error telling me that weather data couldn't be determined for my location. Forcing an update from the weather widget always fixed the problem however. It seems like HTC might have a bug related to grabbing location data after wake.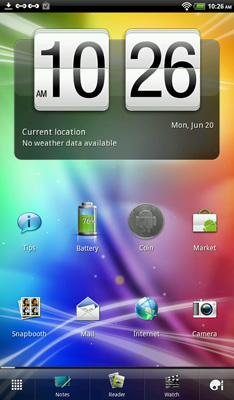 Once unlocked Sense 3 looks similar to previous iterations but with some notable enhancements. HTC customized the pulldown Android notification shade. You still get notifications but you also have a tab for quick settings, similar to those available in Honeycomb:
Sense also uses some of the extra screen resolution to include a list of recently used tasks at the top of the pull down shade.
Along the bottom of the screen are five icons, three of which are customizable: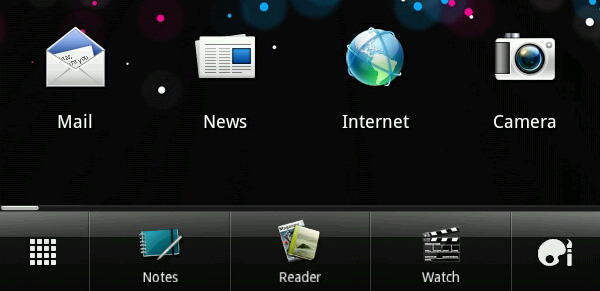 The two fixed icons are the all-apps and personalize buttons. The remaining three are notes, reader and watch by default but like I said, you can set them to anything else. These five icons remain present on every home screen.
There are eight home screens by default. Tapping the home button will bring up a tiled screen with all eight so you can quickly get to one. Swiping left/right also lets you flip through the home screens. The list is now circular as well, so once you hit the eighth screen you can swipe again to go back to the first one.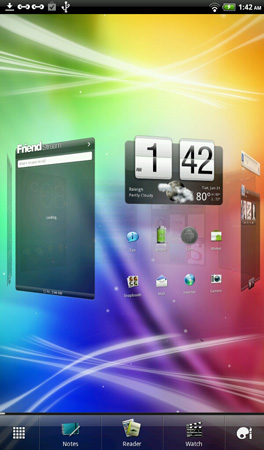 What do you put on all of these home screens? Giant widgets of course. Gingerbread may not be tablet optimized, but HTC's widgets sure feel at home on the 7-inch screen. If you want more of a smartphone experience however HTC typically gives you a few versions of each widget each a different size and/or configuration. For example, HTC has three different calendar widgets - the first is a full screen calendar with a list of today's appointments: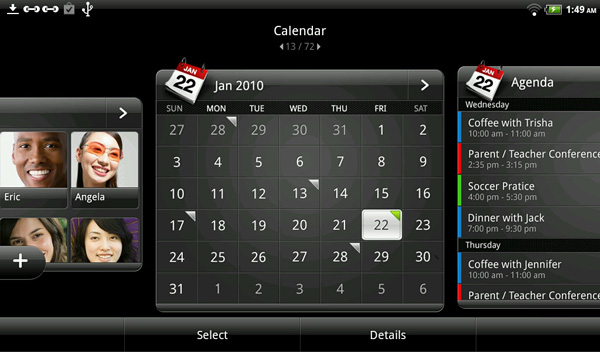 The second is just an agenda view, also full screen: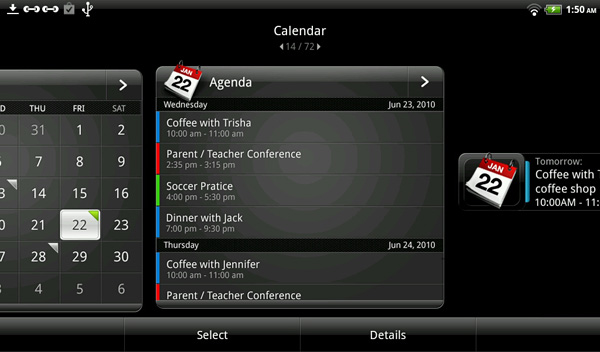 And the third is a smaller widget that just displays the date and next appointment.
HTC lets you preview all widgets and even shows you how the widgets would look in both portrait and landscape mode if you rotate the Flyer in preview mode.
There are widgets for contacts, weather, Twitter, email, Facebook and even a calculator. I'm not normally a fan of Android skins but Sense 3 is actually a productivity boon on the Flyer. This is still Gingerbread so the widgets aren't resizable, although you can scroll within them. The widgets don't always update as frequently as I'd like either. Take the email widget for example.
I often found I'd have new email which was visible in the email app, but it'd take several seconds of pausing at the home screen with the email widget for the updated messages to appear. The whole point of widgets are to give you a quick glance at your data, but having to wait for it to appear goes against that intent. I suspect HTC is trying to minimize background tasks by avoiding updating things super frequently but it'd be nice to be able to control how frequently the widgets updated.
Other widgets don't update automatically at all like the Friend Stream widget. To get the latest update there you actually have to hit the refresh button at the bottom of the widget. Again, it's not the end of the world but it does ruin some of the point of a widget.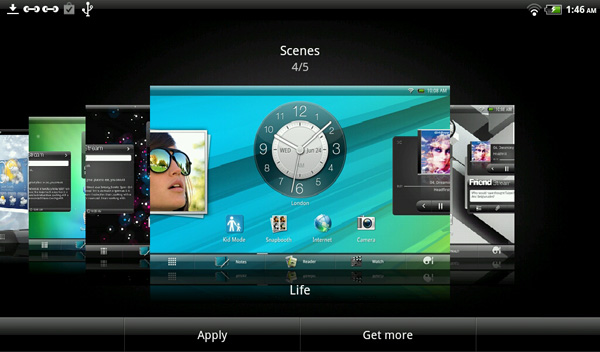 HTC offers a good amount of personalization through Sense. There are several pre-defined "scenes" for various usage models. For example there's a travel scene that puts a world time widget on the default home screen and a location widget on the screen to the left of it. There's a social scene that defaults to widgets that show more of your social network status updates and emails. More importantly, HTC lets you configure all eight home screens however you'd like and save the configuration as a custom scene. This way you can define your own work, play, travel, etc... scenes on the Flyer. Although not everyone will be find this level of customization useful, HTC does know how to speak to that niche of enthusiast users that do appreciate such things.
Web Browsing & Other Apps
Sense isn't just about giant widgets. HTC also provides a lot of customization to the preloaded apps on the Flyer itself.
Contacts can be synced across multiple sources, not just Gmail and your desktop PIMs. HTC gives you the option of pulling contacts down from Facebook and Twitter. You can even create a free HTC Sense account to store your contacts and information in HTC's cloud. I don't personally see a huge benefit to storing your data with HTC vs. Google (I'm not sure who I trust less with my personal information?) but HTC's Sense dashboard does allow to remotely locate, ring, lock and wipe your device.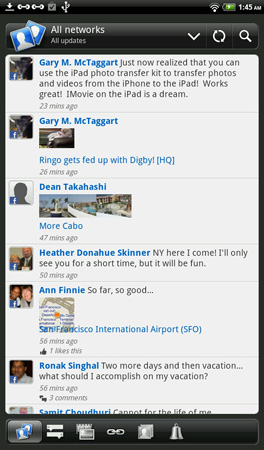 HTC does stream Facebook and Twitter updates down to individual contact pages as a feature of Sense. While I understand what HTC is shooting for here, the implementation is still not perfect. I find that the actual Android Facebook app seems to provide more complete status updates than what eventually makes its way to Sense. The integration is enough to get a casual glance at what your friends are up to, but far from an actual Facebook app replacement. The UI is also not quite as clean or centralized as the People hub on Windows Phone 7. It's a nice attempt by HTC but not perfect.
The calendar app is easier to read and can automatically populate itself with Facebook birthdays if you give the Flyer access to your account.
The web browser is also significantly modified from the stock Gingerbread browser. The user agent string from a Nexus One running 2.3.4 is:
Mozilla/5.0 (Linux; U; Android 2.3.4; en-us; Nexus One Build/GRJ22) AppleWebKit/533.1 (KHTML, like Gecko) Version/4.0 Mobile Safari/533.1
While the Flyer represents itself as a Intel based Mac:
Mozilla/5.0 (Macintosh; U; Intel Mac OS X 10_6_3; HTC_Flyer_P512; en-us) AppleWebKit/533.16 (KHTML, like Gecko) Version/5.0 Safari/533.16
Looks aren't all that are different about HTC's web browser. You get PlayBook-like tabbed browsing, although still not as nice as Honeycomb it's a good intermediate step. Web page loading performance is much improved compared to the stock Android experience, although that's largely due to the very fast SoC.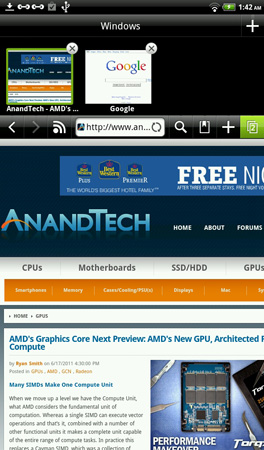 Despite the 7-inch screen, web browsing on the Flyer is made cleaner by the fact that the browser seems to default to a zoomed in state rather than fully zoomed out. Here's what AnandTech looks like on the Flyer by default in portrait mode: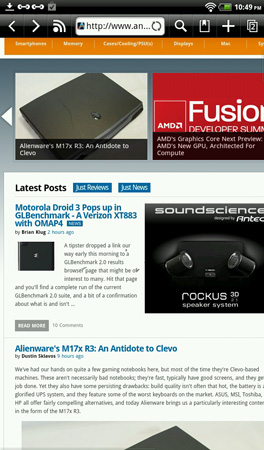 It seems like the Flyer renders all web pages at 1024 pixels wide, regardless of orientation. It does mean you have to do some scrolling or zooming out in portrait mode, but on a lot of sites you actually get most of what you need to see without doing anything. AnandTech's main content column actually fits almost perfectly without having to scroll left/right. For some reason the Flyer won't let you zoom out in portrait mode on AT, although other sites work properly.
If you are reading a site that doesn't fit so nicely in the 600-pixel-wide portrait window, web browsing on the Flyer can be a frustrating experience. Rotate to landscape however, and the experience gets a lot better - although you obviously have to do a lot of vertical scrolling. The Reddit front page still doesn't render properly on Gingerbread but since the Flyer doesn't try to zoom out to display the entire page it feels like less of a problem.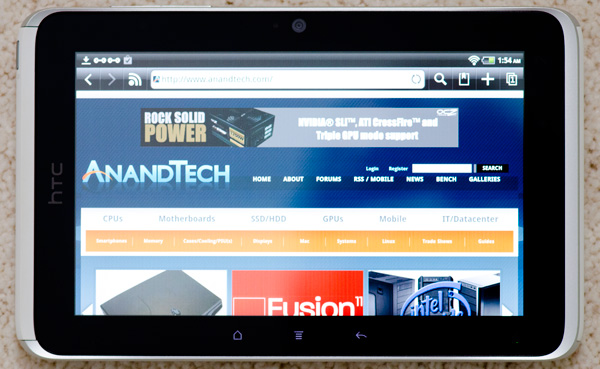 Flash performance is decent but not amazing. I'd say it's generally better than on Honeycomb simply because the GPU isn't as taxed thanks to the lower resolution screen. I still personally prefer larger tablets for web browsing, but the Flyer is better than expected here thanks to its default zoom level and landscape browsing experience.
HTC Scribe
Where HTC really tries to break the mold with the Flyer is through its optional digital pen - the HTC Scribe. I refer to this as breaking the mold because with the advent of capacitive touch screen mobile devices, the stylus is all but extinct. What used to be commonplace in the days of the Palm V is now a relic of a forgotten time. Why would HTC then bring it back?
In our iPad 2 review I mentioned the tablet input problem. My issue with tablets isn't that input is fundamentally broken on them, because it's not. Rather a problem I have is that the types of input todays tablets are optimized for is fundamentally limited. Tablets like the iPad or Eee Pad provide a great touch and scroll experience, but typing suffers as a result of the lack of a physical keyboard. Note taking is also a problem - while drawing with your finger may be fun, it's not exactly as quick (or as clean/neat) as scribbling something down in a notepad. I believe the tablet as a form factor has a lot of room to grow and mature before the input problem is completely solved, and it'll like require a combination of inputs to truly perfect. The Flyer is simply HTC's attempt at evolving the platform.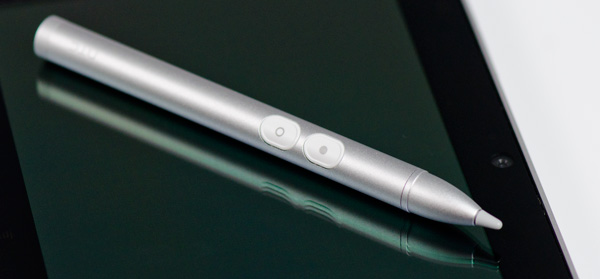 So for $79.99 HTC will well you the Scribe, a battery powered digital pen that lets you take notes and annotate pretty much anything you see on the Flyer's display. Here's where HTC's software talents were really put to use.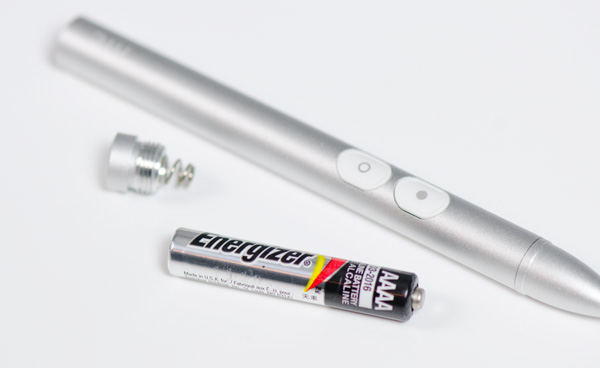 The Scribe is powered by one AAAA battery
Take the Scribe and tap it anywhere on the Flyer's screen when it's unlocked, regardless of what app you're in. As soon as the Scribe hits the screen, HTC's software will pause the active app, take a screenshot of the current screen and display it for you for annotation.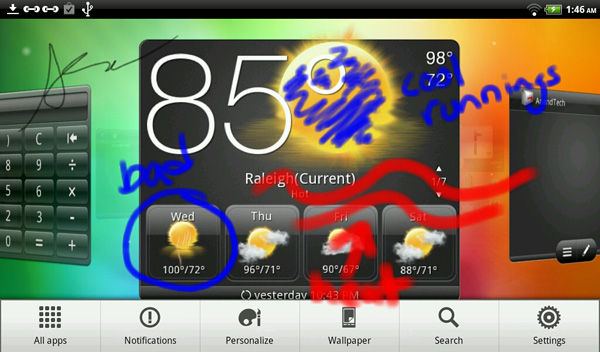 You are then free to draw all over the screen as you see fit. When you're done just use your finger to swipe up the screen and you'll bring up a menu that lets you save the image, share it, print it or throw it away. Images you save are automatically added to the Notes application - unfortunately there's no way to avoid doing so and just save the capture to NAND. Images you share are stored as JPGs and at full 1024 x 600 resolution.
Remember the fourth button from the row of capacitive Android buttons on the face of the Flyer? It's only accessible via the Scribe. Tap on it and you'll get a popup menu to customize what your pen does. You can change ink colors, brush size and of course the tip style as well.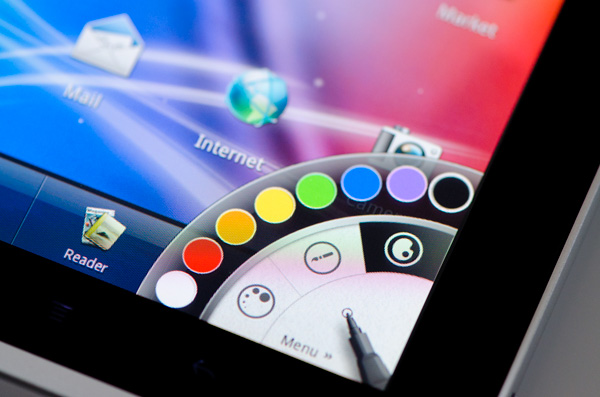 The pen has built in history so you can step through and undo actions with the pen. It also has an eraser tip that you can either choose through the popup menu or just hold the upper of two buttons on the pen to turn it into an eraser automatically.
The annotation features of the Flyer work surprisingly well. The biggest selling point (other than just screwing around with your brand new tablet) is if you need to share a slide, email or web page with someone else and make comments on it. Just browse to the document, email or web page you want to comment on, tap the screen with the pen and edit away. If the Flyer's screen were larger I could see this being a huge selling point for graphic designers, but with a 7-inch 1024 x 600 display you run out of room for notes really quickly (unless you're good at writing in very tiny letters using the Scribe).
If you aren't looking to mar up existing documents, there's also a dedicated Notes app that's designed to be a digital notebook. You can write in the notebook, use it to record audio (this is where the Flyer's two microphones come in handy) or even take photos and insert them in the middle of your notes.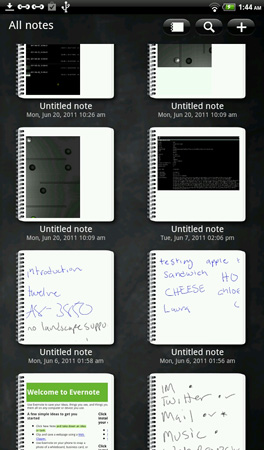 HTC is particularly proud of the fact that its Notes app will correlate notes you're taking with audio recorded while you're taking them. For example, if you jot down a note a minute into your audio recording, upon playback you'll get a little marker identifying what you wrote down when that particular audio was recorded.
The Notes app will sync with Evernote so you get cloud storage of your notes and can access them on multiple devices without sharing. Evernote support is pretty cool as it all of the sudden makes the Flyer more useful since you don't need to always have it on you to access the notes you've taken. Logging in to the Evernote website gives you full access to all screenshots you've taken an inserted in the Flyer's Notes app as well as audio you've recorded in Notes. Notes are synced with Evernote in a matter of seconds after saving them on the Flyer, it's really quick.
Evernote does perform server side OCR (Optical Character Recognition) and as a result your handwritten notes are actually searchable through Evernote. The OCR worked surprisingly well. I searched for "web browsing" and this test note showed up on my Evernote account: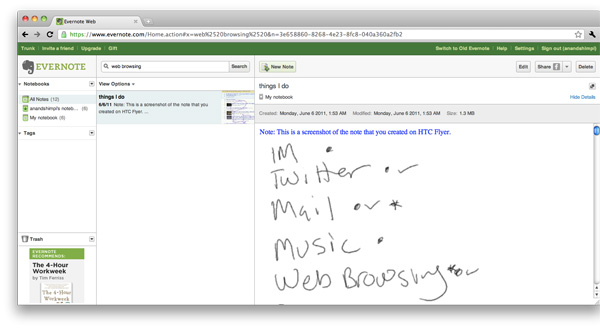 Unfortunately searching for the word "Twitter" yielded no results, so your mileage may vary.
I'd say if any tablet is really trying to be a productive device it's the Flyer. While it's still a niche device, Evernote integration is what really makes this niche work.
Writing in Notes works surprisingly well. You can alternate between using HTC's virtual keyboard and the Scribe. No one has figured out the way to provide natural feedback using a digital pen at this point so that aspect of the Scribe experience is still uncomfortable. The pen is sensitive enough to allow you to write without fatigue. Unfortunately resting your hand on the screen while you write can sometimes result in the Flyer sensing for finger rather than pen input. For the most part it works but if I didn't consciously start writing before my hand touched the screen the Notes app would pull up the virtual keyboard.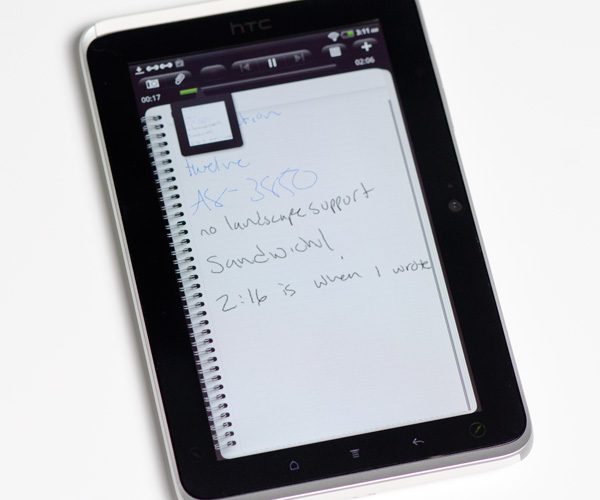 The Notes app is very functional but feels a bit more sluggish than I'd like. If you're trying to mimic the behavior of paper, the UI has to be seamless and HTC unfortunately doesn't deliver that experience flawlessly. Notes also only works in portrait mode, there is no landscape support. Overall the app and integration are better than expected and definitely usable, but not perfect.
HTC's Scribe also integrates very well with the Flyer's e-reader app: Reader. You can of course annotate pages of a book but you can also highlight passages - just hold the lower button on the Scribe and select your text.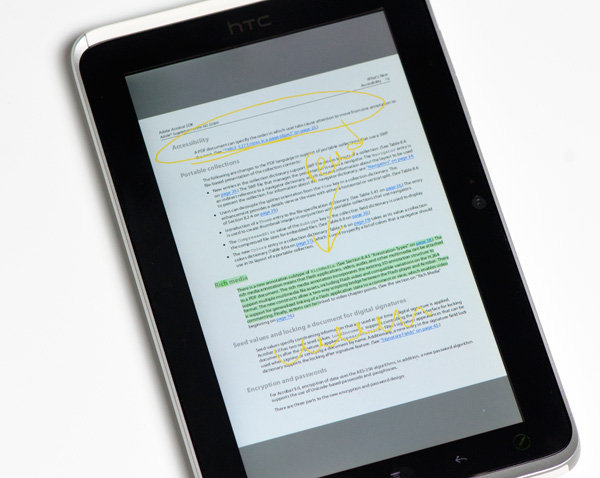 Scribe integration continues even through HTC's PDF Viewer app. Here you can again annotate or highlight text. You can even save your changes with the Scribe's ink in a separate layer or flatten the document and save it as a single layer PDF (e.g. if you wanted to sign and return a PDF contract).
I have to say that overall what HTC has done with the Scribe in the Flyer goes above and beyond what I expected. I honestly thought it would be more of a gimmick but in reality it's actually well executed and useful.
The Display
HTC equipped the Flyer with a standard 1024 x 600 LCD display. There's no AMOLED at work here and the panel doesn't appear to be IPS, although it is of a reasonably high quality with decent off-center viewing angles.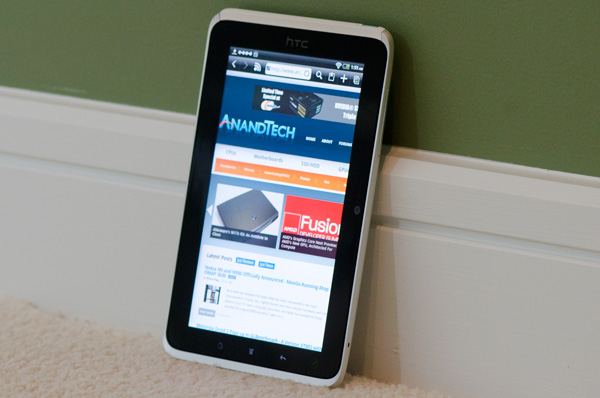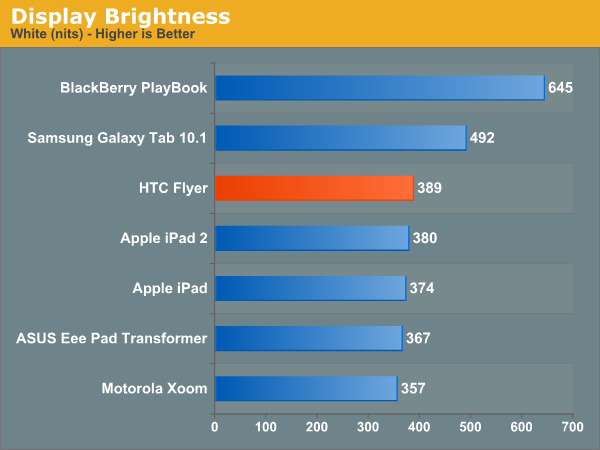 Max brightness is a pretty typical 389 nits. Unfortunately at that brightness the Flyer, like most Android tablets, is pretty useless in direct sunlight.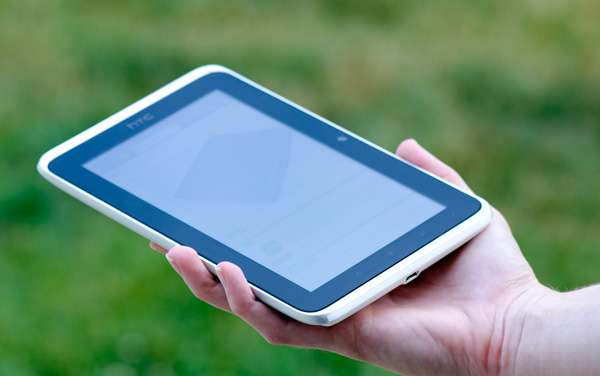 You need closer to 600 nits to be usable outdoors in sunlight
Black levels are comparable to the Galaxy Tab 10.1, although contrast is lower thanks to the lower max brightness: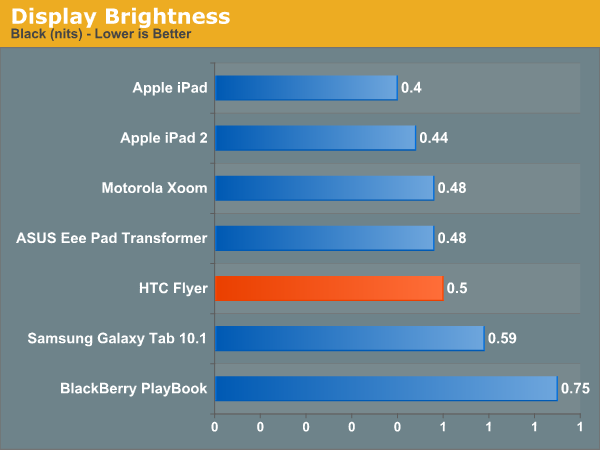 I should point out that even though 389 nits isn't enough to be useful in direct sunlight, it's more than sufficient for use indoors.
The Cameras
The Flyer's rear facing 5MP camera doesn't have a flash however even in well lit areas its image capture quality is pretty bad, even compared to other tablets. The verdict is still out on whether or not camera quality matters in a tablet, but given that you can quickly integrate photos you've taken with the Notes app I would've hoped for a better quality sensor.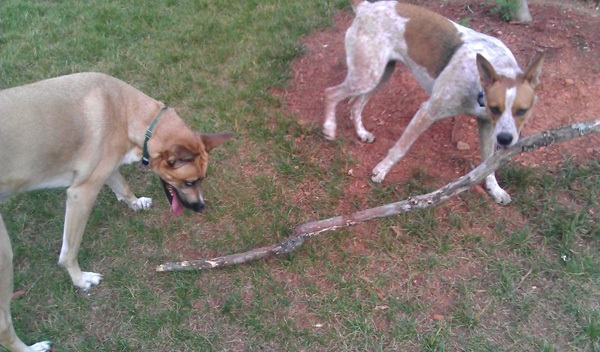 Stills are shot at 2592 x 1520 and the camera app offers the usual set of adjustments (white balance, sharpness, saturation, contrast, exposure, ISO). You can also apply real time filters (yay sepia!) to the image although I rarely find myself wanting to.
The front facing camera is no better. Images are captured at and don't bother asking about quality. It's ok is about the best I can offer.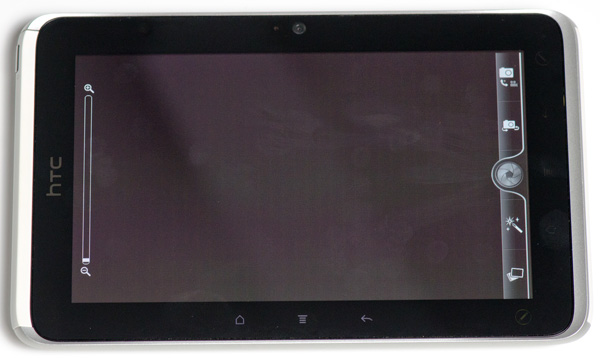 Switching between front and rear facing cameras does take a couple of seconds but it's accomplished via a single tap. There's a little green LED that lights up to the left of the front facing sensor when it's active.
Capturing images takes about two seconds regardless of which camera you're shooting with. It's laggy enough to make capturing a moving object difficult but quick enough to be competitive with most other solutions on the market today.
Video can be recorded at up to 720p. Image quality is still pretty bad here as well. Switching between still and video capture is very quick and accomplished using a single tap.
Performance
I began this review talking about how HTC is trying to break the mold with the Flyer. It's smaller than most tablets released in 2011, it has a stylus and it doesn't run Honeycomb. Arguably the biggest departure from the Releasing a Successful Android Tablet Handbook is in its SoC choice. While Acer, ASUS, LG, Motorola and Samsung have all shipped tablets based on NVIDIA's Tegra 2 SoC, the Flyer is powered by Qualcomm. Not only does it have a Qualcomm SoC, but unlike all of the Honeycomb tablets it is a single-core Qualcomm. The APQ8055 is what HTC picked for use in the Flyer.
At a high level here's what we know. Qualcomm's Scorpion core is still an in-order design with slightly higher IPC than the standard Cortex A8. ARM's Cortex A9 however moves out of order, but retains much of the overall architecture of the Cortex A8. The A9 is estimated to be up to 20% more efficient per clock as a result of its shorter pipeline and ability to reorder instructions around data dependencies. If we assume a single Scorpion core is no faster than a Cortex A8 at the same frequency, then a 1GHz Cortex A9 could be up to 20% faster than a 1GHz Snapdragon running single threaded integer code (I'll ignore the FP comparison at this point due to the whole pipelined vs. non-pipelined FPU issues of various SoCs). Running multithreaded code however, the advantage of two Cortex A9s over a single Scorpion core could be more than double. In reality there are very few heavily threaded apps in Android today. In our first Tegra 2 investigation we saw a 12 - 64% performance improvement for the dual-core Cortex A9 based Tegra 2 over 1GHz Cortex A8 and Scorpion based SoCs. I'd expect that 64% is likely the upper bound for the sort of performance advantage we'd see from Tegra 2 vs. a single core 1GHz in-order architecture (either Cortex A8 or Scorpion) in most well threaded tests.
Armed with this data let's look at what HTC decided to put in the Flyer. The APQ8055 has a single core Snapdragon capable of running at up to 1.5GHz. In the Flyer, HTC opted for a full frequency part - under load the Qualcomm APQ8055 runs at a full 1.5GHz. That's a 50% higher clock frequency than the 1GHz Scorpion core we used in the comparisons above. We know that for the most part tasks like web page rendering are almost completely CPU bound on these smartphones. Even browsing over the cellular network is very CPU limited at times. Based on what we know, it's very likely that a 1.5GHz single-core Scorpion would be as fast as or faster than a 1GHz dual-core Tegra 2 in a number of tasks.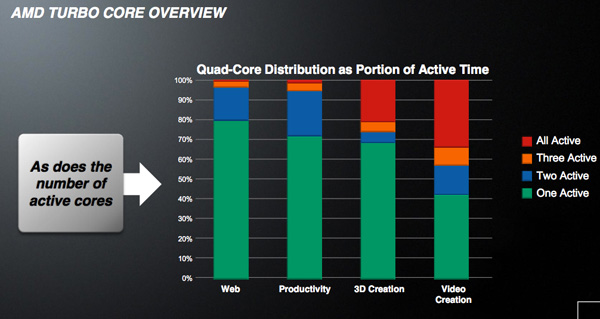 While two cores help with web based workloads, single threaded performance matters a lot
The slide above is something AMD shared with us for Llano but it conveys an important point. While multicore processors are necessary, single threaded or single core performance is still very important on the desktop. When you take into account that single threaded performance is significantly lower in smartphones than it is in notebooks/desktops, the importance of having fast individual cores in addition to multiple cores becomes more evident.
It's unlikely that a single-core 1.5GHz CPU is going to be faster across the board than NVIDIA's dual-core Tegra 2, however it's also unlikely that it'll be slower across the board. In fact, in actual application usage my money is on the single-core Snapdragon to provide a snappier experience (again with the puns). In practice I'd say that's pretty much the case. The Flyer doesn't feel as slow as most single core Android platforms I've used, when doing a single task it's easily up there with the Tegra 2 based tablets. Where the Flyer does struggle is when you have a rogue background task eating up CPU cycles. With two cores you have the ability to deal with hiccups in task scheduling, whereas with one you just have to wait until the scheduler switches threads. While I wouldn't recommend buying a single-core Android phone today, the Flyer is an exception.
Let's look at the performance data: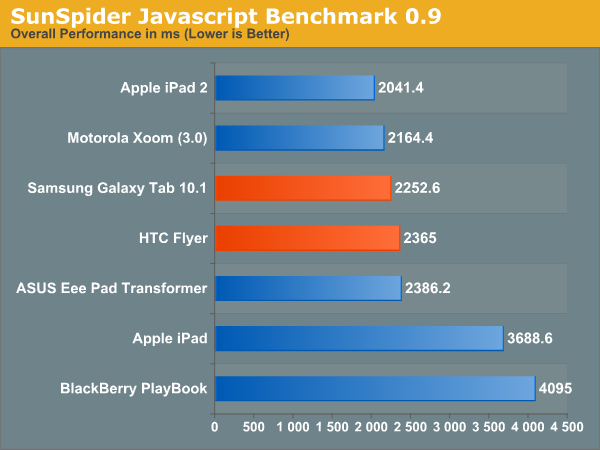 SunSpider 0.9.0 is neck and neck with the Tegra 2 based Eee Pad Transformer running Android 3.1. Granted some of that is due to the fact that Android 3.1 seemed to lower web browsing performance, but either way we're looking at a platform that is much faster than a standard 1GHz Snapdragon.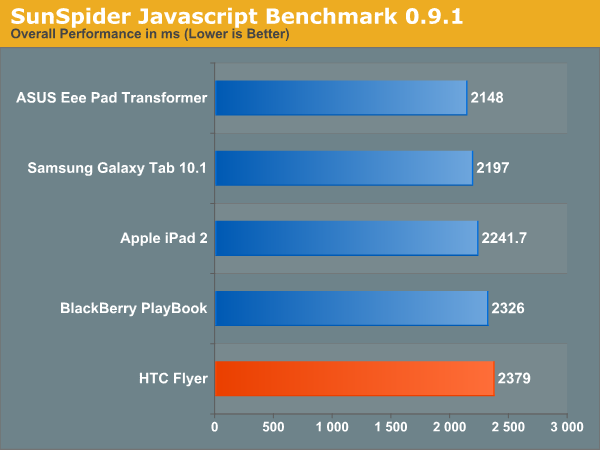 The Flyer is about 10% slower than the Eee Pad in version 0.9.1 of the test. Again, the 1.5GHz single-core SoC won't sweep these tests - but it'll at least be competitive with the dual-core Tegra 2 thanks to its excessive clock speed.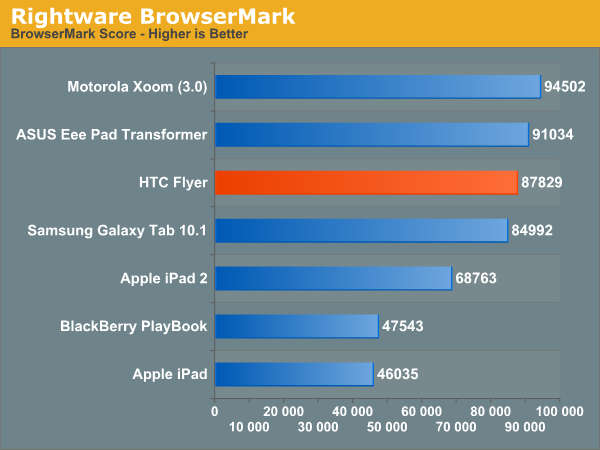 BrowserMark shows competitive performance to the Honeycomb based tablets - note that 3.1 slowed things down a bit for both ASUS and Samsung vs the original launch Xoom.
GPU performance is another story entirely. OpenGL ES 2.0 performance seems competitive but mostly due to the Flyer running at a lower screen resolution: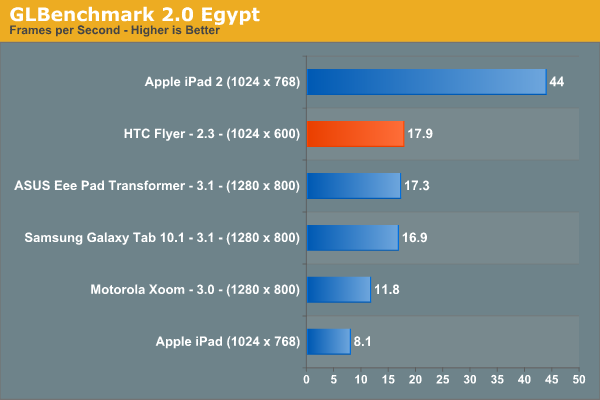 The PRO test however gives NVIDIA a considerable lead, despite its higher rendering resolution.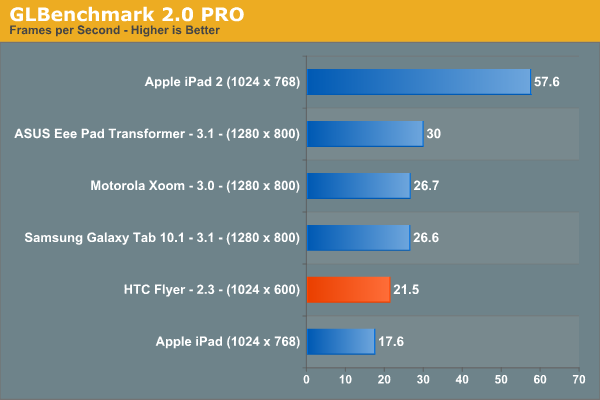 BaseMark ES2 however clearly favors the Adreno 205 GPU inside the Snapdragon SoC, it manages nearly double the performance of the Eee Pad here:
I suspect the advantage in BaseMark is more due to driver/benchmark optimization than what you should expect to see in terms of 3D performance vs. Honeycomb tablets.
Flash and HTML5 performance range from competitive to downright faster than Android 3.1 based tablets as you can see from our results below:
Flash/HTML5 Performance - GUIMark 3
Bitmap (HTML5 Cache)
Bitmap (Flash)
Vector Test (HTML5)
Vector Test (Flash)
Compute (HTML5)
Compute (Flash)
HTC Flyer
30.3 fps
50.6 fps
12.1 fps
21.4 fps
8.5 fps
26.6 fps
Samsung Galaxy Tab 10.1
22.9 fps
25.0 fps
11.4 fps
19.3 fps
11.2 fps
23.6 fps
WiFi Connectivity and Performance
The Flyer lacks 3G support (although the EVO View 4G on Sprint is an EVDO + WiMAX version of the Flyer) and instead ships with 802.11b/g/n support. Wireless reception was very good in my usage, easily maintaining a connection to an AP very far away and rarely accessible on most mobile devices. Performance however is not competitive with the other Honeycomb based tablets we've reviewed this year: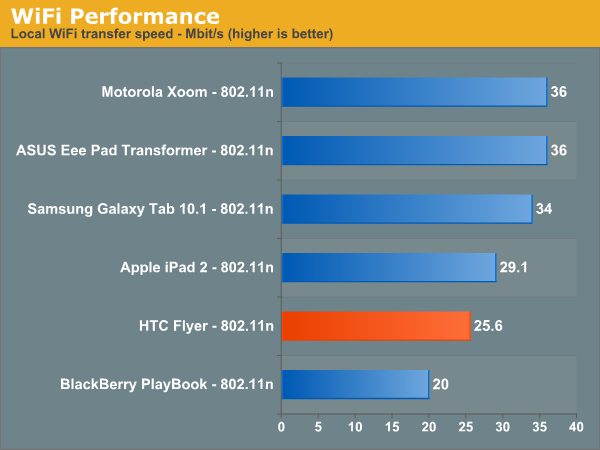 Note that this is peak performance. Average speed was much lower on the Flyer at just under 20Mbps and I saw lows drop below 16Mbps whereas consistently getting above 30Mbps on the Honeycomb tablets isn't an issue.
Battery Life
ARM based tablets are just as much screen as they are battery, thus when you shrink a tablet down to the 7-inch form factor you do lose some of that battery capacity along with the screen real estate. In the Flyer's case you're looking at 2/3 the battery capacity of Samsung's Galaxy Tab 10.1, but with a smaller screen and different SoC how do the two stack up?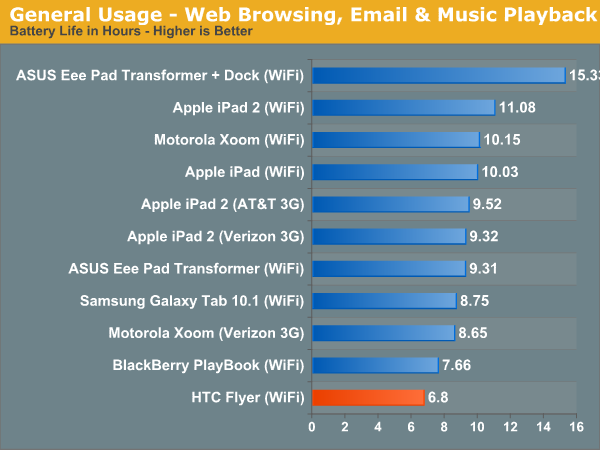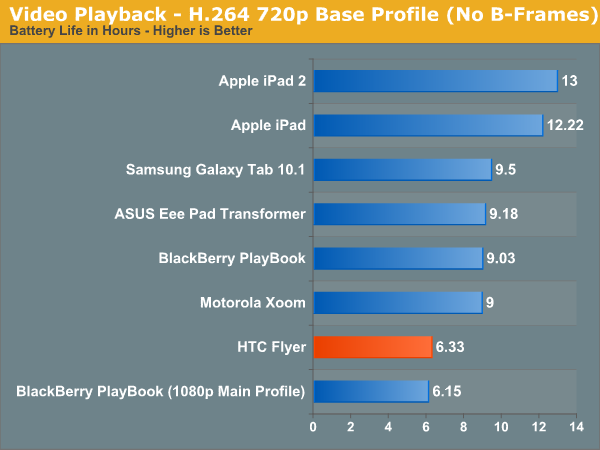 The Flyer does ok compared to most smartphones, boasting over six hours of battery life in both of our tests. Unfortunately it simply can't compete with the larger tablets - they just have bigger batteries. The Flyer doesn't have a removable battery so if you need something that'll last you on a very long trip without a charge, look elsewhere.
Final Words
If you view tablets like the iPad 2 or Samsung's Galaxy Tab 10.1 as being the target for perfection, something like the Flyer will come as a disappointment. If you're like me however, and view tablets as a line of products still in their infancy then there's room to discuss something like the Flyer.
Most Android tablets get the job done when it comes to web browsing, email, music and video playback. I believe these are some of the biggest selling points for buying a tablet today and an ASUS Eee Pad or a Samsung Galaxy Tab 10.1 does a good job here.
HTC's Flyer delivers a decent experience in these same areas. Web browsing is better on a larger tablet, but if you want portability the Flyer is nicer to carry around with you. Performance is competitive, although battery life definitely suffers as a result of the Flyer's relatively small battery. Where HTC expands on the Android tablet experience is in its personalization via Sense and and the Scribe accessory.
Whether or not you like Sense really boils down to personal preference. The customization junkies out there will likely appreciate what it is and in many areas HTC has improved over the stock Android (at least Gingerbread) experience. Although the Flyer doesn't run Honeycomb, it's not all that missed as a result of what HTC has done.
HTC Scribe turns the Flyer into a note taking specific productivity device. I have a feeling that after reading about the Flyer you'll know right away if it's the right type of device for you. It's not the holy grail of a productivity oriented tablet, but it does carve itself out a niche in the productivity segment. A sensible feature set and integration with Evernote making Scribe a real selling point of the Flyer. It's a shame that the Scribe isn't bundled with the Flyer and will set you back an extra $80 on top of the $499 you need to pay to get the tablet in the first place.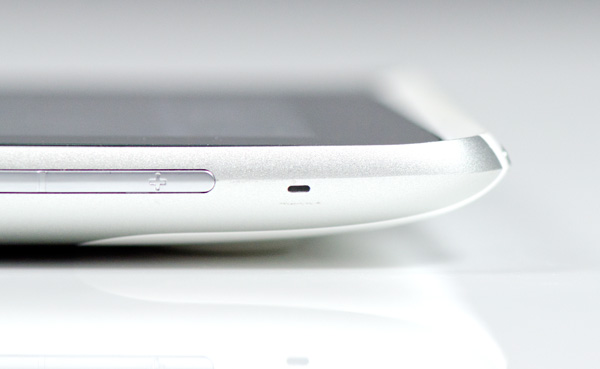 How well did HTC do with thinking outside of the box on this one? Everything from the form factor to the SoC choices flies in the face of every other Android tablet we've reviewed this year - and I can't really say that HTC was wrong in anything it decided to do here. I don't believe that there's one tablet for everyone, and I do hope to see a more general purpose tablet from HTC in the future as well, but for what it's intended to do, the Flyer is functional, portable and a competitive performer.
While personally I believe the best bet with any tablet is to wait and see how the next generation turns out - if you're a part of the niche that the Flyer addresses, I don't believe you'll be disappointed.