Original Link: http://www.anandtech.com/show/4450/lg-revolution


As someone who outright refused to pay for a data plan until late last year, I was never really interested in the cutting edge of mobile broadband technology. Beyond knowing that AT&T had decent data speeds and coverage in areas not involving the letters "NYC" or "SFO" and that WiMAX wasn't nearly as fast in practice as Sprint would have you believe, I didn't have a whole lot of feel for data plans. I'm a poor college student that lives in a world of campus-wide WiFi; I was always either in a place with wireless internet or in transit to a place with it, so why pay the $30 if I didn't really need to?
An increasing number of trips out of town forced my hand, and I started to learn more. I got a data plan just as T-Mobile launched its first HSPA+ phone, the T-Mobile G2. It was faaaast, especially in the greater Seattle area. I was seeing download speeds in the 8 Mbps range and upload speeds around 4 Mbps. For a 3G network, that was insane, and T-Mobile has gotten better since then (though I will never be able to get over the 4G stunt that their marketing department pulled). By chance, I recieved a Verizon 3G version of the Galaxy Tab for evaluation, and I found its ~1 Mbps download speeds to be a bit unbearable in comparison. In my review, I said that Verizon really couldn't get their LTE network deployed quickly enough.
I didn't know what to expect with LTE until CES. I had heard some insane speedtest numbers through the grapevine, confirmed by Brian during his hands-on with the Thunderbolt at Verizon's LTE launch event. 18 Mbps down is pretty solid for a Comcast connection, but it sounded borderline crazy for mobile broadband.
Physical Comparison
LG Optimus 2X
HTC EVO 4G
HTC Thunderbolt
LG Revolution
Height
123.9 mm (4.87")
121.9 mm (4.8")
122 mm (4.8")
128 mm (5.03")
Width
63.2 mm (2.48")
66.0 mm (2.6")
67 mm (2.63")
67 mm (2.63")
Depth
10.9 mm (0.43")
12.7 mm (0.5")
13.2 mm (0.52")
13.2 mm (0.52")
Weight
139.0 grams (4.90 oz)
170 g (6.0 oz)
183.3 g (6.46 oz)
172 g (6.08 oz)
CPU
NVIDIA Tegra 2 Dual-Core Cortex-A9 (AP20H) @ 1 GHz
1 GHz QSD8650 65 nm Snapdragon
1 GHz MSM8655 45nm Snapdragon
1 GHz MSM8655 45nm Snapdragon
ULP GeForce
Adreno 200
Adreno 205
Adreno 205
RAM
512 MB LPDDR2
512 MB LPDDR1
768 MB LPDDR2
512 MB LPDDR2
NAND
8 GB integrated, up to 32 microSD
1 GB integrated, 8 GB microSD preinstalled
4 GB NAND with 32 GB microSD Class 4 preinstalled
4GB NAND with 16GB microSD preinstalled
Camera
8 MP with autofocus, LED flash, 1080p24 video recording, 1.3 MP front facing
8MP with dual LED Flash and 1 MP Front Facing camera
8 MP with autofocus and dual LED flash, 720p30 video recording, 1.3 MP front facing
5 MP with AF and LED flash, 720p video capture, 1.3 MP front facing
Screen
4" 800 x 480 IPS
4.3" 800 x 480 LCD-TFT
4.3" 800 x 480 LCD-TFT
4.3" 800 x 480 LCD-TFT
Removable 5.6 Whr
Removable 5.5 Whr
Removable 5.18 Whr
Removeable 5.6 Whr
Fast forward to two weeks ago, when I received this LG Revolution on my doorstep. The box was similar to the Thunderbolt and relatively unassuming (from the outside at least; the flame red treatment on the inside was only slightly less subtle), as is the phone itself. It's a little bit like the Optimus Black, actually, just a lot thicker.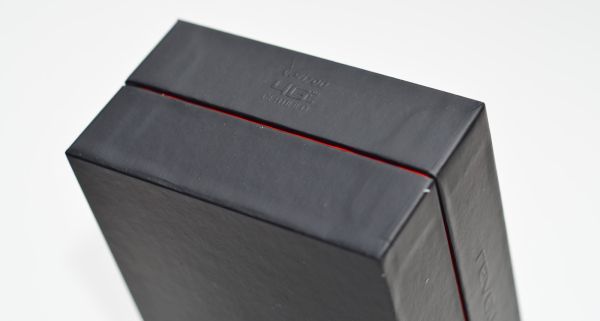 When I first took it out of the box, I texted Brian with "This seriously feels like a gaming notebook circa 2004, the ones that ran hot and were three inches thick." His response? "Yeah, that's basically a good analogy for all LTE phones right now." After years of companies going on and on about the thinnest devices they can make, this is different. As with the Thunderbolt and original EVO 4G, the Revolution is a big F U to the supermodel-thin iPhone 4's and Galaxy S II's of the world.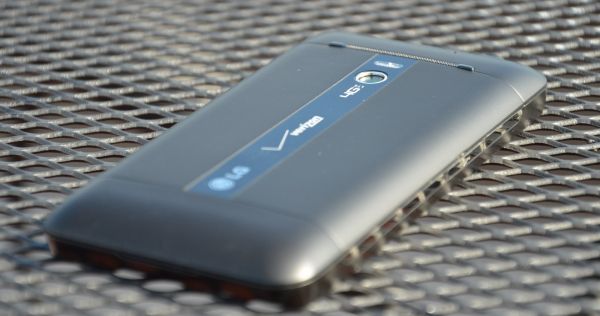 Other than thickness, it's very similarly sized to the other 4.3" phones on the market, so it's not a big adjustment to make. When it's in your pocket, you really don't notice, and for girls that toss their phones into a purse, it probably doesn't really matter either. It feels very substantial in-hand, and you can feel all 172 grams when you pick it up. But it's not uncomfortably large or heavy, it's just bigger and heavier than you expect. The extra transceiver and antenna hardware has everything to do with that size, but it's still a chunky device.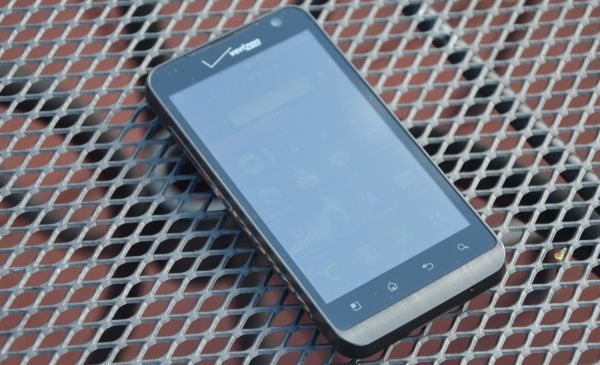 From the front, the Revolution looks similar to the other recent LG smartphones, namely the Optimus 2X and the Optimus Black. The screen panel is very slightly recessed into the front face, by roughly 0.1 or 0.3 millimeters, and houses the capacitive buttons and a front facing camera above the screen. The construction is entirely plastic, but the thin bezel has a brushed metal facade. For the life of me, I can't comprehend why companies do this - why put a fake metal finish on it instead of just making it out of metal? With that said, it's still a subtly attractive look.

The dark grey plastic continues through the rest of the body, separated by thin chrome bars on the side. The industrial designers would probably say they slice through the monotony of the grey, I say it just looks a bit tacky. The chrome bars contain a covered micro-USB port on the left side, and volume buttons and a covered micro-HDMI port on the right.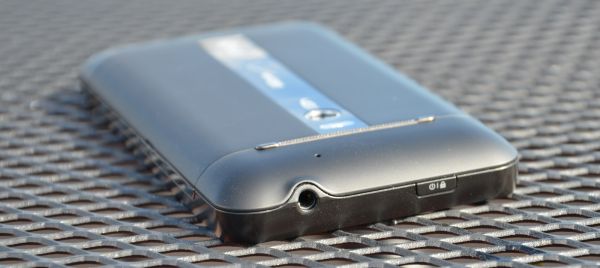 The top of the device has a small lock/power button and the headphone jack, right where God intended them to be (this is a huge peeve of mine with the HD7, iPod touch, and anything Samsung makes - bottom-mounted headphone jacks and side-located power buttons are stupid.)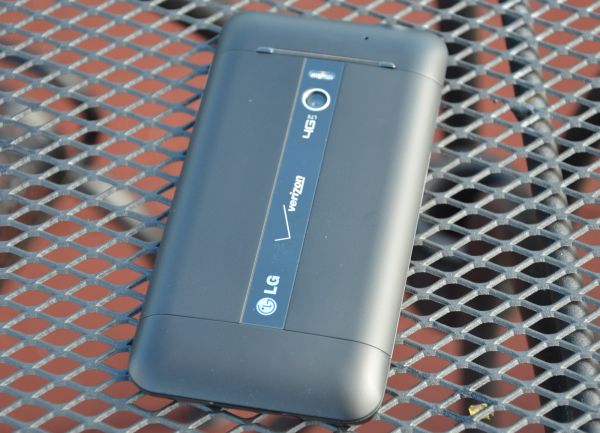 The battery cover spans the entirety of the back side. It's made of soft-touch black plastic, and has an attractive dark chrome strip going down the middle lengthwise. There are small clear windows at the top of the strip for the camera and flash, and the LG, Verizon, and LTE 4G logos below that. The speaker grille is also rendered in dark chrome. Overall, it's a very understated and classy look that is relatively different from the rest of the smartphone market. In my opinion, the back is the best looking part of the Revolution, partially because the rest of it is so generic looking.
Overall, build quality is decent. It feels well built, though the material quality and the like cannot match Apple and HTC, who have been the industrial design leaders for some time now, in my mind at least. Granted, HTC sometimes makes some questionable decisions with regards to mechanical design (I'm looking at the G2 and the Surround), but they're generally pretty good. Nothing against Samsung, LG, and Motorola, but their devices just aren't in the same league as far as aesthetics or feel. The same is true for the Revolution, but the sheer size gives it a good, weighty in-hand feel, so it was more solid feeling than I expected.
We've talked about the cellular architecture of the HTC Thunderbolt and Verizon's 4G LTE network in general, we're going to talk about the Droid Charge's and it's time now to talk about the LG Revolution's. Each phone is a bit different, but both differ significantly from the HTC Thunderbolt in that they don't offer the ability to simultaneously transact data and maintain a voice call.
For a quick refresher, the HTC Thunderbolt is based on a combination of the cellular baseband from Qualcomm's MSM8655 SoC, and MDM9600. The MSM8655 maintains 1xRTT for call processing, the MDM9600 handles both EVDO and LTE data. Things are different with both the LG Revolution and Droid Charge.
The LG Revolution (as we've already mentioned) is based on Qualcomm's MSM8655 SoC. However, in this configuration, the part handles all 3GPP2 connectivity - that means 1xRTT for voice and slow data, and EVDO for faster 3G data. 4G LTE connectivity is supplied using LG's own cellular baseband, the L2000. L2000 is also used in LG's 4G LTE modem dongle, the VL600. The combination of MSM8655 and L2000 means that the LG Revolution supports simultaneous voice and data only when connected to 4G LTE.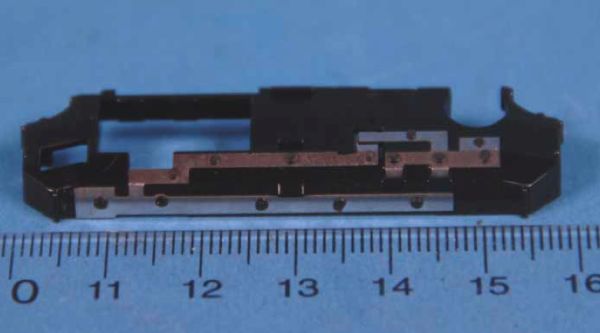 There's not much to say about the L2000 quite honestly. Like both the Samsung CMC220 in the Droid Charge and the Qualcomm MDM9600 in the Thunderbolt, it is a category 3 modem, meaning it supports the exact same maximum throughput rates and should offer very similar performance. All three modems are only provisioned and certified for Verizon's LTE band 13 in each handset as well. Again same as the Thunderbolt, the LG Revolution has two Rx antennas for Rx diversity, and one Tx antenna.
Verizon famously showed off the LG Revolution on stage doing a voice call over Verizon 4G LTE. Unfortunately that functionality is disabled in this final version, as it is on every 4G LTE device we've tested. It's in the FCC certification documents, and without an amendment will likely remain off until the next 3GPP release when voice comes back around.
The interesting thing about the LG Revolution is that it actually already has been through the FCC once, then went through a second time for a class 2 change. This change added power reduction management for supporting simultaneous voice, LTE data, and WiFi modes. Anytime the hotspot is active, power reduction is applied to either voice or the LTE data session until the hotspot is deactivated. Like we discussed with the Thunderbolt, these changes were put in place to prevent the handset from exceeding SAR requirements. The interesting additional note is that the LG Revolution appears to have undergone a slight board rework and received a different antenna between FCC visits. Either way, the final shipping device properly implements all the requisite power reduction schemes for simultaneous operation of all the relevant radios.
As we'll show shortly, the L2000 seems to be pretty light on power consumption, putting the LG Revolution at the front of the pack in our battery life suite. Vivek did his testing in the Seattle, WA area, while all of my testing has so far been done in Phoenix, AZ or Newport, CA, but at this stage in the game every Verizon 4G LTE market is running on the same 10 MHz FDD of LTE Band 13, and we've been careful to keep receive power about the same. Remember again that the only part of the LTE cellular architecture that has a power control loop is from handset to tower, and our tests consist of loading many webpages, which ends up consisting of much more data heading from the tower to the handset than the other way around.
Regardless, the important takeaway is that we're confident we have comparable battery life numbers, and interestingly enough the LG Revolution comes out on top. That said, the difference ends up being a whole 40 minutes, plus or minus our margin of error. If you're looking for super long battery life, basically none of the 4G LTE phones are going to cut it right now.
The LG Revolution allows one to force 1x/EVDO, or 1x/EVDO + LTE, but not manually force LTE-only data connectivity plus 1x voice. The former gets you better battery life by only using the baseband on the MSM8655, the latter gets you 4G LTE in addition by using L2000. You can decide to make that tradeoff however.
The best way to describe my reaction to LTE is this. Replace "Sparta" with LTE, and Gerard Butler's face with a Verizon logo, and you have the right idea.
It was madness, really. The Revolution arrived on my doorstep the day after I moved to a new apartment, and before Comcast had a chance to give me service. As a tech writer, the prospect of not having decent internet was terrifying. Boom. 4G wireless hotspot. It was like a godsend. I didn't die from lack of broadband, Comcast came five days later, and I didn't actually notice a speed difference when I switched over. The entire time I had it, I was running speed tests over LTE, and got graphs looking like this for downstream, upstream, and latency.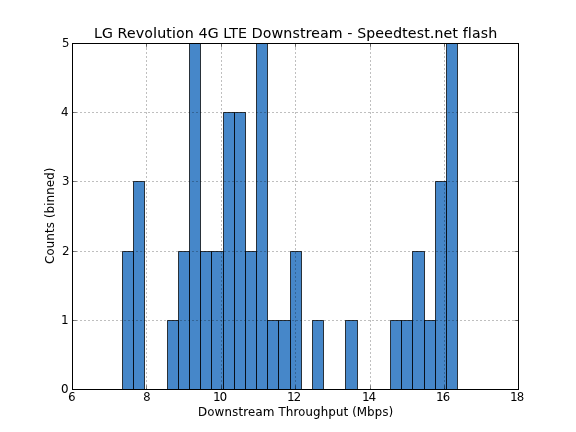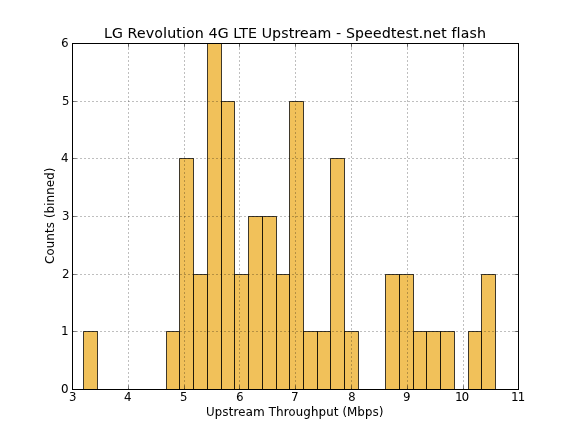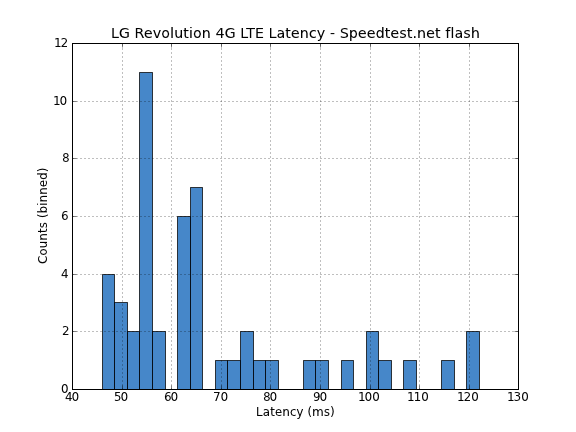 LTE is serious fast. T-Mobile, in Seattle at least, still has the fastest 3G network, but even the fastest HSPA+ networks can't match the outright speed of Verizon's LTE. In Phoenix, Brian saw LTE speeds clustered around 10 Mbps down and 2-3 Mbps up. In Seattle, I basically saw 10-12 down and 6-7 up. The closer I got to downtown, the faster speeds I saw. About a mile west of my house, I saw speeds of just under 17 Mbps down and 11 up. The downstream speed is close to matching my Comcast connection, and I'd kill for even the 6 Mbps upstream I averaged, much less the peak 10+ Mbps.
Right after we made the graphs above, I started seeing 17-18 Mbps downstream and up to 12 Mbps upstream in my apartment (which has notoriously bad signal). Blazing. Not quite "I'm standing next to the tower" level of blazing that I've seen Brian get with his LTE MiFi, but damn good for a real world speed test.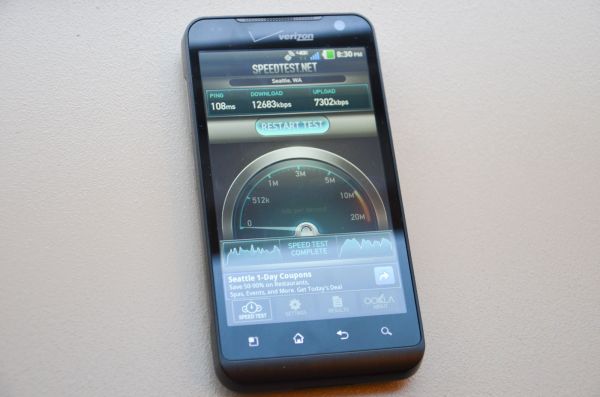 Brian said that his worst case scenario with LTE was at the high end of Verizon's EVDO, but my experience was rather different. My worst case with LTE was on the higher end of all 3G speeds; even T-Mobile's HSPA+ doesn't top 9 Mbps very often, and that's probably the fastest I've seen a 3G network go in practice.
Honestly, day to day, LTE wasn't mindblowing - with single core SoCs, you're mostly limited by how fast the pages can be rendered after maybe 8 or 10 Mbps down. I didn't notice too much of a difference between my standard 802.11n home network, Verizon's LTE, and T-Mobile's HSPA+ in smartphone browsing. Where it really makes a difference is in hotspot mode.
As far as signal strength goes, the antenna diversity means that you see roughly similar signal attenuation numbers to the Thunderbolt. The numbers were slightly worse than the TB, but much better than the rest of the smartphone class.
Signal Attenuation Comparison in dB - Lower is Better
Cupping Tightly
Holding Naturally
Holding in Case
On an Open Palm
LG Revolution - LTE
7.0
4.4
-
5.4
HTC Thunderbolt - LTE
5.3
2.5
-
4.4
HTC Thunderbolt - EVDO
6.5
0.8
-
7.2
Verizon iPhone 4
16.5
15.5
9.0
7.9
LG Optimus 2X
13.7
9.3
-
5.9
Nexus S
13.3
6.1
-
4.3
Droid 2
11.5
5.1
-
4.5
BlackBerry Torch
15.9
7.1
-
3.7
Dell Streak
14.0
8.7
-
4.0
Droid X
15.0
5.1
-
4.5
AT&T iPhone 4
24.6
19.8
7.2
9.2
iPhone 3GS
14.3
1.9
3.2
0.2
HTC Nexus One
17.7
10.7
7.7
6.7

Like I mentioned earlier, I used the Revolution for the better part of a week as my primary source of internet, and it came through with flying colours. It handled streaming HD video, large-scale file downloads, combinations of the two, and anything else I threw at it with ease. I'm not much of an online gamer, so I didn't try Starcraft II or CS:S like Brian did, but as he showed, it's definitely possible. The latency, while not as good as a 802.11 or direct LAN connection, is still well under 100 ms, so it's never an issue. From a speed perspective, LTE is fantastic, the kind of thing that changes how we use mobile broadband. But when you take power consumption into account, some serious concerns emerge.
LTE battery life, like we saw in the Thunderbolt, is not so hot. It's better than the TB, partially because the battery is slightly larger (5.6 Wh versus 5.18 Wh in the TB, so about 8% difference). The rest of the difference can be put down to the other main components at work here - the L2000 modem and the screen. Using the Revolution as an LTE hotspot is again a bit better than the Thunderbolt, suggesting that most of the difference is in the modem.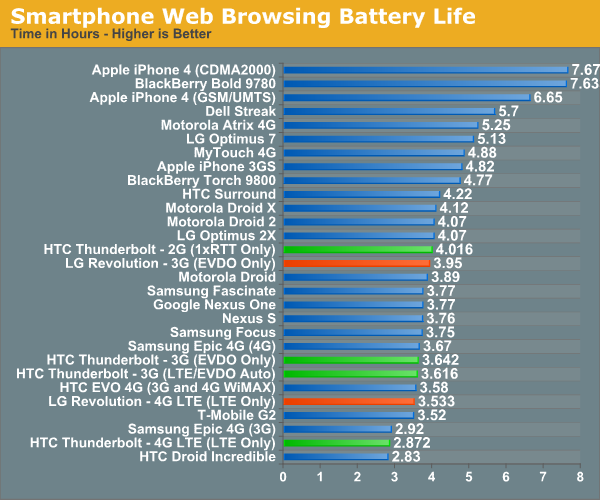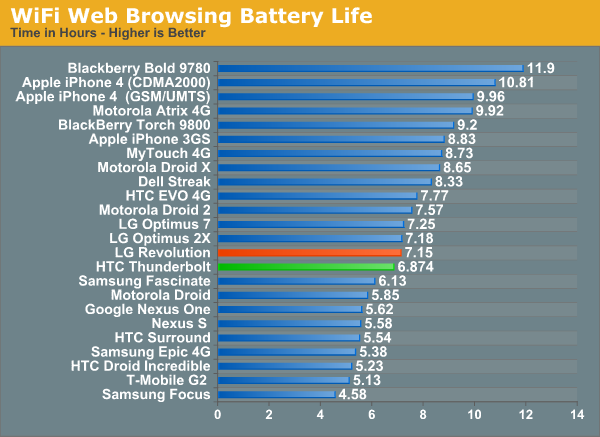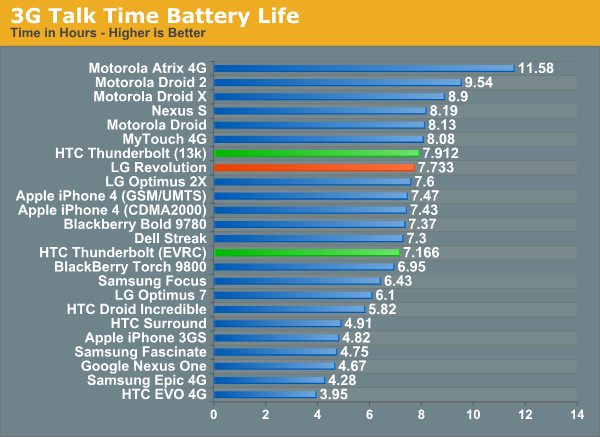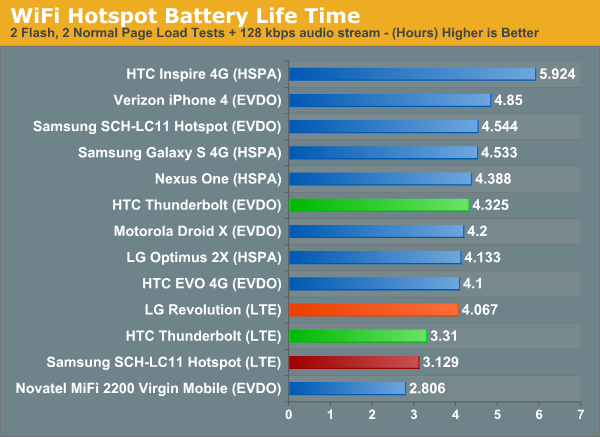 Even though it's better, that's still not saying very much. It's very much in the bottom 10-20% in our benchmarks for battery life under LTE, and while the picture gets better under EVDO, it still doesn't manage to break 4 hours of web browsing life. Battery performance under WiFi is dramatically better, putting it right between the Optimus 2X and the Thunderbolt and in the same range as the rest of the 4.3" smartphone class. Same goes for talk time, since Verizon is still only using CDMA2000 for voice calls.
But let's go back to LTE for a moment. Here's the problem with all of the real 4G devices (LTE and WiMAX only, HSPA+ doesn't count here). You can't really use the 4G part of it for very long if you want your device to live through a day. Where that becomes compounded is that with the Verizon devices, there's no easy way to switch from EVDO to LTE and back. You have to actually sit through and reboot the phone if you want to turn LTE on or off on the LG Revolution. Sprint is much easier, there's actually a software switch to turn WiMAX on or off, similar to GPS or WiFi on most normal Android phones. It's a big problem for Verizon, one that I suspect won't get solved until the LTE modem gets integrated onto the SoC. Qualcomm has one such SoC in the pipeline, the MSM8960, which is built around an entirely new architecture, krait (as opposed to scorpion), and has an LTE modem onboard in addition to all the usual cellular accouterments from 3GPP and 3GPP2. That's one I'm really looking forward to, but until then, I suspect it's going to be tough to get an LTE device through a full day on a single charge without an extended battery.
The Revolution is powered by Qualcomm's Snapdragon MSM8655 SoC. As such, it performs very similarly to the Thunderbolt and everything else running the 2nd generation Snapdragon chips.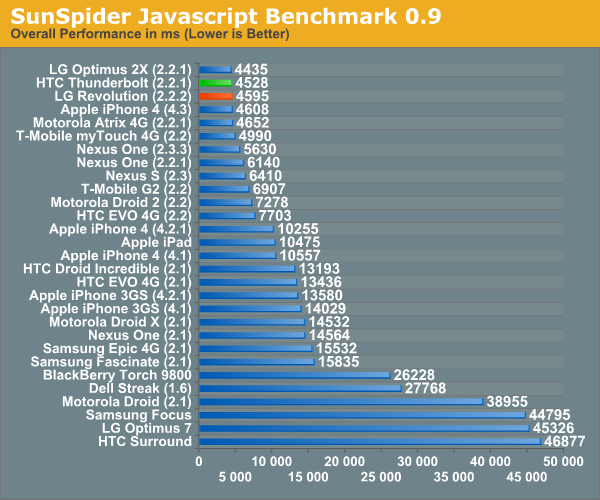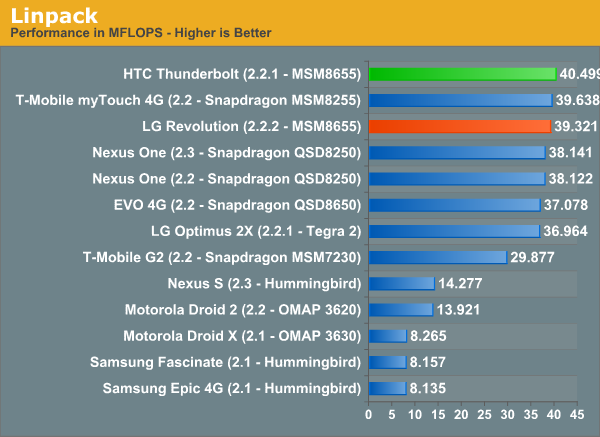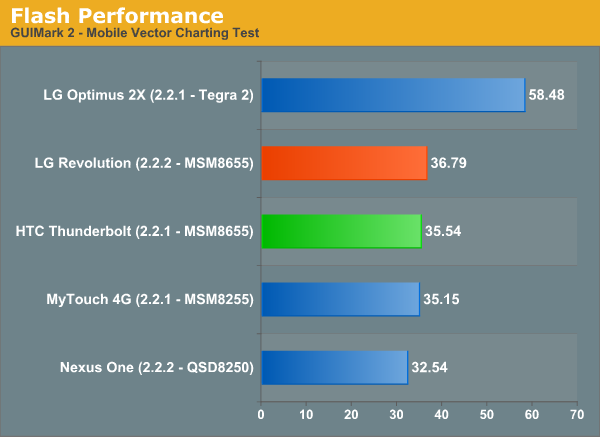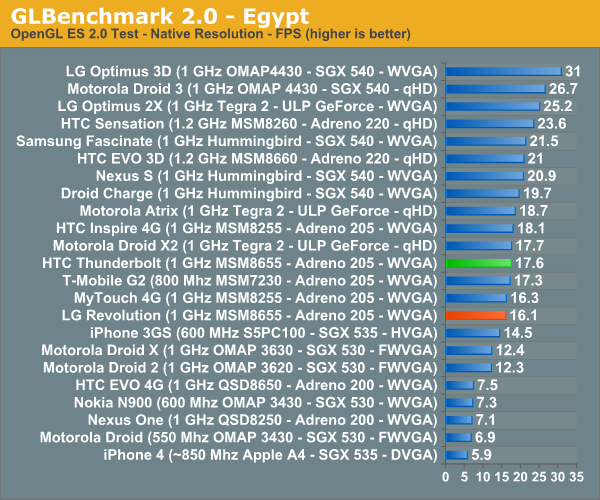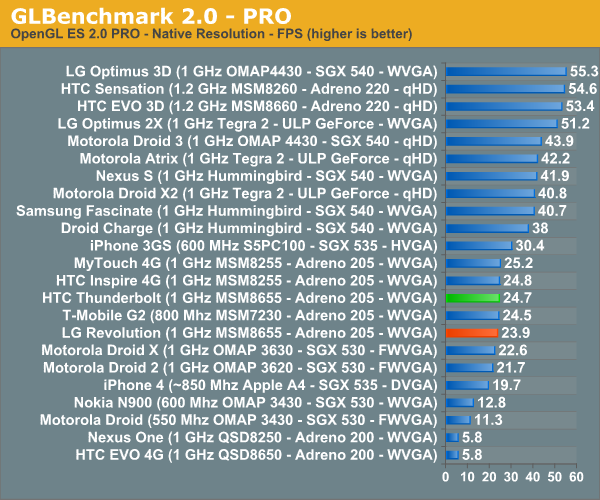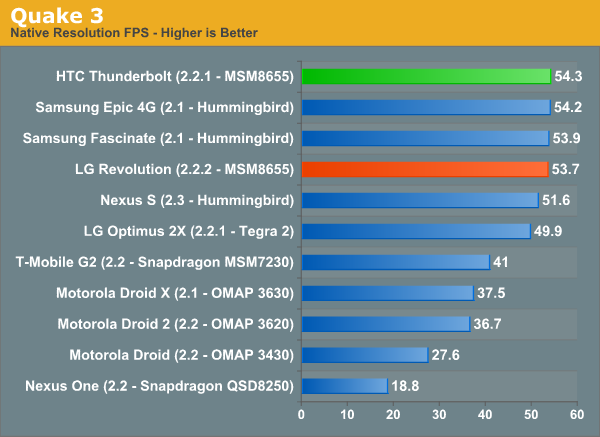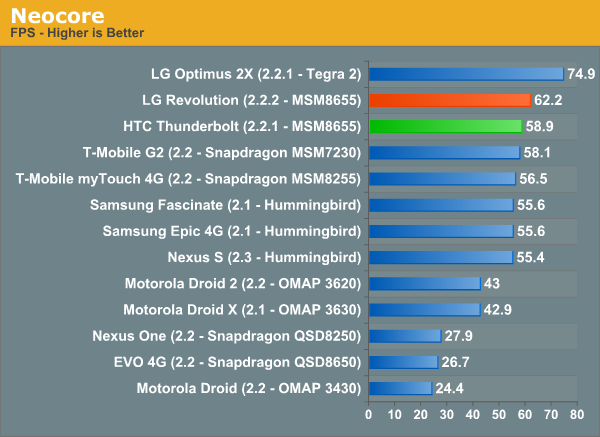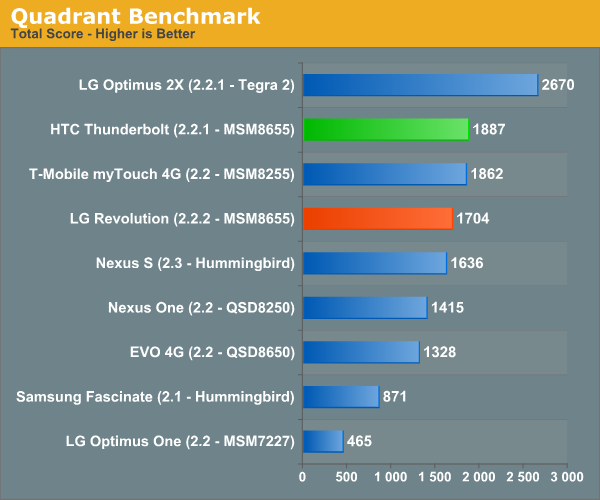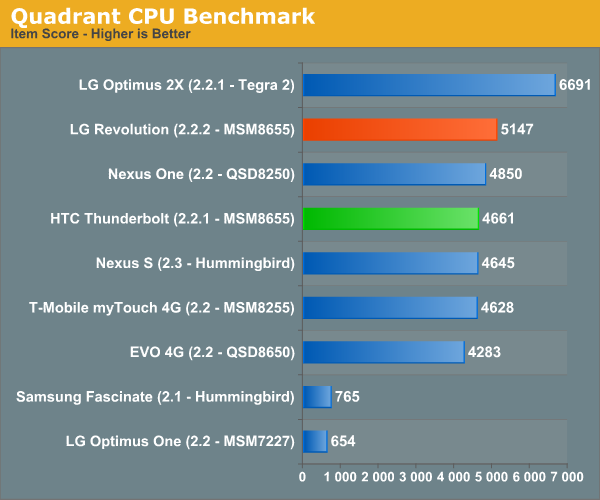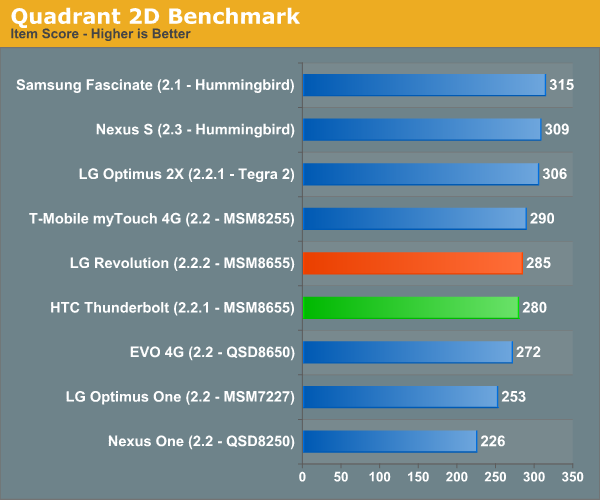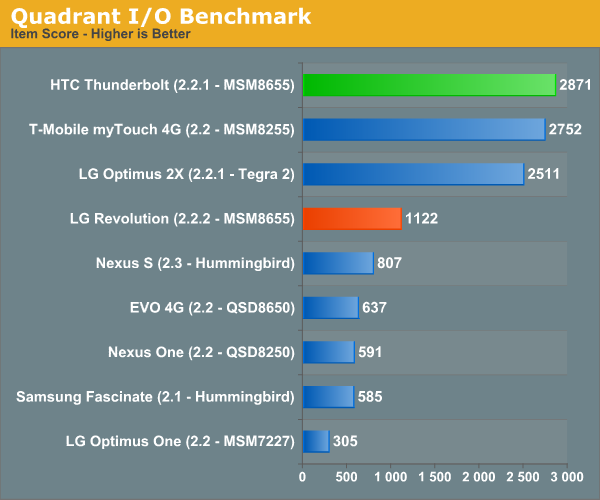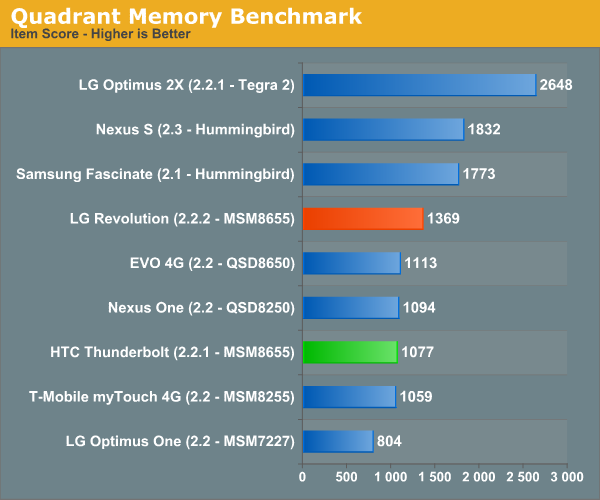 There's not too much to say here, but I will mention that there was a bit of lag, just in UI animations and the like. That kind of choppiness is pretty common in single-core Froyo devices, including the Thunderbolt and the rest of the HTC family. Gingerbread and a dual-core processor go a long way towards fixing that, but it isn't a huge problem.
LG specced the Revolution with a 4.3" WVGA display. It's a vanilla LCD panel, and doesn't hit any of the popular trends - IPS, qHD resolution, AMOLED, etc. So we didn't expect it to be all that impressive.
By the numbers, it's actually pretty solid. The 892:1 contrast ratio is quite good for a regular LCD panel, and the max brightness of 500 nits is one of the highest we've seen on an Android device. The viewing angles are decent, and in day to day use, the screen fares well.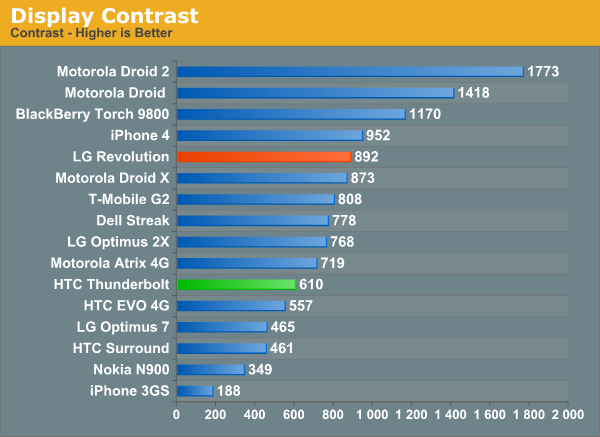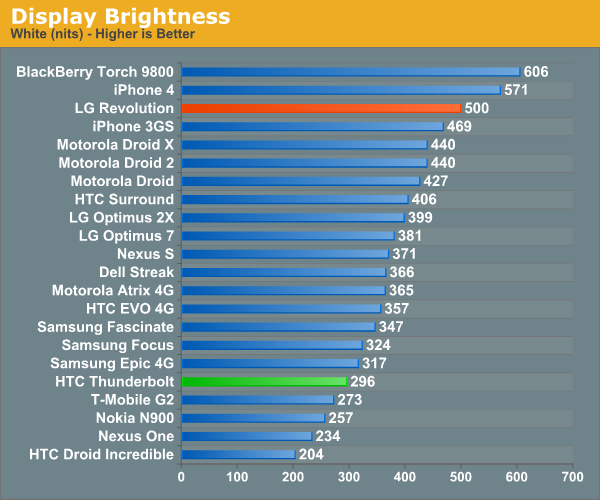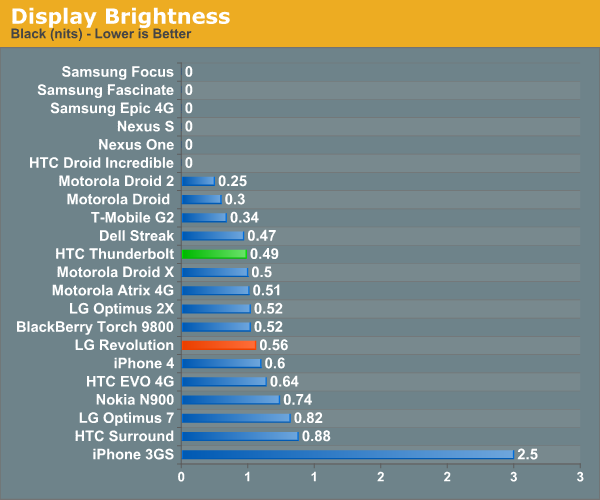 My only real complaint with the screen itself is that the top-mounted backlight tends to bleed slightly and at the right angle, you can basically see the backlight. For example, when I'm at my desk and looking down at the phone. This is less a functionality problem and more a pet peeve, but it's worth mentioning.
The bigger problem with the Revolution's screen (and this goes for the Thunderbolt as well) is that for a headline, flagship device, a very standard 4.3" WVGA LCD, while competent, isn't good enough. I'd really like to see a higher spec display like what the Droid Bionic (qHD) and Droid Charge (SAMOLED+) have.
The Revolution has a 5 megapixel shooter with an LED flash and a VGA front facing camera. Even if the megapixel count is a bit lower than the other high end phones, it doesn't affect image quality. I think after 5MP, megapixel count is basically superfluous. A vast majority of cell phone pictures end up compressed to web resolution on Facebook or Twitter anyways, so the sheer number of pixels is less relevant than the optics and CMOS sensor. LG has a great camera application, probably one of the most full featured and best laid-out apps. Brian went into it pretty in depth in his Optimus 2X review, so I'm not going to cover it again beyond directing you to his writeup.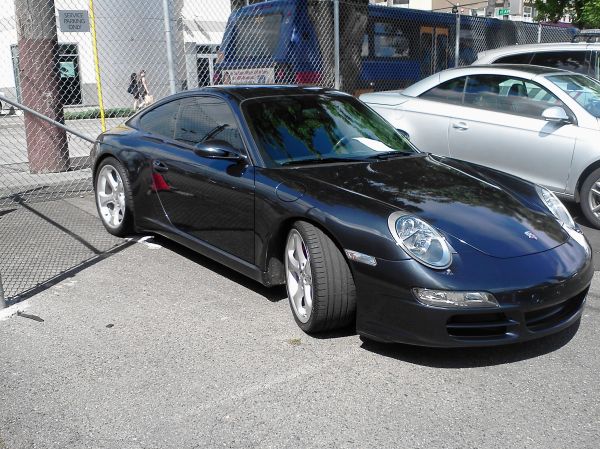 The Revolution camera performs pretty well. The images are very clear, not a lot of noise, and lots of detail. The only thing is that in the sun, the images are a bit undersaturated, which you can see in the picture of the Porsche above. Low light performance is pretty sweet, due to the awesome LED flash. It can be overpowering at times, but in complete darkness, it's great. Take a look at this picture of my desk, taken with and without flash. Literally, night and day. The other nice thing about the flash is that it stays on while focusing, something that most other phones don't do.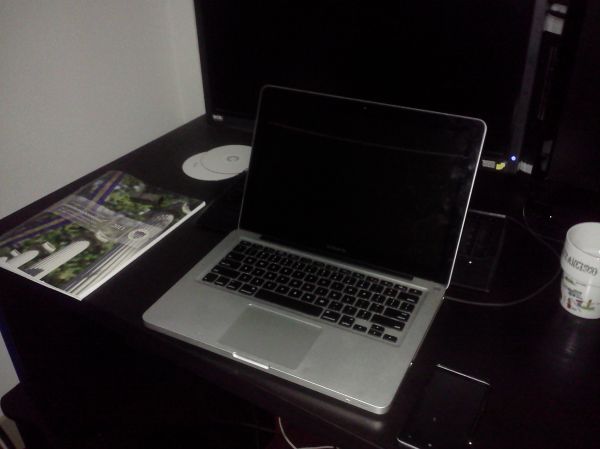 Flash On. Flash Off. I wasn't kidding when I said night and day difference.
The front facing camera is decent, but nothing too special. This is my attempt at a humorous expression, but I can't match Anand's Crazy Face.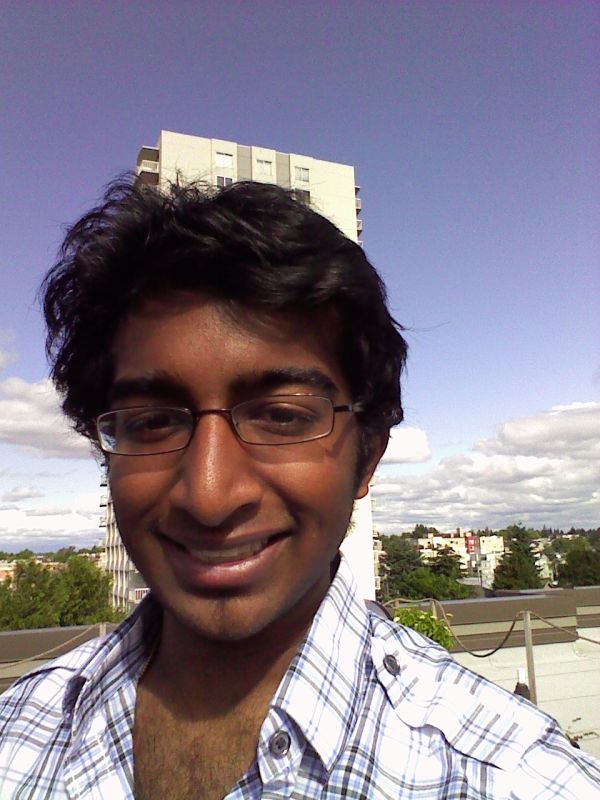 The 30 fps 720p video is recorded as a 3GP file, and it uses the AVC video codec and the AMR-Narrowband audio codec. I saw recorded bitrates in the range of 230-250 Kbps for video and 12.8 Kbps for audio. The recording comes out pretty decent, though the sound quality isn't great. I was recording on a slightly windy day, which definitely didn't help, but I suspect that AMR-NB is the main culprit. Single channel AAC would definitely be better, as in the Thunderbolt. But the overall video quality is good enough for posting on the web, so the audio performance isn't too much of a liability.
AnandTech - LG Revolution Video Sample from Vivek Gowri on Vimeo.
The Revolution, like the Thunderbolt and Optimus 2X, is still running Froyo, specifically Android 2.2.2. It's skinned, and has much the same UI as the Optimus 2X. I'm a huge proponent of manufacturers using the stock Android UI, but unfortunately, nobody seems to use it anymore other than T-Mobile and Google.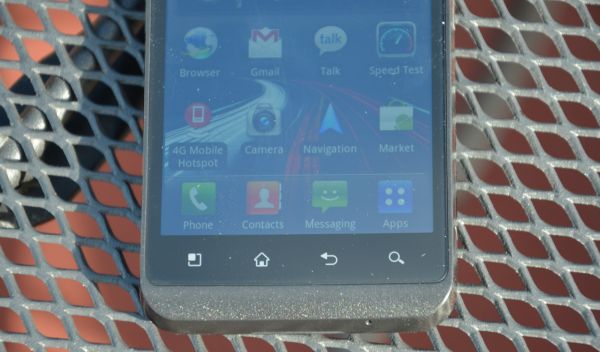 Brian covered this in depth in his Optimus 2X review, and almost all of it is true for the Revolution as well. I really didn't like the fixed dock options at the bottom of the homescreen, as well as the separate category for downloaded apps. The latter makes absolutely no sense to me, and it ends up being annoying every time you want to open an app you downloaded.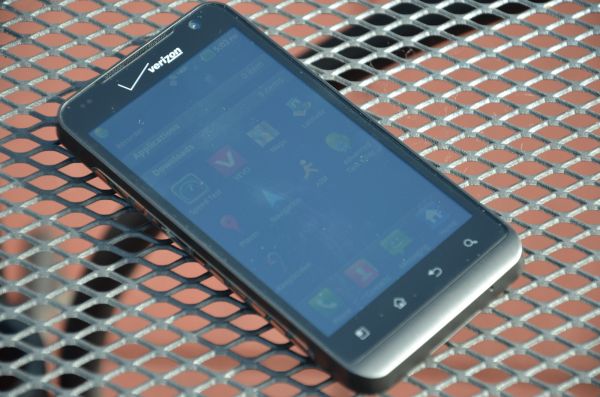 The other thing that is pretty annoying to me is that the fonts in the phone and messaging apps are huge, resulting in a lot of wasted space that could be better utilized. It's not just LG that does this, Samsung has some similar issues as well with TouchWiz, and it makes me wonder why manufacturers feel the need to mess with the standard Android UI. The reason all the manufacturers give is so that they can be unique, but other than HTC's Sense, I haven't really used a UI overlay that actually makes Android a better operating system. Is uniqueness really more important than competence? Apparently so...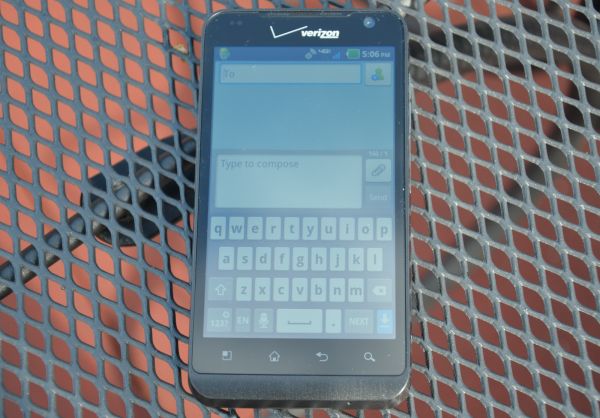 At the same time, I'd like to register my astonishment that flagship level Android devices are still releasing with Froyo, 7 months after Gingerbread went public. None of the three currently-for-sale Verizon LTE devices have Gingerbread yet, and given that the Motorola Droid X2 released with Froyo, even the forthcoming Droid Bionic might as well. Come on guys, we're supposed to get Android 4.0 in a few months, get it in gear.
LG has a bunch of preloaded software on here, including Polaris Office, Kindle, Blockbuster, Bitpop, Let's Golf 2, Rhapsody, Rockband, Slacker, TuneWiki, special LG versions of Facebook and Twitter, Verizon's Mobile IM client for AIM, Yahoo, and WLM, a host of Verizon and VCAST services, and a few of LG's own applications for Weather and Finance. But by far, the headline application here is Netflix.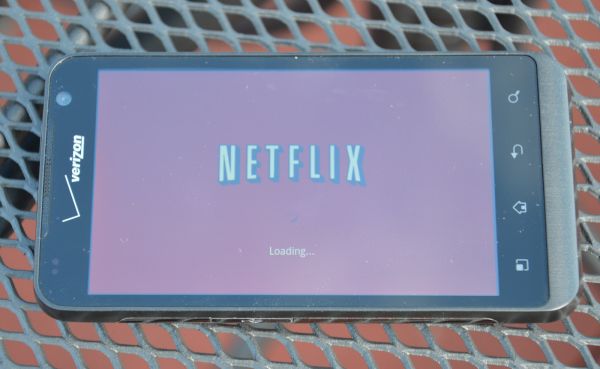 The Revolution is one of seven phones that support Netflix, the others being the Motorola Droid and Droid X, HTC Incredible, Nexus One, Nexus S, G2, and Casio's G'xOne Commando (a semi-rugged Verizon phone in the vein of the Motorola Defy). Considering that lack of Netflix support is a commonly cited fault with Android, it's a relatively big deal.
The Netflix app itself is decent, though I do like the user interface of the iOS and Windows Phone 7 apps better. They're just cleaner and more elegant to use, but the core functionality is the same, and video looks great on the Revolution. LTE is a perfect match for streaming video, the increased bandwidth means you never see slowdowns. Granted, streaming Netflix on the go basically flies in the face of bandwidth caps that carriers are enforcing, but it works rather well if you want to do it.
I noticed a little bit of the instability that Brian saw in the Optimus 2X, but it looks like LG has fixed a vast majority of it. I never had issues with the messaging or phone apps, but I had a couple of browser crashes during battery life runs, and maybe one or two isolated crashes deep in the settings and testing menus. Overall though, it was pretty stable.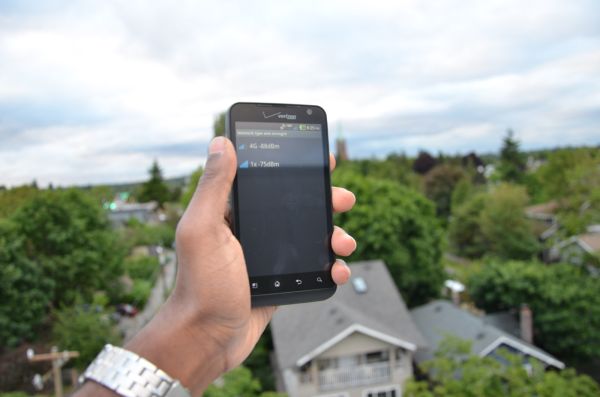 There's two parts to this conclusion. One is on the LG Revolution, and the other is with LTE in phones. I'll start with the latter first, since LTE is a biiiiig deal. The last time I had a Verizon device for a review, I couldn't stand EVDO, and if I remember right, I said Verizon couldn't get LTE rolled out fast enough.
LTE is an order of magnitude faster than EVDO, which is kind of insane if you stand back and think about it. We don't see jumps like that in technology anymore. If you do a lot of downloading, streaming, and anything else that depends heavily on network throughput, LTE is basically like a godsend.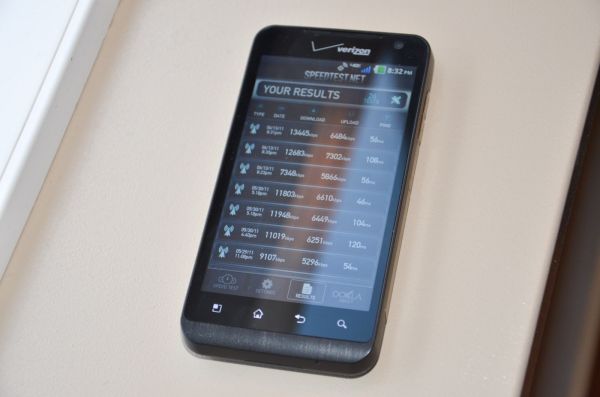 But there are definitely some tradeoffs. The additional thickness and weight are not dealbreakers, since the Thunderbolt and Revolution are definitely very pocketable and don't feel too different in daily use when compared to thinner 4.3" devices. The real issue here is power consumption, and as an extension, battery life. I know that for my usage model, I absolutely cannot live with any of the LTE devices right now, just because I can't get it through a full day, and I'm rarely sitting in one place long enough to charge it. Deal breaker to me, but if you're at an office and can charge during the workday, it could work for you.
But once the LTE modem is integrated into the SoC, a la Snapdragon 8960, that issue will take care of itself, and when that day comes, I'll be on the LTE bandwagon 100%. Until that time, count me as a very impressed spectator.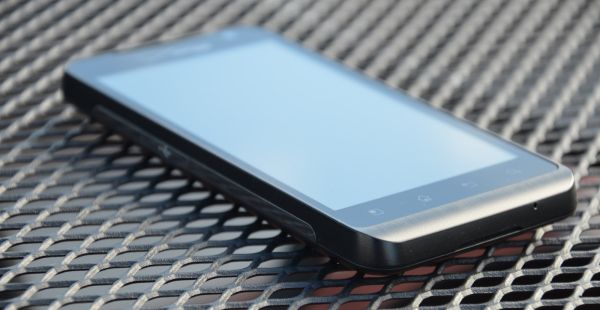 The Revolution itself, I'm less enthusiastic about. I liked the Thunderbolt better from a hardware standpoint, it feels like LG is about a generation behind as far as device iteration goes. It's a decent device, there's no question about that, but compared to the Thunderbolt and Droid Charge, it doesn't really stand out. The Charge has SAMOLED+ and is thinner than the other LTE handsets, while the Thunderbolt has a better skin and better build quality. The only thing that the Revolution has going for it from a feature standpoint is Netflix, which is a bit thin, but there's not much differentiation otherwise. The battery life and performance are both basically level between all of the three, so it comes down to how important build quality, form factor, and screen quality are. The Revolution is a very competent phone, but it feels very middle of the road. If I was in for an LTE device right now, I'd wait and pick up a Droid Bionic. The dual-core processor and qHD screen give it the bleeding edge level specs to go with the LTE modem.