Original Link: http://www.anandtech.com/show/4448/amd-llano-desktop-performance-preview


If you haven't gotten the hint, today is all about Llano. The big story is of course Llano's notebook appearance; however, in the coming weeks you'll be hearing a lot more about Llano on the desktop as well. This is AMD's Socket-FM1, the brand new socket that'll be used for desktop Llano parts: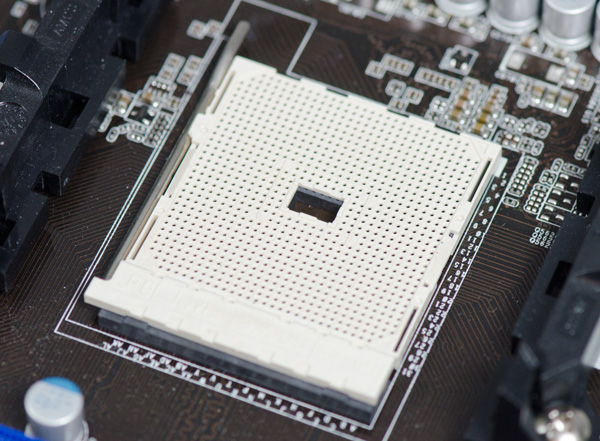 If you read our Computex coverage, the socket should look pretty familiar. Motherboard manufacturers all over Taiwan are busy readying their Socket-FM1 boards for retail release. In fact, there was so much interest in desktop Llano on behalf of the motherboard manufacturers that a number of Socket-FM1 boards and CPUs made their way off the island as Computex ended.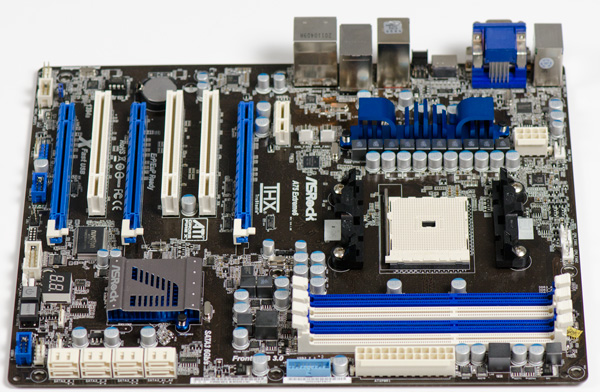 Existing Socket-AM3 coolers will work on FM1 motherboards
By now you may have already seen a lot of information leaked from AMD's Llano presentations, as well as its desktop strategy. In the past few days performance numbers have been revealed as well. While we're hard at work on our full review of AMD's desktop Llano APU, we wanted to chime in with some thoughts on Llano's desktop performance.
AMD isn't ready to disclose pricing or the entire product matrix for Llano on the desktop, but what we do have is the high-end desktop Llano SKU: AMD's A8-3850.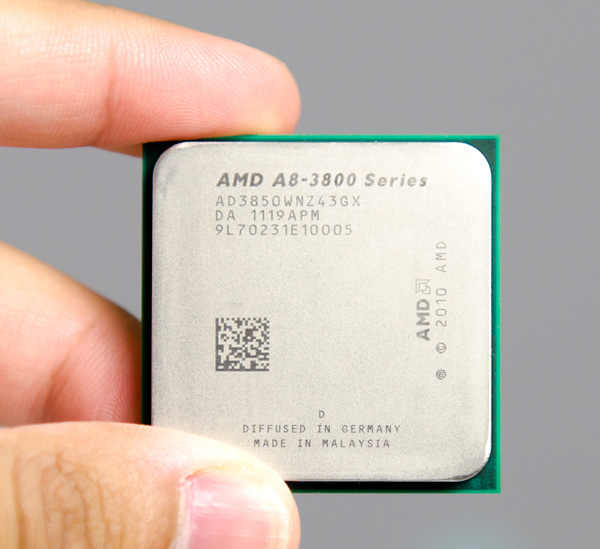 The 3850 has four cores running at 2.9GHz and doesn't support Turbo Core. On the GPU side it has the full Radeon HD 6550D configuration with 400 shader processors running at 600MHz.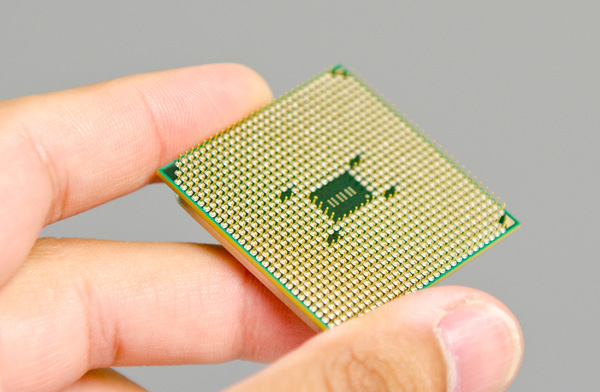 Sandy Bridge's GPU performance is the target, but how much better will AMD do on the desktop? Let's find out.
CPU Performance: Pretty Much an Athlon II X4
As we found in our look at mobile Llano, the A8 isn't impressive as a general purpose x86 microprocessor. In general the chip is somewhat faster than the Athlon II X4 635 and I'd say it performs more like a 645 based on the numbers I've seen here. Again, nothing to be impressed by but if you're building a value gaming PC it may not matter.
Note that heavily-threaded applications actually favor the A8-3850 to the Core i3 2100 (its most likely target based on pricing rumors) thanks to its four cores. They may not be as efficient as the i3's cores, but you sure do have more of them. We have been discussing this tradeoff with AMD for quite a bit over the past couple of years. You lose out on single-threaded performance but you do gain better performance in heavily-threaded workloads. I had assumed that Turbo Core would partially solve this with Llano but 2.9GHz is going to be the fastest SKU AMD offers and it doesn't ship with any turbo enabled.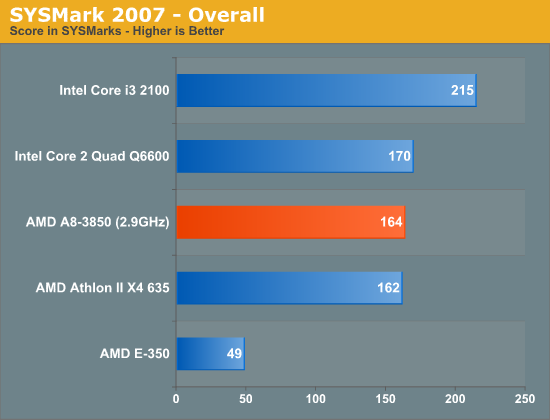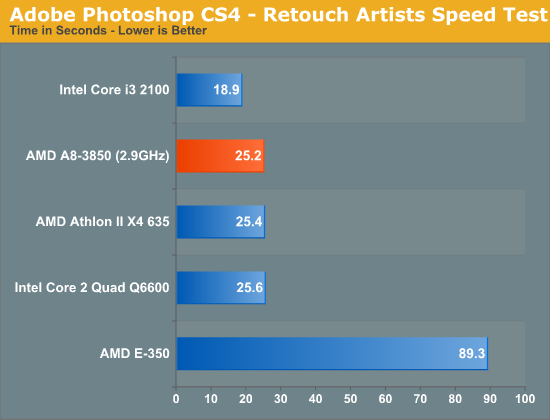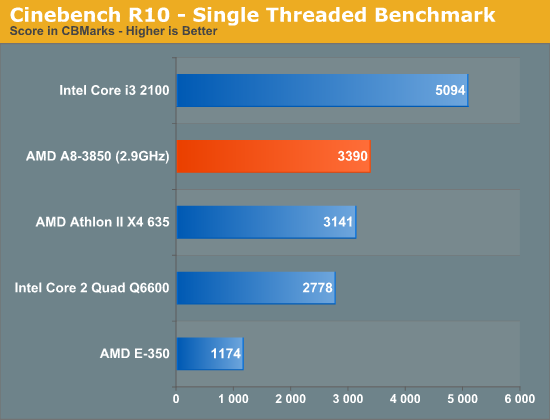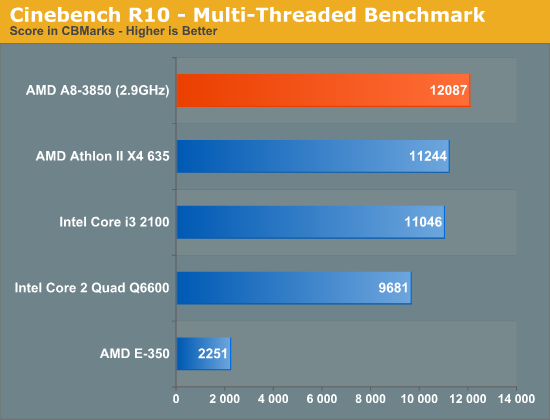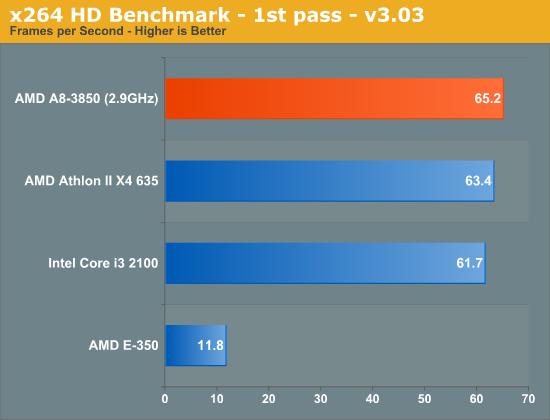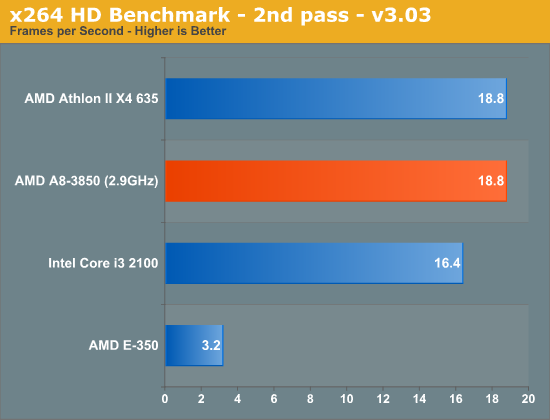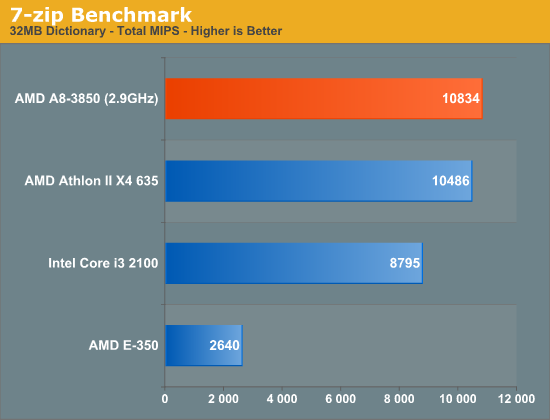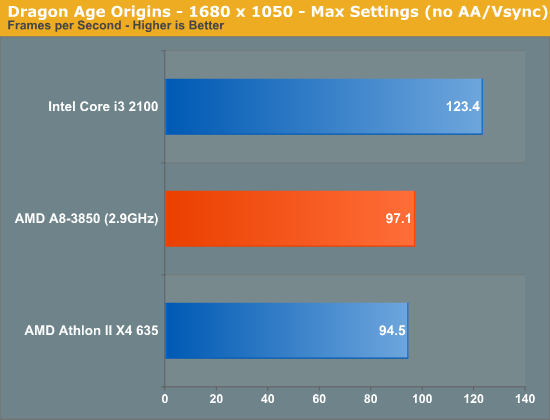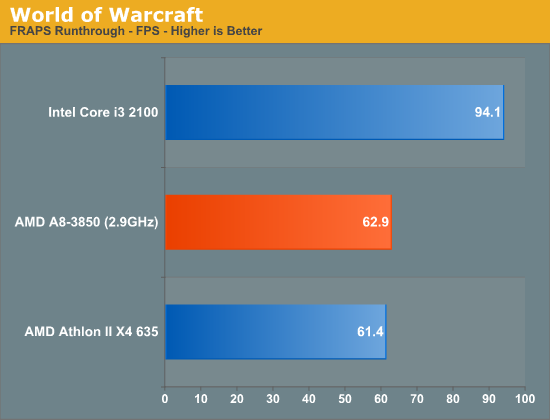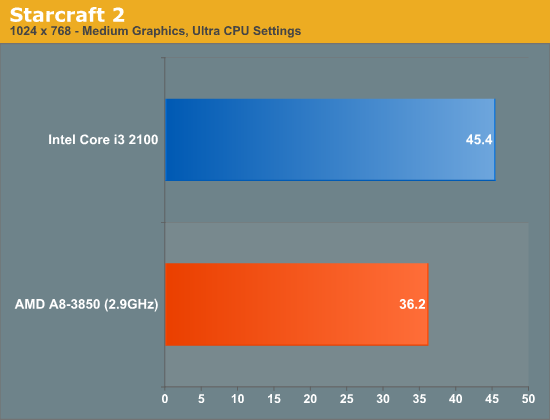 GPU Performance: Between a Radeon HD 6450 & 5570
I grabbed some of our most recent GPU testbed data for the Radeon HD 6450 and the Radeon HD 5570, the latter of which is architecturally most similar to the Sumo GPU in the A8-3850. If you're wondering how much sharing memory bandwidth between the GPU and four CPU cores impacts performance, it's pretty significant. The HD 6450 only has 160 cores compared to 400 on the 6550D, while the 5570 has 400 cores running at 750MHz.
Note that these scores are taken with DDR3-1333, however if we push the memory bus all the way to its limit on desktop (DDR3-1866) you end up with performance that's somewhere between a 6450 and a 5570. AMD's branding makes sense in this case (6550D).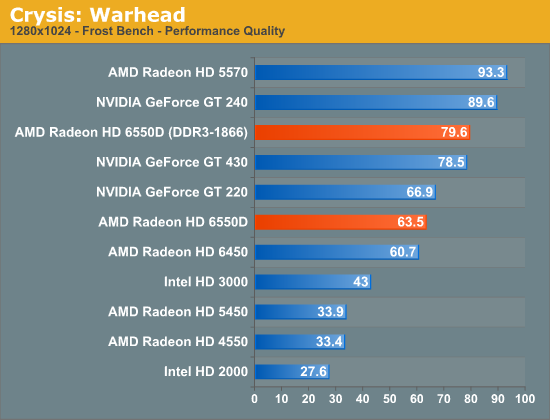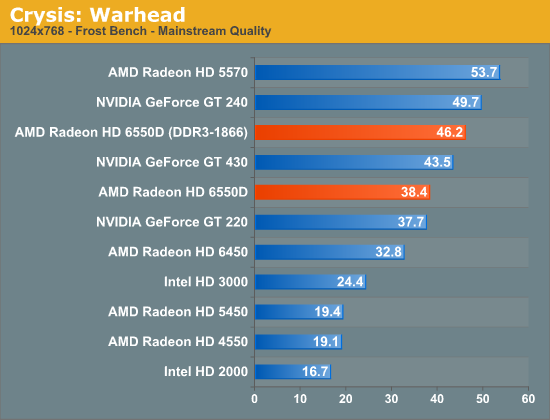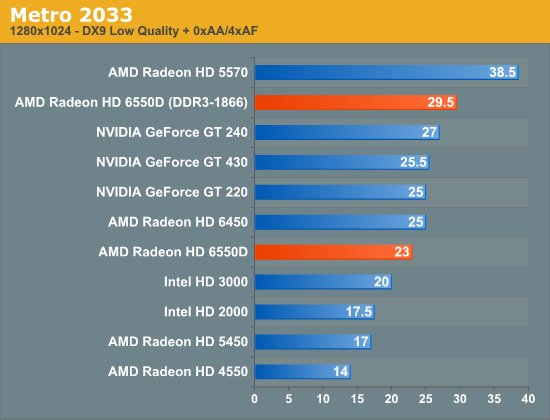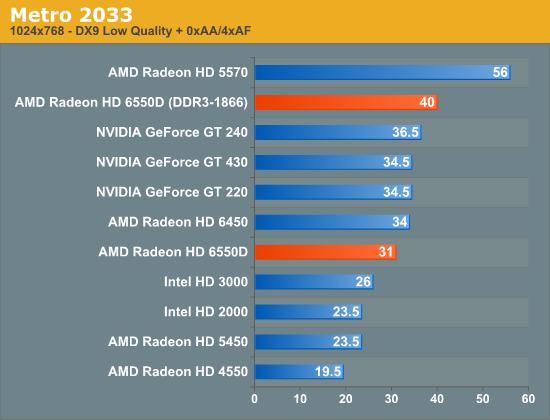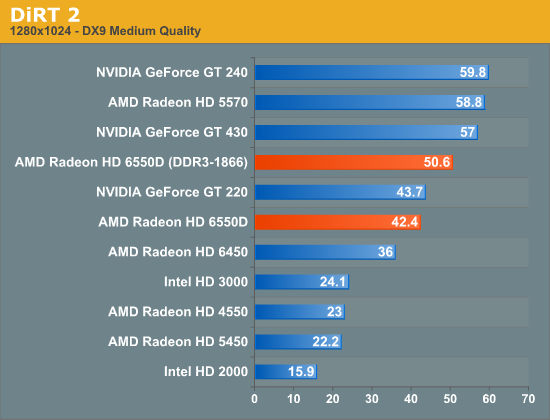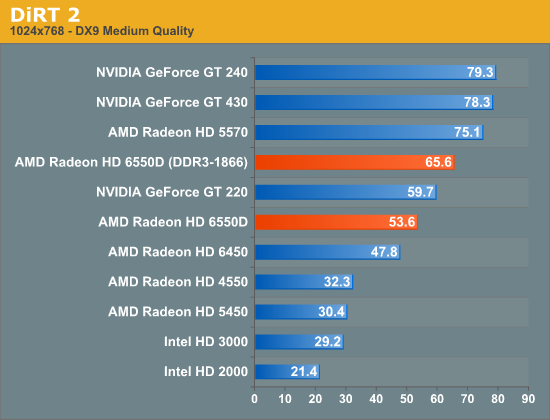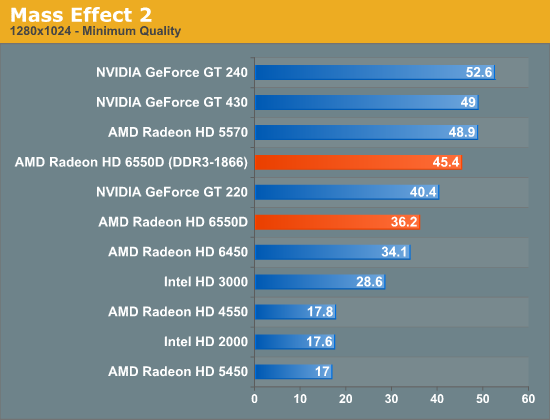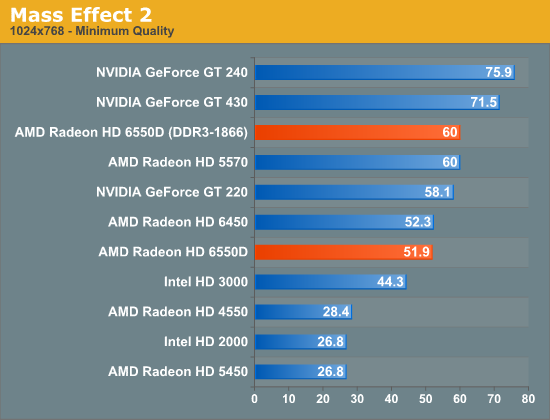 Overall the Radeon HD 6550D in AMD's A8-3850 APU performs a lot like a discrete Radeon HD 6450 card. For a GPU that ships integrated with all high-end A8 APUs, I really can't complain. The real question is how does it stack up when compared directly to Sandy Bridge, which brings us to our next page...
Llano vs. Sandy Bridge: Finally, Acceptable Processor Graphics
On average the A8-3850 is 58% faster than the Core i5 2500K. If we look at peak performance in games like Modern Warfare 2, Llano delivers over twice the frame rate of Sandy Bridge. This is what processor graphics should look like. While I believe Sandy Bridge was a good start for integrated GPU performance, Llano is my ideal for 2011. Update: We've added results from the latest 2372 driver for the 2500K. Most performance results remain unchanged however a few problematic areas for Sandy Bridge have been addressed as a result. Llano still maintains a significant performance in the majority of cases.
Games that are more CPU bound however do show Llano's weakness. Both Dragon Age and Starcraft II have Sandy Bridge either outperforming or coming very close to Llano in frame rates. Those are most definitely the exception rather than the rule however; for the most part AMD is able to deliver entry-level discrete GPU performance with Llano.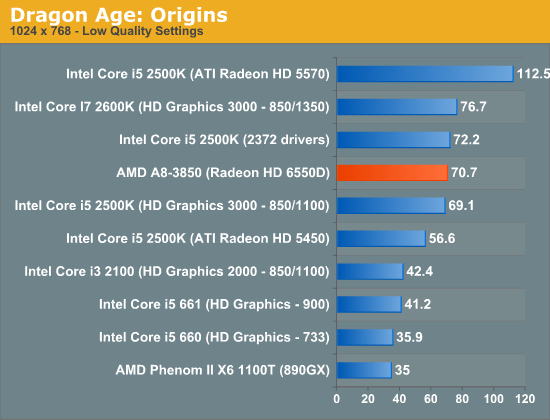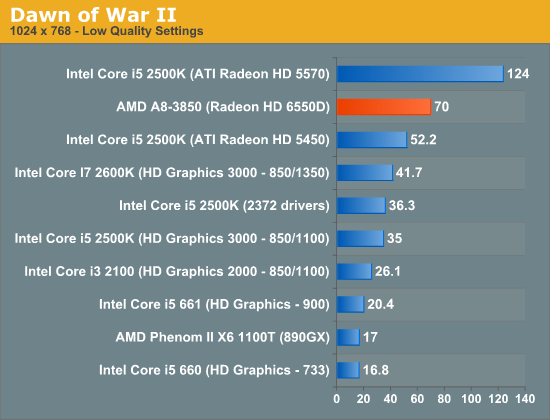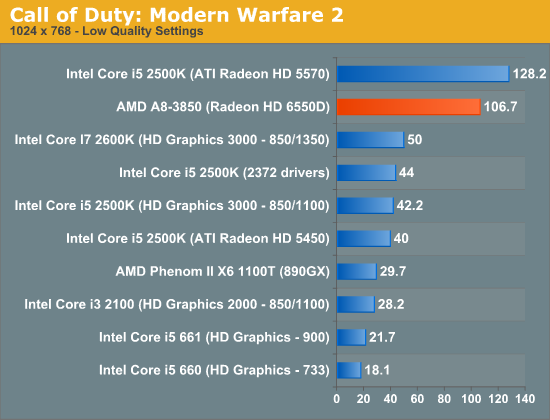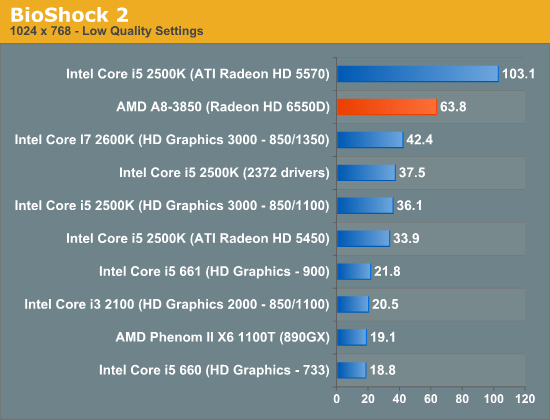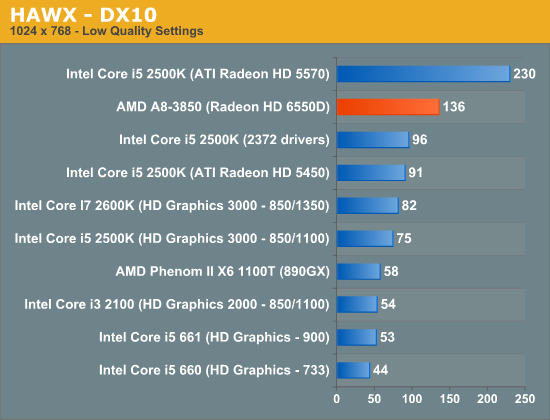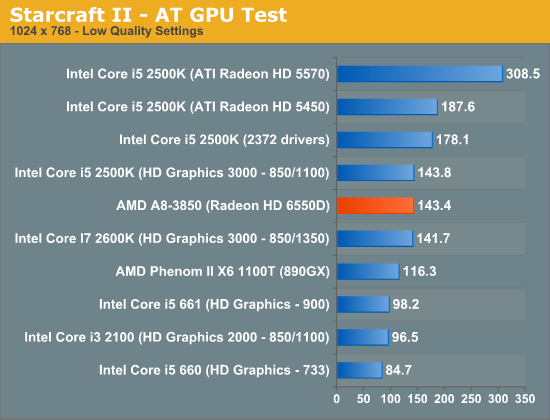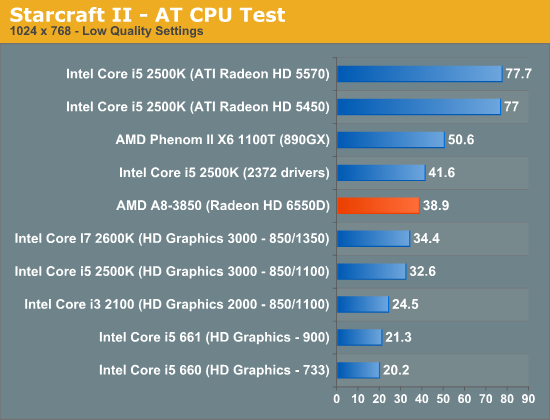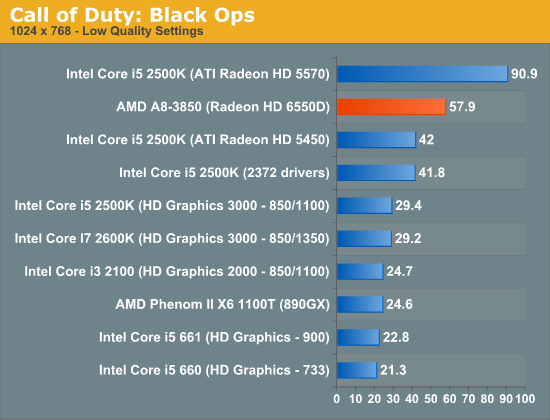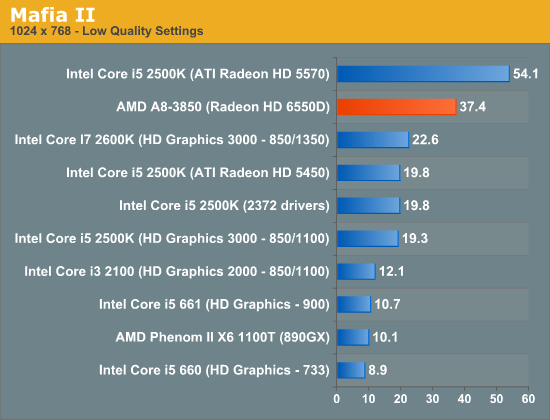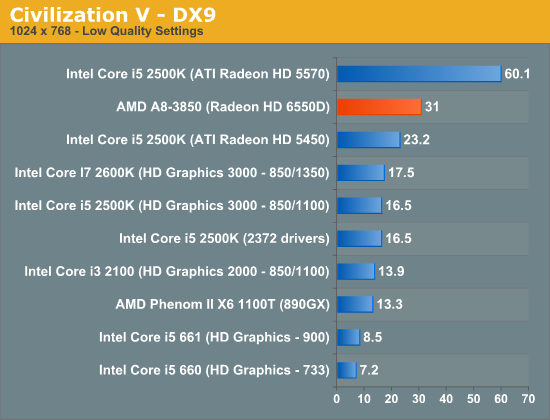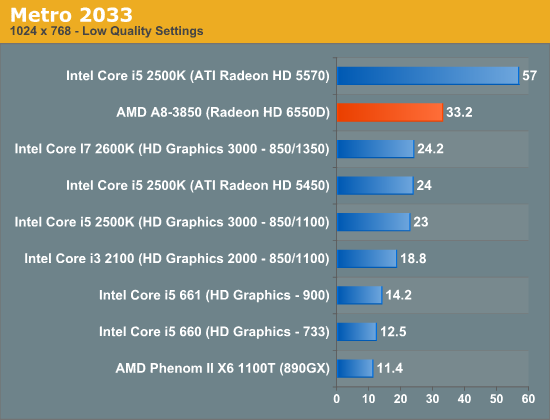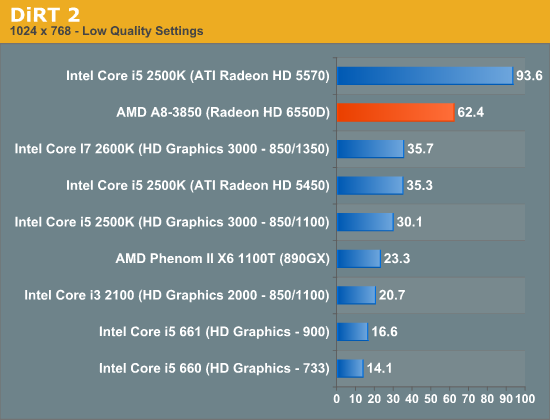 Final Words
There are still a number of unanswered questions about Llano on the desktop. In the coming weeks we'll be looking at HTPC performance, power consumption, and hopefully we'll be able to figure out what the deal is with overclocking AMD's new mainstream APUs.
The question of processor graphics performance is open and closed. Llano offers what I'd expect to be the bare minimum from any processor offering a real performance oriented GPU. All of our bench suite is playable on Llano and its actually possible to drive up image quality settings without sacrificing playability. If you're looking to build an entry-level gaming PC, Llano is most likely going to be on your hit list this year.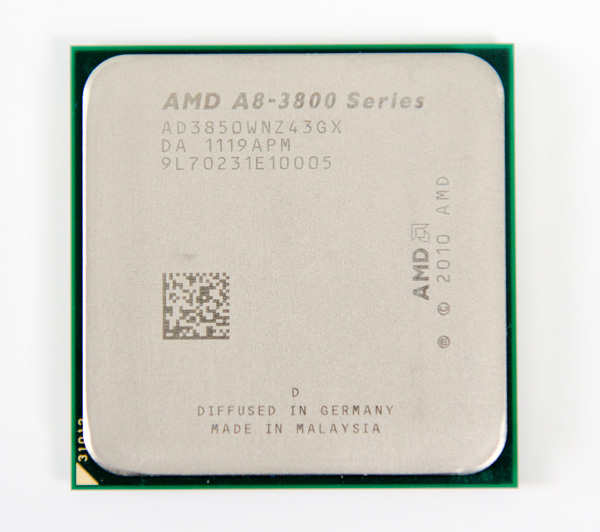 It took AMD spending half the transistors of Llano on its GPU to deliver the sort of performance we've been asking for from integrated graphics for over a decade; the question I have is whether or not Intel is willing to make a similar sort of move in its architectures.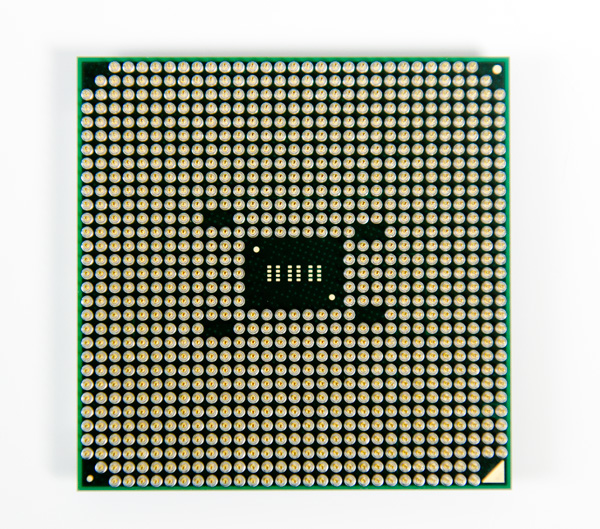 Ivy Bridge has already been decided upon; it'll be faster but not a significant upheaval in performance. However Intel does have a history of building upon ideas that AMD introduced before their time (e.g. IMC, x86-64, Fusion), and with Llano we may be given a peek at what's to come in the future.