Original Link: http://www.anandtech.com/show/4445/samsung-galaxy-tab-101-review


I remember standing in the audience of Samsung's CTIA press conference as it announced, for the first time ever, pricing and availability of its unreleased Galaxy Tab 10.1 and 8.9 before shipping. The smartphone (and early tablet) industries have gone this long without having to really compete based on price, mostly because in North America the carriers subsidize much of the cost. If every device costs $199 under contract, why get carried away with details like how much it actually costs?
The Galaxy Tab however was playing in a different space. While Apple ultimately caved to the pressures of carrier subsidies with the iPhone, the iPad remains completely unsubsidized and its followers buy it by the millions. The magical price point is $499 and it was at Samsung's CTIA press conference that it announced it would be matching Apple's $499 price point, and even dropping slightly below it for the 8.9-inch version.
At the time it seemed like a bold move, enough to give Honeycomb the fighting chance it needed. The Galaxy Tab would be thinner and lighter than the iPad 2 but competitively priced as well. This wouldn't be another Xoom.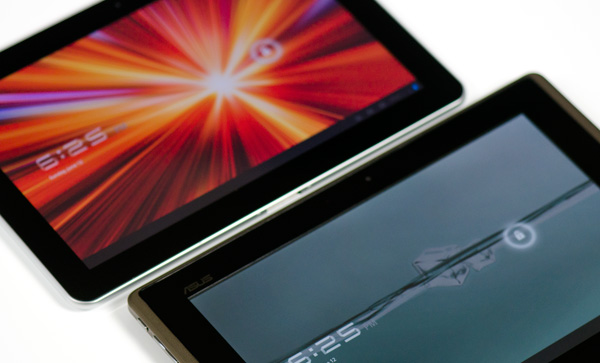 Samsung Galaxy Tab 10.1 (top) vs. ASUS Eee Pad Transformer (bottom)
Then ASUS showed up. At $399, the Eee Pad Transformer not only offered a different usage model to the iPad and Galaxy Tab, it brought a lower price tag as well. Availability has been slim thanks to component shortages, but with the Eee Pad selling for $399 the Galaxy Tab at $499 all of the sudden seems overpriced.
2011 Tablet Comparison
Apple iPad 2
ASUS Eee Pad Transformer
Motorola Xoom WiFi
Samsung Galaxy Tab 10.1
SoC
Apple A5 (Dual ARM Cortex A9 @ 1GHz)
NVIDIA Tegra 2 (Dual ARM Cortex A9 @ 1GHz)
NVIDIA Tegra 2 (Dual ARM Cortex A9 @ 1GHz)
NVIDIA Tegra 2 (Dual ARM Cortex A9 @ 1GHz)
GPU
PowerVR SGX 543MP2
NVIDIA GeForce
NVIDIA GeForce
NVIDIA GeForce
RAM
512MB
1GB
1GB
1GB
Display
1024 x 768 IPS
1280 x 800 IPS
1280 x 800
1280 x 800 PLS
NAND
16GB
16GB
32GB
16GB
Dimensions
241.2mm x 185.7mm x 8.8mm
271mm x 175mm x 12.95mm
249.1mm x 167.8mm x 12.9mm
256.6 x 172.9 x 8.6mm
Weight
601g
695g
730g
565g
Price
$499
$399
$599
$499
Based on specs alone you'd be right. Samsung's Galaxy Tab 10.1 has the same NVIDIA Tegra 2 tablet SoC inside,
1GB of LPDDR2 and 16GB of NAND on-board. You get a 10.1-inch 1280 x 800 PLS display and 802.11n WiFi support. It's worth pointing out that we're now well into the month of June and NVIDIA continues to be the only SoC vendor shipping in Honeycomb tablets. Samsung originally had plans to ship its own Exynos SoC in the Galaxy Tab but Tegra 2 remains the port of choice for all Honeycomb vendors at this point. Whether or not NVIDIA can win twice in a row with Ice Cream Sandwich later this year remains to be seen.


Samsung Galaxy Tab 10.1 (left) vs. ASUS Eee Pad Transformer (Right)
Where Samsung gives you something more for your money is in build quality and form factor. While Eee Pad Transformer feels surprisingly good for a cost reduced tablet, it doesn't feel nearly as slim or portable as the Galaxy Tab 10.1. It's no wonder Samsung went back to the drawing board on this one, the result is something that in many ways feels better than the iPad 2.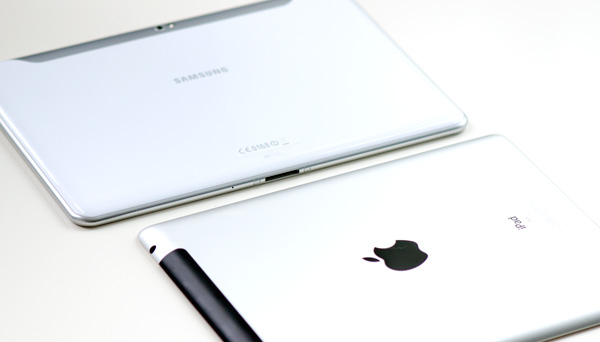 Apple still gets the nod in terms of quality of materials. The aluminum back of the iPad 2 is unbeatable. The Galaxy Tab 10.1 however feels lighter, a bit more rugged (I'm less concerned about scratching plastic than I am marring aluminum) and a little more comfortable to hold as a result. Against the Eee Pad there's no competition. I can live with the Eee Pad, but I much prefer the feel of the Galaxy Tab 10.1. The new Tab just feels like a device from this year - a compliment that, until now, I had only given to Apple.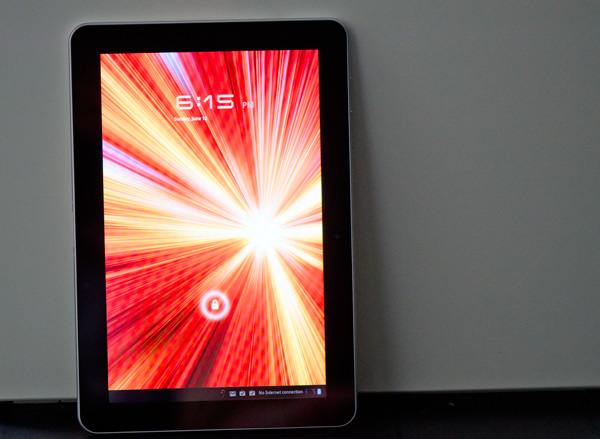 The Galaxy Tab 10.1 measures just 8.6mm thick, 0.2mm thinner than the iPad 2. To be honest you really can't tell the difference, both devices feel thin. Ever after holding them back to back it's near impossible to tell that Samsung has built a thinner device. The most tangible difference in feel is the weight, not just in overall mass but in terms of weight distribution. The Galaxy Tab seems to carry the weight a bit better than the iPad, a bit more evenly.


Samsung Galaxy Tab 10.1 (left) vs. Apple iPad 2 (right)
Now is as good a time as any to point out that although Samsung calls this the Galaxy Tab 10.1, it's really the new Galaxy Tab 10.1. Originally Samsung announced a much thicker version at Mobile World Congress, a month prior to the CTIA announcement. With the much thinner iPad 2 hitting the market after the original 10.1 announcement, Samsung scrapped plans for the original and unveiled the thinner 8.6mm version as the new Galaxy Tab. The original Galaxy Tab 10.1 is now known as the Galaxy Tab 10.1v.
The Hardware
The 10.1 is light enough to wield single handedly without fatigue, assuming you're holding it in portrait mode. In landscape there's some basic physics that comes into play, the long side of the 16:9 display pulls down and wears on your wrist after a while. In portrait mode the Galaxy Tab is remarkably comfortable. After prolonged usage I either orientation can be a problem, but I honestly believe Samsung's 8.9-inch variant may be the answer to all of our problems when it ships later this year. Unfortunately by that point you may as well wait for a Kal-El version rather than jump on what will most definitely be an aging Tegra 2.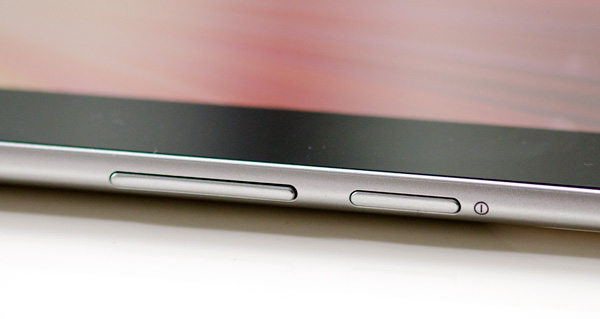 Around the 10.1's perimeter are the usual suspects, just rearranged. The upper left edge is home to a subtle power/lock switch and a volume rocker. Neither are terribly pronounced nor are they impossible to find. With the Galaxy Tab's symmetrical industrial design it's very easy to lose your bearings and hold the tablet upside down. The subtle buttons do little to help avoid any confusion. Luckily Honeycomb, like iOS, can be oriented in any direction.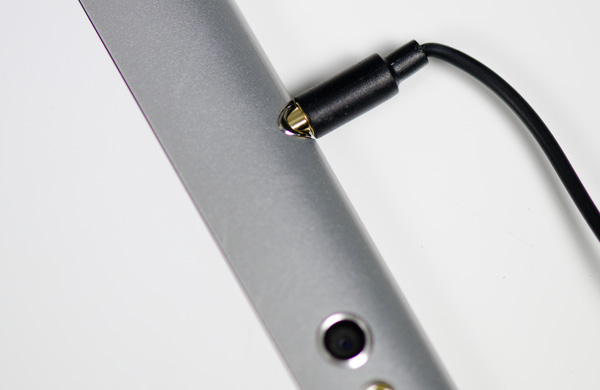 A curved 1/8" headphone jack also graces the top edge. Because of how thin the Galaxy Tab 10.1 is part of any stereo plug is going to be exposed when fully inserted into the jack, however I didn't notice any issues with the connection in my testing. Samsung ships the 10.1 with a pair of in-ear headphones with integrated mic. The mic has a single button that can be used to pause/skip songs (click once to pause, twice to skip). The headphones look expensive but the audio quality isn't anything to be impressed by.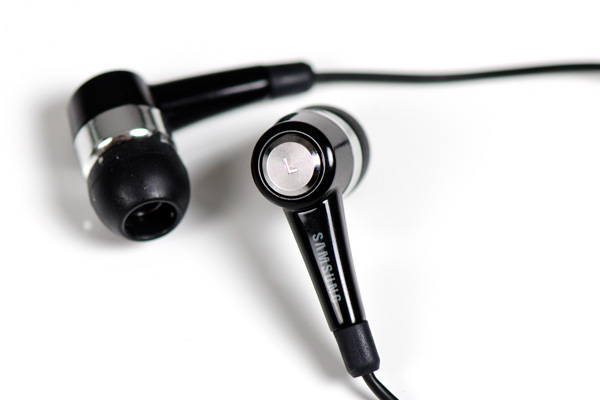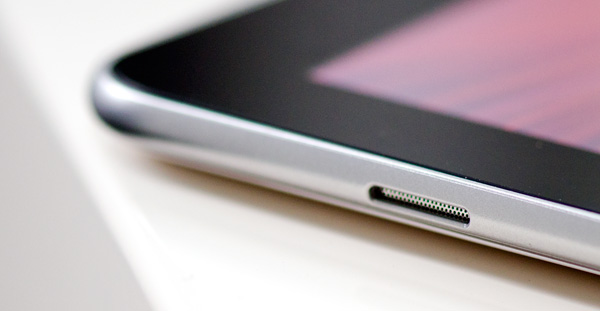 The left and right edges are home to two individual speaker grills. The speakers are high enough on the sides that they typically aren't covered by your hands when holding the tablet.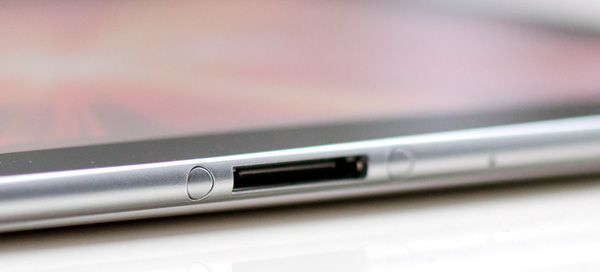 Finally along the bottom edge of the 10.1 there's Samsung's proprietary dock connector, oddly reminiscent of Apple's iPad dock connector but just slightly narrower. If you wanted to, you could definitely get the iPad's dock cable stuck in your brand new Galaxy Tab (ahem, don't do this).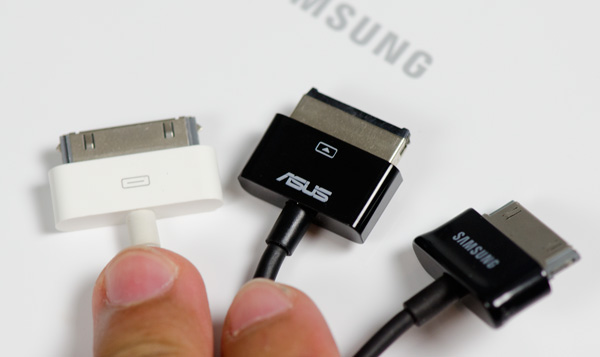 Three different, far too similar dock connectors
The Galaxy Tab 10.1 draws too much power to be charged while running off a standard USB port that doesn't implement the USB charging spec. To quickly charge the tablet you'll need to use Samsung's supplied USB to AC adapter which is a bit larger than what you get with the iPad: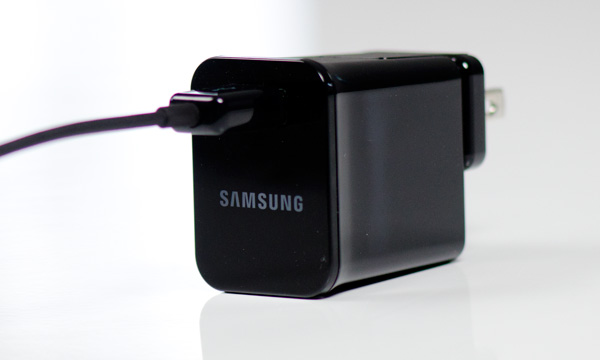 Unlike the Eee Pad there are no microSD card, HDMI or USB ports available on the Galaxy Tab 10.1. This is a Honeycomb tablet in the strictest sense, it's a device for consumption not something that's going to transform into a netbook alternative. Samsung does advertise a "full size" keyboard dock, however it's only available from Samsung's website ($69.99) and it is currently out of stock.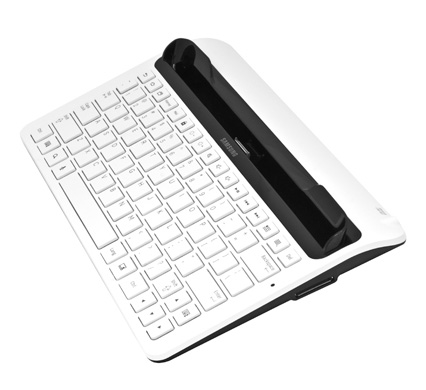 The missing HDMI support is a bit unusual for a Tegra 2 based Honeycomb tablet, but presumably Samsung could coax a digital output out of its custom dock connector via an adapter if it wanted to.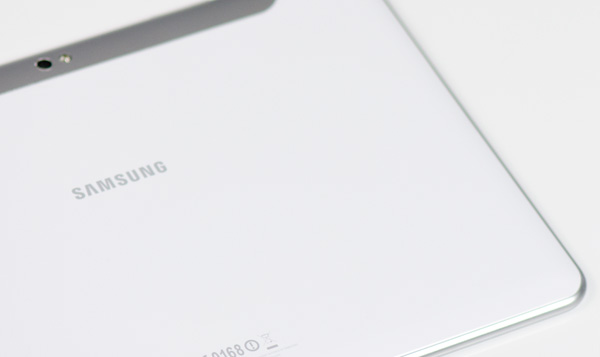 Samsung offers the Galaxy Tab 10.1 in white and dark grey versions at the same price points. Also pretty standard are the Galaxy Tab 10.1's two cameras: a rear-facing 3.2MP (2048 x 1536) sensor and a 2MP (1600 x 1200) front facing sensor complete the package.
The Software
At CTIA Samsung mildly shocked the world by proclaiming that it would be bringing TouchWiz to its first Honeycomb tablet. Google had previously indicated that Honeycomb's UI would be unified and that hardware vendors wouldn't be skinning it, however it later backed off and said that Honeycomb was simply going to be good enough that no one would want to change it.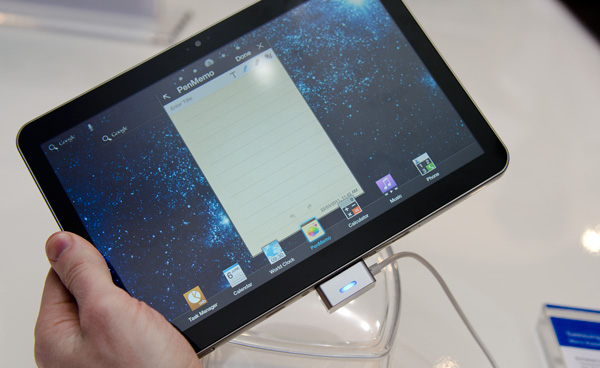 TouchWiz was originally slated to be a part of the Galaxy Tab 10.1 launch
The shipping version of the Galaxy Tab 10.1 (as well as the Limited Edition given out at Google IO) has all hints of the Honeycomb TouchWiz UI removed. There aren't even any Samsung specific widgets that come preloaded on the Galaxy Tab. I'm not sure if Google got tough with Samsung or if Samsung gave up on the idea of skinning Honeycomb after the 3.1 enhancements, but for better or for worse TouchWiz is gone.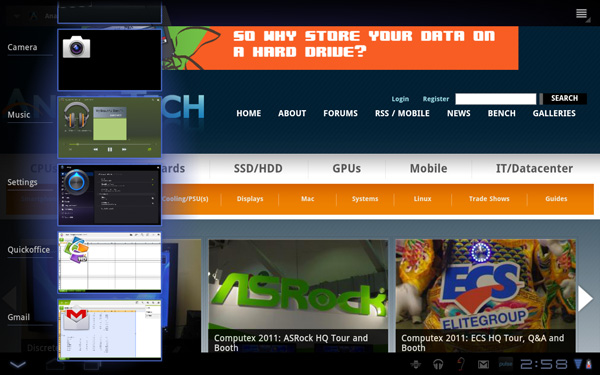 A scrollable recent apps list, a new feature of Android 3.1
One of the big features of TouchWiz on Honeycomb was supposed to be the ability to resize widgets, a feature that Google actually added in with the 3.1 update last month. The Galaxy Tab 10.1 ships with 3.1 from the factory bringing the total number of 3.1 devices up to three in the market today (ASUS' Eee Pad, Motorola Xoom and Samsung Galaxy Tab 10.1). Both the performance and feature enhancements that came along with the 3.1 update apply to the Galaxy Tab 10.1 so I won't go through them again here. If you weren't sold on Honeycomb before the update, the 3.1 bundle isn't going to be enough to make you a convert - but if you were interested in the OS beforehand, the point release makes the experience noticeably better.
Samsung opted for a more conservative default wallpaper on the 10.1 than ASUS did with the Eee Pad. It's impressive how much of an impact an animated wallpaper can have on performance. Samsung's simple switch makes the Galaxy Tab feel snappier by default. We're still a generation or two away from being able to have enough spare CPU cycles and memory bandwidth to throw away at things like frivolous UI elements.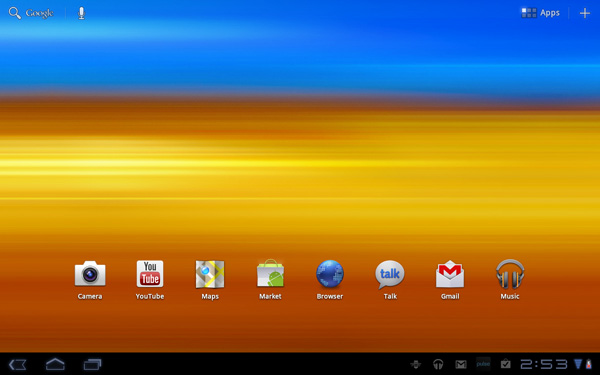 There are still some odd hiccups that bother me about Honeycomb. For example, frame rate when bringing up the apps grid is still lower in portrait mode than in landscape. I also encounter far too many crashes on a regular basis. I still believe Honeycomb is fit for sale but it's definitely not a fully polished product.
While overall UI performance is much improved with 3.1 vs 3.0.1, it's still not perfectly smooth. For doing the handful of things that tablets work very well at Honeycomb definitely gets the job done, but ask too much of it and the experience quickly breaks down into something a lot slower.
Web browsing is still mostly pleasant. While Flash support is there, Honeycomb on a Tegra 2 is still far too sluggish to deliver even a netbook like experience. The problem ultimately boils down to screen resolution and memory bandwidth. At 1280 x 800 there are simply too many pixels to run most moderately complex Flash video while maintaining any semblance of a smooth UI.
Apps
With TouchWiz gone, there's still Samsung's own set of preloaded apps that come with the Galaxy Tab 10.1.
The Music Hub is Samsung's music store powered by 7digital. Tracks sell for between $0.99 and $1.49.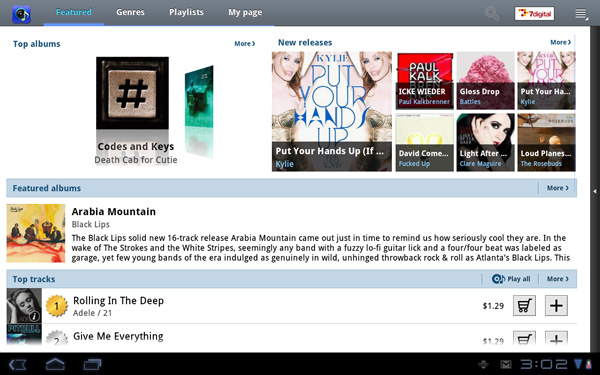 This next one is a bit odd. If you've purchased any Samsung device in the past (e.g. Samsung TV) you'll know the company is particularly fond of outfitting its hardware with its own custom app store. The Galaxy Tab 10.1 is not exempt from this treatment. The tablet comes with an app called Samsung Apps, which is a separate app store that presently has a whopping 6 titles, three of which are Angry Birds variants (Regular, Rio and Seasons). Thankfully all of the titles available in Samsung Apps, at least today, are all available free of charge.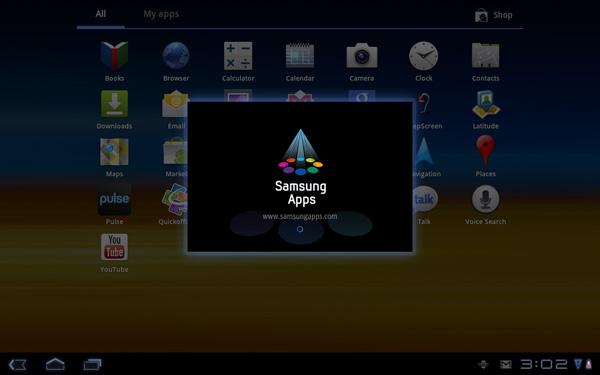 Although the titles are free they are ad supported. Note that the apps themselves aren't delivered through Market so you'll need to enable the installation of non-market apps in order to actually use any of them.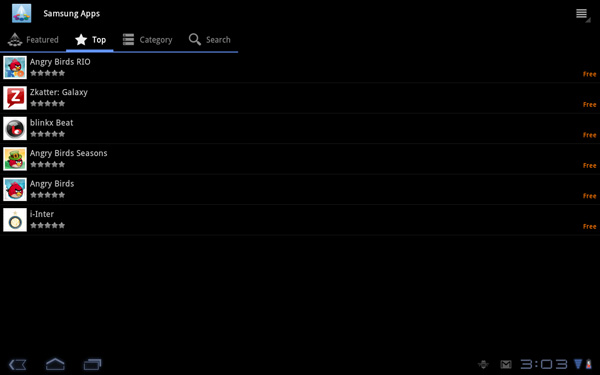 Quickoffice is a basic word processing, spreadsheet and presentation package for Android with some basic MS Office compatibility. ASUS opted for Polaris on the Eee Pad but Quickoffice seems to work just as well.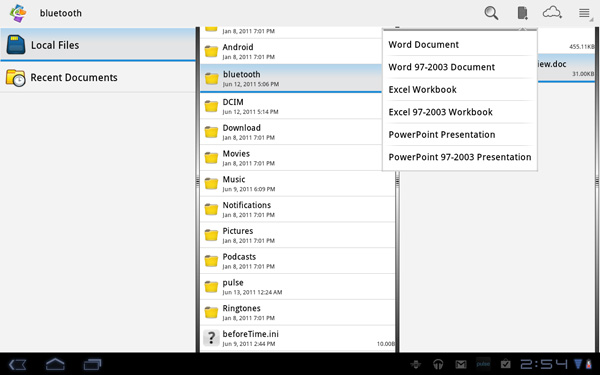 The suite has some nice features such as one-touch text-to-speech when reading a Word document. We're not quite at the point where a Honeycomb tablet could replace a netbook but we're getting there.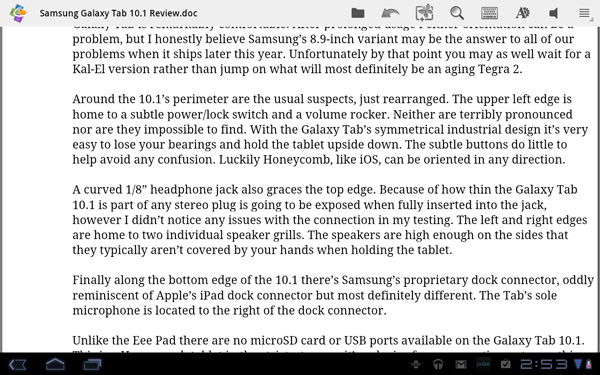 Other than formatting issues, the biggest problem I had with Quickoffice was simply performance. Try to do too much (or forget about an app running in the background) and you're left with an app that just sits there waiting for a slice of CPU time that it seems to only get after decades (in CPU time) of waiting.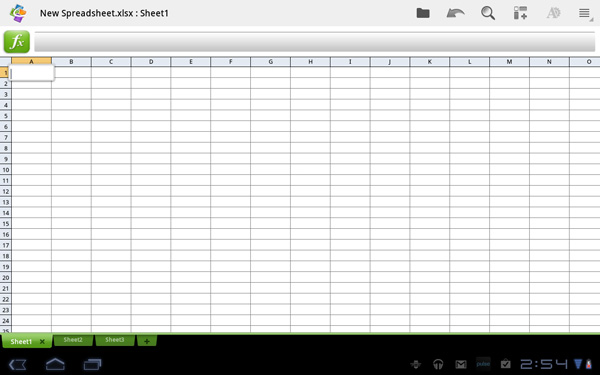 Samsung also includes Pulse newsreader (a magazine style RSS reader for tablets):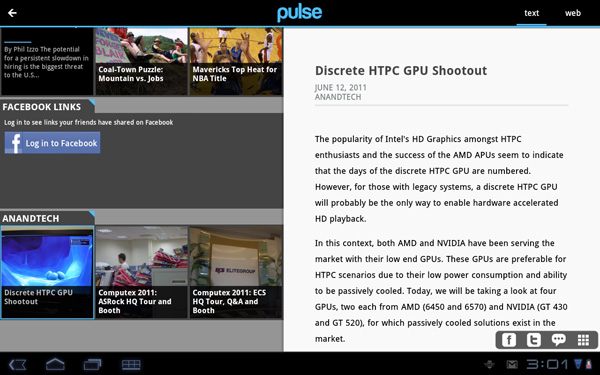 There's Android Movie Studio for basic video editing, primarily for video shot with the 10.1's cameras: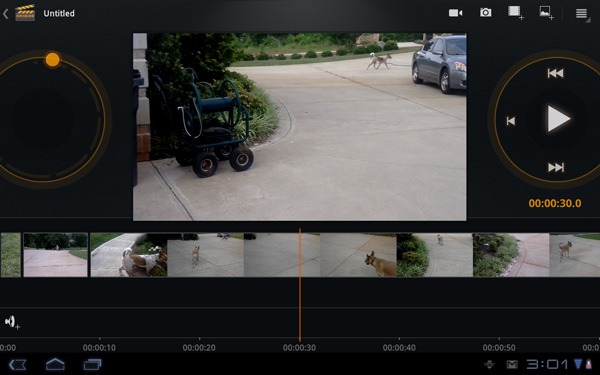 The performance complaints I mentioned above apply here to AMS as well. I had this app crash a good three times in succession while trying to edit together a simple video of footage I shot with the Galaxy Tab.
Of course there are the usual Android apps that we've covered as a part of Honeycomb (Gmail, Gtalk, Maps, Browser, etc...).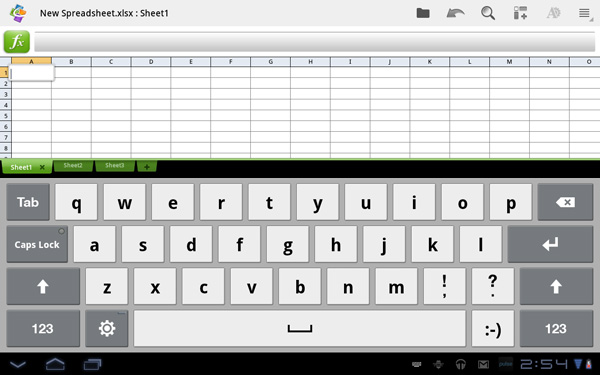 The Google supplied Honeycomb virtual keyboard is there however Samsung opts to use its own custom keyboard by default. I didn't have many complaints about Samsung's keyboard however I'm not a fan of the XT9 predictive text system Samsung's keyboard uses. I prefer the looks of the Samsung keyboard but the functionality of the stock Honeycomb offering.
The Cameras
Samsung put its own touches on the Galaxy Tab's camera app. For starters the camera app completely hides all Honeycomb UI elements, the only way to get back to the home screen is to hit the custom back button - there's no support for accessing recently used apps. The UI is pretty clean. You can quickly adjust exposure, resolution, white balance or shot mode. The preview frame rate is pretty low and captures take several seconds to complete after hitting the shutter release button.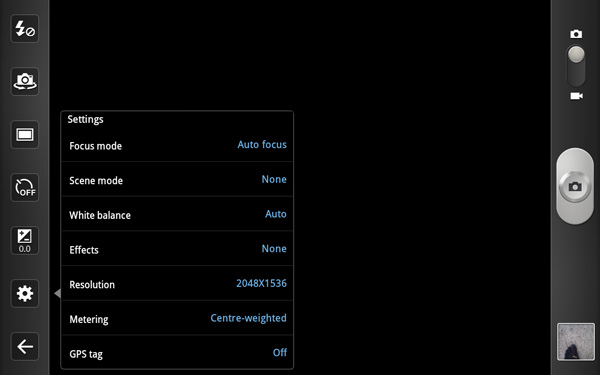 Switching between front and rear facing cameras or still and videos is thankfully very quick, although expect a lot of missed moments since the actual capture process is so slow. Image quality is noticeably better than the ASUS Eee Pad Transformer, take a look at the comparison shot below: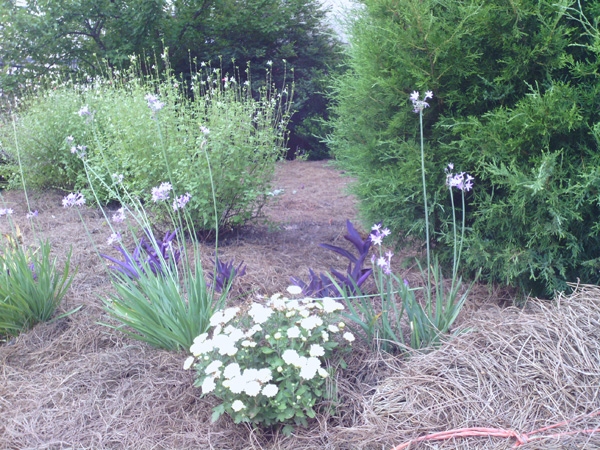 ASUS Eee Pad Transformer - Rear Facing Camera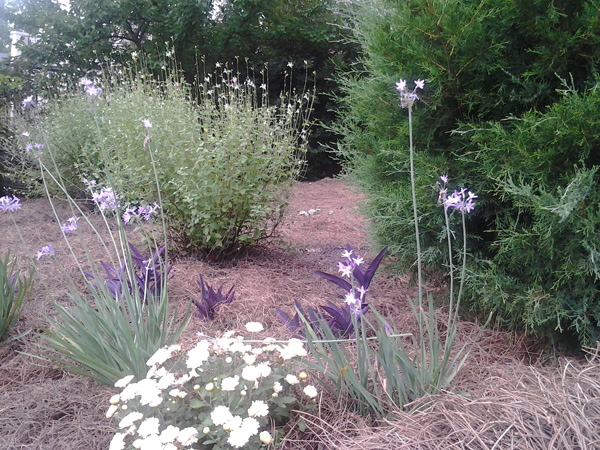 Samsung Galaxy Tab 10.1 - Rear Facing Camera
There's a lot more detail in the Samsung shot, although neither solution manages to capture the color of the yellow flower petals at the bottom of the scene.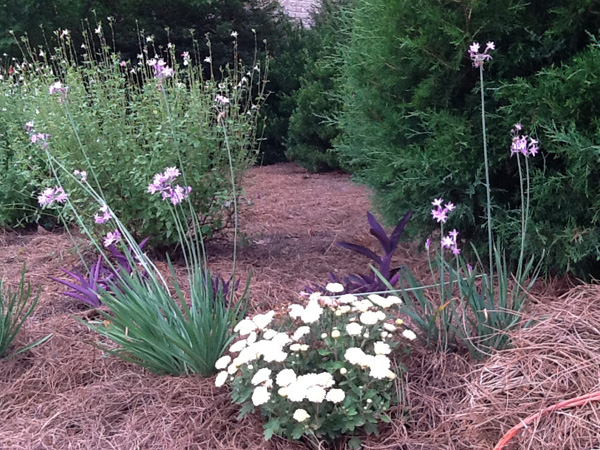 Apple iPad 2 - Rear Facing Camera
The iPad by comparison delivers a more contrasty image but with less detail than the Samsung Galaxy Tab 10.1. I'm not entirely sure how important having good camera quality is here though - where do you all draw the cutoff line with tablet camera quality? Is the Eee Pad enough or are Samsung's efforts worthwhile here?
Video quality is also noticeably better than the ASUS Eee Pad Transformer. While the 3.1 update helped ASUS' video woes, the tablet still provides a less than ideal video capture experience. Dropped frames still happen during periods of fast panning, although the video is at least watchable now.
Wireless Performance & Sync
The Galaxy Tab 10.1 ships by default as a WiFi only version with 802.11b/g/n support via a single spatial stream. WiFi performance was comparable to that of other Honeycomb tablets we've tested thus far at around 34Mbps. Bluetooth is also supported. I could complete file transfers between other computers and the Galaxy Tab without issues.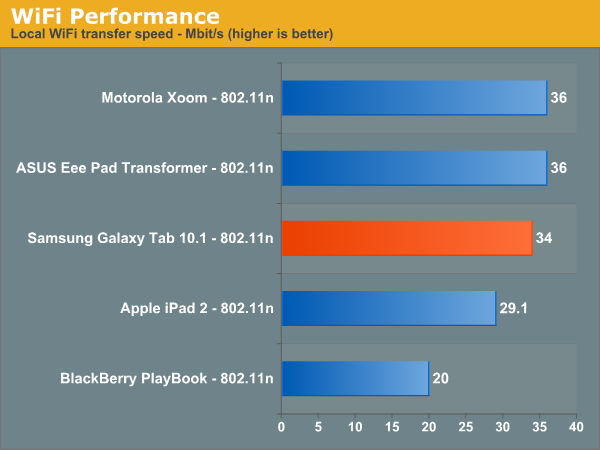 Note that USB transfers are limited to nearly the same performance here. The fastest transfer I could sustain over USB was in the low 30Mbps range. I'm guessing this is a limitation of Honeycomb combined with physical NAND performance limits. It's not uncommon for these tablets to use 3-bit-per-cell MLC NAND that's hardly geared for performance. Over the next couple of years we'll see NAND performance become a bigger issue with tablets.
The Galaxy Tab doesn't come with any sync software by default. Under Windows the tablet just appears as a removable media device. Android File Transfer is required for support under OS X, however the current version of AFT doesn't support the Galaxy Tab 10.1 so Mac users are out of luck.

A Beautiful Display
Other than form factor, the 10.1's display is the only other major advantage Samsung holds over ASUS. While the Eee Pad's display is quantifiably similar to Apple's iPad 2, it does fall victim to an incredible amount of glare. There's a sizable gap between the LCD panel and the outermost glass, which results in more glare than most other tablets we've reviewed this generation. The 10.1 however doesn't suffer this fate and as a result is more directly comparable to the iPad 2.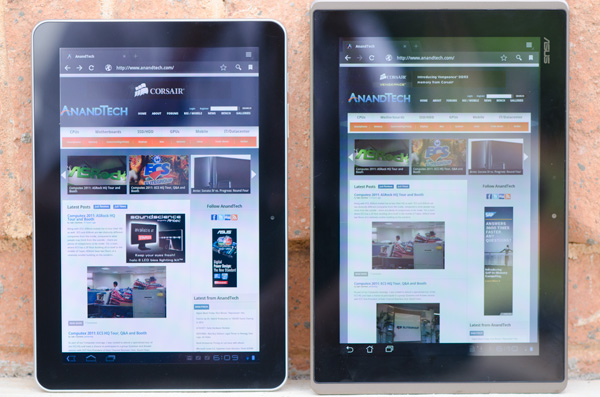 Samsung Galaxy Tab 10.1 (left) vs. ASUS Eee Pad Transformer (right)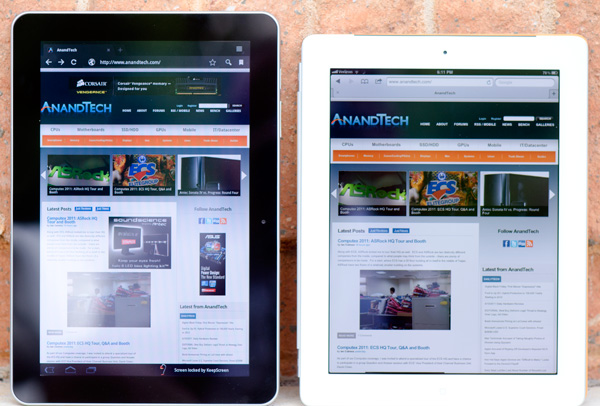 Samsung Galaxy Tab 10.1 (left) vs. Apple iPad 2 (right)
While both ASUS and Apple use an IPS panel in their tablets, Samsung uses its own technology called Super PLS (plane line switching). Brian Klug, our resident smartphone and display guru did some digging and it turns out that Super PLS is Samsung's own take on IPS that maintains viewing angle while boosting throughput (brightness). The Samsung supplied photo below shows a comparison of the tradeoff you make with S-IPS and I-IPS, as well as both of those compared to Super PLS: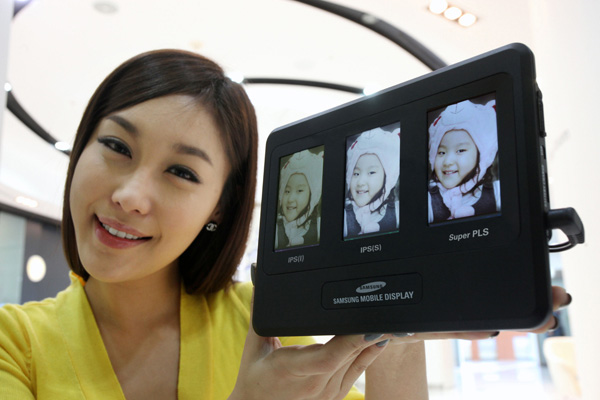 Traditionally you'd have to trade off viewing angle for brightness or vice versa even within the IPS family. Super PLS lets you have your cake and eat it too, giving you the same side viewing angles as S-IPS but with the light throughput of I-IPS.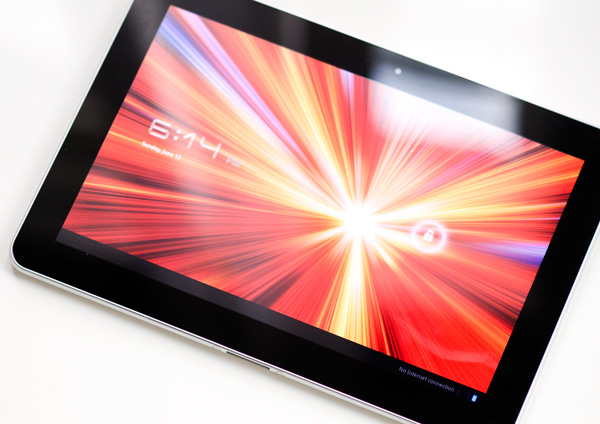 Perhaps due to the use of Super PLS, Samsung actually managed to outfit the Galaxy Tab 10.1 with a brighter panel than what we saw with the iPad 2. Black levels aren't quite as good but peak brightness is measurably better at nearly 500 nits. While the display isn't what I'd consider bright enough to use in direct sunlight, it is more versatile than the iPad 2's as a result of its brightness.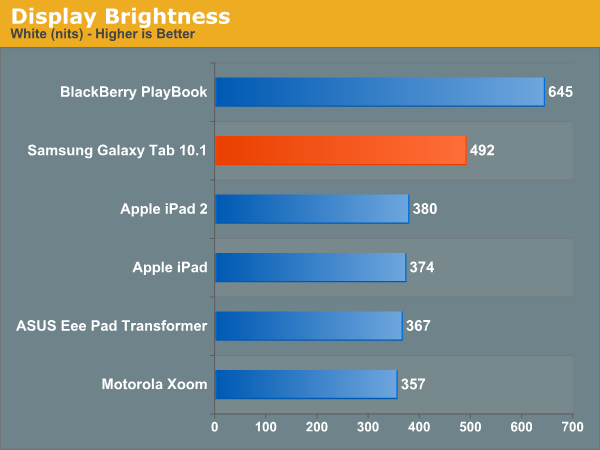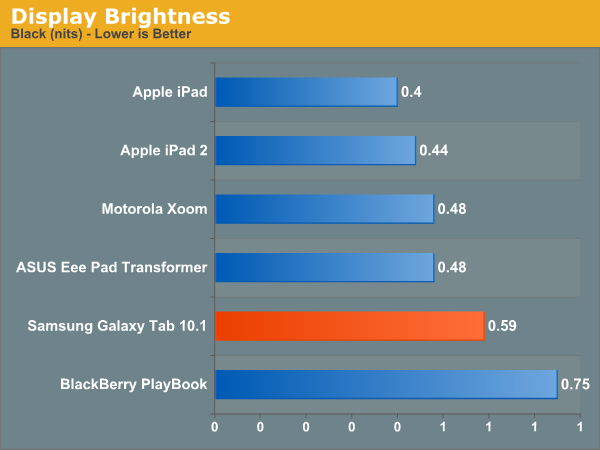 The higher black levels balance out the brighter panel and deliver a contrast ratio comparable to that of the iPad 2: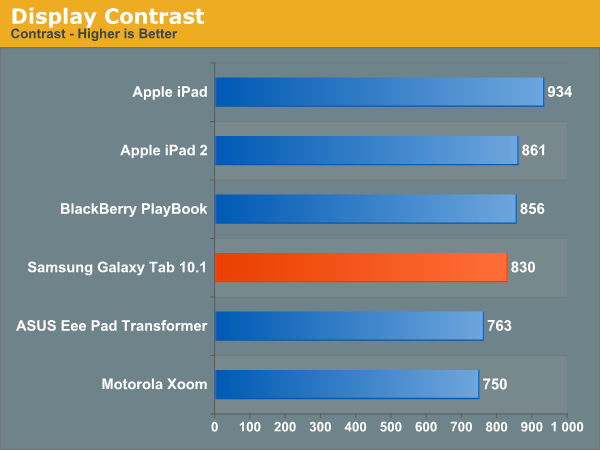 I should mention that the quality of the panel on the retail 10.1 sample is significantly better than what I saw with Samsung's Galaxy Tab 10.1 Limited Edition at Google IO. The sample from IO had noticeably worse black levels, lower peak brightness and as a result lower overall contrast. On top of all of that, the LE suffered light bleed from one of its corners - a problem I haven't seen on the retail 10.1. With only two Galaxy Tabs to compare this is either an indication of wildly varying quality control, or more likely that Samsung simply repackaged its early samples as LEs and saved the mass production hardware for paying customers a month after Google IO.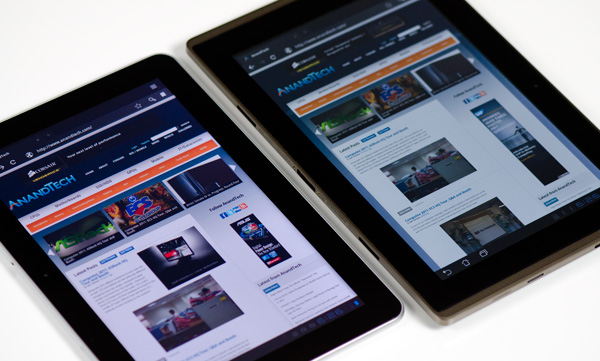 As you can see in the shot above the Samsung panel has a considerably cooler white point than the Eee Pad Transformer. A quick measure with our colorimeter shows a white point of 8762 (vs 7805K for the Eee Pad). It does make Samsung's default wallpaper look very pretty. If you're wondering, the iPad 2's panel is calibrated to a 6801K white point - at least with our 16GB CDMA sample here.
Battery Life
Battery life is comparable to that of other Honeycomb tablets at just under 9 hours for our WiFi web browsing/multitasking battery life test and around 9.5 hours for video playback. With a different display panel it's not too surprising to see some variance here. The Galaxy Tab does worse than the Eee Pad Transformer in our general use test and better in our video playback test.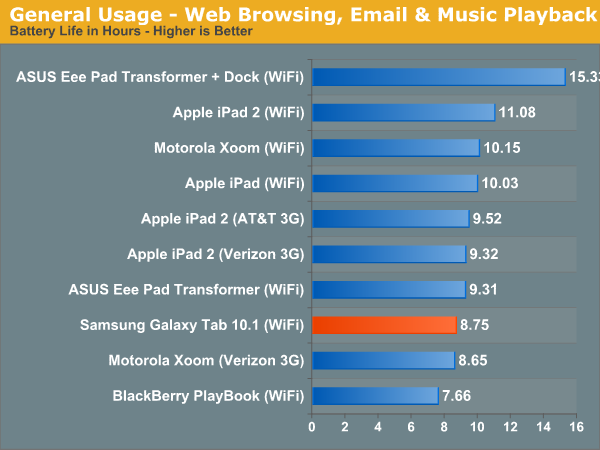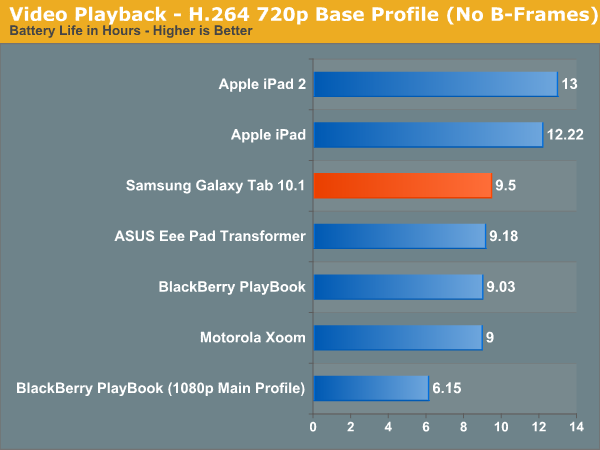 Only the Eee Pad Transformer can deliver the Honeycomb experience with substantially longer battery life thanks to its optional external battery/keyboard dock.
Performance
Given that the internals are no different from other Honeycomb tablets, the Galaxy Tab 10.1's performance is unsurprisingly pretty similar to other Honeycomb tablets running Android 3.1. There are always minor variations between platforms, largely due to the difference in software preload and number of background tasks that can't be killed but for the most part these devices perform similarly with similar hardware/software.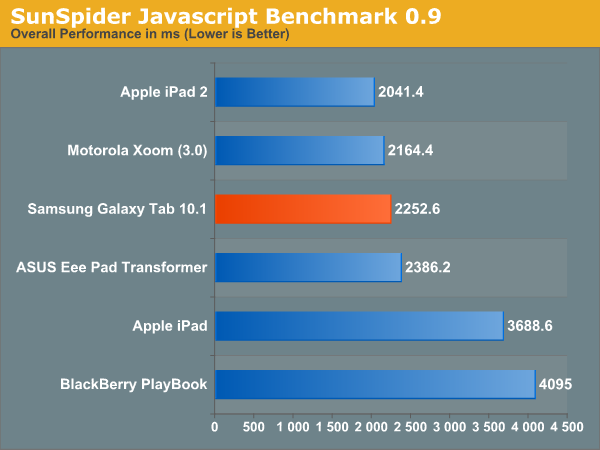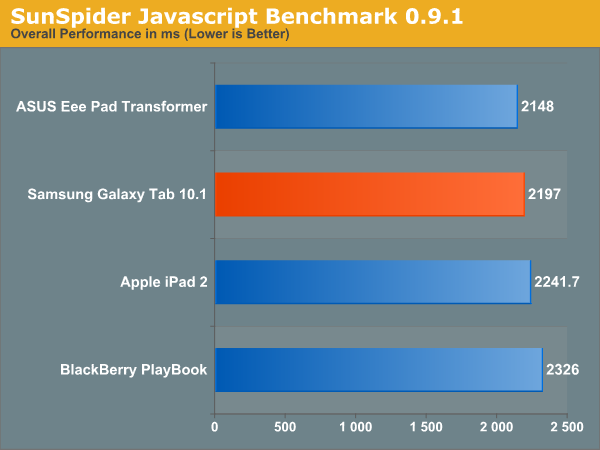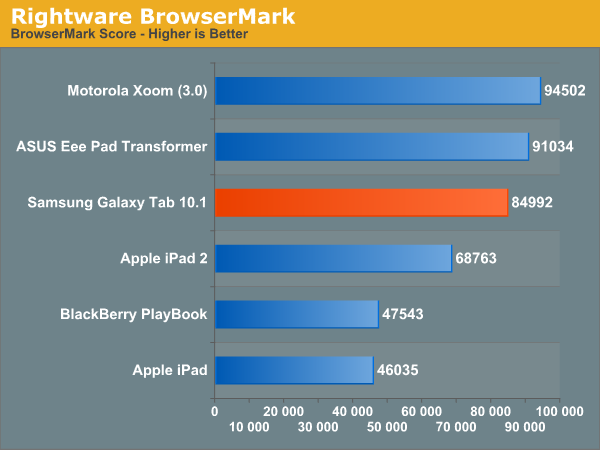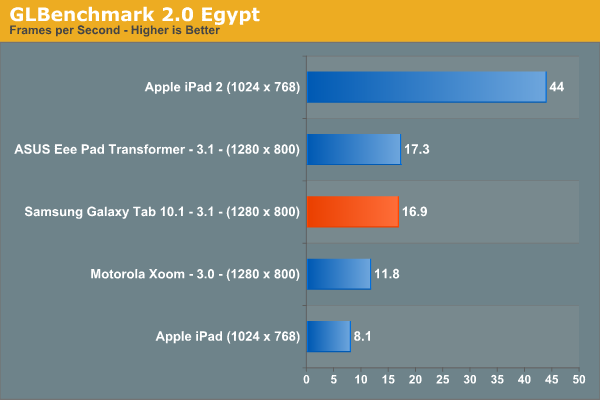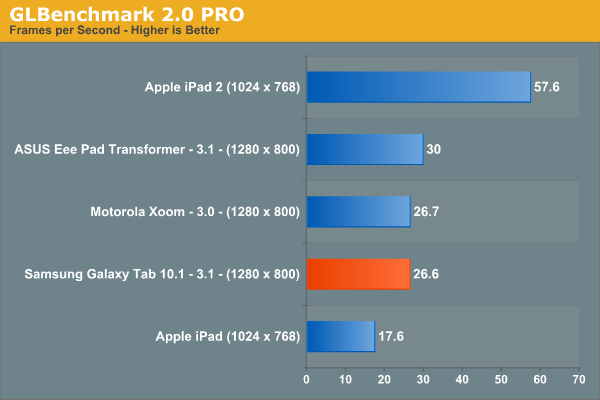 Final Words
The new 10.1-inch Galaxy Tab is probably the sleekest looking Honeycomb tablet on the market today. The form factor is really wonderful and given how quickly Samsung introduced it after Apple unveiled the iPad 2, the company really deserves credit for responding to competitive pressure in record time. It's not just a great form factor however. The 10.1 has an incredible screen, competitive features and doesn't really sacrifice in terms of performance or battery life. The Galaxy Tab 10.1 is your run of the mill Honeycomb tablet, just better.
A part of me really feels like delivering all of the resolution, performance and overall goodness of the Galaxy Tab in a smaller 8.9-inch form factor is the ticket to ultimate success. The iPad is too big for me to carry around with me as much as I'd like, as is the Galaxy Tab 10.1. However tablets like the PlayBook are too small to really deliver the tablet experience I'm looking for when I'm at home. Keeping the resolution fixed at 1280 x 800 but dropping the screen size by a little over an inch may be enough to really hit the sweet spot.
Ultimately I believe we'll shop for tablets similarly to how we shop for notebooks (or they may end up being one and the same): by screen size. If this form factor really does take off however, we'll have many more decisions to make than just what screen size is best (perhaps we'll start seeing multiple SoCs offered for various performance targets instead of one smartphone SoC playing double duty as a tablet chip as well).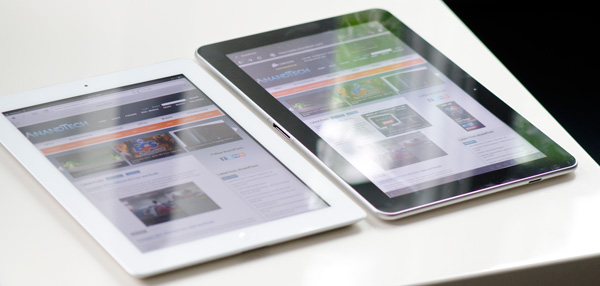 Unfortunately with most Honeycomb tablets today we find ourselves in a difficult position when it comes to making any recommendations. NVIDIA's Kal-El target was originally August, I've heard more recently that the date has slipped to around September. Regardless of the specific month, there's a high likelihood that within the next four months you'll be able to get a much more powerful Android tablet for the same amount of money you'd spend today. With that in mind, I can't in good conscience recommend spending any amount of money on a tablet today if you can wait another two quarters. Remember Kal-El won't really change single threaded performance, but it will improve GPU performance and address the video decoding limitations of Tegra 2 today.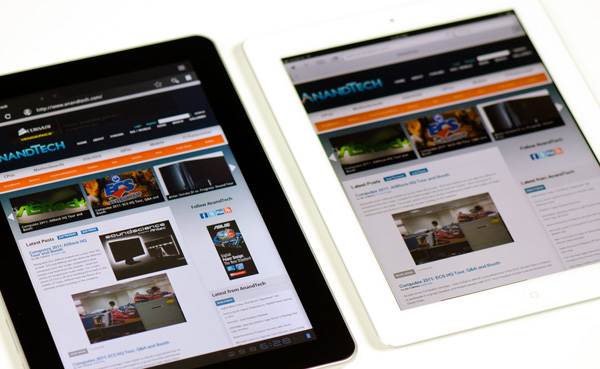 If you have to buy an Android tablet today I'd say the top two choices on my list are the ASUS Eee Pad Transformer and the Samsung Galaxy Tab 10.1. The former is an easy choice because of its price and flexibility vis-a-vis the transformer dock. If you want something more portable however, the Galaxy Tab is a much more comfortable device to use. Here's how I think the comparison boils down:
If you're a developer that just needs to have something running Honeycomb to work on today, buy the Eee Pad. It's cheaper and you get the same functionality as you would from the more expensive Galaxy Tab.
If you're sold on Honeycomb and want a tablet running the OS today but don't care about the ability to type on a normal keyboard, get the Galaxy Tab. The Eee Pad dock is a nice feature but it's also another $150 over its base price. If you're not going to use that feature and don't care about the cost savings, then the Galaxy Tab is clearly the better tablet.
Finally if cost is a concern (keeping in mind that you'll likely regret your purchase in another ~4 months), get the Eee Pad. You'll put yourself out less cash up front and hopefully have less to recoup later.


Samsung Galaxy Tab 10.1 (top) vs. ASUS Eee Pad Transformer (bottom)

However, as I mentioned earlier, my overall recommendation is to wait if you can. Smartphones and tablets are operating on a faster-than-Moore's Law curve. As a result you'll see huge performance improvements every 12 months and devastatingly painful upgrade cycles. Given that tablets aren't carrier subsidized, the longer you can wait, the better off you'll be.