Original Link: http://www.anandtech.com/show/4350/cyberpower-gamer-xtreme-ftw-performance-at-any-cost


Introducing the CyberPower Gamer Xtreme FTW
There seems to be an interesting cottage industry between custom desktop boutiques in trying to build the single fastest machine consumers can buy, and it's not at all dissimilar to the kind of competitive thinking that produces utterly impractical video cards like the AMD Radeon HD 6990 or NVIDIA GeForce GTX 590 that threaten to populate those machines. Somewhere along the line, someone said "screw it" and decided to figure out just how much of a speed demon they could build while still being able to market and sell it to consumers and support it without tarnishing the brand. DigitalStorm has pretty aggressively held on to our "fastest computer we've ever tested" crown for a while, but CyberPowerPC looks to steal it away with their Gamer Xtreme FTW Edition.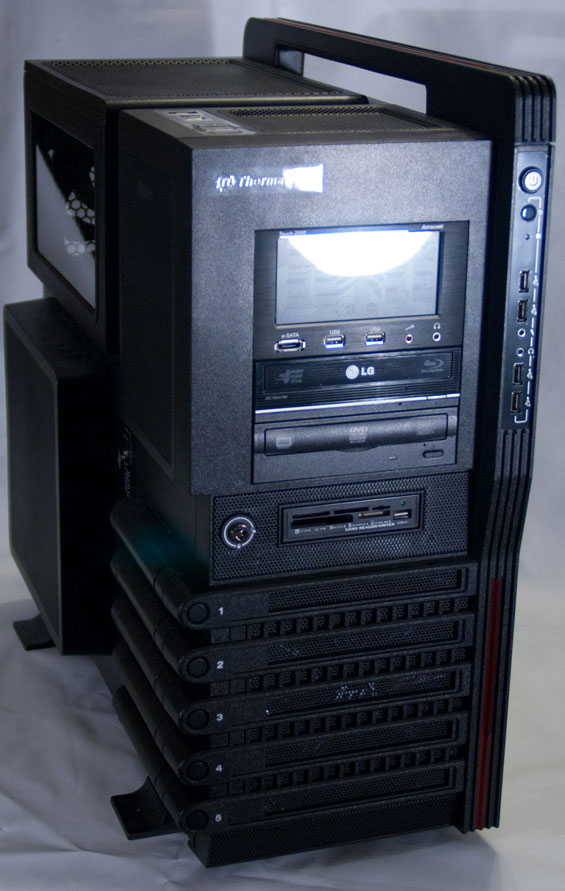 And so the arms race continues. I think if you'd told me ten years ago I'd be testing desktops like these for a living I'd've exploded with joy, but it's bittersweet. The CyberPowerPC Gamer Xtreme FTW is an absolute monster, but it's priced accordingly, and when I look at it I actually feel the same way I do when I discover my old Underground Seas (I've played Magic: the Gathering since '94) are worth at least $80 apiece: it's fun to play with, but essentially too hard to get for everyone to enjoy. How hard to get? Check this out:
CyberPowerPC Gamer Xtreme FTW Specifications
Chassis
Thermaltake Level 10 GT
Processor
Intel Core i7-990X @ 4.5GHz (25x180BClk)
(spec: 6x3.46GHz, 32nm, 12MB L3, 130W)
Motherboard
Gigabyte G1.Sniper Motherboard with X58 chipset
Memory
6x2GB Kingston HyperX DDR3-1600 (expandable to 24GB)
Graphics
2x EVGA GeForce GTX 590 3GB GDDR5
(1024 CUDA Cores, 607/1215/853MHz Core/Shaders/RAM, 384-bit memory bus)
Hard Drive(s)
2x Intel 510 120GB SATA 6Gbps SSD in RAID 0
Hitachi Deskstar 7K3000 2TB 7200-RPM SATA 6Gbps HDD
Optical Drive(s)
LG WH-10 BD-RE/DVD+-RW Combo Drive
Lite-On DVD+-RW Drive
Networking
Bigfoot Networks Killer Gigabit Ethernet
Audio
Creative SoundBlaster X-Fi Audio
Speaker, mic, line-in, and surround jacks for 7.1 sound
Optical/digital out
Front Side
AeroCool Touch-2000 Fan Controller
5x USB 2.0
Card reader
Headphone and microphone jacks
Top
Thermaltake Fan Controller
2x USB 3.0
eSATA
Back Side
PS/2 mouse and keyboard ports
Digital out
4x USB 2.0
2x eSATA
2x USB 3.0 (routed to top of the case)
Gigabit Ethernet
Optical out
7.1 surround jacks
Operating System
Windows 7 Home Premium 64-bit
Dimensions
23" x 11.1" x 23.2"
Weight
28 lbs (case only)
Extras
Cooler Master Silent Pro Gold 1000W PSU 80 Plus Gold Certified
Asetek 570LX 240mm Liquid CPU Cooler
AeroCool Touch-2000 Fan Controller
Card Reader
Warranty
3-year limited warranty with life-time customer care
Pricing
Starts at $1,565
As configured $5,017
So yeah, I believe that's the first time we've broken five grand on a custom desktop machine. But when your motherboard, CPU, and case retail for nearly two large all by themselves, that's not too surprising.
For starters, there's the Intel Core i7-990X, arguably the fastest processor Intel ships today. While it doesn't quite have Sandy Bridge's raw clock-for-clock performance, it makes up for that shortcoming by sporting six Hyper-Threaded cores. And because it's built on Intel's 32nm process, it runs remarkably cool. Stock clock speed is 3.46GHz with 12MB of L3 cache, and it's able to turbo up to as much as 3.73GHz on two cores. CyberPowerPC has overclocked the hell out of it, though, but they opt not to make use of the unlocked multiplier on the CPU: they've instead ratcheted up the BClk from 133MHz to 180MHz and actually reduced the multiplier to 25x. The resulting clock speed is a respectable 4.5GHz, fast enough to put it in competition with Sandy Bridge for single-core speed, and with 50% more cores than the current SNB offerings. Strapped to the i7-990X's three memory channels are six 2GB DIMMs of Kingston HyperX DDR3-1600 for a total of 12GB, running at DDR3-1440 due to the change in BClk.
Supporting this demon of a CPU and its copious memory capacity is Gigabyte's G1.Sniper motherboard. Gigabyte recently released their G1 line of motherboards and they're pretty beastly; the Sniper model brings integrated Bigfoot Networks Killer 2100 Gigabit Ethernet along with Creative SoundBlaster X-Fi. There's the usual Marvell SATA 6Gbps controller as well, along with USB 3.0 support. The G1.Sniper is a very fully-featured piece of hardware, but you'd pay dearly for the privilege: the motherboard's retail price of $429 is onerous considering you can buy a Core i7-2600K and a P67-based motherboard to house it in for the same outlay.
CyberPowerPC didn't skimp on the storage subsystem either: while the 2TB Hitachi storage drive is an amusing divergence from the usual 1TB Western Digital Caviar Black, the pair of 120GB Intel 510 SSDs configured in RAID 0 produces a remarkably fast system drive that sports enough capacity for a healthy selection of games.
Of course, the big ticket items are the pair of NVIDIA GeForce GTX 590s configured in Quad-SLI. Each of these cards has two GF110 chips on it, complete with a 384-bit memory bus with access to 1.5GB of GDDR5 per chip. The GPUs themselves sport the full 512 CUDA cores, but they've had their clocks reduced to fit into the GTX 590's 300W thermal envelope. I'll admit I've been a bit snarky with this review unit: whenever I've had people come over, I've opened the side of the case, shown them to the two GTX 590s, and announced "get a good look; almost nobody else will ever see one of these, let alone a pair."
Finally, they house all of this incredibly powerful hardware in Thermaltake's new Level 10 GT enclosure. I hesitate to spend too much time talking about this case because I actually have one in house that I'll be reviewing soon. Oh, and the processor is liquid cooled with a 240mm radiator and four 120mm fans. And there's a kilowatt 80 Plus Gold certified power supply from a reliable vendor. And a fan controller in the front by NZXT. I think that covers everything. Suffice it to say, this is an awful lot of hardware.
Application and Futuremark Performance
I'm going to go out on a limb here and say I expect that outside of StarCraft II, the CyberPower Gamer Xtreme FTW will be the fastest tower we've ever tested. (And yes, the irony of the number of times I've wound up saying "fastest tower/machine I've/we've ever tested" in these reviews is not lost on me.) It boasts what is arguably the fastest processor we've ever seen (there are a few cases where a similarly clocked SNB chip will beat the 990X), the fastest storage subsystem, and the fastest graphics hardware. So how does it pan out?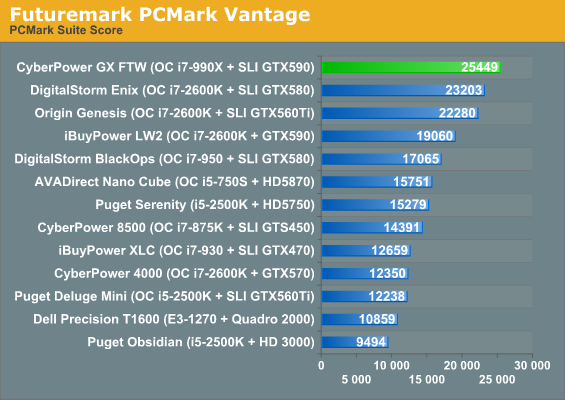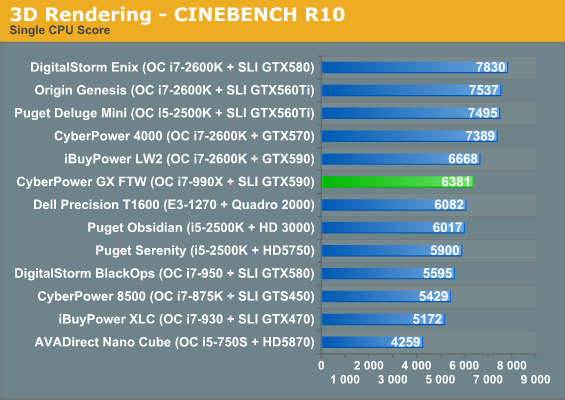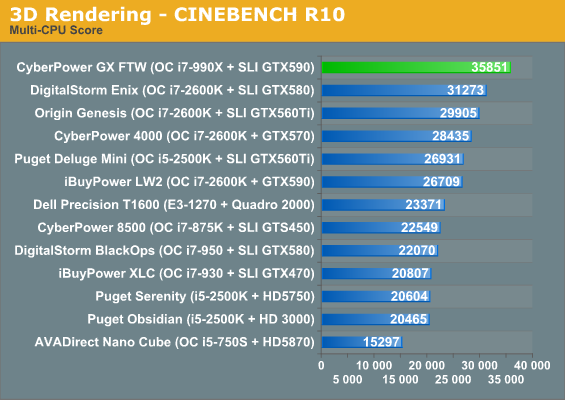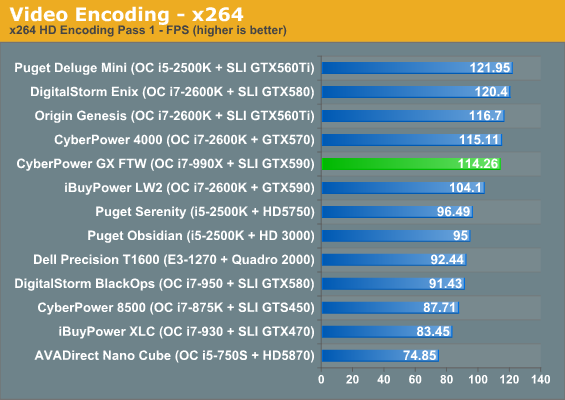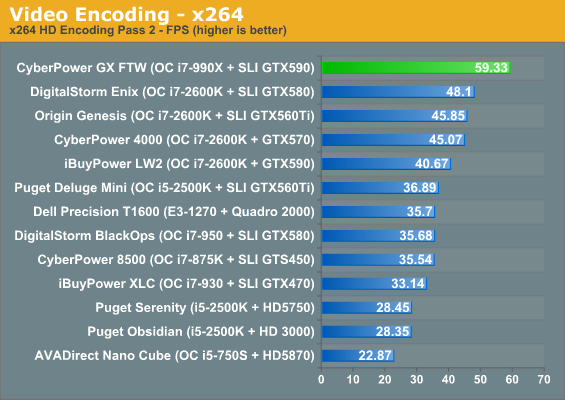 And that's basically how things turn out. The instant Sandy Bridge's clock-for-clock performance lead is taken away, the Gamer Xtreme FTW tears to the front of the pack with a commanding lead. You'll note we've dropped PCMark05 from our benchmarks; we're adding PCMark 7 (which the GX FTW scored 5601 in) and Cinebench 11.5 (which the GX FTW scored 11.47 in), so in future reviews expect to see graphs for those benchmarks.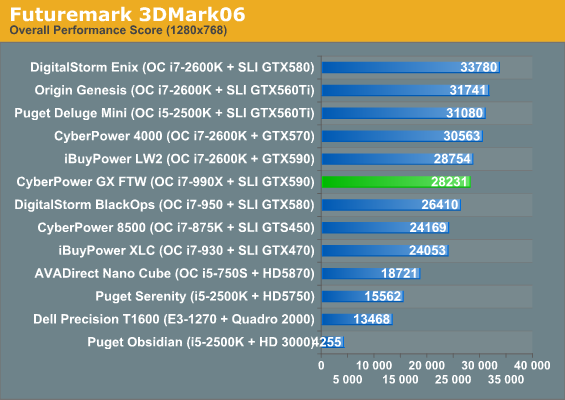 It looks like these settings are mostly CPU-limited in 3DMark06 with this configuration, and keep in mind it does require a substantial amount of additional processor horsepower to drive four GPUs instead of two.
In keeping with our benchmark refresh, we've also dropped the lion's share of 3DMark benches and added two. From this point on, 3DMark Vantage will be tested with the "High" preset (I'm eschewing the "Extreme" preset due to its 1920x1200 resolution instead of 1080p), and 3DMark 11 will be tested with the "Extreme" preset. The scores for the Gamer Xtreme FTW are 41485 in 3DMark Vantage, and 5644 in 3DMark 11.
So far, CyberPowerPC has acquitted themselves fairly well. Let's see what happens in real world gaming testing.
Gaming Performance
Before we get into this testing, I do feel compelled to point out that Quad SLI is decidedly a niche product and you'll find the support is relatively commensurate with that. While NVIDIA's most recent drivers actually do a fantastic job of correcting the majority of surround testing quirks, I experienced some of the odd "red/blue" flickering during testing that people with Quad SLI have brought up on forums. This seems related to the SLI bridge being faulty or not high enough quality, and our rep at NVIDIA has suggested as much. The flickering doesn't impact performance, but it's pretty annoying. Thankfully it's easy enough to fix: replace the bridge.
Our "High" preset is liable to be a waste of horsepower, but for the sake of completeness, here it is: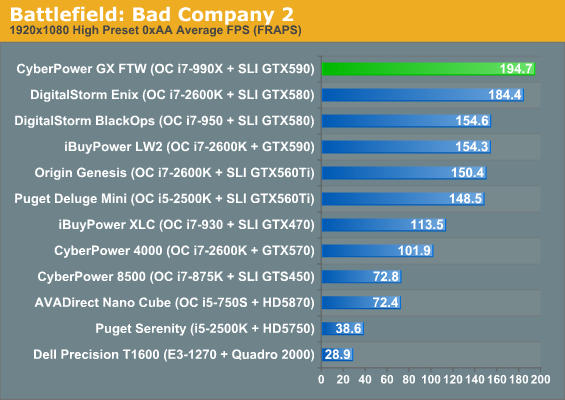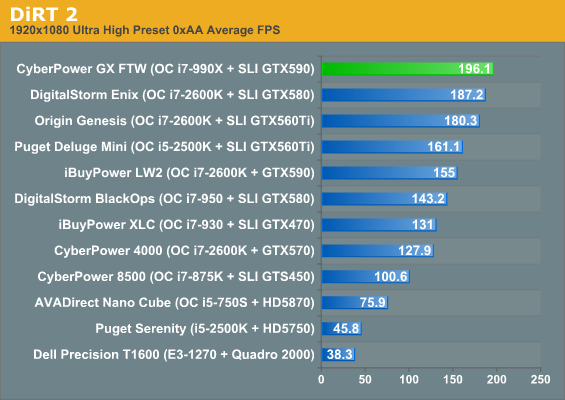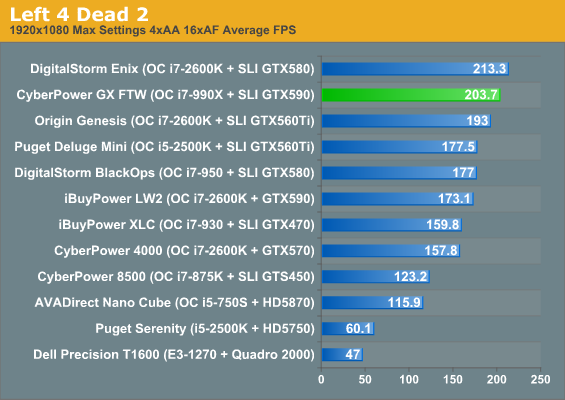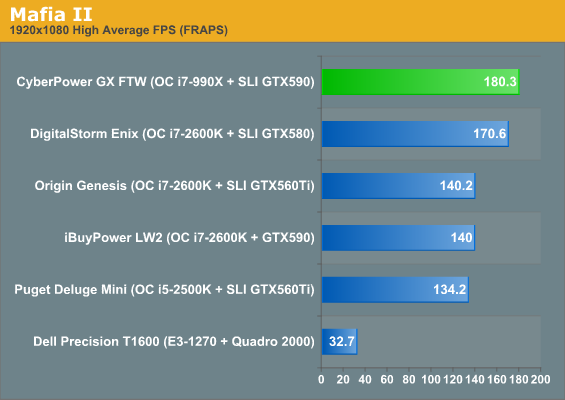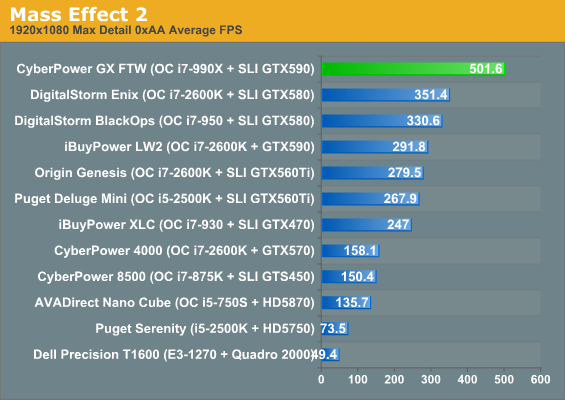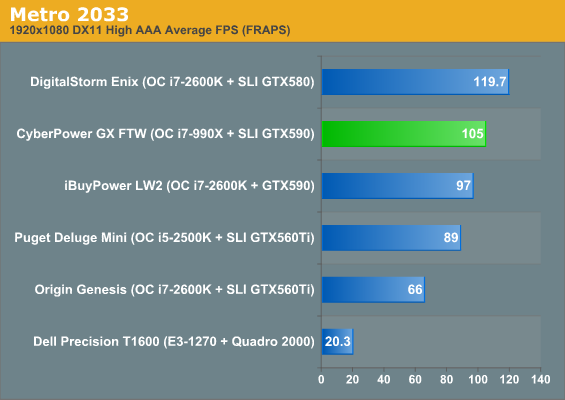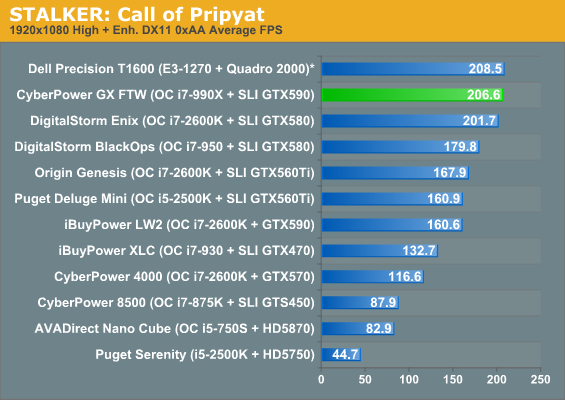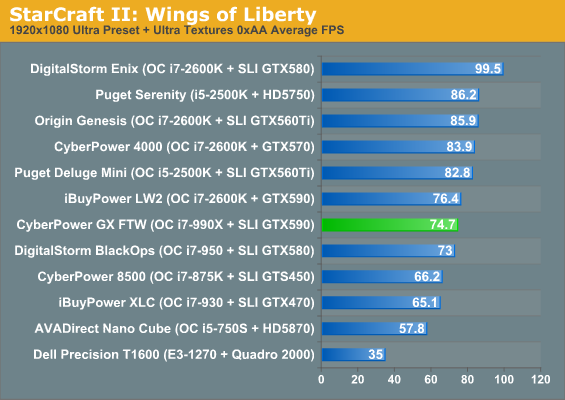 And the CyberPower Gamer Xtreme FTW, with its pair of GeForce GTX 590s, puts in a rocking performance nearly every step of the way. In certain situations it's still processor limited (which is amusing given it's being driven by a 4.5GHz Intel Core i7-990X), but when we finally shift the majority of the workload to the graphics subsystem it'll really start to pull away.
Two side notes, though: first, I've included the Dell Precision T1600's NVIDIA Quadro 2000 performance results as a kind of baseline for the sort of gaming performance one might expect from a $100 or less video card, but try to keep in mind that it's a workstation card and not designed for this purpose. The T1600 will still run roughshod over even this machine in many workstation-based applications. Second, the STALKER: Call of Pripyat benchmark has a very unique bug that we were able to root out while testing: if DirectX isn't installed or updated properly, the benchmark won't render dynamic shadows. It'll run perfectly fine otherwise, but dynamic shadows and some post-processing lighting effects won't appear, and as a result the score will be twice to nearly quadruple what it ought to be. If anyone ever runs into this (and it was a new one on me and the NVIDIA guys alike), update your DirectX installation.
Now, on to the "Ultra" testing!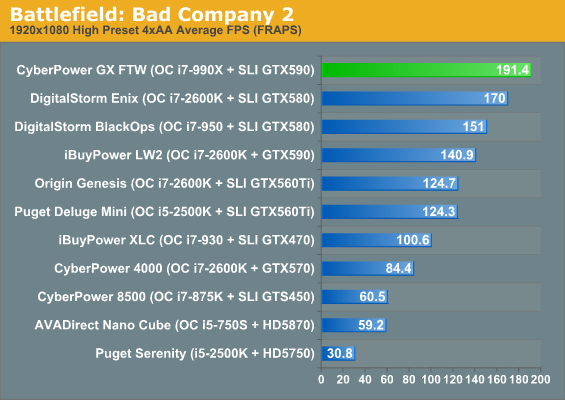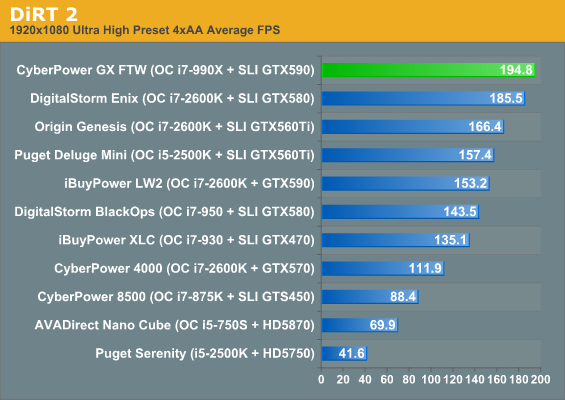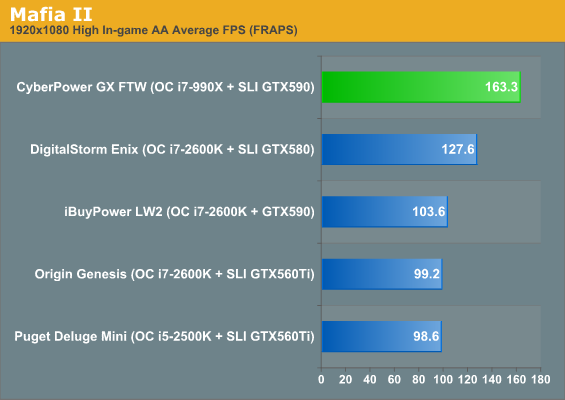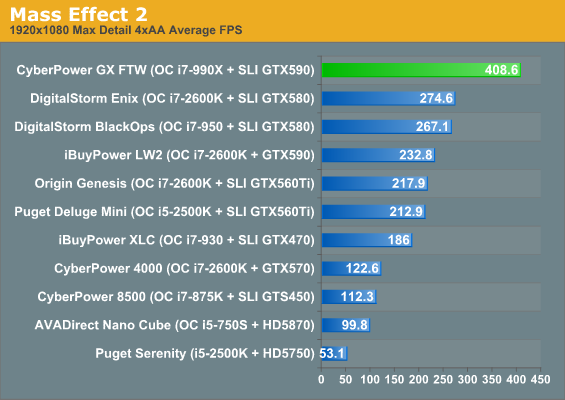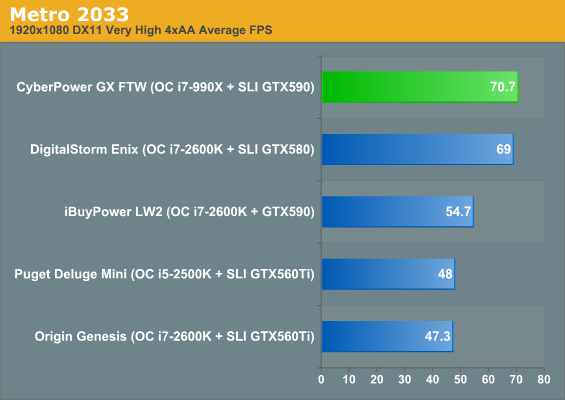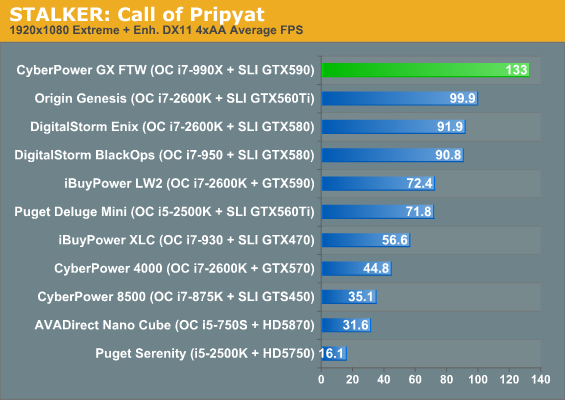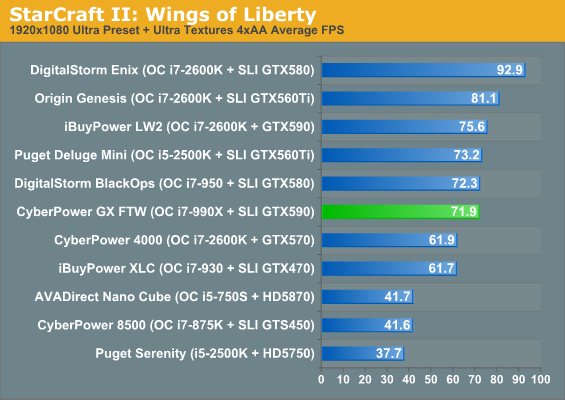 Once we shift the brunt of the workload to the graphics subsystem, CyberPower's desktop takes off like a shot, and you can expect this trend to further continue when we enter the "Surround" testing suite. StarCraft II continues to be the odd man out, but I've been griping to anyone who'll listen about how badly coded that game was since it came out. Released in 2010. It's a real-time strategy game that doesn't scale past two threads and still struggles with the now standard mainstream resolution of 1366x768, and there's no built-in anti-aliasing. What, were the designers too busy counting their money to produce a halfway modern engine? Come on, even World of Warcraft has DirectX 11 support and scales past two threads at this point.
But let's not dwell on badly engineered PC games when we can test a quad-GPU monster at the punishing surround resolution of 5670x1200.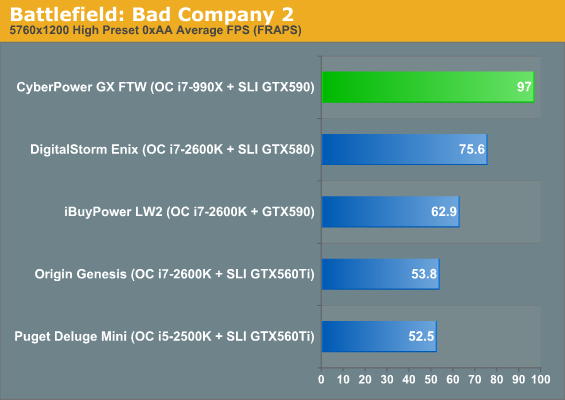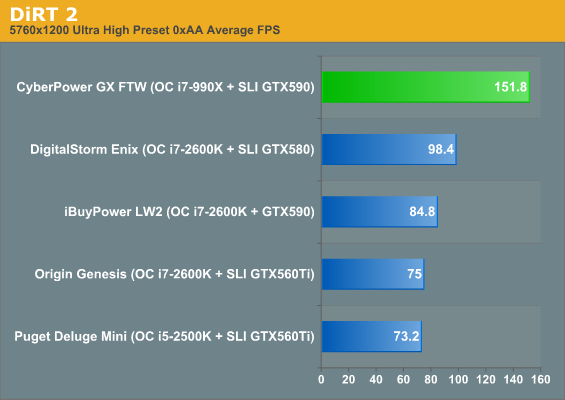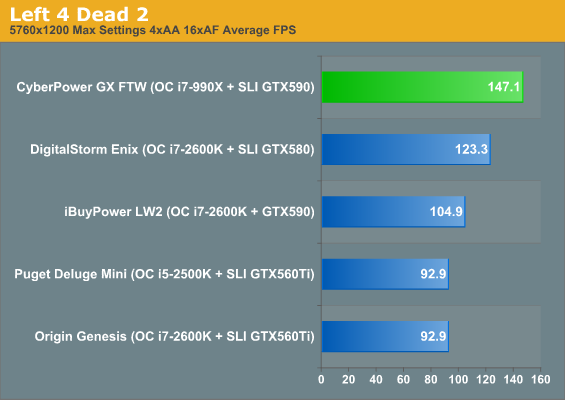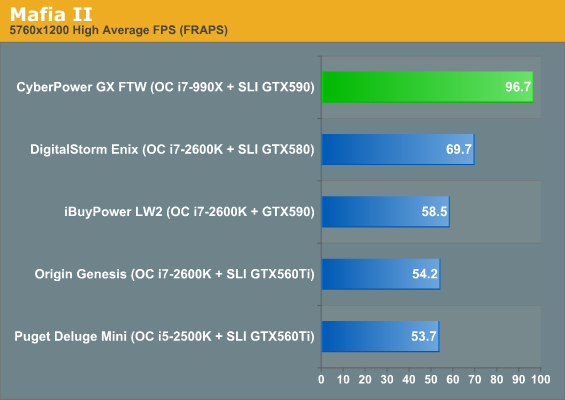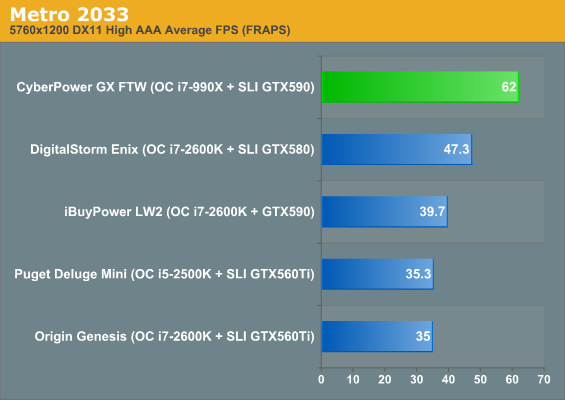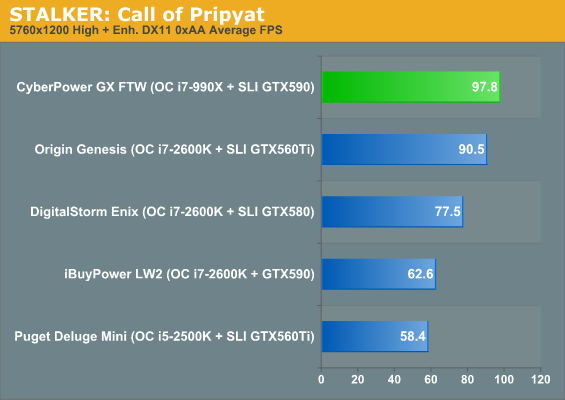 Now that the pair of GeForce GTX 590s can stretch their legs, the CyberPower Gamer Xtreme FTW takes a comfortable lead in every game. While some show better scaling than others beyond the pair of GeForce GTX 580s in the DigitalStorm Enix, ultimately there's still a performance boost and room to grow in every test case. The major question I have, though, is whether or not it's enough of a jump to warrant the increased price over a pair of GeForce GTX 580s. The 590 SLI rig is faster, sure, but the pair of 580s are still more than adequate even at this resolution. But if you're thinking about buying a trio of 27" or 30" LCDs for gaming purposes, by all means, go for the Quad SLI setup....
Build, Noise, Heat, and Power Consumption
The Thermaltake Level 10 GT's unique engineering does effectively sequester noise and heat, keeping the bulk of it largely well arranged around the CyberPowerPC Gamer Xtreme FTW's processor and video cards. Many of my complaints regarding build quality would be directed more at Thermaltake than CyberPowerPC, but we'll save those for when I tackle the enclosure on its own. Suffice it to say there are a couple of issues with the way the case is designed that are patently unacceptable for an enclosure that costs north of $250.
What CyberPowerPC has understood in its design here is something that I've been experiencing with some of the cases I've reviewed as of late: the number of or size of the fans used in a build is nowhere near as important as it seems. There are at least six fans in the Gamer Xtreme FTW, four alone of which are mounted to the 240mm radiator in a push-pull configuration that exhausts out of the top of the case. But the thing is, if you use a lot of fans, they don't have to work anywhere near as hard as if you try to just use a couple to keep the noise down. Likewise, a single well-placed fan can cool a lot more effectively while not working as hard than if you just place a bunch of fans in your enclosure and call it a day. As a result, the Gamer Xtreme FTW is actually reasonably quiet when idling. It's only under load that it gets noisy, and even then, it's nowhere near as offensive as you'd expect.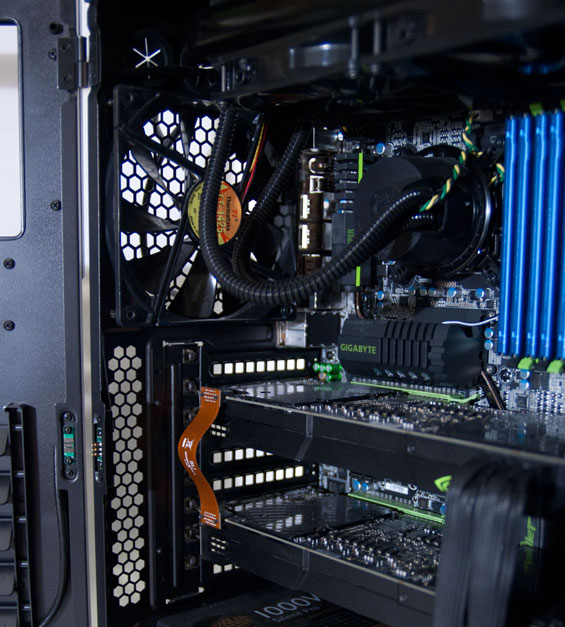 The spacing of the two cards is about as optimum as you're going to get, so clearly CyberPowerPC picked the right motherboard for this build. As for heat management, well, take a look for yourself: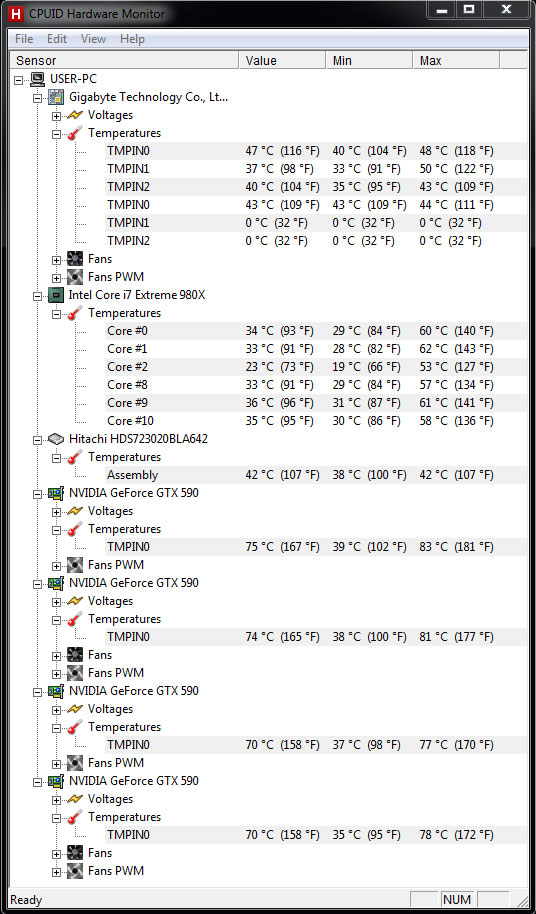 Now admittedly I was running the Gamer Xtreme FTW with the sliding glass door open when the outside weather was less than 60F, but we can probably all agree these are excellent thermals, especially when you take into account the reason why I tested this tower with that door open.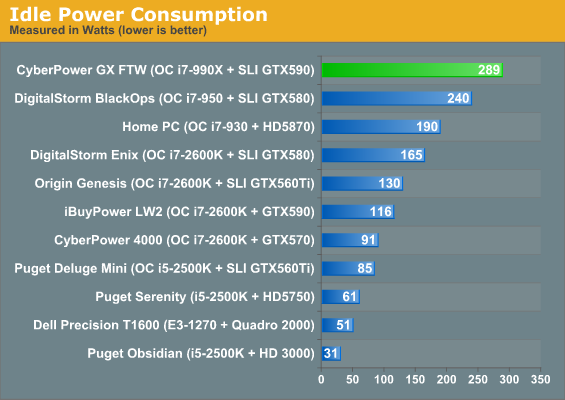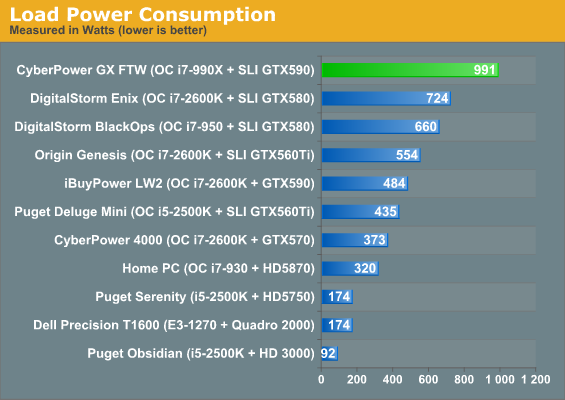 That's right, under load it draws nearly a kilowatt. Even idle power is obscenely high. And the Gamer Xtreme FTW dumps all that heat right out in whatever room it happens to be running in. It was during testing this tower that I fully grasped why I could never personally live with a computer like this: it draws an obscene amount of power under load, and that power means it throws a tremendous amount of heat. Those who live in Antarctica or Siberia might appreciate this more than someone in Northern California.
When overclocking and performance tuning, there's generally an inflection point where the processor starts requiring copious amounts of increased voltage with diminishing returns on the core clock. My old i7-930 could hit 4GHz stable on stock voltage, or I could reduce the voltage by 0.075V and still get 3.6GHz. The increased heat (and correspondingly increased noise from the tower having to deal with that much heat) for an extra 400MHz wasn't worth it. A system like this blows right past that inflection point, so under load that processor is going to draw a ridiculous amount of power.
But what about the incredibly high idle current? DigitalStorm was able to run SLI GTX 580s and a heavily overvolted i7-2600K, but the Enix idled at a little over half where the GX FTW sits. The reason for that is simple and one that anyone who's been keeping up with these desktop reviews has probably seen coming: a "badly tuned" overclock. The GX FTW runs its i7-990X at 4.5GHz at all times, with the voltage set at 1.45V. The pair of GTX 590s can idle, but that processor is always going to be drawing a mountain of power. Its idle current is more than some of our test units have pulled under load.
If you're interested in buying a hex-core, quad-SLI, heavily overclocked system for five grand, presumably you have a need for all that performance. In that case, maybe there's an added measure of stability to be had by not worrying about dynamic voltages and multipliers. On the other hand, if you have the FTW powered on just 12 hours per day, sitting idle, your power costs will be around $125 per year (plus the additional cost of AC during hotter months). If you're a professional gamer that "needs" this much performance to stay competitive, and you game eight hours per day to keep your mad skillz sharp, you would bump up your yearly power bill around $300. But I doubt anyone who would actually buy this sort of system will really care about power or cooling costs.
Conclusion: Fastest Ever, But at a High Price
The performance conclusion is really a simple one: the CyberPowerPC Gamer Xtreme FTW is among the fastest consumer desktops you can buy. If that's all you're really concerned about, then godspeed. I'll be trying to get a system with dual Radeon HD 6990s in for review as a comparison point, but until then the GX FTW holds the crown. But there are some real concerns here.
My first experience with the Thermaltake Level 10 GT used for this build was somewhat fraught, but I'm going to hesitate to pass any kind of judgment until I've actually tested the case myself on its own terms. Credit where credit is due: it kept temperatures very low, and noise levels were kept in check as well. CyberPowerPC was also very smart in their choice of components for this review unit, especially the motherboard. Being able to separate the GTX 590s as well as they could undoubtedly contributed to the excellent thermal performance.
The overclock is a thorn in my side, though. Even ignoring for the moment the ridiculous power consumption and corresponding heat output that will come with running four high-end GPUs to begin with, the voltage on the i7-990X is unnervingly high, and worse, it never idles down. Accounting for Vdroop, sensors in Windows still read 1.42V going into that core. It's water-cooled, but in keeping with our review of the DigitalStorm Enix I again have to wonder what kind of long term effect this much voltage will have on the processor. It's true that Gulftown isn't the overclocker Sandy Bridge is and so more work is going to be involved in getting it to hit these speeds, but there's just no way of knowing if constantly running this thing at full bore will cause trouble down the line (e.g. electromigration), even with the high performance water-cooling solution.
Where I get really agitated is the fact that the voltage is another "set it and forget it" overclock. On a $5,000 desktop, that's inexcusable. This thing is as premium as it gets, but tuned with absolutely no regard for the kind of power it's going to pull out of the wall, and it's going to add up over time. Worse than that, it's just wasteful, dumping buckets of heat into the room even when it's not doing anything. It's really kind of a shame Intel priced Gulftown out of so many peoples' reach, because the chip is an impressive piece of engineering that's remarkably efficient given the six cores. But the fixed voltage in the BIOS along with the disabled Turbo Boost and SpeedStep result in a chip that can't really idle and power savings that aren't going to be realized.
Finally, let's talk pricing for a minute. $5000 is a lot of money for a gaming system, but there's usually an added cost to buying a pre-built system. CyberPowerPC is actually quite competitive on their pricing, however, even with that hefty sticker price. I did some shopping online to configure the same system, using the best prices from a variety of online vendors. The total cost for all of the hardware--never mind the time required to assemble and test the system--comes out to just over $4500. CyberPower also provides a 3-year warranty and factory overclocking, so an extra $500 (10%) is very reasonable. We still wouldn't recommend such a system--you can easily shave off $1000 with a few judicious changes--but if you want everything you see here, five grand is what you should expect to pay, whether you buy pre-built or go the DIY route.
CyberPowerPC very nearly had a great flagship boutique build going here, with smart component choices and a screaming fast graphics subsystem. The overclock on the processor is a costly fumble. I know they can do better than this, and I really want to see them try. And maybe we can get them to do just than when Sandy Bridge-E launches later this year. That's perhaps the biggest reason to pass on the current Gulftown CPUs: if you didn't jump on the hex-core bandwagon when Gulftown first showed up a year ago, at this point you should just wait for the LGA-2011 refresh before taking the plunge.