Original Link: http://www.anandtech.com/show/4300/htc-hd7-now-with-nodo


When Microsoft launched Windows Phone 7 late last year, it was readily evident that they had a solid platform on their hands, but it was missing some critical details. Chief among them? Copy-and-paste, bringing back a frequent grievance from the early iPhone days. The platform's first update, codenamed "NoDo" (there's a story behind that), is now out, with copy-paste support in tow, along with much improved application loading and some general performance tune-ups in the UI.
At the same time, we decided to take a look at HTC's HD7, since it's been my day-to-day phone for a couple of months now. It's still the only Windows Phone you'll find in a T-Mobile store, so it's worth taking a look at, especially now that a very similar variant is due to hit AT&T in the coming weeks.
Meet the HD7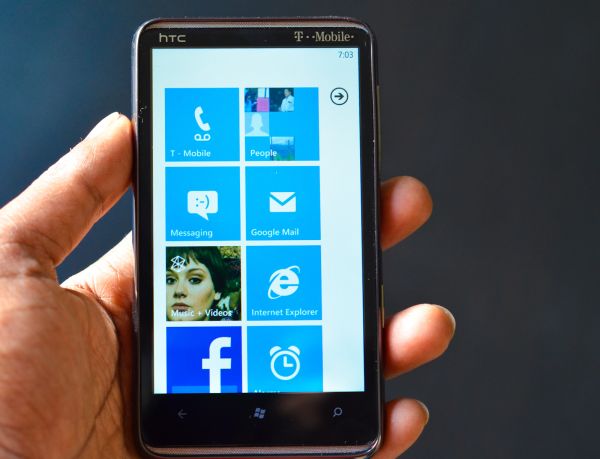 When HTC launched the HD2 in late 2009, it was one of the most technologically advanced phones on the market, with a 800x480 4.3" display and a 1GHz Qualcomm Snapdragon processor. This was well before everyone had a 1GHz phone—the HD2 was just the second Snapdragon-based device to hit market, after the European Toshiba TG-01, and was the first 1GHz phone on the American market. Unfortunately, for all the amazing hardware, it was saddled with Windows Mobile 6.5. Even with HTC's advancements to WM (capacitive touch, multitouch, the first implementation of Sense UI) it simply wasn't a viable platform at the time. A good comparison would be the N8—great hardware running a dead-in-the-water OS.

When Microsoft started releasing details about Windows Phone 7, it became clear that while fully capable of running the new OS, the HD2 would not be getting an upgrade. Microsoft indicated that the button layout did not conform to the guidelines given for WP7 handsets, which was true, but Microsoft really wanted to have a clean break from the previous generation of products, and that left the HD2 in a cold place (officially, at least—XDA and other developers have gotten everything from Froyo to WP7 to Ubuntu and Windows XP running on the HD2). HTC did the next best thing, and relaunched it's flagship Windows device as the HD7, with 7 indicating it's status as a WP7 device. In the process, it got a mild ID refresh and a few more features, but overall, it's very, very similar.
The first noticeable difference is the buttons—the five button array has been replaced by three backlit capacitive buttons—back, Windows, and search, as dictated by the WP7 design guide. The speaker and mic have been expanded to span the width of the device at the top and bottom edges, with an attractive metal grille covering them. The matte plastic on the sides of the phone has been replaced with a dark chrome band, which has an attractive but understated look. It's much more subtle than normal chrome brightwork.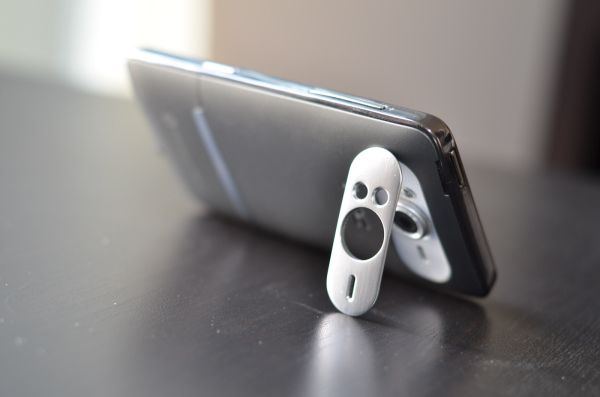 The curved back of the HD7 is rendered in a mildly rubberized plastic, with a brushed aluminum stand surrounding the camera. The stand, while a clever detail, is not actually that great—like the EVO 4G, it's prone to tipping over if not on a perfectly level surface, due to the location and shape of the stand itself. I like the Thunderbolt's stand better, it's sturdier and works in both portrait and landscape modes. But the biggest problem here is the battery cover. The soft touch plastic is great, but the cover itself feels cheap, and for good reason. The plastic itself is ridiculously thin, and there are large panel gaps—with the battery cover mounted, you can actually see a bit of the SIM card. In addition, the panel gaps let in a lot of dust. It's a blemish on an otherwise well designed device.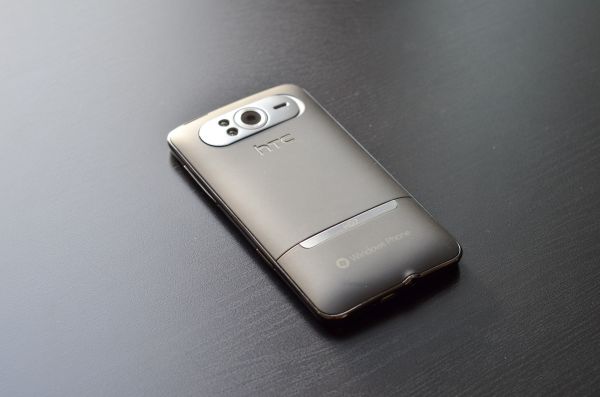 The interesting part hidden in all this is that given HTC's current lineup, the HD7 feels a little bit last generation. HTC has moved to a very consistent design language across all of it's devices, as noted by Brian in his Thunderbolt review. It started with the Desire HD, which was an update of the Nexus One/Desire industrial design, and HTC has since expanded the design language to (long list alert!) the Mozart, the Surround, the Trophy, the Thunderbolt, the Sensation, and the Desire S (or the Incredible S for VZW). The HD7 is a holdover from the old days, when HTC had more slab sided designs, with less curves and less metal. Most of the recent HTC designs have basically pointed towards aluminum unibody construction, and the HD7 unashamedly differs from that. I'd expect the next revision of the HD7 to fall much more in line with the rest of HTC's recent phones, possibly based on the Desire HD chassis.
Physical Comparison
HTC HD7
HTC Surround
LG Optimus 7
Samsung Focus
Dell Venue Pro
Height
122 mm (4.80")
119.7 mm (4.71")
125 mm (4.92")
122.9 mm (4.84")
121.0 mm (4.76")
Width
68 mm (2.68")
61.5 mm (2.42")
59.8 mm (2.35")
65 mm (2.56")
64.4 mm (2.54")
Depth
11.2 mm ( 0.44")
12.97 mm (0.51")
11.5 mm (0.45")
9.9 mm (0.39")
14.9 mm (0.59")
Weight
162 g (5.71 oz)
165 grams (5.82 oz)
157 grams (5.54 oz)
119 grams (4.2 oz)
176 grams (6.21 oz)
CPU
1GHz Qualcomm QSD8250
1 GHz Qualcomm QSD8250
1 GHz Qualcomm QSD8250
1 GHz Qualcomm QSD8250
1 GHz Qualcomm QSD8250
GPU
Adreno 200
Adreno 200
Adreno 200
Adreno 200
Adreno 200
RAM
576MB LPDDR1 (512 system, 64 GPU)
512 MB LPDDR1 (448 system, 64 GPU)
512 MB LPDDR1 (448 system, 64 GPU)
512 MB LPDDR1 (448 system, 64 GPU)
512 MB LPDDR1 (448 system, 64 GPU)
NAND
16GB integrated
512 MB integrated, 16 GB (Internal Class 4 microSD)
16 GB integrated
8 GB integrated
8 or 16 GB integrated
Camera
5MP with autofocus, LED flash, 720P video recording
5 MP with autofocus, LED flash, 720P video recording
5 MP with autofocus, LED flash, 720P video recording
5 MP with autofocus, LED flash, 720P video recording
5 MP with autofocus, LED flash, 720P video recording
Screen
4.3" LCD 800 x 480
3.8" LCD 800 x 480
3.8" LCD 800 x 480
4" Super AMOLED 800 x 480
4.1" AMOLED 800 x 480
Battery
Removeable 4.55 Whr
Removable 4.55 Whr
Removable 5.55 Whr
Removable 5.55 Whr
Removable 5.18 Whr

At 162 grams (5.7 ounces), the HD7 is a pretty hefty phone, and the size and weight give it a substantial feel in-hand. Battery cover notwithstanding, it feels very well put together and very familiar at the same time. The HD7's similarities with the EVO and HD2 are not just limited to physical attributes; all three share variants of Qualcomm's first generation Snapdragon SoC. The GSM-only HD7 has the QSD8250, as with all other WP7-based handsets, to go along with 576MB RAM, 512MB ROM, and a built-in 16GB SD card. It's no longer cutting edge, but Microsoft is fairly limiting as far as what they allow handset makers to use—you can get a WP7 device with any CPU as long as it's a 65nm Scorpion, Ford Model T-style. We'll get to the application performance in a bit, specifically the NoDo update and the performance improvements it brings, but for now, let's take a look at the display and camera performance.
Camera—Standard Snapdragon Fare
The HD7 has the same 5MP camera/dual LED flash arrangement as the HD2, but adds 720p video recording. Again though, this is a previous generation device, so it doesn't have the same image quality advancements that the newer HTC models have, as Brian detailed in his Thunderbolt review.
But overall, it works alright. Decent for web publishing and Facebook albums, as long as you have enough light. Low light is still basically terrible, and the flash is not very useful. As far as options go, HTC allows you to set the scene mode, after effects, metering mode, and flicker adjustment, in addition to resolution and flash modes.
I don't get a whole lot of smartphones through here, so I don't have a standardized test location for pictures like Brian, but I tend to take pictures of various Audis (I live next to the dealership). Also, I'd like to thank the guy that parked his Continental GT right outside my apartment building. Cue Janis Joplin—"Oh Lord, won't you buy me a Mercedes-Benz? My neighbors drive Bentleys, I must make amends..."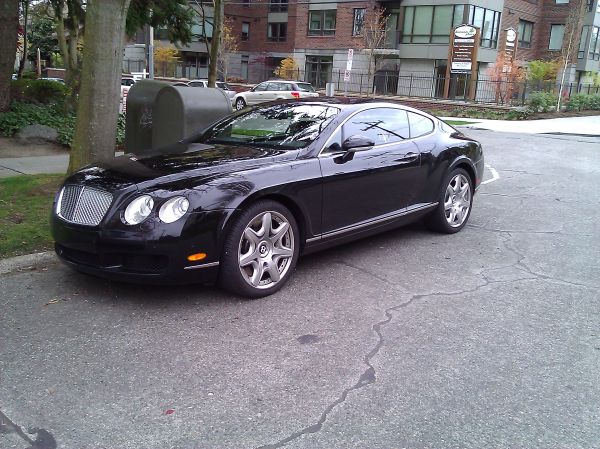 Most of the pictures turned out okay, but the ones that didn't usually ended up not being okay either because the camera didn't focus quickly enough, or because the picture ended up being blurry. So I shall resume my old complaint with WP7—they really need to add a software camera button. I've gotten more used to using the camera button in the HD7 than the one in the Venue Pro (or maybe the camera button just doesn't suck as much), but I still end up taking 2-3 pictures at a time, because invariably, at least 35% of my pictures end up blurry.
As mentioned previously, the HD7 shoots 720p video. Unfortunately, I got the same really weird underwater-microphone effect that Brian saw with the Surround. It's unexplainable, it almost sounds as though there's some kind of heavy wind blowing into the mic, even on a clear day. It basically makes the video recording feature completely unusable, I don't understand how HTC hasn't fixed this yet. Also, it annoys me to no end that the camera application doesn't default to the highest quality video recording option, you need to manually set it to 720p recording, every time.
The Trusty Old 4.3" WVGA
The above headline read "The Good Old 4.3" WVGA" until I realized that HTC's 4.3" WVGA LCD panel is pretty mediocre at this point. It has size on its side, but brightness and contrast are middling at best. It's not bad, but compared to the cream of the modern smartphone crop, it's just not that competitive.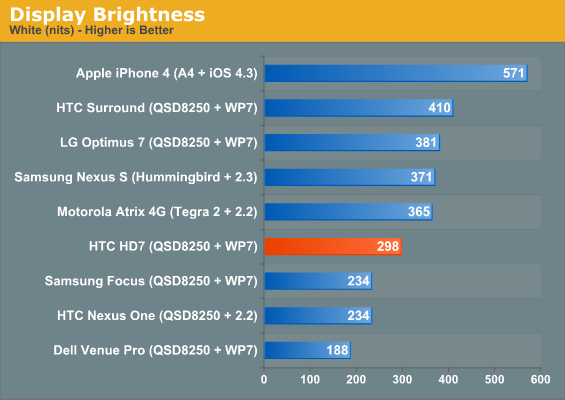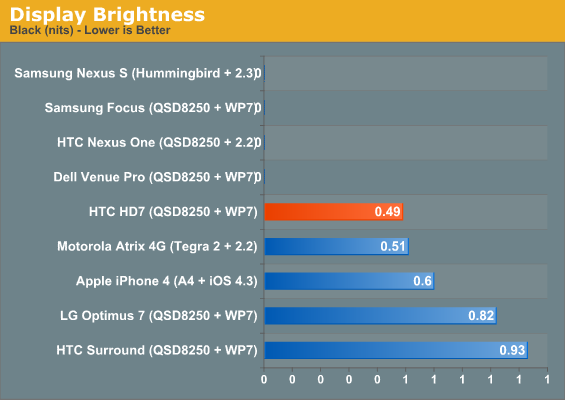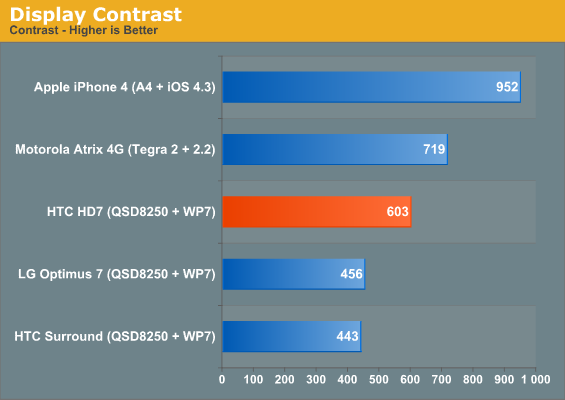 The upcoming HD7S for AT&T changes that, with a Super-LCD version of the same 4.3" display (the S stands for Super). We've seen pretty good performance out of S-LCD displays in the past, and assuming the HD7S continues that trend, it'll have a decent display.
Thankfully, HTC is moving to S-LCD for the 4.3" qHD devices (Sensation and EVO 3D), but that brings up a larger question for Microsoft—with most of the high end Android devices moving to dual core processors and higher resolution qHD displays and Apple already with a high res screen and moving to a dual core SoC in the near future, when will Microsoft decide to take the next step to compete on the bleeding-edge hardware level?
1GHz Snapdragons and WVGA displays were high end in mid-2010. A year later, they're still good enough for most smartphone users, but what about the high end market now? Most indications I've seen out of Microsoft seem like there will just be a bump to the 2nd generation 45nm Snapdragon chips for the second generation WP7 devices. Those will probably hit late this year, around the same time as the 5th generation iPhone and the next wave of dual-core Android phones (not to mention quad-core tablets), so WP7 handsets will still be lagging far behind the competition.
It's a twofold problem. One is that Microsoft's tight control of the system is creating the reverse effect of the fragmentation problems afflicting Android. While there's a lot of software diversity in Android phones, there's an equal amount of hardware diversity. With WP7, there's zero software diversity, and correspondingly little hardware diversity as well. HTC has five different WP7 handsets on the market—one has a slide-out keyboard, one has a slide-out speaker, one has a marginally larger screen, but other than that, they're all practically the same. The biggest differentiating factor from device to device is the type of screen it has; beyond that, all ten WP7 devices have nearly identical hardware.
Microsoft's desire to keep a consistent experience across all Windows Phones is an admirable goal, but there's only one way to do that and stay with the times technologically, which brings me to the second problem. They need to iterate faster, and not just on the software end (though I'll address that on the next page). Microsoft is still playing catch up in the smartphone game, and matching Apple's release schedule will not get them caught up. There either needs to be a large number of smaller iterations (Google-style, a new OS revision and new handsets every four months) or, really significant steps forward every 12 months. The former is where NoDo comes in.
Somebody Forgot Donuts?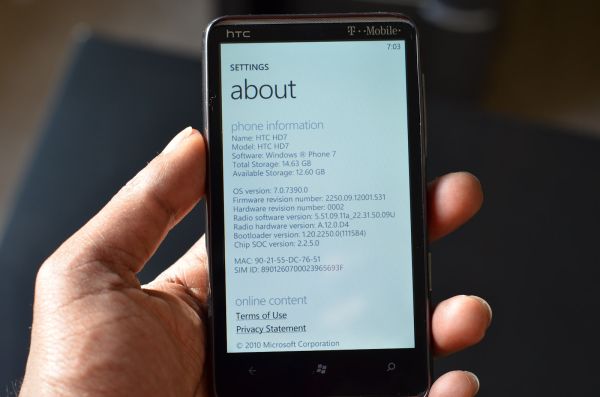 Windows Phone 7 Build 7.0.7390.0 represents the first upgrade for the WP7 platform. Codenamed "NoDo" because somebody forgot to bring donuts to a WP7 development meeting (I swear, I'm not making this up), the update brings improvements to Marketplace, faster app loading, general performance tweaks, and copy/paste (finally?)
My general impressions? It's mostly the same. This isn't an earth shattering update by any means, it brings about much needed copy/paste functionality and makes games that much less annoying to load. Otherwise, it's the same Windows Phone 7 that we've all come to know and love.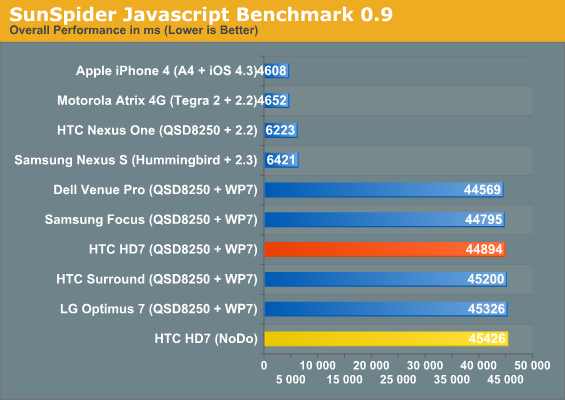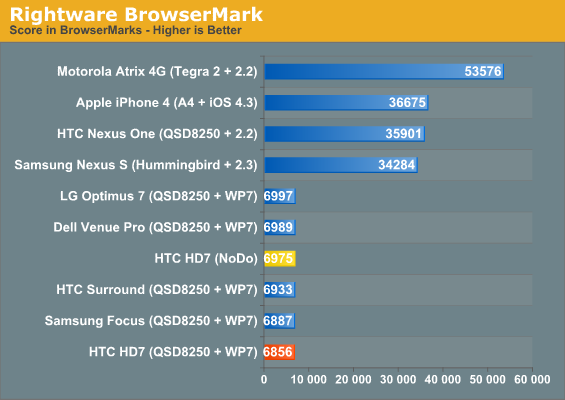 The browser benchmarks show basically the same results pre- and post-NoDo (terrible JavaScript performance remains...), but the real winner in NoDo is the app load times. Everyone likes to make a big deal out of copy/paste, but it wasn't a huge deal with iOS, and it's not a huge deal here either. Convenient at times, but you can live without it. The difference maker on a daily use basis? Way faster load times for third party apps.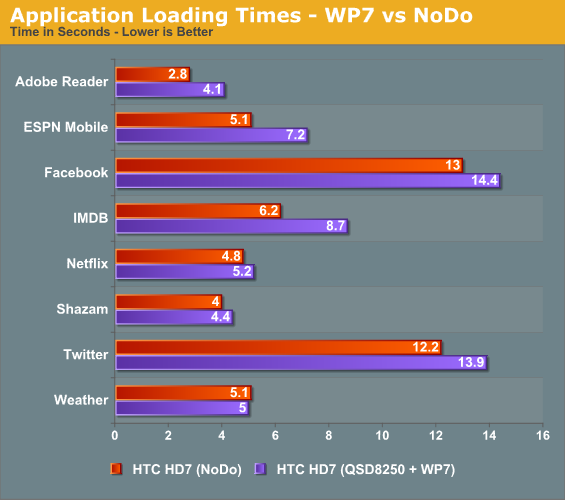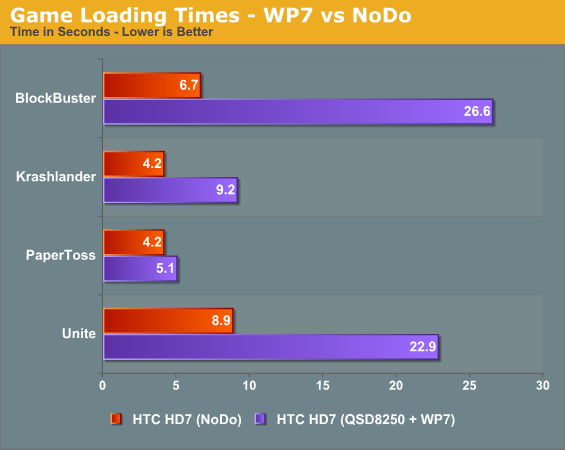 Normal apps are a few seconds faster, anywhere between 10 and 30% decrease in load time. The big reduction is in games. BlockBuster and Unite were well into the 20+ second range, but post-NoDo, load in less than 10 seconds. It's huge. (Sidenote—the load times for Facebook and Twitter are pretty lengthy since I included the refresh time as well. I did that consciously because it better represented the amount of time between when you hit the icon and when you can really start using the app. The loading times for the apps sans-refresh were in the 5-6 second range and dropped by about 1.5 seconds each.)
In daily use, you do notice the changes, and the whole usage experience feels a bit peppier. Copy and paste work well, selecting text is similar to the method used in Gingerbread, but a little bit cleaner. The copy button appears next to the highlighted text, the paste button in a bar just above the keyboard. I don't know why they took so long to release the copy/paste feature (they've been demoing it since before the WP7 launch party last September), but at least it works well.
But Mango is the one to really wait for. Slated to bring much fuller multitasking to the platform, in addition to a much improved IE9 mobile browser, and Twitter integration, amongst other things. Mango should go a long way towards bringing the WP7 platform to feature parity with Android and iOS, and as long as Microsoft gets it out on time and doesn't delay the update like it did with NoDo, it'll be a big step forward.
Surprisingly Decent Battery Life
Surprisingly, the battery life is not as bad as I was expecting it to be. The Venue Pro and Focus fare pretty poorly in our testing due to their AMOLED displays, and I was expecting the HTC's large LCD to be a similar hindrance. Oddly, we saw better battery life out of the HD7 than the Surround across the board, even though the two have the same 1230 mAh (4.55 Wh) battery. It's still behind the Optimus 7, but the LG has a significantly larger battery.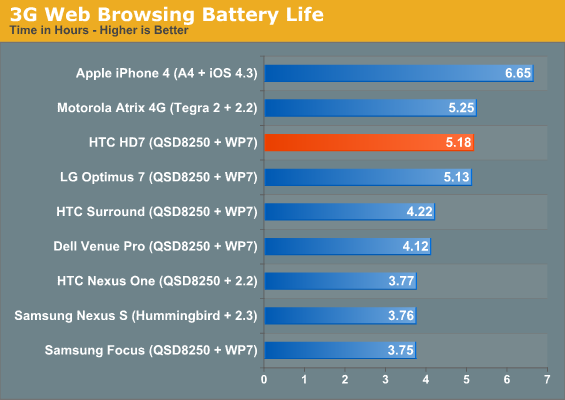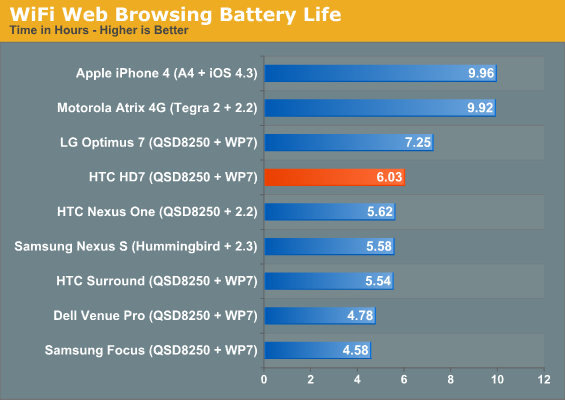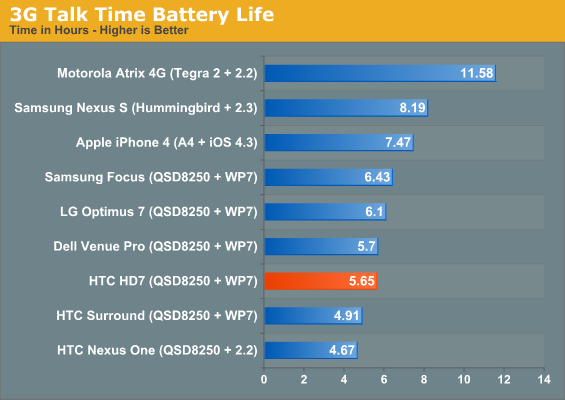 Conclusion
This is a multipart conclusion, so let's start with the HD7. I've long felt that with the Venue Pro and the HD7, T-Mobile ended up with the two best WP7 launch devices, at least in the US. AT&T's range includes the Surround and it's pointless speaker, the Quantum and it's overall lack of desirability, and the Focus, which is thus far the most popular WP7 device. I'm not the biggest fan of the Focus; the SAMOLED screen is needlessly oversaturated and it tends to hurt battery life if you do a lot of messaging or email, mostly because WP7 has a lot of white-themed UI elements. But it's well placed to be the most popular WP7 handset in the US market, and it's designed and built well, so I can't fault them too much.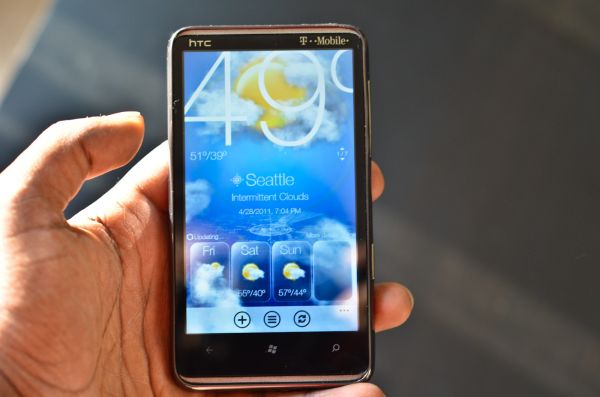 The Venue Pro was a fun one for me, but the sheer bulk of a 4"+ slider is a little much for most people, especially with a design that doesn't try to hide the size in any way. The HD7 is much easier for carrying, because it's still relatively thin. But the screen is still an issue—for a high-end smartphone, the 4.3" LCD panel that HTC is still using will just not cut it anymore. HTC recognizes this, which is where the HD7S comes in. Basically the same as the HD7, except with an Super LCD screen and AT&T 3G bands, it fixes my chief complaint with the current HD7. But really, as long as you avoid the Quantum and the Surround, almost all of the WP7 handsets are good bets. Pick the design you like best and go from there, because on a hardware level, you're basically splitting hairs. One has a slightly larger battery, one has a slightly better camera, one has slightly better built quality, one has a slightly better screen, but all four have a QSD8250, 512MB memory, 8GB flash storage, and an identical OS. There's too little hardware diversity in Windows handsets right now to say anything different, and it will stay that way for the foreseeable future. I think after the next wave of hardware releases comes with Mango in tow, we'll be able to say something more meaningful than the technological equivalent of "everyone played hard."
Now for the more difficult part of the conclusion. Although I'm a fan of Windows Phone 7, I have to say that it's a flawed platform at present. The main issues right now form a laundry list of things that the platform is sorely lacking. Chief amongst them are 3rd party multitasking, decent JavaScript performance, Silverlight, Flash, USB mass storage support, some decent form of IM support, VoIP and video calling, tethering or WiFi hotspot support, file transfers via Bluetooth, and custom ringtones. This is 2011 guys, let us add our own damn ringtones.
I'm just getting started, too. Wikipedia has an awesome list of stuff that WinMo had that WP7 no longer does, it's kind of funny to read; I just listed the stuff I've been annoyed about in the last few months of using WP7 phones. Mango will bring a lot of that with it—multitasking, JS, Sliverlight, and Twitter. The rest? God knows. And that's a big problem, because that's what Microsoft needs to catch up TODAY. Five months from now when Mango actually hits devices, the list will be longer.
But what about NoDo? At launch, WP7 was comparable to iOS 3.0, minus the copy/paste support. Post-NoDo, it's right around 3.1—there have been some tweaks, but it's overall not that different.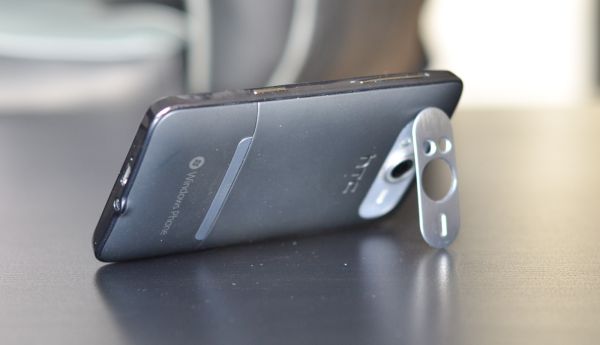 And that's my problem with NoDo. I want an earth shattering update, and WP7 really needs one if it wants to be competitive with the iOSes and Androids of the world. NoDo, in and of itself, is a good update, but it's late. This update should have been out in January, with Mango following in the ides of summer. To catch up, Microsoft needs to be very aggressive with its updates, almost to a Google level.
Google, for the record, went from Cupcake at the end of April 2009 to Donut (September 13, 2009) to Eclair (2.0 on October 26, 2009, 2.1 on January 12, 2010) to Froyo (May 20, 2010) to Gingerbread (December 6, 2010). In 18 months, they had five major revisions to the platform, turning it from something with a lot of good ideas and not much execution to a legitimately well rounded and well executed platform. I don't think Microsoft, as a company, has the kind of mobility necessary to match that release schedule, but I'd like to see a major update every six, maybe nine months at most. Matching Apple's one year release cycle isn't a good strategy, unless they're willing to pack two or three times the amount of development into the same timeframe.
Microsoft got all the big things right (or will add them with Mango), and that's very good, because it means they're now in the conversation. The deal with Nokia got them to the number three spot almost by default—we're still waiting to see how the HP devices turn out, Nokia just took themselves out of the smartphone platform race, and for a company called Research in Motion, RIM as a company is pretty much standing still. The promising QNX OS made its highly anticipated debut on the PlayBook, but all signs point to BB 6/7 staying on handsets for at least another year.
So Microsoft is a pretty clear (but distant) number three right now, and not in any danger of losing that, but there's a lot more work that needs to be done if they want to catch Apple and Google. The jump from "in the conversation" to "legitimate contender" is defined by the small things, and that's what Microsoft really needs to get on. A lot will be fixed by the Live Marketplace gaining more maturity and more headline apps—people need to go from "developing for Android and iOS" to "developing for Android, iOS, and Windows Phone". But it couldn't hurt Microsoft to include a first-party Live Messenger client and maybe toss a decent Gmail client on there in the mean time. And the ringtone thing. Really, 2011 guys. Custom ringtones aren't that hard; just toss another pane into the Zune desktop client and let us add them. Simple. It's the little things.