Original Link: http://www.anandtech.com/show/4297/cyberpower-xplorer-x6-9100-gamers-need-not-apply


Introducing the CyberPower Xplorer X6-9100
As a matter of course we tend to spend a lot of time focusing on the gaming potential of the hardware we review. Boutique desktops get a lot of love, and it's always interesting to see just how much power you can pack in a portable solution. Yet many users simply don't game, but they still need a powerful machine for other tasks like video or photo editing. In the world of Intel's first-generation Core i7 line, that meant getting a notebook with a battery eating graphics card you just didn't need. Sandy Bridge changes all that with integrated graphics suitable enough for most tasks, and today, CyberPower has offered us a notebook targeted to a slightly different segment than usual: the IGP-powered, 1080p and quad-core-wielding Xplorer X6-9100.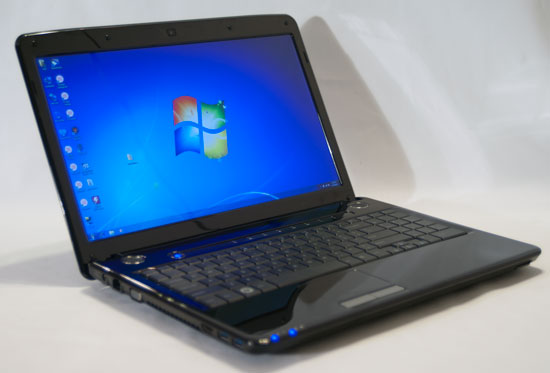 CyberPower is gearing the Xplorer X6-9100 specifically at content creators, people who need processing power and are primarily concerned with business applications, but they still want an inexpensive option. While I personally lament the lack of NVIDIA graphics hardware for accelerating the Mercury Playback Engine in Adobe Premiere CS5 (and now 5.5), I recognize that I'm in the minority. For many users, especially budding photographers, an inexpensive quad-core notebook with a 1080p screen is going to be a great find. This is how our review unit is specced:
CyberPower Xplorer X6-9100 Specifications
Processor
Intel Core i7-2630QM
(4x2GHz + HTT, 2.9GHz Turbo, 32nm, 6MB L3, 45W)
Chipset
Intel HM65
Memory
2x4GB DDR3-1333 (Max 2x4GB)
Graphics
Intel HD 3000 Graphics (Sandy Bridge)
12 EUs, 650-1100MHz Core
Display
15.6" LED Glossy 16:9 1920x1080
(AU Optronics B156HW01 V5 Panel)
Hard Drive(s)
Intel 510 120GB SATA 6Gbps SSD
Optical Drive
DVD+/-RW Combo Drive
Networking
Atheros AR8151 Gigabit Ethernet
Atheros AR9002WB-1NG 802.11n Wireless
Bluetooth 3.0+EDR
Audio
Conexant Cx20585 HD audio
Stereo speakers
Headphone and microphone jacks
Battery
6-Cell, 10.8V, 48Wh battery
Front Side
Indicator lights
SD/MS/MMC reader
Left Side
AC adapter jack
Ethernet jack
VGA
Exhaust vent
HDMI
2x USB 3.0
Right Side
Headphone jack
Microphone jack
Optical drive
Kensington lock
Back Side
-
Operating System
Windows 7 Home Premium 64-bit
Dimensions
14.96" x 10.31" x 1.07"-1.34" (WxDxH)
Weight
~6 lbs
Extras
Webcam
Flash reader (MMC, SD/Mini SD, MS/Duo/Pro/Pro Duo)
USB 3.0
Bluetooth
Warranty
1-year limited warranty
Pricing
Starting at $719
As configured $1,069
CyberPower is aiming the Xplorer X6-9100 at users who need high performance without gaming horsepower, and our review unit was configured to prove a point: that you can get a lot of power and even a good SSD in a notebook in the neighborhood of $1000.
The configuration starts with Intel's Core i7-2630QM; it's the bottom rung quad-core in the mobile Sandy Bridge lineup but still a formidable contender. Boasting a 2GHz stock speed (in line with last generation's extreme i7-920XM), the i7-2630QM sweetens the deal by offering Turbo Boost speeds up to 2.9GHz on a single core and a still respectable 2.6GHz on all four. That's not as high in pure clock speed as what the i7-940XM could manage, but there are many other benefits, chief among them being power requirements at moderate loads. The only feature cuts made to the 2630QM as opposed to the higher-end 2720QM and its kin are a reduced GPU clock (maxing out at 1100MHz) and no hardware support for virtualization or AES-NI. This notebook is also running off of that integrated GPU, so you do get access to Intel's Quick Sync encoding technology.
Our other major talking point is the recently launched Intel 510 series SSD at 120GB. It's admittedly an expensive upgrade and the capacity isn't ideal for all users, but if you're only doing photo or sound work it should be adequate. The 510 also comes equipped with SATA 6Gbps support that the Xplorer X6-9100 makes full use of.
Everything else is reasonably uneventful. The standard webcam, stereo speakers, gigabit ethernet, and wireless-n networking are all accounted for, but at least CyberPower generously provided 8GB of DDR3 for this review. Given how inexpensive memory is, it becomes awfully difficult to justify going with 4GB anymore. If you don't need that much memory that may be one thing, but photography buffs are going to want the extra real estate.
The Inevitable Return of Too Much Gloss
Sometimes I feel like we're on crazy pills here. Glossy plastic has proven to be the bane of my existence as a laptop reviewer (let alone mediocre laptop photographer), and we gripe about it every time, yet nothing seems to change. The nicest thing I can say with the Xplorer X6-9100 is that at least they used the gloss in a very uniform fashion: it's the exact same glossy black finish on the lid, the screen bezel, the palm rest, and surrounding the keyboard. In that sense it leaves us very little to talk about: there's just glossy plastic everywhere. But we'll press on.
The Xplorer X6-9100 kicks it old school with its glossy black plastic and keeps it real with blue LEDs for the indicator lights. Just to make sure you get no illusions about progress, there's a touch-sensitive media control bar just above the keyboard that's also backlit with blue LEDs. While the X6-9100 ships with Bluetooth, there's no dedicated switch for it: you have to manually enable and disable the adapter in software.
The model number on the bottom of the Xplorer X6-9100 simply cites "A15A" and that's all CyberPower's website offers us, though once we contacted CyberPower we were able to confirm the ODM as Pegatron. Of course, actually using the notebook suggests its origin isn't the industry stalwart Clevo, as we've grown accustomed to from boutique builders.
The first indication this isn't standard Clevo fare is the keyboard, which doesn't completely suck and uses a slightly different layout. The soft edges and boundless gloss used for the shell notwithstanding, the keyboard uses traditional matte plastic keys as opposed to an island-style (chiclet) keyboard, and the arrow keys don't intrude on the 10-key. The layout still isn't ideal: arithmetic operator keys are above the 10-key instead of to the side, and the 0-key is instead intruded upon by a double-wide enter key. Whenever a manufacturer messes with the 10-key layout it just seems ridiculous and self-defeating, at least to me. The whole point of a 10-key is being able to use it by touch because it has a standard layout; changing that layout severely curtails the pad's usefulness, and this is only made worse when you look at the top of the notebook shell and see what seems like plenty of space on either side of the keyboard to add that fourth column.
Our other sticking point is the touchpad, which ranks among the worst I've ever used. It has the same glossy finish as the rest of the shell, so if you have the slightest bit of moisture on your fingertip it's going to be extremely jerky and difficult to use. Fortunately that's not liable to be a major issue to the users this notebook is targeted towards, who are more likely to just plug in an external mouse and call it a day.
Overall, the build quality of the Xplorer X6-9100 really is pretty good, with sturdy hinges and minimal flex, but the problem is that the glossy plastic makes the whole thing look and feel cheaper than it is. Ignoring my general hatred towards putting glossy plastic on the screen bezel, the use of the material over the entirety of the notebook (save the bottom and the keyboard) makes it appear and feel utterly generic. Frankly even some basic CyberPower branding would go a long way towards sprucing up the shell.
Application and Futuremark Performance
For the CyberPower Xplorer X6-9100 we're foregoing gaming testing; the X6-9100 employs Intel's Sandy Bridge HD 3000 integrated graphics, which we've spent a healthy amount of time testing already. Suffice it to say it's adequate for the most basic of gaming at the lowest settings (ignoring more intense games like Mafia II or Metro 2033), but you're not going to be playing a whole lot at the notebook's native 1080p resolution.
For the rest of our testing, we'll include a large selection of recent notebooks. We've highlighted the Xplorer in our standard green, with the Compal SNB test notebook in gold and the ASUS K53E in black. These two laptops will bracket the X6-9100 with the i7-2820QM plus 160GB SSD coming out on top and the i5-2520M plus HDD coming in below--although the 2520M has a higher IGP clock and thus will also lead in graphics testing by a small amount.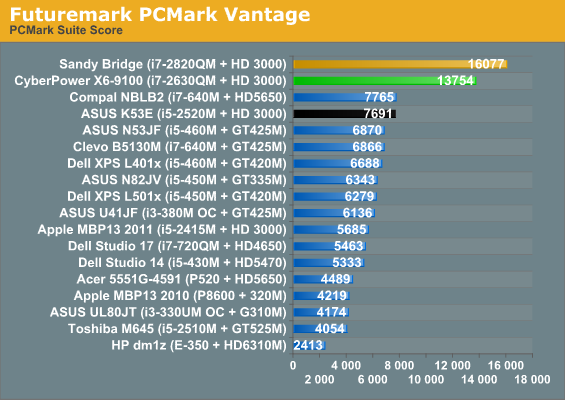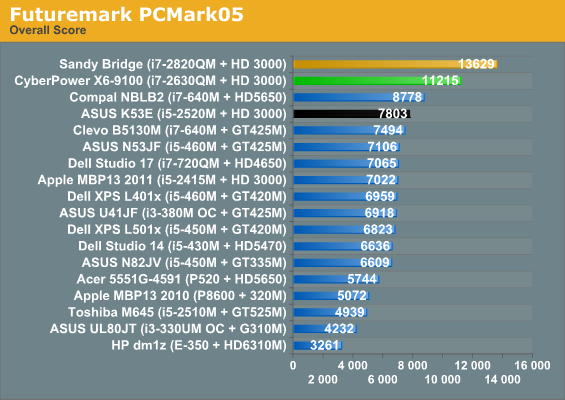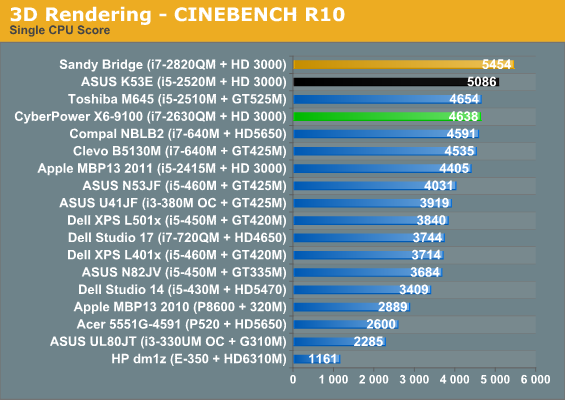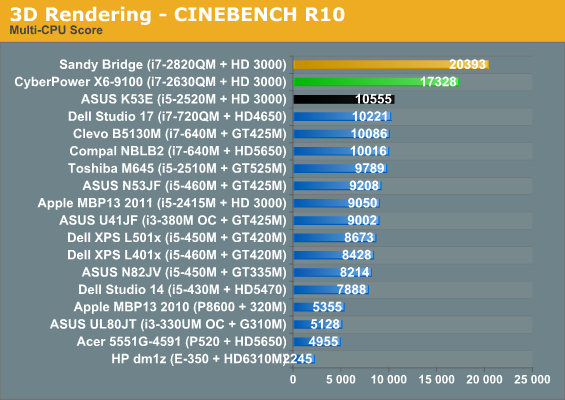 It should come as no surprise to anyone that the i7-2630QM is fast. Any discipline that takes advantage of the additional processor cores produces a staggering lead, far greater than Clarksfield had over Arrandale. The i7-2630QM is the slowest Sandy Bridge quad-core shipping right now, but it still boasts a substantial improvement over last generation's quads. If you're like me and get a decent amount of mileage out of having extra cores on tap, and you're using a Clarksfield notebook, Sandy Bridge makes a very convincing case for upgrading.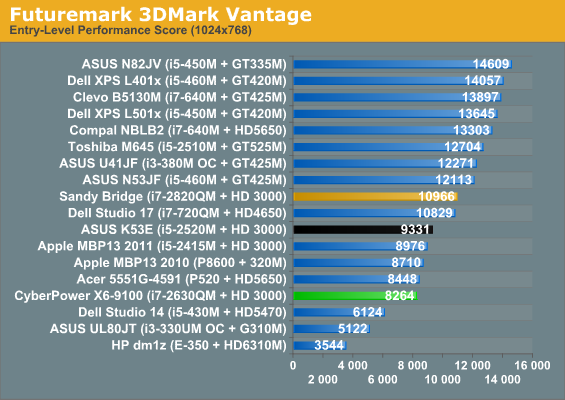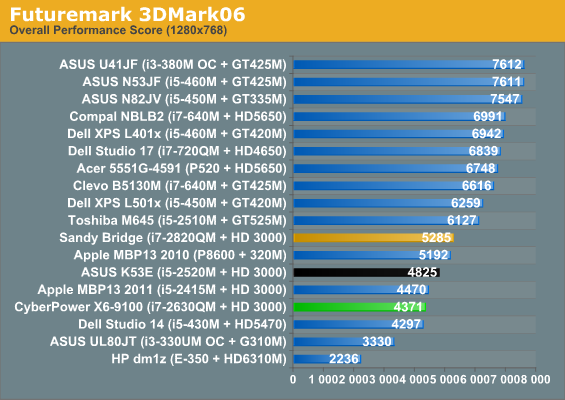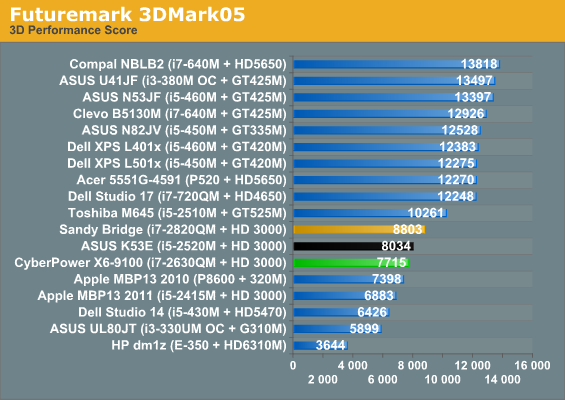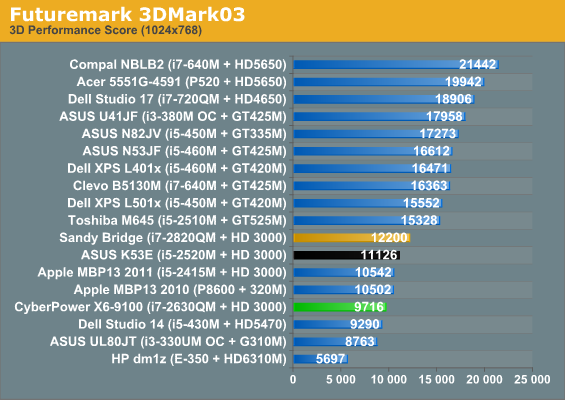 3DMark performance is low, but that's no surprise. Still, the Intel HD 3000 manages to achieve what we needed it to: it ties or beats performance of last generation's low-end dedicated graphics chips. We were stuck far too long with the likes of the GeForce 310M and the Mobility Radeon HD 5470, so it's nice to see Intel's integrated graphics finally make those chips more or less obsolete.
Battery Life
Given the lack of dedicated graphics, really the two heaviest hitters are going to be the 45-watt TDP on the processor and the 15.6", 1080p screen. We've already talked about the former and we'll get into more detail on the latter on the next page, but for now let's see how much of a toll they take on the CyberPower Xplorer X6-9100's admittedly mediocre six-cell, 48Whr battery. (CyberPower is currently looking into making an 8-cell battery available.)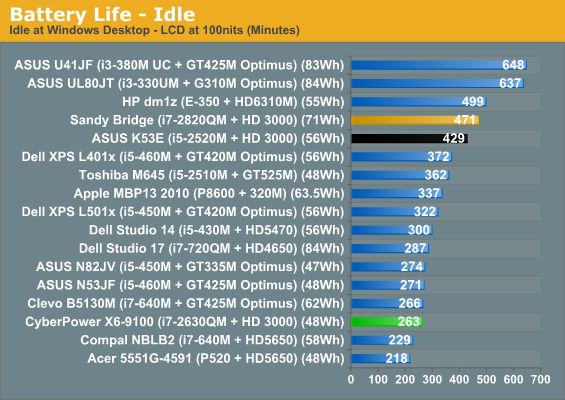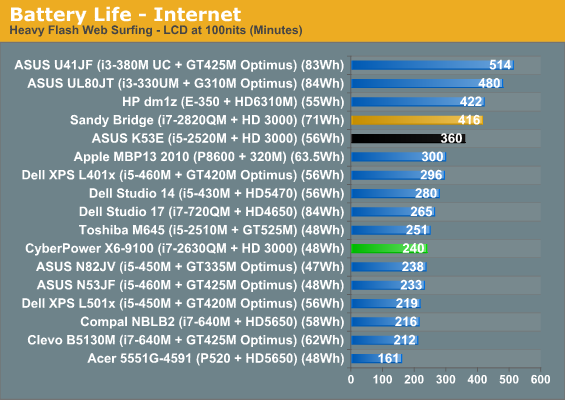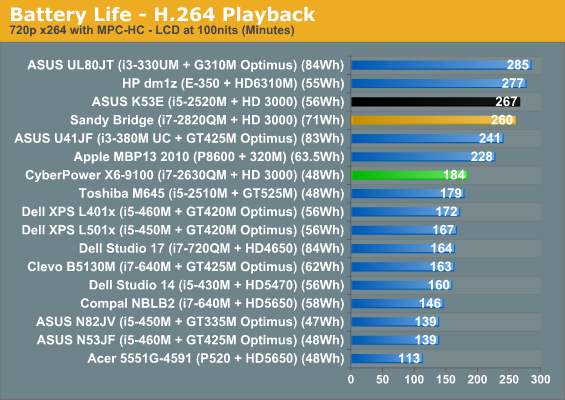 Jarred was excited about the potential for quad-core Sandy Bridge to save power on the battery, and that potential bears fruit again here. We tested the Xplorer X6-9100 at about the same time as the Toshiba M645, and despite the 10W higher TDP and larger screen on the X6-9100, it more or less ties the Toshiba when it comes to useful running time. The X6-9100 is a little on the big side, but if you need to run it off the mains you shouldn't have any issues. Still, we would appreciate manufacturers standardizing on bigger than 48Whr batteries, especially on 15.6" and larger notebooks.
Noise and Heat
Since the X6-9100 doesn't have a dedicated GPU to cool, the fan shouldn't have to work as hard and thermals can stay reasonable. As a result, the X6-9100's insides ought to stay frosty even under load.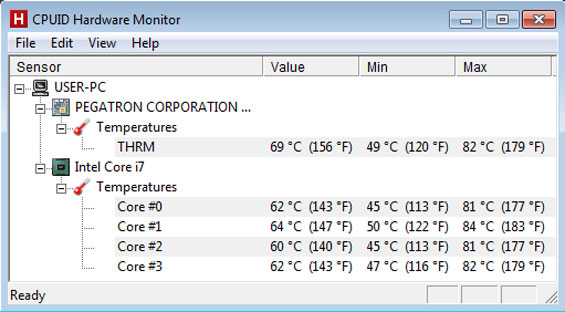 Uh oh. The OEM seems to have erred on the side of silence; the i7's idle temperatures are reasonable for a notebook and the load temperatures aren't horrible, but they aren't great either. Things get worse when you take a look at the temperatures radiating from the chassis.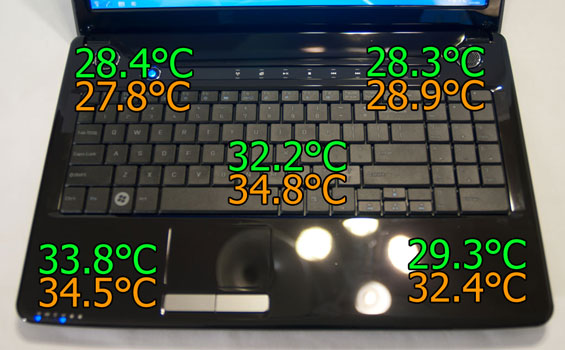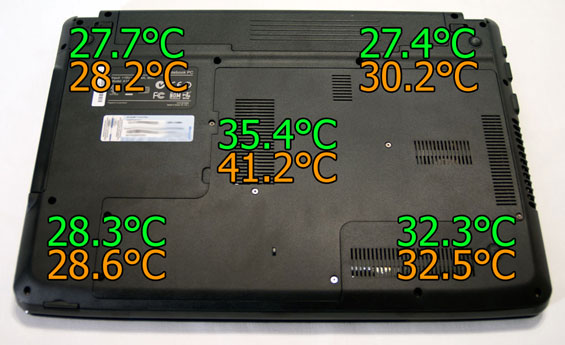 These are far from the worst temperatures we've seen, but the traditional notebook hotspot (the bottom center) gets particularly toasty under load. An unfortunate side effect of the glossy shell also makes the palm rests less than ideal when putting the notebook to work, as they're liable to generate enough heat to make your palms sweat and stick to the surface.
The corollary is that the X6-9100 runs quiet, especially for normal workloads (as opposed to heavy multi-threaded work), but we'd prefer a bit more noise at load with lower temperatures.
Thankfully, Another 1080p Screen
Notebooks this big really have no business running a miserly 1366x768 native resolution, and thankfully the CyberPower Xplorer X6-9100 doesn't even offer an alternative: it ships with a 1080p screen standard with no option to downgrade. That makes it a reasonable and affordable find. While Jarred finally ran into a bad 1080p 15.6" screen, I've traditionally had good luck with them. Does that luck continue with the X6-9100?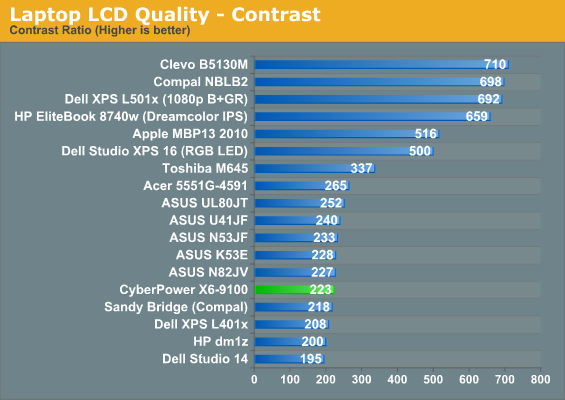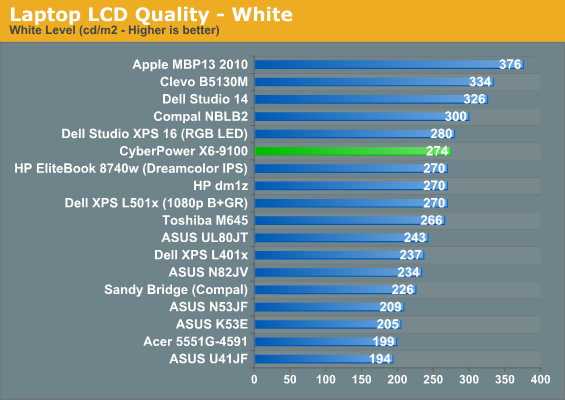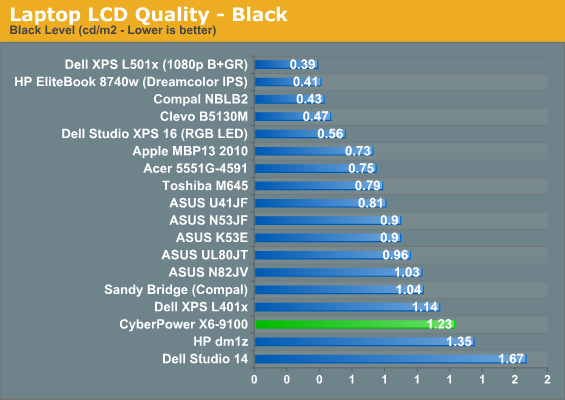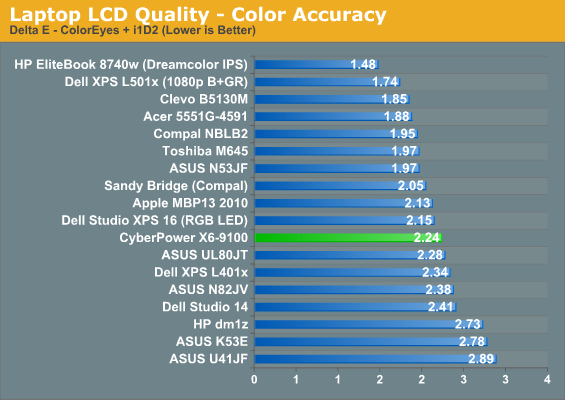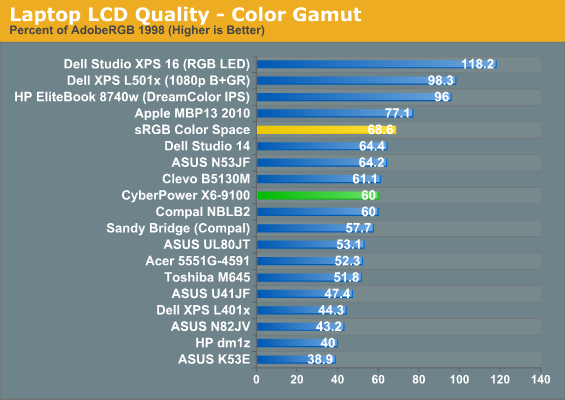 In a word: no. It looks like my luck finally ran out; while the AU Optronics panel in the X6-9100 is able to produce a decent color gamut at fairly bright settings, ultimately the contrast is ruined by the distractingly bright black level and poor color accuracy. This is extremely disappointing; the X6-9100, up until this point, would've been a fantastic budget photo editing system. Unfortunately, with poor contrast and color accuracy it becomes less compelling. If you're on an extremely tight budget you can clearly do a lot worse, and I'd still take it over any 720p screen just for the extra acreage, but the dire black level and resulting poor contrast make it a hard sell.
Viewing angles are still bog standard for a TN panel, but thankfully at least noticeably ahead of 720p panels. This has been a recurring motif with 15.6" 1080p TN panels: however poor other aspects are, they still boast superior viewing angles to their 720p kin.
Conclusion: Close, But Can't Compete
Part of the frustration when I have to close a review like this is knowing that I'm going to recommend going to a major vendor instead of the smaller boutique where you're more liable to receive better customer service and care along with a vastly superior selection of parts to build from. While boutiques have plenty of opportunities to distinguish themselves from the competition when it comes to desktop builds, with notebooks they're really stuck with whatever the ODM provides. The X6-9100's shortcomings aren't CyberPower's fault any more than the Clevo notebooks we've reviewed are the fault of AVADirect or Eurocom. Unfortunately it does boil down to some major weaknesses.
The elephant in the room is the Dell XPS 15, which once again sports its B+RG LED-backlit 1080p screen. That notebook is going to be more expensive, and if you don't need the dedicated graphics it will seem a bit excessive, but the fit and finish is better, and the screen, speakers, and keyboard are miles ahead. Dell has produced a 15.6" notebook by which all other consumer notebooks are judged, and unfortunately the X6-9100 has a hard time competing with it.
That said, if you're a couple hundred shy of going for that big dog and aesthetics aren't a big deal to you, you could definitely do a lot worse than the X6-9100. Getting that 8GB of memory and entry-level Sandy Bridge quad-core processor is a lot cheaper if you go this route, and you still get a 1080p screen. CyberPower's customer service is also liable to be more hands on with you than Dell's will be (though admittedly my customer service experiences with Dell have been pretty stellar), and you can get a good price on an SSD standard.
That SSD goes a long, long way towards improving the X6-9100's computing experience, as the whole system feels incredibly smooth and snappy (if a bit light on capacity). If Dell would standardize on current Intel SSDs (e.g. the 510 used in this system), it would really make it difficult to compete, but instead Dell uses reliable but not nearly so fast Samsung SSDs. If you perfer going the Dell route, we'd suggest doing the SSD upgrade on your own.
I want to like the X6-9100 more and it's a fine budget option, but it's difficult to recommend going for it when a couple hundred more can get you a better-looking, better-feeling machine from Dell. Hopefully the boutiques like CyberPower and AVADirect can start banging on the doors of the ODMs that make these and demand something better. Clevo, Compal, and Pegatron all seem stuck about five years in the past as far as industrial design goes, and while the big OEMs aren't what we'd call nimble when it comes to changes, they're at least making progress. With updated aesthetics and the 1080p LCD found on either the Clevo P150HM/P151HM or Dell's XPS 15, this would have been an awesome alternative.