Original Link: http://www.anandtech.com/show/4277/asus-eee-pad-transformer-review


I've been on a bit of a tablet kick lately, so even if you have dinner with me—tablets are bound to come up (I only break out the SSD conversation for the truly patient). Last week I had the pleasure of having dinner with Tony Tamasi and Jim Black of NVIDIA, and of course—tablets came up.
I've been thinking about device synergy, something I brought up in our PlayBook review. The problem is as follows: if I'm on my desktop with half a dozen tabs open and perhaps a PDF as well, but I decide to switch over to a tablet—there's no quick way that I can transition my reading environment between the devices. What I have to do is sit down on the couch, whip out my tablet, and manually navigate to each website and redownload/open the PDF. What I'd like to do is something along the lines of HP's Touch to Share, but just on a larger scale.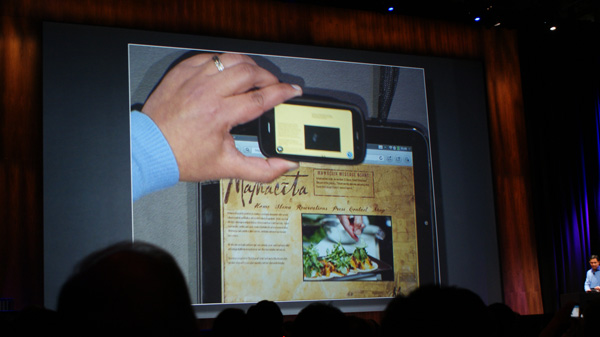 HP demonstrating Touch to Share
I posed this question to Tony when he asked me about future tablet technologies. From Tony (and NVIDIA's perspective), the problem is a non-issue because eventually all computing is done on your smartphone and you simply dock it from one set of input/output devices to the next. At your desk you'll dock your smartphone to a large display, keyboard and mouse. On the go you'll either have your smartphone or dock it into a notebook like chassis. Presumably you'll have a mid-sized display you could tether it to for tablet use as well.
NVIDIA isn't the only company that believes in the future of dockable computing. Earlier this year Motorola released the Atrix, arguably the best overall Android phone on the market today, with an optional laptop dock. While Motorola's docked experience wasn't all that great, treat it as a proof of concept—there's potential here.
You might argue that Motorola's shortcomings with its laptop dock are a result of its unfamiliarity with making PCs; after all Motorola has never shipped a laptop, just smartphones. You might also argue that a PC maker would have an easier time delivering a more polished, functional solution. You might assume that a company like ASUS might be a good candidate for such a thing. You'd be right.
The Eee Pad
ASUS was at the forefront of the netbook revolution thanks to its close partnerships with Intel and Microsoft. ASUS has been all but absent from the smartphone and tablet revolution again, because of its two key partnerships: Intel and Microsoft. Both Intel and Microsoft lay dormant while the smartphone and tablet revolution pick up speed; granted this may all change around Windows 8, but for now it's the truth. If you're a partner of both Intel and Microsoft, you too lay dormant while competitors like Apple, Samsung, Motorola and LG take your cake. After more than enough thumb fiddling, it was ASUS' turn for a slice. The result is this: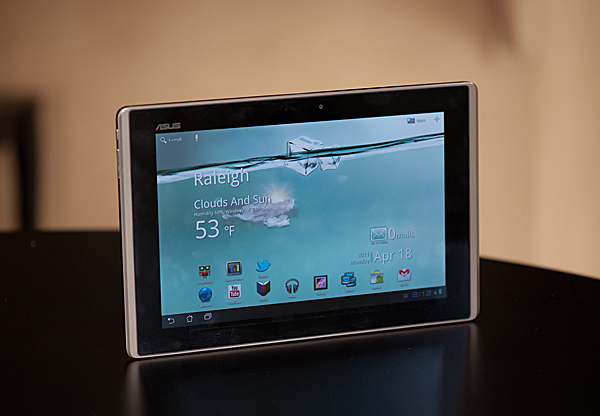 Technically it's called the Eee Pad Transformer TF101 thanks to its ability to transform into a netbook/notebook with an optional keyboard dock and ASUS' inability to shy away from long model names. From here on out we'll just call it the Eee Pad.
At a very high level, the Eee Pad is yet another Honeycomb tablet. It's got an NVIDIA Tegra 2 SoC, 1GB of LPDDR2 memory, a WiFi radio, and 16GB of NAND on-board. Delve a little deeper and the story quickly becomes more interesting.
We'll start at the price: $399 for 16GB WiFi. That's $100 cheaper than the equivalent iPad, and $200 cheaper than the lowest priced Xoom. I've often called tablets luxury devices, but ASUS is putting the price pressure necessary on these things for the market to really thrive. While $399 isn't into the "why not?" category just yet, I like where ASUS is headed with this. In other words, I don't believe $399 is the floor here either. Up to now tablets (and smartphones) have been a cash cow for those involved. I don't mind there being premium offerings; I just also want to see something more affordable.
The low price point alone is enough to make the Eee Pad worth considering if you want an Android tablet, but surprisingly enough ASUS didn't sacrifice much in the way of quality to hit it.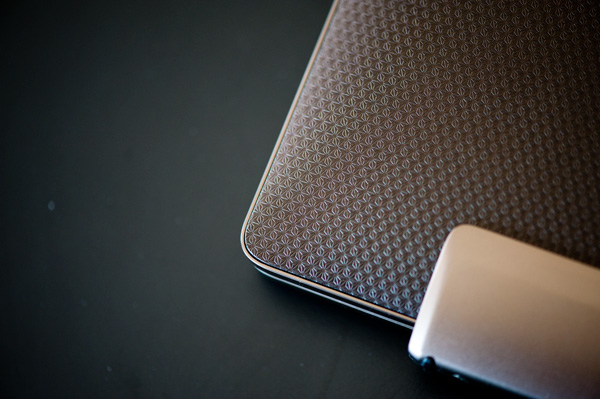 The chassis isn't all metal, nor is it soft touch plastic, but that's not to say the feel is bad at all. On the front you've got mostly glass surrounded by a thin strip of metal that wraps around the Eee Pad. Around back there's a textured plastic covering that seems oddly reminiscent of a notebook (the foreshadowing here is quite thick).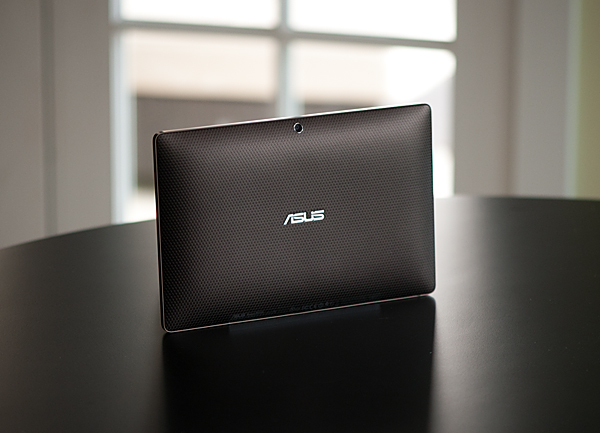 The feel is what's most surprising about the Eee Pad. Despite not spending a ton on materials, ASUS managed to build a very comfortable to hold and use tablet. There's a bit of creakyness in the back plastic if you squeeze the Eee Pad, but it's not enough to make the tablet feel cheap. A benefit of not being made of aluminum is I'm not as afraid to set the Eee Pad down on a table as I am the iPad. It feels more rugged, more casual.
Tablet Specification Comparison
Apple iPad 2
ASUS Eee Pad
BlackBerry PlayBook
Motorola Xoom
Dimensions
241.2mm x 185.7mm x 8.8mm
271mm x 175mm x 12.95mm
194mm x 130mm x 10mm
249.1mm x 167.8mm x 12.9mm
Display
9.7-inch 1024 x 768
10.1-inch 1280 x 800
7-inch 1024 x 600
10.1-inch 1280 x 800
Weight
601g (WiFi only)
675g
425g
730g
Processor
1GHz Apple A5 (2 x Cortex A9)
1GHz NVIDIA Tegra 2 (2 x Cortex A9)
1GHz TI OMAP 4430 (2 x Cortex A9)
1GHz NVIDIA Tegra 2 (2 x Cortex A9)
Memory
512MB
1GB
1GB
1GB
Storage
16GB up to 64GB
16GB + microSD card
16GB up to 64GB
32GB + microSD card
Pricing
$499 up to $829
$399
$499 up to $699
$799
The Eee Pad has the thickness of an original iPad without the density, so it doesn't feel as fatiguing to hold—partially due to its larger size. It's definitely the largest ARM based tablet I've used, making it suboptimal for porting around town, but it's very nice to use at home. The Eee Pad is like the comfort food of tablets; it's not the most exquisite but it just feels good. My only complaint about the design is thickness. The iPad 2 and new Galaxy Tab have spoiled us here. I suspect we'll get a nicely redesigned version with Kal-El by the end of the year if NVIDIA works hard enough.
When cutting costs the display is usually the first to go, but thankfully our complaints have been heard. Not only has ASUS improved display quality on the notebook side, but the Eee Pad ships with an IPS panel guaranteeing good viewing angles and image quality. The display is a Xoom-like 1280 x 800 and measures 10.1-inches on the diagonal.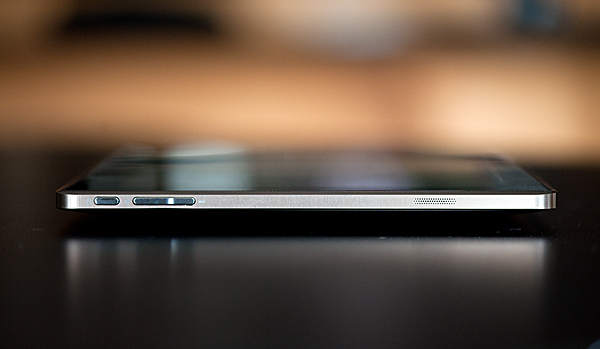 ASUS includes two small speakers, one on either side of the display. A volume rocker and power/lock button are both on the left edge of the Eee Pad. On the right side there's a headphone port, mini HDMI out and microSD slot.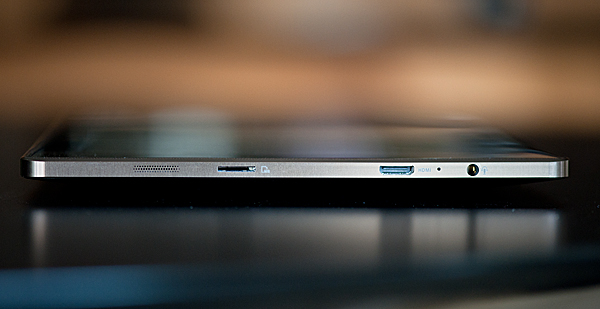 The Eee Pad has two cameras: a 1.2MP front facing camera and a 5MP rear camera. There's no flash present.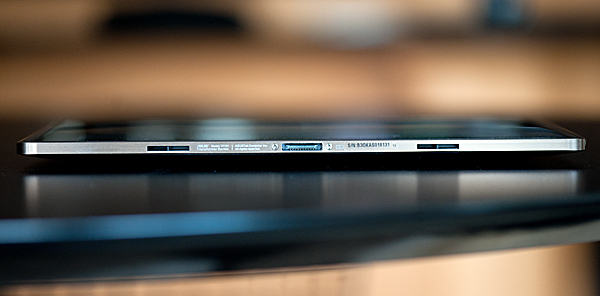 Along the bottom edge of the Eee Pad is a 40-pin ASUS dock connector, which enables the Transformer part of the Eee Pad experience. ASUS ships the Eee Pad with a 40-pin ASUS dock to USB cable as well as a USB to AC adapter for wall charging.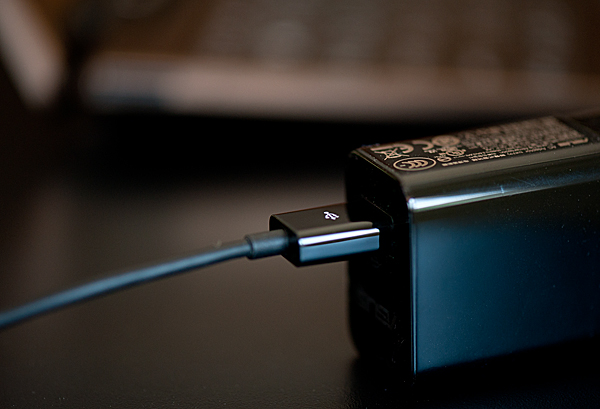 Charging over USB is ill advised at this point since it'll take somewhere over 16 hours to fully charge the Eee Pad over a standard USB port. ASUS claims this will be fixed with a future software update. I didn't have the time to measure exactly how long a full charge over USB would take; I just measured long enough to know it would be a problem.
More than Meets the Eye
Alongside the original iPad, Apple sold a keyboard dock for users who wanted to do a lot of typing on their new tablet. The keyboard dock turned the iPad into a mini iMac running iOS. What the iPad keyboard dock lacked however was a pointing device—all navigation still had to be done via the touch screen. As Apple has correctly pointed out in the past, the notebook usage model doesn't work very well if you have to keep reaching across your keyboard to touch the screen.
ASUS expands on the idea of a keyboard dock with the Eee Pad Transformer dock. The $149 add-on adds not only a keyboard, but a trackpad and integrated 24.4Wh battery (the same size as the unit in the Eee Pad itself). You are getting a lot for your money, but given how cheap the Eee Pad is, a $149 accessory will always be a tough sell.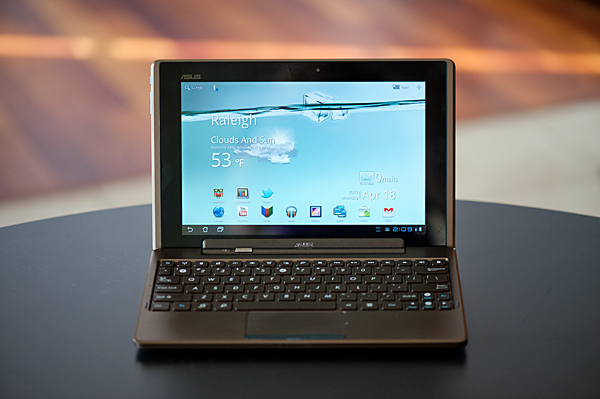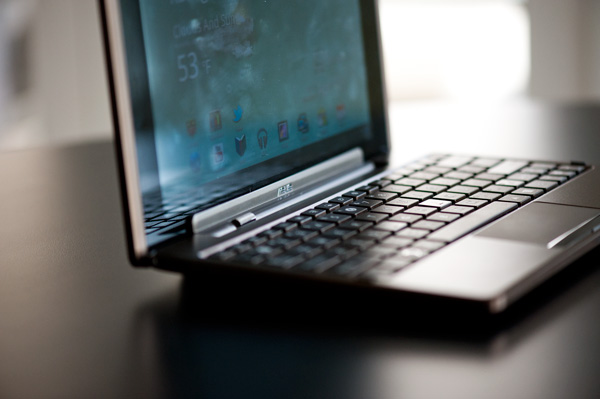 The dock is made of two pieces—a half metal/half plastic base and an all metal hinge that houses the dock connector. Simply slide the Eee Pad into the hinge, lining up the dock connector and its two latches, and press into place to dock the unit. If you do it correctly you'll hear a nice click as both latches grab on to the Eee Pad. There's a silver eject slider switch for removing the Eee Pad from the dock.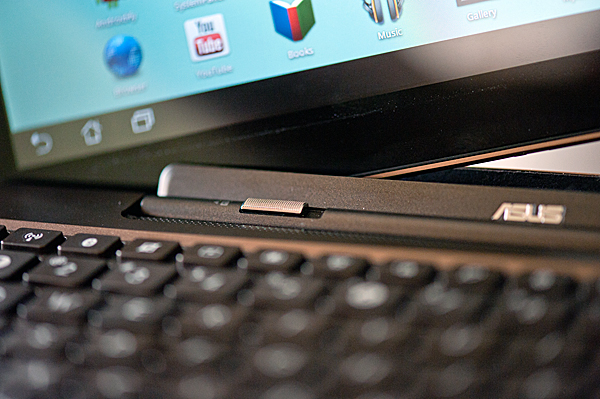 When you dock the Eee Pad two things happen. The dock immediately starts charging the tablet as soon as its battery life drops below 100%. Only after the dock's battery has been exhausted will the tablet's internal battery begin discharging. Note that even on tablet power alone, the dock's keyboard and trackpad will continue to work.
Android isn't aware that there's a second battery at work here, and sometimes this dock-charging-the-tablet process trips up the battery status indicator in Honeycomb as you can see from the screengrab below: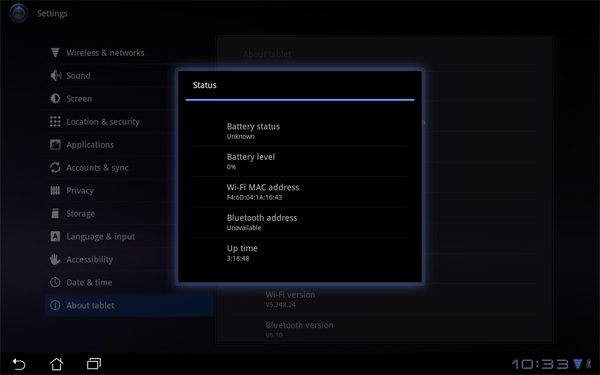 Confusing the battery status indicator aside, the dock works as expected as a giant external battery. You do get some indication of battery discharge on the dock itself through a blinking LED, however what it really needs is either a software reporting mechanism or a string of LEDs to accurately communicate how much power you have left on the dock.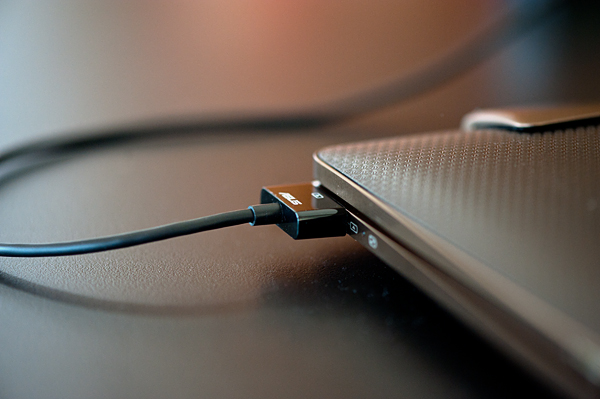 Charging works the same way. Plug the dock in and it'll charge itself then the tablet. There's enough current drawn to charge both the dock and tablet in tandem so you'll actually feed both, although the dock will charge quicker.
An Android Netbook
Extending battery life is one thing, but improving functionality is another benefit entirely. The main problem I had with the iPad's keyboard dock was that it wasn't portable (unless you had a large bag to carry it around in). For the Eee Pad Transformer, this isn't an issue. The dock is designed to mimic a laptop when paired with the tablet, in fact that's why ASUS designed the rear of the Eee Pad to look like the clamshell of a notebook.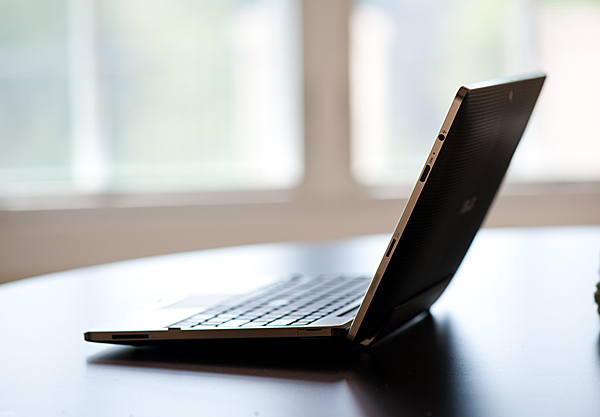 Is that a tablet or are you just happy to see me?
Combine the tablet and dock and you've effectively got a 10.1-inch Android netbook. The dock's hinge is sturdy and travels very smoothly. You can close/open the lid of the docked Eee Pad (which is the Eee Pad itself) just like you would a regular netbook. The Eee Pad even goes to sleep when you close the lid (presumably triggered by the angle of the hinge on the dock).
With the clamshell closed the Eee Pad Transformer is pretty thick, definitely not MacBook Air sized and definitely not a featherweight. The combined setup weighs 2.9 lbs, about right for a netbook but heavy for a tablet. That being said you do effectively have a 48Wh battery in this thing so the weight is excusable.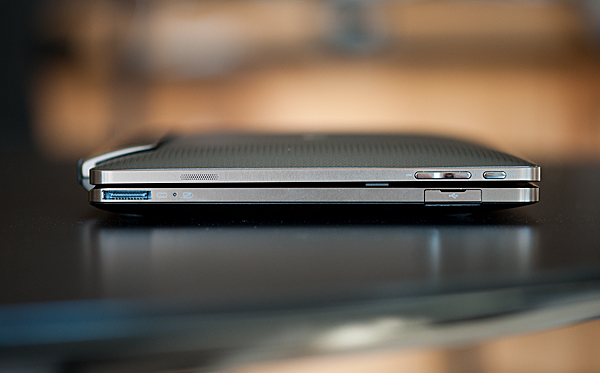 The dock also adds two USB ports which you can use for USB sticks or external storage and a SD card slot.
Open the clamshell and you'll quickly notice that the marriage isn't purely superficial, the software is also quite accepting. Let's start with the trackpad. There isn't much room for a huge trackpad on the keyboard dock, but ASUS makes do with what little space there is.
Mouse integration works surprisingly well under Honeycomb. It works so well that I actually wonder if Google had planned for enabling Transformer-like docks from the start. Once docked you get a black mouse cursor with a blue halo around it that fits very well within the Honeycomb UI. There are no settings for mouse tracking speed or button configuration, obvious limits imposed by the fact that this is still a touch driven OS, but even without options it's still a good experience.
The left trackpad button acts as your virtual finger: launching apps and activating widgets. You can select text with the trackpad but not via the typical click and drag. Instead you have to double click on a word and then drag the selection widgets that appear: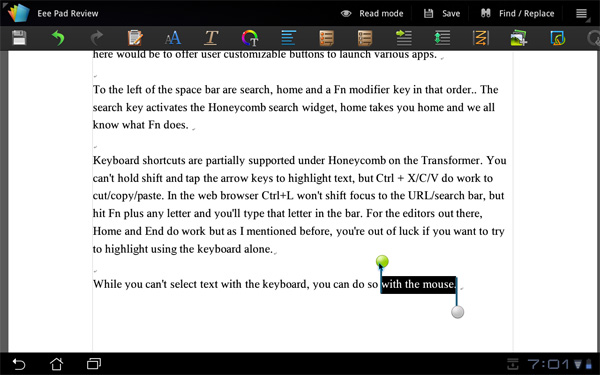 The right click in Android acts as a back button instead of a way to bring up contextual menus. Its behavior isn't perfectly consistent however. If you've started an app from the home screen (or app launcher), clicking the right mouse button will eventually take you home. If you've launched an app from another one, the right mouse button acts more like a Windows Phone 7 back button than a ticket home. In this case a click or two from the right mouse button will take you to the app you were last using. Given that contextual menus are relegated to the upper right corner of the screen in Android, not forcing the right mouse button to have its more traditional role makes sense.
The trackpad even supports basic gestures. There's tap to click and two finger scroll in both directions. Vertical scrolling is inverted on the trackpad. Swipe two fingers down to scroll up and vice versa, which I grew accustomed to surprisingly quickly. My only real complaint is the feel of moving the cursor takes some getting used to. It's not as good as a PC/Mac experience, but it's not horrible either.
The inclusion of a trackpad is very important, because like I mentioned earlier—no one wants to reach over a keyboard to touch the screen. Quickly switching between typing on a keyboard and using the trackpad is far easier.
The keyboard is similarly surprising. Key travel on the keyboard is excellent. A number of design choices ASUS has made with the Eee Pad Transformer are clearly Apple-inspired, and the keyboard is no different. The feel of the keys on the Transformer dock is near identical to Apple's chiclet keyboard, although there is slightly more resistence on ASUS' version. The individual keys are obviously smaller than on a full sized notebook as you're effectively getting a 10.1-inch netbook with the Transformer. The only keys I had trouble with are those around the right shift key where everything is just cramped together.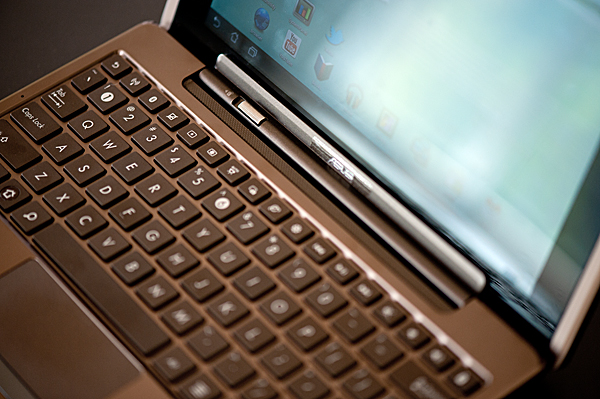 ASUS includes a narrow row of function keys at the top of the keyboard. These are supremely useful covering everything from launching the Android web browser to adjusting brightness. It's the Android specific keys that are really the nicest touch. There's a key to toggle automatic brightness control, a key to take you to the Honeycomb settings page, a key to go back, and a key to lock the tablet. ASUS even included a screenshot key. The only thing that's missing is a way to alt+tab through active apps.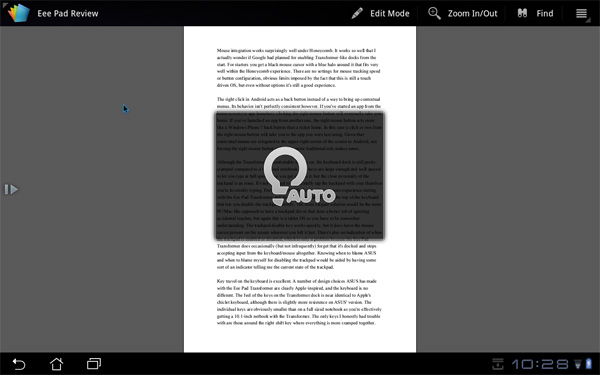 Auto brightness enabled via hotkey
I also found myself hoping for additional app shortcuts on the keyboard. The dedicated browser button is great, but I also wanted one for email. I feel like the right thing to do here would be to offer user customizable buttons to launch various apps.
To the left of the space bar are search, home, and an Fn modifier key in that order. The search key activates the Honeycomb search widget, home takes you home, and we all know what Fn does. To the right of the space bar are alt and a contextual menu key.
Keyboard shortcuts are partially supported under Honeycomb on the Transformer. You can't hold shift and tap the arrow keys to highlight text, but Ctrl + X/C/V do work to cut/copy/paste. Home and End also work. You do have to keep in mind that most apps aren't aware that there's a physical keyboard present and thus you can't do things like hit backspace to delete an email. Navigating within apps using the keyboard's arrow keys does work, but not extremely well—you're much better off using the mouse. The only exception here is the menu key which you can hit and quickly scroll down through available options using the arrow keys.
Although the Transformer is comfortable to type on, the keyboard dock is still pretty cramped compared to a full sized notebook. The keys are large enough and well spaced to let you type at full speed once you get used to it, but the close proximity of the trackpad is an issue. It's not too hard to accidentally tap the trackpad with your thumb as you're feverishly typing. Fortunately, ASUS clearly did some user experience testing with the Eee Pad Transformer and gives you a single hotkey at the top of the keyboard that lets you disable the trackpad entirely. The more elegant solution would be the more PC/Mac-like approach to have a trackpad driver that does a better job of ignoring accidental touches, but again this is a mostly unmodified tablet OS so you have to be somewhat understanding.
The trackpad disable key works quickly, but it does leave the mouse cursor present on the screen wherever you left it last. There's also no indication of when the trackpad is enabled or disabled, which is only a problem because the Eee Pad Transformer does occasionally (but not infrequently) forget that it's docked and stops accepting input from the keyboard/mouse altogether. Knowing when to blame ASUS and when to blame myself for disabling the trackpad would be aided by having some sort of an indicator telling me the current state of the trackpad.

The software side of the keyboard is also interesting. ASUS has a software layer on top of Android that detects the presence of the dock and dutifully instructs you to use the hardware keyboard "to type words". ASUS even provides a toggle to enable/disable the physical keyboard without going to a separate settings page.
With the physical keyboard enabled, the virtual keyboard will never appear—even when you're in an app that requires input from the keyboard.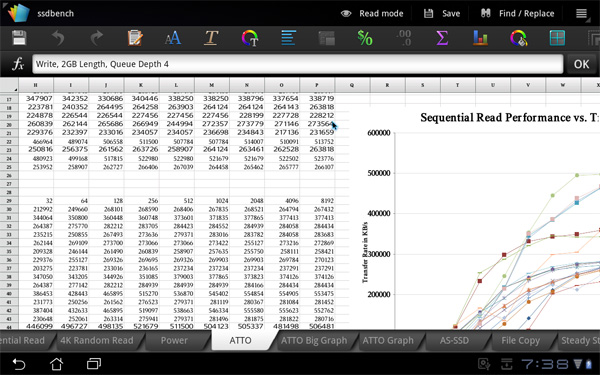 Using the Eee Pad as a netbook, getting work done
The whole experience is remarkably polished. When docked the Eee Pad truly behaves like an Android netbook, and if you find yourself not needing the physical keyboard and trackpad you can easily convert (or transform) the Eee Pad back into a tablet. External storage is even reasonably supported when docked; you can launch File Browser and view what's on external USB drives or SD cards:

You still have the obvious software limitations of Honeycomb (e.g. not all files will open) but it's clear that this approach has potential. All of the sudden NVIDIA's decision to make Kal-El a quad-core part makes sense—if your tablet is going to double as a full blown PC, it might as well have the processing power when you need it.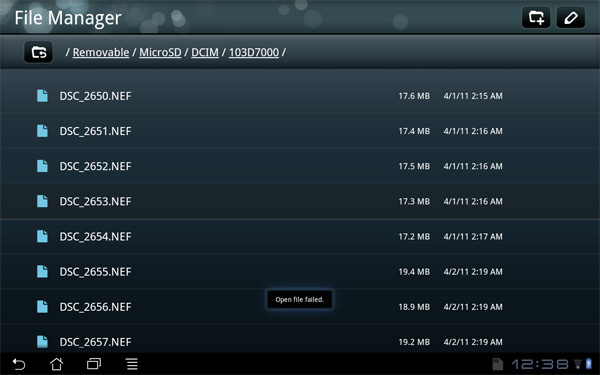 Dock Issues
As impressed as I was with the fact that ASUS took a tablet OS and made it work in both the tablet and notebook worlds, the Eee Pad Transformer dock isn't without its issues. As I alluded to before, there are times when the dock simply doesn't work. I'll be using the dock, scrolling around or typing and then all of the sudden the keyboard and trackpad stop working altogether. Sometimes the solution is as simple as undocking and redocking the Eee Pad, but other times it requires a full reboot. It's frustrating.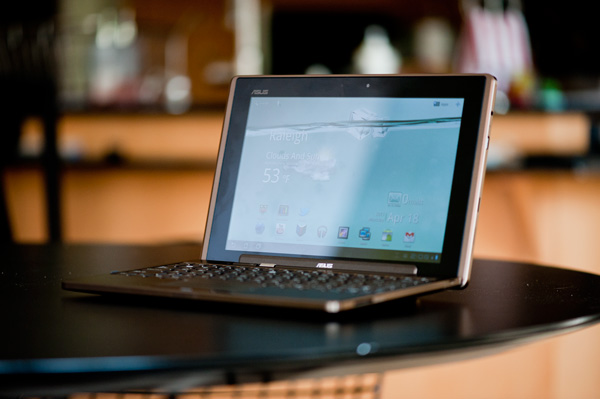 I've also encountered a hard lock and an unexpected reboot, both while docked although I'm not sure if ASUS is to blame or if these are Honeycomb specific issues. ASUS tells me that the Transformer docks that were sent out to reviewers are one firmware revision too old, and what will go out to customers next week should have a number of bugs fixed. I expect to have final hardware/software sometime next week, which I'll be testing to see exactly how much has been fixed.
There's also an issue with power consumption. The dock doesn't exactly have an on/off switch, so even when not in use it'll eat up power as it waits to see if you've docked an Eee Pad to it. ASUS expects to address this with a future firmware update for the dock next month. The update will put the unit into an ultra low power state when docked if the tablet is in standby, and power down completely when not attached to the tablet.
ASUS' Virtual Keyboard: By Nuance
If you read our Xoom review you'll know that I was pretty impressed with the stock Honeycomb keyboard. Not only does it boast a clean layout but Google also provides adjustable autocorrect settings, allowing you to configure how aggressive the autocorrect system behaves. Thus I was surprised to find out that the Eee Pad ships with a custom ASUS virtual keyboard: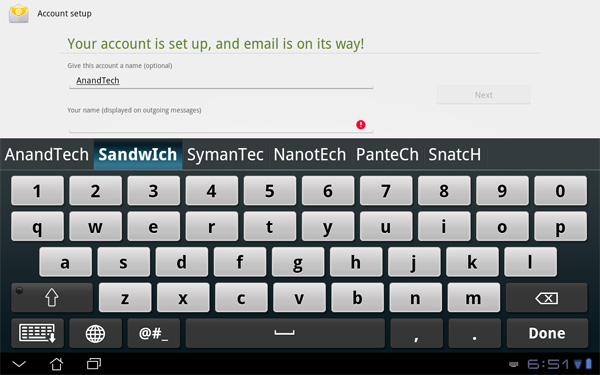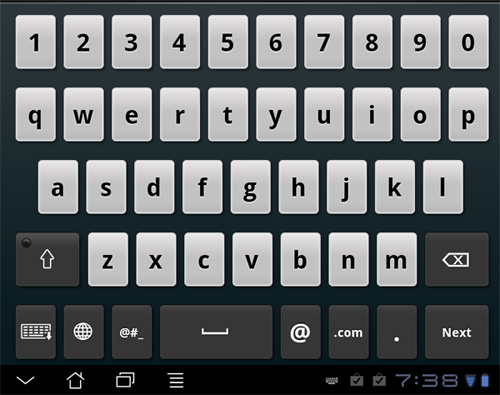 A little digging reveals that Nuance (the company that makes Dragon NaturallySpeaking) is the ISV that developed the keyboard and its underlying autocorrect engine. Similar to what Apple offers under iOS, Nuance corrects what you type by looking at word length, letters used and proximity of those letters to others on the keyboard. The ASUS keyboard is just as configurable as the stock Android keyboard, even letting you set how aggressive the auto correction engine behaves.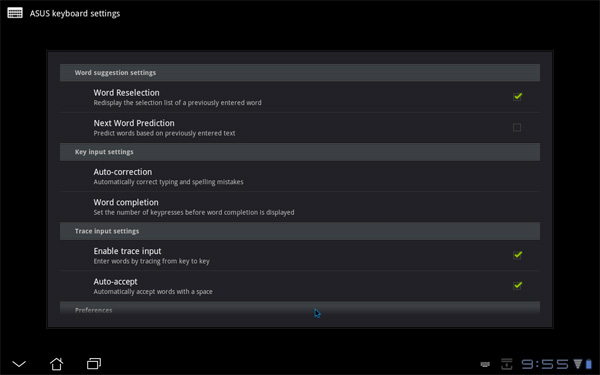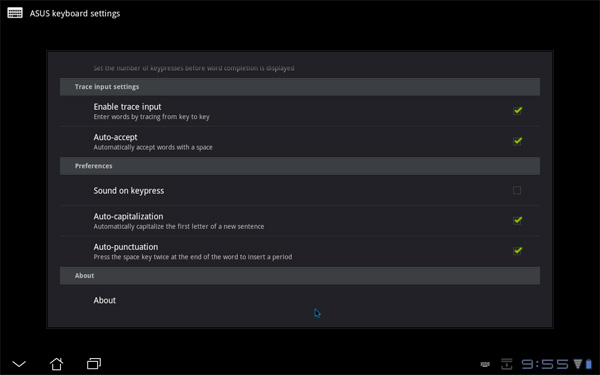 The ASUS virtual keyboard also supports "trace input" which is basically a non-trademarked word for Swype. Trace input on the Eee Pad works but the tracing animation is pretty laggy and I feel like accuracy isn't quite as good as Swype on smartphones.
The look and layout of ASUS' virtual keyboard also differs from the stock Honeycomb keyboard. ASUS includes a row of number keys along the top of the keyboard, without increasing the footprint of the keyboard—meaning all of the keys get shorter. Thankfully on a 10.1-inch screen, even shorter keys aren't that hard to hit, and the addition of the number row saves you an awkward trip to a secondary keyboard screen. The backspace and return keys are unfortunately placed in the very bottom right corner, which I never could get used to.
The Screen
The Eee Pad comes with a 10.1-inch 1280 x 800 IPS display whose characteristics are remarkably similar to that of the iPad 2. Max brightness, black level and thus contrast are all near identical to the iPad 2: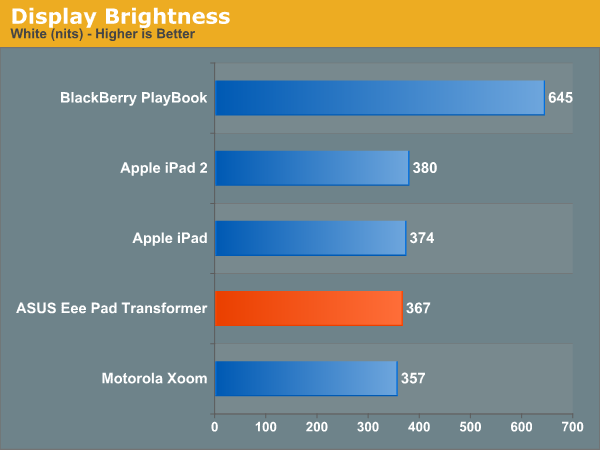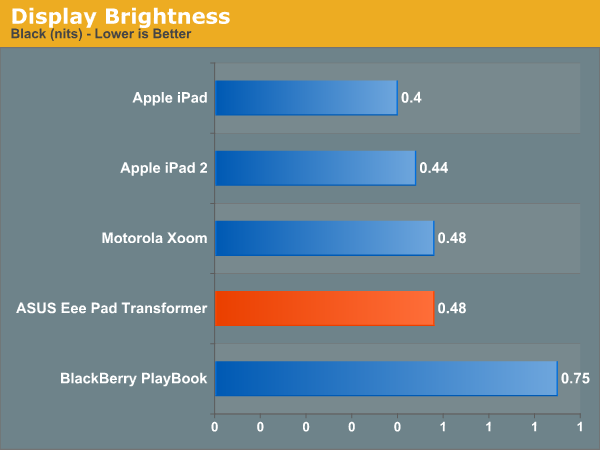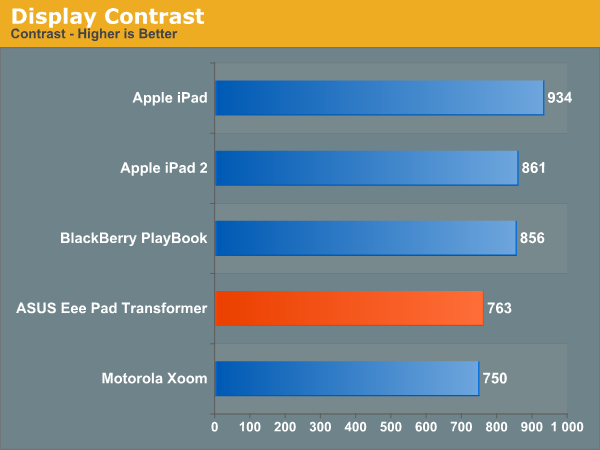 There's simply no excuse for a tablet to ship without a top notch display, and here ASUS doesn't disappoint. I wasn't impressed by the Xoom's display but ASUS fixed that problem completely.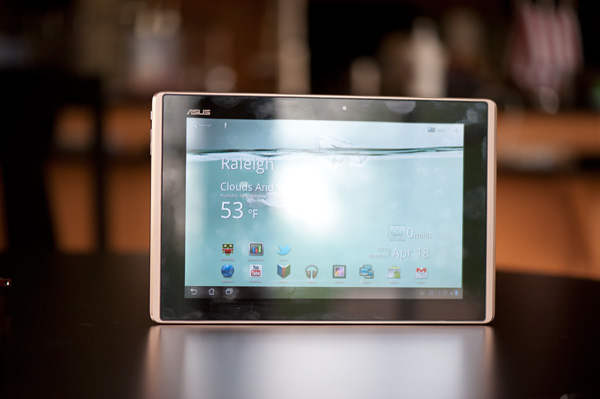 The Eee Pad's display does seem to have more of a glare problem than the iPad's display. Although both are pretty much unusable outdoors, the Eee Pad's display even has trouble when it's facing away from the sun due to glare and a low max brightness. I only found this to be a problem when docked and looking for my trackpad cursor in any app with a black background.
The Camera
I don't expect that most tablet owners really care all that much about camera image quality, however if you're going to include the feature it's bound to be judged. The Eee Pad's 5MP rear-facing camera is pretty standard fare for a Honeycomb tablet. Images are captured at 2592 x 1944 and compressed down to 1.2—2.1MB jpegs depending on the scene.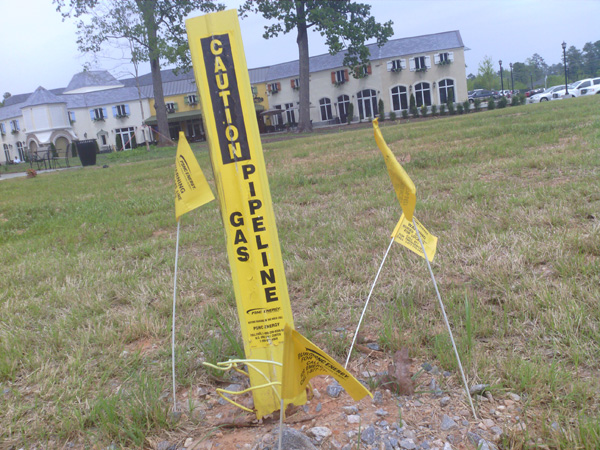 Image quality is fine for use online but nothing spectacular. Most images captured are reasonably sharp in the foreground but not very detailed in the background. Images can look hazy depending on the lighting conditions. The front facing camera is similarly standard, comparable to the Xoom: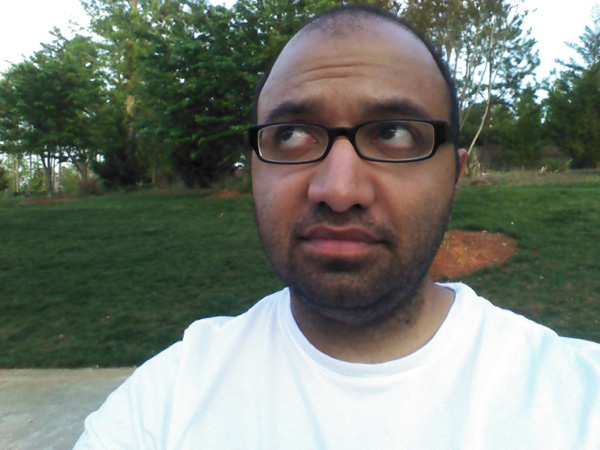 The camera app itself is stock Honeycomb. It takes just under 2 seconds to launch and up to 2.8 seconds to capture an image once you hit the shutter button. Occasionally (even with the latest software update available to me) the camera app will show me a green screen instead of the output from the camera sensor. Reopening the camera app always fixes the issue.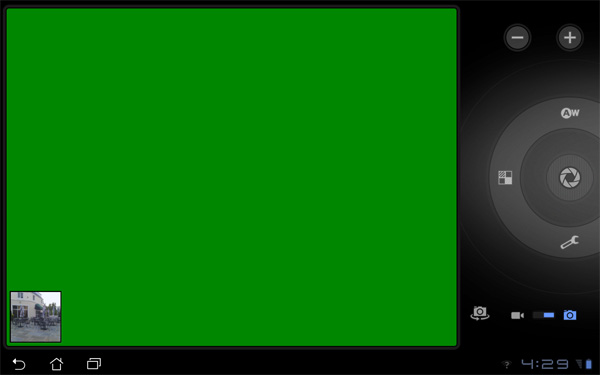 ASUS has a serious issue when it comes to video recording. For some reason video recorded using the rear camera on the Eee Pad is captured at a much lower than real-time frame rate:
This issue exists regardless of capture quality setting (High, Low, YouTube). The front facing camera captures video smoothly but only for the first couple of seconds, at which point captured video pauses entirely. Clearly the camera software needs serious work.
Battery Life & Performance
The Eee Pad has an integrated 24.4Wh battery as well as an optional external 24.4Wh battery courtesy of the Transformer dock. The tablet by itself has battery life similar to that of the Motorola Xoom, and shorter than the iPad 2. With the dock however we measured a 64% increase in battery life in our general use test. With over 15.5 hours of battery life on a single charge, a docked Eee Pad is pretty impressive.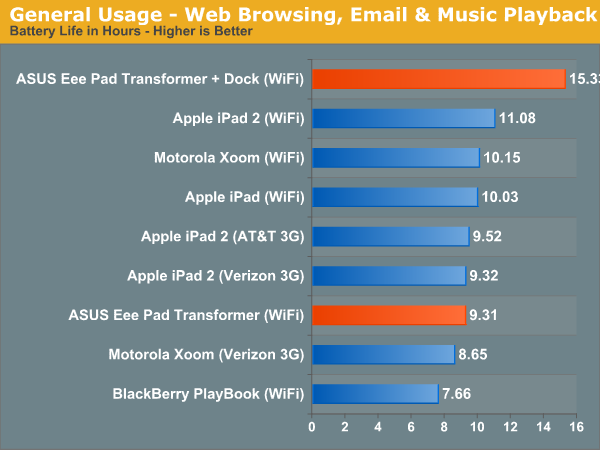 ASUS tells us we aren't seeing a near doubling of battery life with the dock in use because of inefficiencies in the current firmware—something that could improve with the May firmware update.
Video playback battery life is identical to the Xoom. Remember NVIDIA's Tegra 2 doesn't completely accelerate the H.264 decode pipeline, so there's some software offloading that unfortunately keeps the Cortex A9s awake during our video decode test. As a result the Eee Pad and Xoom post lower-than-iPad results here.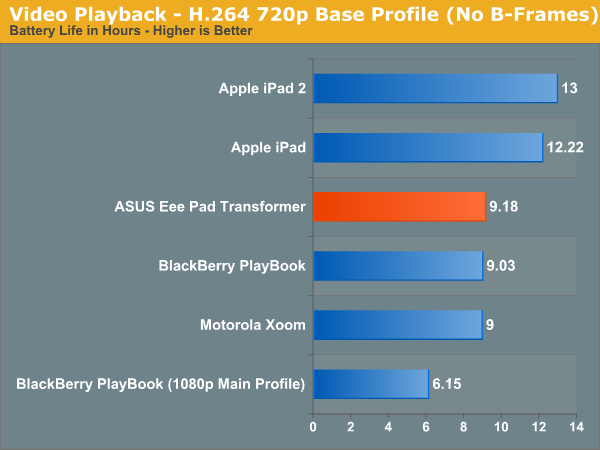 With a 1GHz Tegra 2 under the hood, the Eee Pad performs just like a Xoom: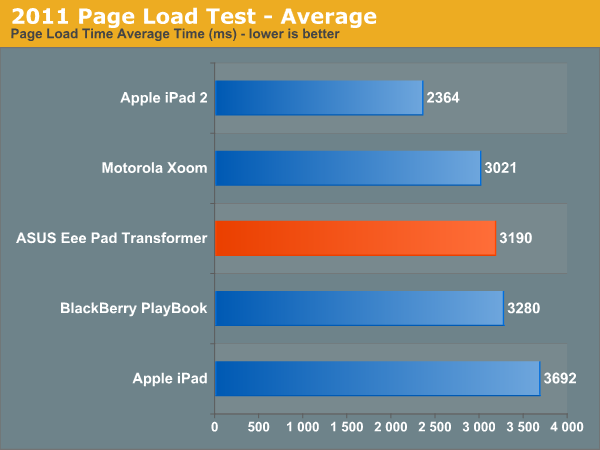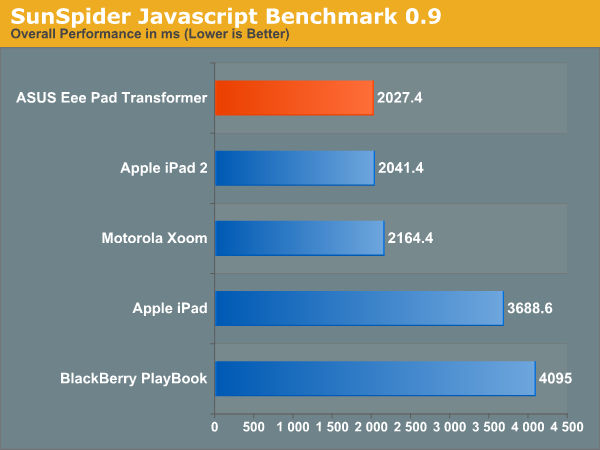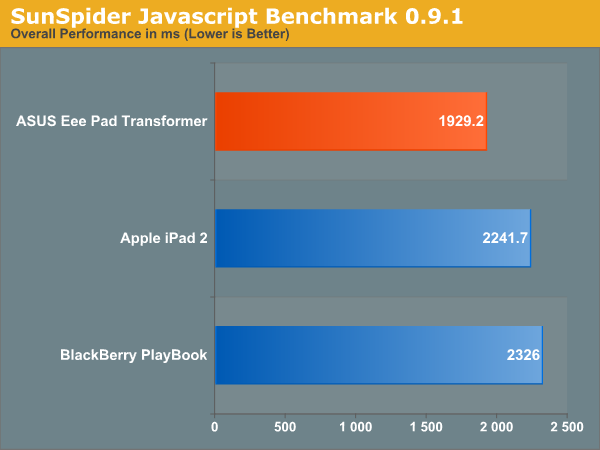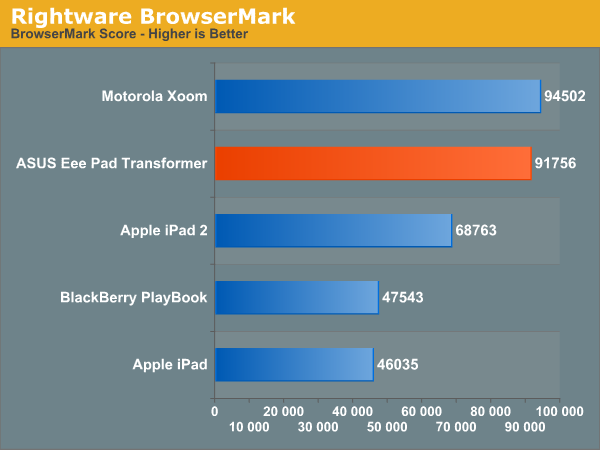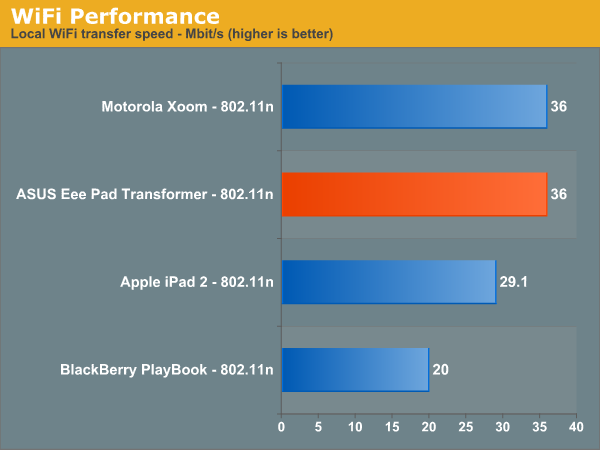 The Honeycomb Update & Software Preload
When I reviewed the Motorola Xoom I praised Honeycomb for being a brave effort by Google to reinvent the Android UI, as well as for delivering a tabbed web browser as a part of the default software configuration. Since that review Google updated Honeycomb to 3.0.1 and enabled support for Adobe Flash 10.2.
The move to 3.0.1 fixed some obvious bugs with the OS; nearly everything I complained about in our Xoom review has been addressed either mostly or entirely. Right now the biggest issue that remains with 3.0.1 has to do with performance. From a clean boot, Honeycomb feels reasonably snappy but performance seems to degrade quicker with use than on earlier Android releases. Force quitting apps will generally restore performance but it's something I've noticed seems necessary more frequently than on phones that run Froyo or Gingerbread.
With flash enabled the Honeycomb web browser is pretty compatible with a lot of what you'll encounter on the web. There are occasionally issues, such as the reddit front page: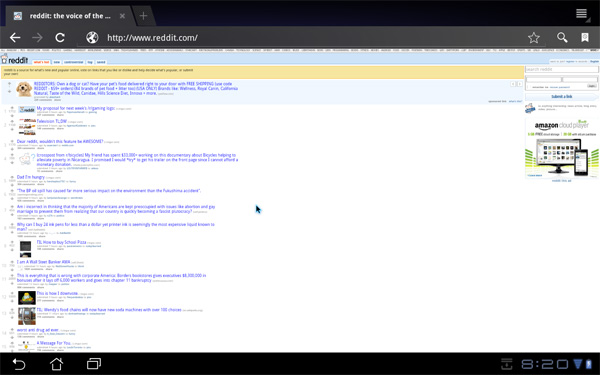 Performance is good on simpler pages but it can quickly get bogged down on anything more complex with a lot of Flash. Google is planning a major update to Honeycomb that should improve performance across the board but there's no skirting the issue that we'll need more CPU and GPU power in these tablets.
While the Honeycomb experience is mostly stock on the Eee Pad, ASUS does include some custom software. ASUS' MyNet app is a DLNA controller that lets you push content from the Eee Pad to DLNA compliant devices on the same network. The Eee Pad also has a couple of custom widgets enabled, mainly weather, time/date and email. As I mentioned earlier, ASUS even enabled screenshot functionality from within the OS: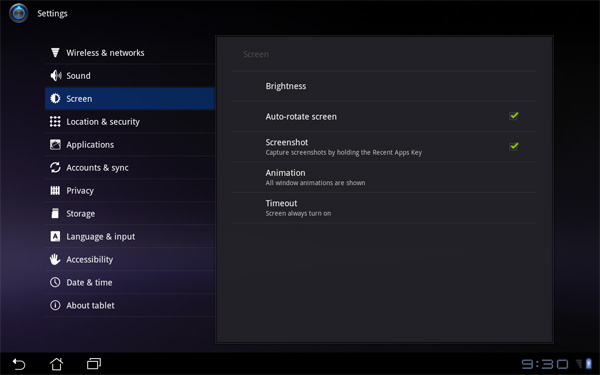 The Eee Pad comes pre-loaded with an Android office suite called Polaris Office. Polaris includes a document, spreadsheet, and presentation app, all of which are compatible with Microsoft Office as well as Google Docs.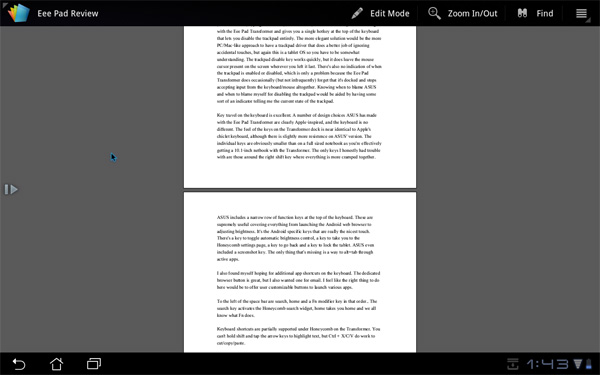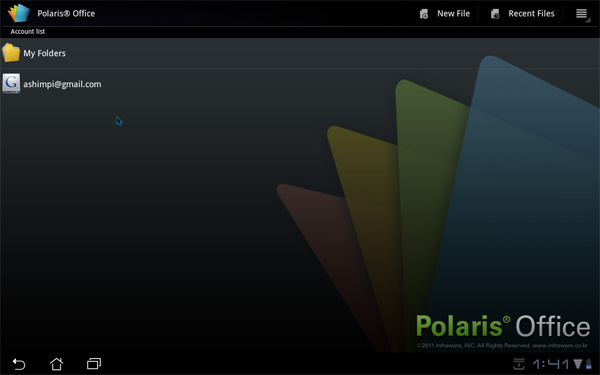 If you supply your Google login credentials you can edit/save documents stored in the cloud. It's a pretty useful set of apps that work very well with the Eee Pad in docked mode as a netbook replacement. Unfortunately several bouts of instability and the fact that Polaris doesn't auto save your documents kept me from using the apps to write too much of this review.
ASUS ships the Eee Pad with a custom live wallpaper it calls MyWater. The animated background represents battery life by a rising/falling water level in a virtual glass. The water will also slosh around depending on how you hold the tablet. Unfortunately battery life is impacted by the wallpaper on the order of 4% and animated backgrounds can reduce overall system performance so I recommend disabling it.
ASUS thankfully did away with the dreadful back/home/task icons Motorola used on the Xoom. The icons in the lower left of the screen are far more legible now.
Final Words
ASUS delivered three things with the Eee Pad: a very competitive price point ($399), a surprisingly useful (albeit pricey) dock, and a good display. The price point alone is enough to make the Eee Pad the Honeycomb tablet to get assuming you don't need integrated 3G or LTE connectivity. The Eee Pad is comfortable to hold and use and despite the lower price point you don't feel like ASUS has sacrificed much at all to make it. The display has similar characteristics to what Apple ships in the iPad 2. Overall from a hardware standpoint, the Eee Pad is solid.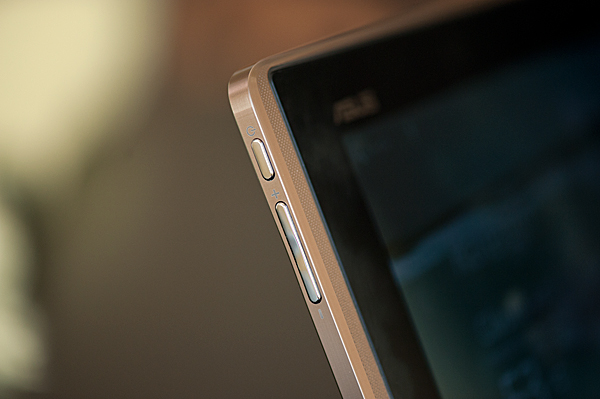 The Transformer dock is an extremely tempting addition to the Eee Pad, I only wish it were cheaper. When in use the dock extends battery life by 64%, pushing the Eee Pad past 15.5 hours in our general WiFi test. ASUS tells me that the Transformer dock will be compatible with all Transformer branded tablets in the future. I can imagine a thinner Kal-El based version must be in the works at this point.
Tight integration between the keyboard/trackpad and Honeycomb makes the Eee Pad Transformer one part tablet and one part Android netbook, and the whole thing works a lot better than I expected it to. When you need a netbook form factor, you have one, and when you just want to kick back and relax with a tablet you've got that as well. The experience isn't quite fast enough for me to replace my notebook, but I can see where things are headed.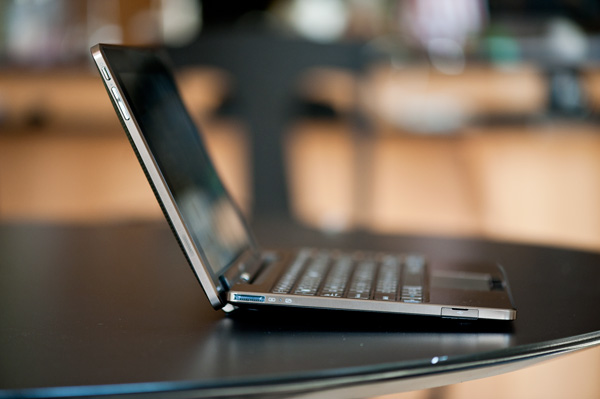 I actually believe the dockable tablet is indicative of where the netbook (and perhaps ultra portable notebook) market is going. Give me some more (or faster) cores and an OS even better suited for notebook duty and the line between a tablet and a netbook becomes quite blurry. I finally understand why NVIDIA opted for four cores in Kal-El and why Microsoft keeps looking to Windows 8 to be its tablet strategy. Windows 8 tablets will be Windows 8 netbooks; they'll just be modular.
The biggest issues here are software related. Honeycomb has matured significantly just with the 3.0.1 update, but there are still dock and camera behavior issues that need to be worked out before ASUS takes the Eee Pad to market. I feel like Honeycomb got a worse rap than it deserves, but there are real issues that need addressing here. I lost a couple of pages of this review thanks to an unexpected hard lock and a reboot while typing this on the Eee Pad. For casual use it's not an issue but the platform isn't mature enough for real work yet.
So why do companies keep introducing tablets with known software issues? I always remember what AMD's Eric Demers once told me: the best way to lose a fight is to not show up.