Original Link: http://www.anandtech.com/show/4263/amds-radeon-hd-6450-uvd3-meets-htpc


AMD's Northern Islands family is composed of four GPUs, roughly divided into two categories. At the top is the 6900 series powered by Cayman, AMD's first VLIW4 GPU. Below Cayman are three more GPUs, all derived from the VLIW5 Evergreen generation(5000 series). The first of these GPUs was Barts, which is the basis of the 6800 series that launched back in October of 2010. However up until now we haven't seen the other two mystery GPUs in the retail market. Today that starts to change.
The final two Northern Island GPUs are Caicos and Turks. They have been available in the OEM market for both desktop and mobile products since the beginning of the year, but as is often common with low-end/high-volume GPUs, a retail presence comes last instead of first. AMD is finally giving Caicos its first retail presence today; it will be powering the new Radeon HD 6450. Packing all the upgrades we saw with Barts last year, it will effectively be replacing the Radeon HD 5450. But how well does AMD's latest stand up in the crowded low-end market? Let's find out.
| | | | | |
| --- | --- | --- | --- | --- |
| | AMD Radeon HD 5670 | AMD Radeon HD 5570 | AMD Radeon HD 6450 (GDDR5) | AMD Radeon HD 5450 |
| Stream Processors | 400 | 400 | 160 | 80 |
| Texture Units | 20 | 20 | 8 | 8 |
| ROPs | 8 | 8 | 4 | 4 |
| Core Clock | 775MHz | 650 | 750MHz | 650MHz |
| Memory Clock | 1000MHz (4000MHz data rate) GDDR5 | 900MHz (1800MHz data rate) DDR3 | 900MHz (3.6GHz data rate) GDDR5 | 800MHz (1600MHz data rate) DDR3 |
| Memory Bus Width | 128-bit | 128-bit | 64-bit | 64-bit |
| VRAM | 1GB / 512MB | 1GB | 512MB | 1GB / 512MB |
| Transistor Count | 627M | 627M | 370M | 292M |
| TDP | 61W | 42.7W | 27W | 19.1W |
| Manufacturing Process | TSMC 40nm | TSMC 40nm | TSMC 40nm | TSMC 40nm |
| Price Point | $65-$85 | $50-$70 | $55 | $25-$50 |
Although it's likely redundant to say that the GPU market is on a constant forward march in performance, it's a very prudent analogy when discussing the Radeon HD 6450. With the launch of a new generation of integrated GPUs from both Intel and AMD in the last few months, the tail-end of the line took a big step forward and now everything else must move forward to keep pace. AMD's previous low-end product, the 80SP Radeon HD 5450, is effectively matched by Intel's HD 3000; meanwhile you can get as many SPs in an AMD Zacate APU, although performance isn't quite enough to catch the 5450. Regardless, when iGPUs can deliver the performance of the lowest-end dGPU, a new low-end dGPU is required. This is Caicos.
At the lower end of the GPU market we're accustomed to seeing a very large gap between the lowest GPU and the next model higher; with the 5000 series it was the difference between the 80SP Cedar and the 400SP Redwood GPUs. The performance drop-off is quite severe, but it's what's necessary to make a GPU small enough and cheap enough to meet the needs of the extreme budget segment of the market. Thus while the latest generation of iGPUs requires AMD to produce a faster low-end GPU, they still need to keep it cheap enough for the market, and as such there won't be a radical overhaul.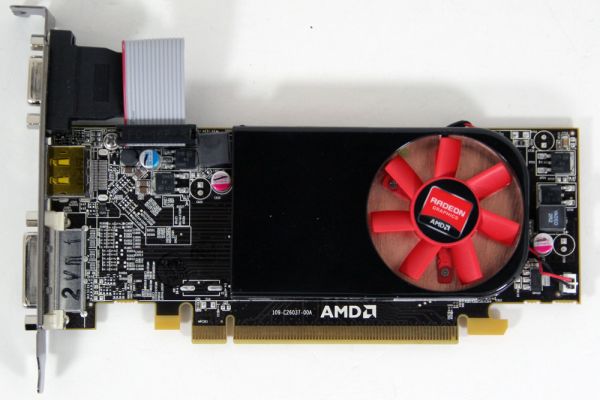 At the end of the day Caicos and the Radeon HD 6450 it's based on are a larger version of the 5450 with Barts' technology improvements. Coming from the 5450 AMD has doubled the SIMD count from one SIMD to two, doubling the number of SPs from 80 to 160. Meanwhile the number of texture units per SIMD has decreased from eight per SIMD to four per SIMD, resulting in the same eight texture units, but now split between the two SIMDs. This is now consistent with the rest of AMD's lineup, as Cedar/5450 had twice as many texture units in its 1 SIMD as other 5000/6000 parts normally have per SIMD.
The ROP side of the equation has not been changed however, pairing the 160SP compute core with the same set of four ROPs we saw on the 5450. What has changed on the ROP/memory side is support for GDDR5; while we will see DDR3 6450 cards too, AMD is more or less using GDDR5 from top to bottom now. For the GDDR5 6450 the core clock is 750MHz and the memory clock is 900MHz (3.6GHz data rate), so not only does the 6450 have more SIMDs than the 5450, but it's clocked faster by 100MHz and has over twice the memory bandwidth too.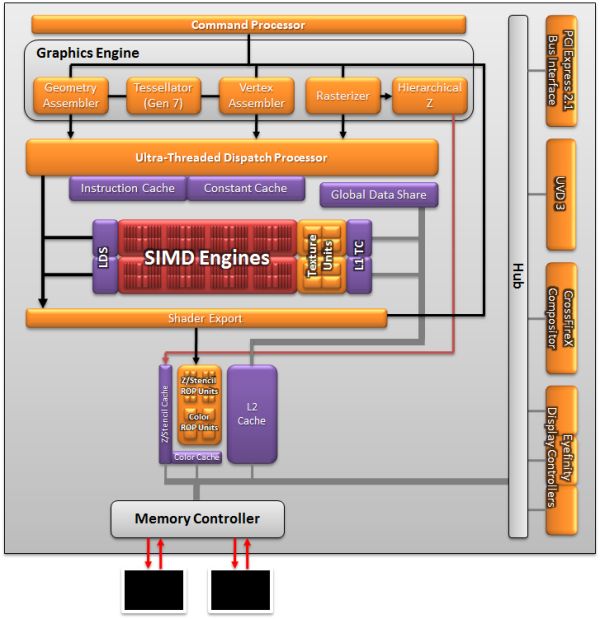 These changes give it a major leg-up on the 5450 while still keeping the GPU size manageable. The transistor count and die size has gone up as one would expect; the 5450 was 292M transistors for a die size of 59mm2, while the 6450 is 370M transistors at 67mm2. So the 6450 will likely cost more for AMD to produce, but only marginally so. TDP has also gone up from 6.4W at idle and 19W at load to 9W at idle and 27W at load, mostly due to the higher power consumption of GDDR5. 27W is still easily handled by passive coolers, and we should see a number of both actively and passively cooled cards.
AMD has put the MSRP of the 6450 at $55. This will cover both the 512MB GDDR5 and 1GB DDR3 varieties. Pricing of low-end cards rarely toes the line, so expect prices to be all over the place. At $55 the market is quite packed, so AMD's competition is going to include the 5450, the 5550/5570, the GT 220, and even a few budget-priced GT 430 cards. A few of these cards are going to be quite a bit faster than the 6450—ultimately the economic advantage of a small GPU is more present in high-volume OEM sales than it is in retail sales.
In any case, the one thorn in the side of the 6450 is that it's a soft launch. While all of our data is applicable to the existing similar OEM cards, retail cards won't be showing up until the 19th. Honestly we're a bit confused as to why AMD is soft launching the 6450 given that it doesn't have any immediate competition—the more insidious reasons usually attached to a soft launch are that it's to keep potential customers from buying a competitor's product, but it's not as if NVIDIA has recently launched a similar product. Anyhow, your guess is as good as ours, but it's unfortunate to see AMD doing a soft launch after doing so well in the mid-range and high-end markets this year.
Meet The Radeon HD 6450
Both Turks and Caicos (6450) are cut from the same cloth as Barts, meaning they inherit many of the optimizations we first saw in Barts. A few of the changes in Barts were Barts-exclusive or meaningful only when compared to Cypress, such as the Redwood memory controller, but elsewhere Caicos is picking up these improvements, giving the 6450 a leg up over the 5450.
Coming from the 5450, we're going to see four big changes for the 6450:
Better performance due to higher clockspeeds and more functional units
Improved tessellation engine
New display controllers
UVD3
Better performance is fairly straightforward, which we'll see in our benchmarks. Meanwhile the improved tessellation engine probably won't make a big difference, as 5450 and 6450 are both too slow to play most games with DX11/tessellation enabled. So the notable and useful changes for the 6450 are going to be in the display controller and UVD3.
With the new display controller comes a new set of output options for the 6450. The 6450 has gained both DisplayPort 1.2 and HDMI 1.4a compliance. The former is going to make it very easy to drive three digital displays from a 6450—cards almost universally come with a VGA port as the 3rd display otherwise. The latter is going to make it possible to drive 120Hz TVs at 120Hz for 3D content, primarily for Blu-ray 3D given the limited rendering capabilities of the 6450.
Of course to display Blu-ray 3D you need to be able to decode the frame-packed streams, and this is where UVD3 comes in. With UVD3 the 6450 gains the ability to decode MVC (frame-packed H.264) streams, along with full MPEG-2 decoding and MPEG-4 ASP (DivX/XviD) decoding. MPEG-2 and MPEG-4 are primarily for the benefit of mobile and Brazos platforms for energy efficiency and performance reasons, but the 6450 can tap into it all the same.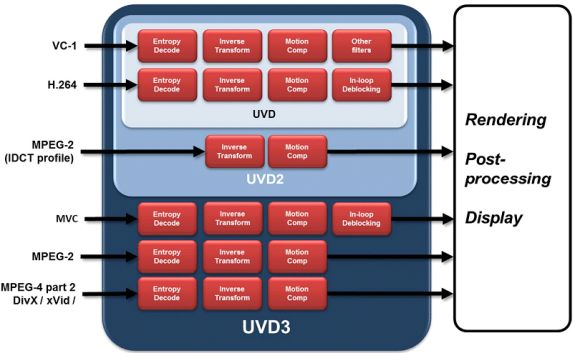 Moving on to the product itself, the card AMD shipped to us for review is very similar to our 5570 sample from last year, featuring a 6.61" low-profile card with a single-slot active cooler. At 27W TDP, power consumption is higher than the 5450, but a passively cooled low-profile 6450 should still be quite practical.
Our sample card is equipped with four 4Gbps Samsung GDDR5 modules running in 16-bit mode, adding up to the 64-bit bus we see on the 6450. Display connectivity is the same as in past AMD low-profile reference cards, featuring a DL-DVI port and a full size DisplayPort on the card, while a VGA port is at the top of the bracket attached to the card via a ribbon cable. The 6450 can drive up to three displays, including three displays through DP1.2 and an MST hub. For HTPC purposes we'd expect to see some cards replace the DisplayPort with an HDMI port.

AMD is primarily marketing this as an upgrade for Intel Sandy Bridge users, extolling the fact that they have DX11 capabilities and better drivers/compatibility than Intel. DX11 likely won't make a difference for the games the 6450 can play, but we've seen first-hand that Intel still misses out on compatibility now and then. Perhaps AMD's bigger advantage is that in the desktop space virtually all Sandy Bridge systems using the iGPU are using the HD 2000 GPU with 6 EUs instead of the HD 3000 GPU with 12 EUs; so the 6450 is placed against a sub-5450 GPU rather than a 5450-level GPU. In the mobile space however HD 3000 is the most common configuration, which makes things closer for the mobility versions of the 6450.
The Perfect HTPC Card? Probably
While AMD primarily targets cards like the 6450 at the budget upgrade market when it comes to retail, our preferred focus is on technical situations where such a card makes sense rather than economic situations. So with the 6450, 5450, GT 430, and other cards, usefulness in an HTPC environment is of great interest to us.
iGPUs have made some strides in the last six months in completely capturing the HTPC space, but usually they come up short in some form or another. This usually manifests itself as limited post-processing options due to a lack of shaders, and in the case of Sandy Bridge, the lack of a 23.976fps mode. iGPUs are still making strides and it's possible we'll see something capable of practical perfection as early as this summer with Llano, but for now you need a dGPU to achieve best results.
The last time we took a look at the HTPC market for a dGPU was with NVIDIA's GT 430 in October. At that time it was the first low-end GPU with HDMI 1.4a and Blu-ray 3D capabilities, giving it an edge over AMD's lineup at the cost of not supporting cadence detection for some more unusual patterns. The best AMD card for HTPC use at that time was the 5570, as the 5450 lacked the memory bandwidth and shader capacity necessary to make use of AMD's full suite of post-processing features.
Due to how little time we've had with the 6450 we haven't been able to run it through our full suite of HTPC tests, but so far it's looking very good. Between the doubling of memory bandwidth and doubling of shaders, the 6450 is now able to run all of AMD's post-processing features at full speed—that is they all work with Enforce Smooth Video Playback enabled and without dropping any frames in the process. AMD reports an HD HQV 2.0 score of 188, while we recorded 189 on the 5570 last year (keep in mind scoring is inherently subjective to some degree). We need to do further testing, but with our limited time it looks like the 6450 is as equally capable as the 5570 when it comes to post-processing, which is to say it's at the top of the charts.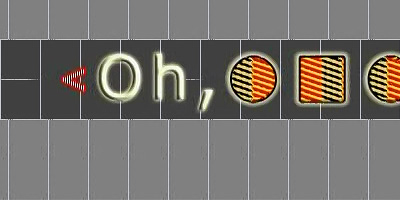 AMD Radeon HD 6450, Cheese Slices Test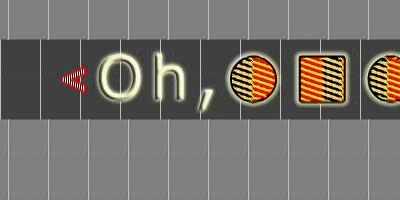 AMD Radeon HD 5570, Cheese Slices Test
The post-processing capabilities along with the ability to decode and transmit 3D content are what have us so excited about the 6450 as an HTPC card. Although 3D content hasn't made much progress in the last six months, for HTPC purposes at a bare minimum we're looking at a 5570 replacement with a bit over half the power consumption and modern display outputs. That alone is quite enticing.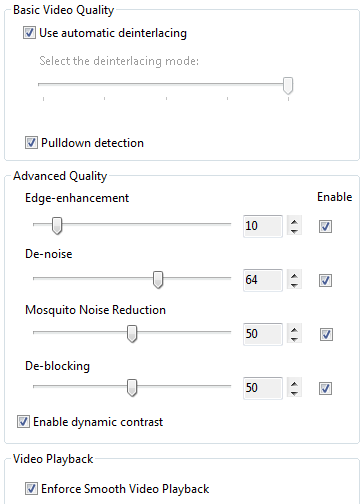 CCC Default Image Quality Settings
The Test
For the AMD lineup including the 6450, we're using the Catalyst 11.4 preview driver. For NVIDIA's low-end lineup we're using the release 270 driver. Because of the limited performance of the 6450 and similar products, and because we want to include Intel HD 2000/3000 results, we're using a slightly modified test suite from our normal GPU reviews. All dGPUs are on our usual 3.33GHz Core i7 (Nehalem) setup, while the Sandy Bridge results are from a Core i5-2400 and Core i5-2500K for HD 2000 and HD3000 respectively. This does prevent our usual efforts to keep our testbeds identical, however with low-end GPUs the contamination should be minimal as we're GPU bound and then some, rather than being CPU bound.
CPU:
Intel Core i7-920 @ 3.33GHz
Intel Core i5-2400
Intel Core i5-2500K
Motherboard:
Asus Rampage II Extreme (X58)
Intel H67 Motherboard (H67)
Chipset Drivers:
Intel 9.1.1.1015 (Intel)
Hard Disk:
OCZ Summit (120GB)
Intel X25-M SSD (80GB)
Memory:
Patriot Viper DDR3-1333 three x 2GB (7-7-7-20)
Corsair DDR3-1600 2x4GB (9-9-9-24)
Video Cards:
AMD Radeon HD 6970
AMD Radeon HD 6950 2GB
AMD Radeon HD 6870
AMD Radeon HD 6850
AMD Radeon HD 6790
AMD Radeon HD 6450 (GDDR5)
AMD Radeon HD 5970
AMD Radeon HD 5870
AMD Radeon HD 5850
AMD Radeon HD 5830
AMD Radeon HD 5770
AMD Radeon HD 5570
AMD Radeon HD 5450 (DDR3)
AMD Radeon HD 4870X2
AMD Radeon HD 4870
NVIDIA GeForce GTX 580
NVIDIA GeForce GTX 570
NVIDIA GeForce GTX 560 Ti
NVIDIA GeForce GTX 550 Ti
NVIDIA GeForce GTX 480
NVIDIA GeForce GTX 470
NVIDIA GeForce GTX 460 1GB
NVIDIA GeForce GTS 450
NVIDIA GeForce GT 430
NVIDIA GeForce GTX 295
NVIDIA GeForce GTX 285
NVIDIA GeForce GTX 260 Core 216
NVIDIA GeForce GT 240 (DDR3)
NVIDIA GeForce GT 220 (DDR3)
Video Drivers:
NVIDIA ForceWare 262.99
NVIDIA ForceWare 266.58
NVIDIA ForceWare 270.51 Beta
AMD Catalyst 10.10e
AMD Catalyst 11.1a Hotfix
AMD Catalyst 11.4 Preview
Intel GMA 15.21.12.64.2321
OS:
Windows 7 Ultimate 64-bit
Crysis: Warhead
Kicking things off as always is Crysis: Warhead, still one of the toughest games in our benchmark suite. Even three years since the release of the original Crysis, "but can it run Crysis?" is still an important question, and for three years the answer was "no." Dual-GPU halo cards can now play it at Enthusiast settings at high resolutions, but for low-end cards even Mainstream/Medium quality is nearly out of reach.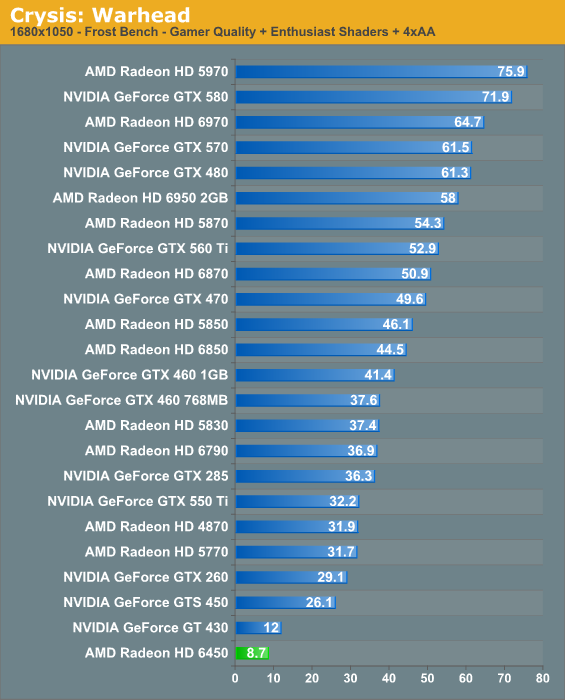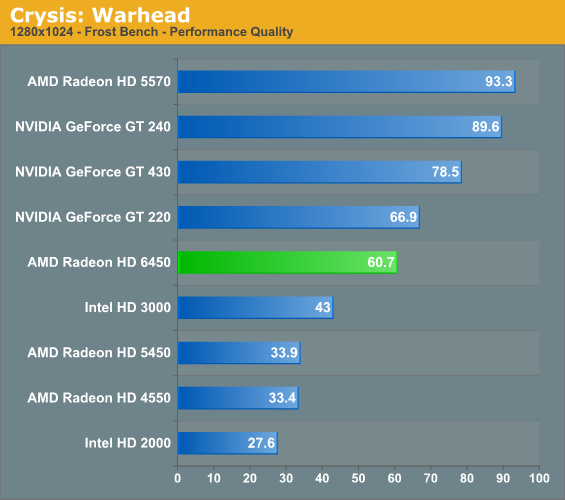 We're throwing in a 1680 chart now and then just to showcase where the Radeon HD 6450 and GT 430 stack up compared to our usual bulk of cards. It takes a lot of cutting to make a $50 card, and the end result is a fraction the performance of a $100 card.
Moving on to more playable settings, we first look at 1280x1024 at the lowest quality setting: Performance. The drop in quality between Performance and Mainstream is quite severe, so once we get to 1024 at Mainstream you'll understand why we're using Performance here. In any case the Radeon HD 6450 is actually very playable at this resolution in exchange for the limited graphical quality. Crysis can be quite easy to run, you just have to give up the fancy graphics to get there. Compared to the 5450 the performance jump is quite remarkable; even though the 6450 only has an equal number of ROPs, the jump nearly matches the twofold increase in SPs. So for Crysis we're definitely shader and/or bandwidth limited.
At 1024x768 mainstream quality, the performance drops across the board in spite of the lower resolution. The 6450 is the first card to crack 30fps, and at 32.9fps it's only barely playable. The performance gains versus the 5450 are still over 50%, but it's not quite the large gap we saw at 1280. As for the 5570, here it's ahead of the 6450 by 20fps. And this is the main problem the 6450 is going to face in the performance race: cheap 5570 cards with more than twice the horsepower are going to easily overpower it. The 6450's advantage is in power consumption and all that follows.
Metro 2033
The next game on our list is 4A Games' tunnel shooter, Metro 2033. Under Metro is quite a resource intensive game under DX11, however under DX9 without so many shader effects it becomes more reasonable.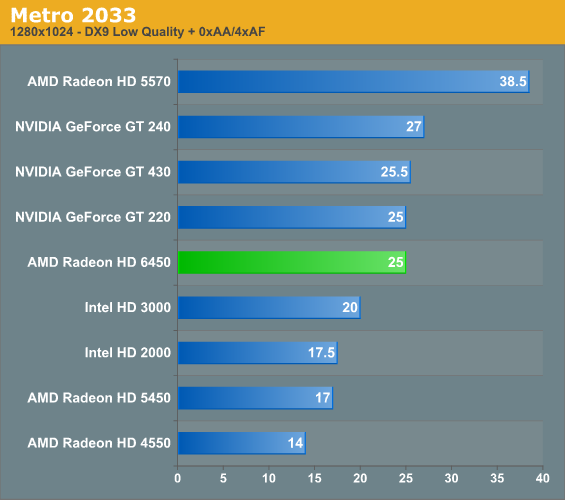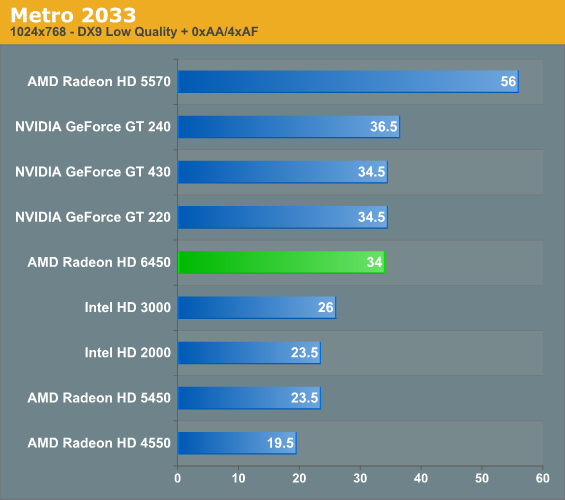 At 1280 even on these bare minimum settings it's not playable with the 6450; it takes 1024 to achieve that. The fact that it's so shader intensive bodes well for the 6450 compared to the 5450 as the 6450 realizes a great deal of its theoretical gains; however, this also means the 5570 is well ahead by being well into smooth frame rates.
Meanwhile compared to competing companies' GPUs, the 6450 does well here, tying the GT 430 in both resolutions; this isn't a trend that will last however. As for the Intel HD series it isn't completely crushed, but at the end of the day the difference is that the 6450 is going to be playable when even the HD 3000 is not.
HAWX
Ubisoft's 2008 aerial action game is one of the less demanding games in our benchmark suite, particularly for the latest generation of cards. However it's fairly unique in that it's one of the few flying games of any kind that comes with a proper benchmark.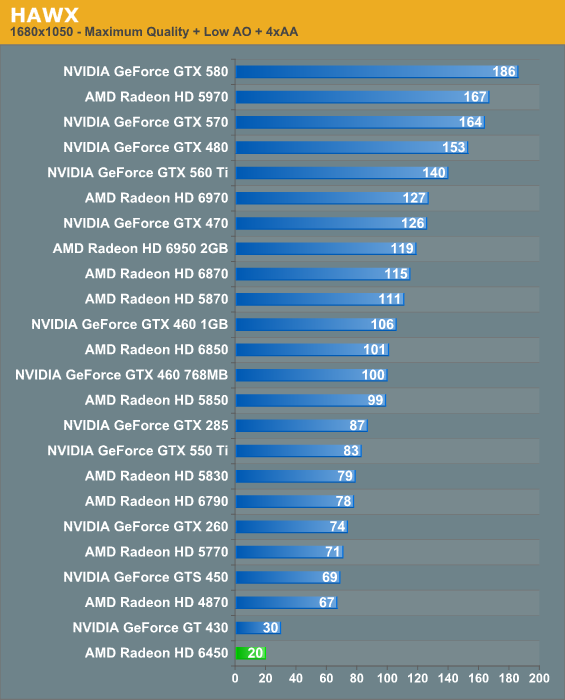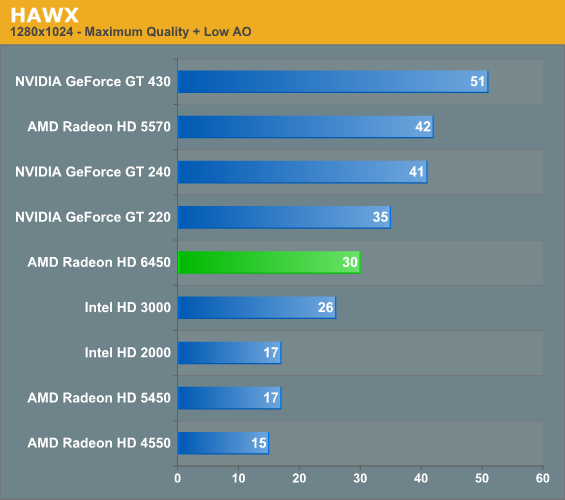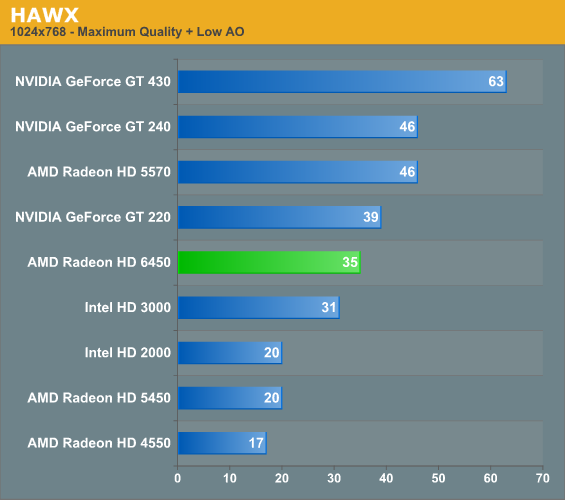 HAWX is lightweight enough that we can generally get away with using maximum graphics quality with it. At 30fps the 6450 is playable even at 1280, and if you need more speed you can turn the quality down. Hot on the 6450's heels though is the HD 3000, which comes as close to the 6450 as we'll ever see it get today. Meanwhile the GT 430 is well in the lead by over 50%, and even the GT 220 can come out ahead of the 6450. The one thing in AMD's favor is that once again the 6450 does well compared to the 5450, outpacing it by 75% and even coming in closer than usual to the 5570.
Civilization V
Civilization 5 is the latest incarnation in Firaxis Games' series of turn-based strategy games. Civ5 gives us an interesting look at things that not even RTSes can match, with a much weaker focus on shading in the game world, and a much greater focus on creating the geometry needed to bring such a world to life. The DX9 version doesn't use any tessellation, but that doesn't mean it's not an intensive game.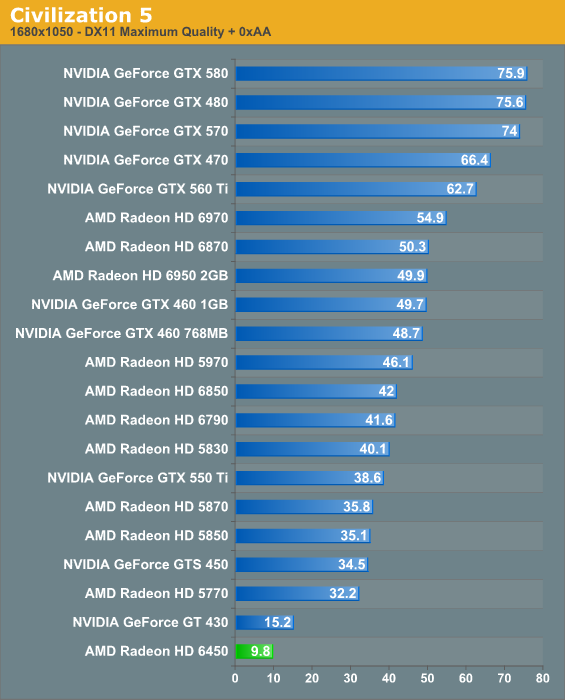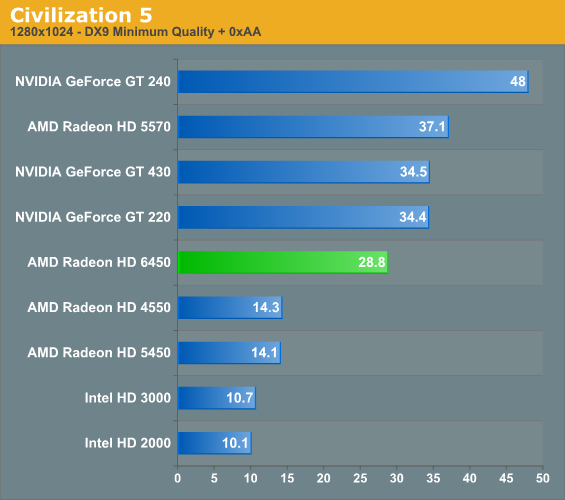 It's fortunate that as a turn based strategy game, Civilization V doesn't require great framerates. Because even with minimum settings under DX9 the 6450 struggles to break 30fps. The end result is playable, although it's not going to be very smooth.
Compared to the 5450 this ends up being the best case of the night for the 6450; the 6450 more than doubles the 5450's performance under Civilization V at both resolutions. We can't be sure if we're memory or shader bound, but we suspect it's the latter. Meanwhile the 6450 does crush Intel's HD graphics lineup here by nearly three-fold. The only place AMD comes up short is the same place they always come up short with Civ 5: against NVIDIA.
DIRT 2
Codemasters' 2009 off-road racing game continues its reign as the token racer in our benchmark suite. DiRT two makes pretty thorough use of the DX11's tessellation abilities, however here we're forcing DX9 mode in the name of performance.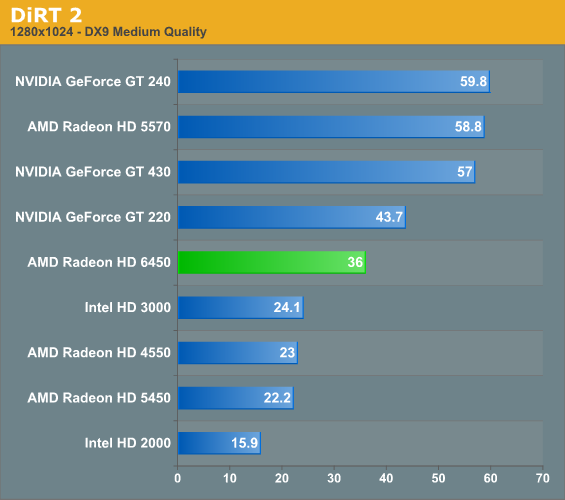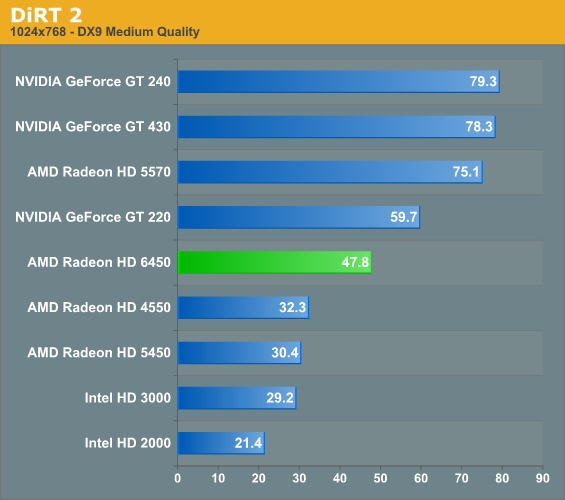 Under DX9 DiRT 2 runs well enough that we can use Medium quality on most video cards. By the time we're down to 1024x768 the 6450 is up to 47fps, which is more than enough for a racing game. Once again the 6450 is well ahead of the 5450, albeit only by around 60% this time. The Intel HD series is also quite far behind, with the 6450 beating the HD 3000 by over 50%. It's compared to the GT 430 and the 5570 that the 6450 falters, as each has over 60% on AMD's latest card.
Mass Effect 2
Electronic Arts' space-faring RPG is our Unreal Engine three game. While it doesn't have a built in benchmark, it does let us force anti-aliasing through driver control panels, giving us a better idea of UE3's performance at higher quality settings. Since we can't use a recording/benchmark in ME2, we use FRAPS to record a short run.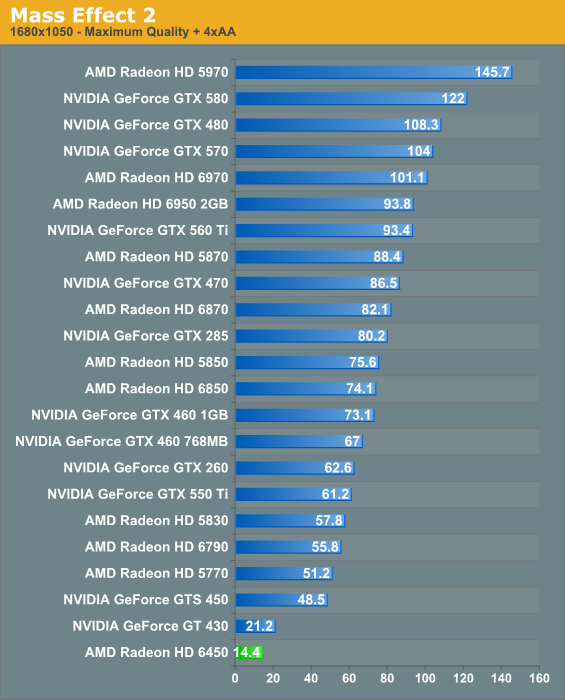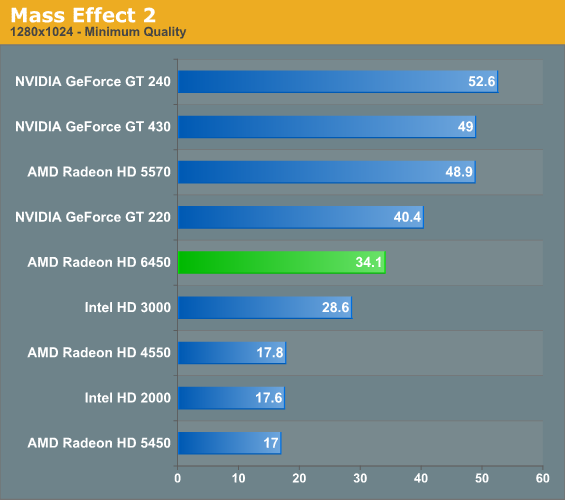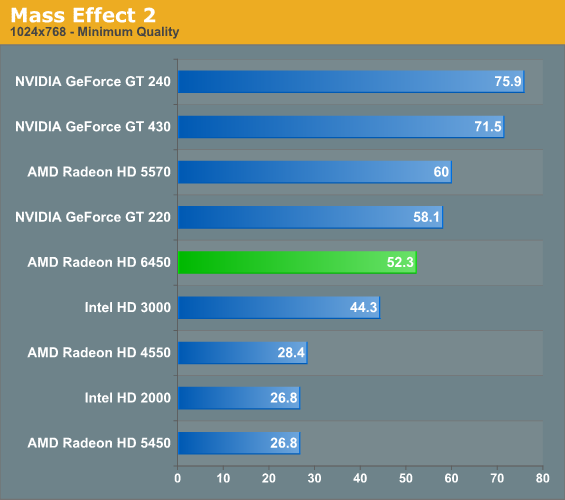 Most of Mass Effect 2's graphical settings are locked in, so while there is some customization it doesn't change the look of the game, or its performance for that matter. Depending on how fast you like your FPSes, it's either 1280 or 1024 before the game becomes adequately playable, however most people should be good at 1280 with 34fps. As with Civilization V the gains over the 5450 are through the roof, as the 6450 just about doubles the 5450's performance. Ultimately the less ROP-bound a game is, the better it's going to do on the 6450 versus the 5450.
With that said, the 6450 does have trouble keeping up with faster cards at higher resolutions. While the 5570 is only ahead by about 15% at 1024, this becomes 43% at 1280. NVIDIA's lineup also does quite well here as we've come to expect. Meanwhile Intel's HD Graphics once again comes close; the HD3000 is only behind by about 20%, making it a potential threat at 1024.
StarCraft II
Blizzard's latest RTS is CPU-bound under most situations, but with low-end GPUs most scenes become GPU bound as long as there aren't too many active units on the screen. With the 6450 we can easily manage Medium quality, but higher quality modes quickly swamp these low-end GPUs.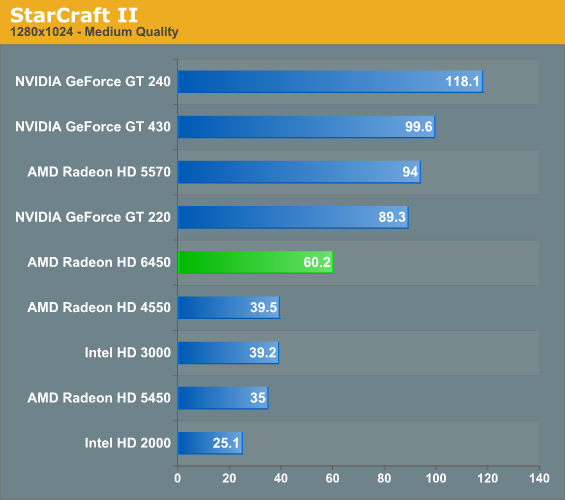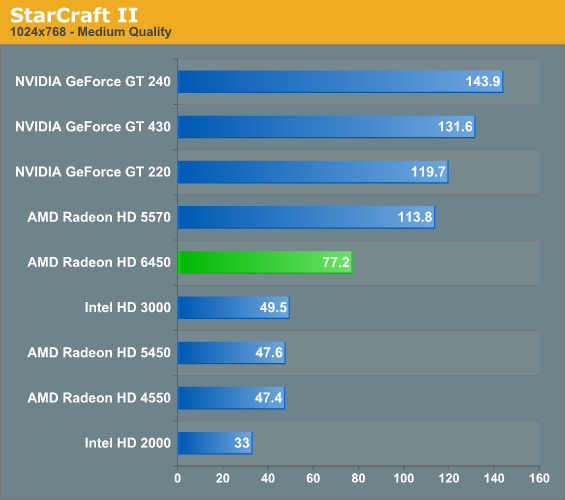 Even at 1280x1024 the 6450 gets 60fps in our GPU replay, showcasing just how forgiving StarCraft II is on GPU performance. Compared to the 5450 the 6450's lead is once again quite large, but it's actually slightly smaller than in other games, indicating that this simple to draw game is on the verge of becoming ROP-bound. As a result the 5570 and the NVIDIA lineup do very well for themselves here, with the 5570 doing almost 50% better while the GT 430 is 65% ahead. In practice the game is just GPU reliant enough at these settings that you need a low-end dGPU instead of an iGPU for smooth framerates.
Compute Performance
With the 11.3 Catalyst drivers AMD started including their OpenCL runtime with the drivers, a long-awaited development that we're hoping spurs additional OpenCL development. With that change AMD's marketing posture has once again shifted towards advertising their GPGPU capabilities, though the 6450 isn't a great platform for this. With 160 SPs its twice as capable as the 5450, but this is still around 1/10 the theoretical capabilities of their high-end cards, and there the difference between the GPU and the CPU often isn't the same 10x difference.
In short the 6450 isn't very fast for GPGPU computing tasks, and indeed Cyberlink's MediaEspresso won't even allow hardware encode acceleration on the 6450. This is probably the only notable weakness for the 6450 as an HTPC platform—the decoding is great, but it has no hope of catching up to Intel's Quick Sync for encoding.
Our first compute benchmark comes from Civilization V, which uses DirectCompute to decompress textures on the fly. Civ V includes a sub-benchmark that exclusively tests the speed of their texture decompression algorithm by repeatedly decompressing the textures required for one of the game's leader scenes. Note that this is a DX11 benchmark.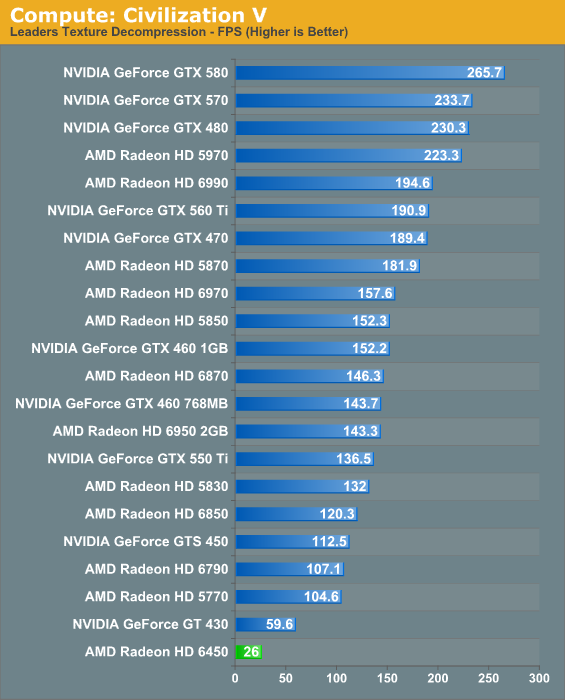 With only 160 SPs the 6450 achieves very limited performance here.
Our second compute benchmark of the day is SmallLuxGPU, the GPU ray tracing branch of the open source LuxRender renderer. While it's still in beta, SmallLuxGPU recently hit a milestone by implementing a complete ray tracing engine in OpenCL, allowing them to fully offload the process to the GPU. It's this ray tracing engine we're testing. Note that as Intel doesn't currently offer an OpenCL driver for their HD Graphics iGPUs, we're only looking at dGPUs here.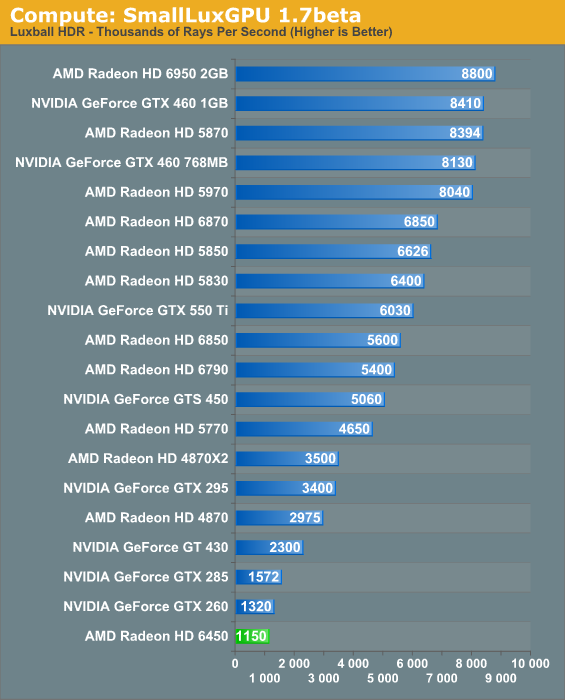 We've cut off all the scores above 10K rays/second just to make the 6450 fit, which should give you an idea of the relative performance. The 5770 at $50 more easily gets 4x the performance.
Power, Temperature, and Noise
Last but not least as always is our look at the power consumption, temperatures, and acoustics of the Radeon HD 6450. Our power usage data should closely mirror any other 6450, but with a variety of passively cooled and actively cooled cards, many retail 6450s will be quite different.
Please note that we're only including dGPUs here. Sandy Bridge power consumption is not even comparable due to the difference in everything from the CPU to the PSU.
Radeon HD 6450 Voltage
6450 Idle
6450 Load
0.9v
1.15v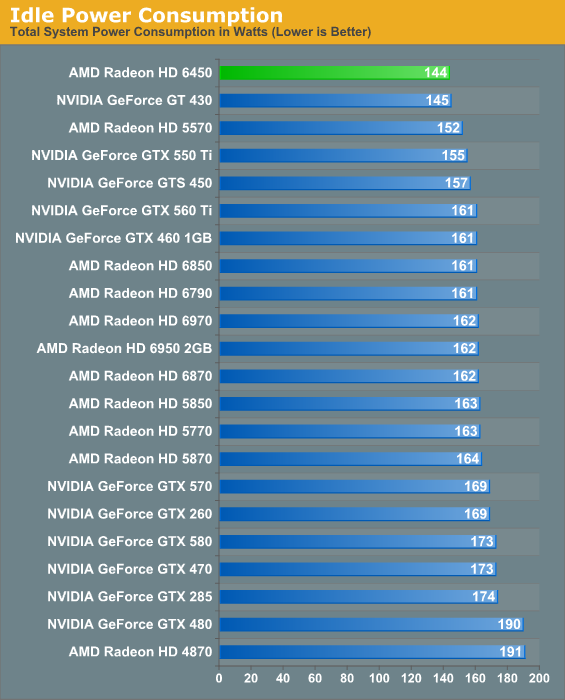 At idle the 6450 pulls about as little as we can get away with on our 1200W Antec Quattro PSU. It's without a doubt the lowest idle power consumption out of this current generation of GPUs.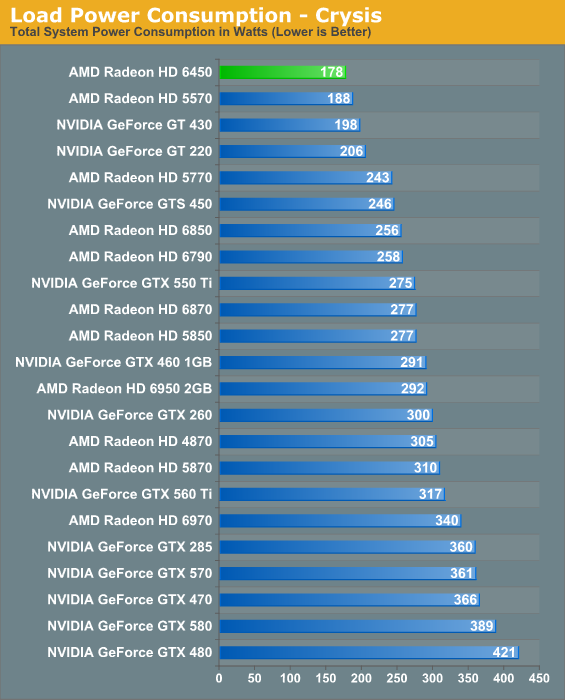 Under Crysis we see how much 27W does, or rather doesn't contribute to total system power consumption. The only DX11 card competitive with these level of power consumption is the 5450; the next-lowest card is the 5570 which starts out at 10W higher. This low power consumption is what helps to make the 6450 a good candidate for passive cooling and HTPC use.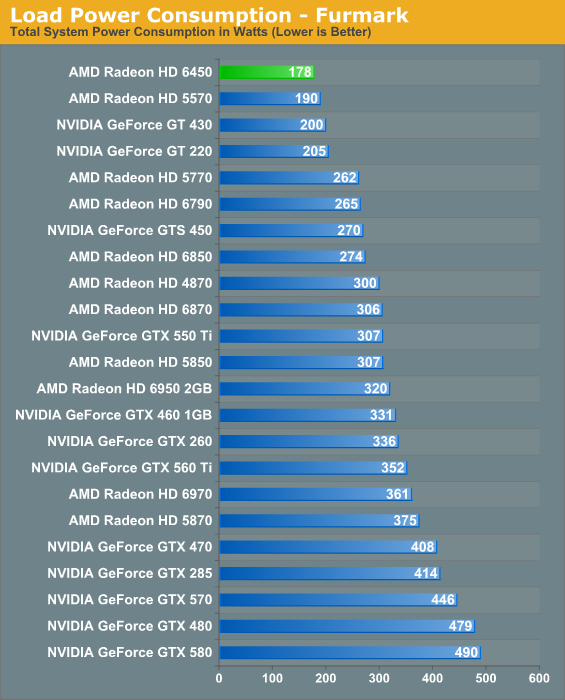 A bit surprisingly power consumption under Furmark is the same as it is under Crysis: 178W at the wall. This is likely due to lower CPU power consumption while at the same time GPU power consumption rises. Considering every other card has crept up at least some, this further highlights just how little power the 6450 consumes.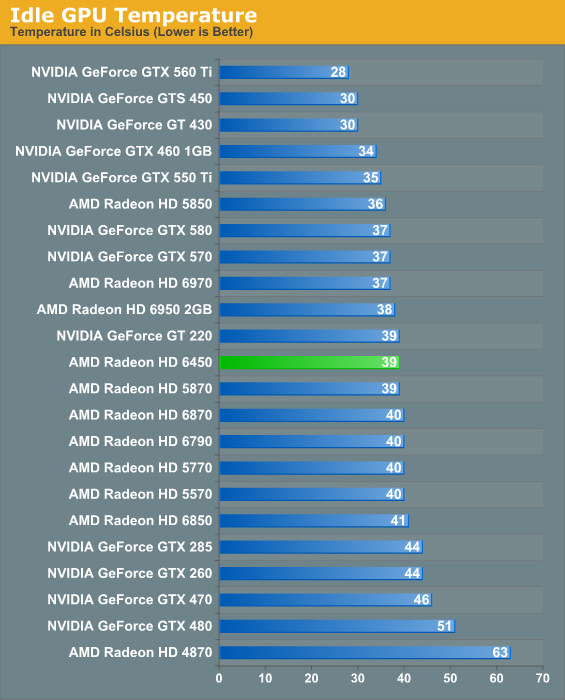 The cooler on the 6450 is identical to the cooler on our 5570 sample, so it shouldn't come as a surprise that cooling characteristics are similar even with the lower power consumption. In this case an idle temperature of 39C is not close to being record-breaking, but it is consistent with this cooler. Running the fan faster could lower the result at the cost of noise, but there's no need.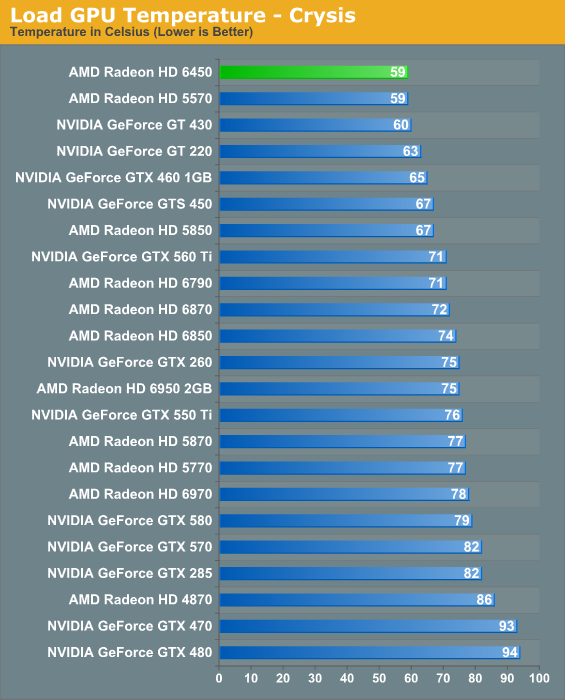 Now load tempeartures on the other hand can certainly set some records. At 59C under Crysis the 6450 is tied with the 5570 for the coolest actively cooled card. We're actually surprised it doesn't do a bit better here given the similar cooler but lower power consumption.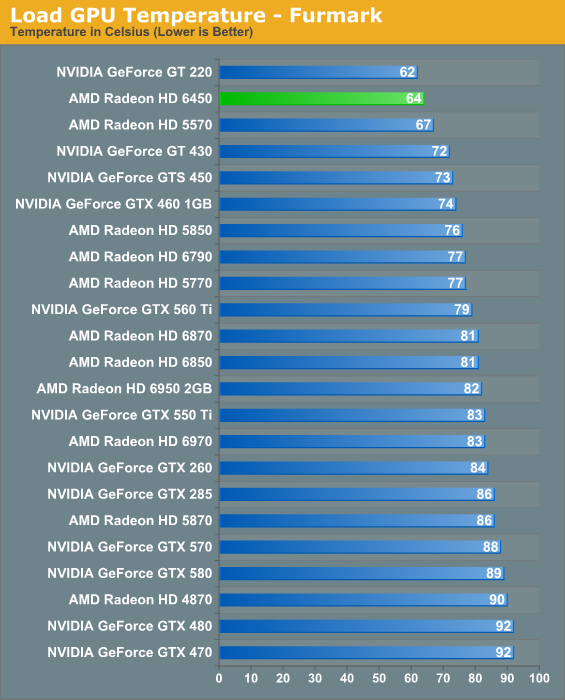 Under Furmark the GT 220 does manage to edge out the 6450, but the 6450 is still the coolest AMD card by 3C. It's an interesting contrast from a couple of weeks ago when we were looking at dual-GPU monsters; 64C is practically lukewarm.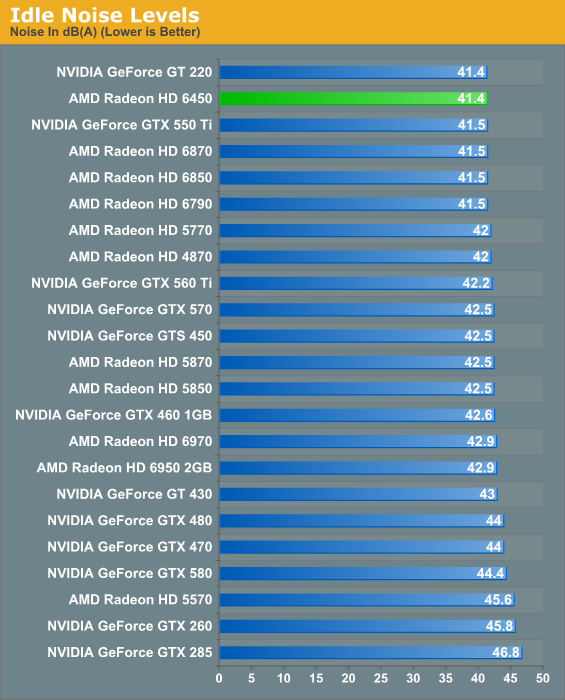 Under idle the 5570/6450 cooler is consistent with most other well designed coolers: it's quieter than the noise floor of our testbed.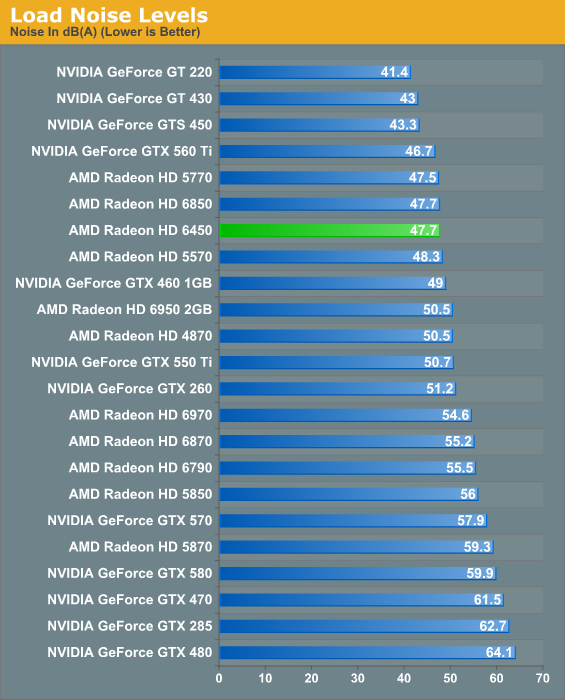 So the downside to the active cooler being used is that it's not very quiet. If you want a quiet 6450 you're better served by a passively cooled model for obvious reasons. But even if you want an actively cooled model, we strongly suspect you'll see better coolers than the one on our sample. There's no reason an active cooler needs to be more than a couple of dBA off of our noise floor—the GT 430 proves that.
Final Thoughts
Having blitzed through the Radeon HD 6450 review in only two days, I'm going to hesitate some to make too many definitive statements, as in an ideal world we have some additional tests we would have liked to run that instead will need to wait until a later time.
On a pure performance-per-dollar perspective the 6450 comes up well short of the best, but we'd basically be a broken record at this point. It's very rare to see new low-end products claim the top spot for their very narrow price bracket, even if a die shrink is involved. Even a slight discount on a more expensive product blows the entire lineup out of the water, and this is what happens with the 5570 and GT 430.
It has always been the case in the low-end that a few more dollars buys a lot more performance, and this hasn't changed. If you're buying for performance purposes purely on a $55 budget than the 5570 is going to be hard to beat, or even the GT 430 if you want to go with NVIDIA. However an even better suggestion is to spend another $30-$40 and try to snag something like an AMD Radeon 5700 series card or an NVIDIA GTS 450—the performance difference is simply staggering.
So what do we do with a very low power, low performance, budget priced card? We throw it in our HTPCs of course! It's here where we need to do some more aggressive testing as time allows, but the Radeon HD 6450 has all the makings of an excellent HTPC card. It has all the video decoding features we could ask for at the lowest TDP we've ever seen those features made available at. For a pure video decode and 10ft GUI card, I'm not sure there's anything that can top the 6450. The only area where it comes short is overall gaming performance if you intend to game on your HTPC, in which case the 6800 series, or perhaps a Turks-based card would be a better choice…
The only notable blemish here is that AMD has gone for a soft launch. If you're buying OEM there's no reason you can't get the 6450 today (or last month for that matter); however, if you're buying retail you're going to be waiting roughly another two weeks.