Original Link: http://www.anandtech.com/show/4262/asus-k53e-testing-dualcore-sandy-bridge


ASUS K53E: Enter Sandy Bridge Man
Last week, we looked at one of our final Arrandale laptops in the ASUS U41JF, a worthy follow-up to the U-series' legacy. Today we have another ASUS laptop, this time one of the first dual-core Sandy Bridge systems to grace our test bench. The K53E comes to us via Intel, and they feel it represents what we'll see on the various other dual-core SNB laptops coming out in the near future. Unlike the Compal quad-core SNB notebook we tested back in January, this notebook is available at retail, and it comes with very impressive performance considering the price, but there's a catch.
Intel has taken the stock K53E and fitted it with a faster i5-2520M processor, which should be a moderate performance bump from the K53E with i5-2410M and a healthy upgrade from the non-Turbo i3-2310M model. The i5-2520M runs at a stock clock speed of 2.5GHz with Turbo modes running at up to 3.2GHz; in contrast, the i5-2410M checks in at 2.3GHz with a 2.9GHz max Turbo, and the poor i3-2310M runs at a constant 2.1GHz. There are a few other changes as well, depending on which model you want to take as the baseline. The K53E-B1 comes with 6GB standard and a 640GB HDD, while the K53E-A1 comes with 4GB and a 500GB HDD; our test system has a 640GB HDD and 6GB RAM (despite the bottom sticker labeling it as a K53E-A1). Intel also installed Windows 7 Ultimate 64-bit instead of the usual Home Premium 64-bit, which means there's no bloatware on the system—and ASUS' standard suite of utilities is also missing.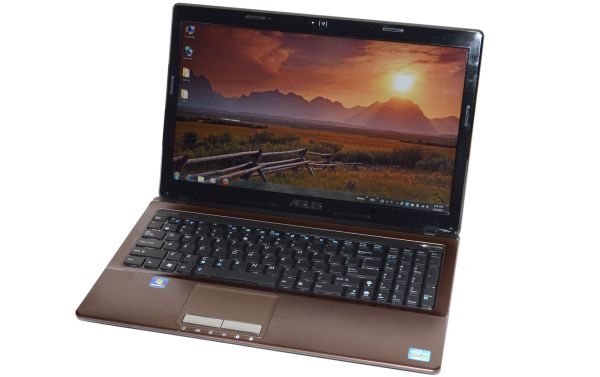 If you want a ballpark estimate of cost for a similar laptop, the Lenovo L520 has the same i5-2520M CPU, 4GB RAM, and a 320GB HDD with Windows 7 Professional 64-bit, priced at $826. Intel's pricing on the i5-2520M is $225, so around $800 total for the K53E would be reasonable, but like most OEMs ASUS gets better pricing for the i5-2400 series parts and thus chooses to save money there. For most users, the stock K53E-B1 will be more than sufficient, as the extra 10-15% performance increase from the CPU upgrade won't normally show up in day-to-day use—you'd be far better off adding an SSD rather than upgrading the CPU. Here are the specs of the laptop we're reviewing.
ASUS K53E (Intel Customized) Specifications
Processor
Intel Core i5-2520M
(2x2.50GHz + HTT, 3.2GHz Turbo, 32nm, 3MB L3, 35W)
Chipset
Intel HM65
Memory
1x4GB + 1x2GB DDR3-1333 CL9 (Max 8GB)
Graphics
Intel HD 3000 Graphics (Sandy Bridge)
12 EUs, 650-1300MHz Core
Display
15.6" WLED Glossy 16:9 768p (1366x768)
(AU Optronics B156XW02 v6)
Hard Drive(s)
640GB 5400RPM HDD
(Seagate Momentus ST9640423AS)
Optical Drive
DVDRW (Matshita UJ8A0ASW)
Networking
Gigabit Ethernet (Atheros AR8151)
802.11bgn (Intel Advanced-N 6230, 300Mbps capable)
Bluetooth 2.1+EDR (Intel 6230)
Audio
2.0 Altec Lansing Speakers
Microphone and headphone jacks
Capable of 5.1 digital output (HDMI/SPDIF)
Battery
6-Cell, 10.8V, 5.2Ah, 56Wh
Front Side
Memory Card Reader
Left Side
1 x USB 2.0
HDMI
VGA (D-SUB)
Gigabit Ethernet
AC Power Connection
Exhaust vent
Right Side
Headphone/S-PDIF Jack
Microphone Jack
2 x USB 2.0
Optical Drive
Kensington Lock
Back Side
N/A
Operating System
Windows 7 Ultimate 64-bit
Dimensions
14.88" x 9.96" x 1.11-1.37" (WxDxH)
Weight
5.84 (with 6-cell battery)
Extras
0.3MP Webcam
102-Key keyboard with Numeric Keypad
Flash reader (MMC, SD, MS/Pro)
Warranty
2-year standard warranty on some models
1-year standard warranty on others
Pricing
K53E-B1 (i5-2410M): Starting at $719
K53E-A1 (i3-2310M): Starting at $625
Like the U41JF, outside of the CPU we've already covered most of the items here. One new addition is the 640GB 5400RPM Seagate Momentus drive (previously we usually received 500GB models). With a higher areal density, sequential transfer rates will go up, but the random access speed is still going to be horrible. Also like the U41JF, there are quite a few missing features: USB 3.0, eSATA, FireWire, and ExpressCard are not here, so if you want any of those you'll need to go elsewhere. The DVDRW, LCD, audio, and other items all typical features; the 0.3MP webcam makes the sacrifice of resolution in order to work better in lower light conditions.
There are a lot of similarities to the ASUS X72D/K72DR we looked at in October, though we're running an Intel CPU and using a 15.6"-screen chassis this time, and there's no discrete graphics option. Of course, the HD 5470 is no performance beast, so Intel's HD 3000 actually posts similar results (albeit with perhaps less compatibility across a larger selection of games). Also interesting is that ASUS is using a 56Wh battery in place of the 48Wh units that have been so common; hopefully that will be the case on all of their midrange laptops going forward, though we're still partial to the 84Wh batteries in the U-series.
The real purpose of this laptop is to get dual-core Sandy Bridge out there for the lowest possible cost. While the notebook as configured would probably need to sell for around $800, the K53E-B1 with i5-2410M is going to perform very similarly and will set you back $720. Because Intel performance a clean OS install, we also skipped out on the regular set of ASUS utilities. Power4Gear is about the only one we usually find useful, with the ability to power off the optical drive usually boosting battery life a bit relative to other laptops. Since we're not looking at a stock K53E, though, we decided to just run the system as configured on both the hardware and software fronts.
ASUS K53E Impressions and User Experience
Last week's ASUS U41JF review is going to be the most interesting comparison to the K53E. Sure, that notebook only comes with a dual-core Arrandale i3-380M, but the 15% CPU overclock option, 83Wh battery, and GeForce GT 425M Optimus graphics give it a leg up on the competition. Yes, i5-2520M is going to be a faster CPU, but everywhere else I'd rate the U41JF as the superior laptop. Before we get to the benchmarks, though, let's take a closer look at the K53E.
The exterior and interior colors are an interesting shade of brown—almost a coppery color in the right light, and at other times the notebook can appear black. The lid is a textured plastic, which means that in normal lighting fingerprints don't show up quite so well. Unfortunately, it also means that you can't easily wipe it clean with a microfiber cloth, and flash photography often brings out the greasy prints hiding in the indentations. I still prefer the silver styling of the U41JF (and other ASUS laptops), but the K53E doesn't look bad.
The 15.6"-screen chassis happens to be one of the least expensive laptop sizes these days. It's large enough that manufacturers don't have to work as hard at cooling or internal layout, but still small enough that they're not wasting a lot of material. Unfortunately, our biggest complaint with the 15.6" LCDs floating around is that most are of the 1366x768 variety, and the K53E falls into that classification. We'd really like to see some better resolutions in 15.6" notebooks—even 1600x900 would be better than 1366x768—but then we'd also like to see LCDs that have a reasonable contrast ratio, maximum brightness, and color quality. In case you were wondering, the AU Optronics B156XW02 v6 panel used in this particular notebook has none of the good features we're looking for and all of the bad. Yuck.
The keyboard is a traditional ASUS chiclet design, with the numeric keypad wedged in on the right. Like other notebooks, we're not happy with the 10-key layout, mostly because the zero is half-size and the right cursor key overlaps the 10-key space. It's not so egregious a flaw that we'll spend a paragraph or two ripping on the layout, but there's still room on the sides that ASUS could have used to give us a full 10-key with no compromises. Typing action outside of the 10-key is fine, and the dedicated navigation keys in the top-right (Home, End, PgUp, and PgDn) are certainly welcome.
Something we do like with the K53E is the touchpad. It's big enough to be useful without being so huge that you accidentally brush it while typing (and as usual, you can configure the touchpad to detect keyboard use and go to "sleep" for a short interval after typing to mitigate that particular problem). The tracking surface is also a nice, smooth texture and there are—gasp!—dedicated left and right mouse buttons. Why can't we get these on the U-series? The palm rest is a nice metallic brushed aluminum finish, and the touchpad is slightly inset and has a different texture to help you find it without looking.
Rounding out the package, the speakers are still a weak point—every time I fire up a game or play some music on Dell's XPS 15 (the L502x now has Sandy Bridge CPU support; review is coming soon!), just about every other laptop sounds horrible in comparison. Another big gripe I have is with the position of the AC plug. It's on the left side, but instead of being at the rear of the notebook (as is usually the case), it's located in front of the exhaust port. When plugged in, the AC cord gets in the way of the Ethernet, HDMI, and USB port on that side—or you can snake the AC cable around back, in which case you're partially blocking the exhaust port. It's not a big enough problem that you can't use the ports while plugged in, but it's just a weird design decision, particularly when you consider that nearly every other laptop puts the AC connector at the far back of the chassis.
Looking at the whole, the K53E is a very reasonable notebook for the price. It's not going to outperform quad-core SNB or gaming laptops, but it will run just about everything you might want with performance to spare. The price also puts it into competition with many inexpensive laptops, and it's a major reason why we think AMD's Brazos platform at $600 or more is a dead end. Even the i3-2310M will run circles around an E-350 (in both applications and games), so the only area where E-350 comes out ahead is battery life. With a better LCD (or at least a better resolution) and more connectivity options (e.g. USB 3 and eSATA), this could be an inexpensive desktop replacement for people that don't need maximum CPU and/or GPU performance. With the current design, the K53E is a decent mainstream offering that boosts performance and battery life compared to the previous Arrandale offerings.
Is that enough to warrant spending $100-$200 more compared to AMD Athlon/Brazos/Turion laptops—or Intel's older Pentium and Core i3 systems? When you factor in the performance and build quality, I'd actually say that the $720 K53E-B1 is going to be a better all-around notebook than most of the $400-$500 laptops you can currently find at places like Best Buy. But then, I'd be far more likely to save up the remaining $80 to get a better GPU, like in the ASUS U41JF, or wait another month or two and see what AMD's Llano APU can do for budget laptops. If you're chasing lowest cost, small size, and battery life as your primary considerations, it's difficult to beat HP's dm1z, but as soon as you start customizing and approaching $600 (i.e. the Sony and MSI Brazos E-350 laptops), you have to look at the whole market and not just focus on netbooks.
General Performance – Dual-Core Sandy Bridge vs. the World
So now we get to the numbers, and this is where some of the competing solutions will really take a beating. Let's just cut straight to the chase and look at the graphs. We've highlighted the K53E in our standard bright green, with the ASUS U41JF in black, Apple's dual-core i5-2415M MBP13 in gold, and the quad-core i7-2820QM in yellow.
One interesting piece of information prior to the benchmark discussion is that despite having a theoretical maximum Turbo speed of 3.2GHz, we rarely see the i5-2520M hit that mark in testing. Using CPUID's TMonitor utility, in the single-core Cinebench result we see both cores fluctuate between 800 to 3100MHz. It appears the Windows task scheduler isn't quite sure how to best distribute the load, which is a common problem. However, in the multi-threaded Cinebench test the two CPU cores run at a constant 2.9GHz, as expected.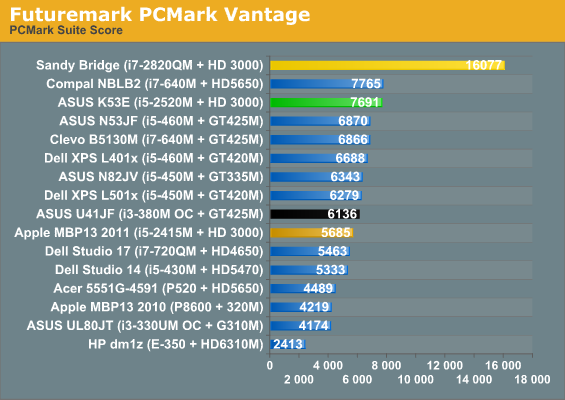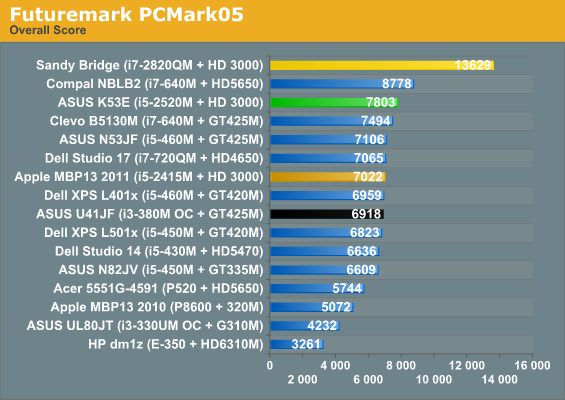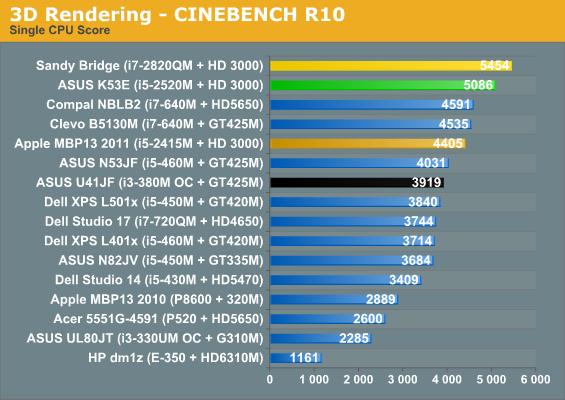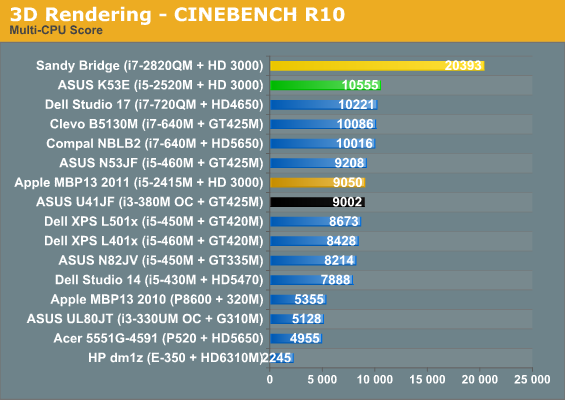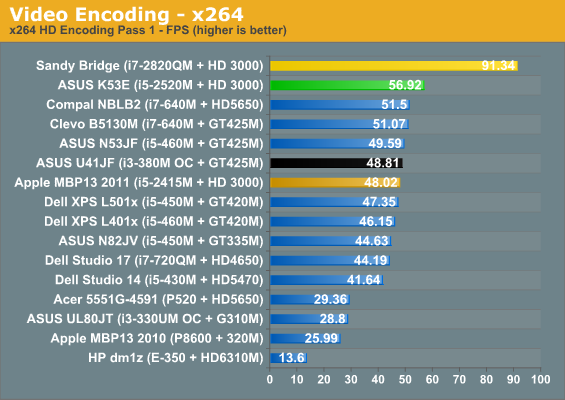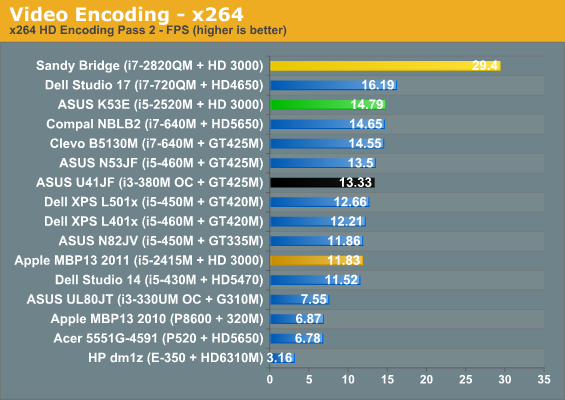 Starting with the new MBP13 comparison, the K53E with i5-2520M comes out an average of 20% faster. Some of that can be attributed to the hard drive differences, as PCMark Vantage shows Apple's HDD choice is particularly poor, but the CPU intensive tasks are also 15 to 25% faster. It's interesting that ASUS' UL41JF happens to put in an overall showing in these applications that matches the MBP13, but that's in a large part thanks to the 15% overclock. Looking at stock Arrandale CPUs, the i5-2520M turns in slightly higher performance results than the i7-640M, the highest-clocked Arrandale CPU we've tested. Even the old i7-720QM in the Dell Studio 17 fails to match the performance of the i5-2520M, which leads by an average of 18% in the above benchmarks (with the only loss coming in Pass 2 of x264 encoding).
Move up to quad-core SNB and an SSD, and of course the dual-core parts look a lot weaker. The i7-2820QM average lead in the above charts is 74%, but part of that is the thanks to the 104% lead in PCMark Vantage. Remove the PCMark results, though, and the 2820QM is still 65% faster than the 2520M. On the other side of the charts—literally—is AMD's E-350. We know it's not meant to compete with Sandy Bridge (or even Arrandale or Core 2 Duo), but keep in mind that the cheapest price for such a laptop is going to be around $450. On average, the i5-2520M lays the smack down hard and ends up roughly four times faster than an E-350. Ah, but the E-350 has a much better IGP, right? Well, maybe it's better, but it's certainly not faster than Intel's HD 3000 when it's bottlenecked by the CPU; here are some 3DMark results before we get to the games to give you an idea of how graphics performance compares.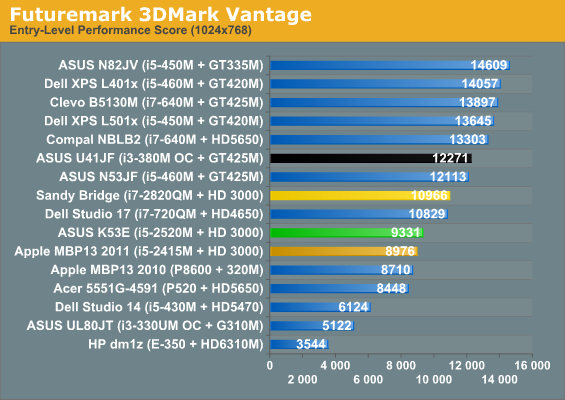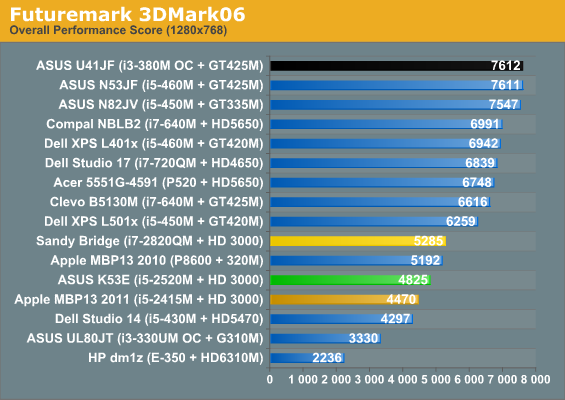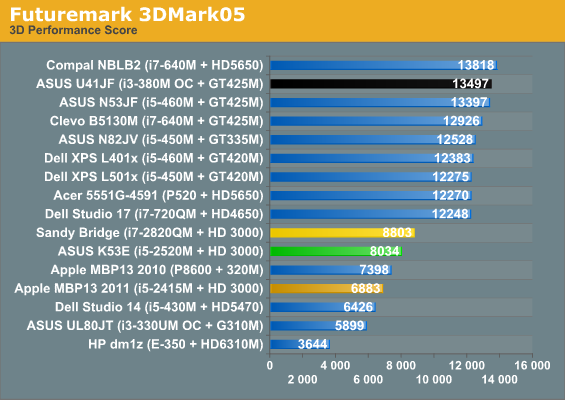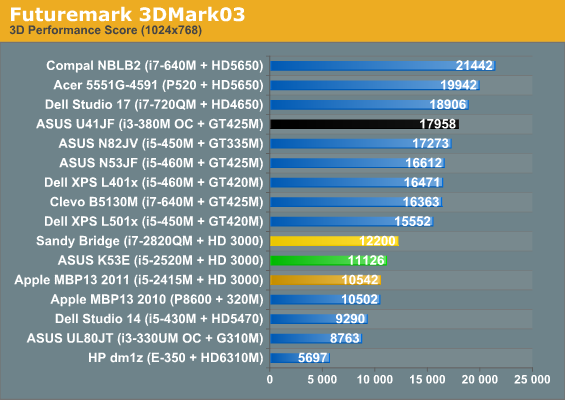 While we would never take 3DMark as the end-all, be-all of graphics performance comparisons, it does give a general idea of what we can expect. The K53E with i5-2520M turns in performance that's 9% faster than the MBP13 on average across the four versions of 3DMark. That's actually pretty accurate, as we'll see in the gaming tests. Likewise, the i7-2820QM results end up being 12% faster than the 2520M, possibly from more aggressive IGP Turbo modes. Again, that matches what we'll see in the games. On the other hand, even a middling dGPU like the GT 420M/425M still comes out 40-50% ahead of the HD 3000, and AMD's HD 5650 is 60% faster on average.
What about AMD's Fusion E-350 platform? If the 3DMark results hold in our actual gaming tests, Intel's "horrible" HD 3000 IGP offers over twice the performance of the HD 6310M. In fact, even an Arrandale IGP would come within 10% of the E-350 results in 3DMark. It's not that we love Intel or want them to pummel AMD, and we understand that the E-350 competes in a lower price bracket. Still, many people like to get carried away in discussions of how much better AMD's graphics are compared to Intel's IGP. That's certainly true when you're looking at discrete GPUs, and compatibility is still better with AMD and NVIDIA drivers, but the latest SNB IGP changed the status quo. HD 3000 works in about 90% of games (roughly estimating), performs well enough to be playable in about 80% of titles, posts scores that are competitive with HD 5470 and GT 320M (and often twice what the current Brazos can achieve), and you get it for free with any 2nd Gen Core i-series CPU. As a friend of mine is fond of saying, it's hard to compete with "free".
Sandy Bridge Gaming Performance, One More Time
After the 3DMark results, and considering our previous look at SNB's GPU performance, there's not much new to say here. We're still working on a full roundup of gaming performance and compatibility testing with Sandy Bridge, similar to what we did with the AMD E-350. Our standard suite of laptop gaming tests all ran without any apparent compatibility problems, but given this list hasn't changed much Intel has had ample time to make sure these titles work. We've run the Low and Medium performance tests, with a selection of competing laptops in the charts below.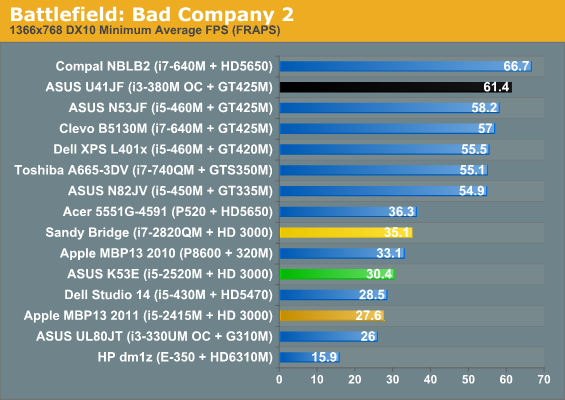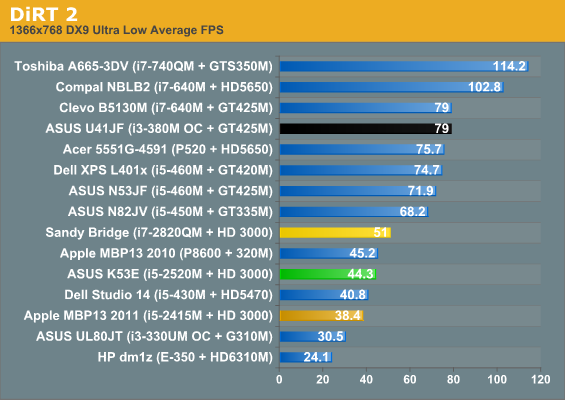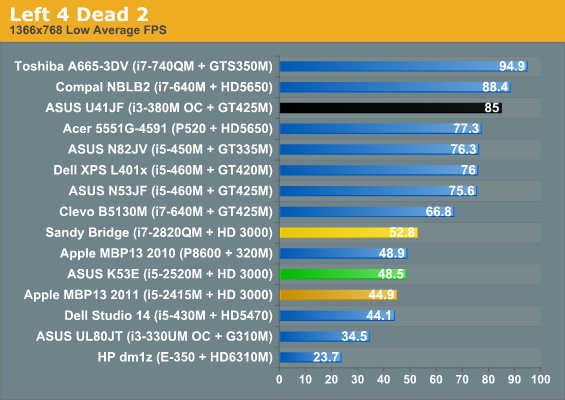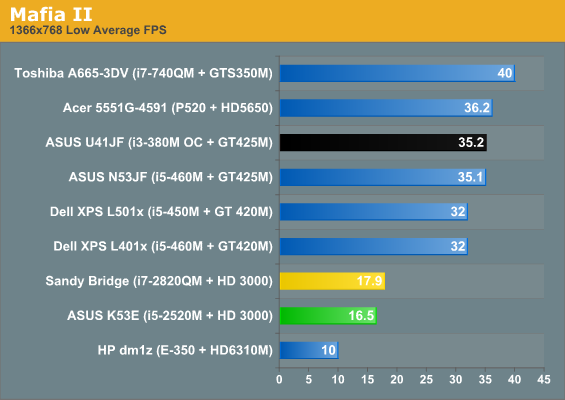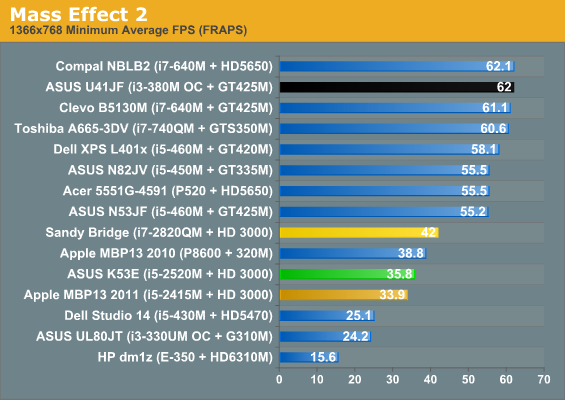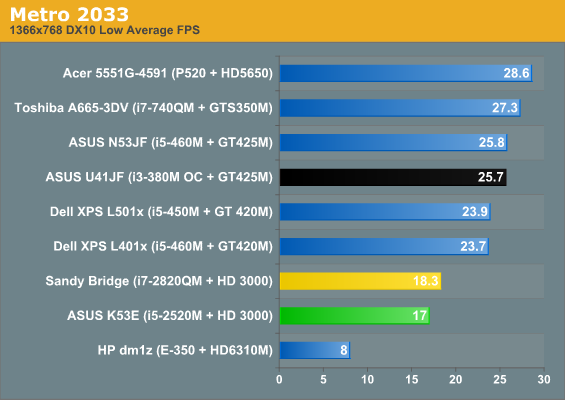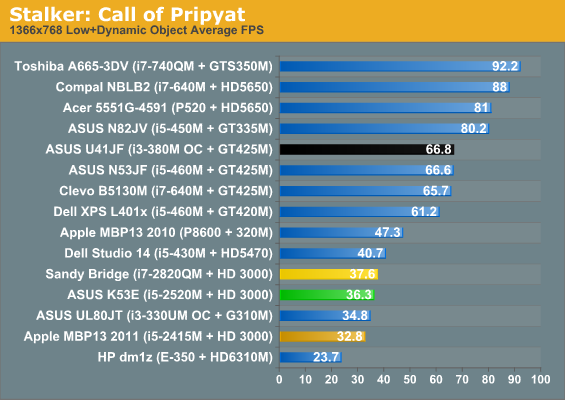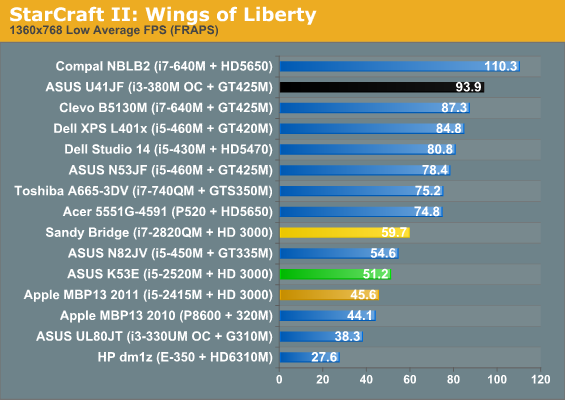 As we noted in the ASUS U41JF review, Intel's relative standings in graphics are better with 3DMark than with actual games, particularly when we look at midrange GPUs like the GT 425M and HD 5650. Where the U41JF leads the K53E by 53% in the four 3DMark tests, in our eight actual games at low detail that increases to an 82% advantage. The K53E still leads the MBP13 2011 by 10%, and the i7-2820QM in turn leads the K53E by 12%—those results are the same as 3DMark, but then we're dealing with the same IGP in all those cases. In terms of actual performance, the K53E breaks the 30FPS mark in six of the eight titles—Mafia II and Metro 2033 being the standard exceptions, but then those often fail to break 30FPS even on discrete GPUs.
What about the AMD E-350 comparison? As we just finished discussing, 3DMark shows the K53E coming in 125% faster than the E-350, though as we've noted in the past 3DMark can either skew things too much or too little towards CPU performance. Move over to our suite of games and the K53E still posts much higher scores than the E-350, but now the margin of victory is 88%. That's still nearly twice the performance, and for a complete laptop you're looking at around $725 versus $500 for similar components elsewhere. 45% more money for 88% faster graphics and 300% faster CPU performance isn't a bad deal; what you don't get with Sandy Bridge at that price is 8+ hours of battery life in an 11.6"-screen chassis.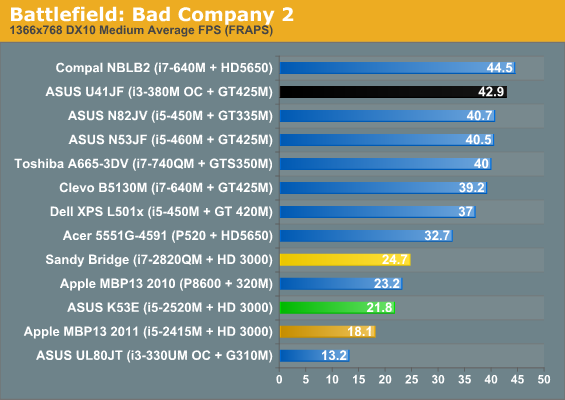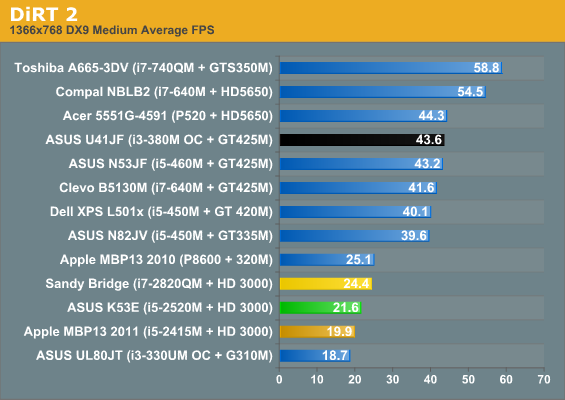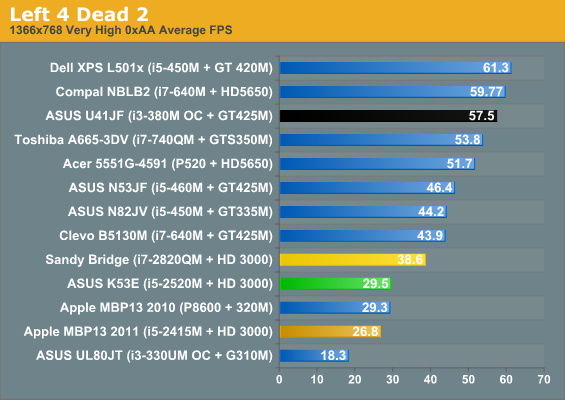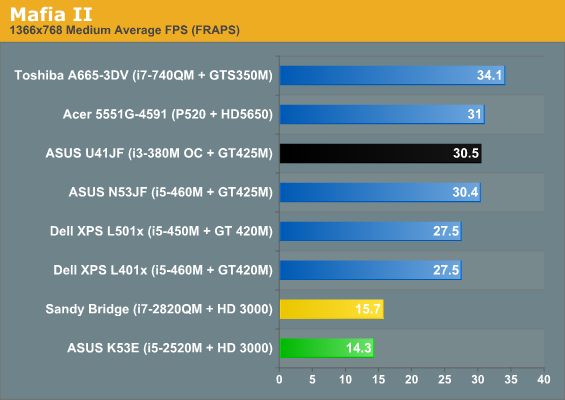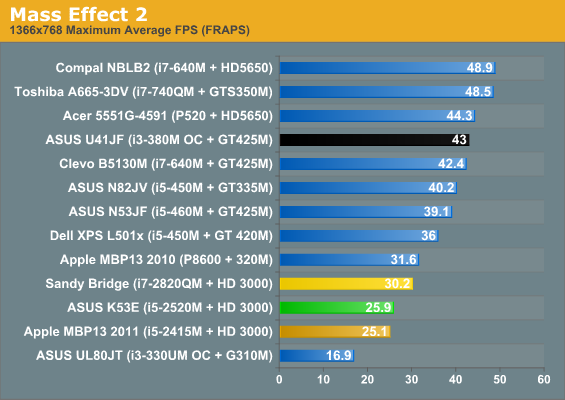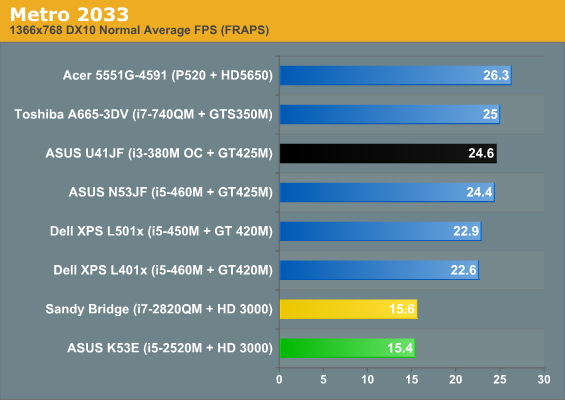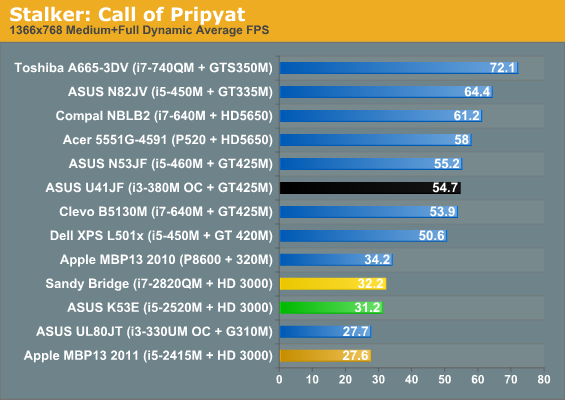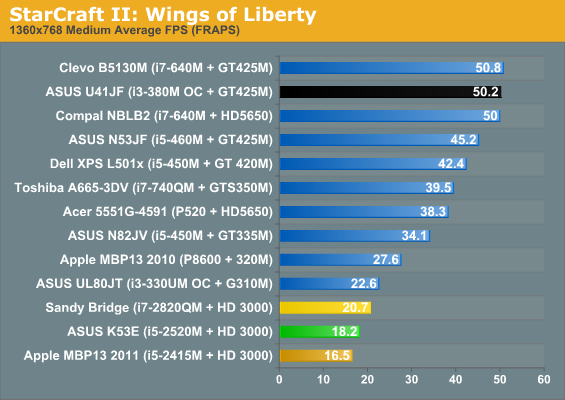 At medium detail settings, HD 3000 performance drops relative to the discrete GPUs. The K53E manages to hit 30FPS or higher in exactly one game this time: STALKER. It's still 11% faster than the MBP13 2011, and the 2820QM is 14% faster than the K53E. Interesting to note is that the MBP13 2010 is also 15% faster than the K53, putting the GeForce 320M on the same level as the HD 3000 with quad-core CPU. By far the more pertinent piece of information is just how badly the U41JF trounces the K53E: Arrandale with a midrange dGPU comes out nearly 100% faster on average at our "Medium" settings, and it breaks 30FPS in every game in the list except Metro 2033.
For people looking to get an all-around laptop that can play games and provide adequate performance for general use, discrete GPUs are still required. Even then, midrange mobile GPUs are going to struggle with a lot of titles unless you turn down the detail settings and run at moderate (e.g. 720p) resolutions. On the other hand, if you're not serious about gaming and graphics, Sandy Bridge's IGP is very likely to satisfy the vast majority of users. Thankfully, it also manages to raise the bar relative to previous IGPs, with roughly double the performance of Arrandale's HD Graphics and AMD's HD 4250.
Rounding out the graphics discussion, other areas where the GPU helps also performed well. Viewing HD 1080p YouTube videos worked without any issues I could detect, thanks at least in part to the latest release of Adobe's Flash player. Casual browser games like Bejeweled Blitz also worked fine, which isn't something I could say on Arrandale where there was always a slightly perceptible delay—and that's also a complaint I had with Brazos, which didn't do well with Bejeweled Blitz. One interesting piece of information, however, is that the K53E really did poorly in Civilization V testing (not shown here, but you can see the scores in Mobile Bench), but whether that's a driver problem or something else I can't say.
Overall, gaming and graphics isn't an absolute victory for Intel's latest IGP, but it's good enough for a large percentage of users. In the next month or so, we'll see AMD's counter to SNB with their second Fusion APU, Llano. That should provide at least double the GPU performance of Brazos, and even the aging K10.5 CPU core is a huge step up in performance from Bobcat. The combination should put Llano well ahead of HD 3000 in gaming, but whether it will be 50% faster or 100% faster we can't say for certain.
With a 32nm process technology and better use of power gating, Llano is going to be an interesting alternative, especially if the total system cost is similar to the $500 to $650 we're seeing on current AMD notebooks. Sandy Bridge is unlikely to be touched for CPU computations by any of AMD's mobile CPUs for the remainder of 2011, but with up to 400 Stream Processors Llano should come relatively close to the HD 6500 (HD 5600) series GPU performance. Put another way, while Intel's HD 3000 is about twice the performance of Brazos' IGP, Llano could easily double HD 3000. It's a welcome change from the 15 to 25% improvements in IGP performance we often saw in previous platforms.
Battery Life: Minor and Major Improvements

As mentioned earlier, ASUS finally moved to something slightly higher capacity than the 48Wh batteries we've seen in so many entry-level notebooks. The result is better battery life, but compared to Arrandale it's not a huge change in two of our tests. The third test is H.264 playback, and that shows a large increase in battery life. We've got the same laptops that we used in our application tests for these charts, but if you want more comparison points we suggest checking out Mobile Bench, where we have results for every laptop we've tested in the past year. For example, here's how the K53E stacks up to one of the few Arrandale-only laptops we've tested, the Dell Latitude E6410.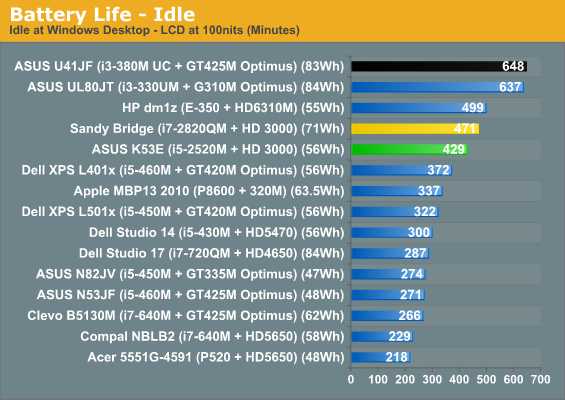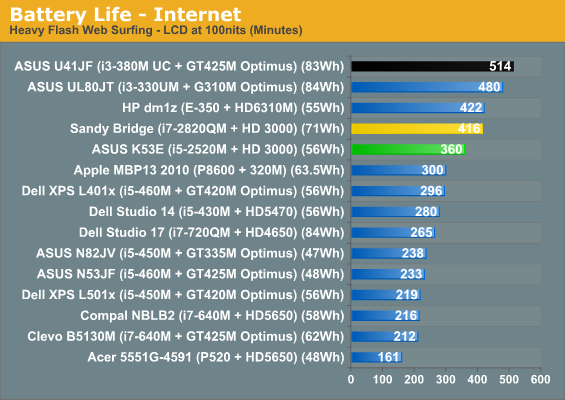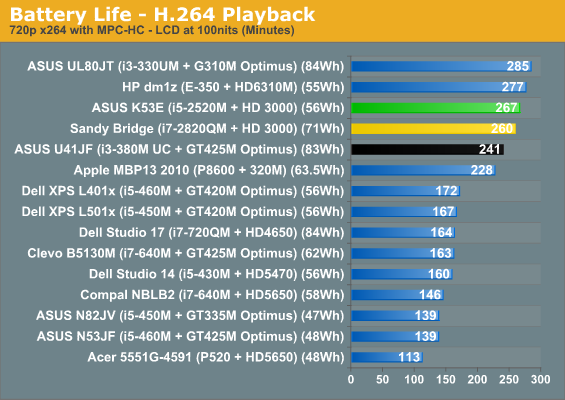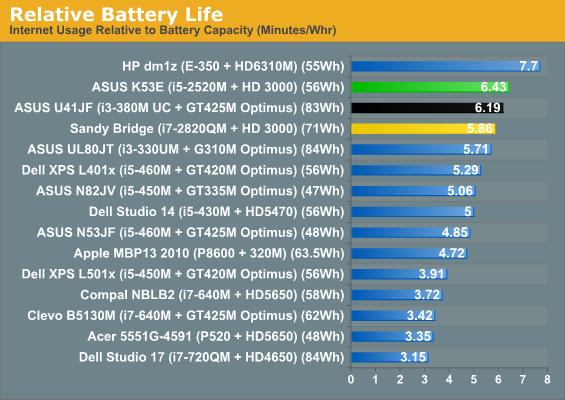 The ASUS K53E places near the top of our battery life charts, with over seven hours of idle battery life, six hours of Internet surfing, and almost 4.5 hours of H.264 video playback. There's still a sizeable gap between the K53E and laptops like the U41JF, but that's more a case of battery capacity than efficiency. With a similar size battery capacity (and a much smaller LCD), HP's dm1z does last over an hour more in the idle and Internet tests. H.264 content is a place where Sandy Bridge excels, however, and with only a 10 minute difference between the 11.6"-screen HP dm1z and the 15.6"-screen ASUS K53E it's pretty clear that's one metric where SNB is more efficient. Looking at relative battery life (i.e. true power efficiency), the K53E is only bested by Brazos (and Atom and CULV) in the Internet test. Even the U41JF can't match the K53E for efficiency, despite underclocking the i3-380M to 700-900MHz (instead of the normal 933-1200MHz) and having a smaller 14" LCD.
For other battery life tests, the K53E lasted just 73 to 83 minutes in simulated gaming (looping 3DMark06/03, respectively), so at heavy loads SNB clearly isn't a panacea. Setting the LCD to 100% brightness (instead of 50%, which corresponds with 100nits), idle battery life drops 10%. Put another way, the LCD uses an extra 0.87W at 205nits. That's a very low figure for a 15.6" LCD, but then the maximum brightness isn't very impressive and as we'll see shortly, the LCD is otherwise a complete disappointment. Calculated power draw at idle running on battery power is just 7.91W, which used to be Atom territory (though the ASUS Eee PC 1001P drops that figure to just 4.4W). Internet surfing bumps the average power use to 9.33W, which is still extremely good, and H.264 playback requires 12.58W. We're basically looking at 6-15 times the performance of Atom (Pineview), all while requiring just 40-80% more power at low loads. Connecting the AC adapter, we saw slightly higher power draw at the outlet, but mostly that comes from the AC adapter efficiency.
There are a couple final points before we leave power and battery life discussions. First, all of this testing was done with a stock Windows 7 installation, so we didn't use ASUS' Power4Gear utility to further optimize power requirements (e.g. by shutting off the DVDRW on battery power). In the past, that has usually added at least a few percent to the battery life, which is one of the reasons ASUS' current laptops often beat their competitors.
The other interesting piece of information is that with Core 2 and Core 2010, we always achieved maximum battery life by setting the CPU to run at 0% minimum and 0% maximum in the advanced power settings (as opposed to 0% min/100% max). With Sandy Bridge, idle battery life still benefits slightly, but it's within the margin of error (425 vs. 429 minutes); H.264 playback is also within the margin of error (261 vs. 267 minutes), but this time setting the CPU to 0% min/100% max results in the higher battery life. The real kicker is the Internet test: set to 0/0%, the K53E lasted 311 minutes compared to 360 minutes at 0/100%. In other words, with Sandy Bridge it looks like the "hurry up and go to sleep" principle is finally working as intended. This is a pattern we've noticed on other SNB laptops, so you can now get the benefits of faster instantaneous performance and better efficiency, at least when you're running light loads.
The LCD: A Poor Showing Even Among Budget Panels
Once again, we have the usual caveat: the LCD. Even when we're looking at budget laptops with low-end LCDs, this panel doesn't impress. The contrast isn't the worst we've seen, but color quality is right near the bottom. I also noticed a dithering pattern when viewing movies and images, more so than with other laptops. I never saw the Gateway ID49C in person, but I'd wager the AUO B156XW02 v6 panel used here gives it a run for the money in terms of being the least desirable LCD. As usual, you get what you pay for, and in this instance you're paying for a laptop with the least expensive LCD ASUS could scrounge up.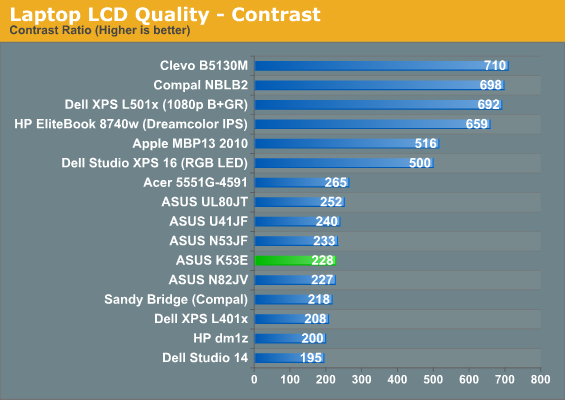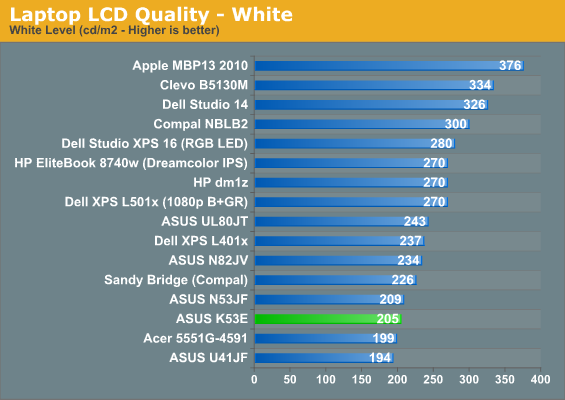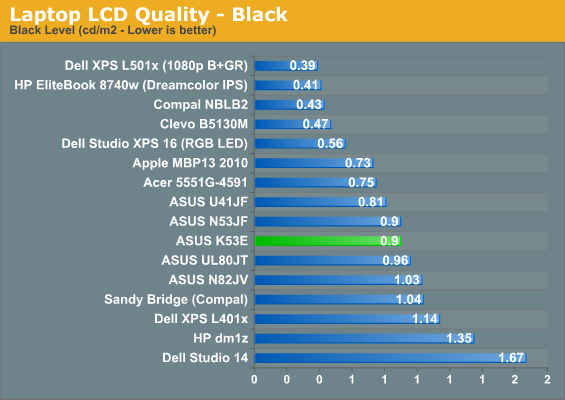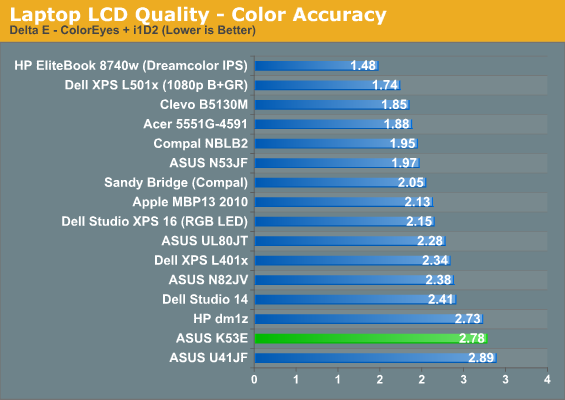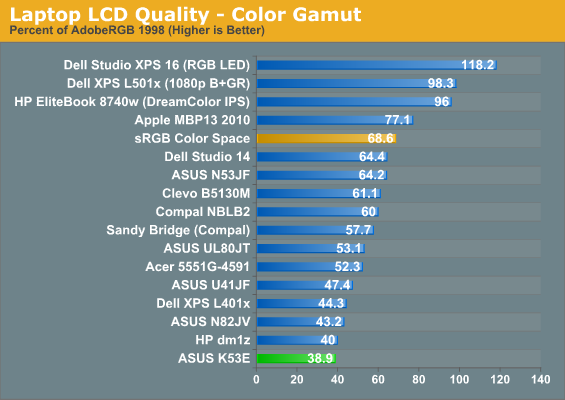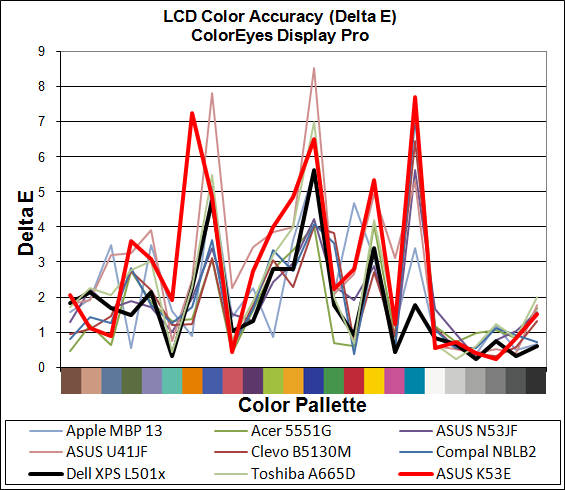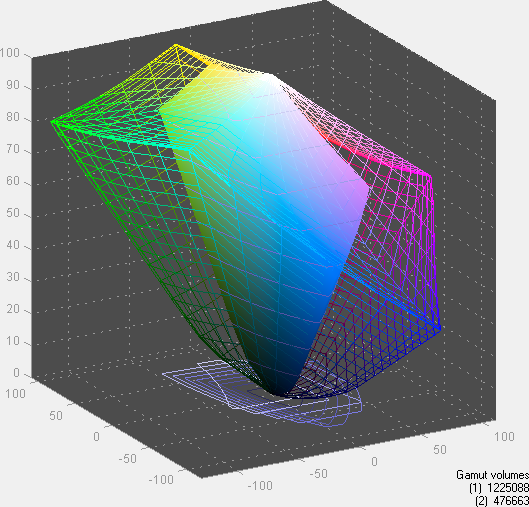 Heat and Noise Levels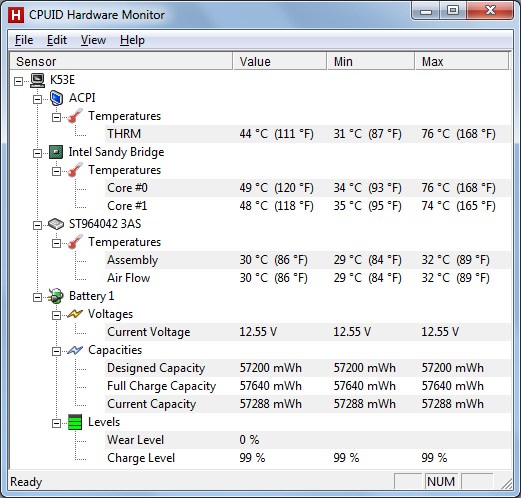 For noise and temperature results, we ran through our battery of general application benchmarks (including looping 3DMark06 for several hours). Everything checks out at idle, and load temperatures are within spec. 3DMark06 generates lower CPU temperatures than heavily threaded applications, most likely because the HD 3000 GPU core runs at a higher clock while the CPU runs at stock (or at least not boosted as high). Maximum internal CPU temperatures topped out at 76C, which is lower than we've seen with previous laptops, but that might simply be Sandy Bridge vs. Arrandale. External temperatures were also acceptable, but since my digital thermometer is out of commission I don't have exact figures.
With the reasonable temperatures, noise levels are lower than many competing laptops. At idle, the system is barely above the 30dB noise floor, measuring 30.9dB at a distance of 15 inches. Interestingly, maximum noise levels are a consistent 36.8-37.1dB at load, whether you're looping 3DMark06 (i.e. playing games), running a 100% CPU load with Cinebench SMP, or doing both. In normal use, though, the laptop remains fairly quiet and wouldn't cause any dirty looks if used in a business meeting or library.
Dual-Core Sandy Bridge: Moderate Improvements over Arrandale
Since this review is more about dual-core Sandy Bridge than a specific laptop, we'll start our conclusion looking at the Intel platform. While I was frankly blown away by the improvements that quad-core Sandy Bridge brought to the table, the dual-core variant isn't quite so impressive. Most of that can be attributed to the fact that Clarksfield was long overdue for replacement, so moving from 45nm and discrete GPUs to 32nm with on-die graphics and better power gating was a real boon. Going from dual-core Arrandale to dual-core Sandy Bridge is more of an incremental improvement. If you consider Intel's Tick-Tock strategy, that makes sense: Nehalem and by extension Clarksfield are in the "tock" category (e.g. new architecture on a mature process), while Arrandale is a "tick". Sandy Bridge is the "tock" to Arrandale (and other parts as well), so the big improvement for Arrandale is going to come next year with Ivy Bridge.
While dual-core Sandy Bridge isn't the homerun that quad-core SNB is, we do have to acknowledge all the areas that it gets right. Power use in light to moderate workloads is down slightly from Arrandale, and video decoding power use is down significantly. Graphics performance on the mobile chips is double what we got with Arrandale, and compatibility in general has improved. Something we didn't get into in this review is Intel's Quick Sync technology, which is currently the fastest way to transcode H.264 video content if you want to put up a quick video on YouTube. What really impresses me is that you can get similar battery life (in light workloads) with either the dual-core or quad-core SND parts, so provided your laptop can dissipate the 45W (vs. 35W on dual-core) of heavy workloads there's no need to compromise. Apple recognized the benefits here and chose to take the quad-core only approach with their new MacBook Pro 15/17 models, though given the thin chassis it looks like they get a bit too hot and loud for my taste.
The major selling points of dual-core Sandy Bridge are straightforward. First is pricing: the i5-2520M carries a 1000 unit price of $225 according to Intel, replacing the previous generation i5-520M. Intel doesn't disclose pricing for the i5-24xxM parts, but I'd expect OEMs to pay substantially less than $200 for those chips. At the high-end, there are also dual-core i7-26xxM parts that will run into the $300+ range, but rather than paying $346 for something like the i7-2620M (2.7GHz base with 3.4GHz Turbo), I'd much rather have the $378 i7-2720QM (2.2GHz base, up to 3.3GHz max Turbo). In most workloads, I expect the 2720QM is going to be equal to or faster than the 2620M. We already hinted at the other reason for the dual-core parts: power restrictions. While a quad-core chip might idle very close to dual-core levels, put a heavier load on the CPU and the 45W TDP comes into play. I don't expect to see standard voltage DC parts in anything smaller than 13.3"-screen laptops, and 45W quad-core chips will have a very difficult time in smaller chassis, but the 17W parts like the i7-2617M should be viable for 11.6"-screen ultraportables—it's just a shame that the 1000 unit pricing on such CPUs is $289.
If we look at the bigger picture, one area where Sandy Bridge isn't likely to tread is the sub-$600 laptop market—just like Arrandale, if we leave out the cut-down Celeron P4000 and Pentium P6000 models. You can already buy the ASUS K53E-A1 with an i3-2310M for $625, but going lower than that will be difficult. When you look at everything that goes into a modern laptop, it's easy to see why. [Warning: Very rough estimates on pricing ahead.]
Add up the cost of the OS, RAM, storage, LCD, chassis, and battery and you're looking at a base price of around $300 for a 4GB RAM + 500GB HDD laptop. AMD's Brazos motherboard + APU will cost another $100-$125 most likely, which explains why the E-350 laptops start at $450 as a minimum price on the HP dm1z. With Sandy Bridge, the minimum cost of the motherboard and an i3 CPU is going to be closer to $200, and the faster i5 processors might bump that up to $250 to $300. Minimalist Sandy Bridge laptops like the K53E start at $600, which leaves plenty of room in the budget space. A laptop with the Celeron B810 can probably get down to the $500 price point, but at that point you're only running SNB at 1.6GHz, you don't have Turbo, you lose Quick Sync, and the GPU is a 6EU part that only runs at up to 950MHz. Such a laptop is going to be about half as fast as the i5-2520M we looked at today, which means it's not particularly compelling if there's only a 20% price difference.
If you're in the market for a new laptop right now, I can make a very strong case for spending $800 to get a balanced laptop that should last several years. The K53E comes close to being such a laptop, with the only omission being switchable graphics of some form. If you compare the K53E to other budget offerings it provides a substantially faster CPU, a better GPU (for now), and depending on what you're comparing it with either much better (K10.5) or only slightly worse (E-350) battery life. You get all that for just 16% more than the Toshiba L645, or 60% more than the HP dm1z. The problem is, there's a huge market for laptops that are simply as cheap as possible—it's the one reason netbooks are even remotely popular in my opinion. Netbooks are slow, often poorly built, slow, too small for many to use comfortably, and above all they're really slow. AMD's C-50 at least makes them viable for watching YouTube content and other videos, but they're still much slower than what you can get for only a moderate bump in price. However, try talking to most people about YouTube and Flash content, amount of memory, hard drive capacity, and the difference between Win7 Starter and Win7 Home Premium and all you'll get is a blank stare and a statement of, "But this laptop only costs $300!" If it's difficult to convince someone to move from a $300 netbook to a $500 laptop, you can imagine the reaction most people have if you suggest a $720 laptop.
Intel looks content to cede a lot of ground to AMD in the low cost laptop market. There's little (well, nothing really) to recommend an Atom netbook over a Brazos alternative at the $300 to $350 price bracket. Move up to $400 to $500 and you've got a bunch of AMD Athlon II, Turion II, and Phenom II laptops that will run circles around cheap netbooks; they may lack battery life and might run warm, but they've got plenty of RAM and storage. AMD E-350 laptops cater to the other side of the fence, with smaller sizes and better battery life, plus a better GPU compared to the old HD 4200 IGP. As for Intel, you can find Celeron and Pentium laptops for $500, but they're cut back enough that while they might boast better battery life than AMD's Danube (K10.5) platform, they fail to convince as a complete solution. After that we enter the gray area where laptops like the K53E overlap AMD laptops that have discrete GPUs—and presumably in the near future we'll see Llano show up in the $600 to $750 price range. Finally, you get to the $800+ range, and this is where I find laptops start to get interesting. Here you reach the point where you don't have to make serious compromises in pursuit of a lower price.
Above $800, I wouldn't recommend much from the AMD camp right now, other than their graphics chips. The HD 6000M GPUs look like they perform well and have good power characteristics, and AMD might even have an answer for NVIDIA's Optimus Technology (we're trying to get some systems for testing to see how the latest AMD switchable graphics work). However, even at 3.0GHz a dual-core K10.5 CPU can't keep up with last year's i3-370M, and the aging HD 4250 IGP needed to be retired early last year. Thankfully, Llano will fix the GPU/IGP, and with the process technology switch and better use of power gating it should close the CPU performance gap. We'll see what Llano has to offer soon enough, but right now the bar has been set and dual-core and quad-core Sandy Bridge are the ones to beat.
As for the ASUS K53E, while we looked at a notebook with the i5-2520M instead of the 2310M or 2410M, we still have a good idea of how the latter will perform. In a pinch, $625 for an i3-based notebook might be acceptable, but Turbo is a major selling point for Sandy Bridge and I'd be hesitant to give that up. For $720, the K53E-B1 gives you good application performance, good battery life, excellent transcoding capabilities, and adequate graphics performance for entry-level gaming. You'll miss out on newer features like USB 3.0, you won't get any other specialized expansion options like eSATA, FireWire, or ExpressCard, and you'll get a poor quality LCD. We can levy similar complaints against many other budget laptops and notebooks.
The biggest problem with the ASUS K53E is really another ASUS laptop. If you don't care about games at all, the K53E is fine, but when you can get substantially better gaming performance, a smaller and lighter chassis, and better battery life (except for video decoding) with the U41JF and only pay an extra $100, I'd be more inclined to go that route right now. With the 15% overclock, the U41JF's i3-380M even manages to keep up and sometimes surpass the performance of the i5-2415M in the new MacBook Pro 13. There are definitely advantages with Sandy Bridge compared to Arrandale, but the dual-core parts tend to be more of an incremental upgrade than a major game-changer.