Original Link: http://www.anandtech.com/show/4244/intel-ssd-320-review


It's called the Intel SSD 320, but the part number should give away just what we're looking at here: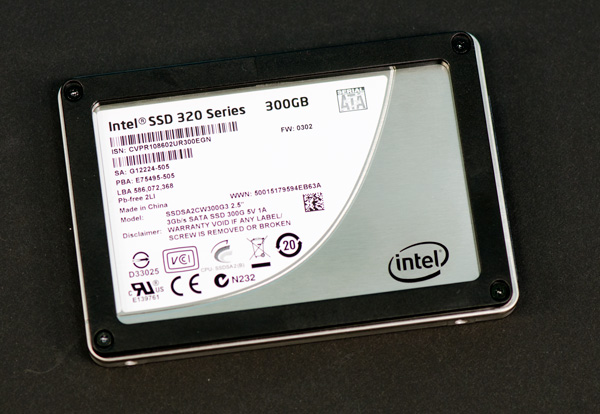 This is the long awaited third generation Intel based SSD. This is the G3. And at this point it's around 6 months late.
Back then it was simply called the Postville Refresh on Intel's roadmaps (Postville was the 34nm Intel X25-M G2). It would use 25nm Intel NAND, feature improved performance and full disk encryption - all behind a 3Gbps SATA interface.
When I spoke with Intel about the drive last year, all indications pointed to it being faster than drives based on SandForce's SF-1200 controller. And it is:
Intel SSD 320 300GB vs. Corsair Force F120
AT Storage Bench 2011 (Heavy)
AT Storage Bench 2011 (Light)
Corsair Force F120
120.1 MB/s
155.9 MB/s
Intel SSD 320 300GB
132.8 MB/s
161.7 MB/s
Without turning to any real time compression/deduplication techniques, Intel has built a drive that's faster than the SF-1200. You also get that famed Intel SSD reliability: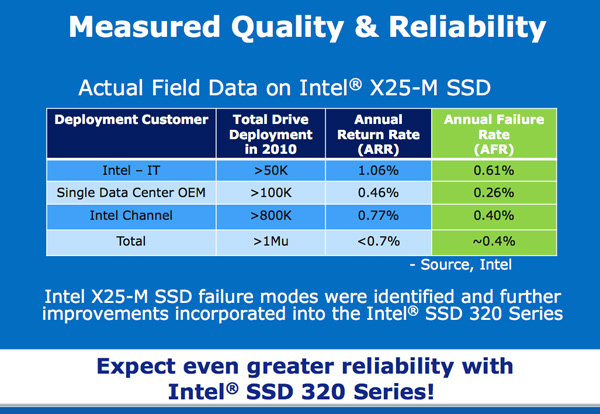 There's just one issue. The SF-1200 was the king of 2010. This year is shaping up to be all about the SF-2200 and the G3 isn't quite as competitive there. Intel realized this as well and thus we got the Intel SSD 510 to address the high performance market. Intel claims the 510 should have the same failure rate as the 34nm X25-M G2 at ~0.6% per year.
The Intel SSD 320 by comparison is aimed at the mainstream market. Remember that's what the M in X25-M always stood for to begin with. As a result we get lower pricing:
Intel SSD Comparison
X25-M G2 160GB
Intel SSD 320 40GB
Intel SSD 320 80GB
Intel SSD 320 120GB
Intel SSD 320 160GB
Intel SSD 320 300GB
Intel SSD 320 600GB
SSD 510 120GB
SSD 510 250GB
User Capacity
149GB
37GB
74GB
111GB
149GB
279GB
558GB
111GB
232GB
Random Read Performance
Up to 35K IOPS
Up to 30K IOPS
Up to 38K IOPS
Up to 38K IOPS
Up to 39K IOPS
Up to 39.5K IOPS
Up to 39.5K IOPS
Up to 20K IOPS
Up to 20K IOPS
Random Write Performance
Up to 8.6K IOPS
Up to 3.7K IOPS
Up to 10K IOPS
Up to 14K IOPS
Up to 21K IOPS
Up to 23K IOPS
Up to 23K IOPS
Up to 8K IOPS
Up to 8K IOPS
Sequential Read Performance
Up to 250MB/s
Up to 200MB/s
Up to 270MB/s
Up to 400MB/s (6Gbps)
Up to 500MB/s (6Gbps)
Sequential Write Performance
Up to 100MB/s
Up to 45MB/s
Up to 90MB/s
Up to 130MB/s
Up to 165MB/s
Up to 205MB/s
Up to 220MB/s
Up to 210MB/s (6Gbps)
Up to 315MB/s (6Gbps)
Price
$404
$89
$159
$209
$289
$529
$1069
$284
$584
It's still early in the 25nm ramp, but the 25nm Intel SSD 320 is cheaper than the 34nm Intel SSD 510. The only issue is that OCZ is very competitive with its pricing as well and compared to the Vertex 2, Intel's SSD 320 isn't really any cheaper. Intel likes to maintain its 65% profit margins so even though it makes the NAND and the controller in the 320, we're unlikely to see these drives drop below competitive pricing.
Intel expects the 25nm SSD 320 to be even more reliable than the 510 or X25-M.
The Same Controller
The Intel SSD 320, like the 310 and X25-M before it, uses an Intel branded controller. Opening up the 320 reveals a near identical controller to what we saw in the 34nm X25-M G2 housing: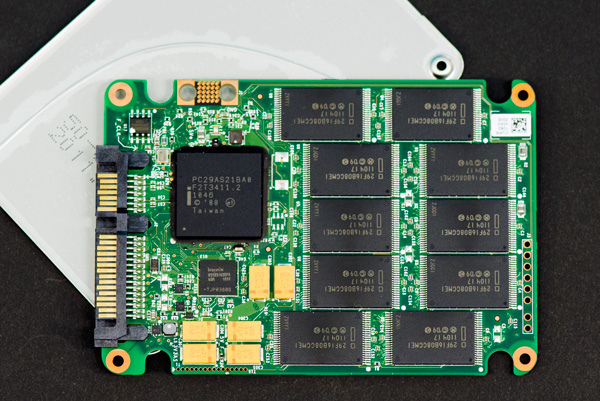 You'll notice the part number is identical to 2009's X25-M G2 controller. In fact, it's the same controller. Apparently the G2 controller had a number of features on-die, but not implemented in firmware. Things like full disk encryption and NAND redundancy never made it out in G2 but are here in the 320 all thanks to new firmware. And no, G2 owners aren't getting it.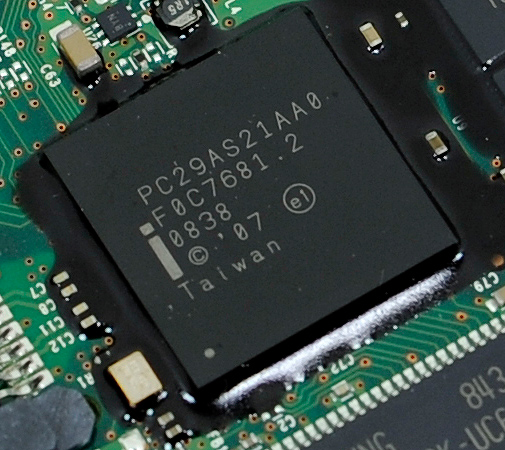 Intel's X25-M G1 Controller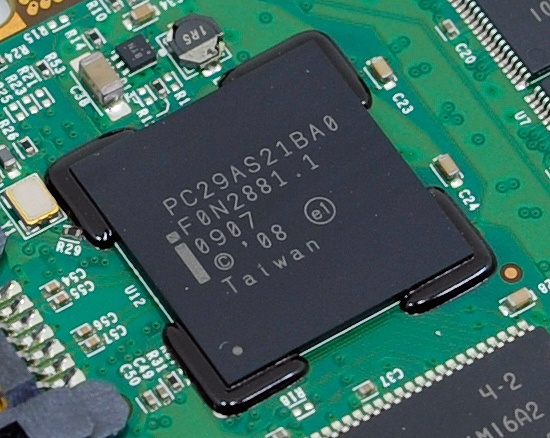 Intel's X25-M G2 Controller
Since the controller hasn't changed, the basic architecture of the SSD hasn't changed either. Intel still doesn't store any user data in its external DRAM cache and there's still a 256KB on-die SRAM.
Next to the Intel controller is a 64MB 166MHz SDRAM device, now made by Hynix. You'll notice that the DRAM chip is a lot smaller than what we've seen in previous X25-M generations, despite growing in capacity. Intel actually turned to mobile SDRAM for use in the SSD 320 to help save on power. While the X25-M G1 and G2 both used a conventional 3.3V SDRAM device, Intel moved to a 1.8V mobile SDRAM chip with the 320.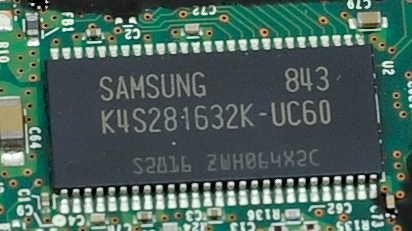 Intel X25-M G1: 16MB 166MHz SDRAM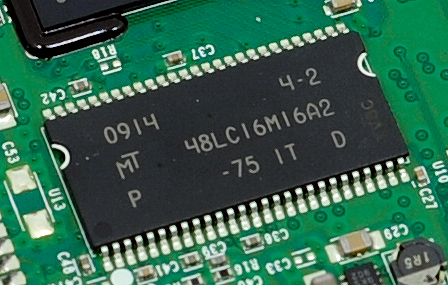 Intel X25-M G2: 32MB 133MHz SDRAM
Intel always prided itself on not storing any user data in its DRAM cache. The external DRAM is only used to cache mapping tables and serve as the controller's scratchpad. In the event of a sudden loss of power, Intel only has to commit whatever data it has in its SRAM to NAND. To minimize the amount of data loss in the event of a sudden power failure, Intel outfitted the SSD 320 with an array of six 470µF capacitors in parallel.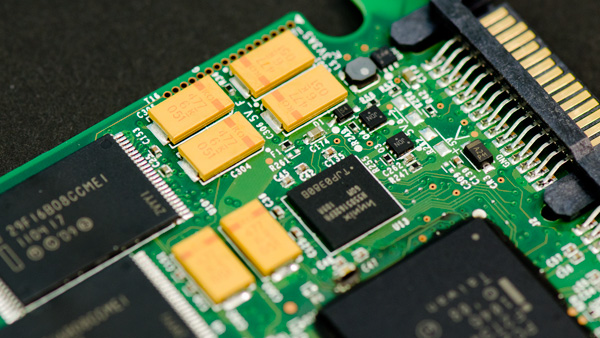 We've seen large capacitors on SSDs before, primarily the enterprise SandForce drives that boast a 0.09F supercap. Intel claims that for its design a single large capacitor isn't necessary given the minimal amount of data that's cached. It further claims that an array of multiple capacitors in parallel allows for much better reliability - if one capacitor fails the array is still useful (vs. a single point of failure in the case of the supercap).
Spare Area and Redundant NAND
Intel's controller is a 10-channel architecture and thus drive capacities are still a little wonky compared to the competition. Thanks to 25nm NAND we now have some larger capacities to talk about: 300GB and 600GB.
Intel sent a 300GB version of the 320 for us to take a look at. Internally the drive has 20 physical NAND devices. Each NAND device is 16GB in size and features two 64Gbit 25nm 2-bit MLC NAND die. That works out to be 320GB of NAND for a drive whose rated capacity is 300GB. In Windows you'll see ~279GB of free space, which leaves 12.8% of the total NAND capacity as spare area.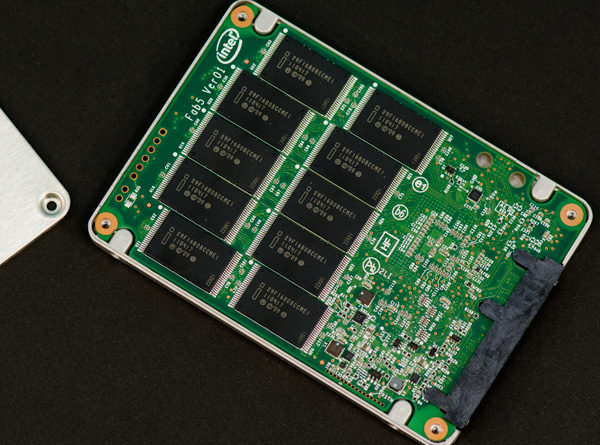 Around half of that spare area is used to keep write amplification low and for wear leveling, both typical uses of spare area. The other half is for surplus NAND arrays, a RAID-like redundancy that Intel is introducing with the SSD 320.
As SandForce realized in the development of its controller, smaller geometry NAND is more prone to failure. We've seen this with the hefty reduction in rated program/erase cycles since the introduction of 50nm NAND. As a result, wear leveling algorithms are very important. With higher densities however comes the risk of huge amounts of data loss should there be a failure in a single NAND die. SandForce combats the problem by striping parity data across all of the NAND in the SSD array, allowing the recovery of up to a full NAND die should a failure take place. Intel's surplus NAND arrays work in a similar manner.
Instead of striping parity data across all NAND devices in the drive, Intel creates a RAID-4 style system. Parity bits for each write are generated and stored in the remaining half of the spare area in the SSD 320's NAND array. There's more than a full NAND die (~20GB on the 300GB drive) worth of parity data on the 320 so it can actually deal with a failure of more than a single 64Gbit (8GB) die.
Sequential Write Cap Gone, but no 6Gbps
The one thing that plagued Intel's X25-M was its limited sequential write performance. While we could make an exception for the G1, near the end of the G2's reign as most-recommended-drive the 100MB/s max sequential write speed started being a burden(especially as competing drives caught up and surpassed its random performance). The 320 fixes that by increasing rated sequential write speed to as high as 220MB/s.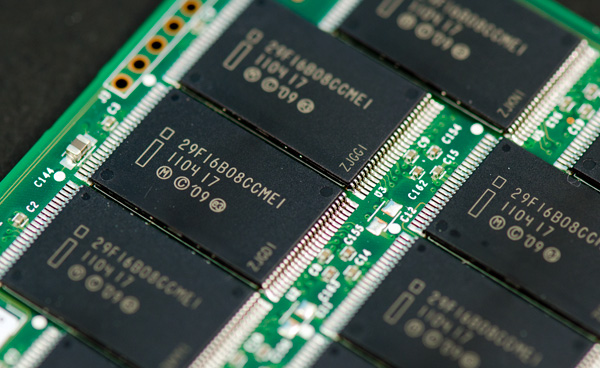 You may remember that with the move to 25nm Intel also increased page size from 4KB to 8KB. On the 320, Intel gives credit to the 8KB page size as a big part of what helped it overcome its sequential write speed limitations. With twice as much data coming in per page read it's possible to have a fully page based mapping system and still increase sequential throughput.
Given that the controller hasn't changed since 2009, the 320 doesn't support 6Gbps SATA. We'll see this limitation manifest itself as a significantly reduced sequential read/write speed in the benchmark section later.
AES-128 Encryption
SandForce introduced full disk encryption starting in 2010 with its SF-1200/SF-1500 controllers. On SandForce drives all data written to NAND is stored in an encrypted form. This encryption only protects you if someone manages to desolder the NAND from your SSD and probes it directly. If you want your drive to remain for your eyes only you'll need to set an ATA password, which on PCs is forced by setting a BIOS password. Do this on a SandForce drive and try to move it to another machine and you'll be faced with an unreadable drive. Your data is already encrypted at line speed and it's only accessible via the ATA password you set.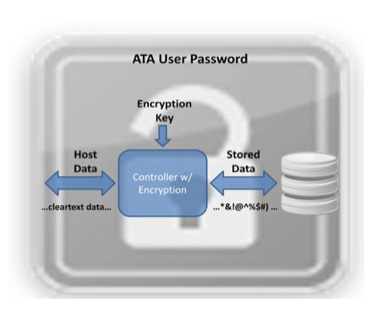 Intel's SSD 320 enables a similar encryption engine. By default all writes the controller commits to NAND are encrypted using AES-128. The encryption process happens in realtime and doesn't pose a bottleneck to the SSD's performance.
The 320 ships with a 128-bit AES key from the factory, however a new key is randomly generated every time you secure erase the drive. To further secure the drive the BIOS/ATA password method I described above works as well.
A side effect of having all data encrypted on the NAND is that secure erases happen much quicker. You can secure erase a SF drive in under 3 seconds as the controller just throws away the encryption key and generates a new one. Intel's SSD 320 takes a bit longer but it's still very quick at roughly 30 seconds to complete a secure erase on a 300GB drive. Intel is likely also just deleting the encryption key and generating a new one. Without the encryption key, the data stored in the NAND array is meaningless.
The Test
CPU

Intel Core i7 965 running at 3.2GHz (Turbo & EIST Disabled)

Intel Core i7 2600K running at 3.4GHz (Turbo & EIST Disabled) - for AT SB 2011, AS SSD & ATTO

Motherboard:

Intel DX58SO (Intel X58)

Intel H67 Motherboard

Chipset:

Intel X58 + Marvell SATA 6Gbps PCIe

Intel H67
Chipset Drivers:

Intel 9.1.1.1015 + Intel IMSM 8.9

Intel 9.1.1.1015 + Intel RST 10.2

Memory:
Qimonda DDR3-1333 4 x 1GB (7-7-7-20)
Video Card:
eVGA GeForce GTX 285
Video Drivers:
NVIDIA ForceWare 190.38 64-bit
Desktop Resolution:
1920 x 1200
OS:
Windows 7 x64
Random Read/Write Speed
The four corners of SSD performance are as follows: random read, random write, sequential read and sequential write speed. Random accesses are generally small in size, while sequential accesses tend to be larger and thus we have the four Iometer tests we use in all of our reviews.
Our first test writes 4KB in a completely random pattern over an 8GB space of the drive to simulate the sort of random access that you'd see on an OS drive (even this is more stressful than a normal desktop user would see). I perform three concurrent IOs and run the test for 3 minutes. The results reported are in average MB/s over the entire time. We use both standard pseudo randomly generated data for each write as well as fully random data to show you both the maximum and minimum performance offered by SandForce based drives in these tests. The average performance of SF drives will likely be somewhere in between the two values for each drive you see in the graphs. For an understanding of why this matters, read our original SandForce article.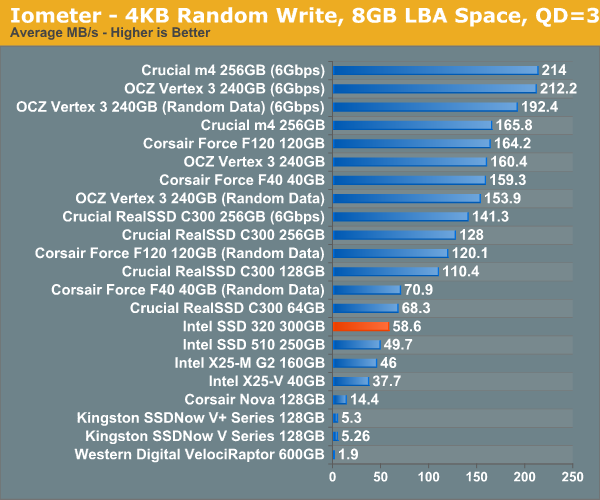 Random write speed is improved compared to the 510 thanks to Intel's controller, but we're only looking at a marginal improvement compared to the original X25-M G2.
Many of you have asked for random write performance at higher queue depths. What I have below is our 4KB random write test performed at a queue depth of 32 instead of 3. While the vast majority of desktop usage models experience queue depths of 0 - 5, higher depths are possible in heavy I/O (and multi-user) workloads: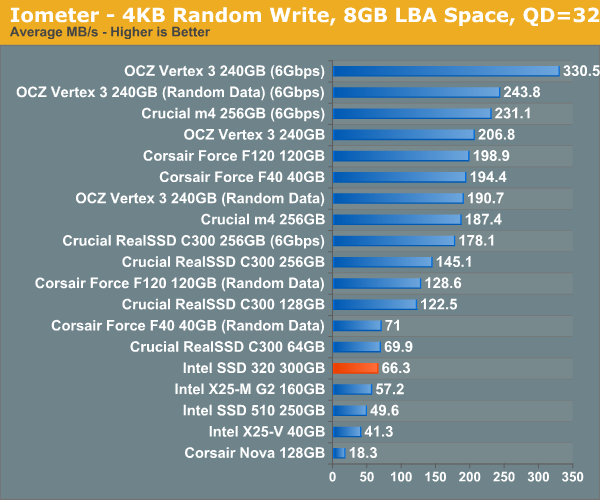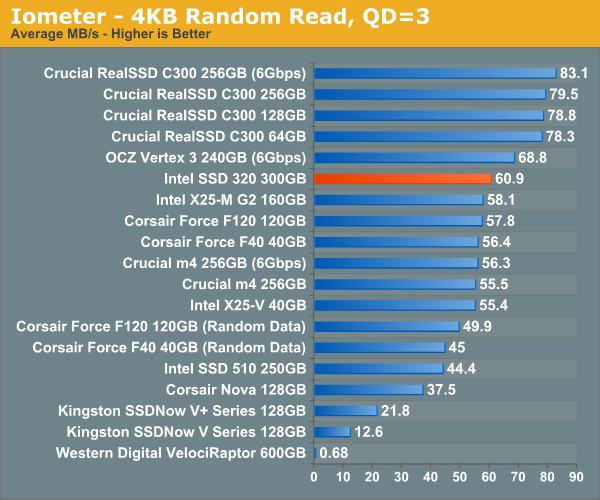 Random read performance has always been a strong point of Intel's controller and the 320 is no different. While we're not quite up to C300 levels, the 320 is definitely competitive here.
Sequential Read/Write Speed
To measure sequential performance I ran a 1 minute long 128KB sequential test over the entire span of the drive at a queue depth of 1. The results reported are in average MB/s over the entire test length.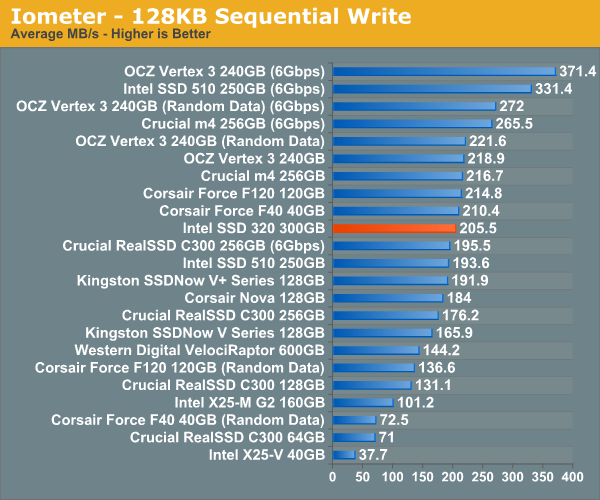 Without a 6Gbps interface the 320's performance is severely limited. Compared to other 3Gbps drives the 320 is quite good here though.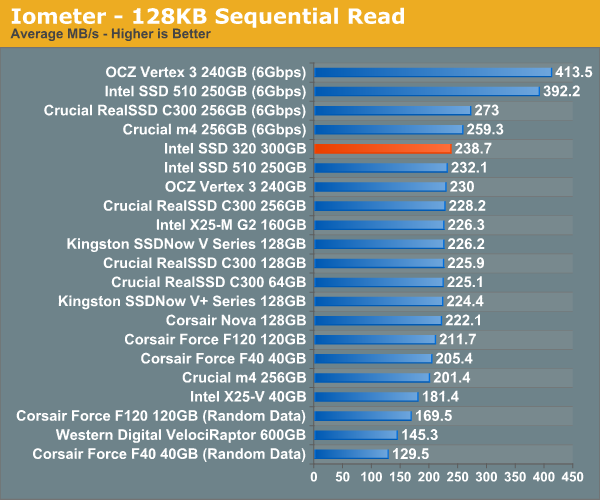 Read performance is at the top of the chart for 3Gbps drives. I wonder how far Intel would've been able to push things if the 320 had a 6Gbps controller.
AnandTech Storage Bench 2011: Much Heavier
I didn't expect to have to debut this so soon, but I've been working on updated benchmarks for 2011. Last year we introduced our AnandTech Storage Bench, a suite of benchmarks that took traces of real OS/application usage and played them back in a repeatable manner. I assembled the traces myself out of frustration with the majority of what we have today in terms of SSD benchmarks.
Although the AnandTech Storage Bench tests did a good job of characterizing SSD performance, they weren't stressful enough. All of the tests performed less than 10GB of reads/writes and typically involved only 4GB of writes specifically. That's not even enough exceed the spare area on most SSDs. Most canned SSD benchmarks don't even come close to writing a single gigabyte of data, but that doesn't mean that simply writing 4GB is acceptable.
Originally I kept the benchmarks short enough that they wouldn't be a burden to run (~30 minutes) but long enough that they were representative of what a power user might do with their system.
Not too long ago I tweeted that I had created what I referred to as the Mother of All SSD Benchmarks (MOASB). Rather than only writing 4GB of data to the drive, this benchmark writes 106.32GB. It's the load you'd put on a drive after nearly two weeks of constant usage. And it takes a *long* time to run.
I'll be sharing the full details of the benchmark in some upcoming SSD articles but here are some details:
1) The MOASB, officially called AnandTech Storage Bench 2011 - Heavy Workload, mainly focuses on the times when your I/O activity is the highest. There is a lot of downloading and application installing that happens during the course of this test. My thinking was that it's during application installs, file copies, downloading and multitasking with all of this that you can really notice performance differences between drives.
2) I tried to cover as many bases as possible with the software I incorporated into this test. There's a lot of photo editing in Photoshop, HTML editing in Dreamweaver, web browsing, game playing/level loading (Starcraft II & WoW are both a part of the test) as well as general use stuff (application installing, virus scanning). I included a large amount of email downloading, document creation and editing as well. To top it all off I even use Visual Studio 2008 to build Chromium during the test.
Many of you have asked for a better way to really characterize performance. Simply looking at IOPS doesn't really say much. As a result I'm going to be presenting Storage Bench 2011 data in a slightly different way. We'll have performance represented as Average MB/s, with higher numbers being better. At the same time I'll be reporting how long the SSD was busy while running this test. These disk busy graphs will show you exactly how much time was shaved off by using a faster drive vs. a slower one during the course of this test. Finally, I will also break out performance into reads, writes and combined. The reason I do this is to help balance out the fact that this test is unusually write intensive, which can often hide the benefits of a drive with good read performance.
There's also a new light workload for 2011. This is a far more reasonable, typical every day use case benchmark. Lots of web browsing, photo editing (but with a greater focus on photo consumption), video playback as well as some application installs and gaming. This test isn't nearly as write intensive as the MOASB but it's still multiple times more write intensive than what we were running last year.
As always I don't believe that these two benchmarks alone are enough to characterize the performance of a drive, but hopefully along with the rest of our tests they will help provide a better idea.
The testbed for Storage Bench 2011 has changed as well. We're now using a Sandy Bridge platform with full 6Gbps support for these tests. All of the older tests are still run on our X58 platform.
AnandTech Storage Bench 2011 - Heavy Workload
We'll start out by looking at average data rate throughout our new heavy workload test: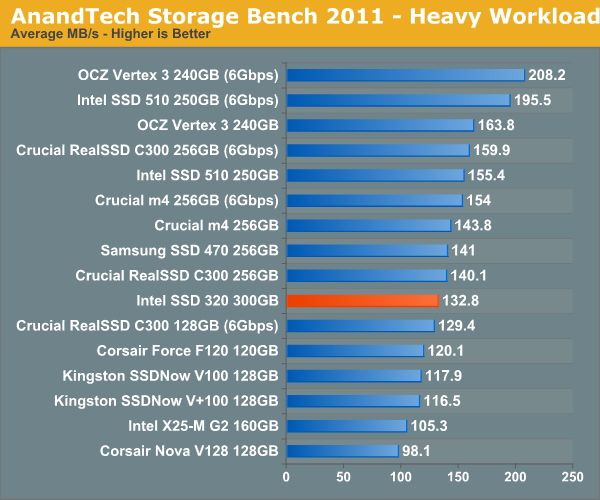 Overall performance is decidedly last generation. The 320 is within striking distance of the 510 but is slower overall in our heavy workload test.
The breakdown of reads vs. writes tells us more of what's going on: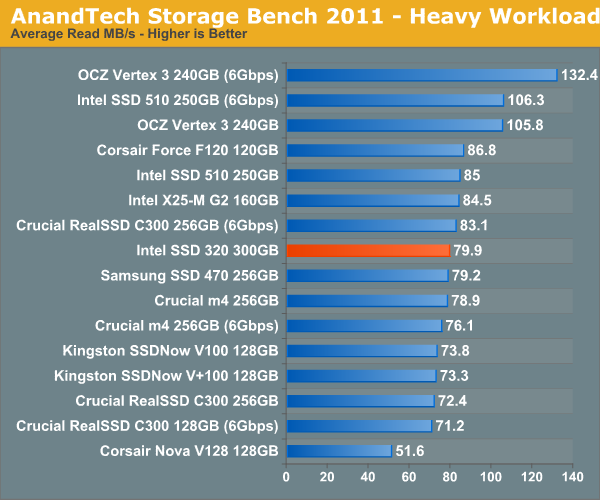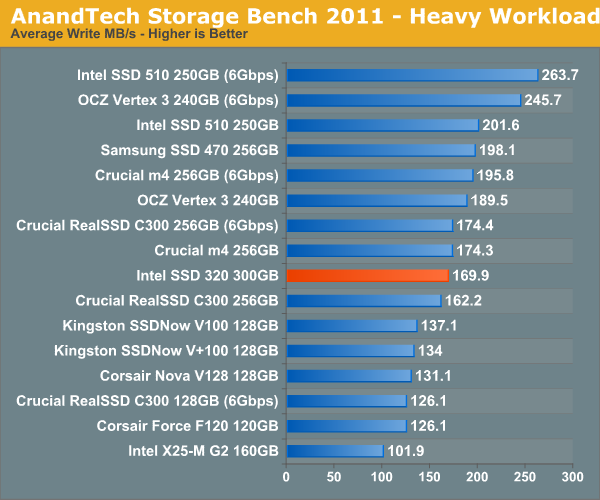 The next three charts just represent the same data, but in a different manner. Instead of looking at average data rate, we're looking at how long the disk was busy for during this entire test. Note that disk busy time excludes any and all idles, this is just how long the SSD was busy doing something: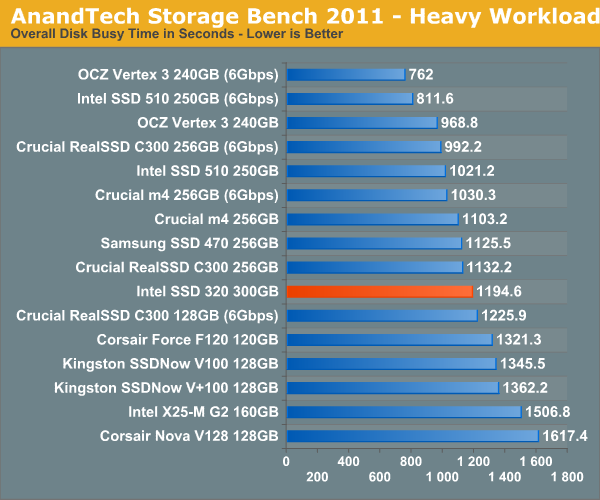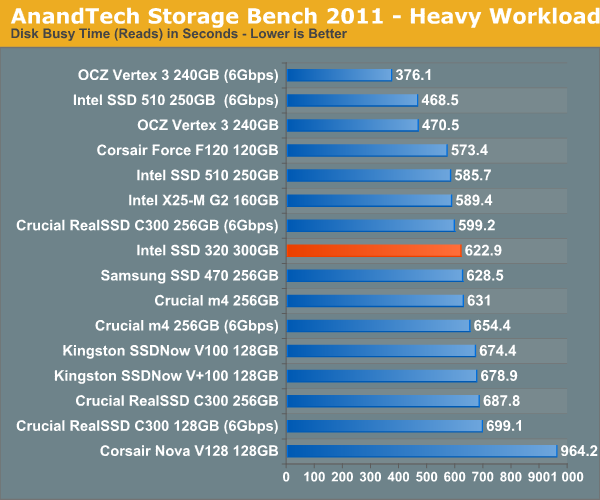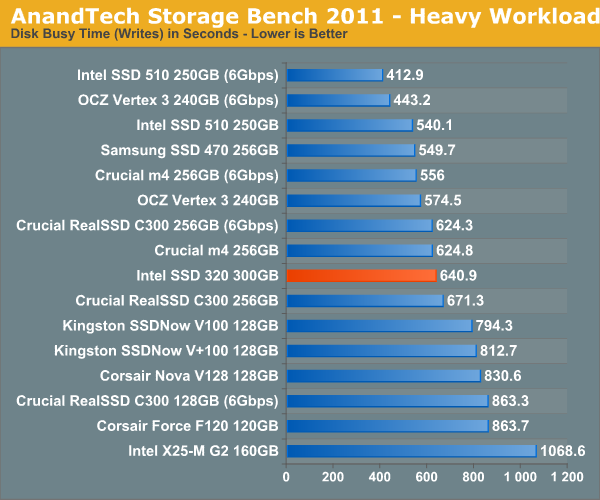 AnandTech Storage Bench 2011 - Light Workload
The 320 doesn't do bad for a 3Gbps drive, it's a bit faster than the SF-1200 based Corsair Force F120 but it's slower than Intel's SSD 510 and definitely slower than the upcoming Vertex 3.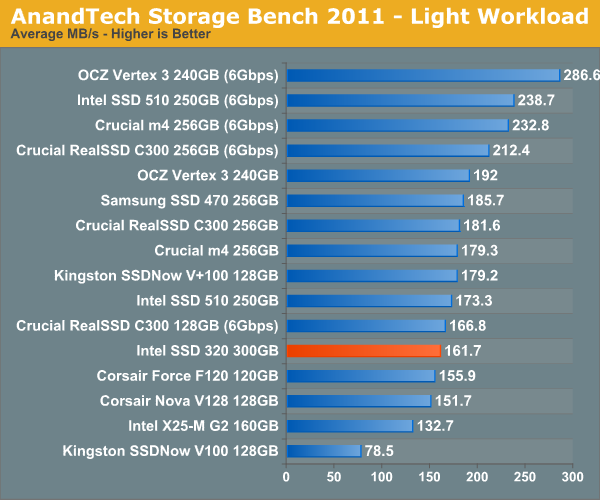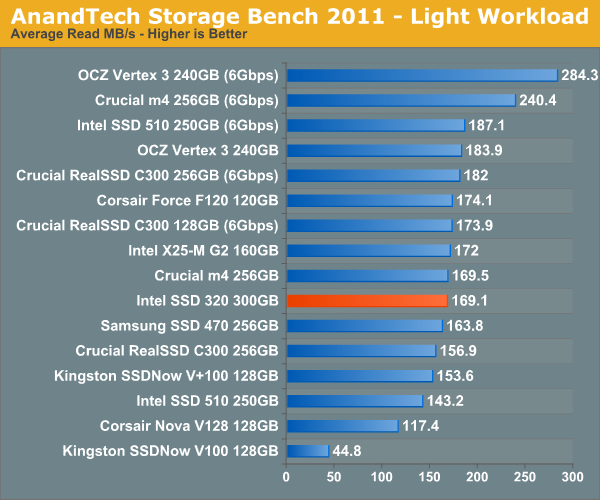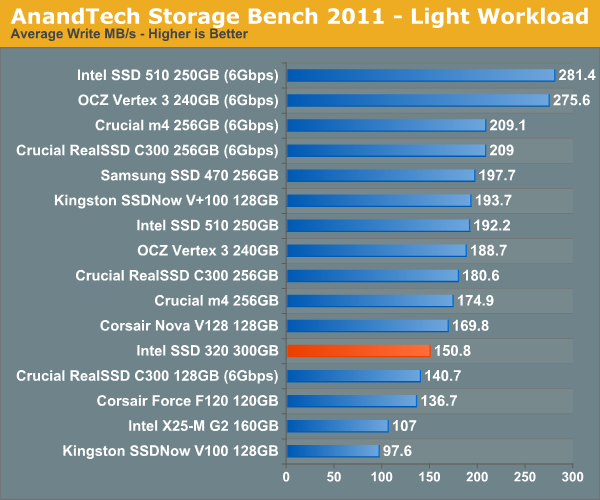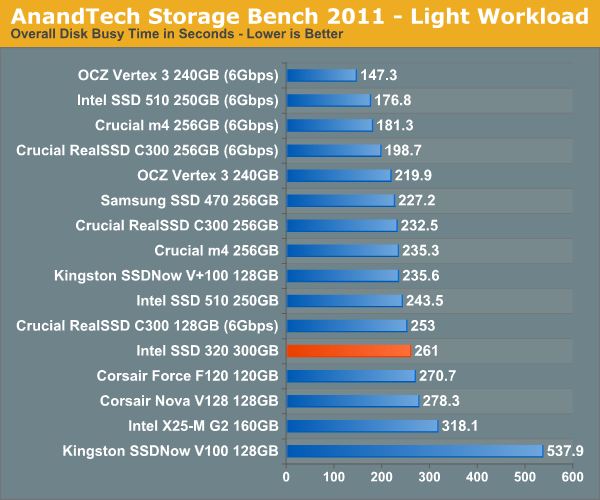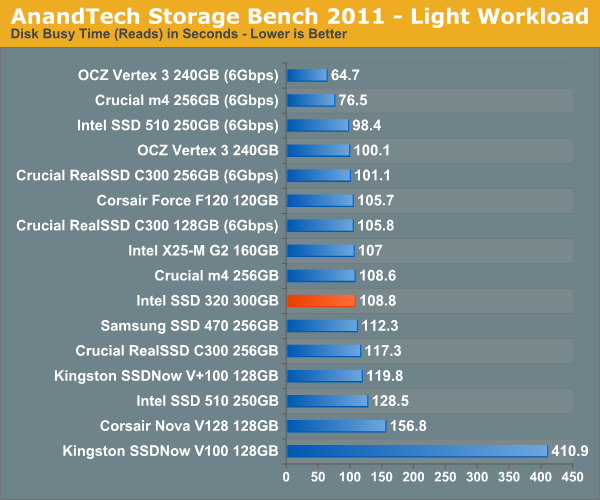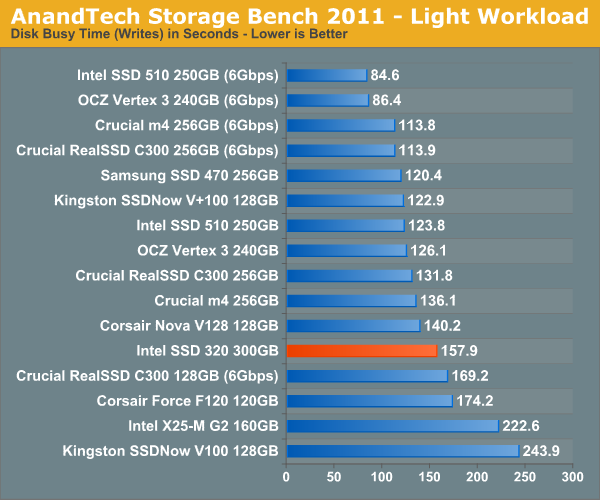 Performance vs. Transfer Size
All of our Iometer sequential tests happen at a queue depth of 1, which is indicative of a light desktop workload. It isn't too far fetched to see much higher queue depths on the desktop. The performance of these SSDs also greatly varies based on the size of the transfer. For this next test we turn to ATTO and run a sequential write over a 2GB span of LBAs at a queue depth of 4 and varying the size of the transfers.
I've created a second set of graphs that just looks at 3Gbps performance of a few drives to make things easier to read: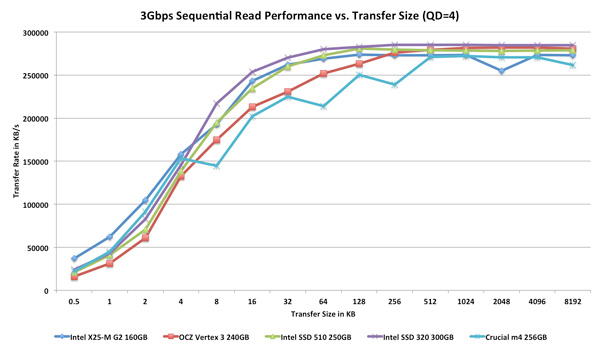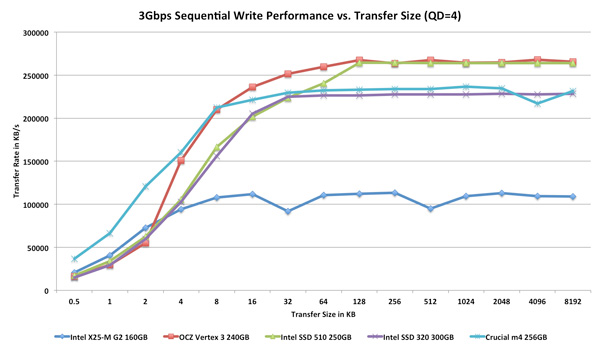 3Gbps sequential read/write performance at low queue depths is competitive with other 3Gbps drives as we've already seen. Intel's controller scales simlarly with transfer size as the Marvell controller used in the 510.
If you've got an AMD or Intel 6Gbps controller however you'll be let down by the performance of the 320: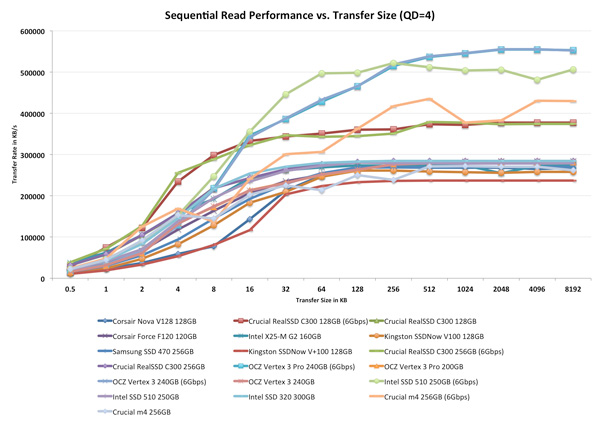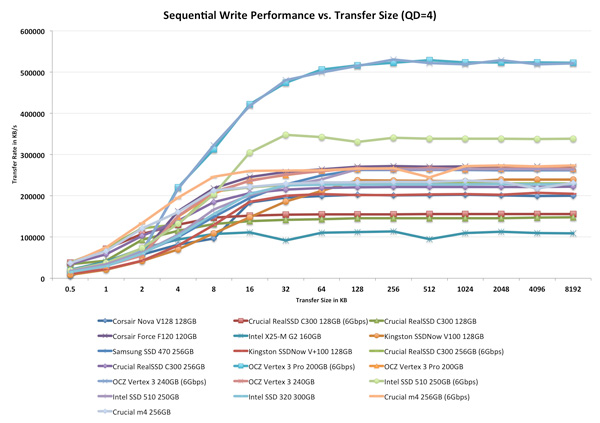 AS-SSD High Queue Depth Incompressible Sequential Performance
The AS-SSD sequential benchmark uses incompressible data for all of its transfers. The result is a pretty big reduction in sequential write speed on SandForce based controllers.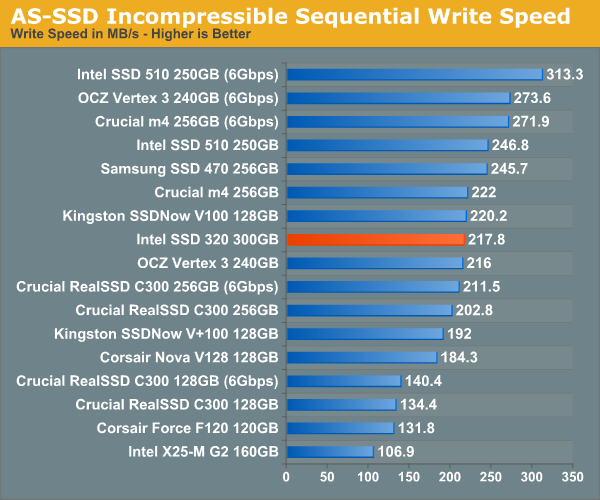 Overall System Performance using PCMark Vantage
Next up is PCMark Vantage, another system-wide performance suite. For those of you who aren't familiar with PCMark Vantage, it ends up being the most real-world-like hard drive test I can come up with. It runs things like application launches, file searches, web browsing, contacts searching, video playback, photo editing and other completely mundane but real-world tasks. I've described the benchmark in great detail before but if you'd like to read up on what it does in particular, take a look at Futuremark's whitepaper on the benchmark; it's not perfect, but it's good enough to be a member of a comprehensive storage benchmark suite. Any performance impacts here would most likely be reflected in the real world.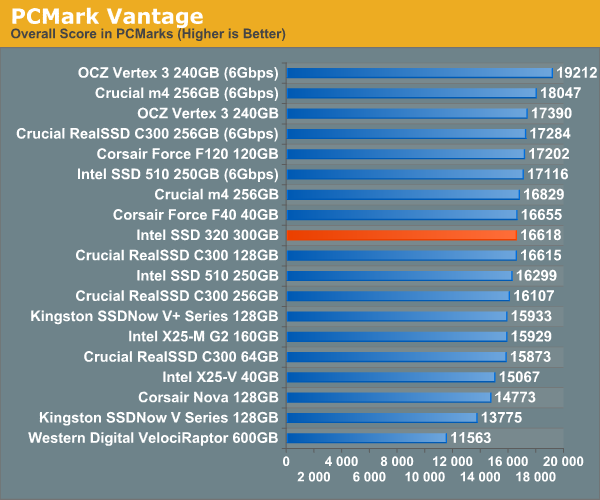 The 320 falls in the middle of the pack - around the performance of a SF-1200 drive like the Force F120 but no where near what you'll get from a 6Gbps Vertex 3.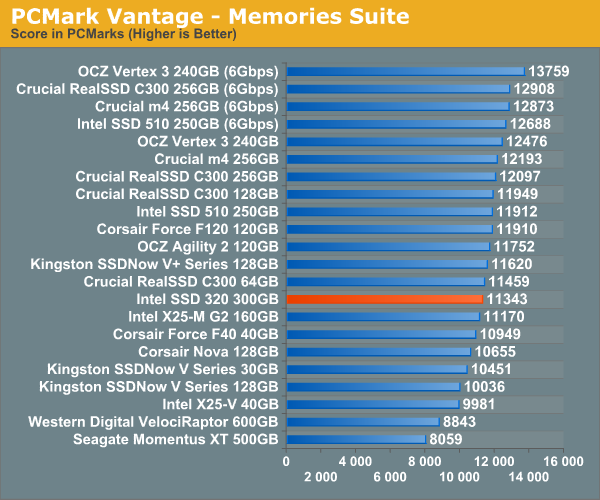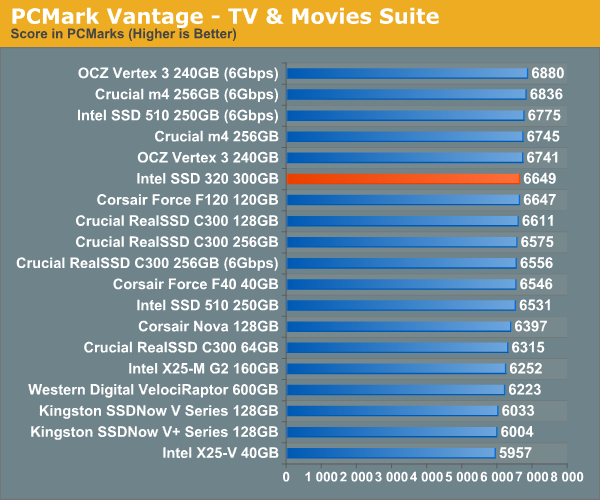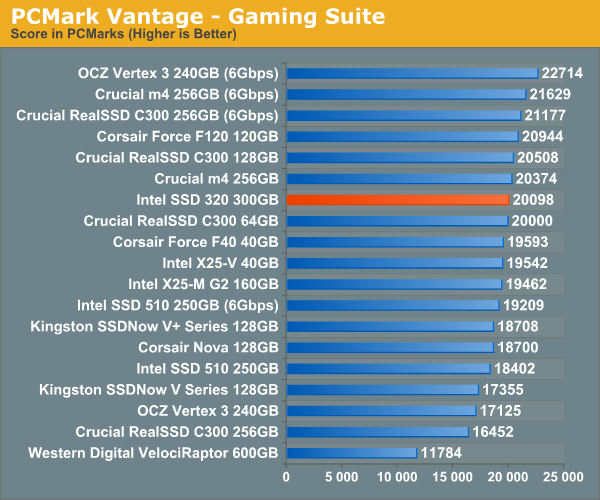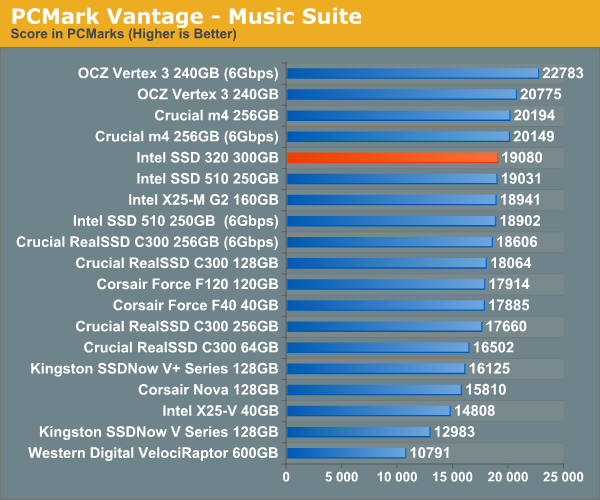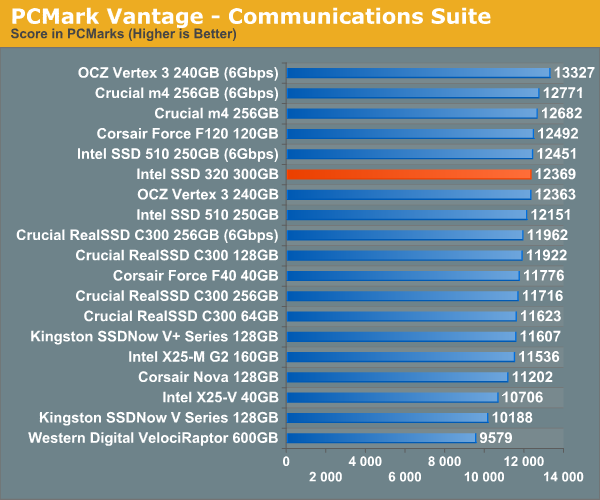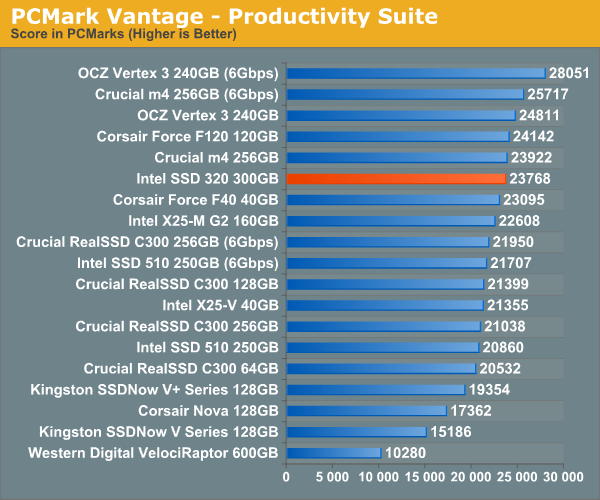 SYSMark 2007
SYSMark 2007 isn't nearly as demanding on the storage subsytem so we're mostly bottlenecked elsewhere.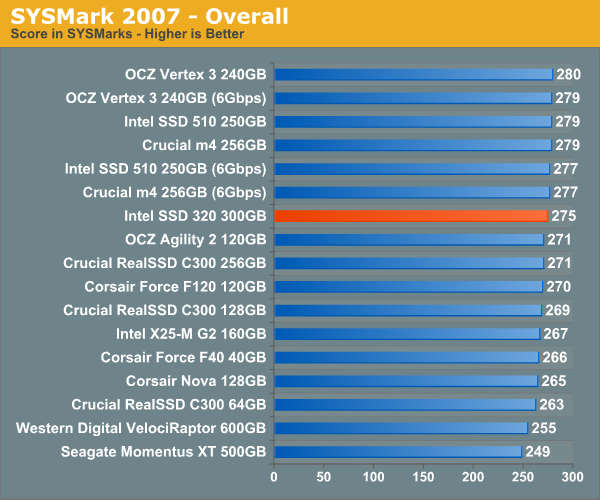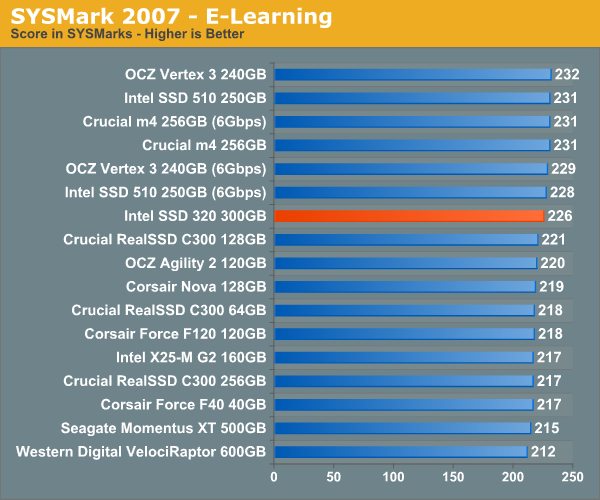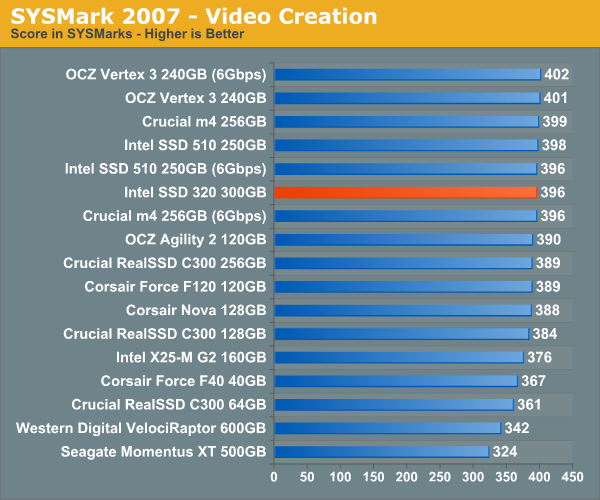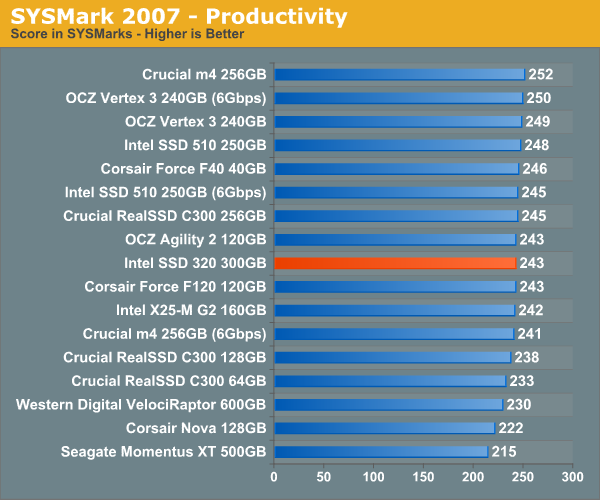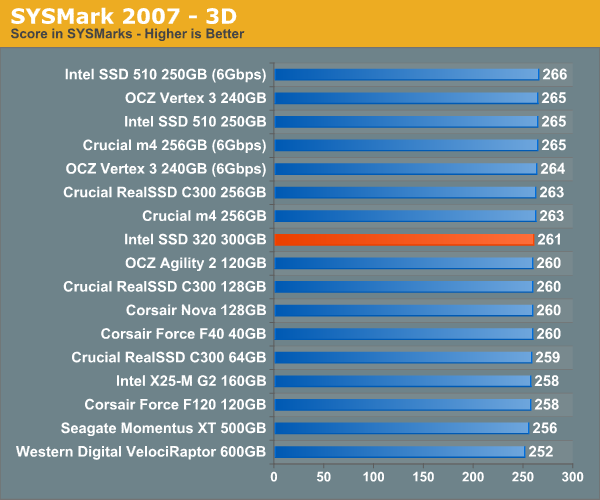 AnandTech Storage Bench 2010
To keep things consistent we've also included our older Storage Bench. Note that the old storage test system doesn't have a SATA 6Gbps controller, so we only have one result for the 6Gbps drives.
The first in our benchmark suite is a light/typical usage case. The Windows 7 system is loaded with Firefox, Office 2007 and Adobe Reader among other applications. With Firefox we browse web pages like Facebook, AnandTech, Digg and other sites. Outlook is also running and we use it to check emails, create and send a message with a PDF attachment. Adobe Reader is used to view some PDFs. Excel 2007 is used to create a spreadsheet, graphs and save the document. The same goes for Word 2007. We open and step through a presentation in PowerPoint 2007 received as an email attachment before saving it to the desktop. Finally we watch a bit of a Firefly episode in Windows Media Player 11.
There's some level of multitasking going on here but it's not unreasonable by any means. Generally the application tasks proceed linearly, with the exception of things like web browsing which may happen in between one of the other tasks.
The recording is played back on all of our drives here today. Remember that we're isolating disk performance, all we're doing is playing back every single disk access that happened in that ~5 minute period of usage. The light workload is composed of 37,501 reads and 20,268 writes. Over 30% of the IOs are 4KB, 11% are 16KB, 22% are 32KB and approximately 13% are 64KB in size. Less than 30% of the operations are absolutely sequential in nature. Average queue depth is 6.09 IOs.
The performance results are reported in average I/O Operations per Second (IOPS):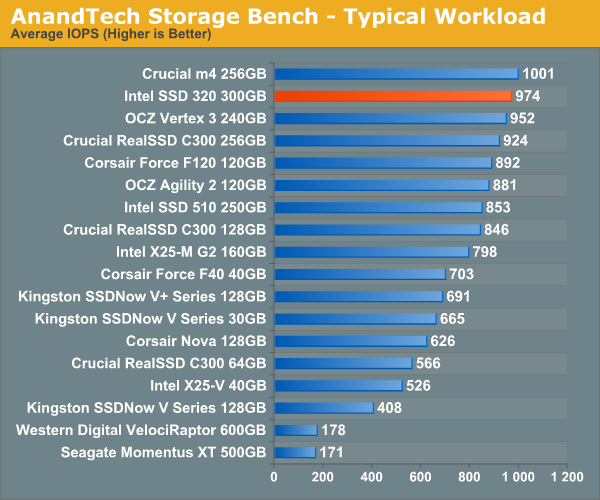 If we strip 6Gbps out of the equation completely, the SSD 320 does very well in our old light workload. You're looking at performance that's at the top of the pack from the mainstream offering.
If there's a light usage case there's bound to be a heavy one. In this test we have Microsoft Security Essentials running in the background with real time virus scanning enabled. We also perform a quick scan in the middle of the test. Firefox, Outlook, Excel, Word and Powerpoint are all used the same as they were in the light test. We add Photoshop CS4 to the mix, opening a bunch of 12MP images, editing them, then saving them as highly compressed JPGs for web publishing. Windows 7's picture viewer is used to view a bunch of pictures on the hard drive. We use 7-zip to create and extract .7z archives. Downloading is also prominently featured in our heavy test; we download large files from the Internet during portions of the benchmark, as well as use uTorrent to grab a couple of torrents. Some of the applications in use are installed during the benchmark, Windows updates are also installed. Towards the end of the test we launch World of Warcraft, play for a few minutes, then delete the folder. This test also takes into account all of the disk accesses that happen while the OS is booting.
The benchmark is 22 minutes long and it consists of 128,895 read operations and 72,411 write operations. Roughly 44% of all IOs were sequential. Approximately 30% of all accesses were 4KB in size, 12% were 16KB in size, 14% were 32KB and 20% were 64KB. Average queue depth was 3.59.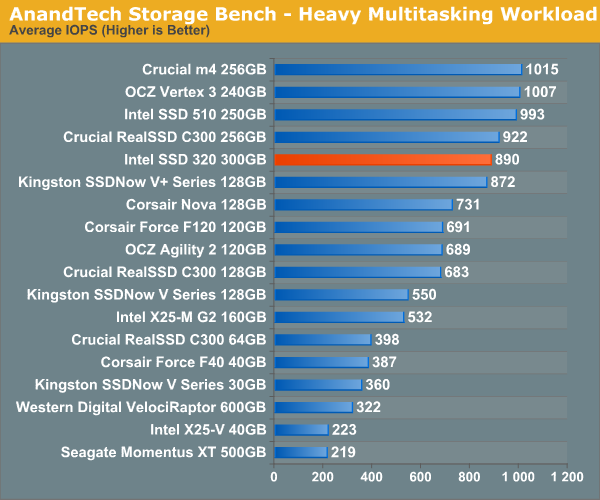 Crank up the workload and the 320 falls a bit behind the rest of the competitors. Last year's heavy multitasking workload is nothing compared to what we introduced earlier this year, so it's still pretty light by comparison but it's clear for normal usage the 320's 3Gbps performance is quite good.
The gaming workload is made up of 75,206 read operations and only 4,592 write operations. Only 20% of the accesses are 4KB in size, nearly 40% are 64KB and 20% are 32KB. A whopping 69% of the IOs are sequential, meaning this is predominantly a sequential read benchmark. The average queue depth is 7.76 IOs.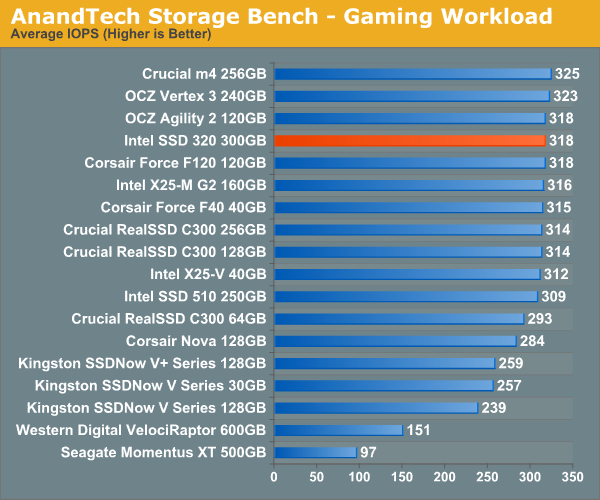 TRIM Performance
To test TRIM functionality we'll start off with a freshly secure erased Intel SSD 320: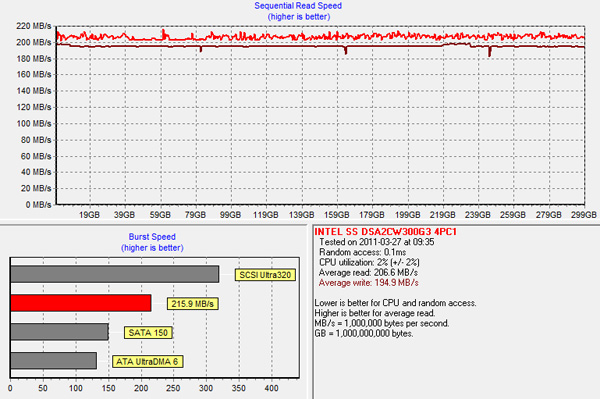 Next we've filled up the 320 and tortured it with random writes for 20 minutes: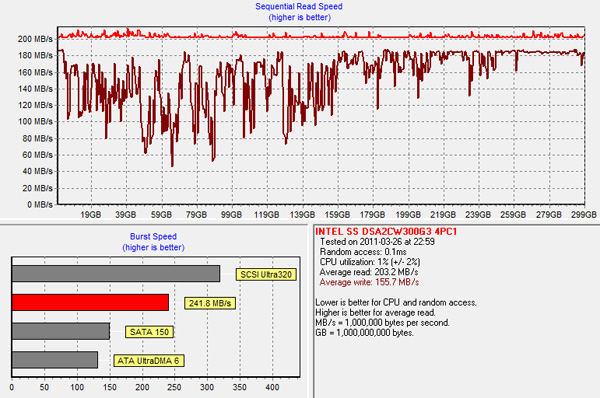 The 320 behaves a lot like the old X25-M G2 did when tortured. Minimum performance drops pretty low - Intel prefers cleaning up as late as possible to extend drive longevity. As a result, I wouldn't recommend using the 320 in an OS without TRIM support.
The format command in Windows 7 triggers TRIM across all of the drive's LBAs. The result is performance is nearly fully restored: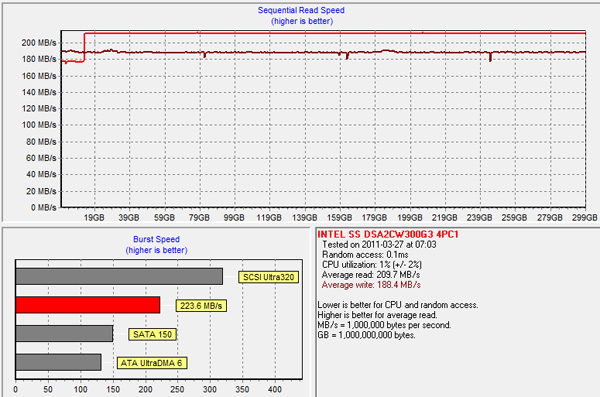 Power Consumption
The power consumption of Intel's SSD 320 is pretty good. Idle power is a little higher than the X25-M G2 but both of our load tests show lower power usage than Intel's 2nd generation drive.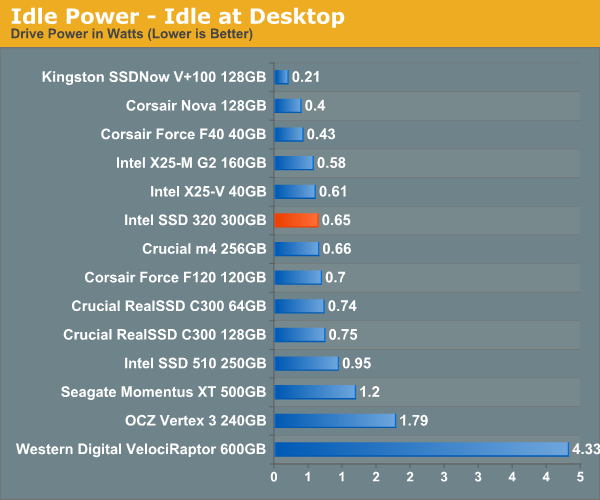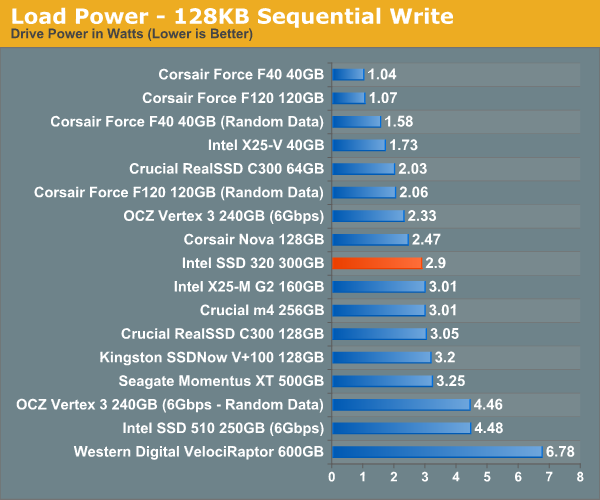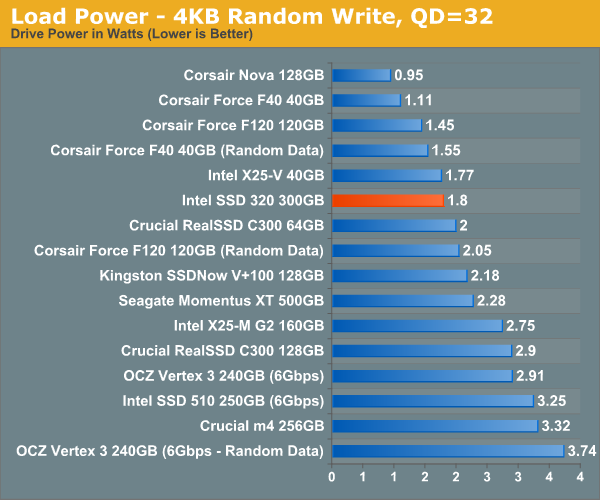 Final Words
Intel's SSD 320 would've been a great drive to have a year ago. Its performance is comparable to Micron's C300 or anything based on the SandForce SF-1200 controller, which last year was just awesome. If you've got a 3Gbps controller and need a drive today the 320 still isn't a bad option, particularly if Intel is promising even better reliability than the previous generation. The inclusion of full disk encryption is nice and it's something I hope all controller makers will embrace going forward as well. My biggest issue with the 320 is that it's not very forward looking.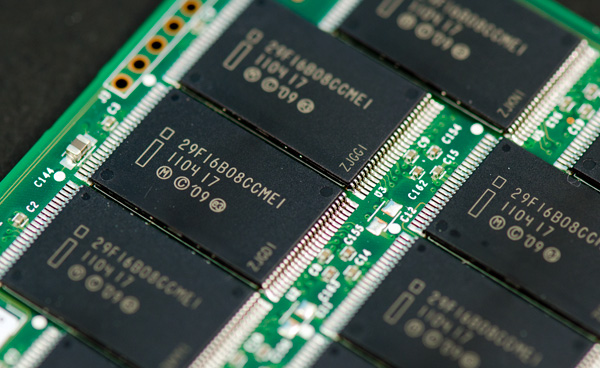 Throw 2011 controllers into the mix, particularly the SF-2200 in the upcoming Vertex 3 and the 320 doesn't look all that great. The only way the 320 will make sense is if these next-generation drives ship at significantly higher price points. We also don't have a good idea of how much slower the smaller capacity drives perform in our benchmarks at this point.
I am curious to see how well a redesigned Postville controller would do against these newer drives. For an architecture that debuted in 2008, Intel's controller certainly has legs but it's time for something new - particularly if Intel isn't going to aggressively discount these mainstream drives.