Original Link: http://www.anandtech.com/show/4242/asus-u41jf-arrandales-not-dead-yet


ASUS U41JF: Granting Arrandale a Stay of Execution
We've given ASUS' U-series of laptops/notebooks plenty of praise since we first looked at the UL80VT back in late 2009. As one of the forerunners for switchable graphics, and sporting a large 8-cell battery that managed to last over 14 hours in ideal circumstances (or "only" about 10 hours for moderate Internet use), it had plenty of good ideas. When NVIDIA launched their Optimus Technology a few months later, seeing ASUS as the first major OEM to support the feature was hardly a surprise.
Time passes quickly in the computer world, and devices that were once cutting edge start to look dated and slow. Overclocked CULV processors and G 210M/310M graphics were fine in 2009, less so in 2010. These days you can't swing a power brick without hitting an Optimus enabled laptop, and while we liked a lot of the updates to the core platform in ASUS' U30JC, we had two chief complaints: the LCD and the GPU.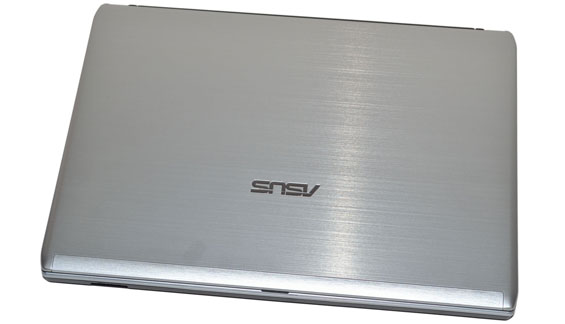 Roughly 18 months after the first "modern" U-series laptop, ASUS is finally addressing at least one of our complaints. We've seen faster GPUs with Optimus in their N-series laptops (i.e. the N61JV, N82JV, and N53JF), but those all cut the battery to a mere 48Wh capacity instead of the 84Wh we've come to know and love. Now we finally get two new parts, the U41JF and U31JG, where we get a midrange GPU with a large battery, with a reasonable price as a bonus.
Ah, but there's always a catch, and in this case the catch is Arrandale. Sandy Bridge launched in January, was delayed in February thanks to the Cougar Point chipset bug, but is now rolling out to the four corners of the world; however, the new U-series laptops are still using the older Arrandale dual-core processors. How much of a difference will that make in performance? Can overclocking, battery capacity, and other features improve the situation? Here's how the U41JF we received for review specs out.
ASUS U41JF-A1 Specifications
Processor
Intel Core i3-380M
(2x2.53GHz + HTT, 32nm, 3MB L3, 35W)
Overclockable to 19x153 (2.91GHz)
Chipset
Intel HM55
Memory
2x2GB DDR3-1333 CL9 (Max 8GB)
Graphics
Intel HD Graphics (Arrandale)
NVIDIA GeForce GT 425M 1GB GDDR3 Optimus
96 SPs, 560/1120/1600MHz Core/Shader/RAM clocks
Display
14" WLED Glossy 16:9 768p (1366x768)
(AU Optronics B140XW02 v1)
Hard Drive(s)
500GB 7200RPM HDD
(Western Digital WD5000BEVT-80A0RT1)
Optical Drive
DVDRW (Matshita UJ892AS)
Networking
Gigabit Ethernet (JMicron JMC250)
802.11n (Atheros AR9285 – 150Mbps)
Bluetooth (Broadcom BC-270)
Audio
2.0 Altec Lansing Speakers
Microphone and headphone jacks
Capable of 5.1 digital output (HDMI/SPDIF)
Battery
8-Cell, 14.4V, 5.8Ah, 83Wh
Front Side
Memory Card Reader
Left Side
2 x USB 2.0
HDMI 1.4
Gigabit Ethernet
VGA (D-SUB)
Exhaust vent
AC Power Connection
Right Side
Headphone/S-PDIF Jack
Microphone Jack
1 x USB 2.0
Optical Drive
Kensington Lock
Back Side
N/A
Operating System
Windows 7 Home Premium 64-bit
Dimensions
13.31" x 9.84" x 1.0-1.06" (WxDxH)
Weight
4.78 lbs (with 8-cell battery)
Extras
0.3MP Webcam
86-Key keyboard
Flash reader (MMC, SD, MS/Pro)
Office 2010 Starter
Warranty
2-year standard warranty
Pricing
MSRP: $899
Online: Starting at $819
We've seen nearly every item on this list at some point, and all of the major features are present and accounted for. Let's focus on the areas where the U41JF isn't just another run-of-the-mill laptop. The HDD, DVDR, audio, and networking are all common items. As far as missing features, there are no USB 3.0 ports, no eSATA, no FireWire, and no ExpressCard. I'll be honest: out of all those, I only sort of miss eSATA and USB 3.0; I've never used 1394 or EC on a modern PC, though if you need any of these ports you'll have to look elsewhere. Let's move on to the extras.
Starting with the CPU, while ASUS lists support for the i5-460M and i3-370M/380M, our test sample came with the i3-380M. Clocked at the same 2.53GHz base as the i5-460M, it lacks support for Turbo Boost. ASUS compensates for this by providing a 15% overclock (153MHz bus vs. 133MHz standard) when you enable their "Power4Gear High Performance" power profile. On the flipside, ASUS' Super Hybrid Engine (SHE) also limits the bus speed to 100MHz when you choose the "Power4Gear Battery Saving" power profile, along with the locking the CPU multiplier at 7X to 9X. If you prefer to run at stock, you can disable SHE (along with the over/underclocking) in the BIOS. Speaking of the BIOS, ASUS also supports UEFI mode in the BIOS if you wish to enable it; we didn't test compatibility with this mode, however.
About the only other noteworthy points are things we've already mentioned: GT 425M Optimus graphics and a large 8-cell battery are definitely appreciated. More impressive is that ASUS manages to fit all of this into a 4.8 lbs. chassis, making the U41JF 0.7 lbs. lighter than the discontinued Dell XPS L401x despite having a higher capacity battery.
One other tidbit I do want to point out is the inclusion of Office 2010 Starter. Yes, you have to put up with some advertisements and you only get "limited" versions of Excel and Word, but let's be frank: Microsoft Works sucks, so being able to open and use standard Word and Excel files is a great improvement. Or you can just go the OpenOffice.org route if you choose, but I certainly won't miss uninstalling Works.
Impressions of the ASUS U41JF
There are several easy points of comparison for the U41JF: on the one hand we have the U3x series that we've already reviewed extensively; on the other, there's the larger UL8x and N8x that we've also covered. Looking at the U30JC, the U41JF is just a slightly larger option with a significantly faster GPU. Even better, the pricing of the U41JF is competitive; the U30JC-B1 is now on clearance and can save you $140, but you get a slightly slower CPU, the old G 310M GPU, and a 320GB 5400RPM hard drive as part of the package. The UL80JT is pretty much pointless now, unless you're willing to sacrifice quite a bit of CPU performance for only slightly better battery life (in some situations); besides, we're not keen on the black glossy plastic used with the UL80JT. Finally, there's the also outdated N82JV, which will shave off $80 and DX11 support, plus 36Wh of battery capacity. No, no, no… we don't want any of those now! They were all reasonable a few months ago, but the U41JF supersedes all of them. Here's why.
First, we like the silver aesthetic a lot more than the glossy black or funky dark brown. Okay, so only the top cover is actually aluminum (the palm rest is a faux brushed aluminum plastic), but fingerprints aren't much of a concern either way. Somewhat surprisingly, the U41JF is also slightly lighter than both the U30JC and the N82JV. If you still like the idea of a smaller and lighter laptop and you're willing to give up some performance, the next best alternative is going to be the new ASUS U31JG. The silver model starts at $800, so it's only $20 less than the U41JF, and you lose some graphics performance and the DVDR in the switch. Still, you shave off about a pound of weight. If you don't mind another black laptop, you can go for the $700 version (with a 320GB 5400RPM hard drive).
The other reason the U41JF wins out over the older models comes down to component choices. G 310M isn't even as fast as the new Sandy Bridge HD 3000 IGP, so that kills off all of the old U-series in our book. You can get better performance at a reasonable price with the i5-2410M in something like the Dell Inspiron 14R. The U41JF stays relevant by combining a large battery with a reasonably fast CPU and a decent midrange GPU, for only a small bump in price compared to the other options.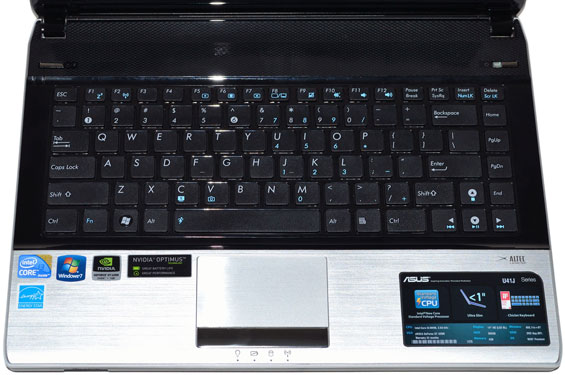 For the rest, the keyboard and touchpad are the same as what we've tested in many other ASUS laptops. There's a bit of flex in the keyboard, and we wish ASUS would ditch the chrome rocker button on the touchpad, but otherwise they work well enough. For a 14" (or 13.3") screen chassis, I'm personally quite happy with the layout ASUS uses, providing quick and easy access to all the keyboard shortcuts (i.e. Home/End/PgUp/PgDn) that I use on a regular basis.
Screen quality is still a sticking point, sadly, and the Altec Lansing speakers don't sound any better than other midrange laptops I've used. There's still glossy black plastic on the screen bezel (ugh!) and around the keyboard, which are certainly items that we'd like to see changed. I also wish the over/underclocking could happen without a sleep/resume cycle every time the bus speed changes, but it's probably difficult to keep the RAM timings and everything else happy without it. (For reference, the RAM runs at DDR3-1224 CL9 when overclocked, versus DDR3-1066 CL7 at stock and DDR3-800 CL7 underclocked.)
Ultimately, though, I keep coming back to the price, features, and overall build quality. Not only is the U41JF about the cheapest price you can find for a 14"-screen (or smaller) laptop with GT 425M, but it also comes with the largest battery of the bunch, and ASUS' Power4Gear utility is one of the best options for tweaking power profiles to eke out every last minute of mobility. As far as CPU performance goes, unless you're moving up to quad-core Sandy Bridge, the 15% overclock goes a long way towards keeping Arrandale relevant. So let's hit the benchmarks before we wrap things up.
General Performance – Overclocked Arrandale vs. Sandy Bridge
We're dealing with a lot of similarly specced laptops in the benchmarks, with a lot of Arrandale + GT 420M/425M choices. For this review, we'll focus on the two Sandy Bridge laptops we've tested, one with quad-core i7-2820QM and the other with a dual-core i5-2415M. The dual-core is a new MacBook Pro, and I can confirm that at least the dual-core i5-2520M laptop I'm testing right now is faster in nearly every benchmark, sometimes by a significant margin, so take the MBP13 numbers with a grain of salt. Then again, i5-2520M has more aggressive Turbo modes and a higher base clock than the 2415M.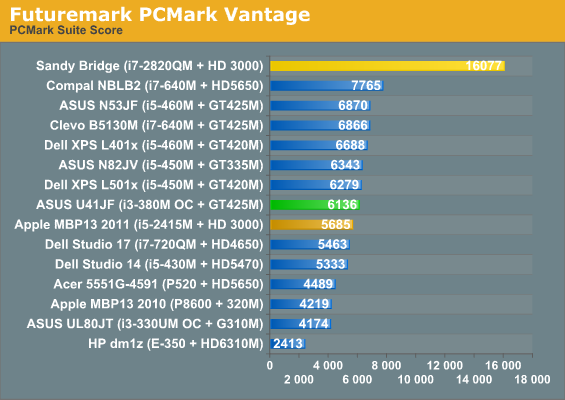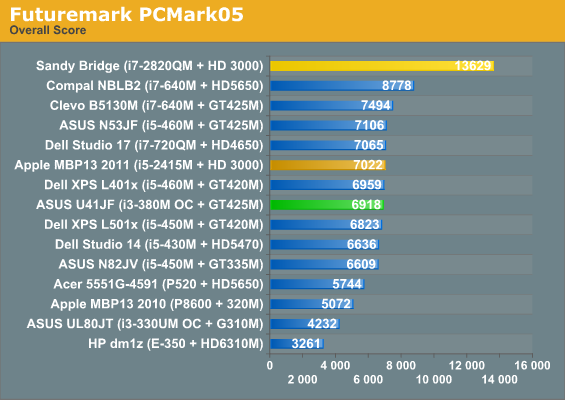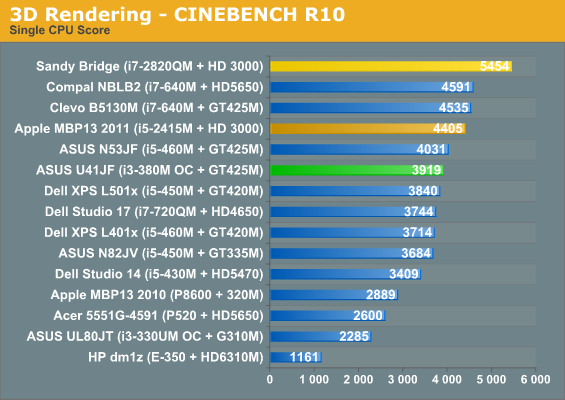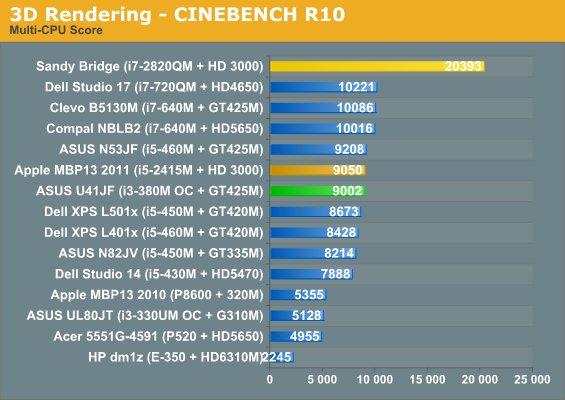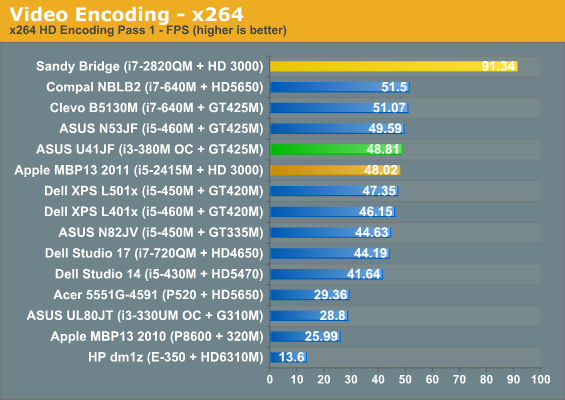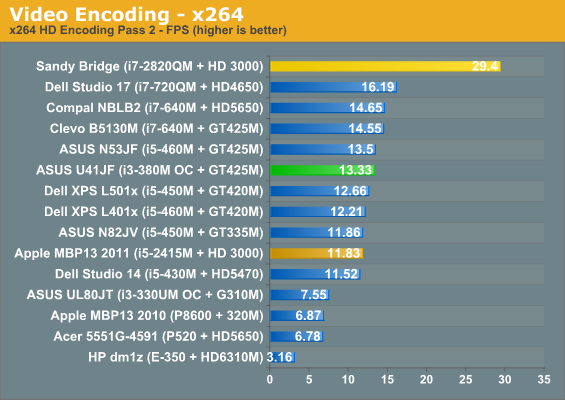 It would help if all of our laptops used the same hard drive (or SSD), because PCMark in particular is highly influenced by that component. As such, the i7-2820QM results in those two tests are largely meaningless since it's the only system in these charts with an SSD. The remaining tests are much more of a CPU benchmark, though, and here we see the overclocked i3-380M keeping pace with slightly faster Core i5 processors. The MBP13 looks particularly poor in the x264 test, so I'm not entirely sure what's going on there. Quad-core SNB naturally plays in a different league, often doubling the performance of dual-core Arrandale.
In practice, though, any of the Arrandale laptops is plenty fast for typical use. The one area where dual-core Sandy Bridge really eclipses Arrandale is when you can use Quick Sync to accelerate video transcoding; everything else, it might be 10-30% faster in theory, but in practice that only becomes apparent when you're running CPU intensive tasks. We'll be looking at this more in a future review, but for now let's just say that with a good SSD all of the systems (with the possible exception of the HP dm1z) will handle any task a home user might reasonably run.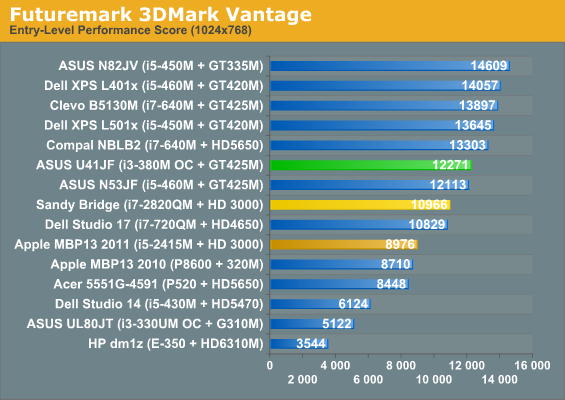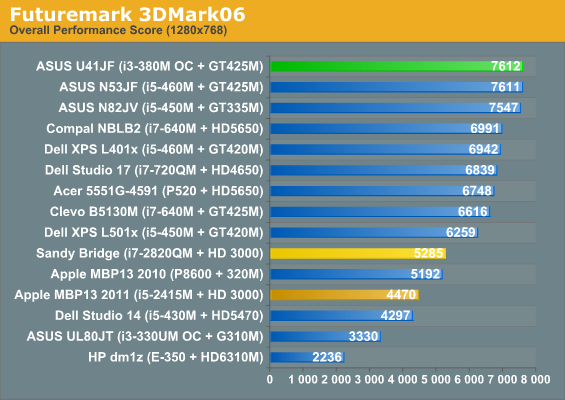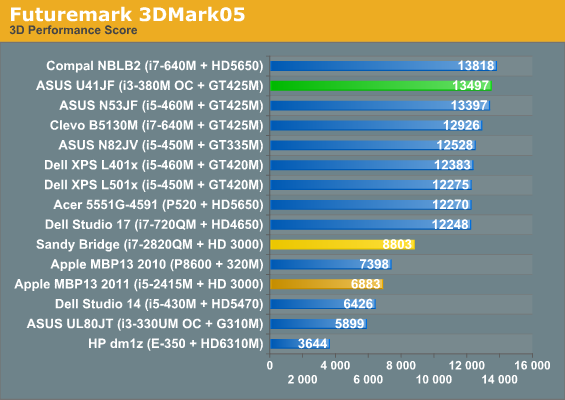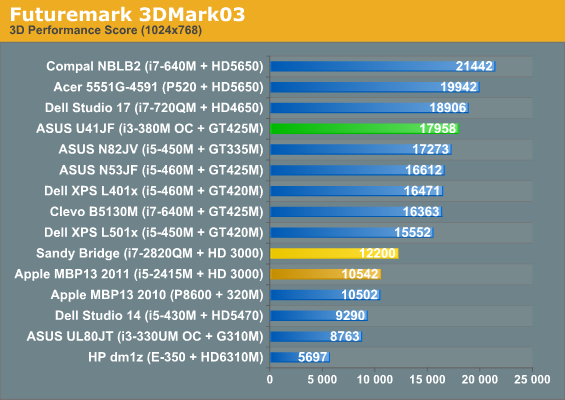 Moving to the 3DMark results, the Vantage Entry-level score is the best showing for SNB, and even there the GT 425M in the U41JF comes out 12% faster than the quad-core and 37% faster than the dual-core. 3D06 and 3D03 come next, with a lead of 44-47% and 70% over the quad- and dual-core SNB. 3D05 gives the GT 425M its biggest wins, with margins of victory of 53% and 96%. Of course, these are all synthetic graphics tests, and while some games might correlate well with 3DMarks, there's no substitute for benchmarking actual games….
Why Discrete GPUs Matter: Gaming Performance
We're skipping out on running any of the High detail testing this time around; with a 1366x768 resolution LCD, we'll stick to our Low and Medium quality tests. Besides, we've checked 900p High performance on the GT 425M several times, and it's no better this time around. Only two of our eight test titles (DiRT 2 and Mass Effect 2) break 30FPS at our demanding High settings, and then only by a few FPS. Medium is where the GT 425M works best, or even Low quality in a few titles (i.e. Crysis 2, Metro 2033, and Mafia II).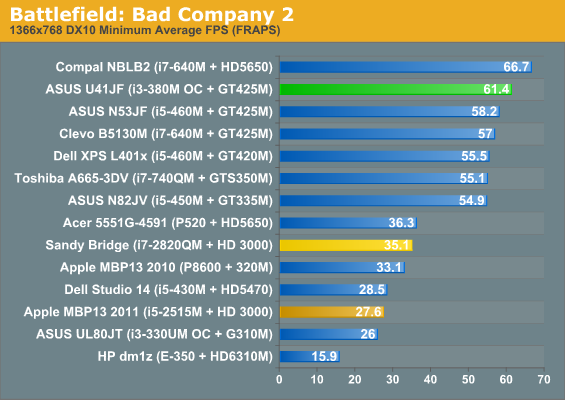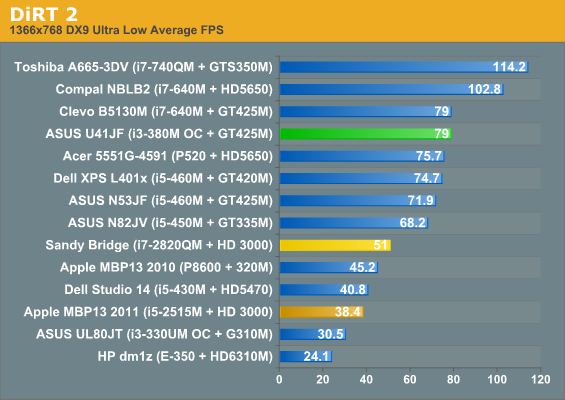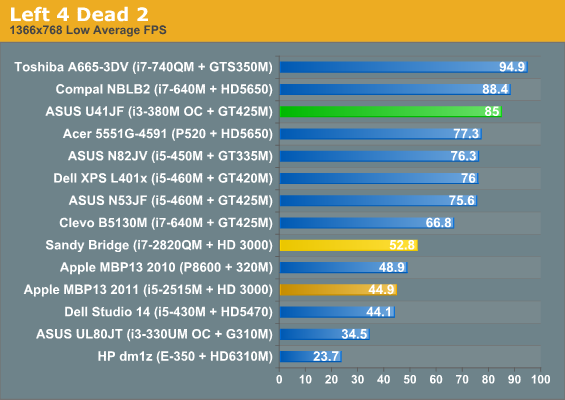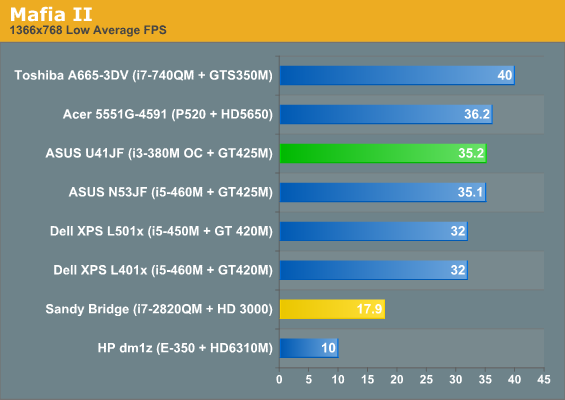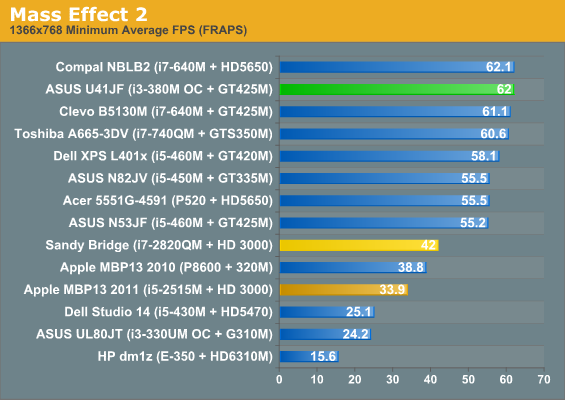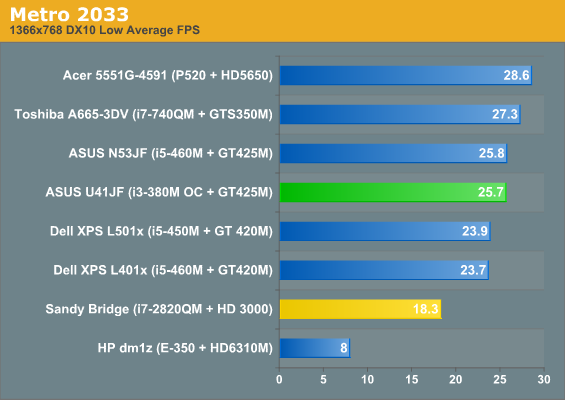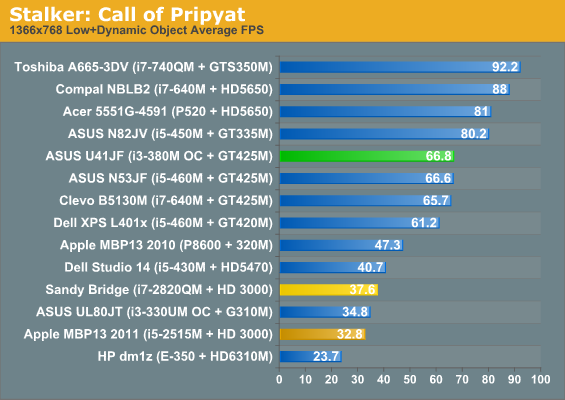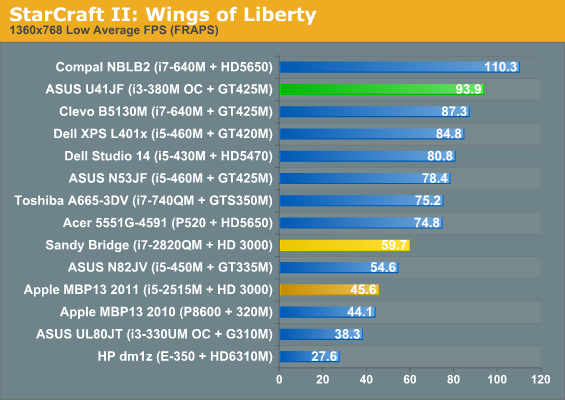 Does anyone else ever get the impression that perhaps Intel is spending a lot more time optimizing for 3DMarks than for actual games? Where we saw the gap between GT 425M and quad-core HD 3000 get as small as 12% in Vantage Entry, or as much as 53% in 3D05, for actual games—even at low/minimum detail—the margin of victory starts at 40% (Metro 2033) and is as much as 97% (Mafia II). On average, the 425M leads at low detail by 62% in our eight titles. We only have results for six games with the MBP13, but the average margin is even greater at 101%. And that's not even factoring in better compatibility and more consistent performance across a wider selection of titles! What happens when we move to Medium quality?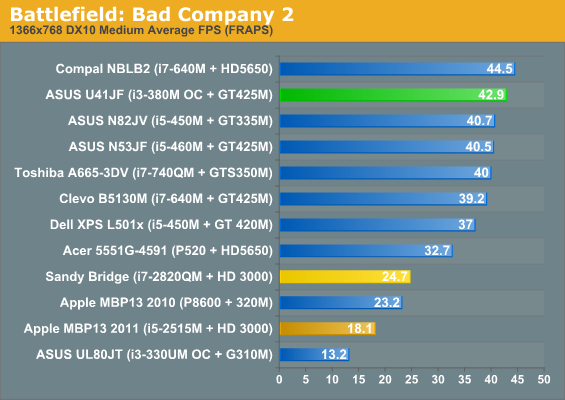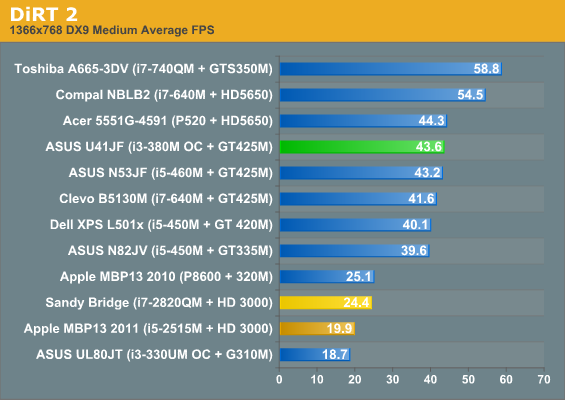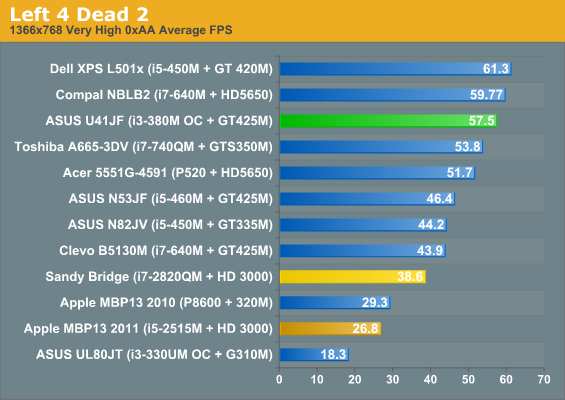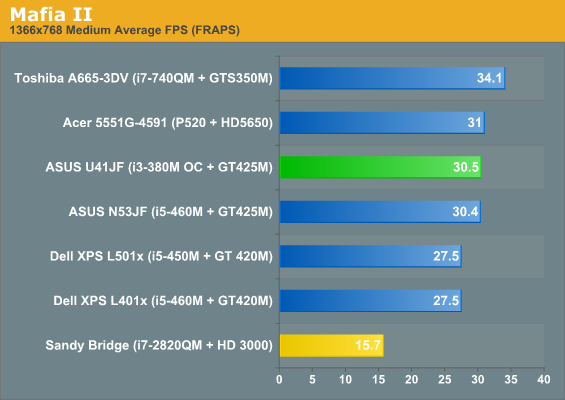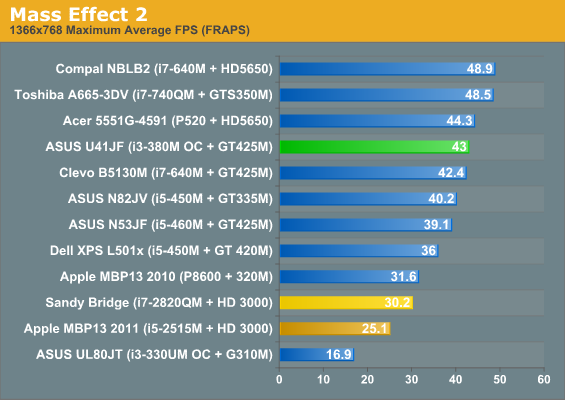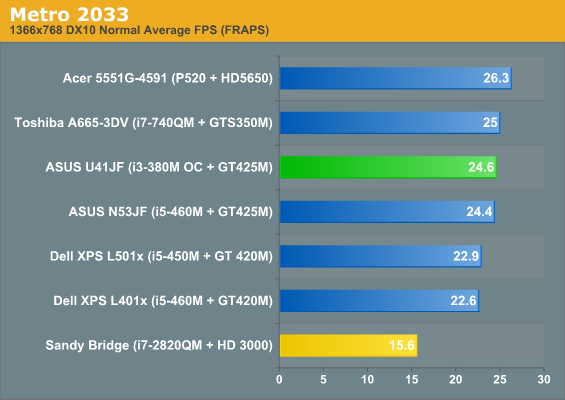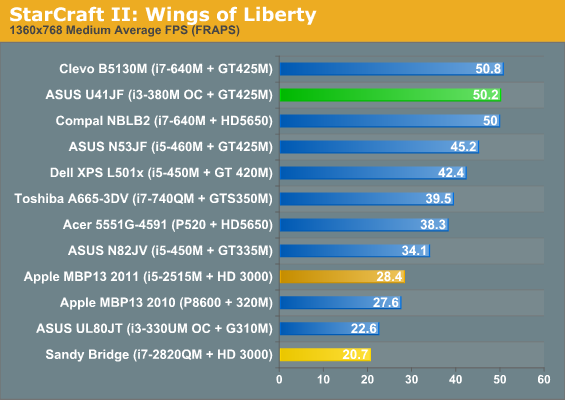 The GT 425M lead in individual games ranges from 42-143% over the i7-2820QM, with an average lead of 72%, so slightly higher than at our Low details. Compared to the MBP13's i5-2415M, the lead average is 100%, with individual leads of 71-137%, but we're missing Mafia II and Metro 2033 scores. The two SNB laptops may not have used the same driver version, and we don't have results for all the games on the MBP13. I can also confirm that an i5-2520M notebook outperforms the MBP13 results by around 5-10% on average. Either way, it's obvious that even a moderate discrete GPU like the GT 425M still offers a lot more performance than any current IGP. It will be interesting to see how that changes once Llano hits in the next couple of months.
Something else to point out before we move on is that some driver updates appear to have improved performance with the GT 425M, at least in a couple titles. Left 4 Dead 2 is running a lot faster than on the N53JF, though the XPS 15 is still the best result (see next page for a discussion of other points of interest relating to L4D2). The bigger change is in StarCraft II, where the U41JF is at least 10% faster than the next closest 425M laptop.
Optimus Technology Revisited
Over the past year or so since NVIDIA's Optimus Technology first entered the scene, I've been very positive about the technology. The number of titles where things absolutely fail to work is quite small, and even when there are glitches they are generally minor. If anyone has experience with other titles failing to work properly, please leave a comment or send me an email, as I'd love to verify whether Optimus is malfunctioning (and if it can be made to function) on other games beyond what I've tested. So far, I have encountered three games where I have some sort of difficulty with Optimus, and there are workarounds of sorts for all three. In order of severity (worst to least), the games are:
Civilization V: In my experience so far, Arrandale-based Optimus laptops fail to run the DX10/11 mode properly. I have a Sandy Bridge + GT 540M laptop where the DX11 mode runs without a hitch, so perhaps the problem lies with the Arrandale IGP. Oddly enough, at least one Arrandale laptop managed to run the DX10 mode (slowly and perhaps some of the colors got munged), but that system has an older Intel driver so that might be the culprit. I'll try some different driver combinations next week, but so far the only way I've been able to run Civilization V on the U41JF is by choosing the DX9 mode.
3/30/2011 Update: NVIDIA has released a beta version of their 270 series driver, and I did a quick retest with this. It fixed the issues with Civilization V DX10/11 mode on the U41JF, and presumably will work on other laptops as well. This is why I prefer Optimus until we get more power friendly dGPUs: driver updates can usually fix the problems. This is also one the concerns with companies that don't have a huge compatibility testing group focused on gaming (i.e. Intel), because glitches like this happen on a regular basis. An earlier NVIDIA driver worked, then something got borked with Optimus + Civ5 DX11 in the 265 series rollout AFAICT, and now it's fixed again.
Empire: Total War: This game appears to detect the Intel IGP and limit the available graphics settings based on their profiling of that GPU. Specifically, it doesn't allow higher detail settings, limiting you to "Medium" or lower on several areas. The game itself runs properly on the NVIDIA GPU, so this is more of a maximum available fidelity problem.
Left 4 Dead 2: This game previously ran properly on several Optimus laptops (i.e. the Dell XPS L501x), but there's apparently a newer bug on this one with Intel's drivers. At present, if you set details for maximum (with or without AA), the game will exit when you try to load a level. The workaround for this is to set "Paged Memory Pool Available" to Low, which appears to reduce performance somewhat, but otherwise the game runs fine.
Given that none of the above issues are show-stoppers (unless you insist on using your DX10/11 GPU in Civ5), I still prefer the potentially improved battery life over the lack of issues that you get with a discrete-only solution. Long-term, I'd still like to see Optimus become unnecessary, but for that to happen we need to have discrete GPUs that can run light workloads (i.e. the Windows desktop) while using only 1-2W at most. Right now, a GTX 460M as an example appears to idle at close to 10W, so we're an order of magnitude away from my target. Perhaps even worse is AMD's new HD 6970M, which idles at around 15W but jumps up to more than 30W for basic H.264 playback (about twice what the GTX 460M uses for that same workload).
To get to the point where dGPUs no longer incur a severe power penalty, AMD and NVIDIA will need to add a lot more clock speed options and power gating to their hardware. Frankly, there's no point why the HD 6970M should run its memory at 3.6GHz just for doing basic video playback (or sometimes just surfing the web). Similarly, the Windows desktop doesn't need 192 or 384 CUDA cores from the 460M/485M, and it doesn't need 960 Stream Processors either. A look at IGPs suggests they could completely shut down (i.e. power gate) all but eight or so CUDA cores, or 40 Stream Processors, and still have more than sufficient performance to handle basic Windows and Internet tasks. If you happen to watch a video where the GPU needs to do some work, there's still no reason to power up all the RAM and GPU cores; figure out the minimum necessary resources that are needed and power up just those areas of the chip, and we'd be set.
One look at Intel's Sandy Bridge processors and HD 3000 Graphics has me convinced that all of the above is possible. Now we just need the companies to invest the time and resources into R&D, testing, validation, and drivers. Turbo Boost already does much of what we're talking about, but dynamically altering GPU core and RAM speeds and shutting off cores/memory (via power gate transistors as opposed to just clock gating) is a complex task. I'm sure AMD's Llano APU will use a lot more power gating on the GPU portion than what we've seen in discrete GPUs; however, until we get a lot more granularity NVIDIA's Optimus Technology is a good way to completely power down the dGPU when the IGP will suffice.
Battery Life: Capacity Triumphs

There's simply no beating a higher capacity battery, all other areas being equal. I do find it a bit funny that ASUS has relabeled their battery to be 83Wh now instead of 84Wh; technically it's still 83.52Wh based on the simple (V*Ah) equation, but then you're likely going to get a lot less than 83Wh out of it after a few months of use when it's no longer running at 100%. Anyway, I don't have much to add here on battery wear levels, as for some reason HWMonitor didn't pick up the information for this particular laptop.
Looking at the laptop market as a whole, Apple is able to squeeze some amazing battery life out of their laptops with OSX, but install Windows 7 on them and they become merely average. ASUS has been one of the best options for battery life on Windows laptops ever since the debut of their UL series in 2009, and with the U41JF you can now get nearly all of the battery life with improved graphics performance when you want it. Also note that we tested with SHE (i.e. underclocking) enabled; if you choose to run at stock speeds, you'll get about 10% less battery life.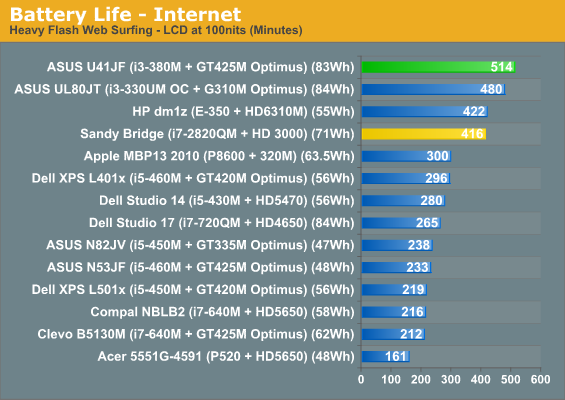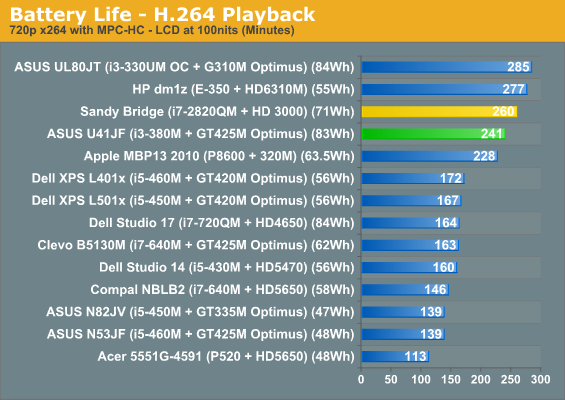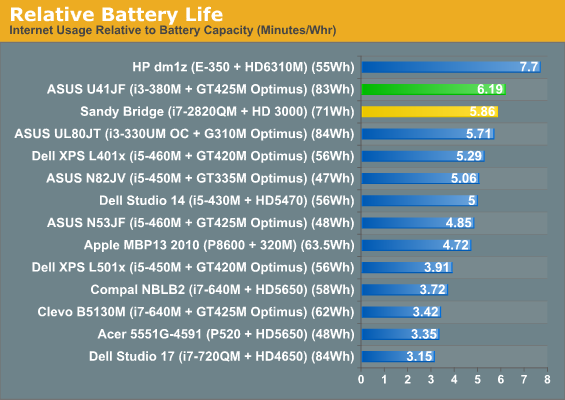 When you can last over ten hours for basic work, or 8.5 hours of constant Internet surfing, you know you're doing pretty well. The U41JF actually surpasses the ULV-based UL80JT in two of the three battery life results (with H.264 favoring the UL80JT). Compared to the older U30JC (not shown, but you can see the results in Mobile Bench), it also wins in the Idle and Internet tests, and the H.264 result is a lot closer than the UL80JT. The UL80VT is still our battery life champion, posting over 14 hours in the Idle test, but performance is clearly slower than the latest U- and UL-series laptops.
In keeping with recent tradition, I also tested several other areas of battery life. For an 83Wh battery, the U41JF manages to recharge pretty quickly, taking just over three hours (192 minutes) to go from completely drained to 100% charge. Power draw measured 37-57W while charging, with higher power draw when the battery was closer to dead. If ASUS is like other manufacturers, they have some smarts in their batteries so that they don't overcharge some cells (and cause them to wear out faster), which would explain the drop in power draw as maximum capacity approached.
Gaming battery life as always is a bit of a stretch. You can run the CPU/GPU pretty much at AC performance levels, but not for all that long. Looping 3DMark03, the battery lasted 145 minutes, which would correlate to a less demanding game. 3DMark06 hits the CPU/GPU more, and battery life drops down to just 102 minutes (think of games like Crysis, Battlefield: Bad Company 2, Metro 2033, etc.) If you want to run the LCD at maximum brightness instead of 100 nits, we measured a rather high increase in power requirements of nearly 5W, so that's one more item to consider. For most practical scenarios, though, the U41JF will provide an all-day computing experience with no need to find an outlet.
The LCD: Still the Weakest Link
Wrapping up the evaluation, we have yet another 1366x768 resolution LCD to add to the mix. As with most such displays, there's nothing remarkable about the LCD panel. Contrast ratio falls in the middle of the charts, but there's a huge gap between the budget panels (around 265:1) and good LCDs (500:1 or higher). The maximum white level of 194 nits is also disappointing—we'd much rather see 300+ nits, which is far more useable outdoors. Given the lack of contrast and relatively dim panel, the color accuracy and gamut are hardly worth discussing, but they're also worse than other midrange laptops.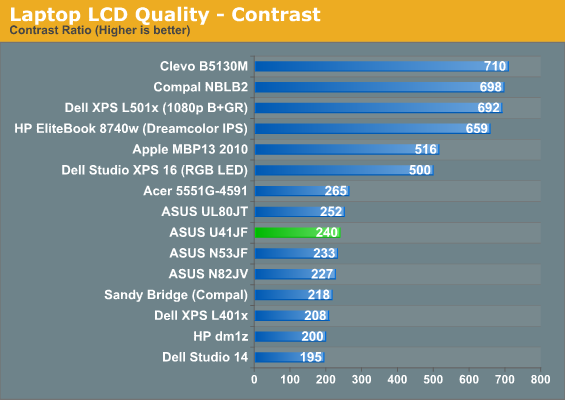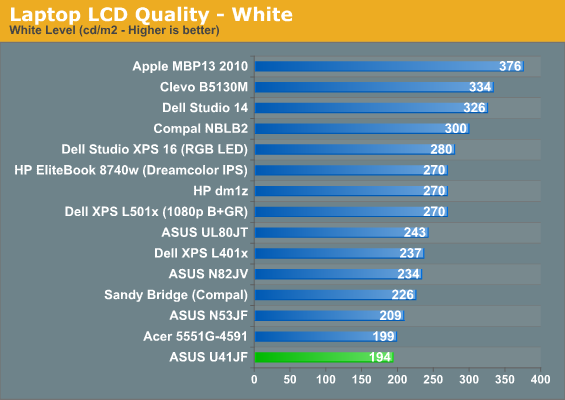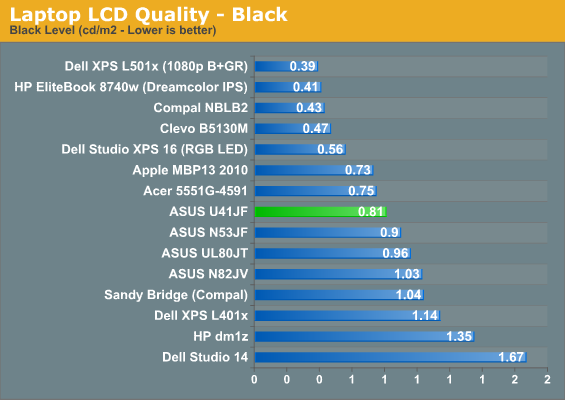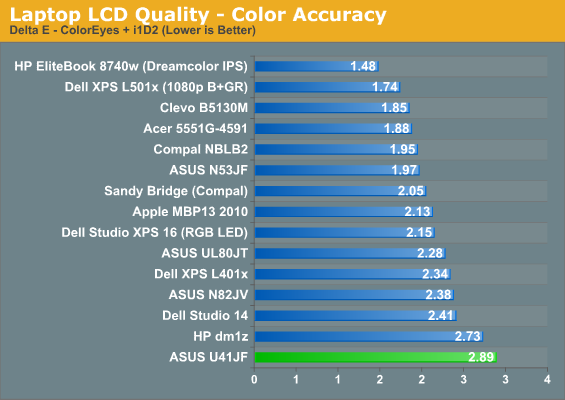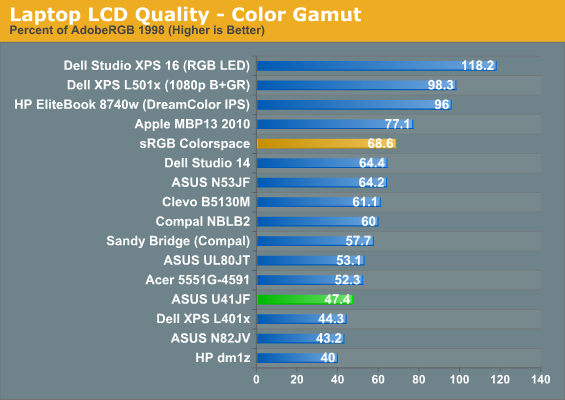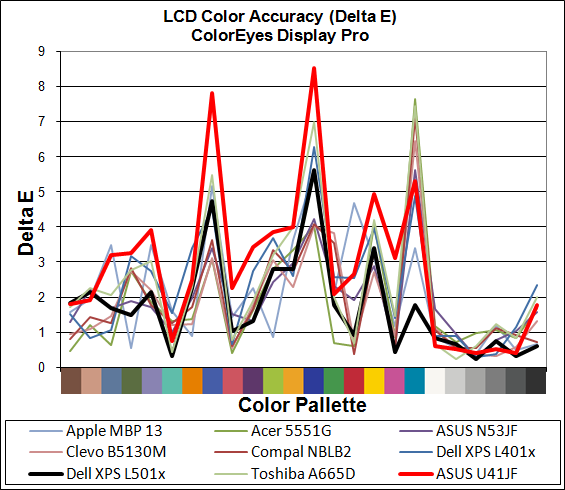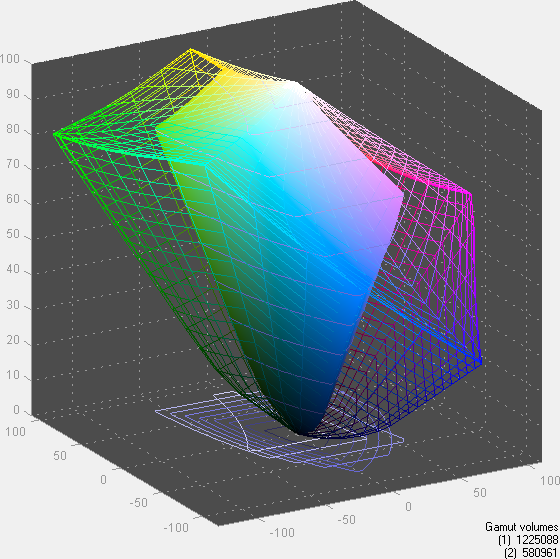 I'd try to work up more vitriol here, but there's nothing new to add. It's particularly irksome that ASUS has their new tablets shipping with IPS panels with a target price of around $400, and yet they can't put anything better than a bog-standard TN panel in their $800-$1200 midrange laptops and notebooks. At least part of the problem is the LCD manufacturers, but then they wouldn't keep making crappy LCDs if there weren't a demand to fill. I'm not sure I've ever seen a good LCD in a $600 to $900 laptop, and Dell's XPS 15 so far is the rare offering where you could get a quality panel for under $1000 (and now you'll need to move up to the $1300 L502x if you want their 1080p panel). Regardless of the cause, though, the current standard for laptop LCDs remains deplorable. Moving on….
Heat and Noise Levels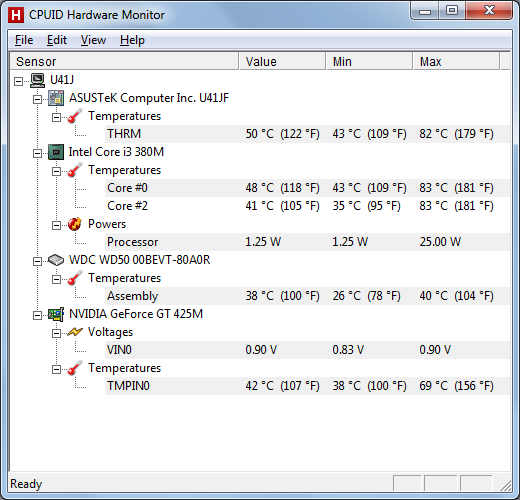 For noise and temperature results, we ran through our battery of general application benchmarks (including looping 3DMark06 for several hours). Everything checks out at idle, and load temperatures are within spec. The CPU runs almost 15C hotter than the GPU, most likely because of location relative to the exhaust since the two share a heatpipe cooling setup. The above temperatures are also with the 15% overclock active, though, so that certainly doesn't help. Ultimately, the real question is stability, and in testing we never experienced any crashes or other heat related problems. Will such a laptop work as well during the summer heat? Perhaps not, but if the new MacBook Pro can survive I'm sure the U41JF will be fine.
Noise levels as you might expect are a bit higher than other laptops, at least if you enable the 15% overclock and put a heavy load on the system. At idle, the U41JF registers just 31.5dB, which is only slightly above the ~30dB noise floor of our testing environment/equipment. Crank up the load and noise levels become much more noticeable; our SPL meter showed 41.0dB after a few minutes playing a game without the CPU overclock. Adding in the SHE overclocking option, one more fan speed became audible, and we measured 43.5dB. That's still lower than the 15.6" Eurocom Racer/Clevo P150HM with an HD 6970M, but then we're also talking about far less performance.
ASUS U41JF: Not Sandy Bridge but Still Decent
Long-term, the U41JF is a stopgap solution while we await the inevitable Sandy Bridge refresh of ASUS' U-series. It also happens to have some good design decisions and component choices to help keep costs down. The use of Intel's Core i3 processors gives ASUS most of the performance offered by more expensive Core i5 CPUs, and with the 15% overclock the i3-380M can actually surpass everything but the dual-core i7 parts—and Sandy Bridge, but that's another matter.
Just under one year ago, we reviewed the ASUS U30JC and found it offered some very compelling upgrades to the earlier UL80VT. Today, the U41JF continues that trend by improving performance without sacrificing battery life. The CPU hasn't really changed since last May, other than Intel's clock speed bumps, but the 15% overclock is a new feature that can be useful. More important by far is the upgrade to the discrete GPU, which takes the U-series from barely passable for many modern games to something that will handle everything currently on the market.
Last year (and even in late 2009), we were looking at 16 CUDA cores running at 1500 to 1530MHz with just 12.8GB/s of memory bandwidth. Today, the GT 425M provides 96 CUDA cores at 1120MHz (with DX11 support) and 25.6GB/s of bandwidth. In terms of theoretical performance, that's double the bandwidth and over four times the computational power. As our gaming results show, even at minimum detail the G 310M barely breaks 30FPS in most games at native resolution. The GT 425M surpasses the UL80JT by an average of 138% in low-detail gaming, and it does it at a lower launch price. How can we not like that?
If you're willing to give up a bit of the gaming potential, ASUS also has their U31JG laptop priced at a very interesting $700. The GT 415M has the same memory bandwidth as the GT 425M but only 45% of the theoretical computational performance. It does seem like more games are bandwidth constrained on low-end GPUs, so you might end up with 70-80% of the U41JF performance in a smaller and less expensive package, and if you're more interested in mobility than gaming it's looking to be a nice update to the previous generation U35JC.
ASUS continues to put out one of the most well-rounded packages with their U-series, and the latest two additions address the one area of performance where previous models fell short. Now, you can at least play every current game at 30+ FPS—yes, even Crysis 2 will run, though you'll have to drop to minimum detail levels. For all our complaining about the G 310M hanging around far too long, we're happy to see an upgrade. Unfortunately, the other major complaint continues to fall on deaf ears, and we can only hope that someone will try putting out a competitively priced midrange laptop with a better LCD. It can't be that difficult: get the LCD from the MacBook Pro 13 and put it in the U31JG, and you'd have exactly what we're asking for. It might cost $100 more, but if ASUS were to make it a separate model (i.e. the U31x-A2 instead of the U31x-A1) we would at least be able to recommend a laptop where we didn't end up bemoaning the LCD quality.
Until that happens, the U41JF and U31JG are attractively priced laptops that offer plenty of performance. The U41JF proves that Arrandale isn't dead yet; unfortunately, it's not getting better and while it can still go for a walk you'll want to keep a defibrillator handy. Is a Sandy Bridge upgrade worth the additional $100 to $200 you're likely to pay right now? Probably not, but if you wait another three to six months ASUS is bound to have some more U-series laptops to scratch that particular itch.