Original Link: http://www.anandtech.com/show/4241/h67-a-triumvirate-of-tantalizing-technology


Let us have another look at our Sandy Bridge chipset comparison table. If you bounced straight into this page of the article and missed the blurb on the front page, I mentioned the two main differences between the P67 and the H67. On H67, we can use the integrated graphics on the processor at the expense of CPU overclocking opportunities, and if we do use a discrete GPU, we are limited to one only. Considering that a large portion of the pre-built PC sales worldwide feature no-overclocking and limited graphics, the H67 offerings, in micro-ATX form factors, offer a path into a highly contested market between PC builders.
Chipset Comparison
P67
H67
H61
P55
H57
H55
CPU Support
Sandy Bridge
LGA-1155
Sandy Bridge
LGA-1155
Sandy Bridge
LGA-1155
Lynnfield / Clarkdale LGA-1156
Lynnfield / Clarkdale LGA-1156
Lynnfield / Clarkdale LGA-1156
CPU PCIe Config
1 x 16 or 2 x 8 PCIe 2.0
1 x 16
PCIe 2.0
1 x 16
PCIe 2.0
1 x 16 or 2 x 8 PCIe 2.0
1 x 16
PCIe 2.0
1 x 16
PCIe 2.0
RAID Support
Yes
Yes
No
Yes
Yes
No
USB 2.0 Ports
14
14
10
14
14
12
SATA Total (Max Number of 6Gbps Ports)
6 (2)
6 (2)
4 (0)
6 (0)
6 (0)
6 (0)
PCIe Lanes
8 (5GT/s)
8 (5GT/s)
6 (5GT/s)
8 (2.5GT/s)
8 (2.5GT/s)
6 (2.5GT/s)
As with the discussion surrounding the Sandy Bridge processors, many people have questioned Intel's decision to have most of the processors locked, and only a few overclockable. The same question ultimately applies to the Sandy Bridge chipsets – why only allow CPU overclocking on P67 (and Z68 in the future)? The answer here is simple enough – to help bring costs down.
Imagine the scenario that you are designing a motherboard. You understand the market, and want to add many bells and whistles, but the company you work for obviously wants to lower costs. If you are told that the chipset supports 95W CPUs, you have to add the power infrastructure on the board to match. Add in a few phases to support that, and it is done. Now take the same design to a chipset that supports overclocking. Somehow, that 95-110W window goes out the door, and you have to cater for any manner of overclocker and power draw. Then the onus is on you, and the company, to be the best and get the best results – within budget of course. With H67 and its no overclocking rule, the market that wants a cheaper board can get that cheaper board.
That scenario is, of course, just one facet of what is a large industry to consider. There is also another argument, that the CPU overclockable K series SKUs also have the best integrated HD 3000 (12 EU) graphics compared to their non-K counterparts, that only have HD 2000 (6 EU). So in order to get the best integrated, there is an extra cost in getting that K series SKU and not getting to overclock the CPU in a H67 board. In that respect, I would have to offer this proposal: Intel have engineered H67 to be in the position where people do not need GPU power or overclocked CPU power – enough to help accelerate encoding, run two monitors, play flash, but not much more. If you cast your mind back to Anand's comparison of the HD3000/2000, the 3000 is usually better than an AMD HD 5450 for gaming, but the 2000 is usually competing with the higher end Clarkdale 1156 CPUs. If you are on a budget or a single GPU gamer where CPU power is not all too important, then H67 is aimed squarely at you as well.
I will be honest with you – I am a sucker for a fast machine. I get weak knees when reading record-breaking benchmarks. Thus, the H67 results did not exactly set my eyes ablaze. However, I remember the time when I was a scrimping student. I wanted high gaming performance at the lowest cost – if Sandy Bridge was out then, and I was specifically after the Sandy Bridge platform over anything AMD, then a H67 with an i3-2100 and the biggest graphics card I could afford would be a viable option.
The three boards we are looking at today are of slightly different price ranges – the ASRock H67M-GE/HT comes in at $120, the Gigabyte H67MA-UD2H for $125, and the ECS H67H2-M aims at the high end with $145. Technically, all our media samples are the B2 stepping, which Intel has recalled regarding the potential failure of the SATA 3Gb/s ports. If you remember, the predicted failure rate was up to 5% over three years. We have double-checked with all the manufacturers regarding their B3 versions of these products. All have responded that the boards will be the same as the B2s, and thus performance should be the same when the B3s come on sale.
So, without further ado, let us jump into the first board of the trio. ASRock, what have you got?
Overview
ASRock's H67 lineup consists of 6 boards, ranging from $100 to $140, in both micro-ATX and mini-ITX form. The H67M-GE/HT comes in at $120, and even comes with a USB 3.0 Front Panel with space for an SSD in there. After a blast with the board, I can safely say ASRock were aiming for the midrange.
Of note, the ASRock board falls down on the single thread benchmarks compared to the P67. On further inspection, it seems that in single threaded mode, the full 4x turbo was not being applied, but rather a 3x turbo was in place. It did hit the 4x turbo on occasion, for a minuscule amount of time here and there, but due to the 3x turbo implementation, the ASRock board falls behind. I emailed ASRock about this, and they responded that this is how the H67 is meant to work, which leads to the conclusion that, if the other H67 boards behave similarly, there are more stringent rules on what constitutes a single thread process on the H67 chipset from Intel themselves.
Visual Inspection
Typically, when I see a blue and white motherboard, I think Gigabyte. However, with Gigabyte moving towards a black livery on their high end boards, it leaves another company to barge in on the space – enter ASRock. Maybe blue and white ports are cheaper to produce or something.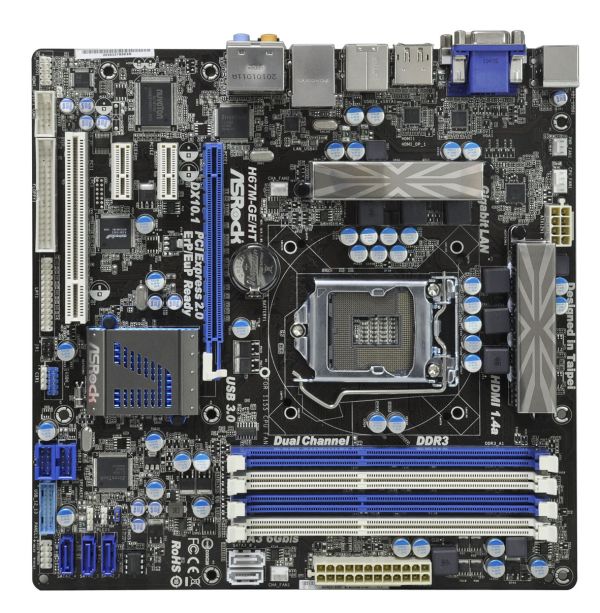 One of the first things to notice about this H67 board compared to any others are the small VRM coolers. The board offers a 4+2 digital VRM setup, four fan headers (three three-pin, one four-pin), and standard mounting holes for your 1155/1156 CPU coolers. There are also mounting holes for socket 775 coolers, making that old cooler last even longer. There is enough space to mount a number of large air coolers, or your favorite all-in-one water cooler.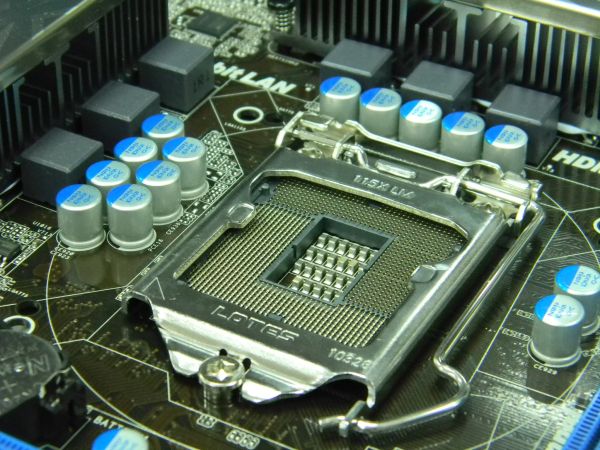 The low profile chipset cooler is used, so as not to interfere with large PCIe x16 cards. With a dual-slot PCIe x16 card, there is still access to a PCIe x1 and PCI slot; however I would have preferred one of the PCIe x1 slots above the PCIe x16. There are five SATA ports on board – two SATA 6 Gb/s (white) and three SATA 3 GB/s (blue). The SATA ports are sticking out of the board, contrary to what we have seen with the P67 boards so far – they are also facing each other, potentially making wiring more difficult if all 5 ports are being used.
We were not expecting debug LED and power/reset buttons on this $120 board, and true to form, none are provided. However, as you will see on the ECS board which comes in at $145 later in this combination review, they do come in on some H67 products. In our P67 reviews thus far however, the cheap ASRock P67 board had the debug LED and power/reset buttons and the more expensive ASUS/Gigabyte boards did not. This time, we are not so lucky. But with H67, maybe we do not need them. We will look into this later.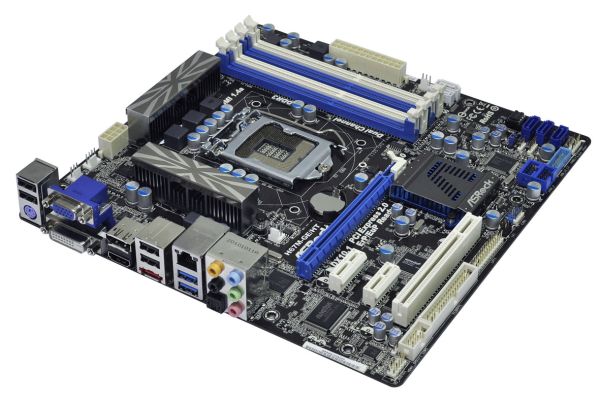 In terms of legacy connectors, we still have the floppy connector here, and the PS/2 port on the back panel. Onboard ports come in the form of 3 USB 2.0 headers, one USB 3.0 header, and an extra firewire port.

The back panel is not exactly brimming with connectivity, but we are looking at four USB 2.0 ports, two USB 3.0 ports, gigabit Ethernet, eSATA, audio, and quad display outputs – DisplayPort, HDMI, DVI-D and D-Sub.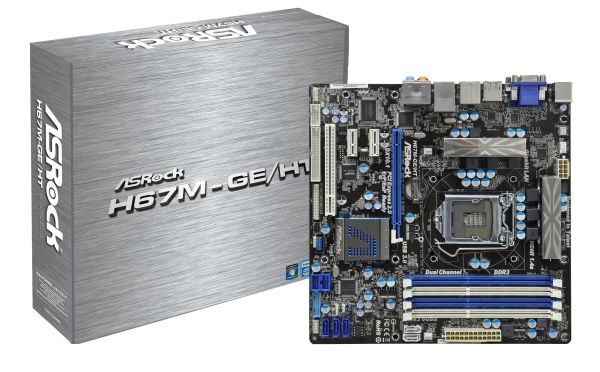 Board Features
Market Segment
Mainstream H67
CPU Interface
LGA 1155
CPU Support
i3/i5/i7 Sandy Bridge
Chipset
H67
Base Clock Frequency
100 MHz
DDR3 Memory Speed
1000 or 1333 MHz
Core Voltage
Auto
CPU Clock Multiplier
Dependant on CPU
DRAM Voltage
Auto, 1.2V to 1.8V in 0.015V increments
DRAM Command Rate
Auto, 1N or 2N
Memory Slots
Four 240-pin DDR3 DIMM slots in dual-channel
Regular unbuffered DD3 memory
Up to 32GB total supported
Expansion Slots
1 x PCI Express 2.0 x16 slot
2 x PCI Express 2.0 x1 slots
1 x PCI slot
Onboard SATA/RAID
2 x SATA 6.0 Gb/s ports (white) with RAID 0, 1, 5 and 10
3 x SATA 3.0 Gb/s ports (blue) with RAID 0, 1, 5 and 10
1 x eSATA 3.0 Gb/s ports
Onboard
2 x SATA 6.0 Gb/s ports (white)
3 x SATA 3.0 Gb/s ports (blue)
1 x Floppy connector
1 x IR header
1 x CIR header
1 x Print Port header
1 x COM port header
1 x HDMI_SPDIF header
1 x Power LED header
Front Panel audio connector
3 x USB 2.0 header (for 6 ports)
1 x USB 3.0 header (for 2 ports)
Onboard LAN
Realtek RTL8111E Gigabit Ethernet
Onboard Audio
Realtek ALC892 7.1-Channel HD Audio
Power Connectors
24-pin EATX Power connector
8-pin EATX 12V Power connector
Fan Headers
1 x CPU Fan connector (4-pin)
3 x Chassis Fan connectors (3 x 3-pin)
1 x PS/2 Keyboard Port
I/O Panel
1 x D-Sub
1 x DVI-D
1 x HDMI Port
1 x DisplayPort
1 x Optical SPDIF Out Port
4 x USB 2.0 Ports
2 x USB 3.0 Ports (Etron EJ168A)
2 x eSATA 3Gb/s Port
1 x LAN (RJ-45) Gigabit Ethernet
Audio Connectors
BIOS
1.3
In the Box
I/O shield
USB 3.0 front panel
USB 3.0 rear bracket
Anaglyph Red-Blue 3D Glasses
2 x SATA cables
4 x HDD screws
6 x Chassis screws
My favorite addition to a Sandy Bridge motherboard packages comes in again – ASRock like supplying a USB 3.0 front bracket with their motherboards that comes with a space to put in an SSD – easily a product of $15 value if it were available separately. Also in the package is a pair of retro anaglyph 3D glasses if you own any video in red-blue 3D format.
The motherboard also comes with an infra-red receiver and remote control, designed to work with your Media center software. The infra-receiver must be connected to a front-panel USB which is in turn connected to the CIR motherboard connector: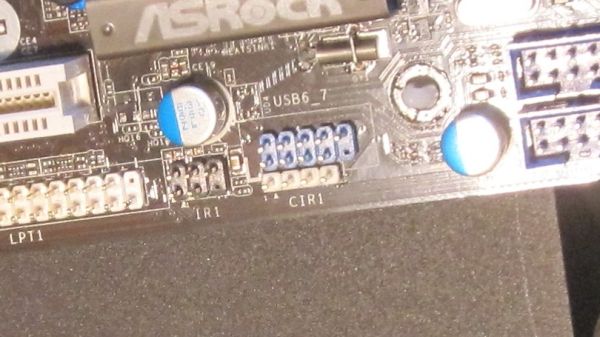 Instructions to install this are all in the manual. The manual was oddly not on the CD we received with the motherboard, but is available online. The remote itself seems fairly generic, but does not have a flashing LED to signify when you are pressing a button (a must-have for any remote control in my opinion), but the package does come with two CR-2032 coin batteries for the remote.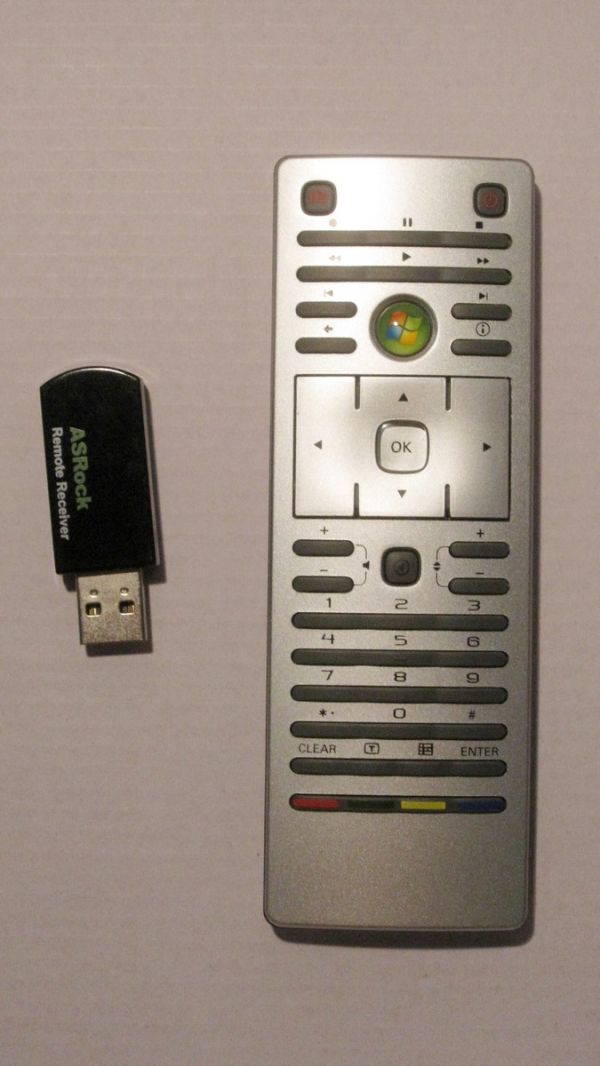 Software
As with the P67 Extreme4 review, ASRock have packaged most of their utilities into one program, making it quicker and easier to install and uninstall. With their CD, apart from the driver updates, ASRock include three programs:
ASRock eXtreme Tuning Utility (AXTU)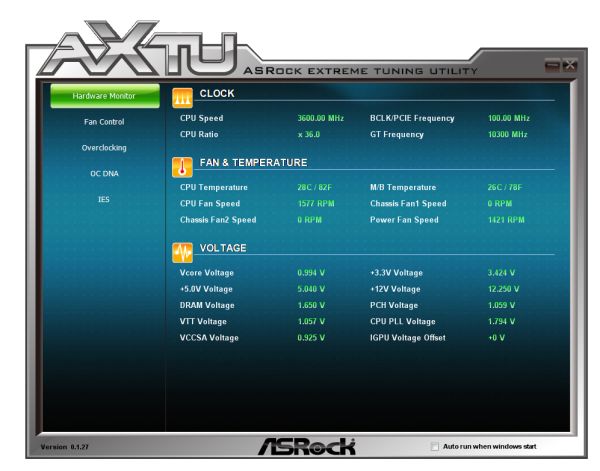 The AXTU that ships with the H67M-GE/HT is essentially the same software that comes with the P67 Extreme4, except it comes with all the extras required for on-processor graphics. Though as you might be able to tell from this first picture, it cannot exactly read the frequency of the graphics side accurately. Mind you, I would love a 10300 MHz GPU!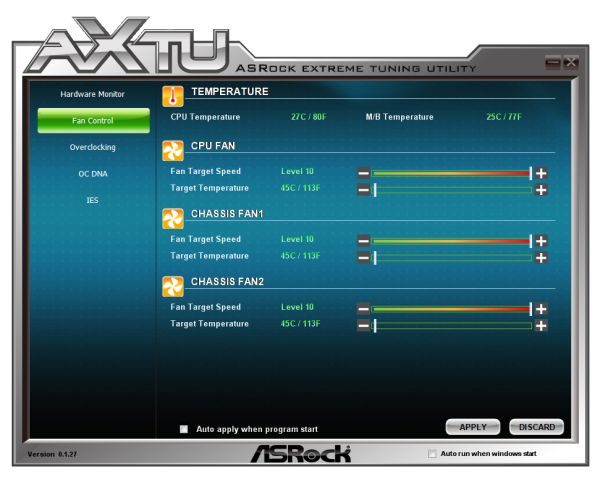 The fan control is pretty standard for ASRock fare – out of the headers on the board you can control the CPU fan and two of chassis fans. The AXTU will define a power curve/line for the fans given your suggested target temperature and max speed. Ultimately this is not the most awesome utility in the world for fan speeds, but it does the job it is programmed to do.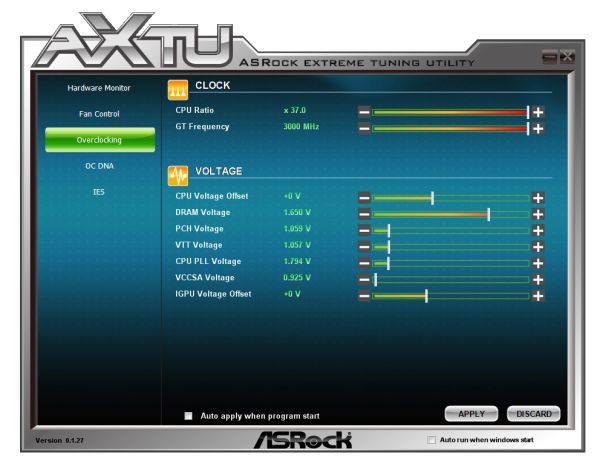 The overclocking section of the AXTU allows the standard selection of voltages, but also the CPU Ratio and Graphics frequency. In this case, you can define the maximum CPU Ratio – as we are using a 2500K on H67, it is a 37x limit on the single-core with turbo boost. The graphics frequency setting allows all the way up to 3000 MHz in 50 MHz steps, but as with all these options, requires a reboot. Even then, just because you selected it does not mean it is stable. Have a quick gander on my overclocking results for this board to see what I mean.
ASRock Instant Boot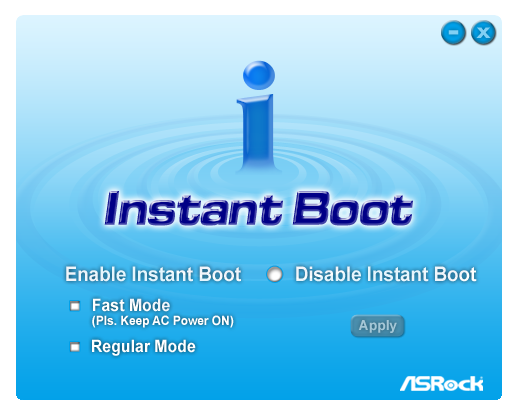 ASRock's Instant Boot is designed to help decrease the time to boot, by when you select shutdown, it will perform a full restart, then kick a form of hibernation in and enter low power mode. Thus when you press the power button next, the OS will appear a lot quicker than a full boot. As the CPU stays at stock on H67, we found no issues with Instant Boot.
ASRock XFast USB
If you remember XFast USB from our previous ASRock article, then you may remember that when installed and enabled, it essentially blew the competition away in terms of read/write and our standard copy benchmark. It is no exception on H67. There's a lack of information online as to exactly how this software works, and the line from ASRock is that the 'XFast USB software modifies part of the USB driver, allowing it to multi-task and enhance the performance - ASRock are continually tuning the performance for better results'. In practice, this works really well.
UEFI
The ASRock UEFI we have with the H67M-GE/HT is almost identical to the P67 UEFI – a series of BIOS options on a graphical interface with use of a mouse. Alongside the booting speed benefits of the UEFI, it is pleasing to see that the graphical interface is going to become the future. The ASRock UEFI is an 8MB file, double the size of the ASUS and Gigabyte equivalents (excluding GB's dual boot BIOS system), so there is plenty of room to grow.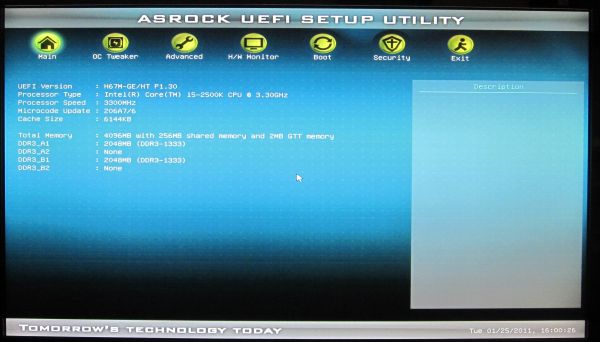 As before, you will find that in the UEFI, the mouse wheel does not work. This is not a massive deal-breaker, by any means. I still prefer using the keyboard to navigate all the options, and I had no issues in using the arrow keys. You cannot use the number pad to put in voltages and such, which would be a nice touch.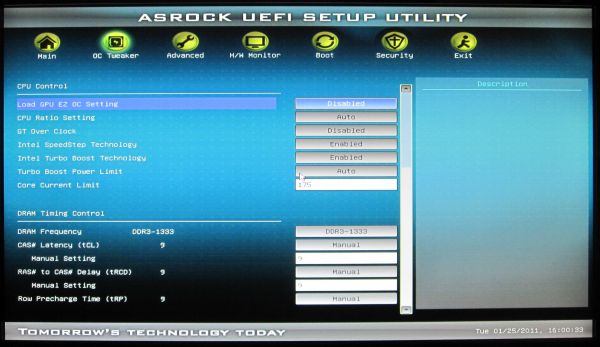 The main difference between the P67 and the H67 versions of the ASRock UEFI is the overclock options which allow the GPU overclocking. The GPU EZ Settings give options between 1400 and 1600 MHz options with my 2500K, all of which work off the bat (see the overclock section below). The memory OC options are also fairly similar to the P67, except here you will only get a choice of Auto, DDR3-1000 or DDR3-1333 MHz options. All the timings are adjustable too.
Overclocking
Overclocking for the H67 series of motherboards is limited to the integrated GPU only. On our 2500K ES processor, we have Intel's latest HD3000 integrated graphics solution, containing 12 EUs (similar to NVIDIA CUDA cores or AMD SPs) which run at 850 MHz standard and 1100 MHz turbo.
The UEFI or BIOS implementation essentially determines how you overclock the integrated graphics solution. In this instance, while the ASRock AXTU software allows changing the graphics speed, a restart is required each time it is used. Inside the UEFI itself, you have two overclocking options.
Firstly, is the predefined easy overclock option. On ASRock boards of late, I have been enjoying this option, as more often than not, just one click and it works. The ASRock H67M-GE/HT gave three options with my 2500K – 1400, 1500 and 1600 MHz. Each of these modes worked flawlessly first time, no problems. On Metro 2033 1024x768 on Normal graphics, an increase from 17.67 fps at default to 21.50 fps was seen at 1600 MHz.
The other option to overclock via the UEFI is manually increasing the speed in 50 MHz jumps, up to a 3000 MHz option. Also combined with this is an IGP voltage offset setting, allowing +0.05 V to +0.25 V in 0.05 V jumps. Below are the results from slowly increasing the MHz and increasing the voltage as required when the benchmark became unstable: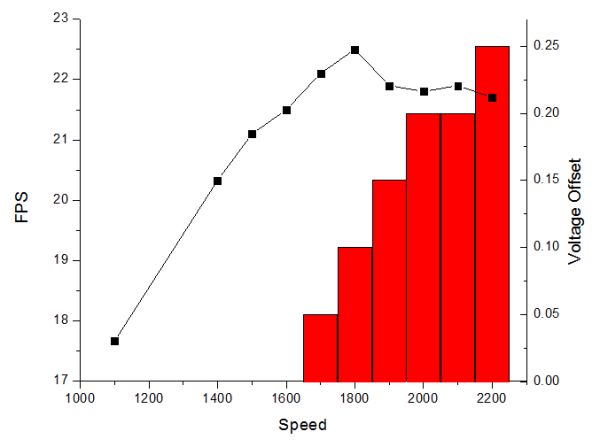 What was interesting to me was that I was able to boot easily, and the only failures came during heavy GPU usage. At 1900 MHz, the fps decreased, to which I was initially confused about. I upped the voltage further (to +0.25V) but to no avail, still got 21.90 fps. Even upping the power limits to 150 W, and the core current limit to 200 A, no change is observed. This leads me to the conclusion that at a certain point, the GPU will clock back to a safe(r) value (even if GPU MHz monitoring tools keep reporting the UEFI selected value), no matter what voltage setting is chosen, and there may be a peak in terms of performance which is fine tunable. This will be confirmed by testing other boards.
The best OC gave:
- Metro2033: 22.5 FPS, up 27.3% from 17.67 FPS
- Dirt2: 29.6 FPS, up 10.0% from 26.93 FPS
Overview
Truth be told, I have not played with an ECS board in quite a while. Every chipset, they come in with some product that does not really hit the radar – either in terms of price, availability, or performance. Last year at Computex, they snapped up the award for 'Best IC & Components', and even showed off some of their P67 offerings (one of which will be subject to review in the near future). In actual fact, ECS has 14 models of Sandy Bridge capable motherboard listed on their website – 4 P67, 6 H67 (1 ATX, 4 Micro-ATX, 1 Mini-ITX) and 4 H61 – so they're definitely targeting a wide range of markets here.
After testing this board, I come away with mixed feelings. There are certain things that ECS does quite well – the eJiffy application, 2D performance is quite good, idle power with no GPU is 13W lower than the ASRock H67, has a Debug LED and Power/Reset buttons on the board, and SATA write speeds. However, there are plenty of things that the board does very poorly on – the BIOS is woeful, overclocking is non-existent, real-world USB performance lags behind the competition, and as the most expensive board in this roundup, leaves me scratching my head what that extra $20 is spent on.
Similar to the ASRock H67 board we tested, the ECS also fails to implement the maximum CPU turbo multiplier properly. In single threaded mode, the CPU would run at a 3x multiplier increase rather than the 4x we are lead to believe. It would vary rarely hit the 4x multiplier, but not in any constant sense. In pure throughput terms, this makes the board perform worse than the P67 boards at stock, but as it has happened to all the boards here, then this must be down to a feature of the H67 chipset.
This board also defaults the RAM to a higher specification than some other boards. If your kit is better than 1333 MHz C9, the memory will be set to 1333 MHz, 8-8-8-24 timings. If the kit is 1333 MHz C9, then 1333 MHz C9 will be chosen. These timings are oddly unchangeable in the BIOS.
The ECS H67H2-M is a 'Black Series' edition ECS board, their premium H67 Micro-ATX model, and was available at retail for $140.
Visual Inspection
Despite what I said above, this board is quite aesthetically pleasing, as motherboards go. The black and white livery provides stark contrast against offerings by other vendors, who like to stick to the blue and white scheme. The VRMs are covered by a pair of heatsinks connected via pair of heat-pipes, and are considerably larger than those seen previously on even P67 boards. This could be that ECS may have gone for cheaper VRMs that produce a little more heat to increase some profit margin, at the expense of VRM cooler size, and indeed the heatsinks are hotter to touch than the other boards, even when left at idle.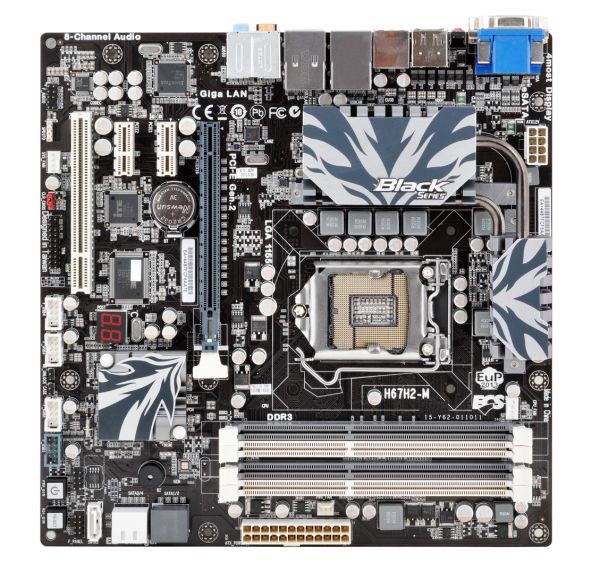 The socket itself has no trouble fitting the stock cooler or my Corsair H50-1 water cooling solution. While there could be an issue fitting some larger coolers, one would not be needed, as H67 does not support CPU overclocking. The Intel stock cooler does its job here quite easily, even at full load. However, if you are going down the Corsair H50 route, there are not enough fan-headers to go around – I found one for the pump and one for one of the fans, but you'll need a fan extension cable and/or a 3-pin to molex converter to get a second fan enabled, if you're that way inclined.
The board contains 5 SATA ports – two SATA 6 Gb/s and three SATA 3 Gb/s. All but one of these ports are angled. Underneath these are the Power/Reset buttons, a welcome addition on any board, and usually paired with a Debug LED, which is located to the left of the chipset cooler. The front panel connector here does not have the labels applied directly – you will have to hunt around the PCB to find which pin is which. There is also no USB 3.0 header on the board, so all USB 3.0 has to be via the back panel.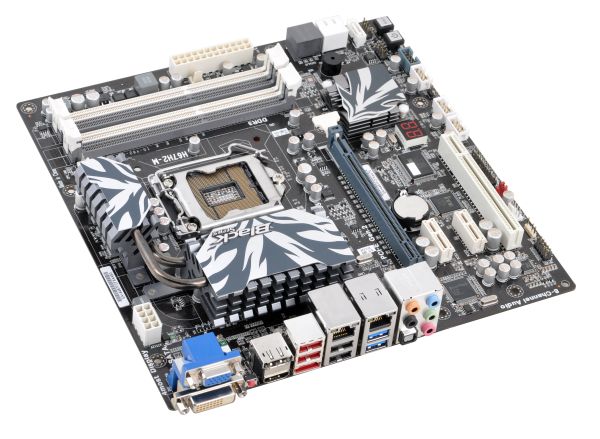 The PCIe slots are laid out in an x16, x1, x1, PCI configuration, which leaves an x1 and the PCI slot free in case of dual cards. I would have preferred an x1, x16, x1 arrangement at the top, as if you have a RAM fan cooler (such as the G.Skill we used in testing), having a dual slot long card in the PCIe x16 doesn't let you fit that RAM cooler. But in changing the configuration of the PCIe, something would have to be done about the lone SATA port sticking out of the board.

The back panel of the board contains the standard four video outputs with H67 – D-Sub, DVI, HDMI and DisplayPort. We also have 4 USB 2.0 ports, 2 USB 3.0 ports (powered by an Etron controller), one eSATA 3 Gb/s port, a set of Audio ports including SPDIF out, and two Gigabit Ethernet connectors, which is a surprising addition on a H67 board. Technically these ports (powered by Realtek RTL8111E controllers) support Teaming, to double the combined input/output if and when required – this is a very specific application but a more than welcome addition. You will notice that ECS do not include PS/2 ports on the back panel, though.
Board Features
Market Segment
Performance H67
CPU Interface
LGA 1155
CPU Support
I3/i5/i7 Sandy Bridge
Chipset
H67
Base Clock Frequency
100 MHz
DDR3 Memory Speed
1333 MHz, CL8 8-8-24
Core Voltage
Default, +20 mV to +320 mV offset in 20 mV increments
CPU Clock Multiplier
Dependant on CPU
DRAM Voltage
Default, -800mV to 630mV offset
DRAM Command Rate
Auto, 1T, 2T
Memory Slots
Four 240-pin DDR3 DIMM slots in dual-channel
Regular unbuffered DD3 memory
Up to 32GB total supported
Expansion Slots
1 x PCI Express 2.0 x16 slot
2 x PCI Express 2.0 x1 slots
1 x PCI slot
Onboard SATA/RAID
2 x SATA 6 Gb/s ports (grey)
3 x SATA 3 Gb/s ports (white)
1 x eSATA 3 Gb/s port
Onboard
2 x SATA 6 Gb/s ports
3 x SATA 3 Gb/s ports
1 x TPM Header
1 x Onboard buzzer
1 x Power button
1 x Reset button
Debug LED
1 x S/PDIF Out header
4 x USB 2 connectors support additional 8 USB ports
Front panel audio connector
1 x Clear CMOS header
Onboard LAN
Dual Realtek RTL8111E Gigabit Fast Ethernet Controllers with Teaming
Onboard Audio
Realtek® ALC892 8-Channel HD Audio
Power Connectors
24-pin EATX Power connector
8-pin EATX 12V Power connector
Fan Headers
1 x CPU Fan connector (4-pin)
1 x System Fan connector (4-pin)
1 x Chassis Fan connector (3-pin)
I/O Panel
2 x USB 3.0 ports
4 x USB 2.0 Ports
1 x D-Sub
1 x HDMI Port
1 x DVI Port
1 x Display port
2 x RJ45 LAN connectors
1 x Audio port (Line-in,4x Line-out, SPDIF out)
1 x Clear_CMOS button
1 x eSATA 3Gb/s port
BIOS
03/02/2011
An interesting feature on the board is the dual gigabit Ethernet, which supports Teaming, whereby with two cables, the motherboard can utilize both ports for a combined input and output. Unfortunately, the only way that this is relevant to most end users is if the ECS is the bottleneck and you have a 10 Gbit network with a 10 Gbit send/receive source. In that context, the ECS board will hit a peak of 2 Gb/s. The other alternative is to connect the board to two separate networks.
In The Box
I/O Shield
4 Locking SATA cables
1 eSATA bracket
The addition of 4 locking SATA cables is definitely welcome. They are not angled, but that entirely depends on the individual case and hard-drive setup. This isn't as much as what is included with the ASRock board, but similar to the Gigabyte.
Software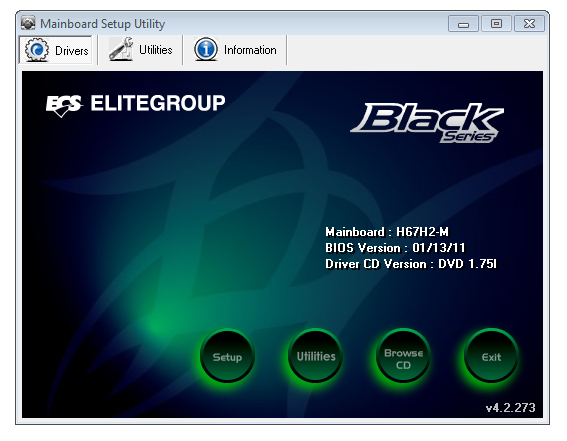 The installation CD supplied with the motherboard is fairly easy to navigate – one click on the setup section applies all the drivers related to the motherboard. Though in Windows, I was getting a screen saying 'Windows can't verify the publisher of this driver software', meaning I had to click 'Install this driver software anyway' around 10 times.
The main software packaged on the CD is eJiffy, a quick bootable Linux package, eBLU (easy BIOS Live Update), eDLU (easy Driver Live Update), and eSF, the smart fan utility. While these utilities do not go as far as other vendors offerings in terms of complexity, they are simple, quick, and easy to use.
eJiffy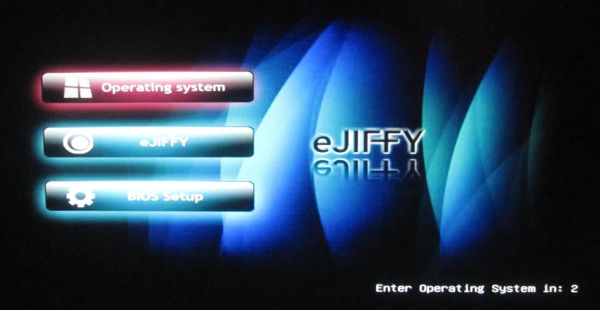 eJiffy is a neat little tool that provides an alternative boot option at startup. Rather than loading the main windows OS, it provides a menu with an 8 second timer giving the option to load into Windows, to load into eJiffy, or easy access into the BIOS.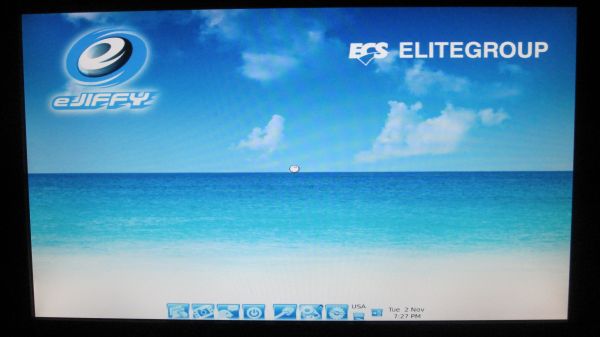 When selecting the eJiffy option, you are greeted by a very fast booting front end with two main options – an internet browser called eWeb, and simple messaging software called ePal. The internet browser, presumably based on Mozilla, had no problems with flash heavy websites, and seemed as fast as how I find Chrome 10 in Windows.
I quite like this software – easy to use and provides a quick interface to look things up on the web.
eBLU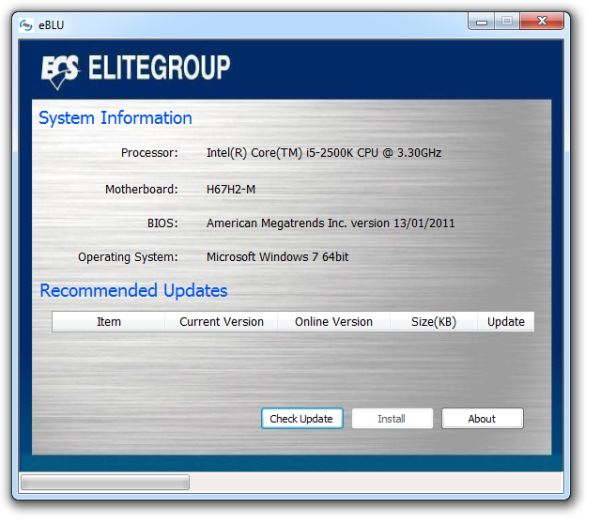 The BIOS Live Update utility connects to an ECS server to search if a newer BIOS version is available, and then happily installs it in the OS. It also checks itself for newer versions of eBLU online, which is good.
eDLU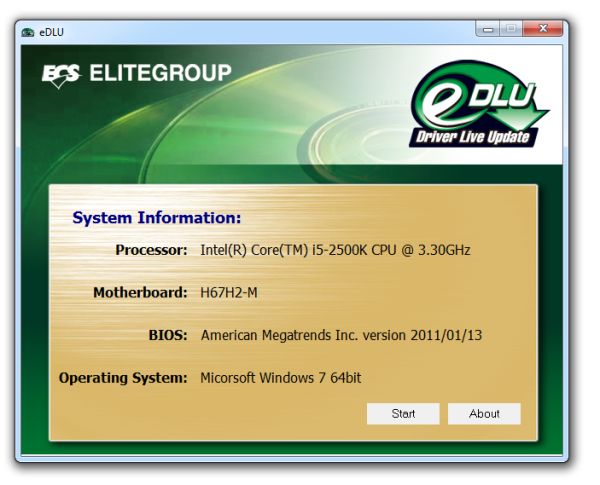 The Driver Live Update option does not directly compare the drivers currently installed on the system to their up-to-date counterparts on the ECS website, but take you straight to the download section for the motherboard on the ECS website. A direct driver to server version comparison tool would be a big boost to this board, but unfortunately, this is not it.
eSF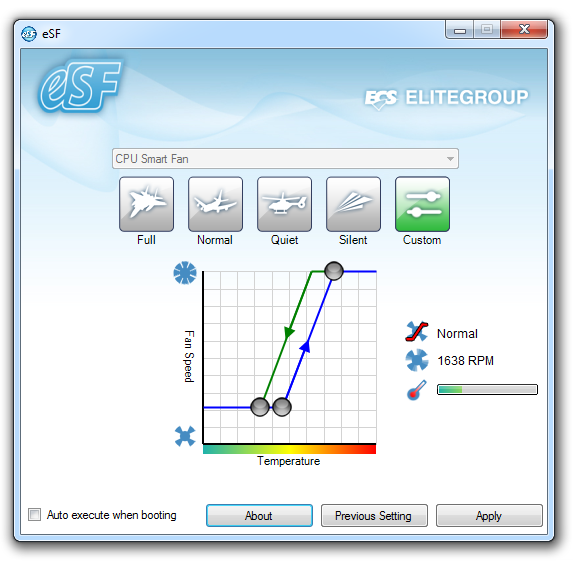 The Smart Fan utility for the board seems fairly good, until you realize that it only controls one fan header on the board.
BIOS
Out of the Sandy Bridge chipset UEFI/BIOSes I have seen so far, the ECS implementation, whilst functional, is not breaking any new ground. In actual fact, it can be a bit of a pig to use. It is not always obvious where options are for a start.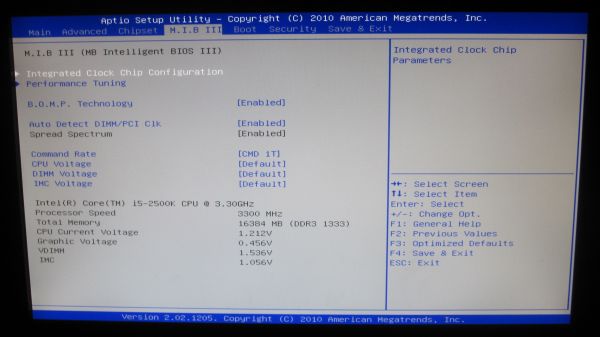 There is no main screen to see what you have got installed, what voltages are being applied, what temperature it is running at, what DIMMs you have installed, etc. The best is this screen shown above, which gives the processor, some voltages and total memory. There is another screen with similar information and the 'system temperature', which could either be the CPU, or the Chipset, or an average of the two.
The smart fan options give you Normal/Quiet/Silent/Manual, and all the options above (except CPU Fan Full Speed Offset) can be changed. There is no high performance option if you want/need the fan on full all the time however.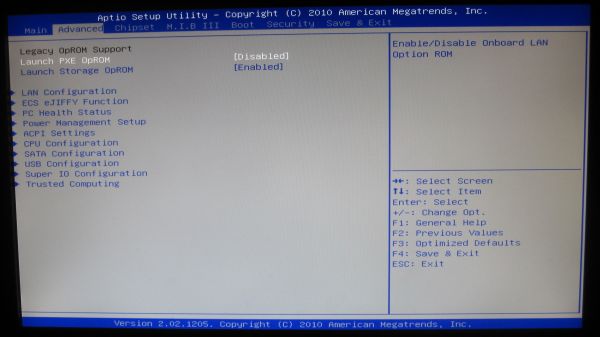 A lot of the BIOS options are embedded in the Advanced Menu, and in one of the subsequent sub-menus within. A lot of these sub-menus have a single option or two, meaning that there is constant flicking between them if you want to check every system setting. Not exactly the best way of organizing a BIOS in my opinion – and seasoned BIOS users are used to pressing F10 on almost all motherboards as the button for 'Save and Exit'. ECS have confusingly set this to F4.
One positive option I like in the BIOS, which is not available in various UEFIs such as the ASRock, is the ability to perform a one-off boot selection from a different device, such as a bootable USB, without having to change the order of the boot devices both before and after what you have done.
Also, as I mentioned previously, there is an oddity with the RAM timings on the board. If your kit is 1333 MHz C9, then the board will run them at 1333 MHz C9. If your memory is faster than this, it will default to 1333 MHz 8-8-8-24. Also, these timings are unchangeable in the BIOS itself. While H67 boards will not go above 1333 MHz, usually the sub-timings are interchangeable at least.
Overclocking
Overclocking on the ECS board was difficult, confusing, and initially fruitless. The i5-2500K we used has an 850 MHz Intel HD 3000 Graphics core, with a Turbo Boost up to 1100 MHz. However, in the ECS BIOS options, there is very little to change.
If you can find the OC options by going through the MIB III -> Performance Tuning -> Chipset Configuration menus, there are three different options: Current, Ratio, and Voltage. The Ratio option is obviously the critical one here, but surprisingly it gives options between 17x and 60x but doesn't tell you what value that multiplier is multiplied by – naturally, we assumed 100 MHz given the bus speed, but this isn't the case here. After much testing thinking it was 100 MHz, ECS indirectly have told us that this is multiplied by 50 MHz to give the integrated graphics speed, which is inline with what we saw on the ASRock board.
Putting the multiplier at 28x gave 1400 MHz on the integrated GPU, which ran Metro2033 fine. All the way up to 34x (1700 MHz) also worked without increasing the voltage, and gave 22.32 FPS for Metro2033. At 36x (1800 MHz), the OS loaded fine, but then became unstable – upping the Graphics Voltage to 0.1V made this stable, but gave no difference in FPS from 1700 MHz. At 38x (1900 MHz), again the OS was fine, but still no FPS difference (22.37 FPS) at the same voltage. To double check nothing was wrong, I upped the Graphics Current from Normal to Max, at which point Metro2033 crashed on its first run. At 40x, 42x and 44x, the same thing happens – no FPS increase.
This behaviour is similar to the ASRock board, except rather than hitting a maximum and decreasing, the ECS board levels out: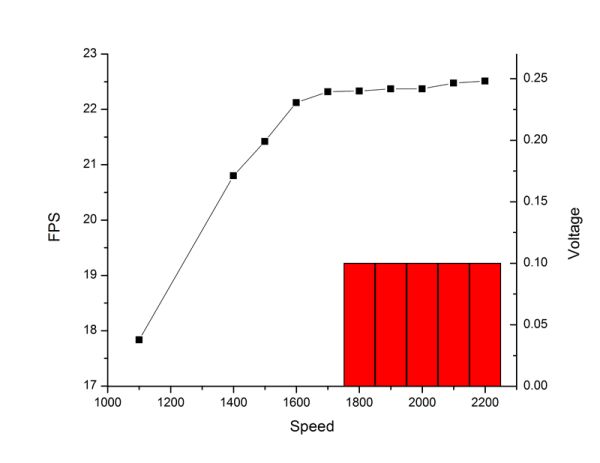 For a 'Black Series' moniker on a board, the GPU overclock does well. Overclock results were:
- Metro2033: 22.33 FPS, up 26.2% from 17.7 FPS
- Dirt2: 32.2 FPS, up 18.95% from 27.07 FPS
Overview
The Gigabyte H67MA-UD2H is technically one of sixteen (!) H67 products that Gigabyte have listed on their website. Due to the issue regarding Intel and the chipset recall, Gigabyte have re-released all their boards with the new B3 stepping, and modified their name to match. So the H67MA-UD2H we are testing here is the equivalent of the H67MA-UD2H-B3, but in reality they are the same motherboard, and perform the same, apart from the minor chipset error changed. We expect the UD2H-B3 version to retail at the same as well - $125.
The UD2H has a similar issue to the other two boards tested here today, in that while it states in the BIOS that under single thread loads, the processor should invoke its turbo mode from 33x multiplier base to 37x. In reality it stays for most (98%+) of the time at the 36x multiplier, and very rarely hits 37x, even for short periods of time. I was initially told by ASRock that this is an Intel specification, and it does seem that way. As a result, I can only conclude that by buying a H67 board, consumers are losing that last turbo boosted multiplier under single thread environments. Tsk.
After testing the motherboard, it was a mixed bag of joy and disappointment. On the one hand, the UD2H was the only board out of the three H67 we test here that allowed some form of CPU Overclocking. At first glance in the BIOS, I thought it was better than expected given some of the options (it looked like I could set the CPU to the max turbo multiplier for 100% of the time), but delving deeper I discovered this was not the issue. The 3D performance wasn't stellar, and the motherboard only has two fan headers on board, meaning my Corsair H50 could only have both fans rotating with an additional 3-pin to molex connector. The design is also a little different…
Visual Inspection
Gigabyte has taken a different tack to ASRock and ECS is our little H67 combined product review – the layout of the board is different (PCIe x4 instead of a PCI) for a start. The SATA ports are all further into the board, and the RAM slots are further away from the 24-pin power connector, leaving a relatively large gap on the board.
With the SATA ports further into the center of the board, and also angled 180° compared to previous manifestations I have encountered, it makes it a little trickier to fit cables in when the board is in a case and a dual slot GPU is present. The PCIe configuration is x16, x1, x1, x4 (electrical), and thus does away with the PCI slots seen on the other boards. Technically these boards do not support Crossfire, and I attempted to fit two GPUs into the board for testing. However, my 5850s are long, dual slot GPUs, and obscure the SATA ports which prevent me testing. Perhaps two short, single slot cards would fit, but unfortunately I have none available to test with.
Another point of interest is the board color – Gigabyte are known for their black and blue boards. But as seen in my review of the P67A-UD4, Gigabyte was veering towards a purely black scheme, as it apparently helps overclocking, according to Gigabyte. As H67 is not a CPU-OC chipset, Gigabyte may have forgone the 10¢ of color and passed the savings on to the consumer. Possibly.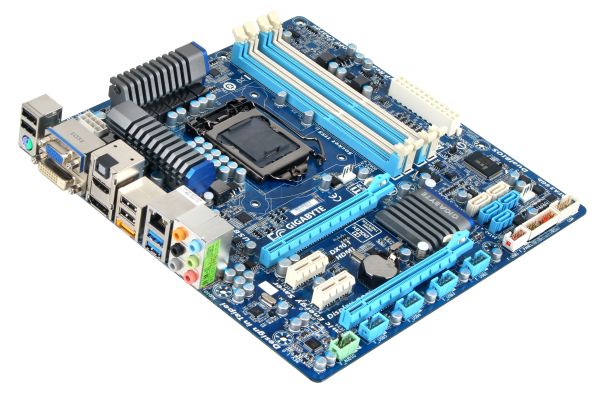 Along the bottom are a plethora of USB headers, but no fan headers. In fact, this board is somewhat lacking fan headers – there is one for the CPU, which is oddly south of the CPU socket, and another next to the SATA ports. Trying to fit a Corsair H50 required some deft placing of the cooler or a fan extension lead, and the second fan required a 3-pin to molex connector.

While no legacy floppy drive connector on board, the PS/2 port in here, along with four USB 2.0 ports, two USB 3.0 ports, the four standard H67 video outputs (D-Sub, DVI-D, HDMI and DisplayPort), a SPDIF_OUT port, an eSATA 3Gb/s port, and the standard Realtek audio inputs and outputs. While there is not a Clear CMOS button, the onboard systems are quite handy at moving into a bootable mode when unbootable settings are chosen.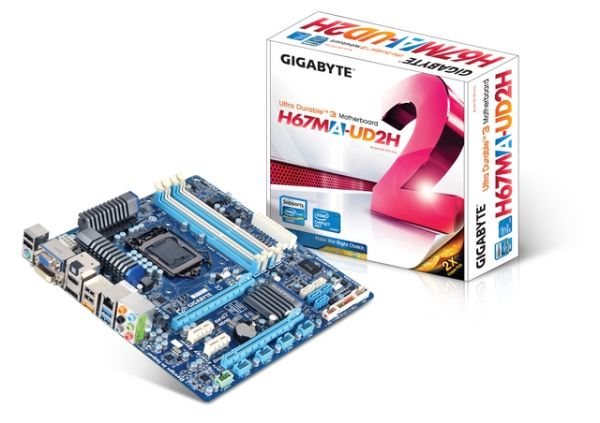 Board Features
Market Segment
Mainstream H67
CPU Interface
LGA 1155
CPU Support
I3/i5/i7 Sandy Bridge
Chipset
H67
Base Clock Frequency
100 MHz
DDR3 Memory Speed
1333 MHz, CL9 9-9-24
Core Voltage
0.750 V to 1.795V in 0.005 V increments
CPU Clock Multiplier
Dependant on CPU
DRAM Voltage
1.100 V to 2.400 V in 0.020 V increments
DRAM Command Rate
Auto, 1T to 3T
Memory Slots
Four 240-pin DDR3 DIMM slots in dual-channel
Regular unbuffered DD3 memory
Up to 32GB total supported
Expansion Slots
1 x PCI Express 2.0 x16 slot
2 x PCI Express 2.0 x1 slots
1 x PCI Express 2.0 x4 slot (electrical)
Onboard SATA/RAID
2 x SATA 6 Gb/s ports (white)
3 x SATA 3 Gb/s ports (blue)
1 x eSATA 3 Gb/s port
Onboard
2 x SATA 6 Gb/s ports
3 x SATA 3 Gb/s ports
2 x Fan Headers
1 x Front Panel Header
1 x Front Panel Audio Header
1 x S/PDIF Out Header
1 x Serial Port Header
5 x USB 2.0 headers supporting 10 USB 2.0 ports
Onboard LAN
Gigabit Ethernet, powered by the Realtek RTL8111E
Onboard Audio
Realtek® ALC892 7.1-Channel HD Audio
Power Connectors
24-pin EATX Power connector
8-pin EATX 12V Power connector
Fan Headers
1 x CPU Fan connector (4-pin)
1 x System Fan connector (3-pin)
2 x USB 3.0 ports (blue)
I/O Panel
4 x USB 2.0 Ports
1 x D-Sub
1 x HDMI Port
1 x DVI Port
1 x Display port
1 x RJ45 LAN connector
1 x Audio port (Line-in,4x Line-out, SPDIF out)
1 x eSATA 3Gb/s port
BIOS
Dual BIOS system, F8
No Power/Reset buttons, no Debug LED, no dual gigabit Ethernet (like the ECS board), and a lack of fan headers, but we do have the Dual BIOS system which Gigabyte stick to every board.
In The Box
4 Locking SATA cables, 2 of them right angled
Support CD
Not a lot comes with the H67MA-UD2H, which is a bit disappointing given what comes with the ASRock at a similar price point.
Software
As with the P67A-UD4 we have already reviewed, the software is pretty much the same, apart from minor adaptations for the H67 chipset. I found it mildly amusing that during the standard driver install on the disk, it quoted me 490 minutes for a full install – in reality it took less than five, but it brings me memories of the old Windows 'time to finish' function.
EasyTune6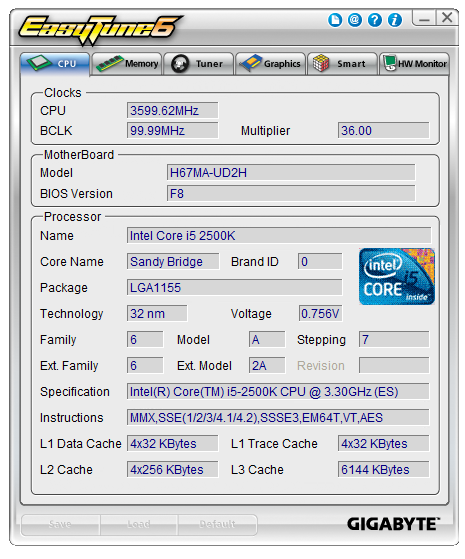 The front screen on EasyTune this time gives the CPU data, as well as the Motherboard model and BIOS version. Previously we saw an 'easy OC' screen on EasyTune, and we do not get one here for GPU overclocking.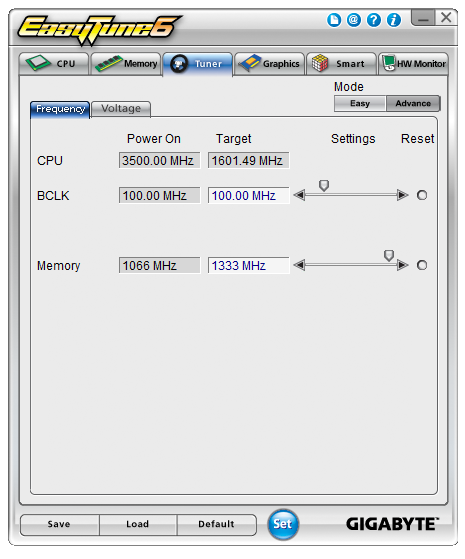 The more intricate overclocking screen for EasyTune is still present though – in Advance mode, we have options to adjust the BCLK and the Memory; however the memory is limited to the 1333 MHz divider, as per H67 specifications. Any changes to the BCLK require the 'Set' button to be pressed and a reboot. The voltage screen is essentially similar to the options you get in the BIOS.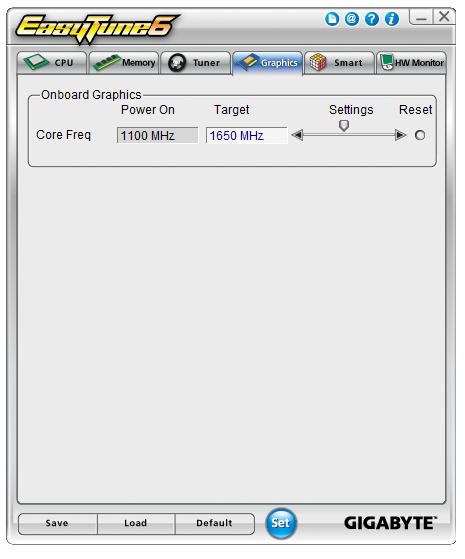 Rather than keep all the OC options on one screen, or recreate them to make them all on one screen, the integrated GPU overclocking options are in the graphics section only. Another slider bar and this one goes all the way up to 3000 MHz in 1 MHz divisions.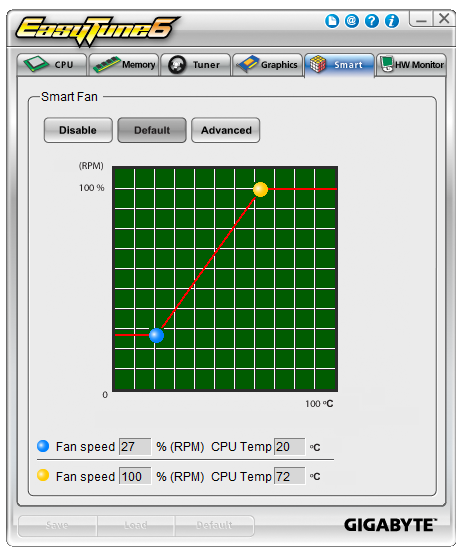 The fan controls are straight forward, given that there is only one fan you can control.
Smart6

Smart6 is identical to previous versions so I will not repeat it here, but QuickBoost in this iteration does not do anything, as there is no CPU overclocking on this board.
BIOS
One handy tip for a Gigabyte board is to update to the latest BIOS, then on the next boot, press CTRL + F12. The board will then ask if you wish to swap BIOSes between the two BIOS chips. Select yes, let the board copy them over, then when back in the OS, update the BIOS again. That way, if unbootable settings are chosen and the board needs to use the recovery BIOS, it will be the same version as the one you had before.
While still not on the full graphical UEFI bandwagon yet, Gigabyte's BIOS-like UEFI system is relatively rock solid and simple to use. In the P67A-UD4 review, I did have a go at Gigabyte for not jumping on the graphical bandwagon, especially when P67 is where the majority of enthusiasts will be headed, but in H67 it is a bit of a different playing field.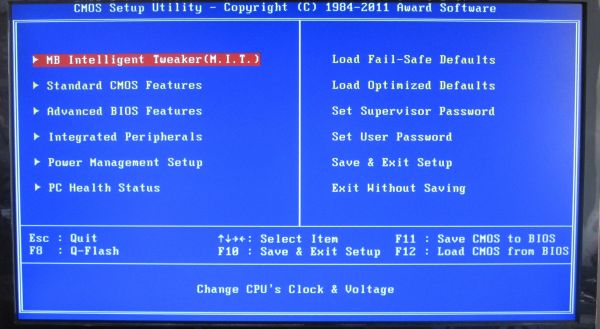 The classic system splits the overclocking options into one menu (the MB Intelligent Tweaker), chipset options into another, boot options into another etc. It isn't a flashy UEFI, but smile, Simple Makes It (a) Lot Easier.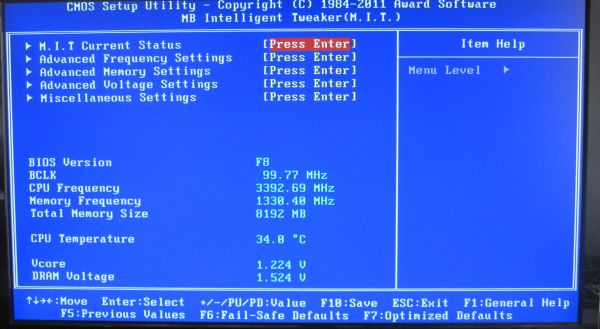 The M.I.T. shows all the simple information a BIOS/UEFI should for an overclocker at least – BIOS version, BCLK, CPU frequency, memory frequency, memory size, CPU temperature, VCore and DRAM voltage.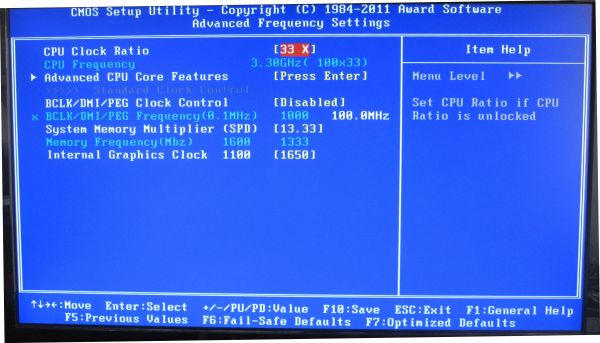 I will not delve into all the options as we have covered them before and 99% are self explanatory, though a few points are worth mentioning. The overclock menu shows the CPU Ratio – at first glance, I was under the impression that I could boost this to 37x and have that as my constant CPU ratio, when any load is applied. Alas, this is not the case, though it would be a nice H67 addition, and seemingly easily implementable. The BCLK on this board is fully controllable, in increments of 0.1 MHz – I delve into this a bit more in the overclocking section. Also, the graphics clock is adjustable in 1 MHz increments. This suggests that the integrated GPU is not as simple as a GPU multiplier and the BCLK – each MHz is individually selectable. This allows much better fine grade tuning of a GPU overclock over both of the other boards in this review.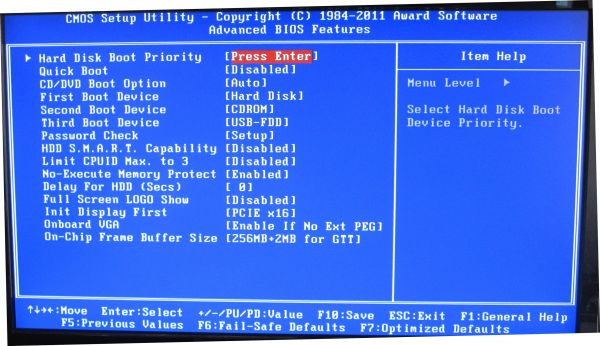 Another point is the selection of the on-chip frame buffer for the integrated GPU. Gigabyte has made it easily selectable, but it has oddly coupled it into the boot options menu and not the M.I.T. Even still, it is adjustable from 32 MB to 480 MB in 32 MB increments.
Overclocking
Due to this motherboard having that BCLK adjustable option, I'm splitting up the overclock section into two this time around, one for CPU and the other for the integrated GPU.
CPU Overclocking
The CPU overclock is straightforward – keep bumping up the BCLK until it's unstable, then scale back a little. In terms of instability, the board made this clear for me by failing to boot into the OS. Take note of what raising the BCLK on a Sandy Bridge chipset actually does – as it raises the base clock of the whole system, everything is increased – CPU frequency, memory, PCIe lanes, SATA ports, USB ports etc. So here you really are limited by the lowest common denominator. If you push the BCLK hard and raise the CPU voltage, it may be pushing something else a bit too hard and lead to failure (like the B2 stepping SATA 3 Gb/s ports).
With my overclock, I knew my chip was capable of 103.5 MHz BCLK (and the memory of 2133 MHz C8, thus plenty of headroom for memory from 1333 MHz C9), so I put that in straight away, adjusting no voltages. The system booted into the OS fine, so I went back and kept raising the BCLK by 0.5 MHz. Instability came in at 105.5 MHz, so I downclocked back to 105.0 MHz, where it was stable. The 105.0 MHz gives the CPU a base clock of 33x105 = 3.465 GHz, and technically an all around 5% rise.
In the 3D Movement Algorithm test, the OC scores were:
- Single Thread: 118.37, up 4.95 % from 112.78
- Multi-Thread: 358.55, up 4.84% from 341.97
GPU Overclocking
One thing did disappoint me regarding GPU Overclocking on this board – there were no presets available to just select and go, like on the ASRock board. Perhaps we may get some when Gigabyte moves to a graphical UEFI.
However, given on previous GPU OC tests, I was aiming for 1800 MHz overclock, and to confirm what I saw on the ASRock H67 board, whereby a large overclock makes the integrated GPU scale back to a thermally more acceptable value. I started the OC at 1400 MHz, no change on any of the voltages.
Up to 1600 MHz in 100 MHz jumps worked fine. At 1700 MHz, when running through Metro2033, the game crashed. In the BIOS you have two graphics voltage options – Graphics Core and Graphics DVID. The DVID option was only changeable when Graphics Core was set to 'normal', but I started by raising the Graphics Core voltage. After testing all the way from 1.1 V to 1.2 V (the ASRock reached 1700 MHz with only a +0.05V offset), I switched it to normal and left the Graphics DVID on Auto. In this configuration, Metro2033 completed, but Dirt2 did not. Even adjusting the Graphics DVID to a +0.1V offset didn't change anything, so I reset them both back to auto and scaled back to 1650 MHz. At 1650 MHz, both games ran very stable at auto voltages.
In the 3D tests, the OC scores were:
- Metro2033: 21.8 FPS, up 23.86% from 17.6 FPS
- Dirt2: 28.1 FPS, up 6.97% from 26.27 FPS
Test Setup
Processor
Intel i5-2500K ES – 3.3 GHz (3.7 GHz Turbo)
4 Cores, 4 Threads, 6MB L3
Motherboards
ASRock H67M-GE/HT
Gigabyte H67MA-UD2H
ECS H67H2-M
Cooling
Corsair H50-1 Water Cooler
Power Supply
Enermax Modu87+ 600W 80PLUS
Memory
Patriot Viper Extreme DDR3-2000 9-10-9-27 2x4GB Kit, 1.65V
Corsair Vengeance DDR3-1600 9-9-9-24 2x4GB Kit, 1.50V
G.Skill RipjawsX DDR3-2133 9-11-9-28 4x4GB Kit, 1.65V
Memory Settings
DDR3-1333 9-9-9-24 1T 2x4GB
Video Cards
XFX HD 5850 1GB
Video Drivers
Catalyst 10.12
Hard Drive
Micron RealSSD C300 256GB
Optical Drives
LG GH22NS50
Case
Open Test Bed – CoolerMaster Lab V1.0
Operating System
Windows 7 64-bit
SATA Testing
Micron RealSSD C300 256GB
USB 2/3 Testing
Patriot 64GB SuperSonic USB 3.0
Many thanks to G.Skill for providing a set of their new RipjawsX for our test beds. This kit is their F3-17000CL9Q-16GBXLD, or in normal terms, a 16 GB (4x4 GB) kit, running at DDR3-2133 MHz with 9-11-9-28 timings at 1.65V. These are currently retailing at $370, and come with a Turbulence II RAM Cooler and a lifetime limited warranty.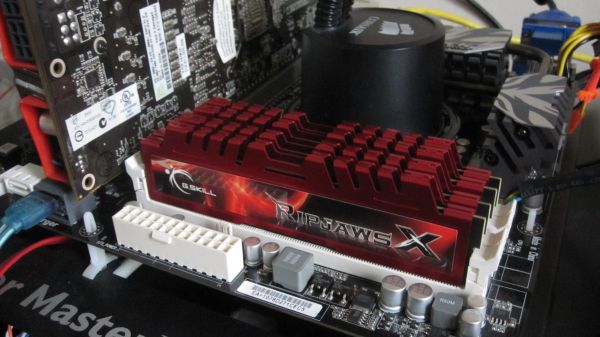 Also many thanks to Crucial / Micron Technology for the 256GB C300 RealSSD for our motherboard test bed for SATA 3Gb/s and 6Gb/s testing. At AnandTech we've mentioned the C300 on many many numerous occasions, and our performance results can be seen in Bench. This particular model can be found online for $470.
Power Consumption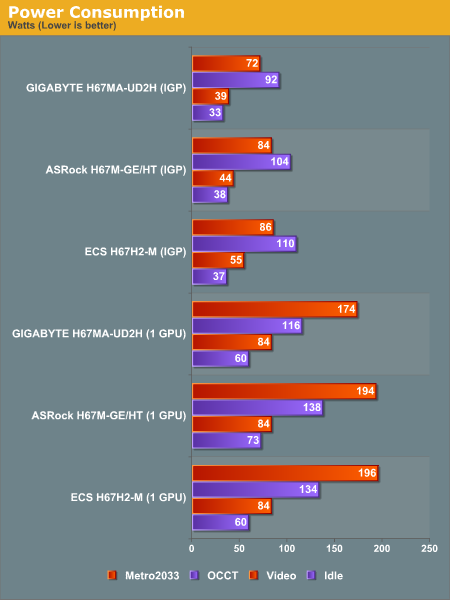 The H67 boards not running a discrete GPU draw more power under intense CPU load rather than GPU load, which is contrasting to any discrete GPU setup. The Gigabyte H67 board is easily uses the least power in this test.
CPU Temperatures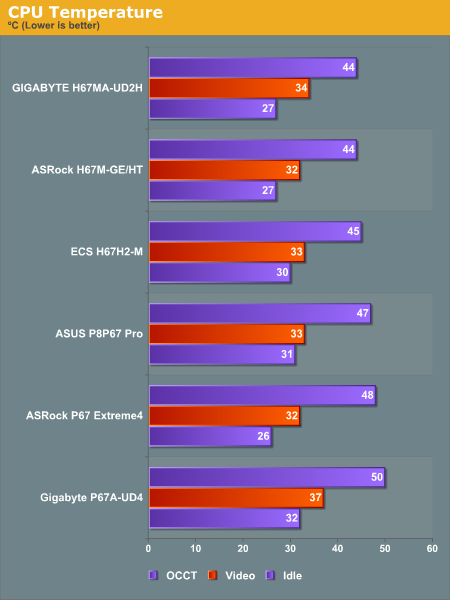 The H67 motherboards also run cooler than the P67. The ECS H67 runs a couple of degrees warmer than the other two - don't forget, the ECS has very large VRM coolers in comparison.
LAN Speed Test
LAN Speed Test is a freeware program designed for testing the network connection between two PCs on a home network. The speed of the transfer is limited by the lowest common denominator on the network, so if you have gigabit Ethernet capable computers but a 100 Mbit capable router, you are limited to 100 Mbit transfer. Note that this is really a formality – if a network port is rated at 1 Gbps, then chances are that it will hit at least 90+% of this value. The main test here is CPU usage, and how much is offloaded by the controller. For this test, we use LAN Speed Test to transfer a 1000 MB file across a home network with a 100 Mbps lowest common speed to the same machine each time, in a read/write scenario. CPU usage is taken as a visual max/average from task manager.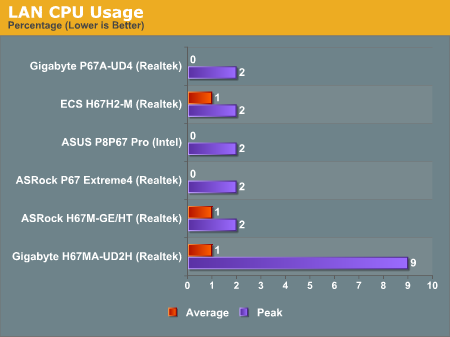 In general, the H67 boards have slightly better LAN speeds but sacrifice that for more CPU usage. The Gigabyte board however performs the worst in terms of speed and peak CPU usage. The peak value was so high, the test was rerun repeatedly but achieved similar results. Despite the peak CPU usage however, the average was still around 1%.
USB Speed
For this benchmark, we run CrystalDiskMark to determine the ideal sequential read and write speeds for the USB port using our 64GB Patriot SuperSpeed USB 3.0 drive. Then we transfer a set size of files from the SSD to the USB drive, and monitor the time taken to transfer. The files transferred are a 1.52 GB set of 2867 files across 320 folders – 95% of these files are small typical website files, and the rest (90% of the size) are the videos used in the Sorenson Squeeze test.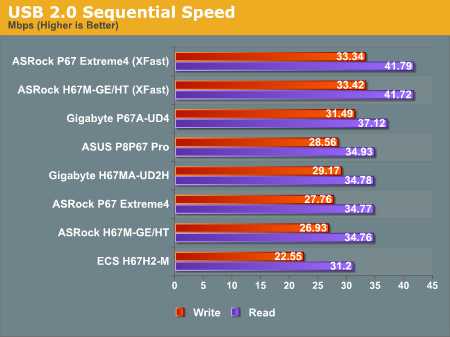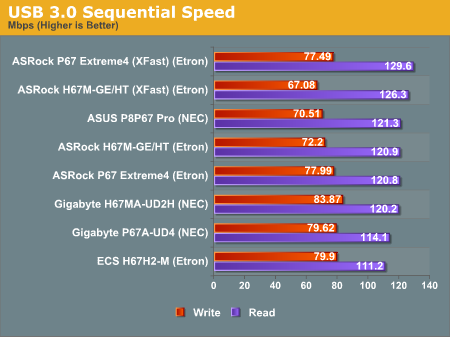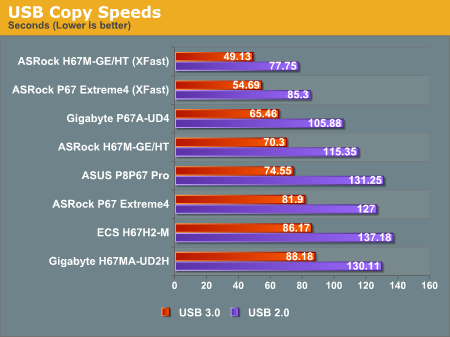 The XFast system used by ASRock boards literally blow the competition away, especially in terms of real-world copy times. There's nothing much in it between the controllers, but the Gigabyte and ECS boards are at the bottom of the boards we've tested.
SATA Testing
We also use CrystalDiskMark for SATA port testing. The operating system is installed on the Micron RealSSD C300, which is rated at 355 MB/s read and 215 MB/s write, and the sequential test is run at the 5 x 1000 MB level. This test probes the efficiency of the data delivery system between the chipset and the drive, or in the case of additional SATA ports provided by a third party controller, the efficiency between the controller, the chipset and the drive.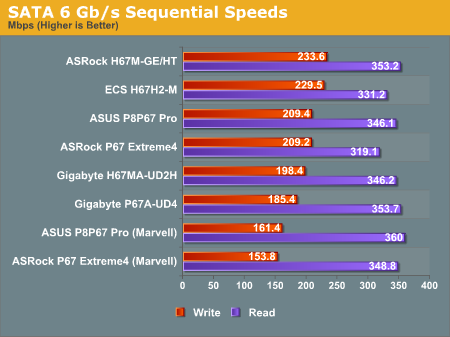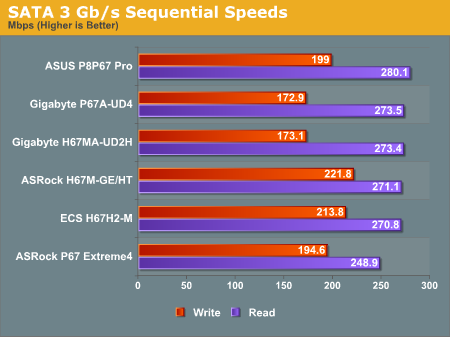 In terms of SATA speed, the ASRock and ECS peak writing speed win out here.
DPC Latency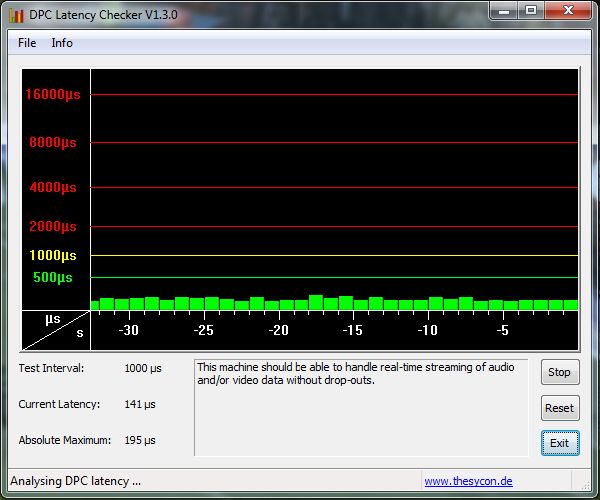 Deferred Procedure Call latency is a way in which Windows handles interrupt servicing. In order to wait for a processor to acknowledge the request, the system will queue all interrupt requests by priority. Critical interrupts will be handled as soon as possible, whereas lesser priority requests, such as audio, will be further down the line. So if the audio device requires data, it will have to wait until the request is processed before the buffer is filled. If the device drivers of higher priority components in a system are poorly implemented, this can cause delays in request scheduling and process time, resulting in an empty audio buffer – this leads to characteristic audible pauses, pops and clicks. Having a bigger buffer and correctly implemented system drivers obviously helps in this regard. The DPC latency checker measures how much time is processing DPCs from driver invocation – the lower the value will result in better audio transfer at smaller buffer sizes. Results are measured in microseconds and taken as the peak latency while cycling through a series of short HD videos - under 500 ms usually gets the green light, but the lower the better.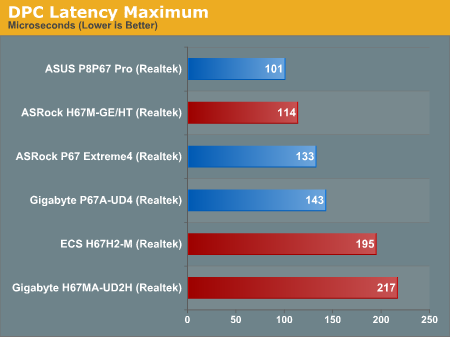 3D Movement Algorithm Test
The first benchmark ran is actually one I have written. My full time job involves computational chemistry, so this first benchmark uses various algorithms for three-dimensional simulation and movement of independent particles. The algorithms both employ uniform random number generation or normal distribution random number generation, and vary in various amounts of trigonometric operations, conditional statements, generation and rejection, fused operations, etc. The benchmark runs through six algorithms for a specified number of particles and steps, and calculates the speed of each algorithm, then sums them all for a final score. This is an example of a real world situation that a computational scientist may find themselves in, rather than a pure synthetic benchmark. The benchmark is also parallel between particles simulated, and we test the single thread performance as well as the multi-threaded performance.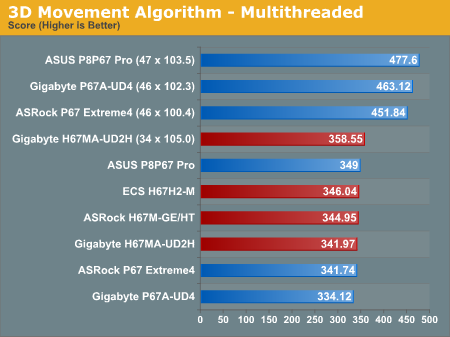 In single thread mode, the H67 boards are not the best, but perform well in multithreaded mode. Nevertheless, you can't ignore the overclocked P67 results.
WinRAR x64 3.93
With 64-bit WinRAR, we compress the set of files used in the USB speed tests. WinRAR x64 3.93 attempts to use multithreading when possible.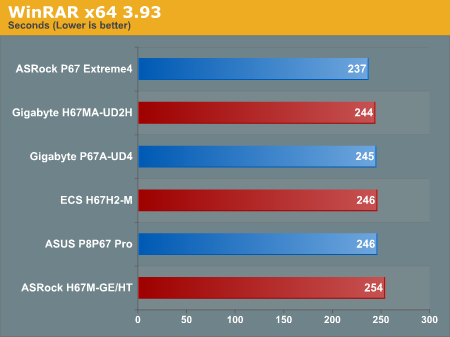 FastStone Image Viewer 4.2
FastStone Image Viewer is a free piece of software I have been using for quite a few years now. It allows quick viewing of flat images, as well as resizing, changing color depth, adding simple text or simple filters. It also has a bulk image conversion tool, which we use here. The software currently operates only in single-thread mode, which should change in later versions of the software. For this test, we convert a series of 170 files, of various resolutions, dimensions and types (of a total size of 163MB), all to the .gif format of 640x480 dimensions.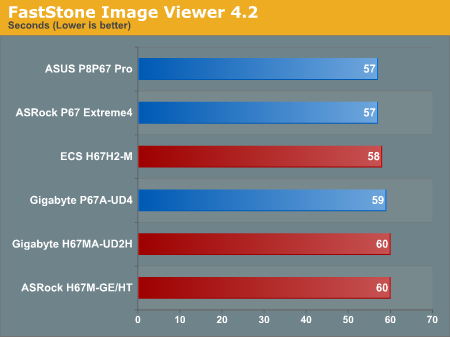 Sorenson Squeeze 6.0
Sorenson Squeeze is a professional video encoder, complete with a vast array of options. For this test, we convert 32 HD videos, each a minute long and approximately 42 MB in size, to WMV 512KBps format. Squeeze can encode multiple videos at once, one for each thread.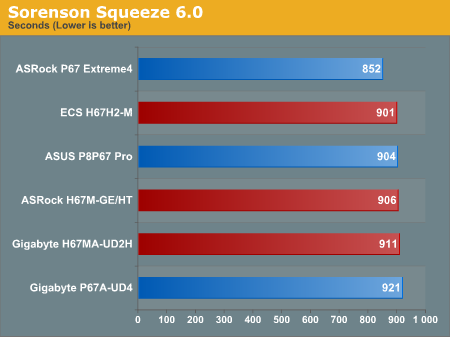 Dirt 2
Dirt 2 came to the PC in December 2009, developed by Codemasters with the EGO Engine. Resulting in favorable reviews, we use Dirt 2's inbuilt benchmark under DirectX 11 to test the hardware. We test two different resolutions at two different quality settings using a discrete GPU, and an appropriate integrated GPU setting.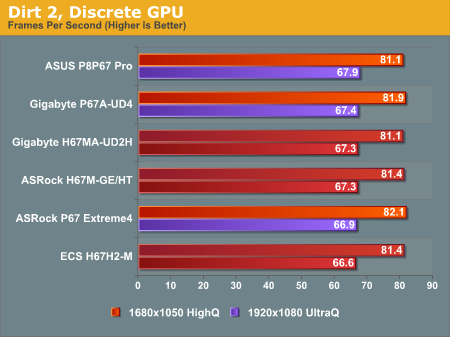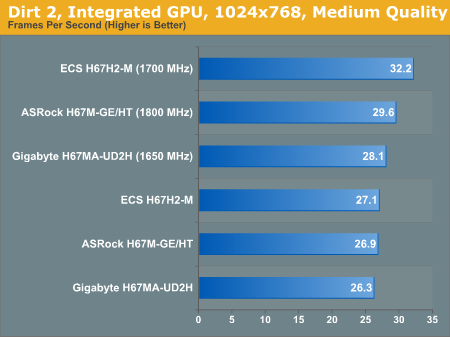 Metro 2033
Metro 2033 is the Crysis of the DirectX 11 world (or at least until Crysis 2 is released), challenging every system that tries to run it at any high-end settings. Developed by 4A Games and released in March 2010, we use the inbuilt DirectX 11 Frontline benchmark to test the hardware.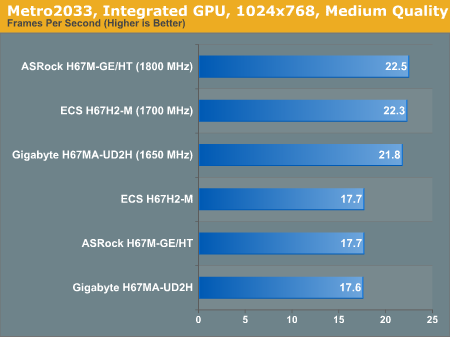 Overview
With Intel's recall at the beginning of the year, just after release, vendors are now starting to make versions of their fixed chipsets available to end users. As I mentioned at the very beginning of this review, what we are technically looking at are the B2 samples, as these were distributed to us before the recall. Every manufacturer here has confirmed that the B3 versions of these boards perform exactly the same as the B2, but will either be released with the same name but a B3 sticker on the box, or the name will be adapted with the B3 edition – so the Gigabyte H67MA-UD2H becomes the Gigabyte H67MA-UD2H-B3.
With H67, we lose the CPU overclocking of the P67 and all the dual GPU lanes, and instead get access to the integrated GPU on the processor. As a result, manufacturers do not have to provide the H67 with oodles of high-quality VRMs to hold high CPU overclocks amongst other things, which bring the costs down. As such, our boards here are $120 (ASRock), $140 (ECS) and $125 (Gigabyte).
ASRock H67M-GE/HT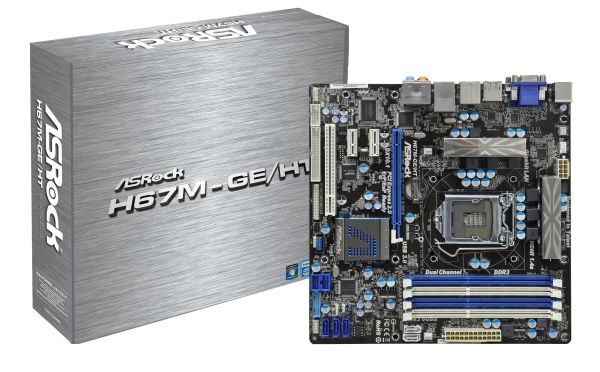 The ASRock H67M-GE/HT is relatively easy to use and performs well in our benchmark suite. At $120, with the additions in the package in the board, makes this a relatively comfortable H67 product. It does not have the features of some of the more expensive boards, such as a Debug LED and Power/Reset buttons, but once the board is installed in a case, it is quite rare that you will need these again. The board has legacy floppy connectors and a PS/2 keyboard port, which may be a selling point for some buyers still running legacy equipment. The H67M-GE/HT also runs cooler than other Sandy Bridge boards I have tested. The ASRock board comes with a one year warranty, with an option to extend for another year.
ECS H67H2-M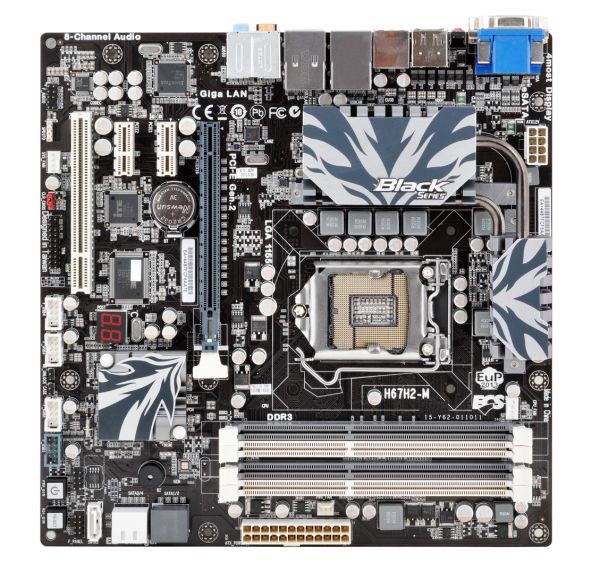 The ECS H67H2-M has a few serious check points against it as a board to use. The RAM timings in the BIOS are not changeable; the BIOS can be hard to navigate and does not implement any of the newer UEFI principles coming through with Sandy Bridge; the USB performance is sub-par, and the DPC Latency is the highest of the H67 boards we have tested. There are some very positive points with it – eJiffy is a great piece of software, you have double gigabit Ethernet ports, Power/Reset buttons on the board and a Debug LED, the 2D performance is better than average, and your fan options are better than some other vendors. I would prefer to see a cleaner BIOS, more fan headers and better USB performance become as standard. The ECS board comes with a three year warranty.
Gigabyte H67MA-UD2H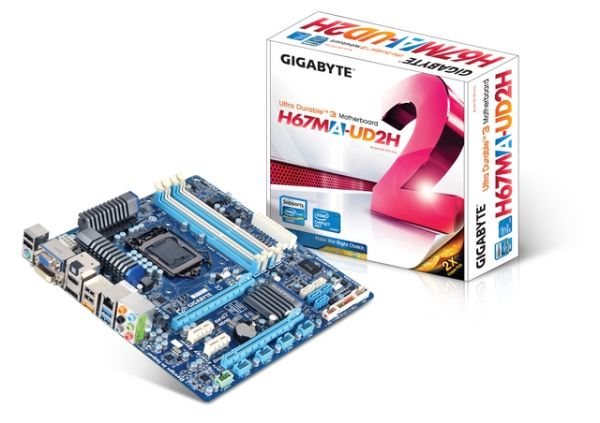 The Gigabyte H67MA-UD2H does not have a lot of physical features, unless you have need of lots of external USB ports. While it offers some BCLK overclocking, there are not enough fan headers on the board to support basic all-in-one water cooling, or more than one case fan. The SATA ports are oddly further into the board which is not ideal. The BIOS is however rock solid and simple to use, which is no small feat. The PCIe slots are not ideally laid out (I would prefer x1, x16, x1, x4), and in their current configuration would restrict RAM coolers when using a dual slot, long GPU. There are no Power/Reset buttons, no Debug LED, but the software included works and does its job. For $125, the ASRock beats it in bang for buck, but people will not be disappointed if they picked up the H67MA-UD2H (or rather, its B3 equivalent, the H67MA-UD2H-B3). The Gigabyte board comes with a three year warranty.
Conclusion
There are a lot of options in the world of H67 but there are also a lot of pitfalls. For a board to have all the bells and whistles (presumably, some imaginary board with all the best bits from every other board), you would easily be pushing into P67 price territory and then some more. There is not much between all the boards in terms of performance, so you may end up looking at what is included with the board or features for a final decision.
The biggest surprise for me however is the loss of a multiplier on single-threaded loads on H67. On all three boards, the BIOS/UEFI had 37x multiplier set for single thread loads, but in the OS, it would only ever go to 36x. We're told that this is part of the Intel chipset specifications for H67, but this ultimately means that the consumer is losing that multiplier. Only with the Gigabyte board (out of these three) can you overcome this with BCLK overclocking, but ultimately that overclocking can be quite variable chip-to-chip.