Original Link: http://www.anandtech.com/show/4238/ctia-hands-on-extravaganza-optimus3d-g2x-htc-flyer-hd7s-evo3d-galaxy-tab-10-1-8-9


LG Optimus 3D
We actually benchmarked LG's Optimus 3D back at Mobile World Congress last month. We were particularly excited about the Optimus 3D because, prior to the iPad 2, it was the first mobile platform we laid eyes on that had a dual-core Cortex A9 with a dual-channel memory controller. I am of course talking about TI's OMAP 4430 which is at the heart of the Optimus 3D. Back at MWC performance was good, but stability wasn't. Today at CTIA I played with the Optimus 3D a bit more and it looks like things have come along quite nicely since then.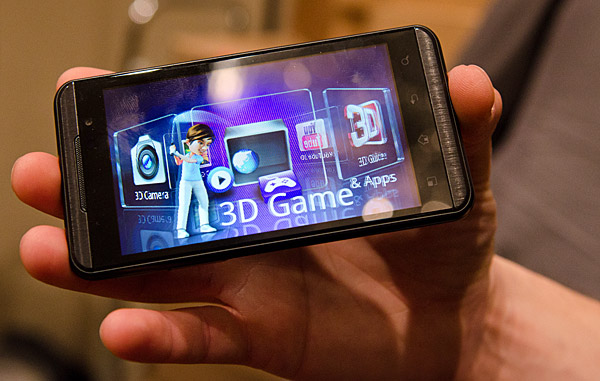 The UI is considerably smoother, there are more features enabled on the phone and stability is far better. Granted we're still talking about a pre-release device so none of this is unexpected.
As the 3D in the name implies, the Optimus 3D will be able to capture and display 3D images/video thanks to two features: 1) a pair of 5MP camera lenses and sensors for capture and 2) a glasses-free (via parallax barrier) 3D display.
I've been hearing that Imagination Technologies' is particularly excited about the Optimus 3D as it is one of the first platforms to use the latest SGX drivers. As we saw in our performance preview from MWC last month, the result is pretty nice: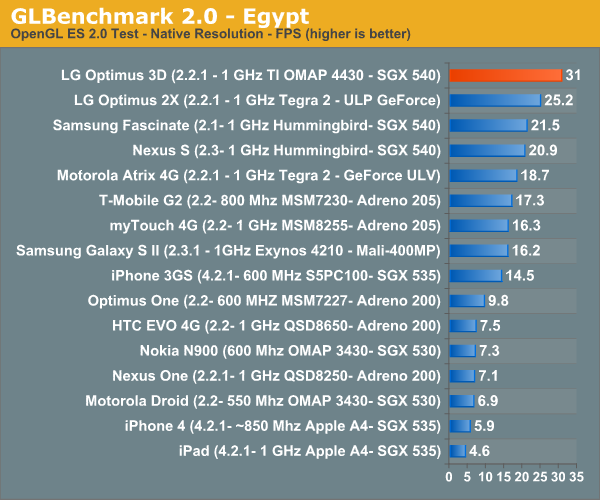 There's no word on exact availability however I'd expect the Optimus 3D to be at least some months away. Since our time at MWC AT&T has announced that it will be getting the Optimus 3D and calling it the Thrill 4G.
LG Optimus G2x on T-Mobile
Also at LG I ran into the Optimus G2x, the US-bound T-Mobile version of the Optimus 2X we reviewed earlier this year.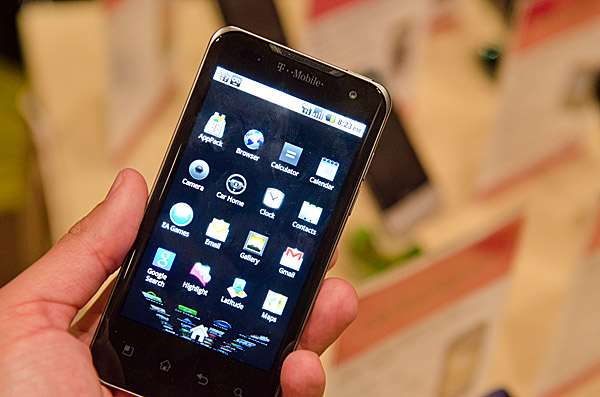 Brian already went through a pretty good explanation of the slight differences between the Optimus 2X and the G2x earlier today after the announcement.
HTC Flyer
HTC announced the Flyer at MWC last month but I didn't get to spend any real time with a functional device in Barcelona, so when given the opportunity to at CTIA I gladly took HTC up on the offer.
The Flyer isn't your typical 2011 Android tablet - for starters it isn't sporting Honeycomb. Remember that NVIDIA was Google's chosen SoC partner on Honeycomb, and as a result all other SoC vendors got a later start to porting Honeycomb to their platforms. Qualcomm falls into the latter group and as a result, even tablets that use Qualcomm hardware are shown off using Android 2.2 for now as porting/testing of Honeycomb commences.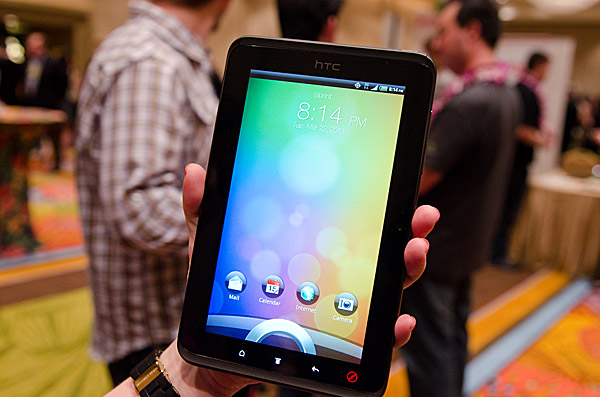 HTC's first tablet, the Flyer, is no exception. Running Android 2.2 and a single-core 1.5GHz Qualcomm MSM8655 SoC, the Flyer already sounds very different from other tablets. The Flyer has a 7-inch 1024 x 600 screen and to further differentiate itself it also comes with a capacitive pen that you can use to draw on the screen. Touch the pen to the screen and the Flyer takes a screenshot of what you're currently looking at, whether it's the home screen, email window or web browser and lets you annotate/draw all over it. Once you're done you can either discard the image and go back to doing whatever you were doing or share the image as a jpeg just like you would any other picture. It's a pretty neat idea with tons of potential.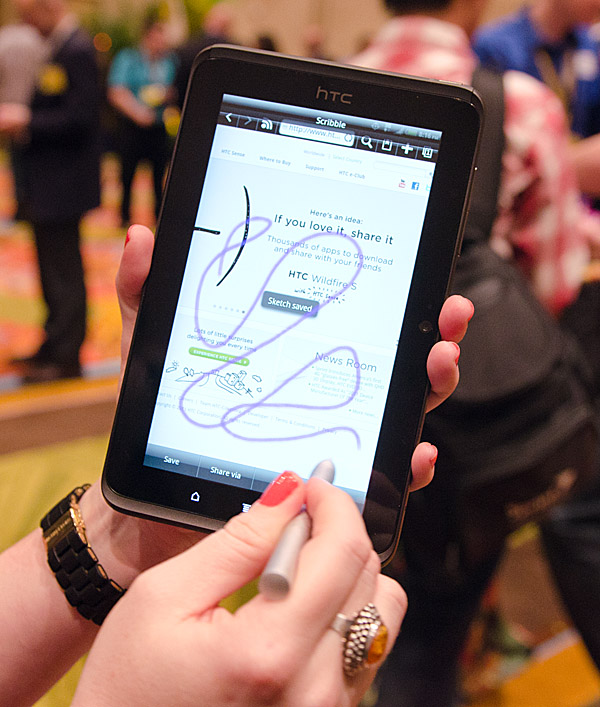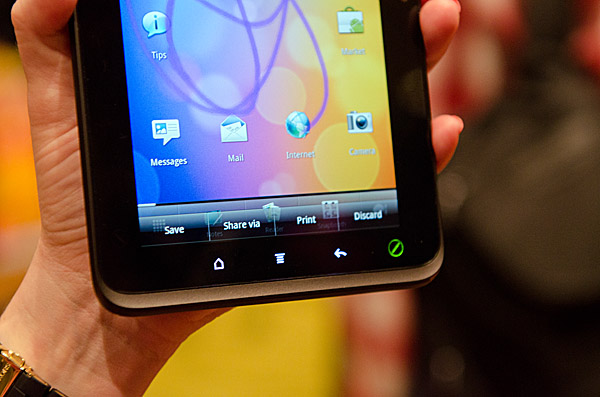 Opting for a high speed single-core CPU is also pretty contrary to what we've seen from most Android tablets thus far. While I personally believe that the dual-core approach makes more sense for the overall user experience (having the second core really makes up for any funky scheduler inefficiencies), the comparison between a 1.5GHz Scorpion core and a pair of 1GHz Cortex A9s won't be as cut and dry as that. The majority of smartphone apps are still bound by the performance of a single thread - where a 1.5GHz single-core Snapdragon could be even faster than a 1GHz Cortex A9.
Sprint announced that it will have the Flyer on sale as the EVO View 4G, featuring WiMAX.
HTC HD7S
At CTIA this year HTC introduced the Windows Phone 7 HD7S, a slightly upgraded version of the HD7 it has been shipping for a while now. The upgrade? A 4.3-inch Super LCD screen. Super LCD in this case is actually just a fun marketing name for a PVA panel. So not quite as good as IPS but not quite as bad as TN.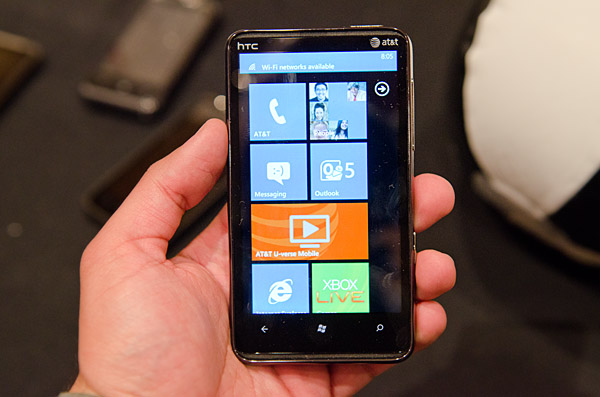 Microsoft also started pushing out its first major update to the Windows Phone 7 OS while we were at CTIA, codenamed NoDo. I would be lying if I said I wasn't disappointed in how long it took Microsoft to finally update the OS. While we were quite pleased with Microsoft's launch of the platform, without more aggressive updates to both hardware and software there's little hope for it to compete with Apple and Google.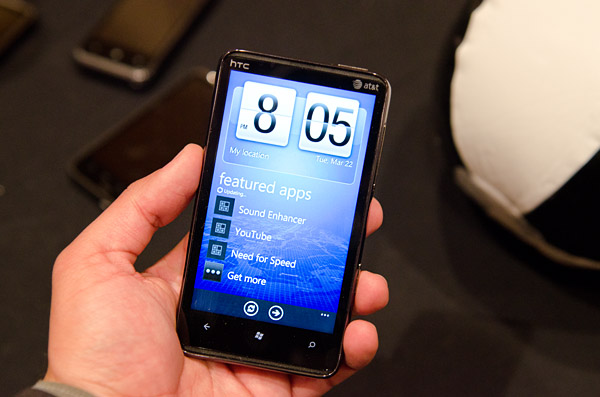 HTC EVO 3D
Big news today at CTIA for Qualcomm: HTC's EVO 3D is the first smartphone that will use its new MSM8660 SoC. For those of you who have trouble following Qualcomm Snapdragon nomenclature, the MSM8660 features two Scorpion cores, an Adreno 220 GPU and a CDMA2000+GSM/UMTS modem all on a single 45nm SoC. In the case of the EVO 3D these two cores run at up to 1.2GHz.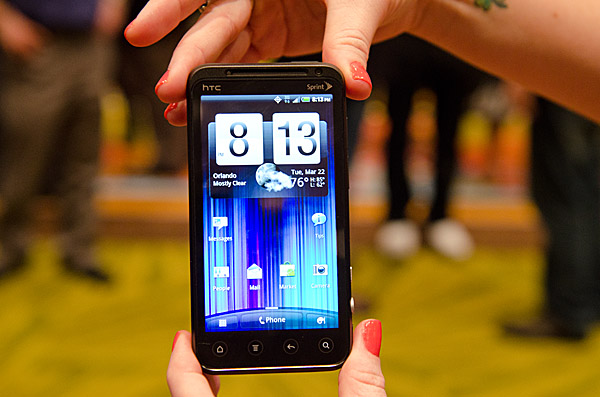 The two Scorpion cores in the EVO 3D each have their own clock and voltage inputs, thus they can be clocked completely independently of one another. Qualcomm believes this gives it an inherent power advantage over other dual-core designs in mixed workload scenarios. It remains to be seen how well Qualcomm's asynchronous clocking works in practice however.
The EVO 3D features a 4.3-inch 960 x 540 qHD display (similar to the Motorola Atrix), although it's unclear whether this is a PenTile LCD or not. Like the LG Optimus 3D, this display uses a parallax barrier to deliver glasses-free 3D. Around back are two 5MP cameras that can be used in tandem for capturing 3D photos and video (at 2MP and 720p, respectively).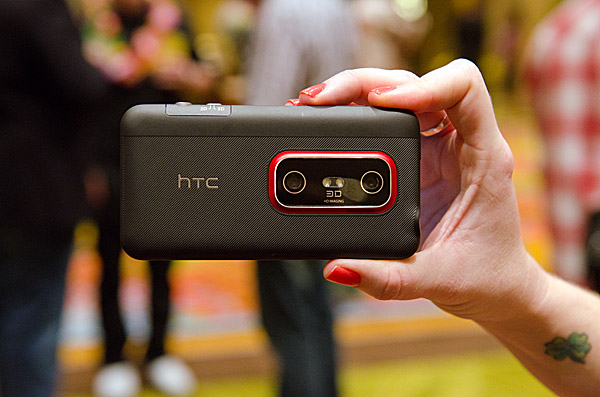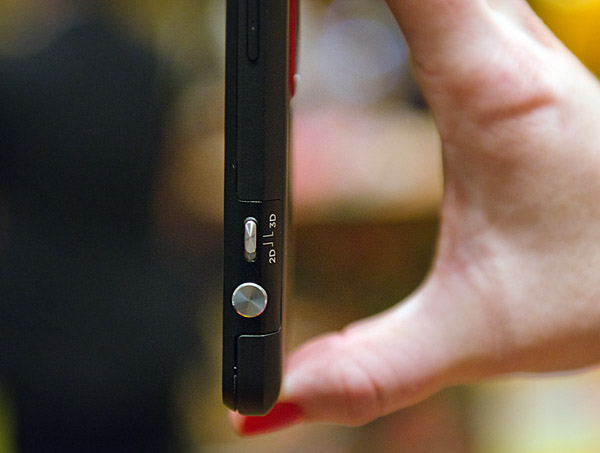 Also on the EVO 3D is the latest version of HTC's Sense UI. One of the new features in this version of Sense is the ability to launch apps directly from the lock screen. Drag the circle up to unlock or drag it on top of any icon below it to unlock your phone and immediately launch the selected app. The next few years of mobile OS evolution will involve serious improvements to UI efficiency - this is just the first step.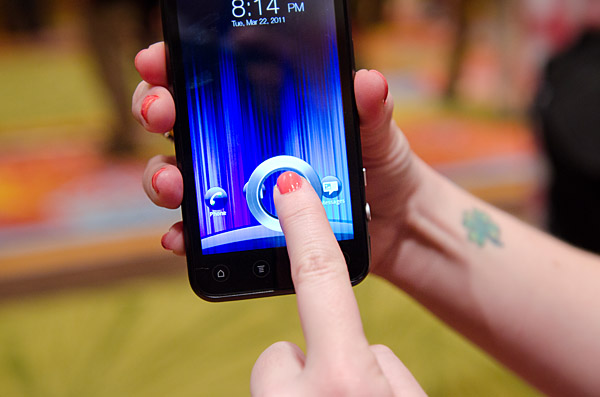 Galaxy Tab 10.1, 8.9
Earlier in the day Samsung had mechanical prototypes of the new Galaxy Tab 10.1 and Galaxy Tab 8.9 on display behind glass cases. The functional prototypes of both tablets were thicker versions just designed to showcase the new tablet focused TouchWiz UI.
I finally got some hands on time with the mechanical prototypes of the new Tabs. While the devices were still not functional, they were of a representative size and weight to what will eventually ship this summer.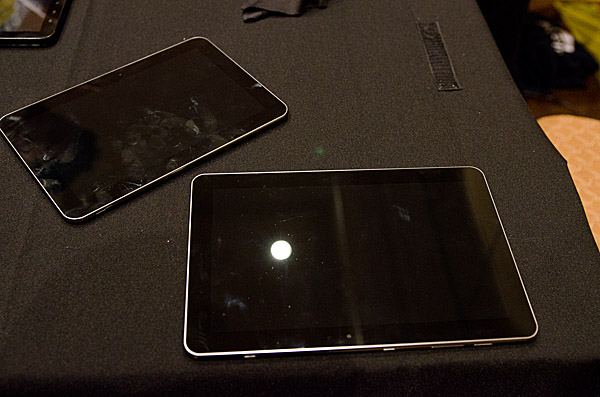 Galaxy Tab 8.9 (top) vs. the new Galaxy Tab 10.1 (bottom)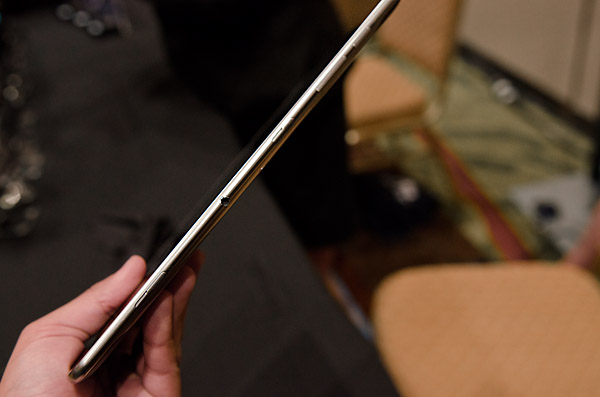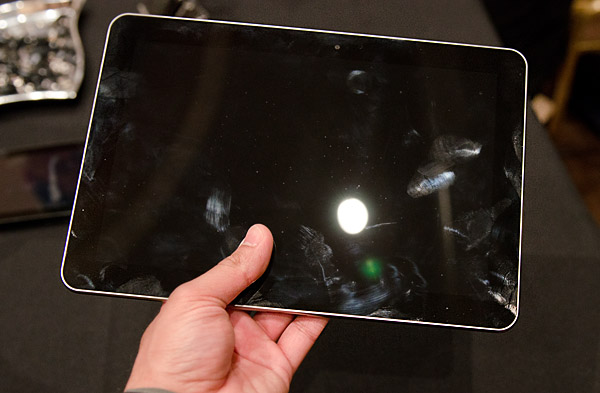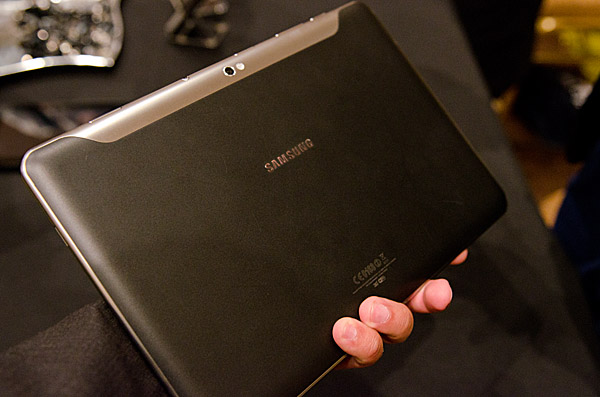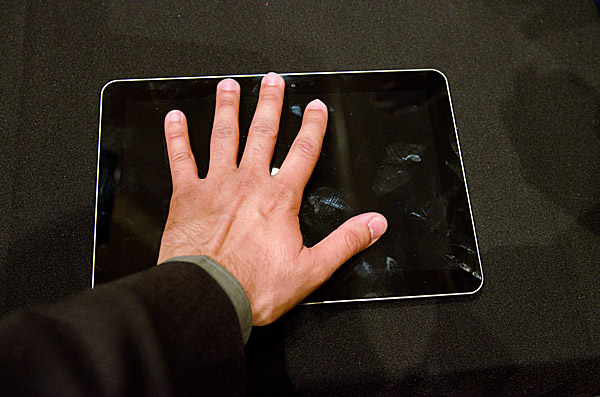 The new Galaxy Tab 10.1 feels great. It feels distinctly next-generation, similar to what we thought about the iPad 2 in our review. The next-gen feel really has to do with the thickness of the device, which at 8.6mm is as close to perfect as you can hope for in 2011.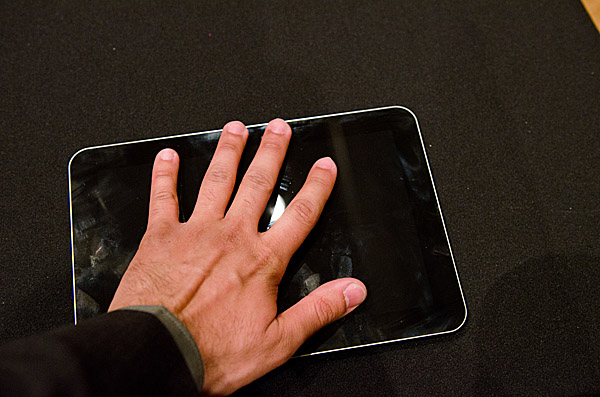 The 8.9 is really what takes the cake in my opinion. The mechanical sample of the 8.9 is just as thin as the 10.1 yet much smaller thanks to its smaller (but just as high-res) screen. While I don't believe it's small enough to be as portable as a smartphone, the Galaxy Tab 8.9 sure feels small enough to genuinely challenge my notion of exactly how portable a tablet can be.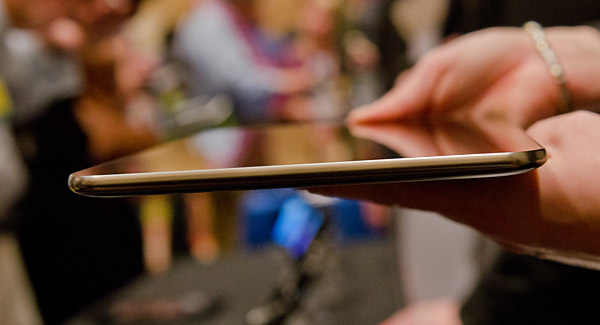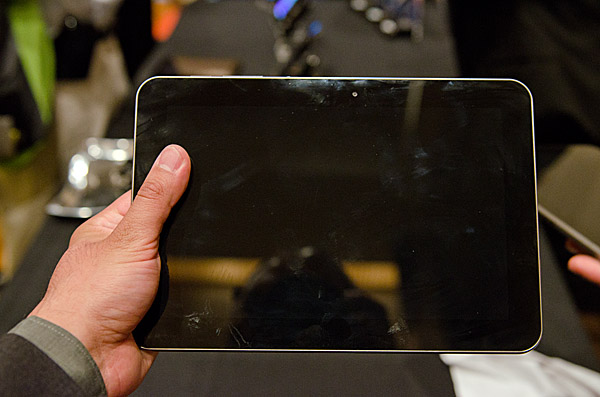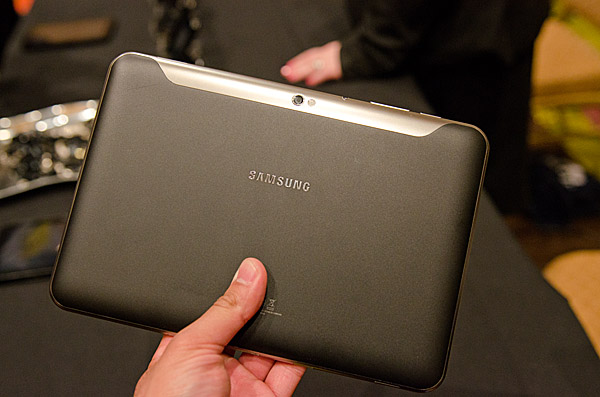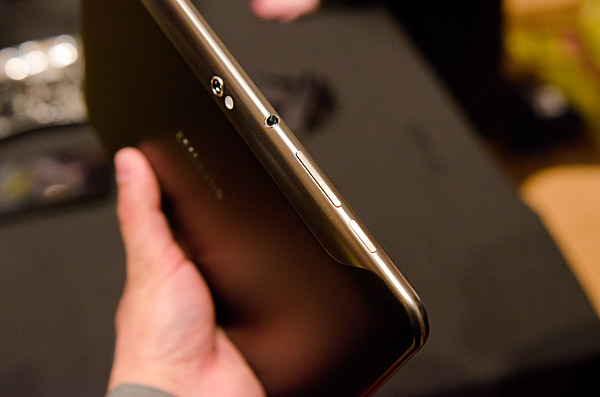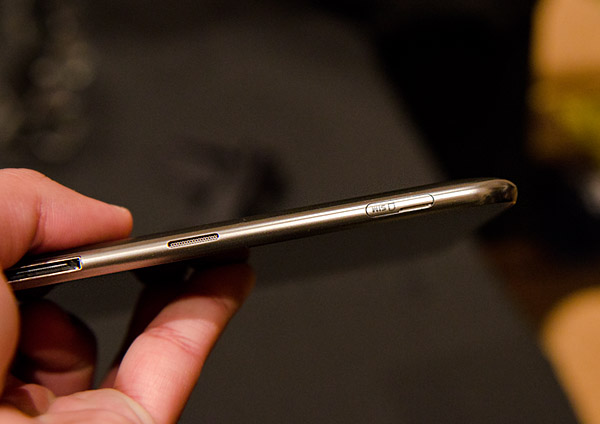 Ignore the SIM slot on the 8.9 prototype - the only versions that have been announced thus far have WiFi enabled. Kudos to Samsung for being aggressive both on pricing and dimensions with the new Galaxy Tabs. At this point I'm more curious about what the rest of the Honeycomb competitors will do. Is it possible that Samsung's competitors also had thinner contingency plans in place?
If you're wondering what will happen to the old, thicker Galaxy Tab 10.1 announced at MWC - it's going to Vodafone as an exclusive. All other carriers will get the new 10.1 as early as June 8th.