Original Link: http://www.anandtech.com/show/4216/apple-ipad-2-gpu-performance-explored-powervr-sgx543mp2-benchmarked


Earlier this morning we published our first impressions on Apple's iPad 2, including analysis on camera quality and a dive into the architecture behind Apple's A5 SoC. Our SoC investigation mostly focused on CPU performance, which we found to be a healthy 50% faster than the A4 in the original iPad - at least in web browsing. We were able to exceed Apple's claim of up to 2x performance increase in some synthetic tests, but even a 50% increase in javascript and web page loading performance isn't anything to be upset about. We briefly touched on the GPU: Imagination Technologies' PowerVR SGX 543MP2. Here Apple is promising up to a 9x increase in performance, but it's something we wanted to investigate.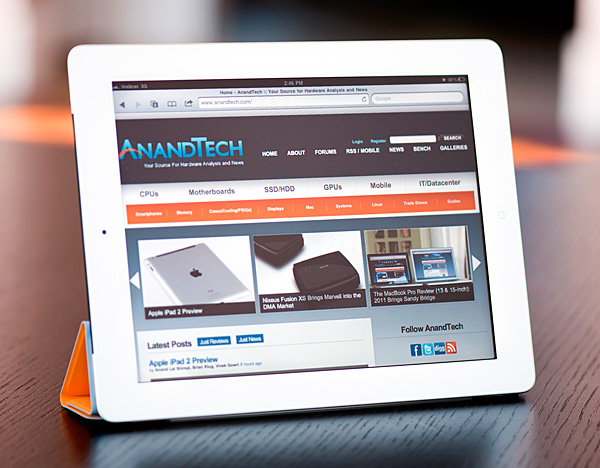 Architecturally the 543MP2 has more than twice the compute horsepower of the SGX 535 used in Apple's A4. Each shader pipeline can execute twice the number of instructions per clock as the SGX 535, and then there are four times as many pipes in an SGX 543MP2 as there are in a 535. There are also efficiency improvements as well. Hidden surface removal works at twice the rate in the 543MP2 as it did in the 535. There's also a big boost in texture filtering performance as you'll see below.
As always we turn to GLBenchmark 2.0, a benchmark crafted by a bunch of developers who either have or had experience doing development work for some of the big dev houses in the industry. We'll start with some of the synthetics.
Over the course of PC gaming evolution we noticed a significant increase in geometry complexity. We'll likely see a similar evolution with games in the ultra mobile space, and as a result this next round of ultra mobile GPUs will seriously ramp up geometry performance.
Here we look at two different geometry tests amounting to the (almost) best and worst case triangle throughput measured by GLBenchmark 2.0. First we have the best case scenario - a textured triangle: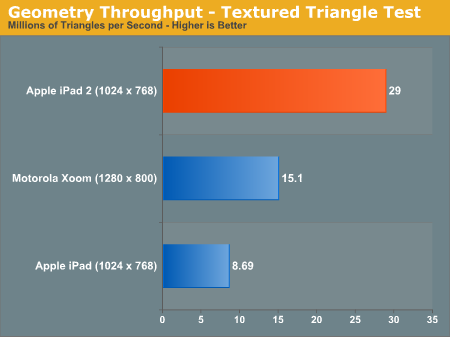 The original iPad could manage 8.7 million triangles per second in this test. The iPad 2? 29 million. An increase of over 3x. Developers with existing titles on the iPad could conceivably triple geometry complexity with no impact on performance on the iPad 2.
Now for the more complex case - a fragment lit triangle test: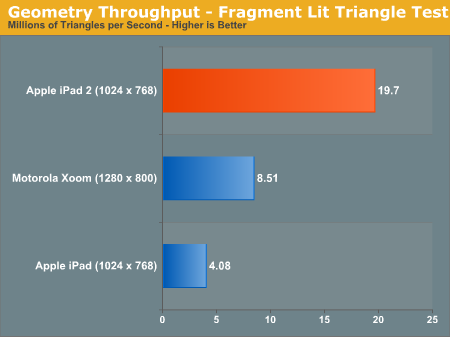 The performance gap widens. While the PowerVR SGX 535 in the A4 could barely break 4 million triangles per second in this test, the PowerVR SGX 543MP2 in the A5 manages just under 20 million. There's just no competition here.
I mentioned an improvement in texturing performance earlier. The GLBenchmark texture fetch test puts numbers to that statement: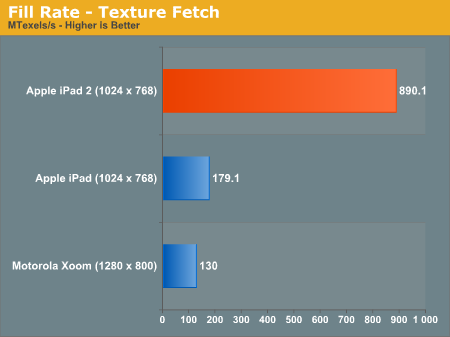 We're talking about nearly a 5x increase in texture fetch performance. This has to be due to more than an increase in the amount of texturing hardware. An improvement in throughput? Increase in memory bandwidth? It's tough to say without knowing more at this point.
Apple iPad vs. iPad 2
Apple iPad (PowerVR SGX 535)
Apple iPad 2 (PowerVR SGX 543MP2)
Array test - uniform array access

3412.4 kVertex/s

3864.0 kVertex/s

Branching test - balanced

2002.2 kShaders/s

11412.4 kShaders/s

Branching test - fragment weighted

5784.3 kFragments/s

22402.6kFragments/s

Branching test - vertex weighted

3905.9 kVertex/s

3870.6 kVertex/s

Common test - balanced

1025.3 kShaders/s

4092.5 kShaders/s

Common test - fragment weighted

1603.7 kFragments/s

3708.2 kFragments/s

Common test - vertex weighted

1516.6 kVertex/s

3714.0 kVertex/s

Geometric test - balanced

1276.2 kShaders/s

6238.4 kShaders/s

Geometric test - fragment weighted

2000.6 kFragments/s

6382.0 kFragments/s

Geometric test - vertex weighted

1921.5 kVertex/s

3780.9 kVertex/s

Exponential test - balanced

2013.2 kShaders/s

11758.0 kShaders/s

Exponential test - fragment weighted

3632.3 kFragments/s

11151.8 kFragments/s

Exponential test - vertex weighted

3118.1 kVertex/s

3634.1 kVertex/s

Fill test - texture fetch

179116.2 kTexels/s

890077.6 kTexels/s

For loop test - balanced

1295.1 kShaders/s

3719.1 kShaders/s

For loop test - fragment weighted

1777.3 kFragments/s

6182.8 kFragments/s

For loop test - vertex weighted

1418.3 kVertex/s

3813.5 kVertex/s

Triangle test - textured

8691.5 kTriangles/s

29019.9 kTriangles/s

Triangle test - textured, fragment lit

4084.9 kTriangles/s

19695.8 kTriangles/s

Triangle test - textured, vertex lit

6912.4 kTriangles/s

20907.1 kTriangles/s

Triangle test - white

9621.7 kTriangles/s

29771.1 kTriangles/s

Trigonometric test - balanced

1292.6 kShaders/s

3249.9 kShaders/s

Trigonometric test - fragment weighted

1103.9 kFragments/s

3502.5 kFragments/s

Trigonometric test - vertex weighted

1018.8 kVertex/s

3091.7 kVertex/s

Swapbuffer Speed

600

599
Enough with the synthetics - how much of an improvement does all of this yield in the actual GLBenchmark 2.0 game tests? Oh it's big.
GLBenchmark 2.0
GLBenchmark 2.0—as its name implies—tests OpenGL ES 2.0 performance on compatible devices. The suite includes two long benchmarking scenarios with a demanding combination of OpenGL ES 2.0 effects - texture based and direct lighting, bump, environment, and radiance mapping, soft shadows, vertex shader based skinning, level of detail support, multi-pass deferred rendering, noise textures, and ETC1 texture compression.
GLBenchmark 2.0 is the best example of an even remotely current 3D game running on this class of hardware—and even then this is a stretch. If you want an idea of how the PowerVR SGX 543MP2 stacks up to the competition however, GLBenchmark 2.0 is probably going to be our best bet (at least until we get Epic to finally release an Unreal Engine benchmark).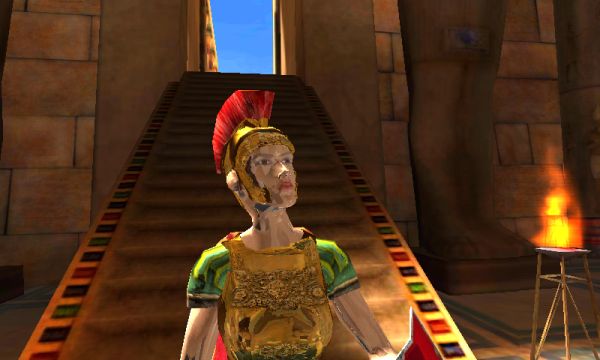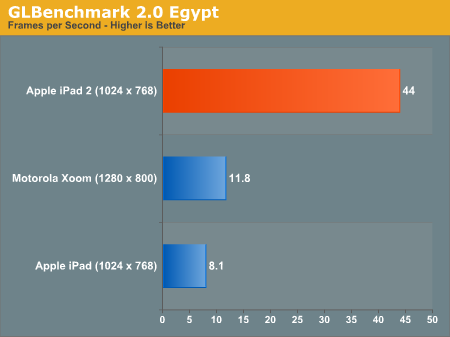 Without AA, the Egypt test runs at 5.4x the frame rate of the original iPad. It's even 3.7x the speed of the Tegra 2 in the Xoom running at 1280 x 800 (granted that's an iOS vs. Android comparison as well).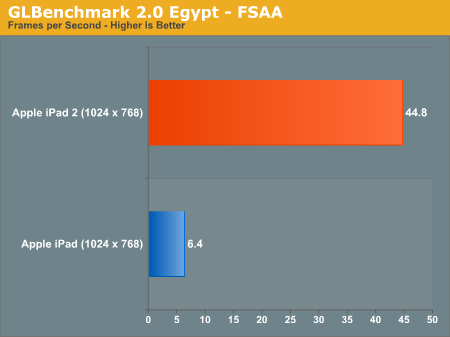 With AA enabled the iPad 2 advantage grows to 7x. In a game with the complexity of the Egypt test the original iPad wouldn't be remotely playable while the iPad 2 could run it smoothly.
The Pro test is a little more reasonable, showing a 3 - 4x increase in performance compared to the original iPad: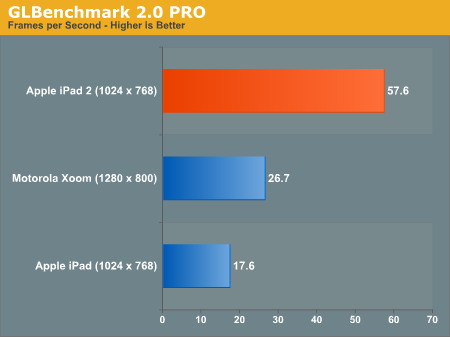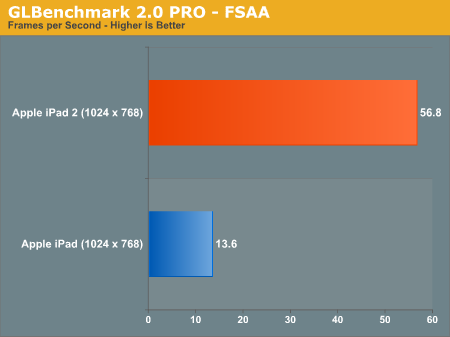 While we weren't able to reach the 9x figure claimed by Apple (I'm not sure that you'll ever see 9x running real game code), a range of 3 - 7x in GLBenchmark 2.0 is more reasonable. In practice I'd expect something less than 5x but that's nothing to complain about. We'll be doing power analysis over the weekend so expect more detail in our full review.
Putting the PowerVR SGX 543MP2 to Use: Infinity Blade
As we pointed out in our iPad 2 Preview, at least one developer already picked up on the amount of extra GPU horsepower in the new iPad 2. Epic put out an updated version of Infinity Blade with support for the iPad 2. Run it on an iPad and you'll get the same old Infinity Blade, but run it on an iPad 2 and you'll get more detail, higher resolution textures and anti-aliasing.
Remember that iPad and iPhone devices are more closed than your PC. There's no adjusting detail settings or resolution, so the target frame rate is usually what's fixed. Developers are simply able to deliver a better looking experience at roughly the same frame rate with upgraded hardware. In the case of Infinity Blade, load times are reduced thanks to the Cortex A9 CPU cores and there is some improvement in frame rate but the biggest impact comes from the improved visuals.
Below is the comparison beween Infinity Blade on the iPad and iPad 2 we ran in this morning's preview: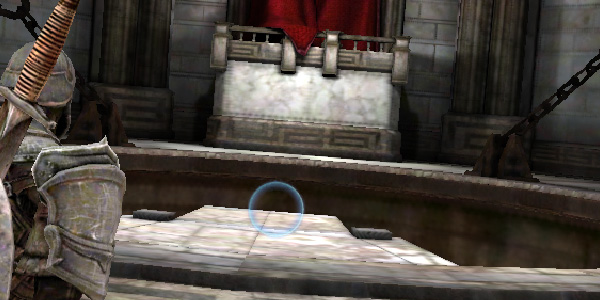 Mouse over to see Infinity Blade on the iPad 2
The gallery below has a bunch of side by side shots showing the improvements made to Infinity Blade for the iPad 2 vs. what you get when you run the game on a first generation iPad.
To Be Concluded...
We're still hard at work on our full iPad 2 review. We've got no less than four units running through battery life tests right now and there's still more to talk about in the review. We'll keep you posted, thanks for reading!