Original Link: http://www.anandtech.com/show/4207/asus-g73sw-third-times-the-charm


ASUS' G73SW: Now with Sandy Bridge
Last month was a little rough on our laptop reviews team, as we had a whole slew of planned Sandy Bridge notebooks evaporate with Intel's chipset bug announcement. Even today, we have yet to receive a Sandy Bridge system with the revised B3 stepping chipset, but at least vendors are ready to ship us preview/review hardware again. MSI let us post a preview of their GT680R a couple weeks ago. (Actually, they asked us to send it back but since we had finished benchmarking we wanted to post the numbers; they then agreed to let us tell you it was their notebook.) Now, we've got the ASUS G73SW in hand, with very similar hardware specs and the same G73 chassis that wowed us early last year.
Unfortunately, things have changed a bit over the past year, and what was new and exciting isn't quite so likely to catch our eye these days. If you love the G73 "stealth bomber" design, there's nothing to complain about; however, if you think it looks huge, tacky, boring, [insert your own derogatory adjective], then there's likewise nothing to praise. What has changed since the G73JW we looked at in November amounts to one thing: Sandy Bridge. Okay, that means a new chipset and CPU, which also necessitates an updated motherboard, but as far as appearances go you won't be able to tell them apart. You can check out the above gallery of the G73SW if you missed the earlier systems, or if you just need a refresh.
ASUS G73SW-A1 Specifications
Processor
Intel Core i7-2630QM
(4x2.0GHz + HT, 32nm, 6MB L3, Turbo to 2.9GHz, 45W)
Chipset
Intel HM65
Memory
4x2GB DDR3-1333 (Max 8GB)
Graphics
NVIDIA GeForce GTX 460M 1.5GB GDDR5
192 SPs, 675/1350/625MHz Core/Shader/RAM clocks
(2.5GHz effective RAM clock)
Display
17.3" LED Glossy 16:9 1080p (1920x1080)
(HannStar HSD173PUW1)
Hard Drive(s)
2x500GB 7200RPM HDD (non-RAID)
(Seagate Momentus 7200.4 ST9500420AS)
Optical Drive
Blu-ray/DVDR Combo (Slimtype BDE DS4E1S)
Networking
Gigabit Ethernet (Realtek RTL8168/8111)
802.11n WiFI (Atheros AR9285)
Bluetooth 2.1+EDR (Broadcom BT-270)
Audio
EAX Enhanced HD 5.0 Audio (2.1 speakers + subwoofer)
Microphone and headphone jacks
Capable of 5.1 digital output (HDMI)
Battery
8-Cell, 14.6V, 5.2Ah, 75Wh
Front Side
Power/Battery/HDD/WiFi indicator lights
Left Side
Headphone Jack
Microphone Jack
2 x USB 2.0
Optical Drive (BD-ROM/DVDRW)
Ethernet
Right Side
Memory Card Reader
1 x USB 2.0
1 x USB 3.0
HDMI
VGA
AC Power Connection
Back Side
2 x Exhaust vent
Kensington Lock
Operating System
Windows 7 Home Premium 64-bit
Dimensions
16.54" x 12.20" x 0.74-2.24" (WxDxH)
Weight
8.47 lbs (with 8-cell battery)
Extras
Gaming (Laser) Mouse
ASUS Backpack
2MP Webcam
102-Key keyboard with 10-key
Flash reader (SD, MMC, MS-Duo, Smart Media, xD)
Warranty
2-year limited global warranty
1-year accidental damage and battery warranty
Pricing
Online starting at $1745
The good things about the design remain: the wedge shape gives plenty of room for cooling the CPU and GPU, and compared to similarly specced laptops (i.e. the MSI GT680R) it runs pretty quiet. That's impressive considering the quad-core CPU and 460M GPU, and for good measure ASUS includes 8GB (4x2GB) RAM. ASUS continues to use a pair of 500GB hard drives, without RAID 0, but we wish they would offer a moderate SSD as the OS/app drive as an alternative (maybe an X2 variant can go that route?). All told, performance is quite good.
Matte surfaces abound, with a rubberized coating that feels nice, though it tends to show greasy spots if your hands secrete a lot of oils. There's keyboard backlighting and the LCD is a high-contrast model (though it's sadly still limited to a maximum brightness of around 160 nits). The standard connection options are here: three USB 2.0 ports, one USB 3.0 port, HDMI 1.4, VGA, and a flash memory reader. You also get a Blu-ray combo drive, gigabit Ethernet port, 802.11n networking (150Mbps capable), and Bluetooth.
On the not so great side of the fence, there's no FireWire, eSATA, ExpressCard, or DisplayPort, and this is a very large 17.3"-screen chassis—it almost feels like an 18.4"-screen chassis at first contact, and the LCD bezels are large enough that you could come very close to fitting in such a panel. The GTX 460M is also feeling a little bit like yesterday's news—we'd love to see a faster 470M or even the shiny new 485M, though it appears ASUS hasn't qualified the G73 chassis for such chips. And speaking of the chassis, while it may be good for cooling, the wedge shape isn't going to please everyone. Perhaps the biggest complain, however, is that pricing has gone up yet again.
The G73JH-A1 came with a blow-out starting price of just $1500 at launch (though some retailers marked it up closer to $1575). The G73JW-A1 added USB 3.0 and switched to a GTX 460M GPU, with an updated i7-740QM to replace the i7-720QM, and the starting price moved to $1600. Now we're looking at the same GPU with a Sandy Bridge i7-2630QM (which ostensibly should be priced the same as the outgoing i7-740QM), and the MSRP is up to $1700 (possibly more). So I hate to be the bearer of bad news, but: You're going the wrong way, ASUS! Other gaming notebooks like the MSI GT680R (going for $1475 online) offer nearly identical specs, so unless you want the larger display/chassis, backpack, and mouse or prefer some of the other ASUS elements (like a higher contrast LCD and keyboard backlighting), this is no longer the bargain gaming system that the G73JH was.
Other Points of Interest
Besides the core hardware, readers will occasionally want to know about other areas like sound quality. Dell's XPS 15/17 are still the high-water mark in my book, with clear highs, mids, and lows. The G73 chassis can put out a decent amount of sound, but it's a lot more boomy than the XPS 15. Some sort of equalizer would be of great service for tweaking sound levels, as the built-in subwoofer just feels mushy and overpowering.
Battery life, as we'll show later, has gone up a bit relative to the G73JW. This is expected, as quad-core Sandy Bridge should use far less power than the old quad-core Clarksfield. With the same 75Wh battery, the G73SW can now reach over 3.5 hours of battery life in our best-case testing, and in general should last close to three hours for light use. For other comments on the design and build quality, we'll defer to our previous G73JW and G73JH reviews, as nothing else has changed that I can see.
In short, this is a very evolutionary design. It's still good, still fast, and still reasonably priced relative to other gaming notebooks. You can get about 60% of the gaming performance of the GTX 485M-equipped Clevo P170HM and (with similar components) you're paying about 70% of the price. Or if you prefer, the Clevo P170HM with the same i7-2630QM, GTX 460M, 2x500GB HDD, 8GB RAM, and Blu-ray combo drive will cost about $1950 (at AVADirect). But that means that if performance is your primary consideration, you'll be better off opting for a laptop with a GTX 485M (or an HD 6970M). Personally, I'm more interested in testing the slightly smaller G53SW… but then I've already got a Clevo P150HM (with HD 6970M) in hand, and outside of the pricing that could very well be the 15.6" laptop to beat. You'll have to wait until next week to get the P150HM review; for now, let's look at the performance of the G73SW compared to our other high-end gaming notebooks.
Application Performance: Plenty Fast
We'll start with our standard set of application results. Here's where the Sandy Bridge processor upgrade really helps the G73SW distance itself from the previous iteration. What would help even more would be to get an SSD in the system as the OS/app drive; even a 60GB model would be fine, but personally I find 120GB to be the sweet spot. The main comparison here is going to be with the MSI GT680R and the older G73JW, although the Clevo P170HM is also worth a look. As the unit we tested had an SSD, the P170HM is going to really pull ahead in the PCMark tests.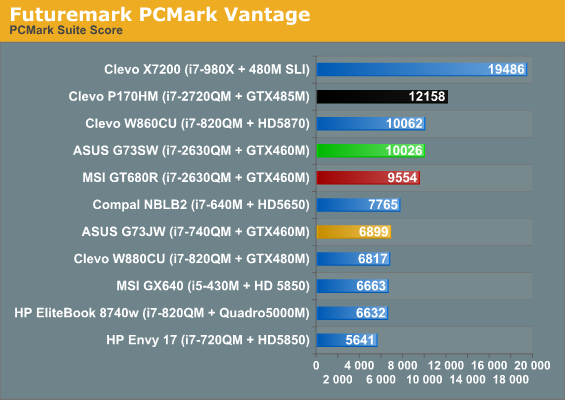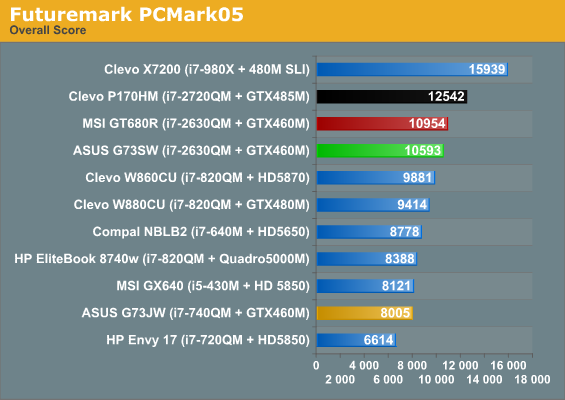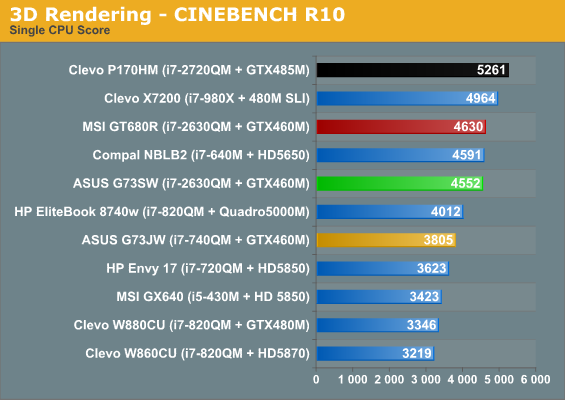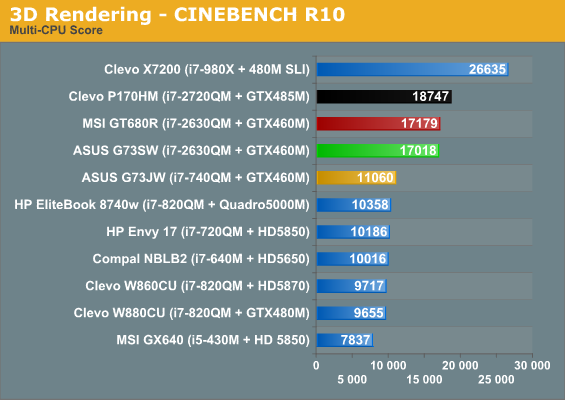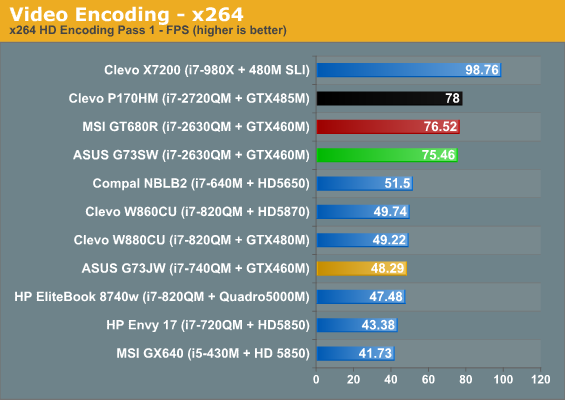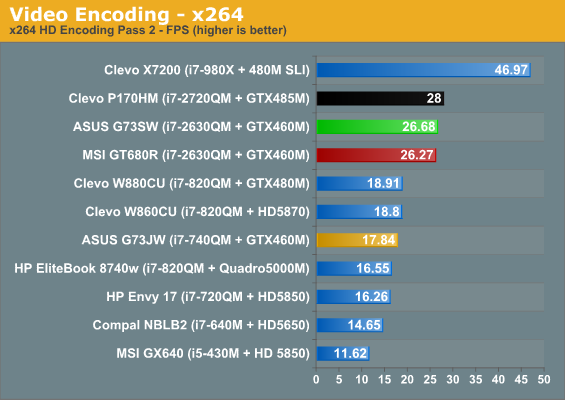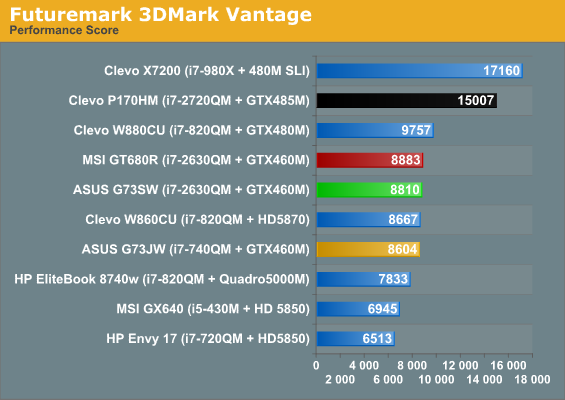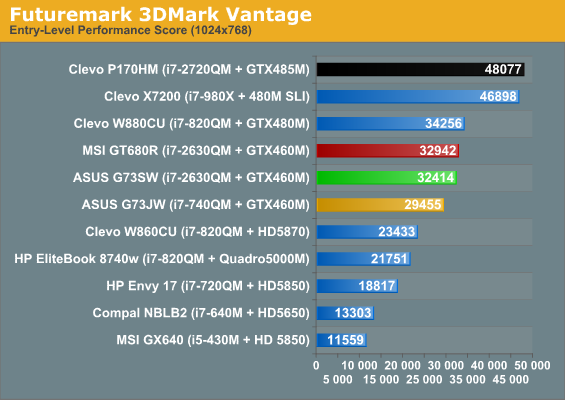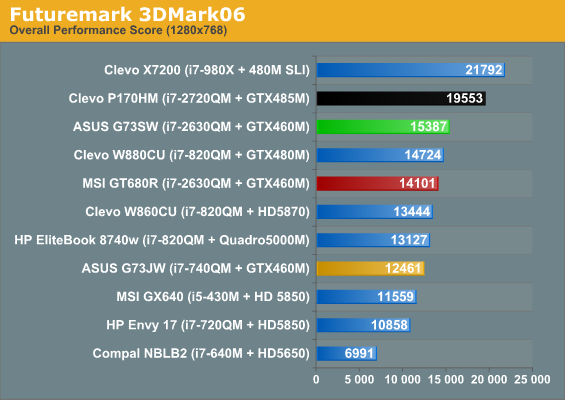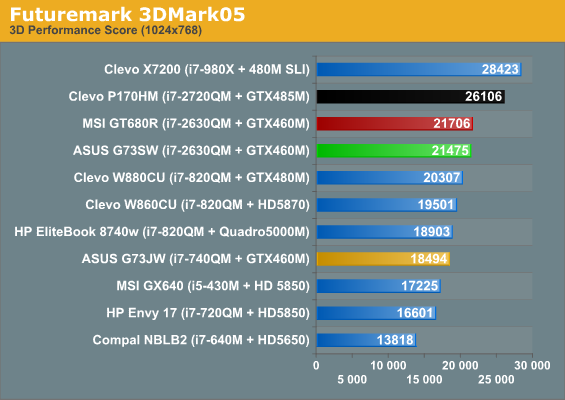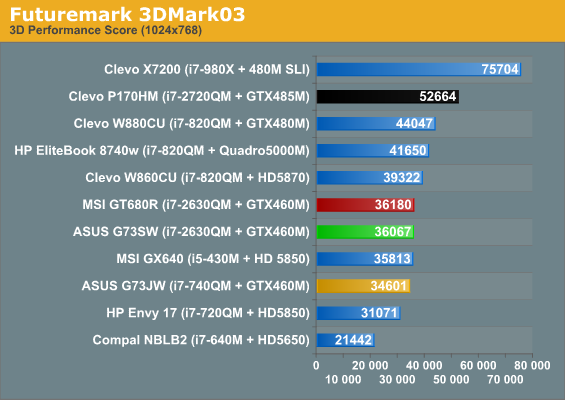 So the first point of interest is just how much faster the G73SW is compared to the G73JW. It leads by 45% in PCMark Vantage (and that's without an SSD), 32% in the older PCMark05, and anywhere from 20% in the single-threaded Cinebench results to as much as 58% in the multi-threaded tests. In fact, all of the heavily threaded benchmarks are at least 50% faster with Sandy Bridge. Wow. But we already knew that. What about some more recent competition?
MSI's GT680R has pretty much the same specs, only with RAID0 HDDs instead of individual drives. Oddly enough, the G73SW still came out slightly ahead in PCMark Vantage (by 5%), a test that's particularly kind to fast storage subsystems (particularly SSDs). PCMark05 puts the GT680R ahead by a similar margin (3.5%), but Vantage is arguably more pertinent in today's market. Elsewhere, the comparison is largely a wash, with MSI winning three, ASUS winning two, and a tie in the final test. All of the margins of victory are close enough to call it a tie. So, despite having a larger (and ostensibly cooler running) chassis, the G73SW delivers about the same performance as that of the GT680R, which is still very good.
The other point of comparison is the recent Clevo P170HM, which has a faster i7-2720QM CPU and a much faster GTX 485M GPU. The latter mostly won't matter here (except for PCMark05), but the 2720QM does carry a small clock speed advantage, and the Crucial C300 SSD will definitely help in PCMark Vantage—good for a 21% lead, in fact. it has an 18% lead in PCMark05, with help from both the SSD and GPU. The remaining tests are purely CPU limited, and the lead ranges from 3-5% in x264 encoding to as much as 15% in the single-threaded Cinebench result where the more aggressive Turbo Boost on the 2720QM comes into play.
Recall that the 2720QM can Turbo to 3.3GHz from the stock 2.2GHz for single-threaded work, and still hit as high as 3.0GHz with all four cores active; in contrast, the 2630QM maxes out at 2.9GHz single-threaded, or 2.6GHz for all four cores. It looks as though x264 encoding isn't able to Turbo as high as Cinebench for some reason, as even the heavily CPU bottlenecked second pass is still only 5% faster with the 2720QM, despite a potential 10% to 15% clock speed advantage—or maybe it's that the G73SW is able to run at the maximum 2.6GHz, whereas the P170HM might have to drop down to 2.7-2.8GHz due to temperature.
Any way you slice it, the quad-core Sandy Bridge processors are very fast for general computing work. It's just a shame that the use of the PM67 chipset and discrete GPU means there's no way to access the CPU's QuickSync feature. That's one more reason switchable graphics really makes sense in notebooks, but it does add some complexity that some of the OEMs prefer to avoid. So far, no one has been willing to try NVIDIA's Optimus Technology with any mobile GPU faster than the GT 435M, although we hear there's a GT 555M Optimus notebook coming some time in 1H'11.
Good for Gaming, but Can't Touch the GTX 485M
As for gaming performance, this is the real purpose of the G73 series, and here the Sandy Bridge only offers moderate increases in most titles. This is why either the 470M or even the 485M as an option in the G73SW would have been good, although that would bump the price up even higher. MSI's GT680R also includes a "Turbo" feature, only this time instead of overclocking the CPU (as in the previous generation GX640), it overclocks the GTX 460M slightly. GPU memory speed is unaffected, so the benefit ranges from negligible to potentially 5% thanks to the GPU overclock (708MHz instead of the stock 675MHz). In practice, there's a bit more variance than that, but it's typically just the margin of error for gaming benchmarks.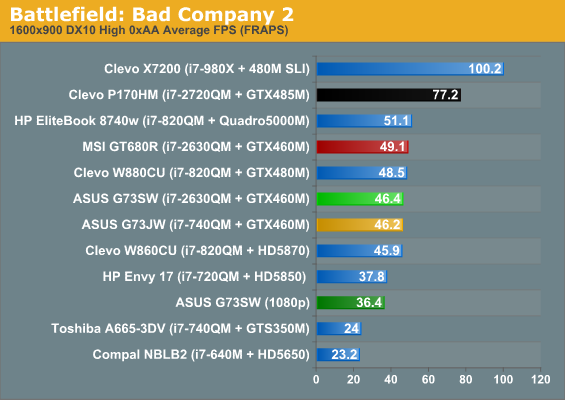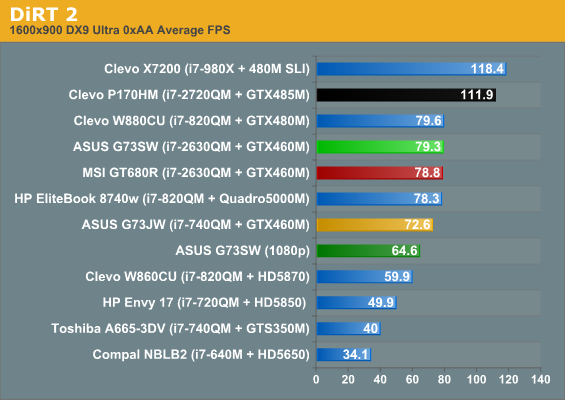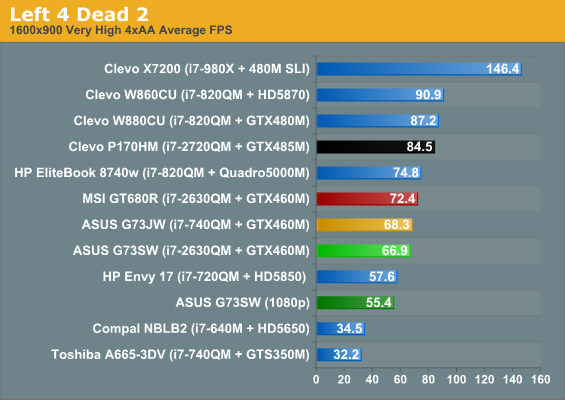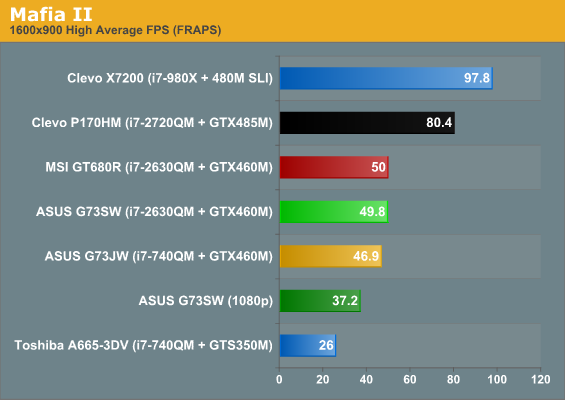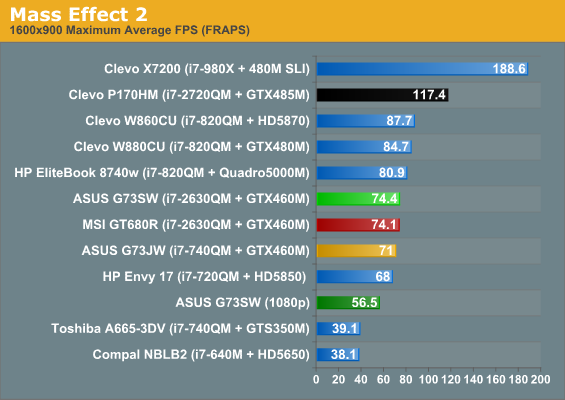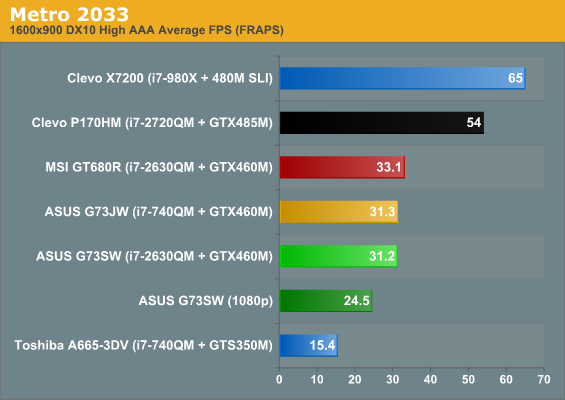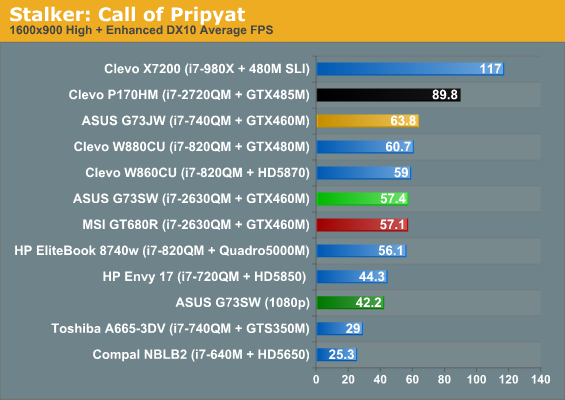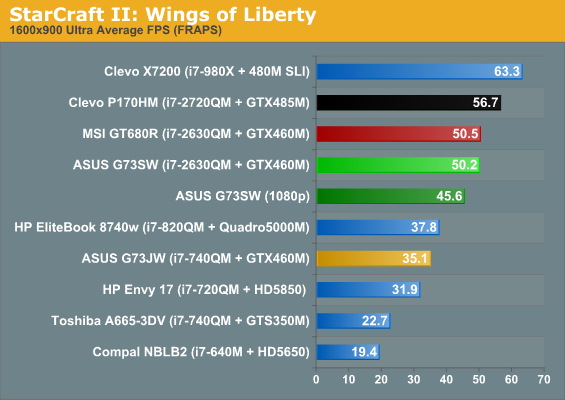 Starting with our High Detail benchmarking, the first thing to note is that all games are playable (i.e. above 30FPS), and even at the LCD's native 1080p all games remain so, with the exception of Metro 2033. That happens to be a punishing title on even the fastest of GPUs, so we wouldn't worry too much about the lower score. Also worth noting is that for some reason, both the G73SW and the MSI GT680R scored exceptionally high on the STALKER benchmark; there's apparently something wrong with our test resolution of 1600x900, as 1600x1024 and 1366x768 both ran much slower. We've chosen to scale the 1600x1024 result by 13.8% (i.e. 1024 is 13.8% more than 900) as the 900p score of 114.6 is clearly wrong—we're just not sure why the test runs so much faster than other resolutions. This appears to be a bug in the 266.58 NVIDIA driver, as performance with older drivers was as expected.
As far as comparisons go, the G73SW ends up being anywhere from 10% slower to 10% faster than the older G73JW. In theory, it should never be slower, but driver changes likely account for the discrepancies. The performance in BFBC2, L4D2, and Metro 2033 remains unchanged (i.e. the new CPU doesn't change the performance at all); DiRT 2 and Mafia II are 6% and 9% faster, respectively; finally, StarCraft II is the poster child for Sandy Bridge, as performance is up a healthy 43%. Moving over to the MSI GT680R comparison, as expected the differences are generally negligible. BFBC2 and Metro 2033 are 6% faster and L4D2 is 8% faster, while the remaining five titles are within 1% of each other. And then there's the P170HM with GTX 485M, which is anywhere from 13% (StarCraft II) to 73% (Metro 2033) faster than the G73SW. Actually, only L4D2 and SC2 are under 25%; the other six titles show an improvement of at least 41%.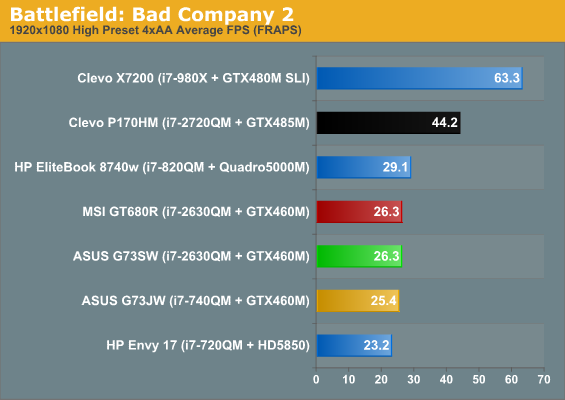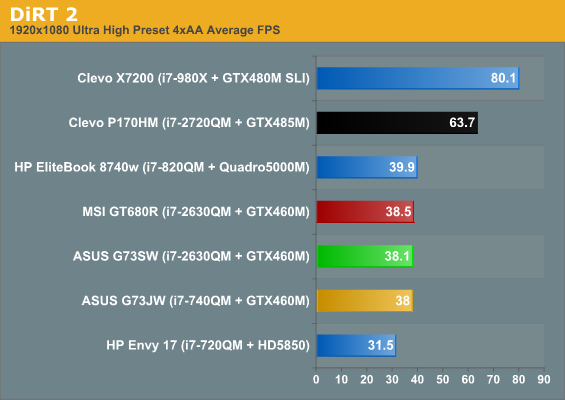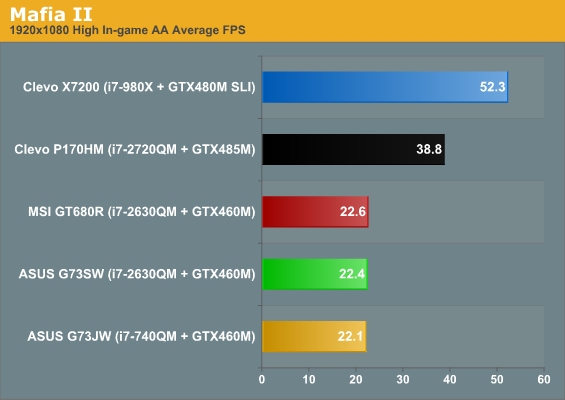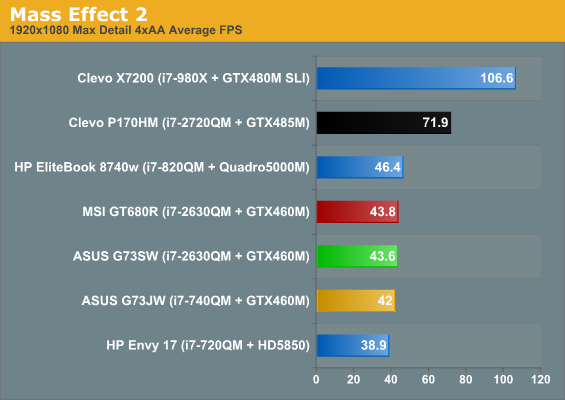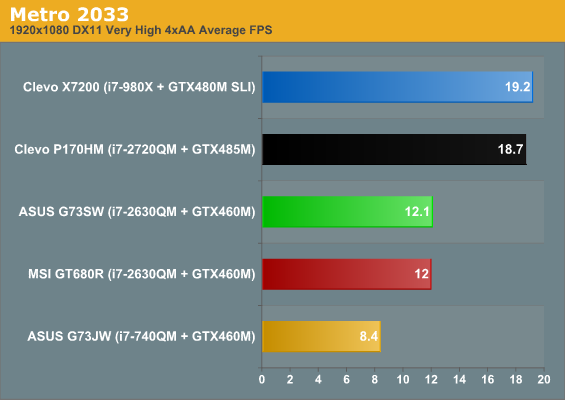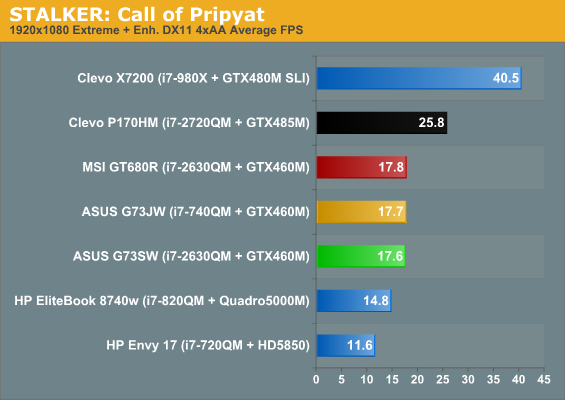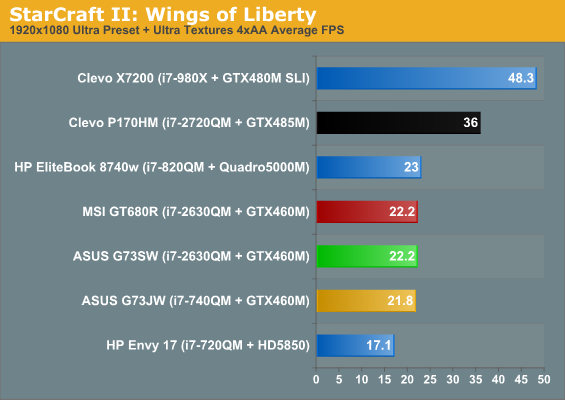 Bumping up to our Ultra settings tends to be too much for most of the single-GPU mobile solutions. DiRT 2, L4D2, and Mass Effect 2 still break 30FPS, but everything else is in the 20s or even teens. One of the major issues with most mobile GPUs is that they simply don't have the memory bandwidth to handle high detail settings with 4xAA, but then there are titles like Metro 2033 and STALKER where enabling DX11 features and SSAO just kills performance. Even the mighty 485M and 480M SLI fail to break 20FPS in Metro 2033 at our Ultra settings.
Looking at comparisons once more, this time the G73JW and G73SW are nearly tied (-1% to 4% lead for the SW), with the exception of Metro where the SW is 44% "faster". Of course, 12.1FPS versus 8.4FPS is hardly a meaningful comparison, as neither option is remotely playable. The slight overclock of the GT680R GPU also fails to help here, as the memory bandwidth requirements overshadow the 5% core clock increase, resulting in scores that are all within 1%. Finally, the GTX 485M is able to post comfortable leads across the test suite. The closest the G73SW can get is in STALKER, where the 485M is 47% faster; in the remaining titles the lead is at least 55% and as much as 73%.
When you consider the total cost of a gaming notebook, the extra $500 to upgrade the P170HM to a GTX 485M actually starts to make sense—who'd have thought? But what about the HD 6970M from AMD? If you don't mind a little spoiler.... <spoiler>I can tell you that out of the eight titles we test, the GTX 485M leads in five games and the 6970M takes the other three; most of the margins are single-digit percentages, but a few break into double-digits. It looks like NVIDIA will maintain their overall lead in mobile GPU performance, but only by a small amount; the question now is how the two GPUs compare in terms of power, heat, pricing, and availability. We'll get into that more with our review of the Clevo P150HM next week… </spoiler>
Battery Life
The G73 is a 17.3" notebook chassis with a 75Wh battery; we know what that means, right? You're not going to get all-day computing, or even half a day (unless you have a six-hour workday). We also know that Sandy Bridge is more power efficient than Clarksfield, so we should see some gains relative to the G73JW. And that's exactly what we get.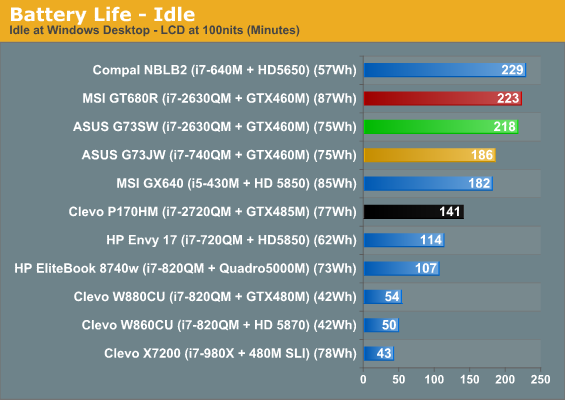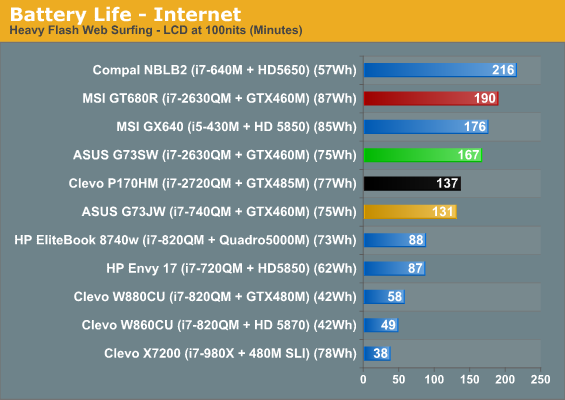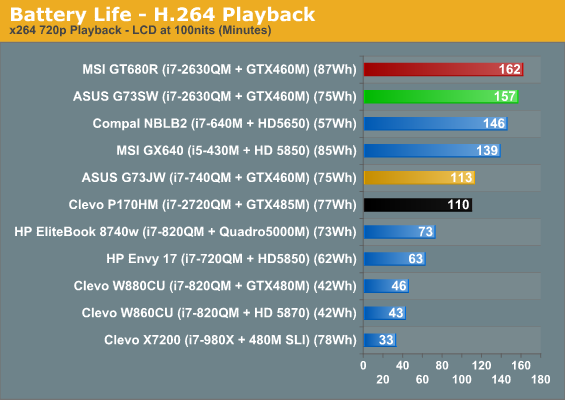 Idle battery life is up 17% to 3.75 hours, and that's the smallest increase. Internet battery life is up 27%, though it falls just shy of the three-hour mark, and H.264 decoding is up 39% to over 2.5 hours. While those are all fairly impressive increases over the previous generation, let's not lose sight of what we could get with switchable graphics. A vanilla i7-2820QM notebook running off the HD 3000 IGP manages roughly double the runtime in our battery life testing, and that's with a slightly smaller battery.
We can actually estimate the idle power requirements of the GTX 460M based off of those results, and let me tell ya, it ain't pretty. Based on the 71Wh battery and the various test results, the Compal SNB notebook we tested used an average of 9.04W at idle, 10.24W in the Internet test, and 16.38W in H.264 playback. In comparison, the G73SW averages 20.64W idle, 26.95W Internet, and 28.66W in H.264 decoding. That means the GTX 460M requires roughly 10W at idle with very low clocks (50MHz core, 270MHz RAM), around 15W with a web browser showing Flash advertisements, and the difference between HD 3000 and GTX 460M in H.264 encoding is back to ~10W. Sadly, these high-power GPUs just aren't very friendly to battery life, with just the GPU using about as much power as the rest of the notebook combined. Here's where NVIDIA's Optimus Technology would have been useful: twice the battery life, the ability to use Intel's QuickSync technology, and discrete graphics performance when you want it.
Plugged in power numbrs are all higher, as the GPU isn't in "limp mode" and we also ran the LCD at maximum brightness. At idle, we measured 27W at the outlet using a Kill-A-Watt device; taking into account power adapter inefficiency, that figure matches up pretty well with our above calculation. When we put a 100% load on just the CPU (using Cinebench 11.5 SMP), power draw gets as high as 87W. Running through the various 3DMark tests, we saw a maximum "typical gaming" load of 114W, whereas Furmark manages to push the GPU just a little harder and we measured up to 125W. It's also interesting to note that we couldn't get power draw any higher by running Furmark with a CPU loading utility; the CPU load was apparently enough to reduce Furmark performance and so our "worst-case" CPU+GPU load actually dropped to 118W. Again, factoring in power adapter inefficiencies, there's still plenty of headroom on the 150W power brick (unlike the 300W brick in the Clevo X7200 with SLI systems), so you can even play games while charging the battery.
We've had some reader requests for a few other battery life metrics. Charging time on the G73SW (with the system powered up) checked in at 168 minutes; it might recharge slightly faster if the system is off, but with a 150W power brick there should be plenty of extra juice for the charging circuit. If you want to run the LCD at maximum brightness rather than 100 nits (or cd/m2 if you prefer), idle battery life drops to 195 minutes. So the extra 55 nits of brightness requires an additional ~2.5W of power. We also ran our Internet test with Pandora open and streaming music in a separate browser tab; that dropped battery life down to 140 minutes. Finally, what about gaming on battery? With the GPU set for maximum performance, we managed 67 minutes looping 3DMark06, but there's still a catch.
Even trying our best to achieve maximum gaming performance while on battery power, the GPU is still throttled—and the CPU appears somewhat slower as well. We ran the full Futuremark test suite on battery power, using the High Performance power profile. The following chart shows the percent of performance relative to the same test running off the mains (so a score of 100 would be no change in performance).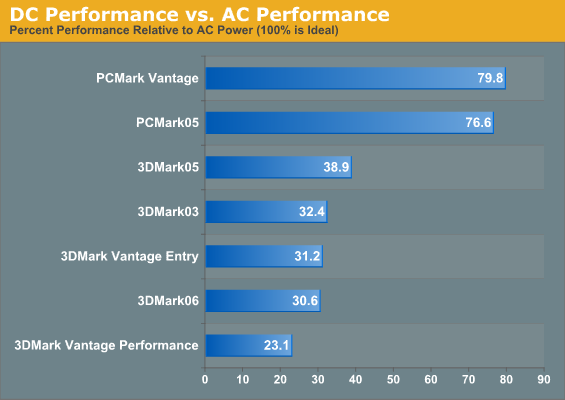 The best results are in PCMark, where battery performance is still 80% of plugged-in performance. Move over to graphics tests, and 3DMark05 managed to maintain nearly 40% of AC performance, 03/05/Vantage Entry are in the range of 30-32% of AC performance, and the Vantage Performance preset is less than one fourth as fast. To put that in perspective, you're looking at gaming performance that's actually worse than what you'd get with a midrange GT 425M GPU.
The problem appears to be getting sufficient power to the GPU from the battery for the higher clocks, as the midrange GPUs don't forcibly throttle performance on battery power (at least in my experience). Then again, it's not like you get significantly better battery life for gaming on a midrange GPU—I measured 104 minutes with a GT 425M on an 84Wh battery with an i3-380M CPU and a 14" chassis. In other words, while it's possible to have a gaming laptop that gets good battery life (i.e. by shutting off the GPU), unless something changes in a big way we're not going to get great gaming performance while on battery power. So fire up your smartphone and play some Angry Birds instead :)
System Temperatures
We'll start with our usual shot from HWMonitor. I should note that I've received a couple emails over the past few months questioning the stability of the G73 notebooks—there are some reports floating around the net stating that the series has overheating problems. While I'm sure individual notebooks have had problems, I've done my best to stress the G73SW as hard as I can, including running Furmark overnight, and a second overnight run of Furmark with the Cinebench SMP rendering looping in the background. There are no stability problems to report and the HWMonitor result below shows the internal temperature ranges for the various components.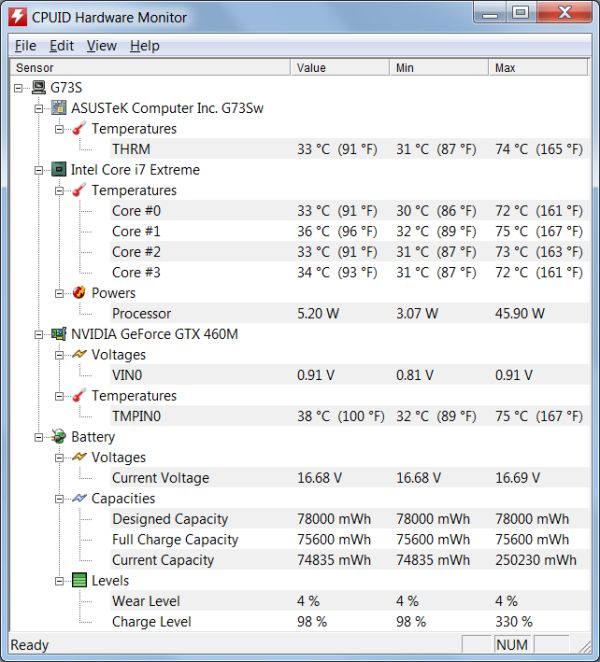 The CPU cores and GPU all report a maximum internal temperature of 75C. That's the same GPU temperature we recorded on the MSI GT680R, but the G73 is 8C cooler on the CPU temperature. So as far as temperatures go, I'm not at all concerned with the ability of the G73 chassis to deliver the goods. That doesn't mean quality assurance (QA) is always perfect, or that there won't be the occasional lemon in the batch, but stability, heat, noise, and performance were never an issue with this particular test sample. Ironically, we can't say the same for the LCD (see below), but given the prerelease nature of our test unit (it was one of the CES 2011 show models, apparently), we'll let that slide.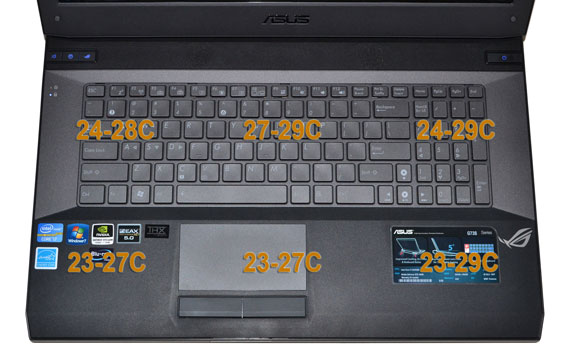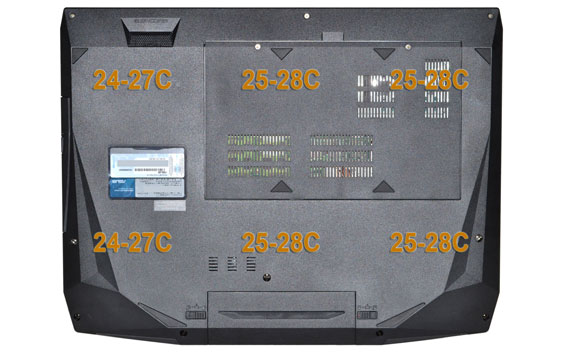 While the internal temperatures hit 75C, the surface temperatures on the G73SW are a lot lower. Unfortunately, my digital thermometer broke in the course of testing [that or the laptop was suddenly 95C or hotter on the surface], so I can't provide load specifics. The above images show the idle surface temperatures; I'd estimate that the hot spots are around 5-10C higher under load, and in general the notebook runs reasonably cool considering the components. As stated in the intro, the large chassis does an excellent job at removing heat, and it does so without getting particularly loud. Idle noise levels measured 31.0dB at 18" and load noise (with Furmark and Cinebench SMP) topped out at 37.6dB. The noise also tends to be lower in pitch, so the G73 is very quiet compared to other gaming notebooks.
My guess is that the only thing between the G73 chassis and a GTX 485M or HD 6870M is the power brick and power circuitry, because the cooling setup looks like it still has plenty of headroom—especially if ASUS were to ramp up fan speeds and noise levels to compensate for the additional heat. The other thing keeping such high-end GPUs out of the G73 line is most likely price; ASUS has stated in the past that as soon as they start pushing beyond $1000, sales figures start to drop, and at $2000+ they plummet. That makes sense, though I'd still love to see some more competition for the high-end Clevo notebooks that can easily run into the $2500+ range.
What About the LCD?
As I mentioned above, there was an issue with our particular unit's LCD. It's not something that would affect benchmarks (outside of our LCD tests), but it was certainly distracting. At the heart of the problem are two things: first, the LCD would periodically flicker black. The only other time I've seen something like this was with a pre-release Dell Studio XPS 16. [Update: Several readers pointed out that this is an NVIDIA 266.58 driver bug specific to the G73SW.] The second problem with the panel is that there was a huge bright spot in the lower right that would show up once the panel got warm. You can see this as a yellow discoloration in the image below.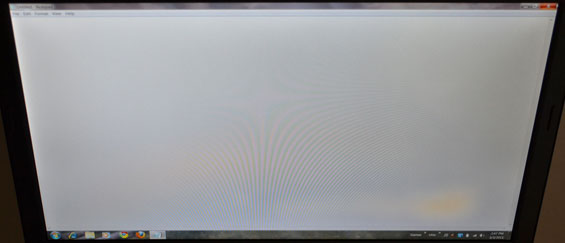 It appears to be a manufacturing glitch with the various layers of the LCD. If I purchased a notebook with this problem, you can bet I'd send it back. ASUS offered to ship me a replacement, but this problem isn't something I'm overly concerned with. We've tested this same HannStar 171PUW-1 panel several times already, and the characteristics are always about the same. It's got a great contrast ratio, a reasonable color gamut (particularly if all you're concerned with is the sRGB color space), and it's a nice 1080p display. That said, something really needs to be done about the relatively low maximum backlight intensity; it would be great to see 400-nit maximum white levels, with the ability to drop down to 50-75 nits minimum for dark LAN parties. Indoors, 155 nits is fine, but if the LCD is exposed to bright lights (i.e outdoors or in a harshly lit environment) you'll have serious reflections. Actually, what would be ideal is to get matte LCDs with at least 750:1 contrast, but those seem to be a rare breed outside of MacBook Pros. Anyway, here are the LCD performance charts, with results slightly worse than the G73JW we tested previously.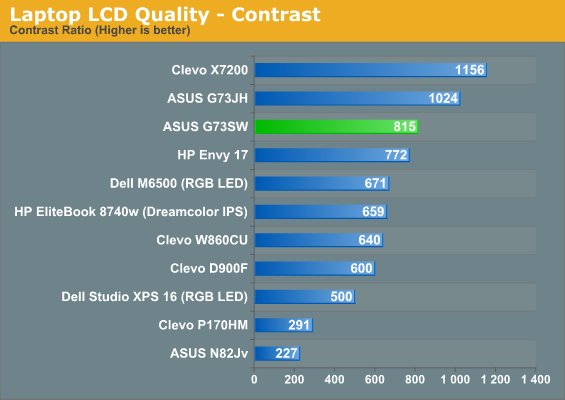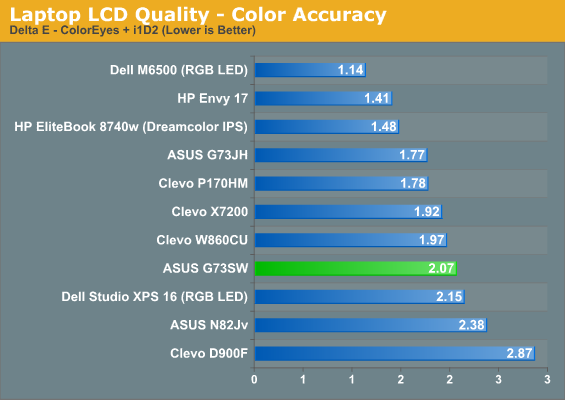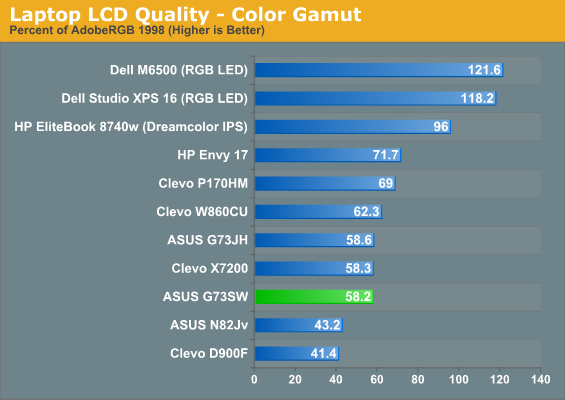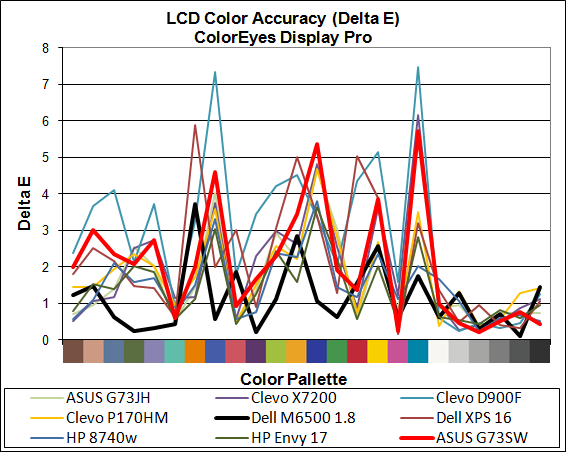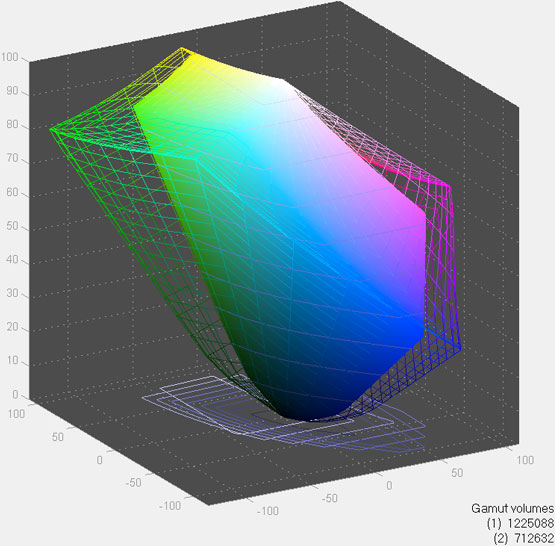 G73 Is Still Kicking…
One year later, the G73 is still kicking, but I have to say that I'm ready for something new. Familiarity may not be breeding contempt yet, but that love at first sight feeling is definitely fading. If you purchased the original G73JH, there's no real reason to upgrade to the G73SW for games. For CPU-intensive applications, Sandy Bridge is still an awesome upgrade from Clarksfield, but I've seen other SNB designs that impress me more in some areas. The G73 still has plenty of good aspects, but let's see some innovation and improved industrial design—as Vivek puts it, every engineer should be required to use a MacBook Pro for a couple months, just so they can get a feel for all the design elements that it gets right.
Obviously, the G73SW isn't anything like a MacBook Pro, not even the 17" model. The GPU alone is far more powerful than anything Apple has ever shipped in a notebook, and with that power comes a penalty in chassis size. You're not going to cool a GTX 460M very well in an ultrathin chassis, and you're really not going to have a quiet-running notebook at heavy loads with such a design. However, that doesn't mean you have to use a predominantly plastic chassis. On the other hand, you don't have to go full out with a unibody aluminum chassis either.
I still appreciate plenty of areas of the G73 design, like the keyboard backlighting and the lack of glossy surfaces (outside of the LCD), the good cooling, and the reasonable noise levels. Performance has always been a strong point, pricing is acceptable, and you get a nice selection of extras (a backpack and laser mouse, if you purchase the A1 model we're reviewing). Still, this is a huge system even by 17.3"-notebook standards, and there are faster options out there where you'll get more than 30% better performance for a 30% price increase. Until we start seeing truly upgradeable mobile GPUs, notebook gamers are best off spending as much as they can up front; gaming requirements continue to increase every year, and there's still a gulf between the top mobile GPUs and their desktop counterparts.
Looking at the desktop world, we now have $230 GPUs like the GTX 560 Ti that have twice the number of CUDA cores as the 460M, and they're clocked 21% higher as well. To go along with the potential 142% computational performance increase, you also get 113% more GPU memory bandwidth. Yeah, all of that in a $230 desktop GPU. Shift over to the mobile world, and the cheapest GTX 460M notebook will set you back around $1325. That laptop comes from ASUS as well, the ASUS G53SW. Hopefully we can get one of those in for review next, because on paper that's a more compelling option (even if you don't get the mouse and backpack). But the point is, with mainstream desktop GPUs pushing that sort of performance, you can count on more complex games coming out to make use of them. Just like Mafia II and Metro 2033 (and some other titles as well) manage to choke anything less than a 460M at moderately high resolutions, 2012 is going to bring [along with the end of the world] titles that will bring even the GTX 460M to its knees.
Ultimately, with any review we have to ask: is the product worth buying? In the case of the ASUS G73SW, we can certainly answer in the affirmative. Anyone looking for a gaming notebook they can take to LAN parties should be very happy with this purchase, and even if the GTX 460M isn't the fastest chip on the block, you can look at our Mobile Bench results to see how it still blows away mainstream mobile GPUs like the 425M. (We didn't show the results here, but we've got our Medium 768p gaming scores in Bench.)
I really, really want to check out the G53SW model next, ASUS, because personally 17.3" gaming notebooks are just a bit too bulky for my taste. If you have similar tastes, check back next week for our review of a 15.6" notebook sporting AMD's latest HD 6970M GPU. It may cost more than the G73SW and G53SW, but it's also got the performance to back it up! Hopefully the next revision of ASUS' G5/G7 series can get something similar.