Original Link: http://www.anandtech.com/show/4165/the-motorola-atrix-4g-preview


A couple of months ago I had the opportunity to join a bunch of NVIDIA employees for dinner. Among those at the table were Michael Toksvig and Tony Tamasi. Michael, or Tox as he likes to be called, worked on the AA hardware for NV17, NV25, NV40 and G80. He managed to skip NV30. More recently Tox was the chief architect on GeForce ULV, the GPU integrated in NVIDIA's Tegra 2 SoC.
Tony Tamasi is someone I've known for around a decade. I first met him while he was working at 3dfx, and got the pleasure of working closely with him when he later moved to NVIDIA to do technical marketing. Both Tox and Tony are very passionate engineers at heart and are up for a good conversation.
The conversation we had at dinner that night was on the future of the smartphone and the mainstream PC. Tony argued that technically, within 3 years, a high end smartphone will be able to offer the performance of a (low end) mainstream PC today. Admittedly that isn't the highest bar possible as virtually everything above a netbook falls into that category, but it's a valid claim.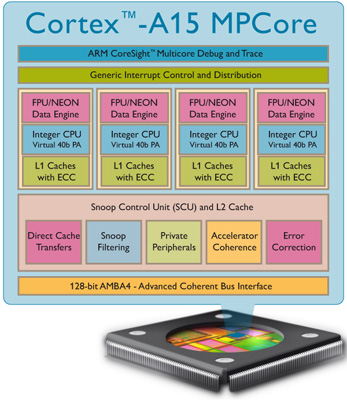 ARM's recently announced Cortex A15 should be able to outperform Intel's current generation Atom depending on clock speed/core count configurations. Add another generation beyond that and you might have the performance of a mainstream PC today, at least the lower end of the mainstream segment.
Tony further admitted that although it would be technically feasible for mainstream PC users to replace their PCs with smartphones in three years, there are a number of other things that will likely prevent such a thing from happening too quickly. But he was confident that within the next 10 years, mainstream PCs will be nothing more than smartphones tethered wirelessly to a monitor, keyboard and mouse. When you're done at your desk you'll just pick up your smartphone and carry it with you.
Note that this future only pertains to mainstream PCs (e.g. sub-$500 market). There's still an obvious benefit to having a larger chassis that can accommodate higher transistor counts and higher TDPs.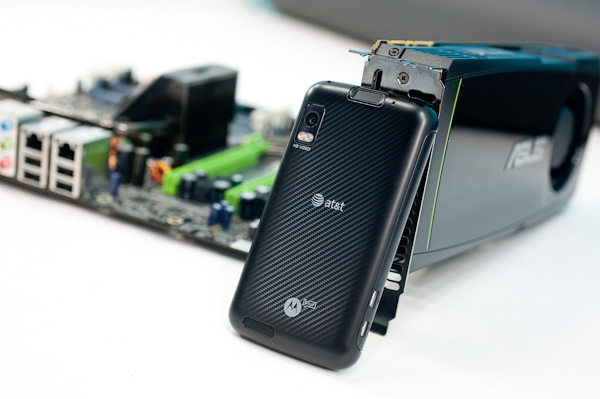 I've heard other PC companies offer similar visions of the future, although they all disagree on the timeframe. I've heard periods as short as 5 years and as long as 20 years. Predictions have a nasty habit of not taking the unpredictable future into consideration, but this is definitely a valid possibility for the next decade or so.
It wasn't a coincidence that we had this conversation at dinner some months ago. Tony knew what was being announced at CES.
Jen-Hsun Takes the Stage
Jen-Hsun's CES keynote was probably the best I'd seen him do in recent history. The last time I heard Jen-Hsun speak was at the first and only NVISION conference. His keynote at the time was about the importance of GPUs and the role they'll play in future computing devices. The keynote was bland. It ignored the obvious need for a a balance of good CPU *and* GPU technology. It was everything we've grown to despise about NVIDIA - Jen Hsun spoke about a world where GPUs and NVIDIA were driving the entire computing industry forward. He spoke about a world that didn't exist.
Jen-Hsun at CES 2011 was more like the old Jen-Hsun. There was more passion, more belief, less BS. But he was also a more mature Jen-Hsun. He still took his jabs at x86 and the Wintel alliance, but he offered better perspective - not just an injection of whatever NVIDIA cooked up in the basement the other night.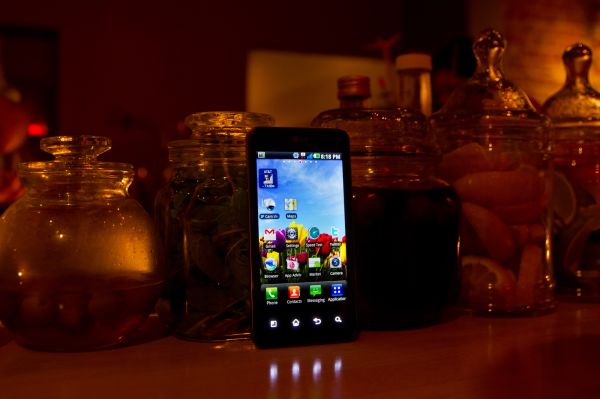 LG's Optimus 2X - The first Tegra 2 smartphone
At CES 2011 NVIDIA finally announced the first smartphone based on its Tegra 2 SoC: LG's Optimus 2X. Motorola followed up with three more Tegra 2 based devices. And although Google didn't make a big deal out of it at the show, NVIDIA also has the honor of being the official SoC partner on the Honeycomb release of Android. The first OEMs to launch Honeycomb tablets will be running NVIDIA Tegra 2 SoCs.
NVIDIA also announced its intentions to plug the gaping hole in its future. The company is an ARM architecture licensee, and Project Denver will be its first high performance CPU design.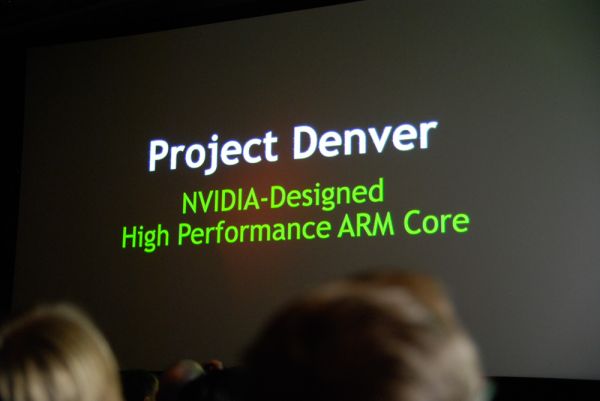 If high end smartphones will begin to replace mainstream PCs, NVIDIA needs to offer a compelling CPU, GPU and overall SoC for that market. Jen-Hsun always understood the importance of the OEMs in gaining traction in the PC market, and OEMs tend to want to have the best hardware possible. In order to give them that, NVIDIA can't simply ship an off-the-shelf ARM core, it needs something better than that.
So what's the point of all of this?
If smartphones are moving up in the world and will eventually be powerful enough to drive a high resolution display and run mainstream computing tasks, the evolution has to start now. There are usually a bunch of failed attempts and baby steps before we finally arrive at the product that just clicks. Look no further than the smartphone market for proof of that. It took years of PDAs and crap phones before we got to things like the Droid, the iPhone and the Palm Pre.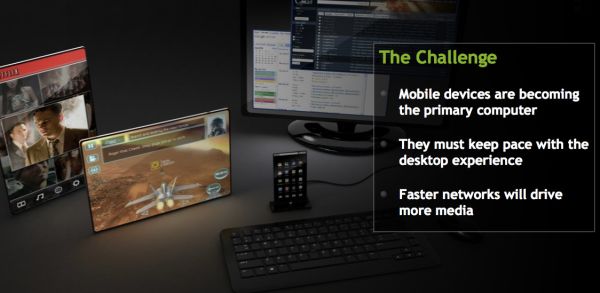 The battle for the advancement of smartphones has begun, and Motorola just fired the first shot.
LG announced and began shipping the world's first Tegra 2 based smartphone, however it looks and behaves much like any other Android phone - just faster.
Motorola's flagship Tegra 2 device is a little different. At CES Motorola announced the Atrix 4G as a dual-core superphone with 1GB of RAM and a 1930mah battery. I was worried that this meant the Tegra 2 couldn't be trusted on a battery, but LG proved me wrong. The point of the extra large battery and the ridiculous memory capacity is because Motorola wants the Atrix 4G to be more than just a smartphone. It wants it to compete with a netbook.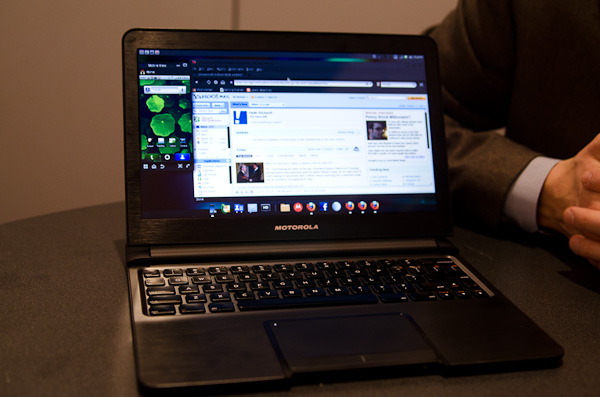 Don't get me wrong. What Motorola wants and the reality that exists don't exactly line up. A netbook will still give you a better computing experience, particularly something based on AMD's latest Brazos platform. But as I mentioned earlier, a revolution has to start somewhere.
A couple of days ago I got a package from Motorola. In it was the Atrix 4G, a multimedia dock, bluetooth keyboard and mouse. I'm currently on a flight to Barcelona to join Brian Klug as we cover Mobile World Congress for the first time on AnandTech. MWC is a very large mobility focused tradeshow that's held yearly. From a content standpoint it's like a smartphone/tablet CES.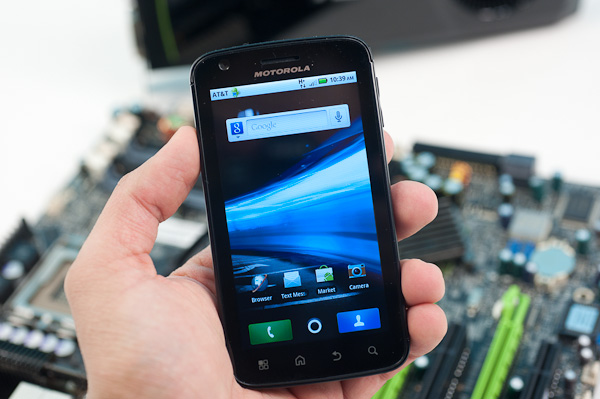 It takes days for us to run through all of our battery life tests, and usually a couple of weeks of constant usage for us to put together one of our smartphone reviews. With Brian working on the Verizon iPhone 4 and both of us en route to MWC, it'll be a little while before we can bring you a full, in-depth Atrix 4G review.
That being said I wanted to get some of my thoughts out there as this is a highly anticipated device that attempts to do a lot.
What follows is by no means a full review, I wouldn't dream of calling it that. But rather an account of my experiences with Motorola's Atrix 4G thus far. Give me some time after MWC and we'll get a full review up. The Atrix hasn't left my side since it arrived and I'll be using it to keep up with emails and schedule meetings at the show as well. Be sure to read our Optimus 2X Review for more coverage on what makes up NVIDIA's Tegra 2 SoC.
Hardware Impressions: Run of the Mill Motorola, aka Good Build Quality
The last Motorola phone I owned was the v70. Brian handled all of the 2nd generation Droid reviews, and while I've used them I never did so for an appreciable period of time. From the StarTAC to the v70, I will say I had some good experiences with Motorola hardware.
The Atrix 4G is no different. The phone is pretty light at 135 grams, that puts it in the class of the iPhone 4 and Optimus 2X (although the Atrix is lighter than both). Despite its weight, the Atrix 4G doesn't feel cheap - it just feels like a solid block of plastic. There's no discernible flex in the chassis, at least from my experience with the phone thus far. All gaps in the housing are both tiny and uniform. It's a well built product.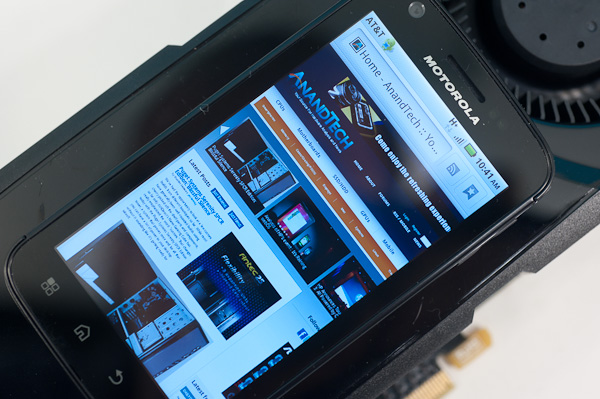 On the front is the 4.0" qHD PenTile LCD screen (960 x 540 resolution). At the top of the display is the front facing VGA camera, proximity sensors and notification LED. The LED is green when the Atrix 4G is plugged in and fully charged, it turns red when you are running low on battery and blinks green for all notification events.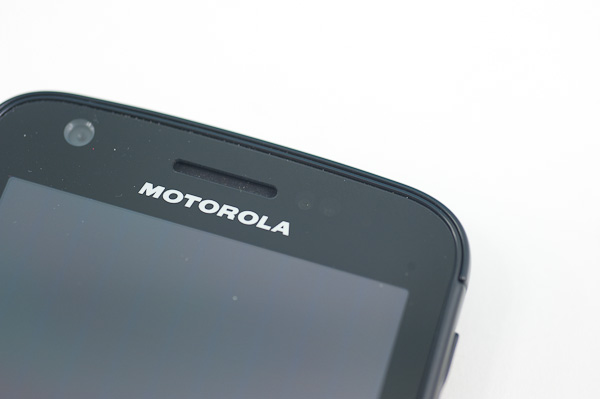 Along the bottom of the screen are the four Android buttons, all capacitive. The ordering is identical to the Droid X and LG Optimus 2X with the contextual menu coming first, followed by home, back and search in that order.
Along the right edge of the phone is easily one of the best feeling volume rockers I've ever used. The rocker itself is plastic but with very little play, it feels solid and stationary. Each click, up and down, is perfectly distinct. It's a good quality feeling button.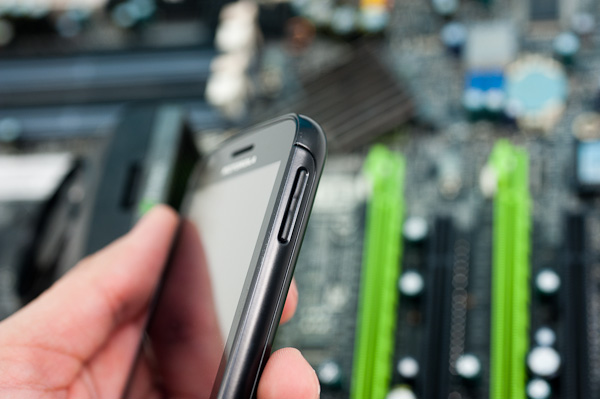 This is a Tegra 2 phone and thus the left edge has both a microUSB port for charging and a micro HDMI type D port for video output. The two ports are similarly sized and placed close enough together that I always worry about jamming a USB cable into the micro HDMI port. Don't you hate when that happens? Like the LG Optimus 2X, Motorola bundles a ~6 foot micro HDMI to HDMI type A cable with the phone.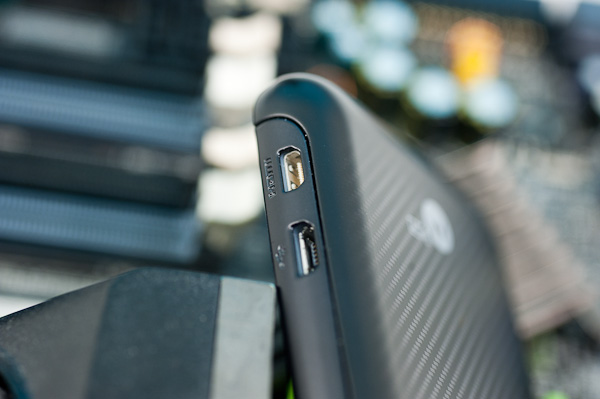 The power/lock button is in a unique location on the Atrix 4G. It's angled between the top and rear planes of the phone.
The button's location is unusual at first but I must say it's pretty easy to get used to and after a few days I didn't have any complaints about it. It's not as easy to fumble around with in your pocket than a conventional top mounted switch, but it works and it keeps the outer rim of the phone pretty clean.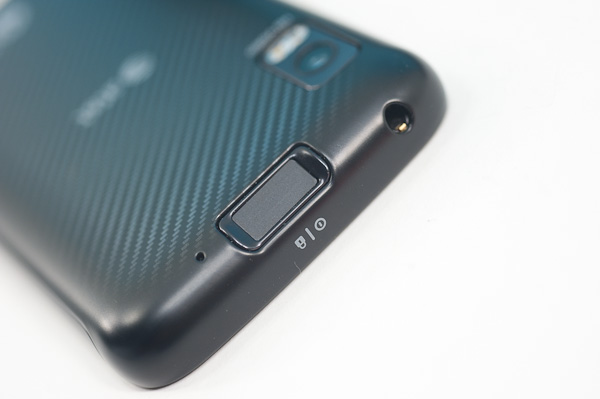 The phone's 1/8" jack is located up top. There's a small slit for the primary microphone on the face of the phone. The speakerphone and noise canceling mic input are both located around the back.
The back cover is a thin piece of plastic with a carbon fiber-like pattern printed on it. It's a pretty classy design and the back cover, like the rest of the phone, doesn't feel cheap.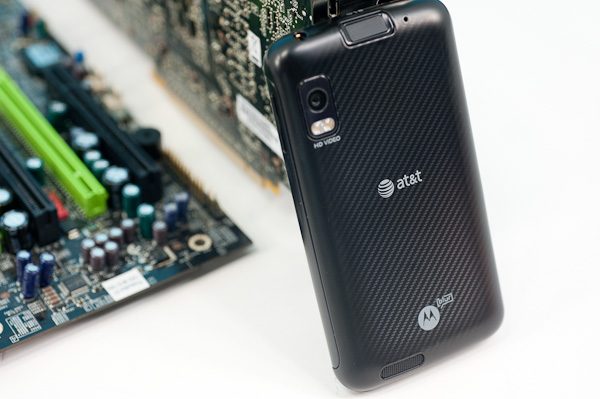 Motorola integrates a 5MP rear facing camera with LED flash on the back of the phone. The camera doesn't protrude beyond the back cover, instead it's recessed by a approximately 1mm.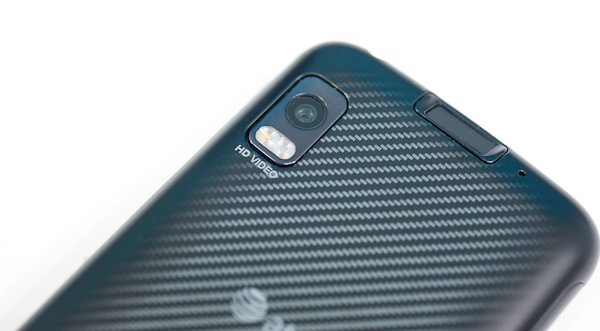 A side effect of Motorola's tightly assembled design is that there's no notch to jam your fingernail in to easily remove the back cover. You have to instead do a bit of prying at the bottom before you can get enough room to really pull the thing off.
There are snaps located on both sides of the back cover, the top and the bottom just cup around the phone chassis to hold itself in place.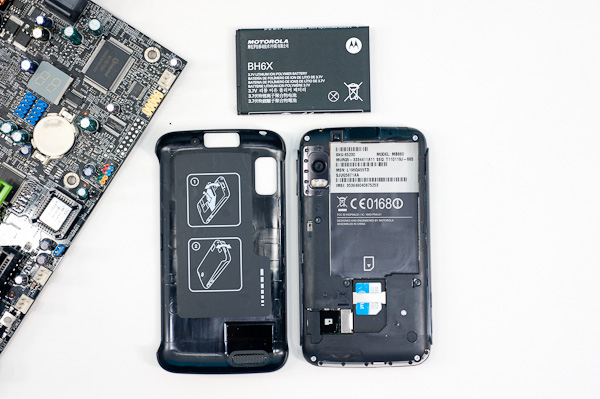 Inside the Atrix 4G is a very large ~7.0Whr battery. Motorola rates it between 1880mAh and 1930mAh. This is actually the first time I've seen a variable rating printed on a smartphone battery.
Like the Optimus 2X, the Atrix 4G's microSD slot is accessible without removing the battery. You do need to take out the battery to get to the SIM slot however. The Atrix 4G ships with 16GB of on-board NAND, so the microSD slot remains unpopulated by default. Of that 16GB only 14GB is available to Android (and of that ~11GB is for media storage). The remaining 2GB is presumably used for Motorola's webtop Linux environment. I managed to copy to the Atrix 4G's internal NAND at a peak of 10.5MB/s over USB.
Physical Comparison
Apple iPhone 4
Motorola Droid 2
Google Nexus S
LG Optimus 2X
Motorola Atrix 4G
Height
115.2 mm (4.5")
116.3 mm (4.6")
123.9 mm (4.88")
123.9 mm (4.87")
117.8mm
Width
58.6 mm (2.31")
60.5 mm (2.4")
63.0 mm (2.48")
63.2 mm (2.48")
63.5mm
Depth
9.3 mm ( 0.37")
13.7 mm (0.54")
10.88 mm (0.43")
10.9 mm (0.43")
10.95mm
Weight
137 g (4.8 oz)
169 g (5.9 oz)
129 grams (4.6 oz)
139.0 grams (4.90 oz)
135.0 grams
CPU
Apple A4 @ ~800MHz
Texas Instruments OMAP 3630 @ 1 GHz
1 GHz Samsung Hummingbird
NVIDIA Tegra 2 Dual-Core Cortex-A9 (AP20H) @ 1 GHz
NVIDIA Tegra 2 Dual-Core Cortex-A9 (AP20H) @ 1 GHz
GPU
PowerVR SGX 535
PowerVR SGX 530
PowerVR SGX 540
ULV GeForce @ 100-300 MHz
ULV GeForce @ 100-300 MHz
RAM
512MB LPDDR1 (?)
512 MB LPDDR1
512 MB LPDDR1
512 MB LPDDR2 @ 600 MHz data rate
1024 MB LPDDR2 @ 600 MHz data rate
NAND
16GB or 32GB integrated
8 GB integrated, preinstalled 8 GB microSD
16 GB Integrated
8 GB integrated (5.51 GB internal SD, 1.12 phone storage), up to 32 microSD
16 GB integrated, up to 32 microSD
Camera
5MP with LED Flash + Front Facing Camera
5 MP with dual LED flash and autofocus
5 MP with Autofocus, LED Flash, VGA front facing, 720P Video
8 MP with autofocus, LED flash, 1080p24 video recording, 1.3 MP front facing
5 MP with autofocus, LED flash, 720p video recording, VGA MP front facing
Screen
3.5" 640 x 960 LED backlit LCD
3.7" 854 x 480
4" Super AMOLED 800 x 480
4" Super AMOLED 800 x 480

4" PenTile LCD 960 x 540
I should mention that the name Atrix 4G refers to the fact that the phone supports HSPA+, not because it is an LTE device. I've only done a limited amount of network performance testing but so far I've peaked at 3.1Mbps down and 938Kbps up. Average performance in Raleigh, NC seems to be in the 1 - 3Mbps range downstream. My upstream performance has been limited to a UMTS-like 300Kbps, however I need more time to figure out why I'm not getting consistently higher upload speeds on the Atrix.
Software: Stable and Blur-ry
Despite being powered by NVIDIA's Tegra 2 SoC, Motorola makes absolutely no mention of NVIDIA or the Tegra 2 anywhere on the box. In fact, upon powering on the phone the first thing you see is a Motorola Dual-Core Technology splash screen.
Currently in the smartphone space the majority of the power rests within the carrier (e.g. AT&T) and device manufacturer (e.g. Motorola). Although they contribute handsomely to the final product, the component vendors have limited control in this market.
You'll note that this is in stark contrast to how things work in the PC industry. Here the OS and component vendors have all of the power and the PC manufacturers themselves are glorified assembly houses that fight to differentiate. This is an oversimplification, especially when you take companies like Apple and HP into consideration, but I use it to point out the contrast.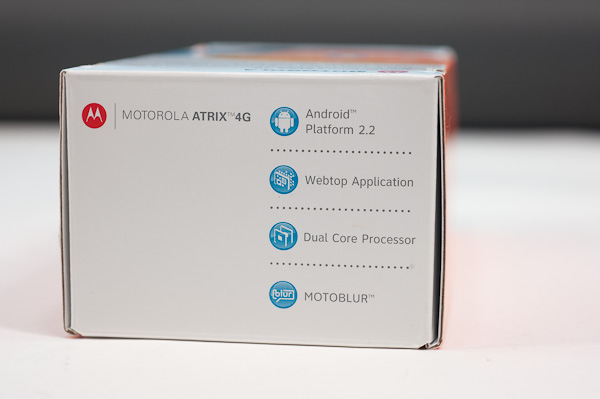 I've often wondered if the smartphone industry may eventually evolve to look more like the PC industry. It's not abundantly clear to me that the current concentration of power in the carrier and device vendor is healthy for the future of the smartphone. It's not clear that the opposite would be true either.
The only thing I can point to is the fact that this carrier/OEM power concentration helped get us to the mess that we had before the smartphone revolution took place. I'm not sure whether, if left unchecked, the same thing wouldn't happen again this time around. I don't really have an answer here, just some public musing. Feel free to join in :)
Motorola clearly wants to emulate the Apple model of isolating consumers from the underlying hardware and focusing on delivering a good software user experience. In pursuit of that goal Motorola ships its own Motoblur UI/widget/app software on the Atrix 4G. Motoblur is similar to HTC's Sense and Samsung's TouchWiz in that it modifies, replaces or enhances elements of the stock Android OS. The Atrix 4G ships with Android 2.2.1 and Motorola has committed to an upgrade to Gingerbread (2.3) before the end of the year.
As Brian mentioned in his review of the Droid X, Motorola ships Motoblur in a preconfigured state. There are 7 home screens in the default Motoblur setup. Six of them are already populated with widgets. I tend to agree with Brian in that I want my devices to come as clean as possible, but I understand what Motorla was trying to do here. The Atrix 4G is meant to be a turn-on-and-just-work device, not something you have to configure to make perfect. In its quest to be the Android answer to Apple, Motorola even puts the carrier string in the notification shade:

The notification shade gets pretty cluttered as a result. Also note the use of H+ to indicate that we're connected to a HSPA+ network.
Most of the custom widgets are pretty run of the mill (e.g. airplane mode toggle, messages, news, calendar).
Motorola also adds several of its own custom apps. The Social Networking app is Motorola's attempt at social network aggregation. It's a single apps that combines updates from your Facebook and Twitter feeds. Motoblur also populates your contact list with your Facebook friends and people you follow on twitter (assuming you supply it with your login for those accounts). Unlike Windows Phone 7's social integration, Motoblur lets you view contacts by group (e.g. only show me contacts from Facebook) and it allows you to only display contacts that have phone numbers associated with them. The Atrix 4G also ships with file and task manager apps pre-loaded.
There's a handy DLNA app that lets you play content on your Atrix streamed from any DLNA compliant sources. You can also push content from your Atrix to DLNA receivers.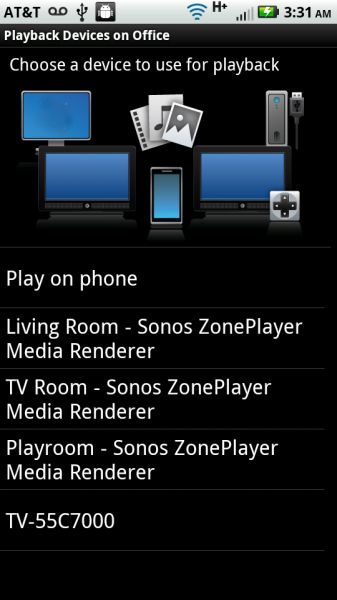 The biggest issue I had with the DLNA app is the limited filetype support that the Atrix 4G offers. Like the Optimus 2X, most of our media streaming suite just won't play back on the phone. I suspect by 2013 this will stop being a problem thanks to much more capable hardware and more motivation to enable support for a wider spectrum of video containers.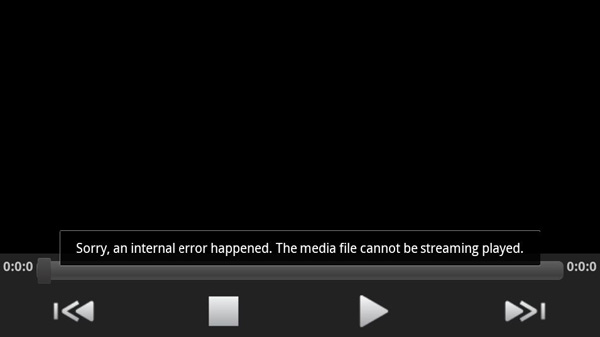 The Motoblur virtual keyboard is a pleasure to use. Its layout is spacious and pretty easy to learn. The phone provides haptic feedback for each keypress by default, but that option can be disabled. Adding words to the keyboard's dictionary is very easy, and it prevents the involuntary censorship that the latest iOS keyboard enforces upon you (I didn't mean shot!). My biggest complaint about the keyboard is that it doesn't do a great job of guessing what you were trying to type based on the location of your keypresses. Word length matching and basic spelling errors are handled well. Motorola also preloads Swype as an alternative to the Motoblur keyboard.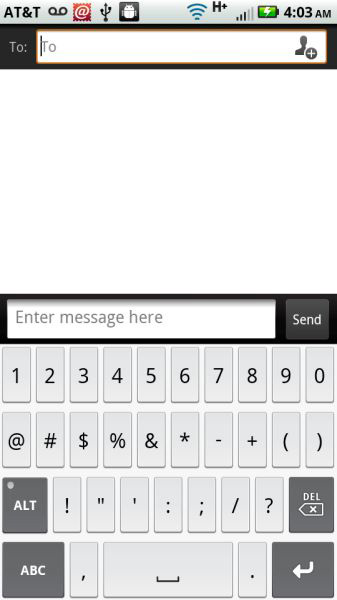 At least on AT&T, the Atrix 4G is locked down by default. Motorola removed the option to install non-market apps. Thankfully you can still push non-market apps over to the phone using adb, but you can't just copy a non-market apk over USB and install it.
The Motoblur overhead is definitely present, although it's not really noticeable from a real world performance standpoint. Everything runs smoothly (thanks to copious amounts of processing power and memory) despite there being a number of Motoblur components that autorun at launch.
Stability hasn't been a problem for me on the Atrix 4G. I only mention this because of the crashes Brian encountered on the pre-release build of Android on the Optimus 2X.
Overall I'd say Motorblur is an average UI on top of Android. The social network integration is nice and some of the widgets are handy, but I personally prefer the stock experience.
Motorola Phone Portal
A unique addition to the Atrix 4G's software stack is its own remote access/administration utility called the Motorola Phone Portal. The Phone Portal lets you access virtually all of your phone's data via your PC. You access Motorola's Phone Portal one of two ways: via USB or WiFi. The former is more secure but only works on Windows PCs while the latter should work with anything that has a browser.
I fired up Phone Portal and connected to it over WiFi. The Atrix launched a web server on my private network which I could access by the address 192.168.1.17:8080. This is horrendously unsecure, however there is the option of requiring a user name and password to help get around that little problem.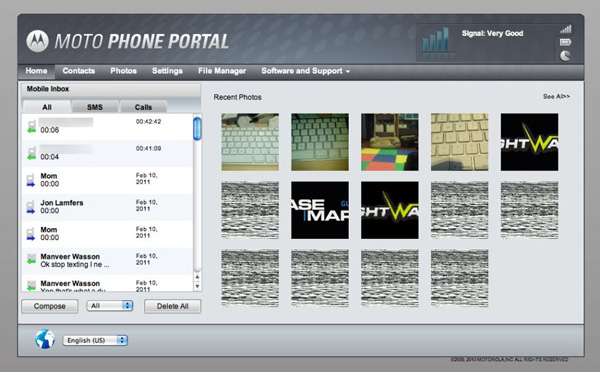 Once in the portal you can pretty much do anything you'd like. You can view/delete phone calls in your log and SMSes. You can view photos taken with the Atrix's camera or just those stored on the phone itself. You can browse through all of your contacts on the phone, edit and delete them as you see fit. It's also possible to import/export contacts via the Phone Portal.
Motorola's Phone Portal lets you play/assign ringtones, change wallpaper and even view your web browsing history - all from your computer. If you connect to the Phone Portal over WiFi you don't even need to be near your phone, it just needs to be on the same WiFi network as your computer.
In the upper right hand corner of the Phone Portal you'll get an indication of signal strength, remaining battery life and storage utilization.
The Phone Portal is unfortunately written primarily with IE in mind. Access the Portal over Chrome and some of the features won't work (e.g. File Manager).
As you'll see later on, what Motorola is trying to do with the Phone Portal and applications like webtop is enable a ubiquitous computing experience centered around the smartphone. Coincidentally, that's what HP is trying to do as well based on its announcements last week. Right now getting smartphones and tablets to easily work together is one hurdle, making those devices work harmoniously with your PC/Mac as well is just as important.
Remember the goal: any content, any device, any where, any time. Right now it's a problem because most of these devices are running different hardware and software stacks (accessing my x86 build of Photoshop on my ARM smartphone isn't really a possibility). I wonder if we'll get there by way of a common hardware/software platform that wins out over the competition, or if there will instead be some unifying software layer that makes everything just work. The web/cloud is the best example of the latter, but even then it's not perfect. This is an important problem to solve and one worth paying attention to as it will help determine the outcome in the current mobile wars.
The qHD Screen: A PenTile LCD?
The Atrix 4G ships with what Motorola calls a "quarter HD" resolution screen. Of course by HD Motorola means 1920 x 1080, and by qHD it means 1/4 the total pixel count: 518,400 pixels.
You get these pixels by way of a 4-inch 960 x 540 resolution LCD display. This is almost the same resolution as Apple's Retina Display, albeit on a bigger screen. It's also the highest resolution display on an Android smartphone. Exciting, no?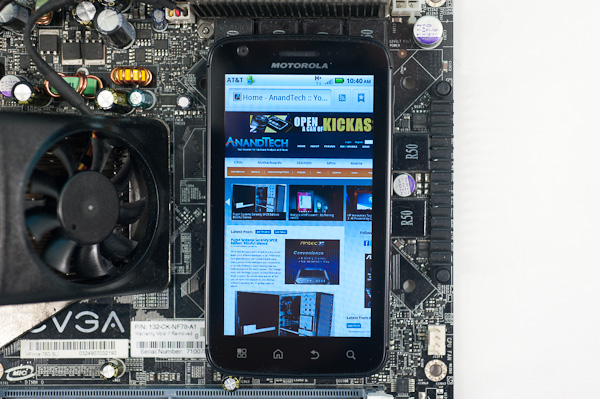 There's just one downside. Motorola uses a subpixel layout that should be familiar to those of you who follow AMOLED devices: PenTile.
Each pixel in an LCD or AMOLED is actually made up of three subpixels. In most LCDs this subpixel arrangement is RGB (red, green and blue). In order to extend usable life, all AMOLED smartphone displays use what's known as a PenTile subpixel grid. Instead of a RGB layout, you get an array of RRB and GGB pixels. As a result you minimize the number of blue subpixels, which lengthens the life of the display (apparently the blue phosphors are more likely to lose intensity over time than red or green).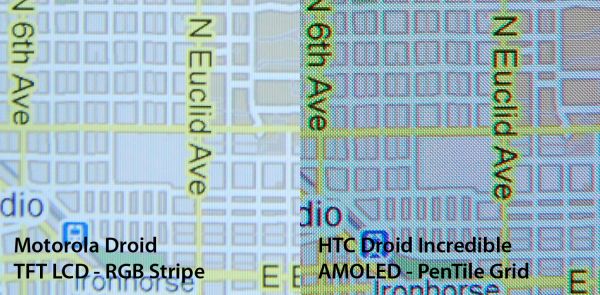 Update: The image on the left is actually a stripe matrix, not a bayer grid
Brian Klug, our resident smartphone guru, is usually enraged at the sight of PenTile. Ryan Smith, AnandTech GPU Connoisseur, feels the same way. To some users the trick isn't noticeable. I typically fall into that category. AMOLED offers amazing contrast and that usually distracts me from the PenTile grid.
However, I've never encountered a PenTile LCD before.
The qHD display on the Atrix appears to use a PenTile grid. You can tell by this macro shot of the Atrix 4G vs. the iPhone 4:
Apple iPhone 4 LCD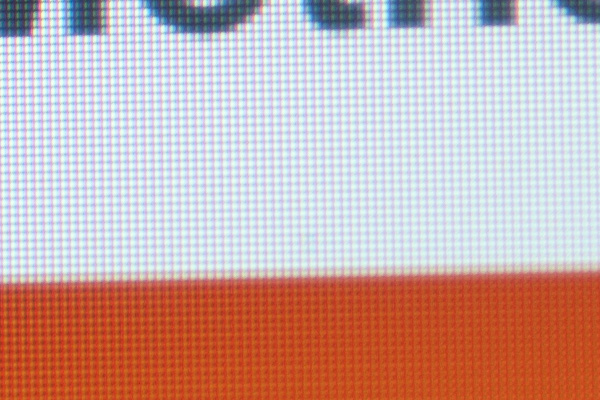 Motorola Atrix 4G PenTile LCD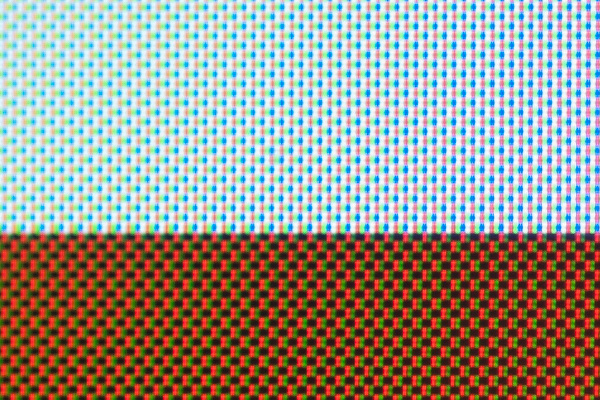 Note the ordered grid structure of the subpixels in the iPhone 4's display vs. pattern on the Atrix. PenTile is usually most bothersome when reading text - click the images to see them at full resolution.
Personally I was bothered a bit by text rendering (particularly aliased text on zoomed out web pages) on the qHD screen. For the most part, the qHD display was pleasant to look at and its PenTile upbringings didn't bother me.
If you're like our smartphone and GPU editors however, this may be a deal breaker for you on the Atrix.
The only explanation for Motorola choosing to use a PenTile LCD is Motorola wanted to reduce the cost of the display. The AMOLED argument obviously doesn't apply here. Remember Motorola offers double the on-package memory of the LG Optimus 2X (1GB vs. 512MB). A larger, higher resolution screen can't be any cheaper to integrate. Update: Power consumption is another advantage of PenTile and likely significantly contributed to Motorola's desire to go with a PenTile LCD.
PenTile debate aside, brightness and contrast are competitive. The Atrix 4G is a little dimmer than the Optimus 2X at peak brightness, but overall contrast ratio is in a similar ball park. Just as Brian found in his review of the Optimus 2X, the contrast ratio is numerically lower than the iPhone 4 but I found it to be sufficient on the Atrix 4G.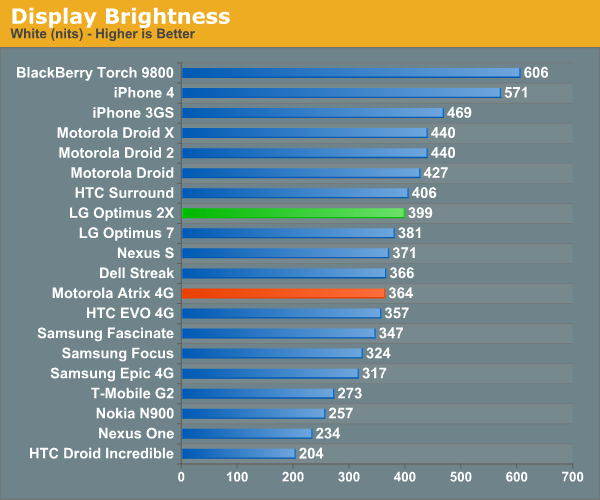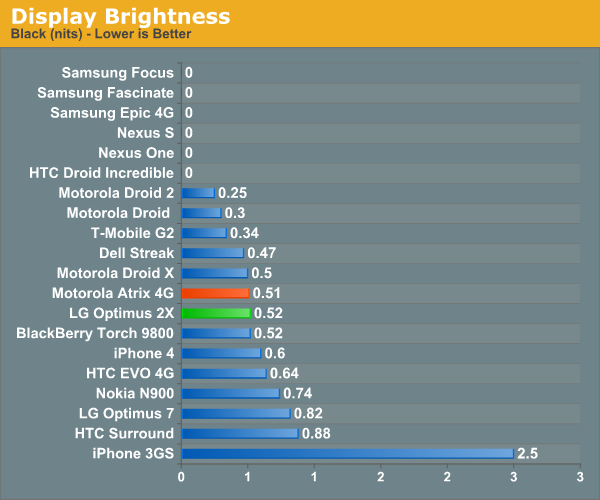 Combined with the higher than normal resolution, I'll say that I'm mostly pleased with the Atrix 4G's display. There is one downside to all of the extra pixels: GPU performance is lower in 3D games that run at native resolution.
The Atrix 4G has 35% more pixels on its screen, which means a heavier workload for the GPU. Given that Motorola integrates the same AP20H Tegra 2 SoC as LG, performance can be lower.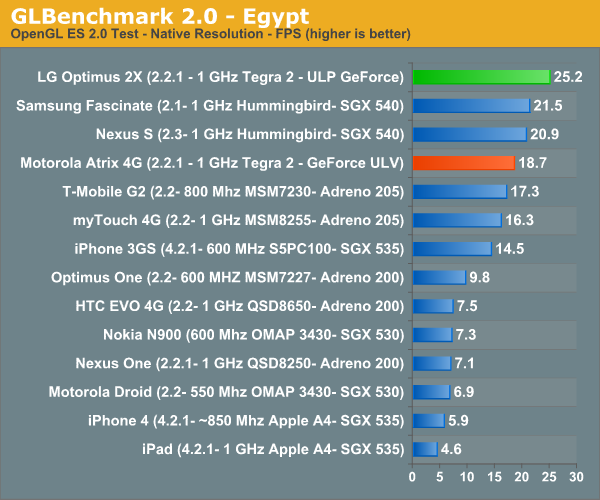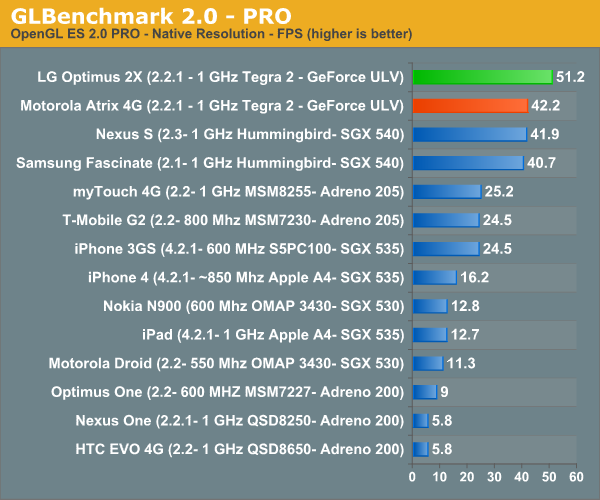 I measured a drop of 14 - 17% in GLBenchmark 2. Measurable, but not the end of the world. This actually puts the performance of the GeForce ULV on par with the SGX 540, albeit at a higher resolution. Luckily for Motorola, the number of heavily GPU bound 3D titles on Android is still minimal.
Performance
Architecturally there's no difference between the AP20H in the Optimus 2X and the Atrix 4G. You still have the same two ARM Cortex A9 cores running at 1GHz.
In our Optimus 2X review I talked about PoP (Package on Package) stacking used by SoC vendors to integrate DRAM without requiring more board real estate. The beauty of PoP stacking is that you can integrate the DRAM after both it and the SoC have already been manufactured. It's a package bonding exercise, not a fabrication one.


Package on Package (DRAM on top, SoC on bottom)—source: statschippack.com
The result is that making custom combinations of SoC and DRAM isn't as tall of an order as making a custom SoC with three CPU cores or more cache. The latter can only be done with a tremendous investment in capital.
For the Atrix 4G, Motorola wanted a Tegra 2 paired with a 1GB LPDDR2 DRAM. Most SoCs these days only incorporate 512MB.
The performance benefit of a 1GB DRAM in any individual benchmark is negligible. In fact, normal smartphone usage (even with multitasking) doesn't require more than 512MB of system memory at this point. You can get close, but it's pretty challenging to go over given the requirements of Android 2.2.1 and popular apps today. As a result you won't see the 1GB of memory give Motorola an edge in any benchmarks.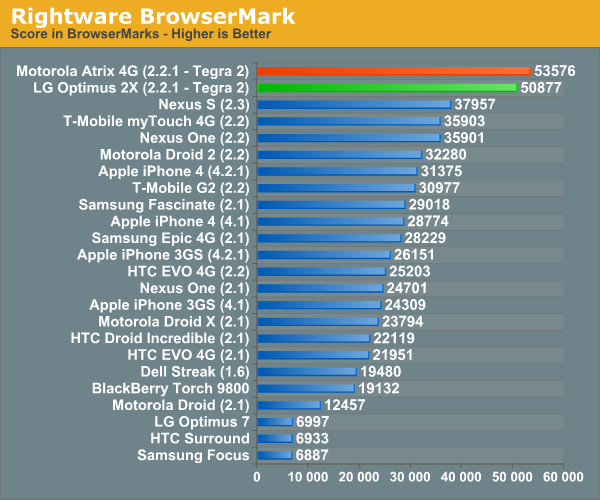 It's only in the heaviest multitasking scenarios or when using Motorola's webtop app that the extra memory comes in handy. This is something I'm going to be investigating more over the coming weeks. I haven't had enough time to come up with any interesting usage models that are benchmarkable between the Optimus 2X and Atrix 4G to quantify the difference in performance for smartphone users.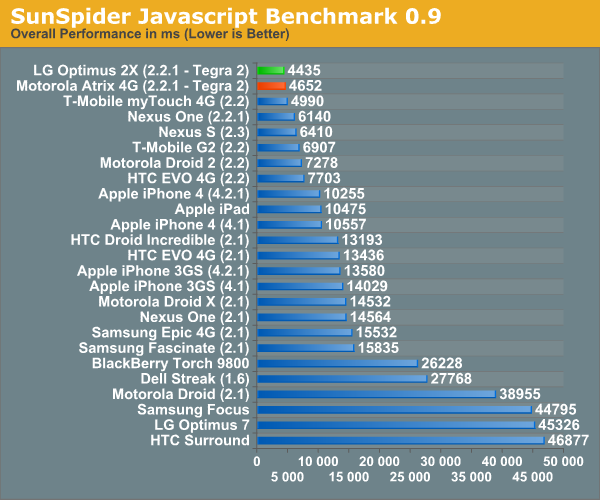 Despite the extra DRAM, Motorola is actually at a disadvantage in many benchmarks. The motoBlur UI enhancements and skinning do impact performance. Even after using a task killer to stop all non-system processes, some components of motoBlur will automatically restart. Thankfully two Cortex A9s are enough to hide this from being a problem in the day to day usage of the phone, but it does mean that the Atrix 4G sometimes benchmarks slightly lower than the Optimus 2X. It's like bloatware that ships on some OEM PCs, just much more tightly integrated and not as easy to get rid of. I hesitate to make that comparison though because, like I said, the performance impact is minimal.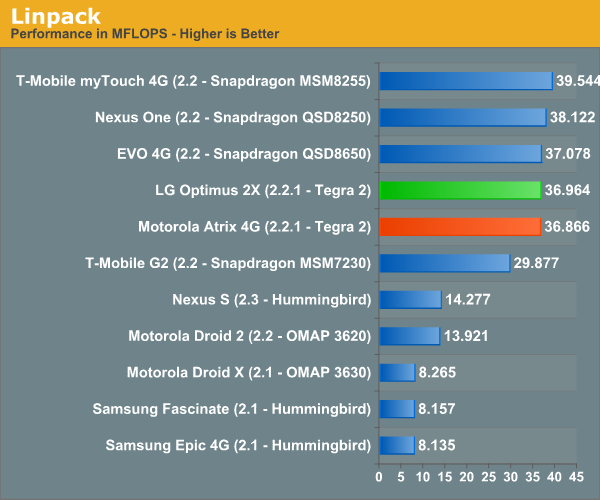 Real World Performance Impressions
The Optimus 2X went straight to Brian, so I didn't get a chance to play with it running the latest software build. When I first laid hands on LG's Tegra 2 phone a few months ago it was running a much, much earlier software build and real world performance wasn't representative of what we have today. To make a long story short, I'd never spent any quality time with a Cortex A9 based smartphone running a mature build of Android.
Instead I had to listen to Brian talk about how fast the Optimus 2X was, and how it would be his favorite Android phone if the review OS build was just more stable. The only Android phones I have in my office are a Nexus One, an Epic 4G and a Streak. I longed for something faster.
After using the Atrix 4G as my only smartphone I must say, I completely agree with Brian's assessment. The dual Cortex A9s in NVIDIA's Tegra 2 make Android so much better. Even though the Atrix 4G is only running Froyo (2.2.1) it felt like the fastest Android phone I'd ever used, including my brief stint with the Nexus S.
You see the Nexus S's partially GPU accelerated build of Android (Gingerbread) makes scrolling through your list of apps buttery smooth. Even the Atrix 4G lacks that. Every now and then you get a stutter or hiccup, but it's usually pretty good.
Where the Nexus S falls short however is in actual application response time and in performance when switching between apps. Trips back to the home screen, launching new apps and even interacting with apps all feels quicker on the Atrix 4G than anything sans-Tegra 2.
We tend to get spoiled by super fast hardware given the nature of our work. As a result, when things don't perform up to par we're a lot more sensitive. If you find yourself in the same boat, then (at least today) Tegra 2 may be the only way to scratch that itch.
By no means is this SoC perfect. A pair of Cortex A9s is still pretty slow in our universe, but within the snowglobe of SoCs that currently run Android it's a noticeable improvement. I suspect this is how things will go for the next few years. I'll likely have the same feelings after using my first Cortex A15 based phone, and whatever comes after that. It's the beauty of the golden age of ILP: performance gains are easy to come by and are very noticeable.
The Webtop App: Atrix as a PC
When you go to AT&T to buy your Atrix 4G you have the option, at the time of purchase, to add a laptop dock for $299 bringing your total up to $499 with a two year contract. Included within that contract you agree to a tethering plan ($20 per month) and AT&T's DataPro plan ($25 per month). Both of these are required in order to get the laptop dock for effectively $299. The laptop dock is a 11.6" notebook shell with no motherboard. Your Atrix 4G will serve that function instead.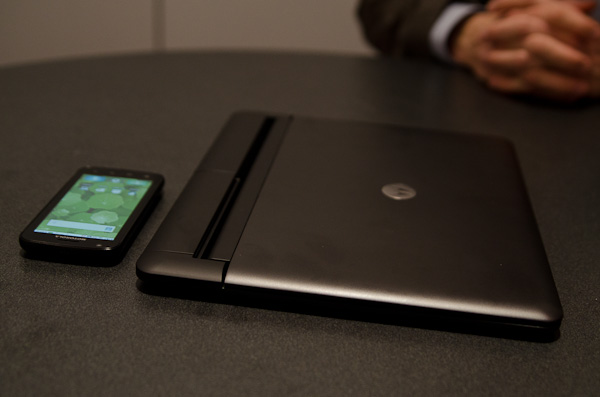 If you choose to buy the laptop dock after the fact, you pay a full $499. If $299 was difficult to swallow, $499 is nearly impossible to justify unless you really, really love your Atrix 4G.
For $189.99 Motorola will sell you its HD Multimedia Dock along with a Motorola Bluetooth keyboard and mouse and remote control. This dock is a lot simpler, it looks like something you'd plug your iPod into...just the wrong way.
Unlike the Laptop Dock, the HD Multimedia Dock doesn't have any internal battery. Instead you get a separate AC adapter with a much-too-thin connector that will charge your Atrix and power the dock at the same time.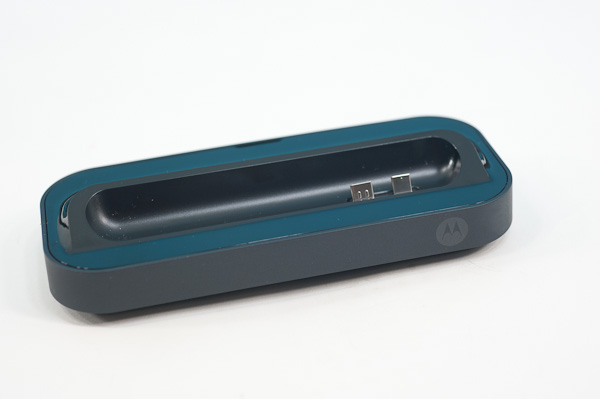 Along the back of the dock you get a micro HDMI output, 1/8" stereo jack and three USB ports.

Motorola sent me the entire multimedia dock bundle, complete with Motorola Bluetooth keyboard and mouse (the package is called the Entertainment Access Kit for Atrix 4G). Supply your own HDMI display and you can turn the Atrix 4G into as little as an entertainment center, or as much as a very limited desktop PC.
I didn't have much time with the setup (I think carrying a monitor would put me over my carry on weight limit) so I focused mostly on using the Atrix as a computing device. One obvious limitation to the entertainment center aspect is the lack of popular container support. Unless you have smartphone specific video content, you'll probably have to transcode anything you move over from your PC or Mac.
The minute you dock the Atrix 4G you get a popup asking you what you want to do. This is similar to the type of message you get when you connect an Android phone to your PC over USB, but the message doesn't hide in the notification shade - it appears front and center.
One of the options is to launch the webtop app. Motorola's webtop application appears to be a build of Linux that can run alongside Android.
When you launch the webtop app you get a UI with two desktops. In a window you get the mobile view, which is a virtual Android screen that works just like your phone. You can dial numbers, run apps, browse your email and do anything you could do if you were using your smartphone. Instead of controlling actions via the Atrix's touchscreen you're using a mouse (although you can use the Atrix's touchscreen as a docked trackpad/virtual keyboard if you'd like).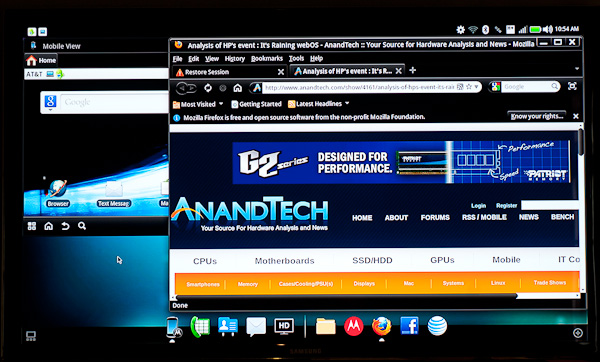 The second desktop is the webtop app itself. Along the bottom of the app is an OS X like dock, giving you access to frequently used functions. Anything to the left of the vertical divide are things that run in mobile view, and everything to the right runs in the webtop app. The biggest feature here is Firefox.
The webtop app comes with a fully functional version of Firefox (3.6.13) for Ubuntu. Click the Firefox icon and you'll begin your browsing session.
Internet connectivity is provided by the phone of course. Indicators located in the upper right of the screen tell you WiFi, cellular and Bluetooth status. Motorola has skinned all of these functions to look and feel like they would on a notebook. Click the WiFi icon and you'll get a list of available networks just like you would under OS X, Chrome OS or Windows 7. You can even disable wireless connections here without ever opening the settings pane in mobile view. Printing is also possible if you've got a shared printer on your network. It's all done very well.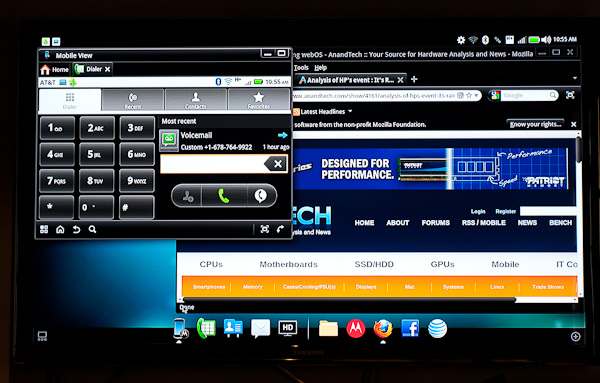 The Firefox browsing experience is equally impressive, at first. Your favorite keyboard shortcuts work (Ctrl + L moves your cursor up to the URL bar, although sometimes the keyboard shortcut won't work without you clicking around in the browser to remind it of its focus). All of your websites load and feel right at home on a large display. There's even Flash support, so sites like YouTube just work without any tinkering.
Performance, so long as you are only dealing with basic content pages, is reasonable. It feels similar to what you get on the phone itself, which thanks to the Cortex A9s isn't that far off an Atom. I'll have more scientific measurements in the full review.
Where the Firefox/PC experience breaks down is the minute you ask for more than a simple browsing experience. Typing in Google Docs is laggy. With a couple of browser tabs open I found that I could type three sentences before they'd appear in my document.
YouTube playback works, however anything above 360p begins to drop frames. While 480p is playable, anything higher is basically impossible to watch. Motorola preloads Flash 10.1.120.10 with hardware acceleration in its webtop Linux however there doesn't appear to be any way to force an update. You'll note that this is the same version of Flash that the Optimus 2X was running, although I'm not convinced that GPU acceleration is fully enabled under Motorola's webtop Linux. Monitoring CPU usage in Android shows that playing a YouTube video in webtop Linux eats up between 50 - 80% of the two ARM Cortex A9s. Hilariously enough, HTML5 video is unwatchable in Firefox on the Atrix 4G.
Light usage isn't bad, but open too many tabs and you quickly get a worse-than-netbook browsing experience on the Atrix 4G.
You can Alt+Tab to switch between windows when you're in webtop Linux however even bringing up the task switcher is incredibly laggy at times.
It's clear that the webtop app is Motorola's main reason for including 1GB of memory on the Atrix. The Android VM typically eats up around 40% of available memory, with Firefox another 16% during light usage. While Motorola could've gotten by with only 768MB, I believe the 1GB is probably perfect for the Atrix if you're going to be using it in webtop mode.
Despite the performance issues I'd say that the HD Multimedia Dock + webtop mode is probably one of the coolest innovations I've seen in the smartphone industry. If you want to know why we need faster SoCs, this is why. The efficiency of Android and iOS is amazing on the hardware we have today, but tax them more and you quickly get the impression that even Windows running on a netbook is faster. We'll need the Cortex A15, Project Denver and new architectures to enable usage models like what Motorola is going after with the Atrix 4G.
I'm not sure if I'd personally buy the Laptop Dock, but the HD Multimedia Dock is pretty interesting if you don't have a good PC and just want to do some big screen web browsing. Power users will be frustrated by the experience but I have to say this is the start of something great.
Still Camera Experience & Quality
LG tried with the Optimus 2X to make the most of the SoC NVIDIA gave it. The phone supported both 1080p video output and 1080p video recording. Even the still camera had a 6 fps burst mode, exploiting NVIDIA's allegedly high performance ISP. In its quest for specs however the Optimus 2X didn't always deliver. Video recorded at 1080p wasn't particularly impressive, and you can only take stills in burst mode at a 2MP resolution.
Motorola on the other hand appears to be aiming more at user experience rather than feature set. The Atrix 4G only supports up to 720p output over HDMI and can only record videos at 720p as well. There's no burst mode supported by the camera app.
Even settings in Motorola's camera app are pretty sparse. You don't get to choose resolution specifically, but you get to pick aspect ratio and total pixel count. There are no white balance or exposure options to set here either. You can choose between predefined settings grouped into scenes (e.g. auto, portrait, landscape, night, macro) and that's pretty much it.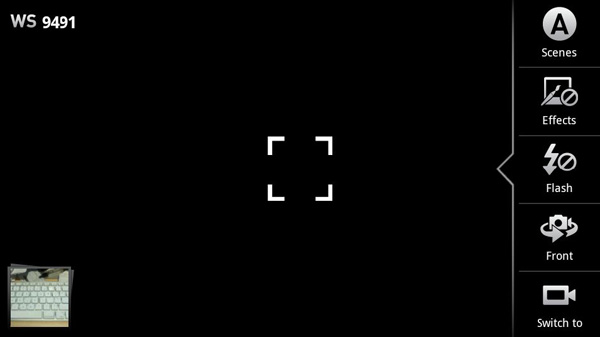 The app is fast though. Switching between the rear camera and the front camera is iPhone 4 fast, and switching to shooting video is faster than any other phone I've used. The experience in the camera app is very smooth. Even the view finder is super smooth.
Stills are shot at 2592 x 1456 by default, although you can switch to a 5MP mode which will give you images at 2592 x 1944.
Image quality is reasonable but not spectacular in brightly lit environments. Images aren't as saturated, detailed or as contrasty compared to the iPhone 4. Lower light performance suffers, particularly on the front facing camera as there's no flash.
Motorola Atrix 4G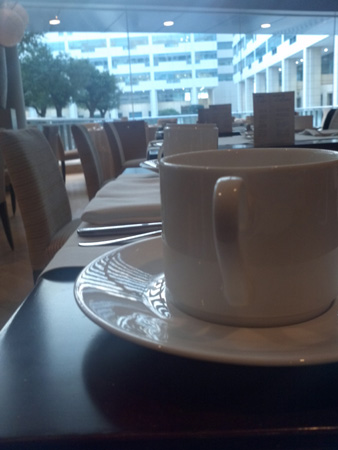 Apple iPhone 4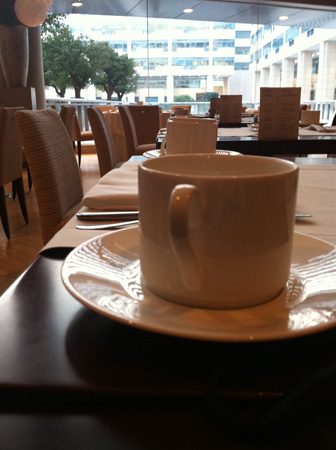 Motorola's camera app doesn't support tap to focus and it will only focus on whatever is in the center of the screen. Since there's no tap to focus the scene will often be blurry before you take a shot and only come into focus after you've hit the capture button.
Shutter lag is decent for a smartphone and overall I'm impressed with the camera app itself.
Battery Life
It normally takes several days to fully run through our battery life test suite so forgive me for the brief nature of this section. I'll be running through the rest of the suite once I'm back from MWC.
The Atrix 4G has 28.6% larger battery than the Optimus 2X. The screen differences will also result in differing power consumption but overall I'd expect better battery life out of the Atrix than the Optimus 2X.
Our 3G web browsing test seems to confirm that: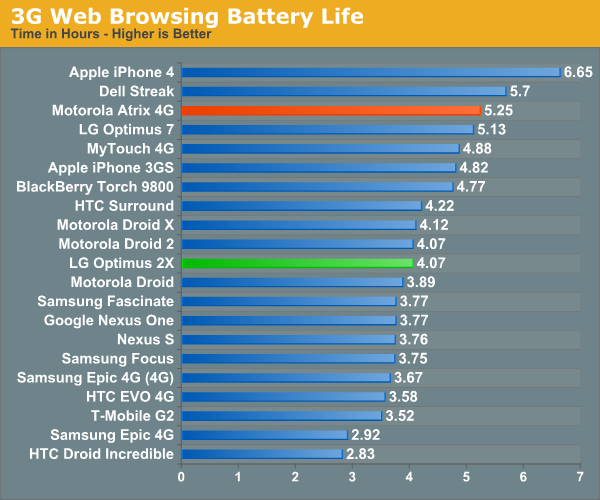 At 5.25 hours the Atrix 4G has the 6th longest battery life in this test of all of the phones we have in our Smartphone Bench database. If you remove the two KIN devices, that puts the Atrix 4G in 4th place. And if you're just looking at Android phones, the Atrix 4G is at the top of the list. The iPhone 4 lasts longer, but the Atrix 4G delivers a respectable battery life.
Final Words
It's still too early to draw any final conclusions about the Atrix 4G, I've got a lot more testing ahead of me in the weeks to come. I've shared quite a few of my thoughts in this preview already so the least I can do is recap them.
The build quality and form factor of the Atrix 4G are both excellent. I typically prefer large screen devices on Android and the 4-inch display in this case is perfectly matched. The Atrix isn't too thick and it doesn't feel cheap either. These are the things Motorola stands for and the Atrix 4G does not disappoint.
I have to take issue with the Atrix 4G name itself. As an HSPA+ phone you don't get the same network performance on the Atrix as you would from a WiMAX or LTE device.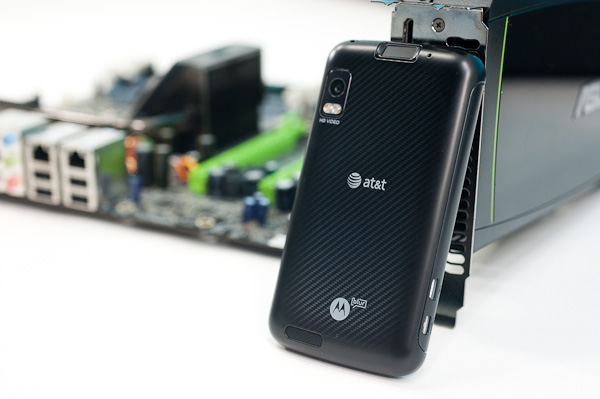 The PenTile LCD may be an issue for some. I'm mostly pleased with the display but I'm also not someone who is overly bothered by the PenTile grid. I do appreciate the 960 x 540 resolution in Android and that makes up for PenTile in my opinion. I realize that others won't feel the same way so if PenTile is an issue for you then this may be a deal breaker for the Atrix.
The Motoblur UI is ok. I don't consider it too much of a distraction but I also don't consider it a selling point over competing devices. I personally prefer it to the Optimus 2X UI, but I'd rather have something even closer to the stock Android interface/setup.
Motorola's Phone Portal is a neat idea. I like having the ability to look at my SMSes on my computer without having to get my phone. I'm not sure how frequently I'd use Phone Portal (I only really needed to use it for this article, so far I haven't had a real world use for it) but it's a nice feature to have.
Motorola also has the right mentality behind its hardware dock strategy for the Atrix, the only problem is pricing. The Laptop Dock is just too expensive - it realistically needs to be $199 at most. The HD Multimedia Dock is a little better if you have a HDMI monitor you can use, but it's not too useful for travel (since you have to still carry around a keyboard/mouse and you need a display with an HDMI input).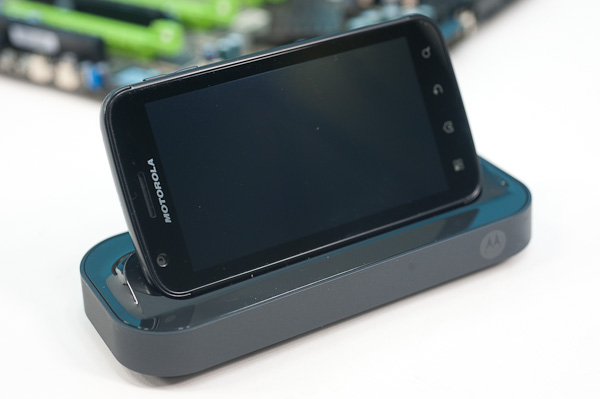 The webtop Linux environment has a lot of potential. I like the idea of being able to run a full blown desktop OS along with a desktop browser on your smartphone. Thanks to the Cortex A9s the performance surprisingly good for light browsing, but anything above and beyond that doesn't work well. While Motorola may add additional features here I'm betting we'll need a newer generation of SoCs before the webtop usage model makes practical sense.
Performance within Android is excellent thanks to NVIDIA's Tegra 2. My only complaint is the Atrix is still running Froyo and I want the GPU accelerated UI from Gingerbread. Other than some scrolling hiccups, the Atrix 4G is comfortably quick. It's my favorite Android smartphone I've used thus far. I realize that is typically how Android smartphones work. Each new flagship release is almost always the best until the next one comes along in a few months.
Minus the PenTile LCD and the arguably overconfigured Motoblur UI, I'd say the Atrix 4G is probably the best combination of build quality, feature set, battery life and performance I've seen in an Android smartphone thus far. I will reserve final judgement until I've spent more time with the device but so far that's what it feels like to me.
That being said, I am currently at MWC and I'm expecting a bunch of new Android smartphones to be announced based on TI's OMAP 4, NVIDIA's Tegra 2 and Qualcomm's 8660. While the Atrix 4G may be the best combination I've seen thus far, the year isn't even half over yet.