Original Link: http://www.anandtech.com/show/4155/puget-systems-serenity-spcr-edition


Introducing the Puget Systems Serenity SPCR Edition
This is our second review unit from the Washington-based Puget Systems (our first was several years ago when they were first starting out), and it's a doozy. While the P67/H67 chipset recall has proven to be a boot to the collective breadbasket of the industry, we were fortunate enough to get the Serenity SPCR Edition in before the recall hit, and Puget was kind enough to let us review it anyhow. That seems reasonable, since the SATA bug in the chipset isn't liable to affect any of our test results outside of PCMark, leaving us with an opportunity to show you a remarkable system that you'll be able to get your hands on in the near future.
Puget Systems' has also issued a post discussing how they'll handle systems with the SNB chipset bug. The short summary is that they'll let you continue to use your system and send it in for a replacement motherboard when those become available, or they'll ship you a PCIe SATA controller to use in place of the affected SATA ports. It's a nice change of pace from the motherboard side of things, as Puget Systems will let you use your new system now, and get the problem fixed in the next few months with a minimum of hassle. With that out of the way, let's look at the system we received for review.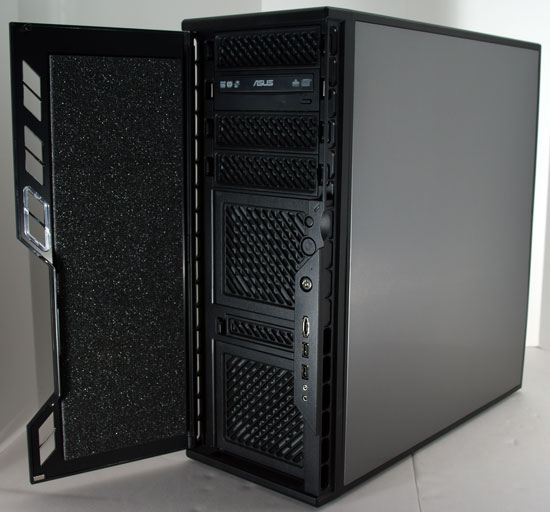 Puget Systems' Serenity line of computers are designed to maximize silent operation, with the SPCR Edition being the quietest system in their lineup. This tower is designed in cooperation with Silent PC Review and independently certified by them to run at a staggeringly low 11db; the regular Serenity models have a noise ceiling of 20db, which is still impressively quiet. If you're wondering whether the Serenity SPCR lives up to that claim, we can't tell you: the unit is inaudible unless you put your ear against the side (even under heavy load), and operates below the noise floor of my apartment at any hour. Simply put, we're not equipped to measure the noise level of something this quiet. So how is our review unit outfitted?
Puget Systems Serenity SPCR Edition Specifications
Chassis
Antec P183 (Customized)
Processor
Intel Core i5-2500K @ 3.3GHz
(spec: 4x3.3GHz, 32nm, 6MB L3, 95W)
Motherboard
ASUS P8P67 Pro Motherboard with P67 chipset
Memory
2x4GB Kingston HyperX DDR3-1333 @ 1333MHz (expandable to 16GB)
Graphics
PowerColor Radeon HD 5750 1024MB GDDR5 with Passive Cooler
(720 Stream Processors, 700MHz Core, 4.6GHz RAM, 128-bit memory bus)
Hard Drive(s)
Intel X25-M 34nm Gen 2 120GB SSD
Western Digital Caviar Green 1.5TB
Optical Drive(s)
ASUS DVD+/-RW Combo Drive
Networking
Intel Gigabit Ethernet
Bluetooth 2.1+EDR
Audio
Realtek ALC892 HD Audio
Speaker, mic, line-in, and surround jacks for 7.1 sound
Digital and optical out
Front Side
Optical Drive
2x USB 2.0
eSATA
Headphone and mic jacks
Top
-
Back Side
2x PS/2
Digital and optical out
2x eSATA
6x USB 2.0
6-pin FireWire
Ethernet
2x USB 3.0
Speaker, mic, line-in, and surround jacks for 7.1 sound
Operating System
Windows 7 Home Premium 64-bit
Dimensions
19.9" x 20.25" x 8.1" (WxDxH)
Weight
31 lbs (case only)
Extras
Antec CP-850 850W Power Supply
Gelid Tranquilo CPU Cooler
Scythe Silent Fans
Silent Case Modification
Warranty
1-year limited warranty and lifetime phone support
Pricing
SPCR Edition starts at $1,550
Review system quoted at $2,149
For most of this review we were able to handpick and outfit the tower with the components of our choice; as a result the Intel Core i5-2500K we chose didn't ship overclocked and Puget Systems doesn't offer overclocking on this model (though you can still do it yourself). By now you already know that Sandy Bridge processors are the fastest clock-for-clock on the market, and also among the most efficient (which our thermal and power consumption testing will bear out).
If you're a little bit underwhelmed by the Radeon HD 5750 in our review unit, don't be. This 5750 is arguably the fastest passively-cooled card on the market (only the Sparkle GTS 450 really competes), and is included in this build for what should be obvious reasons. Our rep did tell us that a passively-cooled Radeon HD 6850 is in the works right now; when that becomes available expect it to be offered with the Serenity SPCR Edition. That said, just because it's fanless doesn't mean it's slower: this 5750 runs at spec.
As for the parts we didn't choose, most of them make sense, though the lack of a card reader is disappointing when most of the review units we've seen include one as a matter of course. An SSD is a shoo-in with no moving parts to produce noise—though you could argue for using a SandForce-based drive instead of the Intel one—and the inclusion of the Western Digital Caviar Green sacrifices some performance in the name of silent running. A basic DVD+/-RW combo drive instead of a Blu-ray drive was disappointing, but the upgrades are at least available for a reasonable price. Puget Systems claims on their website to test individual components and cherry pick them and I can believe it. And finally, a brief thumbs up for including 8GB of DDR3 instead of 4GB in the review unit. This really should be standard and it's perplexing why so many of our review towers don't ship with 8GB at this point.
Finally, wrapping everything up is the Antec P183 enclosure. The P183 is often regarded as among the quietest cases available, but as you'll see Puget Systems takes it a few steps further in the name of silent operation. If I could really complain about anything, the Antec CP-850 power supply seems like gross overkill for a machine with specs this modest. You'll see in our power consumption testing that it's not really an issue, though.
Application and Futuremark Performance
At this point it goes without saying that Sandy Bridge is fast, but this time around we have a stock-clocked system contending with both an overclocked Sandy Bridge unit and quite a few systems featuring some overclocked representatives of last generation's finest. While you're looking at these benchmarks, though, try to remember that Puget Systems tuned the Serenity SPCR Edition for maximum silence. The Intel Core i5-2500K hasn't been touched, and the PowerColor Radeon HD 5750 included is tied for the fastest passively-cooled video card on the market. You can hear all of the other systems here under load, but you can't hear the Serenity.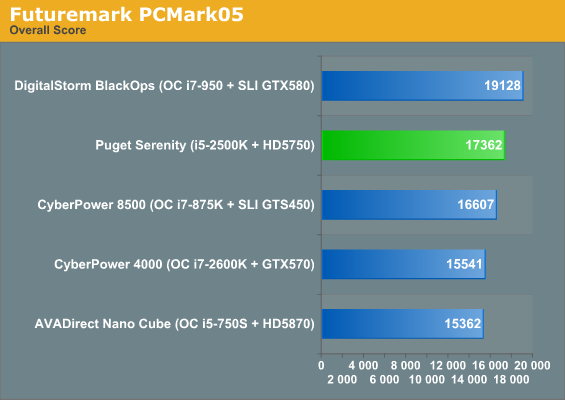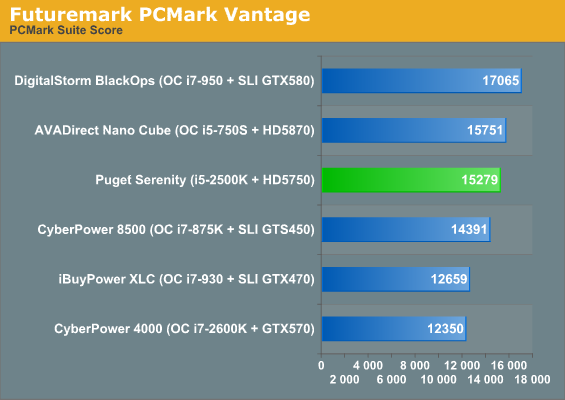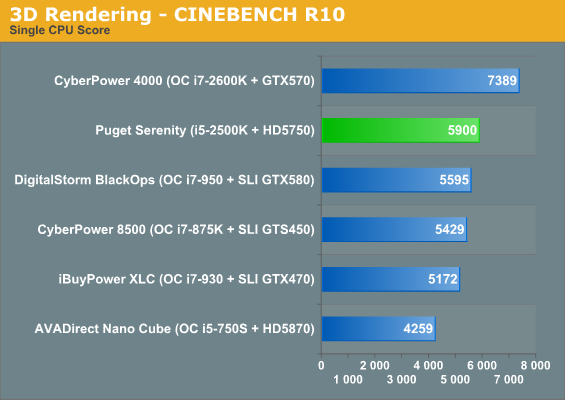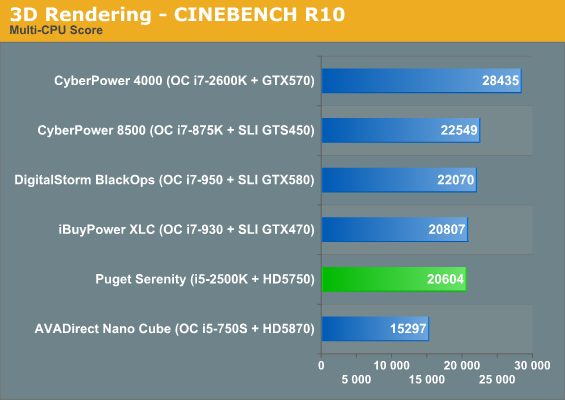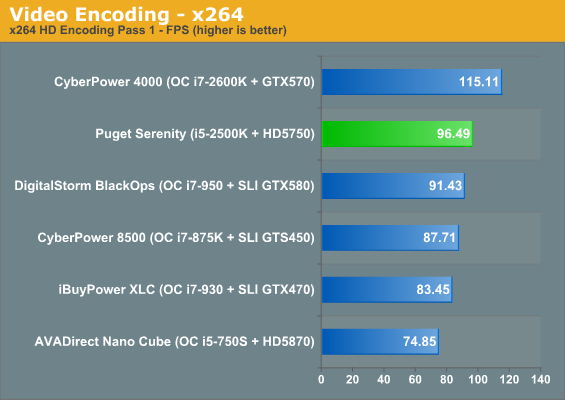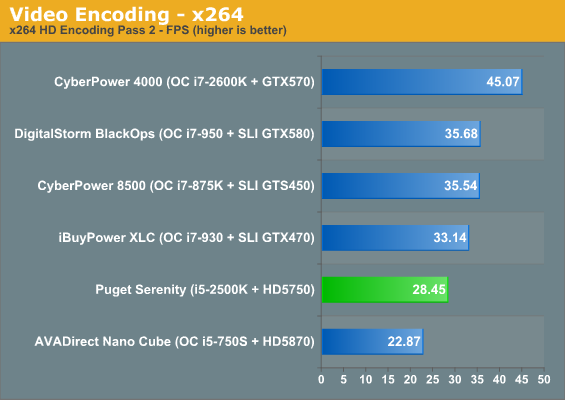 As you can see, even at stock clocks with no Hyper-Threading, it still takes a lot to hold Sandy Bridge down. The DigitalStorm and CyberPower 8500 systems are both running their processors at 3.8GHz, and DigitalStorm's tower has the added benefit of triple-channel memory. In fact the only chips that aren't Hyper-Threaded are the i5-2500K and the i5-750S, and while the i5-750S basically trails the competition here, the i5-2500K's worst showings still mostly nip at the heels of the 3.5GHz processor inside the iBuyPower XLC.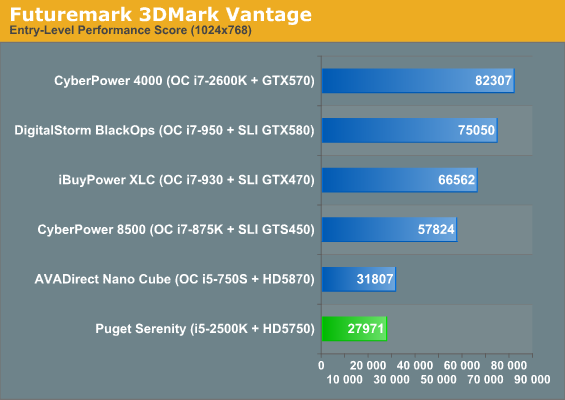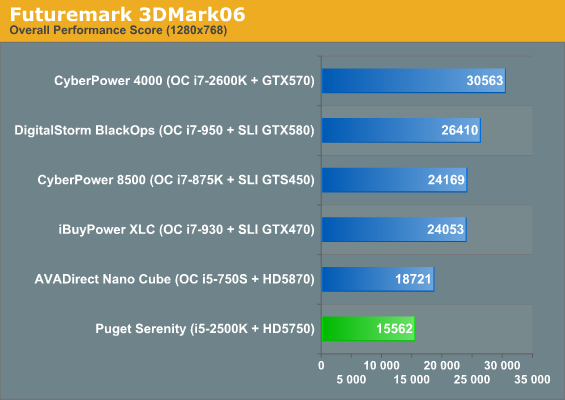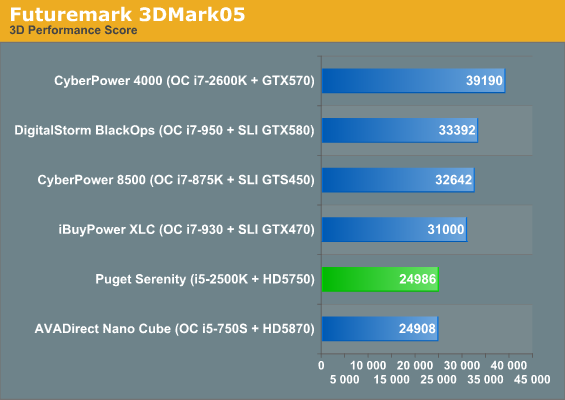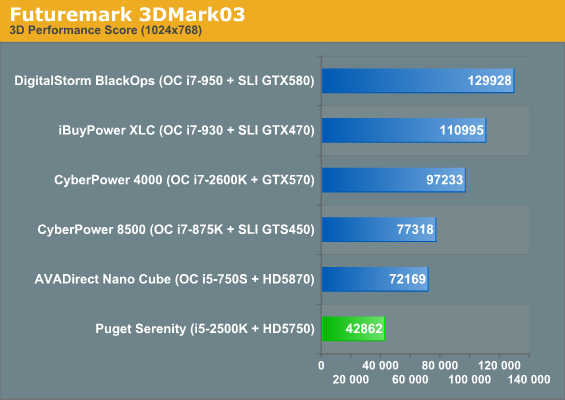 3DMark is less kind to the Puget Systems Serenity, but it still posts a strong showing and as we'll see the 5750 at its heart is for the most part able to game at 1080p. Again, remember that the Serenity is basically inaudible during gaming sessions and power consumption is remarkably low, as you'll see later. Of course, if the 5750 just doesn't cut it for you it's worth repeating that Puget Systems is working on getting a passively-cooled Radeon HD 6850 in house. It's entirely possible that by the time they can start shipping Sandy Bridge-based systems like this one again you'll actually be able to make that upgrade.
Gaming Performance
It's not going to surprise anyone to see the Puget Serenity take last place in all of these tests; the second-slowest gaming system we've reviewed sports a Radeon with more than twice the number of stream processors, more than twice the memory bandwidth, and higher clocks to boot. That said, many of the really high scores we've seen are largely academic: can anyone really tell the difference between 100 frames per second and 150? Without getting into the ridiculous argument of whether or not the human eye can see more than 30 frames per second (if it's not supposed to be able to, I'm pretty sure most of the video geeks in the readership—myself included—are superhumans), that framerate should still be your baseline for acceptable performance.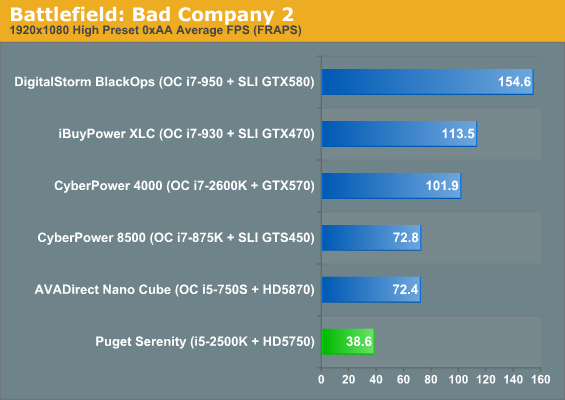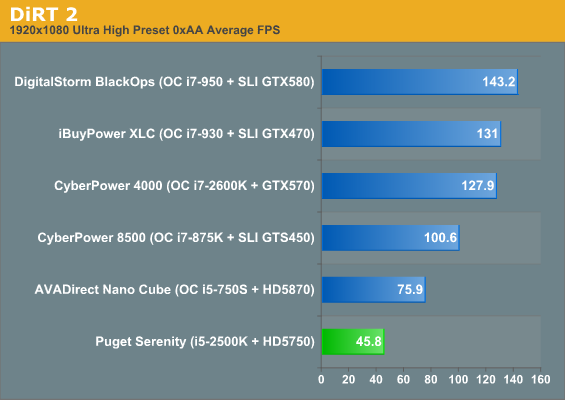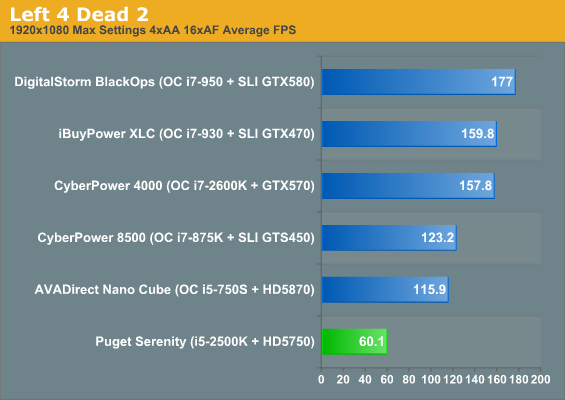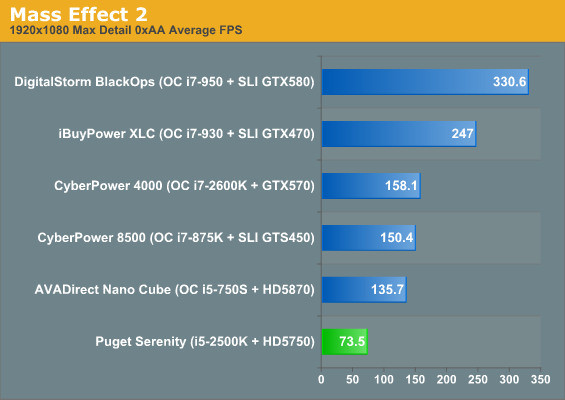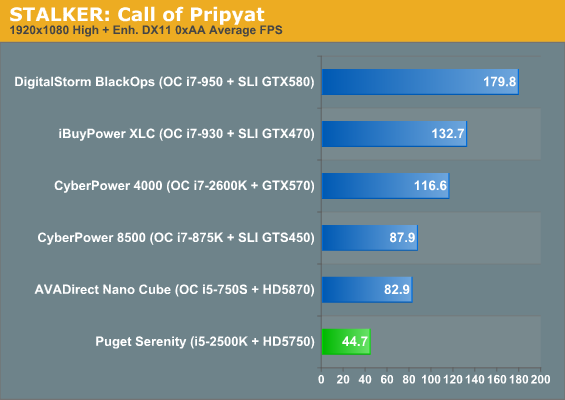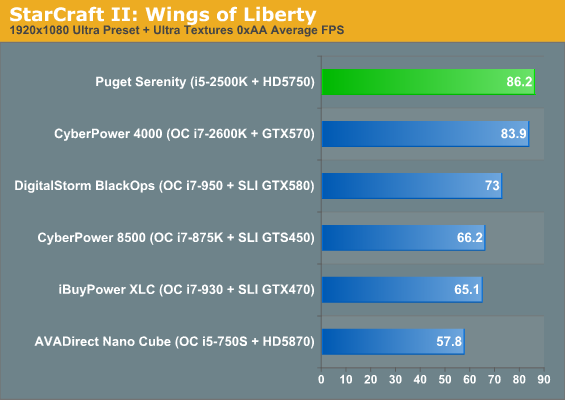 Outside of the stunningly CPU-limited StarCraft II, Puget Systems's Serenity is able to at least beat the 30fps mark by a fairly healthy margin. I like to see framerates in at least the forties to ensure smooth gameplay, but any of these games are perfectly playable at our "High" preset, which is basically running them at maximum or near-maximum (as in the case of Call of Pripyat) settings, 1080p, and no anti-aliasing (excepting Left 4 Dead 2). Knowing that we're a little bit close to our ceiling, let's see what happens when we do kick anti-aliasing in with our "Ultra" preset.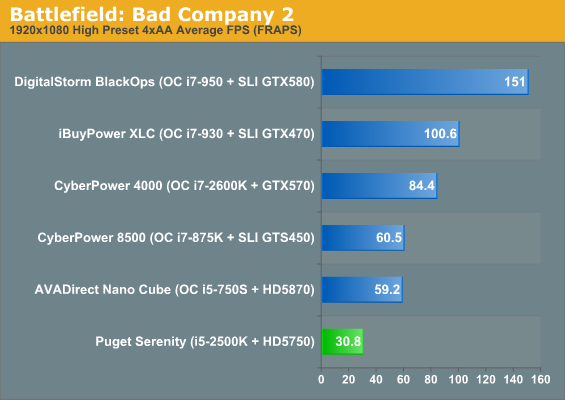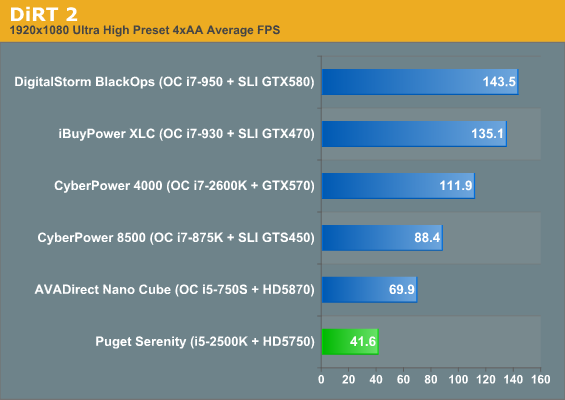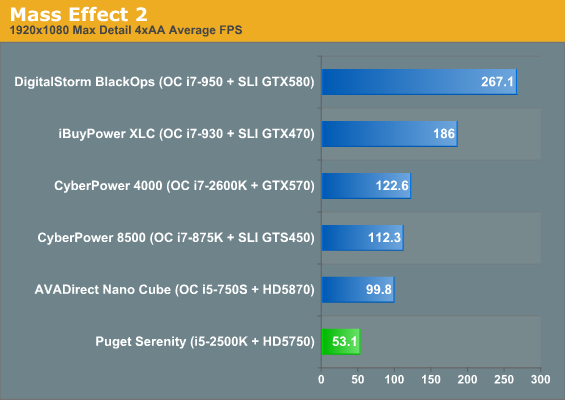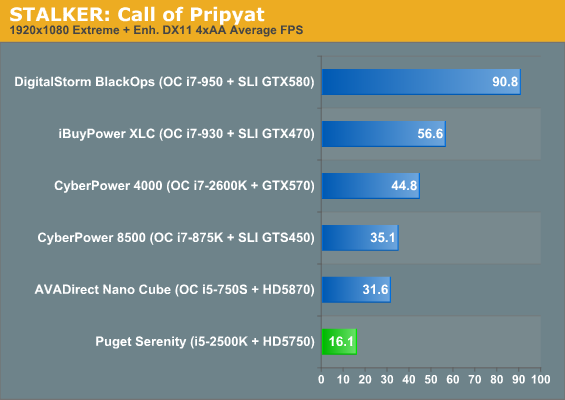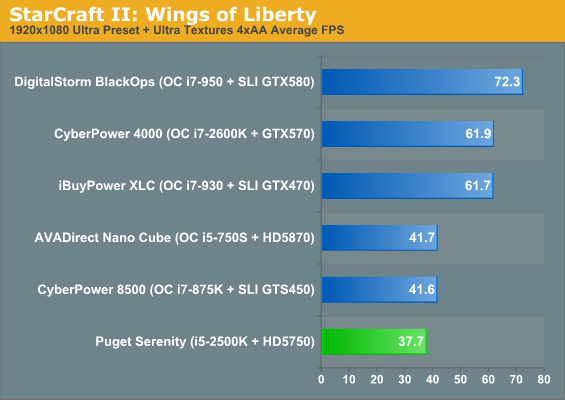 Battlefield: Bad Company 2 is pushing its luck and Call of Pripyat is fairly punishing even on our other systems, but for the most part these games (outside of Call of Pripyat) remain playable and fluid. Shifting the bottleneck back to the video card in StarCraft II sends the Serenity tumbling back to the bottom of the heap, but even then it's still very playable. Gamers looking for extra frames may want to disable anti-aliasing in that title anyhow, as the image quality difference is negligible when the performance impact is taken into account. Suffice it to say these settings are basically the threshold for the Radeon HD 5750, and while performance is good, the 6850 is going to be a welcome upgrade.
Build, Noise, Heat, and Power Consumption
Given the somewhat exotic nature of Puget Systems's Serenity SPCR Edition tower, it's reasonable to assume that there just aren't any good corners to cut. I'm happy to report that, having examined the system, Puget Systems simply couldn't and didn't.
What makes the build particularly interesting compared to the others is that, as I mentioned in the introduction, this really is a custom build, not just a melange of carefully chosen and assembled parts. Take a look inside and see what I mean.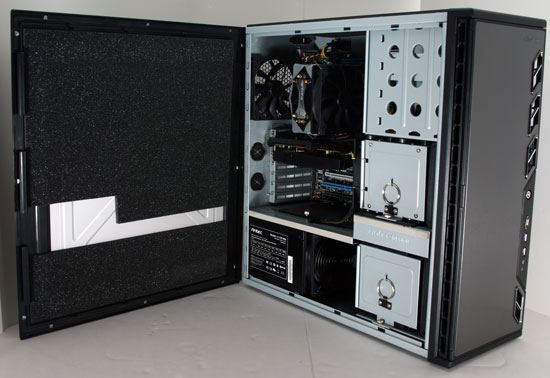 Seeing the additional foam padding on the inside of the side panel when I had to remove the internal packing was a major cue, and the foam has been carefully cut to fit around the internals of the Antec P183 case used for the build. From the photo you can see three major points in Puget Systems's favor: quality case, quality power supply, and additional custom sound dampening. What's harder to see is that Puget Systems removed the Antec Tricool fans from the case and replaced them with silent Scythe 120mm fans. They've also bracketed an additional fan to the top hard drive tray, and they've removed the top exhaust fan and covered the vent with foam.
Another interesting point is the use of an air cooler instead of a watercooling system on the processor. I've reviewed more desktops with watercoolers than not and they're generally considered among the quietest ways to go, but here Puget Systems opts to use an air cooler—the Gelid Tranquilo—with a silent fan. They also carefully tuned the fan speeds in the ASUS board's UEFI to ensure silent running.
Certainly building the entire system for low noise is going to mean running a little hotter than normal, though, right? Interestingly, that's not the case.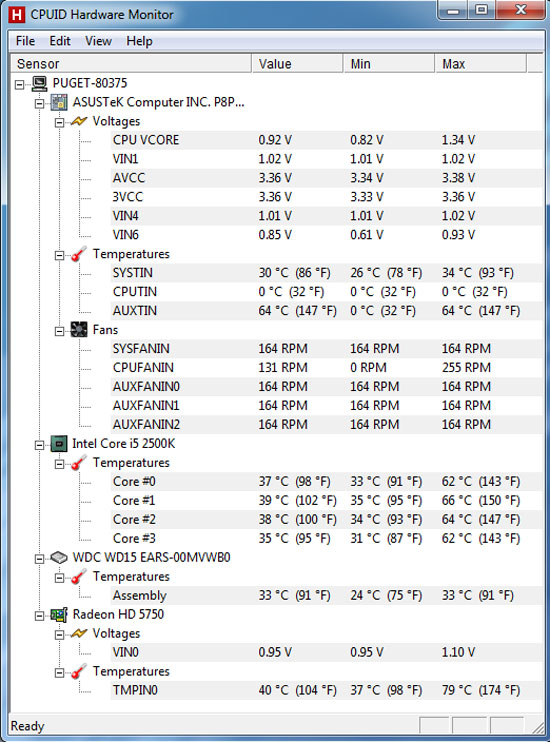 Check out those thermals. The Serenity SPCR Edition keeps everything running remarkably frosty, and that's due in no small part to the attention paid to airflow inside the case. The P183 was already an excellent case with great thermals (we actually have a review unit on hand and we'll be posting a case review in the coming months), but the modified cooling produces airflow moving in effectively a straight line through the tower with minimal turbulence, allowing the fans to run at low speeds without compromising thermal performance. Even the Radeon doesn't crack 80C.
With those temperatures and the system's configuration in mind, these power consumption figures should come as no surprise to you: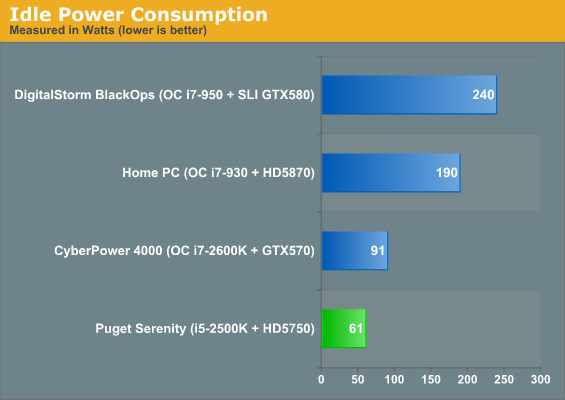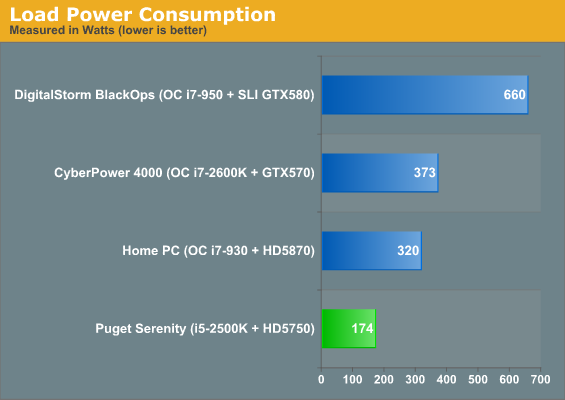 We tested power consumption by idling at the desktop, and then running our Left 4 Dead 2 timedemo. In my experience, very few games are capable of pulling as much power from a system as Left 4 Dead 2 can. Something about the Source engine's relatively frugal usage of graphics hardware lets the processor and video power consumption scale well together.
Under load, Puget Systems's Serenity SPCR Edition draws less power than my fairly frugal desktop does at idle. Sandy Bridge has proven to be stunningly power efficient in the testing we've been able to do (we really can't wait to get our hands on more Sandy Bridge-equipped notebooks), and combining that with the already efficient Radeon HD 5750 keeps power consumption low. The next system up on the list—my home tower—draws nearly twice as much power under load. That increase in power draw may be commensurate with the increase in gaming performance, but keep in mind the i5-2500K is able to handle processor-intensive tasks much more efficiently than the i7-930.
Conclusion: Custom Job at a Custom Price
When we look at the Puget Systems Serenity SPCR Edition, we're really looking at two things: the design of the custom build, and the hardware configuration proper.
The hardware configuration is largely up to the end user; the quote on our price sheet listed our test system at a fairly onerous $2,149. We're really looking at a little over $1,000 in parts here judging from a trip to NewEgg and some quick and dirty math. No one likes seeing 100% markup on a computer that costs over two bills, so from a pure value perspective the Serenity SPCR Edition can feel like a real bust. None of the upgrades available on Puget Systems's site really gouge the end user (as opposed to, say, ordering RAM from Apple), so what we're really dealing with is a brutal base price. Bouncing over to the "Professional," which is designed to run at 20db instead of 11db (oh the horror!), drops the price by about $150. Even the "Mini," built in an Antec Mini P180, only drops the price another $100 on top of the "Professional." That's still pretty unseemly. And after all that, to only offer a one year warranty on parts versus the three years standard I've seen nearly everywhere else seems like adding insult to injury.
Update: After Jon at Puget Systems and Jarred both ran the numbers, they came up with a figure substantially higher than mine. While my rough and tumble estimate hits equivalent performance, it doesn't really account for all the extra materials Puget Systems does employ in this build. Jarred estimates markup at between 40% and 50% which is still a little rough, but nowhere near as bad.
On the other hand, the Serenity SPCR Edition isn't a slapdash job the way some other builds from boutique vendors can feel. The only other custom system I've seen that actually modified the case somewhat was AVADirect's Nano Gaming Cube, but that thing was more or less bursting at the seams and in dire need of a proper case instead of a modified one (something AVADirect has been working with SilverStone on). Puget Systems clearly thought the Serenity from the ground up, and there's some careful consideration going on here to ensure the quietest system. This is a smart design if ever I've seen one, and you can't argue with results: Puget Systems set out to build a silent computer and they've achieved it. The Serenity runs, under load, quieter than most laptops I've tested run at idle. We can't test the noise level because it basically sits beneath the noise floor of my apartment complex and I just don't have gear sensitive enough to pick it up.
Reconciling the high price (complete with middling warranty) with your desire for a silent machine is really going to be a matter of personal preference and just how much you're willing to spend for a quiet system. Puget Systems clearly gunned to get the Serenity as quiet as humanly possible (in fact our rep was disappointed they couldn't get it down to 10db), sparing virtually no expense, and on that front they're successful. You will, if nothing else, get quality parts if you order a Serenity from them (even the Serenity Mini uses a Seasonic power supply by default). Deciding just how much silent, efficient running is worth is going to vary from user to user, but at least Puget Systems is putting it on the table and offering a custom build that sacrifices flash for an austere, professional design.
Puget Systems' response to the Sandy Bridge chipset bug shows that they're willing to provide better support to end-users than most companies—something you usually only get from a boutique computer vendor. We appreciate what they offer, and if they could knock at least a couple hundred off the price and bump that parts warranty up to three years, we'd have Editor's Choice material on our hands. As it stands, though, I'm left reviewing another system that a lot of users (myself included) would be overjoyed to own but are unwilling to pay for.