Original Link: http://www.anandtech.com/show/4151/the-dell-venue-pro-review


When we first looked at the retail Windows Phone 7 devices back in September of last year, we had one general takeaway - the hardware, regardless of manufacturer, was fairly conservative. Samsung's popular Focus is basically just a respecced version of the Galaxy S phone template, while HTC ended up giving the HD2 a mild refresh to create the HD7. The launch was focused on Microsoft's shiny new OS, but there was one handset that stood out to me - Dell's new Venue Pro.
Dell has been getting serious about returning to the handheld game, starting with the 5" Streak last year, and now with their stable of smartphones and tablets releasing this year. The Venue Pro was the first to hit market, and it's a very strong first strike. It's a portrait slider with a QWERTY keyboard, a 4.1" AMOLED screen, and Snapdragon underhood, and I think it's the most compelling Windows Phone 7 device released thus far.

The underlying hardware is similar to the rest of the Windows Phone 7 handsets - you get a Snapdragon QSD8250, with the now-standard 1GHz 65nm Scorpion core and Adreno 200 graphics on-board. Beyond that, the spec sheet reads pretty well - there's a 5MP camera with autofocus and LED flash, 720p video recording, 8GB or 16GB of onboard storage, and a removable 5.18 Wh battery. The curved AMOLED display has protective Gorilla Glass and a WVGA resolution, and the 4.1" diagonal size puts it squarely between the Focus/Galaxy S and the HD7/EVO 4G.
Physical Comparison
Apple iPhone 4
HTC Surround
LG Optimus 7
Samsung Focus
Dell Venue Pro
Height
115.2 mm (4.5")
119.7 mm (4.71")
125 mm (4.92")
122.9 mm (4.84")
121.0 mm (4.76")
Width
58.6 mm (2.31")
61.5 mm (2.42")
59.8 mm (2.35")
65 mm (2.56")
64.4 mm (2.54")
Depth
9.3 mm ( 0.37")
12.97 mm (0.51")
11.5 mm (0.45")
9.9 mm (0.39")
14.9 mm (0.59")
Weight
137 g (4.8 oz)
165 grams (5.82 oz)
157 grams (5.54 oz)
119 grams (4.2 oz)
176 grams (6.21 oz)
CPU
Apple A4 @ ~800MHz
1 GHz Qualcomm QSD8250
1 GHz Qualcomm QSD8250
1 GHz Qualcomm QSD8250
1 GHz Qualcomm QSD8250
GPU
PowerVR SGX 535
Adreno 200
Adreno 200
Adreno 200
Adreno 200
RAM
512MB LPDDR1 (?)
512 MB LPDDR1 (448 system, 64 GPU)
512 MB LPDDR1 (448 system, 64 GPU)
512 MB LPDDR1 (448 system, 64 GPU)
512 MB LPDDR1 (448 system, 64 GPU)
NAND
16GB or 32GB integrated
512 MB integrated, 16 GB (Internal Class 4 microSD)
16 GB integrated
8 GB integrated
8 or 16 GB integrated
Camera
5MP with LED Flash + Front Facing Camera
5 MP with autofocus, LED flash, 720P video recording
5 MP with autofocus, LED flash, 720P video recording
5 MP with autofocus, LED flash, 720P video recording
5 MP with autofocus, LED flash, 720P video recording
Screen
3.5" 640 x 960 LED backlit LCD
3.8" LCD 800 x 480
3.8" LCD 800 x 480
4" Super AMOLED 800 x 480
4.1" AMOLED 800 x 480
Battery
Integrated 5.254 Whr
Removable 4.55 Whr
Removable 5.55 Whr
Removable 5.55 Whr
Removable 5.18 Whr
At 176 grams, the Dell is hefty on paper, but when you pick it up it feels lighter than you expect it to. One thing that's very clear though, whether in pictures or in the hand, is that the Venue Pro is huge. The easiest way to describe the Venue Pro's size is that it's roughly as big as the Samsung Focus/Galaxy S and 50% thicker. You get a keyboard out of the bargain, and it's about as thick as some of the landscape QWERTY devices like HTC's G2 and EVO Shift 4G, but the Venue Pro is a pretty beefy phone regardless of how you slice it.

Dell did an excellent job with the industrial design, there is no other way to put it. As far as the new line of Windows handsets go, the Venue Pro is easily and by far the best looking of the lot. The glossy black body is nicely offset by the chrome trim on the sides and the buttons, and the design comes across as very high class. As my best friend put it, the Venue Pro is the smartphone a mob boss would carry. The material quality is first rate, with the glass-covered screen, metal sides, and neatly textured plastic back panel exuding a very high quality feel. The weightiness gives the phone a very substantial feel, backed up by the solid spring-loaded action of the slider.
Overall, there's only a couple of problems with the hardware. The lock button is a small, recessed circular button at the top of the device. It's a pain to press, and is occasionally unresponsive. The camera button is also small, recessed, and difficult to press, but I'll get to that later on. Overall though, other than those two or three minor ergonomic mishaps, the Venue Pro hardware is pretty striking.
Dell Venue Pro - Keyboard and Screen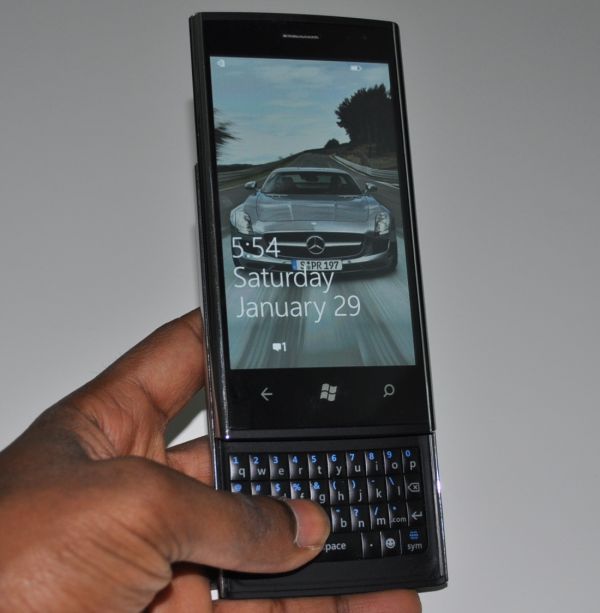 Slide up the Venue Pro's screen, and you get to the portrait QWERTY keyboard. There aren't too many portrait QWERTY sliders out there in the smartphone world - Palm has the Pre/Veer family, Motorola recently announced the XT300 Spice slider, Samsung supposedly has an Android portrait slider in the works, and that's basically it.
So the Venue Pro uses one of the more unique smartphone form factors out there, and as far as physical portrait QWERTY keyboards go, I think the Venue Pro is one of the best. My previous favorite was the BlackBerry Curve, but in my opinion the Venue Pro surpasses even that. The keyboard was very tactile, with good key sizing and spacing (always a concern with portrait QWERTY devices). Coming from the HTC G2's awesome landscape keyboard, it took me very little time to adjust to the Venue Pro's keyboard.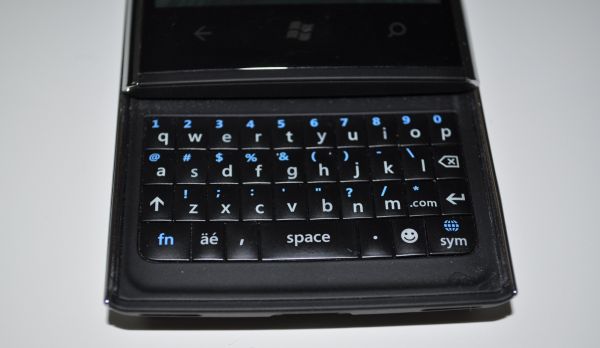 I did try out the Windows Phone 7 virtual keyboard, but there's not too much to report here - it's pretty similar to using the keyboard on a Focus or HD7. I prefer the physical keyboard, but the default Windows Phone 7 keyboard is definitely pretty good.
The screen is also pretty good - it's an AMOLED display, with a WVGA resolution. It's actually pretty dim compared to some of the other AMOLED displays we've seen, with the HTC-built AMOLED devices 10-20% brighter, the Focus 25% brighter, and the rest of Samsung's Super AMOLED displays 70-100% brighter than the Venue Pro. The colours are noticeably more vibrant than the HD7 when side by side, though a touch cooler than most LCDs.
The 800 x 480 resolution on the 4.1" display gives it a pixel density of 228 pixels per inch. That's not quite as high as the Surround or other Windows devices with smaller screens, but not a problem overall. The curvature of the display is convex, in contrast to the slightly concave display in the Nexus S. In the Nexus S, the curve serves an ergonomic purpose, but the Venue Pro's curved display is purely aesthetic. It definitely plays into the rest of the Venue Pro's industrial design, and my initial concerns about the glare and reflections went unfounded.
Dell Venue Pro - Software
For more details on Windows Phone 7, read Anand and Brian's epic 32-page review. I wasn't part of that review, but my thoughts mirror theirs. Windows Phone 7 is probably the most beautiful mobile OS on the market currently. Microsoft has very carefully crafted the UX for WP7, and the work they've done is evident in every UI action and animation. It's a really impressive first effort, and a strong base for the platform to build on.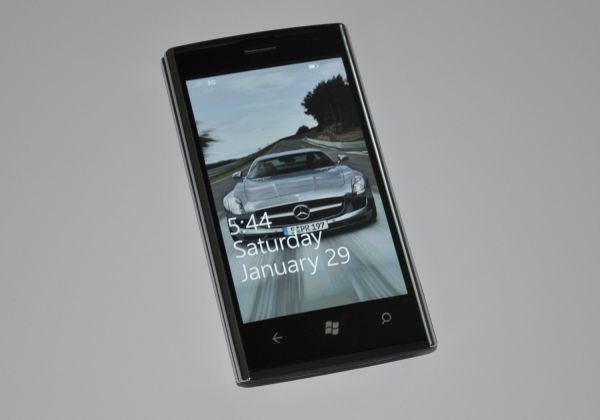 There were a few pretty big questions facing the platform when we last touched on it in a review, such as slow app loading, poor browsing performance from IE8, copy/paste, and multitasking. Copy/paste has been demoed in various stages even prior to WP7's retail launch, while the loading time issue is being fixed by streamlining the memory management and changing how applications are loaded into memory. These fixes, along with CDMA support, will be included in an update slated to release in the coming weeks.

At Mobile World Congress last month, Microsoft announced a few more updates. IE8 Mobile and its notoriously slow JavaScript performance (not to mention the utter lack of HTML5 support) are being dumped for a mobile version of IE9, which is based around the same rendering engine as the PC version of IE9. It will have GPU hardware acceleration as well as HTML5 support, which extends to the video tag, using the same H.264 codec as the desktop IE9. Plans for 3rd party multitasking support have also finally been detailed, with a fast-app switching scheme similar to the iOS implementation. The app-switching interface looks suspiciously like the card system in webOS, but that's not such a bad thing considering that webOS has the best multitasking interface in the smartphone world at present. In addition to that, twitter support is added (finally) as well as better cloud synchronization. There wasn't really a timeframe attached to these updates, but when released, they'll go a long way towards making WP7 truly feature competitive with iOS and Android.

The only other real issue with the platform at current is the app catalogue in Windows Phone Marketplace - for a 4-month old platform, it's downright impressive, but there's still a lot of important apps missing. IM clients, for one, are still pretty sparse, as well as banking apps and other utilities. We've seen some pretty impressive applications released on Marketplace, especially Facebook and Netflix, as well as the Xbox Live implementation. As mobile gaming is beginning to play a more important role in the smartphone world, Xbox integration will be an integral part of WP7's future. Microsoft has the money and developers to make Marketplace competitive with the iOS App Store and Android Market, especially now that Nokia is on board with the platform as both a hardware and software partner, but it'll take some time.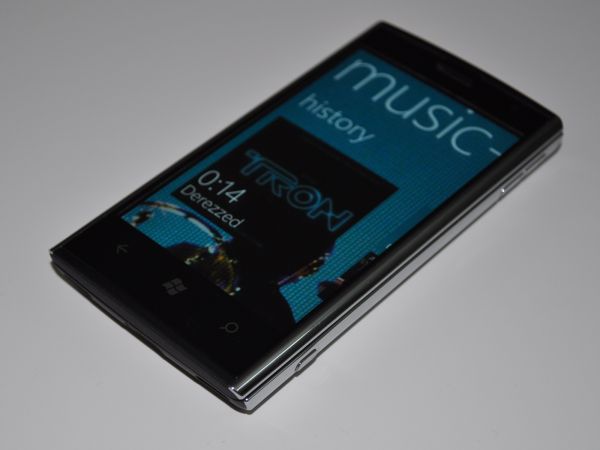 The Venue Pro comes with T-Mobile's standard software package, with T-Mobile Family Room, T-Mobile TV, TeleNav GPS, Newsroom, and Personal Finance. I didn't end up using any of them much, but they're pretty easy to uninstall. That's one of the great things about WP7, there's only so much a carrier can do to bloat the phone's OS install. Beyond those few apps, it's a pretty standard implementation of Windows Phone 7. Dell's choice to go with portrait QWERTY makes sense, since Windows Phone 7 doesn't have a whole lot of landscape support in the OS, other than the browser and text messaging apps. I don't think I used landscape mode on the Venue Pro more than once during the month I had it.

One minor annoyance, though, is that you can't slide the phone open to answer an incoming call. After getting used to that as the default behavior on any portrait sliding phone (dumbphone or otherwise), it takes a bit to get used to sliding the screen up and realizing that you haven't answered the call yet. Same goes for closing the phone and hanging up. Whether this is because the feature isn't in the Windows Phone API or because Dell just didn't want to code it is an open question, but it's a scenario unique to this one device, so I wouldn't be surprised if WP7 didn't support it.
Dell Venue Pro - Camera and Video
The Venue Pro has a 5MP camera with an LED flash, similar to many other smartphones on the market. And like so many of its competitors, it's a pretty decent camera, so long as you have a lot of natural light. Switch to artificial can lighting or night time photography, and your pictures are suddenly an unusable grainy mess.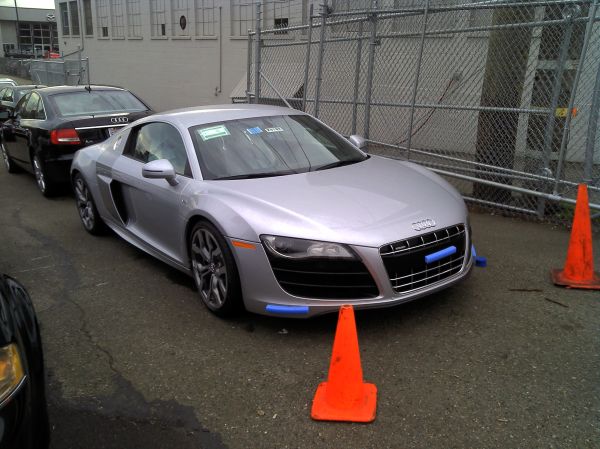 Daytime shot of an Audi R8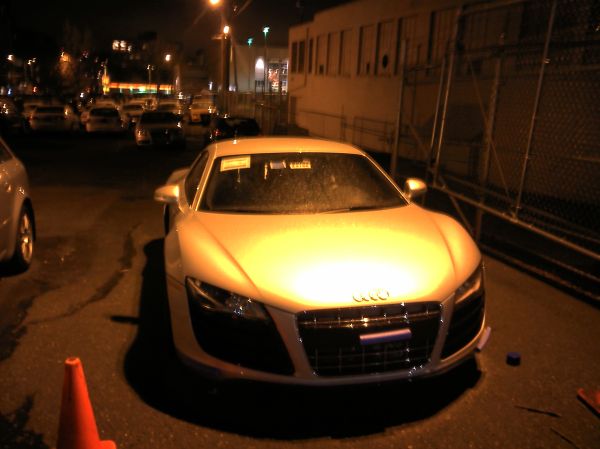 The same R8, this time at night.
Dell shouldn't take it personally, it's basically par for the course as far as smartphones go. Unfortunately, next to some of the rest of the WP7 crowd, it's a bit lacking as far as editing options. You get to change ISO settings, white balance, and four scene modes. That's about it, which absolutely pales in comparsion to the Samsung Focus' long list of setting options.
It's overall not a huge deal though - usually with smartphone cameras, you don't have too much time to mess with settings anyways. What is a huge deal is the camera button and the lack of a software shutter release. Like the lock button at the top of the device, the camera button is slightly recessed and an absolute pain to press. When you do press it, you invariably end up putting enough of a downward force on the device to unbalance it and give the phone a little shake as it takes a picture. That's a great recipe for motion blur! I swear, a full two thirds of my pictures ended up resembling photos taken by the elusive Mr. Blurrycam. I started taking batches of 5 or 6 of the same shot to maximize my chances of getting one decent picture, and invariably ended up with no clear, usable images from the entire set. Example, this one of my living room. It's a bit blurry, but that's amazingly the clearest one of the lot. Maybe I just suck at taking pictures on this phone.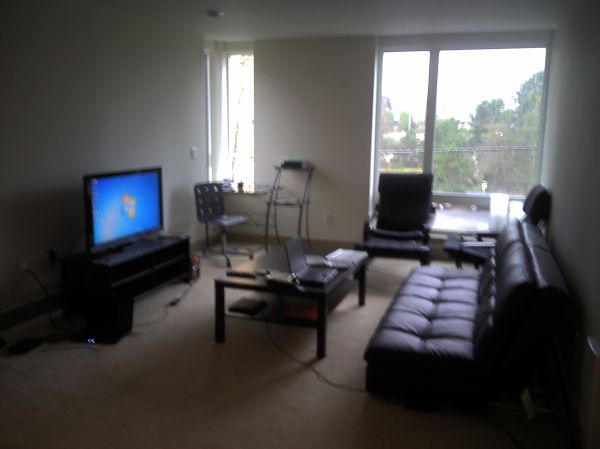 My living room. The rejects are in the gallery below.
A very easy way to eliminate this effect is to just toss a software shutter release button in the camera app, similar to how many Android phones have camera buttons in the hardware and software. It makes sense, but I won't hold my breath for it - the WP7 requirements list a hardware camera button for a reason. But if you have a steady hand, the Venue Pro is easily capable of web-quality photos, which is about all you can ask from a smartphone camera.
The video camera is decent, good enough for web quality video, but nothing earth shattering. The first-gen Snapdragon processors are limited to capturing either 640x480 at 30fps or 720p at 24fps. No problems with the microphone here, so no repeat of Brian's issues with the Surround.
Update: Here's the video sample. YouTube compression was basically killing it, so I switched to Vimeo.
AnandTech - Dell Venue Pro Video Sample 2 from Vivek Gowri on Vimeo.
Dell Venue Pro - Performance and Battery Life
Windows Phone 7 devices have set specifications, with the 1GHz Snapdragon QSD8250/8650 (for CDMA models) being the only SoC supported at present. The 8250 is part of the first generation of Snapdragon processors, built on a 65nm manufacturing process and with Qualcomm's Adreno 200 GPU onboard. It's a pretty old processor, so hopefully the next wave of devices will give us a better range of newer Snapdragon or Cortex A9-based processors to choose from (we've heard that driver issues are limiting it to the 1st-gen Snapdragon chips right now). The Venue Pro is no different from the rest of the WP7 crowd, with the QSD8250, 512MB of memory, and 8-16GB of flash built in.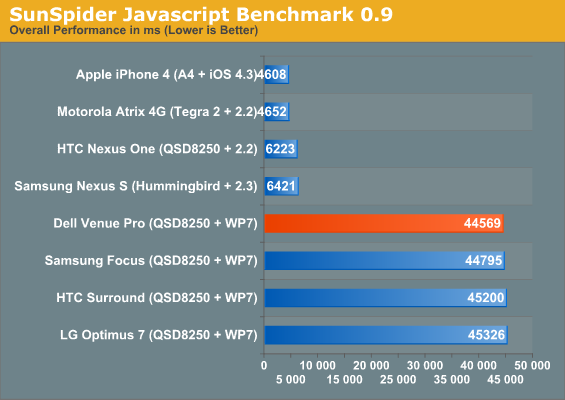 An interesting note about the RAM is that the phone only displays 256MB of memory, if you use the Marketplace app called "SystemInfo". However, Dell clarified that there is actually 512MB of memory, but some of it was used by the operating system prior to being made available to applications, causing the app to report the amount of RAM incorrectly. Either way, the Venue Pro performs like every other Windows Phone 7 device, both in real world usage and in our browser benchmarks, so it's not too big of a deal. These benchmarks just demonstrate how much Microsoft needs to improve the JS performance in IE9 Mobile to be competitive with Apple and Google.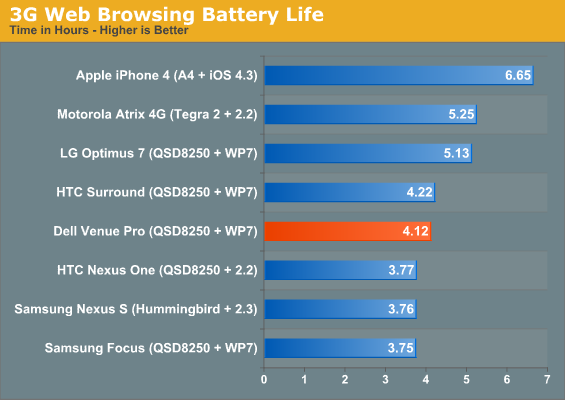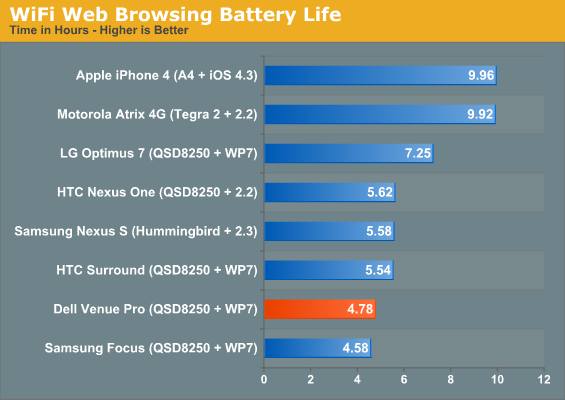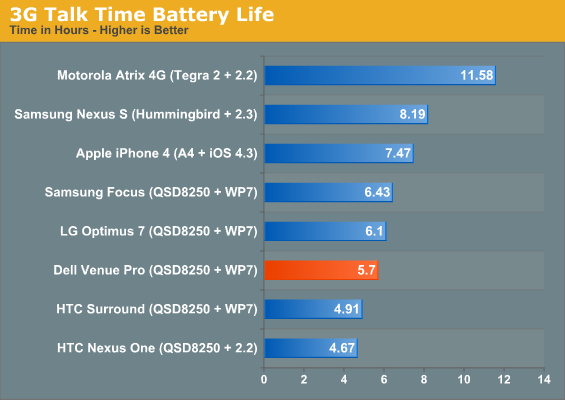 Battery life is a mixed bag, pretty mediocre overall. It's better than the Focus, but both the Focus and the Venue Pro lag behind the Surround and Optimus 7 by a ways due to the AMOLED screens. As Anand explained in his review of the Focus and Optimus 7, the amount of white pixels in our web-browsing test tend to hurt AMOLED displays significantly more than LCDs, which is why the Venue Pro comes off so poorly in the battery test. If you use the darker WP7 theme, the phone actually lasts longer than you'd expect given the showing in the battery tests.
Dell Venue Pro - Conclusion
I'm going to put this one out there - of the current crop of Windows Phone 7 devices, the Venue Pro is my favorite. It's exceedingly well designed and well built, but the biggest difference between this and similarly well designed products from HTC and Samsung is that the Dell is the one device that's really new. The remainder of the launch devices are pretty much rehashes of previous devices, while Dell basically started from scratch with the Thunder/Lightning platform, though why they decided to rechristen them the Venue and Venue Pro on the way to production is anyone's guess.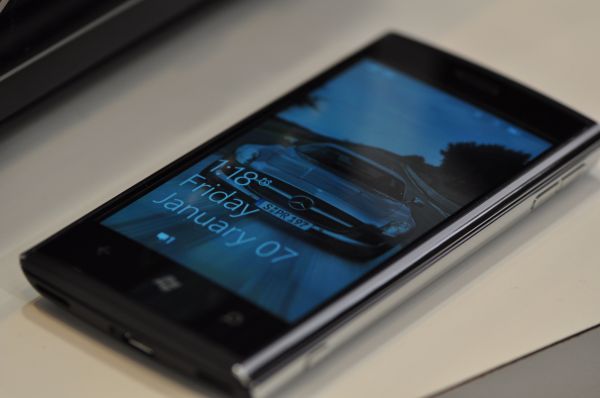 The Venue Pro is a pretty chunky phone though, and the size will probably turn some people off. But in exchange for larger dimensions, you get an excellent hardware keyboard, a robust slider, and (most importantly) a large, 4.1" AMOLED display. If the Surround is the best WP7 device for music, the Venue Pro is definitely the best for messaging and email, at least until the 7 Pro hits market, and even then I'm not convinced that it'll be better than the Dell. The Focus is probably still the most balanced WP7 device, the HD7 is probably the best equivalent to it. But I'm a fan of the Venue Pro. If Dell can manage to slim it down and give it a dual core processor while maintaining the style and build quality for the next generation, they might have a real winner on their hands.