Original Link: http://www.anandtech.com/show/4134/the-brazos-review-amds-e350-supplants-ion-for-miniitx


AMD has been curiously absent from the value netbook and nettop segments since Atom's arrival nearly three years ago. These markets are highly profitable only for component vendors, as the OEMs that sell netbooks and nettops must survive on very slim margins in order to hit aggressive price points. It wasn't too long ago that we were shocked by $699 desktop PCs, but to now be able to get a fully functioning portable PC with display at below $300 is impressive. In order for the profit equation to work out however, you can't simply scale down a larger chip - you need an architecture targeted specifically at the type of very light workloads you expect to encounter in these segments. Underclocking and undervolting an architecture targeted at high end desktops or servers won't cut it.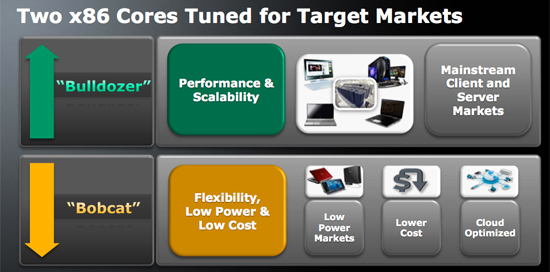 Generally a single microprocessor architecture can cover an order of magnitude of power envelopes. You can take an architecture from 10W - 100W using clock speed, voltage scaling and disabling features (e.g. cutting cache sizes). You can't efficiently take a 100W architecture and scale it down to 1W. Intel realized this with Atom, and what resulted was a new architecture designed to span the 0.5W - 5W range. Given the constraints of the process (Atom was built at 45nm) and a desire to keep die size down to a minimum (and thus maximize profits), Intel went with a dual-issue in-order architecture reminiscent of the old Pentium - but with a modern twist.
AMD came to the same realization. For it to compete in these value markets, AMD couldn't rely on its existing Phenom II derived architectures. The Phenom II and its relatives currently span a range of TDPs from 9W to 140W, and at the lower end of that spectrum we're talking about some very low clock speeds and performance targets. Getting down to 1W was out of the question without a separate design.
What AMD came up with was a core called Bobcat, initially targeted for netbooks, notebooks, nettops and entry level desktops. Architecturally Bobcat is a significant step ahead of Atom: while still dual-issue, it features an out-of-order execution engine making it the Pentium Pro to Atom's Pentium.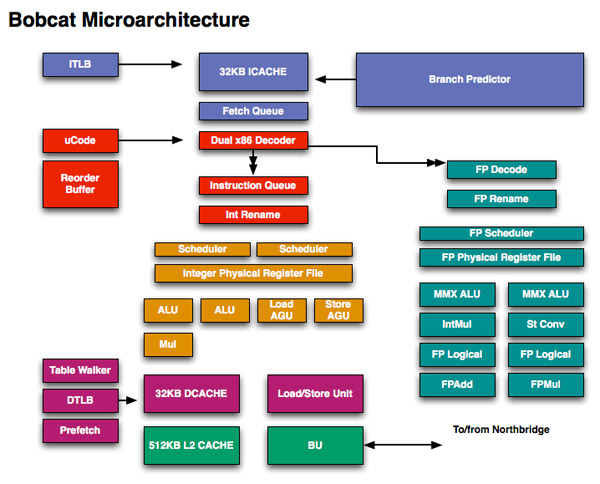 It isn't just CPU architecture that AMD surpassed Atom with, the first incarnation of Bobcat is an integrated SoC with on-die DirectX 11 GPU. AMD calls this combination a Fusion APU (Accelerated Processing Unit) as it places both a CPU and GPU on a single die. The possible CPU/GPU combinations for Bobcat based APUs are listed in the table below:
AMD Brazos Lineup
APU Model
Number of Bobcat Cores
CPU Clock Speed
GPU
Number of GPU Cores
GPU Clock Speed
TDP
AMD E-350
2
1.6GHz
Radeon HD 6310
80
500MHz
18W
AMD E-240
1
1.5GHz
Radeon HD 6310
80
500MHz
18W
AMD C-50
2
1.0GHz
Radeon HD 6250
80
280MHz
9W
AMD C-30
1
1.2GHz
Radeon HD 6250
80
280MHz
9W
AMD avoided branding its first APUs, they're simply the AMD E-series and C-series Fusion APUs. The emphasis isn't on the CPU or the GPU in this case, just the company name and a model number.

AMD's E-350
CPU Specification Comparison
CPU
Manufacturing Process
Cores
Transistor Count
Die Size
AMD Zacate
40nm
2
?
75 mm2
AMD Thuban 6C
45nm
6
904M
346mm2
AMD Deneb 4C
45nm
4
758M
258mm2
Intel Gulftown 6C
32nm
6
1.17B
240mm2
Intel Nehalem/Bloomfield 4C
45nm
4
731M
263mm2
Intel Sandy Bridge 4C
32nm
4
995M
216mm2
Intel Lynnfield 4C
45nm
4
774M
296mm2
Intel Clarkdale 2C
32nm
2
384M
81mm2
Intel Sandy Bridge 2C (GT1)
32nm
2
504M
131mm2
Intel Sandy Bridge 2C (GT2)
32nm
2
624M
149mm2
These APUs do need the aid of an additional chip - the Hudson Fusion Controller Hub (FCH). The FCH adds support for things like SATA, USB, Ethernet and Audio.The Hudson FCH is very tiny measuring approximately 4mm x 7mm for a total die size of around 28mm2.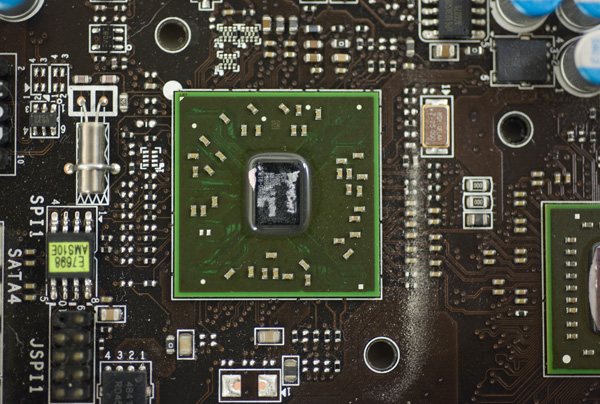 The Hudson FCH
The combination of these Bobcat based APUs and the FCH is called the Brazos platform.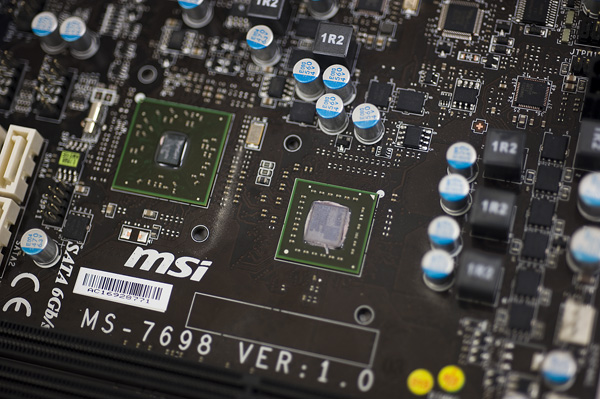 Late last year AMD invited me to spend several hours with a Brazos system at its brand new campus in Austin, TX. While the preview gave us some insight into what we could expect from Brazos, I didn't have enough time to really dive in as much as I would've liked to.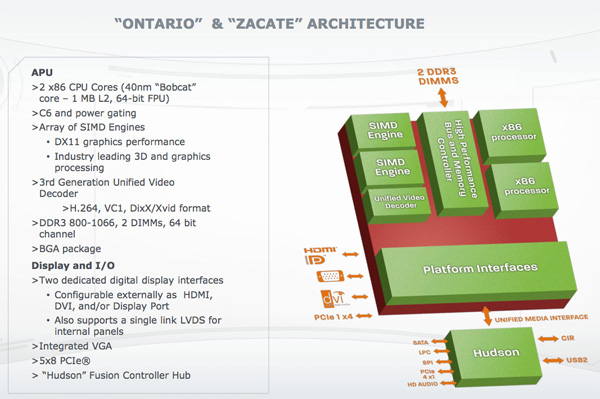 Earlier this month, AMD officially launched Brazos with hardware expected sometime this quarter. For the past couple of weeks I've been testing a Brazos mini-ITX motherboard from MSI and today, it's time to break the silence and share the results. They are quite good.
The Price: Around $100, The Motherboard: MSI's E350IA-E45
AMD expects most E-350 motherboards to sell for around $100 in etail. For lightly featured boards, I've heard this estimate is about right. It's once you start adding WiFi, passive cooling and other enhancements that costs creep up to around $130. Even at $130 that's not a bad deal. We're talking about better pricing than most ION boards but with much better performance.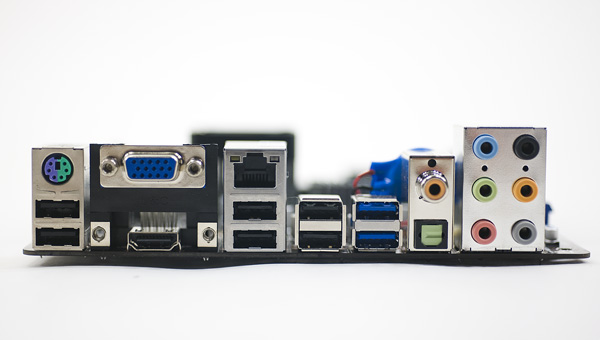 AMD sent over the first Brazos motherboard ready for prime time, MSI's E350IA-E45. The mini-ITX board features two DDR3 DIMM slots (a Brazos feature, there's still only one 64-bit memory channel off of the APU), four 6Gbps SATA ports and a PCIe x16 slot (electrically x4). On the I/O panel MSI provides both VGA and HDMI out for video. For audio you have the options of running audio over HDMI, coax, optical or 1/8" stereo outputs. There are a surprising number of USB ports on the back of the board: 6 x USB 2.0 and 2 x USB 3.0 driven off of the very familiar NEC D7202 USB 3.0 controller. There are two USB 2.0 headers for front panel or case USB as well. There's unfortunately no WiFi support on board, all you get is a single Realtek RTL8111D 10/100/1000 ethernet port.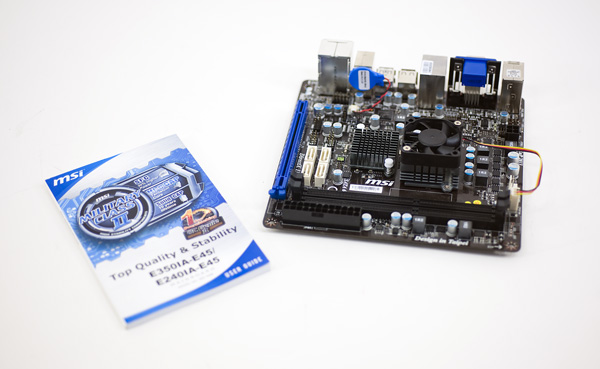 mini-ITX motherboard (right) and mini-ITX manual (left)
The MSI board doesn't support overclocking, so all results are at the CPU's stock 1.6GHz frequency.
Power is supplied by a standard 24-pin ATX PSU connector (older Atom/ION boards sometimes only used a 20-pin connector) as well as a 4-pin ATX12V connector. The Hudson FCH is passively cooled while the APU features a small, and unfortunately audible fan. ASUS is working on a passively cooled E-350 motherboard which I should have within the next week.
Video Decode Capabilities: Is Brazos the New ION?
While Atom may have been the right product at the right time, it was a very conservative architecture paired with a very conservative platform. For netbooks and nettops Intel chose to assume no risk at all, pairing Atom with the proven 945 chipset. As a result, it left a lot of room for innovation - something NVIDIA saw and capitalized on with ION.
While VIA created the mini-ITX form factor, it was really NVIDIA that made it interesting. The first mini-ITX ION platforms gave you almost everything you needed to build a fully capable HTPC. For video playback, with NVIDIA's GPU (or at least its fixed function decode pipeline) doing the heavy lifting, the fact that you had an anemic Atom a couple centimeters away didn't matter. The problem with ION is that it had no future. Without a DMI license, NVIDIA would not be able to build future versions of ION for Atom's successors. Even after the settlement it's unlikely we will ever see modern versions of ION, especially considering that Intel's 2011 Atom platform (Cedar Trail) will finally integrate H.264 decode acceleration in Q4.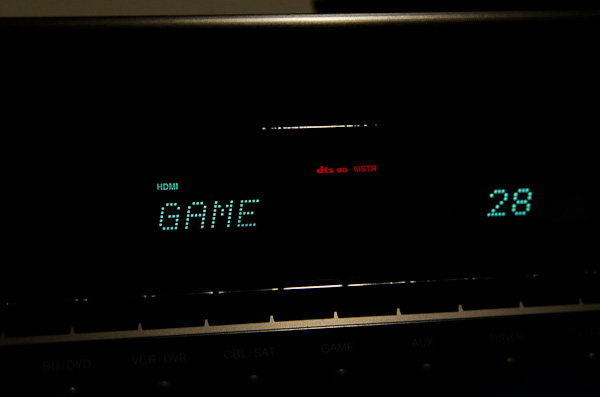 Where Intel is conservative, AMD will innovate. Brazos adds a number of advantages from a media standpoint over Atom. There's native HDMI support and a full implementation of AMD's UVD3 decode engine supporting hardware H.264, VC-1 and MPEG-2 acceleration. Although both of these advantages are also enjoyed by ION the next feature isn't. Brazos supports Dolby TrueHD and DTS-HD MA bitstreaming over HDMI. From a feature standpoint, Brazos is even more complete than ION.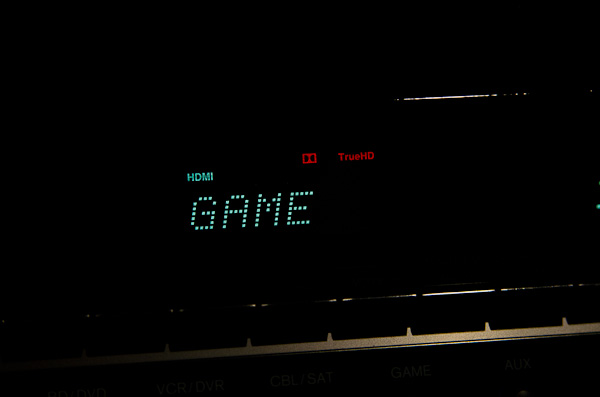 I ran MSI's Brazos board through our Media Streaming compatibility suite. Below is Brazos' compatibility score compared to the other devices and HTPCs we've put through the suite: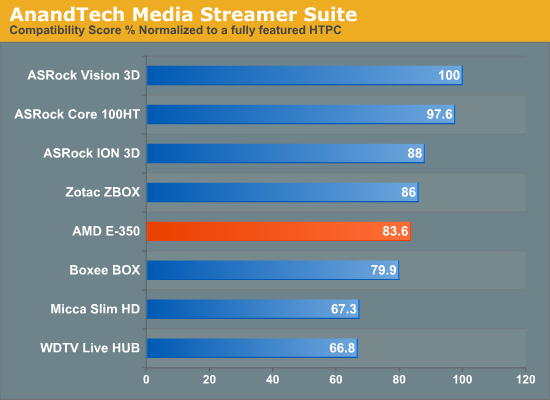 Failed Tests

- 1080p60 60 fps L5.1 H.264
- L5.1 H.264 (16 reference frames)
- FLAC, ASS Subs - High CPU Utilization
- HD Real Media
- Deinterlacing
Numerically, Brazos actually falls behind ION. Allow me to explain why. Our Media Streaming suite tests virtually everything you might throw at a HTPC. When it comes to the most commonly found content, Brazos excels. It can handle Blu-ray discs (although there's no Blu-ray 3D support), it can deal with 1080p x264s commonly found online and it even accelerates Flash video (more on this later). Brazos' UVD3 however is tied to clock speed, and the GPU clock of the Radeon HD 6310 is pretty low at 500MHz. As a result, Brazos fails certain tests. The platform is incapable of accelerating and playing back 1080p60 H.264 video. Very little content falls into this category, however if you want to play it you can't on Brazos. The good news is 1080i60 works just fine.
Brazos' GPU also fails all of our deinterlacing tests, something we noticed in reviews of AMD's entry level GPUs. The higher end models don't have an issue here but the lesser equipped models do. Again, chances are that you won't want to watch interlaced content on your Brazos HTPC so this is likely not a big issue.
The other shortcomings are videos with components that aren't accelerated by UVD3. For example, HD Real Video chugs on Brazos as does our heavy FLAC + ASS subs test. If you're playing non-3D Blu-ray content or 1080p24 x264s you find on the web, Brazos will easily fit the bill. It's the more eccentric content that you'll run into CPU limitations with.
Since the Radeon HD 6310 is derived from AMD's desktop GPUs we get full 23.976 fps support when you select 23Hz in AMD's Catalyst driver:
Selecting 24Hz yields a 24.000Hz refresh rate.

As I mentioned earlier bitstreaming both TrueHD and DTS-HD MA are supported over HDMI: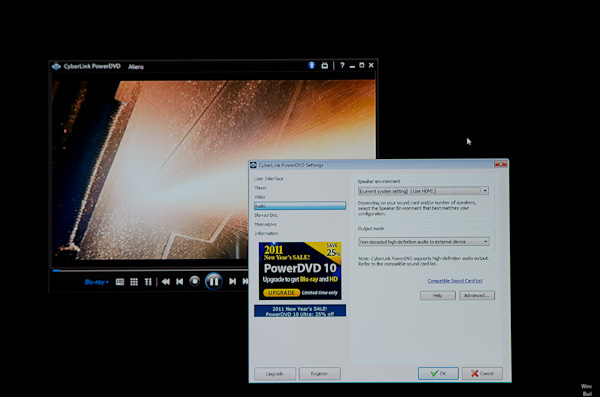 Blu-ray & Flash Video Acceleration
Compatibility is obviously a strongpoint of Brazos. So long as what you're decoding can be hardware accelerated you're pretty much in the clear. But what about CPU utilization while playing back these hardware accelerated formats? The CPU still needs to feed data to the GPU, how many cycles are used in the process?
I fired up a few H.264/x264 tests to kick off the investigation. First we have a 1080p H.264 Blu-ray rip of Quantum of Solace, averaging around 15Mbps:
Quantum of Solace 1080p H.264 CPU Utilization (1:00 - 1:30)
Platform
Min
Avg
Max
AMD E-350
22.7%
27.8%
35.3%
Intel Atom D510
Fail
Zotac ION
14.6%
17.2%
20.1%
A standard Atom platform can't decode the video but ION manages a 17% average CPU utilization with an Atom 330. Remember that the Atom 330 is a dual-core CPU with SMT (4-threads total) so you're actually getting 17.2% of four hardware threads used, but 34.4% of two cores. The E-350 by comparison leaves 27.8% of its two cores in use during this test. Both systems have more than enough horsepower left over to do other things.
Next up is an actual Blu-ray disc (Casino Royale) but stripped of its DRM using AnyDVD HD and played back from a folder on the SSD:
Casino Royale BD (no DRM) CPU Utilization (49:00 - 49:30)
Platform
Min
Avg
Max
AMD E-350
28.1%
33.0%
38.4%
Intel Atom D510
Fail
Zotac ION
17.7%
22.5%
27.5%
Average CPU utilization here for the E-350 was 33% of two cores.
Finally I ran a full blown Blu-ray disc (Star Trek) bitstreaming TrueHD on the E-350 to give you an idea of what worst case scenario CPU utilization would be like on Brazos:
Star Trek BD CPU Utilization (2:30 - 3:30)
Platform
Min
Avg
Max
AMD E-350
29.0%
40.1%
57.1%
At 40% CPU utilization on average there's enough headroom to do something else while watching a high bitrate 1080p movie on Brazos. The GPU based video decode acceleration does work, however the limits here are clear. Brazos isn't going to fare well as a platform you use for heavy multitasking while decoding video, even if the video decode is hardware accelerated. As a value/entry-level platform I doubt this needs much more explanation.
Now let's talk about Flash.
I ran through a number of Flash video tests at both YouTube and Hulu ranging in resolution from 480p all the way up to 1080p. I used Flash 10.1, 10.2 beta as well as an unreleased version of 10.2 beta provided by AMD.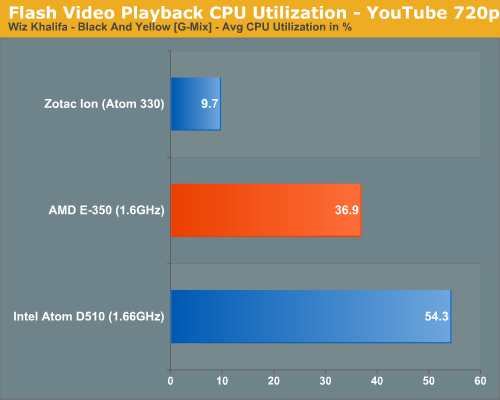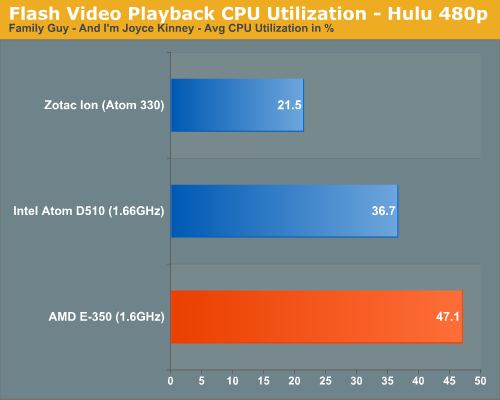 For the most part GPU accelerated Flash video does work well. Performance under both YouTube and Hulu was flawless, provided that I wasn't watching 1080p content. Watching 1080p content in YouTube wasn't entirely smooth on Brazos, despite posting very reasonable CPU utilization numbers.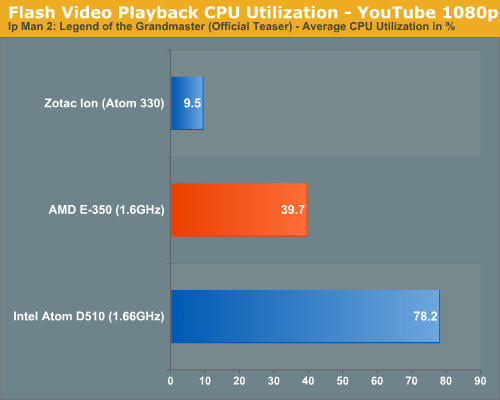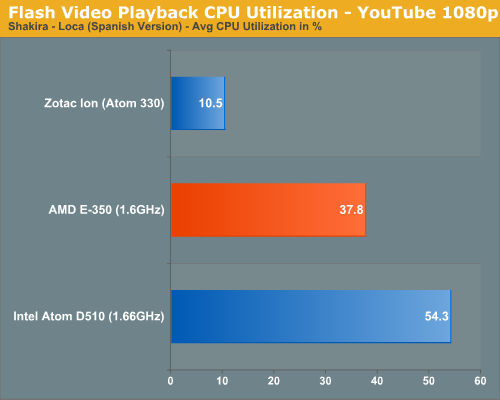 I took my concerns to AMD and was told that this was a known issue with Brazos and Flash 10.1 and that 10.2 should alleviate the issue. AMD then supplied me with an unreleased version of Flash 10.2 to allow me to verify its claims. While 1080p playback improved with AMD's 10.2 beta, it wasn't perfect (although it was very close). AMD wouldn't tell me the cause of the problem but it's currently working on it with Adobe. At the end of the day I don't believe it's a dealbreaker, but early Brazos adapters should expect some stuttering when playing back 1080p YouTube videos. Note that 720p and lower resolution videos were perfectly smooth on Brazos.
Discrete GPUs on Brazos: CPU and PCIe Bound
Intel's Atom could use a more capable GPU, but what about Brazos? The E-350's GPU is branded the AMD Radeon HD 6310. It has a total of 80 VLIW-5 SPs running at 500MHz. The GPU shares the same 64-bit DDR3 memory interface as the CPU, but it does not have any access to the CPU's caches. Future incarnations of Fusion will blur the line between the CPU and GPU but for now, this is the division.
Branching off the E-350 APU are four PCIe lanes. There are another four lanes courtesy of the Hudson FCH. MSI's E350IA-E45 exposes the former by the way of a physical PCIe x16 slot, although electrically it's only a x4. Curious to see if there would be any benefit to plugging in a faster GPU I decided to try a Radeon HD 5450 and 5570 in the slot: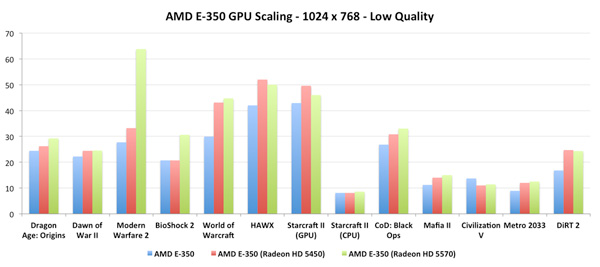 With a couple of exceptions (World of Warcraft, HAWX), there's no real benefit to a discrete Radeon HD 5450 over the integrated Radeon HD 6310. This is unsurprising as the two have very similar compute capabilities and only differ in the amount of available memory bandwidth since the Radeon HD 5450 doesn't have to share with a neighboring CPU.
The Radeon HD 5570 results were a bit unexpected. Other than Modern Warfare 2 and BioShock 2, there's little performance difference between the 5570 and the 5450 when paired with the AMD E-350. How much of this is due to the performance of the E-350 vs. the bandwidth limitations of the PCIe x4 slot is difficult to say. This smells like a CPU limitation, in which case it would mean that AMD didn't skimp at all when it came to the E-350's GPU.
The Radeon HD 6310: Very Good for the Money
I want to say that lately we've seen a resurgence in the importance of integrated graphics, but I don't know that it ever was truly important. With both AMD and Intel now taking processor graphics seriously, the quality and performance of what we get "for free" should go up tremendously in the coming years. The past two years have shown us that Intel is starting to take GPU performance seriously. The HD Graphics, HD Graphics 2000 and 3000 parts we've been given are all relatively competitive. The only problem is you generally have to spend around $100 - $200 on a CPU to get what I'd consider the bare minimum you should get from integrated graphics. Brazos aims to change that.
The E-350 still isn't enough to play all modern games, but it's what I would consider an acceptable entry level GPU. Despite its stature, the E-350 can easily compete with much more expensive Intel solutions when it comes to 3D gaming. Let's get to the numbers.
Dragon Age: Origins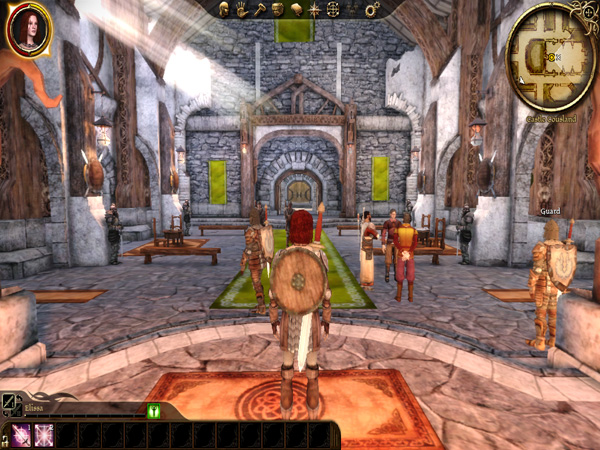 DAO has been a staple of our integrated graphics benchmark for some time now. The third/first person RPG is well threaded and is influenced both by CPU and GPU performance.
We ran at 1024 x 768 with graphics and texture quality both set to low. Our benchmark is a FRAPS runthrough of our character through a castle.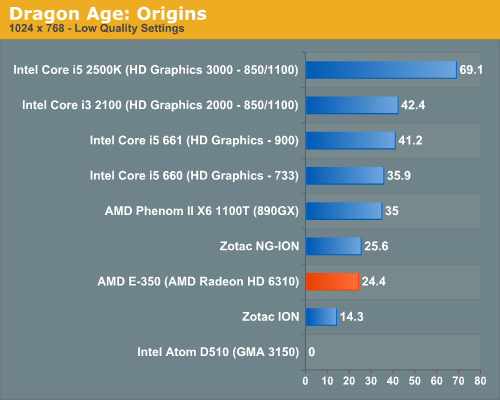 Our Dragon Age: Origins benchmark is quite CPU bound here and thus the E-350's Radeon HD 6310 doesn't look all that powerful. Luckily for AMD, DAO happens to be more of an outlier among current games as you're about to see.
The bare bones Atom D510 won't even run DAO. You'll see a number of games where compatibility is a problem for the D510. NVIDIA's ION does a lot better but it'll take a second generation ION to hang with the E-350. Zotac's NG-ION is actually a bit faster than the E-350, implying some driver/threading efficiencies as we're most definitely CPU bound on these low end parts.
Dawn of War II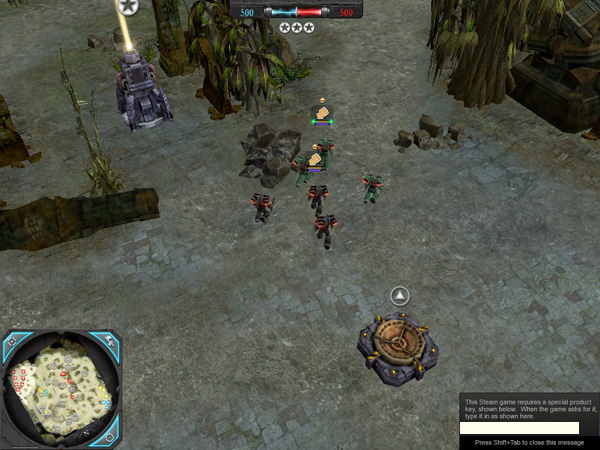 Dawn of War II is an RTS title that ships with a built in performance test. I ran at the lowest quality settings at 1024 x 768.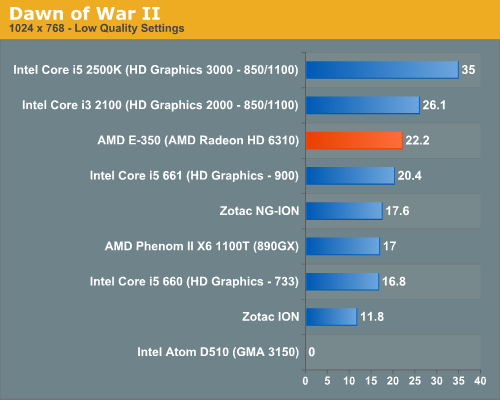 Oh what a difference moving a bottleneck makes. The AMD E-350, with its 75mm2 die is faster than Intel's Core i5 661 - the fastest implementation of Intel's HD Graphics. The E-350's performance isn't too far off the Core i3 2100 either. While none of these frame rates are what I'd call smooth, you can't argue with how competitive the E-350 is here.
Call of Duty: Modern Warfare 2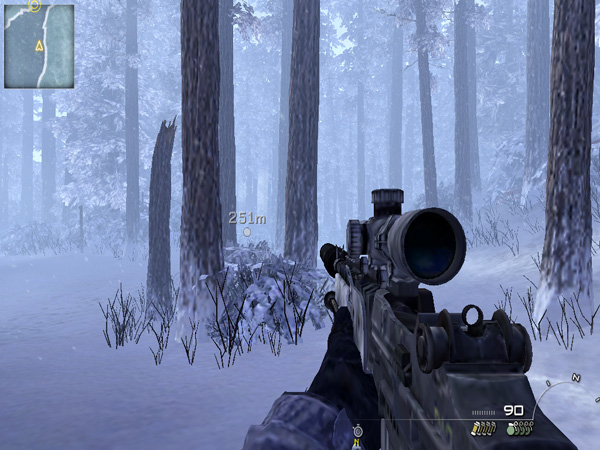 Our Modern Warfare 2 benchmark is a quick FRAPS run through a multiplayer map. All settings were turned down/off and we ran at 1024 x 768.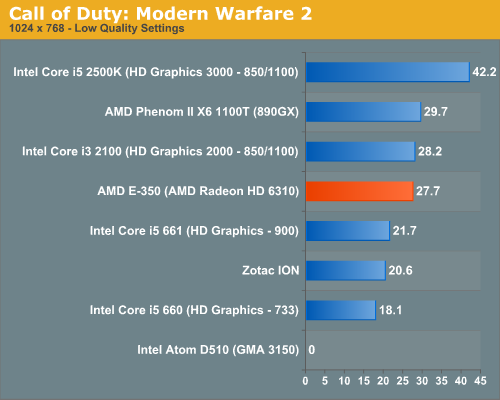 Modern Warfare 2 paints an even better picture for AMD. The E-350 offers virtually the same performance as Intel's Core i3 2100, and noticeably better performance than the Core i5 661. Need I mention that you get this at a much lower price than either of the aforementioned CPUs?
BioShock 2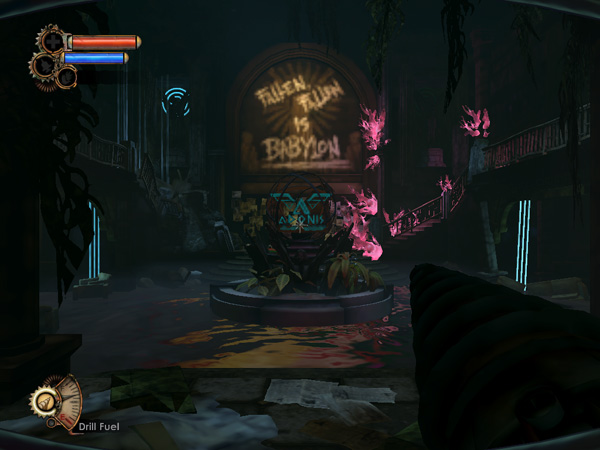 Our test is a quick FRAPS runthrough in the first level of BioShock 2. All image quality settings are set to low, resolution is at 1024 x 768.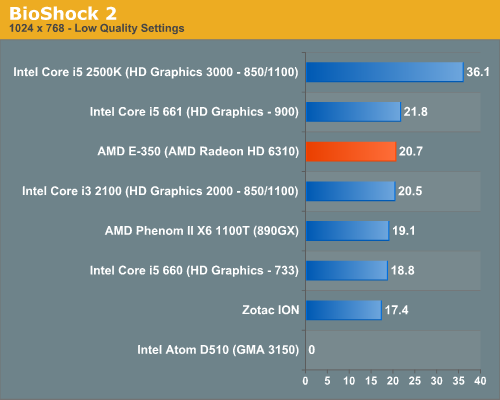 Again the E-350 continues to hang with the best here. The frame rates are still not high enough to get excited, but the effort is top notch.
World of Warcraft
Our WoW test is run at fair quality settings (with weather turned down all the way) on a lightly populated server in an area where no other players are present to produce repeatable results. We ran at 1024 x 768.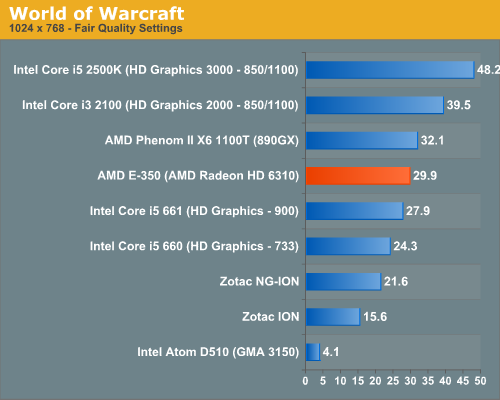 AMD's E-350 is faster than anything from the Clarkdale era, while just a bit slower than AMD's 890GX. Intel's HD Graphics 2000 is faster but at a much higher power consumption and pricetag of course. Intel's Atom D510 can complete our benchmark here but at a laughable 4.1 fps. Both the first and second generation ION platforms fall behind Brazos.
HAWX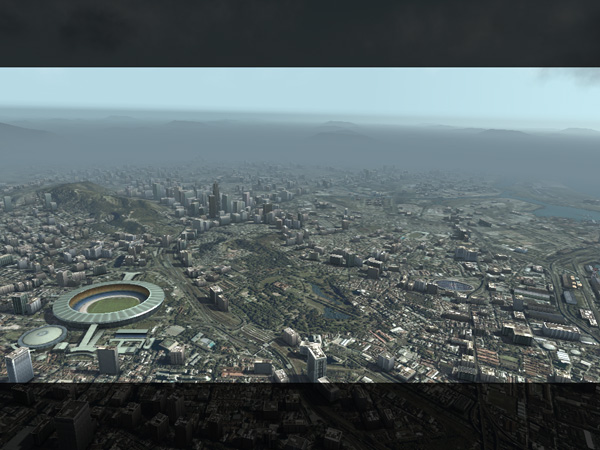 Our HAWX performance tests were run with the game's built in benchmark in DX10 mode. All detail settings were turned down/off and we ran at 1024 x 768.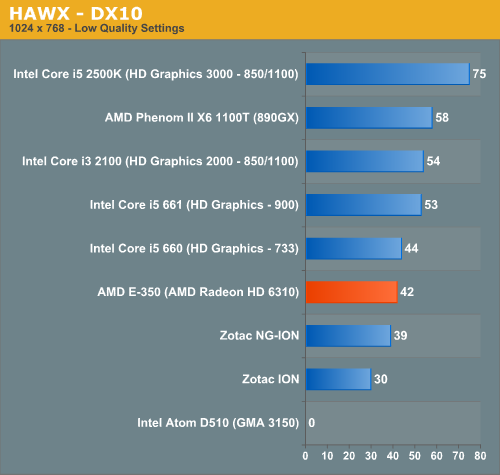 With HAWX CPU performance matters a bit more, pushing the E-350 just slightly behind the Core i5 660. The Radeon HD 6310 still delivers respectable performance in HAWX, especially considering its price point. The next-generation ION does come close in performance to the E-350, while the original ION is significantly slower.
Starcraft II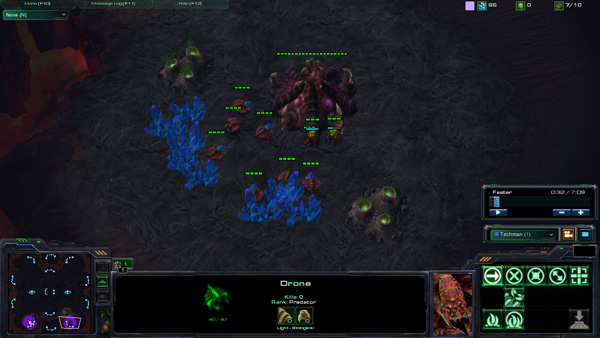 We have two Starcraft II benchmarks: a GPU and a CPU test. The GPU test is mostly a navigate-around-the-map test, as scrolling and panning around tends to be the most GPU bound in the game. Our CPU test involves a massive battle of 6 armies in the center of the map, stressing the CPU more than the GPU. At these low quality settings however, both benchmarks are influenced by CPU and GPU.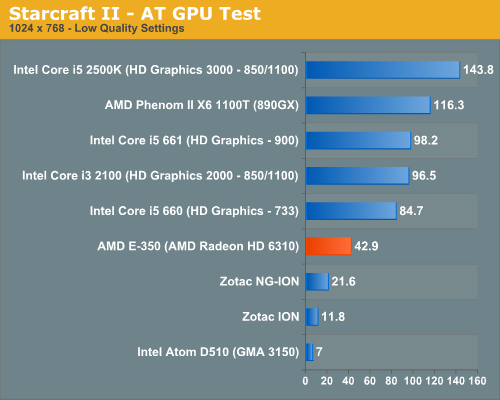 In our GPU specific test, the E-350 is significantly faster than anything Atom based. While the D510 can technically run this test, it does so at only 7 fps. Even the next-generation ION only manages 21.6 fps. The E-350 with its Radeon HD 6310 delivers nearly twice the frame rate of the fastest ION. The advantage isn't purely on the GPU side. As I mentioned before, Starcraft II can be very CPU bound at times. The Bobcat cores at work in the E-350 help give it a significant advantage over anything paired with Atom.
The CPU dependency is what separates the E-350 from its larger, more expensive competitors here. The gap only widens as we look at what happens in a big battle: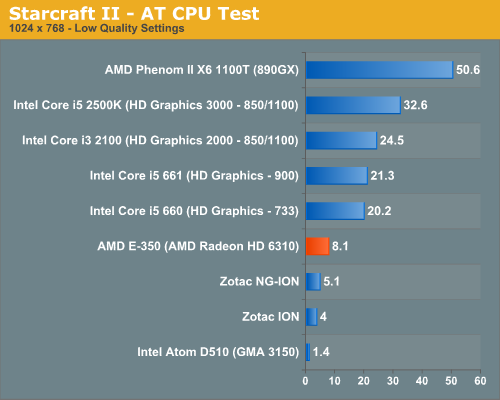 While you can play Starcraft II on any of these systems, to maintain frame rate throughout all scenarios you really need more CPU and GPU horsepower.
Call of Duty: Black Ops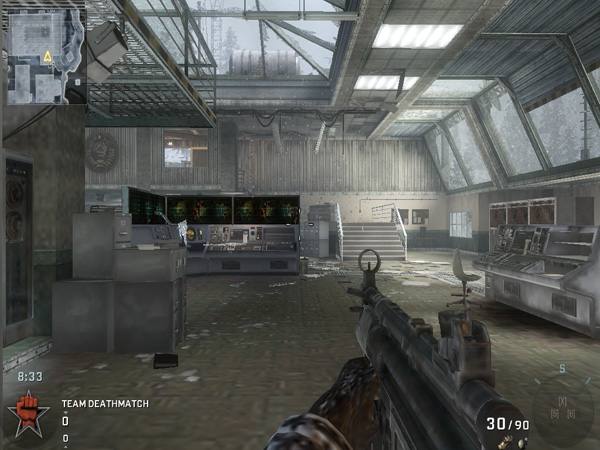 Our Black Ops test is a quick FRAPS runthrough on a private multiplayer server. The game was set to 1024 x 768 at the lowest quality settings.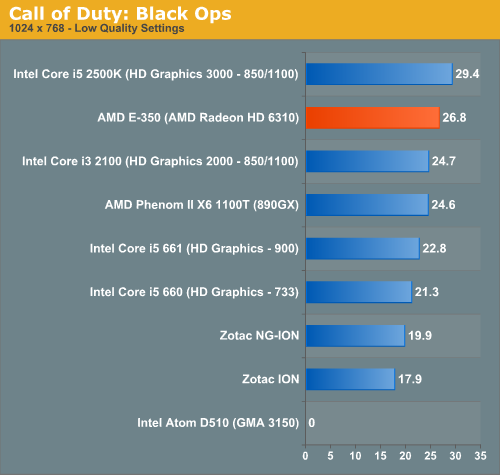 In Black Ops the E-350 does the best it has done thus far, nearly equaling the performance of Intel's HD Graphics 3000. In our Sandy Bridge Review I wondered if Intel was being limited by driver issues here as there's very little difference between the 3000 and 2000 GPUs. The E-350 benefits from all of the driver tweaks and experience AMD has from the Radeon side so it immediately puts its best foot forward. AMD's greatest ally in Fusion will be its driver experience.
Mafia II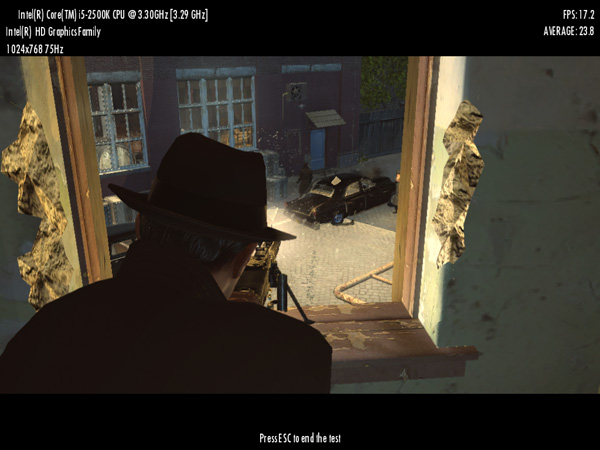 Mafia II ships with a built in benchmark which we used for our comparison: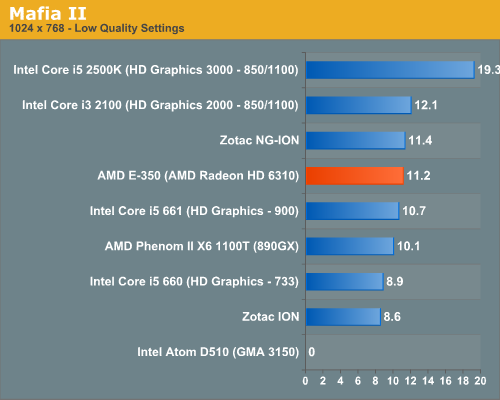 Mafia II doesn't run well on any integrated graphics platform, regardless of vendor. The E-350 does well vs. the competition but none of these platforms are playable, even at the lowest settings.
Civilization V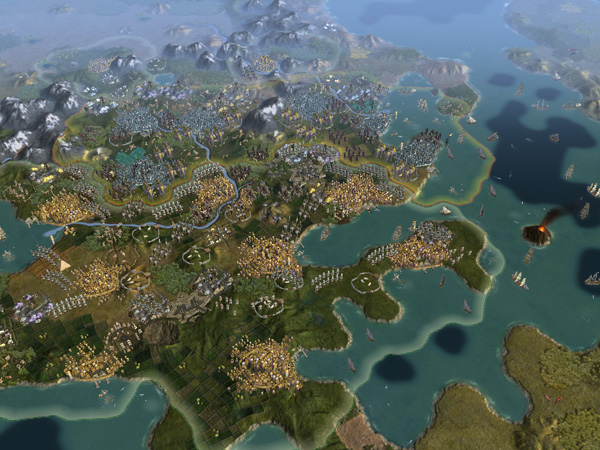 For our Civilization V test we're using the game's built in lateGameView benchmark. The test was run in DX9 mode with everything turned down at 1024 x 768: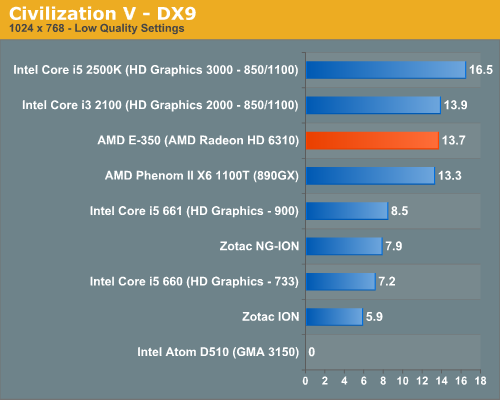 Civilization V doesn't run well on any integrated graphics platform, but the E-350 runs it at least as well (or as poorly?) as Intel's Core i3 2100. The Bobcat cores help with a lot of the heavy lifting here giving the E-350 a substantial lead over Atom.
Metro 2033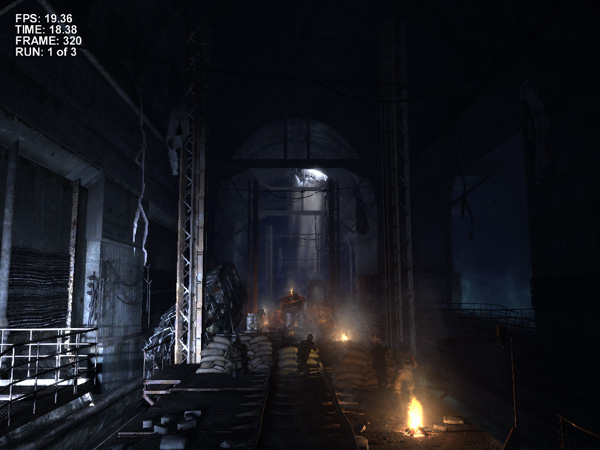 We're using the Metro 2033 benchmark that ships with the game.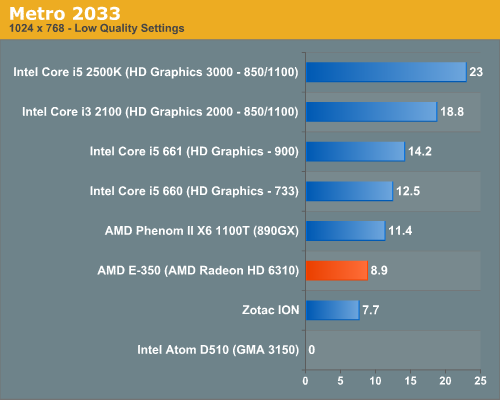 Metro 2033 is a bit too modern for these low end platforms. The E-350 is faster than ION but not in the realm of playability.
DiRT 2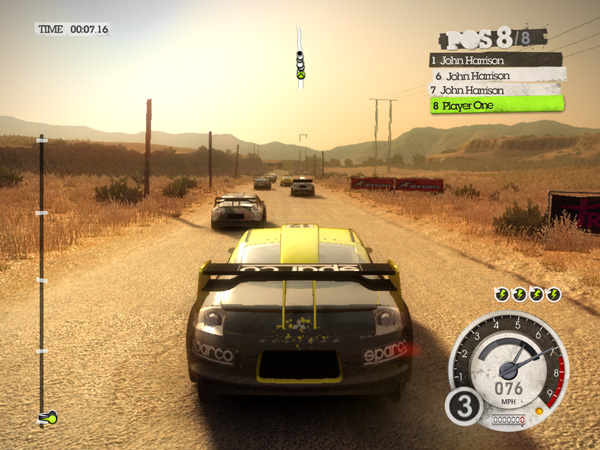 Our DiRT 2 performance numbers come from the demo's built-in benchmark: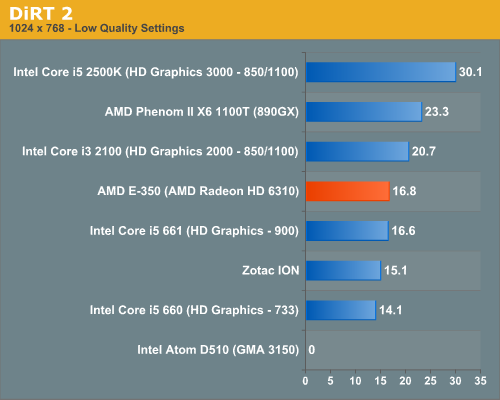 General Performance: In Between Atom and Athlon II
Atom may be efficient and fast enough to run a smartphone OS, but it absolutely chugs on Windows 7. The seat of the pants feel of an AMD E-350 is noticeably better. Single threaded performance, as you'll soon see, is easily twice that of a similarly clocked Atom. Bobcat is still a dual-issue dual-core machine so high IPC or highly threaded workloads will show little difference between it and Atom. Thankfully, for most entry level netbook/nettop workloads Bobcat's architecture should be sufficient. Before we get to the more CPU intensive tests I wanted to run through some reader requests for performance characterization.
I'll start out with PCMark Vantage. There's very little that separates PCMark from SYSMark in terms of how realistic the workload is. Neither suite is particularly representative of what an average user does today. What these suites are good at is being very long, and stressing enough aspects of a platform to give you a general idea of performance. SYSMark tends to focus on the more heavy user/content creation side of things (optimized for no more than 2 cores), while PCMark Vantage is much lighter test.
Looking at SYSMark you'd see no performance difference between the E-350 and Atom. The reason is simple. SYSMark was designed to be a modern day CPU benchmark. Most of the workloads exhibit high IPC and thus Bobcat's front end acts as a bottleneck.
While SYSMark can be useful in estimating how a processor might handle particular heavy workload, it's not useful in characterizing the sort of light workloads that you'd see a netbook or nettop user creating. PCMark Vantage is a collection of far simpler tasks. Again not specifically what you'd do today, but lighter nevertheless.
I compared four systems using PCMark Vantage, all with the same memory and I/O configuration. I dusted off an Atom 330 + ION motherboard from Zotac, an Atom D510, the MSI E-350 board and an Athlon II X2 255 on an 890GX motherboard. I picked the Athlon II simply because it's a very affordable (~$65) modern day dual-core CPU. The Athlon II will help put the E-350's performance compared to modern day x86 cores in perspective.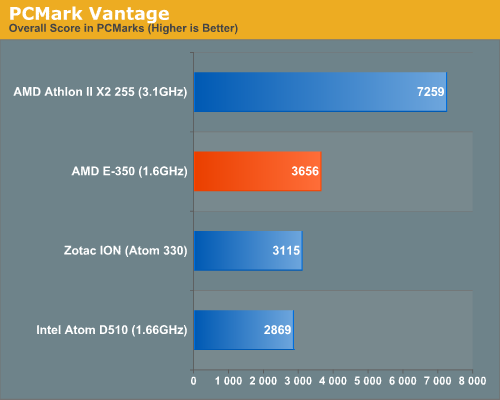 The E-350 holds a clear advantage over the Atom D510. The overall suite runs 27% faster on the E-350 than the D510, and even 17% faster than ION (the overall suite includes some GPU tests where ION makes up for Atom). The advantages vary from 10 - 80% in most cases. If you look at tests where the GPU is involved, you have to start counting how many times Brazos is faster than Intel's current Atom platform.
I have to put the E-350's dominance in perspective however. An Athlon II X2 255 still delivers nearly 2x the performance of the E-350 in PCMark Vantage. Just as the Atom to E-350 jump is noticeable, so is the jump from an E-350 to an Athlon II.
A performance advantage in PCMark is often difficult to visualize so let's move on to some more application specific tests. Next up are two web browser benchmarks we typically use in our smartphone reviews: BrowserMark and SunSpider.
BrowserMark is a general purpose browser test. Rather than loading full web pages it tests rendering speed for commonly used components of web pages and presents one gigantic score at the end to tell you which platform is faster. The benchmark is obviously browser dependent so I ran all numbers on the same version of Chrome (8.0.552.237). The test platforms were the same as before: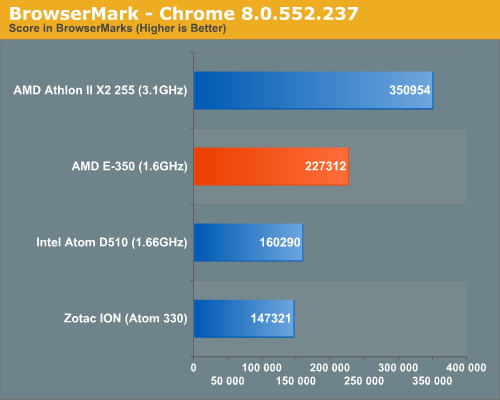 The E-350 holds a 41% performance advantage over the Atom D510 here. That's definitely enough to be noticeable in actual usage. In general web browsing is noticeably faster on Brazos than on Atom. The Athlon II is another 50% faster than the E-350. Again, it's enough to be noticeable.
SunSpider is a collection of javascript benchmarks that we typically run to compare smartphones. It ends up being a good way to compare one aspect of web browsing performance between these entry level platforms.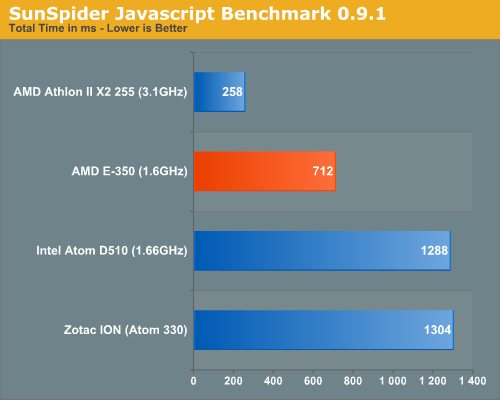 The Brazos advantage over Atom actually climbs when we look at pure js performance. The E-350 is 80% faster than the Atom D510 here. The Athlon II advantage grows as well. Web browsing can be very CPU bound at times.
Brazos, like Atom, will never compete with its bigger brothers. There's only so much you can do with a very tiny die. What AMD's platform does provide however is a stepping stone between Atom and the lower end beefy x86 cores, which is something we've needed.
Many of you wanted even more real world testing, focusing on things like application launch time and system boot time. Ask and you shall receive is one of our policies around here (within reason) so I put together a drive image with a ton of applications, games and data. I measured the time it took to boot to the Windows 7 desktop as well as timed individual application launches.
Boot time is a difficult thing to compare between platforms. Everything from BIOS optimizations to the type of video card you have in the system can impact boot time. In this case, the E-350 system managed to boot 13% faster than the Atom system.
Individual applications, specifically light weight apps (e.g. Google Chrome, Media Player Classic), launch relatively quickly on both Atom and Brazos. This is largely due to the fact that I'm testing with an SSD. Regardless there's still no appreciable difference in launch time between the platforms when the drive bottleneck is removed (the difference doesn't grow as you add bottlenecks in). Where we see the E-350 really shine is in the larger, more complex applications and games.
Application Launch Time Comparison
Platform
Boot Time (POST to Desktop)
Adobe Reader 9
IE8
Chrome
MPC-HC
Cinebench 11.5
Sonar 8
CoD: Black Ops
Starcraft II
AMD E-350 (1.6GHz)
61.5s
2.2s
1.4s
1.4s
1.2s
5.5s
8.8s
15.0s
21.9s
Intel Atom D510 (1.66GHz)
70.3s
1.5s
1.4s
1.4s
1.2s
3.9s
10.3s
Fail
39.8s
AMD Athlon II X2 255 (3.1GHz)
53.8s
1.0s
0.8s
0.7s
0.7s
2.5s
4.5s
5.3s
9.9s
Sonar 8 launched 17% faster on the E-350 vs. Atom, while Starcraft II launched in almost half the time of the Atom D510 (although I suspect part of the advantage there is GPU related). Not all application launches were faster on the E-350. Occasionally applications would launch faster on the D510, but that seemed to be the exception rather than the rule. Overall system performance is naturally faster on Brazos compared to Atom.
Bring the Athlon II into the picture and things look different. You can cut most of Brazos' launch times in at least half to get an idea of the Athlon II's performance.
Power Consumption: Better than Atom
Power efficiency was a big draw of Atom, but does AMD sacrifice any of that in order to deliver the performance it does with the E-350? To be blunt: no, not at all.
I don't have any pico PSUs or anything super efficient readily available so don't expect any of the numbers to be particularly impressive, but what they are is comparable to one another. I hooked up each one of the systems I'd been using to the same PSU and measured power in three conditions: idle, full CPU load (Cinebench 11.5) and while playing a 1080p H.264 video.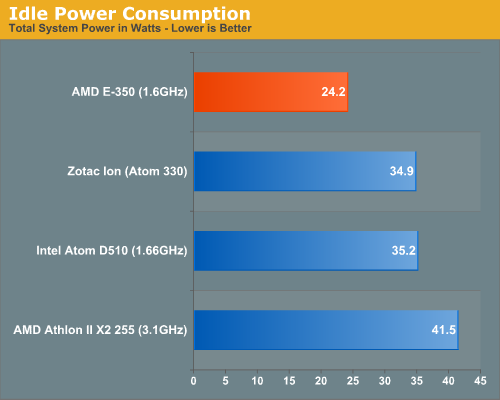 Pine Trail and the old ION platform consume just about the same amount of power at idle. The Athlon II system obviously draws more, in this case an increase of 17%. The E-350 uses less than 70% of the power of the Atom D510 system at idle.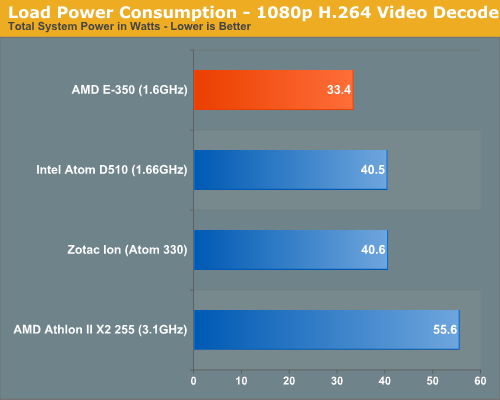 Under load the Brazos advantage shrinks a bit but it's still much lower power than Atom. While playing a H.264 you're looking at ~83% of the power of an ION system, and 85% under full CPU load.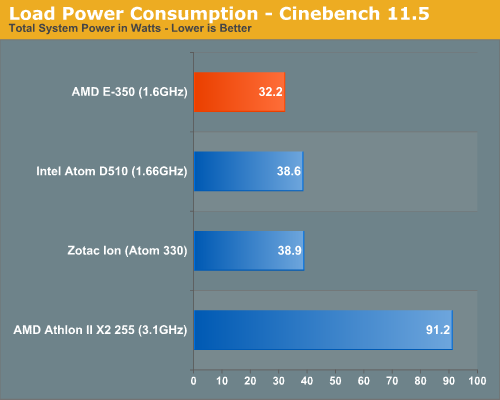 Say what you will about Intel's manufacturing process advantage, it's simply not put to use here with Atom. AMD's E-350 is higher performing and uses less power than Intel's 45nm Atom D510. Did I mention it's built on a smaller die as well?
I wanted to isolate the CP...err APU and look at its power draw exclusively. I ran the same three tests but this time I'm not measuring power at the wall, but rather just power over the ATX12V connector directly to the CPU.
At idle the E-350 APU only requires around 3W of power. That's actually not as low as I'd expect, especially given that Sandy Bridge is typically down at 4W when fully idle. AMD is apparently not being too aggressive with stopping clocks and gating when fully idle, at least on the desktop Brazos parts.
Power Consumption Comparison
ATX12V Power Draw
Idle
1080p H.264 Decode
Cinebench 11.5
AMD E-350
3W
8W
9W
AMD Athlon II X2 255
7W
12W
47W
Under load, either full CPU or when using the video decode engine, APU power consumption is around 8 - 9W. By comparison, an Athlon II X2 255 will use 12W when decoding video (this doesn't include the UVD engine in the 890GX doing most of the heavy lifting. The more interesting comparison is what happens when the CPU cores are fully loaded. The E-350 uses 9W running Cinebench 11.5 compared to 47W by the Athlon II X2.
Heavy Lifting: Performance in Complex Workloads
Brazos is clearly faster than Atom in light workloads, but what about in more complex/heavier applications? Are the Bobcat cores enough to allow E-350 systems to move up in the world or will they still be confined to the web browsing/email usage models of netbooks? I've run the E-350 through our entire Bench suite to find out. If you want the full gamut of results head over to CPU Bench, but I've chosen a few here. I also included performance results from a 2.66GHz Pentium 4 to put things in perspective for users of really old systems.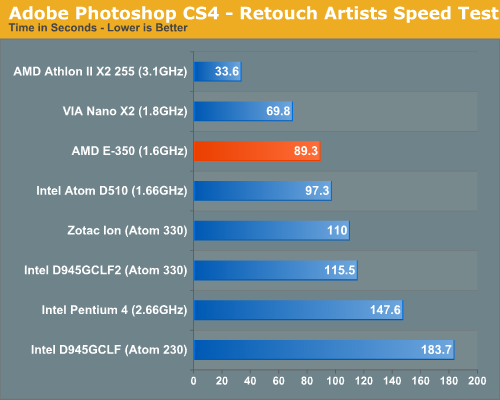 Photoshop CS4 performance is not half bad on the E-350 compared to other similarly priced platforms. Also impressive is the E-350's performance advantage over the old Pentium 4. Compared to the Athlon II X2 however the E-350 is still noticeably slower.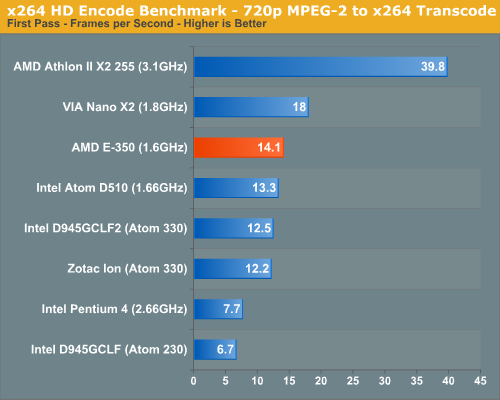 The standings and performance trends continue in our x264 encode benchmark. I don't expect you to do a lot of video transcoding on the E-350 as it's not much faster than Atom here. VIA's dual-core Nano is a bit quicker but still not enough to make this a viable usage case.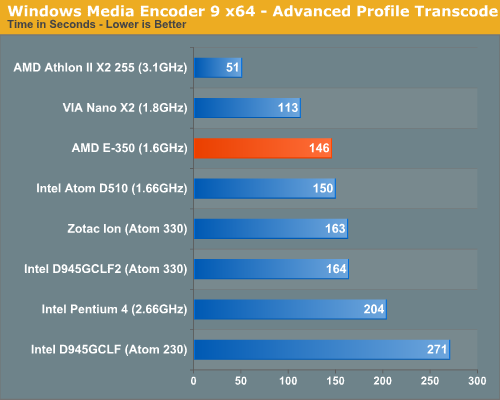 Windows Media Encoder provides a far lighter workload, but the standings don't change. The E-350 is faster than anything Atom based, faster than the old Pentium 4, but slower than VIA's Nano X2.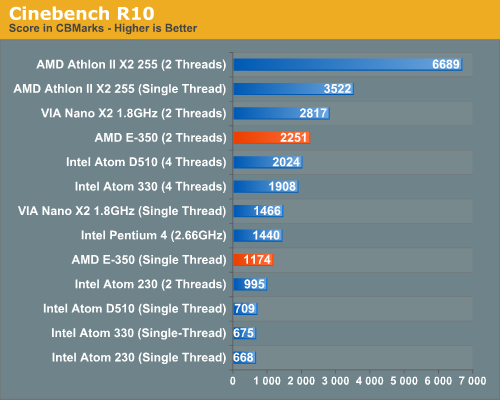 While I don't expect E-350 users to do any offline 3D rendering work, Cinebench does give us a good characterization of single threaded performance. The problem with Atom is that its single threaded performance isn't nearly as good as its multithreaded performance. In all of the previous benchmarks an Atom D510 is clearly quicker than the old 2.66GHz Pentium 4, but looking at single threaded Cinebench R10 you get a different story entirely. The P4 has nearly twice the single threaded performance of an Atom D510.
The E-350 is still a bit behind the Pentium 4 in single threaded performance, but it's not nearly as bad as Atom. The out-of-order execution engine helps tremendously here. What you get as a result is a system that doesn't really feel slower than a 5 year old PC but has the features of a more modern system.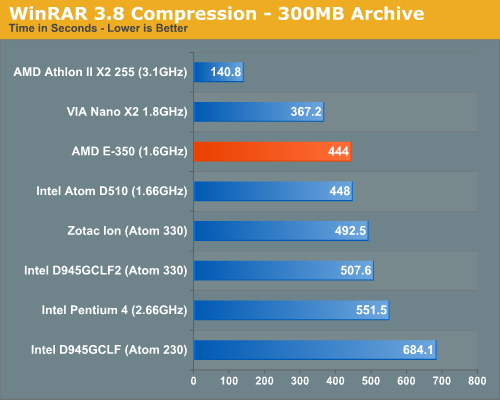 Overall the E-350 is clearly faster than Atom ever was at running these heavier workloads. The highly threaded workloads aren't much faster on E-350 vs. Atom thanks to the latter's Hyper Threading , but single threaded performance continues to play an important role and is a huge advantage of AMD's. VIA's simple out-of-order architecture is consistently faster than the E-350, however I don't expect to see widespread adoption or support for VIA's platform (at least compared to AMD's). Compared to the larger out-of-order x86 cores the E-350 is still in a lower performance class, the Athlon II X2 is easily twice as fast as the E-350 in these tests.
Ultimately the same rules that applied to Atom based systems apply to Brazos systems:
1) Swapping to disk is painful so you need enough memory (I'd recommend no less than 2GB for Windows 7, ideally 4GB) and you'll want a fast HDD. My preference is still an SSD, even a low end value drive over even a fast hard drive. Even a low end SSD (e.g. Kingston SSDNow V100) will make a Brazos system feel acceptably fast.
2) Outside of media playback and some gaming, you're still limited in the types of applications and workloads you can run on Brazos. The Brazos platform is great for web browsing/email workloads, but don't try to do too much more with it. The advantage over Atom here is that Brazos just does those things noticeably faster.
Final Words
With the settlement done and no DMI license in place, it's clear that there won't be another ION from NVIDIA (at least not based on x86). What Brazos is however is the ION successor that NVIDIA never built. For just over $100 you'll be able to buy a mini-ITX board with an E-350 that's faster than Atom, faster than ION and more feature rich than both. While I don't believe Brazos has enough CPU power under the hood to be a truly high end HTPC, it's easily good enough for a low cost, value HTPC. Popular codecs are well accelerated and with full DTS-HD MA and Dolby TrueHD bitstreaming support Brazos is solid. Flash acceleration is also present although it looks like there are still some kinks that need to be worked out there.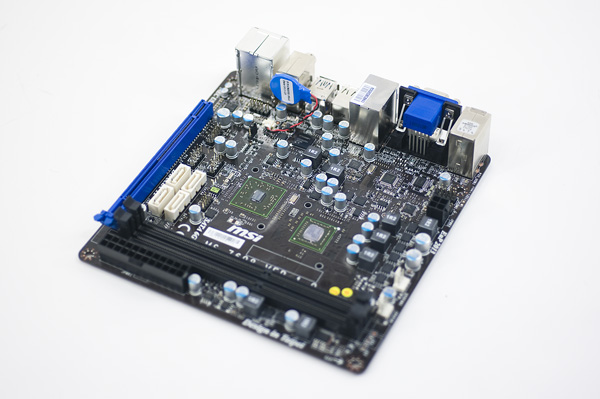 Overall performance is much better than Atom, particularly in single threaded applications. Brazos and the E-350 can make for a very affordable email/web browsing machine, and run those applications much faster than Atom could. As our more complex workloads showed however, the E-350 is limited to the same type of general usage models as Atom (with a bunch of new media and gaming options). You can run heavier apps on the E-350, you'll just be far better off with an Athlon II instead.
The Radeon HD 6310 proves to be a good match for the Bobcat cores in the E-350. There's not much value in adding a faster GPU via the on-board PCIe x4 slot as most games will be at least somewhat CPU bound. The resulting CPU/GPU combination is something that's typically as good as, if not better than Intel's Core i5 661 in games. In some cases the Radeon HD 6310/E-350 combination nips at the heels of Intel's Core i3 2100. Unfortunately in modern titles that's not always enough to have a playable experience, but with older games you should be able to do more with Brazos than you ever could with Atom or even ION for that matter. The CPU/GPU balance in the E-350 is good enough that I feel like Llano could make for a pretty decent value gaming machine.
Just as was the case with Atom, Brazos isn't going make for a very powerful primary PC. Load up the thread count or throw heavier workloads at it and the E-350 doesn't look all that much better than an Atom D510. What it will give you however is better single-threaded performance than Atom and a much better feature set. Brazos makes those secondary or tertiary computers you build much better than they would have been otherwise with Atom. I would like to see more CPU performance out of the platform and I'm not too keen on meeting the single core versions, but viewed through ION glasses Brazos looks good.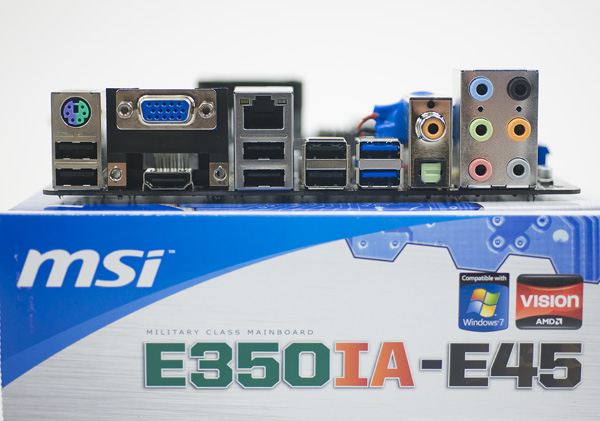 For AMD, Brazos has to be exciting. The company finally has a value offering that it doesn't have to discount heavily to sell. Brazos does very well against Atom on absolute performance, die size and price. The E-350 isn't the most powerful Fusion APU we'll meet, but it's a great way to introduce the family.