Original Link: http://www.anandtech.com/show/4081/asrock-ion-3d-a-next-generation-ion-htpc


Introducing the ASRock ION 3D
We originally reviewed ASRock's initial ION offering, the ASROCK ION 330 back in august of 2009. To summarize the review of this device: the ASROCK ION 330 was like most devices that use ION as a platform, it was good at performing standard HTPC duty, and it featured good build quality. Although the fan proved to be somewhat noisy and it had no front ports, it was a pretty capable little machine.
Fast forward a year and a half, and we have the new Next Generation ION on the scene; now ASRock has a whole series of mini PCs. This series primarily utilizes Atom processors, but they also have offerings capabile of utilizing processors as powerful as the Core i7. We have reviewed several of these HTPCs including the 100HT-BD and the high-end Vision 3D HTPC. The Vision 3D HTPC earned a place as the best SFF HTPC that we have reviewed at AnandTech; we applauded the small form factor and low power consumption, and we were impressed with the industrial design and attention to detail.

Today we are looking at yet another ASRock MiniPC, this time the ASRock ION 3D Series. Outwardly, this device looks very similar to the 100HT-BD—in fact our ION 3D 152B model includes the same Blu-ray combo drive and front USB 3.0 ports—but instead of a powerful Core i5 processor we have the Atom D525 dual-core processor paired with only 2GB of DDR2 RAM on the mobile Intel ICH8M chipset.
While the processing components of this board may look meager compared to the 100HT-BD, it features a more powerful graphics processor in the form of an NVIDIA GT218 NG-ION. One of the complaints we had with the 100HT-BD was the poor driver support for Intel HD Graphics for certain features (i.e. the absence of 23.976 fps support and certain deinterlacing and noise reduction features). In this review we will attempt to see if the ION 3D is capable of keeping up with its bigger brothers the Vision 3D and the 100HT-BD in the role of an HTPC.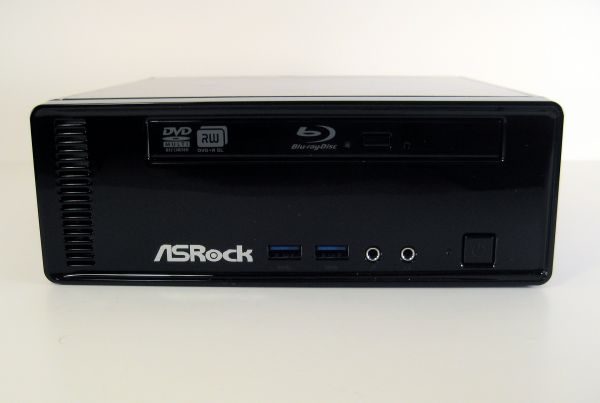 Unboxing Impressions and Connectivity
The box that comes with the unit is designed with more style than its predecessor's box, and states its main features on the side of the box.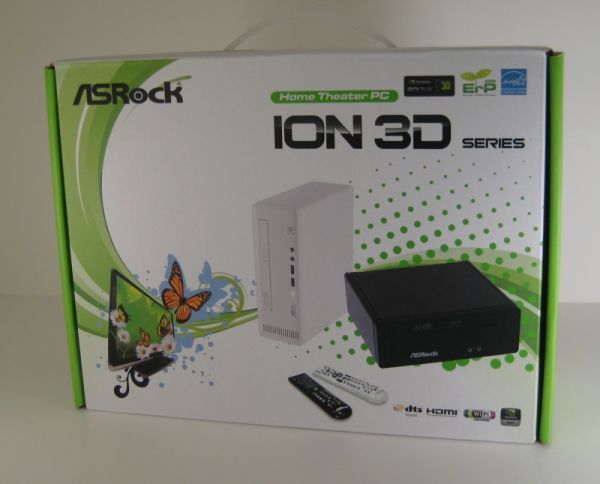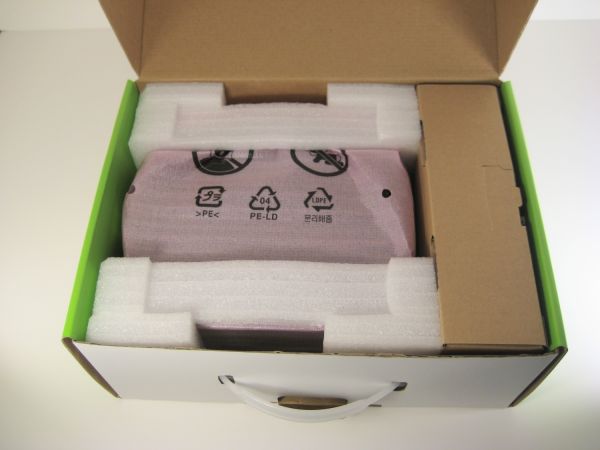 The ION 3D we received came with the following packaged items:
65W AC Adapter
MCE remote and batteries
A non-slip mat for the device to sit on.
CD with drivers and ASRock utilities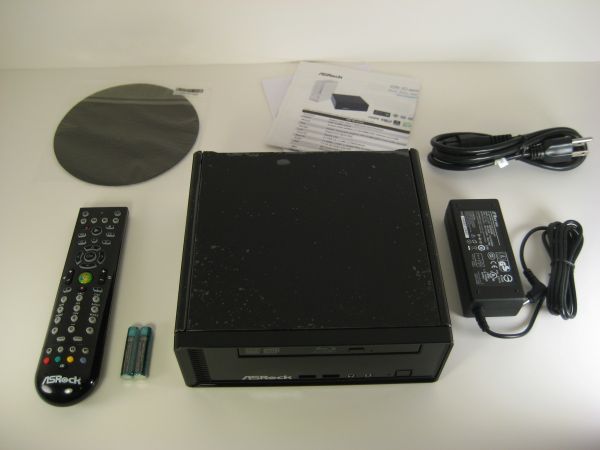 The case of the ION 3D unit itself is practically indistinquishable from the front from the Core 100HT-BD, which is a good thing, as the design and aesthetics are top notch. It's not quite as good as the higher end Vision 3D with its slot loading drive, but it's still very functional and pleasing for all but the pickiest of users. Needless to say this is an improvement from ASRock's previous ION offering, as the ION 330 did not have front facing USB ports.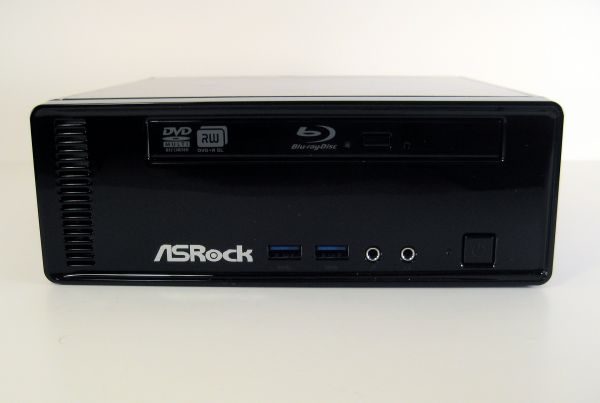 The back side of the device has most of the connectivity options that you would expect: power adapter port, HDMI, VGA, DVI, Optical S/PDIF, audio, gigabit network, and plenty of USB ports. There are no USB 3.0 ports on the rear of the device, and no e-SATA port. The rear of the device once again is similar to the 100HT, the only difference being the fact that the ION 3D has a DVI connection but lacks e-SATA connectivity.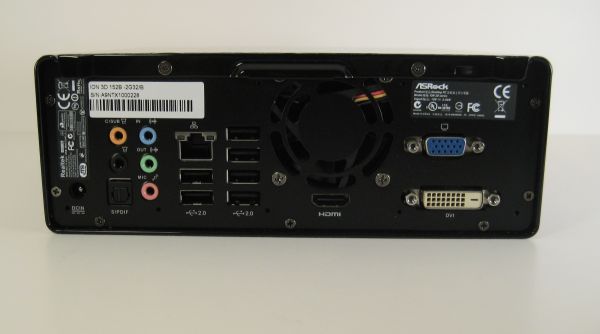 In table form, The ION 3D features the following connectors:
A/V Connectivity Options for the ION 3D 152B
Option
Status
HDMI
Yes [v1.4a]
Component
Yes
Composite
No
VGA
Yes
SPDIF
Yes [Optical]
Stereo
Yes
Data Connectivity Options for ION 3D 152B
Option
Status
Optical Disk Drive
Yes [Blu-Ray]
USB
Yes [6 x v2.0, 2 x v3.0]
eSATA
No
LAN
Yes [ 1000 Mbps GbE ]
Internal HDD
Yes [ 320 GB ]
WiFi
Yes [ 300 Mbps 802.11n ]
Card Reader
No
System Specifications, Teardown, and Analysis
The ION 3D lists the following as its system specifications:
Intel Atom D525 dual-core processor
Microsoft Windows 7 64-Bit
Mobile Intel ICH8M Chipset
1x2GB DDR2 800MHz (expandable to 4GB)
NVIDIA GT218 NG-ION Graphics
320GB 5400RPM HDD (SATA)
BD-ROM/DVDRW combo drive
With the intent of this machine being a HTPC device, the ION 3D has a lot going for it. We have seen in previous reviews that NG-ION is a valid solution for watching high definition content. The GT218 GPU supports full hardware decode acceleration of all H.264 content; it should be able to play any video content at full 1080P resolution. While the CPU series utilized on this device is the low power Atom, the D525 is the fastest clocked dual-core Pineview iteration that intel has released to date.
The Processor: Intel Atom D525
The Atom D525 used in the ASRock ION 3D runs at a stock clock of 1.8 GHz and has two cores featuring Hyper-Threading, giving the device two physical cores and two logical cores. The CPU has an L2 cache of 512KB per core. ASROCK provides both software utilities and BIOS options that allow you to boost the CPU up to 2.1GHz quite easily. The D525 has a 13W TDP while the form factor of the device is the same as ASRock's models that utilize higher TDP CPUs, which means that ASRock doesn't have to use quite as much cooling on this Atom powered model as their other Mini-PC models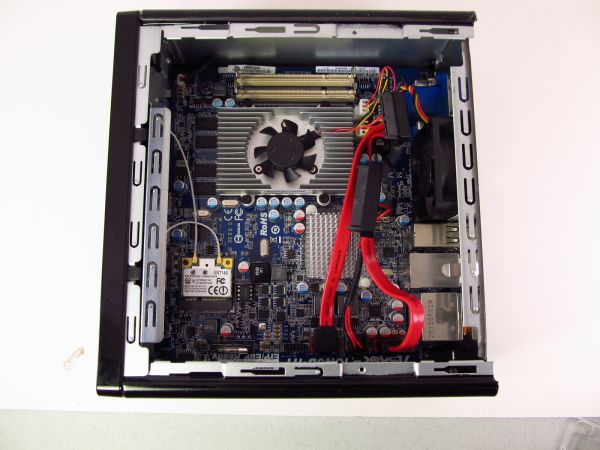 The GPU: NVIDIA NG-ION (GT218)
We've covered the technology used in the NG-ION previously. So far we have seen that the NG-ION is mildly better than the first generation iteration, with a few caveats. There are some limitations due to the PCIe x1 connection to the chipset; however this should not bottleneck HTPC tasks such as H.264 playback and video hardware acceleration, but rather limit the capabilities of gaming and GPGPU functions. The GPU has 512MB of DDR3, and this memory is not shared with the system, unlike integrated graphics solutions. For the intended function of this device the NVIDIA NG-ION will likely prove to be a good choice.
Memory: Elixir DDR2-800 MHz
The D525 processor is one of the models of Atom processor that supports DDR3 RAM, but ASRock choose to use DDR2 on this device. Only one of the slots was occupied in our sample, which means that it is expandable up to 4GB if another stick is added.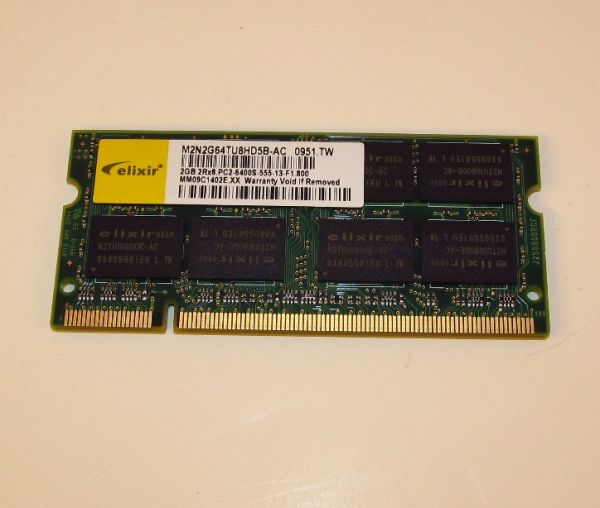 Hard Disk: Hitachi Travelstar 5K500.B
The included hard disk is a Hitachi 2.5" drive this time, slightly smaller than the seagate 500GB HDD used in the Core 100HT-BD, but the ION 3D's lower cost comes at the expense of performance and a few different component choices. This particular hitachi model is still a good choice for low power consumption and it's large enough for most users, especially those who will be streaming the majority of their media from a server. This drive can be found for roughly $51 online. It would be nice to see a low cost SSD option (i.e. something like the Intel 40GB drives); that wouldn't add too much of a price premium and would improve boot times and responsiveness compared to a conventional HDD—especially the 5400RPM drive used here.

Optical Disk Drive: Philips / Lite-On Blu-Ray / DVD RW
The ASRock ION 3D ships with the same Lite-On DS-4e1S that was found in the Core 100HT. You get Blu-ray playback functionality and DVD burning capabilities at a reasonable price.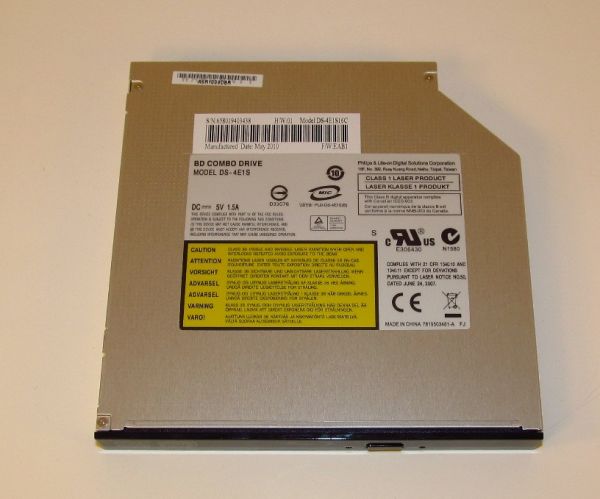 Miscellaneous Components
The ION 3D uses a Realtek RTL8191SU 802.11b/g/n network adapter; this is only capable of connecting to 802.11n 2.4GHz networks and not 5GHz networks. The Vision 3D and Core 100HT seem to use wireless adapters with slightly more features, but this is likely another choice where ASRock has elected to keep costs down.
General Performance
As mentioned in other articles, raw synthetic benchmarks are not necessariliy a good benchmark for HTPC performance. The primary purpose of an HTPC is to provide seamless video playback and high image quality without dropping frames or displaying any other sort of distraction. That said I will be providing some of the same benchmarks as we have seen in other reviews as a point of reference.
USB 3.0 Performance
The Core 100HT suffered from a limitation on the total throughput of its USB 3.0 ports, due to the chipset not fully supporting PCIe 2.0 fully (see here). Equipment was unavailable to test the throughput of the USB 3.0 ports on the ION 3D, but we were able to confirm with ASRock that there was no PLX Bridge implemented on the ION 3D that would have improved the performance of the USB 3.0 ports over the Core 100HT. It stands to reason that ASRock might have been able to cut costs further by not including the USB 3.0 ports on a budget ION based HTPC, since it could be speculated that users purchasing a low powered ION HTPC might not especially care about having USB 3.0 ports, especially if the ports do not run at full speed anyways.
Windows Experience Index

Here we see that the ASRock ION 3D has a low processor score, which is expected. However, its graphics and gaming graphics scores very slightly outperform the Core 100HT that uses Intel HD Graphics. Of course all of these scores are blown away by the Vision 3D PC that utilizes an NVIDIA GT425M and costs roughly double the price of the ASRock ION 3D.
DPC Latency Check
Another important criterion for HTPCs is the ability of the system to handle real time streaming of audio and video without dropouts. A handy tool called the DPC Latency Checker helps in analyzing this. This tool was run multiple times in various HTPC scenarios. This test was somewhat of a tossup, as when files were played from the local HDD the bands stayed in the green, but if the system was streaming over the wireless network, it seemed that this caused a large amount of red spiking. Presumably this is because the processor is busy performing calculations for the wireless network card, and that takes CPU resources away from video tasks and increases the latency detected by this test. In actual usage, normal video files played just fine; it was only some 1080p content that displayed issues during streaming,
Simple Gaming
The ION platform is not really a gaming platform; however, a simple gaming test was performed in order to see some baseline figures for the capability of this system. We ran a timedemo of Left 4 Dead 2 on the highway level at 1280x720 and Low quality. The result was 22.16 FPS. A quick minecraft game at 720p was playable at an average of 28 FPS at normal rendering distance. The ION can definitely work on less demanding games in a pinch, but it definitely should not be your next gaming system.
AnandTech's Media Streamer Test Suite
We have been using our media streamer test suite for the last few reviews in the HTPC / media streamer space. In v1.0.1 of the test suite used in the WDTV Live Plus review, we added DVD and Blu-Ray folder structures to the mix. In v1.0.2, we added three Xvid clips (one with Q-Pel and two others with GMC [Global Motion Compensation] using two and three warp points respectively) and an MKV stream with forced subtitles. For the ION 3D, we used v1.0.2 of the media streamer test suite. Weights have been assigned to each of the test stream based on how frequently one might encounter each type of file in a home theater setting.
The following graph shows the relative media compatibility and capabilities as compared to other competing devices.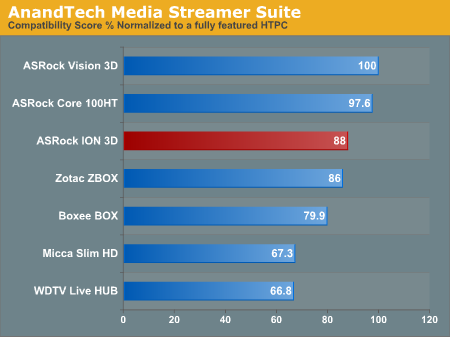 We see that the ASRock ION 3D misses out on some points here, landing squarely next to its fellow NG-ION device the Zotac ZBOX. The ION 3D lost points on the following tests:
DTS-HRA Bitstreaming
TrueHD Bitstreaming
Vorbis Ogg 1080p—Stuttering Issues
FLAC ASS Subs 1080p—Stuttering Issues
TRUEHD Bitstreaming from MKV
DTS-MA Bitstreaming
DTS-HD Bitstreaming
VC1 TrueHD Bitstreaming
The ASRock ION 3D lost points for two reasons. The first and the greatest offender was the inability to bitstream high-end codecs such as TrueHD and several DTS variations. The second was some issues with the NG-ION platform keeping consistent playback when utilizing some less mainstream codecs such as Ogg, a 1080p file that utilized both stylized subs, and also FLAC audio.
Picture Quality: HQV Testing
HTPC enthusiasts are often concerned about the quality of pictures output by the system. While this is a very subjective metric, we have decided to take as much of an objective approach as possible. Starting with the Core 100 review, we have been using the HQV 2.0 benchmark for this purpose. The HQV 2.0 test suite consists of 39 different streams divided into four different classes. The playback device is assigned scores for each, depending on how well it plays the stream. Each test was repeated multiple times to ensure that the correct score was assigned. The scoring details are available in the testing guide [PDF]. In the table below, we indicate the maximum score possible for each test and how many points the ASRock ION 3D was able to get.
ASRock ION 3D : HQV 2.0 Benchmark
Test Class
Chapter
Tests
Max. Score
ASRock ION 3D
Video Conversion
Video Resolution
Dial
5
5
Dial with Static Pattern
5
5
Gray Bars
5
5
Violin
5
3
Film Resolution
Stadium 2:2
5
0
Stadium 3:2
5
5
Overlay On Film
Horizontal Text Scroll
5
5
Vertical Text Scroll
5
5
Cadence Response Time
Transition to 3:2 Lock
5
5
Transition to 2:2 Lock
5
0
Multi-Cadence
2:2:2:4 24 FPS DVCam Video
5
0
2:3:3:2 24 FPS DVCam Video
5
0
3:2:3:2:2 24 FPS Vari-Speed
5
0
5:5 12 FPS Animation
5
0
6:4 12 FPS Animation
5
0
8:7 8 FPS Animation
5
0
Color Upsampling Errors
Interlace Chroma Problem (ICP)
5
5
Chroma Upsampling Error (CUE)
5
5
Noise and Artifact Reduction
Random Noise
SailBoat
5
5
Flower
5
5
Sunrise
5
5
Harbour Night
5
5
Compression Artifacts
Scrolling Text
5
3
Roller Coaster
5
3
Ferris Wheel
5
3
Bridge Traffic
5
3
Upscaled Compression Artifacts
Text Pattern
5
3
Roller Coaster
5
3
Ferris Wheel
5
3
Bridge Traffic
5
3
Image Scaling and Enhancements
Scaling and Filtering
Luminance Frequency Bands
5
5
Chrominance Frequency Bands
5
5
Vanishing Text
5
5
Resolution Enhancement
Brook, Mountain, Flower, Hair, Wood
15
15
Video Conversion
Contrast Enhancement
Theme Park
5
5
Driftwood
5
5
Beach at Dusk
5
5
White and Black Cats
5
5
Skin Tone Correction
Skin Tones
10
7
Total Score
210
149
As stated before, video quality benchmarks are very subjective; however, it appears that the GT218 GPU in this system is performing very close to the GT 425M found in the Vision 3D system. This is not so surprising as both are NVIDIA PureVideo capable and the drivers used on both are very close in age to each other. There are a few items of note.
The NVIDIA noise reduction algorithm did reduce noise and artifacts, and the difference was apparent when enabled vs. disabled. In my observations, during still scenes the noise reduction worked very well; however, when moving objects were on the screen sometimes the noise filter had a difficult time and the noise did leak out a little. The drivers do not have a specific skin tone correction mode that is user configurable in the NVIDIA Control Panel, but there are color enhancement toggles that did adjust color and tones, but it was not enough to give it a full score with regard to skin tone correction.
Overclocking
In addition to providing full control of the clocks in this system, ASRock has included some basic overclocking profiles in the BIOS. The stock speed of the Atom processor is 1.8GHz, and CPU overclock profiles range from 1.9GHz to 2.1GHz. The NVIDIA GPU also has overclocking options from 550MHz to 650MHz. Simply bumping the clocks up using the overclocking profiles on the test system resulted in a bootable but unstable system; I increased the CPU voltage to ensure stability and was able to run Prime95 for several hours after making this minor adjustment. This ends up being a 16% overclock—nothing outstanding, but when using an Atom processor, you take whatever you can get.
Power Consumption and Fans
ASRock rates the system at 27W. I found this statement to be accurate, as the system registered only 24W on a Kill-a-Watt meter at idle speeds in my testing. The ION 3D ships with a fan configuration very similar to the 100HT. The fans were sent out stock at the lowest setting resulting in a very quiet machine. Even when the processor and GPU usage ramped up, the fans never increased in speed and remained essentially inaudible during all testing.
General Usage Observations
During the course of this review, I observed some behavior using this Atom based system that was somewhat unexpected with regard to performance. While the ION 3D did play back almost all media files perfectly, there were some issues when attempting to skip between different parts of the video being played. Pauses and re-syncing audio and video feeds sometimes took longer than would be considered desirable in a media streaming device. In addition, the platform experienced considerable choppiness/unresponsiveness when simply copying files across a gigabit network; this showed up using the DPC latency program.
The majority of these slight performance issues can be chalked up to the Atom platform, which simply isn't going to be as responsive as mainstream desktop processor platforms. Prospective purchasers of this system should keep in mind the desktop performance capabilities of an Atom based system, and given the potential to improve both CPU and graphics performance AMD's Brazos platforms are probably worth waiting for.
Additional Features
ASRock tries to pack as many features as possible into its systems, and the ION 3D is no exception. Some of the features that ASRock lists are basic items that any computer would have (i.e. listing the speed of the memory), but the company has also used some unique features on this device such as the ASRock App Charger, which allows your iPhone and iPod devices to charge at a quicker rate than they would using a normal USB connection. This is a nice touch and can be somewhat useful for users who happen to own i-devices. The only catch is that the ION 3D needs to be in hibernate, standby, or off modes for this to work.
Conclusion: Wait and See
So where does this leave us? Although it's not perfect and is missing some bitstreaming capabilities that you would expect an HTPC to have in 2011, the ION 3D has proved itself to be an adept machine when playing the role of HTPC. It's a functional and feature packed unit; however, while I feel like this device ends up being a good product, its value is diminished from the range of devices above it and below it. Let me explain.
The ION 3D model that includes the Blu-ray optical drive can be had for roughly $480. Meanwhile, the core 100HT can be had for $540, and a typical media streamer like the WD TV Live Plus can be found for around $100. As we can see from this pricing lineup, in terms of a media streaming device, you can get 80-90 percent of the functionality of the ION 3D from a $99 device.
The major advantage in this scenario is that the ION 3D, in addition to being a media streaming device, can also be utilized as a fully featured PC and has Blu-ray capabilities. For some prospective consumers, this is definitely worth the cost; however, by spending only $60-100 more, you can go with the Core 100HT which will get you a much faster processing platform and full bit-streaming support.
This product only makes sense if you are in a scenario where you can only spend up to $500 and not a penny more, and want the smallest and most power efficient device available. In that case I could recommend the ION 3D over the likes of ASRock's other MINI PC devices. But even with that particular use case, we need to consider other options.
For close to $500 you could build your own more powerful HTPC, but if the small form factor and aesthetics are your priorities, it would be hard to build your own device at this size with the same neat integrated design and smooth aesthetics. Our bigger concern is the recent launch of Intel's Sandy Bridge and the upcoming AMD Brazos platforms. Sandy Bridge improves performance, reduces power requirements, and also boosts their integrated graphics performance by over 100%. An updated 100HT using such a CPU would be even more attractive than the current offerings. On the other end of the scale, AMD's Brazos packs a much more capable GPU with performance that should beat Atom by a fair amount—all that and it should also come priced lower than Atom + NG-ION.
Unless you're in a hurry to get something right now, we have to recommend a "wait and see" approach. There are a lot of new products coming out in the next few months that could easily eclipse the current offerings.
Pros
Great Build Quality
Small Form Factor
Essentially Silent Operation
Good media compatibility
Quick iPhone Charging
Has a wide range of video outputs (HDMI, DVI, VGA)
Cons
USB 3.0 devices may not be needed by the target users of this device, and do not operated at full speed
No Bitstreaming support may be a deal-breaker for some users
The processing platform is "quick enough" for playback of media content, but can be slow at skipping, and navigation
Performance / Price can be greatly enhanced by opting for a slightly higher model such as the Core 100HT