Original Link: http://www.anandtech.com/show/4075/asus-n53jf-midrange-156-1080p-take-four


ASUS N53JF: Four Times Lucky?
We've had a decent run of midrange laptop reviews of late; our favorite for overall features remains the Dell XPS 15 L501x, but there's a catch: you really want the upgraded 1080p LCD, which it just so happens is now missing from Dell's online configurator. We saw the RGB LED backlit panel on the old Studio XPS 16 come and go over time, so hopefully the LCD upgrade will make a return to the XPS 15, but without that panel the view of the 15.6" laptop market changes. The Dell XPS 15 remains the best sounding laptop that we've tested, but the standard 768p display is nothing to write home about. When you've got options like the Clevo B5130M, Compal NBLB2, and now the ASUS N53JF all offering 1080p displays, there are plenty of alternatives.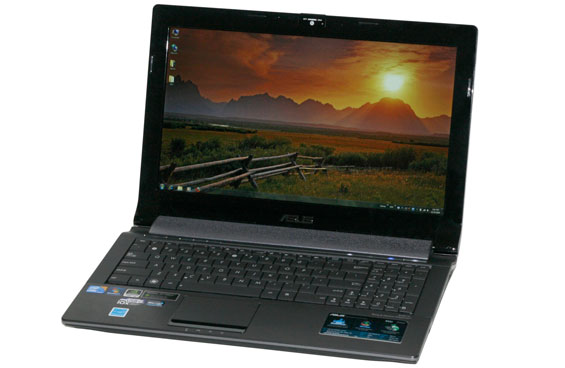 Build quality is standard ASUS, which means it's good but not necessarily great. Like Dell XPS (Waves Maxx) and HP (Beats Audio), ASUS is now sporting speakers from a well-known brand, in this case Bang & Olufsen. I've heard some really good home theater setups with B&O speakers, so my expectations were high. Could this notebook finally be ASUS' breakout midrange offering that would address most of my previous complaints? I won't spoil the review just yet, so let's start by looking at the components and specifications. The list will be strikingly familiar if you read the XPS or B5310M reviews.
ASUS N53JF-XE1 Specifications
Processor
Intel Core i5-460M
(2x2.53GHz, 32nm, 3MB L3, Turbo to 2.80GHz, 35W)
Chipset
Intel HM57
Memory
2x2GB DDR3-1333 (Max 8GB)
Graphics
NVIDIA GeForce GTX 425M 1GB GDDR3
96 SPs, 560/1120/1600MHz Core/Shader/RAM clocks
Display
15.6" WLED Glossy 16:9 1080p (1920x1080)
(AU Optronics B156HW1)
Hard Drive(s)
500GB 7200RPM HDD
(Seagate Momentus 7200.4 ST9500420AS)
Optical Drive
Blu-ray Combo (Philips/Lite-On DS-4E1S)
Networking
Gigabit Ethernet (Atheros AR8131)
802.11n (Atheros AR9285, 150Mb)
Audio
Realtek ALC269
2.0 Bang & Olufsen ICEpower Speakers
ASUS SonicMaster Technology
Microphone and two headphone jacks
Capable of 5.1 digital output (HDMI/SPDIF)
Battery
6-Cell, 10.8V, 4.4Ah, 48Wh
Front Side
None
Left Side
1 x USB 3.0
1 x eSATA/USB 2.0 Combo
Flash Reader
Ethernet
HDMI 1.4
TV Input (Optional)
Exhaust vent
Right Side
Headphone and Microphone Jacks
2 x USB 2.0
Optical Drive
WiFi On/Off Switch
Back Side
AC Power Connection
VGA
Kensington Lock
Operating System
Windows 7 Home Premium 64-bit
Dimensions
15.6" x 10.6" x 1.2-1.6"(WxDxH)
Weight
6.4 lbs (with 6-cell battery)
Extras
2MP Webcam
102-Key Keyboard with 10-Key
Flash Reader (SD, MS/Pro, MMC, xD)
Warranty
1-year standard warranty
Pricing
Online Starting at $1030
Note: N53JF-A1 starts at $930 (with a 768p LCD)
If you compare the above table with the Dell XPS 15 and Clevo B5130M, there's a ton of overlap. The LCD is reported as the same model Dell shipped us in the XPS 15, though the performance characteristics are actually quite different. ASUS uses the GT 425M as opposed to the 420M in the XPS, which means 12% higher core/shader clocks but the same memory bandwidth; the i5-460M is also clocked 5% higher than the i5-450M. The N53JF is actually slightly heavier, wider, thicker, and deeper than the XPS 15, which in turn is slightly larger than the Clevo B5130M. Pricing is competitive with the other options, and without the 1080p LCD we can almost eliminate Dell from the running. ASUS also takes a multimedia slant by including a Blu-ray combo drive, which pairs up nicely with the display. A single USB 3.0 port and an eSATA combo port round out the connectivity options, again maintaining the status quo with the other laptops.
Everything else we've covered before, so let's look at the design aspects and our subjective evaluation of the N53JF.
Subjective Overview of the N53JF
The N53JF is a nice looking laptop—some might even say it's the most attractive of the midrange laptops we've recently reviewed—but aesthetics are highly personal. Where the XPS 15 had rounded corners and a slightly thicker chassis, the N53JF is more traditional. The large speaker bar up top may be too much, and stickers abound on the palm rest, but the brushed aluminum palm rest and lid are attractive. Compal's NBLB2 is old school in appearance (i.e. not good in our opinion), and the Clevo is okay but feels a bit cheap. I'd say personally I like some of the design elements of the N53JF more than the other laptops, but I do prefer the backlit keyboard and solidity of the Dell XPS.
ASUS makes the same mistake we've lamented with so many other laptops: there are no glossy finishes except for the LCD and bezel. I understand the idea of coherency—i.e. keep the entire viewing area glossy—but you will routinely put fingerprints on the bezel when you open up the laptop. Dustin also disliked the webcam "shutter", but I'm not so negative on the feature; it may break, since it's just a plastic slider, but if you're like me you'll have the webcam in the off position 99% of the time anyway.
The most controversial design element is probably going to be the speaker bar across the top of the keyboard area. Simply put, it's huge, and that might give you the impression that ASUS is using better than average speakers. Perhaps they are, but subjectively the sound didn't impress me all that much. Audio is clear, but there's a major emphasis on the highs, to the point where a lot of my music sounded scratchy—like there was static on the high range. This was present on CDs, MP3s, and lossless FLAC audio files, so it's not just a problem with overly compressed music. The lack of a subwoofer also hurts relative to the XPS 15's excellent sound, so in the end the audio is just okay. Cranking up the volume, the overpowering highs become even more so, and certain music and sounds would create some resonance and distortion above ~80% volume. You can see pictures in the gallery above showing the dissection of the N53JF that show the two speakers underneath the large grille; they look to be pretty typical 1" (or smaller) tweeters, making the aesthetics of the grille even more questionable. Frankly, I expected a lot more from speakers bearing the Bang & Olufsen badge.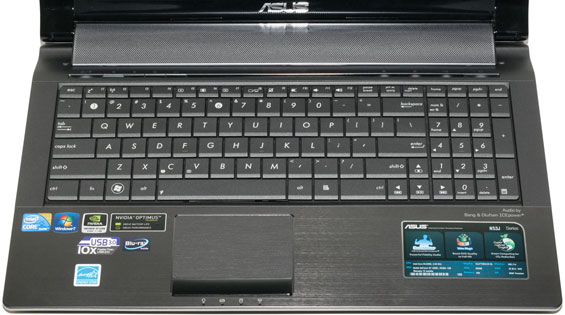 The keyboard is another "average" area. ASUS eschews the chiclet style that is used on so many other laptops for a change, but I'm not sure their flat keys are any better. There's a fair amount of flex on the keyboard, no backlighting, and the number keypad has a half-sized "0" key that overlaps with the cursor keys. It's certainly not my favorite keyboard ever, not by a long stretch, but it's also not as bad as the Acer/Gateway floating islands. The palm rest and trackpad are decent sized and the latter works as well as other touchpads I've used, with support for all the latest multi-touch features. Again, ASUS uses a glossy rocker switch for the buttons, which is the wrong decision in our opinion, but it's not so bad that we can't live with it. Like I said, it's simply an average layout.
The other item to discuss is the display, and here's where things get a little confusing. Astra32 (and our display calibration utility) both report the N53JF LCD and the Dell XPS 15 1080p LCD as being an AU Optronics B156HW1 (B156HW01 v5 for the N53JF). While both are 15.6" 1080p displays, the backlighting and contrast are clearly better on the Dell panel—even without using any hardware, it's immediately noticeable that the contrast in particular is nowhere near as good on the ASUS panel. Maximum brightness is also lower, so we're not sure if AUO simply has different versions of the same panel where one model has a wide gamut and better contrast. The net result is that we like the 1080p resolution, but compared to the Compal, Clevo, and (no longer available) Dell 1080p offerings this LCD is definitely the low man on the totem pole. That still makes it a far better choice than any of the 768p displays we see everywhere else!
One other aspect of the design that bears mention is the access to the internals, which is actually another step back. A single smaller cover provides access to a couple of wire connections, while a larger panel hides the RAM and HDD slots. The problem is that the screws securing the larger panel are hidden beneath the rubber feet on the bottom of the notebook. If you never access the SO-DIMM slots and you don't plan on upgrading to an SSD in the future, it's not a big deal, but hiding screws on the bottom of a laptop in this manner is silly. We're not talking about a laptop that's designed for looks (i.e. MacBook's unibody chassis), and there are plenty of other screws visible on the bottom, so hiding these and forcing users to remove and replace the feet (which will inevitably wear out the stickiness if you do this more than a couple times) is unnecessary. We went ahead and dismantled the laptop a bit more to show the internals, mostly because we had already removed the other 26 screws that hold the chassis together. The keyboard comes off relatively easily, and again I have to comment on just how flimsy this particular keyboard feels; please, add a stiff backplate on the keyboard next time ASUS.
Ultimately, what you get with the N53JF is a decent notebook that fails to surpass the competition in some key areas. ASUS uses a lesser LCD and the keyboard isn't quite as good as we'd like; they make up for this by including a Blu-ray combo drive. On paper, we suspect they also spent some money to get the "improved" Bang & Olufsen speakers, but the result failed to impress. They're not terrible, but if the speakers (and branding) added even $25 to the total cost, that money could have been put into getting a higher contrast LCD instead.
ASUS N53JF: Performs as Expected
Performance is pretty much right where you'd expect, given the hardware. It has the same GT 425M GPU as the Clevo B5130M and the i5-460M CPU is fractionally faster than the i5-450M in the XPS 15, so performance typically falls in between the two. Battery life is somewhat hampered by ASUS' continued use of 48Wh batteries in their N-series, something we've complained about in the past. The U-series' 84Wh batteries don't feel much heavier than the 48Wh, and size is close enough that a slight reworking of the N53JF could have accommodated the larger battery. However, ASUS does do a reasonable job at power management, so even with a smaller battery than the competition it remains competitive. Here are the application results, followed by gaming and battery life.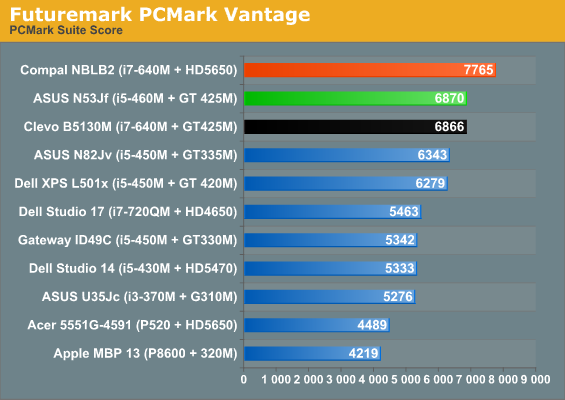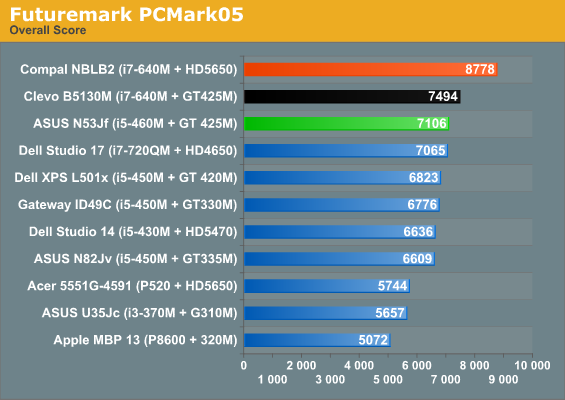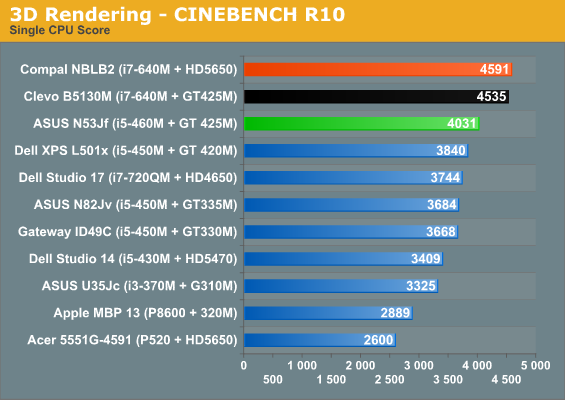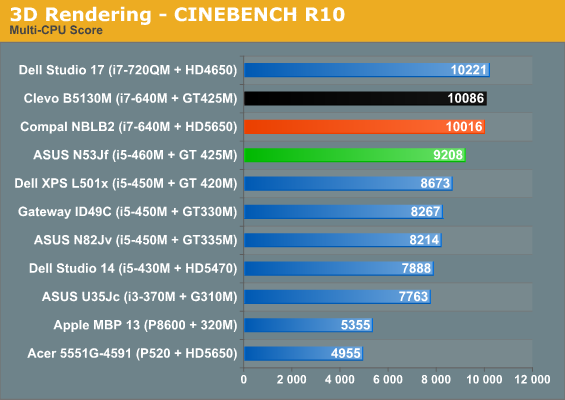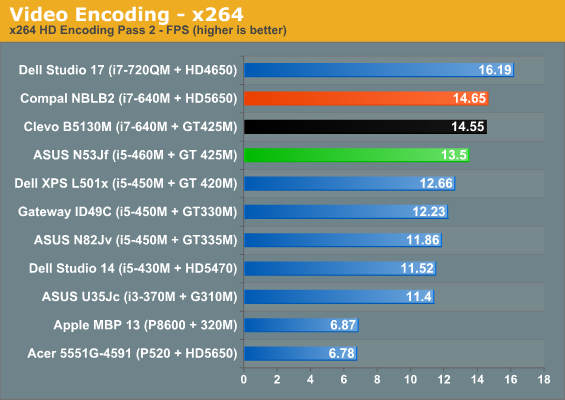 Starting with these general performance metrics, the N53JF is usually about 5% faster (sometimes as much as 10%) than the XPS 15, which goes with the CPU upgrade, with perhaps a few extra performance optimizations by ASUS. The Clevo and Compal laptops both have a faster i7-640M CPU so they come out ahead, but other differences come into play. In PCMark, the Clevo and ASUS laptops are nearly equal, but the Compal comes out 13% faster in Vantage and 23% faster in PCMark05—perhaps thanks to the HD 5650 discrete GPU. Once we hit the pure CPU tests of 3D rendering and video encoding, the charts fall into line and the i7 CPU outpaces the i5-460M by 8-10%.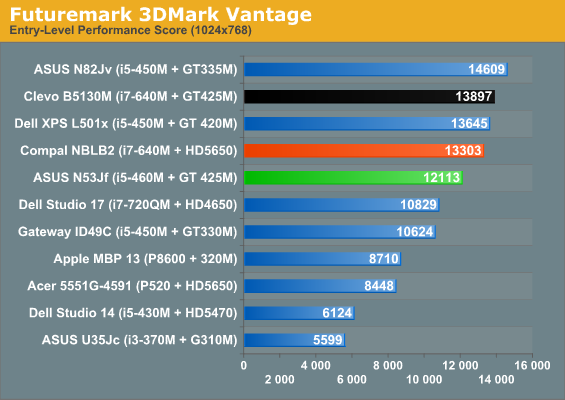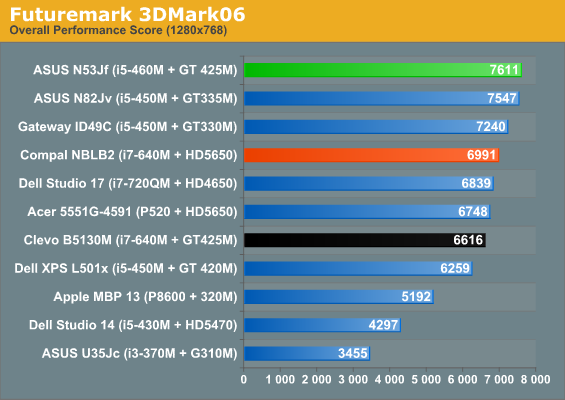 3DMark numbers aren't a major focus for us, for good reason. Here we see the N53JF leading by up to 22% in 3DMark06, but then it trails by up to 15% in Vantage. Yeah, go figure. The Performance score in Vantage is 3559 for the curious. The 3DMark03/05 numbers aren't any better (no graphs on those): 16612 in 03 and 13397 in 05 put it slightly ahead of the Clevo and Dell laptops, but the HD 5650 is 3% faster in 05 and 30% faster in 03. The reason for the large lead in 03 is that Optimus appears to be a bottleneck on ultra-high frame rates; the PCIe bus gets saturated, so when you start to try and push more than ~150FPS (i.e. in the Wings of Fury benchmark) you hit a hardware frame rate bottleneck. Given the level of hardware and the frame rates where this manifests, however, it's nothing we're concerned about—it should only show up in older titles that really don't stress the GPU much.
Gaming Performance
We've covered this ground several times of late: 1080p with "midrange" mobile graphics really isn't great for playing games, but at least you can turn down the resolution to get reasonable performance. We've run our Low, Medium, and High benchmarks at both the standardized resolutions as well as 1080p, but you'll generally want to stick to medium quality or lower if you want to run at native resolution.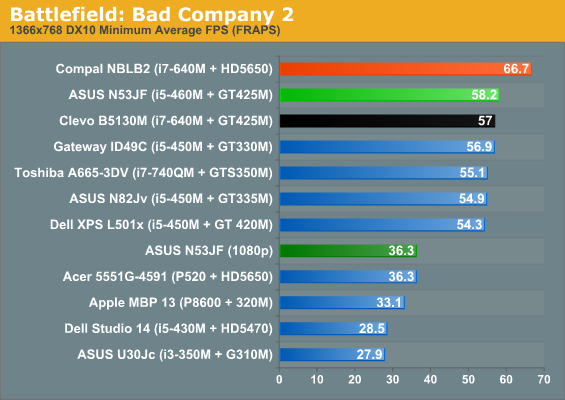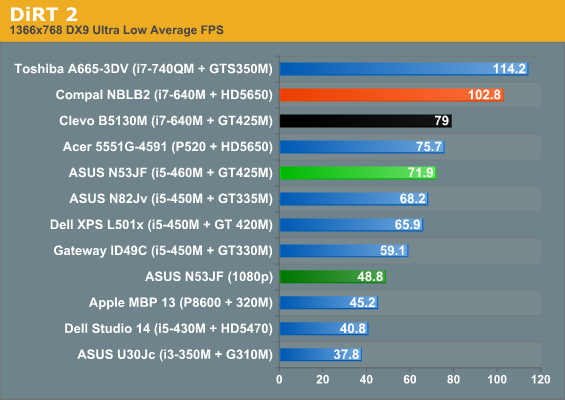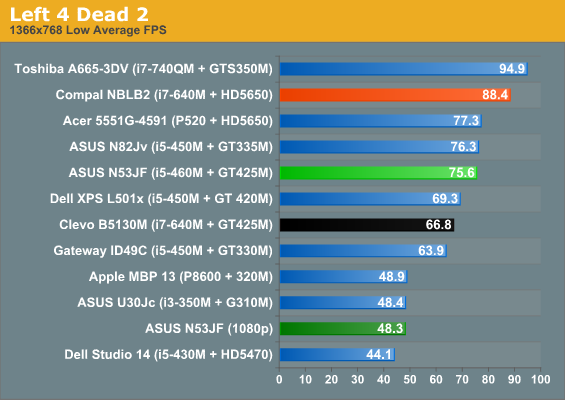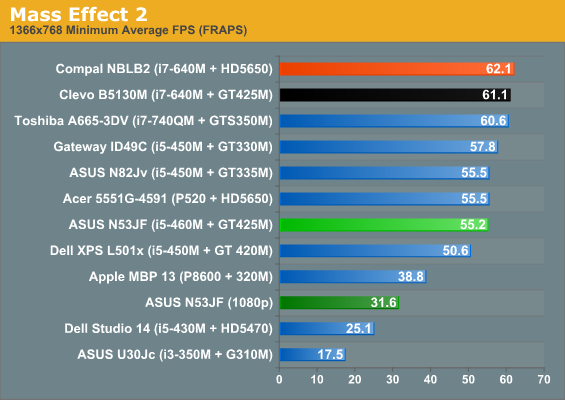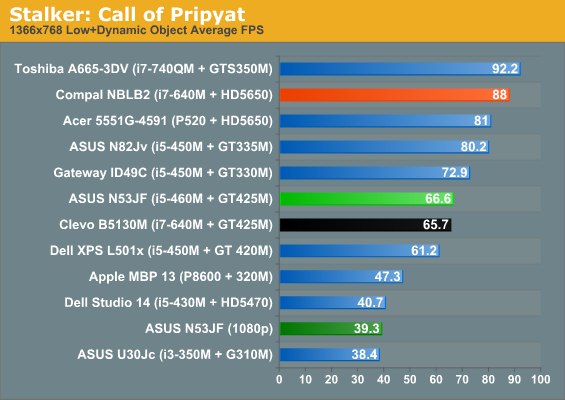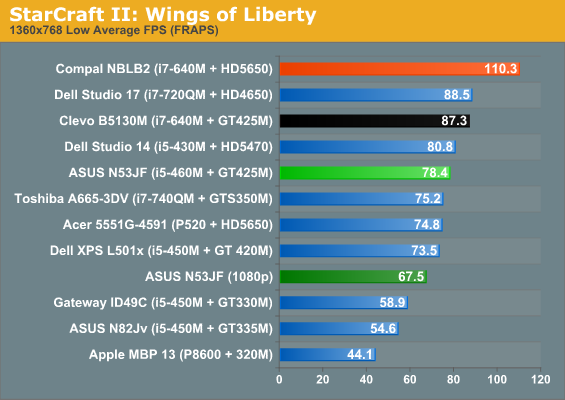 Starting at Low detail, about the only thing worth noting (other than the games all being playable) is that several titles benefit from the faster CPU in the Clevo notebook, but BFBC2, L4D2, and STALKER all give the ASUS a slight lead, with a larger 13% lead in L4D2. The Clevo notebook clocked the GPU the same, but used 1400MHz memory instead of 1600MHz RAM for graphics, so that 14% deficit shows up in some games more than others. Again, we ran Mafia 2 and Metro 2033 but are skipping the graphs for the time being. Mafia 2 manages 35FPS at 768p and 21.5FPS at 1080p, so it manages low detail and low resolution at least. Metro 2033 doesn't even clear the 30FPS hurdle at 768p, scoring 26FPS and dropping into the teens (17FPS) at 1080p. The scores are basically right where we'd expect given the GPU and CPU.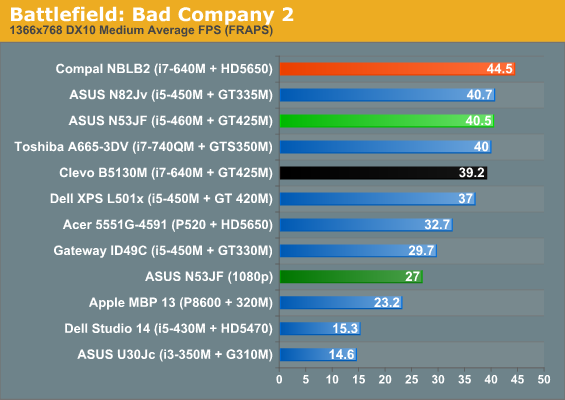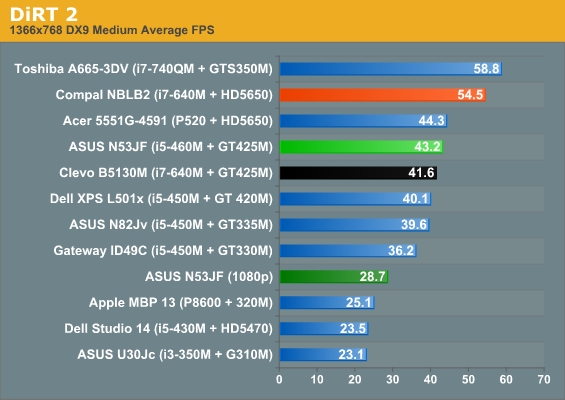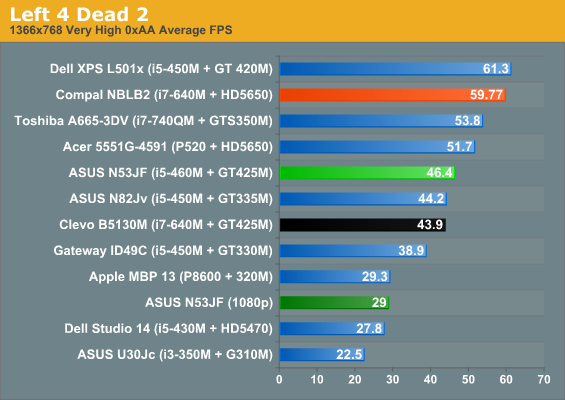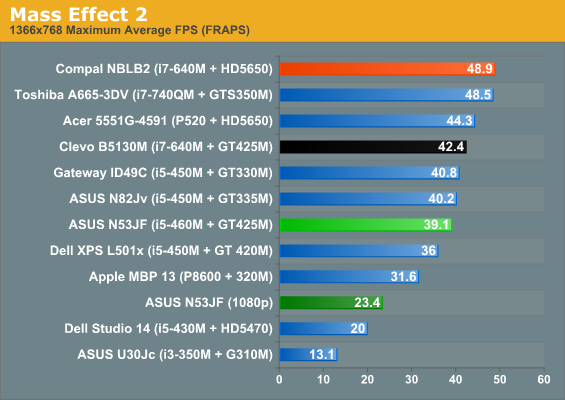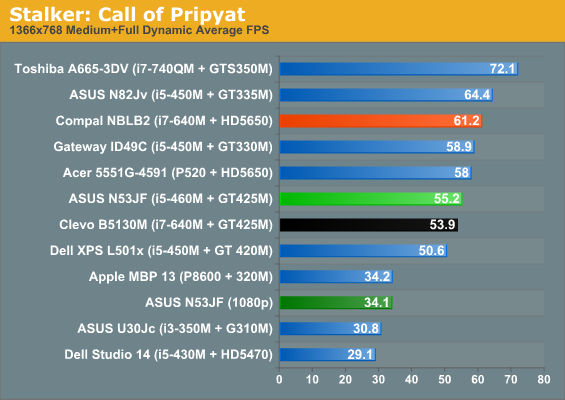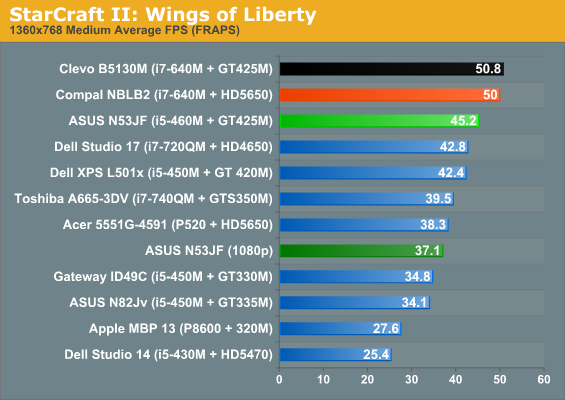 The story is similar at medium detail, and again the ASUS notebook leads the Clevo, this time in four out of six games. The lower memory bandwidth is definitely a factor here, though the difference isn't so large as to be alarming and the faster CPU still pushes Clevo ahead in Mass Effect 2 and StarCraft II. 1080p with medium is only playable in STALKER and SC2, while the other titles will need to drop to a lower resolution. Mafia II and Metro 2033 continue their slide into unplayable territory, with scores of 30.4/18.1 and 24.4/16.1 respectively (at 768p/1080p). As mentioned in the Compal review, AMD's HD 5650 also manages to lead the 420M/425M at our Medium settings in virtually every case, despite being six months older hardware.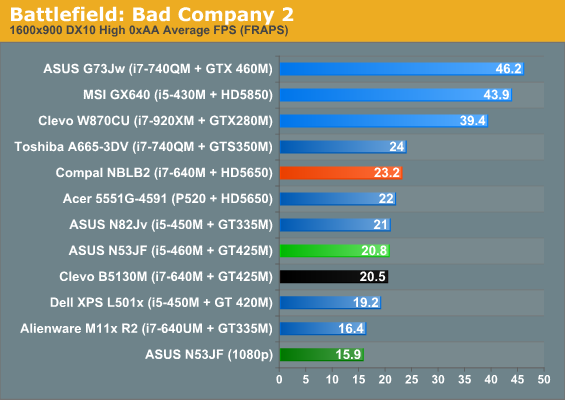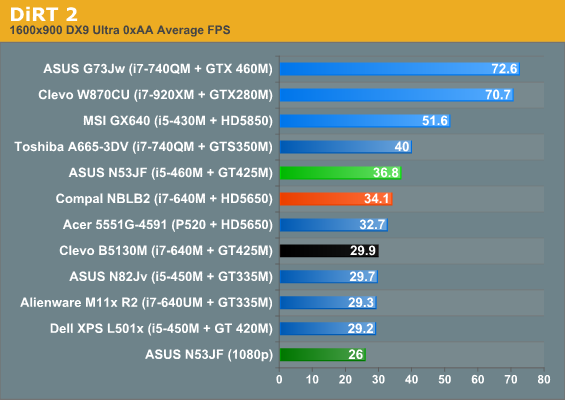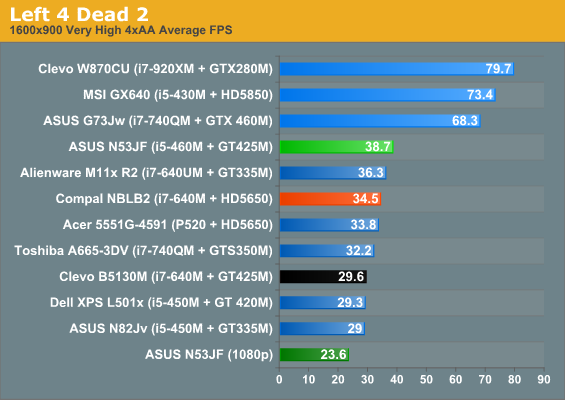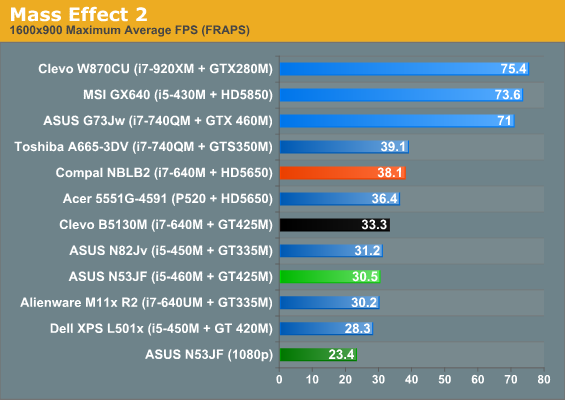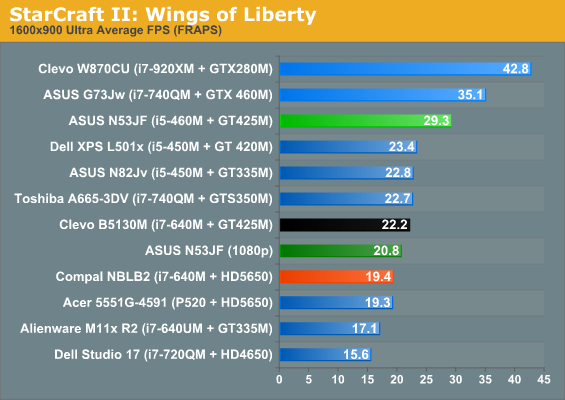 Finally, our High settings push many of the titles below 30FPS, though DiRT 2, L4D2, and ME2 all manage 900p High at >30FPS. As for Mafia II and Metro, they're now down to 23.6/17.6 and 14.6/11.3 for 900p/1080p, which definitely isn't playable. Also worth noting is that we continue to test games in DX9 or DX10 modes rather than DX11, as performance drops in nearly every DX11-enabled title and mobile GPUs aren't usually fast enough to have the luxury of increasing detail levels. DiRT 2 is the odd man out, boasting higher performance at Ultra Low through Medium detail when DX11 is enabled, but the tables turn at the Ultra High setting. What we really need to make DX11 and high quality settings viable for notebooks is about twice the current level of performance—roughly equal to the HD 5850 or GTX 460M. "Midrange" laptops still require you to drop to lower resolutions, lower details settings, or both.
ASUS N53JF Battery Life: Not Bad for 48Wh, but Please Give Us 63Wh!
We've complained about the use of older and smaller 48Wh batteries in midrange notebooks quite a few times, but the N53JF continues that trend. That puts it at a definite disadvantage relative to Dell XPS' 56Wh battery, as well as Compal's 58Wh and Clevo's 62Wh offerings. But higher capacity isn't the only game in town; making better use of that capacity is still possible with BIOS and hardware optimizations, and ASUS does very well in this regard. Combined with NVIDIA's Optimus Technology, we end up with roughly four hours of useful battery life, or just under 2.5 hours of H.264 playback.
ASUS also has their "Super Hybrid Engine" available, which underclocks the CPU and locks the maximum multiplier when enabled. We test with modified Power Saver settings normally, which already locks the CPU multiplier to the minimum, but SHE is still able to wring an extra few minutes out of the battery. We left it enabled for the battery life testing, so the results are the best-case scenario. We also disable any unnecessary utilities and software, and set the LCD to 100nits (45% in this case).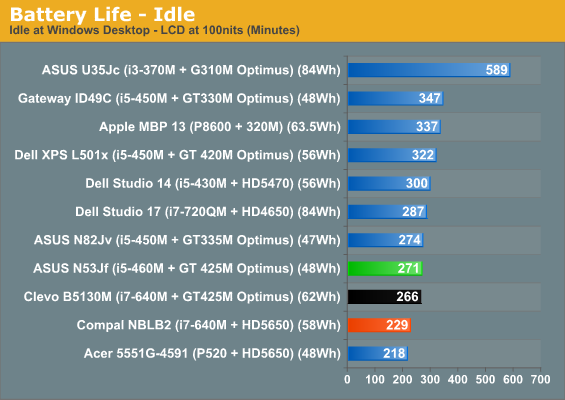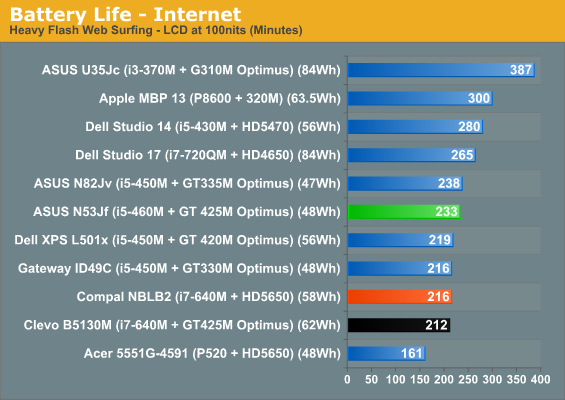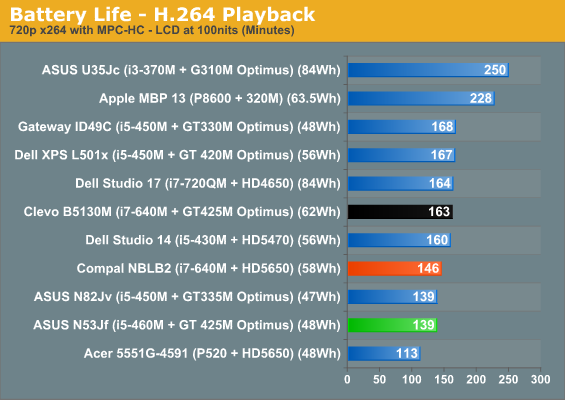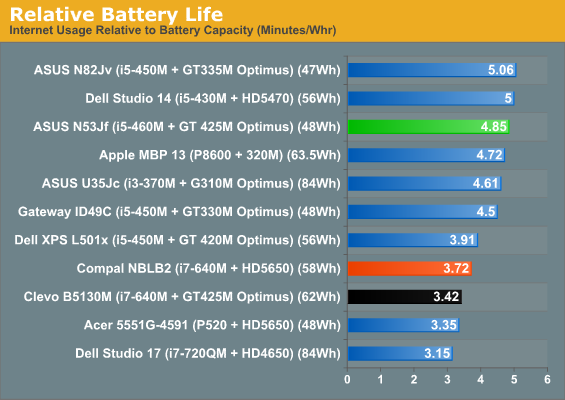 Despite having a smaller battery, ASUS beats the Clevo notebook in two of the three tests. The Compal result on the other hand isn't so surprising, given the always-on GPU. We commented in the past that the Dell XPS had a substandard Internet result (despite multiple test runs), and that shows up again as the one inexplicable loss to the ASUS. In general, though, battery life is decent and enough for typical users. You'll still want the power brick handy if you play any games or want to watch a Blu-ray from an actual disc, however—we measured just 90 minutes playing an 35Mbps AVC Blu-ray video (Jumper).
The N53JF's LCD: Not Up to Snuff
After going three-for-three on 1080p 15.6" LCDs being good quality, the ASUS notebook sadly ends our streak. Maximum brightness is just above 200nits, which isn't too good if you're trying to use it outdoors. The contrast is even worse, checking in at 233:1. We've seen plenty of laptops with even worse contrast ratios, but none of them were 1080p LCDs. Color accuracy is at least decent, and color gamut in some respects is better suited to general use than the high gamut displays. We've added the sRGB percentage of the Adobe 1998 color space to illustrate this point: 69% of ARGB is basically "ideal" for sRGB use, though in practice I still prefer slightly higher gamuts. Apple's 77% is probably optimal for casual users.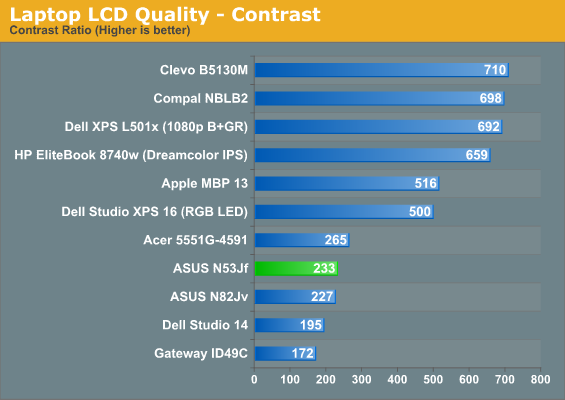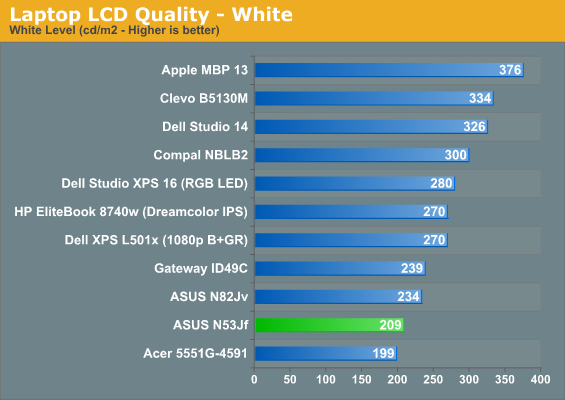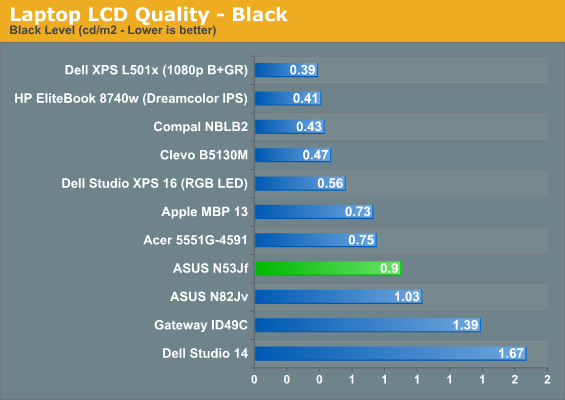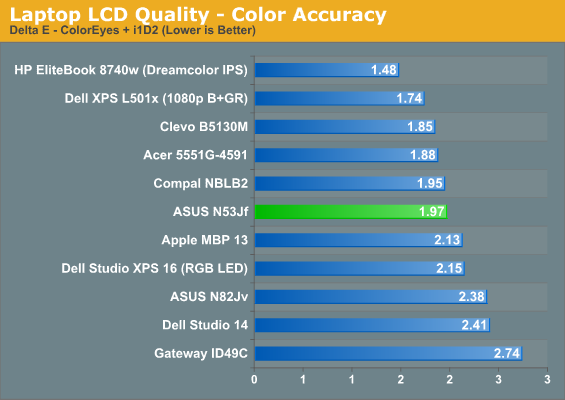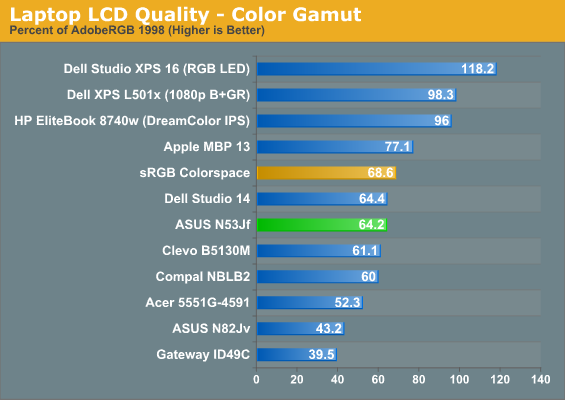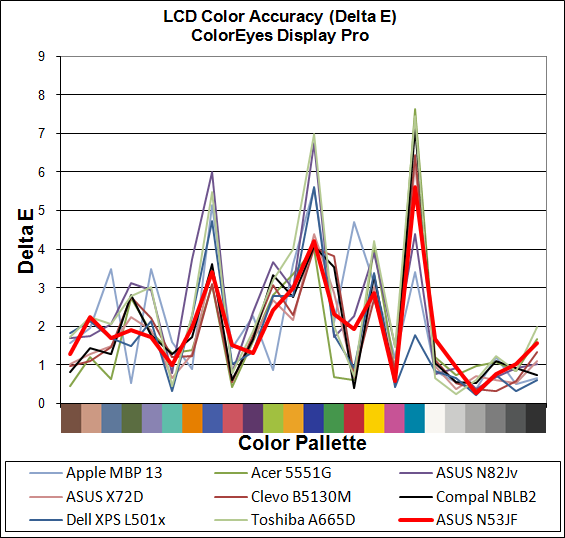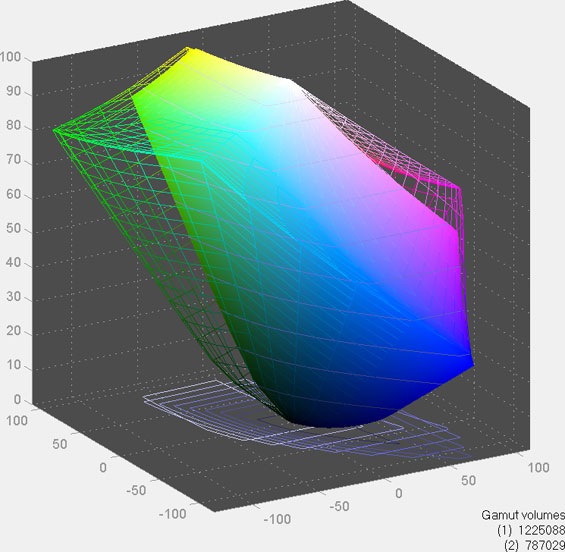 Viewing angles are standard TN panel fare, with severe color shifts from above and below. Nothing new to report here.
Heat and Noise Levels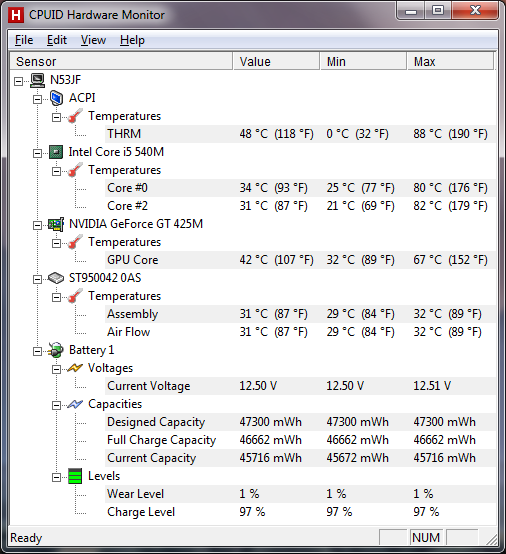 Using our standard stress test of 3DMark06 looping (with some x264 encoding running in the background), final system temperatures hit 82C on the CPU and 67C on the GPU. (ACPI reports a temperature of 88C, but I'm not sure what that's measuring or if it's accurate.) Surface temperatures are also fine and are similar to the other midrange notebooks we've tested. Idle temps ranged from 25-28C on the palm rest and keyboard, while the bottom is slightly warmer at 25-31C. Under our stress test, the top surfaces hit 25-32C and the bottom 25-38C, with the hottest areas near on the exhaust on the left side. Noise levels are also decent, with idle noise near the 30dB floor of our test equipment and environment but coming in just above that with 31dB; load noise is particularly good, reaching a maximum of just 36dB (measured from 12" in front of the notebook).
Conclusion: Four, Four, Four for My Headaches...
Four leaf clovers are supposed to be lucky, but getting four good 1080p LCDs in a row on notebooks is apparently asking too much. Looking at previous ASUS offerings, the N53JF ends up being better in some areas compared to the ASUS N82Jv and N61JV, but worse in others. Performance is one area that has improved, though it's not such a major change that you'd want to upgrade. Mostly, the DX11 enabled GT 425M is a match for the older GT 335M, and while the chassis is larger we have to keep in mind that you're getting a 1080p display and a Blu-ray combo drive. Battery capacity still trails the U-series, which is unfortunate, but our bigger complaint is that the keyboard actually feels worse than the chiclet design on the N61/N82. Perhaps that's just reviewer preference, but it would be nice to at least have keyboard backlighting and less flex. Getting at the internals is also more involved this time around, and while it isn't a major issue we do prefer ease of access over hidden screws under the rubber feet.
The more difficult comparison is Dell's XPS 15—the difficult part coming from the fact that the LCD upgrade that pushed the XPS into Gold Editors' Choice territory is now MIA. Take out the LCD and the XPS 15 suddenly drops down to Bronze territory—or perhaps Silver if you're generous and really like the speakers. We know quite a few people that weren't particularly keen on the rounded design of the XPS line, so without the display it becomes a much more iffy proposition. I do have to say I'm more than a little irritated that the HP Envy 14's Radiance panel and Dell XPS 15's 1080p B+GR LED upgrades have both disappeared after the initial launch and reviews. That is not a trend we want to see, but at least the XPS line doesn't have glossy bezels: one step forward, one step back.
Given the price, performance, build quality, and aesthetics, I can see quite a few people preferring the ASUS N53JF over the XPS 15, at least if you get the 1080p model we're reviewing. It runs relatively cool and quiet but delivers decent performance. However, if you're going after a good 1080p laptop, we'd go for the Clevo B5130M over the ASUS, by virtue of its higher contrast panel. If you don't mind the 2008-era glossy plastic aesthetic of the Compal NBLB2, that's also a good choice at a similar price, with lower battery life in trade of slightly higher graphics performance.
With the Christmas shopping season just past and CES (and the Intel Sandy Bridge launch) coming up next week, there's no need to run out and buy any of the current generation of notebooks. If Sandy Bridge manages to meet expectations, the only way we'd consider buying the soon-to-be-outdated Core 2010 notebooks is if prices drop—or maybe if Sandy Bridge models end up costing at least two hundred dollars more than the current offerings. That means $800 for this laptop would be reasonable, assuming Sandy Bridge dual-core laptops (with Optimus GPUs) launch at around $1000. We've still got a couple more 2010 laptop reviews to clear out before CES is upon us, so you should see reviews of the smaller Dell XPS 14 and the long-awaited HP Envy 14 shortly, but neither one will really alter the mobile landscape. While there are quite a few decent laptops out there, there's nothing clearly ahead of the competition, and the competition is about to intensify. That usually means better prices for consumers, so we can't complain too much, but we'd prefer paying a bit more for laptops with higher quality displays.