Original Link: http://www.anandtech.com/show/4070/dell-u3011-review-dells-new-30-inch-flagship


Hardware Impressions and Specs
If there's one thing I've learned doing display reviews, it's that the 30-inch segment represents (as it should) the best of the best. Entries here have the most input options, features, best panels, and the highest resolution you can get for the money. It's a breath of fresh air to play with a real 16:10, 2560x1600 display after toying with 1080P monotony for so long. If the displays industry worked anything like the CPU industry, we'd have 300 PPI displays with no response lag, infinite contrast, and all for way less than we're paying now. If there was a new year's resolution display manufacturers should make, it's that they stop making 1080P panels in 2011.
Anyhow, today we're talking about the Dell U3011. I got the chance to review HP's 30 inch monitor, the ZR30w, back when it launched, and will use it as a mental comparison. The Dell U3011 is a refresh of the Dell U3008WFP, and brings a 10-bit per color panel with 12-bit internal processing, more input options, factory calibration (more on that later), and is supposedly 1 ms faster in the response time department.
The specs for Dell's new 30 inch display are in the table below:
Dell UltraSharp U3011
Video Inputs
2xHDMI, 2xDVI-D w/HDCP, 1xDisplayPort, VGA (D-SUB), Component
Audio Output
3x3.5mm audio jacks (5.1 audio out supported)
Panel Type
H-IPS with CCFL Backlight (Panel: PH5NY07U076L)
Pixel Pitch
0.2505 mm
Colors
1.07 billion (30 BPP color - 12 BPC internal processing)
Brightness
370 nits (typical)
Contrast Ratio
1,000:1, or 100,000:1 (dynamic)
Response Time
7 ms (GTG), 17 ms (GTX max)
Viewable Size
30" (756.23 mm)
Resolution
2560 x 1600 at 60 Hz
Viewing Angle
178 degrees horizontal and vertical
Power Consumption (operation)
250 watts (max), 110 watts (typical)
Power Consumption (standby)
2 watts standby, 1 watt off
Screen Treatment
Matte/Anti-Glare, Hard Coating
Height-Adjustable
Yes: 3.55 inches travel
Tilt
Yes: 10 degrees - 20 degrees
Pivot
No
Swivel
Yes
VESA Wall Mounting
Yes: 100 mm x 100 mm
Dimensions w/ Base (WxHxD)
27.34" (694.5 mm) x 22.5" (571.3 mm) x 8.32" (211.3 mm)
Weight
27.72 lbs (12.6 kg) with stand, 20.40 lbs (9.3 kg) without stand
Additional Features
Integrated USB 2.0 hub with 4 USB ports, 7 in 1 media reader, 5.1 audio pass through, factory calibration
Limited Warranty
3 years - repair or replacement
Accessories
Power, DVI, DisplayPort, VGA cables. Factory Calibration Report.
Price
U3011: $1349.00
So first up is the display itself. Aesthetically it's almost exactly what you'd expect from Dell in a monitor, and follows their relatively consistent industrial design quite well. The display bezel is entirely black plastic just like we've seen with almost every other Dell, and there's a huge square black stand.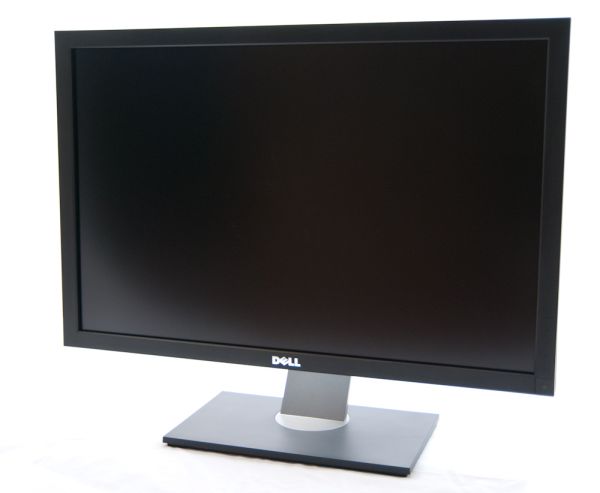 The U3011 has a silver-colored strip that runs around the outside of the display, much like the ZR30w has. However, unlike HP's metal strip, Dell's is plastic. The display bezel on the U3011 is just under 1 cm thinner at the edge than HP's, though both get much thicker at the center.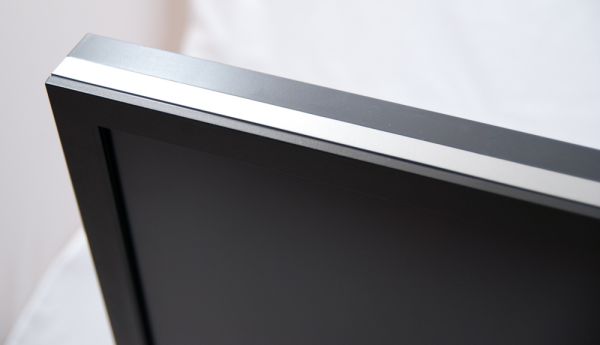 The stand the U3011 comes with is decently sturdy, providing tilt, rotation and height adjustment, but no pivot. Height on the U3011 can adjust from about 3 cm to 12 cm from the top of the plastic stand to the bottom of the bezel. Dell advertises 10 cm of travel - I can definitely see that much travel, which is definitely welcome. The other added bonus is that HDMI, DVI, and DisplayPort cables don't crash into the plastic base and bend worrisomely even with the display at its lowest height adjustment setting. I wish the U3011 went up a bit higher, because it seems like I inevitably use the highest adjustment point whenever I'm connecting cables, but too lazy to rotate the whole monitor. It's just shy of being tall enough where I can squeeze my head underneath - oh c'mon, everyone does that, right?
There's also about 30 degrees of tilt in the up direction, and about 5 degrees downwards.
Rotation on the base is about +/- 30 degrees, which is more than sufficient. Thankfully, the base on the U3011 is nice and smooth through the rotation, with no annoying backlash or chatter which generally makes entire displays and desks shudder.
Dell has placed the 7 in 1 card reader (xD/SD/MS/MMC) on the left side of the U3011. Down below it are two of the four USB 2.0 ports connected to the U3011's internal hub.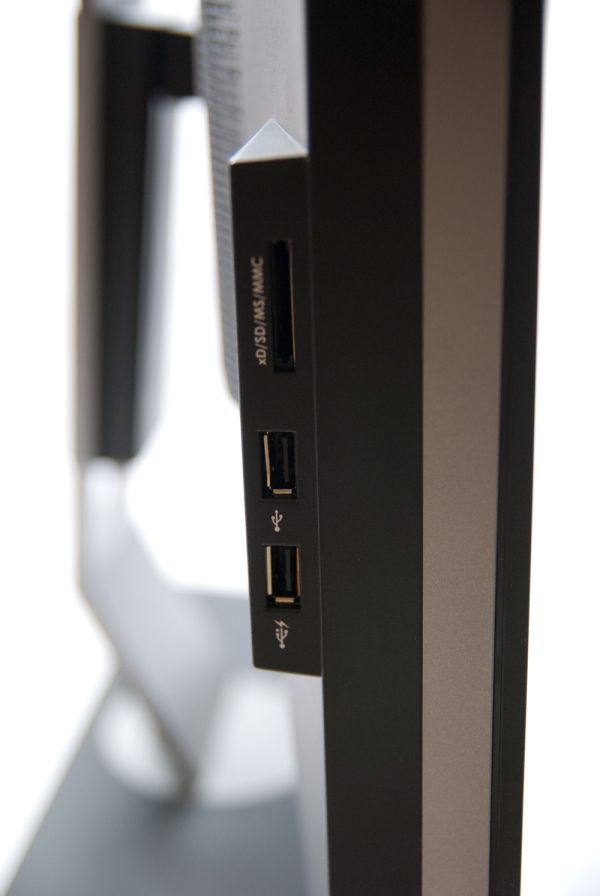 The lower one has a power symbol which indicates that it's capable of supplying more current - 1.5 amps of it to be exact, for 7.5 watts of charging power. Though that should be more than sufficient to charge an iPad, connecting one resulted in the same "Not Charging" behavior one would see from a normal 500 mA port. It's unclear to me whether the USB charging specification is being implemented correctly on the display or not. Other devices charge fine, but likewise do so on normal 500 mA ports. In addition, the USB ports only provide power when the upstream USB-B port is connected - you can't use the ports to just charge devices without connecting the hub to something. I tested a 32 GB SD card in the reader, which worked just fine as well.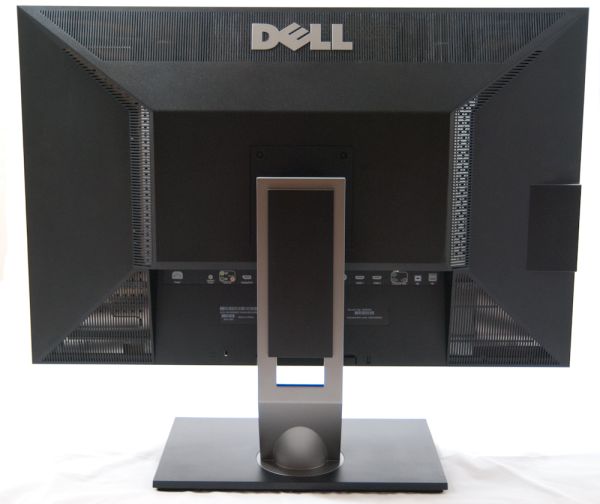 The backside of the U3011 is nothing new or special if you've seen Dell's other recent display designs. It's just scaled up to be larger, and looks the same. Personally, I find it classy and applaud the consistency, even if the Dell logo up top is positively gigantic (but then again, everyone does that). The stand has a cable routing port, but lacks positioning clips or guides like I've seen on other displays.

Finally, the I/O ports on the U3011 are where they should be at the base of the display, but high enough up that we don't run into cable routing issues. The U3011 also has a nice sticker facing outwards with all the ports positioned appropriately - something super useful when connecting things up from a weird contorted angle. The U3011 provides a ton of input options - two DVI-D ports, two HDMI 1.3a ports with Deep Color support, D-SUB for VGA, DisplayPort, and component video in. Moving along are the two remaining USB 2.0 downstream ports, USB-B upstream port, and lastly three 3.5mm audio out jacks for doing 5.1 audio pass through from HDMI. Oh, there's also a DC power jack in case you're using the Dell speaker bar with the U3011 which is an added accessory - we didn't get a chance to try that. I'd say the input options on the U3011 are impressive overall, just like we expect from a 30-inch display.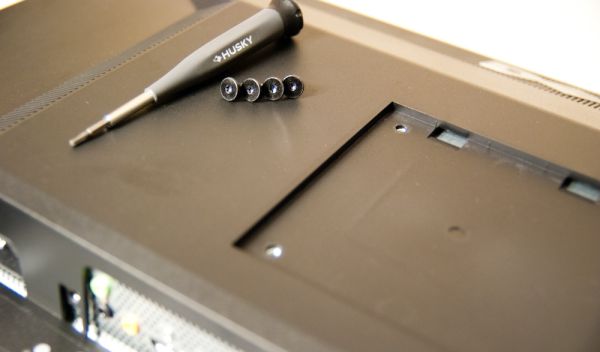 If you use your own VESA mounts with displays, the U3011 will work as long as you get one beefy enough for it. The weird part about the U3011's mounting arm is that it connects to the 100 mm VESA mount on the backside of the display with 4 T-10 Torx screws. That just seems like an obtuse choice for something which should be easily user-accessible. It's a small nit to pick, but this choice just really puzzles me since I doubt average users have all the Torx bits sitting around.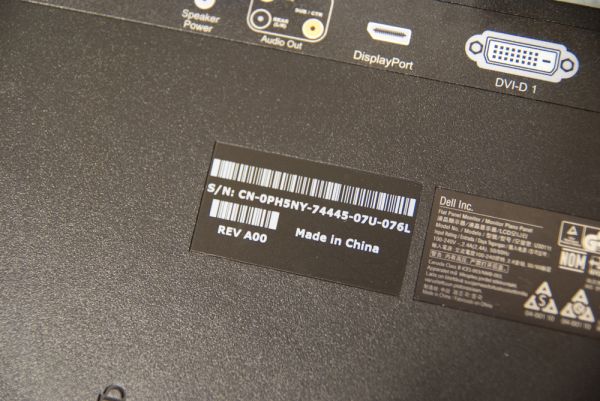 The U3011 is supposed to come calibrated from the factory, accompanied by a calibration report showing Delta-E tracking averaging below 5.0. Our U3011 came with no such report, and as we'll show later also didn't perform very well out of box in our color tracking validation test. We later learned that this is because our U3011 is a pre-production sample which is identical to the shipping model, just without factory calibration. In addition our panel was the A00 revision.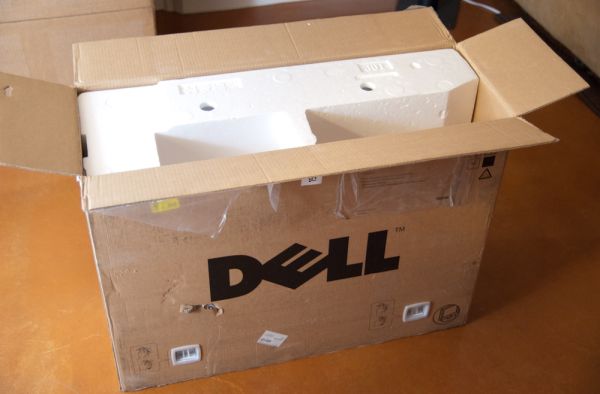 Last but not least is packaging. The U3011 packaging is generic and doesn't draw attention - there's Dell written on it, and U3011 on the corner. It's like the other Dell packaging I've seen before. What I found interesting is that the U3011 comes fully assembled and in one piece inside the box. The mounting arm is preattached, and two styrofoam pieces at top and bottom which hold it securely. The U3011 packaging is actually far smaller than HP's for the ZR30w.
More shots of the U3011 in our gallery below:
OSD Controls and Menus
I didn't mention OSD controls on the previous page because they're somewhat interesting on the U3011. Remember that HP stipulated that their ZR30w has no OSD because there's currently no control SoC for it. Well, Dell has one, and they definitely use it and provide an OSD for the U3011.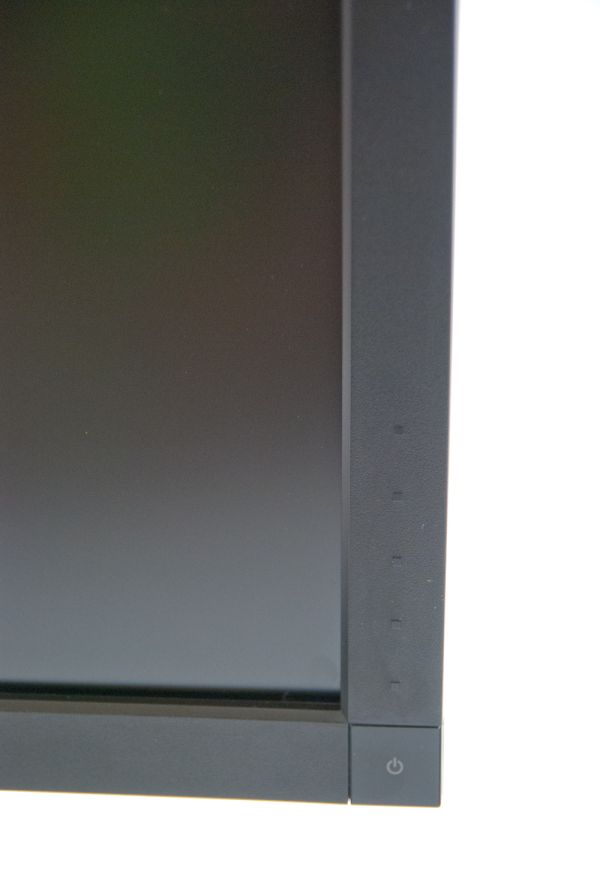 First up, the buttons are very understated and are located in the bottom right. The power button glows steady blue when powered, and pulses orange when in standby. What's interesting is that each button is unmarked - the bottom one glows blue when you hover your finger above it about a centimeter away, and tapping on it brings up the OSD and lights the other buttons. The button doesn't depress but doesn't seem capacitive - something optical is going on. Either way, button presses consistently work without issue. By default there's no button press sound (thank goodness), but you can turn one on in the menu if you really need it.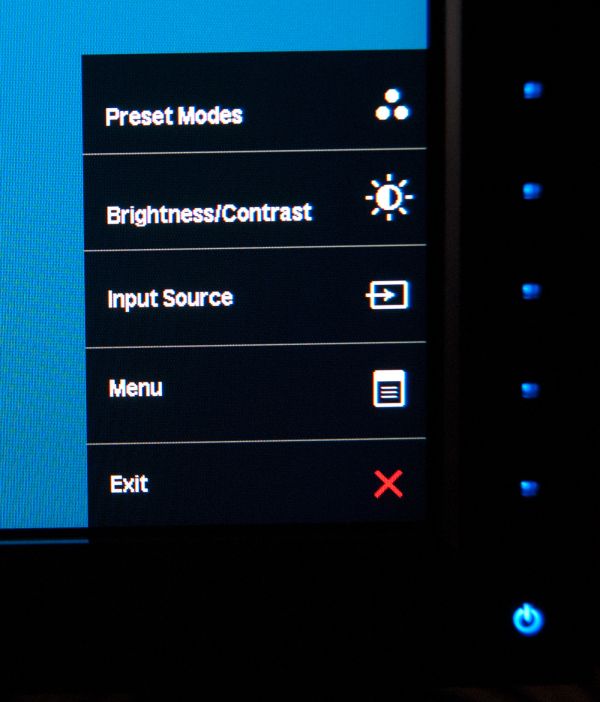 The quick pop up has presets, brightness and contrast, input source selection, and a menu button for launching the big OSD. It's easy to navigate and just like other Dell OSDs, but with fancy buttons-that-aren't and that cool hover feature.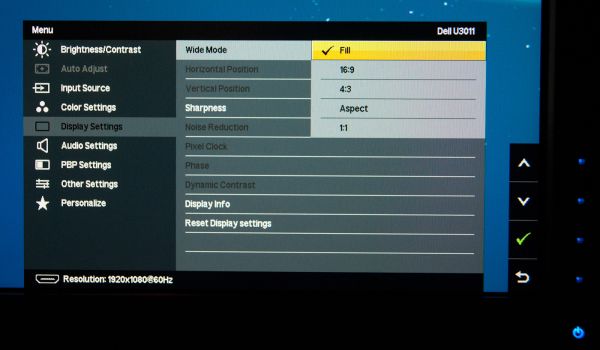 There's options inside the sub menus for fill, 16:9, 4:3, aspect-correct, and 1:1 scaling of inputs - everything we want from a panel. In addition, there are the ever important settings for color space clamping - sRGB mode is there alongside AdobeRGB modes which don't clamp the color space. There's also gamma settings and presets for game, standard, and custom color modes.
Console Gaming and Audio Controls
There's really nothing to complain about with the U3011 OSD other than the audio settings. You can put them in 2.0 audio out mode, something which is absolutely perfect for use with a PS3 or Xbox 360 connected over HDMI.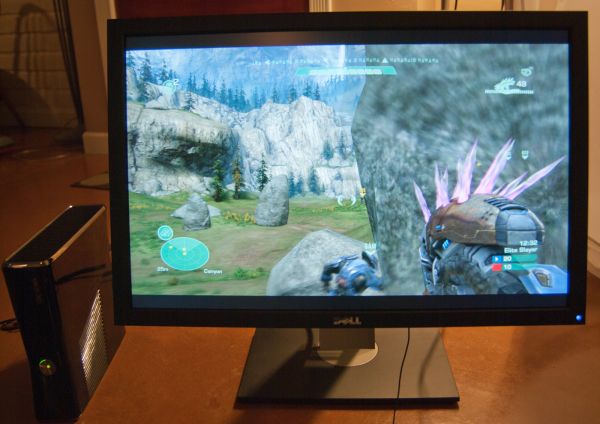 The problem is that there's no volume adjustment parameter exposed in the menu - it acts like line out undoubtedly because that's what Dell intended it to be used for. It'd be nice to get volume controls in that preset menu beyond being able to select between 2.0 and 5.1.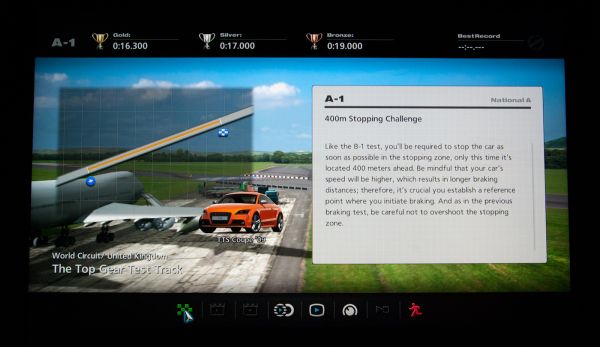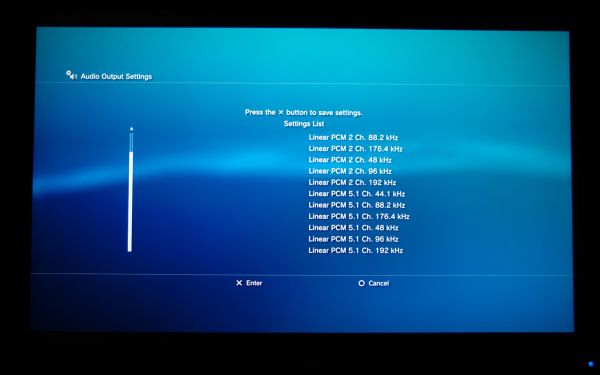 That's a pretty nice segue into some discussion about what audio input options the U3011 supports over HDMI. I connected up a PS3 and played GT5 and a copy of Inception, both of which looked excellent and played perfectly. The PS3 saw LPCM 2 channel and 5.1 channel as options, obviously the U3011 doesn't have a hardware decoder onboard. I connected an Xbox 360 over HDMI and did the same, which worked perfectly. No doubt Dell's rationale for not providing volume controls on the OSD is that it's line out, or you'll use it with their speaker bar, but it still would be awesome to get that for when you're using headsets.
Viewing Angles
The U3011 has superb viewing angles, just like we've grown accustomed to seeing from IPS panels. Even at the far extreme horizontally, there's none of the purple I'm used to seeing from TN panels as you move off-axis. In the vertical direction, I saw the same thing with almost nothing to complain about. I did notice some glare at the extreme angles, but again that's dependent on where you're sitting and where light sources are located.
I think this is an excellent opportunity to talk about IPS graininess, something we really haven't discussed before. Of the IPS panels I've used to date, all of them have had some high frequency grain on the surface from a combination of coating and interference at the interface. Thankfully the U3011 has a combination antireflection coating and hard coating, and subjectively there seems to be less grain than I've seen on other displays.
Color Quality
Next up are the ever-important color quality metrics. As usual, we report two main quality metrics: color accuracy (Delta-E) and color gamut. Color gamut refers to the range of colors the display is able to represent with respect to some color space. In this case, our reference is the AdobeRGB 1998 color space, which is larger than the sRGB color space. Our percentages are thus reported with respect to AdobeRGB 1998, and larger is generally better unless you're dealing with sRGB content and colorspace-unaware software.
Color accuracy (Delta E) refers to the display's ability to display the correct color requested by the GPU and OS. The difference between the color represented by the display, and the color requested by the GPU is our Delta-E, and lower is better here. In practice, a Delta E under 1.0 is perfect - the chromatic sensitivity of the human eye is not great enough to distinguish a difference. Moving up, a Delta E of 2.0 or less is generally considered fit for use in a professional imaging environment - it isn't perfect, but it's hard to gauge the difference. Finally, Delta E of 4.0 and above is considered visible with the human eye. Of course, the big consideration here is frame of reference; unless you have another monitor or some print samples like a Gretag Macbeth color checker card to compare your display with, you might not notice.
As I mentioned in our earlier reviews, we've updated our display test bench. We've deprecated the Monaco Optix XR Pro colorimeter in favor of an Xrite i1D2 since there are no longer up-to-date drivers for modern platforms. We're trying to find an i1Pro to use as well.
For these tests, we calibrate the display and try to obtain the best Delta-E we can get at both 200 nits of brightness for normal use, and 100 nits for print brightness. We target D65 and a gamma of 2.2, but sometimes the best performance lies at native temperature and another gamma, so we try to find what absolute absolute best-case performance for each display. We also take an uncalibrated measurement to show performance out of the box using either the manufacturer supplied color profile, or a generic one with no LUT data. For all of these, dynamic contrast is disabled, and displays are left to settle for a half hour after making changes. The U3011 is CCFL-backlit, and I used a settle time of 30 minutes accordingly.
First up is uncalibrated Delta-E performance. For this test, I took the monitor out of the box, connected it over DisplayPort, adjusted to 200 nits, and ran our usual GMB color checker test. Results aren't that great, sadly.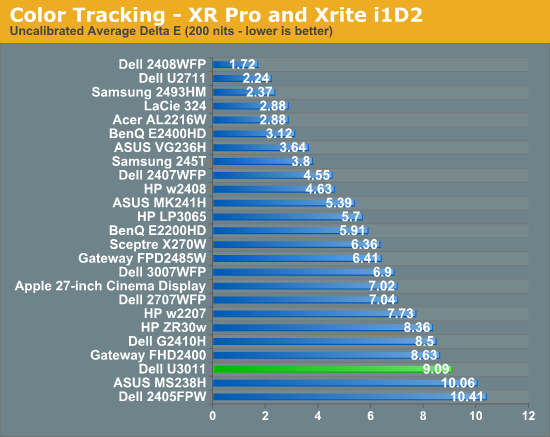 I mentioned earlier that the U3011 we got from Dell for testing came with no factory calibration report. After checking up with them, we learned this is a pre-production unit identical to what's shipping now, minus that factory calibration. That's something we can live with, especially since we recommend every display be calibrated, but still unnerving.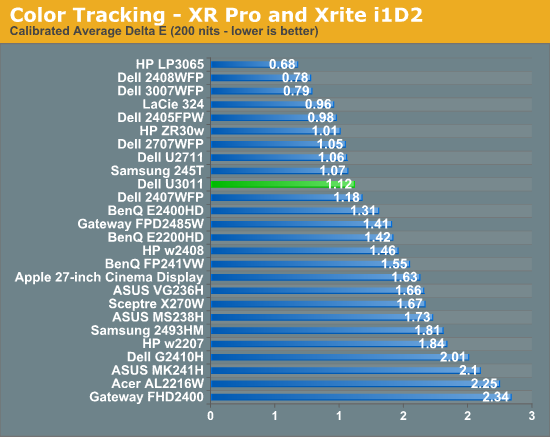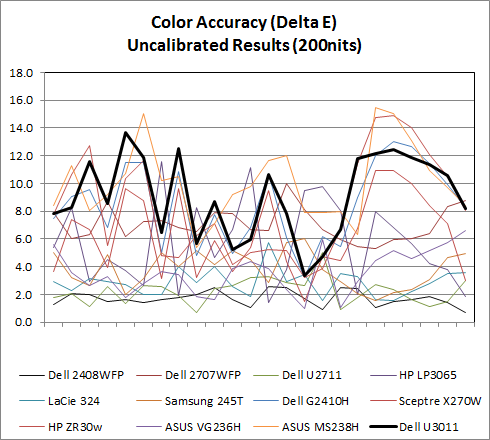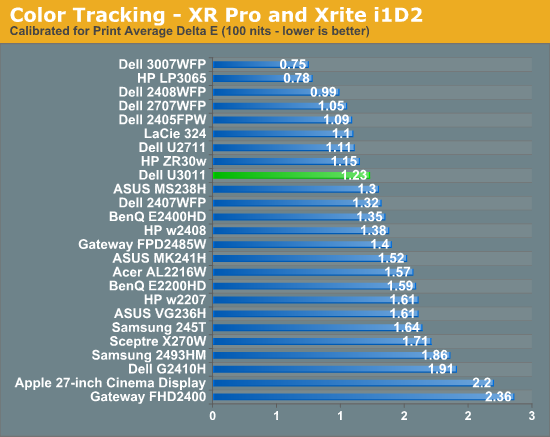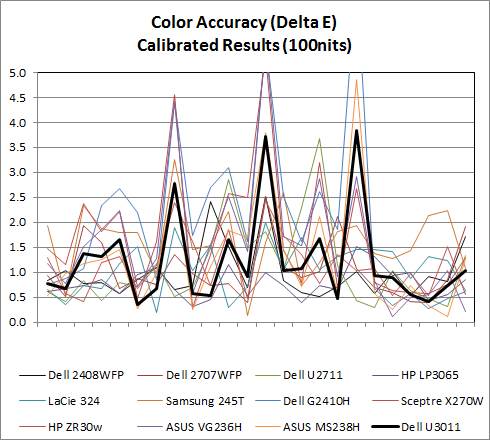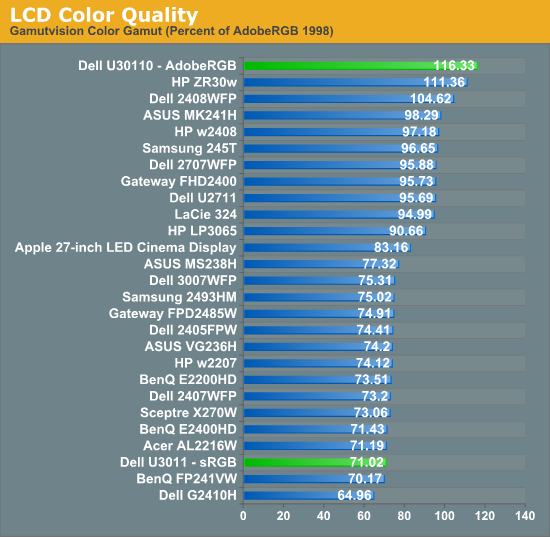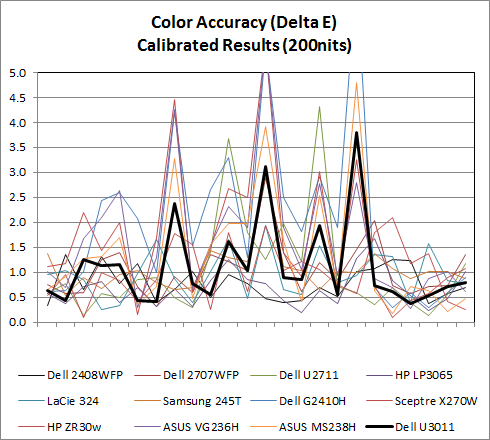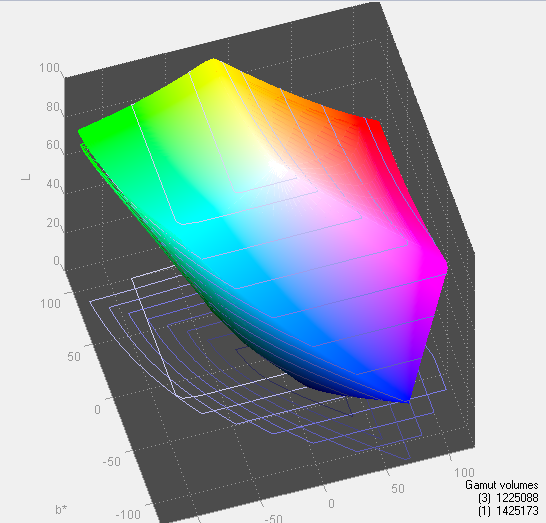 AdobeRGB Mode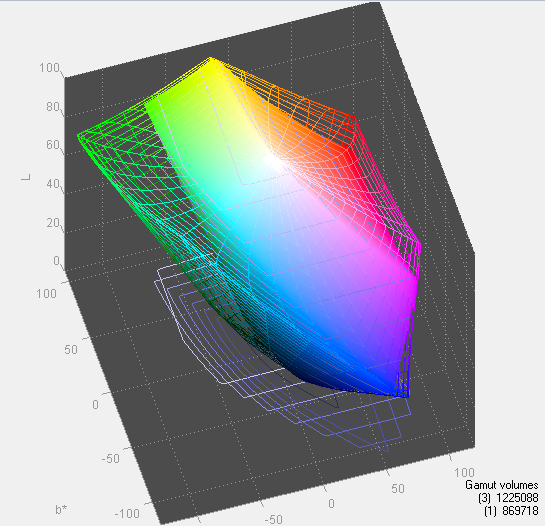 sRGB Mode
Calibrated Delta-E is very good, though I'm still surprised the U3011 can't get under 1.0 on our tests. I'm starting to suspect that our i1D2 isn't quite as good as the Monaco Optix XR Pro, and have started looking for an i1Pro spectroradiometer as a result so we can have something more accurate going forward. That said, performance is still more than adequate for professional work. These two calibrations were performed in the sRGB mode at D65.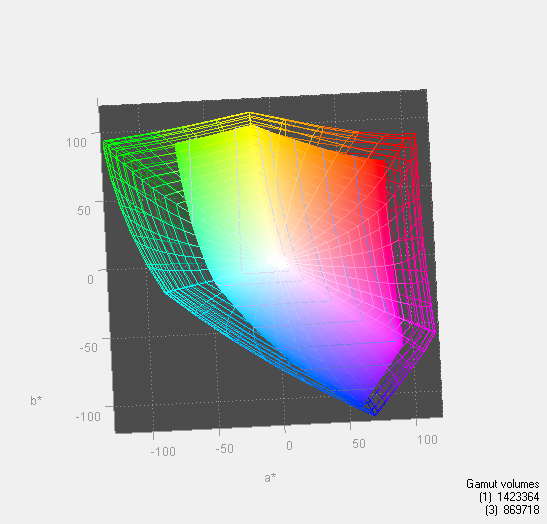 AdobeRGB (wireframe) vs sRGB (solid) gamuts on the U3011
In addition, the U3011 has modes for AdobeRGB color space and sRGB in the OSD, something extremely useful for doing work and not getting oversaturation in applications that lack color management. You can immediately see the effect of those two modes in the color gamut measure above. Letting the monitor free to use its entire gamut of color, it leads the pack. Turn sRGB mode on, and it clamps down just nicely. 116.33% is also shockingly close to Dell's advertised 117% coverage of CIE 1796 (AdobeRGB), which is awesome to see confirmed above.
Color Uniformity
Now for color consistency, we take our best calibration profile from the very center at 200 nits and test color accuracy at 9 different places around the LCD display in an evenly distributed grid. We've shown before that calibration is actually very localized across the display, partly due to the brightness not being uniform, partly due to the discrete nature of the LCD panel itself.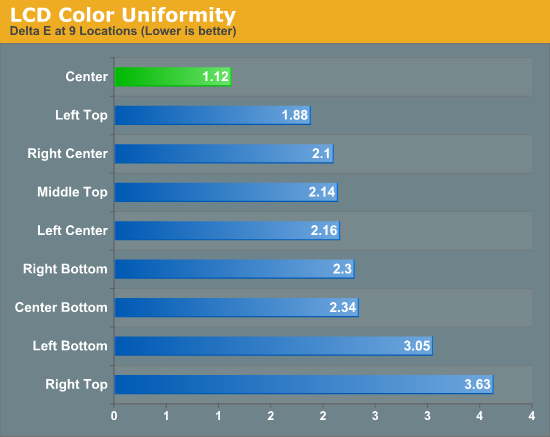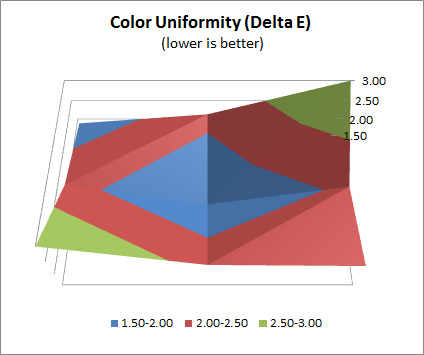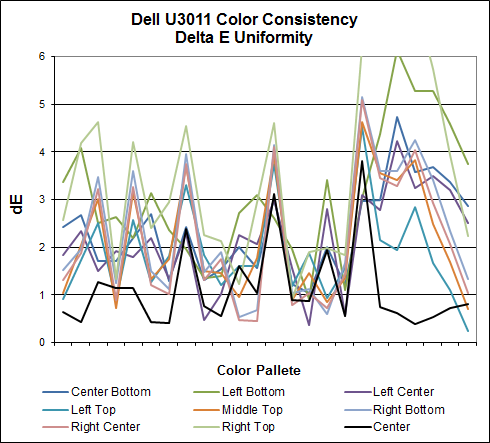 It's a bit surprising, but Delta-E actually creeps up somewhat high at the edges of the U3011. When you consider the sheer size of the display, it makes sense, but this is the highest I believe we've seen yet for change in Delta-E away from the center where we made our calibration profile.
Brightness and Contrast
For brightness we display white and black levels at maximum and minimum brightness as allowed by the OSD, and divide the two to get contrast. We use the same colorimeter described earlier. In this case, an Xrite i1D2 with ColorEyes Display Pro. For the U3011, dynamic contrast is turned off, contrast is set to maximum on the OSD, and the brightness control is varied across its possible dynamic range.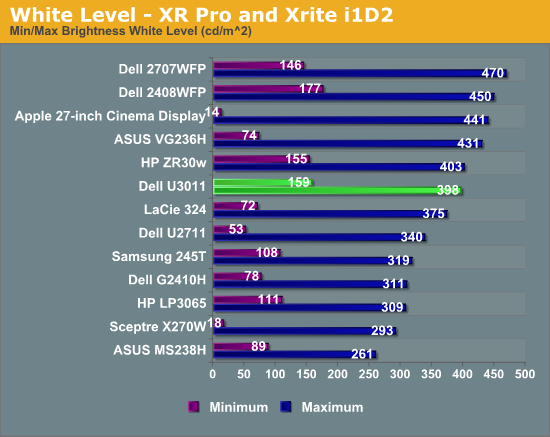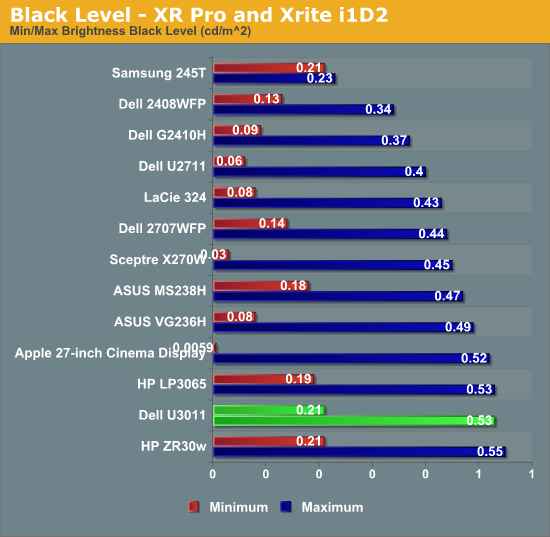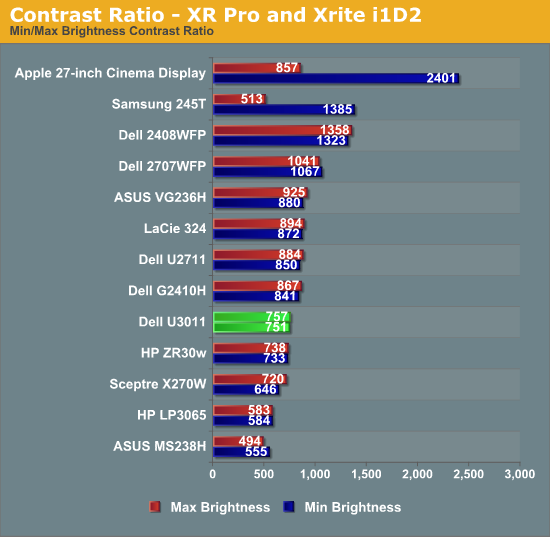 The brightness dynamic range on the U3011 isn't really amazing. In fact, it was a challenge to get the display to 100 nits for calibration (it required changing contrast and carefully balancing brightness and contrast controls on the OSD). One look at the contrast ratio plot however, and it's obvious what Dell did here - sacrifice dynamic range control for luminance but in so doing keep contrast extremely stable across that range of brightnesses. It's a tradeoff which actually makes a lot of sense, even if it isn't readily apparent when you're playing with the display, especially because the contrast OSD control visually makes a much larger difference than brightness which actually controls the CCFL power. I took a lot more data, but between max brightness and min brightness, contrast is pretty steady at around 750.
It's a bit unfortunate that the IPS in the U3011 isn't a bit more contrasty, especially when advertised is around 1000:1 with dynamic contrast off. Still, not bad.
Brightness Uniformity
For brightness uniformity, we test at the same 9 points we measure Delta-E on, but this time measure white and black levels when the center point is as close to 200 nits as we can get. We use the same colorimeter and software as before, - an Xrite i1D2 and ColorEyes Display Pro. Similar to the ordinary brightness test (taken at the center), contrast is set to 100 in the OSD and brightness is set to as close to 200 as possible in the center before measurements are taken.
White Uniformity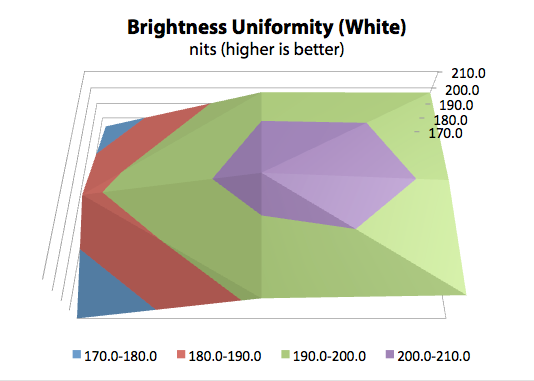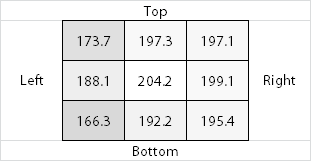 Black Uniformity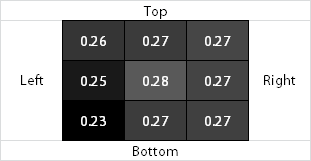 In both of these, there's a very obvious horizontal brightness dependence. The display is just a bit brighter at the far right than the far left, which also nicely explains why the top right and bottom left (extremes of brightness) also seem to have the highest Delta-Delta-E (as shown on the color uniformity page). The brightness irregularity measured here isn't readily visible, in fact in the dark it subjectively looks the other way around (or at least how my camera captured it). I measured both twice and got similar results.
Input Lag Testing
Processing and display lag is a very important thing for gamers, and it's most often nebulously reported if at all. We've discussed this in previous display reviews, but what matters most is how the display acts in real world testing. I've been doing previous tests by comparing LCDs with first a 17" Princeton CRT, then a Sony G520 20" CRT. So far the results have been a bit interesting, with the CRTs edging a pretty consistent - if small - lead over LCDs.
I measured the Dell U3011 the same way we've done it for a number of displays now, by snapping many photos of the same wings of fury 3DMark 2003 demo mirrored on the CRT and LCD. Average a ton of results from those images, and we get a feel for what input latency works out to.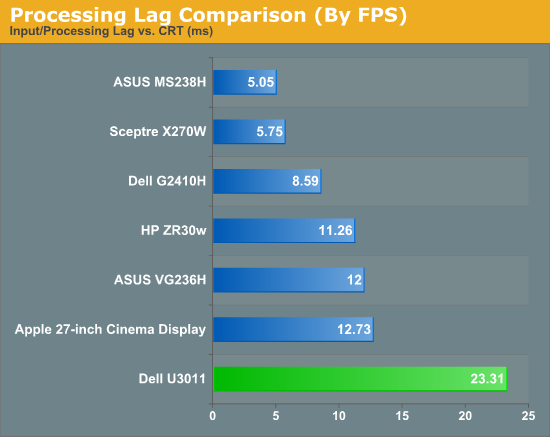 I ran this test twice as well because the results somewhat surprised me - 23 ms is a pretty substantial amount of input lag. This was being driven over DVI-D from a NVIDIA GTX 470, as a reminder. I played a lot of games on the U3011 (well, as many as I could in-between smarphones, CES, and other work), and never noticed input feeling laggy or just plain off. Over HDMI I tested Halo Reach from an Xbox 360, on the PC lots of BFBC2 and DOD:S. It's a personal taste thing, honestly I still can't subjectively feel the input lag, even if it is there.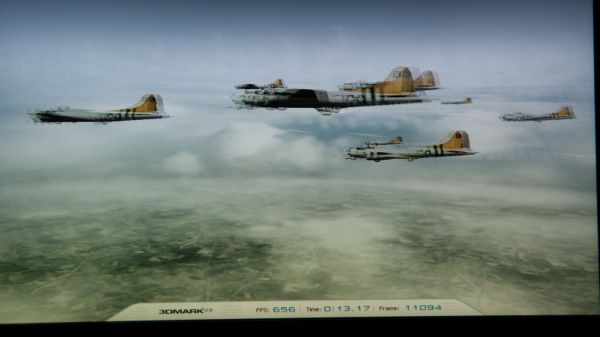 Like i'm used to seeing, there's one frame of lag which shows up when taking photos of the U3011. The ZR30w lacks a scaler and OSD, and has around half the input lag. Maybe there's something to be said for HP's choice there.
Power Consumption
The 30-inch category of displays have always been power hungry, and the U3011 is no exception. Laws of physics still apply here, and when it comes down to it, there's just a lot of area to fill with photons. The U3011 specifications note that power use of 250 watts is maximum, 110 is typical, and standby is around 1 watt.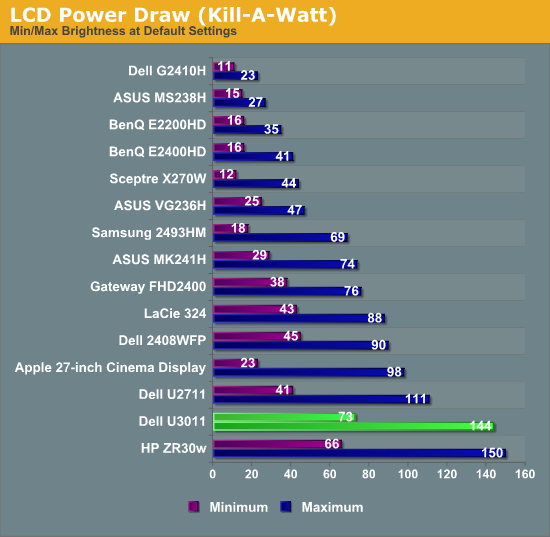 At maximum brightness, the U3011 draws 144 watts. At minimum, 73. That's just slightly below the ZR30w, but not really enough to make it notably better or worse.
We don't measure it directly, but subjectively the U3011 feels surprisingly cool. There isn't a ton of heat which seems to come out the top grilles, nor a ton of heat coming out the front (unlike my BenQ FP241w monitor array which seems to noticeably warm my face).
Conclusions and Final Thoughts
The U3011 is an all around good performer, though I find myself wishing that contrast and Delta-E were just a bit better so it was an unequivocal winner in all the right areas. That said, it does have a number of advantages over the HP ZR30w, namely an OSD, a wealth of input options, and audio pass through. Where the HP ZR30w bests the U3011 is with its excellent display arm which feels subjectively sturdier and beefier, and its slightly better color performance and input latency. Heck, maybe there's something to be said for not having that display controller SoC.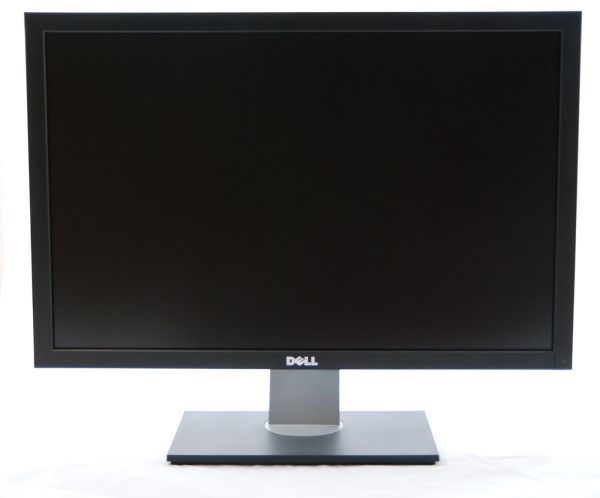 If accessory inputs like an extra DVI and HDMI port are what matters (not to mention the option of having 5.1 audio out), the U3011 is the better choice. As an all around desktop display, the ZR30w edges out in my mind purely because of the slightly better display performance and build quality - it feels solid and just seems to have a much beefier display arm. It's a tossup that ultimately comes down to what features are really most important, and price. Right now, even price is a tossup, as the two are priced within $10 of each other on Amazon. Personally, having HDMI with audio pass through and all the scaling options makes the U3011 the better pick, but again that's just my take. Now the question is: who will be first to market with a 120 Hz 30-incher?