Original Link: http://www.anandtech.com/show/4050/a-busy-day-for-android-nexus-s-and-gingerbread-23-officially-announced


What's new in Android 2.3
As expected, today Google announced Android 2.3 Gingerbread and the Nexus S. Android 2.3 is the latest iteration of Google's popular smartphone platform, and includes a number of immediately apparent graphical changes to the Android 2.2 UI, and a host of under the hood features for developers. Alongside the Android 2.3 announcement came official confirmation of the Nexus S, which appears to be architecturally very similar to the Samsung Galaxy S line of devices, with the notable inclusion of near field communication (NFC) hardware, a curved display, and a front facing camera.
First up are new user features in Android 2.3, which there are a number of. Most notable among those are a host of UI changes which google claims are aimed at improving both speed, look, feel, and simplicity. The grey shade and notification bar is now solid black, and menu options appear to be either white or green on black. No doubt, this is done intentionally to help Android 2.3 finally leverage power savings of black (off) pixels on devices with AMOLED displays. There are additional changes in the settings application to make navigation easier, though it isn't immediately obvious what those changes are. Gingerbread's UI brings GPU accelerated animations onboard and will likely provide some speedup to the interface which even with 2.2 was occasionally jittery even on the fastest hardware.
Gingerbread also brings a multitouch virtual keyboard with repositioned and reshaped keys for better targeting at high speeds. Multi-touch support on Gingerbread enables input such as shift+<letter> and ?123+<symbol>, long-press to select accented characters (which sounds almost identical to iOS's implementation) and of course just general accuracy improvement. Though most of the commercial platforms bundle Swype or a multitouch keyboard rolled by the device OEM (such as the Droid X and Droid 2), it's nice to see stock Android finally getting a better keyboard.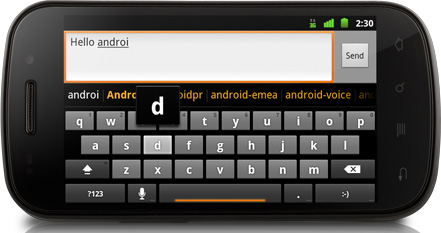 Along those lines also is improved word selection and one-touch copy-paste support. Press-holding on a word selects for copy and paste, and also enables free-selection mode which brings up handles for selecting much more text, which looks very similar to iOS' copy paste implementation. No trackball or cursor is needed in either selection or cursor mode, which is nice for devices (like the Droid X) which lack a trackball.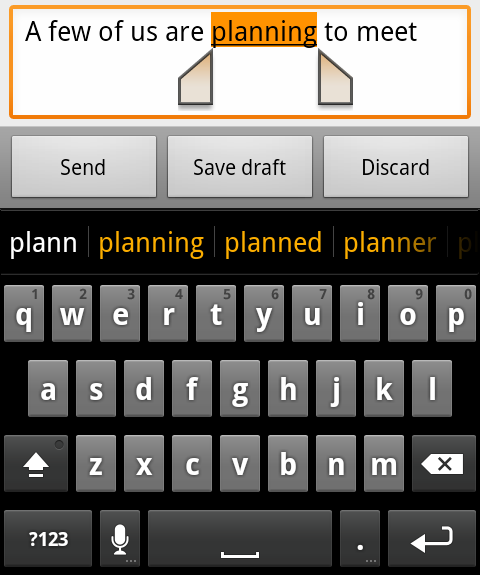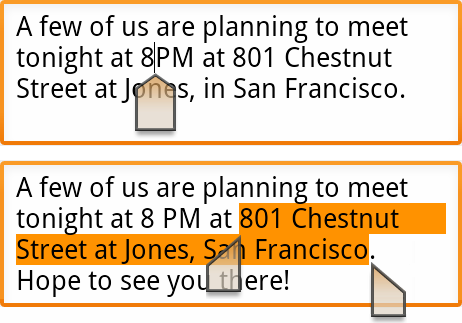 There are also improvements to power management and applications control. It's noted that the system now has the power to manage applications - even closing them if necessary - to ensure maximum battery life. From the screenshots provided, it appears that Gingerbread now provides a graph of charge and elapsed power-on time, as shown above. Note how directly below the graph is a timeline of screen-on events (shown with blue) and charge events (shown with a green highlight). It's nice to see users being given some more direct feedback to manage power consumption. Notably, this UI appears very similar to System Panel, an application I have running on all the Android devices that I come across.
There's now a link to the manage applications setting window from the options menu on the home screen. No doubt Google views applications manager as the built in task manager for Android (which it basically has been since day one) and wants people to use these tools to manage active applications and see memory footprint instead of third party task managers.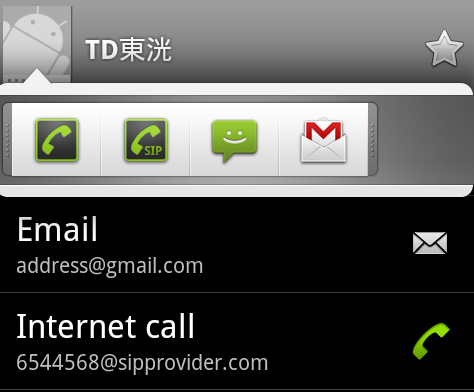 Gingerbread also adds SIP support for VoIP and internet based calling. Like other SIP supported devices, you need a SIP account and provider of your own, but that's nothing new if you're coming from a SIP-friendly platform.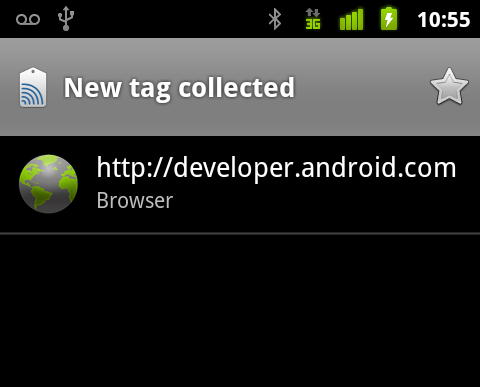 The big thing Google has added support for is near-field communication (NFC) which enables the device to read information from smart tags and stickers. I'm left thinking that NFC is designed to augment and replace QR codes in the long term. NFC in general has a maximum bit rate of around 424 kbps/s and range of under 0.2 meters, though it's unclear what real-world performance and range will be for NFC tags and readers in smartphones. Expect to see a wave of NFC-enabled devices from RIM, Nokia, and even Apple.
Developer Features
Gingerbread brings a number of developer features and API changes, most notably, improvements to the Dalvik VM garbage collector and event distributor. Google promises smoother gaming with fewer application pauses as a result of the concurrent garbage collection in Gingerbread, and hopefully some of Android's occasional UI stutters will be fixed as a result - the target is to have sub 3ms pauses while Dalvik garbage collects. There are also updated video drivers which improve OpenGL ES performance for faster 3D graphics, but it's unclear which GPUs will get updated drivers. Gingerbread also brings along a Linux kernel update, from 2.6.32 on Android 2.2.1 to 2.6.35 in Gingerbread 2.3.
Gingerbread adds Khronos OpenSL ES sound APi support, and Khronos EGL support for better OpenGL ES texture, surface, and context support. The other changes for developers include better APIs for native input from sensors and adds support for a few more: gyroscope, rotation vector, linear acceleration, gravity, and even barometer sensors are supported. I'd definitely like to see a smartphone with a barometric sensor, given how inaccurate even WAAS-supported GPS is at reporting altitude properly.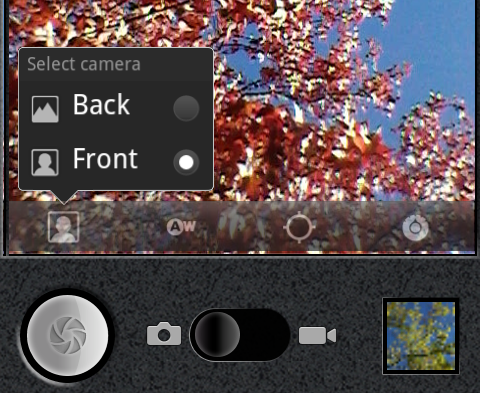 The camera API also has been updated to allow for better support for devices with multiple cameras, most notably devices with a front-facing camera.
Finally Google has added VP8 video compression support and WebM container support, Google's own compression standards. There's also new AAC encoding and AMR Wideband encoding for audio capture.
Nexus S
Alongside the Gingerbread software update news came announcement of a new Google-branded device we've already seen a of photos and sneak peaks of, including from Eric Schmidt himself - the Nexus S.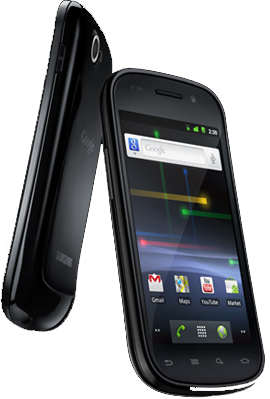 Unlike the Nexus One, Google will not be selling the Nexus S directly, but rather unlocked through Best Buy stores in the US and at Carphone Warehouse in the UK. US availability will start December 16th, and December 20th for the UK. Pricing will start at $529 unlocked and $199 on two-year contract with T-Mobile. The Nexus S has tri-band HSPA support for 900, 2100, and 1700 MHz bands, which means it has 3G support for T-Mobile in the US - AT&T users will see EDGE.
Nexus S - Network Support
Tri-Band HSPA
900 / 1700 / 2100 MHz
Quad-Band GSM/EDGE
850 / 900 / 1800 / 1900 MHz
HSDPA/HSUPA
7.2Mbps / 5.76Mbps
The Nexus S is speced similar to the Samsung Galaxy S line of devices - there's a 1 GHz Hummingbird SoC with Imagination SGX540 graphics, 16 GB NAND, 512 MB RAM, 802.11b/g/n, 4" Super AMOLED display, and the usual sensors.
Physical Comparison
Apple iPhone 4
Motorola Droid 2
Samsung Galaxy S Fascinate
Samsung Focus
Google Nexus S
Height
115.2 mm (4.5")
116.3 mm (4.6")
125 mm (4.92")
122.9 mm (4.84")
123.9 mm (4.88")
Width
58.6 mm (2.31")
60.5 mm (2.4")
64.2 mm (2.53")
65 mm (2.56")
63.0 mm (2.48")
Depth
9.3 mm ( 0.37")
13.7 mm (0.54")
9.91 mm (0.39")
9.9 mm (0.39")
10.88 mm (0.43")
Weight
137 g (4.8 oz)
169 g (5.9 oz)
117 grams (4.16 oz)
119 grams (4.2 oz)
129 grams (4.6 oz)
CPU
Apple A4 @ ~800MHz
Texas Instruments OMAP 3630 @ 1 GHz
1 GHz Samsung Hummingbird
1 GHz Qualcomm QSD8250
1 GHz Samsung Hummingbird
GPU
PowerVR SGX 535
PowerVR SGX 530
PowerVR SGX 540
Adreno 200
PowerVR SGX 540
RAM
512MB LPDDR1 (?)
512 MB LPDDR1
512 MB LPDDR1
512 MB LPDDR1 (?)
512 MB LPDDR1
NAND
16GB or 32GB integrated
8 GB integrated, preinstalled 8 GB microSD
2 GB, 16 GB microSD (Class 2)
16 GB integrated
16 GB Integrated
Camera
5MP with LED Flash + Front Facing Camera
5 MP with dual LED flash and autofocus
5 MP with auto focus and LED flash
5 MP with autofocus, LED flash, 720P video recording
5 MP with Autofocus, LED Flash, VGA front facing, 720P Video
Screen
3.5" 640 x 960 LED backlit LCD
3.7" 854 x 480
4" Super AMOLED 800 x 480
AMOLED 800 x 480 4"
4" Super AMOLED 800 x 480
Where the Nexus S differs is the inclusion of a front facing VGA camera in addition to back 5 MP camera, LED Flash, three-axis gyroscope, inclusion of Bluetooth 2.1+EDR (instead of Bluetooth 3.0 as with Galaxy S), and new hardware onboard for NFC support. It's possible the NFC hardware is integrated into the Bluetooth chipset which would explain the discrepancy, but it's too early to tell.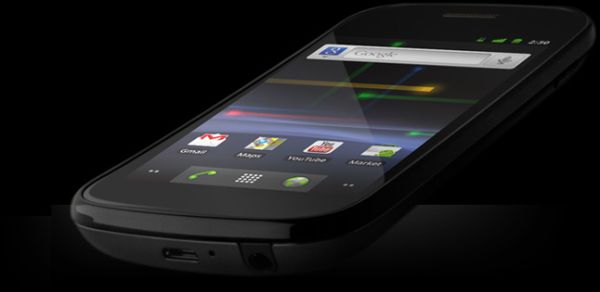 The Nexus S packs 16 GB of NAND onboard, a large portion of which is partitioned for storage, emulating a microSD card. Gingerbread brings official platform support for devices that lack external storage, instead allowing for internal NAND to be partitioned to emulate a virtual SD card. That appears to be what is done on the Nexus S - there's no microSD card - but this also has the potential to result in applications loaded to the virtual SD card feeling much snappier than they would be loaded on most microSD cards. I've noticed that even on my Nexus One with a fast class 6 card that applications seem to behave slower on external storage.

What's notable about the Nexus S display is that it is slightly curved. Whereas the Dell Venue Pro has a noticeable convex display in the horizontal dimension, the Nexus S has a subtle but perceptible vertical concave curve. I'm reminded of the Palm Pre's "ergonomic curve" with the Nexus S. In addition, Google notes that the Nexus S definitely has an anti-fingerprint coating.
Of course, the Nexus S ships with Gingerbread installed by default, and takes the Nexus One's place as the reference device for the Android platform. As usual, expect a full review after we get ours.