Original Link: http://www.anandtech.com/show/4049/hp-elitebook-8740w-ips-on-the-go


Introducing the HP EliteBook 8740w
Sometimes mainstream line-ups from notebook manufacturers just don't cut it. Thus far, Dell seems to be the only vendor interested in offering quality screens in their laptops, and you'll pay for the privilege. But there's another, admittedly more expensive market out there for those of us with the desire to do better, those of us who are willing to pay a little extra to get a little more than the consumer-grade hardware can offer.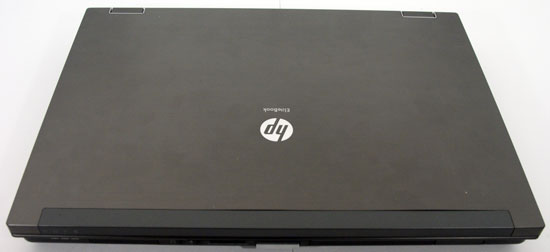 Enterprise-class notebooks bring superior...well...everything. With the higher price comes higher build quality, better components, sometimes better specs, workstation-class graphics (beneficial to AutoCAD, Maya, and Premiere CS5 users among others) on the go, and oftentimes that unicorn that we chase around here all too often: a better screen.
HP's EliteBook 8740w offers just such a screen: a 1920x1200 (instead of 1080p) IPS panel based screen dubbed the "HP DreamColor." It's a pricey upgrade, ringing in at $550, but it may be one of the best screens we've ever tested. So what about the rest of the notebook?
HP EliteBook 8740w Specifications
Processor
Intel Core i7-820QM
(4x1.73GHz + HTT, 45nm, 8MB L3, Turbo to 3.06GHz, 45W)
Chipset
Intel QM57
Memory
4x4GB DDR3-1333 (Max 4x8GB)
Graphics
NVIDIA Quadro 5000M 2GB GDDR5
(320 Shaders, 405 MHz core clock, 810 MHz shader clock, 2400 MHz effective memory clock)
Display
17" LED Matte 16:10 1920x1200 IPS HP DreamColor
(LG LGD0270 Panel)
Hard Drive(s)
500GB 7200 RPM
(Western Digital Scorpio Black)
Optical Drive
DVD+/-RW Drive with LightScribe
Networking
Intel 82577LM Gigabit Networking
Intel Centrino Ultimate-N 6300
56K Modem
Bluetooth 2.1+EDR
Audio
IDT 92HD75B3X5 HD Audio
Stereo speakers, headphone and microphone jacks
Battery
8-Cell, 14.4V, 73Wh battery
Front Side
Speakers
Headphone jack
Microphone jack
4-in-1 Flash reader
Left Side
Kensington lock
Exhaust vent
AC adapter
DisplayPort
D-SUB
USB 2.0
4-pin FireWire
ExpressCard/54
Right Side
eSATA
2x USB 3.0
USB 2.0
Optical drive
Ethernet jack
Modem jack
Back Side
Exhaust vent
Operating System
Windows 7 Professional 64-bit
Dimensions
15.6" x 11.2" x 1.4" (WxDxH)
Weight
7.8 lbs
Extras
2MP Webcam
Backlit keyboard with dedicated 10-key
Flash reader (MMC, SD/Mini SD, MS/Duo/Pro/Pro Duo, xD)
Fingerprint reader
Ambient light sensor
Dual drive bays
WWAN capable
Smart card reader
Docking port
Warranty
1-year standard warranty
Pricing
Starting at $1,999
Priced as configured: $6,527
With 18% CTO8740W Code: $5,352
Holy cow, check out that pricetag, and we haven't even maxed this baby out! Before getting into the nitty gritty, we'll get past the sticker shock: the three egregious offenders are the DreamColor display (a $550 upgrade), the NVIDIA Quadro 5000M (a staggering $1,425 upgrade), and the 16GB of memory, up from a stock 2GB (add another $1,100 on to the pricetag). HP wasn't screwing around when they sent us this notebook; it comes perilously close to being their best and brightest. But hey, if you need 32GB courtesy of four 8GB SO-DIMMs, HP has that as well... and it will more than double the above price! Also note that HP currently has an 18% discount code running on their CTO (Configure To Order) 8740w; such codes come and go on a regular basis, but like many OEMs HP frequently has such discounts.
For the rest, starting from the top we have one of our usual suspects, the Intel Core i7-820QM. The 820QM is a quad core, eight-thread processor that sports a nominal 1.73GHz clock speed capable of ramping up to 3.06GHz on a single core and 2.8GHz on two cores. Attached is Intel's cream-of-the-mobile-crop QM57 mobile chipset and a frankly gross 16GB of DDR3-1333. That mobile chipset is linked to two 2.5" drive bays able to support dual hard drives (or a single mechanical storage drive and an SSD). The lack of any SSDs is the only area where HP didn't go for broke with our test system, which of course will hurt in some of the HDD intensive benchmarks.
From there, we have the other big spender, the NVIDIA Quadro 5000M workstation-class GPU. The 5000M is NVIDIA's top of the line, but let's see if any of these specifications sound familiar: 320 shader processors (aka "CUDA cores") attached to a 256-bit memory interface connected to 2GB of GDDR5. Core clock speed of 405MHz and corresponding shader clock of 810MHz, with 2.4GHz effective on the memory. The kids playing along at home are going to note that this is an ever-so-slightly slower GeForce GTX 480M, using the same silicon with a paltry 15MHz deficit on the core (and corresponding 30MHz deficit on the shaders.) Of course, being a Quadro it does bring all of the secret sauce that NVIDIA packages with its workstation class cards, but the silicon remains essentially the same 100-watt GeForce GTX 465 crammed into a mobile chassis.
The rest of the notebook is pretty compelling. Ignoring the IPS-panel screen (which we'll examine in more detail later on), HP has opted to outfit the EliteBook 8740w with all the modern connectivity you could ask for. If there was one complaint I have here, it's the lack of a DVI or HDMI port, though a DisplayPort-to-DVI adapter could probably just as soon rectify that issue. On a notebook this modern, the VGA port almost seems out of place, though we understand enterprise customers are likely to have VGA-only projectors still hanging around.
Enterprise Class and the Death of Gloss
If there's one thing we can be thankful for when dealing with an enterprise class notebook, it's that not an ounce of glossy plastic can be found anywhere on the chassis. Workstations tend to be a bit more austere, though the HP EliteBook 8740w at least seems to add a little more style than most.
What you'll notice first is the brushed aluminum used on the lid and the inside of the body, framing the plastic keyboard. The screen bezel is thankfully matte black, with the webcam in its usual position above the screen and an ambient light sensor below. If there's one complaint I have, it's the use of a touch-based control/shortcut bar just above the keyboard. I've never been a fan of touch-control and don't understand why it's become so popular when tactile feedback just feels better.
As for the keyboard itself, the layout is comfortable and logical, but it's another case of a possibly inappropriate style creeping into an enterprise notebook. The raised key surfaces aren't uncomfortable, but these are the same keys that HP uses on consumer desktop keyboards, and they seem out of place here compared to the function-before-form keyboard layouts of competing Lenovo or Dell notebooks. There's even light flex in the center of the keyboard, although the backlighting is very welcome. In the grand scheme the keyboard is a minor complaint not likely to aggravate too many users, but it does seem out of place.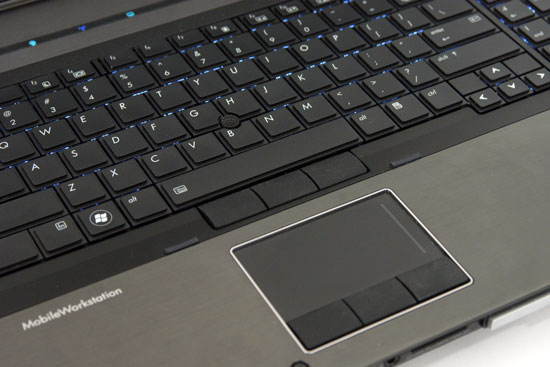 HP also includes both a trackpoint and touchpad, and both of these function well and are comfortable to use. I've heard people complain that HP's trackpoint is a distant second to Lenovo's, but the one in the 8740w doesn't seem appreciably better or worse than the one I've been using in my own ThinkPad. A particularly nice feature is the integration of a middle mouse button for both; it may not be the most attractive thing in the world, but it's useful and doesn't really detract at all.
From there the rest of the notebook seems to be built like a tank, just as one would hope. During a conference call with HP they were quick to point out that the notebook had been reliability tested to the 810G military standard, subjecting it to a three foot drop along with dust and humidity. I can believe it's that reliable. Screen flex is minimal, and apart from the keyboard the rest of the unit feels like it could be used as a murder weapon. The lid even has a mechanical latch to hold the notebook closed.
Overall, though, we can appreciate HP's willingness to try and inject style into a notebook market that tends to be staggeringly spartan. The gunmetal coloring is attractive without making the 8740w appear gaudy, and though the surfaces of the keys of the keyboard seem a little inappropriate, they're not deal-breakers. At least HP is trying.
Before we get into the performance metrics, it does bear mentioning that the 8740w brings a lot of workstation-class support to the table. HP's Power Assistant software offers fine-grained control over the system and can even estimate power consumption and savings depending on which power mode you're running. Also included is HP QuickWeb, the usual instant-on feature that lets you browse the internet without booting into Windows, but most interesting is HP Quicklook 3. Quicklook 3 is integrated into Outlook, and lets you access your mail and information in Outlook without ever booting into Windows. We can see this as being a fairly useful feature, although probably more useful in a notebook that doesn't weigh eight pounds.
Application and Workstation Performance
Our review HP EliteBook 8740w leverages an Intel Core i7-820QM processor and a nigh obscene 16GB of DDR3, but keeps the storage conservative with the Western Digital Scorpio Black. In what may seem like an unfair fight, we've also included scores from some of our desktop review units to give you a feel for the kind of trade-off you're making in spending up for the mobile form factor.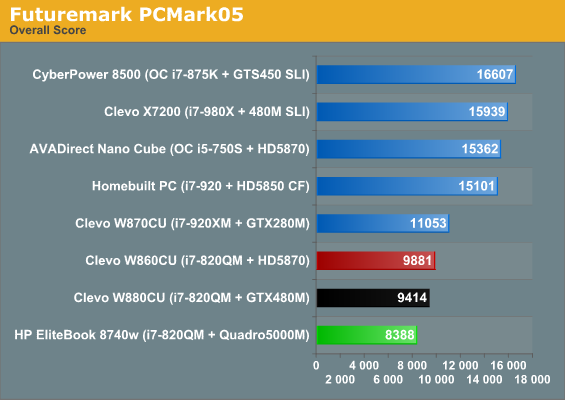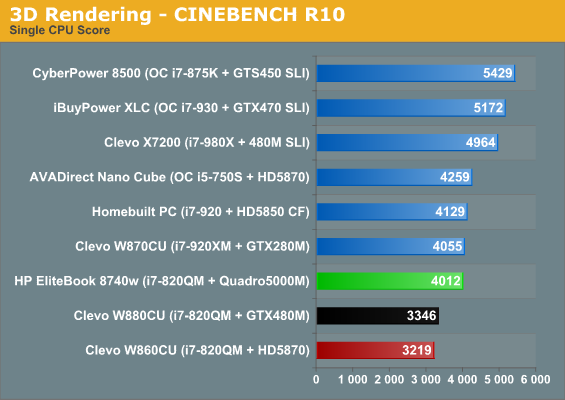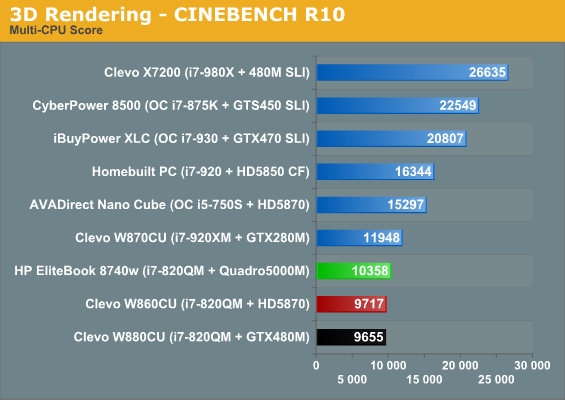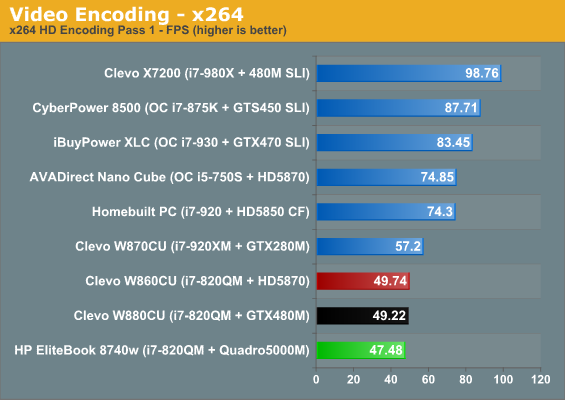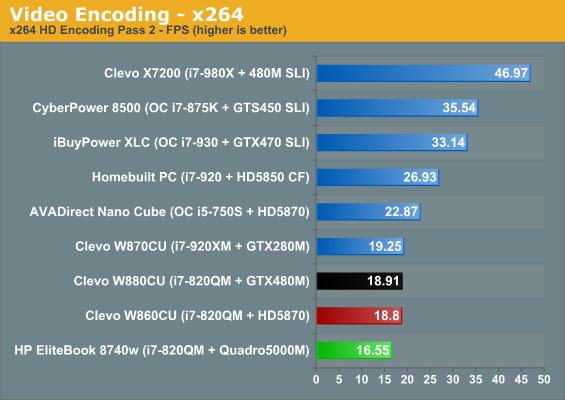 What we find is a bit troubling: the 8740w seems to come in consistently behind in every test but Cinebench. That said, AVADirect is fond of sending us Clevo units equipped with SSDs, and we think there's a good chance that's what's making up the difference here: the Scorpio Black mechanical drive in the EliteBook just can't pick up the slack. With all that said, these numbers aren't bad by any stretch of the imagination and are still miles ahead of competing consumer notebooks.
Since this is a workstation and bred for workstation-based tasks, we also did a quick run with SPECviewperf 11.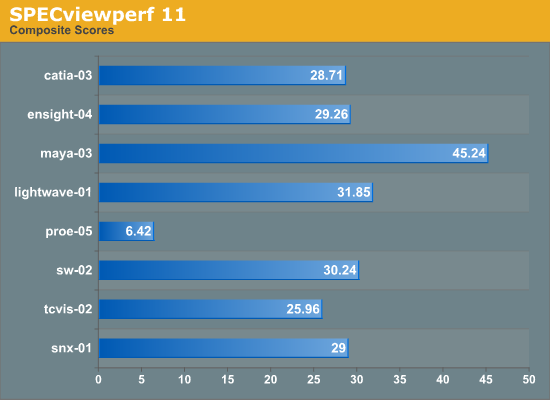 A visit to the results page of SPEC's site reveals a healthy lead over the previous generation mobile workstation parts but still a far cry from desktop workstation kit.
Futuremark and Gaming
Since NVIDIA's Quadro 5000M is the fastest mobile workstation GPU they offer, we figured it would be only fair to put it through its paces in our "High" and "Ultra" presets. Again it's going to face off against some of the desktop systems we've tested to give you some idea of the performance difference, but it's also important to remember that this chip is tuned for OpenGL and workstation-class workloads, not gaming.
We'll start with Futuremark, just to get it out of the way.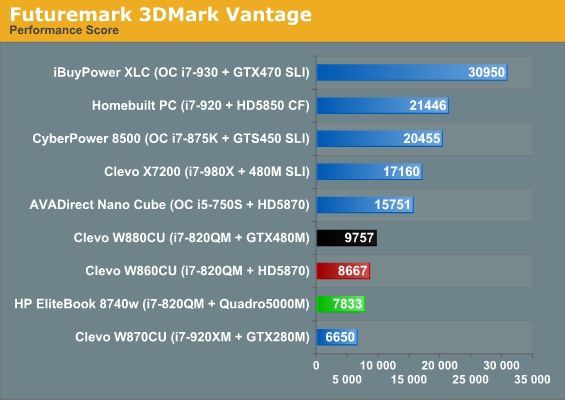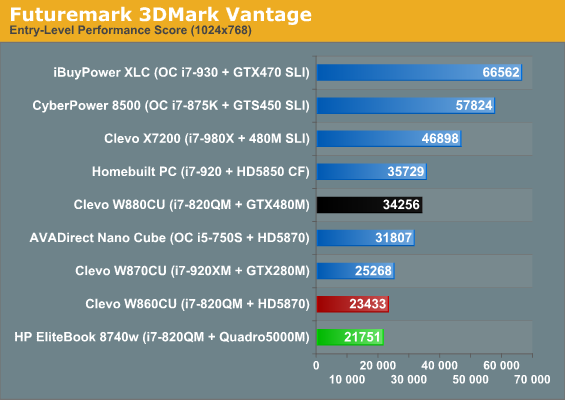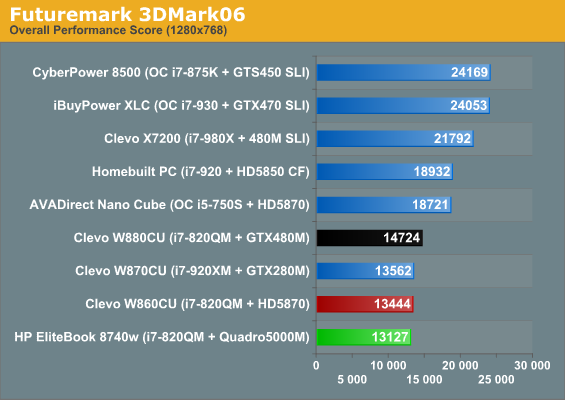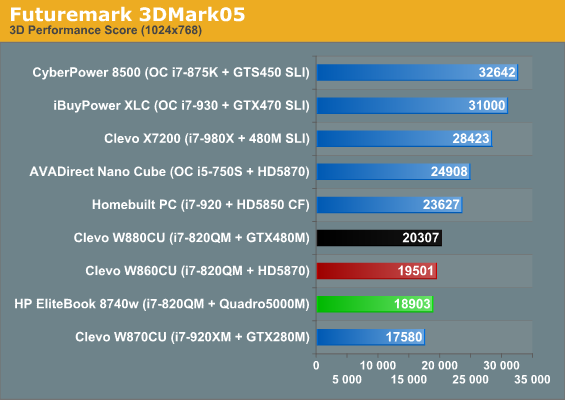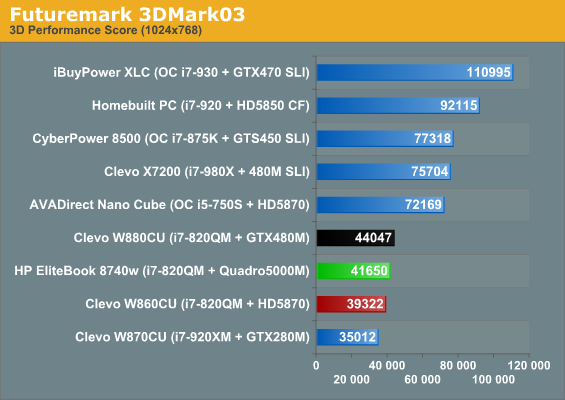 Futuremark performance isn't too impressive, with the GTX 480M posting a comfortable lead over its OpenGL-optimized sibling. Let's see what happens when we move to gaming in our "High" preset, though.
At this point it's worth mentioning that though the EliteBook's screen runs at a (very attractive) 1920x1200 native resolution, we've stuck with our 16:9 benchmark resolutions. The performance difference between 1080p and 1920x1200 is slight, and doing so helps us keep results consistent with the other notebooks we test.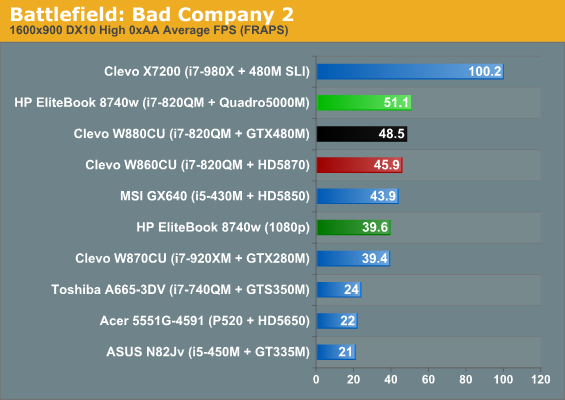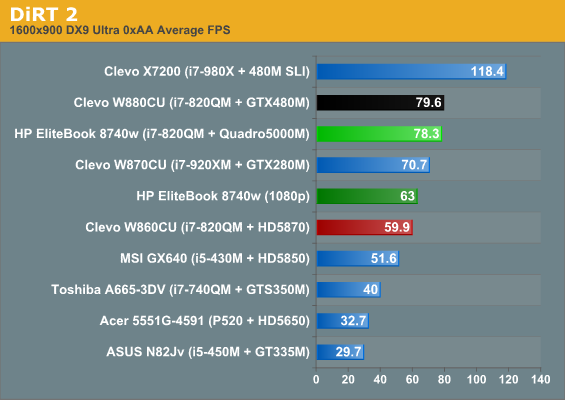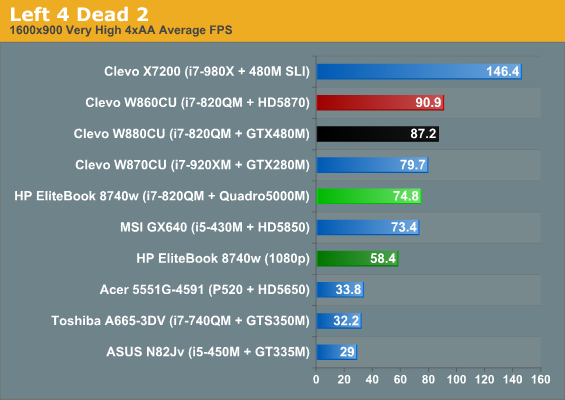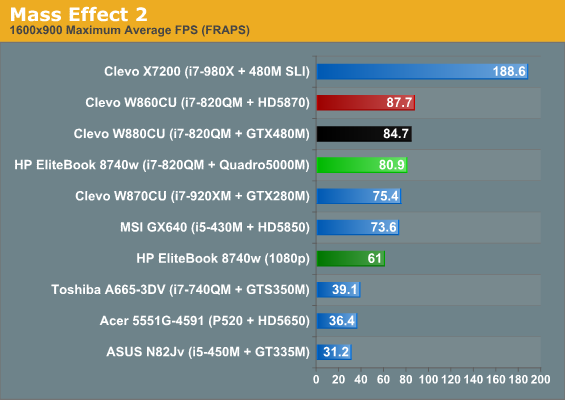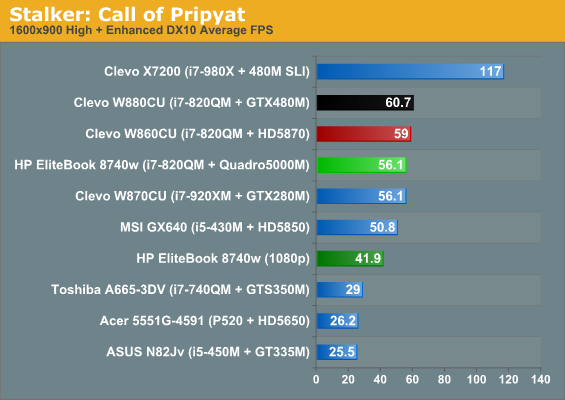 First, the great news: even at our "High" preset the 5000M in the EliteBook is able to post consistently playable numbers at 1080p with more than enough room to breathe. It trades blows with both the GeForce GTX 480M and ATI's Mobility Radeon HD 5870—not too shabby. But let's see what happens when we really max things out.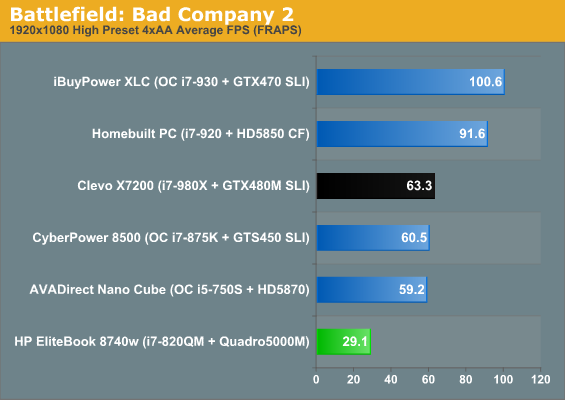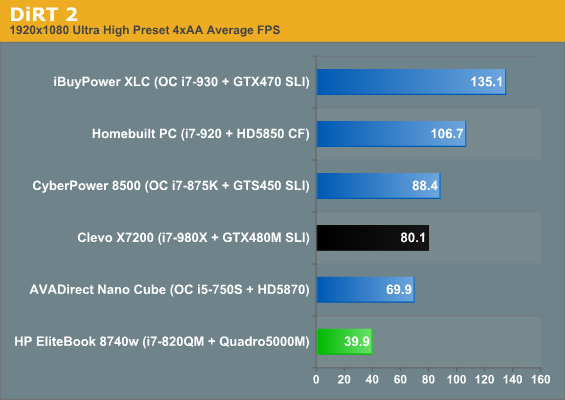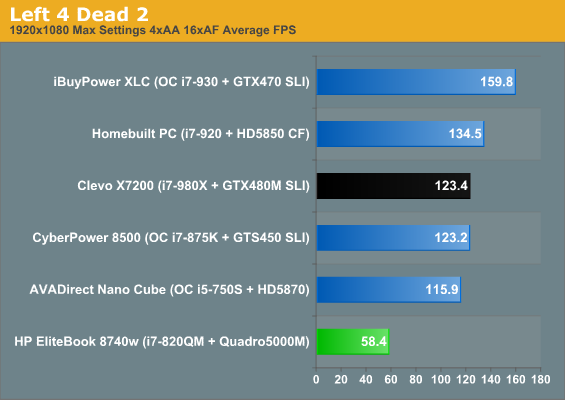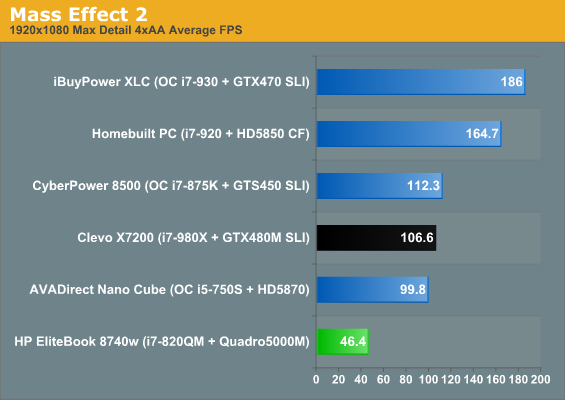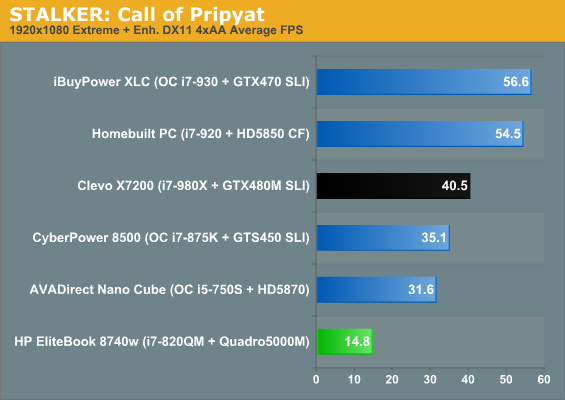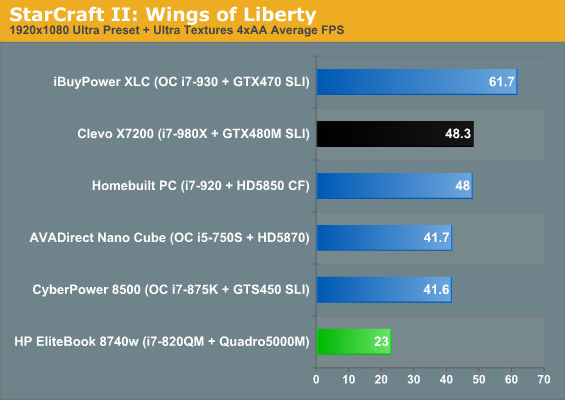 Unfortunately it's at these ultra settings that the 5000M really starts to struggle, and it's here we see the massive gulf in performance between desktop and mobile graphics. While the 5000M is still going to be able to game like a champ (when you're not working, naturally), we still can't help but wonder why NVIDIA's engineers aren't using the far more efficient GF104 chip the GeForce GTX 460 is based on for their mobile high end. AMD isn't doing itself any favors either; the Mobility Radeon HD 5870 was an incremental upgrade on last generation's mobile top end, and they now have the more efficient Barts GPU to build a halfway decent mobile graphics part out of.
The 5000M is fast, but just as we said about its consumer counterpart, the GTX 480M, it just doesn't actually make any sense to cram a horribly truncated GF100 into a laptop. Bring on GF104 or GF110 already.
Battery, Noise, and Heat
Given the monstrous specifications of a notebook like the 8740w—the 45W TDP of the Intel Core i7-820QM, the 100W TDP of the NVIDIA Quadro 5000M—it should come as no surprise that even an 8-cell battery is going to struggle a bit with producing useful running time.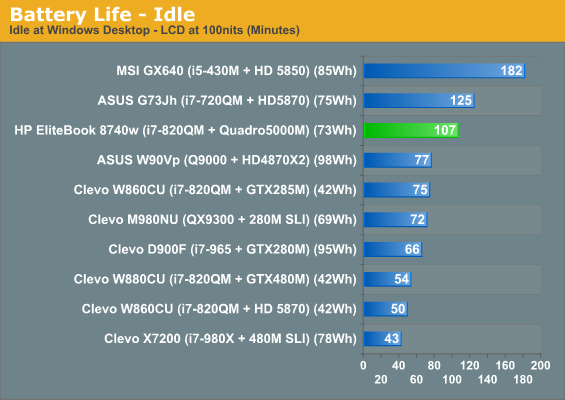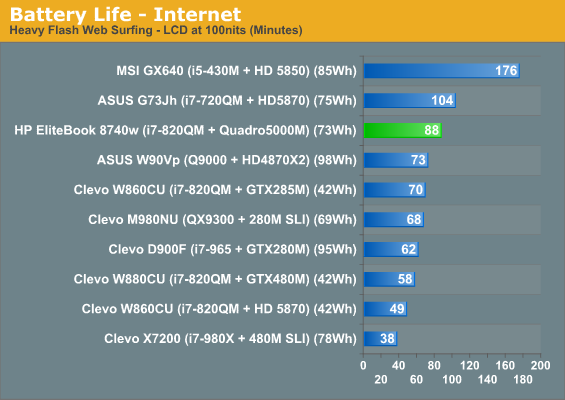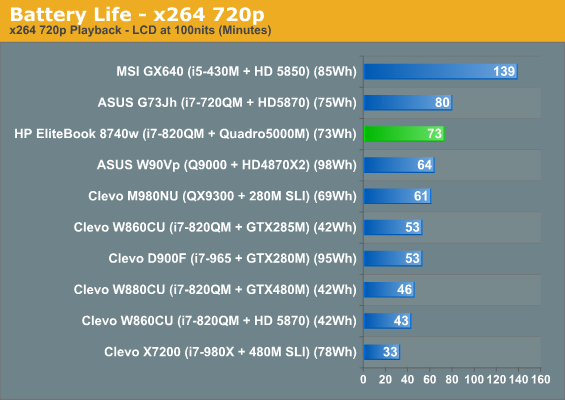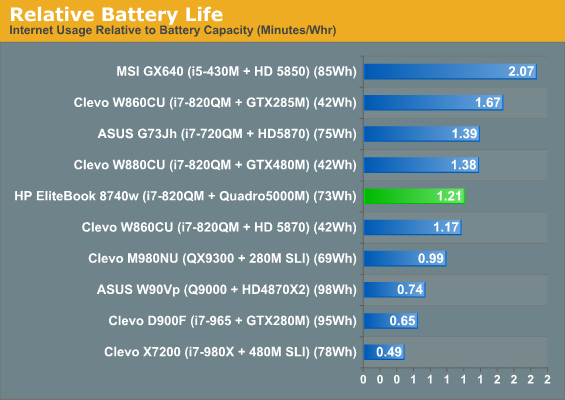 Well, Clevo and their glorified uninterruptible power supplies take their usual licks here and among these beasts the EliteBook 8740w doesn't come off too badly. You could definitely use this notebook off the mains in a pinch.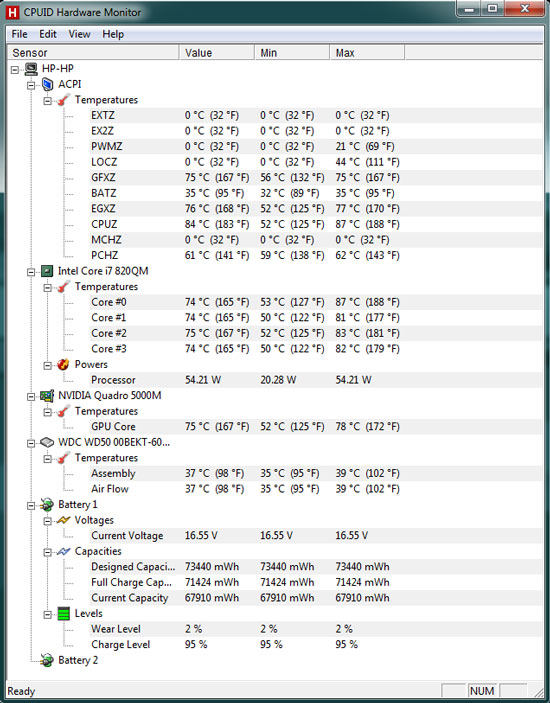 Temperatures aren't half bad either. Given the GF100 is a notorious space heater and the quad core processor certainly can't be doing the machine any favors, our load temperatures remain surprisingly mild all things considered. The cost for these solid thermals? The surface does radiate a little heat, and there's a low whooshing sound. In the grand scheme of things the EliteBook really is nowhere near as noisy as some other units we've tested. You can't expect silence with components like these, but that said the fan noise could be a heck of a lot worse.
The $550 DreamColor IPS Upgrade
And here we get to the tough part. HP touts the DreamColor matte IPS panel option in their EliteBook 8740w with good reason: it's an IPS panel in a market where anything other than a TN is exceedingly rare. The problem is that it does command a premium, and a massive one: $550 ($570 with the webcam). Dell doesn't charge anywhere near as much for their screen upgrades, so we really want to know if we're going to get what we pay for with the DreamColor.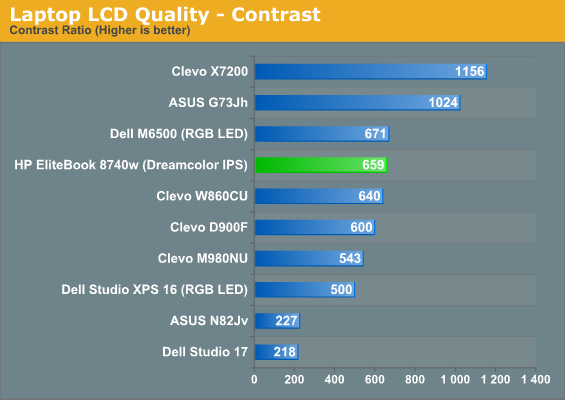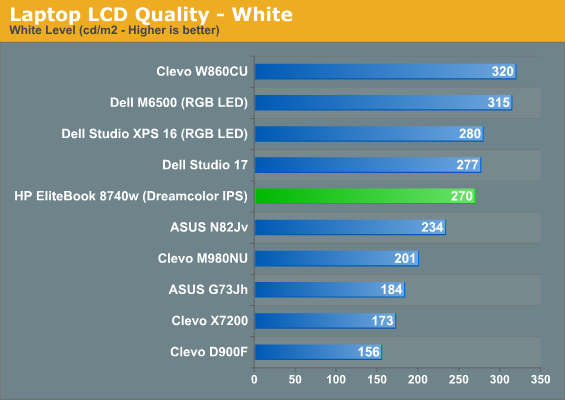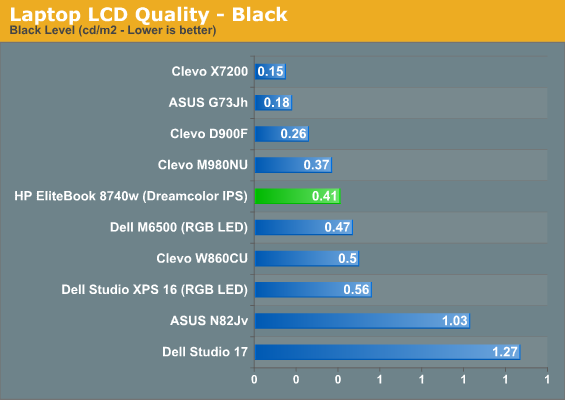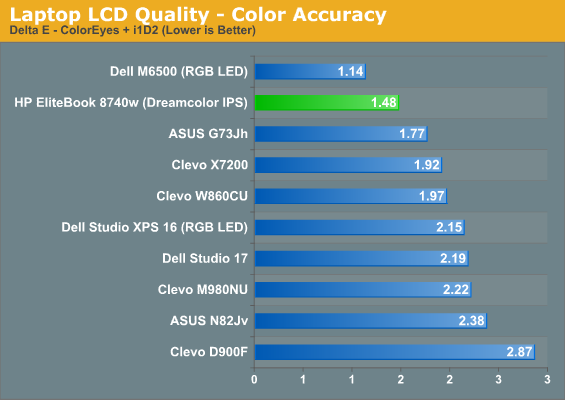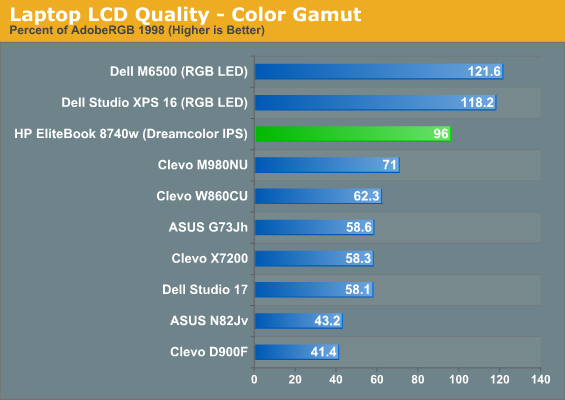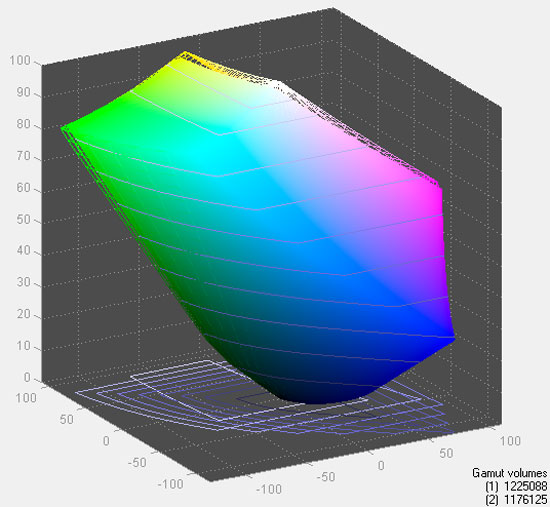 You asked for an IPS panel, and you got one. The DreamColor produces incredibly accurate color that basically covers the AdobeRGB 1998 color space. Contrast is excellent and of course you get fantastic viewing angles as well. Black and white levels are both quite nice. Overall it's a great-looking panel.
That said, it still has trouble surpassing the Dell notebooks, particularly the Precision M6500, which boasts both superior color gamut and color accuracy by our measure. It gets worse, too: that upgrade to the M6500 is about $200 cheaper...but then it's not IPS. Realistically, few people will need the higher Dell Gamut, but you're still looking at almost twice the upgrade cost to get IPS in place of TN, and we'd say the M6500 RGB LED panel is already priced quite high. $600 can get you a pretty awesome 24" desktop LCD, but a 17" laptop panel with similar characteristics still costs more.
Subjectively it must be said that while the DreamColor panel on the EliteBook 8740w is very attractive and miles away from what we're used to seeing, even after calibration colors can feel oversaturated. 100% Adobe RGB gamut is good for those that need it, but for everyone else working in sRGB color space, that's the penalty. Yes, we're used to seeing dismal, washed out color when testing notebooks, but the 8740w's colors are still too bright at times—and it must be said, the 120% gamut of the M6500 is even worse in this respect. Though our measurements don't totally bear this out, there's definitely some black crush going on as well. I use a calibrated Dell 2709WFP on my desktop, a screen most agree has some issues with oversaturation, and it seems positively mild compared to how bright the colors on the 8740w's DreamColor can be.
Make no mistake, this is a fantastic panel; however, it may not be the game-changer we were looking for, especially not when the Precision M6500 is hanging around. $300 will go from standard LCD to high color gamut WUXGA, but you're still stuck with TN panels; the additional $250 will add the viewing angles that IPS provides. As mentioned in our recent look at an old ThinkPad T42, a good laptop display can be nigh on impossible to find, and HP provides one. It just so happens that the display costs as much as (or more than) a larger 24" LCD that could sit on your office desk.
Conclusion: Nice, But Oh! That Pricetag
Let it be said that the HP EliteBook 8740w really is a fantastic piece of hardware. It's fast, extremely flexible and capable, and boasts a healthy amount of expansion and potential upgrades. You can configure it with the fastest mobile workstation graphics on the market, the fastest quad core processor, and an obscene 32GB of DDR3. The 8740w is by any measure a lot of notebook. HP has even gone to lengths to get the notebook ISV certified with Autodesk and Adobe and done a healthy amount of reliability testing.
It's also pleasing on the eyes, and I don't just mean the IPS screen. Just because something is meant for business doesn't mean it has to look as boring as humanly possible, and HP's designers understand that. The gunmetal motif and aluminum lid are attractive and understated, drawing attention to the notebook without being gaudy. It's a good-looking piece of kit you'd be happy to have sitting on your desk.
But you will pay dearly for the privilege, though. Our configuration came to us north of six bills, beating even the insane pricetag on the Clevo X7200 we reviewed. Sure, the X7200 isn't the best built of notebooks and that power supply probably isn't long for this world, but it has two GTX 480Ms in SLI, a pair of SSDs, and a thousand dollar hex-core desktop processor. (The Eurocom "workstation" equivalent on the other hand can break $6000 without adding any SSDs.) What about the Dell Precision M6500?
If the M6500 didn't exist the 8740w would border on being a slam dunk. The problem is that it does. The M6500 costs less and its only major fault is that where HP has access to the Quadro 5000M, Dell does not. That means you lose some performance in workstation applications, and if you're buying a top-shelf mobile workstation that has to be important. Outside of the GPU and LCD, Dell is willing to offer you more computer for less money. As much as we'd like to recommend the 8740w—and it really is a great mobile workstation—it's tough to do with the M6500 running around. Let's end with a quick head-to-head to sum things up.
We'll call the build quality equal, though many will say the 8740w looks better. If we start from the 8740w SmartBuy option priced at $4900, it comes with the 5000M and the IPS LCD. Note that HP charges substantially more for a configure-to-order (CTO) system—$5792—but there's an 18% discount code (CTO8740W) to bring the price down to just under $4750, saving you $150 relative to the SmartBuy system. Drop the 5000M to provide a direct counterpart to what Dell offers and you're looking at $3966 (again with the code).
Configuring a similar M6500 with the FX 3800M and the TN RGB LED comes to $3555. So looking at the best possible pricing from each company right now, using the same setup as the previously linked SmartBuy HP but with the FX 3800M (i.e. Core i7-740QM, 500GB HDD, 2x4GB RAM, WUXGA LCD, and 3800M), you're looking at a price premium of $411 for the 8740w, and you lose out on the extra hard drive bays. But again we can't discount the Quadro 5000M option or the IPS LCD.
In short, both are extremely expensive notebooks, but they're built to satisfy enterprise customers and pack in just about every high performance (and security) option you could want. If you value storage flexibility, Dell has the better package with up to three HDDs/SSDs plus an optical drive. HP answers with what is arguably the best current laptop display and aesthetics that aren't quite so dull, plus a better GPU. If all you really want is an awesome LCD, unfortunately the cheapest way to get such a display in your laptop is to spend a minimum of around $2400, and that only nets you a dual-core i5-520M, 4GB RAM, 250GB HDD, and FirePro M7820.
One other (potential!) IPS laptop option worth mentioning is the HP EliteBook 8540w CTO (with 24% discount code: CTO8540W). You can get a 1080p "DreamColor 2" display with i5-520M, Quadro 880M, 2x2GB RAM, and 250GB HDD starting at around $2150. So, in answer to Jarred's recent post about the lack of IPS laptop LCDs, HP at least provides a couple options, provided you can spend over two grand for a moderate laptop—or $3500+ for an awesome workstation.