Original Link: http://www.anandtech.com/show/4047/holiday-smartphone-buyers-guide


Since there are so many smartphones on the market, we figured that the holiday season was a great time to write our first smartphone buyer's guide. And so we continue our 2010 Holiday Buyer's Guides with the handset sector. This year was the first year that we got some real, honest competition in the smartphone sector. Google's 2.0 version of Android released late last year to great success, and versions 2.1 and 2.2 only continued that trend. Apple, always good for some drama, kept it up this year with the iPhone 4 and the ensuing Antennagate scandal. Microsoft finally made a serious play for the handheld sector with the brand new, Zune-based Windows Phone 7. Palm got bought out by HP, BlackBerry finally got a WebKit browser in BB6, and Nokia continues pair increasingly awesome hardware with Symbian on everything not called the N900. Safe to say, we had a pretty busy year in the smartphone segment.
We've split our guide into 6 segments - one for each carrier, then one for unlocked and international devices. We put in a page for tablets, since that's still an expanding market closely related to smartphones. Over the next few months, we'll see rapid growth in tablets and slate computing devices, but for now, it's not big enough to warrant more than a page. So, we'll kick it off with the carriers, starting with AT&T.
AT&T
Until recently, if you were on AT&T and wanted a smartphone, your choices were limited. In fact, basically the only choices were either a BlackBerry, iPhone, or Windows Mobile. In the span of a just a few months, however, AT&T has built out a surprisingly decent portfolio of Android, Windows Phone, and even WebOS devices, diversifying their smartphone lineup so they've got devices from every major platform in case one suddenly becomes dominant. Whatever the case, there are far more options these days than there used to be on AT&T.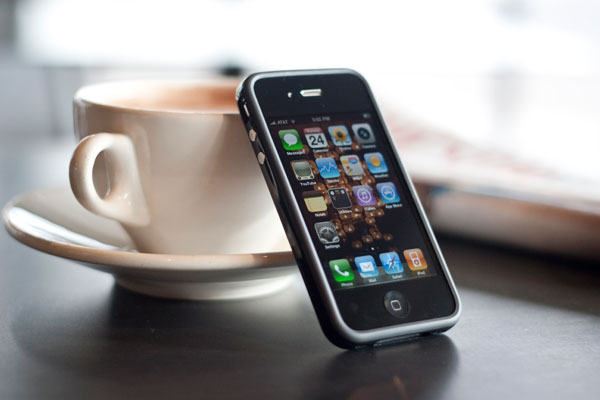 That said, it's hard to argue that the world's most polarizing device isn't still at the top of the carrier's list - the iPhone. There isn't much to say about the iPhone 4 that hasn't already been said in our review and its updates. If iOS's style and predominantly hands-off, just-works philosophy appeals to you, or you're looking to upgrade from an iPhone 2G, 3G, or 3GS, this is the obvious choice. When it comes to screen resolution and battery life - something its predecessors couldn't nail down - the iPhone 4 still remains unmatched. Even though the Cortex A8-derived Apple A4 SoC in the iPhone 4 isn't running at 1 GHz, - rather around 800 MHz - the phone still has a level of snappiness that I've yet to see equaled on any platform short of the Galaxy S phones. For the longest time, the iPhone was the reason to have AT&T in the first place, and though that still likely is true for a majority of users, there are enough other good devices on the 'ol death star that this isn't really the case anymore. The other advantage is that when you get tired of the iPhone 4, you can pop your SIM into a device from a number of different platforms.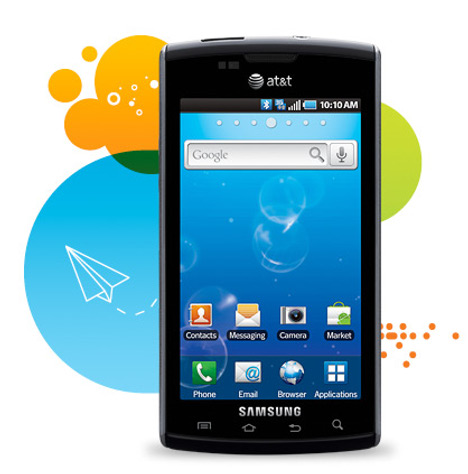 First up, probably our top recommendation for a smartphone of the Android variety on AT&T is the carrier's Galaxy S variant, the AT&T Samsung Captivate. I've played with the Fascinate on AT&T and the Vibrant on T-Mobile, but still haven't been able to directly interact with a Captivate long enough to review it - we're still trying to get one. That said, the speed of the Galaxy S line alone and its potent combination of a 1 GHz Cortex A8-derived CPU and Imagination SGX 540 GPU in the Hummingbird SoC make it (last I've checked) the fastest hardware you can buy right now. No doubt the story will change early 2011 with Cortex A9 MPcore based SoCs like Tegra 2, OMAP4, and new platforms Qualcomm, but for right now the best you can get through legitimate means with cash in your hand is Galaxy S.
The Captivate differs from the other Galaxy S devices slightly. Unlike the Fascinate (and like the Vibrant and Epic) the Captivate lacks an LED flash, which is a bit of a downer. The hardware itself also feels very insubstantial, which is a good or bad thing depending on your point of view and preference. The only other downer is that the Captivate is still running Android 2.1, though it appears the rest of AT&T's direct offerings are also running 2.1. Things look better however when you consider that the Captivate is selling for $0.01 at Amazon Wireless on 2 year contract, or $199.99 from AT&T on contract. The other Android options on AT&T are the HTC Aria (2.1), Motorola Bravo (2.1), Backflip (2.1), Flipout (2.1), and Flipside (2.1), and the Xperia X10 (2.1). See a pattern? It's incredible that there are no devices being directly offered on AT&T that come with Android 2.2. For that, you'll have to find a Nexus One which is becoming increasingly scarce.

The other options on AT&T are similarly differentiated by your platform preference. RIM brought BlackBerry 6 to market with AT&T in the form of the BlackBerry Torch 9800, a device that I honestly found very usable. The browser is much improved, the platform manages to feel decently snappy despite still relying on a relatively unimpressive 624 MHz Marvell Tavor PXA930 SoC. Amazon Wireless is likewise offering the Torch for $0.01 on contract, or you can get it for $99 from AT&T directly.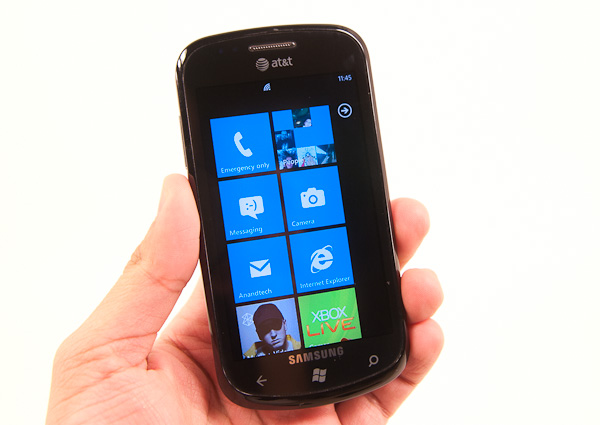 The new player on the scene is Windows Phone 7. At least for this holiday season, there aren't any CDMA Windows Phone 7 devices, meaning choices are limited to T-Mobile and AT&T if you want to try Windows Phone. We've reviewed the HTC Surround which is available on AT&T, and Anand is still working on the Focus. Having played with both, I can understand why the Focus is reportedly outselling the Surround - it feels like the Galaxy S phones in thickness and weight, and packs an AMOLED display that certainly makes it pop when side by side with the Surround. There's also the LG Quantum if you want a hardware keyboard, even though Windows Phone 7 has an otherwise excellent virtual keyboard. The Surround beats the Focus in our battery life tests in all but 3G talk time, no doubt in part to the Focus' AMOLED display. We haven't tested the LG Quantum yet, but it packs a traditional TFT screen and will likely be in the neighborhood of the Surround battery life-wise. All three AT&T windows phones are on Amazon Wireless for $0.01 right now on contract, or $199.99 from AT&T on 2 year contract.

Last but not least is WebOS. Here the options are interesting. The Palm Pre Plus and Pixi Plus remain available for free from AT&T on contract, which is a great deal if you're a fan of the WebOS card workflow and multitasking style. The Palm Pre 2 is now out, however, which is available directly from HP-Palm for use on AT&T for $449.99, unlocked and without a plan. There's no option to get the Pre 2 directly from AT&T on subsidy - your only option is direct from HP.

AT&T definitely does have a lot of options, even if you (shockingly) can't get an Android 2.2 device direct from the carrier short of finding a Nexus One on eBay. At the end of the day, my recommendations boil down to either the iPhone 4, Samsung Captivate on Android (with the Xperia X10 a worthy second), or the Samsung Focus or HTC Surround for WP7.
Verizon
In the past year, Big Red has gone from having a smartphone lineup almost completely dominated by Windows Mobile and BlackBerry devices, to arguably the forefront carrier for flagship Android devices. The Motorola Droid series of phones has been so aggressively marketed that it's virtually synonymous among laypeople with Android itself, nearly to the point of creating confusion.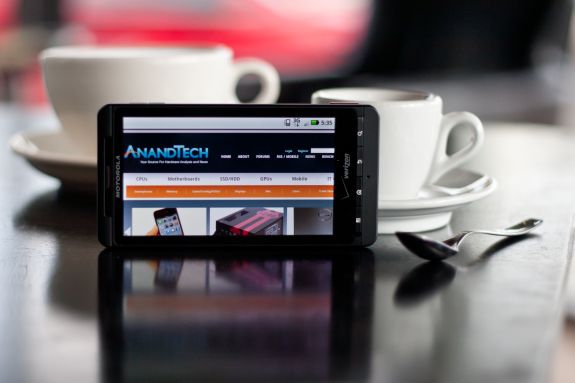 Regardless, the choices we recommend on Verizon are differentiated by personal taste. If you want a huge screen, the Droid X is the phone for you. The device is now thankfully running Android 2.2 (we reviewed it when it was running 2.1 after launch), and there's very little to hold against the phone. I loved the hardware android buttons and the form factor and still think Android is completely usable without a hardware keyboard, especially thanks to Swype and Motorola's own multitouch keyboard being included. The other thing to mention about the Droid X is that its OMAP3630 supports 720P HD video encodes, whereas the OMAP3620 doesn't - the result is that the Droid X can shoot 720P video and the Droid 2 can't. The Droid X is currently $49.99 from Amazon Wireless or $199.99 from Verizon on contract.

If you want a keyboard however, the Droid 2 is the next best option. As I noted in our review, very little which is changed from the original Droid hardware wise except for some welcome changes to the keyboard which improve usability, and a slightly different shade of soft touch material. In the wild, the two are difficult to tell apart unless you know what you're looking for. To that extent, it's not really a necessary upgrade from the original Droid unless you absolutely need a faster platform, especially considering the original Droid is running stock Android 2.2. There's also a Droid 2 Global version which packs GSM support and a slightly higher clocked 1.2 GHz SoC as opposed to the 1.0 GHz OMAP3 in the Droid 2 sans Global. We haven't had the chance to fully review a Droid 2 Global yet, so jury is still out whether the $50 difference from Verizon ($199.99 for Droid 2 Global, $149.99 for Droid 2) is worth it, especially considering Android enthusiasts can root and overclock on their own. The Droid 2 Global is also available from Amazon Wireless for $79.99 on contract, curiously enough the Droid 2 is no longer available on Amazon. There's also the BlackBerry-targeting Droid Pro, though this is another of the Droid newcomers we haven't taken a look at.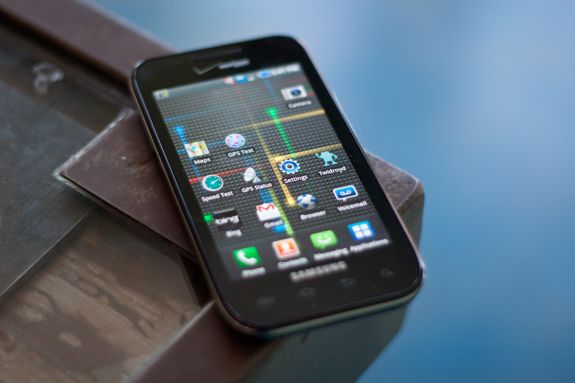 The other tier-1 options on Verizon are the HTC Incredible and Samsung Fascinate. We reviewed both and liked the Incredible's form factor, and it's even better now thanks to Android 2.2. The Motorola Droids' OMAP3 bests the Droid Incredible's Snapdragon SoC in the performance space in almost every category save FPU heavy tasks, but the Incredible is by no means a weak performer. Likewise, the Fascinate bests both with its Hummingbird SoC. The only problem with the Fascinate is Verizon's conscious decision to mandate Bing throughout and strip the phone of almost all mention of Google. Again, the other problem is that the Fascinate like other Galaxy S devices still isn't running Android 2.2. Size and user preference is again what really dominates here - if you want a small Android 2.2 phone, the Incredible is your pick, whereas the Fascinate packs a 4" screen. The HTC Incredible can be had for $0.01 from Amazon Wireless, or $149.99 from Verizon, both on contract. The Fascinate is $39.99 from Amazon Wireless and $199.99 from Verizon on contract.
T-Mobile
In recent times, the big news at the Big Magenta has been their pair of new Android handsets, the G2 and the myTouch 4G, so naturally, they're our picks for T-Mobile high end devices. I'm a huge fan of the G2 for a multitude of reasons, though as a daily G2 user, I may be biased. As I mentioned in my preview last month, it has a nice design, great build quality, a good screen, a decent camera, and a great physical keyboard. Plus, it's running an almost completely stock version of Android. I never really saw the necessity of complete Android skins, so seeing a clean build is refreshing. Nothing against Sense UI, as it's one of the only skins I like, but after having an EVO, I definitely appreciate the speedier experience that the G2 brings to the table. The only sore spot I found in my first look was the potentially fragile hinge mechanism, but thus far it's held up well and I don't forsee it being a problem (knock on wood). So I have no problems recommending the G2 - it's a solid high end Android device with a unique feature set that should appeal to a number of people, whether you're looking for a hardware keyboard, a simpler UI, or a good all-around device.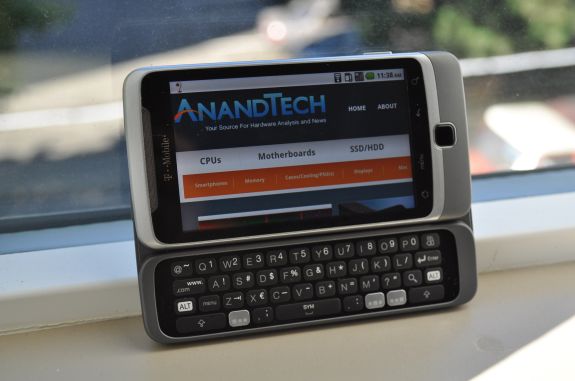 If you don't see yourself making use of the physical keyboard though, T-Mobile has a couple of high end slate handsets to choose from. One is the Samsung Vibrant, a member of the Galaxy S line and close cousin to the Fascinate we reviewed earlier. Similarly to the Fascinate, it's a pretty light phone with a plasticky vibe to the overall design, and like Brian said in his review of the Fascinate, it's almost shocking how unsubstantial the Vibrant feels the first time you pick it up.

The other option is T-Mobile's new myTouch 4G, built by HTC. We haven't covered the myTouch 4G on AnandTech before, so I'll give you a rundown of the specs first: 3.8" 800x480, Qualcomm QSD8255 (1.0 GHz/Adreno 205 - it's a faster version of the G2's processor), 768MB memory, 4GB of built-in storage with a pre-installed 8GB microSD card, front-facing VGA camera, rear-facing 5MP unit with an LED flash and 720p video recording, HSPA+ and dual-band 802.11n. Ta-da, how to properly equip a high end smartphone in 50 words or less.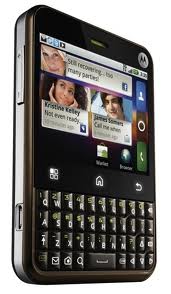 Now, here's the deal. The Vibrant's somewhat lacking build quality is what really led me to pick the myTouch 4G over it, but spec-for-spec, the two are pretty close. You get a more powerful graphics chip and a larger OLED screen with the Vibrant, whereas you get more RAM, better build quality, and a more visually appealing design out of the myTouch. To me, the SoCs are close enough that I don't think its worth picking the Samsung solely because of the SGX 540 graphics, but if you're a hardcore Android gamer, you'll probably disagree with me there. As an overall device, the myTouch is superior in my opinion, but you can't go terribly wrong with either.
On the low end, I'm a fan of the Motorola Charm. Not just because of its quirky and fresh form factor, but also because it's one of the few budget Android handsets that comes with Cortex A8. The Charm comes with the 600MHz OMAP 3410, so it's about on par with the original Palm Pre/Plus and the Nokia N900 as far as computing horsepower goes. Pretty impressive for a usually free and often overlooked Android device. I personally love the form factor and industrial design, like a Blackberry designed for people who don't wear suits, but I know that it's a polarizing design that not everyone will warm up to. Other downsides involve MOTOBLUR (ugh...) and the fact that it's still on Android 2.1 with no firm word on a 2.2 update anytime soon. Thankfully, you can root it and get rid of BLUR pretty easily (look on XDA), though there aren't any 2.2 ROMs for the Charm as of yet.

If the Charm's "hip to be square" vibe is just too hipster for you to handle, another good option is the LG Optimus T, another low end Android phone that has a long list of features that thankfully comes with 2.2 out of the box. The Optimus T has a smallish 3.2", 480 x 320 screen, WiFi, 3G, GPS, wireless hotspot capability, and a 3.2MP camera. For a free phone, that's pretty amazing. Unfortunately, Flash 10.1 is disabled and you only get an ARM11 based processor, but you get what you pay for, right? I really like the Charm, but you can't go wrong with the Optimus T as a budget handset, as long as you're okay with the slower processor.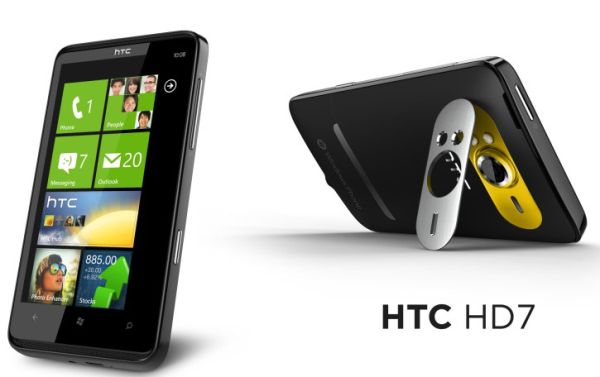 But wait, you say. What about Windows Phone 7? Ahh, yes. See, it's of my opinon that T-Mobile made out like bandits from the WP7 launch, somehow ending up with the two best phones of the lot - the Dell Venue Pro and the HTC HD7 (HTC's Mozart and Trophy were 3rd and 4th, respectively). Dell is doing a nice botch job of the Venue Pro launch (including changing the name from Lightning to Venue Pro), so we'll see about that one when it arrives. But for now, they've got the HD7, which is basically an HD2 with WP7 loaded from the factory. Hardware-wise, it's same old, same old; HTC has a solid platform here with the HD2/EVO, so they didn't see a need to change much with the HD7. I can't blame them, because the HD2 and the EVO were pretty great phones in their own right (minus the anachronism that was Windows Mobile 6.5). So really, the HD7 depends on what you think of Windows Phone 7. If you like the concept and are willing to take a risk, you can't go wrong with proven hardware like the HD7.
Sprint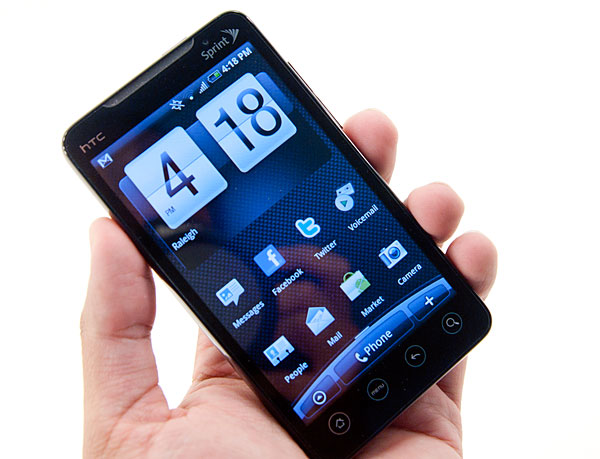 When Sprint launched the EVO 4G in June, they had a runaway success on their hands, so naturally, it makes sense to start there in our Sprint holiday picks. I bought an EVO on launch day, after standing in the cold and rainy weather that Seattle passes off as early summer (when in fact, it bears no resemblance to the word summer at all). It was totally worth it. When I wrote up my first impressions bit, the word "beast" came up more than once, and for good reason - it was a monster device, not just in a physically imposing sense, but also just for the number of technologies it housed. It was the first mainstream American WiMAX smartphone and by far the most impressive Sprint device in years, making it a worthy choice if you're in the market for a high-end slate.

If you want a physical keyboard, Sprint's other 4G phone, the Samsung Epic 4G, is what you should be looking at. It's almost as big as the EVO and has the same problems with battery life, but it's faster due to the Hummingbird SoC inside. It's the only Galaxy S device with a hardware keyboard and WiMAX, so its a definite step up from the Fascinate, Captivate, and Vibrant. Unfortunately, like all of the other Galaxy S devices, it doesn't have the greatest build quality in the world, but the extra performance makes up for that. At $249.99, it's $50 more than the other high end devices, but over a two-year contract with data, that's roughly 1.8% total additional cost. If the hardware keyboard is important to you, that's definitely worth it.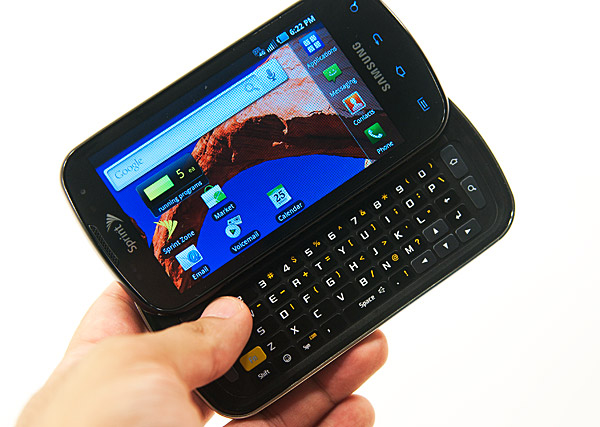 On the lower end, Sprint has a motley collection of weird smartphones, with the Samsung Intercept and Transform, Sanyo's Zio, the old school HTC Hero, the non-WiFi Palm Pixi that we all know and, well, not love, but still. Again though, we find ourselves turning to LG's new Optimus One (the Optimus S on Sprint). Even with a slower processor, it's a great deal with Froyo and a pretty solid feature set. And it's free on contract. This is a free Android phone that doesn't suck! Easy choice for a low end phone. Did I mention that it's free?
Unlocked/International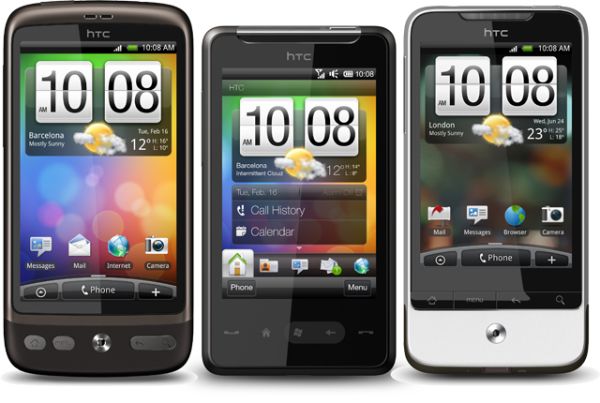 We realize that a significant portion of AnandTech readers aren't located in the USA, and to that extent want to also cover some of the international and unlocked phones that are potentially on smartphone shopping lists this holiday season. It'd be completely disingenuous if we had a myopic, USA-centric world view, and we're actively working on getting a more international spread of devices whenever possible that's of interest to everyone.

With companies like HTC, most of that is pretty easy. The Taiwanese smartphone manufacturer generally spins a particular piece of hardware in multiple varieties for specific markets, keeping the general reference design unchanged. For example, we have the HTC Desire, which is almost the same as the Nexus One, and the HTC Desire HD, which is a mildly updated version of the HD2/HD7/EVO 4G.

The most prominent international smartphone carrier of course is Nokia. Our top picks there are the N900 which can be had unlocked for around $330 unlocked, which runs Maemo 5 and MeeGo. We reviewed the N900 and loved the freedom of having real Linux running on a smartphone. The other awesome choice from the Finnish smartphone powerhouse is the Nokia N8, which we're currently in possession of and in the process of reviewing. Although we're not finished, the hardware itself is awesome - anodized aluminum all over, 12 megapixel camera with real Carl Zeiss glass optics, and a pentaband UMTS baseband. Though Symbian is showing its age, the N8 is an otherwise awesome device, and can be had for $530 unlocked. We've also looked at the Nokia E5 previously, but it looks like a sidestep from its excellent predecessor, the E72. You can find the E72 for less than the E5, so if you're looking for a Symbian-based BlackBerry alternative, the E72 is probably the way to go.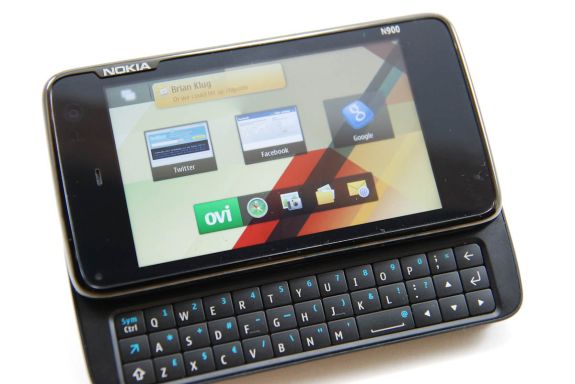 If you're on a budget and want an Android 2.2 phone, the other option which has seen a lot of success recently is the LG Optimus One, which we also have and are in the process of reviewing. The Optimus One is a solid little device, packing a 3 megapixel camera sans flash, Android 2.2, HVGA capacitive display, and one of Qualcomm's newer SoCs with an Adreno 205. Though it isn't the speediest hardware on the block or the most flashy, the Optimus One is an admirable mass market device with a lot of potential, and we can certainly understand why they sold more than a million in the first 40 days.
Tablets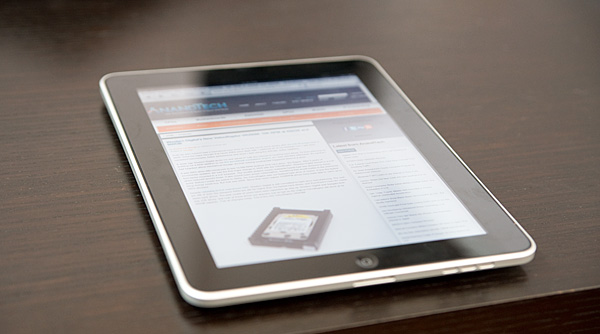 If we're talking about the tablet space, we pretty much have to start with the iPad. Love it or hate it, you must admit that it is the product that sets the benchmark for the entire flood of tablets releasing over the coming months. Since the uber-hyped tablet released earlier this year, nothing has changed on the hardware front, but the fairly significant iOS 4.2 update released, bringing along with it support for multitasking, homescreen folders, and AirPrint.

I've been running the 4.2 RC on the family iPad for some time, and to me, the biggest difference is the multitasking. It makes the iPad significantly more versatile as a device, allowing users to switch between apps seamlessly. It's the same kind of "intelligent app pausing" that Apple does with the iPhone, so it's not really multitasking in the true sense of the word, but it works

Either way, the iPad figures to be a real force in the tablet world for the foreseeable future. There's not much to recommend against it, unless you really hate the iOS platform. If you're looking to get into tablets, it's a pretty good place to start. Very well designed, very user friendly, and quickly gaining mainstream popularity. The only hesitation is that Apple probably has a 2nd generation iPad with dual cameras and a faster, A9-based SoC right around the corner, though it could debut any time between January and April.
If you're unwilling to tie yourself to the iOS/iTunes/App Store triumverate, then you're in luck, since Android-based tablets seem to be releasing right, left, center, and any other direction you can think of. The one that's gotten the most press recently is Samsung's new Galaxy Tab. Built around a 7" WSVGA LCD screen and the same Cortex A8-based Hummingbird processors as the Galaxy S line, the Tab is a bit smaller and a bit more powerful than the iPad. It runs Froyo (which, interestingly enough, is something that the Galaxy S phones can't claim) and comes with Market preloaded. Considering that Google usually doesn't allow tablets to come with Market, that's a pretty big coup for Samsung. It's available from all four carriers and also as a WiFi-only device, basically mirroring the 16GB iPad's price points.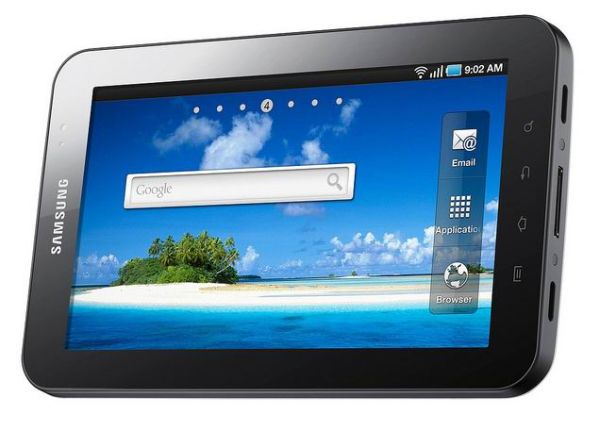 If you're looking to go the WiFi-only route, there are other options from smaller manufacturers that are definitely worth taking a look at. Archos' value priced $299 101 tablet is set to ship with Froyo sometime shortly in the US, and is already shipping in Europe. Another tablet that showed up on multiple Black Friday sale papers was the Viewsonic G Tablet, a 10" Froyo tablet with Nvidia's elusive Tegra 2 platform underhood. Dual Cortex A9's, yes pleaaaase. Hardware accelerated 1080p playback on a $399 tablet sounds pretty impressive too, to be honest. Compared to the iPad and the Galaxy Tab, which are basically running on smartphone guts, the Tegra 2-based Android tablets have the potential to really unlock some of the more interesting media playback and gaming uses that the other SoCs simply don't have the computing horsepower for. Now, the Viewsonic doesn't get Android Market preinstalled like the Galaxy Tab, but sideloading it onto the device is a pretty painless process. Obviously, going for a more obscure tablet such as the Viewsonic or any of the other lesser-known Android tablets is taking a risk, but in the brief moment I played with it, the Viewsonic felt reasonably well put together and seemed to have CPU performance just this side of the Moorestown tablet we played with at IDF (I only had time to run one benchmark). We have one on the way for review, so we'll see, but the first impression wasn't bad.

Like I mentioned earlier, the Viewsonic isn't the only Tegra 2 tablet in town; Advent's Vega on sale in the UK for 249 quid, Innovative Converged Devices' Gemini and Vega are on the horizon, NotionInk is supposedly on track to release their highly touted Adam, and a simple Google search yields a bunch of companies I've never heard of (Malata, E-Noa, eLocity) claiming to be readying Tegra 2/Android tablets for release in the near future. Not to forget larger companies that are rumoured or have released prototypes of Tegra 2 tablets, people like Motorola, Dell, HTC, Acer, ASUS, MSI, Compal, Foxconn, Quanta, and Toshiba, amongst others. We will be assaulted by a deluge of Android tablets very soon, so if that's what you're looking for, you may be better off waiting until then, especially given that Google has promised to provide a more unified tablet computing experience with Gingerbread, the next revision of Android.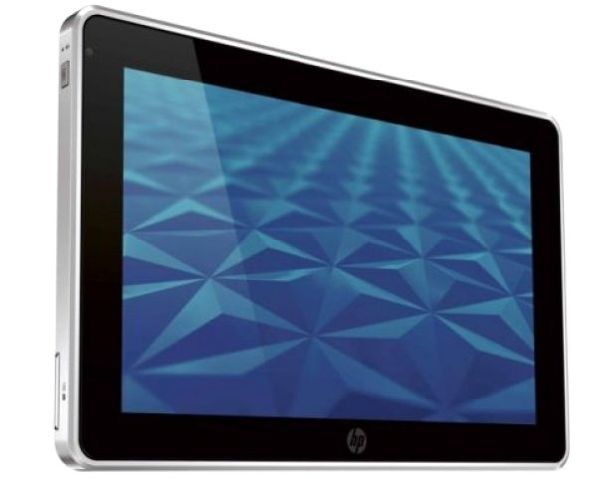 For non-Google or Apple tablets, you're kind of stuck for the moment. Microsoft made a big fuss about Windows 7-based slate tablets, like the HP Slate 500 and the ExoPC, but thus far Windows tablets have been based on netbook internals (ugh, Atom) and have provided poor battery life and performance. Not a good combination. Also, they tend to be on the slightly expensive side, with the ExoPC starting at $549 (which is decent, considering that comes with 32GB of storage) and the HP Slate starting at a legitimately high $799 pricetag. Unfortunately, Microsoft has not (yet) given any indication that they will be releasing a tablet-specific OS based on Windows Phone 7 and they killed off their very exciting Courier tablet project earlier in the year, so for now, Microsoft figures to be at most a bit player in the internet tablet market. Moving to HP, it is almost inevitable that we will eventually see a WebOS-based tablet similar in size and shape to the Slate, but there is no indication as to when that will happen other than "sometime next year". RIM has also debuted a 7" tablet, called the PlayBook, with a completely new OS. So there's a ton of interesting tablets releasing shortly, so unless you're set on an iPad or a Galaxy Tab, I'd personally recommend waiting.