Original Link: http://www.anandtech.com/show/4018/asus-eeepc-1215n-ng-ion


(Re-) Introducing ASUS EeePC 1215N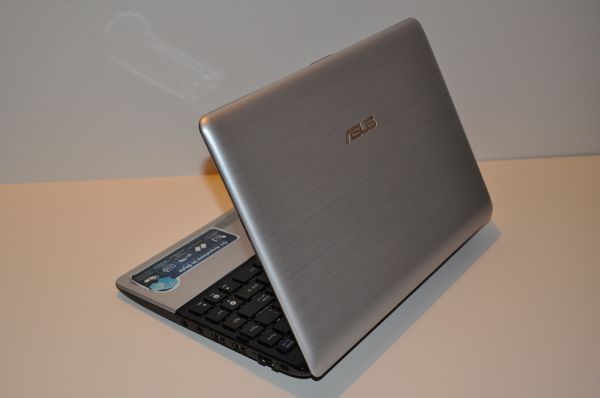 It's been a while since I last reviewed a netbook. Even though the netbook market is pretty huge right now, there's a couple of pretty good reasons for this. First, the iPad factor—tablets have the buzz, and devices like the Galaxy Tab, RIM PlayBook, and anything and everything else with a touchscreen are far more interesting than the bog standard netbook. Two, they all have basically the same hardware in slightly different cases. If you're ASUS, that means you've got roughly 20 different models with the same basic internals and otherwise minor changes to differentiate them all.

But this one, the 1215N, is actually different. You've got a dual-core Atom (a desktop Atom D525, not the new N550), a 12" screen, and NVIDIA's Next Generation ION (NG-ION) platform, all in a tasty aluminum wrapper. Like the 1201N it's replacing, it's a unique riff on the netbook theme. Thankfully, most of the inane netbook limitations are gone, so the 1215 has a solid 2GB memory and Windows 7 Home Premium (as opposed to the awfulness that calls itself Win 7 Starter). All the other standard stuff is here too—Bluetooth, WiFi, etc. It's a full featured netbook, except on steroids.
ASUS EeePC 1215N Specifications
Processor
Intel Atom D525
(1.80GHz, 45nm, 1MB L2 cache, 13W)
Chipset
Intel NM10
Memory
2x1GB DDR3-1066
Graphics
NVIDIA Next-Generation ION
(16SPs, 475/790/1092 Core/Shader/RAM clocks)
Intel HD Graphics (Optimus Switchable)
Display
12.1" LED Glossy 16:9 768p (1366x768)
Hard Drive(s)
250GB 5400RPM HDD (Seagate ST9250325AS)
Optical Drive
None
Networking
Atheros AR8152 Fast Ethernet
Atheros AR9285 BGN
Audio
HD Audio (2 stereo speakers with two audio jacks)
Battery
6-Cell, 10.95V, 5200mAh, 56Wh battery
Front Side
None
Left Side
Flash reader (MMC/MS/MS Pro/SD/xD)
1 x USB
HDMI
VGA
Cooling Exhaust
AC Power connection
Right Side
Headphone/Microphone jacks
Kensington Lock
2 x USB 2.0
Ethernet
Back Side
None
Operating System
Windows 7 Home Premium
Dimensions
11.65" x 8.0" x 0.91-1.46" (WxDxH)
Weight
3.21 lbs (with 6-cell battery)
Extras
Webcam
86-Key keyboard
Flash reader (MMC/MS/MSPro/SD/xD)
Multi-touch touchpad
ExpressGate OS (8-second boot)
Warranty
1-year global warranty
6-month battery pack warranty
30-day zero bright dot LCD
Pricing
ASUS EeePC 1215N Silver starting at $484
Compared to the outgoing 1201N, not much has changed here. It's the same basic hardware configuration in a similar chassis; the biggest difference is the bump from the first gen ION platform to Pine Trail and NG-ION, with a slightly higher CPU clock. It's still pretty great as far as netbook specs go, but it costs significantly more than most netbooks. Our favorite 1001P goes for $299, while the 1215N goes for $499. Can the performance upgrades justify the large amount of additional cost, and how does it hold up versus similarly priced notebooks running AMD's Nile platform? There are some other interesting questions; NG-ION is not significantly faster than the first-gen ION platform, so will the 1215N be better than the 1201N? And then you've got the N550 in play now as well; now that there are plenty of dual-core 10" netbooks out there, is the 1215N as different as it seems at first look? Let's find out.
Checking Out the ASUS Eee PC 1215N
ASUS hit on a pretty good design when it debuted the Eee PC Seashell models two years ago. It hasn't changed much since then, with the overall lines staying about the same. The biggest change in the intervening two years has been the material used—first the super-glossy plastic on the original models, the textured matte plastic on the 1001P, and now the soft-touch plastic on the 1015 series. The 1201N was one of the glossy models, but that's thankfully been replaced by brushed aluminum. This gives it a pretty hefty, high quality feel. It's a much more solid feeling system than most other 11-12" ultraportables (*cough* Acer *cough*). There's little to no flex throughout the chassis, and I actually think it's better built than some of ASUS' larger models (the UL80Jt comes to mind).
I wish I could say the same for the keyboard—it's not great. There's a fair amount of flex, particularly in the middle. This was pretty disappointing to me, because the last few ASUS keyboards I had sampled, whether Eee PC or regular U-series notebook, had been quite good. Maybe I just got unlucky with my review unit, but the keyboard flex stood out because the rest of the notebook was so solid. As far as other input devices go, the touchpad is pretty much standard; it works without anything to complain about. It's pretty large, taking up a good 30% of the palmrest area, and the single mouse button (with two sensors underneath, a la U33Jc) gives pretty good feedback, though it might be too "clicky" for some.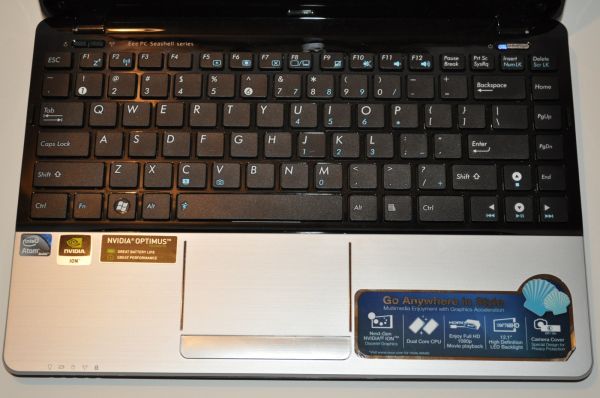 Port selection is basically netbook-standard, plus an HDMI port (thanks to ION). That's three USB ports, VGA, Ethernet, line in/headphone out, and a card reader, if you haven't looked at a netbook lately. That's about all you can expect at this pricepoint. The webcam has the same gimmicky manual shutter over it that the U33Jc has. In my opinion, that's just one more part to break, but if someone sees value in it, so be it.
How Does the ASUS Eee PC 1215N Perform?
Here's the perplexing bit about the dual-core Atom. It's a dual-core processor so you think, "Oh, so maybe Atom will be finally decent," but then you realize it's still a dual-core Atom. Two super slow cores won't be any better than one if all you're doing is navigating Windows and surfing the web (or any other generally single-threaded task). So on to the benchmarks.
Compared to the Atom 330 in the 1201N, we see roughly 10% increases across the board with the D525, which is basically just the clockspeed increase (1.8GHz versus 1.6GHz). Atom is seriously just Atom; not much has changed.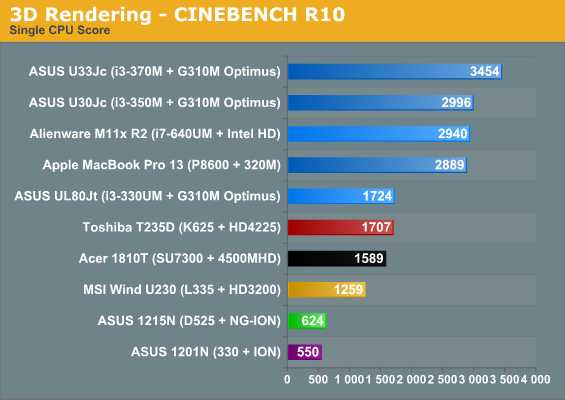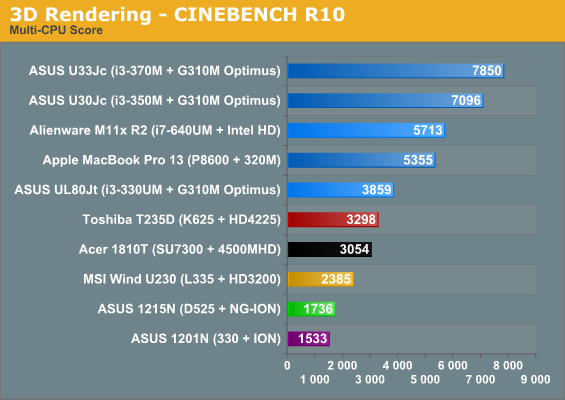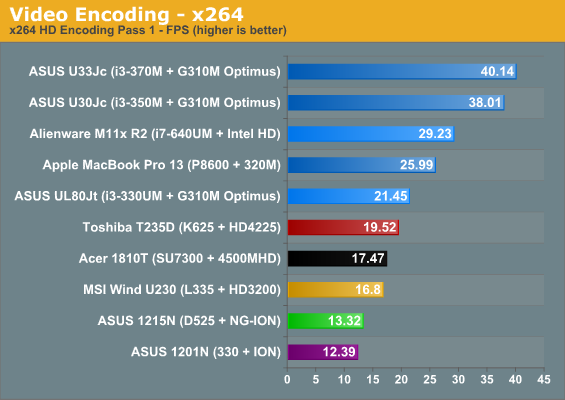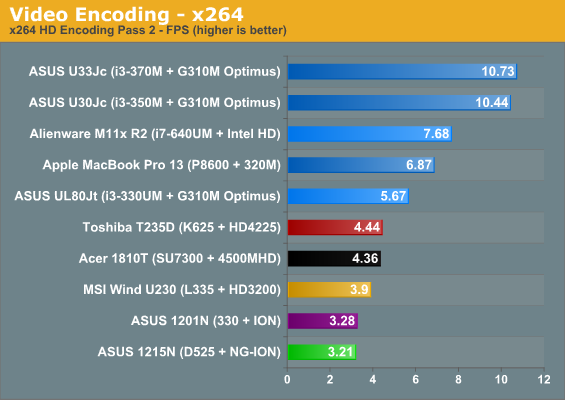 This is the problem with Atom though, right? Intel has essentially left the Atom core the same since the launch in mid-2008; other than the Pine Trail update that brought the IGP onto the CPU die and cut power consumption, we're basically running the same Atom that ASUS and MSI made ubiquitous in the Eee PC 1000H and the original Wind. That's why collectively we've been so "meh" on netbooks as a whole—while the original Atom was a nice step up from the woeful Celeron M ULV from bygone eras, it simply didn't offer enough performance to satisfy our craving for decent CPU performance. And two years later, we're still saying the same thing. Atom has not changed a whole lot since then, so hopefully AMD's upcoming Ontario platform can kick Intel's Atom team into gear and get them to really innovate in the forthcoming revisions.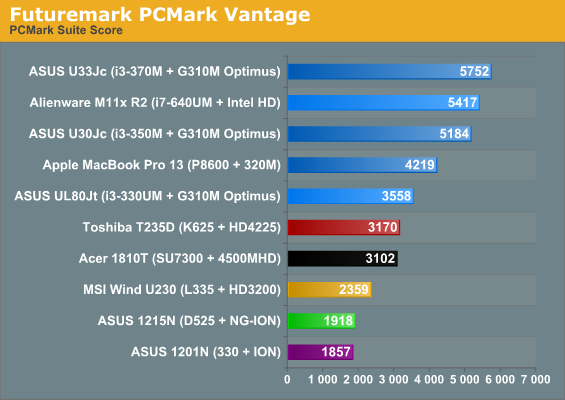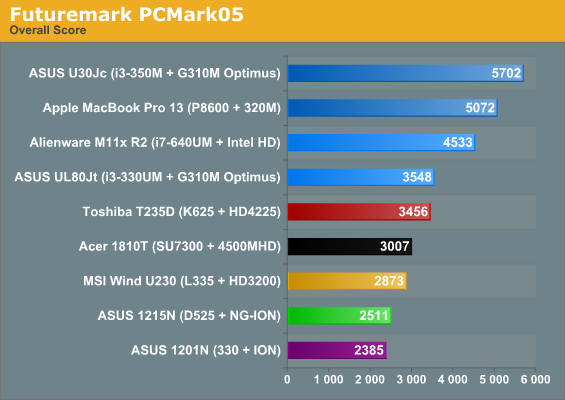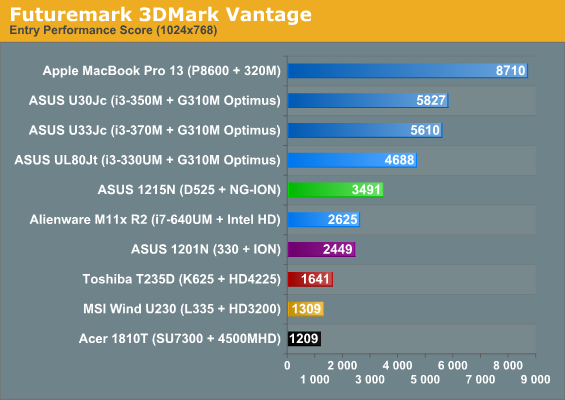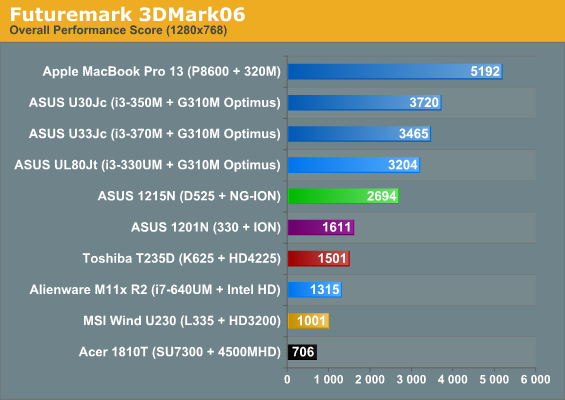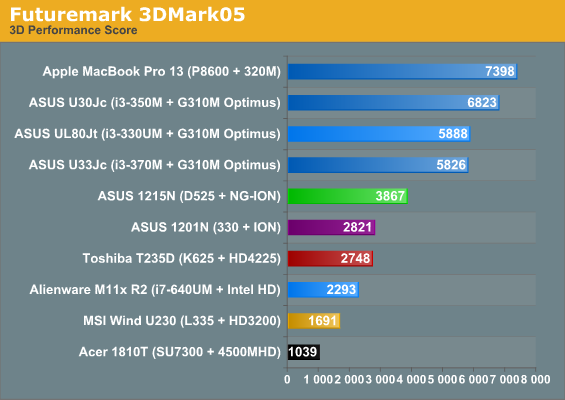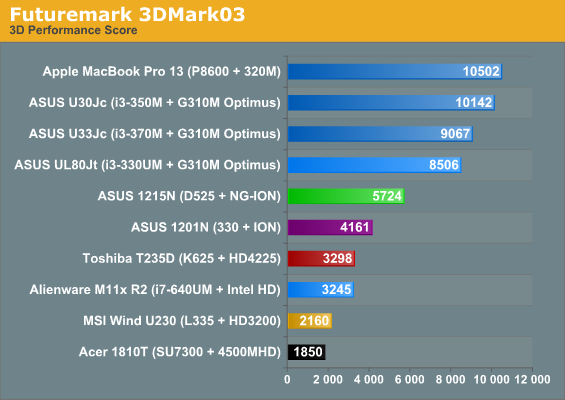 So far we haven't seen anything to impress, but here's our first hint that the 1215PN might be better than other netbooks: all of the 3DMark suites put performance a fair jump up from AMD's Nile platform. Can the 1215PN handle some moderate gaming? Let's find out....
ASUS Eee PC 1215N Gaming Performance
So, here we are with Next-Gen ION. The graphics chip identifies itself as ION, but it's just an underclocked version of the NVIDIA G 210M/310M dGPU that was in some of our favorites like the UL80Vt. The GT 218 core has two versions for NG-ION netbooks, one for 10" platforms with 8 CUDA cores and one for larger platforms with the full 16 CUDA cores. The 1215N has all 16 SPs, so it's going to be faster than the new 1015PN that has the Atom N550 and the 8 SP NG-ION chip.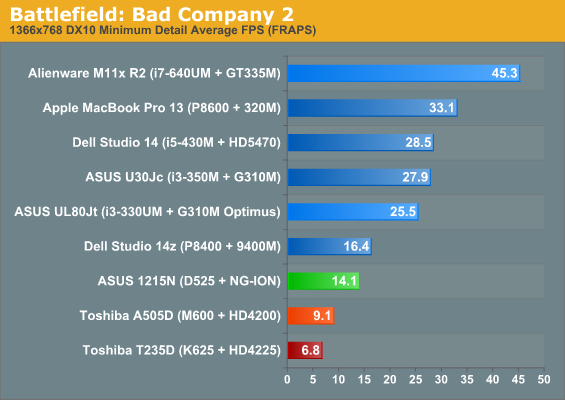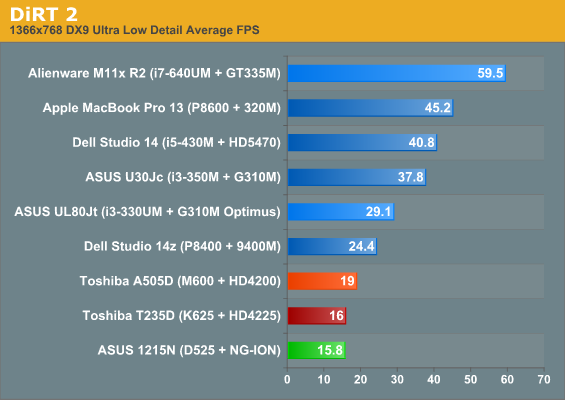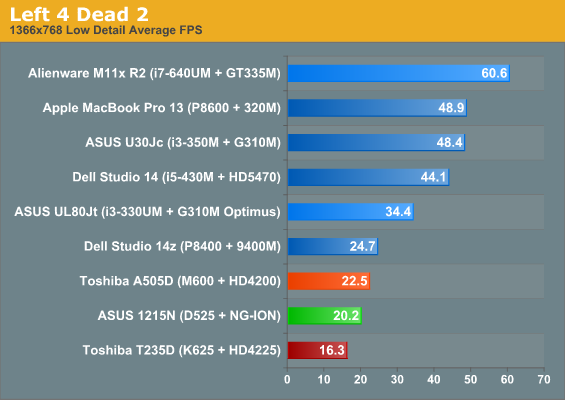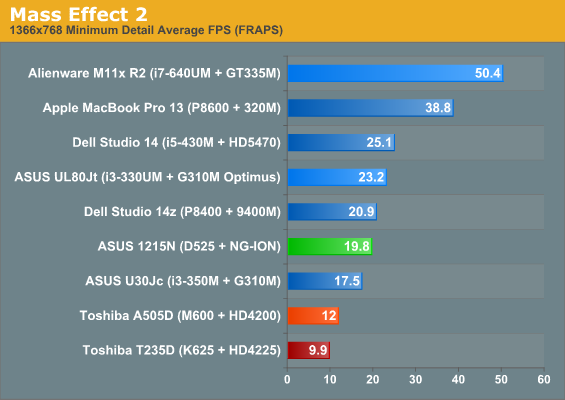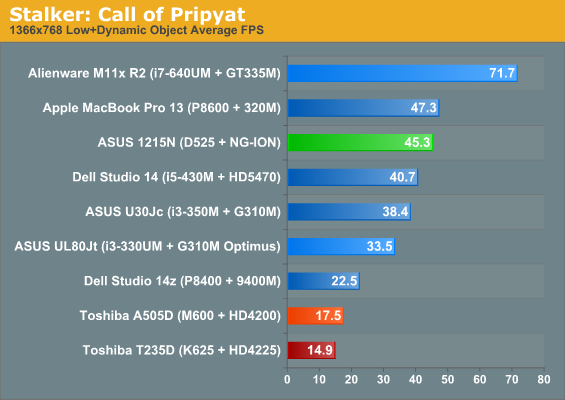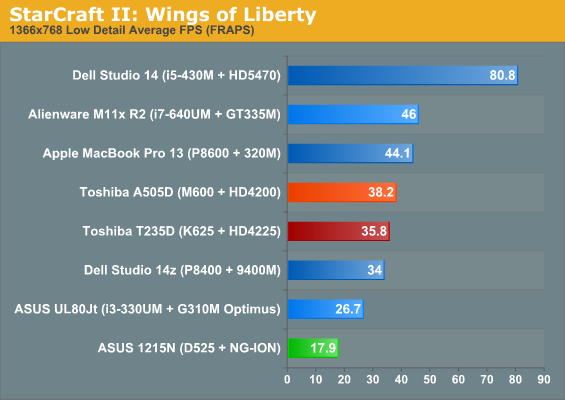 Our gaming test suite is completely different now than it was when we tested the Eee PC 1201, so we can't directly compare the two, but the 1215N is similar in that it gets blown out by its larger brethen, even though they are also running the same basic GT 218 core. Obviously, the G 210M and G 310M are clocked higher, but it's still a sizeable difference. The ASUS U35 outdoes the 1215N by roughly a factor of two or three, except in STALKER and ME2. In our Call of Pripyat test, the NG-ION doesn't actually have the ability to run the benchmark with anything other than static object lighting, so it's not really on the same page as the other results. I re-ran the UL80Jt with the same settings just for comparison's sake and got 96.1 fps, so again roughly double the 1215N. ME2 tends to be less CPU bound than some of the other benchmarks in our suite, so the drop in performance there is probably equally related to the lower GPU clock speed as it is the CPU bottleneck. Either way though, it's simply not possible to run native resolution games at playable levels, even with bare minimum settings. To get playable framerates on most modern games, you will need to turn the resolution down to 1024x600 or so and just scale up to fullscreen.
But let's stop comparing it to dedicated graphics cards—how does it do against some of the better integrated solutions? The NVIDIA 320M isn't even a comparison worth talking about, since it's about two times faster than the 310M. A bright spot for the NG-ION platform is that it outperforms the current AMD integrated graphics platforms in most of the tests, but again, given the AMD HD 6250 and HD 6310 (Ontario and Zacate, respectively) on the horizon, there's going to be pressure on NVIDIA to boost the performance of their low end graphics solutions.
Looking at Mobility: ASUS Eee PC 1215N Battery Life
Where the 1215 really improves over the 1201 is battery life. See, the switch to Pine Trail, even on the nettop side, brought about significant reductions in power consumption, due to the on-package graphics die. But where the most improvements came from is in NG-ION. We almost take it for granted now, but Optimus really was game changing in how much it improved battery life in portable systems that have dedicated graphics cards. The original ION platform didn't have Optimus, so you were stuck on the 9400M the entire time. NG-ION does have Optimus, so it can basically turn off the G 310M and run off the onboard GMA 3150 graphics chip during our battery life tests.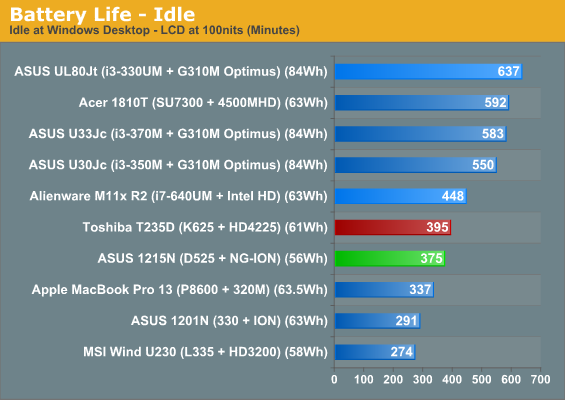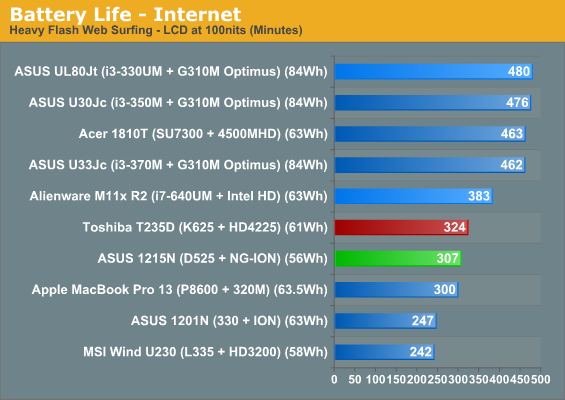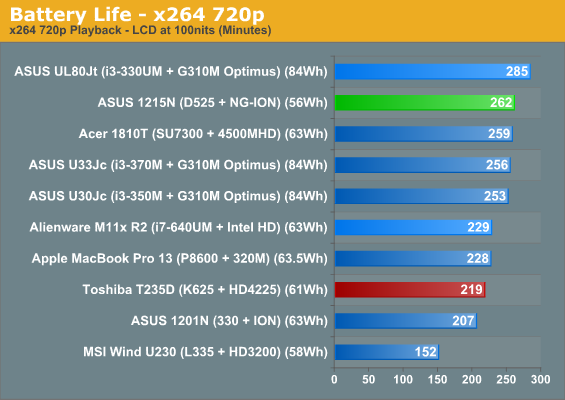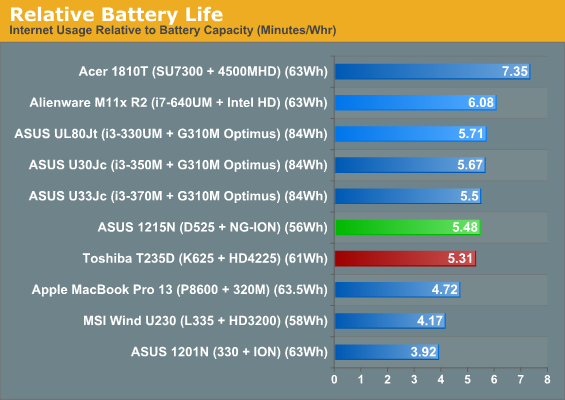 As such, we saw the power efficiency go up by 30% in our Internet battery life test. With a smaller 56Wh battery (the 1201N had a 63Wh 6-cell), the 1215 outran the 1201 by a full hour, with 6.25 hours of maximum runtime. In our Internet and HD x264 tests, we saw increases to 5 and 4.35 hours, respectively.
However, the D525-carrying 1215N still shares the same core problem as the 1201N. The nettop processors, whether it be the current D525 or the older 330, do not have Intel's SpeedStep technology, so they can't dynamically change the clockspeeds and voltages as necessary. Unfortunately, SpeedStep is at the core of most of Intel's mobile processor line when it comes to power efficiency, so the 1215N gets basically shafted in the battery life tests since the processor is running at a constant 1.8GHz even when it doesn't need to. The 5.5 min/Wh number for efficiency is basically around the same level as the Core i3-running ASUS U30J, while most of ASUS' Pine Trail netbooks are in the 9.5 min/Wh range.

Now, we'd expect the new Eee 1015PN, with the new N550 dual-core processor and the 8SP variant of NG-ION, to get a lot closer to that mark, but given the nettop processor in the 1215, 6 hours is about as good as the battery life will get. By comparison, AMD's Nile platform posts similar battery life results, with slightly worse x264 battery life despite having a higher capacity 61Wh battery. Overall, looking at Nile vs. the 1215N it's going to be a choice between a faster CPU (AMD K625) and faster graphics (NG-ION).
Nothing New on the Display Front
The screen on the 1215N is about as mediocre as we remember from the 1201N. It has a similar contrast ratio, though it appears that ASUS is no longer artificially limiting netbooks to 120nits brightness as it did in the past. This is good, as the 120nit cap seemed to only be in place to extend the battery life for users who liked to max out the screen brightness.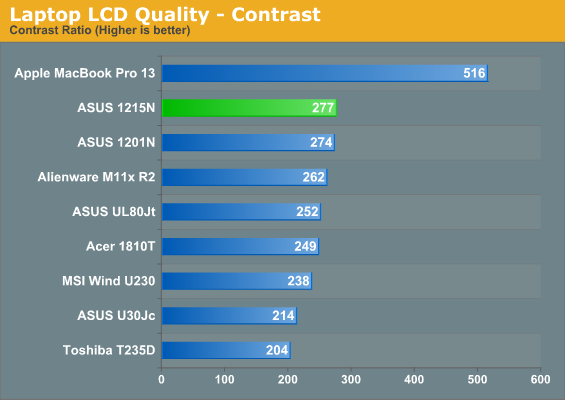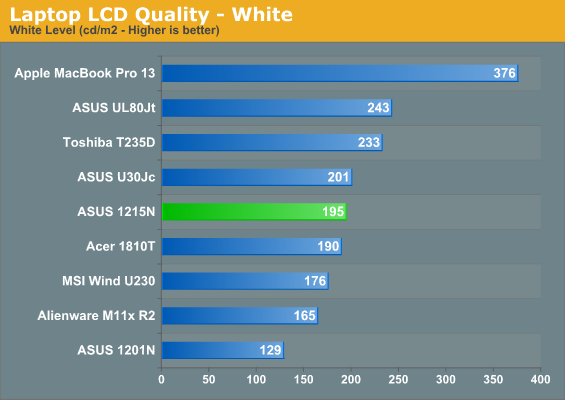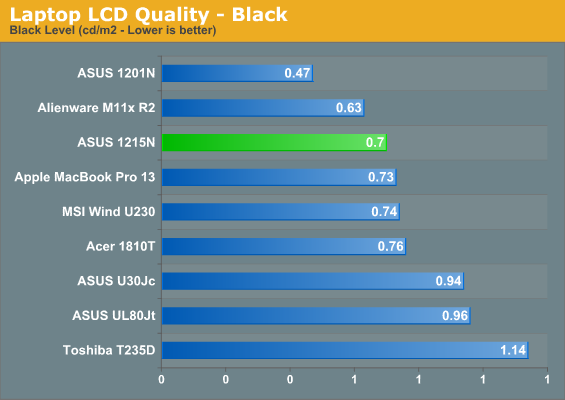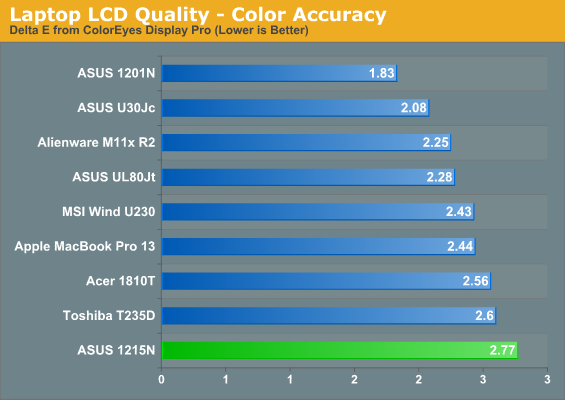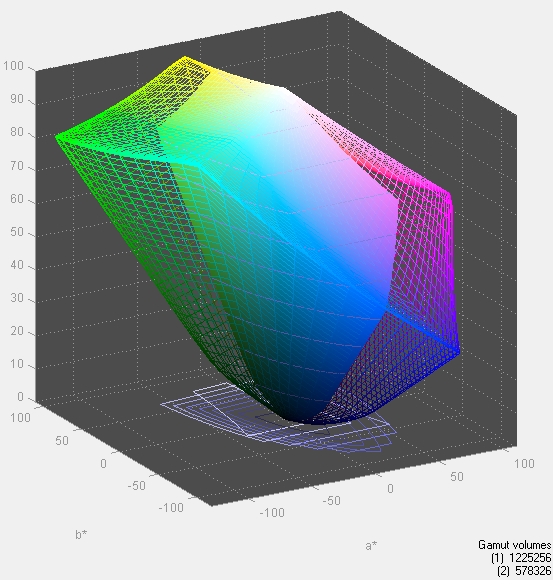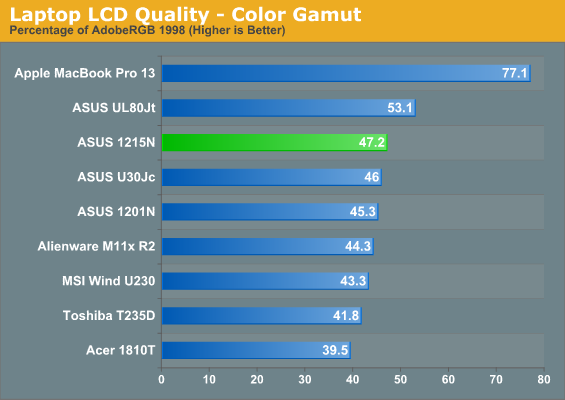 But this is getting old. Seriously, who do we have to kill to get an ultraportable with a decent screen? Some of the 10" Eee PC netbooks had some good display panels, but other than those and the Macs, I don't think we've recently seen a thin and light notebook with a screen worth talking about. I suppose it's more acceptable in a $499 unit than any of the more expensive portables, but it's still disappointing to yet again be focusing on the sheer mediocrity of the display.
And as much as it sounds like I'm calling out ASUS or the 1215N specifically, I'm really not trying to. It's simply a problem with the entire industry feeling like it can get away with terrible displays on a vast majority of systems, and then actually getting away with it. I don't often feel this way, but it makes me wish that more companies would do things the Apple way and really commit to having a high quality panel on all of their systems. This is probably the only time I will ever wish that more people would act like Apple, but you get my point.
Conclusion: A Decent Netbook, but Atom Remains Slow
The 1215 is difficult to classify, and thus even more difficult to conclude on. While most people label it a netbook, I wouldn't strictly call it so—I tend to define netbooks as anything with a 10" screen running Atom at a sub-$400 price point. The 1215N has more power, a larger screen, and a higher price tag, but it's still running Atom so it's not an ultraportable laptop either. CULV will eat the dual-core Atom for lunch and not even bother spitting the bones out. You don't even need to ask about Core i3 or its ULV equivalent.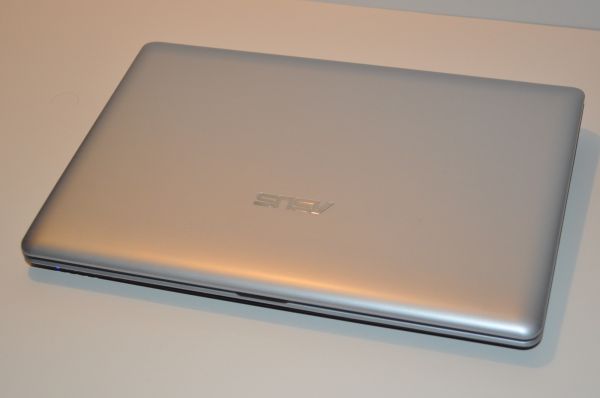 So what is the 1215N, actually? It's something...different. I'd classify it as a hybrid, something completely unique and in a class of its own. The problem is that it really gets caught in a lurch between the netbook and ultraportable classes, but I'd actually argue that with the release of the N550 dual-core Atom for netbooks, the whole reason for the existence of the 1201N/1215N is somewhat diluted.
Initially, the 1201N was basically a method to get a dual-core Atom into a netbook along with the ION platform, and the 1215N just continued that into Pine Trail and NG-ION. But with the release of the N550, we finally have a dual-core Atom meant specifically for netbooks. In a system like the ASUS 1015PN, you're looking at significantly more battery life without much of a performance hit. This is mostly due to the voltage stepping that Intel's mobile processors have, but it really does make a big difference—the 1015PN is quoted at a very believable 9.5 hours of battery life. Obviously, it has the stripped down version of the NG-ION core with 8 CUDA cores instead of 16, but given how much of a CPU bottleneck there is in gaming performance, I don't think it should make too much of a difference. Either way, you're not going to be able to game at native res, so you're going to have to turn the settings down a few notches regardless of whether you've got the full 16 SPs or not (and plenty of games simply require more than any current Atom CPU can provide).

The 1215N is a very niche product, and I think ASUS knows that. It's easy to recommend alternatives like the 1015PN if you're looking for just a dual-core netbook with ION, since it has roughly double the battery life and not terribly different performance in a smaller chassis. And on the ultraportable side, there are many EOL (end of line) CULV notebooks floating around for around the same $499 pricetag as the 1215N, and more than a few AMD Nile systems in that range as well. For example, there's the $485 Acer AS1551, which comes with a dual-core Athlon II Neo and the ATI HD 4225. You lose some gaming prowess, but you get a much more liveable system from the computing performance side of things.
So it really comes down to priorities—if you're looking for a gaming netbook or a real ultraportable notebook, the 1215N won't really be your cup of tea. But if you're looking for the highest gaming performance you can find in a $500 super-portable notebook, the 1215N should be your system of choice. Like the predecessor, know the limitations and you should be fine.