Original Link: http://www.anandtech.com/show/4002/amd-radeon-hd-6850-overclocking-roundup-asus-xfx-msi


From a variety perspective, the Radeon HD 6800 series is certainly the most interesting Radeon *800 series launches in recent history. AMD typically launches with (and only with) reference cards, and then in time partner-customized cards show up as AMD approves the designs and partners have the time to do the engineering legwork to make custom cards. In the case of the 5800 series this was a particularly long period of time, as TSMC's production shortage meant that AMD was intentionally shipping out reference cards as fast as humanly possible; and as a result we didn't see our first custom 5800 series card until 6 months later in February of 2010. It was a much more controlled launch than normal for AMD.
The 6800 series on the other hand turns that on its head, giving us a much more liberal launch when it comes to card designs. While the 6870 series launched and is still all-reference, the 6850 is the opposite, having launched with a number of custom designs. In fact you won't find a reference 6850 in North America unless you're a hardware reviewer. With an all-custom launch the door is opened to a wide variety of cards with a wide variety of performance characteristics, so we have wasted no time in collecting a few cards to see what they're capable of – after all we've seen what the non-existent reference card can do, but how about the cards you can actually buy? And how about overclocking, do the latest 6850 cards continue the tradition of the *850 being strong overclockers? Today we're going to answer all of that and more.
| | | | | |
| --- | --- | --- | --- | --- |
| | AMD Radeon HD 6850 | XFX Radeon HD 6850 | MSI R6850 OC | Asus EAH6850 |
| Stream Processors | 960 | 960 | 960 | 960 |
| Texture Units | 48 | 48 | 48 | 48 |
| ROPs | 32 | 32 | 32 | 32 |
| Core Clock | 775MHz | 775MHz | 820MHz | 790MHz |
| Memory Clock | 1GHz (4GHz effective) GDDR5 | 1GHz (4GHz effective) GDDR5 | 1.1GHz (4.4GHz effective) GDDR5 | 1GHz (4GHz effective) GDDR5 |
| Memory Bus Width | 256-bit | 256-bit | 256-bit | 256-bit |
| Frame Buffer | 1GB | 1GB | 1GB | 1GB |
| FP64 | N/A | N/A | N/A | N/A |
| Transistor Count | 1.7B | 1.7B | 1.7B | 1.7B |
| Manufacturing Process | TSMC 40nm | TSMC 40nm | TSMC 40nm | TSMC 40nm |
| Price Point | $179 | ~$189 | ~$199 | ~$185 |
The first wave of 6850 cards launching were stock-clocked cards. Our intention had been to grab all stock-clocked cards, but manufacturers have been racing to get factory overclocked cards out the door, and we ended up with 2 overclocked cards after all: the Asus with a token 15MHz core overclock, and the MSI with a more serious 45MHz core and 120MHz(480MHz effective) memory overclock. Expect to see many more overclocked cards soon, as manufacturers are eager to get their more profitable overclocked cards out, typically rolling them out along with additional levels of customization such as custom PCBs.
As we'll see in our performance results, it's interesting to note that while no two cards are alike in terms of temperature and acoustics, the resulting overclocks were all highly similar. At stock voltage all of our cards could hit at least 850MHz core, and with 6870 voltages (1.172v), all of them hit 940MHz. At even higher voltages such as 1.22v we're able to push a couple of these cards up to 960MHz core, but it looks like 940-950MHz is the sweet-spot for the 6850 based on the results we're seeing today. Meanwhile the memory hits a solid wall at 1150MHz (4.6GHz effective); none of our cards would do 1200Mhz (4.8GHz effective) which makes sense given that AMD purposely used a slower memory controller as a tradeoff for a smaller die.
It's also interesting to note that while the load voltage on our reference 6850 was 1.094v, all of our cards here today (even the non-overclocked XFX) feature a higher voltage of 1.148v. At this point we're still trying to get to the bottom of this, as AMD hasn't been able to get back to us with a reason for why we're seeing this discrepancy. The load voltage is a significant factor for the amount of power drawn (and heat generated) by cards, which means none of our partner 6850s have been able to match the reference 6850 in this aspect. We're trying to make sure that 1.094v is indeed the 6850's stock load voltage, or if we need to revise our previous results.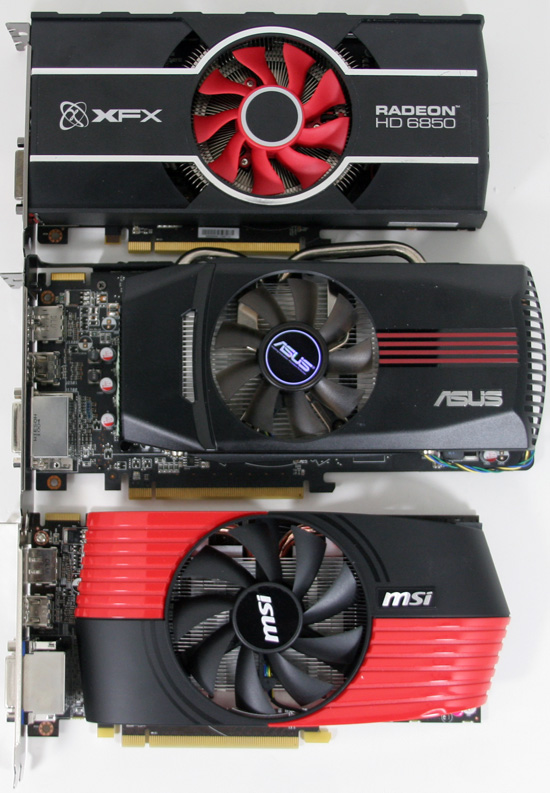 In any case, today we'll be looking at 3 partner cards alongside our reference 6850: the XFX Radeon HD 6850 (HD-685X-ZNFC), the Asus EAH6850, and the MSI R6850 OC. This represents a diverse group of cards, ranging from short & stubby cards to longer cards with custom PCBs, and everything in between.
Meet The XFX Radeon HD 6850
Kicking of our look at 6850s is XFX's Radeon HD 6850 (HD-685X-ZNFC), a card we've had since the 6850 launch two weeks ago and provided to us by XFX to allow us to test 6850 CrossFire performance.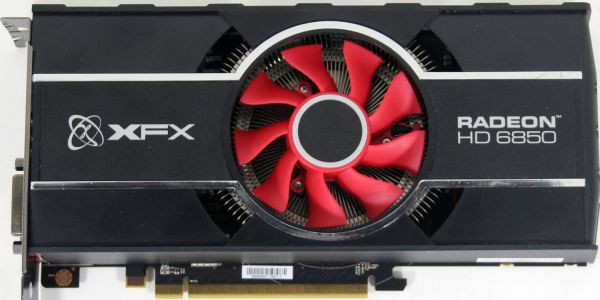 In terms of design the XFX 6850 only bears little resemblance to the reference 6850. The PCB runs half an inch shorter than the reference 6850, measuring 8.5", while among other differences the XFX 6850 has a second unused set of pads for a second 6pin PCIe power socket. Unfortunately the PCIe power socket is still rear facing, meaning while the card is shorter than the reference 6850, you need to factor in space needed for a PCIe power cable. Meanwhile in terms of build quality the card is fairly normal for a mainstream video card; along with the usual solid capacitors, XFX is also using solid state ferrite core chokes here.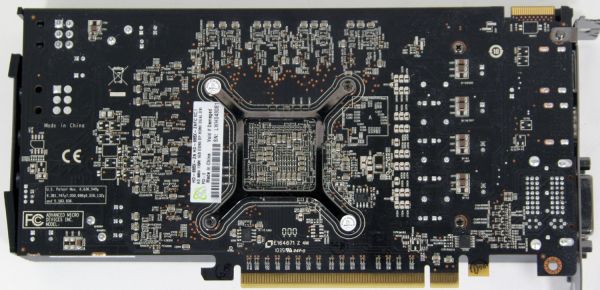 Attached to the top of the card is a completely custom cooler. As is common with cards in this price range and performance level, XFX has ditched the 5850/6850 blower for a more open design that features a center-mounted fan that blows air out the front and the rear of the card. These open designs are both cooler and quieter as air doesn't need to be forced through several inches of heatsink & shrouding, at a cost of relying more on a case's cooling abilities. XFX is using a partially shrouded design in order to keep hot air from blowing out of the bottom of the card & towards the motherboard, along with providing some structural stability to the card.
Interestingly, XFX is using a vapor chamber cooler here, which is uncommon for cards at this price range. As you may recall, vapor chambers are effectively flattened heatpipes that sit between a GPU and heatsink, and offer better cooling than a simple solid-metal heatsink base. We've never been able to get a solid idea on pricing, but it's our belief that vapor chamber coolers end up costing more to build than similar heatpipe coolers, which makes the inclusion of a vapor chamber on a sub-$200 card an unusual choice. In any case, the vapor chamber is then attached to a fairly typical circular aluminum heatsink, with fins running up to the top of the card and the fan embedded in the middle. As we'll see in our test results, the cooling design on the XFX 6850 keeps the card exceptionally cool, but XFX has turned the card for cooling performance at the cost of noise.


Cross-Sectional Diagram Of XFX's Cooler
For the port configuration, XFX has deviated from AMD's new Eyefinity port configuration in place of the older 5800-series port configuration. This means along with the two DVI ports and the HDMI port there's only one full-size DisplayPort, versus the two mini-DP ports that AMD has been pushing for these cards. This is a DP 1.2 port, so the XFX 6850 can still drive up to 3 monitors from it, but the card will be unable to drive 6 monitors (instead being limited to 5) as it lacks the necessary outputs.

As far as packed-in items are concerned, as the 6850 is a mainstream card you won't find any significant included with the card. XFX includes the usual collection of a quick start guide, warranty guide, and driver CD along with a XFX-banded doorknob hanger. However you won't find any dongles, cables, or power adapters here – in fact XFX doesn't even officially support using a 2x Molex to 6pin PCIe power adapter.
Finally, XFX is providing their standard double lifetime warranty for the card; 2 years if unregistered with the double lifetime warranty taking effect if the card is registered. Not surprisingly this along with XFX's design choices have pushed the price of the card up a bit, with the XFX 6850 available for around $190, $10 over the AMD baseline MSRP.
Meet The Asus EAH6850
Our second card today is Asus's first Radeon HD 6850, the EAH6850.The EAH6850 is the latest member in Asus's Voltage Tweak subseries of cards, offering official voltage modification capabilities for overclocking through Asus's SmartDoctor utility. It's also the first overclocked card in today's roundup, featuring a stock speed of 790MHz core and 1000MHz memory, a mere 15MHz over the 6850's standard clocks. As a result the overclock is a token overclock at best - it'll edge out stock-clocked cards in testing, but the difference is nothing to write home about.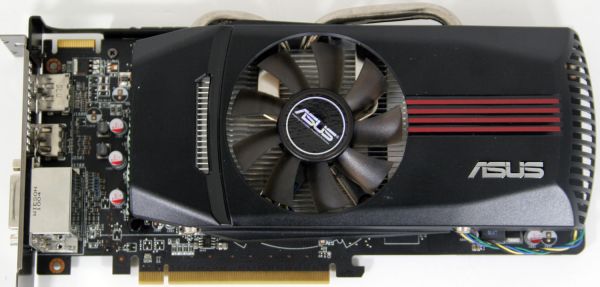 In terms of design Asus has more or less completely thrown out the 6850 reference design for their own design. Starting with the PCB, Asus has gone with a custom PCB that runs a half-inch longer than the reference PCB, giving the EAH6850 a final length of 9.5". With this extension Asus has moved the 6pin PCIe power socket to the top of the card, removing the need for additional clearance behind the card and in the process making the power socket much more accessible. Notably there's a spot for a second power socket, and given the longer length of the card we wouldn't be surprised if Asus ultimately released a 6870 using this PCB.
Meanwhile the component selection on the card is the usual mix of solid state capacitors and chokes. We haven't been able to identify the VRM components in use, but we believe Asus is using a different VRM arrangement than on the reference 6850. The card also features a metal spine running down most the length of the card, providing the extra rigidity that a longer card requires and preventing it from significantly flexing.

Attached to the top of the card is the now customary Asus DirectCU cooler, Asus's highly effective cooler which we have seen on a number of Asus cards in the past. This open-ended cooler uses a pair of aluminum heatpipes attached to a copper baseplate to transfer heat to the card's aluminum heatsink, which runs roughly 2/3rds the length of the card. Embedded in the middle of the heatsink is the 70mm "dustproof" fan, and a partial shroud keeps airflow directed out the front and the rear of the card. Meanwhile the MOSFETs serving as part of the VRM circuitry have their own heatsink attached through springloaded clips, with airflow coming off of the fan keeping this second heatsink cool.
As is the case with the other partner cards in today's roundup, Asus has ditched AMD's 6800 series Eyefinity port configuration in favor of the 5800 series Eyefinity port configuration. This means the card has two DVI ports and the HDMI port along with one full-size DisplayPort, allowing the card to drive up to 5 monitors through a DP hub.

Because this is a Voltage Tweak card, Asus's software plays an important role here by providing control for the card's voltage modification capabilities. SmartDoctor has not changed since the last time we've seen it, providing a functionally competent but ultimately second-rate overclocking experience, as SmartDoctor lacks meaningful monitoring capabilities. Truth be told, the latest betas of MSI's Afterburner software are able to program the EAH6850's VRM controller, meaning there's no practical reason to use SmartDoctor as the superior Afterburner is available.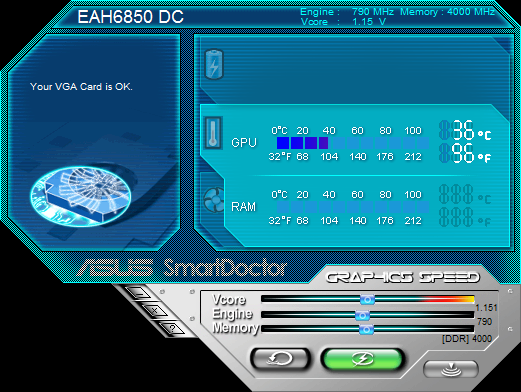 As for pack-in items, Asus includes their usual collection for an AMD card: a quick-start manual, driver/utility CD, molex-to-PCIe power adaptor, short CrossFire bridge, a pleather CD binder, and a DVI-to-VGA dongle. Which on that note we had a chance to talk to Asus's video card product manager last week and asked about the VGA dongle – it turns out that while VGA is largely dead & buried in North America, it's alive and well in the Asia-Pacific region. Asus is simply packing their cards the same way in all regions, which means they all come with the VGA dongle.
Finally, the EAH6850 comes with Asus's standard 3 year video card warranty. EAH6850 can be found for around $185, putting it at a $5 premium over AMD's MSRP.
Meet The MSI R6850 OC
The final card in today's roundup is MSI's R6850 OC. The R6850 OC is one of the first 6850s being released with a significant overclock, with MSI releasing it at 820MHz core and 1100MHz (4400MHz effective) memory, a 45MHz (5.8%) core and 100MHz (10%) memory overclock respectively. Besides the overclock, the card is identical to MSI's existing R6850, using the same PCB and cooler as its stock-clocked counterpart.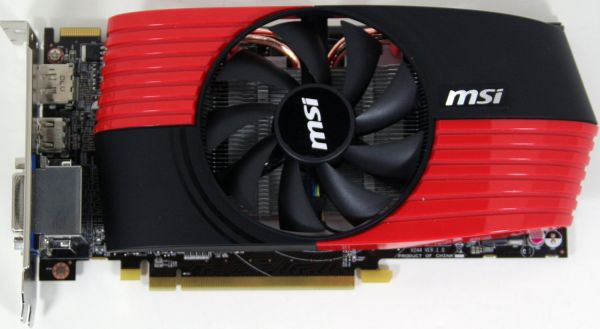 Starting with the PCB, MSI is also using a non-reference PCB, this time using a shorter 8.5" PCB. In fact it's the same PCB as on the XFX card, leading us to believe that this is an alternative 1x DisplayPort PCB from AMD. In any case, because it's the same PCB as the XFX it means it's sharing the same design flaws: MSI has kept the PCIe power sockets on the rear of the card, so the practical length of the card is longer. Furthermore in the case of the MSI card, the card's plastic shroud hangs over the end of the card, making the card 9" long in practice. As a result the end-user benefits of the shorter PCB are more or less wasted.
Attached to the PCB is MSI's cooler, which bears a striking resemblance to Asus's DirectCU cooler. Here MSI is using a pair of copper heatpipes to transfer heat from the baseplate to an aluminum heatsink that runs most of the length of the card. In the center is an 80mm fan providing airflow for cooling, and on top of that a shroud to direct airflow out of the front and the back of the card. Compared to the Asus DirectCU cooler, the biggest differences are that MSI is using a larger fan and copper heatpipes in place of aluminum heatpipes.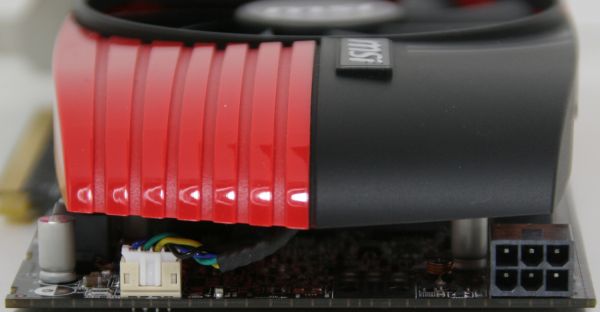 As for the port configuration, MSI is using the same configuration as both XFX and Asus: two DVI ports, one HDMI port, and one full-size DisplayPort, meaning the card can drive up to 5 monitors with a DP hub.

For the R6850, MSI's ace in the hole is the software rather than the hardware. The R6850 comes with MSI's fantastic Afterburner software, which comes with allows overclocking and monitoring, and on the R6850 it even allows voltage modification. While MSI makes this software available for use on non-MSI cards, we always make it a point to tip our hat in their direction as Afterburner continues to be the gold standard in overclocking software.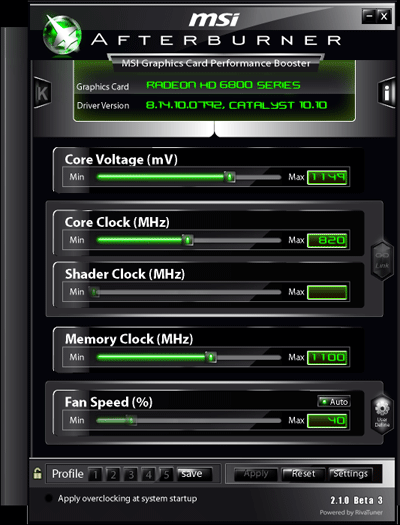 Rounding out the package is the usual collection of odds & ends: a quick-start manual, driver/utility CD, molex-to-PCIe power adaptor, a long CrossFire bridge, and a DVI-to-VGA dongle. Unfortunately we don't have pricing information for the R6850 OC at this time, but we've already seeing the stock-clocked version at around $190, so we'd expect the R6850 OC to go for around $200, a $20 markup over the AMD MSRP for a reference card and roughly in-line with other factory overclocked cards. Meanwhile on the support side of matters, MSI is providing a 3 year warranty with the card.
Pushing the Overclocking Limits: MSI Afterburner
For the Radeon HD 6850, AMD is giving the series a fairly low Overdrive limit of only 850MHz for the core. In practice we've found that this is attainable without voltage modification on all of our cards, so for more extreme overclocking we have to work a bit harder. Most tools simply tie in to Overdirve, and as a result will stick with the same 850MHz limit. Asus's SmartDoctor can go up to 1000Mhz out of the box, while for the MSI R6850 and other cards MSI's Afterburner can surpass this, but it won't do so out of the box.
In order to push a 6850 beyond the Overdrive limits, Afterburner must be told to ignore them. This is accomplished by opening up the MSIAfterburner.cfg file in the program's directory, and changing the entry EnableUnofficialOverclocking from 0 to 1. With this change in place Afterburner can go over 1000MHz, which is beyond what any of our cards can achieve without exotic cooling methods.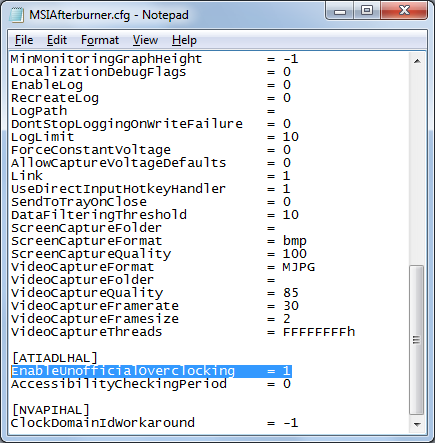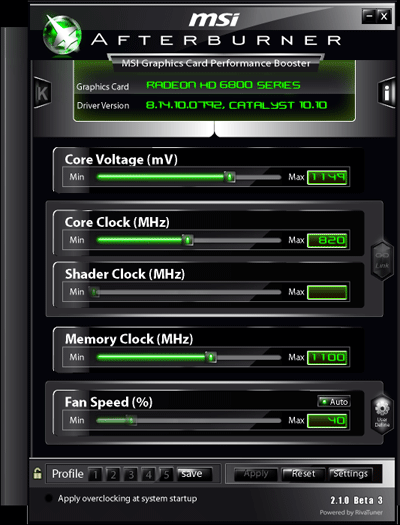 The Test & Stock Gaming Performance
For our testing we're using the 6800 series launch drivers: AMD Catalyst 10.10.
CPU:
Intel Core i7-920 @ 3.33GHz
Motherboard:
Asus Rampage II Extreme
Chipset Drivers:
Intel 9.1.1.1015 (Intel)
Hard Disk:
OCZ Summit (120GB)
Memory:
Patriot Viper DDR3-1333 3 x 2GB (7-7-7-20)
Video Cards:
AMD Radeon HD 6870
AMD Radeon HD 6850
AMD Radeon HD 5870
AMD Radeon HD 5850
AMD Radeon HD 5770
AMD Radeon HD 4870
NVIDIA GeForce GTX 480
NVIDIA GeForce GTX 470
NVIDIA GeForce GTX 460 1GB
NVIDIA GeForce GTX 460 768MB
NVIDIA GeForce GTX 285
NVIDIA GeForce GTX 260 Core 216
XFX Radeon HD 6850
MSI R6850 OC
Asus EAH6850
Video Drivers:
NVIDIA ForceWare 260.89
AMD Catalyst 10.10
OS:
Windows 7 Ultimate 64-bit
As we do have a couple of overclocked cards in today's roundup we've gone ahead and quickly run a subset of our benchmarks. There won't be any surprises here, as the MSI card is the only card with a significant overclock, pushing it ahead of the reference card, the XFX, and the Asus 6850s but not being enough to significantly chance the performance of the card.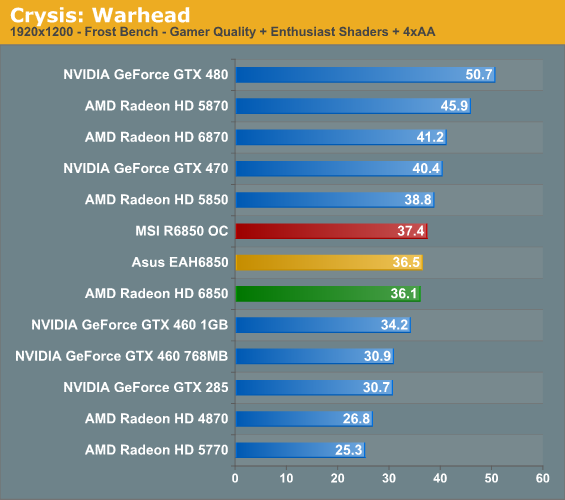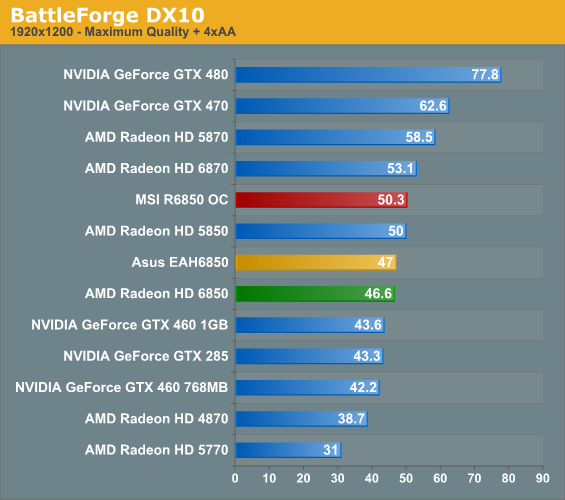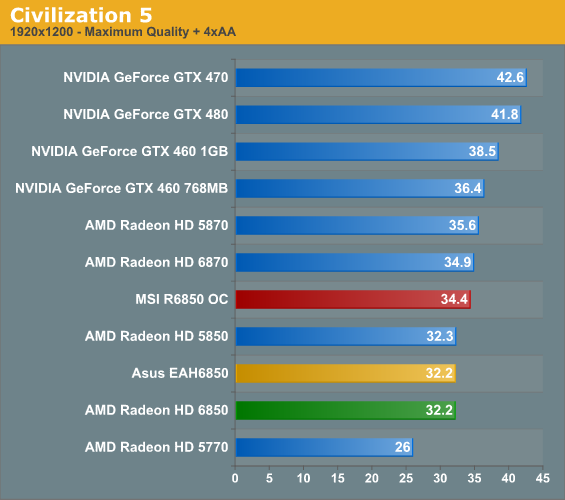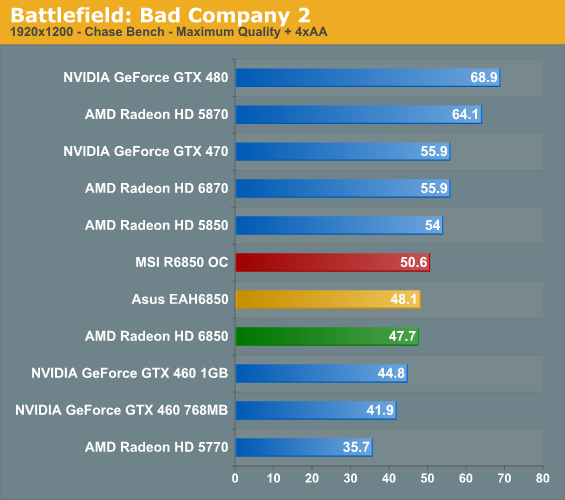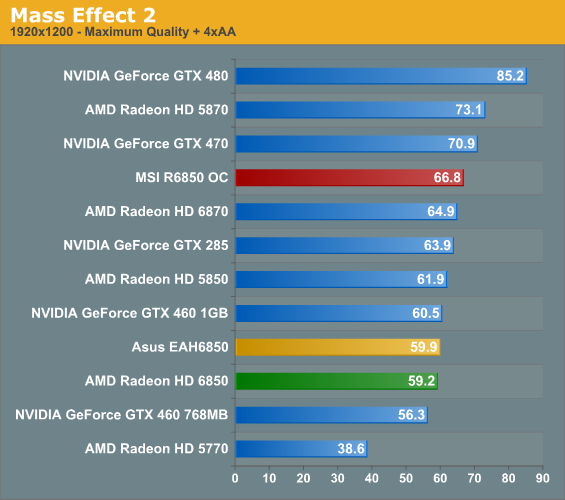 The Asus with its sub-2% overclock doesn't make any notable headway here. Meanwhile the MSI R6850 OC with its higher overclock does manage to top the Radeon HD 5850 at times, depending on how big the gap was in the first place. Whereas the stock 6850 is undeniably slower than the stock 5850, we'd be comfortable calling the R6850 OC comparable to the 5850.
Power, Temperature, & Noise
With the variety of card designs it's the difference in power draw, heat dissipation, and acoustics that truly separate the cards. It's not just the difference in physical designs that helps set these cards apart, but also how the manufacturer has decided to tune the cards to balance these attributes. A balanced card is usually the most desirable.
Radeon HD 6850 Load Voltage
Ref 6850
XFX 6850
MSI 6850
Asus 6850
1.094v
1.148v
1.148v
1.148v
As we noted in the introduction, all of our 6850s except the reference card have a load voltage of 1.148v, versus 1.094v. We're still trying to get to the bottom of the issue, but in the meantime this means all of these cards run worse than the reference 6850 when it comes to power consumption.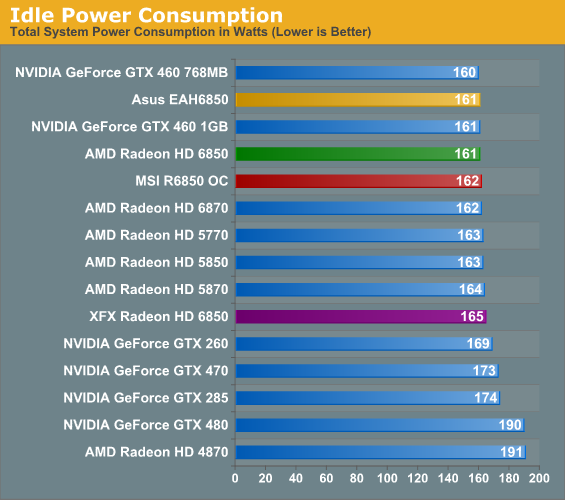 Out of our 3 partner cards and our reference card, our idle power results are tightly clustered among all of the 6850s except for the XFX card which draws a few more watts at idle. We believe this is due to XFX's fan choice, though we can't rule out component selection either.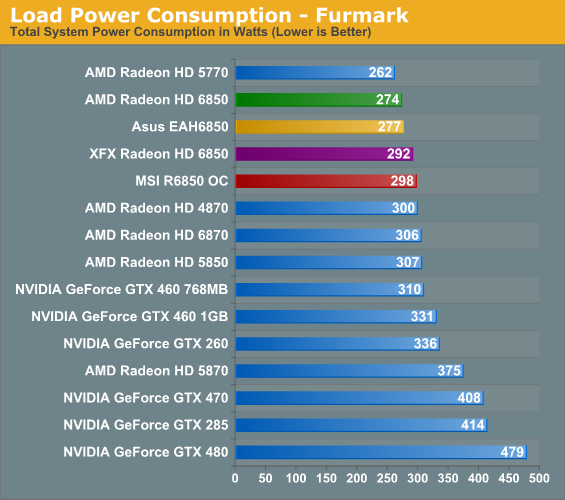 In terms of power consumption the Asus card is closest to the reference 6850, followed by the XFX and then the MSI card. This isn't particularly good for XFX here, as the other partner cards all have at least a token overclock while the XFX card is doing notably worse than the 6850 reference cards even though it's operating at the same clockspeeds. Even compared to the Asus card it's doing worse here.
Meanwhile the MSI R6850 ends up being rather close to the 5850. Given that it achieves 5850-like performance, this isn't particularly surprising.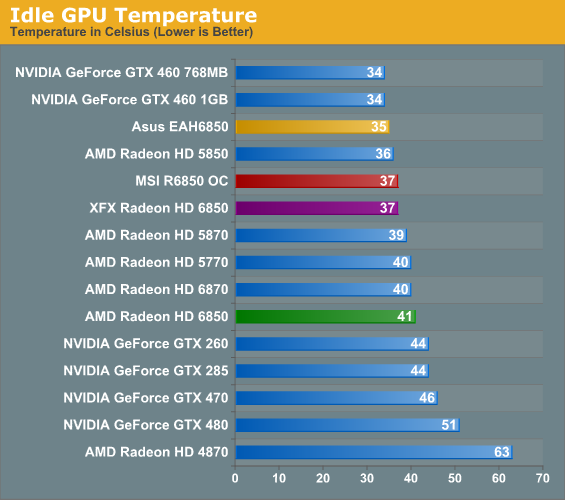 All 3 partner cards do better than the 5850 when it comes to idle temperatures thanks to their open designs. The price of a fully exhausting design is more noise and higher temperatures, which the reference 6850 pays the price for here.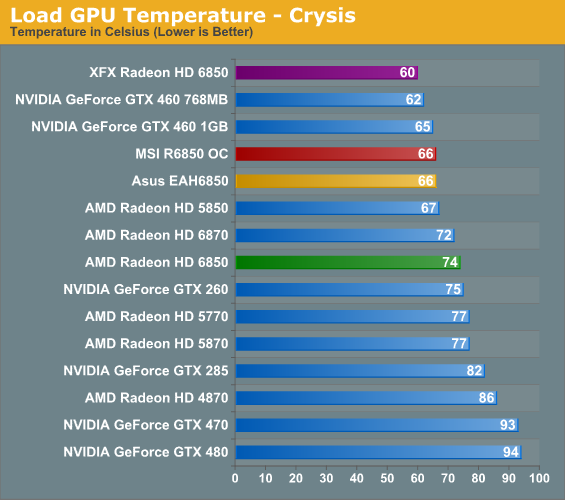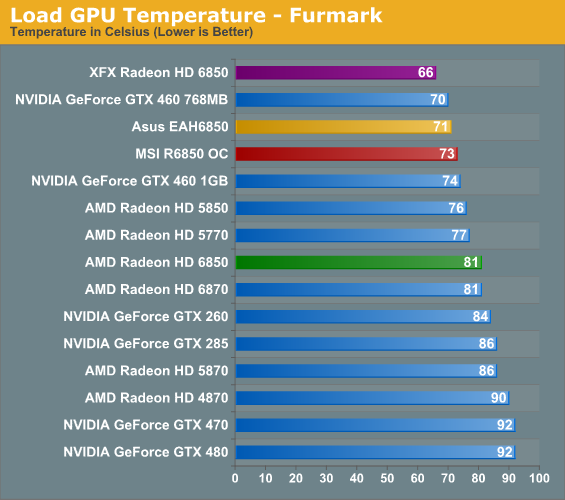 Once again the open coolers on the partner cards give them a significant leg up over the reference card. Even with the reference card's lower power consumption, it runs hotter than all the open cards as we'd expect. Topping this chart is the XFX card, which with XFX's extreme focus on cooling manages to hit only 60C on Crysis and 66C under FurMark. This is followed by the Asus and MSI cards, which are neck-and-neck, which is a reasonable outcome given the similarities between their coolers. All of the partner 6850s end up doing better than the NVIDIA GTX 460 1GB, which uses a cooler similar to the XFX card.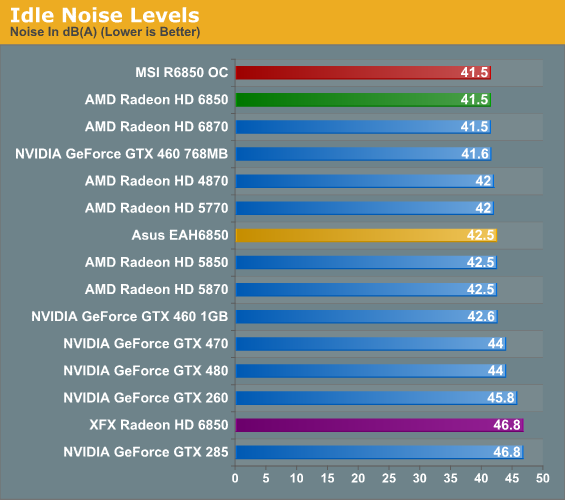 At idle most cards run up against our noise floor. The standouts here are the Asus card, which ends up being a dB over the quietest cards, while the XFX card does significantly worse here at 46.8dB. In practice the Asus card shouldn't be any worse than the other cards, but the XFX is noticeable (but not distracting) at idle.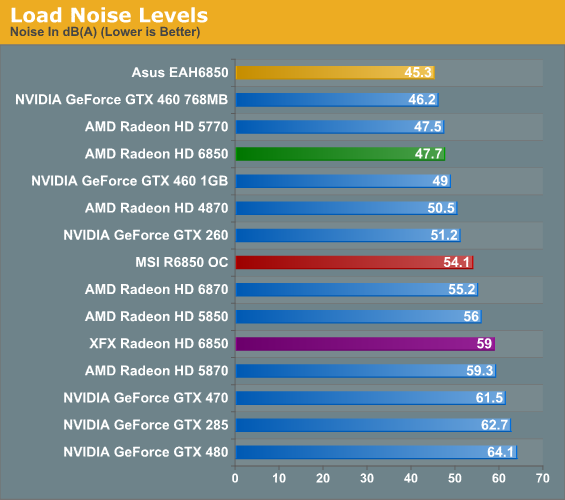 It's when we move to looking at load noise that we see our 6850 cards significantly separate. The reference 6850 was a tough card to beat here being that it was tuned for noise, but Asus did it, coming in at 45.3dB, quieter than any reference card in its class. Meanwhile the MSI and XFX cards do significantly worse; the XFX at 59dB is outright loud, but this was a conscious design decision on XFX's part to focus on cooling over noise concerns. MSI on the other hand has a card with similar temperature characteristics as the Asus card, but does significantly worse than the Asus card when it comes to noise. It's difficult to do a straight comparison here, as while both cards have the same load voltage, the MSI card has a much larger overclock than the Asus card. The MSI card still seems too loud for what it is, even though the amount of noise is comparable to the 5850 and other cards with a similar power draw.
Overclocking: Performance, Power, Temperature, & Noise
Half of our results focus on our 6850s at their stock clocks, but the other half of our results focus on the card when it comes to overclocking. As a lower clocked Barts card, 6850 cards not binned for poor maximum clocks should have a fair bit of overclocking room as AMD intended for the design to hit 900MHz+. The 6850's power efficiency pretty much has to go out the window here, but in return we can capture some significant performance gains.
Overclocking Results
Stock Clock
Max Overclock
Stock Voltage
Max Overclocked Voltage
Radeon HD 6850 Reference
775MHz
940MHz
1.094v
1.172v
XFX Radeon HD 6850
775MHz
940MHz
1.148v
1.172v
MSI R6850 OC
820MHz
960MHz
1.148v
1.22v
Asus EAH6850
790MHz
960MHz
1.148v
1.22v
When overclocking, we found 3 things:
All of the cards could hit 850MHz core at stock voltage
All of the cards could hit 940MHz core at 1.172v, the 6870 load voltage
We had to give the cards significantly more voltage to get above 940MHz. This culminated at 1.22v on the Asus and MSI cards for 960MHz
Based on these results we went ahead and benchmarked the Asus card at 850/1150, 940/1150, and 960/1150 to showcase the performance at these overclocks, while capturing data for all of the cards at 1.172v, and the Asus and MSI cards at 1.22v.
While it's possible to hit 960MHz with enough voltage, in practice it's not worth the effort. The Asus and MSI cards jumped in power consumption, temperature, and noise by around 20W, 3C, and 2dB each, for a performance difference of under 2%. On a higher-end card where performance is the only attribute that matters this wouldn't really matter, but we would not consider this a useful tradeoff on a petite card like the 6850.
As for memory overclocking, we hit at solid wall at 1150MHz as none of our cards could do 1200MHz without artifacting. However 1150MHz didn't trigger performance degradation due to error correction-induced retransmission, so it looks to be a safe frequency for all cards. The limit we believe lies solely with the memory controller, which was a conscientious decision by AMD to trade memory clocks for a smaller die. As a result the controller reaches its limit before we can even push the 5GHz GDDR5 to spec.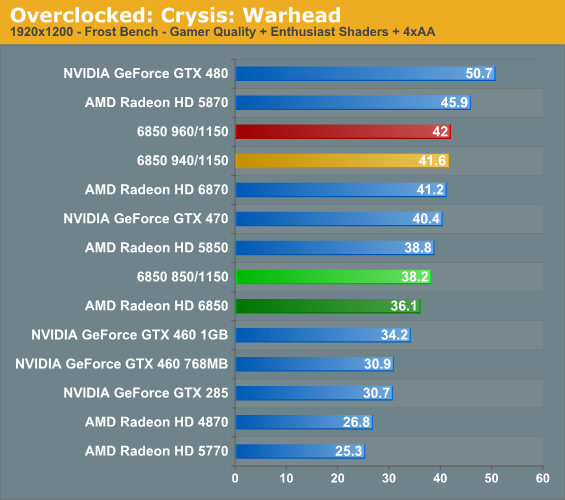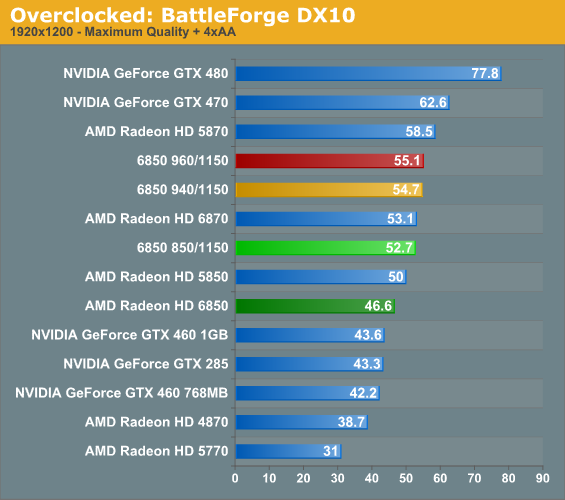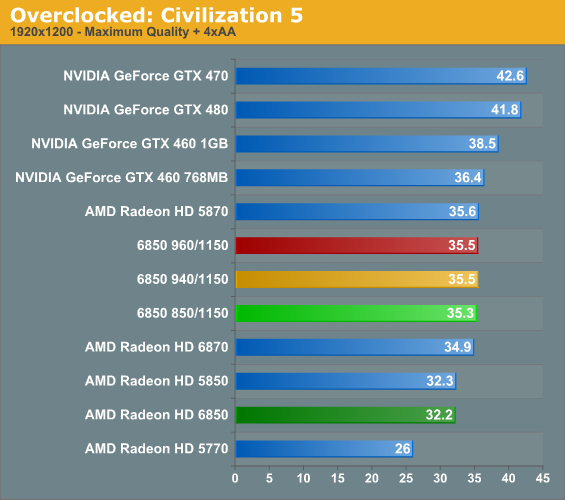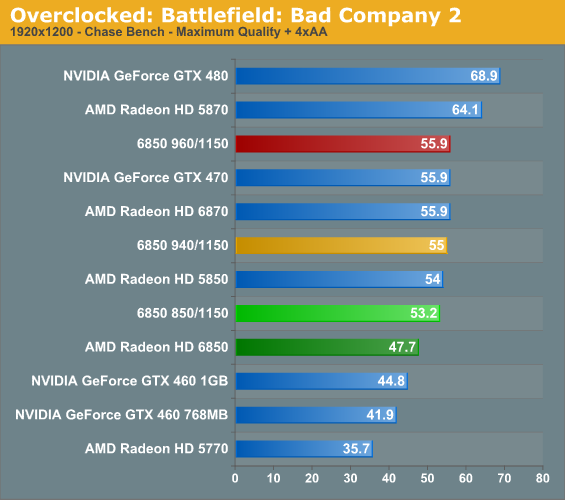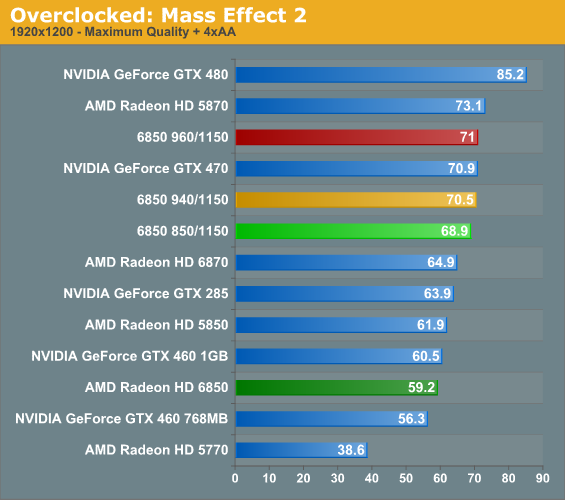 Something that caught us completely off-guard in our results is just how well the overclocked 6850 did. Even at the "mere" speed of 850/1150, it's faster than the 6870 in 3 out of our 5 games; and the 6870 still has a core clockspeed advantage and more SIMDs! The advantage for our overclocked 6850s is that the memory clock of 1150MHz (4.6GHz effective) is faster than the 6870's memory clock of 1050Mhz (4.2GHz effective), and this looks to be the reason for the difference. Based on all the data we have, Barts looks to be memory bandwidth starved in around half the games we use. From this it looks like a good memory overclock is going to go a long way on the 6850 and 6870 towards improving performance.
As for how much of an overclock is necessary, this depends on the game. When Barts is memory bandwidth starved, the 940Mhz and 960Mhz memory overclocks provide only a small boost; while on shader-bound games like Crysis there's a very tangible benefit. Combine the memory overclock with a 940Mhz core overclock and the 6850 can meet or beat the 6870 every single time. The voltage increase necessary to achieve this core overclock comes at a price however.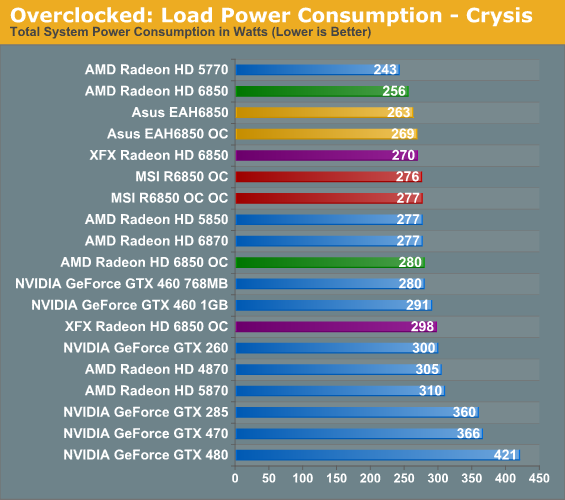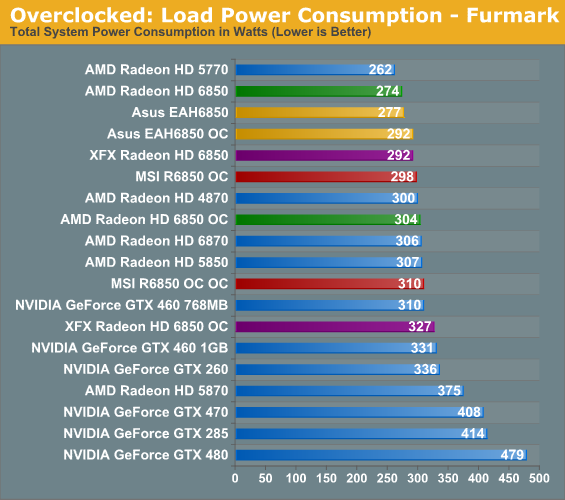 Starting with power consumption, the voltage increase necessary for 940MHz is around 20W-30W under FurMark for our reference and near-reference clocked cards, and less for the MSI card since it already has a notable factory overclock. If nothing else, 1.172v gives up all the power advantages over the Radeon 5850, though as we've seen it pays off with a very notable performance advantage over the 5850.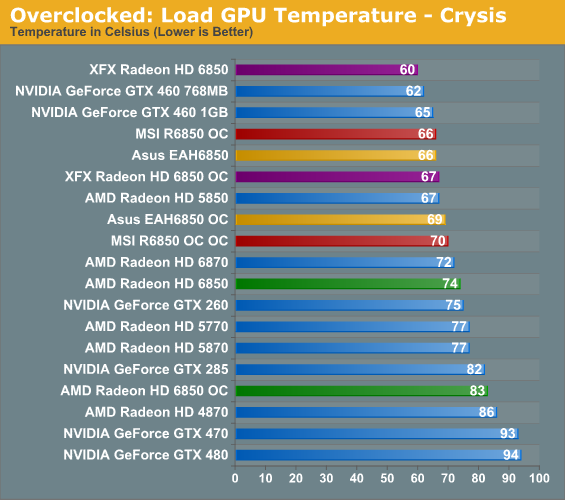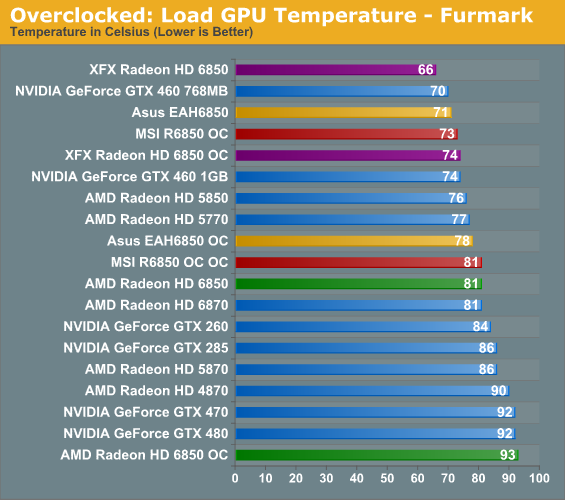 For the partner cards in today's roundup, the temperature runup from overvolting isn't too bad, with the worst card only hitting 81C under FurMark and becoming progressively cooler from there. However the reference 6850 is an entirely different story: it hits 93C under FurMark, which is hotter than what we're comfortable with for Barts, particularly since it's brand new. If reference-style cards show up on the market, we would not recommend overvolting them, at least not to 1.172v. Meanwhile the XFX card with its focus on temperature tops this chart, still only hitting 74C under FurMark. The cooling on this card is so good that we suspect the VRMs will burn up long before the GPU will when overvolting.
Finally we come to noise. We suspect many buyers will be alright with the power and temperature increases so long as noise remains manageable, so what we have is a mixed bag. Throwing out the reference 6850, we're left with the XFX card at over 60dB, and while XFX's focus on temperatures is commendable, it ends up being shortsighted by making the card exceptionally loud here. This is followed by the double-overclocked MSI card, which at 58.7dB is over 3dB louder than the 6870, but is only encroaching on the 5870. It's too much noise for the performance, but compared to first-gen 40nm cards it's not the end of the world.
This leaves us with the Asus card. While it does jump by 6dB due to our overclocking, it had such a massive lead at stock that this only makes it about as loud as the GTX 260 and Radeon HD 4870. The idea of a near-silent card has gone out the window at this point, but we would consider it a very manageable level of noise for the performance offed with the 940/1150 overclock. Certainly it's the most balanced of the cards, as it sacrifices only little in the way of cooling (78C in FurMark) for the lower level of noise generated.
Final Thoughts
As this is a two-sided article, there are two things we'd like to touch on: Radeon HD 6850 overclocking in general, and how well the cards in today's roundup stack up.
We'll start with 6850 overclocking in general. While we only use a subset of our most performance-hungry games in overclocking testing, it's clear that 6850 overclocking isn't going to be a simple case of overclocking the core first, and getting what you can out of the memory second. In fact it looks to be the opposite: the 6850's big performance pickup from overclocking is due to the memory overclock first, then the core overclock. As a result we're less concerned with core overclocking (and overvolting) as we are with memory overclocking. Overclocking both is going to be necessary to compete with the 6870 in shader-bound games, but even the memory overclock alone can be quite potent. AMD's Overdrive limits don't look so bad in this respect, and based on our 4 cards 850/1150 is probably attainable on most cards.
On this note, it's interesting that the only card in our roundup with a significant factory overclock, the MSI R6850 OC, had a much bigger memory overclock than a core overclock. We normally don't put much thought in to how partners choose their overclocks beyond choosing things that bin in large enough numbers, but this certainly grabs our attention. Perhaps MSI has realized the same thing we have?
This brings us to the second half of our article: the 6850 roundup. Balance is usually the key to a good card, and in the mainstream market this is even more important. So among the 3 cards in our roundup it catches us off-guard to see that only 1 of the cards is really balanced: the Asus EAH6850. While the XFX Radeon HD 6850 has excellent cooling, it's much too aggressive in our tests; lower temperatures don't do anything on their own, we're only concerned about them to the point that they're low enough that we need not be concerned with the lifespan of a card. Meanwhile the MSI R6850 OC is just all-around worse, which while explainable at stock speeds due to its overclock, is hard to explain when we normalize clocks and voltages at 1.172v, 940/1150. There's always something to be said for the benefits of a factory overclock, but compared to the Asus card it seems like there's a lot to give up to get there.
And that leaves us with the Asus EAH6850. Asus's design philosophy is normally what we'd call "aggressive", as we have seen a number of their cards that trade temperature for noise, similar to the XFX. But this isn't the case for the EAH6850 – it's as balanced a card as we could ask for. It does well enough at cooling while approaching whisper-quiet noise levels, and even overclocked it manages to keep the 6850 in check without getting too loud or drawing more power than is necessary. At 9.5" long Asus did have to make some kind of tradeoff, but unless you have an extremely cramped case it's definitely a reasonable tradeoff. Ignore the ridiculous token overclock, and you have the Radeon HD 6850 that not only stands above all others, but can more than give the GTX 460 1GB a solid kick to the curb.