Original Link: http://www.anandtech.com/show/4000/apples-11inch-upgraded-macbook-air-review-do-16ghz-and-4gb-make-a-difference


Last month we looked at Apple's new 11-inch and 13-inch MacBook Airs. I concluded the 11-inch was the pinnacle of portability, delivering the weight and form factor of a netbook but without the drive-you-crazy performance of an Atom. The 13-inch was more of a regular, get-your-work done notebook - just in a very thin and very light chassis. I liked carrying the 11-inch MBA, but I liked working on the 13-inch. My typical workflow was simply too slow on the 1.4GHz 11-inch system.
Apple offers two potentially important upgrades for the 11-inch MacBook Air that could alleviate some of my concerns. For $100 more than its $999 starting price, you can outfit the 11 with 4GB of memory instead of 2GB. Light web browsing and writing don't need more than 2GB, but start editing videos, photos or open way too many apps at once and you'll quickly want more memory. If you're planning on keeping your system for a while, the 4GB upgrade makes a lot of sense. And many Apple stores actually stock the upgraded 4GB model.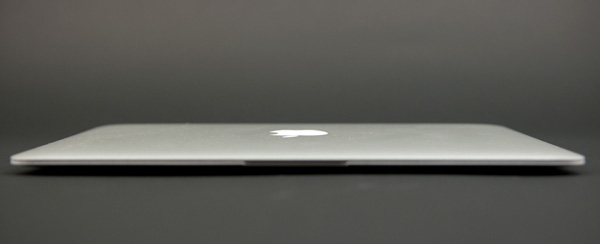 The next upgrade is a bit harder to swallow. The base 11-inch MacBook Air can't be upgraded aside from memory. The $1199 model however, can. You get a 128GB SSD (up from 64GB) as well as the option to pay $100 for a 1.6GHz Core 2 Duo.
Normally 200MHz isn't much to write home about, especially not for $300 more than the standard 11. However, 200MHz is a 14% increase in clock speed compared to the base model. In applications that are CPU bound, you may see close to that percentage in improved performance. The magic number for feeling a performance increase is 10%. Anything below that is tough to feel in real world use, but anything at or above that 10% mark usually feels quicker.
MacBook Air Spec Comparison
11-inch
Upgraded 11-inch
13-inch
CPU
Intel Core 2 Duo 1.4GHz
Intel Core 2 Duo 1.6GHz
Intel Core 2 Duo 1.86GHz (2.13GHz optional)
Memory
2GB DDR3-1066 soldered on-board
4GB DDR3-1066 soldered on-board
2GB DDR3-1066 soldered on-board (4GB optional)
GPU
NVIDIA GeForce 320M
NVIDIA GeForce 320M
NVIDIA GeForce 320M
Storage
64GB SSD
128GB SSD
128GB SSD (256GB optional)
Connectivity
802.11a/b/g/n Bluetooth 2.1 + EDR
802.11a/b/g/n Bluetooth 2.1 + EDR
802.11a/b/g/n Bluetooth 2.1 + EDR
Battery Capacity
35 Whr
35 Whr
50 Whr
Dimensions
11.8 " x 7.56 " x 0.11 - 0.68"
(29.95 cm x 19.2 cm x 0.3 - 1.7 cm)
11.8 " x 7.56 " x 0.11 - 0.68"
(29.95 cm x 19.2 cm x 0.3 - 1.7 cm)
12.8 " x 8.94 " x 0.11 - 0.68"
(32.5 cm x 22.7 cm x 0.3 - 1.7 cm)
Weight
2.3 lbs (1.06 kg)
2.3 lbs (1.06 kg)
2.9 lbs (1.32 kg)
Price
$999
$1399
$1299
Combine the two upgrades and you've got a fairly expensive MacBook Air ($1399 if you're keeping score). But if you want the portability of the 11 and are looking to get as much performance as possible, it's your only option.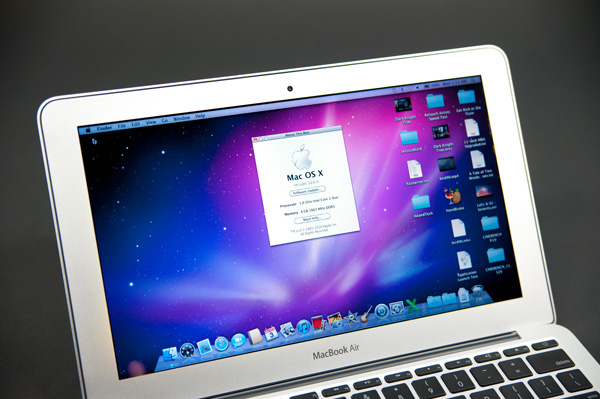 Luckily we happened to come across such a system. And we didn't hesitate to test it.
Performance
Adobe Photoshop CS4 Performance
The Retouch Artists Speed Test we use for our CPU testing under Windows also works under OS X. We're running the exact same benchmark here, basically performing a bunch of image manipulations and filters and timing the entire process.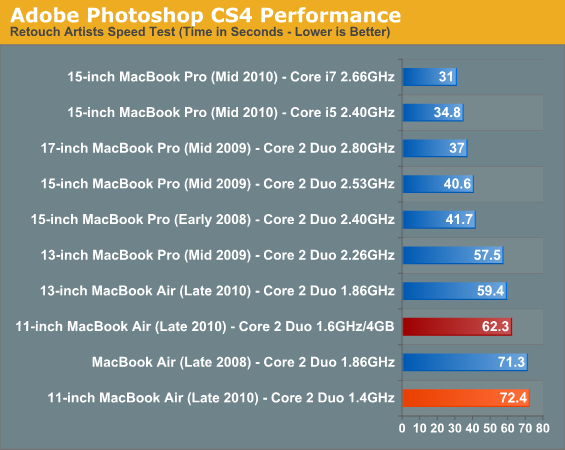 Photoshop benefits tremendously from the upgrade to 4GB. The application takes advantage of both the faster CPU and larger memory size. The combination of the two bring the 11-inch system within 5% of the 1.86GHz, 2GB 13-inch MacBook Air. A 16% increase in performance over the base 11-inch configuration. Definitely, a tangible improvement.
Aperture 2 RAW Import
For my Aperture test I simply timed how long it took to import 203 12MP RAW images into the library.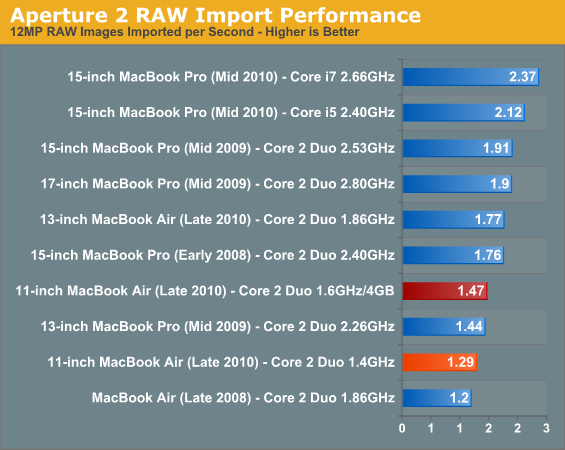 Our Aperture import test is equally impressive. We measured a 14% increase in performance over the base configuration. Although in this case, the 13-inch MBA was still 20% faster than the upgraded 11. Once more, the system didn't only benchmark quicker, but it felt faster in use.
Cinebench R10
I'm a fan of the Cinebench test because it lets me show off both single and multithreaded performance in the same workload.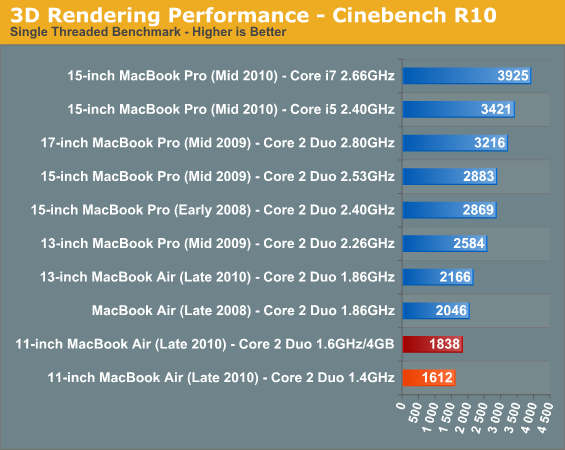 Cinebench is perfect for isolating the potential for CPU improvement. These tests are entirely CPU bound and as a result we see a ~14% improvement from the upgraded 11 vs. the base model. This is important to confirm because it means that despite the higher clock speed, Apple isn't aggressively throttling the Core 2 in the upgraded system. If you pay for the extra 200MHz, Apple gives it to you - no strings attached.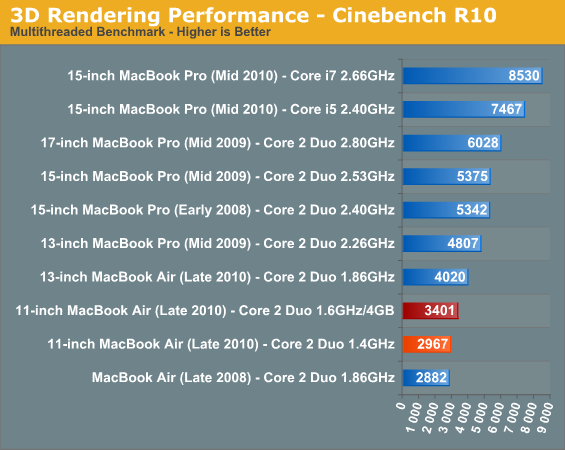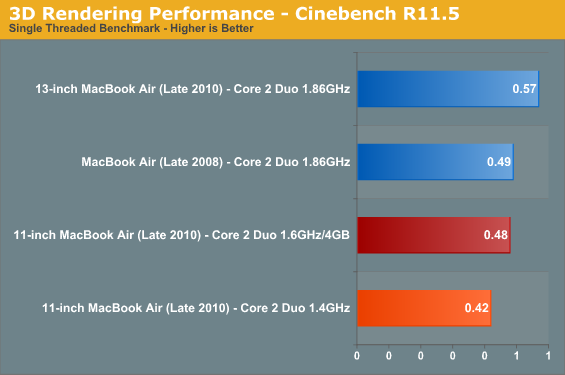 The only indication of something funny going on was our run through Cinebench 11.5. The multi-threaded score was only 13.5% higher than the 1.4GHz model, indicating that the chip most likely pulled back below 1.6GHz (likely only down to 1.5GHz).
Quicktime H.264 & Handbrake Video Encoding
Our Quicktime benchmark is more consumer focused. Here I'm taking an XviD and converting it to an iPhone-supported H.264 format.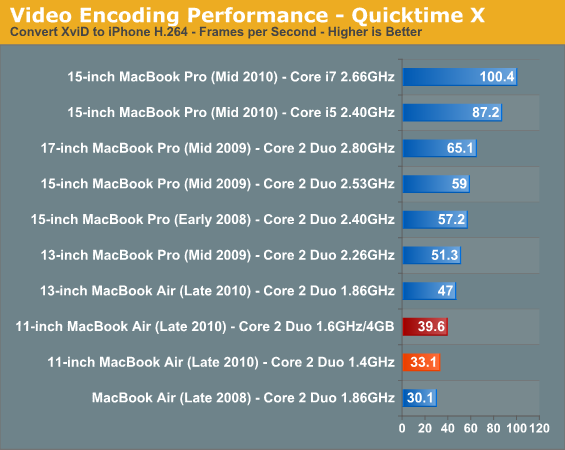 Our Quicktime transcode test proved to stress both the CPU and memory upgrades, resulting in a total performance increase of 19.4%. These are significant gains, definitely noticeable in real world use. Despite the huge improvement however, the 13-inch MacBook Air is still 18.8% faster - partly due to clock speed, and partly due to its larger L2 cache.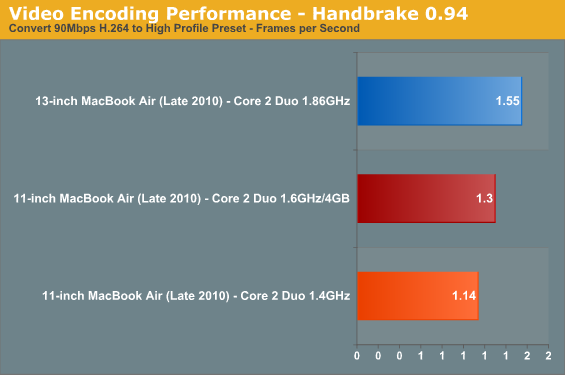 On average the upgraded system was 15% faster than the base 11-inch MacBook Air. The base 13-inch MBA averaged around 19% faster across the board, however in applications/usage models with large memory footprints the faster CPU had effectively no benefit.
Battery Life
Intel ships microprocessors, even those running at the same frequency, at varying voltages. Chips with lower leakage ship at lower voltages, while higher leakage chips ship at higher voltages. All CPUs have to ultimately fit within the same power envelope, but anything below that max TDP is fair game.
Running at a higher frequency generally requires a higher voltage, which in turn increases power consumption. I ran the upgraded 11-inch through all of our battery life tests to measure its impact.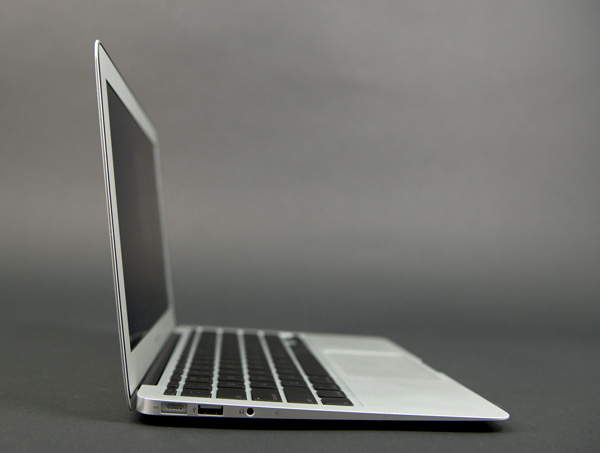 Light Web Browsing
Here we're simply listing to MP3s in iTunes on repeat while browsing through a series of webpages with no flash on them. Each page forwards on to the next in the series after 20 seconds.
The display is kept at 50% brightness, all screen savers are disabled, but the hard drive/SSD is allowed to go to sleep if there's no disk activity. The wireless connection is enabled and connected to a local access point less than 20 feet away. This test represents the longest battery life you can achieve on the platform while doing minimal work. The results here are comparable to what you'd see typing a document in TextEdit or reading documents.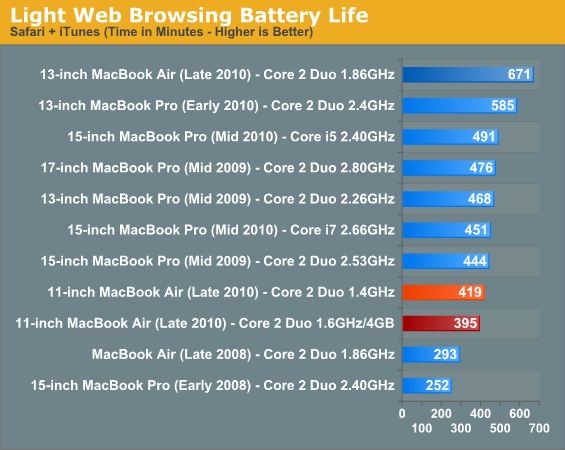 Flash Web Browsing
The test here has three Safari windows open, each browsing a set of web pages with between 1 - 4 animated flash ads per page, at the same time. Each page forwards onto the next after about 20 seconds.
As always, the display is set to 50% brightness, audio at two bars, screensaver disabled and the hard drive/SSD is allowed to go to sleep if idle. The wireless connection is enabled and connected to a local access point less than 20 feet away.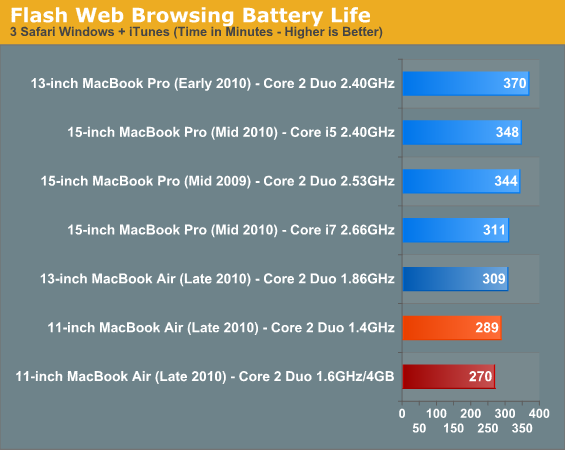 Multitasking Battery Life
Our final battery life test is the worst case scenario. In this test we have three open Safari windows, each browsing a set of web pages with between 1 - 4 flash ads per page, at the same time. We're also playing an XviD video in a window all while downloading files from a server at 500KB/s.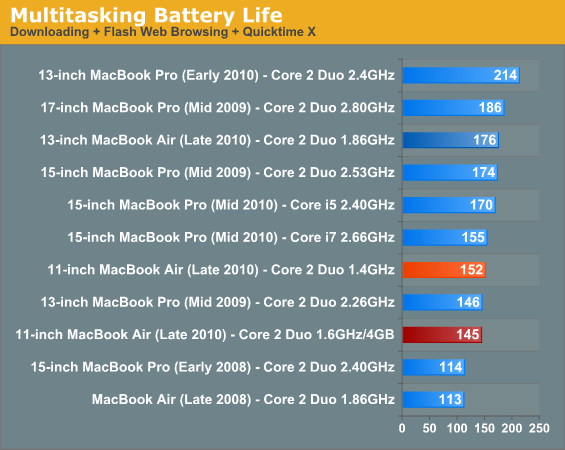 Overall the upgraded hardware resulted in a minimal impact to battery life. The worst impact was in the Flash web browsing test in which the upgraded system delivered 93% of the battery life of the base 11-inch MBA. The remaining two tests offered between 94 - 95%.
Given the 15% average improvement in performance when you need it, a 6% average reduction in battery life isn't bad.
Final Words
The 11-inch MacBook Air may be portable perfection, but by default it's not the perfect notebook. It's slow, the battery doesn't last all that long under actual use and the screen resolution, although appreciably high, makes things a little difficult to read.
The 1.6GHz/4GB upgrade comes at a steep cost but it directly attacks one of those complaints. There's a tangible difference in regular use between the base and upgraded models. While I wouldn't consider either fast, I'd say that extra 10 - 20% performance increase you get from the upgraded CPU and memory makes a very big difference. If all you're doing is writing and web browsing I'm not sure it's necessary, but anything beyond that could probably make use of the upgraded specs.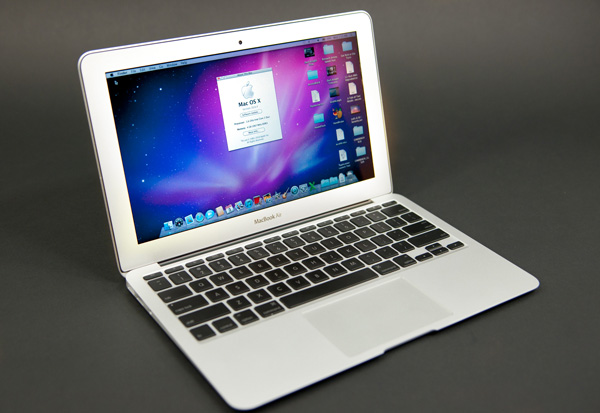 At $1399 there's almost no way to rationally justify the price and rest assured that within 12 - 18 months Apple will have a much faster version available, likely at an even cheaper price point. The upgrade obviously does nothing to address that part of the equation. You do get a pretty good display, great form factor and of course the ability to run OS X, but any way you look at it $1399 is a lot for a lightweight notebook. Then again, I did pay a lot more than that for my first Transmeta notebook about a decade ago.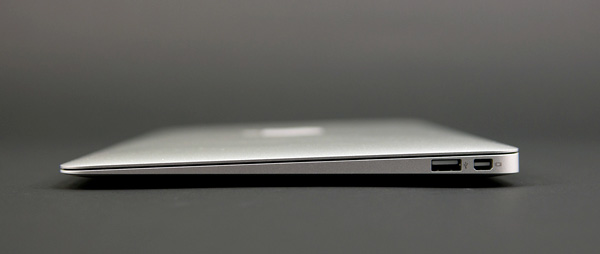 The impact to battery life is minimal, although it is measurable. Having used the 11-inch MacBook Air exclusively on my last business trip I can say that the battery life experience lines up with what our benchmarks show. Even for simple tasks the 11-inch MacBook Air doesn't last anywhere near as long as the 15-inch MacBook Pro. Heavy use throughout the day will require the aid of a charger.
Traveling with the system is great however. You don't need to take it out of your bag when going through airport security and it's light enough that I hardly noticed I was carrying it. As I write this final paragraph in the dark cabin of a plane, I do still miss the backlit keyboard. Apple really should bring that back.