Original Link: http://www.anandtech.com/show/3999/dell-xps-15-l501x-review


Dell XPS L501x: Windows' MacBook Pro Alternative
We've lamented the state of Windows laptops on numerous occasions; the formula is "tried and true", but that doesn't mean we like it. Put in reasonably fast components, give us sufficient memory and hard drive capacity…and then match this with a cheap (usually glossy) plastic case and the least expensive (again, glossy) LCD panel you can find. Acer (and sub-company Gateway) has truly perfected the art, with a keyboard that all three of our laptop reviewers dislike/loathe/vilify, but they're certainly not the only culprit. ASUS, Toshiba, Dell, HP, and many others use variations of the same basic pattern, and what we're left with is a matter of finding out who if anyone can make something that truly stands out from the crowd.
Of course, if we're talking about standing out from the crowd, one name almost immediately comes to mind: Apple. Love 'em or hate 'em, Apple has definitely put more time and energy into creating a compelling mobile experience. It starts with building a high quality system, but it reaches beyond that into the core OS X experience. Whatever Apple is doing, the result is significantly better battery life under OS X for the components and battery capacity—and as we've shown, moving to Windows 7 largely negates any battery life advantage.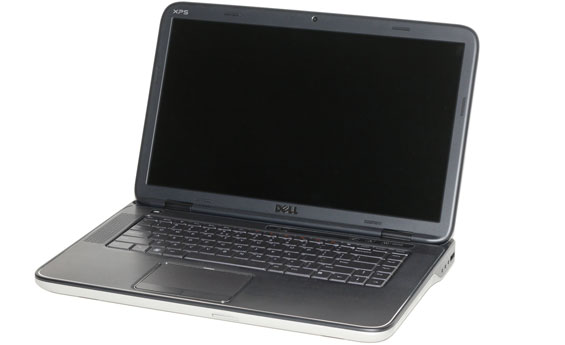 HP created their Envy line to go after the same target market, only forget the OS X stuff and simply build a better consumer notebook that doesn't feel like a cheap piece of plastic. Now, Dell is throwing its hat into the ring with the return of their XPS line. Yes, you could argue that the Studio XPS went after the same market, but the chassis now comes with a magnesium-alloy frame and eschews glossy plastic; the result looks and feels better (in our opinion) than the old Studio XPS 16. Dell also ships Waves Audio Maxx and JBL certified speakers on all the new XPS models, with a claim that these are the best laptop speakers on the market. We'll try to put that claim to the test, but before we get to the evaluation here's the specifications on our test system.
Dell XPS 15 L501x Specifications
Processor
Intel Core i5-460M
(2x2.53GHz, 32nm, 3MB L3, Turbo to 2.80GHz, 35W)
Chipset
Intel HM57
Memory
2x2GB DDR3-1333 (Max 8GB)
Graphics
NVIDIA GeForce GTX 420M 1GB GDDR3
96 SPs, 500/1000/1600MHz Core/Shader/RAM clocks
Display
15.6" B+GR LED Glossy 16:9 1080p (1920x1080)
(AU Optronics B156HW1) (Upgrade)
Hard Drive(s)
500GB 7200RPM HDD
(Seagate Momentus 7200.4 ST9500420AS)
Optical Drive
Blu-ray/DVDRW Combo (Upgrade)
Networking
Gigabit Ethernet (Realtek RTL8168/8111)
802.11n (Intel WiFi Link 6200AGN) (Upgrade)
Bluetooth 3.0 (Upgrade)
Audio
2.1 JBL Speakers + Waves Audio
(Stereo speakers and subwoofer)
Microphone and two headphone jacks
Capable of 5.1 digital output (HDMI/SPDIF)
Battery
6-Cell, 11.1V, 4.9Ah, 56Wh
Front Side
Memory Card Reader
Left Side
Exhaust vent
1 x USB 3.0
Right Side
Optical Drive
2 x Headphone Jack
Microphone Jack
1 x eSATA/USB 2.0 Combo
Back Side
Mini DisplayPort
HDMI 1.4
Gigabit Ethernet
TV Input (Optional)
AC Power Connection
1 x USB 3.0
Kensington Lock
Operating System
Windows 7 Home Premium 64-bit
Dimensions
15.0" x 10.4" x 1.3-1.5" (WxDxH)
Weight
6.14 lbs (with 6-cell battery)
Extras
Waves Maxx Audio 3
2MP Skype HD Certified Webcam (H.264)
86-Key backlit keyboard
Flash reader (SD/IO/XC/HC, MS/Pro/XC, MMC, xD)
Warranty
1-year standard warranty
2-year and 3-year warranties available
Pricing
Starting Price: $850
Price as configured: $1220
Most of the specs are standard stuff, but a few areas stand out from the crowd. One clear advantage over competing laptops is the 1080p LCD, and it takes about two seconds after you first power on the laptop to determine that yes, we have a winner here! Throw in what is obviously a higher-than-500:1 contrast ratio and the 1080p resolution and we're sold. The high color gamut (~100% AdobeRGB 1998) means the picture looks oversaturated at times, but given the choice between a 45% gamut and a 100% gamut we'll take the latter. What's great is that the total price of the LCD upgrade is only $130, and considering the amount of time you spend staring at the display it's money well spent in our book!
The speakers are another item where the XPS is head and shoulders above the crowd. The subwoofer adds much-needed bass, and sound clarity in general is very good. The Waves Maxx Audio 3 might matter more for audio professionals that regular users, but Waves does give you quite a few options for tweaking the way your laptop sounds. You won't be replacing your home theater system with laptop speakers, obviously, but the L501x can get very loud and do so without severe distortion. Personally, these rate as the best laptop speakers I've used (which isn't saying much), but how important that is depends on the individual.
Similar to the Waves audio in terms of how much it will matter is the HD webcam, and this is apparently the first Skype HD certified laptop. With H.264 support, the webcam in theory allows you to chat with others and get a higher quality video, though the video you get still depends on the other user's camera. In practice, getting an HD video connection with Skype requires at least 512Kbps of bandwidth in both directions, and even when you have that it doesn't always work. The webcam does work fine otherwise, but we never did manage a high quality HD video conference, perhaps because of bandwidth limitations (even though we tested on a 12/1Mb connection).
As mentioned, this is our first encounter with a mainstream NVIDIA 400M part, and we're quite curious to see how the 420M compares to the previous generation parts. NVIDIA has given us an estimate of 30% faster, but that would probably mean 30% faster than the 320M, which would make the 420M around the same performance as GT 335M—only with DX11 support naturally. In other words, we don't expect to be blown away by the 420M, especially if we try to run games at the 1080p LCD resolution! 400M also means the HDMI port is version 1.4, and there's a mini DisplayPort connection as well. This isn't a gaming laptop, unlike some of the previous XPS designs, but it will handle "mainstream" gaming…at a lower resolution than the 1080p panel. Thankfully, you can run at lower resolutions, and the panel is great in multimedia and general use even if 1080p requires quite a bit more GPU before it becomes reasonable.
Of the remaining features, only two final items are worthy of note. One is the backlit keyboard and the other is USB 3.0 ports—two of them. The keyboard isn't your typical chiclet option either; while it may not displace the ThinkPads for comfort, it works well. There's an eSATA/USB 2.0 combo port as well, so while expansion options don't include ExpressCard and you miss the Firewire port (sorry Dustin!), everything else you'd expect on a good mainstream notebook is here. Other extras like a Blu-ray combo drive, Bluetooth 3.0, a 2-year warranty, faster CPUs, a GeForce GT 435M, and a larger hard drive (or an SSD) are also available if you're interested. We do have one complaint about the upgrades, however: you can only order the faster 435M GPU if you get a quad-core CPU, which means you lose Optimus support in the process. The CPU+GPU upgrade also bumps the power adapter up to a larger 130W unit in place of the normal 90W brick, which addresses a problem some users experienced with CPU/GPU throttling on the old Studio XPS 16.
Given the price, what we have is Dell's direct competitor to Apple's entry-level MacBook, and frankly there's no competition in performance or features. The MacBook only leads if you want one of two things: a smaller size, or the ability to run OS X (without going the Hackintosh route). The standard 6-cell battery provides good if not great battery life, while an upgraded 92Wh 9-cell battery should provide for all-day computing if you don't try watching videos or playing games. The specs of our slightly upgraded unit also compete very well against the ASUS N82Jv—similar performance with a dramatically superior LCD—as well as the HP Envy line. If you pick the L501x up on one Dell's routine sales (i.e. the current sale available on all but the entry-level unit) you can cut costs even more. With improved build quality and features, the new XPS L501x is a great update to the old Studio XPS 16; the name change doesn't really matter in our book, as we thought the old model was good regardless, but Dell has addressed all the areas where users had complaints and produced a very compelling midrange (mainstream) notebook offering.
Up Close and Personal with the Dell XPS L501x
Looking at the specs and figuring out that the XPS L501x sounds like a good laptop is easy enough, but how does it fare in actual practice? In fact, it does very well, and this is easily one of my favorite laptops from the past several years. The old Studio XPS 16 had an impressive LCD option, just like the L501x, but from a design standpoint there were areas that I didn't particularly care for—chief among these being the use of glossy plastic surfaces all over the chassis. To say that fingerprints on the piano black finish were a problem is an understatement, so the switch to a matte plastic bezel and aluminum surfaces removes our biggest complaint.
The new design looks better, and it feels better as well—though we didn't have any real complaints with the Studio XPS build quality to begin with. The L501x has rounded corners and beveled edges that fit together snugly and look attractive. It's a sturdy laptop—not at the level of business notebooks perhaps, but definitely a step up from the Inspiron and other consumer offerings. Some may prefer the industrial design aesthetic of the Adamo line, but personally the L501x is more my speed. The palm rest is plenty large, with an equally large touchpad in the center. Like most modern laptops, the touchpad is multi-touch and gesture aware; it may not integrate with the OS as well as the MacBook touchpad does with OS X, but that's more of a Windows and application problem.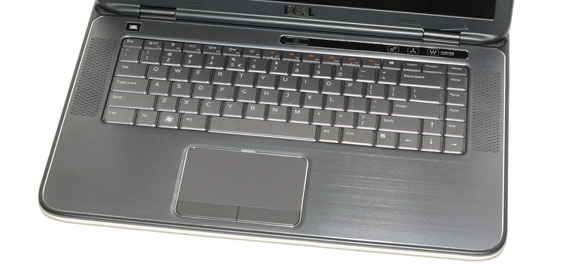 Besides the keyboard backlighting, there's not much to say other than it works well. The layout is fine, and Dell skips on the numeric keypad to make room for the speakers. Normally, we'd question such a move, but in this case there's some good sound quality to back it up. The key travel is good, all of the important keys are readily accessible with no funky Fn-key combinations required (the function keys default to multimedia, but you can switch that setting in the BIOS). There's also very little flex—only if you mash down on the keys with several pounds of pressure do you see flex, and in regular use the keyboard works well.
To the left and right of the keyboard are cutouts for the JBL speakers, and Dell is rightfully proud of their audio quality. There's a similar cutout pattern on the bottom for the integrated subwoofer. While I'm no audio expert by any means, what I can tell you is that subjectively these speakers blow away any other laptop I've used, and they can get very loud without distortion. To compare speaker quality, I grabbed a couple other laptops and looked at maximum volume without [noticeable] distortion.
The XPS L501x managed an impressive 83dB at three feet, with good bass and no serious quality concerns. The ASUS G73Jw, which also sounds good for a notebook and has 5.1 speakers, reached around 80dB as well, but there was some distortion and static present in our test audio files. We had to dial it down to 75% volume (~70dB) to eliminate the distortion, and while that's still reasonably loud the sound quality simply wasn't as good as the L501x. Bringing up the rear and representing "typical" laptops, we have an Acer 5551G we're working on reviewing, this time with just the two stereo speakers. While better than some Acer laptops we've looked at in the past (the 5740G for example had serious distortion problems), the 5551G put out a maximum of 67dB and was very thin and light on the bass (as expected). The JBL speakers in the L501x are very impressive…for a laptop. They're still small, so temper your expectations: you won't get the soundscape of a set of large studio monitors from a couple of small tweeters in a laptop chassis, no matter how hard you try, but you could at least watch a movie with a couple of friends and not strain to hear the audio.
Another big upgrade relative to the older Studio XPS comes in the graphics department. Okay, the 420M isn't going to set the world on fire with its performance, but it does manage roughly the same level of gaming capabilities as the GT 335M (which is roughly on par with the HD 4670). More importantly, Dell now has Optimus Technology in the dual-core XPS laptops, so now you can have performance when you need it but still get good battery life. Like all 400M equipped laptops, the L501x supports HDMI 1.4, and Dell includes free support for NVIDIA's 3DTV Play. If you have a 3D HDTV and upgrade to a Blu-ray drive, you can use the L501x to watch 3D movies on your television. Again, I'm completely unsold on the whole 3D video concept—I've tried it and simply wasn't that impressed—but at least you're not stuck paying extra for a feature that should just work.
Finally, there's the display to discuss. I'm not sure what the deal is with "B+GR LED" marketing—that would imply separate blue and green/red LEDs, which would be a halfway house between standard yellow LEDs and the RGB LEDs used in the top LCD panels. Anyway, the 1080p panel in the L501x is an AU Optronics B156HW01, and if that's the same as the B156HW03, that would make this a WLED backlight. Subjectively, that's not particularly important, as the image is still great. We'll get to the display measurements later, but the short story is you get a near-100% AdobeRGB 1998 (ARGB1998) gamut, good viewing angles, and a good contrast ratio.
So with all the good, what's not to like? Not being able to upgrade the CPU and GPU independently is probably the issue that will come up first for most users. What if you want better gaming performance and would like the GT 435M, but you want to keep Optimus? What if you want a quad-core processor for content creation but you don't need a faster GPU? In either case, you're out of luck—at least for now. We'll probably see a new Sandy Bridge version of the L501x that gives you both quad-core and Optimus, hopefully with better performance and battery life, but we're still waiting for the official Sandy Bridge launch. My only other complaint is with the HDD, specifically it's a pain to get to the HDD if you happen to want to do an SSD upgrade on your own. Since Dell is still using Samsung SSDs, if you want maximum random read/write performance you'll probably want a SandForce controller (or wait a bit longer for the third generation Intel parts and other offerings to arrive). Dell charges $550 to upgrade to a 256GB Samsung SSD; you can grab a 240GB SF-1200 for as little as $430, which is a far better proposition. But to do the HDD upgrade, you'll need to remove the palm-rest first, which isn't super difficult but it's far more cumbersome than simply removing the bottom plate. Our final complaint is that as good as the 1080p "B+GR LED" LCD is, that's not the standard panel, and we would be more than a little surprised to see anything remotely comparable from the stock 768p display. If you want a good LCD, make sure you pay for the upgrade!
Are we picking nits here? Yes, we certainly are, and that's because the L501x gets so many things right. The build quality is much better than average, battery life is good, performance is a substantial bump from the old Core 2 Duo Studio XPS—in both graphics and CPU workloads—and the audio really needs to be experienced to hear how good it is (relative to other laptops as well as basic desktop speakers). There really isn't a single show-stopper in sight. Gamers will still pine for a better GPU like the 460M, particularly if they want to drive the 1080p panel at native resolution and medium to high detail settings, but for the price the new XPS line comes with everything I would recommend in a modern laptop. That's the initial experience, but I'm sure you want some benchmarks and concrete data to back things up, so let's get to it.
Dell XPS L501x Application Performance
PCMark loves SSDs, so the performance of the L501x isn't going to break any records there. Actually, the i5-460M processor is pretty common as well, striking a balance between price and performance. Clocked at 2.53GHz with only a 2.80GHz Turbo Boost available, it's slightly slower than the i5-540M (lower Turbo) but as an OEM part the prices are probably far more attractive. Despite the return to the "pure" XPS name, the new XPS line essentially continues from where the Studio XPS left off. These are good multimedia platforms with mainstream gaming performance, suitable for all but the most demanding users.
Here's how the L501x compares to several other recently reviewed laptops. We've chosen to highlight two other laptops for comparison: the ASUS N82Jv and the Toshiba A660D. The N82Jv is a good all-around laptop with a similar size and performance while the A660D represents the high-water mark for current AMD Danube platforms. Actually, that's not entirely true—AMD has faster mobile parts available—but the A660D is at least in the same price range as the base XPS L501x. We've also got results from the latest MacBook Pro 13 in our charts, but we really need a comparison with the MBP15 (under Windows) to be fair, so we won't make too much of the MBP13 here.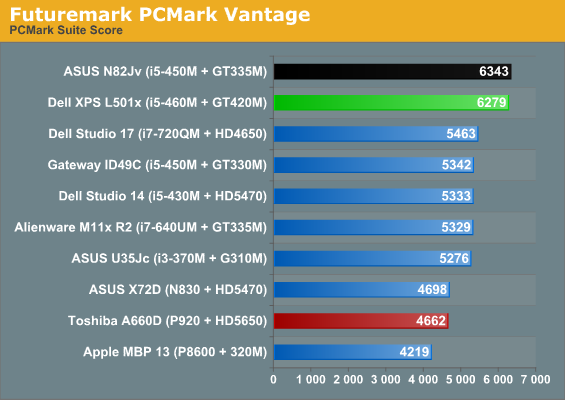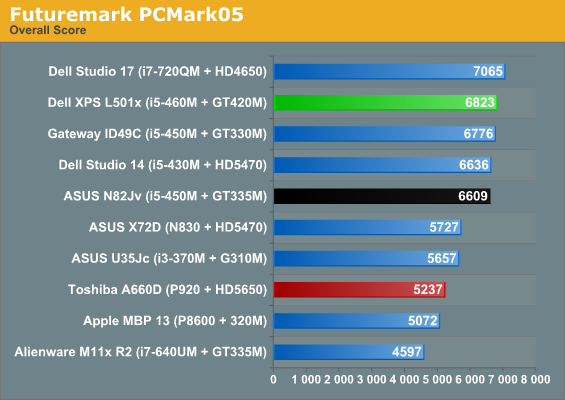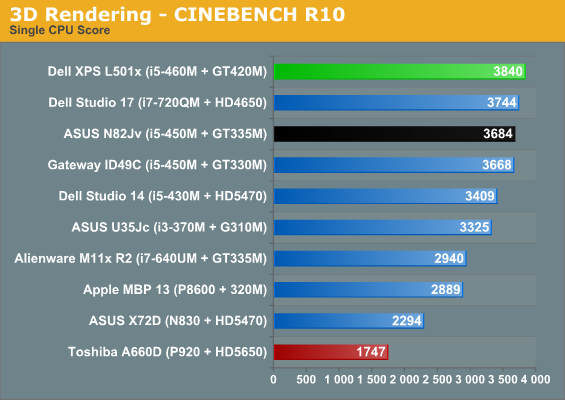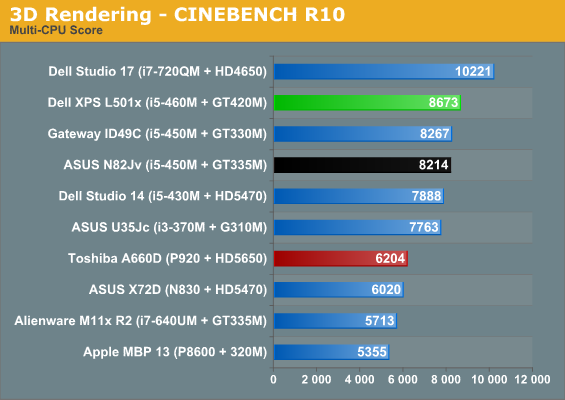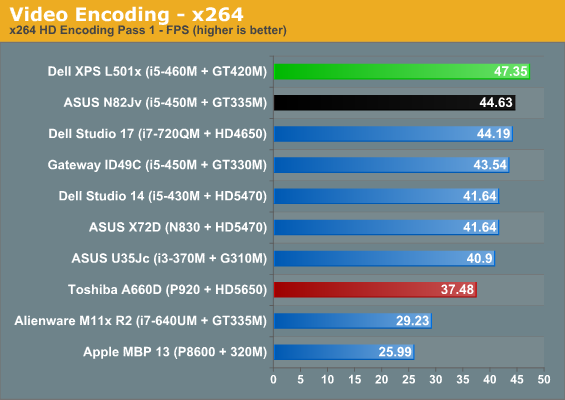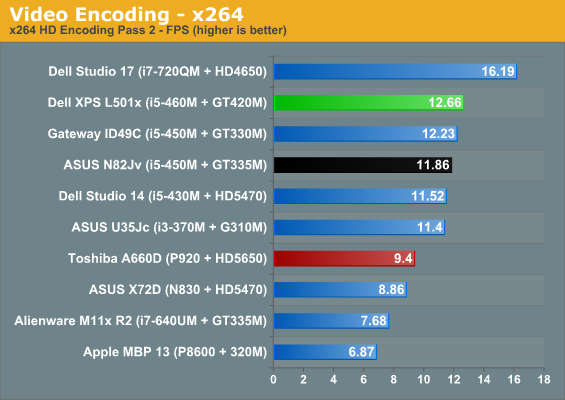 General performance is right where we'd expect it for the CPU, GPU, and HDD combination. The L501x trails the N82Jv slightly in PCMark Vantage but reasserts itself in the CPU intensive CINEBENCH and x264 testing. The higher base clock speed also puts it within striking distance of the i7-720QM in multi-threaded tasks, so unless you really need every last ounce of multi-core power the dual-core i5-460M is a compelling alternative—and don't forget the loss of Optimus (and the price increase) that comes with moving to Clarksfield processors. As a balanced platform, Arrandale is very difficult to beat, and AMD will need its Bulldozer/Llana mobile offerings before it can go toe-to-toe with Intel laptops.
Dell XPS L501x Gaming and Graphics Performance
After so many 768p "midrange" laptops, it's strange to have a different native resolution, especially in light of the GPU performance. We've run our low, medium, and high detail tests at our standardized 768p, 768p, and 900p resolutions. We've also added in 1080p results for those who want to upgrade to the better quality LCD. We're putting all the graphics results on one page, because honestly this review isn't really about gaming and graphics, but we still wanted to see what the L501x could do. We'll start with the easy stuff first.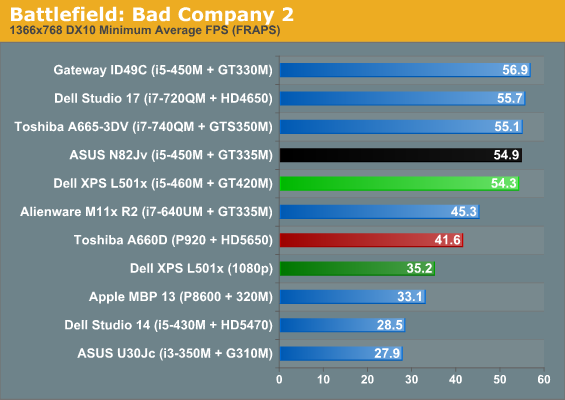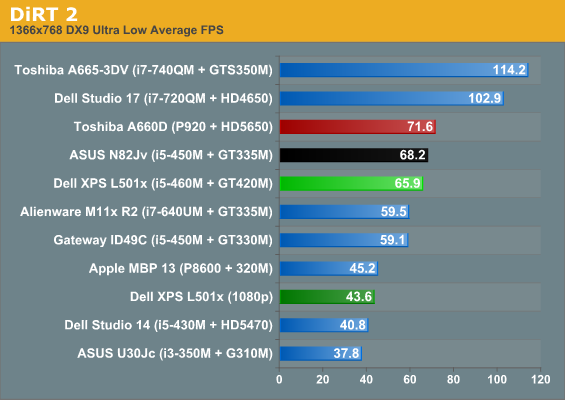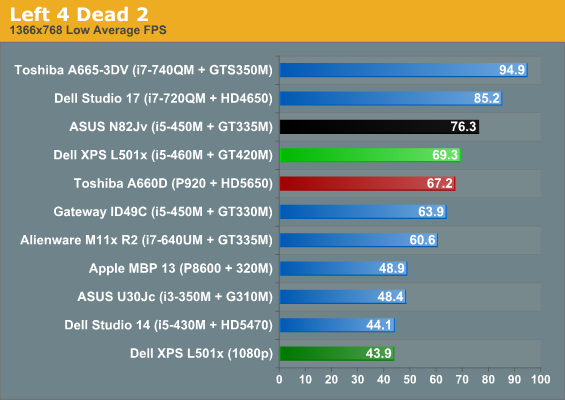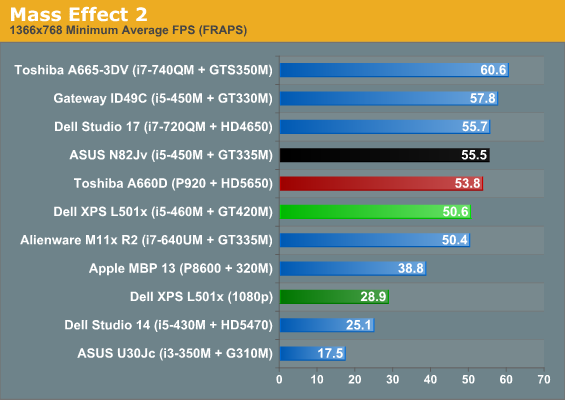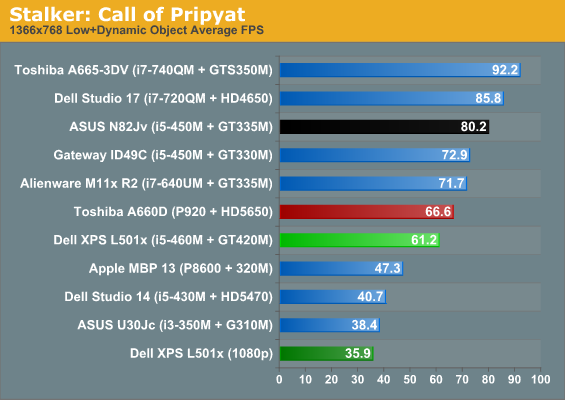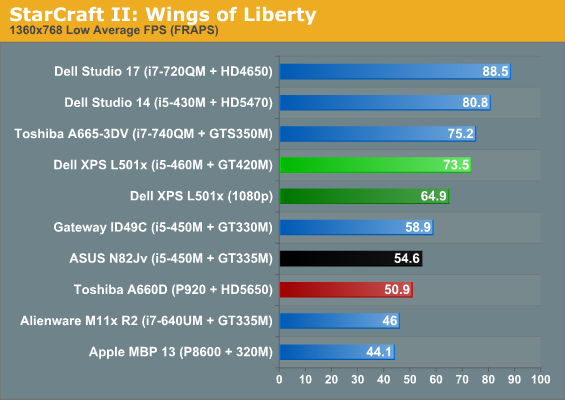 Low detail is playable in most titles at 1080p, with the lone exception being Mass Effect 2. In keeping with our recent reviews, we also ran Mafia 2 and Metro 2033, but we don't have enough comparison points to make graphs meaningful. Both titles are far more demanding than the rest of our test suite, perhaps an indication of things to come. Mafia 2 tops out at just 32FPS, running minimum detail settings and 768p; at 1080p the frame rate drops down to just 19.3FPS. Metro 2033 is even worse, starting at a less than impressive 24FPS at 768p with DX10 "Low" settings and dropping to just shy of 16FPS at 1080p.
As for comparisons with the GT 335M, the GT 420M gets one tie (BFBC2), several titles where it loses by around 10%, a massive 30% deficit in Call of Pripyat, and then to cap it all off there's a 35% lead in StarCraft II. It's possible the 260.89 driver is the culprit with SC2 (and perhaps some of the other titles as well), as the N82Jv was tested with the now-outdated 258.96 driver, but the general consensus of gaming results is that GT 420M is roughly 10% slower than GT 335M at low settings (give or take).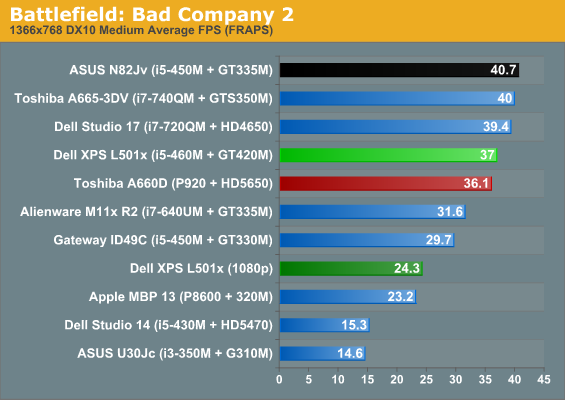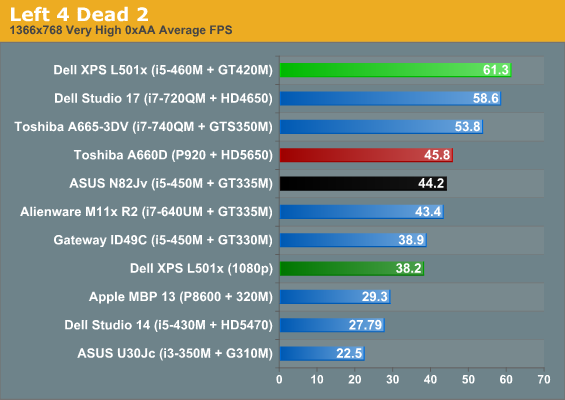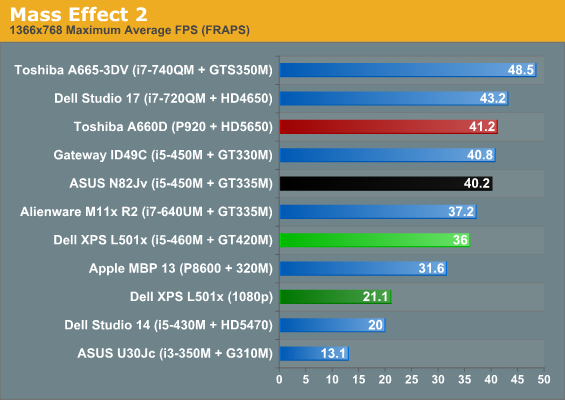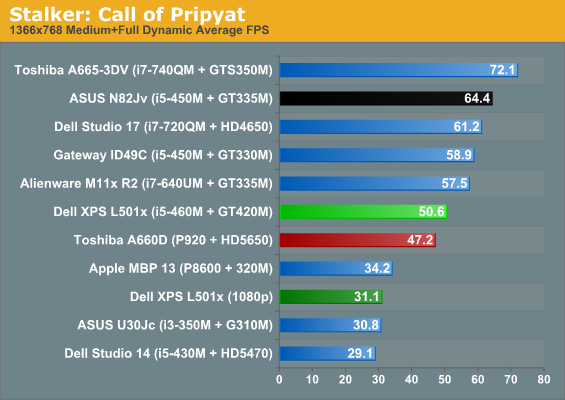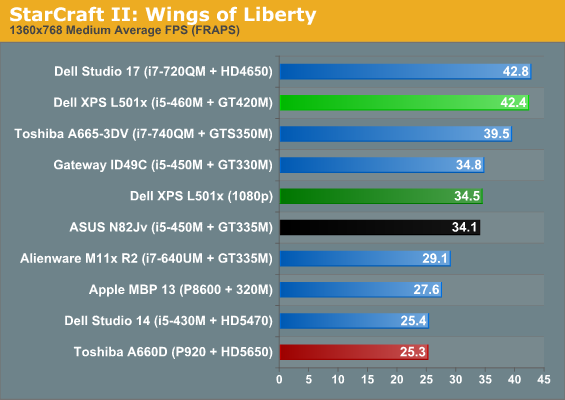 The move to our medium detail settings drops performance a bit, but nearly all of the tested games stay above 30FPS at 768p. Only Mafia 2 (27.5FPS) and Metro 2033 (22.9FPS) fail to reach playable levels. Of course, at 1080p more than half of the tested games fall under 30FPS (including Mafia 2 and Metro 2033, naturally). L4D2 is the least demanding game in our test suite, and it's joined by STALKER (barely) and StarCraft II. That last is an important win, as SC2 looks pretty awful at low settings but improves dramatically when you switch to medium, so it's good to see it stay above 30FPS.
Looking at the N82Jv comparison once more, things get a bit more interesting. We now have two ties, a ~10% lead by the 335M in two other titles, and a still-large 27% lead in STALKER; however, L4D2 now favors the 420M by nearly 40% and the SC2 lead drops to 25%. Looking at the low and medium detail results as a whole, if "mainstream gaming" means 768p low to medium quality, the XPS L501x (and GT 420M) will do the trick. However, if you want medium to high quality at higher resolutions, you'll need something with a bit more potency.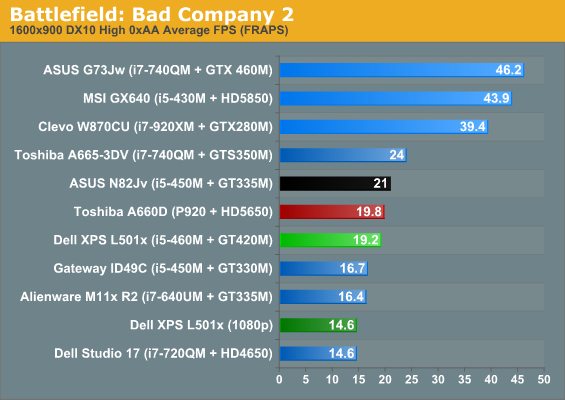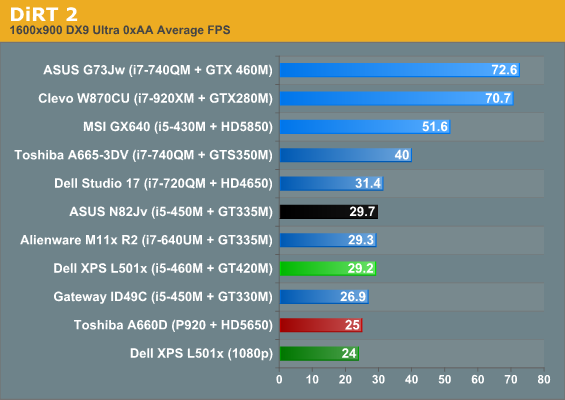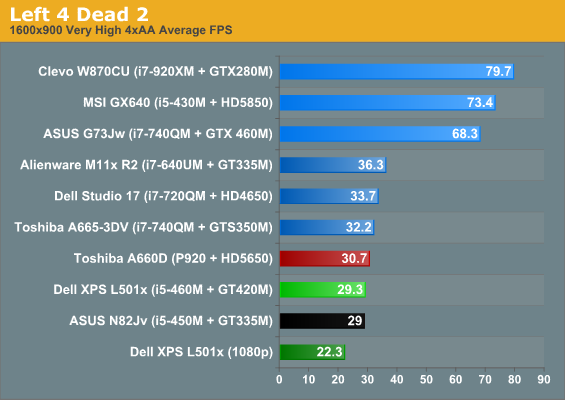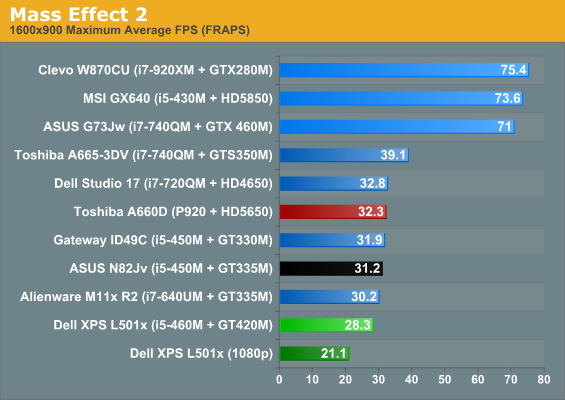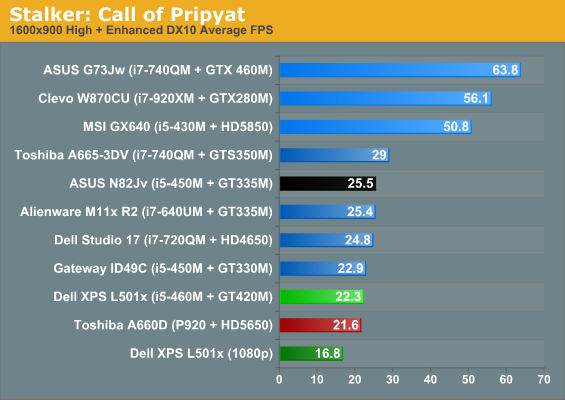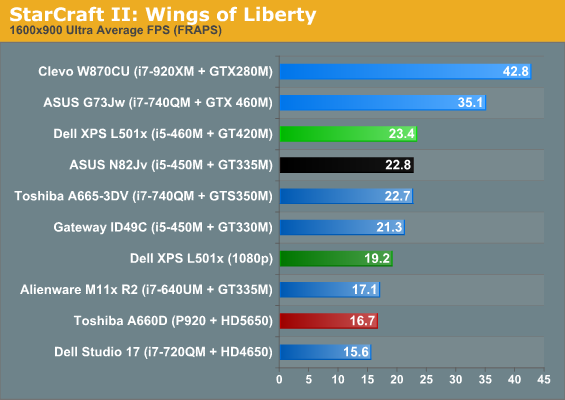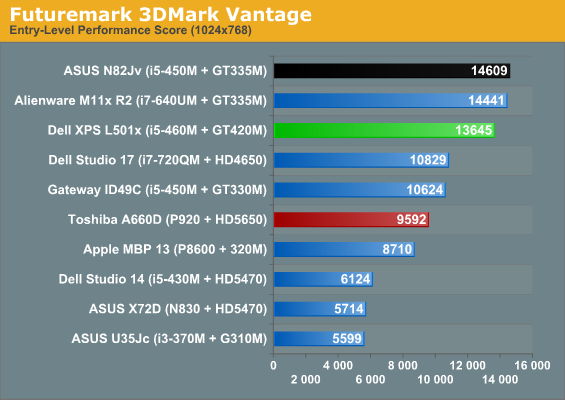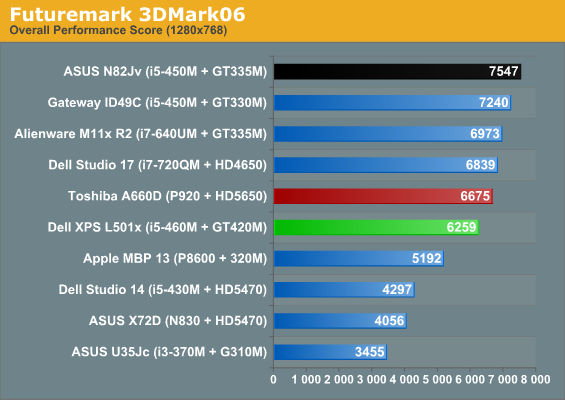 Wrapping up the gaming and graphics charts, we've got the high quality 900p comparisons and 3DMark—both comparisons equally "useful". Three of the games (DiRT 2, L4D2, and Mass Effect 2) come close to the 30FPS mark but fall just short. All of the remaining titles are far below the playable mark, with dips into the teens and even single digits. The 420M can get a few of the test games to break 30FPS at 768p and high detail settings, but it's simply inadequate for 1080p—or even 900p—gaming with the most recent releases. 335M maintains a slight lead at high settings, but it's mostly academic as neither GPU is really able to handle our high settings.
As for 3DMark, take the results for what they're worth. We've stopped including the charts for 03 and 05, since they're quite outdated, but if you just want the numbers the L501x got 15552 in 03 and 12275 in 05 (about 11% lower than the N82Jv in 03 but just 2% slower in 05). 06 gives the 335M a 21% lead, which is a bit more than our gaming suite, and 7% in Vantage (at the awful-looking Entry Level setting). Vantage also scored 3364 at the "Performance" (1680x1050) defaults.
Dell XPS L501x Battery Life: Good but the 9-Cell Would Be Better

The default battery in the L501x is a 6-cell 56Wh unit, which is more than the paltry 48Wh 6-cell batteries in many laptops but not quite at the 63Wh level seen in others. The combination of Optimus Technology and a reasonable battery means we should see good battery life, but nothing record setting. That's pretty much what we get, with a few oddities.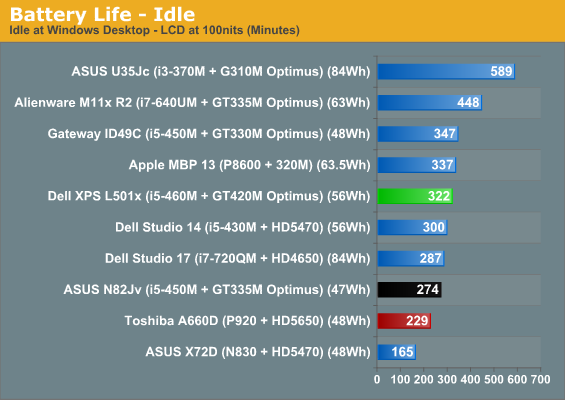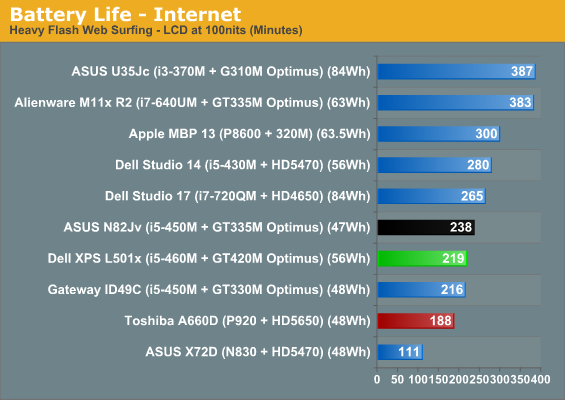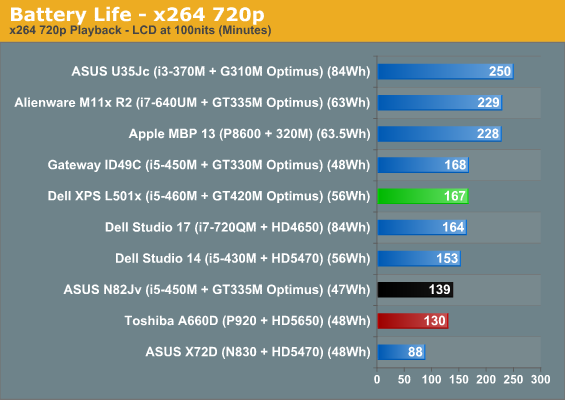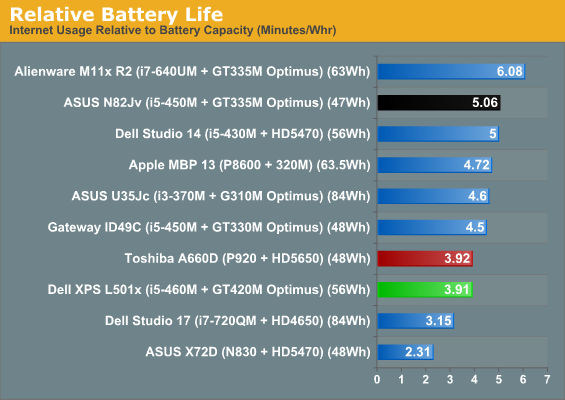 The L501x comes out ahead of many of the 48Wh laptops in the idle, despite having a larger 15.6" LCD, so the slightly higher capacity battery balances things out. Internet battery life is a different story, dropping the L501x down below the N82Jv but still slightly ahead of the ID49C. As bad as that result may look in the chart, it's also still 16% higher than the Toshiba A660D with a 16.7% larger battery, so in that particular test the AMD P920 + HD 4250 matches the i5-460M + GT 420M on a relative basis. In contrast to the Internet result, the x264 playback puts the XPS back ahead of many of the 48Wh batteries.
We had hoped for something a bit more impressive here, but the results aren't bad. It could be that the higher LCD resolution affects some tests negatively (i.e. in the Internet test, you would see more of the test web pages and thus Flash ads further down the page might increase CPU usage). [Update: I retested Internet battery life at 1366x768 and the result didn't change; for some reason the L501x does far worse in that test relative to the other laptops.] HWmonitor also shows the battery at 4% wear despite over 10 cycles, so you might get slightly improved results with a different battery. Ultimately, though, the simple solution to battery life concerns is to spend an extra $40 and get the 9-cell 92Wh battery if you want to run all (or at least most of the) day untethered. There's a compromise in weight with the 9-cell battery, though, and it juts out about an inch below the laptop. I prefer the form factor of the 6-cell battery, but it's always nice to have a choice.
A Good High Gamut, High Resolution LCD
Wrapping up the test results, we have the B+GR LED (i.e. WLED) backlit 1080p display. We can't comment on the standard 768p panel, but considering all the results we've seen on such panels to date it's hard to imagine Dell is going to have anything more than a mediocre, low-contrast offering. What they give users is the ability to upgrade to a substantially better 1080p display, and while it doesn't top the WUXGA RGB LED panel in the Dell Precision M6500, it also doesn't bump the price up $300. Actually, short of A/B side-by-side comparisons, we think most users will be very pleased with the 1080p upgrade. It took me all of five seconds after the initial power on to notice that the panel had a good contrast ratio, and colors in images look far better in my opinion than what you get with typical laptop LCDs.
Having used the Dell Studio XPS 16 for a while, I actually prefer the new panel design, but that's mostly because of the silliness of the old "Edge-to-Edge" display. The Studio XPS 16 had a glossy sheet of plastic that was placed over the LCD panel, and when closed the "LCD" rested against the keyboard and palm rest. The result is that the plastic sheet would accumulate smudges and other marks just through normal use over time (though I've heard if you could manage to remove the glossy sheet that the underlying panel was actually a matte display). In contrast, the LCD in the L501x is a traditional affair recessed into the cover slightly, so the only way it will get smudges is if you—or your friends/kids/spouse—touch it. So, the design is better but the panel itself might not be quite as good—more on this after the charts.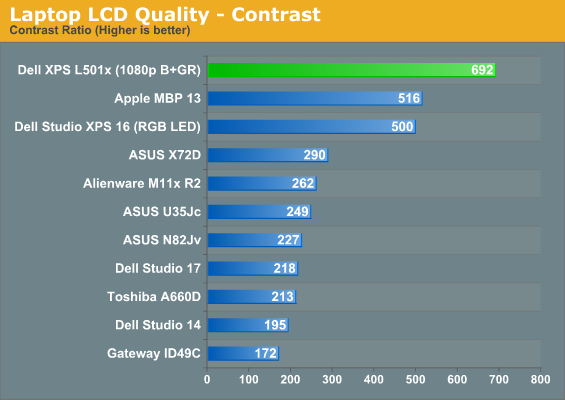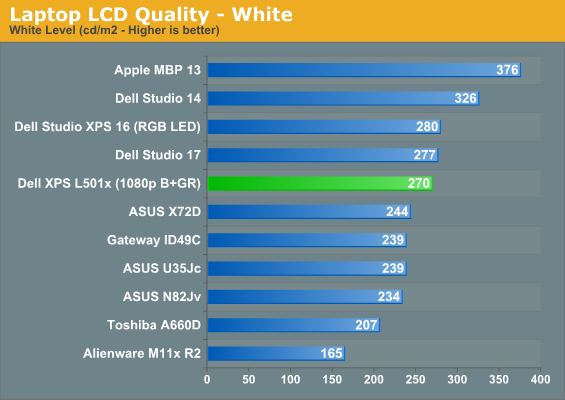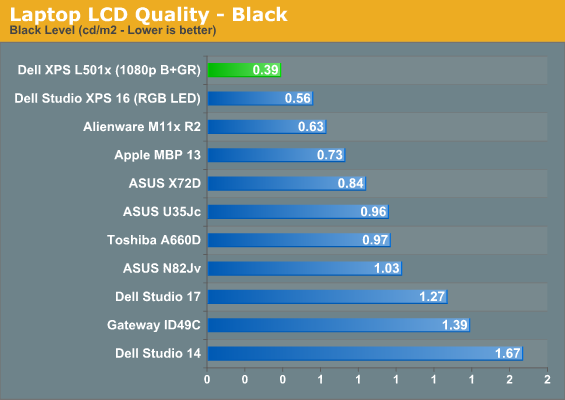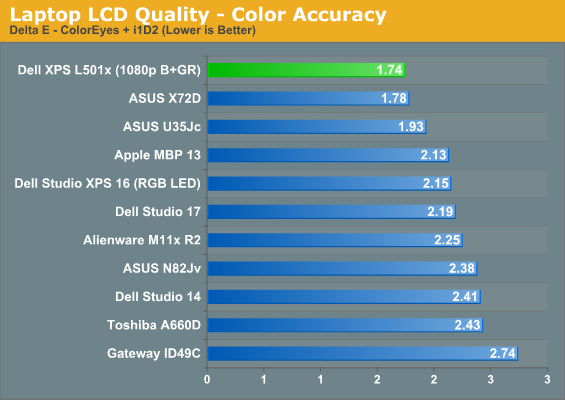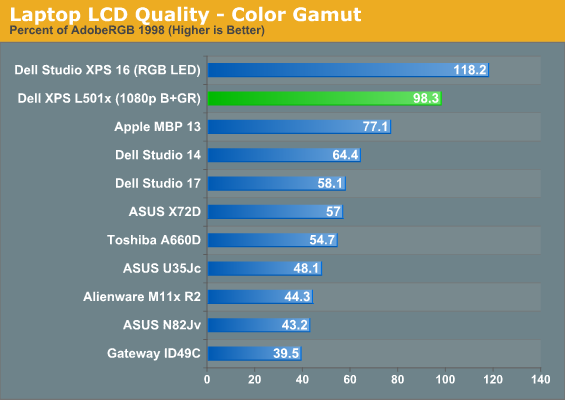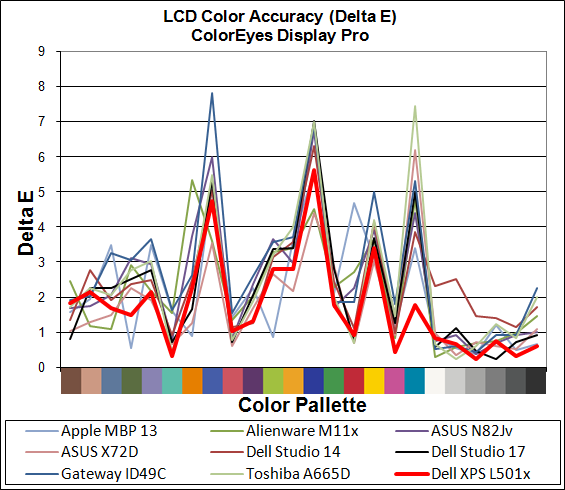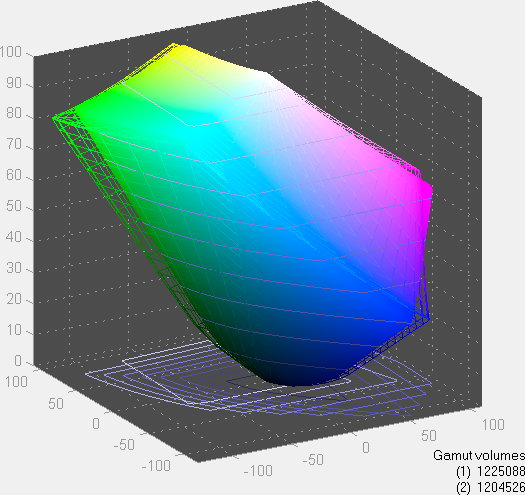 The objective results bear out my initial impression: the contrast ratio comes in nearly 700:1, which tops our charts and outranks even the current MacBook Pro LCDs—including the matte MacBook Pro 15 WSXGA+ panel. But then, glossy displays are usually higher contrast so that last point isn't an entirely fair comparison. Regardless, the display looks great, and it has a good maximum white level of 270nits as well. Maximum brightness is still an area that favors MacBooks, but then color quality favors the L501x.
It's worth noting that there are times when a higher color gamut isn't "best"—specifically, the default Windows color space is sRGB, which is around 82% of ARGB1998. That means if you run an application that isn't color space aware (i.e. most applications!), you'll map to sRGB and your 100% of ARGB1998 gamut now makes colors look saturated. That's not to say it's bad, but there are times (particularly if you're watching videos) where the oversaturated colors are apparent. Then again, would you rather have an image that's a bit oversaturated, or do you like images that are highly undersaturated? Because the latter is what you get with virtually every other laptop panel.
We did some side-by-side comparisons with the L501x and three other laptops to show what it looks like when viewing the standard 24-color GretagMacbeth ColorChecker palette (the same palette we use for our Delta E testing)—you can also see the viewing angles in the above gallery. The first comparison is with a typical ~50% gamut low-contrast LCD; in this particular instance we're looking at the Acer 5551G. Next up is the high-contrast 1080p panel in the ASUS G73Jw, with a 55% gamut. The third comparison is with the older 120% gamut Studio XPS 16 with the RGB LED panel. You can definitely see that the high gamut panels look more vibrant (too much so some would say), and in this case the 98% gamut on the new panel is an improvement. In an ideal world, you'd be able to choose between 82% sRGB backlighting and 100% ARGB1998 backlighting at the flip of a switch, but for now you'll have to settle for one or the other. Apple's MacBook Pro comes closer to the sRGB setting most people use and as such would be slightly preferable, but in practice it will usually only matter if you're really a stickler for accurate colors in certain applications.
For the record, the above ColorChecker chart looks "correct" when viewed in Firefox or the standard Windows Picture Viewer (though not in fullscreen mode for the latter). Opening the image in Internet Explorer (or viewing fullscreen in Picture Viewer) gives the oversaturated look seen in the above photographs. Videos also bypass any color profile you may have loaded, resulting in overly vibrant colors at times. Personally, I didn't have a problem with the way the colors look, especially if I don't have something else nearby to compare it with; your eyes will adjust to whatever you see.
Heat and Noise Levels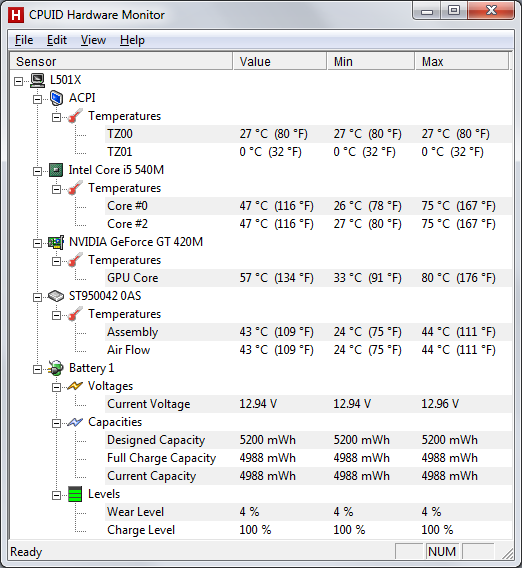 After taxing the system for more than an hour with 3DMark06, system component temperatures remained acceptable. Surface temperatures of the L501x were also satisfactory; the L501x isn't a cool running CULV laptop by any stretch of the imagination, but it doesn't become unbearably warm either. At idle or under light loads, surface temperatures ranged from 27-35C on the bottom, and 27-32C on the palm rests and keyboard, with a noise level nearing the limits of our testing equipment at just 31dB (in a sub-30dB environment). The 3DMark06 loop brought surface temperatures up to 27-40C on the bottom and 27-34C on the keyboard area, with the exhaust vent at 40C. The hottest spot is under the middle-left area, where the GPU sits. Maximum noise levels were consistent under load, with a moderately loud but not horribly annoying rating of 42dB.
Dell XPS L501x: A Bargain at Any Price

When we reviewed the ASUS N82Jv in September, we were generally pleased with performance but unimpressed with some of the finer details. We concluded that review by saying we wanted more—specifically, we wanted better battery life (or at least an option for it) and a better LCD. We said that if the N82Jv had included a good LCD, it would be a silver medal recipient, and gold would need a larger battery with a good LCD. Two months later and Dell's XPS L501x provides exactly that, with generally better build quality and features along with the ability to customize your system. True to our word, we're awarding the Dell XPS L501x our Gold Editors' Choice award—but only with the $130 1080p B+GR LCD upgrade.
Honestly, even without the LCD the XPS L501x impresses, as it has bar none the best laptop speakers we've encountered, with a great build quality and aesthetic to match. It's not as thin and light as other notebooks, but it still looks good and there's a wonderful lack of glossy surfaces (other than the LCD). Such extras do matter, and what's more you can get all of this for essentially the same price as the N82Jv. Graphics performance is slightly slower, and the chassis is larger, but this is easily the best 15-16" notebook I've laid hands on during my time with AnandTech (now at six years and counting).
Where do we go from here? We'd still like the option to get the upgraded graphics without losing Optimus, and in the next couple of months Intel's Sandy Bridge will shake things up. Dell is almost certain to revise the current XPS lineup to move to Sandy Bridge, but unfortunately that will require more than simply swapping CPUs. Sandy Bridge will require a new chipset and socket, which means a new motherboard. By the time Dell puts in the work on the motherboard and chipset, maybe they can also toss in an upgraded NVIDIA GPU. If we had our dream setup, we'd get Sandy Bridge, a "flat" 9-cell battery option, the current 1080p LCD, and at least a GeForce GT 445M (192-bit) graphics chip to back it all up. Can Dell provide all that with the next XPS release? We shall see.
As for comparisons with Apple's MacBook line, it shouldn't come as much of a surprise that it's lopsided. Looking at the MacBook Pro 15, the base model checks in at a whopping $1800 MSRP. That will get you an i5-450M (or maybe an i5-520M—who knows?), 4GB RAM, 320GB 5400RPM HDD, GeForce GT 330M 256MB, and a WXGA+ (1440x900) LCD. The MBP15 will still get better battery life than the stock L501x, it's slightly lighter and definitely thinner, and some will prefer the Apple styling. However, you're looking at a nearly $800 premium for slightly less performance and fewer features—like no USB 3.0 (MBP has FireWire 800 instead), no HDMI port (without an adapter, and no 1.4 support), and speakers that can't hold a candle the L501x. If you prefer OS X, you don't have much choice, but Windows 7 is highly usable and stable and most things come down to user preference these days. A bit more fine-tuning for Windows 7 battery life and the only clear advantage disappears. That's not to say that MacBooks are bad, but they are expensive, and laptops like the XPS L501x serve to make them feel even more so! Heck, you can buy two of the upgraded XPS L501x laptop we're reviewing for a similarly equipped MacBook Pro 15.
We're also still trying to get an HP Envy 14 in for comparison, and it would be great to get some Sony laptops in for testing as well, but with every passing week we tend to lose hope. At this point, the latest Envy 14 revision has been around for over three months. It still looks like it compares well with the new XPS, but the Radiance Infinity 900p panel is no longer an option, Waves comes standard while Beats costs extra, and Optimus trumps AMD's switchable graphics. We would still love to get an Envy 14 for review, but unless it comes with an updated Radiance panel (or whatever marketing wants to call it), it will be difficult to top the Dell XPS L501x.