Original Link: http://www.anandtech.com/show/3998/asus-g73jw-geforce-gtx-460m


ASUS G73Jw: Out with the Old, In with the New
Six months is a long time in the computer industry, or so we've told ourselves on more than one occasion. If you're looking for the best time to upgrade, there's always something new just around the corner. Our first encounter with ASUS' G73Jh was impressive, so much so that it garnered our Gold Editors' Choice award. It had great performance and features at an amazing price, often beating gaming notebooks that cost 30 to 50 percent more! And that brings us to our updated G73Jw, which keeps most of the features of the Jh model but adds a few twists. Here's the spec rundown.
ASUS G73Jw-A1 Specifications
Processor
Intel Core i7-740QM
(4x1.73GHz, 45nm, 6MB L3, Turbo to 2.93GHz, 45W)
Chipset
Intel HM55
Memory
4x2GB DDR3-1333 (Max 8GB)
Graphics
NVIDIA GeForce GTX 460M 1.5GB GDDR5
192 SPs, 675/1350/625MHz Core/Shader/RAM clocks
(2.5GHz effective RAM clock)
Display
17.3" LED Glossy 16:9 1080p (1920x1080)
(HannStar HSD173PUW1)
Hard Drive(s)
2x500GB 7200RPM HDD (non-RAID)
(Seagate Momentus 7200.4 ST9500420AS)
Optical Drive
Blu-ray/DVDR Combo (Slimtype BDE DS4E1S)
Networking
Gigabit Ethernet (Atheros AR8131)
802.11n WiFI (Atheros AR9285)
Bluetooth 2.1+EDR (Broadcom BT-270)
Audio
EAX Enhanced HD 5.0 Audio (2.1 speakers + subwoofer)
Microphone and headphone jacks
Capable of 5.1 digital output (HDMI)
Battery
8-Cell, 14.6V, 5.2Ah, 75Wh
Front Side
Power/Battery/HDD/WiFi indicator lights
Left Side
Headphone Jack
Microphone Jack
2 x USB 2.0
Optical Drive (BD-ROM/DVDRW)
Ethernet
Right Side
Memory Card Reader
1 x USB 2.0
1 x USB 3.0
HDMI
VGA
AC Power Connection
Back Side
2 x Exhaust vent
Kensington Lock
Operating System
Windows 7 Home Premium 64-bit
Dimensions
16.54" x 12.20" x 0.74-2.24" (WxDxH)
Weight
8.47 lbs (with 8-cell battery)
Extras
Gaming (Laser) Mouse
ASUS Backpack
2MP Webcam
102-Key keyboard with 10-key
Flash reader (SD, MMC, MS-Duo, Smart Media, xD)
Warranty
2-year limited global warranty
1-year accidental damage and battery warranty
Pricing
Online starting at $1675
(Note: Frequently backordered at many sites)
So what has changed? We have USB 3.0, HDMI 1.4, the i7-740QM, and a GeForce GTX 460M now, and the test unit also has a Blu-ray combo drive (which is available on G73Jh as well),but otherwise this is an identical notebook to what we reviewed in April. Obviously the addition of USB 3.0 is a big bullet item, and it involves some tweaks to the motherboard layout to make room for the additional chip. The CPU upgrade is nice in that the 740QM is nearly the same as the old 820QM—a base 1.73GHz clock—but with a slightly lower maximum Turbo mode. The other two changes come courtesy of the GPU switch; only the GeForce 400 series (desktop and mobile) supports HDMI 1.4, along with the new AMD 6800 cards. If you need 3D output for an HDTV, HDMI 1.4 is useful, but most users probably aren't dying to get that feature (especially since outside of HDTVs, it's still difficult to find computer LCDs with HDMI 1.4 connections).
The most difficult part of the equation is the GPU "upgrade", because even without running a single benchmark we're skeptical about whether the GTX 460M is any better than the HD 5870. We looked at two identical notebooks with GTX 285M and HD 5870 in June, and it's no surprise that HD 5870 came out on top. What was surprising is that 5870 typically bested 285M by around 10 to 15% on average, and it wasn't long before NVIDIA countered with the 480M. Using the same i7-820QM CPU (but with a different storage solution), the 480M regained the lead but only by a similar 10 to 15% average. Now we're looking at the 460M, which has 22% less memory bandwidth and 14% less shader power than the 480M, making it roughly equal to the 5870 on paper.
The net result at first glance looks like we're getting a minor CPU bump, a couple extra features, and a sideways move on the graphics. Traditionally NVIDIA and AMD trade blows depending on the games, so we should see a few titles where the G73Jw comes out ahead of the G73Jh and a few that go the other way, with others basically tied. NVIDIA also has the CUDA and PhysX cards to play, which might sway your vote. With the changes that have been made, one thing that remains about the same is the price. The G73Jh with the slower CPU and no Blu-ray support debuted at $1500; you can find the G73Jw for $1675 (though it's backordered at many resellers), and you can still buy the G73Jh (also with Blu-ray and an i7-740QM) for $1634, so the added cost pretty much goes to the BRD combo drive and a slightly faster CPU. That means the choice really boils down to GTX 460M with USB 3.0, or HD 5870 and $40.
Beyond the above discussion, the G73 remains a great gaming notebook. It's large and doesn't get stellar battery life, but that's no surprise. It's fast and runs generally cool and quiet, plus the stealth bomber look is a change of pace from all the glossy plastic notebooks floating around. If you didn't like the G73Jh enough to take the plunge, it's doubtful the G73Jw is going to change your mind, but perhaps USB 3.0 is enough to make the difference? We've run it through our usual set of benchmarks and tests, so we'll see what the upgrades do for performance and if battery life is any better, but as far as our general impression of the notebook it remains the same. You can read our previous review for more details, but throw in Blu-ray and USB 3.0.
ASUS G73Jw: Gaming with the GTX 460M
Our gaming benchmarks are in a transitional state right now on high-end laptops, since we've added a few titles to the mix after the last high-end review. Sure, we have the Clevo X7200 we can compare it to, but that's in another stratosphere as far as pricing and performance. We've also got results for some of the games run on various notebooks during the past six month, but there will be a few gaps. Ideally, what we'd really like is to have the updated G73Jh in house with the latest AMD Catalyst drivers, and we could pit that against the 460M with the latest Verde drivers. Unfortunately, since we no longer have the G73Jh around that's not possible. Here are the standardized results at 1600x900, with a few midrange notebooks thrown into the mix as well. We've also included 1080p Medium and High performance from the G73Jw, mostly because there are instances where 1080p High is too much and ideally you want to run at native resolution. So here's how things pan out.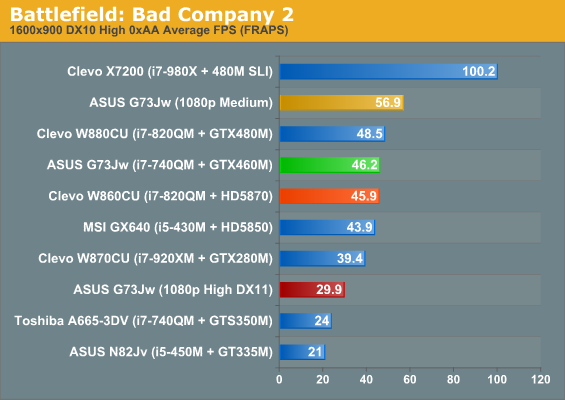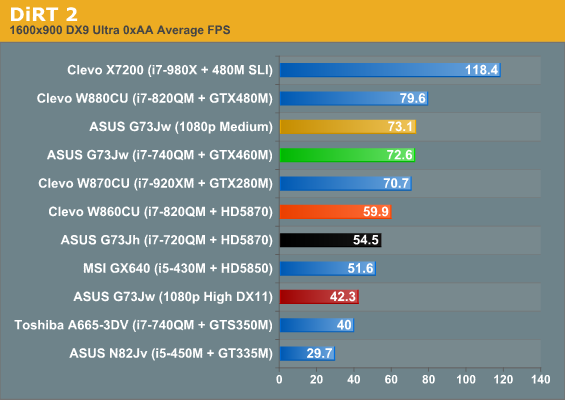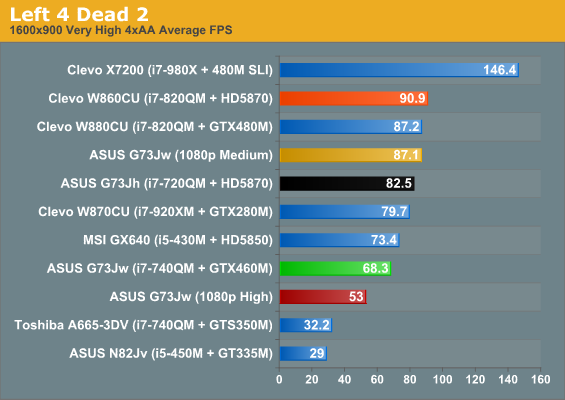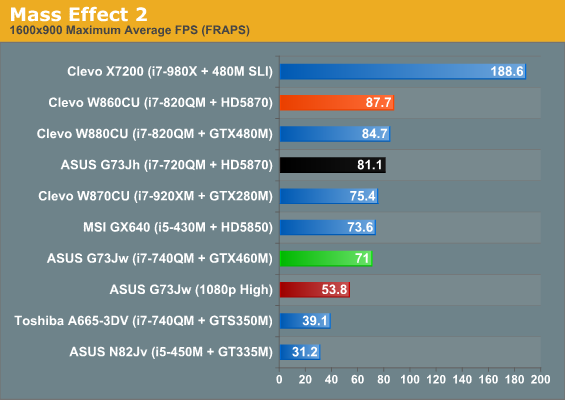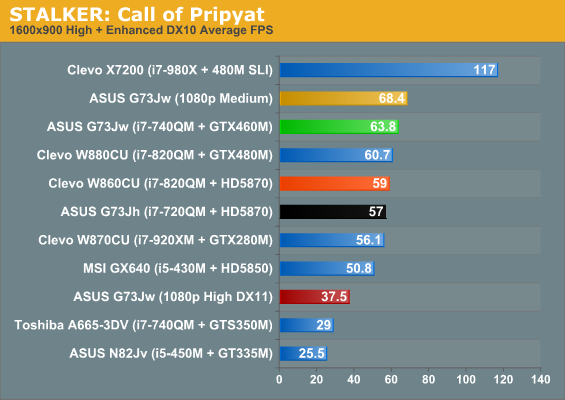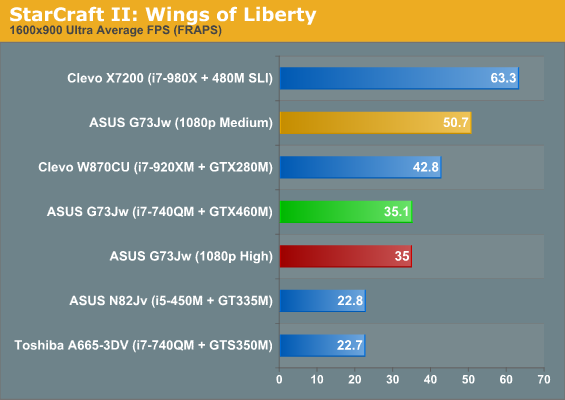 While you might be tempted to look at the G73Jh results when comparing with the G73Jw, the difference in processor and driver age makes the Clevo W860CU with 5870 a better choice. By that metric, there's a tie in BFBC2, the G73Jw leads by 8% in STALKER, and it has a rather large 21% lead in DiRT 2. On the other hand, the W860CU with 5870 leads by 33% in L4D2 and 28% in ME2, which makes the comparison in favor of the G73Jh by a small margin. Toss in CUDA and PhysX and it's pretty easy to call the gaming scores a wash. And while we're talking percentages, the W880CU with 480M leads the G73Jw with 460M by 12% on average, though there's an interesting result where the 480M scored lower in STALKER. We've seen some pretty healthy performance improvements from the latest 260 NVIDIA drivers, so that's very likely a factor—and updated drivers is a concern for any of the comparisons.
We also ran some other recent titles on the G73Jw: Mafia II and Metro 2033. We only have results from one other laptop on those titles—the Clevo X7200—so it's not really a reasonable comparison. We'll just report the numbers for 1600x900 and 1080p and leave it at that for now. Mafia 2 managed 47 FPS at 900p "High" and 37 at 1080p "High"; dropping to 1080p Medium doesn't help performance much (within a couple of percent of the High detail result). Metro 2033 is quite a bit more demanding, especially if you enable DX11 and the Depth of Field effect. With DX10 at "High" settings, 900p scores 31 and 1080p scores 24 FPS; DX11 with DOF cuts that down to 18 and 13 FPS, respectively; just going with DX11 (and Tessellation) without DOF only reduces performance by about 10%. Even at DX10 "Medium" the game is still quite demanding, hitting just 35FPS—playable, but not quite liquid smooth.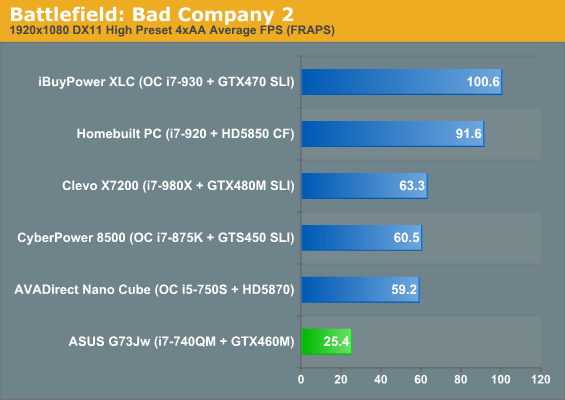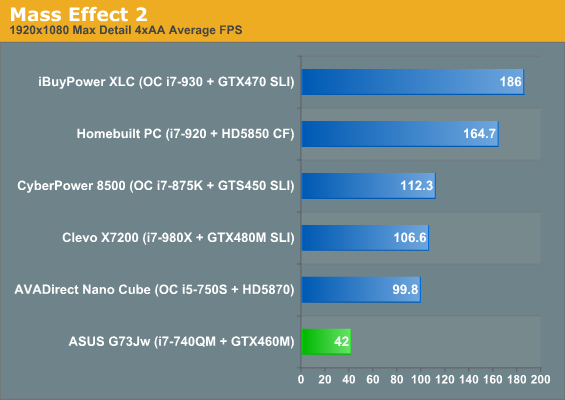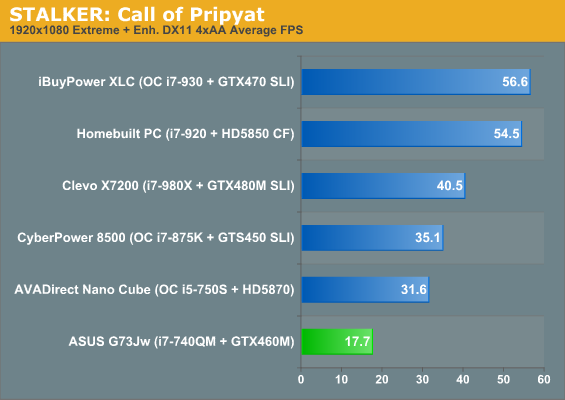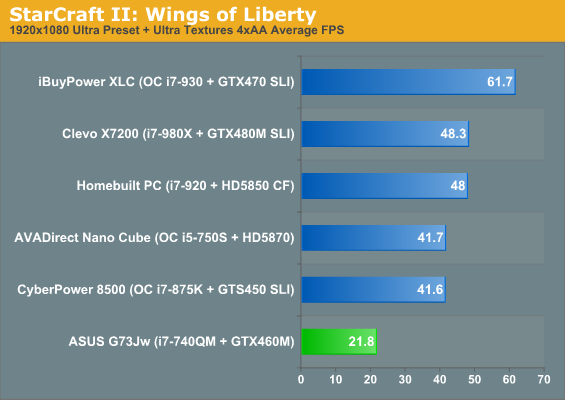 Jumping to our "Ultra" quality 1080p settings slams into a wall and many of the games drop to unplayable levels. Our comparison right now has the Clevo X7200 and a bunch of desktops, but we'll try to flesh out the charts with other notebooks over the coming months. Focusing on the G73Jw: DiRT 2, L4D2 and ME2 continue to generate results close to 40FPS, but everything else is under 30FPS. BFBC2 and SC2 are in the low to mid 20s, with a last minute beta driver drop from NVIDIA helping SC2. Besides the games shown in the above charts, Mafia II with anti-aliasing got 22FPS and Metro 2033 (DX11) drops into the single digits at just 8.4 FPS. If you want to "max out" the graphics settings on every game, you'll be disappointed, but with a bit of judicious tweaking any game can run at 1080p and still look great.
All testing was done with the shipping 260.63 drivers, but an eleventh hour beta of the 260.99 WHQL driver arrived and we ran a sanity check on the results. The initial 260.99 driver lacked support for the G73Jw, but the beta adds the necessary details and future Verde drivers should all include the G73Jw. Results in SC2 went up, though part of that may have simply been flakiness of using an older version 1.0 replay. Mass Effect 2 also improved a few percent at 900p. The rest of the results were well within the margin of error so the main concern will be anyone that plays Civilization 5, Fallout: New Vegas, Final Fantasy XIV, and Formula 1 Racing where NVIDIA specifically notes performance improvements—and even then, some of the improvements are probably still minor at best.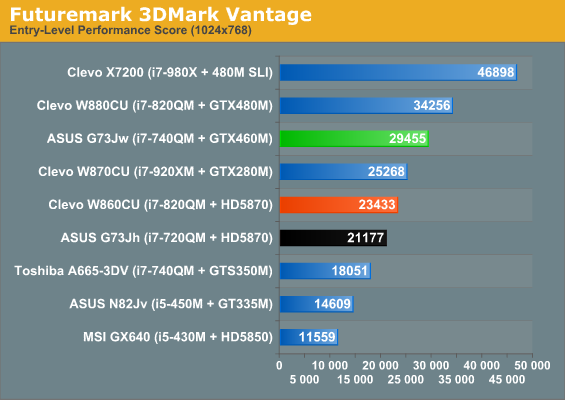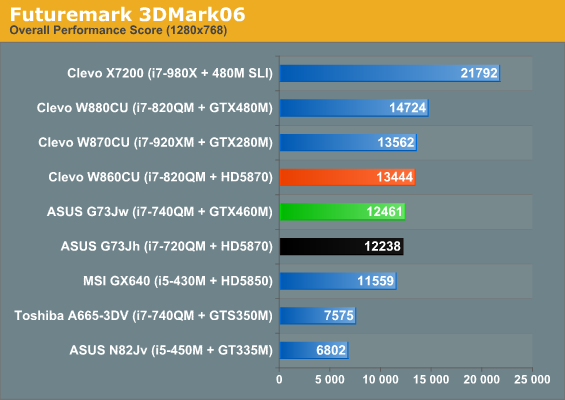 We've also got results from 3DMark Vantage and 06 as another aspect of graphics performance. Oddly enough, the G73Jw scores very well in the Entry-Level Vantage score, and essentially matches the W860CU in the Vantage Performance test. 3DMark06 gives the W860CU the win by a fairly large amount over the Jw, with the Jh bringing up the rear. You can take this either as an indication that 3DMark can be similar to certain games, or that it's not a game and therefore doesn't matter; we provide the results merely as one more item to look at in the overall picture.
ASUS G73Jw: Application Results
We've already seen i7-740QM in the Toshiba A665-3DV, so there's not much new here. Intel's quad-core Clarksfield chips are the fastest mobile processors in the market for the time being—at least until Sandy Bridge arrives. The flipside is that Clarksfield isn't particularly power-friendly, so with the high performance comes poor battery life. ASUS does tend to tweak their systems a bit better than other vendors, so general performance (even with a conventional hard drive) is quite good.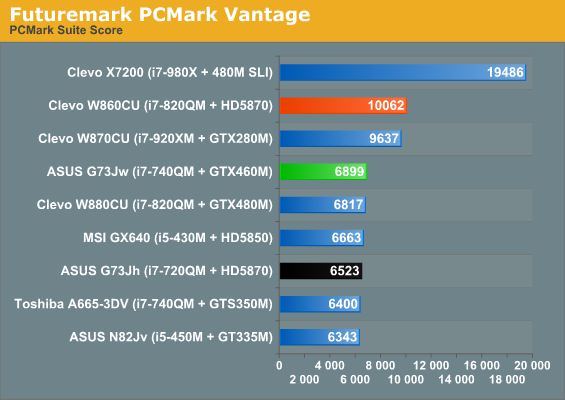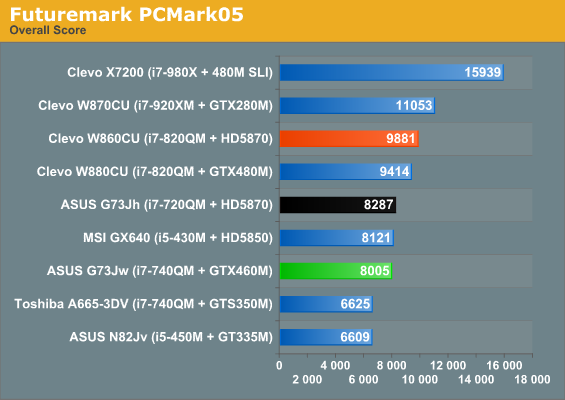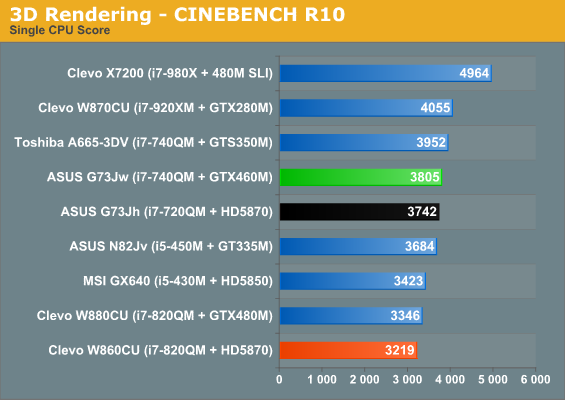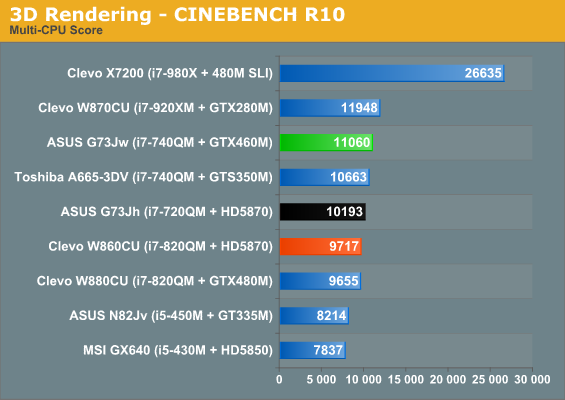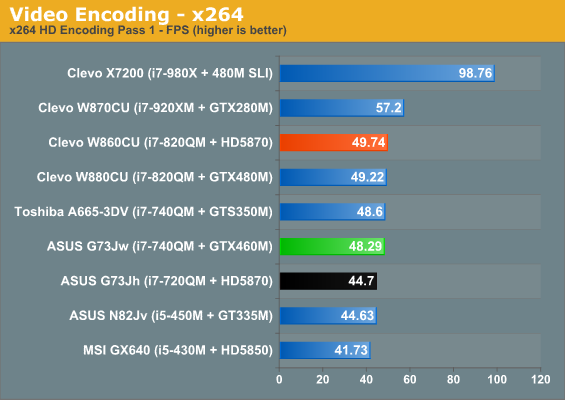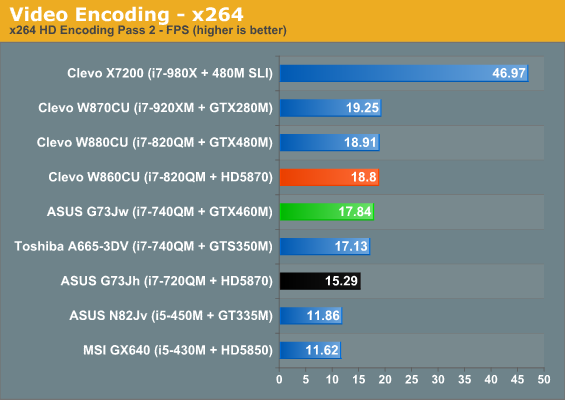 The G73Jw is faster than the similarly equipped A665-3DV in nearly every test, with a particularly large gap in PCMark05. The SSDs in some of the other notebooks provide a massive boost to performance in PCMark, but otherwise the G73Jw falls right in line where we'd expect. It's also clearly faster than the original G73Jh (8% faster on average, right in line with the clock speed improvement), though the updated version should be the same. Turbo Boost means the i7-740QM is faster in virtually every instance relative to the dual-core Arrandale parts. We don't have all the parts in the above charts, but even an i5-540M (2.53GHz with up to 3.07GHz Turbo) struggles to establish a clear lead over the 740QM in lightly thread applications; switch to heavily threaded applications and there's simply no contest.
The only ingredient really missing from the G73 right now is a good SSD to help improve overall responsiveness. With two 500GB hard drives, there's room for a ton of games, movies, pictures, etc., but we could say the same of a single 500GB drive. Had ASUS gone with a reasonable 80GB SSD for the OS and applications, the price wouldn't be substantially higher but many tasks would be snappier. Maybe when we get the next generation SSDs with 25nm NAND, prices will reach the point where a decent 80GB SSD will cost as much as a 500GB 7200RPM and ASUS can make the switch. Time will tell, but as far as general performance goes an SSD is the next logical step.
ASUS G73Jw: Battery Life, Noise, Heat, and the LCD
So we've got the same chassis, a CPU that's the same power spec, but a different GPU. We mentioned in the past that it appears AMD could do more to tweak the 5800 mobile parts for better battery life. Without the ability to retest notebooks months later (i.e. with the latest driver updates), all we have to go on are previous results. Battery life ends up being the one area where the G73Jw is clearly superior to the G73Jh.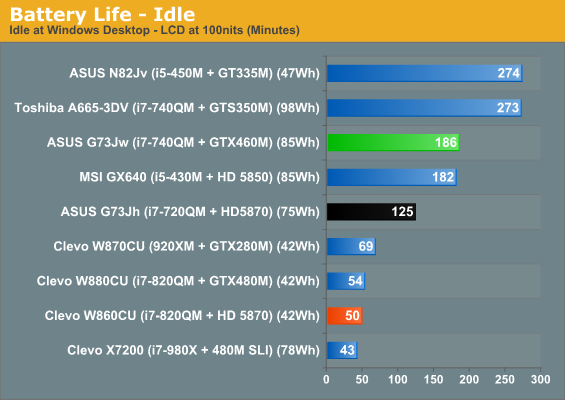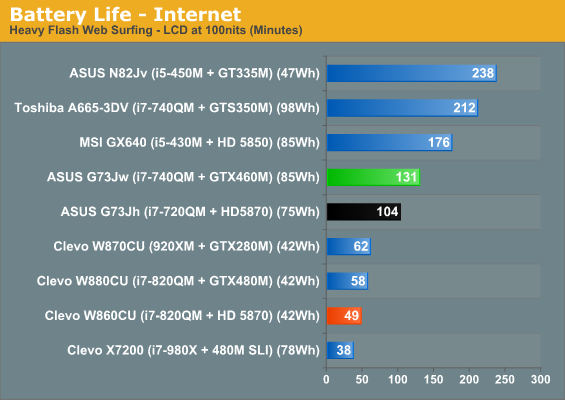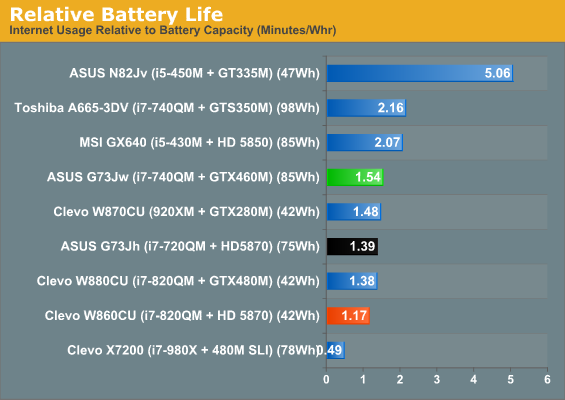 Idle battery life improves by 49%, Internet battery life is up 26%, and x264 playback is up 41%. HWMonitor even reports a wear level of 5-6% on the battery, despite over ten charge/discharge cycles, so potentially you could see even better results. However you slice it, the GTX 460M looks to be far better at idle power use than the 5870—for that matter, even the GTX 480M competes well with the HD 5870. Obviously you're not going to buy any of the gaming notebooks as an all-day mobile solution, but it's nice to at least get two to three hours if you need it.
If you're interested in gaming on the battery, we also need to offer a word of caution. While we still got an hour of battery life looping 3DMark06, performance was one-third to one-fourth the speed we measured on AC power. In other words, unplug the G73Jw and the 460M suddenly starts performing like a GT 320M. That's with the system using the highest performance options in the power settings we could select. Whether the low performance is necessary because of lack of available power from the battery, or if it's simply a case of NVIDIA/ASUS hindering performance in order to improve battery life, unplugged the G73Jw is not going to be a gaming powerhouse.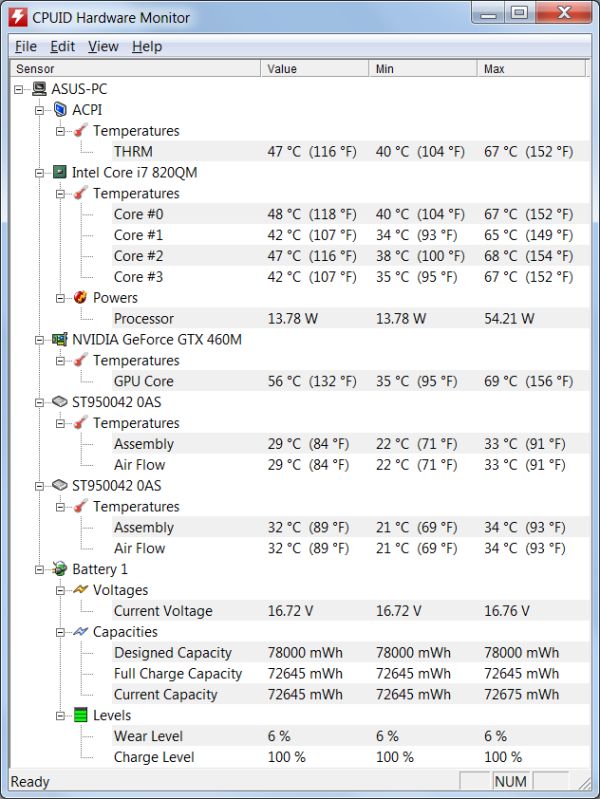 Again we have HWmonitor reporting up to 54W of power use by a Clarksfield CPU, which is the TDP of the Extreme versions rather than the standard models. Minimum power draw for the 740QM is a massive 14W—more than some laptops use for everything at idle. Maximum CPU and GPU temperatures are very good, again highlighting how effective the G73 design is. We're still curious as to why it's only a 460M in the chassis, as it appears capable of handling more. Then again, perhaps it's the power constraints rather than cooling that prevents ASUS from using something faster—and ultimately, even the mighty 480M only looks to be about 15% faster than the 460M. All things considered, the 460M looks like a good choice for the G73Jw; we're just not convinced it's dramatically superior to the HD 5870 in the previous model, outside of better idle power use.
The LCD: Nothing New Here
We're not going to show detailed results for the LCD, since we've already seen this particular panel in the original G73Jh as well as the Clevo W880CU and X7200. It's a good panel with an extremely high contrast ratio—we measured more than 1100:1! The down side is that maximum brightness is under 200nits, and in fact the G73Jw only manages 163nits. With such a low maximum white level, we had to double check to verify that the panel is even using LED backlighting, but it is; it's just not particularly bright backlighting. Color accuracy and gamut are also good if not the absolute best we've seen. If you want to read more about the HannStar HSD173PUW1, you can refer to our G73Jh review or the X7200 review. We like the panel, but we'd still love to see a better color gamut and at least 300nits maximum brightness.
ASUS G73Jw: Still a Good Notebook after Six Months
So let's make it clear: when we first reviewed the G73Jh, we were very impressed with the features and performance, not to mention its great price for a high-end gaming notebook. Six months on and it still packs a punch—and the G73Jw revision doesn't substantially alter the formula. If you disliked the stealth aesthetic, nothing has changed on that front. If you wanted a better price (without dropping to lesser components), things remain the same or perhaps even a bit more expensive, but the price—on both models—is still attractive, and either one would make for a fine gaming notebook. If you'd like some customization options and are willing to pay the price premium, you might also be interested in checking out XoticPC or AVADirect where you can customize the G73; unfortunately, while you keep the ASUS warranty, you don't get credit for the original parts—i.e. the i7-840QM is a $575 to $610 upgrade.
In short, our Gold Editors' Choice gaming notebook is still tough to beat, but now you get to choose between identical twins with a few minor differences in personality. What the G73Jw offers is USB 3.0 support, roughly equal graphics performance, and CUDA/PhysX as a bonus. PhysX tends to put enough of a strain on performance that you'll have to choose higher quality settings and anti-aliasing or go with PhysX. CUDA on the other hand is a technology that continues to see growing support, with major applications like Premiere CS5 now featuring CUDA optimizations. If you're interested in Badaboom, Premiere, vReveal, or some of the other CUDA applications, the G73Jw is a worthwhile update to the G73 line. If all you really want is maximum gaming performance, we'd give a slight edge to the Mobility HD 5870.
Battery life is also an improvement, thanks to better idle power requirements from the GTX 460M. You're still only getting 2-3 hours of typical use, but that's better than nothing. We're not sure if anything has improved on HD 5870 equipped notebooks since our last look, but NVIDIA does have a lead there. Conversely, raw performance on battery power is still in favor of the 5870 in the G73Jh, which runs closer to its AC performance than the G73Jw—at the cost of getting even less battery life. Somehow, we can't really see the ability to run games faster for 30 minutes as being a major bullet point.
So that's essentially it: you get the same design, USB 3.0, an updated CPU, and a new GPU. We don't think the improved battery life is really a major deal for anyone shopping for a gaming laptop. Perhaps that will change when we get Sandy Bridge, since we'll finally have the option for a quad-core Intel CPU and switchable graphics, but until then Clarksfield means that even a large 98Wh battery is likely going to fall below three hours of useful battery life. The G73Jw is a good laptop and certainly a viable alternative to the G73Jh, but if NVIDIA was looking for a knockout blow from ASUS this isn't it. They've got a heavyweight contender in the ring, and both sides are landing blows, but this one is going to end up a split decision.
Finally, with the results from the GTX 460M we need to look at the mobile GPU market again. "High-end" notebook GPU performance remains highly compressed, with a spread of about 25% separating the top GTX 480M from lesser offerings like the HD 5850 and GTX 460M. In addition, the cost of upgrading to a faster GPU(s) can be prohibitive, and what we want more than anything is faster mobile GPUs that won't break the bank. What we really want right now is something like a mobile variant of the new Radeon 6800 parts, only this time with a full set of Stream Processors (unlike the 5870 where AMD used the 5770 desktop core for the mobile part).
The desktop 6870 is able to provide 93% of the desktop 5870 with fewer processor cores and it does it while using 12% less power. Or if you want another comparison point, the 6850 is 25 to 50 percent faster than the 5770 with 9% more computational power (cores * clock), it has slightly lower idle power draw, and load power draw is only 13W higher at most. If NVIDIA can put a 100W TDP 480M into notebooks, surely AMD can put in a true mobile 6870. Unfortunately, parts like that are probably still several months out—or more—and if the past is any indication, the mobile 6800 chips will come with dramatically reduced clocks and core counts (or get called the "Mobility 6900"), so what we get is plenty of choice but no killer product. Sandy Bridge and Optimus (or an AMD equivalent) with at least the performance of 460M is what I'm looking forward to seeing as the next generation of mobile gaming, and if we can get better than 480M performance with a TDP of 70W or less so much the better; hopefully we won't have to wait too long to get exactly that.