Original Link: http://www.anandtech.com/show/3969/apple-mac-pro-mid-2010-review


It's the fastest Mac you can buy and it's a desktop. These days, the Mac Pro is basically the un-Mac.
For years users have argued that Apple needs a standard Mac. A decent desktop that fills the $1000 - $2000 price range. Apple has refused to entertain the idea for what I can only assume are a number of reasons. At lower price points it's difficult to justify the Apple tax, thus driving margins lower and ultimately impacting stock price. There's also the issue of cannibalization. A standard Mac could potentially drive customers away from the iMac and into a Mac + cheap monitor configuration. From Apple's perspective this probably harms the overall user experience (what if a customer buys an inferior display and uses it with a Mac?) and it only allows Apple to realize profit on a computer, not a computer + display.
This leaves us with the current product lineup. The Mac mini at the low end of the OS X scale, the iMac in the middle and the Mac Pro up top. If you want something high performance without an integrated display but more affordable than the Mac Pro then there's always the Hackintosh route.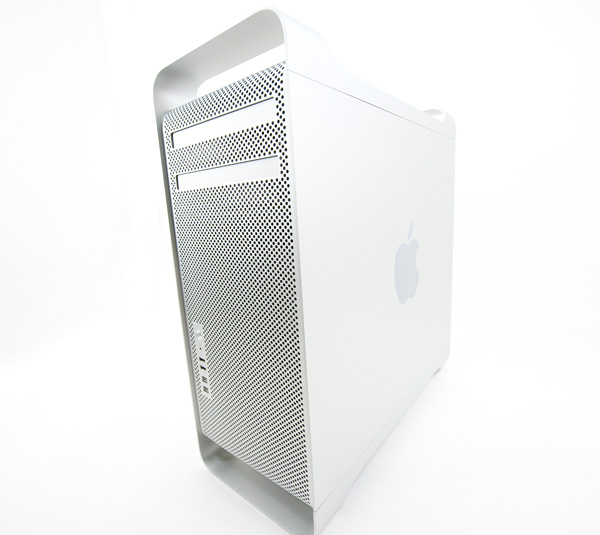 I spend all of this time talking about price because the Mac Pro isn't cheap. Since its introduction in 2006 the Mac Pro lineup starts at $2499:
Historical Look at the Mac Pro
Late 2006
Early 2008
Early 2009
Mid 2010
CPU
2 x Xeon 5150 (2.66GHz - 2C/2T)
2 x Xeon E5462 (2.8GHz - 4C/4T)
1 x Xeon W3520 (2.66GHz - 4C/8T)
1 x Xeon W3530 (2.8GHz - 4C/8T)
Memory
2 x 512MB DDR2-667 FB-DIMMs
2 x 1GB DDR2-800
3 x 1GB DDR3-1066
3 x 1GB DDR3-1066
Graphics
GeForce 7300 GT
Radeon HD 2600 XT
GeForce GT 120
Radeon HD 5770 1GB
Hard Drive
250GB
320GB
640GB
1TB
Optical
6X DL SuperDrive
8X DL SuperDrive
18X DL SuperDrive
18x DL SuperDrive
Prices
$2499
$2799
$2499
$2499
The specs have of course improved tremendously year over year. The Mac Pro was born after Apple decided to migrate to Intel based CPUs. It started with a dual-socket Conroe based Xeon, later saw an upgrade to Clovertown and then in 2009 moved to Nehalem. This summer Apple updated the hardware to Westmere, Intel's current 32nm architecture.
While there were only two configurations for the Mac Pro (4 and 8 core), Westmere adds a third model: a 12-core Mac Pro priced at $4999. Of course there are build to order options in between all three of them.
Mid-2010 Mac Pro Lineup
Quad-Core
8-Core
12-Core
CPU
1 x Xeon W3530 (2.8GHz - 4C/8T)
2 x Xeon E5620 (2.4GHz - 4C/8T)
2 x Xeon X5650 (2.66GHz - 6C/12T)
Memory
3 x 1GB DDR3-1066
6GB DDR3-1066
6GB DDR3-1333
Graphics
Radeon HD 5770 1GB
ATI Radeon HD 5770 1GB
ATI Radeon HD 5770 1GB
Hard Drive
1TB
1TB 7200RPM SATA
1TB 7200RPM SATA
Optical
18x DL SuperDrive
18x DL SuperDrive
18x DL SuperDrive
Prices
$2499
$3499
$4999
Estimating the "Apple Tax"
Despite the high cost of entry, historically the Apple tax has been nonexistent on the Mac Pro. I shopped around Dell and HP's websites to see if I could find similarly configured systems to the new Mac Pro. For the most part Apple was priced identically if not cheaper than Dell and HP for both the single and dual-socket Mac Pros:
The Dell comes with a more expensive video card since there wasn't an option for a Radeon HD 5770 class part. Other than that the two systems are similarly configured and there's no real price premium for the Mac. You can obviously save a ton of money if you don't need a dual-socket, eight-core beast but if you're buying in this class of products Apple is price competitive. This isn't anything new. I ran the same comparison in our first Mac Pro review and came out with similar results. There's effectively no "Apple tax" on the Mac Pro.
Update: Dell doesn't offer a Radeon HD 5770, instead you get a much more expensive FirePro V8700 graphics card. If deduct the street price for the graphics card from each machine, the Mac Pro ends up being $324 more expensive than the Dell. The Apple tax is there, but masked by the cheaper GPU.
Update 2: There's one more key difference in the specs. The Dell comes with a 3 year warranty vs. Apple's 1 year warranty. To get 3 years from Apple you need to purchase the $249 Apple Care add-on. Also, as many have pointed out, Dell can offer significant discounts over the phone. Apple can offer large discounts as well if you are an educational or business customer.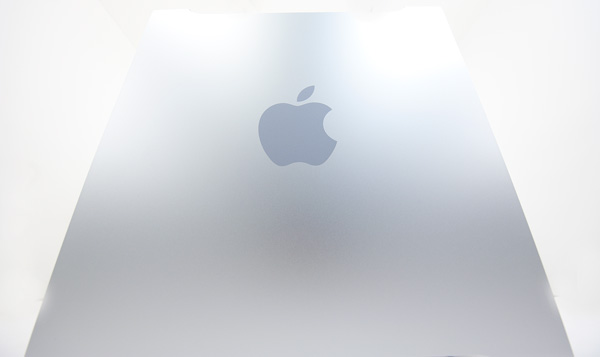 Where you can save a ton of money building your own however. A quick look through Newegg gave us a similar configuration to the Apple and Dell systems for $1612.91 plus the cost of the OS.
The Most Upgradeable Mac
The Mac Pro's styling hasn't changed in years. We got minor improvements inside but externally there haven't been any major changes since the Power Mac G5 days: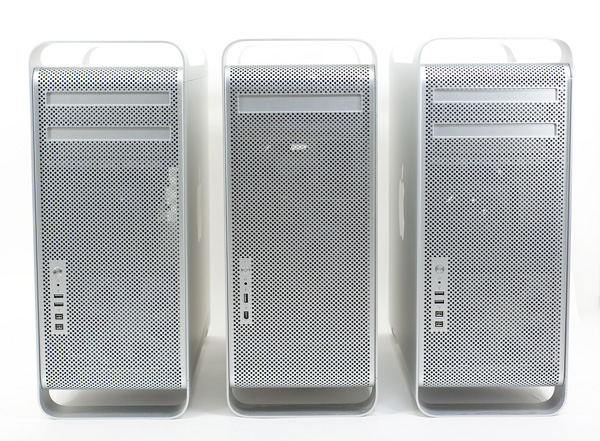 Can you spot the difference? Going from left to right we have the Westmere Mac Pro (2010), Power Mac G5 and Nehalem Mac Pro (2009). I left the Core 2 Duo Mac Pro out of the shot because it looks identical to the Nehalem/Westmere models.
You could argue that the design works and thus doesn't need to be updated and I'd tend to agree with you. The Mac Pro chassis is still very well compartmentalized and as a result allows for easy upgrades.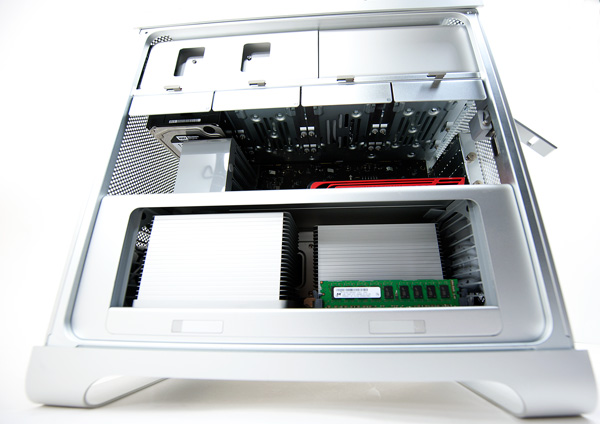 Internally the Westmere model is identical to its predecessor. Apple has made revisions to the motherboard so this isn't just a chip upgrade for the Nehalem Mac Pro, but other than that the systems look the same.
You still have the same slide out CPU/memory tray and the four removable SATA drive sleds from the Nehalem and Core 2 models. One thing I asked for in the Nehalem Mac Pro review was support for 2.5" drives, which Apple somewhat delivered with Westmere.
If you order an Apple SSD, either as an upgrade kit or with your Westmere Mac Pro you'll get a 2.5" adapter for the 3.5" drive sled. While I would've preferred something in-box for all users (since I still recommend going your own route for SSDs vs. buying them from Apple), this is at least a step in the right direction.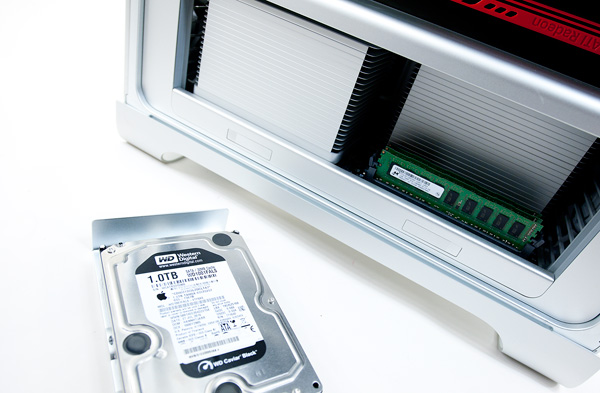 The only change I'd recommend is implementing a simpler PCIe retention system. The lower retention bracket works quite well, it's the thumbscrews that hold the top of the cards in place that are bothersome. Thumbscrews are obviously preferable to regular screws, but I'd rather have something that just snaps or slides into place. Given that I've done a lot of Mac Pro video card swapping over the past few days I'm probably more sensitive to this than most people, but there's no harm in seeking perfection.
Moving back outside, on the front we still have two USB 2.0 and two FireWire 800 ports. Like the previous Mac Pro there are no FireWire 400 ports and Apple has yet to embrace USB 3.0. The latter is a shame given the expected shelf life of a high end computer.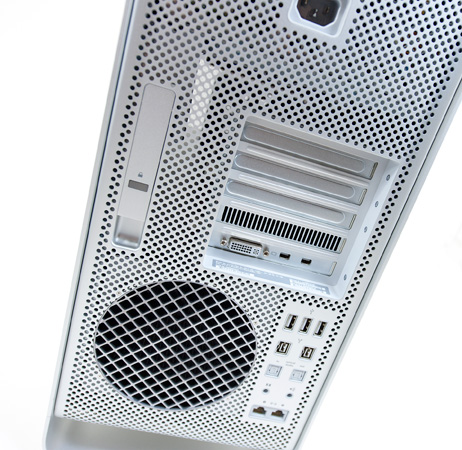 Around back the port layout is unchanged. That's three USB 2.0 ports, two FireWire 800, optical audio out and in, line in, speaker out, and two GigE ports. Apple continues to only offer a line in and not a mic-in on its "Pro" models. If you want to use a microphone with the Mac Pro you'll either need an amp or a USB mic, as the line-in port is not amplified and won't work.
CPU Options
Intel continues to sell both 45nm Nehalem based Xeons as well as 32nm Westmere models. As a result, Apple offers both in its new Mac Pro lineup. If you aren't familiar with the two architectures have a look here and here.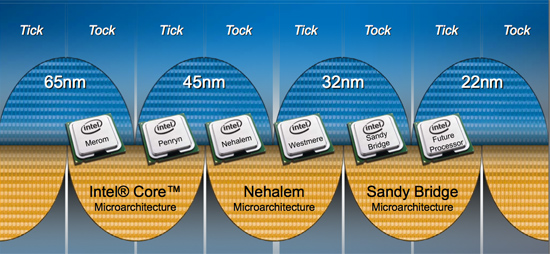 The entry level single-socket quad-core uses a Nehalem Xeon, the rest of the lineup (all six-core and two-socket quad-core) uses Westmere based Xeons. As a result, the single-socket quad-core Mac Pro has an 8MB L3 cache while the rest have 12MB L3 caches (as well as the other Westmere enhancements). Unfortunately Apple is still slow to adopt AES-NI so one of the major Westmere features goes unused in OS X.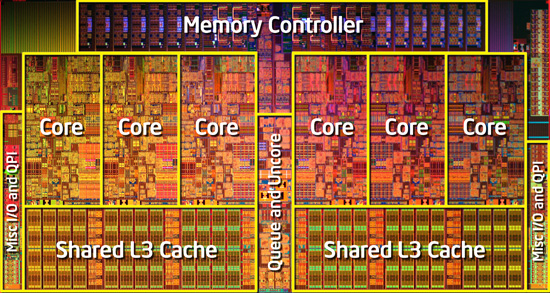 There are other differences between platforms. The quad-core options (Nehalem and Westmere) all support DDR3-1066, only the six-core CPUs support DDR3-1333.
The added cache should help performance but the bigger improvement will be in power consumption. You'll be able to get more cores at the same power levels as the Nehalem Mac Pro, or the same number of cores at lower power.
The single socket systems use a physically different CPU/memory daughterboard, so there's no hope for those wanting to simply stick in another CPU down the road.
Turbo is still alive and well but the frequency gains aren't all that great. The single socket quad-core runs at 2.8GHz and can turbo up to 3.06GHz, while the eight-core configuration starts at 2.40GHz and can only turbo up to 2.66GHz.
Roadmap
With the arrival of Sandy Bridge imminent, you might ask - why buy a Mac Pro today? And I might answer, Sandy Bridge isn't imminent for everybody.
In 2008 Intel introduced the Nehalem based Xeon and Core i7 CPUs. This architecture was the basis for the original Mac Pro. From 2008 through the end of 2009, Nehalem was not replaced at the top of the processor stack. There were more affordable derivatives (Lynnfield), but nothing usurped Nehalem's role as the top dog. Having just been updated last year, Lynnfield skipped an upgrade in 2010 and instead we saw Nehalem's replacement (Westmere, in the new Mac Pro) and new dual-core offerings (in the new MacBook/MacBook Pro). When Sandy Bridge arrives in early 2011, it won't replace any 6-core offerings in the product stack. You'll see some very competitive quad-core CPUs, but if you need more threads you'll have to wait.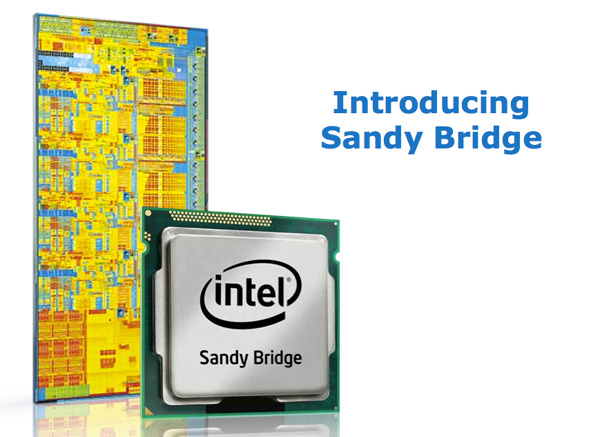 How long? Probably until Q4 2011 at the absolute earliest for 8-core Sandy Bridge based parts. Apple could update the entry level quad-core Mac Pro to Sandy Bridge before the middle of next year however.
New GPUs
In one fell swoop Apple pulled NVIDIA out of almost all of its desktop products. With the exception of the Mac mini, every single Apple desktop uses an Intel CPU, an Intel chipset and an AMD GPU. To be fair though, Apple has alternated between NVIDIA and AMD for graphics every year for the past four years.
The GPU of choice in the Mac Pro is the Radeon HD 5770 equipped with 1GB of GDDR5. Clocked and spec'd identically to the PC version, this is the graphics card you get in all three standard models. For an extra $200 you can get a Radeon HD 5870 with 1GB of GDDR5, and for an extra $250 you can have two 5770s instead of one. Don't get too excited, the multi-GPU route is explicitly for more displays there's no concept of CrossFire under OS X at this point.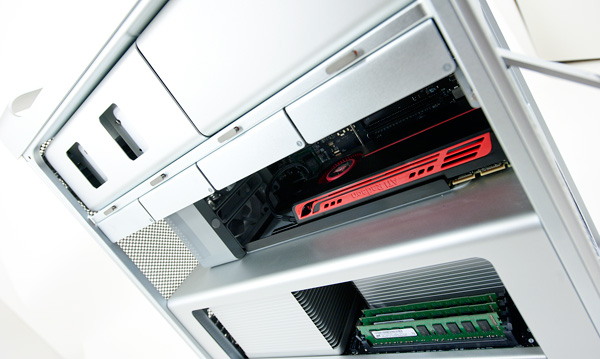 The Radeon HD 5770 is a huge step up from the GeForce GT 120 that previously came standard in the Mac Pro. The performance difference between the two is staggering! Where the 5770 does disappoint however is in comparison to EVGA's GeForce GTX 285 Mac Edition. It's slower.
I used Half Life 2 Episode 2 under OS X to get a general idea of gaming GPU performance. The improvement is huge compared to the old GeForce GT 120 that shipped in last year's Mac Pro. Ultra high resolution frame rates improved by over 5x, while even 19x12 performance tripled.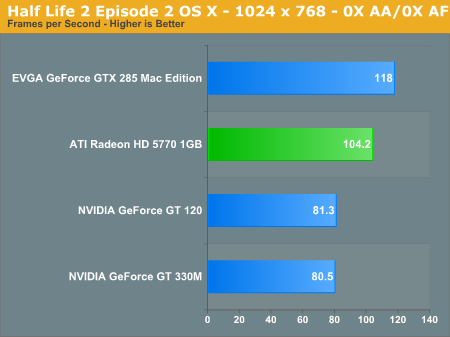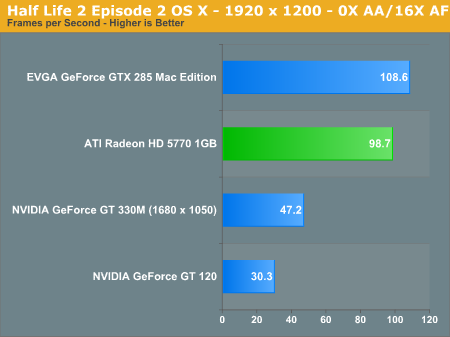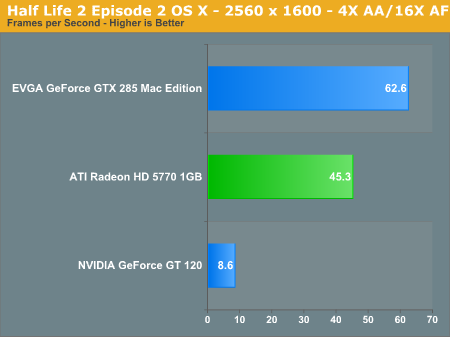 If you're curious about Starcraft 2 performance of the Radeon HD 5770 at 2560 x 1600, ultra quality settings, I saw an average frame rate of ~21 fps with a minimum at 17 fps and maximum at 27 fps. Note that this is in our CPU intensive battle test, so peak frame rates will be higher but if you're doing a lot of unit management that's pretty much what you can expect. In other words it's not fast enough to play on a 30" at full resolution without feeling a bit choppy at times. To average above 30 fps you have to drop resolution and quality settings.
Display Outputs and Frame Buffer
The 5770 has three outputs in the form of two mini-DP and one dual-link DVI. The mini-DP ports can each drive a 27-inch LED Cinema Display while the DL-DVI port can drive a 30. This is a Radeon HD 5000 series card so you can actually have all three outputs active at the same time. That's right, with a single card you can drive three monitors. And with two, six monitors.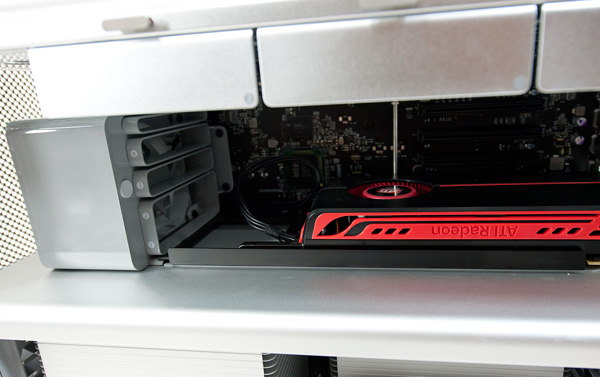 While 1GB of memory is enough to drive a single high resolution panel, it can be a stretch for two or three depending on what you're doing. As I've pointed out in the past you can have around 130 open Safari windows before you'll max out a video card with a 1GB frame buffer at 2560 x 1600. However, fire up Photoshop and open twenty 12MP images and you'll get the same effect. For heavy imaging work you'll still want more than one 5770 if you are going to drive multiple high resolution (2560 pixels wide) displays.
What would've been better is for Apple to offer a 2GB card, at least as an option, for very high end multi-monitor users.
Input Devices
The Mac Pro ships with two input devices by default: the Apple USB keyboard with numeric keypad, and the Magic Mouse.
The keyboard I'm a huge fan of. If you're ok with the relatively condensed design, it's great to type on. The angle feels just right, there's good feedback from the keys and even the key travel seems just right. The biggest issue is that it isn't an ergonomic design in the style of the Microsoft Natural keyboards.
You get a row of helpful function keys along the top and two USB ports integrated into the keyboard itself. The ports are only good for delivering 100mA of power so you'll have to look elsewhere to charge your iPhone/iPod.
I've used the keyboard before, it's actually what I do most of my writing on. I'd say there's still tons of room for improvement in the comfort department so I'd like to see Apple go back to the drawing board with its now 3-year old design. The mouse however, I'd never had any real experience with.
The Mighty Mouse was Apple's first attempt at a two-button mouse with a modern Mac. By using a touch sensor in the mouse itself you could push on the right side of the mouse to simulate a right click. A nifty way of adding a right mouse button without actually capitulating to the demands of the radical two buttoners.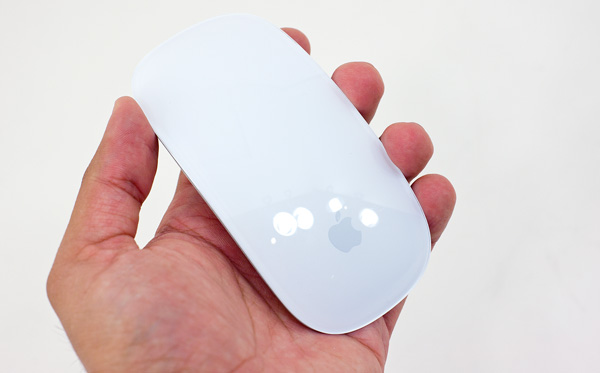 The successor to the Mighty Mouse is named the Magic Mouse. Stylistically the Magic Mouse is probably the best looking mouse I've ever used. It looks great on a desk. Even the on/off switch underneath is well designed. It also takes touch to the next level. Instead of using a touch sensor to simply determine left from right clicks, you can now gesture on the surface of the mouse.
The supported gestures include scrolling (both horizontally and vertically) and two finger swipe to flip through photos or web pages.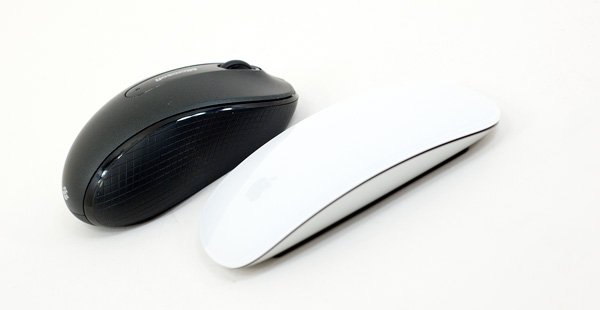 The scrolling gestures are nice. I found myself getting excited whenever I'd have a window open that I needed to scroll in. It's just so much more effortless than using a scrollwheel, even the newer low-friction wheels. But at the end of the day I just couldn't get over the ergonomics of the mouse. Matthew Witheiler, the first AnandTech Senior GPU Editor, swears by his but I couldn't get used to it. The Magic Mouse is extremely low profile and doesn't really contour to my hand at all. I suppose it's ok for occasional mousing but I simply point too often.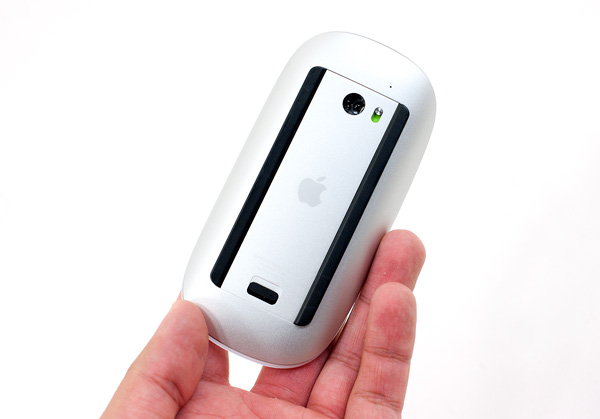 The Magic Mouse also lacks the smooth tracking feel that most Microsoft and Logitech mice have. There are two plastic strips that run along the base of the mouse, serving as feet. They are solid plastic with no soft coating at all. If you use your mouse on a desk without a mousepad it feels like you're scraping the mouse across the desk rather than smoothly gliding it across. Even on a mousepad the feel isn't great.
If you like the idea of going all the way with touch on a desktop there's also the optional Magic Trackpad. This one doesn't come with the Mac Pro but it is a $69 option. And as its name implies, it's a giant trackpad.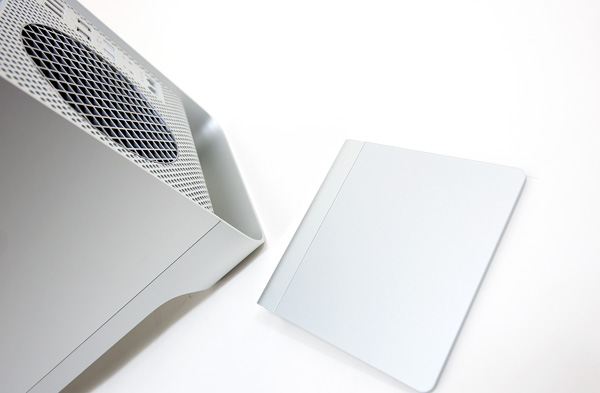 I was a lot happier with the Magic Trackpad than I was with the Magic Mouse. The gestures are easier to do and you get more of them. By far the most useful was sliding four fingers up or down on the trackpad to trigger different Exposé modes. Scrolling is also nice and smooth and the trackpad surface is arguably too big, I don't use most of it but it's nice to have.
My biggest issue with the Magic Trackpad is its positioning on my desk. Trackpads work on notebooks because they're situated directly in front of your keyboard. Move your right hand down for tracking and back up for typing. On a desk the trackpad is physically a lot further away from your hands. You can position it in front of your keyboard but then it interferes with typing since the trackpad doesn't lay flat on your desk.
You could argue that the trackpad is the same distance away from your hands as a traditional mouse, but I believe one of the benefits of a trackpad is its closer-than-a-mouse location. You lose that advantage with the Magic Trackpad.
Other than that it boils down to personal preference. While I have no problems using a trackpad on a notebook, at my desk I still use a mouse. The trackpad is nice for gestures but it's not good for gaming and I find that I'm slower with it for precision movements than a mouse.
Both the Magic Trackpad and Magic Mouse are Bluetooth devices that rely on two AA batteries. The pairing process is simple under OS X, although it's worth mentioning that you'll have no mouse support until you do install Apple's drivers under Boot Camp. That means you'll have to go through the Windows install process without a mouse.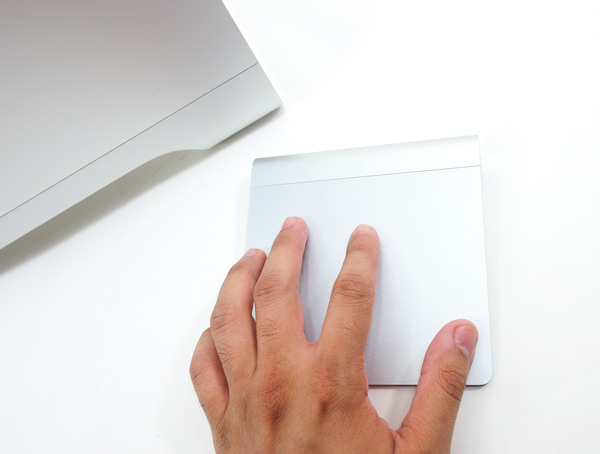 Assuming linear battery drain based on our testing we estimate around 6 months of battery life on the Magic Trackpad. I haven't used the Magic Mouse enough to give you an equivalent estimate.
On the 2009 Mac Pro I noticed an issue with Bluetooth reception and the Magic Trackpad where I'd occasionally get a stuttery mouse cursor. Users have tracked this down to an issue with the Bluetooth antenna in the system not being sensitive enough. In my testing of the 2010 Mac Pro I haven't been able to duplicate the problem but that's not to say it's gone entirely. It's just that so far things have been fine.
Performance
The new Mac Pro is fast, but then again so was the old one. Earlier this year I tried using the 15-inch Core i7 MacBook Pro as my notebook and desktop - my experiment lasted all of a day, I missed the performance. It's not so much an issue of peak performance, but one of core count and noise. While I rarely run applications that demand four (or more) cores, running a lot of applications that each eat 5 - 25% of a single core at the same time adds up. I also found that confined to a relatively thin notebook fans spun faster under typical CPU loads for me, as a result the overall system produced more noise than a larger tower.
I've got three Mac Pros represented in the charts below. The original late 2006 Mac Pro but upgraded to two 3.0GHz quad-core CPUs (effectively making it an early 2008 Mac Pro), the early 2009 Nehalem based Mac Pro once again upgraded to a pair of 2.93GHz quad-core CPUs and of course the new 2010 Mac Pro in its default eight-core configuration (2 x 2.4GHz quad-core CPUs).
Westmere only brought mild IPC improvements, so it shouldn't really offer any tangible performance advantage over last year's model. The only benefits will really be power, but let's go down the list to put things in perspective.
Cinebench R10 & 11.5
Most applications won't stress the 16 threads you get in the eight-core Mac Pro with the exception of offline 3D rendering of course. We'll start out with Cinebench R10:
The single threaded shows how far we've come in single threaded performance just comparing Conroe to Nehalem. At roughly the same clock speed the 2009 Mac Pro manages a 25% performance improvement over the 2008 Mac Pro. Part of the advantage is obviously due to single threaded turbo mode, but it's an advantage nonetheless. If you have a higher clocked Nehalem Mac Pro you'll need to upgrade to something at least as fast as what you have now, the 2.4GHz default clock of the eight core system is simply too low to offer any advantage over the higher clocked alternatives in this chart.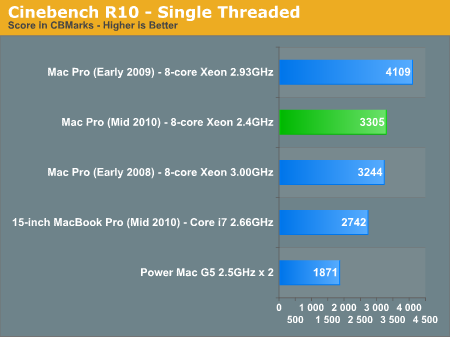 I also threw in the dual processor Power Mac G5 2.5GHz to put things in perspective. While a highly configured Mac Pro from 2008 may not be in need of an upgrade, if you're still doing work on a Power Mac G5 an upgrade would be very appreciated. Westmere is 76% faster than the 2.5GHz G5 in this single threaded test.
Multithreaded performance scales very well on Nehalem and Westmere as you can see below: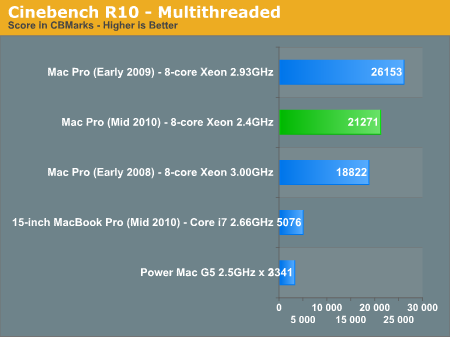 The key takeaway here is that if you had a high clocked, eight-core Mac Pro from 2008 you can't get away with the new 2.4GHz eight-core. The extra threads help but you need clock speed as well to manage a significant performance advantage over what you're upgrading from.
The G5 comparison is even more ridiculous when we look at multithreaded performance. A single Westmere core running at 2.4GHz is nearly as fast as two 2.5GHz PowerPC 970FXes in Cinebench R10's multithreaded test.
We see a similar story if we look at Cinebench 11.5 results: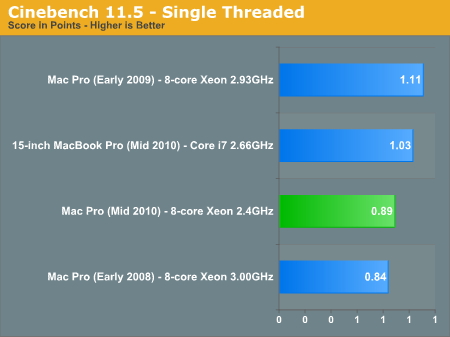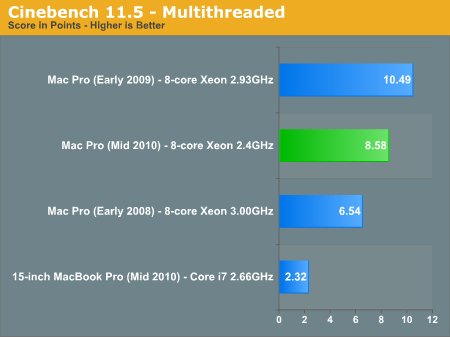 The newer benchmark is less bound by the performance of a single thread and thus we see it favoring the 2-threads-per-core you get from Nehalem/Westmere. In this case the 2.4GHz $3499 eight-core Mac Pro is faster than the 3.0GHz eight-core Mac Pro from 2008.
Remember that until Sandy Bridge, the L3 cache is the means of core-to-core communication in Intel's Core series of processors. There was no single large shared cache in the 2006 - 2008 Mac Pro (each set of 2 cores shared an L2 cache) which is the reason for the relatively poor scaling there. Westmere gives you a larger L3 to play with and thus we see slightly better scaling from one to 16 threads vs. Nehalem. The size of the L3 cache in Westmere means that you can store more data shared by all of the cores in these heavily threaded applications.
Adobe Photoshop CS4 Performance
Photoshop is one of those benchmarks that really stresses everything. You get decent memory and I/O dependency and good use of multiple cores (but diminishing returns beyond 6 - 8 threads).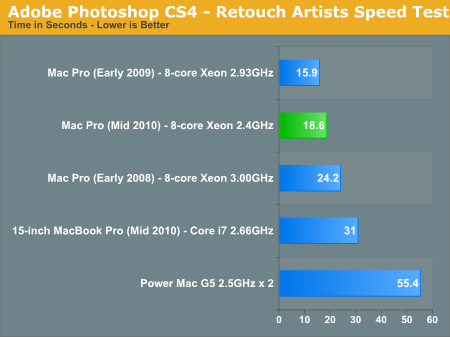 We've already shown the new Mac mini is nearly as fast as the Power Mac G5 in Photoshop, but the new Mac Pro cuts our test time in less than half compared to the old G5. The Westmere advantage is not tremendous here, some higher clocked Nehalems do better in this test.
Even the 2008 Mac Pro does well here, at least compared to the G5.
Aperture 2 RAW Import Performance
For my Aperture test I simply timed how long it took to import 203 12MP RAW images into the library.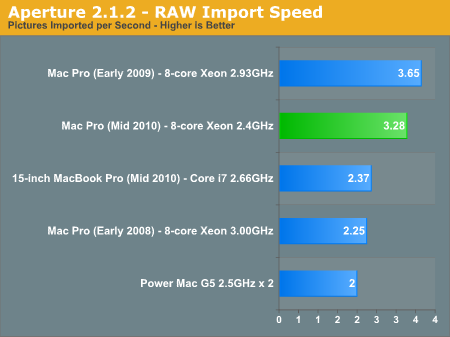 The 2009/2010 Mac Pros are very fast even in general use tasks like importing images into Aperture.
H.264 High Profile Transcoding
I have a feeling the transcoding game is going to get a lot more complicated after Sandy Bridge hits next year, but until then we've got our typical H.264 encoding tests. Here I'm taking a 90Mbps H.264 source file and transcoding it using Handbrake and the default High Profile settings.
The transcoding process peaks at about 11 threads, so there is an advantage to the Hyper Threading enabled systems but it's not much. The sub-max thread count allows even the older 2008 Mac Pro to outpace the newcomer simply because of the system's higher clocked CPUs in this case: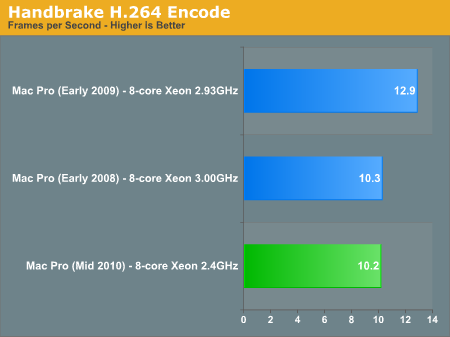 Clock for clock there is at least a 25% increase in performance over the old Mac Pro given the same number of cores. I wouldn't expect a huge improvement vs. Nehalem at the same clock speed however.
Power Consumption
The big advantage of Westmere is power consumption. If we compare last year's Mac Pro with the GeForce GT 120 idle power consumption is actually lower than the new Westmere system thanks to the Radeon HD 5770 drawing more power at idle. If you look at the 2009 Mac Pro with a GeForce GTX 285 however, the 5770/2010 Mac Pro has a significant idle power advantage.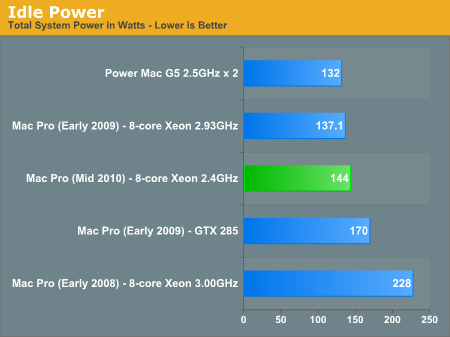 The same is true under load, although the GPU plays less of a role in our Cinebench render test for load power. The Mac Pro we're testing here is clocked much lower than our 2009 Mac Pro, which explains some of the power advantage but not all of it.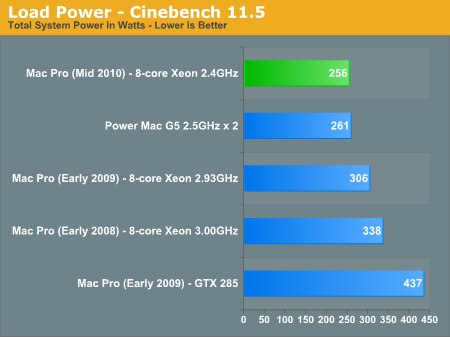 We've been tracking Mac power consumption in OS X vs. Windows for quite a while now. I decided to see how power consumption changed under Boot Camp. As expected, idle power was a bit higher while load power consumption was identical:
Power Consumption Comparison
Mac Pro (Mid-2010)
Mac OS X 10.6.4
Windows 7 x64
Idle
144W
159W
Load (Cinebench 11.5)
256W
253W
The 15W difference in idle power usage is significant, but honestly it matters a lot less in a system like the Mac Pro than a mini or MacBook Pro. The Cinebench scores are identical under both OSes in case you were wondering. This wasn't always true, Apple has significantly improved OS X performance with 10.6.x vs Leopard.
Final Words
The new Mac Pro isn't significantly different from last year's model, which isn't a bad thing. Apple created a good formula with the original Mac Pro and with the Nehalem update fixed some of the remaining issues with its design.
The desktop is very easy to service and upgrade. You don't get access to the PSU or optical drives, but storage is easy to swap as is memory. You can even swap CPUs if you have a lot of patience and learn from my mistakes. I'm happy with the chassis. It's quiet and can accommodate most of what matters these days, a powerful GPU or two, a ton of memory and four SATA drives. I would prefer it if Apple would at least bundle 2.5" adapters and PCIe power cables with the Mac Pro. The system is so easy to upgrade yet unnecessarily painful to acquire parts to do so on your own. I get that the typical Mac Pro customer won't be doing this on their own, but it never hurts to ask.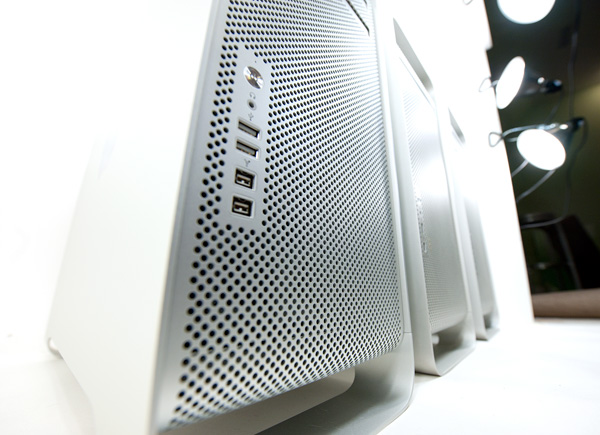 Compliments about the system aside, it's rare to see an Apple product go this long without some sort of a refresh. There is room for a styling upgrade, for some tweaks with the add-in card retention plate - it's just time to try something new. I'd expect to see that when LGA-2011 based Sandy Bridge arrives late next year.
I would still like to see Apple offer SSDs as standard, particularly in this price class. On top of that I'd like to see OS X get TRIM support and some faster SSDs as options in the Apple store. SandForce anyone?
As far as upgrading from a previous system goes, it makes sense for anyone hanging onto an old Power Mac G5 to bite the bullet and move to something more modern. Whether it's an iMac or even a used Mac Pro, you'll see a huge increase in performance.
If you have an original Mac Pro, an upgrade wouldn't hurt either. It's users who have the early 2008 Mac Pro with 8-cores or anything from 2009 that will find it harder to justify the upgrade. In fact, if you haven't moved to an SSD yet you're far better off buying one of those and waiting for Sandy Bridge rather than enjoy a marginal upgrade today.
The higher core count systems are interesting but it's tough enough to justify eight cores. Making the case for 12 requires very particular applications/usage models. Ultimately if you need 12 cores you probably already know.