Original Link: http://www.anandtech.com/show/3907/asus-n82jv-jackofalltrades


ASUS' N82Jv: Jack-Of-All-Trades
Our last look at the ASUS multimedia oriented N-series came in the form of the N61Jv-X2, the first laptop with an Arrandale CPU and Optimus graphics to hit the market. Sporting several of the latest and greatest technologies at the time, we came away impressed and presented it with our Silver Editors' Choice award. Nearly six months later, it's amazing how little some things have changed. Specifically, it's currently impossible to find another manufacturer that makes a Core i3/i5/i7 laptop with a midrange Optimus GPU and at least one USB 3.0 port. Yeah, it's that bad. But let's start with the specifications of the N82Jv before we go any further.
ASUS N82Jv-X1 Specifications
Processor
Intel Core i5-450M
(2x2.4GHz + HTT, 2.66GHz Turbo, 32nm, 3MB L3, 35W)
Chipset
Intel HM55
Memory
2x2GB DDR3-1066 (Max 2x4GB)
Graphics
NVIDIA GeForce GT335M 1GB Optimus Technology
Intel HD Graphics IGP
Display
14" LED Glossy 16:9 768p (1366x768)
AU Optronics B140XW01-V8
Hard Drive(s)
500GB 7200 RPM Hard Disk
Seagate Momentus 7200.4 ST9500420AS
Optical Drive
8x DVD+/-RW SuperMulti
Networking
Atheros AR8131 Gigabit Ethernet
Atheros AR9285 802.11n (150Mb capable)
Audio
Realtek ALC269 HD Audio
Altec Lansing stereo speakers Headphone and microphone jacks
Battery
6-Cell, 10.8V, 4400mAh, 47Wh battery
Front Side
8-in-1 Flash reader
WiFi On/Off Switch
Left Side
Microphone/headphone jacks
USB 3.0
HDMI
VGA
Exhaust vent
AC jack
Right Side
Optical drive
1x USB 2.0
Ethernet jack
eSATA/USB 2.0 combo port
Kensington lock
Back Side
Nothing
Operating System
Windows 7 Home Premium 64-bit
Dimensions
13.8" x 9.7" x 1.3-1.4" (WxDxH)
Weight
~5.0 lbs
Extras
2MP Webcam + Face Recognition
86-key keyboard
Flash reader (MMC, SD/Mini SD, MS/Duo/Pro/Pro Duo, xD)
Warranty
1-year standard warranty
Pricing
Starting at $999 Online
There are quite a few interesting points to highlight here. First, the GPU is bumped up from the GT 325M in the N61Jv to a GT 335M; that should improve performance quite a bit, though now we're at the point where the new GeForce 400M parts should start to show up. It would be awesome to see ASUS simply halt production of the GT 335M model and upgrade it to something like the GT 435M, but "simple" switches like that never seem to happen fast enough. Regardless, the GPU should provide sufficient performance for midrange gaming, and we're definitely interested in seeing how the N82Jv stacks up to the Alienware M11x R2.
Speaking of the M11x R2, there are a few more comparisons to make there. The N82Jv is a "larger" 14" chassis while the M11x sports an 11.6" LCD, but the reality is the chassis on the M11x is hardly what one would call "thin and light". The dimensions of the M11x are 11.25" x 9.19" x 1.29" (WxDxH), so two inches narrower and half an inch shallower, with about the same thickness as the N82Jv. The M11x also weighs in at 4.4 lbs compared to 5.0 lbs, but outside of the width we're in the same ballpark. For the larger size, you get a CPU that's up to twice as fast, an optical drive, and a few other extras. And along with the extras, you also get a puny 47Wh battery compared to the 63Wh battery in the M11x.
That last point is particularly irksome, as ASUS does so well with their U/UL series of laptops. Would it be too much to ask for 8-cell 84Wh batteries to become the standard for all 13.3" and larger notebooks? Actually, ASUS does appear to have an 8-cell variant of the N82Jv in the works, but that model will most likely not hit US shelves… just like the Blu-ray combo drive ASUS models are nearly impossible to find over here (unless you get into their 15.6" and larger notebooks).
Something else worth noting is that unlike some of the other ASUS laptops, the N82Jv-X2 comes with a standard 1-year warranty. This is a SKU built to a price point, in this case $1000, and while there's plenty to like it's clear that a few extras were cut to keep profit margins up. Along with the shorter warranty, the LCD is another run-of-the-mill 768p panel with poor color and contrast characteristics. We'd love to see ASUS and others take a cue from Apple and Sony and put better LCDs into all their products… but then Apple and Sony don't have quality panels in all their products either (standard MacBook, I'm looking at you; as for Sony, the good LCDs are the exception rather than the rule unless you plunk down $1500+). Like so many other consumer laptops, the N82Jv comes out of a series of compromises and decisions in pursuit of the almighty dollar, but it does tend to err a bit more on the quality side of the fence.
A Closer Look at the ASUS N82Jv-X2
In terms of aesthetics and construction, the N82Jv improves on most consumer laptops. The lid is a textured aluminum surface that's bronze/brown in color, and it's a nice break from all the glossy plastic finishes we've seen in the past. The main body is still plastic, and it does show some flex, but it does look like it will hold up well over time. The palm rest is a matte plastic, and the sticker claims a "Scratchproof Surface". It won't resist a sharp metal tool, but scraping at it with my fingernails produced no visible markings, so in that sense it is scratchproof… or at least scratch resistant.
While I thought the N61Jv looked okay, the textured aluminum lid on the N82Jv easily wins out. Like any aluminum surface, it can show grease smudges, but it's nowhere near the fingerprint magnet of glossy plastics. One issue that we do have with the construction however is the use of a door/hatch on the right side to cover the USB, Ethernet, and eSATA/USB ports. This is a matter of taste, but I haven't had enough concerns about dust getting into my ports that I want a cover—especially not a cheap cover secured by rubbery plastic "hinges". This is one area where ASUS should have left well enough alone and gone with the standard ports on the side of the laptop.
The speakers consist of two Altec Lansing tweeters firing out the front of the laptop. Sound quality is decent for a 14" laptop, and at least the speakers don't distort at high volume levels, but they don't get very loud and they're lacking in bass response. Plug in a set of headphones and you'll be a lot happier with the audio experience.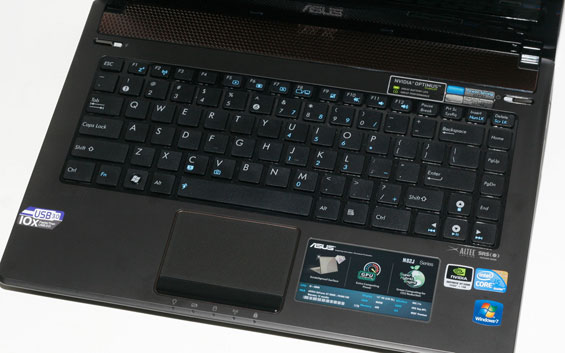 As with many of the other ASUS laptops, the keyboard layout is very good for a 14" chassis. The CTRL key is in the bottom-left corner, and the column of Home/End/PgUp/PgDn keys on the right works very well. Key response and travel isn't the greatest and certainly won't compete with the ThinkPads (or HP EliteBooks) of the world, but the decent sized palm rest and beveled edge make it comfortable enough for regular use. There's a bit of flex in the keyboard if you push hard, but that's only if you're looking for it—it's certainly not like some of the MSI keyboards where the keyboard tray bows at the slightest pressure. The chiclet style keys also have good spacing, though if you don't like chiclet there's nothing to change your mind here. In short, this is a functional keyboard that works well, but it doesn't rise above the market; it's better than the Acer Aspire keyboards, sure, but so is just about everything else.
The touchpad has a lightly textured surface that matches the lid, and it provides a nice differentiation from the rest of the palm rest. ASUS uses an Elan Smart Pad for the hardware, with support for most of the latest multi-touch/gesture options. Two finger scrolling works as expected, and tapping with two fingers (middle-click) or three fingers (right-click) also works. What you don't get are the "swipe" and "zoom" gestures found on some other touchpads, but personally I don't miss them. Until/unless such gestures are better integrated into the OS and applications (a la OS X), scrolling gestures are as much as I need.
For those looking at expansion options, ASUS' one concession is the inclusion of USB 3.0. That's a forward thinking technology that could prove very beneficial in the long run, but right now the only USB 3.0 devices are storage options. If you're a multimedia enthusiast like Dustin, obviously the lack of Firewire and ExpressCard is going to put this out of the running for use as a video editing workstation. Unfortunately for Dustin, such users are a distinct minority and most will be perfectly content with the three USB ports and the eSATA combo. If you want a laptop with more expansion potential, you'll have to look elsewhere.
One of our few complaints with the N61Jv was the LCD, so we had hoped the N82Jv would change things up. Well, it doesn't, and you're going to be getting the same sort of LCD we've seen in so many other sub-$1000 laptops. It's a TN panel with poor vertical viewing angles and generally mediocre quality, similar to the standard MacBook LCD. We'd love to see ASUS bump the price up $100 and move to something more like the 13" MacBook Pro LCD, but when you target a $1000 price ceiling something has to give. With the N82Jv, that "something" happens to be LCD quality and battery capacity. ASUS does include their Super Hybrid Engine that locks the CPU multiplier to 9x/10x in the battery results, but suffice it to say it doesn't do enough to warrant use in our book; an extra 10-15 minutes of battery life for less than half the performance isn't the same thing as a high capacity 6-cell battery, unfortunately.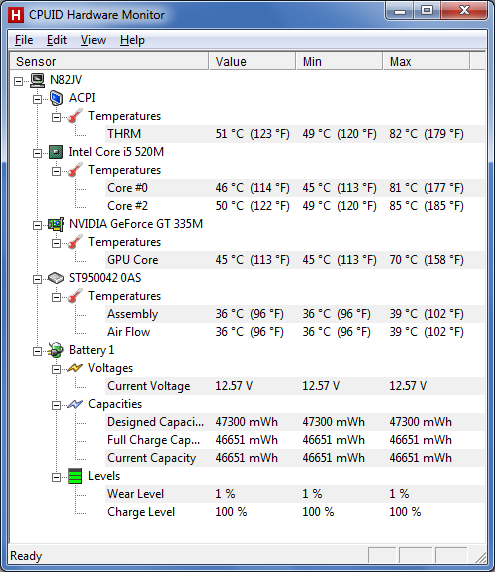 Above is a look at the temperature ranges we encountered during idle and load periods on the N82Jv. For stress testing we used 3DMark06 looping for upwards of an hour, as well as a 20 minute video cleanup using CUDA in vReveal. CPU and GPU core temperatures were as low as 45C (49C on CPU core 2). Load temperatures reached 70C on the GPU and 85C on the CPU. We measured surface temperatures 25-30C at idle, with load tempertures increasing a few degrees in most areas. The hottest spot is right underneath the CPU, where the bottom of the case was 41C. Noise levels are near 30dB at idle, and up to 39dB at load (from a distance of 12").
Having recently looked at the Toshiba A660D, the N82Jv is definitely a step up in overall build quality, but it's more of a step sideways in features and battery life. The A665D-S6059 comes priced $200 lower with an HD 5650 GPU, but there's little doubt the i5-450M will come out on top in the performance results. As for the A660D, currently priced at $950 this is an easy win for ASUS. The question is how it compares to other laptops, and here's where things become difficult. As mentioned, no one else has yet shipped a laptop with a midrange GPU (GT 330M or higher), Optimus Technology, and USB 3.0. The closest competitor is probably the Gateway ID49C08u, priced at $850 but with no current online availability. That comes with the standard (re: lousy) Acer/Gateway keyboard, a blinged-out glowing touchpad, a GT 330M GPU, and a 5400 RPM hard drive. All told it probably runs games ~20% slower than the N82Jv, so you're looking at $150 for USB 3.0, a faster GPU, and a much better keyboard.
We'll have a look at the ID49 next week, but in truth the real competition is going to be the 400M Optimus laptops when they start showing up. As it stands, the N82Jv is a good all-around laptop that can handle just about everything, priced at a cool grand. We have no serious complaints with the quality of features (outside of the LCD), and if you're not interested in waiting to see what sort of 400M systems we'll get in the next month or two—or if you're looking for something a little larger and faster than the Alienware M11x R2 for a lower price—the N82Jv should fit the bill. We do wish that there was less "differentiation" between some of the ASUS brands, though; combine the best of the U-series with the best of the N-series, and give us a chassis worthy of a business laptop and we'd be ecstatic.
ASUS N82Jv-X2 General Performance
We've been through this before, and our test suite remains the same as in recent laptop reviews, so let's jump right in and see how the N82Jv fares. Two key matchups are highlighted in the charts: the M11x R2 that has the same GPU but a slower ULV CPU, and the Toshiba A660D that represents something of the high water mark for current AMD notebooks.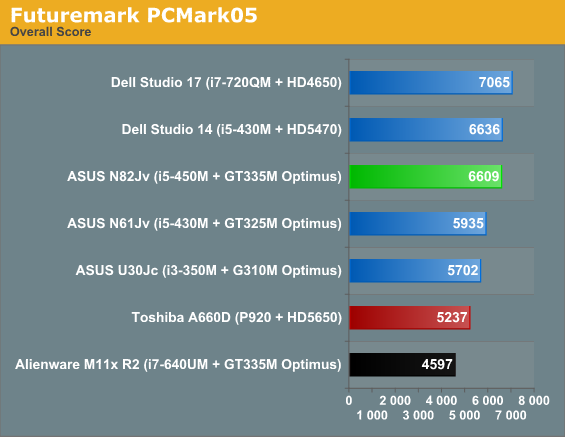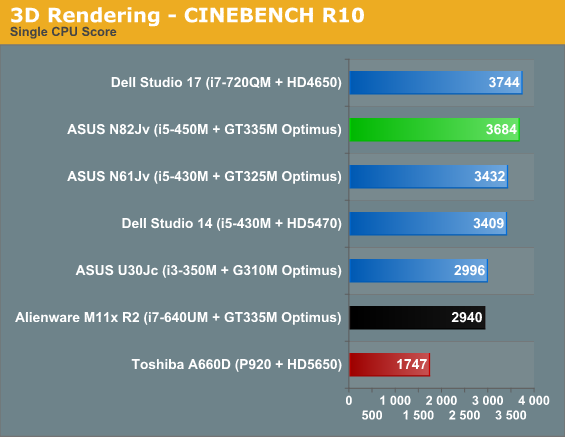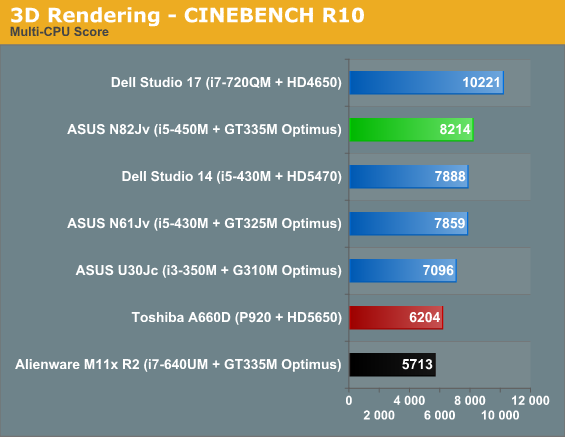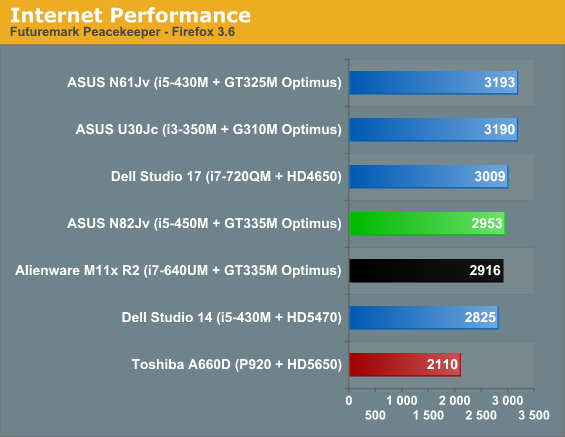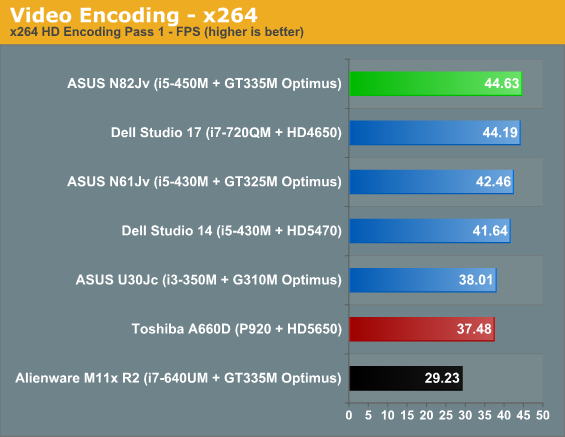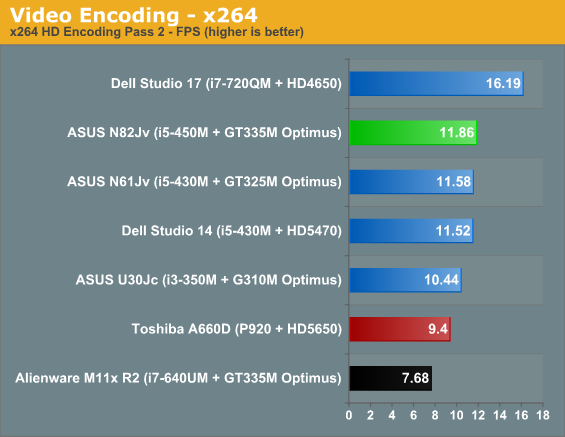 Right from the start, our two key comparisons show the N82Jv in a favorable light. Starting with the M11x R2, PCMark05 has the N82Jv leading the by 44%, while the Vantage result is "just" 19% higher. The close result of the M11x in Peacekeeper is an oddity…as is the loss to the slower clocked CPU/GPU of the N61Jv. It could be minor differences in the driver department, or perhaps the latest 3.6.8 Firefox updated reduced Peacekeeper performance. Regardless, we ran the test numerous times but the result was always lower than expected (and yet similar to the Studio 14). Peacekeeper is the exception to the rule, however. Cinebench gives the N82Jv a 25%/44% lead in the 1CPU/SMP tests, and the lead in x264 is just over 50% in both passes.
The comparison to the A660D leaves no question as to which processor is superior, with the lowest margin of victory coming at 20% in the first pass x264 encode—a test that's traditionally more HDD/bandwidth bound. PCMark has the N82Jv ahead by 36% in Vantage and 26% in 05, Peacekeeper gives the N82Jv a 40% lead, the single CPU Cinebench result is more than twice as fast as the P920, and the lead in multi-threaded tasks ranges from 20% to just over 30%. This is something we pointed out in the A660D review: when AMD's quad-core P920 can't come up with some clear wins over the i3-330M, it's a tough sell. Obviously, the i5-450M is faster than the 330M and simply increases Intel's lead; AMD's 2.0GHz N930 should come a lot closer to the Intel results in multi-threaded applications, but anything slower than that really needs to go after the value proposition.
Looking at the nearly identically equipped (outside of the GPU) Dell Studio 14, the N82Jv places about where we'd expect. The Vantage result favors ASUS by 19%, PCMark05 is a tie, but the remaining tests all give ASUS a lead of around 5% (give or take). It looks like ASUS has managed to better optimize the system performance, either with tighter memory timings, more BIOS tuning, or other tweaks. 5% is hardly anything to get worked up about, but it does show ASUS pays attention to some areas of performance more than many larger OEMs. $100 more for better performance, a significantly faster GPU, plus Optimus and USB 3.0 on top of that? Unless you can get the Studio 14 for a lot less than $900 for our tested system, the N82Jv is clearly a better choice.
ASUS N82Jv-X2 Low and Medium Gaming
Following our new testing procedure, our gaming results for this midrange GPU and system will look at Low, Medium, and High quality settings. It should come as little surprise that High settings are typically too much for most titles, but we'll get to that in a moment. First, let's start with a look at Low and Medium testing. Again, the M11x R2 and A660D are going to be the main comparison points; the former has the same GPU with a slower (and lower power) CPU, while the latter comes equipped with AMD's "equivalent" of the GT 335M.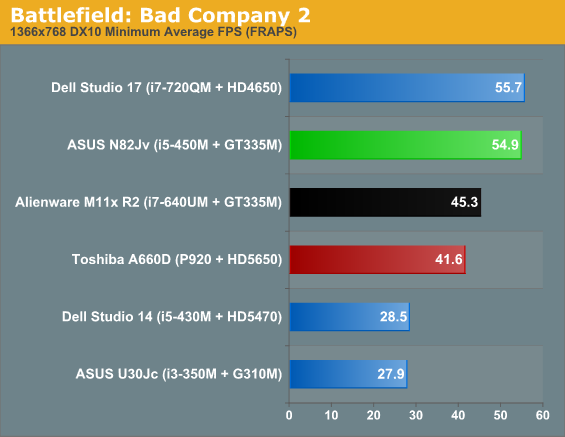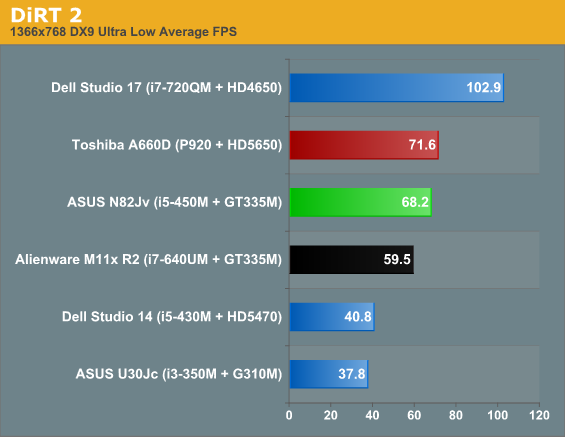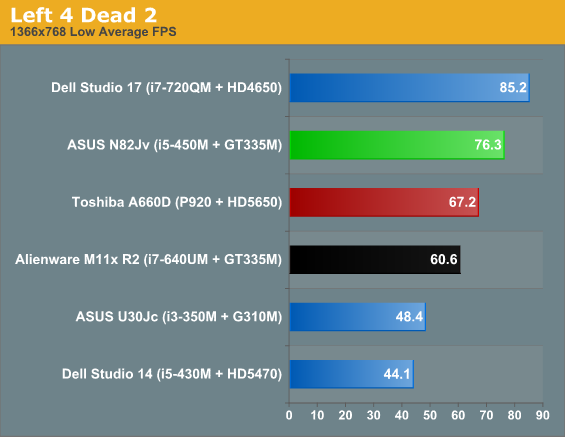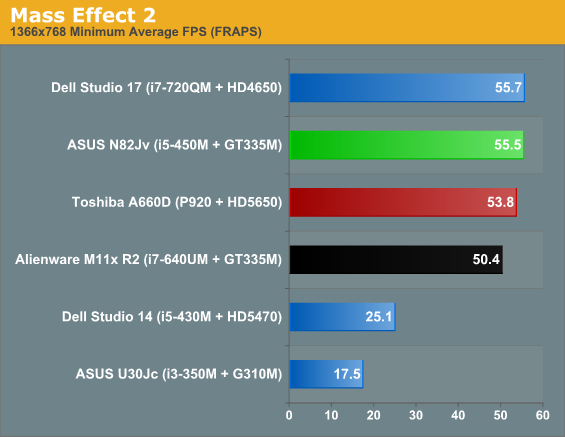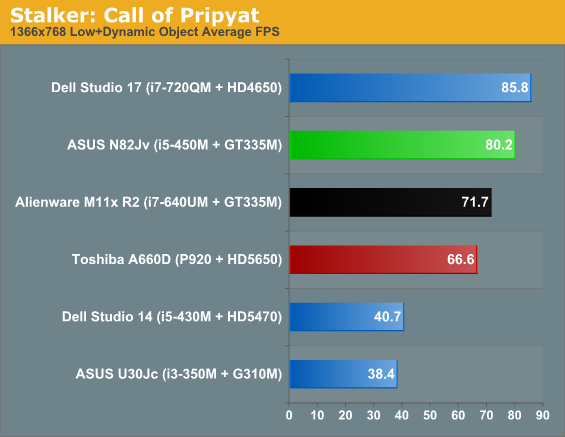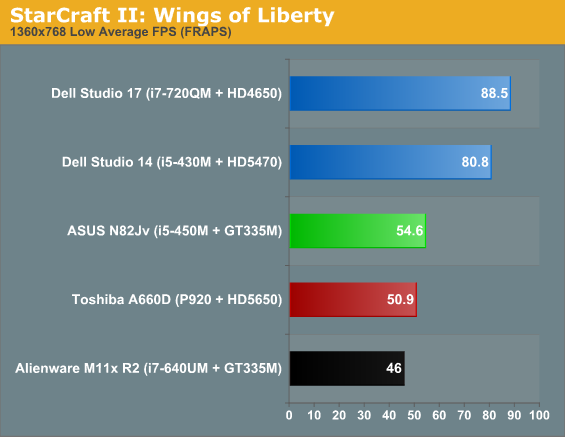 Low quality settings aren't where the GT 335M is designed to play, so frame rates are generally close to or above 60 FPS. The faster CPU in the N82Jv certainly shows up, though it's not the knockout blow you might expect. ASUS beats the M11x R2 by an average of 17% at low detail settings; we expect the margin would grow a bit if we compared with the i5-520UM equipped M11x, but even then there are hints that the system is becoming GPU limited. The lead over the A660D with HD 5650 ends up being 12% on average, but with the A660D winning out by 6% in DiRT 2. Also note that Toshiba is using lower clocked 450MHz 5650 chips, plus the P920 as we already showed is no performance powerhouse, so HD 5650 at 550MHz should come out on top of GT 335M by 10% or more.
A quick look at the Dell Studio 14 also shows why we don't like the gap between 5470 and 5650 in AMD's mobile GPU lineup: outside of StarCraft II, the N82Jv/GT 335M ends up being nearly twice as fast as the HD 5470. The reason StarCraft II doesn't conform to the other results is that Optimus tends to create a few bottlenecks when frame rates get above 60 FPS. Remember that Optimus transfers the completed frames over the PCIe bus to system memory, so you're dealing with memory bottlenecks as well as PCIe congestion. For 1366x768, we're only looking at around 240MB/s of bandwidth, so that shouldn't cause too many issues, but clearly something is holding back the Optimus systems in SC2.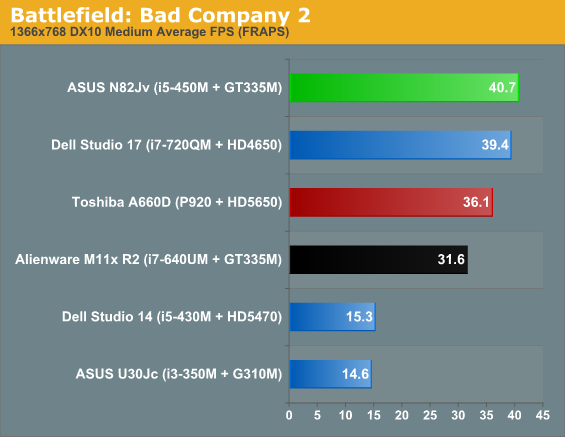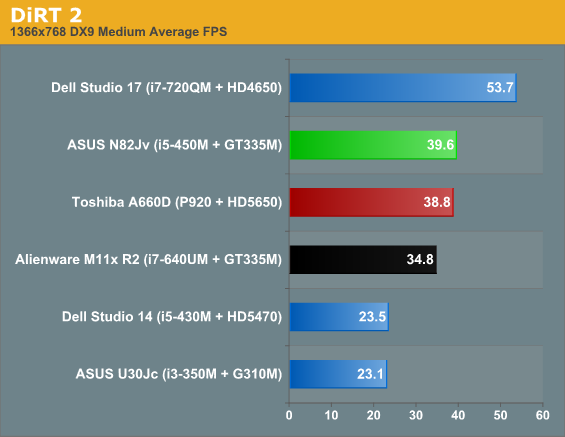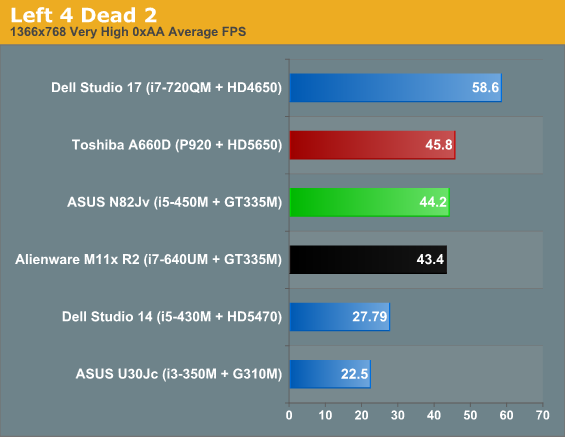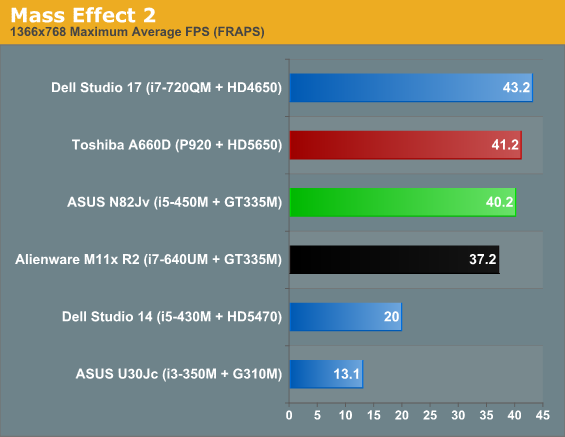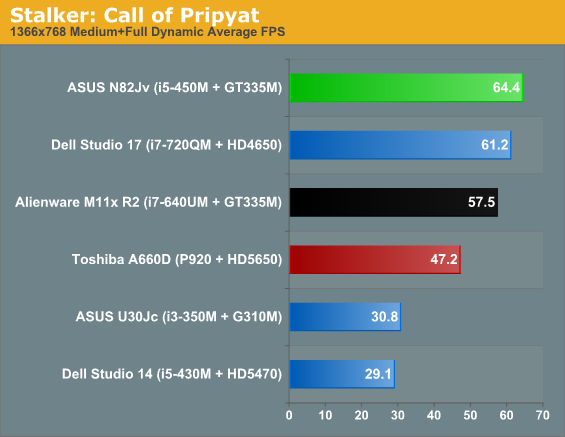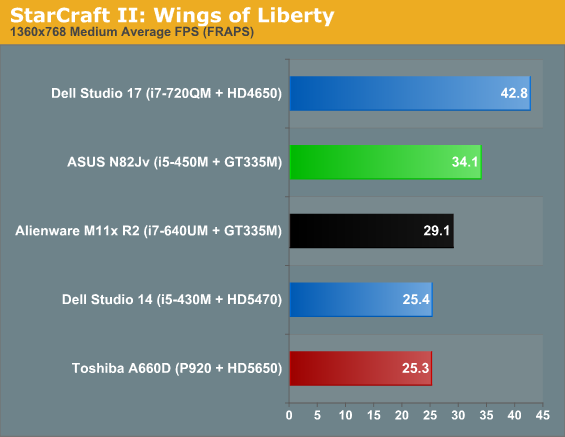 Moving up to Medium details doesn't radically alter the picture, although some of the gaps change slightly. The lead over the M11x R2 drops to 14%, indicating we are becoming more GPU bound. The N82Jv is 13% faster than the A660D, which is nearly the same as the low detail results, but a look at the individual games shows AMD moving into the lead in L4D2 and ME2 by a small margin, while in STALKER and SC2 the GT 335M lead grows to around 35%. How much of the lead comes from the CPU difference vs. the GPU difference isn't entirely clear at this point, though we should have an Acer AS5551G-4591 in house next week to shed some light on things. Also note that the lead over the Studio 14 jumps to 92% average, or 103% if we drop the lower 34% lead in SC2. (Note to Dell: We'd love to see the Studio 14 with an HD 5650!)
Medium quality gaming is where the GT 335M comes into its own. All of the games are at 40FPS or higher, except for SC2 where our intense benchmarking sequence drops average frame rates to 34FPS—still very playable for an RTS! These are all recent titles that can tax laptops quite a bit, and there are plenty of older/less taxing games that will work great on midrange mobile GPUs (World of WarCraft should break into the 60+ FPS range, for example). Is a $1000 laptop going to come anywhere near a $1000 desktop? Not a chance… but then you can't pick up your desktop and walk out the door to go to a LAN party in 60 seconds flat.
ASUS N82Jv-X2 High Quality
So just how far can we push the GT 335M before it hits the wall? Our Medium settings are a good blend of quality and performance, but move up to High settings and performance starts to plummet—especially if you want to run at higher resolutions. In that regard, the 768p LCDs that are everywhere these days are a benefit. Then again, you can always run a 900p or 1080p at a lower resolution if you need to, but you'll never get a 1080p desktop experience out of a 768p display. We've included results for the N82Jv at both native resolution and our standard 900p High setting using an external LCD. This time, it goes up against some far more capable mobile gaming systems, and we're not expecting much.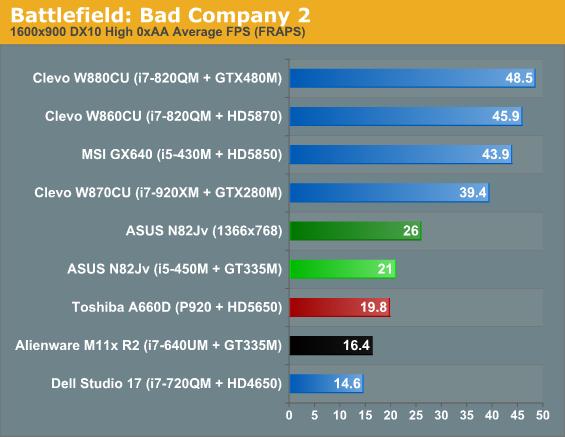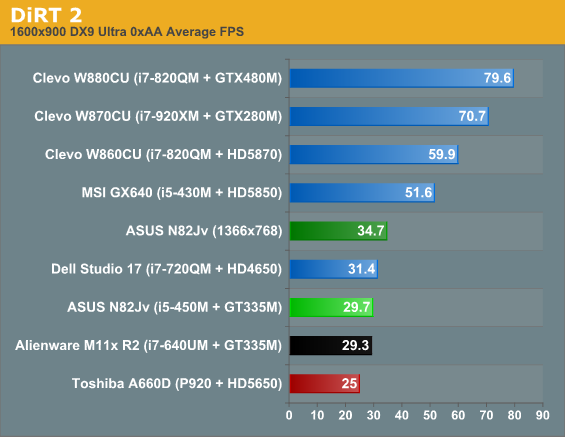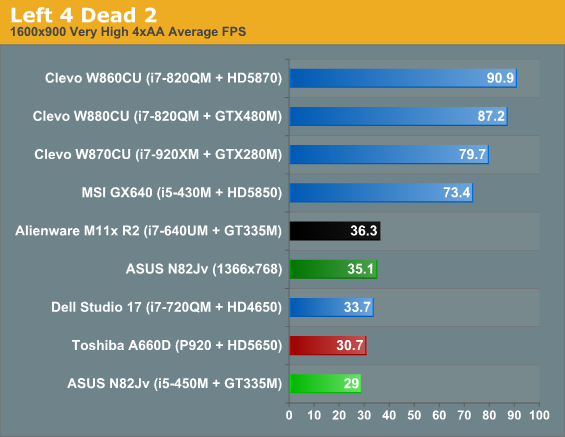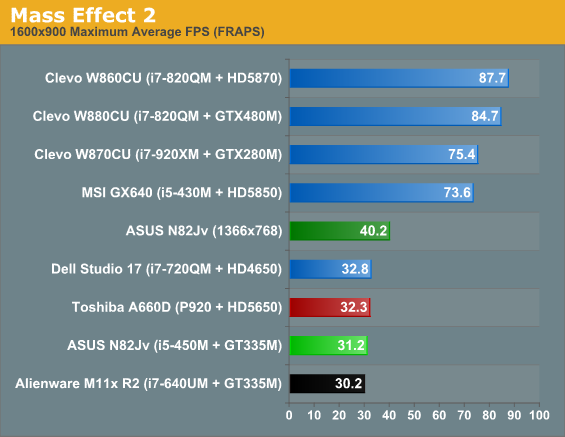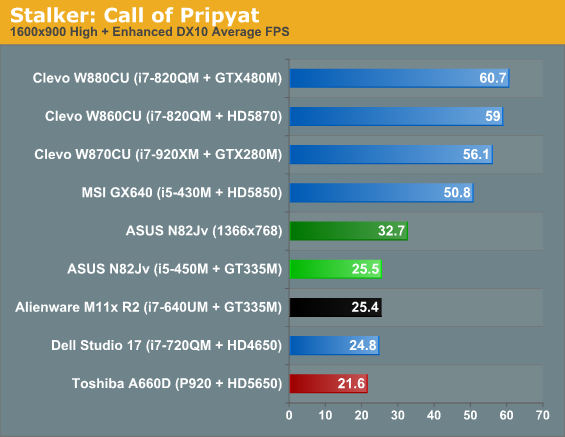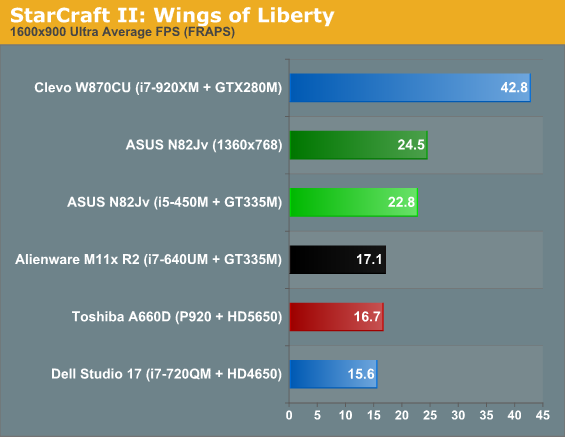 At our "High" settings and native 768p resolution, the N82Jv still manages to post nearly playable results in most of the games, with only BFBC2 and SC2 falling below the 30FPS threshold. However, there's a huge gap between the GT 335M and the high-end GPUs like the 280M, HD 5850/5870, and 480M. All of those turn in average frame rates that are more than twice as fast as the GT 335M at 900p. What we're really interested in seeing is where the new midrange 425M and 435M parts fall, particularly if they can hit the same price and power point as the 335M!
3DMark Performance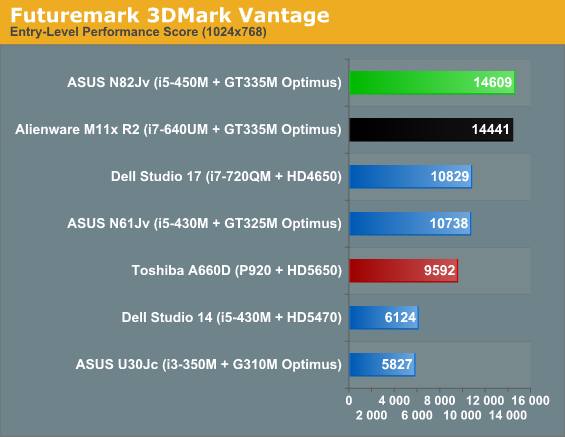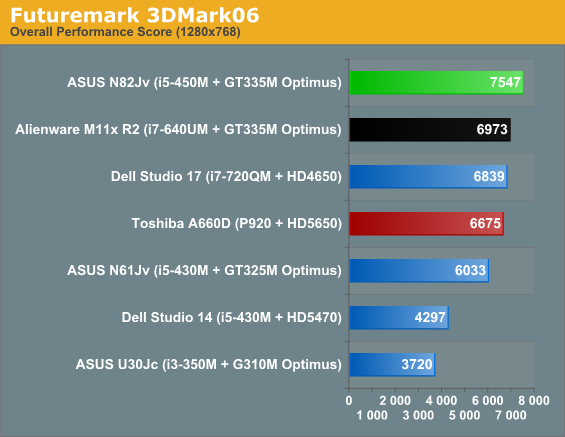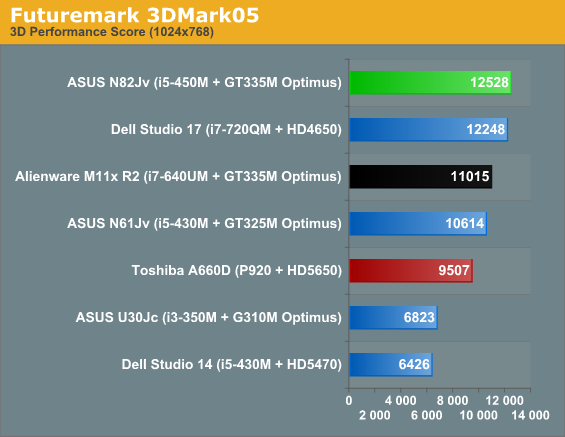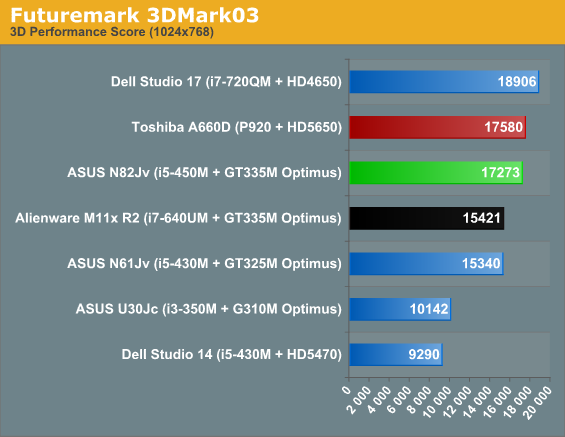 How about the ubiquitous 3DMark? We've saved this one for last, mostly because we don't consider it a replacement for gaming tests. The results are similar (in some cases) to our gaming tests, though margins are smaller relative to the M11x R2. 3DMark has always been more of a GPU rather than a CPU stress test, so seeing the two GT 335M systems score so similarly isn't a surprise. The gap between the N82Jv and the A660D on the other hand covers a wide range; it's a dead heat in 3DMark03, a 13% lead for the N82JV in 06, 32% in 05, and 52% in Vantage. Vantage does incorporate some CPU testing and PhysX into the mix, so that may explain the gap there, but obviously there's a lot going on that a single number doesn't properly disclose.
ASUS N82Jv-X2 Battery Life: Win Some, Lose Some
We've loved ASUS' idea of stuffing large 8-cell batteries into their U-series laptops. Unfortunately, the N82Jv we received for testing came with a standard 6-cell, 4400mAh battery. Given the use of Optimus, the only thing separating the N82Jv from the mobility results of the U30Jc is the battery, which means the U30Jc provides significantly more untethered usability. ASUS has a utility/feature called their Super Hybrid Engine (SHE) that drops the CPU multiplier down to 9x/10x instead of letting it float from 9x up to 20x, which can boost battery life a bit but not nearly so much as the decreased performance would lead you to expect. Then again, we use the Power Saver profile with maximum CPU set to 50%, so we've already limited CPU performance in the pursuit of battery life….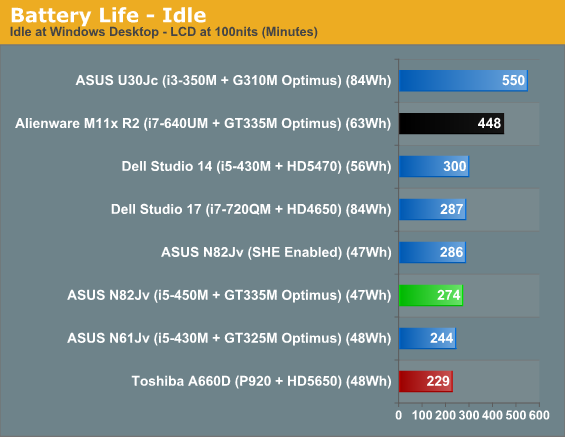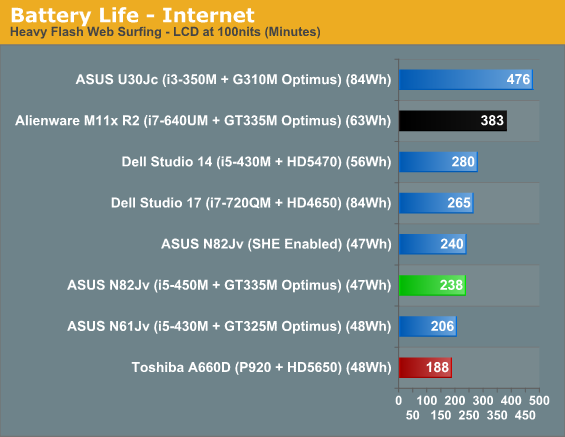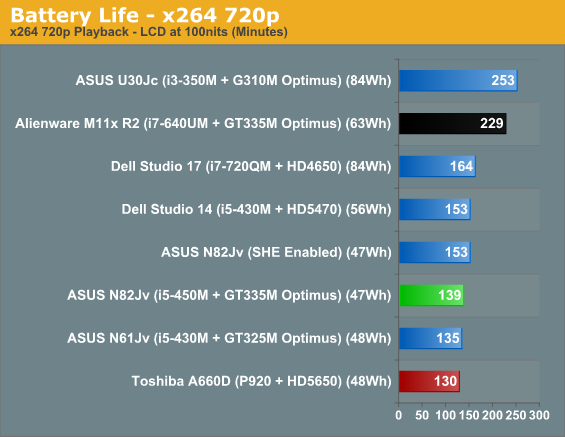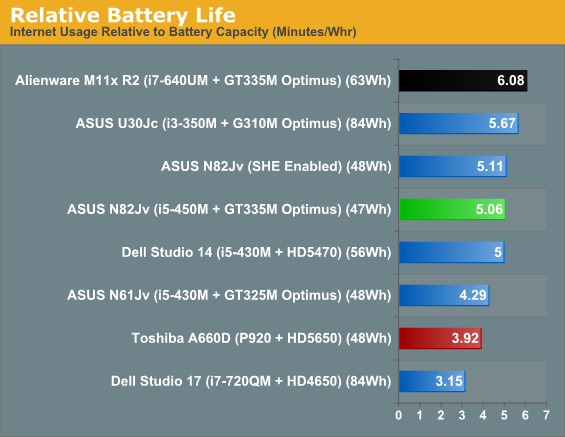 The N82Jv manages to best the larger N61Jv in each of the battery tests, mostly because of the smaller LCD. The lead is 12-15% in our first two tests, but it drops to just 3% in x264 playback—likely because of the higher CPU clock. Notice how SHE also helps the most in the x264 test, where battery life is improved 10% compared to just 1-4% in the other two tests. The results of the Dell Studio 14 are a bit higher thanks to its larger 56Wh battery; 19% more battery capacity results in 10-17% more battery life, meaning the ASUS N82Jv is actually more power friendly but it's hampered by the low capacity battery. If we look at the U30Jc we see what might have been. Yes, it has a smaller 13.3" panel, a slower i3-3350M CPU, and a 5400RPM hard drive, but it provides 80 to 100% more battery life from a 78% increase in battery capacity.
As a final comparison, look at what Intel i5 + Optimus (i.e. Intel HD on battery power) can do in comparison to AMD's P920 + HD 4250. We're looking at the same battery capacity, so this is really just Intel's mobile platform going up against AMD's platform—though the A660D does have a larger 16" LCD. The N82Jv is at its best in the Internet test, where it provides 27% more battery life than the A660D. AMD on the other hand appears to do quite well on the x264 test, coming within spitting distance of the smaller laptop—and very possibly, a 14" LCD would have made up the gap.
In the end, we're looking at just over two hours of battery life for HD video playback and up to four hours (4.5 with SHE enabled) maximum—if you shut down all extraneous services and applications, at least. While that's not terrible, neither is it stellar. ASUS' website lists an 8-cell battery option, and we really wish they—and all other midrange notebook manufacturers—would quit with the 48Wh batteries. We know they're cheaper, and a 6-cell battery weighs a bit less than an 8-cell, but rather than going for so many different product lines it would be nice to see ASUS focus on doing fewer models but getting them right in all areas.
ASUS N82Jv-X2 LCD
There's really nothing new to say here that we haven't said in the past. The LCD is, in a word, crap (perhaps because it's not Scottish). Which is not to say it's worse than other consumer laptop LCDs, but it's certainly no better.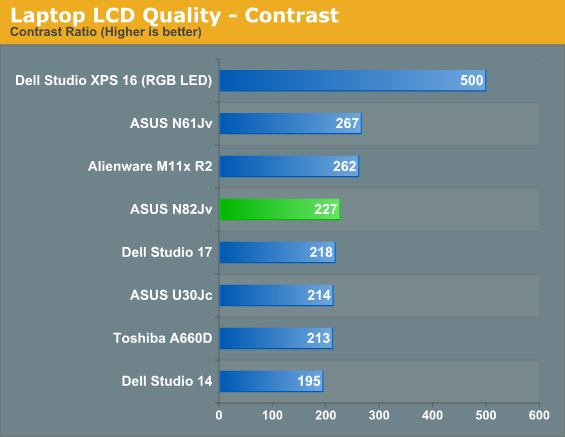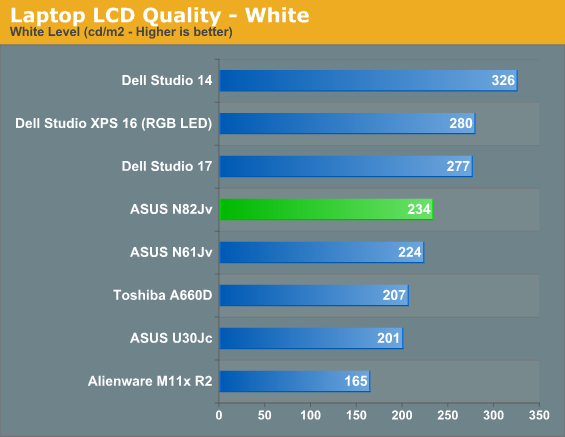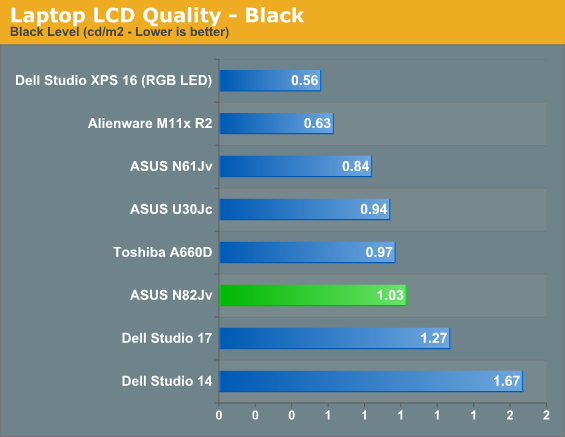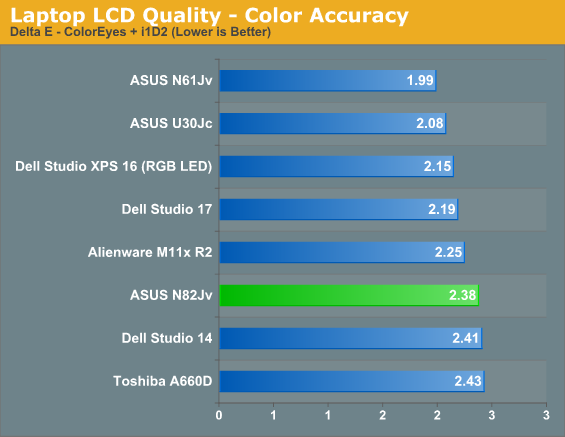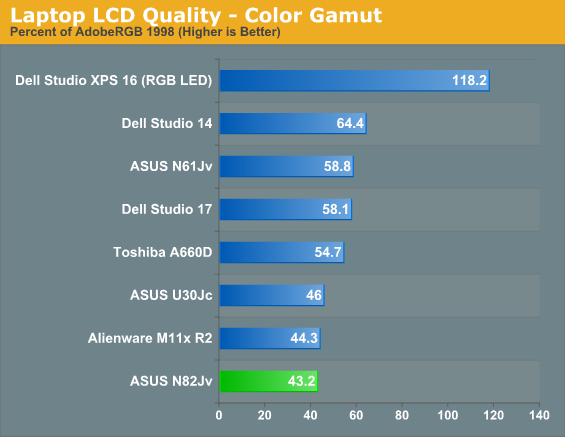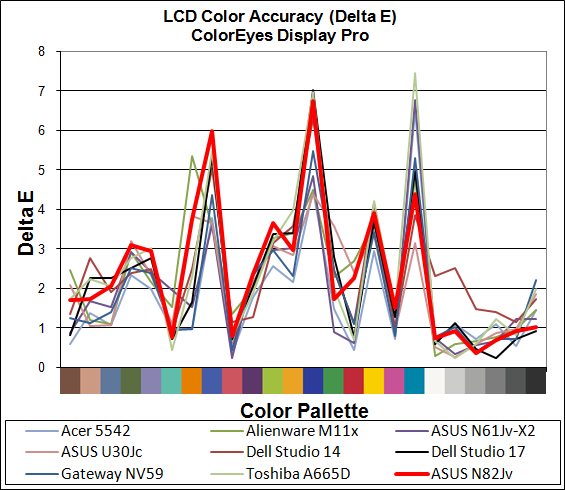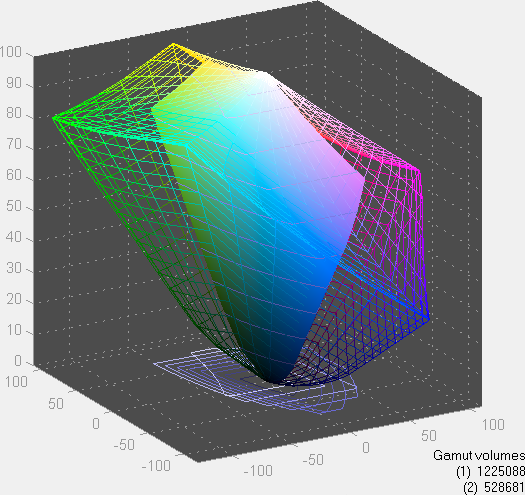 So along with the good, we've now covered the two low points of the N82Jv: it has a small battery, and the LCD is the same old junk we've been lamenting for a couple years. It's reasonably bright, but that's where the good ends. Viewing angles are typical of TN, with very bad color shifting when viewed from above or below. There's a very limited viewing range if you want an optimal experience.
A Mobile Land of Confusion
We mentioned earlier that ASUS could probably benefit from a bit of simplification and consolidation in their mobile lineup. Let's discuss that a bit more. A simplified lineup is something Apple does very well: they have the standard MacBook, a Pro version with a better LCD and chassis, and then two larger Pro laptops that add switchable graphics. There's little confusion over what's what, though obviously there are a few gaps that Apple doesn't quite cover.
In contrast, ASUS has at least six categories of laptops, plus the Eee PC line. They have lines for Business, Gaming, Multimedia, Superior Mobility, Versatility, and the nebulous "Special Edition", and there are multiple overlapping products. Without delving into the spec sheets, can anyone quickly tell the difference between the B, G, K, N, P, and U-series offerings? Off hand, we'd guess that B is for Business, P is for Professional, G is for Gaming, and U is for Ultraportable (UL = Unlimited); as for N and K, they're pretty much interchangeable with minor style and component differences.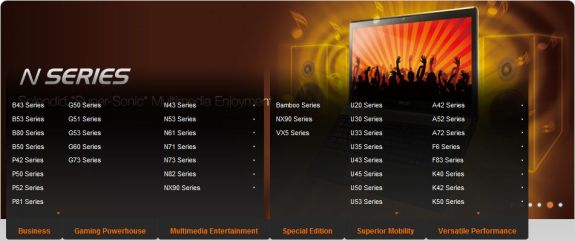 Click to enlarge
While it might be wise to have separate categories for gaming and business, all of the other areas can easily fall into the category of "versatility". We'd also like to see more "business" features in the B/P line, like magnesium alloy frames to go with the spill resistant keyboards. The real issue with the consumer lines (U, K, and N) is that they all have a few attractive features, but no single laptop combines the best aspects into one unit.
The U-series is crippled by its use of the anemic G 310M GPU, which will hopefully go away now that GT 415M is available. On the other hand, the U-series (including UL laptops) get big batteries that allow them to last all day on a single charge, and at least four hours of movie watching. Then we have the K/N series that are typically handicapped with smaller 48Wh batteries. Why not combine the two and satisfy a larger group of users? How much would it cost ASUS to make the 8-cell 84Wh battery standard on the N82Jv and forget about buying 6-cell 48Wh batteries? Sure, pricing might be slightly higher, but it seems like they could still hit $1000 and sell more units.
People seem happy to pay $1000 for the standard MacBook, and we'd have a superior laptop in just about every area for the same price. The N82Jv we're looking at today is pretty much the MacBook equivalent for the Windows world, with different styling, more performance, and a smaller battery. We're okay with the styling, but please fix the battery. Then what we really want is an "N82 Pro" to go up against the MacBook Pro 13. For $1200 they could take the basic design, add a sturdy magnesium alloy frame, and give us a midrange ASUS laptop with a decent LCD for a change. The MacBook Pro line isn't perfect, but it provides users with good performance, a metal chassis, and a quality LCD. We'd love to have a line in the Windows world that we could go to for a similar set of features.
We're not saying every laptop needs to cost $1200, but if we're already spending $1000, give us the option to spend a bit more for some upgrades outside of the CPU/HDD. Give us a sturdy, non-plastic chassis with high contrast LCDs. And if you're ready to go all the way, give us the choice between matte and glossy panels. ASUS has so many options and lines already, but the plethora of options means that even if you do want a certain model, it may not be available in your neck of the woods. So simplify the choices and cut off the low quality features that diminish brand name; besides, we've already got Dell, HP, Toshiba, etc. consumer lines that handle the inexpensive but cheap market quite well.
ASUS N82Jv-X2: More of the Same
Those familiar with ASUS will find the usual assortment of good and bad in the N82Jv. The overall build quality is good, but we're still dealing with a predominantly plastic chassis and there's the usual bit of flex that accompanies such designs. In terms of technology, ASUS is ahead of the curve with USB 3.0 and they've been the biggest adopter of NVIDIA's Optimus Technology since day one. We've seen a lot more Optimus laptops start to show up, but right now the N82Jv comes with the fastest CPU+GPU combination of the bunch. The next generation 400M GPUs from NVIDIA are nearly upon us, so that may change in the near future, but it would hardly be a surprise to see ASUS at the forefront of 400M Optimus notebooks.
That's all good, but the areas we've complained about in the past remain unaddressed. The LCD is a huge blemish on an otherwise good design. Is it that hard to get good LCDs? (Hint: Ask Apple where they get the MacBook Pro panels.) How about a larger battery than the 47/48Wh size that's so ubiquitous in entry and midrange laptops? I suppose if you're trying to hit a $1000 price point, yes, it's difficult to get such upgrades, but let's just forget a hard price point and put in some quality to separate your brand from the pack.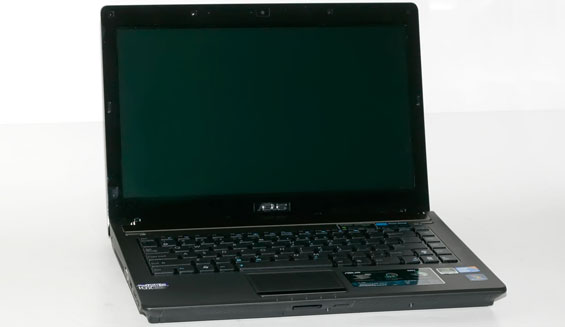 Perhaps we're being a bit too hard on ASUS. After all, the N82Jv really is one of the better combinations of features, performance, and pricing currently on the market. If you read our review of the N61Jv back in March and wanted a faster GPU and a smaller chassis, the N82Jv provides both. In that sense, the N82Jv preempts the N61Jv and warrants a Silver Editors' Choice award. Then in May, we looked at the U30Jc and praised the battery life/capacity but lamented the slow GPU and poor LCD quality. Notice a pattern yet? Six months is a long time, and while the GT 335M is a nice update in the graphics department, we really wanted it back in March. ASUS literally did nothing to address our complaints with battery capacity and LCD quality. Standing still doesn't win extra points, and in the hope of encouraging ASUS to ship a better LCD next time, we're skipping the award. The ASUS N82Jv gets our recommendation and an honorable mention, but if Editors' Choice grades start at 90%, it's about an 86%.
Our introduction called the ASUS N82Jv a "Jack-of-All-Trades", and so it is. The corollary to that unfortunately holds as well, as this is a Master of None. It does so many things well, but in no area is it truly exceptional. The GT 335M is able to play games at Medium detail and 1366x768, but any more than that and it starts to choke, and it lacks DX11 features for the forward looking users. The CPU is good for most tasks, but it will struggle with computationally intensive tasks. Battery life is above average…as long as average includes a bunch of $500 to $600 entry-level notebooks. And finally, build quality is decent, but you're not going to sway any business users away from their ThinkPads, Latitudes, ProBooks, etc.
Don't get me wrong: this is a good laptop and certainly worth serious consideration if you're in the market, but there's only so many times I can say, "Yes, but…." The N82Jv with an 8-cell battery like that in the U-series would be a bronze award, or the N82Jv with a good LCD but the same 48Wh battery would garner a silver. Give me both and it's a Gold Award for sure. And bonus points for upping the build quality to a sturdy magnesium/aluminum frame like that in the MacBook Pro/ThinkPad, plus drop in a new GeForce 400M GPU. For all those upgrades, I'd happily recommend paying $1300, and such a laptop could go toe-to-toe with the MacBook Pro 13 and even come out on top—depending on your aesthetical slant. But $1000 for the current implementation puts it at the MacBook level, and just like we recommend most users spring for the Pro 13" (or 15"/17"), we're stuck wishing for something that doesn't yet exist.