Original Link: http://www.anandtech.com/show/3903/apples-ipod-touch-2010-review-not-a-poor-mans-iphone-4


Last week Apple announced a complete overhaul of its iPod lineup including a new Shuffle, a new Nano (with multitouch screen) and a new iPod Touch. While the nano looks cool, it's pricey and honestly I haven't been interested in a dedicated MP3 player in about a decade.
The new iPod Touch however piqued my curiousity. With many of the same specs as the iPhone 4, I wondered if the new Touch might be a neat way to get most of the functionality of the 4 without the albatross of a contract AT&T hangs around your neck.
It turns out there's a lot more than a cellular radio that separates the new iPod Touch from the iPhone 4.
iPod Touch, The Fourth
The new Touch comes with a pair of typical Apple earbuds (the ones without a mic or remote!) and a dock cable (no wall power adapter) in a fancy new plastic case: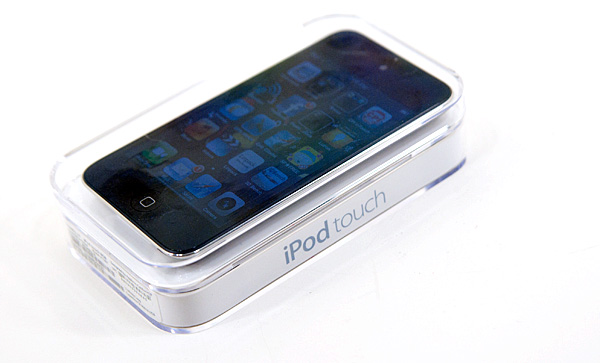 Apple hasn't given the new iPod Touch the full iPhone 4 styling treatment. You get a glass front but a smudgefactory chrome back: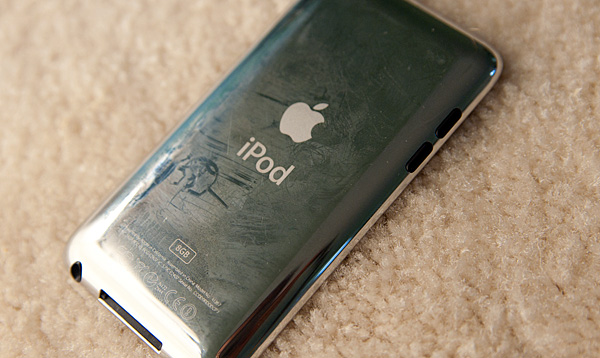 This is after less than a day of use
The entire device is ridiculously thin, it makes the iPhone 4 feel like a brick. It's comfortable to hold in your hand and honestly the size I wish all smartphones were.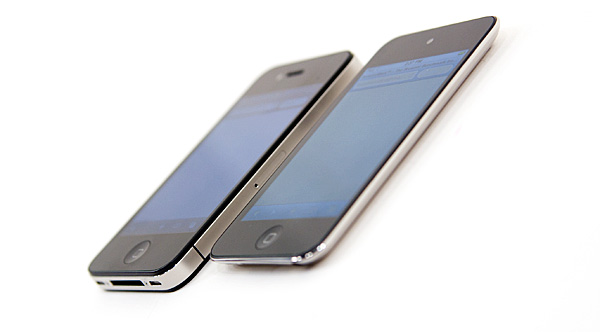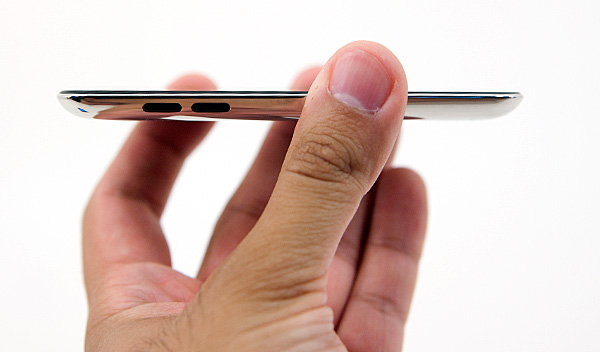 The buttons are also cheaper than what you get on the 4. The new iPod Touch has individual rubber volume up/down buttons on the left side and a low profile power/lock at the top.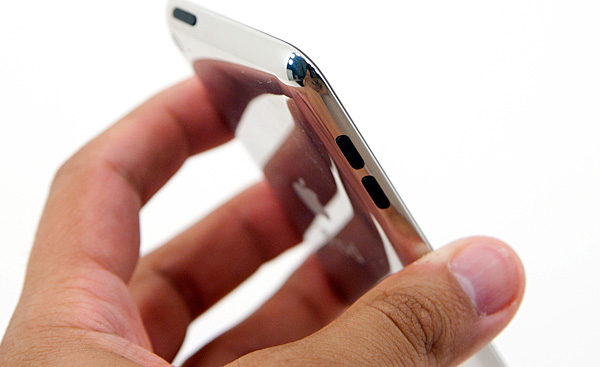 There's a 1/8" output jack at the bottom of the iPod Touch, but the opening is tapered so you actually leave a bit of your headphone connector exposed when it's plugged in: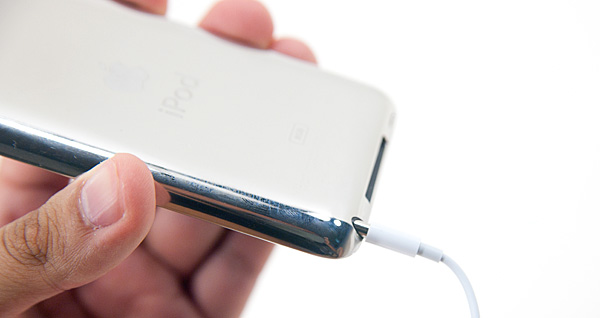 It's not the most elegant (or engineering friendly) design, but it does work.
There's an external speaker at the bottom of the iPod Touch, but it's not quite as loud/bassy as what you get with the iPhone 4. It's enough to listen to music in a relatively quiet room but you're much better off with headphones.

To give you an idea, I measured sound pressure 5" above the iPhone 4 and iPod Touch while playing a Kanye West track (Power):
External Speaker Comparison
Apple iPhone 4
Apple iPod Touch (2010)
Sound Pressure - Higher is Better
90 dB(A)
78 dB(A)
The 4's external speaker weighed in at 90dB(A) compared to 78dB(A) on the new iPod touch. This is very important for our FaceTime discussion later.
The new iPod Touch is available in 3 flavors: 8GB, 32GB and 64GB. The features are the same across all models.
iPod Touch Pricing
8GB
32GB
64GB
Apple iPod Touch (2010)
$229
$299
$399
Internally, the new iPod Touch uses Apple's A4 SoC. The A4 is an ARM Cortex A8 based SoC with integrated PowerVR SGX 535 GPU. The Cortex A8 in the SoC runs somewhere in the 700 - 900MHz range and appears to be the same CPU speed as the iPhone 4. The GPU also appears unchanged. I ran a few sanity tests to confirm:
Apple iPhone 4 vs. iPod Touch (2010) Performance
Apple iPhone 4
Apple iPod Touch (2010)
Geekbench
380
378
Sunspider 0.9
10666.8 ms
10693.2 ms
Rightware BrowserMark
30915
32106
Linpack
34.5 MFLOPs
33.9 MFLOPs
3D Benchmark App
47.7 fps
46.9 fps
If you're wondering why I didn't run Epic's amazing Citadel demo, it's because of the next major difference between the iPhone 4 and the iPod Touch: memory size.
The A4 in the iPod Touch appears to be a lower clocked version of what you get in the iPad, it only has 256MB of memory compared to the 4's 512MB. Currently Epic's Citadel demo treats the iPod Touch as an iPhone 4 and crashes before getting into the demo as a result. Epic should have an update out soon that fixes the problem by lowering texture quality to fit within the memory limits of the iPod Touch.
The reduction in memory size simply means you won't be able to have as many apps open as you would on an iPhone 4. iOS does a relatively good job of memory management so you'll only see this surface while multitasking with a lot of apps. When it does surface you'll simply try to switch to an application and note that it has to reload from scratch rather than just picking up where you left off.
This is purely a profit play on Apple's part. The iPhone 4 is much more expensive, especially taking into account AT&T's contract, and as a result you get more hardware despite relatively similar up front costs.
The Retina Display
Apple calls what's on the new iPod Touch a Retina Display, presumably because of its resolution - you get the same 960 x 640 as iPhone 4 owners. The panel quality however is very different.
The iPod Touch's Retina Display is LED backlit, but it appears to be a lower quality TN panel (or at least an inexpensive IPS derivative). This hurts two things: viewing angle and black levels.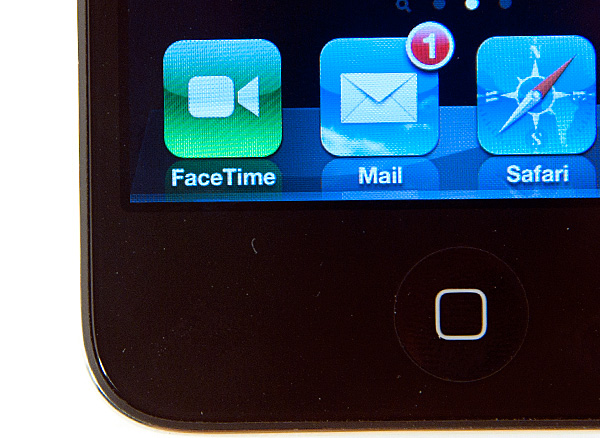 The screen is much more washed out at all angles not perpendicular to the screen. This is a problem if you leave your iPod on your desk and look over at it. It's noticeable.

Screen brightness is comparable at around 500 nits, but the black levels are what need work. I measured 2.4 nits for absolute black - four times brighter than the iPhone 4.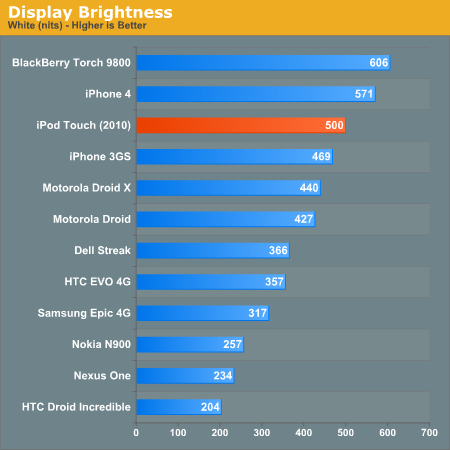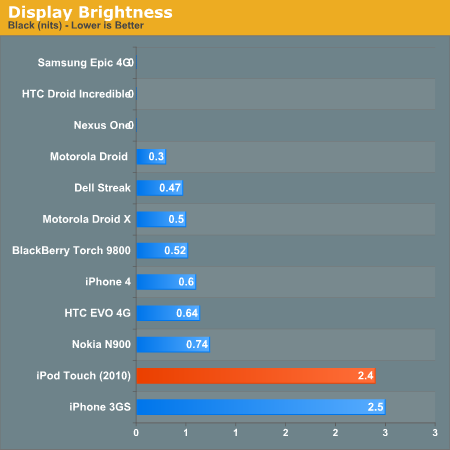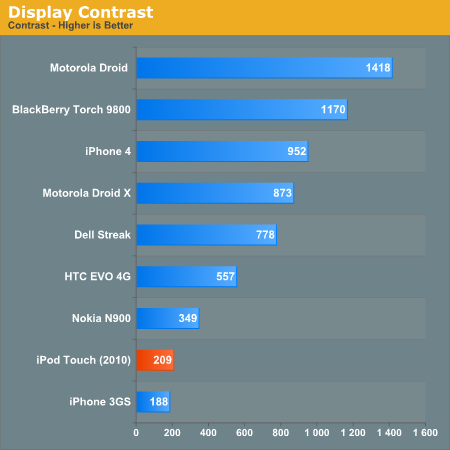 The bigger problem has to do with contrast. Apple boasted that the iPhone 4's screen had a 900:1 contrast ratio, the new iPod Touch only delivers about a fourth of that.
The pixel density is lovely though. I only wish Apple had shipped the new iPod Touch with a better quality panel. Those of you looking for a cheap iPhone 4 alternative should be aware that there are more sacrifices than just the missing cellular modem.
The Camera
The iPod Touch ships with not one, but two integrated cameras for the first time in its life. There's a VGA camera up front and a 960 x 720 (0.7MP) camera on the back. The rear camera is a significant reduction from the 5MP sensor that ships with the iPhone 4.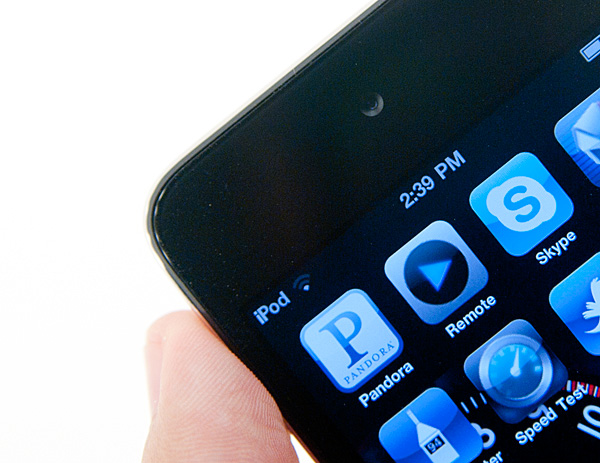 Apple advertises the rear facing camera as being able to record 720p video, however that's not exactly true. Photos are shot at 960 x 720 but video is shot at 1280 x 720. Apple appears to be using a 960 x 720 sensor to cut costs, but upscaling video to 1280 x 720. Apple's scaler seems pretty good, the bigger problem is the sensitivity of the image sensor.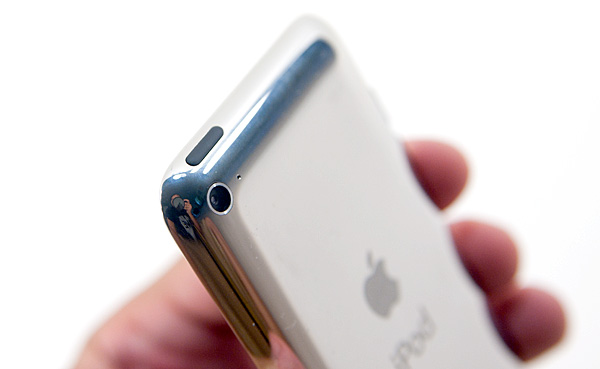 Comparing videos shot on the new iPod Touch vs. the iPhone 4 the Touch just looks more dim (see the stills below taken from videos shot at the exact same time).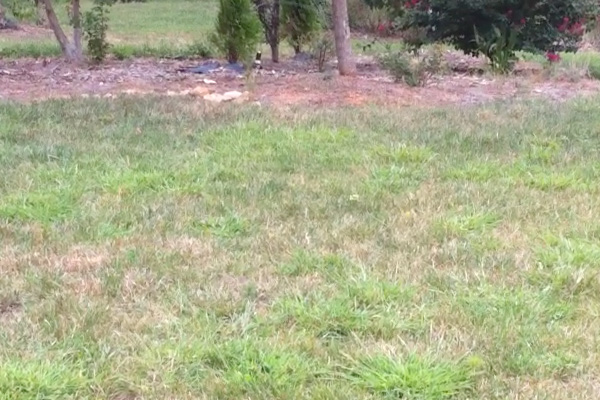 iPhone 4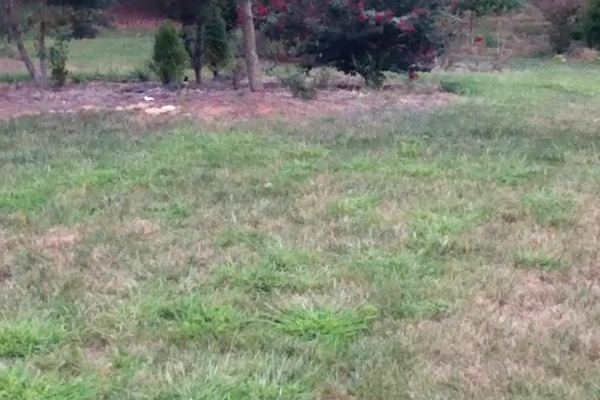 iPod Touch
The camera sensor on the new Touch just isn't as sensitive as what's on the iPhone 4, which makes sense as the 4 shipped with a very expensive sensor.
Video quality is actually quite good provided there's sufficient light. The new iPod Touch is definitely an acceptable video camera for use in well lit situations.
As a still camera, the iPod Touch is ok for web use, once again provided that you're shooting in well lit situations. It just doesn't compare to what Apple used in the iPhone 4.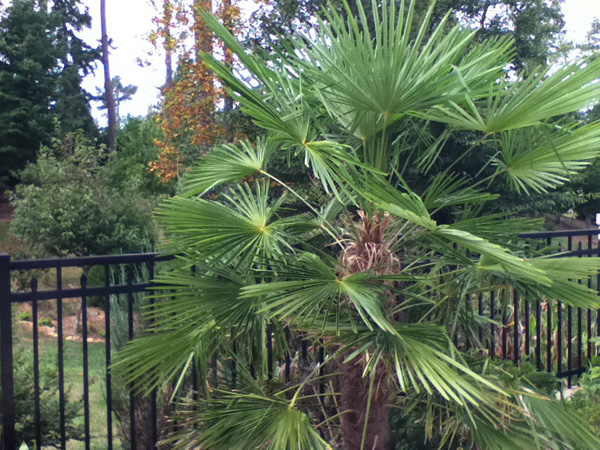 Compared to lesser smartphone cameras the sensor isn't bad if you can get over the resolution. Images captured by the iPod Touch rivaled those of the Epic 4G I just reviewed, but only at lower resolutions. I put together a comparison gallery to help illustrate what I'm talking about:
The new iPod lacks an LED flash. Combine that with the less sensitive imaging sensor and low light photography is basically out of the question. Even shots taken indoors with room lighting can appear grainy.
White balance continues to be an issue for Apple's cameras. The slam ball pictured below should be yellow like the shot from the Epic 4G, not green as captured by the iPhone 4 and iPod Touch.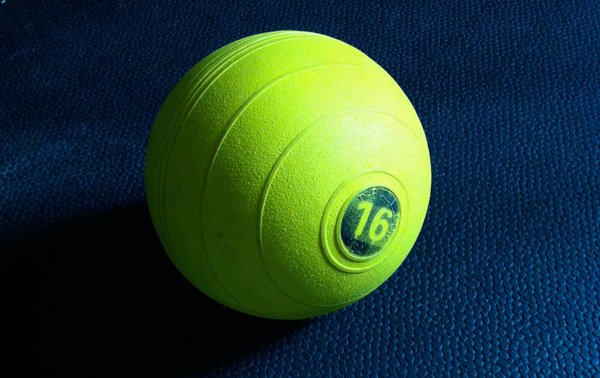 iPhone 4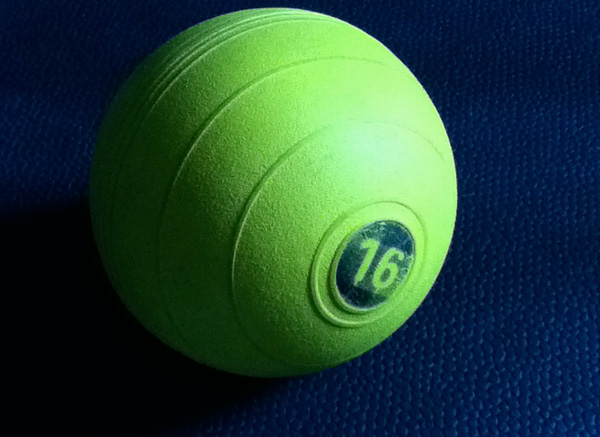 iPod Touch (2010)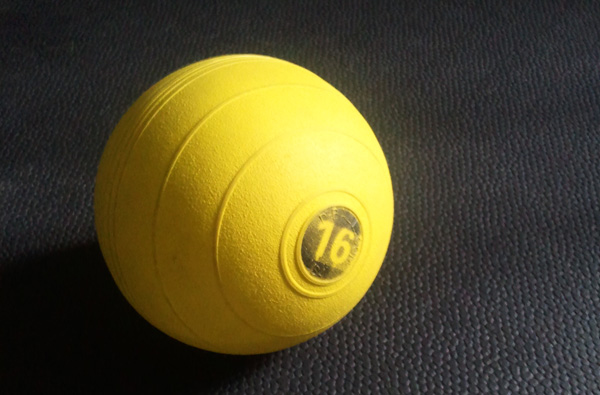 Samsung Epic 4G
A Not-so-Perfect FaceTime Device
The new Touch obviously supports FaceTime. With no cellular modem are no phone or messaging apps on the iPod Touch, but you do get a dedicated FaceTime app. Starting with iOS 4.1 you can now associate an email address with FaceTime so iPhone 4 owners can call iPod Touch owners.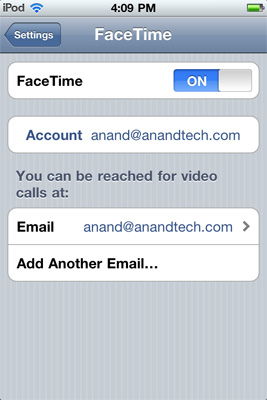 Calling an iPhone 4 user via FaceTime can happen via cellphone number or email address. The FaceTime connection happens entirely over IP so it doesn't matter that the iPod Touch lacks a cellular modem. FaceTime appears to work the same on the Touch as it does on the iPhone. There appear to be slight differences in quality but I'm unclear as to why that is.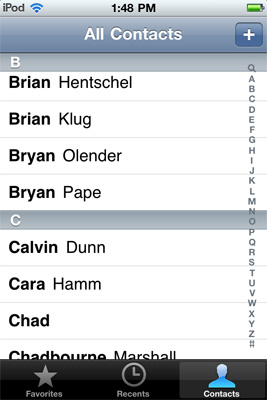 The FaceTime app uses your synced contacts, it keeps a log of your recent FaceTime sessions and even has a favorites pages. The favorites didn't work as expected. I could add favorites but tapping on the names didn't do anything, I'd have to hit the blue arrow and manually select a phone number or email address to FaceTime.
When I first wrote about FaceTime I called it a great way to keep in touch with people who are close to you. The only problem was that, at least back then, it required both ends of the call to have iPhone 4s. The new iPod Touch makes FaceTime a bit more accessible.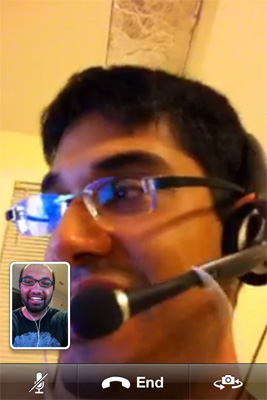 Both parties can get the iPod Touch, or if you want to FaceTime with someone who has an iPhone 4 you no longer have to buy one yourself - an iPod Touch will suffice.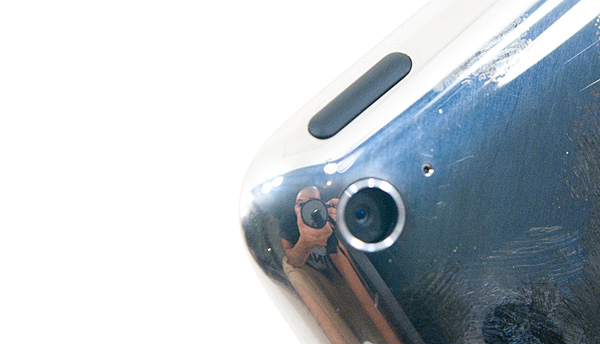 The mic, to the right of the rear camera
There are issues with Apple's implementation of Facetime on the iPod Touch however. The only mic on the device is on the back of the phone, next to the rear camera - on the other side of where you'll be speaking. Thankfully this proved to be a non-issue in my office but I can see it being a problem in a more crowded/noisey environment. With the mic on the back you also can't FaceTime with the iPod Touch laying on a desk (not that you'd want to). But you do need to hold onto it or at least use something to prop it up with. The iPod Touch worked wonderfully with my Luxa2 H1-Touch: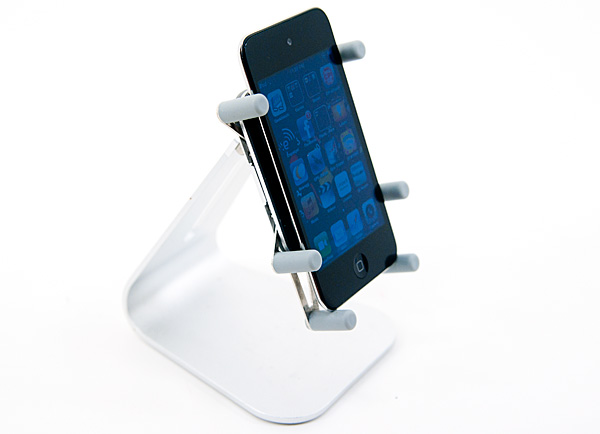 The major issue I had was with the external speaker volume. I noted a 12dB difference in sound pressure between the iPhone 4's speakerphone and what you get with the iPod Touch while playing music, with voice alone the gap peaks at around 20dB. The iPod Touch's external speaker just isn't loud enough for FaceTime in my opinion. If you're in a very quiet room it's not a problem, but have a computer or two running and it's uncomfortably quiet.
Unfortunately, if you want to use a headset you may find Apple's bundled earbuds aren't perfect - they don't include a microphone. You still have to rely on the rear facing mic on the iPod touch. It works, but it's not ideal.
Apple will sell you a set of earbuds + mic for $30 if you'd like, they work perfectly on the new Touch.
Good Audio Playback Quality, no GPS
As was the case with the previous generation iPod Touch, the new model is fully capable of running all supported apps in the iOS App Store. While personally the appeal of iOS apps are their integration into a device I already carry, a smartphone, the iPod Touch brings the entire platform to users who don't want an iPhone or maybe even a smartphone in general. The email, web browsing and iOS experience is identical to what you get on the iPhone.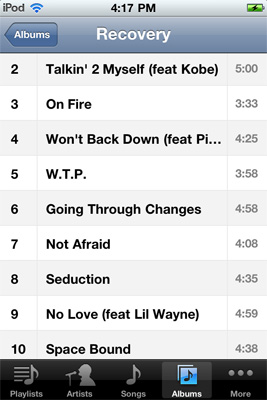 The iPod Touch does ship with a Music app that behaves just like the iPod app on the iPhone. There's not much to say here other than it works, although I personally find myself using the Pandora app more than listening to my own library of music. MP3 playback audio quality seemed comparable to the iPhone 4. I ran RMAA to confirm:
Rightmark Audio Analyzer Comparison
iPhone 4
iPod Touch (2010)
Zune HD
Frequency Response (from 40Hz to 15kHz)
Excellent
Excellent
Good
Noise level
Very good
Very good
Very good
Dynamic range
Very good
Very good
Very good
THD
Excellent
Excellent
Excellent
THD + Noise
Good
Good
Average
IMD + Noise
Excellent
Excellent
Very good
Stereo crosstalk
Excellent
Excellent
Very good
IMD at 10kHz
Very good
Excellent
Very good
General Performance
Very good
Very good
Very good
We haven't seen many results from RMAA on the Zune HD so I thought I'd throw some in here. RMAA shows an advantage over the Zune HD, although in practice you'd be hard pressed to hear a difference.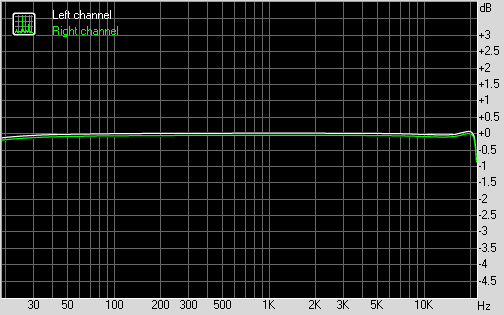 Frequency Response - iPhone 4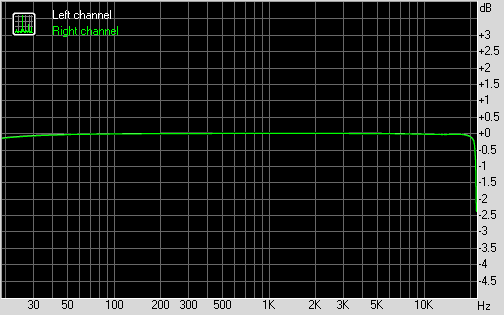 Frequency Response - iPod Touch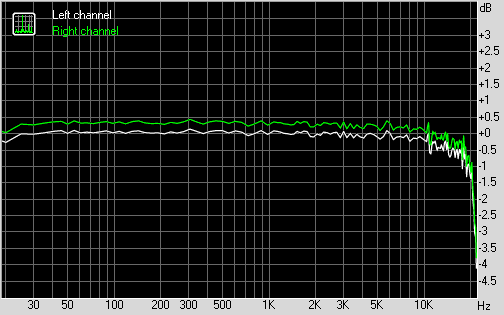 Frequency Response - Zune HD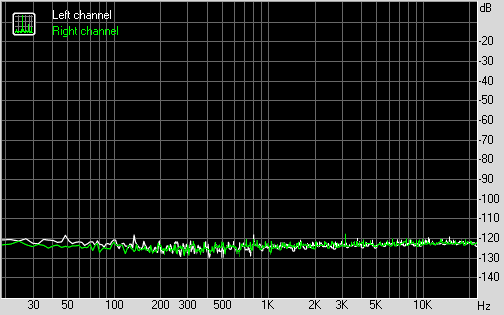 Noise Level - iPhone 4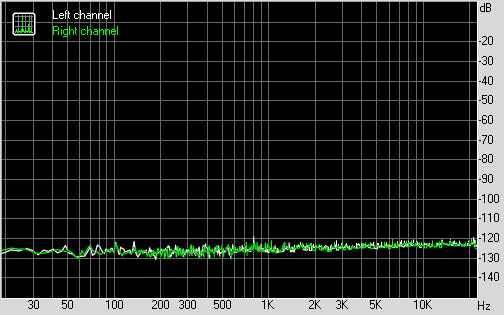 Noise Level - iPod Touch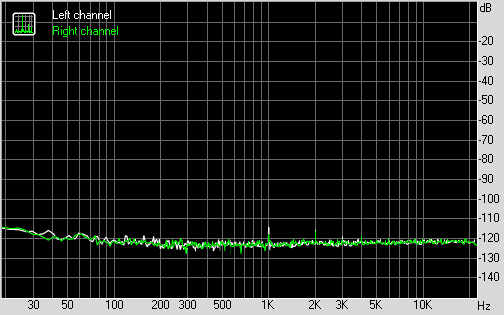 Noise Level - Zune HD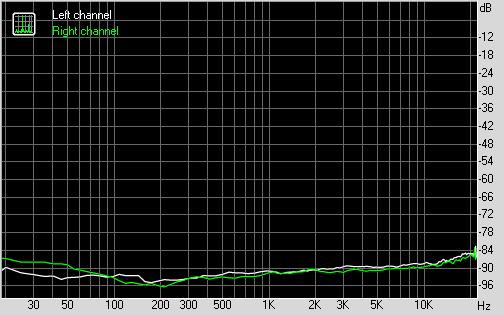 Stereo Crosstalk - iPhone 4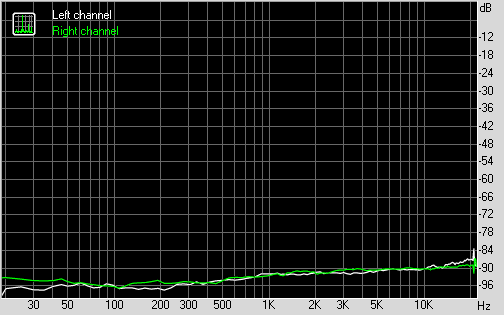 Stereo Crosstalk - iPod Touch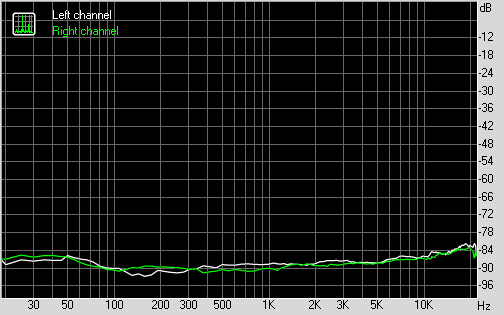 Stereo Crosstalk - Zune HD
I believe we've hit a ceiling for PMP audio playback quality. Despite the excellent RMAA results, the iPod Touch is admittedly less of an iPod and more of a general purpose iOS device that happens to play music.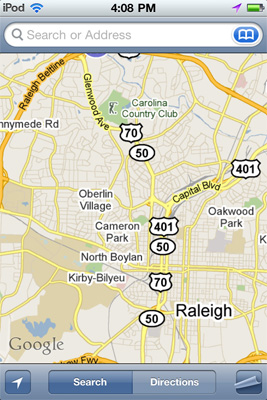 Like the previous generation Touch, the new model lacks a GPS receiver. The device ships with a Maps app but it uses WiFi to figure out your local.
Battery Life
Apple rates the new iPod Touch at 7 hours of battery life playing video and 40 hours of audio, this is down from 10 hours on the iPhone 4 (the 4 is still rated at 40 hours of audio playback). I'm still working on battery life tests but I'll update this section once the results are in :)
Update: At 50% brightness and volume set to 50% I measured 8 hours and 10 minutes of video playback battery life on the iPod Touch.
Final Words
I was extremely curious about the new iPod Touch simply because of the pretty big leap Apple made with the iPhone 4. I suspect many of you may have had the same questions - whether the new iPod Touch really could be a contractless iPhone 4. While the new Touch is a nice iPod, it's not an iPhone 4.
The size and dimensions of the new Touch are wonderful. This is one aspect of the iPhone 4 that I don't miss. I long for the day when we'll see all smartphones this thin and light.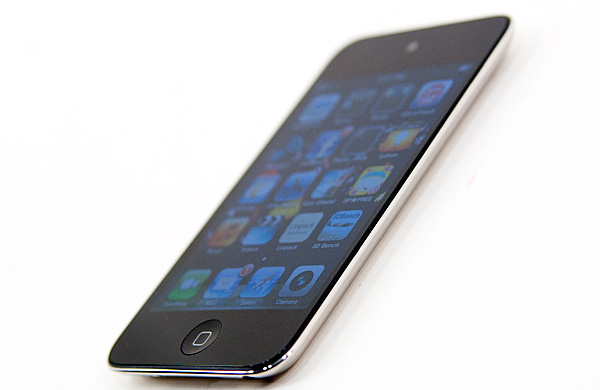 For what could ultimately be a great FaceTime platform, I am very disappointed that Apple dropped the ball with some obvious shortcomings. Not shipping earbuds with a mic is very unfortunate, and the external speaker is too quiet for a comfortable FaceTime conversation. The rear facing mic worked in my experience but it seems like an odd place to put it.
The new Touch is pricey. In fact, Apple's entire updated iPod lineup struck me as more expensive than they should be. At $229 for an 8GB player, it actually costs you more up front to get into an iPod Touch than it does to get you into an iPhone 4. If all you need is an MP3 player, you'll want to look elsewhere. The appeal of the iPod Touch is really the App Store. So if that matters to you, the price is easier to swallow but still noticeably higher than I'd like.
The pricing guarantees Apple is going to continue to have incredible quarters going forward. Apple found sneaky ways to reduce the total BOM (bill of materials) cost on the new iPod Touch. A cheaper chassis compared to the iPhone 4, no GPS, less DRAM on package (256MB vs. 512MB), a cheaper screen and a worse imaging sensor. Granted the iPod Touch is significantly less expensive than the iPhone 4, particularly if you take into account the AT&T contract you need for the latter. At least the new iPod Touch was on par with the iPhone 4 as an MP3 player, which is important given this is an iPod.
The bottom line is that the new iPod Touch is not an iPhone 4 without the phone, it's more like an updated iPod Touch - maybe even an iPod Touch 3.5. It's not bad but it's not great either. You have to set your expectations accordingly.