Original Link: http://www.anandtech.com/show/3832/asus-u33jc-bamboo-for-the-masses


ASUS U33Jc - Introduction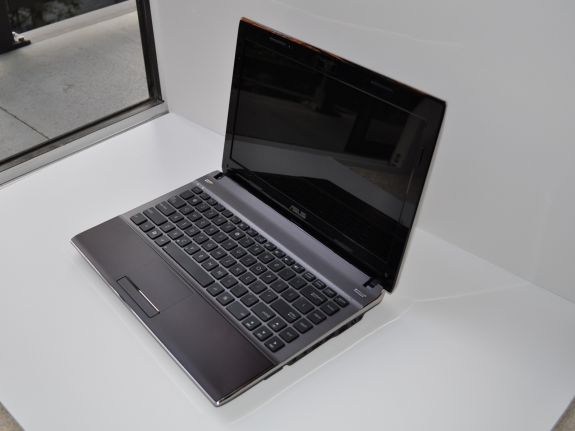 For the second time this month, I get to review a fashion-conscious notebook. Instead of aluminum and glass, this time we're looking at wood—or, to be more specific, bamboo. ASUS' U33Jc is part of ASUS' U-series Bamboo Collection and features bamboo panels on the lid and the interior, with the palm rest and touchpad rendered in the darkly finished wood. It's definitely an interesting touch, with ASUS claiming tensile strength nearly equaling that of steel and unparalleled eco-friendliness. We'll get into those claims a bit later on, but for right now let's just say that the bamboo paneling gives the U33Jc a nice aesthetic that's pretty unique compared to most other portable computers.
ASUS U33Jc-A1 Specifications
Processor
Intel Core i3-370M
(32nm, 2x2.40GHz + Hyper-Threading, 3MB L3, 35W)
Chipset
Intel HM55
Memory
2x2GB DDR3-1066
Max 2x4GB DDR3-1066
Graphics
NVIDIA GeForce 310M Optimus
Intel HD Graphics
Display
13.3" LED Backlit Color-Shine WXGA (1366x768)
Hard Drive
500GB 5400RPM 8MB cache
(Seagate Momentus 7200.6 ST9500325AS)
Networking
Atheros AR8131 Gigabit Ethernet
Intel WiFi Link 1000 802.11bgn
Audio
HD Audio (2 speakers with headphone and mic jacks)
Battery
8-cell 5600mAh, 84Wh
Front Side
None
Left Side
1 x USB 2.0
HDMI
VGA
Cooling Exhaust
Kensington Lock
Right Side
Memory Card Reader (SD, MMC, MS/Pro)
Headphone and Microphone jacks
1 x USB 2.0
1 x USB 3.0
Gigabit Ethernet
AC Power Connection
Back Side
None
Operating System
Windows 7 Home Premium 64-bit
Dimensions
13.12" x 9.52" x 0.80-1.20" (WxDxH)
Weight
3.96 lbs (with 8-cell battery)
Extras
Bamboo Exterior Finish
Bluetooth 2.0
2.0MP Webcam
86-Key Keyboard
Multitouch Touchpad
SD/MMC/MS Pro Flash reader
Warranty
2-year global warranty
1-year battery warranty
30-day LCD Zero Bright Dot guarantee
Pricing
U33Jc-A1 at GentechPC for $969
Unlike the Dell Adamo though, the U33Jc still has all the good stuff on the inside. Where the Adamo really cut down the specs, with a 1.4GHz Core 2 Duo ULV, integrated graphics, and a tiny 40Wh battery, the U33Jc has basically the same specs as the much-loved U30Jc. It has a full voltage Core i3 processor, NVIDIA's Optimus graphics switching technology, Intel's wireless display technology, and a massive 8-cell battery. The only thing it gives up is the integrated DVD drive, but in the exchange the U33Jc is 0.2" thinner than the U30Jc at both the thinnest and thickest points along with being almost a full pound lighter.
But if you were just looking for a slimmed down U30, the forthcoming U35Jc is a better option. It's basically just a U30 minus the optical drive, and, at 3.7lbs, weighs a bit less than the U33. The U33Jc is really about the look and feel of the bamboo panels. If that strikes your fancy, there's plenty to like.
ASUS U33Jc—A Look at Bamboo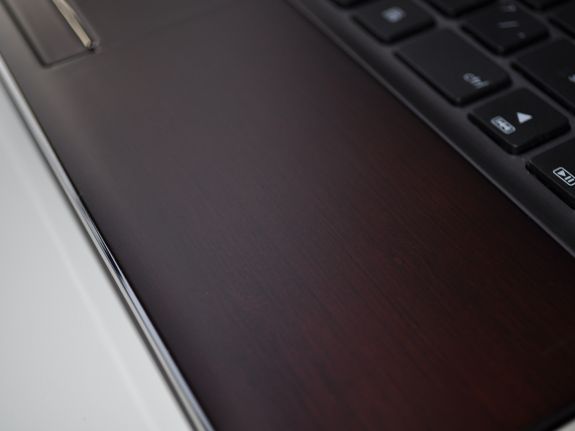 So let's get into this bamboo stuff. ASUS is pointing to two main benefits with the usage of bamboo: it's more environmentally friendly than the traditional ABS plastic while maintaining structural rigidity, and it offers a distinctive look and feel. Let's start with the first claim.
When we start to dig a little bit deeper into the process ASUS uses to make the bamboo notebooks, we run into some sticking points, starting with the fact that there isn't actually that much wood. The bamboo "panels" themselves are extremely thin, ranging between 0.18 and 0.45 millimeters in thickness. That's 0.007-0.018 inches, which is closer to a wood veneer than any kind of wood panel. Veneers tend to be less than 3mm or 1/8", so the bamboo used on the U-series Bamboo Collection notebooks is definitely in that category. Behind the wood is a geotextile backing, with an adhesive in between to bond the two. The backing is mounted in an injection-molded ABS frame.
ASUS claims that the bamboo process can reduce plastic usage by 20%, and on the U33 chassis, 15% of plastic content is saved. This is all fine and well, but with all the chemicals involved in the protective polyurethane overcoat along with the treating and staining of the wood trim, I can't vouch for the overall environmental friendliness of the process. With that said, the 15% reduction in plastic content is pretty impressive given how little wood there actually is.
Another interesting claim by ASUS is that the bamboo used has similar tensile strength properties to steel. Assuming that they're talking about elastic deformation, this makes sense, but it completely ignores two things. One is that as a wood, bamboo doesn't have much in the way of plastic deformation—wood is a brittle material, so once you hit the point of ultimate tensile strength, it just breaks. The other is that, at less than 20 thousandths of an inch, you could use a material with the tensile properties of water and still not have any kind of effect on the structural qualities of the notebook. Seriously, it doesn't matter that bamboo is as strong as steel if you're using panels as thick as three sheets of paper.
Chalk that one up to the marketing team, but at least there's a nice reduction in the use of plastic. But other than that, this is basically just a regular notebook with a wooden veneer to make it look and feel nice.
That's where the bamboo really makes its presence felt, quite literally. The wood is just so organic and natural feeling compared to the cold solidity of an aluminum chassis or the generic feel of a plastic chassis. It's like getting into a Lexus—everything is so warm and soft and inviting, and very high quality. Compared to a regular laptop, that's the difference; it just exudes a more luxurious vibe. This is a stark contrast to the Adamo, which was all about the style and industrial design. Every surface was metal or glass; there wasn't a line out of place anywhere on the notebook. The U33Jc isn't so much about cutting edge ID so much as it is about giving the user a more personal and textured experience. For example, no two U33's will be alike due to the fact that different pieces of bamboo will have different textures and will mature as the laptop ages. Nuances like that make the U33Jc feel like a special type of mobile computer.
ASUS U33Jc - In and Around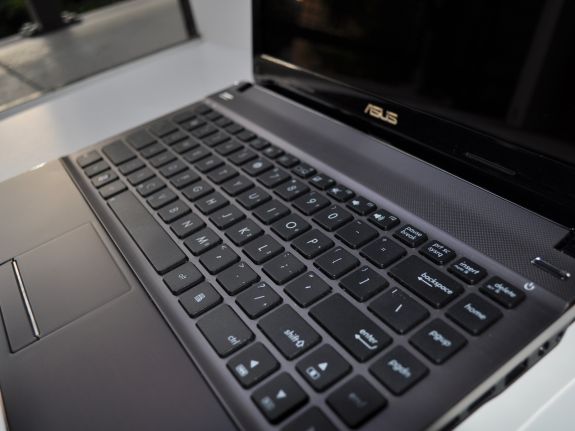 Given ASUS' boasts about the strength of bamboo, I was really dying to see the build quality of the U33. And I can report that overall, it's pretty good. The interior is rock solid, between the bamboo assembly for the palm rests and touchpad and the brushed aluminum for the keyboard tray and speaker grille. There's no flex to speak of anywhere, with the chiclet keyboard also being flex free. The display assembly on the other hand… that I'm a bit less happy with. The lid exhibits some flex under pressure, and the display shows a bit of ripple effect, but overall it's not too bad.
Aesthetically, what you think of the U33 depends on how you feel about the bamboo. Obviously, the dark-stained bamboo veneer is the main feature, but the chrome edges and the light brown brushed aluminum on the interior are nice touches which complement it. Usually, chrome is an absolute no on laptops (remember the awful HP notebooks with chrome trim?), but on the U33 the brightwork nicely offsets the dark wood. Overall, the look is pretty upscale, with a nice mix of the matte textured bamboo and the brighter and glossier metals. With that said, if you're a fan of metal bodied laptops, you'll probably be much happier with the aluminum casing used in the U30Jc and U35Jc.
The keyboard is definitely a plus point. I'd actually go so far as to rate this as one of the best keyboards in a consumer level machine. Obviously, it can't touch the enterprise-class ThinkPads and Latitudes of the world, but it's a very good keyboard. No flex to speak of, good spacing between keys, good layout, and a bit more key travel than most other thin and lights. The extra travel is what separates it from other good chiclet keyboards like on the MacBook and Sony's 13"ers and gives it a more pleasant typing experience. It won't wow you, but having a decent keyboard with no major flaws is actually pretty nice for a midrange consumer machine. It's surprising to see how many major manufacturers manage to screw up the keyboard (Acer, Toshiba, I'm looking at you) and I'm glad to report that Asus hasn't.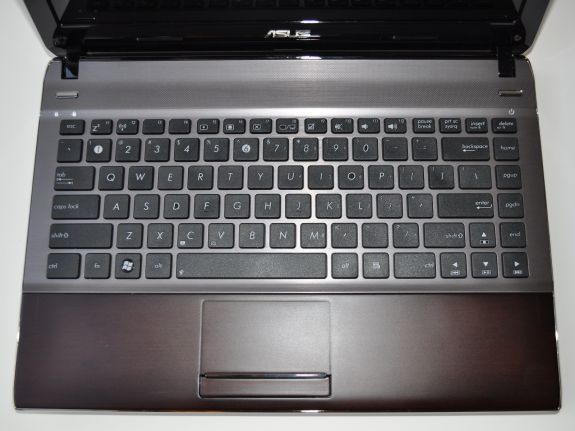 The touchpad is an interesting one. It's part of the same bamboo panel that makes up the palmrest. The touchpad circuitry itself is made by Elan Microelectronics and accounts for the extra thickness added by the bamboo panel and has some multitouch gestures not yet implemented by Synaptics. I was pretty impressed that they managed to get the touchpad to work smoothly even with the thicker wood and plastic covering the sensor. It's interesting to have a bamboo texture underneath, but other than that, the touchpad just works. The mouse buttons are also covered by wood to keep the aesthetic uniform.

The ports are actually pretty good, even better than the U30Jc. We're talking 2 USB 2.0, one USB 3.0, HDMI, VGA, headphone out, line in, a memory card reader, and Intel's Wireless Display. I'm a bigger fan of WiDi than some people, since seamlessly streaming your laptop's display to your HDTV is a pretty sweet innovation - it's a wireless HTPC! I wrote about it at length in my Mobile Buyer's Guide last week, so you can read more about it there. The USB 3.0 port is another premium touch that is exclusive to the U33Jc amongst Asus' plethora of thin and light notebooks, and while I don't see it being particularly useful for everyone, it should be a godsend for people that have USB 3.0 external hard disks. Beyond that, the port selection is about par for the thin and light class.

The speakers are located at the top of the keyboard, which is a nice change from all the other portables that have the speakers under the front edge. Output and sound quality are decent for a small notebook, but for any kind of serious listening you will want to connect to a good speaker system or headphones of some kind. The webcam is nice in that it has a physical shutter to open and close, so you are ensured of privacy. I didn't get a whole lot of time to test the webcam and mic functionality for videoconferencing, but I saw nothing to suggest that they wouldn't be perfectly adequate for Skype.
ASUS U33Jc - Application Performance
I'll start off with a complaint: ASUS loads waaay too much bloatware on their systems. This came up in the U30Jc review too, but I'll just reiterate my displeasure here. I really don't need links to The New York Times, or Amazon's Kindle Store, or eBay, or any of that other nonsense on my desktop, thanks. It's not as bad as Sony used to be, but it's getting there. Some of ASUS' built in utilities are quite nice, like Power4Gear and the Notebook Hardware Control, but all of the third-party preinstalled software is stuff that needs to be removed immediately. As we showed in our U30 review, it can really kill performance and battery life if left on the system.
Now onto the benchmarks. After our review, ASUS upgraded the processor in the U30Jc to the 2.4GHz Core i3-370M, and the U33 carries that over, along with the Intel HD/Nvidia G310M plus Optimus combo. The U33Jc get's a larger 500GB hard drive, while the U30 makes do with a 320GB drive, though both are 5400RPM units. Both have 4GB of DDR3 1066. With nearly identical specs, we should expect similar performance from the two.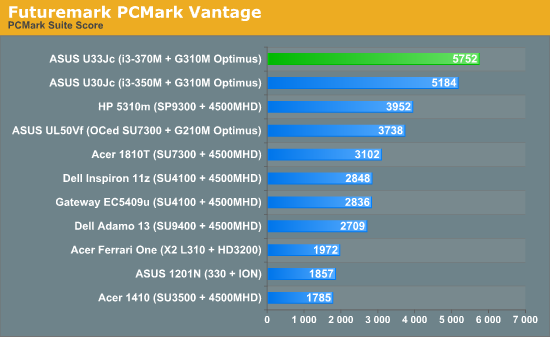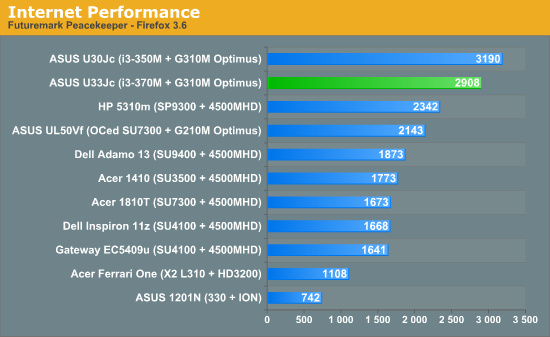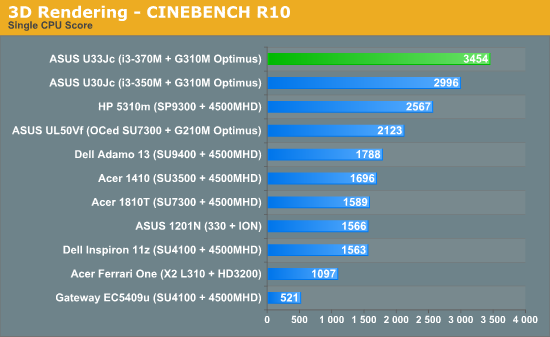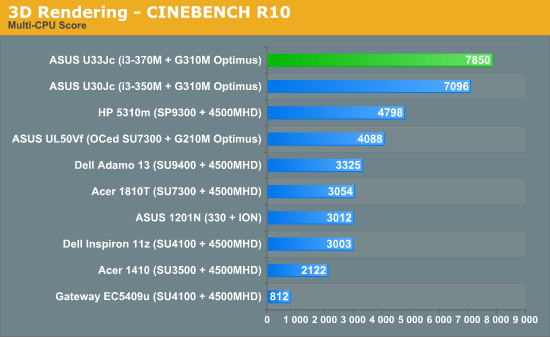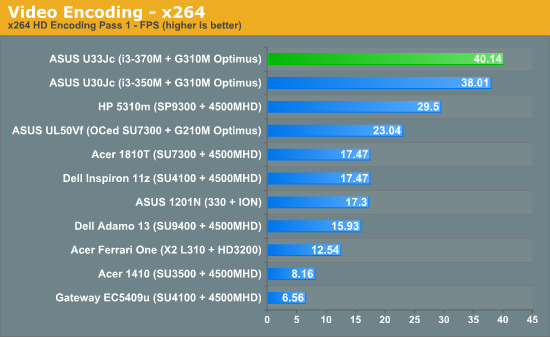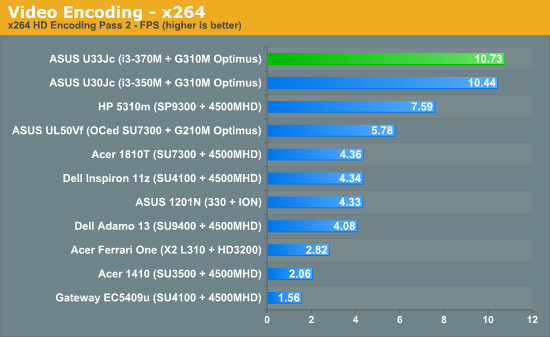 And similar it is. The U33 has slightly better overall processing performance than the U30 test unit we had, which can be attributed to the faster CPU in the U33 (our U30Jc unit was an older SKU that used a 2.26GHz i3-350M). We had some issues with the hard drive tests in PCMark05, but the PCMark Vantage score was a fair bit higher than the U30. We'll update this section later on with the PCMark05 results, but for right now, the rest of the benchmarks indicate performance on par or slightly better than the U30, which makes the U33Jc the best performing sub-4 pound system right now.
ASUS U33Jc - 3D/Gaming Performance
Here's where things get more complicated. While the U30 and U33 share the same Nvidia GeForce 310M graphics card and Optimus technology, the U30 ships with a core clock of 625MHz and 512MB of VRAM clocked at 790MHz, whereas the U33 has a 605MHz core clock and 1GB of 667MHz VRAM. At the resolution and detail levels that the G310M core is capable of handling, anything more than 512MB of video memory is probably superfluous, so the expectation going in is that the U33 will perform 5-10% worse than the U30 in both gaming and the synthetic 3DMark tests.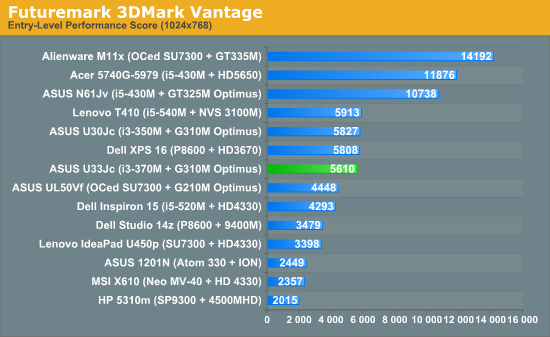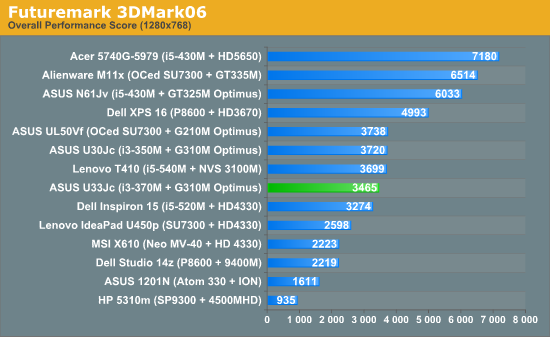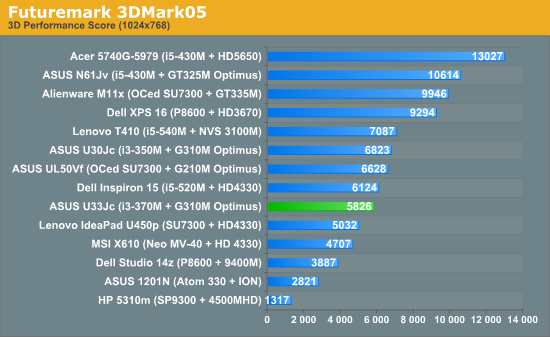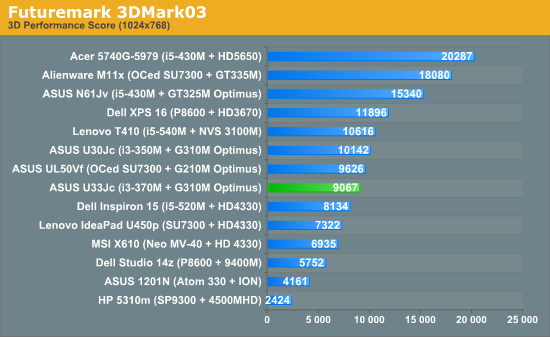 We can see just that, as the U33's 3DMark results are lower than the U30 by about 9% on average. But 3DMark is just a synthetic benchmark, and doesn't always translate to real world gaming, so let's have a look at those gaming results.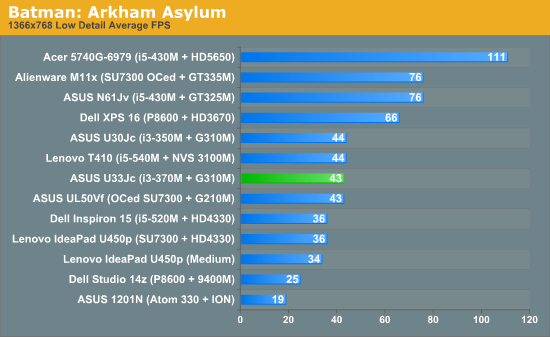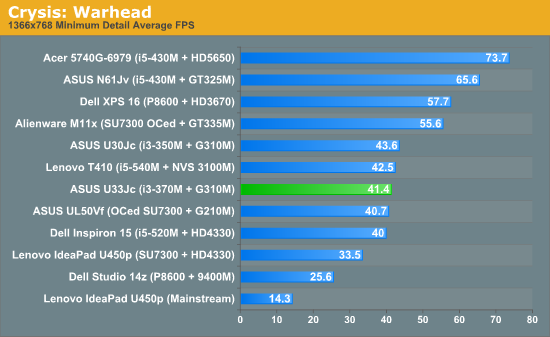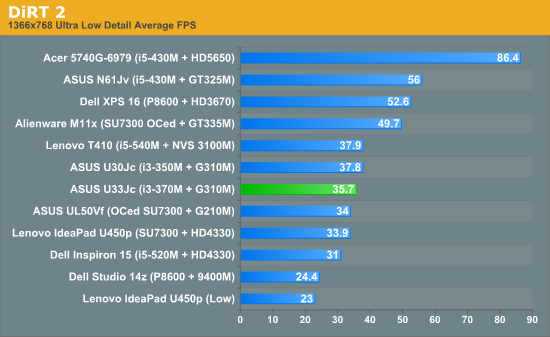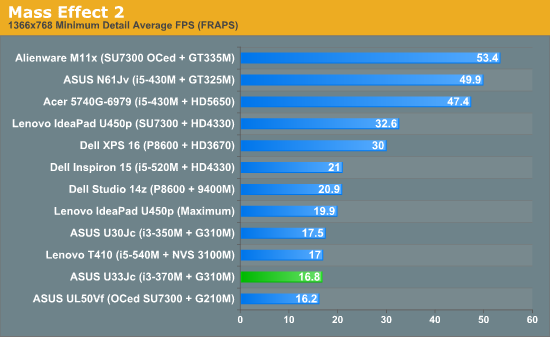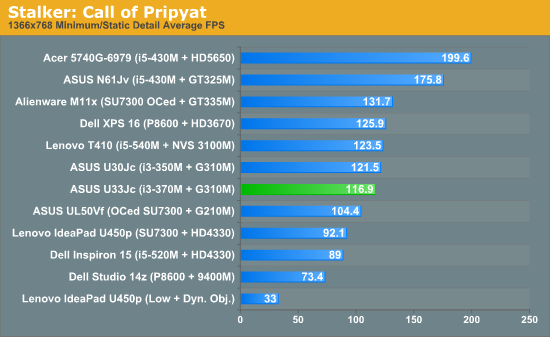 In general, the U33 ended up a couple of FPS shy of the U30's performance. It was expected, and it doesn't really change much - playable games are still playable, and unplayable games like Mass Effect 2 are still unplayable. Like the U30, the U33 isn't an out and out gaming machine in the style of the Alienware M11x, but it can hold its own when it comes to gaming so long as you're willing to drop either the resolution or the level of detail down a couple of notches to keep the frame rate on the good side of 30 fps.
ASUS U33Jc - Battery Life
With the U30Jc, we found that the combination of a huge 84Wh battery and NVIDIA Optimus resulted in massive battery lifetime. With the same 84 Wh battery and a lower clocked graphics card, the U33Jc delivers battery life that's even more awesome. At idle, you can pull nearly 10 hours of battery life out of it. That's with a dedicated graphics card and a full voltage processor. Granted, at idle, the graphics card turns off and gives way to the onboard Intel HD Graphics IGP, but it's nice to be able to have the dedicated graphics and the battery life.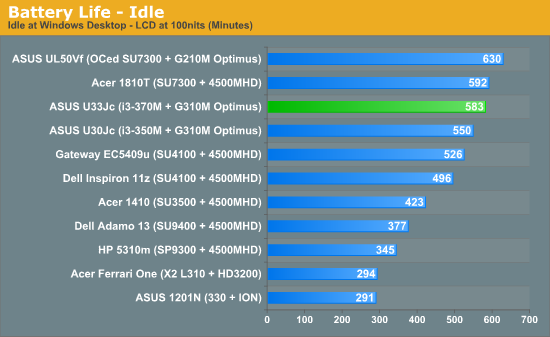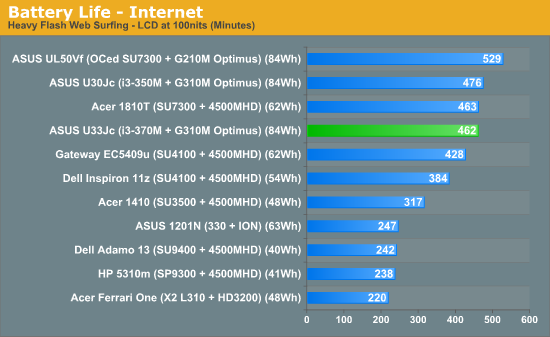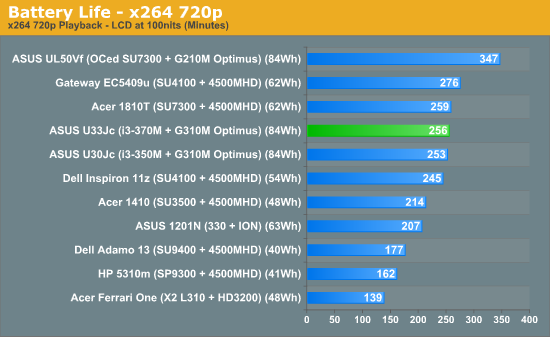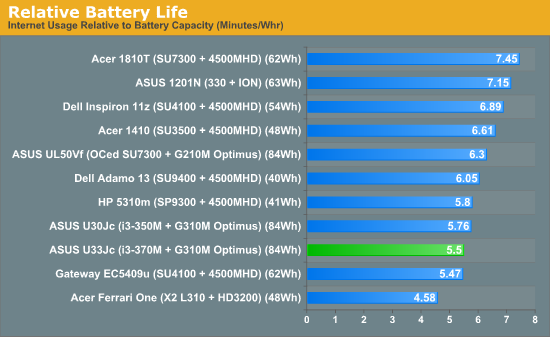 For a more realistic mobile usage scenario, we turn to our internet benchmark, which provides a decent estimate as to what kind of battery life you can expect when actually using the system. The U33 hit more than 7.5 hours of runtime in the internet test, which lines up with the kind of battery life we observed in unscientific field testing. If you're just running a web browser and basic office productivity tools, you can expect around 8 hours of use before you need to plug it in.

The Core i3, while capable of giving decent battery life, is still far more power hungry than both generations of the CULV platform, so in our CPU-intensive HD video playback test, the U33 naturally suffers in comparison to other thin and lights running CULV. However, due to the huge battery, it's still competitive and pulls over four hours - good for almost two high-bitrate 720p HD movies encoded in the x264 video codec. Lower bitrate and lower resolution videos will naturally use less power.

Overall, it's nice to see ASUS consistently deliver portable systems with very strong battery life. I have been following ASUS notebooks long enough to know that it was not always so, and battery life would usually be the first thing to be sacrificed on the alter of performance, even on a 13" notebook.
ASUS U33Jc - LCD Analysis
And now we get to the first, and only, real sticking point. It feels like we harp on all the displays that come through our labs, partially because we do (with a few exceptions), and partially because they all deserve it for being universally mediocre.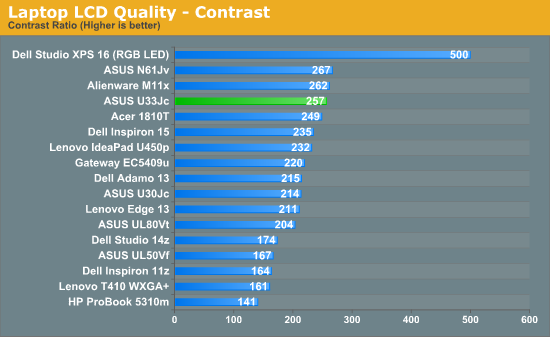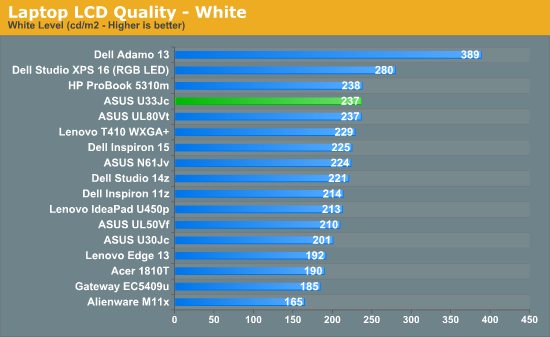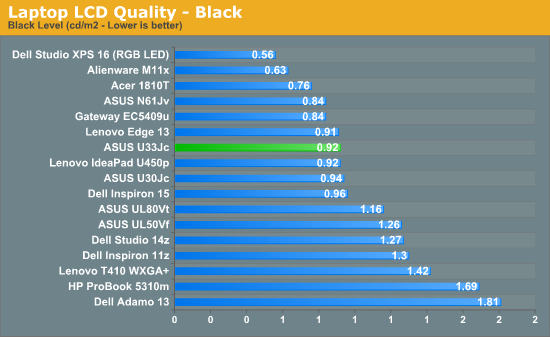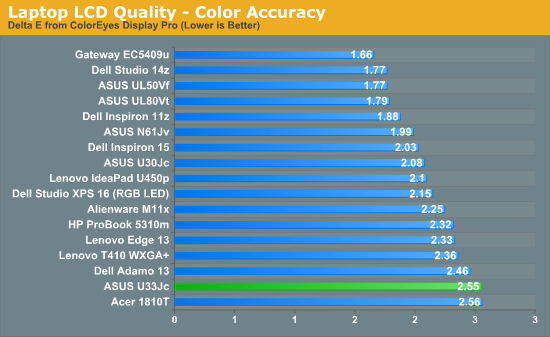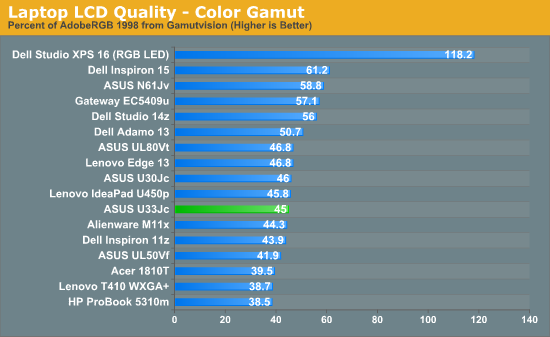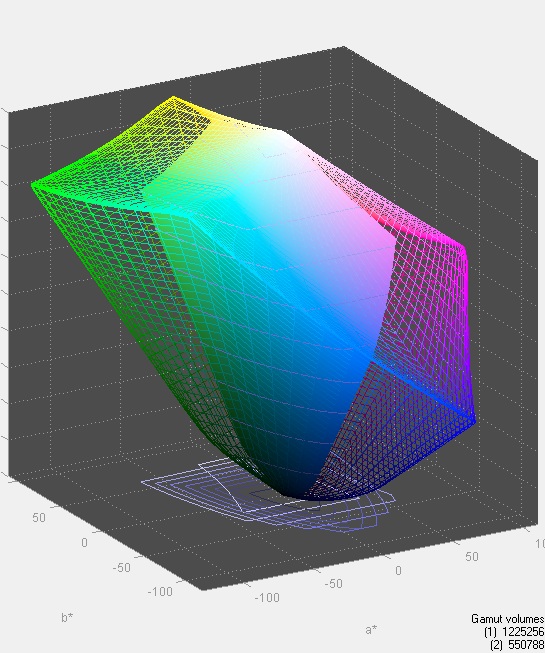 The U33Jc is no different from the U30 and every other mainstream notebook on the planet in that it has a fairly mediocre LCD panel. It's a bit brighter than our U30 test unit, and thusly has a higher contrast ratio, but they're close enough that it's more likely just a function of the panel lottery that we got a slightly better panel. However, colour accuracy is a bit worse comparatively, and the color gamut is nothing special. Viewing angles are about average. There really isn't anything to say about it - it's yet another lousy laptop display. Glossy, middling contrast ratio, mediocre colours - basically poor overall panel quality. It's almost become the defining characteristic of all mainstream consumer notebooks.

I understand that certain cuts need to be made to cheaply manufacture a high performing computer for $900, but still, it'd be nice to have a decent display for once. Maybe somebody should try putting a little bit more money into their display and maybe challenge Apple for the best display at a reasonable price. The MacBook Pro 13" manages to integrate a high contrast, high brightness display for under $1200, why can't any of the notebook PC makers figure it out?
ASUS U33Jc - Conclusion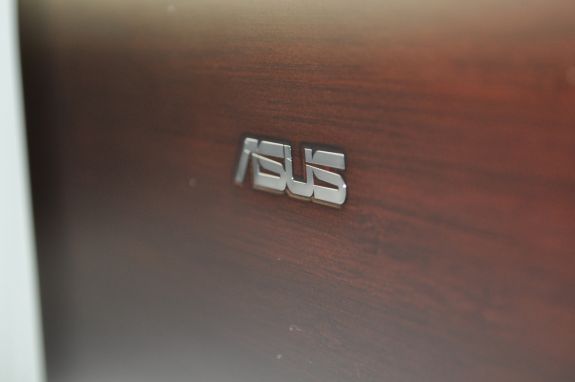 I will confess upfront - I really like this notebook. To me, the ASUS U33Jc has everything - style, performance, portability, battery life, and value. It's a sub-$1000 system with a full powered processor, a dedicated graphics card that intelligently switches off to conserve power, and up to 10 hours of battery life if I need it, all in a 3.97lb package that looks like it came from the center console of a Mercedes S-class. Where do I sign up?

Ah yes, but here's the rub - other than the bamboo trim and the addition of Intel's WiDi (which is useless without the $99 adapter, sold separately), the U33Jc is fundamentally identical to the slightly thinner and lighter, aluminum-cased U35Jc, which carries a pricetag some $150 lower. That's a significant savings for what is 95% the same computer under the hood - the only differences other than the bamboo and WiDi are the addition of Bluetooth, the lone USB 3.0 port, and a higher resolution 2.0MP webcam. Bluetooth is about a $20 upgrade, USB3.0 somewhat more, but ultimately you're paying for the bamboo.
Unless you're absolutely in love with the bamboo aesthetic or with the WiDi concept of a wireless HTPC, you don't have much reason to spring for the U33Jc. Also complicating the decision is the trusty old U30Jc, now updated with WiDi and the same Intel Core i3-370M. Would you be willing to trade 0.8lbs and the wood trim for an integrated DVD drive, aluminum casing, and a savings of $80? Yes, the U33Jc is a very capable and competent portable notebook, but it's more expensive than it's closest cousins in ASUS' stable and doesn't offer significantly more features or functionality beyond the unique aesthetic to demand such a price increase.

What I said about the look is relevant to the rest of the notebook too - it starts and ends with the bamboo. The rest of the notebook isn't particularly unique, you can get the same stuff for cheaper by going to the next item number and picking the U30 or U35. If you like the look of the bamboo, the subtlety of the graining, the uniqueness of having a wood-finish laptop, the overall elegance, the U33Jc is a nice laptop. If you could care less, the message is obvious - skip the U33Jc and wait for the U35Jc. Based on our experiences with the U30 and U33, it's bound to be a brilliant little computer.

As I said before, I'm personally a fan of ASUS' Bamboo Collection. The bamboo gives the notebook this graceful and luxurious feel to it that most other computers simply don't have. Is that worth around $100? That depends on how much you like the look; some will spring for it, but on the whole we'd stick with aluminum. While the distinctive look is definitely nice and feels awesome, paying ~10% more for a wood veneer on a plastic laptop is a tough sell. If you fall truly, deeply, madly, head-over-heels in love with the U33Jc's bamboo cover, go for it. Otherwise, wait for the U35Jc.