Original Link: http://www.anandtech.com/show/3810/nvidias-geforce-gtx-460-part-2-the-vendor-cards


In 2007 we reviewed NVIDIA's GeForce 8800 GT. At the time we didn't know it would be the last NVIDIA GPU we would outright recommend at launch. Roughly two and a half years have elapsed since then and in that time AMD went from competitive to dominant in the marketplace. The RV670, RV770 and RV870 trilogy were all very well executed. The latter two came at a time when NVIDIA's pricing and execution strategies took a major tumble.
Given how well AMD has executed since 2007, no one expected anything competitive from NVIDIA throughout the entire Fermi/GF100 family. Cutting down a very large, power hungry architecture wouldn't magically produce efficient GPUs. Had NVIDIA done that, the tone of today's GeForce GTX 460 review would've been very different.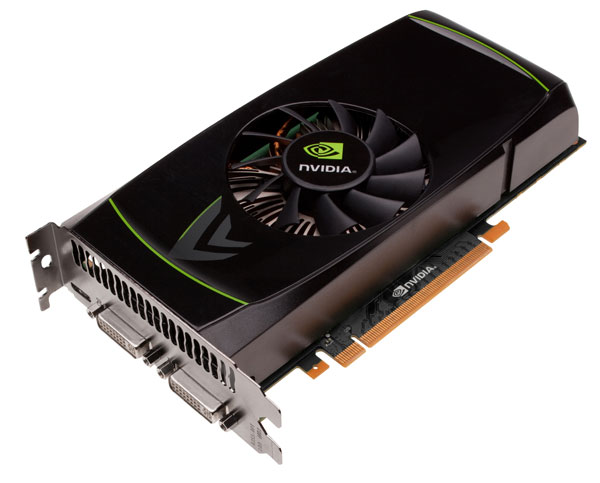 Instead, NVIDIA did the unexpected. It delivered a GF100 targeted at serving the needs of the high end gamer and GPU compute user, and a reworked GF104 aimed at being a pure gaming chip for the performance mainstream segment. By pulling out ECC support entirely and significantly dropping FP64 compute power, NVIDIA freed up enough die area to add more issue and math hardware to the GF104's SMs. The end result is a $200 - $230 part that's better than anything else at those prices on the market today.
Yields and manufacturability, while still not great at 40nm are much better than when GF100 first launched. That combined with NVIDIA disabling some hardware on the first incarnation of the GF104 makes the GeForce GTX 460's birth a good ol' hard launch (at least for the 768MB version). Newegg had cards for sale several hours before the midnight NDA lift, and we had no less than 6 cards in house before our review went live.
We have two reference cards from NVIDIA (a 768MB and 1GB version), two 768MB cards from EVGA for SLI testing, a card from Zotac, and finally a card from ASUS. The EVGA GeForce GTX 460 SuperClocked is a reference design but factory overclocked. Zotac's GeForce GTX 460 ships at stock frequencies but comes with a custom cooler. And finally ASUS' ENGTX460 TOP 768MB is an entirely custom design running at a slight overclock with voltage controls and custom cooling.
NVIDIA is emphasizing overclocking potential of the GTX 460, which is why we see so many different versions of the card on day one of availability. The focus on factory overclocked cards, custom cooling and custom PCBs is not a coincidence. In our testing we found a least 20% headroom left on the GTX 460s we received.
Kicking off our look at our vendor cards is the EVGA GeForce GTX 460 768MB SuperClocked. EVGA sent us two of their cards for SLI testing, which also affords us the opportunity to look at the overclocking capabilities of more than 1 of their cards today.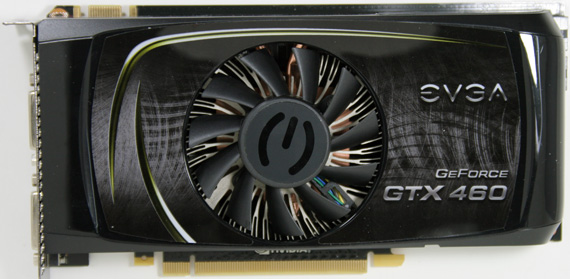 All things considered the hardware of the GTX 460 SuperClocked is identical to our reference cards. It uses the NVIDIA reference PCB (complete with NVIDIA logo) and the NVIDIA reference cooler with EVGA branding. This means that the SuperClocked has the same 2x DVI + 1x mini-HDMI port configuration as the reference cards, the same 3DVision Surround capabilities with in SLI, and the same rear-facing PCIe power plugs.
In fact EVGA keeps things rather simple: there are three things that separate the SuperClocked from any other reference card: the factory overclock, the support, and the included utilities.
Starting with the overclock, the SuperClocked is the first-tier card in EVGA's factory overclocked lineup, behind the Super-SuperClocked, and the For The Win edition. EVGA ships the SuperClocked at 763MHz core, 950MHz (3.8GHz data rate) memory, giving the card a 13% core overclock and a 5.5% memory overclock. The fact that EVGA is shipping its "mere" SuperClocked card at 763MHz should tell you a lot about just how overclockable the GF104 GPU at the heart of the GTX 460 is – they've left room for up to 2 additional speed grades! As we'll see in our overclocking testing the GTX 460 is quite the overclocker, and the already overclocked EVGA cards are no exception.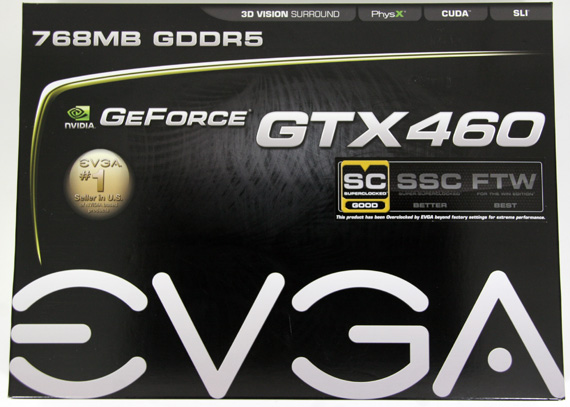 As for the support, EVGA is offering two versions of the SuperClocked. The TR version comes with a 2 year warranty, while the AR version which we received comes with a lifetime limited warranty. The difference comes down to $10, with the TR currently retailing for $210 and the AR retailing for $220.
EVGA's final differentiating feature is their collection of software utilities. EVGA publishes 2 software utilities: EVGA Precision, and the EVGA Overclock Scanner.
EVGA Precision is a freely released overclocking utility based on the classic overclocking utility RivaTuner. As with RivaTuner before it, EVGA Precision is a simplified overclocking utility designed to allow easy overclocking and monitoring of a card, and supports a wide variety of cards including non-EVGA cards. It also includes support for overclocking profiles and an on-screen-display overlay for use in games.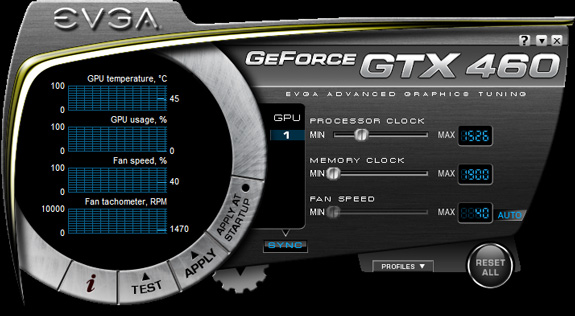 For the version included with the GTX 460, EVGA is defaulting to a new skin with GeForce GTX 460 branding. Unfortunately this is one of the gaudier skins the utility ships with – if you're more a fan of the KISS principle, we'd strongly suggest using one of a number of other skins included with the utility to give the utility a more orthogonal layout.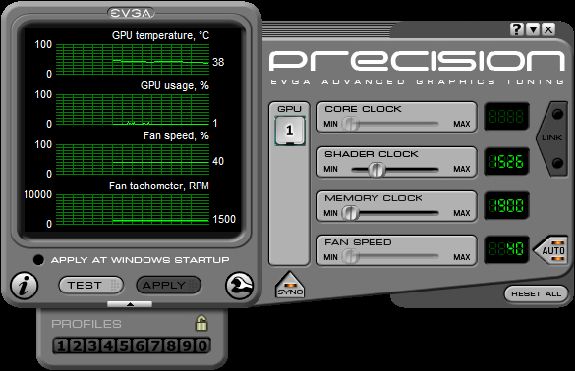 With a change of skins, EVGA Precision currently sets the gold standard for an overclocking utility along with MSI's RivaTuner-derived Afterburner software. Precision is easy to use, light on resources, and in our experience we have never encountered any notable bugs with the utility. It has the features most users should need without going overboard and getting bloated with useless features. At this moment it can't be beat.
EVGA's second overclocking utility is the EVGA Overclock Scanner, which we have had the chance to watch evolve throughout the year. In a nutshell, the OC Scanner is a load-generating utility (ala Furmark) which rather than generating a moving image generates a static image. By generating a static image it's possible for the software to identify any rendering errors in the image that would be indicative of a bad overclock. Or in other words, if you've overclocked your card too far, this utility will let you know. Unlike EVGA Precision however, this utility is only for EVGA card owners, specifically owners of GTX 400 series cards.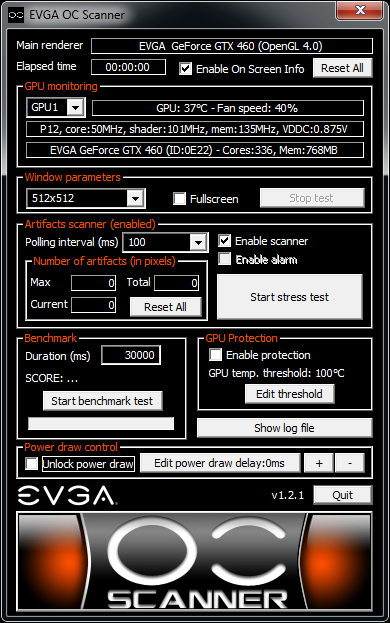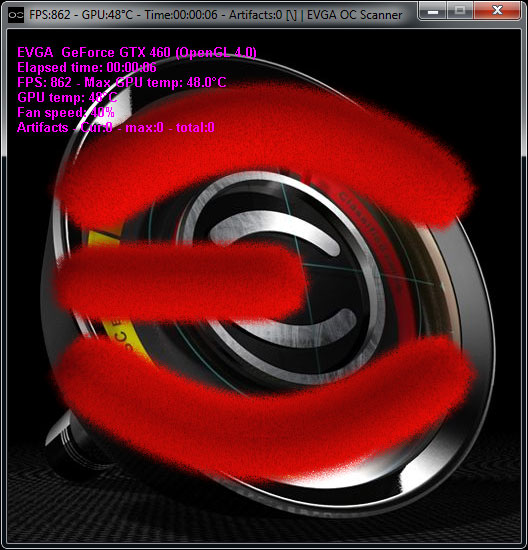 In our experience with the utility it's fairly – but not perfectly – accurate. Of our 2 sample cards it properly found 1 unstable overclock that was generating graphical errors without a lockup, while it let us go 10MHz over on the other card which would lockup under Furmark. Overall the utility doesn't seem to be quite as strenuous as Furmark, so we'd suggest knocking around 10MHz off of whatever EVGA Precision approves to play it safe.
At this point the EVGA Overclock Scanner can only tell if an overclock is stable, but it can't find an overclock on its own. Currently there's minimal integration with EVGA Precision (you can launch OC Scanner from within Precision) but we would like to see it evolve in to a self-overclocking utility in the future in order to make overclocking even easier.
Rounding out the package is the obligatory quick start manual, a collection of molex to PCIe power adaptors, a driver/utility CD, a bumper sticker, and thus far the only GTX 400 series card we've seen that comes with a mini-HDMI to HDMI adapter.
Zotac GeForce GTX 460 1GB
The second card in our GTX 460 roundup is Zotac's GeForce GTX 460 1GB.
Whereas the EVGA card was a reference card in terms of hardware, the Zotac is our first non-reference GTX 460 hardware design. Starting with the PCB, it's clearly based off of the reference NVIDIA PCB (including the rear-facing PCIe power plugs), but once you reach the output ports you quickly spot the difference.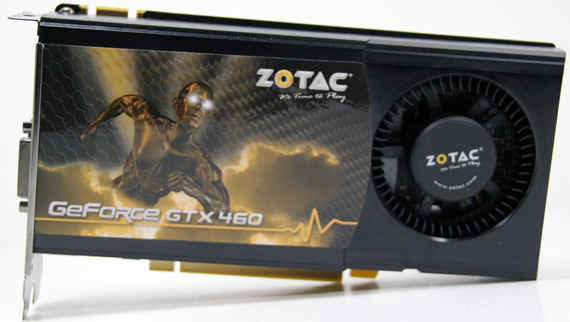 Deviating from the NVIDIA reference design, Zotac has traded part of the ventilation space of the second slot for an additional port, very similar to AMD's reference port configuration for the Radeon HD 5800 series. Instead of 2x DVI and a mini-HDMI port, Zotac has equipped their card with 2x DVI ports, a full-sized HDMI port, and a full-sized DisplayPort. In order to make room for the additional port, Zotac has moved the 2nd DVI port up to the second slot, partially obstructing the ventilation for the cooler. This marks the first DisplayPort-equipped GTX 400 series card that we've seen in our labs, although we need to remind our readers that even with a DisplayPort the GTX 460 can still only drive 2 monitors at once.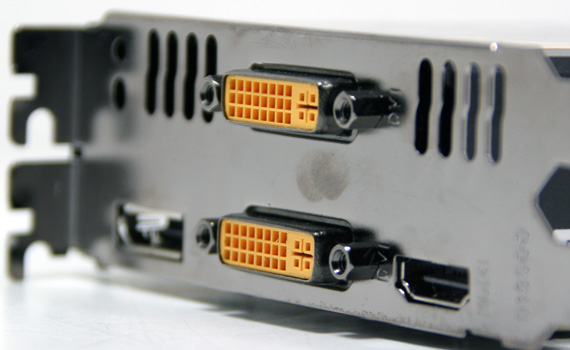 With the change in ports a change in the cooler is necessary. Zotac has forgone the NVIDIA reference cooler for a more compact version of the traditional blower and a suitable heatsink for this design. As a result the Zotac design is a fully shrouded and exhausting cooler, making it more suitable for use in cases with poor airflow. Unfortunately between the changes to the ports and the changes to the cooler, Zotac seems to have made a poor tradeoff – as we'll see in our full GTX 460 review, the Zotac GTX 460 is both warmer and louder than a reference card. It makes for a very hard sale unless you need a GTX 460 with a DisplayPort.
Moving past the port and cooler changes, the card is otherwise reference. It's clocked at 675MHz core, 900MHz (3.6GHz data rate) memory, offering the same level of performance as a reference 1GB GTX 460.
Rounding out the package is the usual collection of adapters, a driver CD, and a quick start manual. Zotac is also furnishing this card with some additional software. As is the case with most other 1GB GTX 460s, Zotac's 1GB GTX 460 comes with a game: a full version of Prince of Persia - The Forgotten Sands. The other piece of pack-in software is Zotac's Boost Premium software bundle, which contains a collection of software: vReaveal, a trial copy of Nero Vision Xtra, Cooliris, Kylo, and the (free) XMBC media center.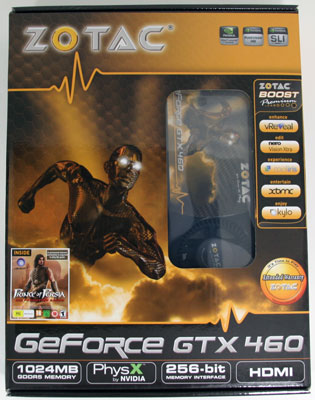 Finally, Zotac is issuing a limited lifetime warranty with this card. Surprisingly, despite the warranty and the non-reference modifications Zotac is not charging anything extra over NVIDIA's MSRP, so the MSRP remains at $229. At this moment we expect the card to become available within the next 2 weeks just like the bulk of the other 1GB GTX 460 cards, but it wouldn't be unprecedented for it to arrive earlier.
Asus ENGTX460 768MB TOP
Last but not least we have Asus's ENGTX460 768MB TOP, easily the most interesting card in today's roundup. Asus has completely forgone the reference design for one of their own, utilizing their own PCB and cooler.
Starting with the PCB, Asus is using their own PCB here, apparently necessary for the card's voltage modification abilities. Notably the PCIe power plugs are placed at the top of this card instead of the rear as in a reference design, making the PCIe power plugs easier to reach and also removing obstructions from the rare of the card for ventilation purposes. Asus also tells us that this card is a member of its Xtreme Design video card family, which means the PCB is reinforced (note: we did not test this) and contains an additional resettable fuse as added protection against an overcurrent load.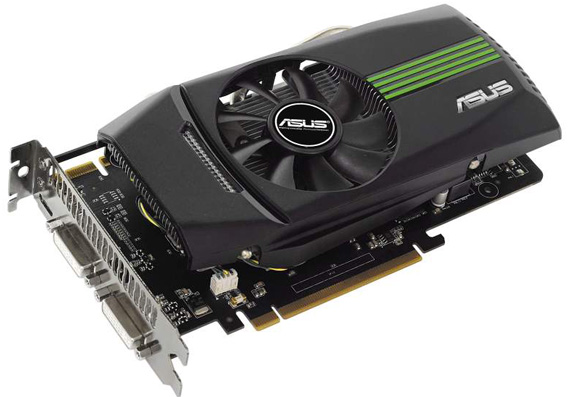 Sitting on top of the PCB is Asus's custom cooler, which is similar to but not quite the same as the GTX 460 reference cooler. Here Asus uses a similar double copper heatpipe design, but rather than using a semi-closed cover the cooler fully vents hot air towards both the front and the back of the card. Running almost the entire length of the card is an aluminum finned heatsink, with one of Asus's dust-proof fans sitting in the center. Towards the rear of the card is a smaller heatsink mounted on top of the card's VRMs, which combined with the airflow from the fan provides cooling for the VRMs. As this is a very open and breezy cooler, case ventilation is of greater importance here, particularly when this card is overvolted.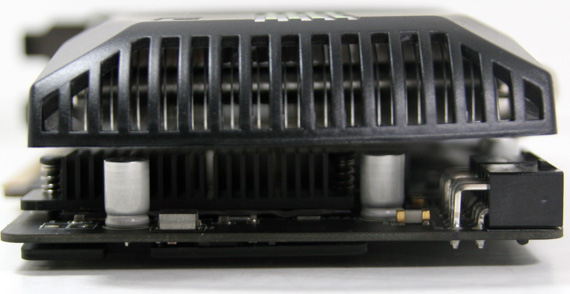 While the PCB is 8.25" long like the reference GTX 460 PCB, the cover for the cooler runs longer than the card. As a result the effective length of the card is just short of 9", so you will need a bit more room than a normal GTX 460 to fit the card, although the top-facing PCIe power plugs will help to offset this. Meanwhile at the front of the card is a set of the usual ports for an NVIDIA GTX 400 series card: 2x DVI and a mini-HDMI port.

Bundled with the card is Asus's in-house overclocking software: SmartDoctor and GamerOSD. Unfortunately for Asus SmartDoctor isn't anything to write home about, as almost immediately we ran in to trouble with it when the window stopped moving while we were dragging it around. However at this point the biggest flaw with it is that it can only increase the core clock on the ENGTX460 to 800MHz, which is below what a good GTX 460 can do even without voltage modification. For this reason you're effectively forced to use 2 overclocking utilities to get the most out of the ENGTX460: SmartDoctor to overvolt, and then another utility to actually set the core clock above 800MHz.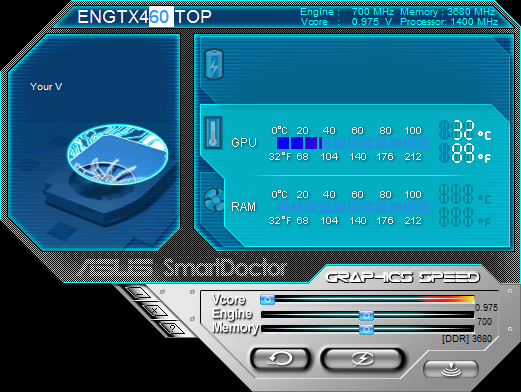 Voltage tweaking is undoubtedly the biggest feature of the card, with Asus displaying the ability prominently on the box. With SmartDoctor we were able to increase the core voltage on our sample from 0.975v up to 1.087v. Asus uses a floating slider, however the VRMs on the card actually only support voltage modification in 0.0125v steps. In our experience we found that the card could only take up to 1.062v before resetting itself to safety mode, likely a result of overloading the VRMs. Unfortunately SmartDoctor is the only way to overvolt this card at the moment, so you're stuck using it.
We'll get in to the full details of overclocking later, but for now we'll rest with this: at 1.062v we were able to increase the core clock to 930MHz, some 80MHz better than any of our non-overvoltable GTX 460s.
Asus ships the card with a very mild factory overclock, coming in at 700MHz core and 920MHz (3.68GHz data rate) for the memory, an overclock of 4% for the core and 2% for the memory. With this card's overvolting abilities the factory overclock is essentially meaningless beyond the fact that it represents Asus having done at least some binning for this card.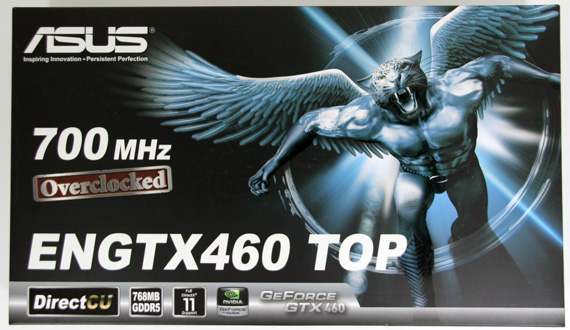 Rounding out the package is the usual quick start guide, a collector of adapters, a driver/utility CD, and rather unexpectedly a pleather CD/DVD organizer bearing the Asus logo. The entire card comes boxed in a somewhat large and fancily packed box.
Asus has put the MSRP at $209, a $10 premium over a reference GTX 460. As this is a 768MB card, it should be available immediately.
Picking up from where left off in Part 1 of our 2 part series on the GeForce GTX 460, we will be focusing on the thermal, power, audible, and overclocking characteristics of each card. For a look at the overall performance of these cards, please see Part 1 of our series.
CPU:
Intel Core i7-920 @ 3.33GHz
Motherboard:
Intel DX58SO (Intel X58)
Chipset Drivers:
Intel 9.1.1.1015 (Intel)
Hard Disk:
OCZ Summit (120GB)
Memory:
Patriot Viper DDR3-1333 3 x 2GB (7-7-7-20)
Video Cards:
AMD Radeon HD 5970
AMD Radeon HD 5870
AMD Radeon HD 5850
AMD Radeon HD 5830
AMD Radeon HD 5770
AMD Radeon HD 5750
AMD Radeon HD 4890
AMD Radeon HD 4870 1GB
AMD Radeon HD 4850
AMD Radeon HD 3870
NVIDIA GeForce GTX 480
NVIDIA GeForce GTX 470
NVIDIA GeForce GTX 465
NVIDIA GeForce GTX 295
NVIDIA GeForce GTX 285
NVIDIA GeForce GTX 275
NVIDIA GeForce GTX 260 Core 216
NVIDIA GeForce 8800 GT
NVIDIA GeForce GTX 460 1GB
NVIDIA GeForce GTX 460 768MB
Zotac GeForce GTX 460 1GB
Asus ENGTX460 768MB
EVGA GeForce GTX 460 768MB SuperClocked
Video Drivers:
NVIDIA ForceWare 197.13
NVIDIA ForceWare 257.15 Beta
NVIDIA ForceWare 258.80 Beta
AMD Catalyst 10.3a
OS:
Windows 7 Ultimate 64-bit
Power, Temperature, & Noise
As we've discussed in previous articles, with the Fermi family GPUs no longer are binned for operation at a single voltage, rather they're assigned whatever level of voltage is required for them to operate at the desired clockspeeds. As a result any two otherwise identical cards can have a different core voltage, which muddies the situation some. All of our GTX 460 cards have an idle voltage of 0.875v, while their load voltage is listed as below.
GeForce GTX 460 Load Voltage
Ref 768MB
Ref 1GB
EVGA 768MB #1
EVGA 768MB #2
Asus 768MB
Zotac 1GB

0.987v

1.025v

0.987v

1.000v

0.987v

1.000v
Our cards end up ranging from 0.975v to 1.025v, a variance of 0.05v. The 1GB cards with additional functional units on average require more voltage to operate, with the lowest of our samples requiring 1.0v. Otherwise 3 of our 4 768MB cards require 0.975v.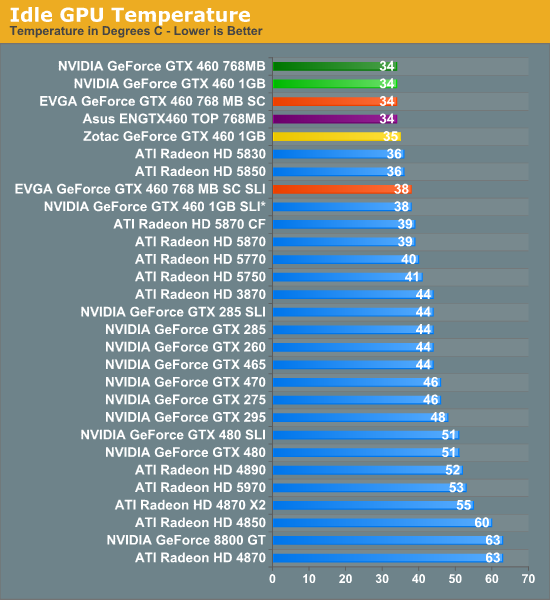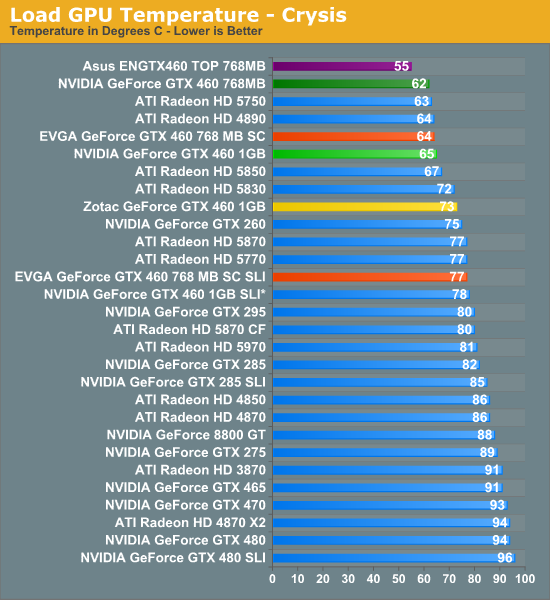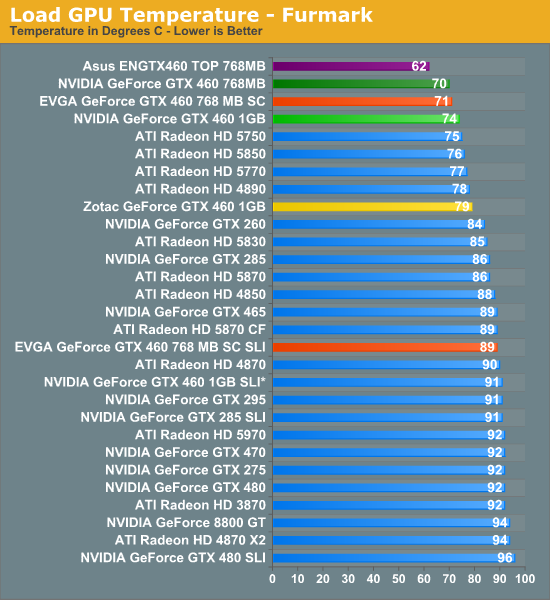 We'll start with idle temperatures. With an unofficial idle TDP in the 20W range, the GTX 460 series is fairly comparable to the Radeon 5850, but with a more breezy reference cooler. As a consequence we can see all of our GTX 460s edge out the rest of our cards here, with the EVGA and Asus cards coming in at 34C idle, while the blower-based Zotac card comes in a hair warmer at 35C. Even with a blower, these end up being the coolest mid-range or better cards we have ever tested, besting even the Radeon 5850.
As for load temperatures, we have a mixed bag depending on which card we're looking at. The reference-based EVGA cards do only slightly worse than 60C in Crysis, while Asus's non-reference card gets that even lower thanks to a more aggressive fan. Zotac's blower doesn't fare so well here though, coming in at a still respectable but nevertheless higher 73C.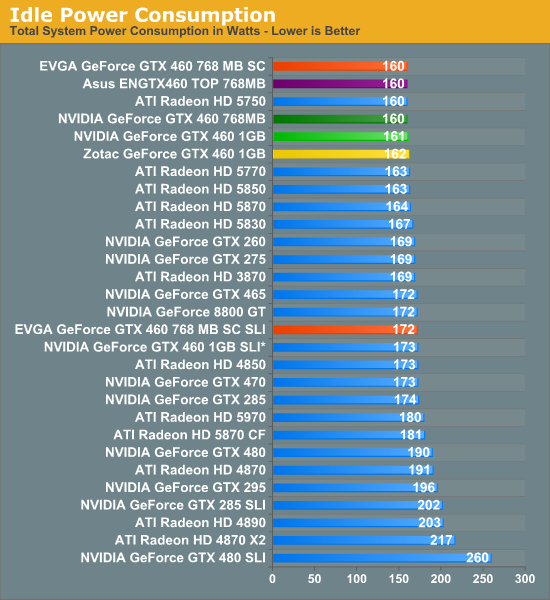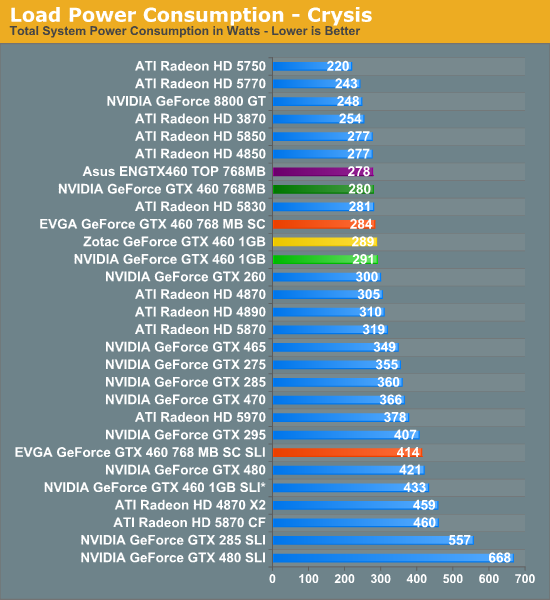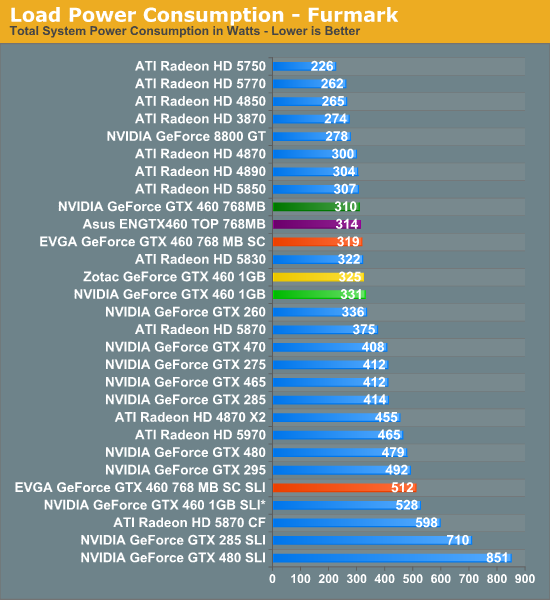 Our idle power numbers continue to lower the bar for GPUs of this performance class, although at this point we're hitting the efficiency limits of our PSU at low wattages. Our 768MB GTX 460s end up sharing the 160W mark with the Radeon HD 5750, while for 1W more you have the Zotac 1GB card.
Meanwhile when looking at load power consumption, we see the cards seperate some due to their differences in memory capacity and factory overclocks. The Asus card with its smallest overclock draws the least power under Crysis at 278W, while the EVGA card with its greater overclock comes in at 284W, and the 1GB Zotac follows at 289W. Under Furmark the same order is maintained, at 314W, 319W, and 325W respectively.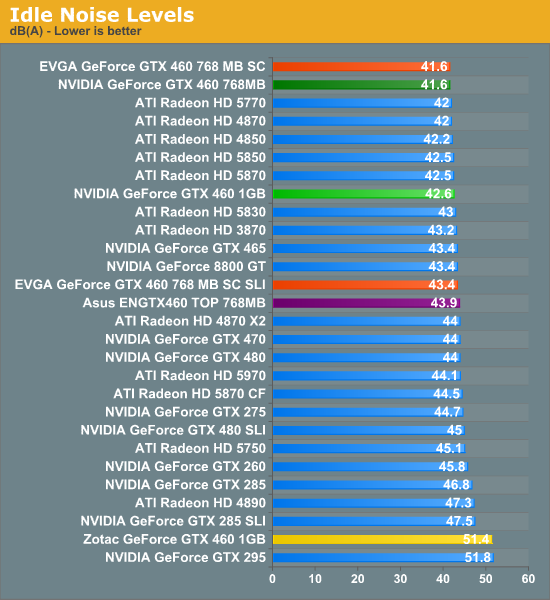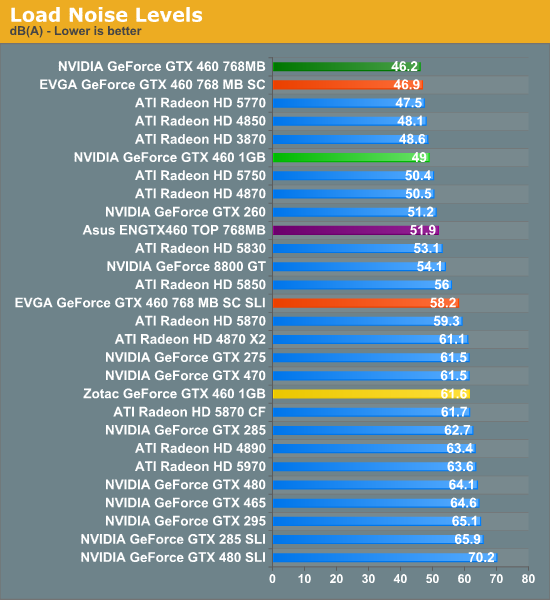 Finally we have our look at noise. With cool running cards we often have to look at fan noise to ensure that they aren't accomplishing that trick by sounding like a jet engine, with some interesting results to see. At idle both the EVGA and Asus cards are hugging the 42dB sound floor in our testing environment, with the Asus card coming in slightly louder by 2.3dB. Meanwhile the Zotac GTX 460 is at entirely the wrong end of our charts. Blowers can be quiet, but the Zotac's is not – at 51.4dB it's simply a loud card. Unfortunately this kind of an idle noise level is going to put the card out of the running for a lot of buyers.
Load noise is more or less like our idle noise results. The reference-based EVGA card comes in the quietest at 46.9dB, while Asus's card cracks 51dB as its tuned for cooling over noise. Unfortunately the Zotac card is once again the odd man out at 61dB, roughly as loud as our reference GTX 470 is. It's neither cooler than our reference cards nor quieter, which doesn't bode well for this stock-clocked card.
Overclocked Performance
For the purposes of this section we are focusing on the overclockability of the core, but not the memory. NVIDIA's weaker GDDR5 memory controller coupled with the tendency for memory overclocking to reduce performance through the need to use error detection and retransmission makes memory overclocking much more difficult and often a bust entirely.
As not all of our cards are exactly alike, we'll quickly run down the differences between the various cards.
1x NVIDIA GTX 460 768MB Reference
1x NVIDIA GTX 460 1GB Reference
2x EVGA GTX 460 768MB SuperClocked: Reference PCB and cooler, factory overclocked
1x Zotac GTX 460 1GB: Reference-derived PCB, custom blower-style cooler
1x Asus ENGTX460 768MB TOP: Custom PCB, custom cooler, factory overclocked, voltage tweak

| | | | | |
| --- | --- | --- | --- | --- |
| | Stock Clock | Max Overclock | Stock Voltage | Overclocked Voltage |
| GTX 460 768MB Reference | 675MHz | 840MHz | 0.987v | N/A |
| GTX 460 1GB Reference | 675MHz | 825MHz | 1.025v | N/A |
| EVGA GTX 460 768MB SuperClocked #1 | 763MHz | 850MHz | 1.000v | N/A |
| EVGA GTX 460 768MB SuperClocked #2 | 763MHz | 840MHz | 0.975v | N/A |
| Zotac GTX 460 1GB | 675MHz | 835MHz | 1.000v | N/A |
| Asus ENGTX460 768MB TOP | 700MHz | 930MHz | 0.975v | 1.062v |
| GTX 460 1GB SLI | 675MHz | 800MHz | N/A | N/A |
| EVGA GTX 460 768MB SuperClocked SLI | 763MHz | 840MHz | N/A | N/A |
Among our 3 vendor cards without voltage tweaking capabilities, all of the cards are closely clustered together in terms of the final stable overclock, with only a 25MHz difference between the top and bottom cards. The Zotac 1GB card ended up with slightly lower overclocks than the 768MB cards, which is likely a product of the 1GB cards containing further enable ROPs and L2 cache than the 768MB cards. Meanwhile the best overclock on a card we got without a voltage tweak was one of our EVGA cards, which was able to go to 850MHz, while the second EVGA card hit 840MHz, and the Zotac card hit 835MHz.
The lone standout in the group is the Asus card, which has voltage tweaking capabilities that allow us to increase the core voltage beyond the GPU's VID. In testing we found that anything over 1.062v would ultimately cause the card to fall back to 405MHz, which we believe to be the card's VRM protection kicking in after the VRMs overheated. At 1.062v we were able to get the card to up 930MHz, a 33% overclock from the factory overclocked speed of 700MHz, and 38% faster than the GTX 460 reference clock of 675MHz.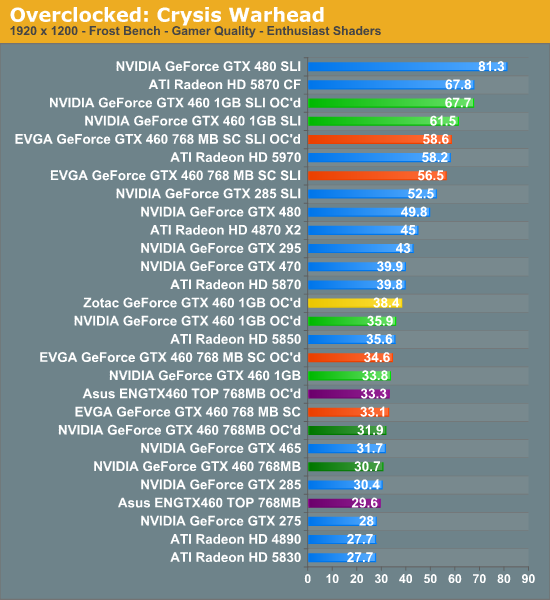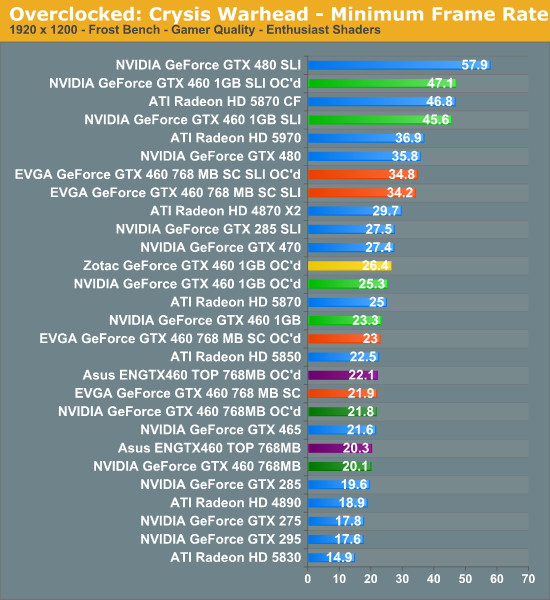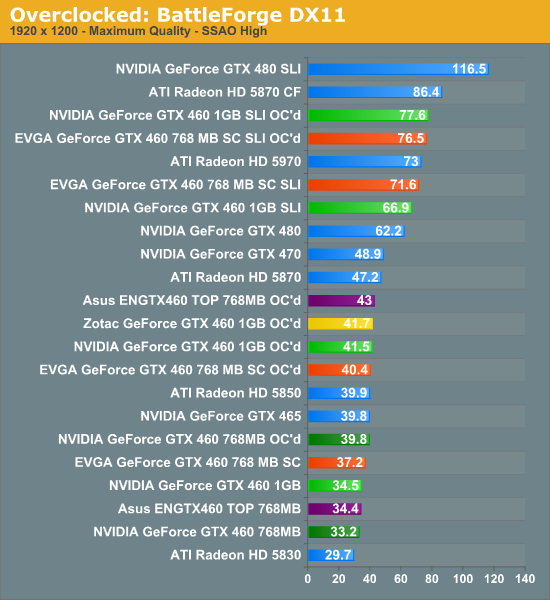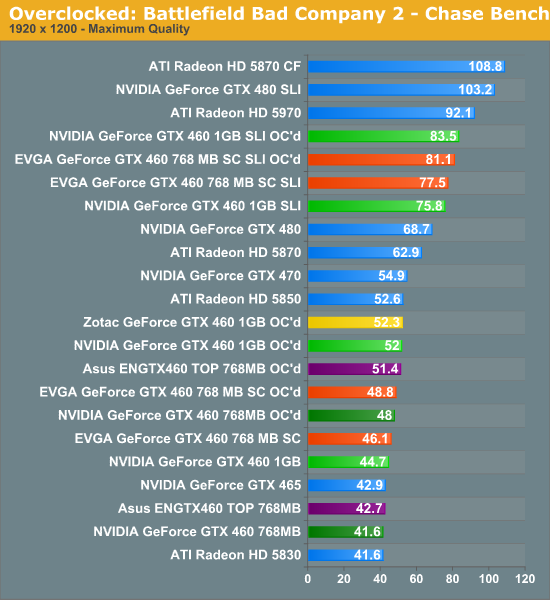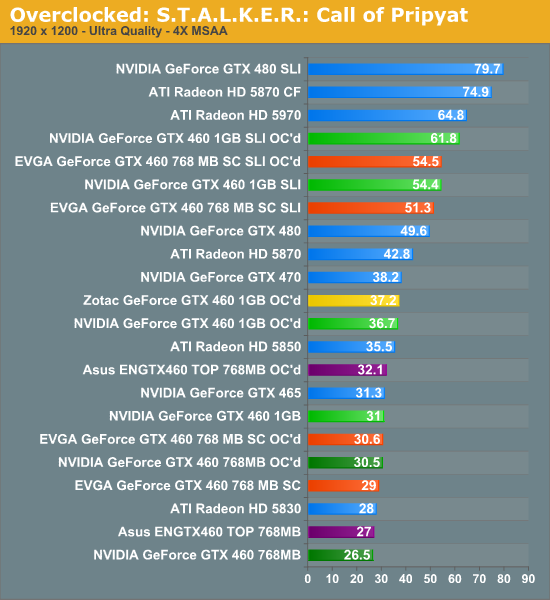 Overall the impact of overclocking is heavily game dependent. Core overclocking favors games that are ROP/shader limited and has little effectiveness on games that are limited by the total available RAM or by memory bandwidth. For this reason out of our subset of games core overclocking was most effective on Battleforge and Bad Company 2, while only moderately effective on Crysis and STALKER. On Crysis and STALKER overclocking was at best only marginally more useful than having a 1GB card.
The big winner here with respect to performance is the Zotac card, thanks almost exclusively to its 1GB configuration, affording additional RAM/L2/ROPs. Of our 768MB cards the Asus comes ahead most of the time as expected thanks to its greater core overclock, but it does manage to fall to the overclocked EVGA card under Crysis where the latter's greater stock memory clock clearly offers an advantage.
Currently the sweet spot would look to be a 1GB card with a lesser overclock, which isn't great news for the overclocking-focused EVGA and Asus cards in this roundup. While they are cheaper than a full 1GB card, they still carry a price over MSRP which cuts in to the gap between 768MB and 1GB cards. Ultimately the additional RAM/L2/ROPs more than makes up for the higher overclocks the 768MB cards can attain in most situations.
Overclocked Power, Temperature, & Noise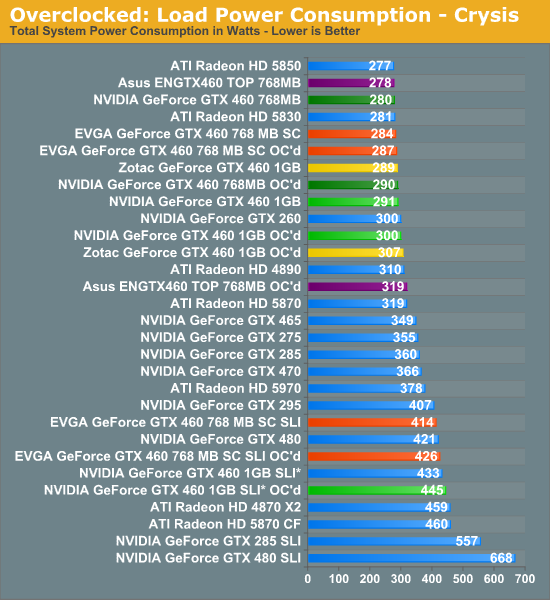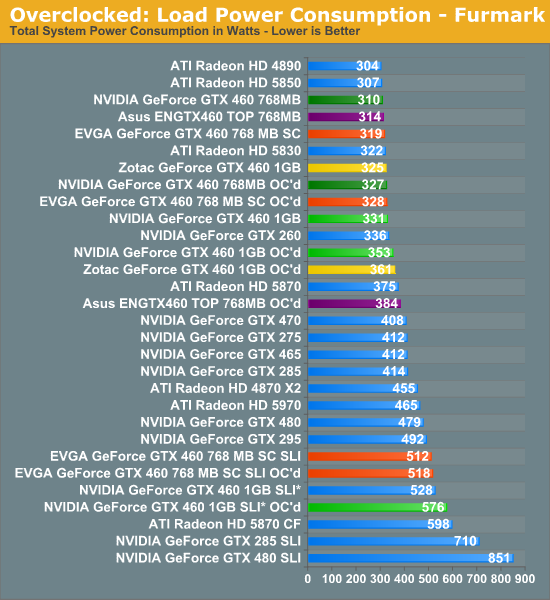 For the Zotac and EVGA cards without voltage tweaking capabilities, the power consumption penalty for overclocking is very minor due to the fact that power consumption increases with voltage much faster than it does with frequency. For the stock-clocked Zotac this is an 18W-36W penalty, while the factory overclocked EVGA cards are even lower (thanks to binning) at just 9W. Meanwhile as expected the Asus card with its voltage tweaking capabilities ends up witnessing a larger jump in power consumption in return for its greater overclock capabilities: 70W under Furmark. This is nearly half of the card's TDP, so this is a very notable difference.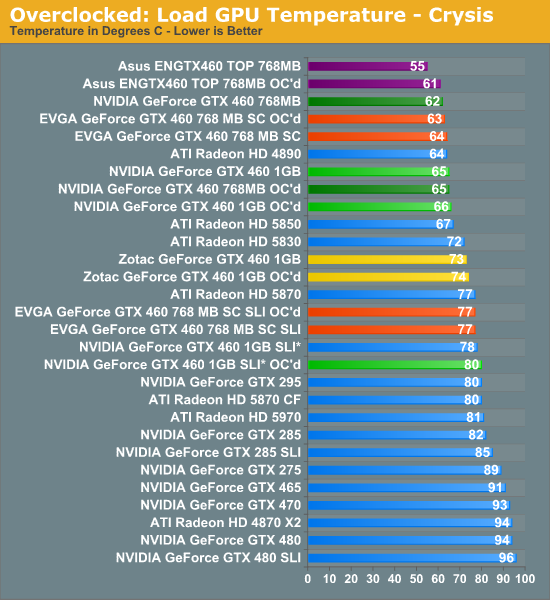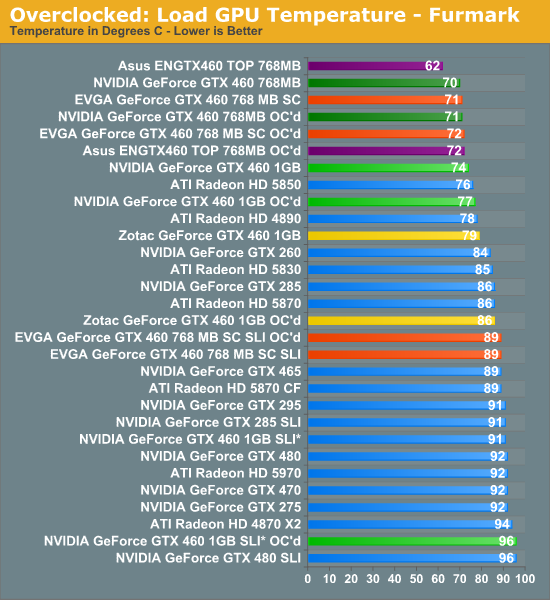 With only a minor increase in power consumption, our non-voltmodded GTX 460s only experience a minor rise in temperature. The EVGA card only rises in temperature by a single degree, and even the Asus only rises to 72C under Furmark thanks to its more aggressive fan, leaving temperatures well in the safe range for these cards. Zotac card fares the worst here, most likely due to its partially blocked vent – here it reaches a more toasty 86C.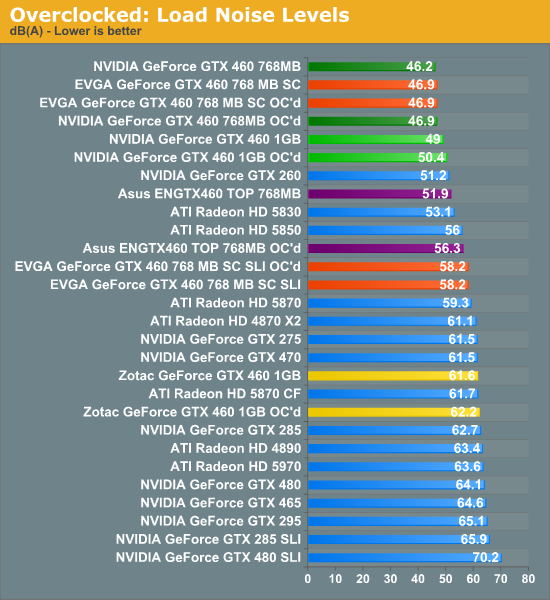 Last but not least we have the noise factor. Thanks to the very low increase in power consumption increase the EVGA and Zotac cards experience when overclocking, the coolers on these cards have to do very little to handle the extra heat. Here the amount of noise generated increased by less than 1.5dB for the already loud Zotac, and in the case of our EVGA cards didn't increase at all. The Asus card is of course the exception to the rule here, once again due to a combination of the more aggressive cooler and voltage modification. Here the amount of noise generated shoots up by 4.4dB when overclocked, which is a fair trade for the overclock but is definitely going to be more noticeable than the rest of the cards in our collection.
Final Words
Wrapping up our look at vendor cards for today's GeForce GTX 460 launch, we'll start with what's probably the weakest card from the launch, the Zotac GTX 460 1GB.
The Zotac card is both a bit bold and a bit conservative in its design, and frankly we're not quite sure why it didn't work out. Zotac effectively attempted to emulate the Radeon 5850's cooling setup on a GTX 460 card, and given their similar TDP it should have worked. This design should be more than adequate to quietly cool a card like the GTX 460 1GB, but instead we ended up with something that's much hotter and much louder than any of the other GTX 460 designs we've seen today.
We're big fans of the Radeon 5800 layout, as it affords good cooling without compromising on the port selection. While everyone else is offering only DVI and HDMI ports, Zotac is offering DisplayPort along with everything else, which moving forward we believe to be a good idea. We'd like to see this port configuration on future GTX 460 cards, but first it looks like Zotac needs to go back and work out the quirks of their design.
Next we have EVGA's GTX 460 768MB SuperClocked, which unlike the other cards in our roundup doesn't deviate from NVIDIA's reference design at all. In this case this is a very reasonable choice, as the reference GTX 460 design offers great cooling and low noise in a compact package. For a $20 premium over a reference card EVGA offers a solid factory overclock, excellent overclocking software, and a lifetime warranty, a tantalizing collection that's spoiled by the existence of the 1GB GTX 460.
As we discussed in the conclusion of Part 1 of our review, the 1GB GTX 460 makes much more sense than the 768MB GTX 460 due to the higher performance and greater degree of futureproofness. This is further compounded in the case of the EVGA SuperClocked card, as that's now a $10 price gap. The factory overclock alone isn't enough to close the gap, and there's no guarantee a SuperClocked card is any more likely to overclock well than a normal card. The EVGA SuperClocked is a fine card, but when EVGA also will be selling a 1GB card with the same excellent overclocking tools it's hard to suggest the slower card for only $10 in savings. In this light we would recommend an EVGA 1GB card over the 768MB SuperClocked, otherwise between this and the Asus card this is the 768MB card to get for casual overclockers who are not ready to take a dive in to voltage tweaking.
Finally we have Asus's entry, the only fully-custom card in our roundup. Asus takes the extreme overclocking angle and makes a solid delivery; with our sample achieving a 38% core overclock over a stock clocked GTX 460. At a premium of only $10 (and some noise) over a reference card this is clearly the overclocking card to get for well-versed enthusiasts who are willing to take the risks of voltage tweaking. But even Asus eventually runs in to the same problem EVGA does: overclocking just puts you in competition with slightly more expensive 1GB cards. Ultimately this shouldn't come as a surprise, but it's something that needs to be taken in to consideration.