Original Link: http://www.anandtech.com/show/3791/the-sprint-htc-evo-4g-review


It's really not that big. It seems like it would be based on the specs and photos, but in reality the Sprint EVO 4G by HTC just isn't that big. And it's not levied as an insult, I just mean to say that the EVO is manageable in size.
The screen has the same 800 x 480 resolution of the Nexus One and HTC Incredible, but the pixels are spread out over a much larger 4.3" screen. The display setup to be overly red just like the other Android screens we've seen thus far, but it looks great.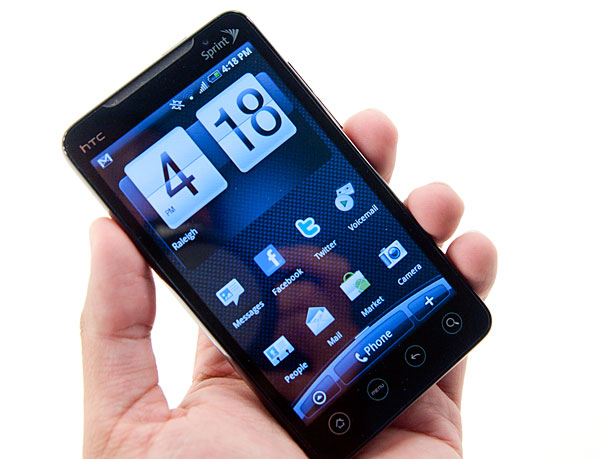 The size of the screen is really what sets the EVO 4G apart from the competition, and honestly I couldn't think of a better phone for browsing the web. Loading full websites is a pleasure and the screen is large enough where you can actually read a lot of content. It's not a tablet replacement, but it is easier to work with than a 3.5 - 3.7" screen.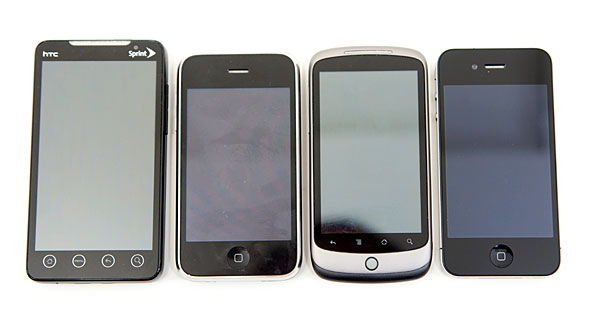 From left to right: HTC EVO 4G, iPhone 3GS, Nexus One, iPhone 4
I've heard it referred to as a mini tablet and honestly I don't believe that's the case. The 4.3" screen is big but I'm telling you, it's not that big in practice. It just ends up feeling like a phone with a good sized screen. Move into the 5" and beyond territory and then you start triggering me calling things tablets.


HTC EVO 4G (left) vs. iPhone 3GS (right)


HTC EVO 4G (left) vs. iPhone 4 (right)
The phone measures 4.8" x 2.6" x 0.5" and it's the largest smartphone I've ever held. That being said, it is absolutely pocketable as long as you're not wearing skinny jeans. Even then it is thin enough that you could slip it into your back pocket.
Physical Comparison
HTC EVO 4G (Qualcomm Snapdragon QSD8650)
HTC Droid Incredible (Qualcomm Snapdragon QSD8650)
Apple iPhone 4
Google Nexus One (Qualcomm Snapdragon QSD8250)
Height
121.9 mm (4.8")
117.5 mm (4.63")
115.2 mm (4.5")
119 mm (4.7")
Width
66.0 mm (2.6")
58.5 mm (2.30")
58.6 mm (2.31")
59.8 mm (2.35")
Depth
12.7 mm (0.5")
11.9 mm (0.47")
9.3 mm ( 0.37")
11.5 mm (0.45")
Weight
170 g (6.0 oz)
130 g (4.6 oz)
137 g (4.8 oz)
130 g (4.6 oz)
CPU
Qualcomm Scorpion @ 1GHz
Qualcomm Scorpion @ 1GHz
Apple A4 @ ~800MHz
Qualcomm Scorpion @ 1GHz
GPU
Adreno 200
Adreno 200
PowerVR SGX 535
Adreno 200
RAM
512MB LPDDR1
512MB LPDDR1
512MB LPDDR1 (?)
512MB LPDDR1
NAND
8GB micro SD
8GB micro SD
16GB or 32GB integrated
micro SD
Camera
8MP with dual LED Flash + Front Facing Camera
8MP with LED Flash
5MP with LED Flash + Front Facing Camera
5MP with LED Flash
Screen
4.3" 480 x 800
3.7" 480 x 800 AMOLED
3.5" 640 x 960 LED backlit LCD
3.7" 480 x 800 AMOLED
Battery
Removable 5.5Whr
Removable 4.81 Whr
Integrated 5.254 Whr
Removable 5.18 Whr
HTC ditched the silly scroll ball of the Nexus One and the optical sensor of the Incredible and just left the EVO 4G with a row of touch sensitive buttons along the base of the screen. Home, Menu, Back and Search are all you get.
If you need a navigational aid the screen is big enough where HTC was able to include directional arrows on the on-screen keyboard. They are awkward to use at first because you're not used to them, but afterwards they just make sense. I hardly used the scroll ball/optical trackball of the other Android phones so HTC's decision to reclaim that real estate makes total sense to me. The screen is used for scrolling, if you need fine tuned movement just rely on the virtual arrow keys. Fine by me.
The touch screen supports haptics, which can be fully disabled. When enabled certain button presses will cause the EVO's motor to vibrate a bit to confirm the touch. It's a concession for those who still want some tactile feedback.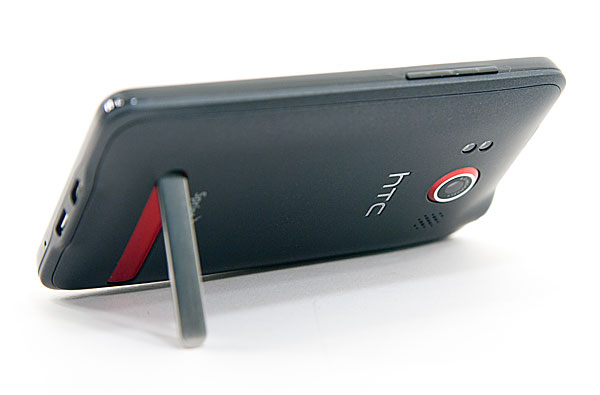 The EVO 4G is the first Android phone I've used with something interesting on its back: a kickstand. The metal stand lets you prop a horizontally oriented EVO on your desk at around a 45 degree angle. It's great for watching videos, using as a clock or an alternative to a costly dock.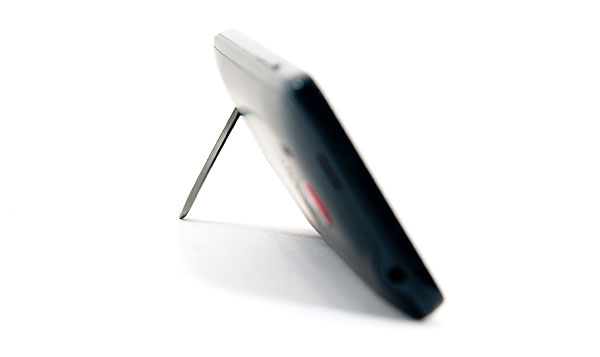 The stand is actually a nice touch, unfortunately the Android UI doesn't rotate to landscape mode so it's only useful within apps that support rotation.
Also on the back is the 8MP camera lens (there's a 1.3MP camera on the front), two LED lights used as a flash and a speaker for the speakerphone. Along the bottom is a standard USB micro B connector and a micro HDMI (D-connector) video out. The HDMI out can only be used to output movies, it won't mirror your display.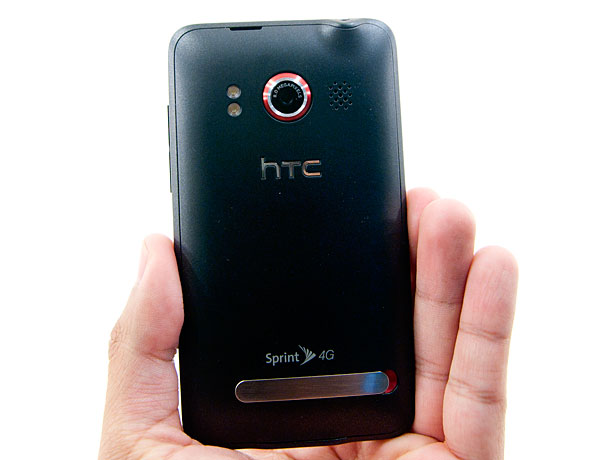 As its name bluntly states, the EVO 4G works on Sprint's 4G WiMAX network. Sprint's 4G service is currently only available in 43 cities spread over 15 states, if you find yourself in one of those states then the EVO has more than its large screen to tempt you.
The phone currently sells subsidized for $199 from Sprint after a $100 mail in rebate. Service starts at $69.99 for 450 minutes and unlimited messaging/data and goes all the way up to $134.99 per month including tethering.
Cost of Ownership Comparison
AT&T iPhone 4
Sprint EVO 4G
Verizon HTC Droid Incredible
Cost of Device
$199 w/ 2 year contract
$199 w/ 2 year contract after $100 MIR
$199 w/ 2 year contract
Plan with 900 Minutes, Unlimited SMS/Data
$104.99/mo, unlimited SMS, 2GB data
$99.99/mo, unlimited SMS, unlimited data, 4G
$109.98/mo, unlimited SMS, unlimited data
Tethering
+ $20/mo
+ $29.99/mo
+ $25/mo*
Total Monthly + Tethering
$124.99/mo
$129.98/mo
$134.98/mo
Total Cost of Ownership over 2 Years
$2718.76
$2598.76 after $100 MIR
$2838.52
Total Cost of Ownership over 2 Years w/ Tethering
$3198.76
$3318.52 after $100 MIR
$3438.52
*Verizon hotspot service goes up to $30/mo in late July
Without the mobile hotspot service, the EVO 4G is the most affordable smartphone out of the three majors over the course of two years. AT&T actually offers a better deal with tethering but you need to keep an eye on your usage; go over 2GB per month and you'll incur additional charges, which isn't tough to do if you tether a lot.
Death to Physical Buttons
Along the top of the EVO 4G, just to the right of center is a power/lock button. It barely protrudes from the chassis which makes it difficult to hit both on accident and on purpose. On the right side of the phone is a volume rocker switch, which squeaked on my review sample. Those three are the only physical buttons on the device. The EVO 4G is all about its screen and HTC did nothing to detract from that.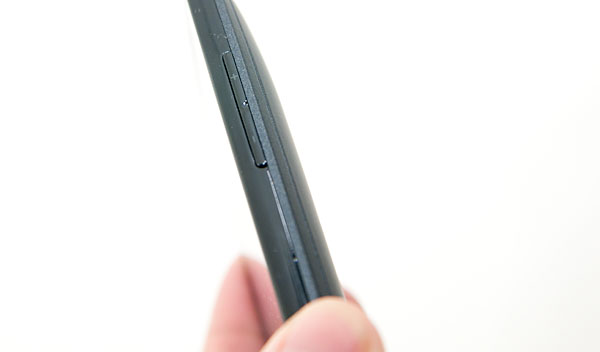 The line of capacitive touch buttons along the bottom of the screen are responsive and by default have haptic feedback enabled (the phone vibrates slightly when you hit one of them). Unlike the Incredible I reviewed, the back of the phone didn't rattle whenever the phone vibrated.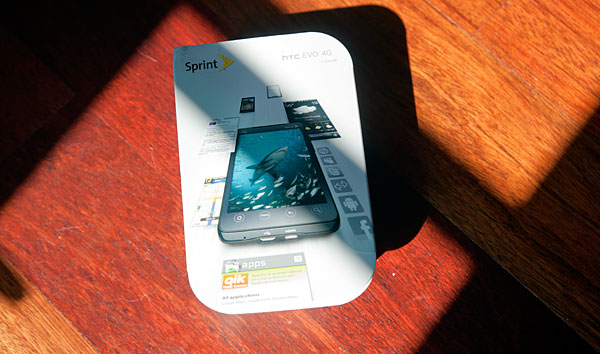 The touch buttons themselves are just as responsive as on the Incredible, which also means they are much better than those on the Nexus One.
The EVO 4G feels pretty solid. The front is nearly all screen (minus the row of touch buttons at the bottom), the border of the phone is glossy black plastic and the back is a very soft feeling plastic that's wonderful to pet. The device doesn't feel fragile.
Since there's very little border around the screen and buttons I found myself accidentally triggering the quick search and sometimes the camera app with my palm while holding the phone.
Getting the back cover off is simple enough: just stick your finger nail in the opening at the top and pull it off. It snaps back on just as easily. I found that in general the EVO 4G seemed to be better built than the Incredible but not quite as solid as the Nexus One.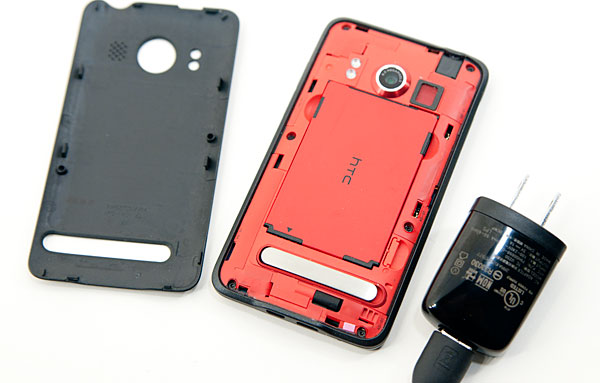 Beneath the rear cover you've got the now typical HTC arrangement. A beefy 5.5Whr battery and a microSD card slot for media (and eventually app) storage. The phone ships with a 8GB microSD card by default.
Along the bottom of the phone you've got a micro USB connector and a mini HDMI connector. The latter can only be used while playing back videos; it won't mirror the EVO's display to your TV unfortunately.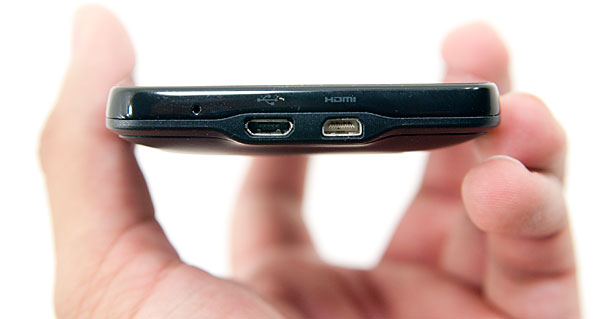 The phone comes with a USB cable and USB power adapter. The HDMI cable is sold separately.
Let's Get Chippy
Inside the HTC EVO 4G is a Qualcomm Snapdragon QSD8650 SoC. This, unlike the Snapdragon in the Nexus One, supports both GSM and CDMA networks, which is what lets this phone work on Sprint.
The Snapdragon SoC has an amazing amount of integration that brings the CPU, GPU, video encoder, decoder, camera processor and modem all onto a single piece of silicon. To enable WiMAX support HTC turned to Sequans and used its SQN1210 WiMAX radio; this is what gives the EVO its 4G network support.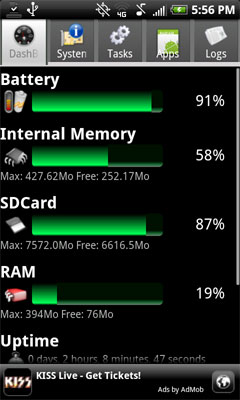 The 4G radio has an easily accessible on/off widget on one of the home screens by default, but honestly the Sequans chip appears to do a good job of being power efficient. I didn't see a substantial difference in battery life with 4G enabled or disabled as long as the workload remained the same. Obviously with a faster connection you're more likely to surf and download more, which will in turn kill your battery quicker but from what I've seen 4G battery life is roughly the same as 3G battery life for an identical workload (more on this later).
A Broadcom BCM4329 controller enables 802.11n support as well as Bluetooth and FM Radio tuning. Yes, the HTC EVO 4G can function as a high priced alarm clock radio if you want it to.
The Basics
The EVO 4G currently ships with Android 2.1, although sometime before the end of the year it should get 2.2. Layered on top of Android is a set of HTC developed apps, widgets and UI modifications called Sense. As a whole HTC's Sense makes Android a much more polished experience and is generally a positive thing. The downside is that it takes HTC longer to bring Android updates to its phones as it has to not only port the updated Android code but also make sure that Sense works with it as well. I've already looked at Sense in my Incredible review and talked about Android in my Nexus One review. What follows here is a brief refresher as well as an update on some things I didn't touch last time around.
The lock screen is different but no better or worse than what I've seen on other Android phones like the Nexus One. Instead of swiping left to unlock, you swipe down. If your phone is locked and you get a call you just swipe down to answer and swipe up to decline.
When locked any incoming text messages appear with a preview at the bottom of the screen. This is in addition to the usual notifications up top which I'm happy to say I've finally gotten used to and definitely appreciate above and beyond what Apple does in iOS. I still have a fondness for webOS' notification system but until we see a resurgence of Palm under HP management I'll have to count them out of the smartphone wars.
The main home screen has a calendar/weather widget and icons for Messages, People (Contacts), Mail, the Android Market, the Camera and Voicemail. You can add your own icons by hitting the menu button and selecting the Add to Home option.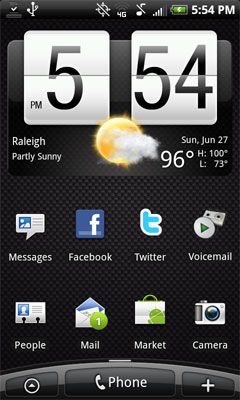 There are a total of 7 home screens that you can configure on the phone. Three to the left and three to the right of the main screen I just described. The default EVO 4G skin has a page with an MP3 player widget as well as a bunch of Sprint apps, a page with a Bookmarks widget for frequently accessed websites and one more with a Friend Stream widget that combines your Facebook and Twitter updates into a single stream of other peoples' lives. The other three home screens include a calendar, Google search bar and widgets to turn off things like 4G, WiFi, Bluetooth and GPS.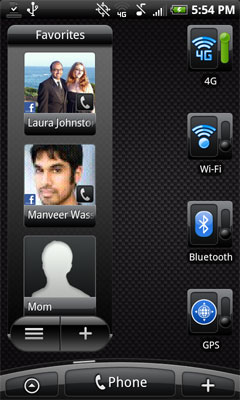 The quick access to turning off 4G and WiFi is pretty nice, although in practice the 4G toggle didn't get as much use as I thought it would.
The favorites widget automatically populates itself with frequently dialed contacts. If you supply your Facebook login information it will also indicate if your contact has updated their Facebook page. Unfortunately trying to view a Facebook profile from a contact's info page won't launch Facebook's Android app but instead just load the mobile version of Facebook in the browser.
Cloud Integration
Like all other Android devices, the EVO 4G integrates with the cloud very well assuming you actively use a couple of key services: Google apps and Facebook. If you supply your login information to those services (you can also add Flickr and Twitter) pretty much every aspect of your phone will automatically integrate itself into your life before you can even think of the word sync.
Contacts will automatically get pulled from your Google contacts and Facebook friends list. Email addresses, phone numbers, addresses, photos, everything all get integrated onto your phone. If anyone changes their contact information in Facebook it'll get updated on your phone. If you update a contact in Google the same will happen on your phone. It's very nice. If you don't use those services then the EVO works more like a regular phone but without good supplied desktop sync software.
The cloud integration is ridiculously convenient. It's useful enough that it makes going to most other devices feel ancient. Even if you don't have your life in the cloud, stepping foot into the Android world is generally enough to make you want to change.
Organization by Person
Once you're all synced up with the cloud Android truly behaves like a Google product: it just works on organizing data. Here are all of the things you can do when you're looking at a single contact on the EVO 4G (or any other HTC Sense enabled device):
- View Contact Information including available personal information from Facebook
- View all SMSes exchanged with the contact
- View all emails exchanged with the contact
- View latest Facebook and Flickr updates and albums
- View a log of all calls between you and the contact (you can also clear the call log history)
The functionality itself is above and beyond anything Apple offers, but it gets better. There's full customization available on anything I mentioned above.
Want to see only the past day worth of Facebook updates for the contact? That's configurable. Want to see the past 30 days of Facebook updates? You can set that as well, all on a contact by contact basis.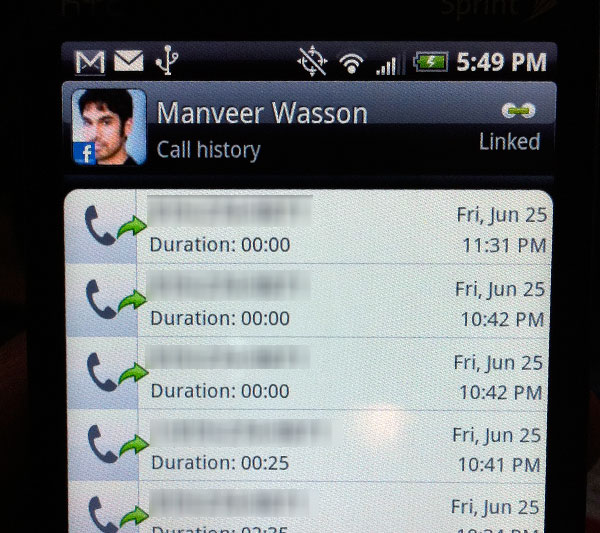 You can also do typical cellphone stuff to each contact. You can opt to send the contact straight to voicemail whenever they call or choose specific ringtones. Linking a contact to their Facebook profile is particularly helpful since we're vain creatures and tend to share our birthdate with our FB friends. You now have a quick way of figuring out when someone's birthday is just by pulling up the contacts in your phone.
If this all sounds like stuff you'd never want to deal with, you don't have to. The EVO 4G still works like a normal smartphone. The flexibility is simply a selling point of Android.
Task Switching - The Android Way
Android is, at least by today's definition, a multitasking smartphone OS. Unless you force an app closed (or run out of memory) everything you open on the phone remains resident in memory until you restart the phone.
Switching between apps on Android is done very well. Just hold down the home button and you'll see a window of the 6 most recently used apps. Tap the app you want to switch to and boom, you're there. This process ends up being faster than on an iPhone because there's no double tapping of any physical buttons before selecting your app; just press once and hold, then press one more time. It's nice and quick.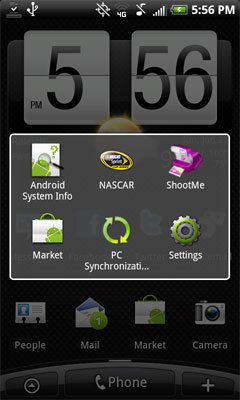 Unfortunately there's no way to close an app from the task switcher although there are many options in the Android market if you want something a bit more robust. Taskpanel for example is a task manager app that you can configure to kill all non-whitelisted background apps each time your phone is put to sleep. Ah the joys of Android.
The FM Radio
The EVO 4G ships with an FM radio app. The phone uses your headset as an antenna so you need to have one plugged in for this to work. Once running however you can manually turn on the external speaker so you don't have to listen to the radio over earbuds if you don't want to.
There's one large slider to select your frequency and two buttons to move the tuner in smaller increments. You can also create presets. Unfortunately there's no way to record audio in the app.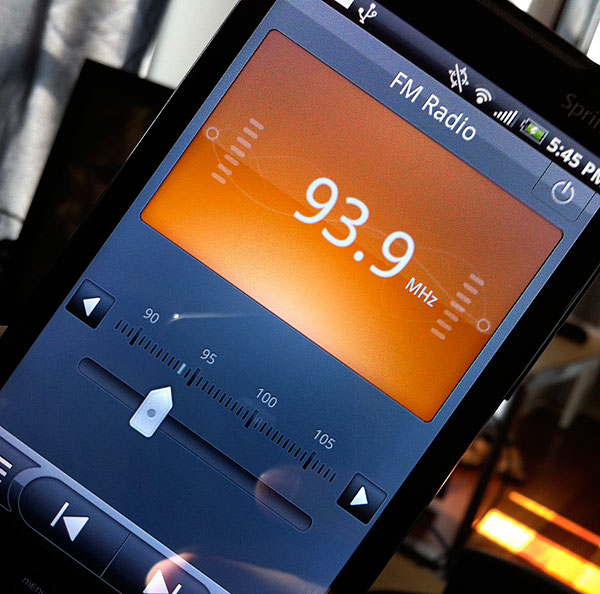 Reception was surprisingly good indoors, but it did depend on where I had my earbuds. If I left them on my desk I'd get a lot of noise in the audio, but in my ears it worked very well for the stations I could tune to. It didn't work as well as a car stereo for obvious reasons. There were some stations that would come in easily in a car that I couldn't get at all on the EVO, while others worked perfectly. No surprise there.
It's an iPo...Android Music Player, Too
As with all other Android devices legal music purchases are supported through an Amazon MP3 Store app. If you want to get your existing music library onto the EVO 4G you do it the old fashioned way: copy it over USB.
HTC's Sync application doesn't support music syncing so you've got three options to get music and photos onto your phone.
Plugging a USB cable directly into your computer will let you treat the EVO's microSD card as a USB storage device. Put your MP3s in the Music folder and throw whatever videos you want on the device and you're good to go.
You can also physically remove the microSD card and stick in a card reader attached to your PC. This is a bit more irritating of a solution as you need to remove the battery to gain access to the card.
The third option is the best but it requires an additional expenditure. The Missing Sync for Android is an application that allows you to sync your movies, photos and music over WiFi or Bluetooth with your Mac or PC.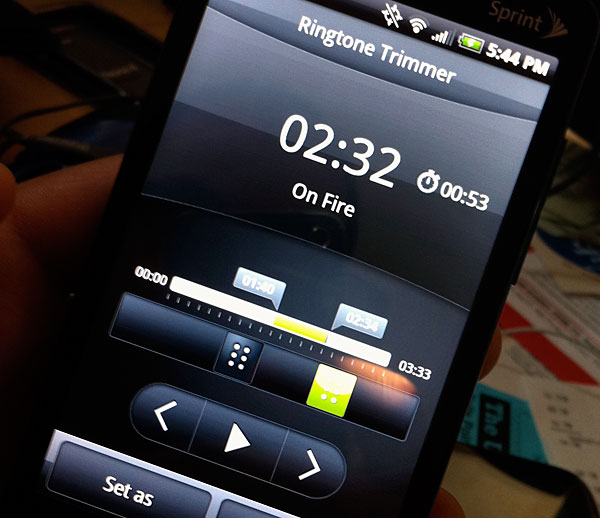 The music player app is pretty straightforward. It just plays music. You do get a healthy amount of functionality in the app however. The usual shuffle and repeat modes are there, but you can also create ringtones while you're listing to a song. Hit the menu button, hit create a ringtone and then you have the option of using the whole song or trimming it down to the portion you want. You can then go ahead and assign the ringtone to your phone or an individual contact.
The Best Smartphone for Video Playback
I'm always surprised when I see someone watching a movie on an iPhone. The screen seems too small and you have to either hold the phone or hunch over it to watch. On top of that you need to transcode your content into an iPhone friendly format to get it to work.
While you still need to do the latter to watch videos on the EVO 4G, the screen and the kickstand make it a much better experience. The display is great for watching movies or TV show. It's large enough that you can actually get into whatever you're watching without squinting to see what's going on. The contrast ratio of the EVO's display comes in handy here more than anywhere else.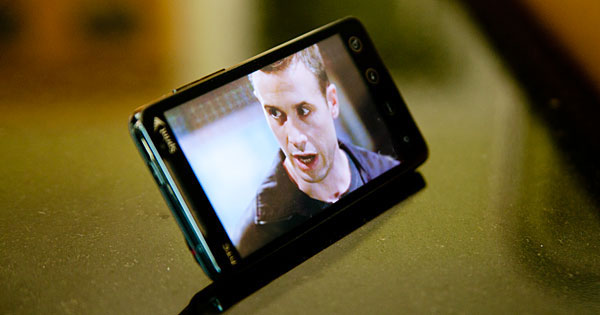 The kickstand is perfect for propping the EVO 4G on a desk or a tray table in a plane. The combination of the two really make this the ideal movie playback platform. Better than any other smartphone I've used. While no Apple, Google or Palm phone made me want to transcode my movie library, the EVO 4G does.
The phone supports .mp4 files with stereo audio. You need to stick to simple profile H.264 for encoding and lower bitrates. I found that ~800Kbps was a great balance of file size and image quality.
The biggest problem with video playback on the EVO is simply battery life. On a single charge in airplane mode I could only get 3 hours and 38 minutes out of the device. Granted I had the brightness all the way up but you're simply not going to be able to watch more than two movies on the EVO 4G. It's comparable to a laptop in that sense but unlike your laptop, walking around with a dead phone tends to be even more inconvenient. At least if people are trying to get ahold of you. Thankfully the EVO does have a removable battery, so just plan on carrying at least one spare.
To get videos onto the phone just connect it via USB to your computer and copy the files over. The Videos app will find the movies on the drive regardless of folder, you can just stick them in the root of the microSD card.
The app only works in landscape mode and isn't heavy on controls. You can pause, scrub and stretch your content to fit the odd aspect ratio display. The Videos app also lets you view videos taken with the EVO's camera and browse photos on Flickr/Facebook. Duplication of features is prevalent throughout HTC's Sense enabled version of Android.
The Keyboard
In my Incredible review I praised HTC for improving upon the prediction algorithm used by Google in the default Android keyboard. Overall, I felt it was a better keyboard. Brian Klug, our resident smartphone editor, politely disagreed with me in a recent article (he even asked if it was ok to disagree with me. It is). Brandon Hill, former AnandTech News Editor and current DailyTech Editor in Chief, also complained about the HTC Sense keyboard. Their complaints weren't about the text prediction, but rather the overwhelming nature of the keyboard.
The default HTC keyboard is just very busy. The EVO 4G is actually worse here because it also integrates arrow keys into the keyboard. It gets even worse once you start typing because the autocorrect dictionary pops up and further crowds the screen.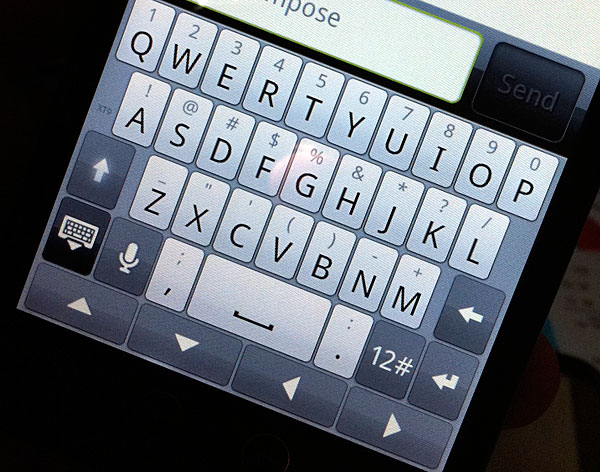 While the overwhelming keyboard layout can be, well, overwhelming, I find that it's something I can easily get used to once I figure out where all of the keys are. If you just can't deal with the EVO 4G's keyboard you can always switch to a different keyboard. Android supports the use of whatever third party virtual keyboard software you want, there's even a good summary of the top available options today at .com.
The larger screen makes the keys on the virtual keyboard bigger. As a result typing on the EVO 4G is faster for me than any other Android phone.
The trick to the HTC Sense keyboard, particularly on the EVO, is to make sure you stay focused on your thumbs and the keys themselves while you type. If you focus on the live dictionary that appears over what you're typing or let your focus wander elsewhere it quickly becomes an overwhelming experience. There's simply too much going on at once. This works fine for me since that's what I end up doing anyway and I do appreciate the live dictionary that I can choose from and automatically add to while I type. However I can empathize with those who don't like the crowded keyboard. Functionally it works, but if HTC wants to improve the experience I would recommend focusing reducing the noise. A keyboard should be a simple thing.
The Camera
While the Camera app can switch between photo and video, HTC includes a separate icon for both Camera and Camcorder modes. The app launches relatively quickly. We timed a bit over a second to launch, and the shutter is quick once you get a focus locked.
Switching between the front and rear camera is possible, but requires an annoying number of steps. You need to tap to bring up the menu, tap again to bring up settings and tap once more to switch to the front camera.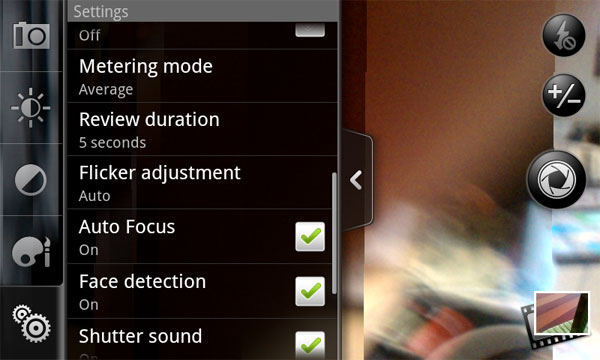 The Camera app is entirely customizable. You can set filters on your shot, change white balance, resolution, metering mode, include a time stamp and even set a countdown timer. The app makes the camera feel like a point and shoot although most of the time you'll never touch any of the settings.
Image quality is good enough to make the EVO 4G your only camera if you're out and about during the day.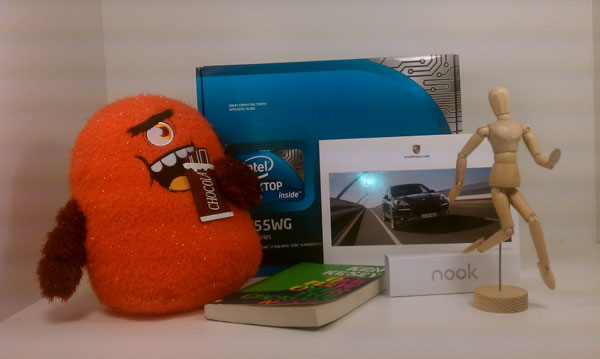 EVO 4G Rear Camera, well lit, indoors
Low light shots are helped by the use of two LEDs acting together as a really bright flash. If you're shooting a subject up close you can actually shoot in total darkness. The LEDs will come on for a bit to give the camera enough light to focus before going full blast to capture the shot. The photo below was taken in total darkness: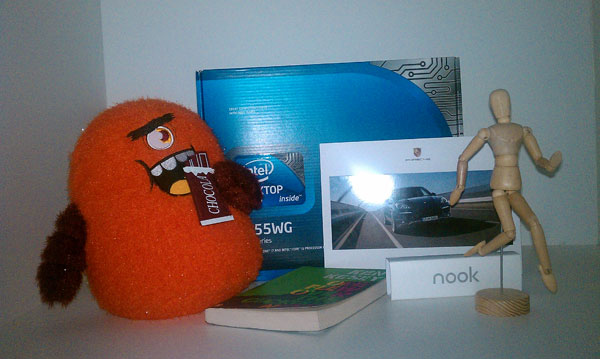 EVO 4G Rear Camera, pitch black, indoors
The fact that you can shoot in pitch black is great, but the LEDs are blinding to the person standing on the other side of the camera. Thankfully the chocolate monster in our photobox didn't mind. For a full set of comparison pics between the EVO 4G, Nexus One, iPhone 3GS and iPhone 4 check out our gallery below.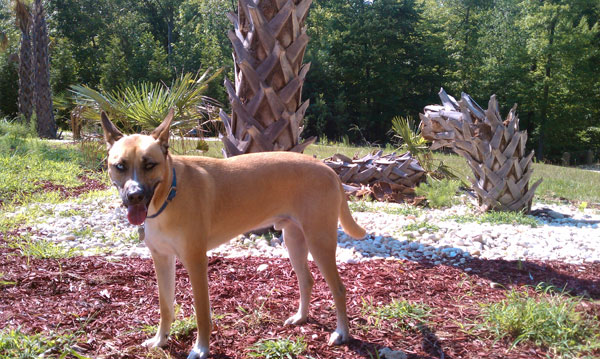 Taken outside with the EVO 4G's main camera
Overall image quality is good on the EVO but very noisy in anything but tons of light. Outdoor photos turn out great but indoors and in low light situations it's far less impressive. The EVO's auto white balance works very well in all lighting conditions, while color reproduction ranges from great to overly pink depending on the situation.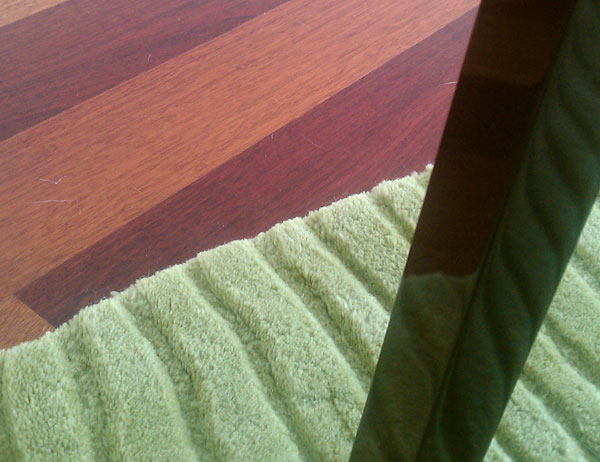 That hardwood is a little too pink
Video is recorded via the rear camera at up to 1280 x 720. Unfortunately the LED flash doesn't work while recording video so you're limited to situations where you have tons of light. A sample video I made while driving around Raleigh is below: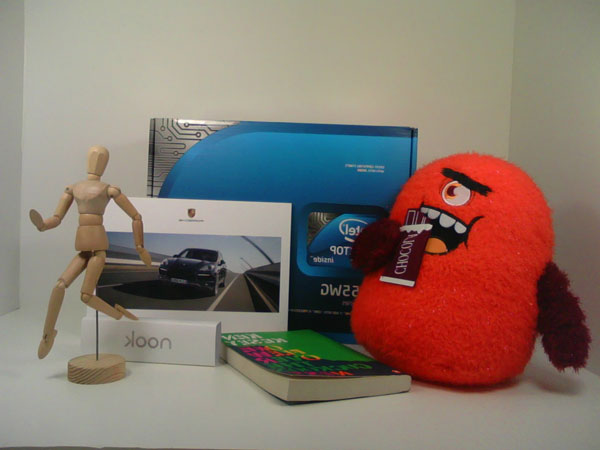 Taken with the EVO 4G's Front Camera, fully lit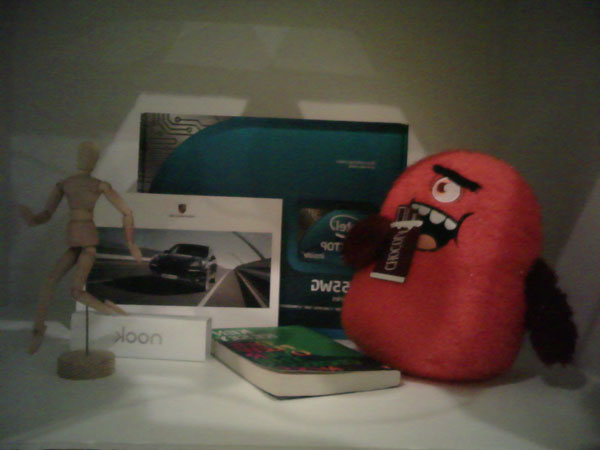 Taken with the EVO 4G's Front Camera, no direct lighting
The front facing camera can shoot photos ast up to 1280 x 960 and video at a maximum of 640 x 480. Unfortunately there's no flash on this side so you'll have to rely on good ambient lighting. I did a quick video test inside my office with the lights on and the front camera pointed at me. The EVO unfortunately records the video rotated so forgive me for the awkwardness:
The resulting image is very noisy and generally not good, but passable. It looks like improving the front camera sensor is what we'll see happen in the next couple of years with smartphones.
Overall the EVO 4G, like the HTC Droid Incredible, offers enough with its camera to take the place of a point and shoot for photos that would end up on the web. If you're making prints or capturing moments that really matter, you'll want to carry around a real camera as well.
The Network
I have a soft spot in my heart for Sprint. I had a great experience with the carrier when I bought my Palm Pre two years ago and I was shocked at how competitive its pricing plans were. For $100 per month I could get unlimited everything. While that's still a silly amount of money, it's cheaper than AT&T or Verizon and I don't have to worry about keeping track of how many texts I've sent, minutes I've used or how many web pages I've loaded.
Raleigh, NC happens to be one of the cities where Sprint has already rolled out its 4G WiMAX network. I happen to live in Raleigh, NC. This remains one of very few times where a brand new technology actually favors my location and doesn't punish me for not living in California. Sweet.
First, the rules. On Sprint's 3G network you can send SMSes (but not MMSes) while you're talking on the phone. You cannot browse the web, check email or use any other form of data while you're active in a call. If you are on 4G or WiFi, the restrictions are off and you can do anything you want while you're on the phone.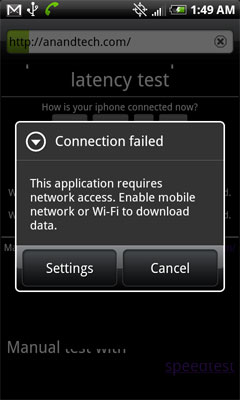 You'll get this error if you try to send an MMS or load a website while in a call on 3G
Now let's look at 3G performance. A recent PC Mag article pointed out that Raleigh, NC was one of the slowest cities for cellular networks across the nation. Which means that on a good day I'll get a bit over 1Mbps on my iPhone 3GS around town. That's not bad by any means, but loading full websites over such a connection does feel tedious after a while.
Sprint's 3G in my area isn't much better, in fact it's worse. I usually get 600 - 900Kbps. The one advantage however is that Sprint's coverage appears to be better than AT&Ts. AT&T's coverage is very discrete. It's either great or absolutely terrible. Sprint and Verizon tend to be more consistent, but never spectacular. As a result despite the better performance I get on AT&T's 3G network at my house, on average I tend to do better with Sprint and Verizon.
What about 4G? Well, here's the thing - the problem with WiMAX is coverage. While Raleigh is outfitted with Sprint's WiMAX towers, the coverage is horribly inconsistent not to mention the performance isn't always what you'd expect.
Good 4G Performance in Raleigh, note the relatively low 4G signal but high speed
HTC outfitted the EVO 4G with two separate signal strength indicators, one for 4G and one for 3G. When connected to a 4G network with good performance I usually get 2.5 - 3.5Mbps on the EVO 4G. That's fast enough to not only be noticeable but dramatically improve the web browsing experience on this phone. Note that if these numbers sound very low to you, it probably means you're living in a city with far better cellular network performance than Raleigh. Yes it is that bad here.


4G and 3G Signal Strength
Unfortunately perfect 4G signal doesn't always translate into great performance. There were a number of times where I measured down below 100Kbps on 4G despite having full signal on the EVO 4G. Oddly enough upload speed was usually better than download speed in these cases. My best speed test runs were with only one or two bars on the indicator. I'm guessing something is wrong with the way HTC is reporting signal strength.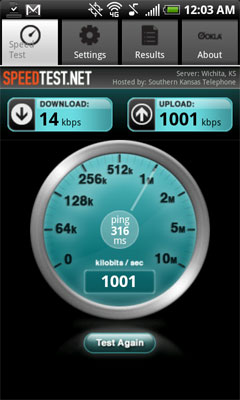 Note full 4G signal, but horrendous download speeds
To make matters worse, 3G performance was often faster than 4G performance - not to mention that it's more consistent. Sprint's 4G coverage actually worked a lot more like AT&T's 3G coverage - it was either great, or totally worthless.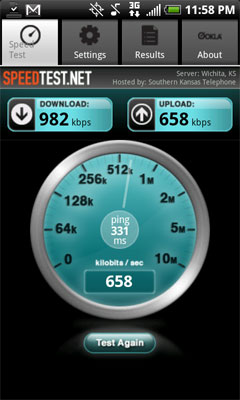 3G Performance on Sprint
As long as it's not on a tower with full 4G signal and poor performance, the phone is actually pretty good at picking the appropriate network to be on. It won't linger too long on a weak 4G connection and instead switches back over to 3G pretty aggressively.
As big of a feature as WiMAX is, today it'll largely go unused on the EVO simply because of the network at this point. Unfortunately regardless of whether or not you use it, there's a mandatory $10/month fee on the EVO 4G to support WiMAX.
Sprint Mobile Hotspot
True story. I was in line waiting for my iPhone 4 pre-order (for 6 hours) and we were too far from the Apple store to use Apple's WiFi. Everyone instead had to rely on AT&T's 3G. Everyone except me of course.
I pulled out the EVO 4G and with a couple of taps created a WiFi hotspot sharing my 4G connection with anyone who wanted it. The process was not only ridiculously simple but also made me feel like a benevolent ISP. It rocked.
You get full visibility of how many users are connected to your hotspot along with their MAC and IP addresses. You don't have the ability to kick off specific users although you can always shut down the hotspot. There's a timeout option that will automatically turn the hotspot off after 10 minutes of no activity.
It's actually amazingly simple and works very well. You can host up to 8 simultaneous users on your hotspot although given the limited bandwidth I'm not sure you'd want to.
The obvious downside is the feature costs $29.99 per month, it needs to be added to your plan by Sprint. This is actually the most expensive tethering plan out of all of the major carriers. It is also the most capable. With this plan you get unlimited downloads over the 4G network and up to 5GB/mo of data transfers on Sprint's 3G network. If you happen to venture on to a non-Sprint network you're limited to 300MB/mo of transfers.
Sprint's Apps
Sprint subsidizes the cost of the EVO 4G, dropping it to $299.99 with a new 2 year agreement. There's also a $100 mail in rebate that will drop the total cost of the phone to $199.99. In exchange for the subsidy you're required to pay your monthly fee for two years. As an added bonus, you also get a handful of Sprint apps installed.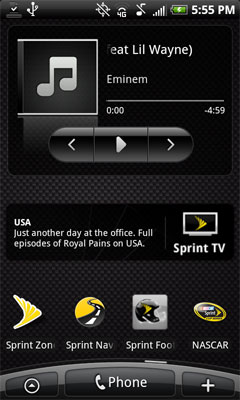 The apps themselves aren't very useful and honestly just take up space on the device by default. While I understand the desire of a carrier to be more than a pipe to the Internet, the right way to go about that is to acquire companies that are making killer apps and bundle those with your phones.
Performance
Going from virtually any phone to the EVO 4G will be a pleasant experience. Die hard iPhone users will notice one thing however: choppy animations.
There's lag or choppy animations when scrolling down a page, swiping between screens and generally interacting with the phone. What's even more frustrating is if you leave a lot of apps resident in memory there are times when the UI will stop being responsive. If you have haptics turned off there's no way to tell whether or not a button tap was recognized, often resulting in a double or triple tap which then results in an unintended phone call or similarly frustrating action. It definitely hampers the experience.
The best way to describe it is by comparing it to an old PC that just starts swapping to disk because it runs out of memory. It's worse than anything I've seen on any other Android phone I've used (Nexus One, Incredible).
Remember how happy I was that HTC largely fixed the choppy scrolling of the Nexus One with the Incredible? It's broken again with the EVO 4G. In fact, scrolling appears to be even worse on the EVO 4G than on the Nexus One for some reason. Given that this is mostly the same underlying hardware I can't help but think it's a driver or software optimization problem.
All I'm doing here is scrolling and running Task Panel
Scrolling isn't GPU accelerated, so a quick flick down a page will drive CPU utilization up to 40 - 50%. The only way around this is to either optimize the crap out of the code or move to dual core CPUs so there's another core ready to handle anything else you throw at it. Combined with a lightly CPU intensive app I found that scrolling can sometimes even send CPU utilization up above 70%!
To measure web browsing performance I downloaded a bunch of different web pages and saved as much of them as possible locally on a server. I used WiFi (802.11g) on all of the devices to connect to my local server and timed average load time. I repeated the test at least 3 times and threw out any unusually high or low numbers. Performance on the Android devices was from a clean restart with no unnecessary programs running in memory.
What these tests should show is the overall performance of the platform when all network bottlenecks are removed. Obviously hiding in a tunnel under a lead umbrella will make any phone slow, but we're looking at peak performance here.
The first test is the new AnandTech front page. Here we've got tons of images and HTML, meaning we're stressing both bandwidth and code parsing speed.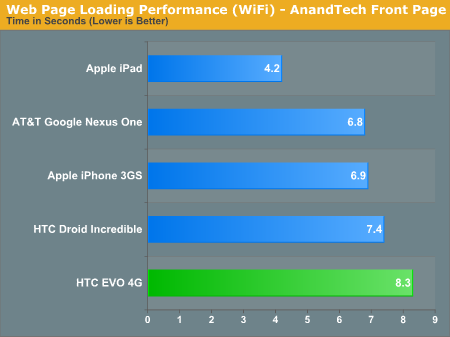 The EVO 4G is actually slower than the Incredible, which isn't totally surprising given that the device actually feels slower.
Next up we have the first page of our recent Zotac XBOX HD-ID11 review. The balance shifts from tons of images to more HTML processing:
Here the EVO actually inches ahead over the Incredible, but none of the HTC devices are still as fast as the Nexus One.
Using our Print this Review function, this next test loads our entire 2010 15-inch Macbook Pro review. While the other two tests had some flash ad content, this one is completely devoid of it so the HTC phones shouldn't be penalized: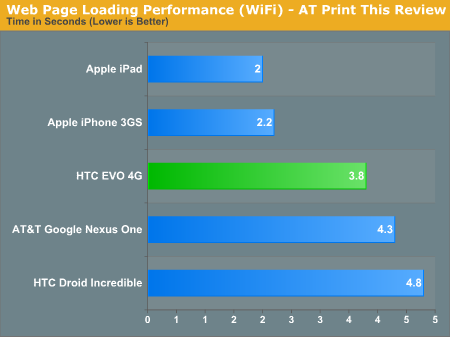 This is quite possibly our most unusual result - the EVO 4G is actually faster than the Nexus One and Incredible.
Our most intensive test is up next with a load of the Engadget front page: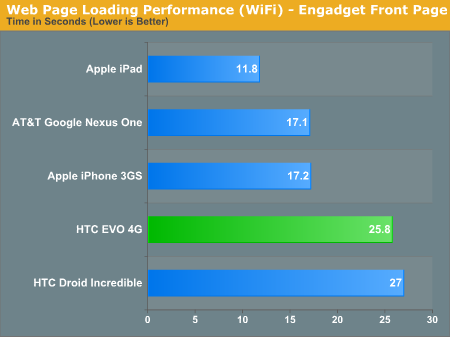 And now we're back to normal, the EVO 4G is about the speed of the Incredible in our longest test.
Our most CPU bound test is up next. I put together a custom page with a ton of tabular content and a single page copy of our 15-inch MBP review to make the load take some time at least.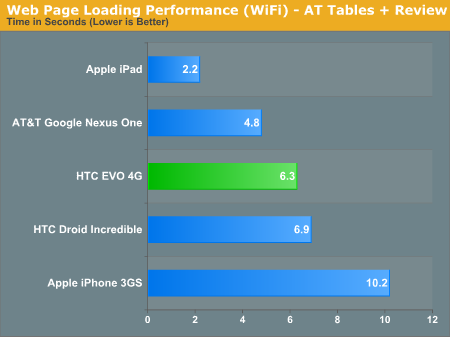 Once more we're a bit faster than the Incredible here.
Javascript performance shows that the HTC phones have the potential to be fast. They both outpace the Nexus One here: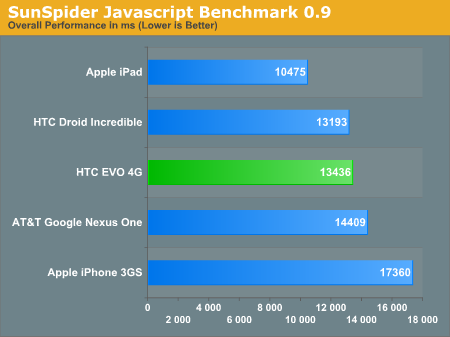 Overall the EVO 4G tends to be about the speed of the Droid Incredible in terms of web page loading performance. Sometimes it's faster and other times it's slower. The Nexus One still loads web pages the fastest, while the Incredible has the smoothest UI.
Battery Life
There's no other way to put it: the EVO 4G has terrible battery life. It's worse than the iPhone 3GS, worse than the Incredible, worse than the Nexus One and far worse than the iPhone 4. If you travel at all, this is not the Droid you've been looking for. All of our battery life tests were run from a clean boot with no extra apps downloaded/installed in the background. We didn't forcefully remove anything that shipped on the device however. This is representative of the out of box experience you'd get from a brand new EVO 4G. WiFi and 4G were disabled unless they were in use.
Battery Life
HTC EVO 4G
Apple iPhone 3GS
HTC Droid Incredible
Google Nexus One
Wireless Web Browsing (3G)
3.58 hours
4.82 hours
2.83 hours
3.77 hours
Wireless Web Browsing (4G)
3.58 hours
N/A
N/A
N/A
Wireless Web Browsing (WiFi)
7.77 hours
8.83 hours
5.23 hours
5.62 hours
3G Talk Time
3.95 hours
4.82 hours
5.82 hours
4.67 hours
H.264 Video Playback
3.63 hours
Continuous talk time is just under 4 hours. Wireless web browsing? 3.5 hours. The latter is actually surprising given that I measured 3.5 hours on both 3G and 4G networks. According to Sprint when the phone is stationary, power draw on both 3G and 4G should be relatively similar. When searching for a 4G signal however the battery life should be considerably worse, which is why many EVO owners resort to turning off 4G when they don't need it.
Video playback is also pretty bad. While the display is great for watching movies, even in airplane mode with the display cranked all the way up the EVO 4G only lasted 3 hours and 38 minutes in our H.264 playback test. That's not much better than most notebooks.
WiFi web browsing is actually realy good, at nearly 8 hours if you can stay off the cell radio you'll actually do just fine with the EVO 4G.
Final Words
I really wanted to love the EVO 4G, but as I just described to a colleague of mine the experience is very bipolar. It ranges from wonderful when watching movies or reading a webpage, to frustrating when it comes to battery life or performance.
Where the EVO shines is in its screen. I can't help but feel that all of those pixels are put to waste on smaller displays. The 4.3" screen is a great balance of pixel density and physical size. Throw in great contrast ratio and you've got the makings of a wonderful display. It's still a bit oversaturated for my tastes but compared to most LCDs on the market you'll fall in love.
It's not pushing the limits of resolution nor is it great in direct sunlight, but the screen is awesome for watching videos. In fact the screen size makes the EVO 4G the ideal video playback smartphone. Including the kickstand was a wonderful design decision on HTC's part, it really makes this phone perfect for movies. If you want a smaller alternative to carrying a large tablet for video playback I'd say the EVO 4G could work.
The large screen size also makes the EVO 4G great for reading websites. I'd argue that it's even better than the iPhone 4's screen for browsing the "regular" web simply because of its size. It's also better at interacting with websites. Posting comments or using web administration tools is far easier on the EVO than on any of the smaller phones. Typing on the EVO is also better than on any other Android phone I've used thanks again to its screen.
The OS is extremely flexible and HTC's Sense adds enough functionality to genuinely improve it. The EVO feels solid and is well designed. I appreciate that HTC ditched the trackball/optical sensor from previous designs and kept it simple this time around.
Both Sprint and HTC were forward looking enough to pair such a powerful phone with a (potentially) very quick network. The 4G support is nice on paper however in practice it didn't work out so well for me in Raleigh, NC.
Sprint's 4G network is nice where there's coverage, but at least around Raleigh most of the time you're better off sticking to 3G. The performance on WiMAX simply ranges from horrible to great while Sprint's 3G coverage is far more consistent. However Sprint's 3G is far from speedy, usually delivering well below 1Mbps on the EVO in my testing. If you do have spectacular 4G coverage and speeds where you live, this may end up being more of a positive than it was for me.
For travelers, the EVO 4G simply doesn't have long enough battery life to be used as a truly mobile device. In my opinion even 5 hours of battery life isn't enough and the EVO comes in well below that for anything you'd do with the phone. If you travel for work and have to be away from a power outlet for the majority of the day this is going to be a problem. If you're in school or work from home and can top off the battery every couple of hours then the problem is less severe. Luckily the EVO 4G does have a removable battery, so if you are dedicated you can make this thing work. Just carry an extra battery or two, keep them charged, and you'll be fine. If you don't like that idea, then look elsewhere - the EVO 4G won't cut it.
The EVO 4G is also slower (from an OS/UI standpoint) in day to day use compared to the Incredible or even the Nexus One. I'm not sure what's going on here but HTC went from a highly optimized software stack with the Incredible, to something that's arguably worse than the Nexus One. Scrolling and animations are both laggy and choppy. Then there's the occasional inexplicable slowdown - something I haven't encountered on either the Nexus One or the HTC Incredible. There's a lot of optimization work that has to be done.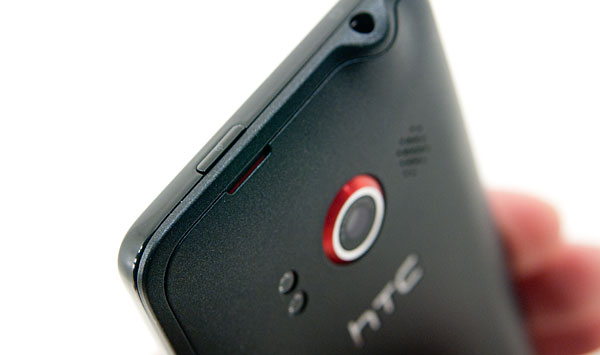 I believe we're seeing the beginnings of real divergence here. While there's an argument that can be made for smaller devices, it's just as valid to push for the creation of larger screen devices like the EVO 4G. The interest in sub-10" web tablets alone indicates that users want the features of a smartphone but paired with a more user friendly screen size. The EVO 4G attempts to go after that crowd and does reasonably well for a first attempt.
While I believe the best overall Android phone is still the HTC Incredible, if you're willing to put up with the EVO 4G's issues then it can be a good alternative. It really boils down to what you want to do with your smartphone. If you're going to be watching movies and need to do a lot of productive/interactive web browsing, then the EVO is at a definite advantage. You can overlook the battery problems if you carry around a spare and you can get used to the performance if the screen size matters enough to you. And if you happen to be in an area with good 4G coverage, that sweetens the pot considerably. It's like driving an SUV. Sometimes the added space helps, but it's up to you to determine whether or not the gas mileage and sheer size are worth it to you.
Personally, I'm still searching. I like the EVO's screen, the Incredible's smoothness and the Nexus One's build quality. While I'd be willing to carry something the size of the EVO, I'd need it to be perfect in order to make that tradeoff.