Original Link: http://www.anandtech.com/show/3773/amd-and-intel-mobile-rematch-gateway-nv5933u-vs-acer-5542


AMD and Intel Mobile Rematch: Gateway NV5933u vs. Acer 5542
It's been ten months since our last comparison between the latest AMD and Intel mobile platforms. Since then AMD has updated their mobile chips to 45nm process technology with a K10-derived architecture. Intel hasn't been sitting idle either, with plenty of 32nm Arrandale laptops readily available. The last time we looked at the two platforms, Intel came out with a clear lead in battery life and CPU performance, but AMD provided a more affordable platform with a substantially better IGP. Now we're ready to compare the latest Intel and AMD offerings, but there are a few caveats.
The biggest point right now is that AMD has released details of their new Vision mobile platform, using Champlain CPUs on the Danube platform with DDR3 support. The new processors remain 45nm parts based on the K10 (K10.5) architecture, but they use a new socket. The changes are supposed to improve mobility, which is certainly an area where current and previous AMD laptops have been lacking. We're working on getting Danube (and Nile, the low power version) laptops, but given the number of older AMD laptops currently available we feel this comparison is still valid. If you're looking for improved processor and graphics performance from AMD, and perhaps better battery life, Danube laptops with the Turion II P520 are starting to ship and should improve on the Acer 5542 we're looking at today.
Here are the detailed specs for our two laptops. Both have been out for a few months, and similar laptops are available from most manufacturers. Outside of aesthetics and a few other features, performance should be nearly identical to what we're reviewing. Battery sizes may also be larger/smaller, but relative battery life should be similar. The two laptops we're looking at use similar components in all the important areas: 15.6" LCDs, 500GB 5400RPM hard drives, 4GB RAM, and 48Wh batteries. The 5542 uses DDR2 memory, since it uses the older Caspian/Tigris core/platform, while the NV59 uses DDR3 memory. CPU, chipset, and graphics are naturally different, but otherwise we have done our best to make this an apples-to-apples match up.
Acer Aspire 5542 Test System
Processor
AMD Athlon II M300
(2x2.0GHz, 45nm, 2x512KB L2, 35W)
Chipset
AMD RS880M + SB710
Memory
2x2GB DDR2-800 (Max 2x4GB)
Graphics
ATI Radeon HD 4200
(40 Stream Processors, 500MHz Core/shared memory)
Display
15.6" LED Glossy 16:9 768p (1366x768)
Hard Drive(s)
500GB 5400RPM (Western Digital Blue WD5000BEVT-22ZAT0)
Optical Drive
8x DVD±RW (Optiarc AD-7580S)
Battery
6-Cell, 10.8V, 4400mAh, 47.5Wh battery
Operating System
Windows 7 Home Premium 64-bit
Dimensions
15.1" x 9.8" x 1.0-1.5" (WxDxH)
Weight
6.2 lbs (with 6-cell battery)
Warranty
1-year basic warranty
Pricing
$499 from Amazon
Note: 320GB HDD on that model
Gateway NV5933u Test System
Processor
Intel Core i3-330M
(2x2.13GHz + HTT, 32nm, 3MB L3, 35W)
Chipset
Intel HM55
Memory
2x2GB DDR3-1066 (Max 2x4GB)
Graphics
Intel HD Graphics
(12 Shaders, 500MHz base, 667MHz max Core/shared memory)
Display
15.6" LED Glossy 16:9 768p (1366x768)
Hard Drive(s)
500GB 5400 RPM (Hitachi HTS545032B9A300)
Optical Drive
4x Blu-ray Combo (Optiarc BC-5500H)
Battery
6-Cell, 10.8V, 4400mAh, 48Wh battery
Operating System
Windows 7 Home Premium 64-bit
Dimensions
14.66" x 10.19" x 1.02-1.46" (WxDxH)
Weight
5.84 lbs (with 6-cell battery)
Warranty
1-year basic warranty
Pricing
$549 from Best Buy
Note: 320GB HDD on that model
The specs are nothing to write home about, but pricing is obviously the driving factor. The Gateway NV5933u manages to pack in an impressive set of features for a list price of $550, including a Blu-ray combo drive (a $75 value). The Acer 5542 isn't the best example of an inexpensive AMD Athlon II M300 laptop, with a current price of $500 online. That makes the Gateway a clear value winner if you want Blu-ray support, but it's worth noting that you can often find similar M300 + 4GB laptops on sale for as little as $400. However, right now going off the retail pricing, we've essentially got a tie for pricing. That said, you won't find a non-Blu-ray i3-330M laptop for less than $550, and we wouldn't be surprised to see the NV5933u supply dry up shortly; the replacement NV59c looks to bump up the price to $749. Let's take a closer look at the two combatants before we get to the benchmarks.
Acer Aspire 5542 Overview
If the Aspire 5542 seems familiar, the chassis is the same as the Aspire 5740G we reviewed a couple months back. The internals and features are quite different, though, so let's run down the list of detailed specs on the 5542.
Acer Aspire 5542 Specifications
Processor
AMD Athlon II M300
(2x2.0GHz, 45nm, 2x512KB L2, 35W)
Chipset
AMD RS880M + SB710
Memory
2x2GB DDR2-800 (Max 2x4GB)
Graphics
ATI Radeon HD 4200
(40 Stream Processors, 500MHz Core/shared memory)
Display
15.6" LED Glossy 16:9 768p (1366x768)
Hard Drive(s)
500GB 5400RPM (Western Digital Blue WD5000BEVT-22ZAT0)
Optical Drive
8x DVD±RW (Optiarc AD-7580S)
Networking
Gigabit Ethernet (Broadcom BCM5784M)
802.11b/g/n (Atheros AR928X)
Audio
HD Audio
2 stereo speakers with headphone, mic, and line-out
Battery
6-Cell, 10.8V, 4400mAh, 47.5Wh battery
Front Side
Flash Reader MMC/MS Pro/SD/xD
Left Side
Headphone, mic, line-out
2 x USB 2.0
VGA
HDMI
Ethernet
AC Jack
Right Side
2 x USB 2.0
DVD±RW
56K modem
Kensington Lock
Back Side
Cooling Exhaust
Operating System
Windows 7 Home Premium 64-bit
Extras
2MP Webcam
Flash reader (MMC/MS/MS Pro/SD)
Dimensions
15.1" x 9.8" x 1.0-1.5" (WxDxH)
Weight
6.2 lbs (with 6-cell battery)
Warranty
1-year basic warranty
Pricing
$499 from Amazon
Note: 320GB HDD on that model
Like most entry-level notebooks, the Aspire 5542 skips out on some of the amenities. All the usual ports are present and accounted for, but there's no ExpressCard, FireWire, eSATA, DVI, DisplayPort, or Bluetooth. That last is a bit interesting, since there's a Bluetooth enable/disable Fn key combination, but all it does it display a "Bluetooth disabled" icon. It does come with four USB ports, and the target market likely won't notice or miss the other features.
The styling is standard Acer Aspire, with a glossy blue exterior that looks quite nice if you can keep it free of fingerprints. Inside things are a bit more tame, with matte gray plastic on the palm rest and black on the keyboard and top panel. The touchpad is centered below the space bar, and there's a full number keypad on the right. We're also pleased with the keyboard layout, as the 10-key doesn't skimp on the arrangement of keys and you still get Home, End, PgUp, and PgDn keys. Perhaps not so pleasing is the feel of the keyboard. Dustin disliked it enough in his review of the 5740G that he recommended trying one in person before taking the plunge. I'm not quite as negative on the keyboard, if only because the layout suits me, but it's certainly not as nice to type on as a ThinkPad or good chiclet design. The keys are flat and closely spaced, and even if the keys are actually full size we'd prefer slightly smaller with larger gaps between the keys. You can certainly use it, though, and for the price we're not expecting a rigid keyboard with no flex and LED backlighting.
The LCD is standard fare as well, with viewing angles typical of TN panels. It's glossy and reflective, as is the bezel, with a native 1366x768 resolution. Contrast is relatively poor, but maximum brightness is decent. The HD 4200 integrated graphics are easily able to handle video decoding tasks, including full screen 1080p Flash video (with Flash 10.1), H.264 decoding, and 1080p HDMI output. What it can't handle in the majority of titles is gaming at native res; 800x600 is usually playable at minimum detail, but it looks lousy at best. Mainstream gaming like Sims 3 and Spore is much better, but the GPU will still struggle with anything beyond low/medium detail.
Like most inexpensive laptops, you get what you pay for. Performance is much faster than any Atom-based netbook, but that's hardly impressive. Windows 7 runs fine, typical applications and multimedia tasks aren't an issue, and usability is good. If you want a laptop for under $500 that will handle typical home and office tasks, the Aspire 5542—and other similarly equipped AMD-based laptops—work well. What they won't give you is impressive battery life or class leading performance. The new Aspire 5551 ships with Athlon II P320 and HD 4250 and should do a bit better, for $50 more. The 10% increase in price should bring a similar boost to CPU, GPU, and battery life, and the basic design is otherwise the same. If you're looking to save money, though, which is the primary reason to get this sort of notebook, we'd recommend trying to find something with the Athlon II M300 on sale for closer to $400. One example, particularly if you like the design of the Intel system from Gateway that we're looking at next, is the NV5378u is currently on sale for $430 right now.
Gateway NV5933u Overview
The Gateway NV5933u is the updated Intel version of the NV58 we looked at last year. In place of the 2.0GHz Core 2 T6500 processor and GMA 4500MHD graphics is the new i3-330M with HD Graphics. Performance in both cases is substantially higher than the previous incarnation, and the addition of a Blu-ray drive with a drop in price is impressive. Outside of those upgrades, the NV59 is identical in appearance to the NV52 and NV58.
Gateway NV5933u Specifications
Processor
Intel Core i3-330M
(2x2.13GHz + HTT, 32nm, 3MB L3, 35W)
Chipset
Intel HM55
Memory
2x2GB DDR3-1066 (Max 2x4GB)
Graphics
Intel HD Graphics
(12 Shaders, 500MHz base, 667MHz max Core/shared memory)
Display
15.6" LED Glossy 16:9 768p (1366x768)
Hard Drive(s)
500GB 5400 RPM (Hitachi HTS545032B9A300)
Optical Drive
4x Blu-ray Combo (Optiarc BC-5500H)
Networking
Gigabit Ethernet (Broadcom BCM57780)
802.11b/g/n (Atheros AR928X)
Audio
HD Audio
2 stereo speakers with headphone and microphone
Battery
6-Cell, 10.8V, 4400mAh, 48Wh battery
Front Side
None
Left Side
Flash Reader MMC/MS Pro/SD/xD
Headphone and microphone
2 x USB 2.0
HDMI
VGA
Ethernet
AC Jack
Kensington Lock
Right Side
4x Blu-ray DVDRW combo drive
2 x USB 2.0
56K modem
Back Side
Cooling Exhaust
Operating System
Windows 7 Home Premium 64-bit
Extras
2MP Webcam
Flash reader (MMC/MS/MS Pro/SD)
Dimensions
14.66" x 10.19" x 1.02-1.46" (WxDxH)
Weight
5.84 lbs (with 6-cell battery)
Warranty
1-year basic warranty
Pricing
$549 from Best Buy
Note: 320GB HDD on that model
In terms of features, the NV59 matches the 5542 in every area. Again, there's a Bluetooth Fn key combination but no hardware. If you want extras like FireWire, eSATA, ExpressCard, or USB 3.0 you'll need to shop elsewhere, but the NV59 does represent the entry-level Intel laptops quite well. Honestly, the price is much lower than most of the competition, especially with the Blu-ray drive. Searching on Google, the next cheapest i3-330M laptop we can find comes in at $600. Gateway seems to recognize this, as the updated NV59C (with different styling but otherwise similar features) looks like it will cost $150 more—though you do get a 2-year warranty with the NV59C.
You can read our comparison of the NV52/58 for comments on the design, as nothing has changed from that aspect. You get a glossy exterior and matte keyboard/palm rest, with a glossy LCD. The keyboard is different from the Acer 5542, however, and it's a case of one step forward and one step back. The touch of the keys is better in my opinion, but the keys are still tightly spaced. The number keyboard also moves the Plus key up top, the Enter key is in the bottom-right, and the Zero is a half-size key. Dedicated Home, End, PgUp, and PgDn keys are also missing unless you disable Numlock, making the 10-key almost superfluous. While the keyboard feels better for touch typing, I end up preferring the 5542 because of the layout issues. The LCD is also similar to the 5542, with a low contrast 1366x768 resolution panel. The Acer 5542 uses a Chi Mei panel while the NV59 uses a Samsung panel, but they look about the same and we're pretty confident that Acer and Gateway use a panel lottery so there's no guarantee which panel you'll get.
In a radical change from the last Intel IGP, the latest Intel HD Graphics with the latest Intel drivers actually close the gap with the HD 4200. The new HD 4250 should maintain a slight lead, and we don't expect either company to dramatically improve performance until the next generation IGPs come out. However, we do have to give Intel credit for investing some extra time in their drivers of late. Three months back, half of the games we tried on the Intel HD Graphics failed to run properly—GRID, DiRT 2, Fallout 3, and both Mass Effect titles were among the problematic games. The May driver release fixed most of our problems, and the latest Intel drivers fix the graphical corruption in Mass Effect 1/2. We wouldn't be surprised if other titles still have issues, but we ran some of our previous gaming benchmarks and didn't encounter any issues (other than Fallout 3 requiring a hacked D3D DLL in order to run, as it otherwise refuses to even try running in Intel graphics). If Intel can keep improving their graphics drivers, the showdown between Sandy Bridge and AMD's Fusion will be very interesting. We haven't seen any major improvements in IGP performance for a while—outside of the NVIDIA G320M in the latest MacBook, but that's a dead end since it only works with older Core 2 processors.
As a whole, the Gateway NV5933u package is quite impressive. Not only is it the least expensive i3-330M laptop we can find, but you get a Blu-ray combo drive as an added bonus. Performance in general applications is much higher than the Athlon II M300, with the Turion II M600 closing the gap outside of heavily threaded benchmarks. Battery life also favors Intel, though not by as much as the last time we looked at AMD and Intel laptops, and we no longer have the graphics performance deficit to complain about. AMD laptops are still cheaper, and when the NV59 disappears from Best Buy we'll likely see the price for similar laptops jump $100. At the current pricing, though, the NV5933u is a great deal with the biggest complaint being the keyboard layout—and that's something you can adapt to. The bigger competition is going to be AMD's updated lineup, and with prices closer to $550 this particular laptop still looks like it has a lead. As long as stock remains, we recommend the NV59 as a great entry-level multimedia platform.
General Application Performance Compared
With the general overview of the two laptops out of the way, it's time to look at performance numbers. Starting with our general application benchmarks, we expect the i3-330M to easily win in these tests, particularly if an application can leverage more than two CPU cores. The i3 line doesn't have the Turbo modes found on i5 processors, but you still get Hyper-Threading which is good for an extra 10-20% performance depending on the application.
[Note: We're still collecting the Toshiba A505 with M600 results; at this point, the A505 Futuremark results are preliminary scores, as we've only had a chance to run them once. We'll have the final results in the forthcoming review.]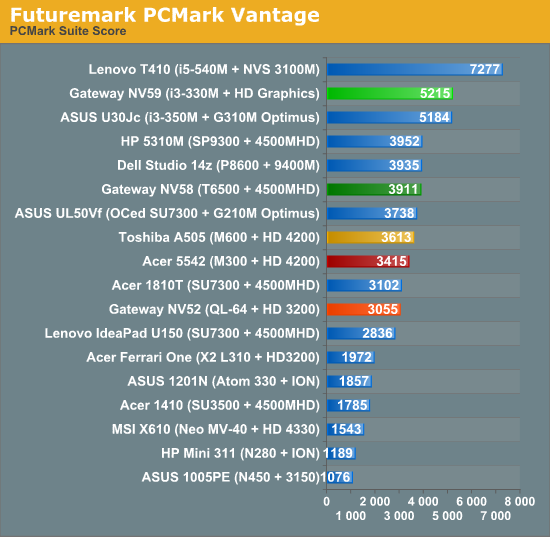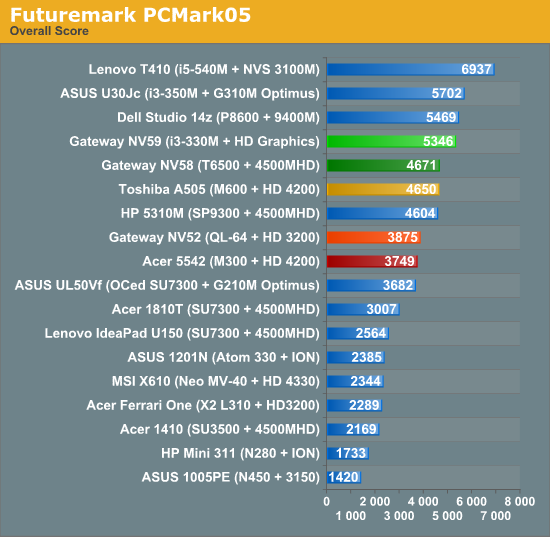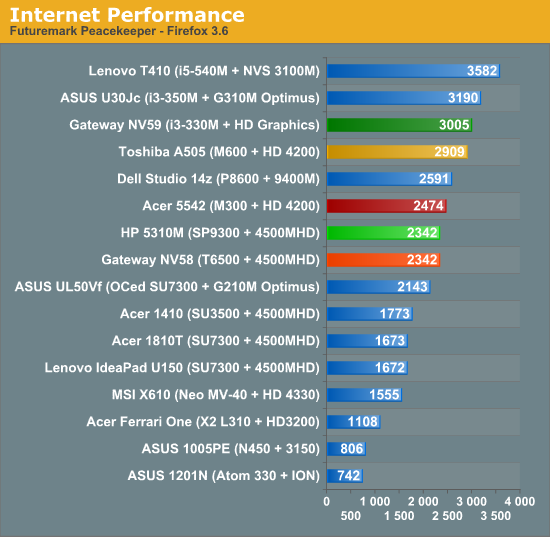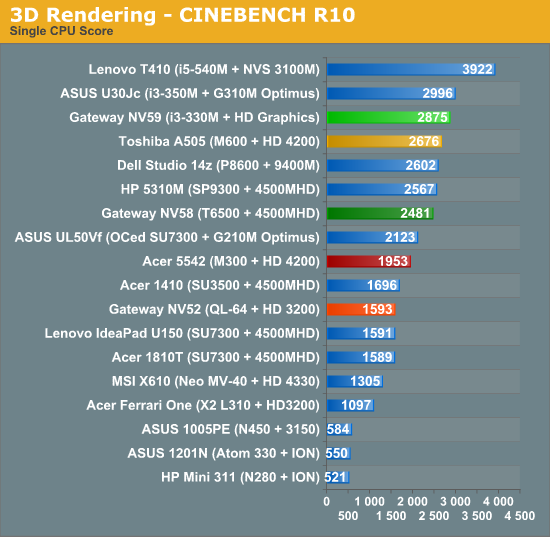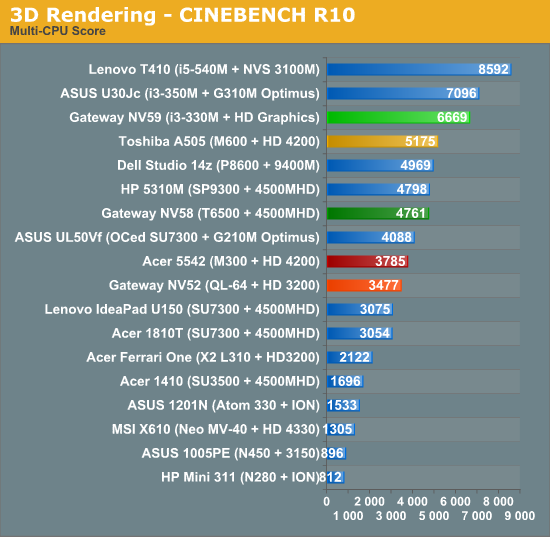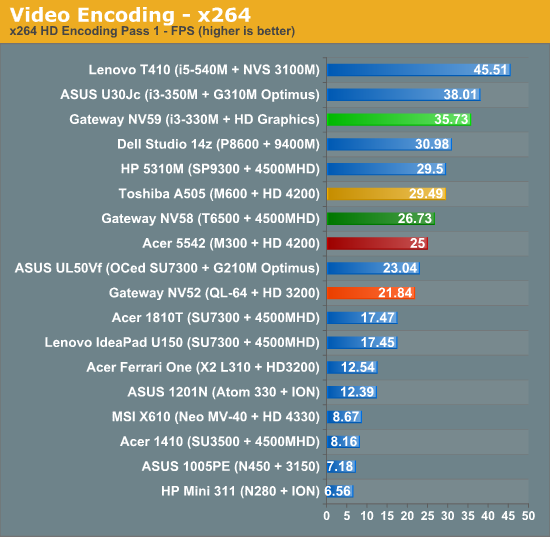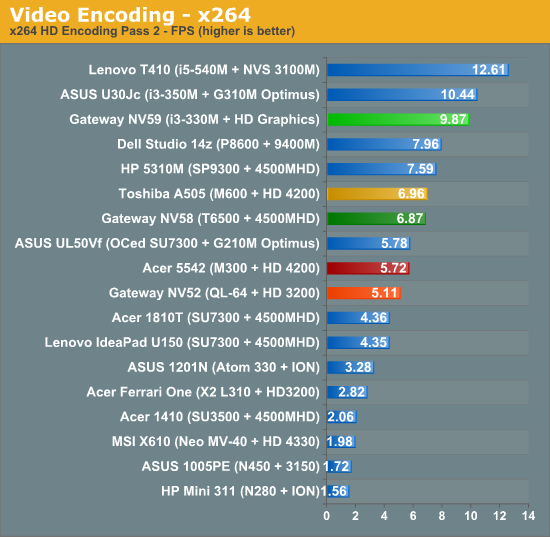 Let's start with PCMark, since it's a good representation of real world applications. PCMark puts the NV59 quite a bit ahead of the 5542, though with different hard drives there are other factors in play. The gap in Vantage is 52% while it's "only" 42% in 05, and in general use the NV59 certainly feels quite a bit faster. Results in the other application tests continue the trend of Intel leading in general performance. The closest score is in Peacekeeper, a single-threaded Internet benchmark, with the NV59 leading the 5542 by 21%. The x264 encoding advantage is 43% for pass one, and the second pass where multithreading really plays a role has the i3-330M leading by 73%. Cinebench is similar: 47% lead for i3-330M in single-threaded mode, and a 76% lead in the multi-threaded test.
It's no surprise that Intel is leading in CPU performance, as they've been ahead of AMD since Core 2 launched and Core i7/i5/i3 only increased that lead. That's not to say that the 5542 is slow, but the M300 isn't a very good competitor as far as general CPU performance is concerned. Clocked at 2.0GHz, architectural improvements make it slightly faster than the old QL-64, but chips like the M500 and M600 are much more competitive. We've included the Toshiba A5050 with a Turion II M600 for reference here, and it does much better. Of course Intel has plenty of faster CPUs as well—the i3-330M is their slowest i-Series processor. Anyway, as Atom has proven, if you're just surfing the Internet and running office applications any modern laptop is more than sufficient; these systems are substantially faster than netbooks and CULV laptops, so they're certainly in the category of "fast enough".
Also worth noting is the improvement in performance both platforms have shown relative to last year's models. We're using our Windows 7 results here, so the OS isn't a factor, and the basic entry-level AMD laptop is still 10-15% faster in many of the tests, even with a slightly lower clock speed. Clearly the change from an old K8-based architecture to the 45nm K10-based design helps, with PCMark05 being the only test where the 5542 didn't beat NV52. On the Intel side, the performance gap is much greater. The smallest gains are around 15% in single-core Cinebench and PCMark05. PCMark Vantage improves 33%, with Peacekeeper and x264 pass 1 around 30% as well. The biggest gains are in multi-threaded tests where Hyper-Threading is able to boost performance by up to 45% over the old T6500.
We also tested the latest release of Flash 10.1 with the latest drivers from both AMD and Intel. Unlike previous tests, all of our Flash video testing went off without a hitch—yes, even 1080p YouTube videos played in full screen mode without dropping frames. The NV5933u comes with a Blu-ray drive, and we also tested several Blu-ray movies, the most intensive being a 37Mbps AVC encode. There were no issues there either. But there's more to laptops than general performance, so let's look at a few other metrics.
Battery Life Compared
The last time we looked at battery life, Intel's Core 2 platform had a clear lead over AMD. Both platforms have gotten faster, but what about battery life? As we showed last year with the Gateway NV52 and NV58, the choice of OS makes a difference. Again, we are using the Windows 7 results from the NV52/NV58 to keep things equal, which means battery life improved quite a bit over the Vista results.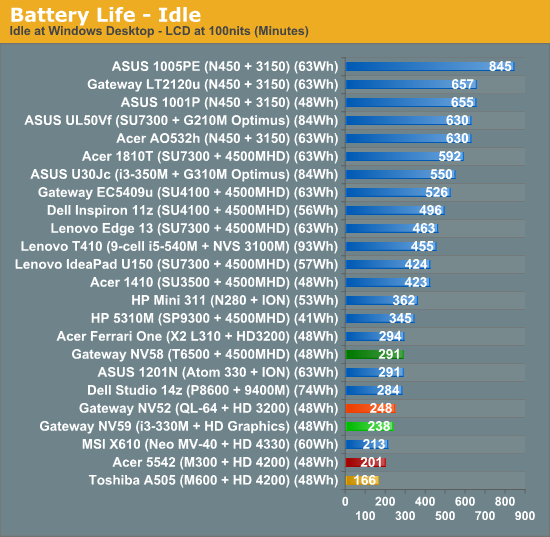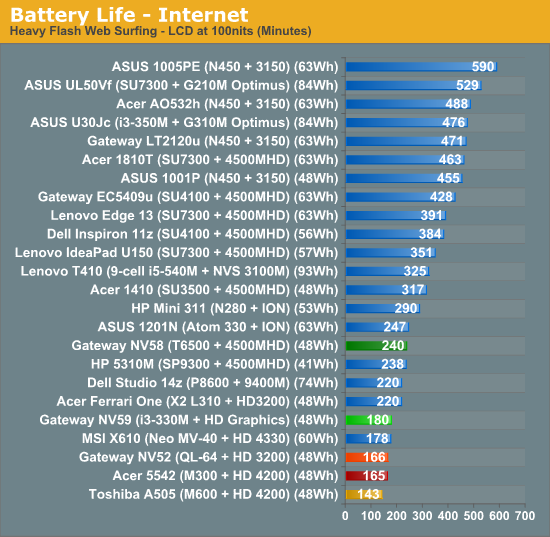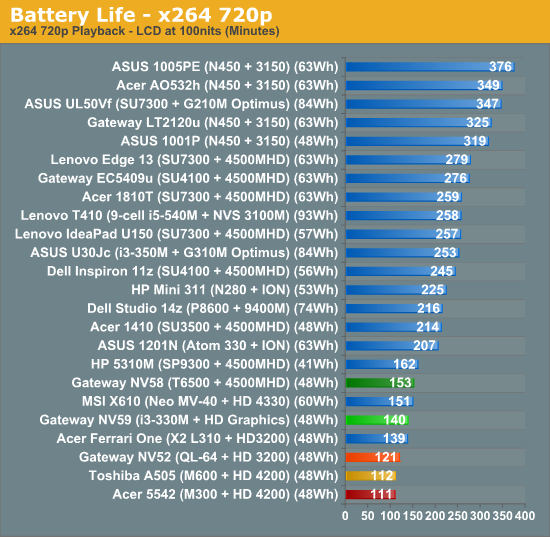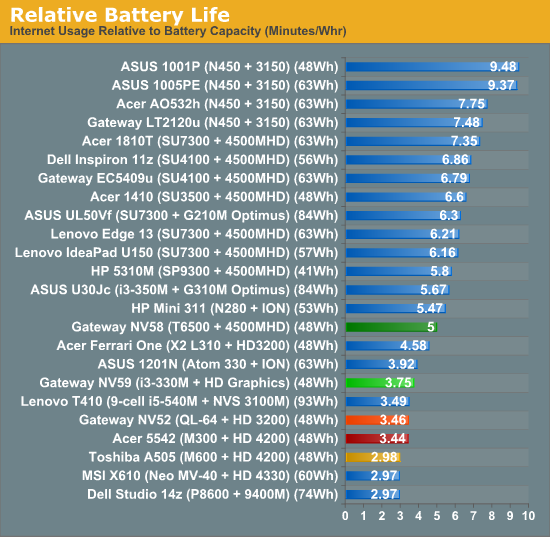 And here's where things get interesting. Performance improved on both platforms, but our initial battery life testing shows that battery life actually got worse on both AMD and Intel. The closest result is for AMD on the Internet test, where the old and new platforms essentially tie. x264 battery life dropped 8% on both platforms as well. The big drops come in idle battery life and Internet on Intel. Both drop 18-19% in idle battery life, while the NV59 takes a relatively drastic hit of 25% in our Internet test. Not shown in the charts is Blu-ray battery life on the NV59, which we clocked at just 98 minutes. The extra power required to spin the optical drive plus the decoding of a 37Mbit AVC movie takes its toll on every laptop we've tested so far. We need much more than a 48Wh battery to get through most Blu-ray discs.
That said, we need to take these results with a grain of salt. The old Core 2 platform was very mature at the time of our previous testing, and we've seen other laptops offering impressive battery life using i-Series processors. The ASUS U30Jc is a smaller 13.3" LCD, but even taking that into account it was able to deliver 5.67 minutes per Wh of battery capacity, which is 50% higher than the 3.75 result of the NV59. Both the M300 and M600 laptops we tested continue to have a poor showing in battery life overall, with the higher clocked M600 generally trailing the M300. Both are rated as 35W TDP, but all 35W processors are not created equal.
The real question is how optimized the notebooks are in terms of power saving features. We saw a BIOS/VBIOS update on MSI's GX640 improve battery life by up to 50%. It's doubtful that we'd get that much of an improvement on IGP-based laptop designs, but ASUS' Power4Gear utility has proven useful in boosting battery life in our testing by allowing you to disable the optical drive and webcam when you're on battery power. We'd like to see more manufacturers include such utilities, as well as simply putting more effort into creating a power efficient platform. Whether it's lack of power optimizations, immature platforms, old battery technology, or some other factor, the fact remains that both of the newcomers offer disappointing battery life.
Graphics Performance Compared
First, let's get this out of the way: current IGP solutions (outside of the G320M in the latest MacBook) are weak contenders in terms of graphics performance. NVIDIA's old 9400M was already about 50% faster than the AMD HD 4200, and the G320M tripled the number of CUDA cores to provide the most potent IGP we've ever seen. Sadly, NVIDIA's IGP are now stuck in the position of only working with an outdated platform. Given Core 2 CPU performance is still more than fast enough for most users, we'd be interested in seeing non-Apple laptops use the G320M chipset as well, but that doesn't seem likely.
As far as the HD 4200 and Intel HD Graphics in our two test laptops, their performance characteristics are interesting to say the least. When we first played around with Intel's HD Graphics on a notebook, quite a few of the games we tested failed to run properly. Mass Effect 1/2 had major graphics corruption, GRID and DiRT 2 played the intro movies but then showed a black screen, Fallout 3 and Oblivion crashed when we tried to enter the game world (but worked in the menus), Battlefield Bad Company 2 also crashed when we tried to start a game, and the Unigine tests also had some issues. During the last few driver releases, we've seen nearly all of these issues fixed. As for Fallout 3, a hacked D3D.dll that identifies the GPU as something other than Intel graphics is all that's needed—Bethesda apparently hard-coded in a "don't run on Intel" command. That's not to say all games work properly—Bad Company 2 is still a known issue that Intel is working to address—but it's far more than we've experienced in the past from Intel graphics driver team.
For our graphics tests, we first ran a larger selection of games at minimum detail and 800x600 to see how the two platforms handle "reasonable" settings. Where appropriate, we've also included results from the old HD 3200 and GMA 4500MHD laptops to show how things have changed. We'll also show 3DMark results, though we again place far more emphasis on the games than on synthetic benchmarks. On the next page, we'll put graphics performance in perspective by comparing these IGPs with a variety of other laptops at the native 1366x768 LCD resolution.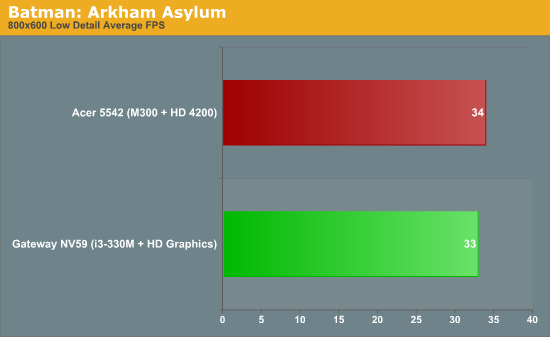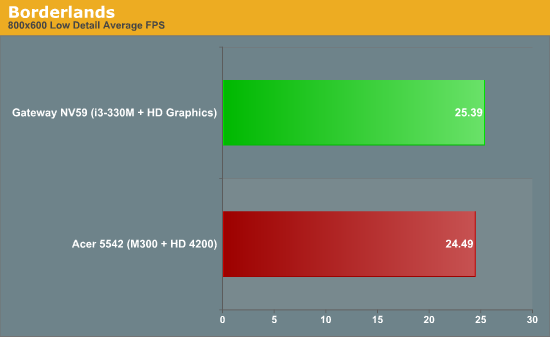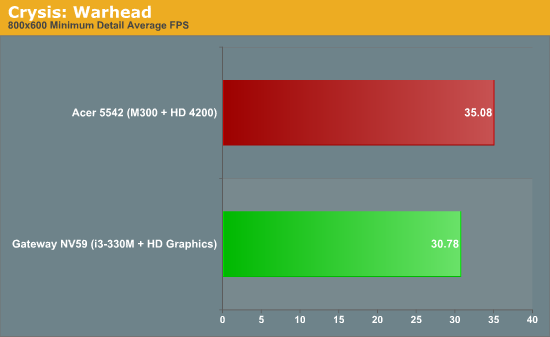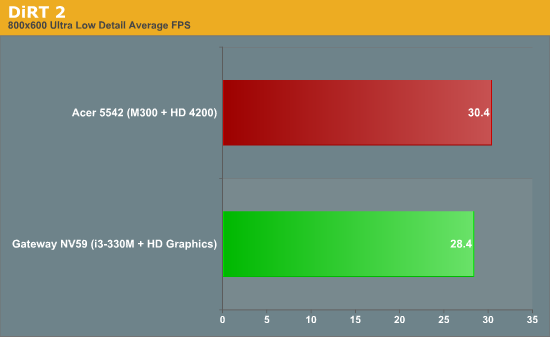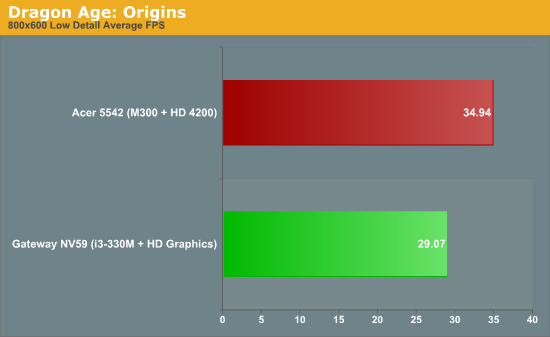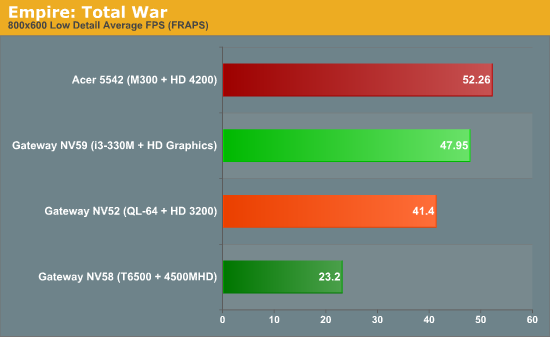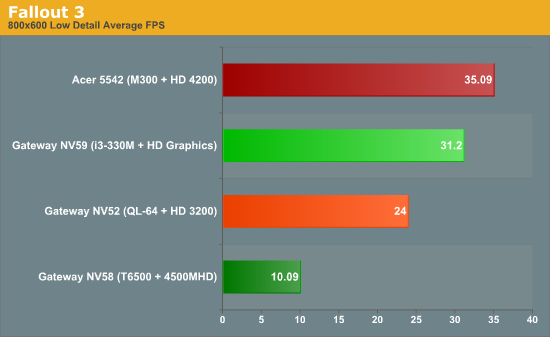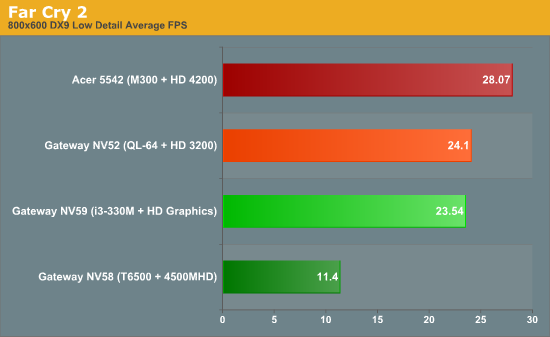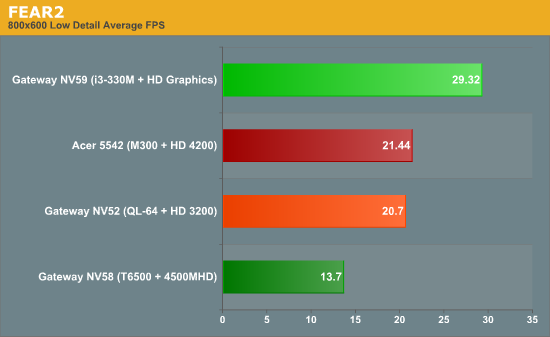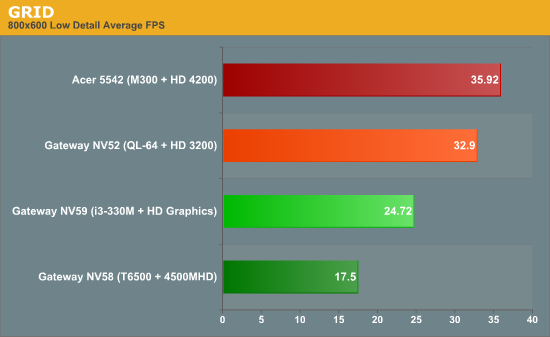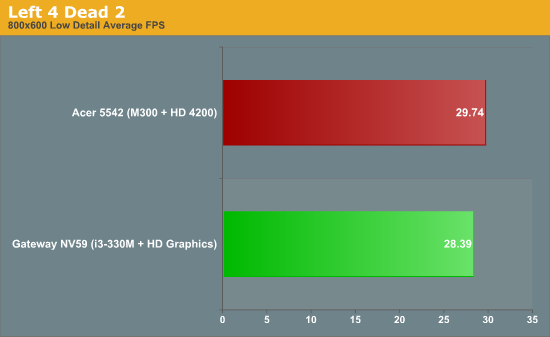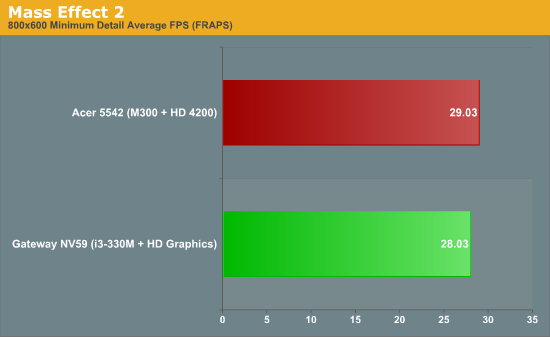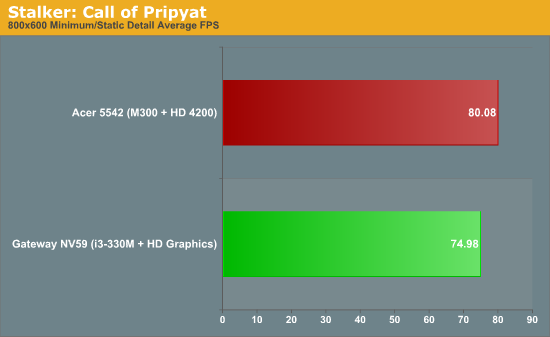 At our minimum performance settings, AMD's HD 4200 leads in most titles by anywhere from 3% to 20%. There are a couple titles where Intel HD Graphics takes the lead, however: 3% in Borderlands, and a very large 37% lead in FEAR 2. We're not talking about stellar performance in any of the games, but nearly all of the titles are at least playable in a pinch. The exception (not shown above) is Battlefield: Bad Company 2, which failed to run on the NV59 with the latest drivers. It requires a minimum resolution of 1024x768, and while it worked on the 5542, performance was dismal (around 13FPS). That's the good news: gaming is possible, and if you stick with pre-2008 titles you can find plenty of games that will run acceptably. The bad news is that in most cases you won't be running at native resolution, which is something the GeForce 9400M could at least manage. Note also, as one reader pointed out, that the i3 mobile processors run the IGP at 667MHz max, while the i5 series bumps that up to 766MHz; that 15% increase in clock would close the gap in many of the game results, though HD 4270 would likewise improve performance with its 590MHz clock.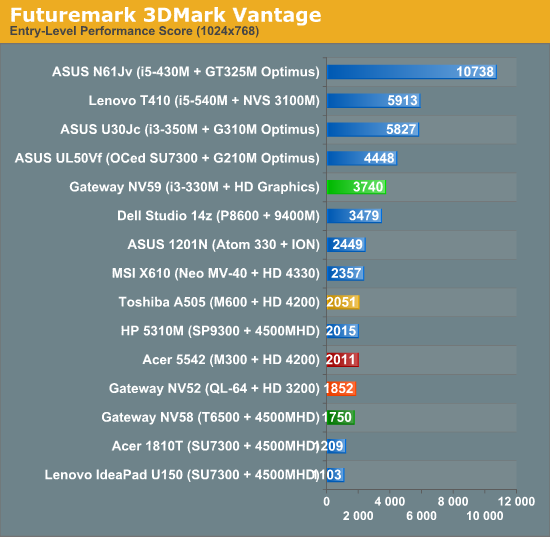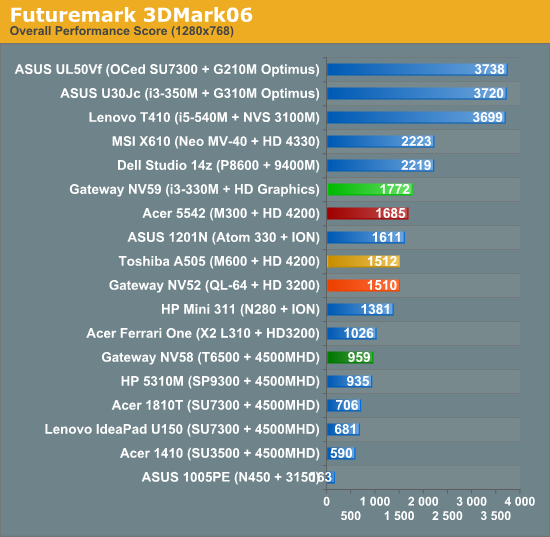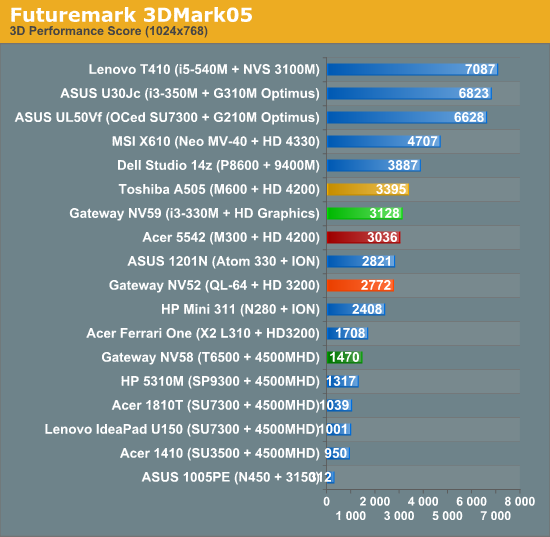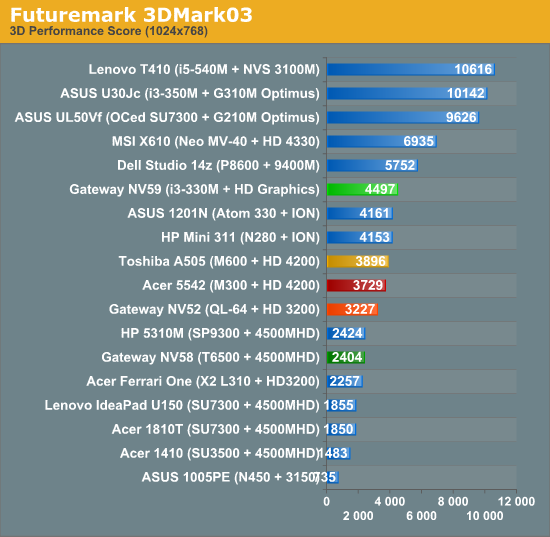 As for 3DMark, the Intel platform leads in all four versions. 3DMark05/06 are in a dead heat, 03 gives Intel a 21% lead, and Vantage delivers a theoretical 86% lead. We find that last a questionable result, and it indicates that Intel may have spent more time working on 3DMark optimizations than on actual gaming compatibility and performance. Ultimately, we don't really care too much about 3DMark performance, regardless of which version you want to run. Some users might like competing for top ORB results, but you're not going to come anywhere near the leader board with any notebook. So let's look at performance at native LCD resolution next, compared with a larger selection of laptops.
Gaming Performance in Perspective
We tested nine moderately recent releases, and here the performance comparison between AMD and Intel change somewhat. Where AMD leads at 800x600, Intel takes the lead in every title at 1366x768, with the exception of Bad Company 2 where Intel's drivers still need updating. Our best guess is that the AMD platform is becoming bandwidth limited. The Tigris notebooks use DDR2-800 memory, which in dual-channel configurations is good for 12.8GB/s of bandwidth shared between the CPU and GPU. Intel is using DDR3-1066, which bumps the total bandwidth up to 17.1GB/s, and in certain titles (FEAR2 for example) the extra bandwidth appears to help quite a bit.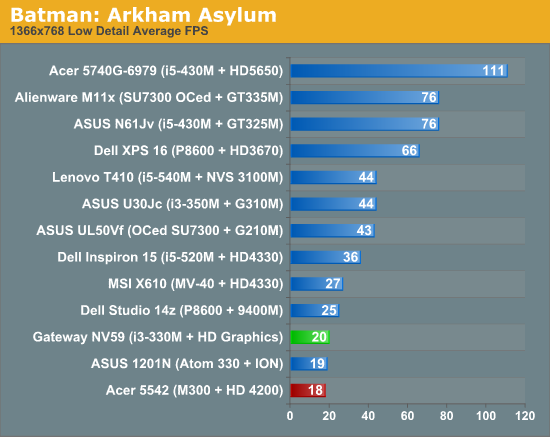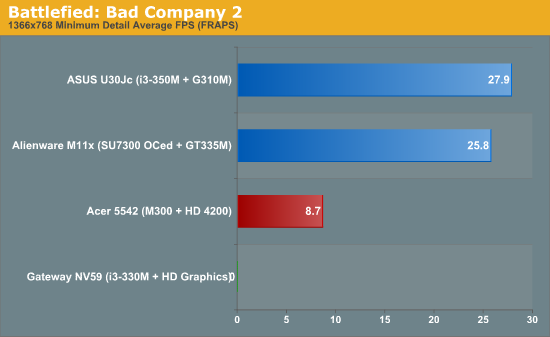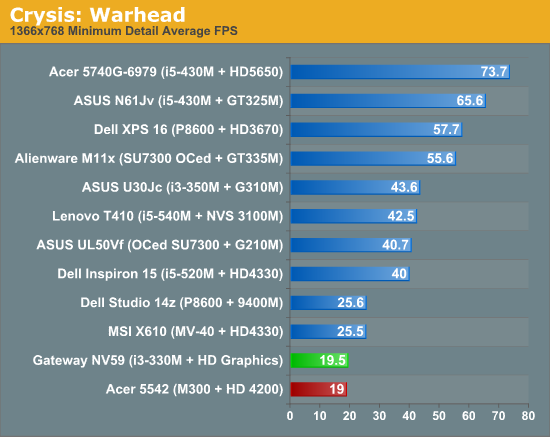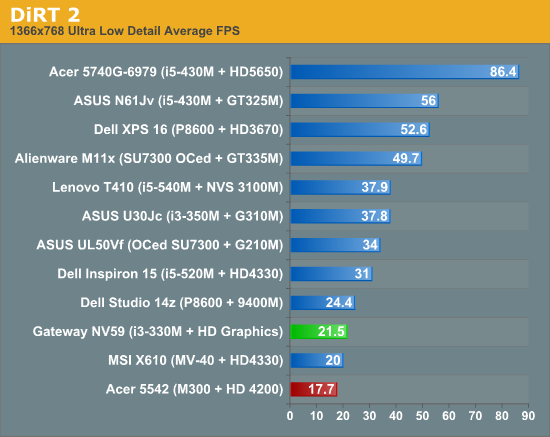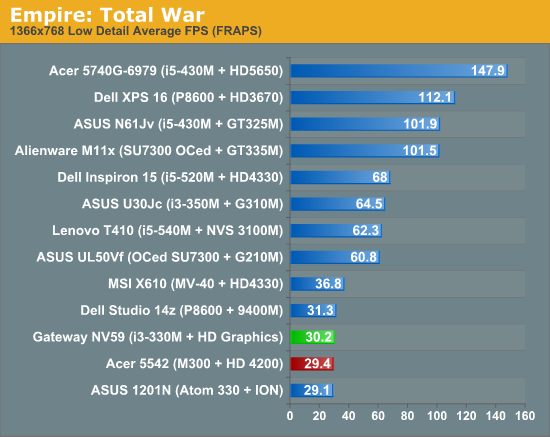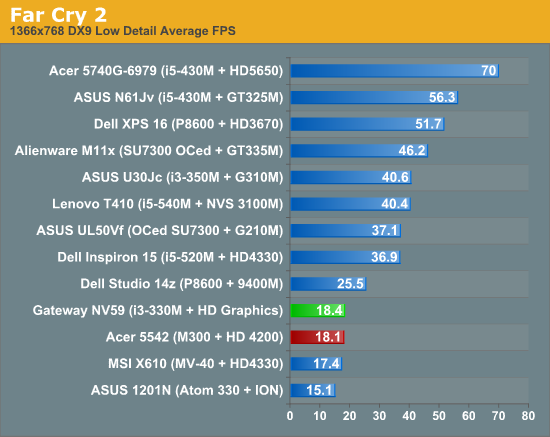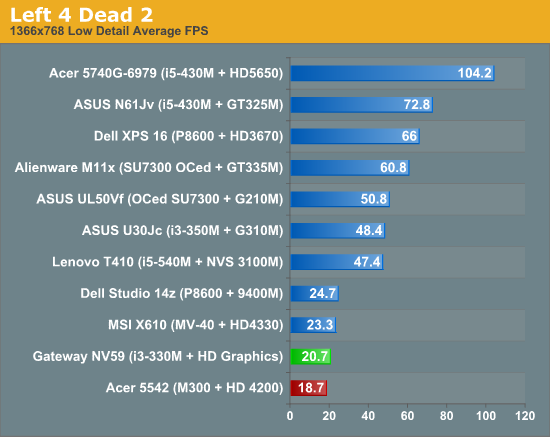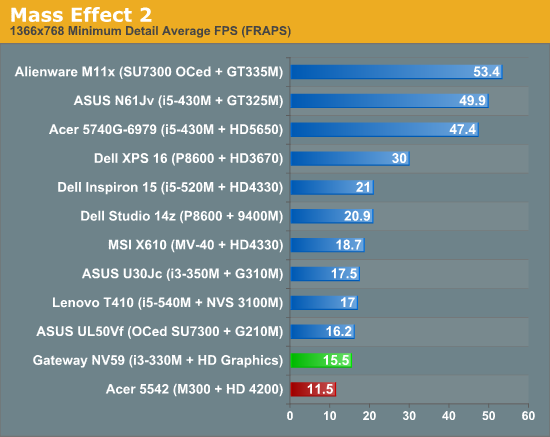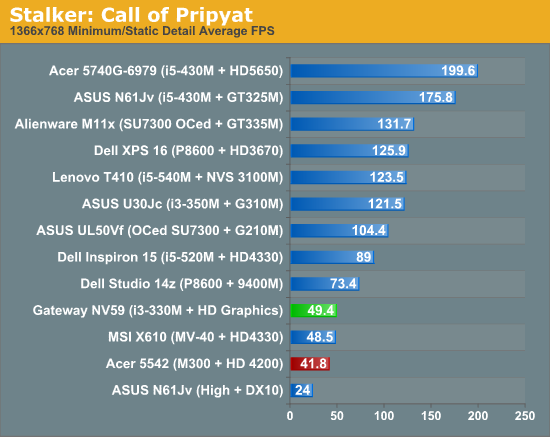 Of course, looking at the frame rates only two of the nine titles are playable at these settings: Empire: Total War and STALKER: Call of Pripyat. They also look more like 2006/2007 titles at minimum detail, which is in line with our recommendation of gaming potential for these systems. Older titles and casual games are okay on current IGPs (Sims 2/3 and Spore all run fine at low/medium detail and 1366x768), but anything more demanding pushes the hardware too far. Sandy Bridge and Fusion can't come fast enough.
LCD Comparison
The two LCDs are standard fare, and given these are budget laptops the results are hardly surprising. Good laptop panels are few and far between these days, and we haven't seen any used in a sub-$800 laptop (the ASUS Eee PC 1001P being an exception to the rule).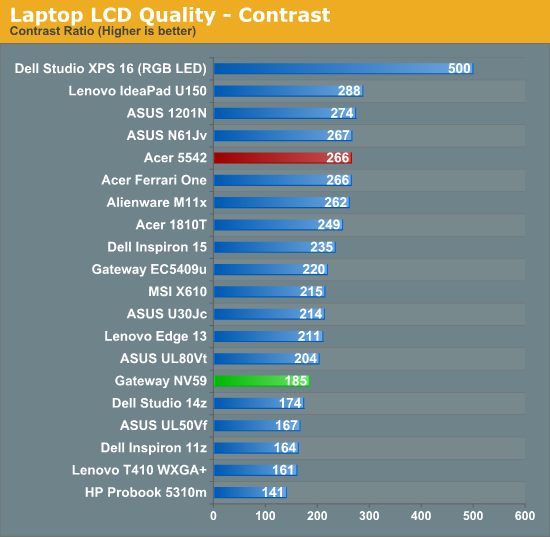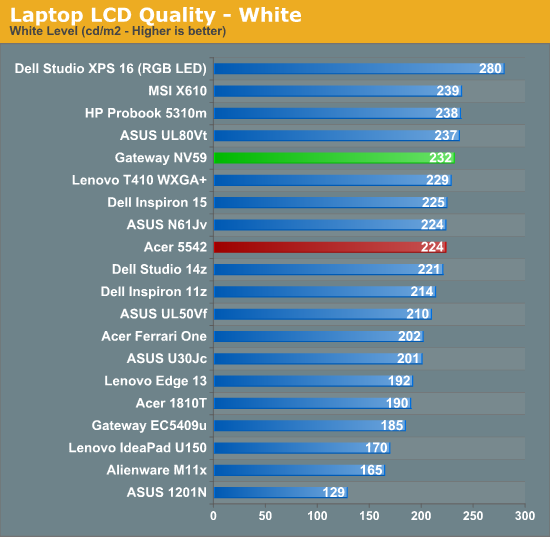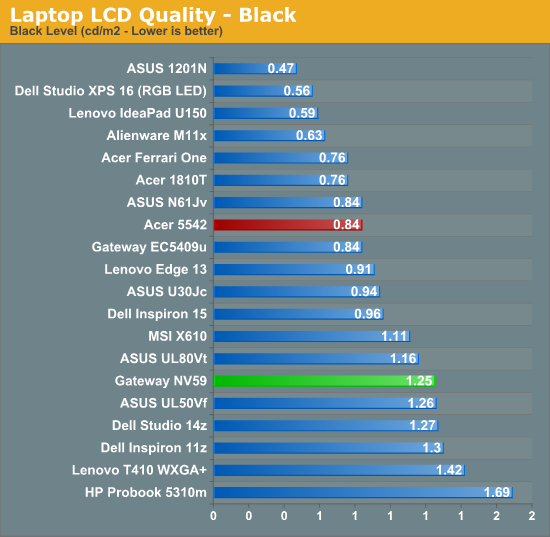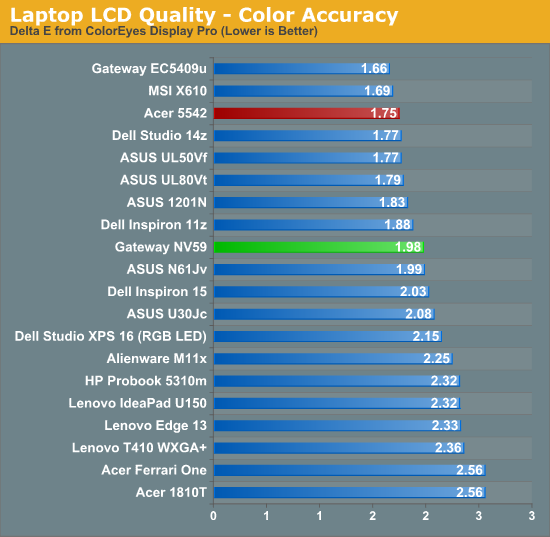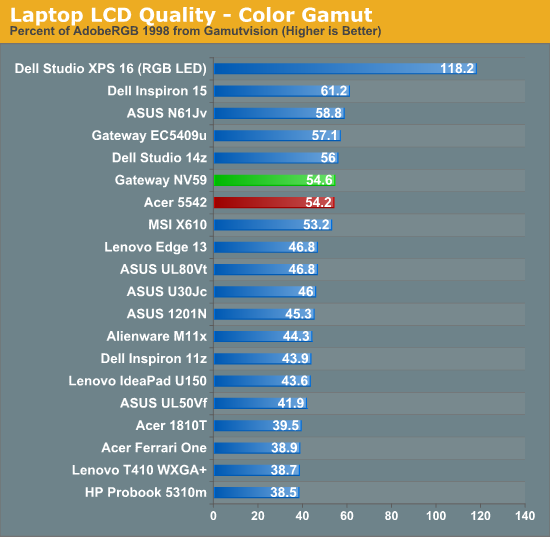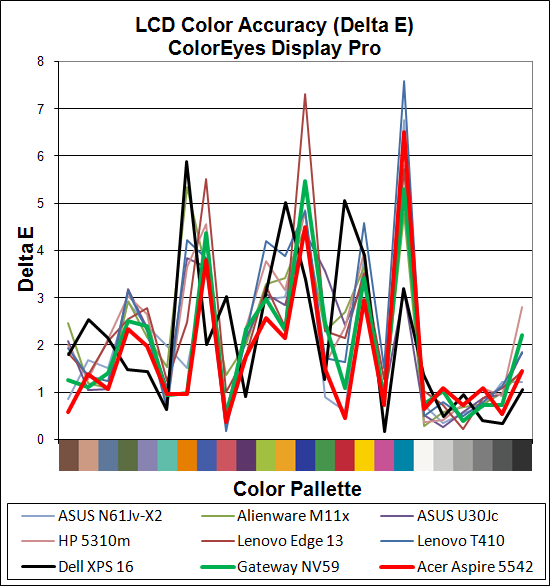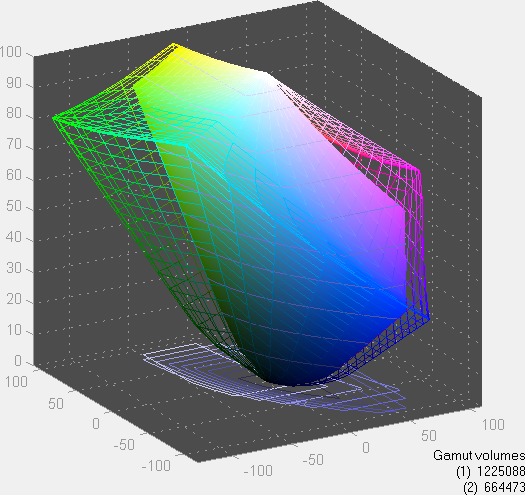 Acer Aspire 5542 Gamut
Gateway NV5933u Gamut
Brightness, contrast, color quality, and viewing angles are similar to all of the other budget laptops we've looked at in the past year or two. The NV59 and 5542 may score above or below the competition in the individual tests, but given the panel lotteries on laptops there's no guarantee of getting a high quality display unless you pay extra. As it stands, the Chi Mei N156B6-L06 trumps the Samsung 156AT02-A04 in overall quality, but the differences are mostly splitting hairs at this level.
Mobile Platform Wrap-Up… Mostly
The old adage says that the more things change, the more they stay the same. This time, that's not entirely accurate. Intel's improvements in IGP performance and drivers have been a long time coming, but hopefully the days of GMA series parts are finally behind us and the future CPU + GPU integration can proceed without any substantial hiccups. As for AMD, the M300 doesn't improve on the old QL-64 a whole lot, but it is generally a faster platform and the price is hard to beat, coming in at just $100 more than Atom-based netbooks.
Perhaps the biggest surprise is that battery life on both platforms failed to improve, and in fact it got quite a bit worse on our Intel platform. Given the increase in CPU performance and the relative youthfulness of the platforms, we might have been asking too much. However, we suspect other manufacturers can surpass what Acer and Gateway managed with the 5542 and NV59. Neither laptop has had a recent BIOS/firmware update, and with no clear power management utility to disable extra hardware we're left with mediocre battery life at best.
Outside of the platform comparisons, we also have to ask the question of whether either laptop is worth consideration. Here things are a bit easier, as pricing tends to take the foreground of such discussions. The Gateway NV59 series definitely has a lot going for it, provided you're okay with the keyboard layout. Currently available in four colors, the red NV5933u we looked at costs $50 less than the other models, selling at Best Buy for $549 (plus tax). I actually like the red exterior, and while the keyboard won't win any awards it works well enough for general use. Performance is also good, and anyone looking for a basic Blu-ray enabled laptop will be quite happy with the NV59 series.
In contrast, the Acer 5542 is a bit hard to recommend given current $499 online price at Amazon. Build quality is similar to the NV59, and I actually prefer the keyboard layout, but it's not enough for me to give up performance and battery life at essentially the same price (once we account for the Blu-ray drive on the NV59). This isn't a knock against AMD laptops in general, but if they can't deliver clearly superior battery life and performance, they need to be priced a lot lower. For those looking to buy a last generation AMD Tigris laptop, we turn once more to Gateway and Best Buy. The NV5378u is identical in features and design to the NV5933u, but it's midnight blue in color instead of cherry red. What's more, the price of $429 (plus tax) makes it far easier to recommend. You can often find other M300 laptops priced at close to $400 on sale, and those should offer the same general experience as the 5542.
Right now, the bottom line is that the least expensive Intel i-Series laptops cost around 30% more than the least expensive AMD II Series laptops. They're also about 30% faster in general applications, and they deliver better battery life, but none of the entry-level laptops are truly impressive in every area. You can choose between the AMD laptops, or get a CULV laptop with good battery life but lower performance, or spend more for an Intel i-Series laptop. You can also look for laptops with better features, or add a discrete graphics chip, etc.
In this era of "fast enough" laptops and netbooks, there's a lot to be said for getting a basic laptop that does what you need for the lowest possible price. Tons of Atom-based netbooks deliver great battery life with poor performance, but if you only need basic computing or you want the smallest possible laptop, they're still a worthwhile product. Spend a bit more money on an AMD M300 laptop and suddenly performance triples, opening up a range of other applications. HD and Internet video in particular work far, far better on the 5542 and NV59, so if you're a YouTube junky we really have concerns with the basic Pine Trail platform—you need ION or some other chip to make video useful. Of course, at the same time you're giving up size, battery life, and money.
As usual, then, it comes down to choice. Netbooks have their place, and so do these entry-level laptops. I'm more inclined to go with CULV for roughly the same price as the 5542/NV59 in order to get good battery life while keeping the ability to decode H.264 videos, at the cost of low-end gaming performance; if I need more than that, the ASUS U30Jc is the next rung up the performance and battery life ladder, though it's comes at a substantially higher price. Either way, it still comes down to personal preference in most cases. And for those interested in a broader view of the mobile market, we'll have some mobile buyer's guide updates in the next couple of weeks that will provide just that.
Looking to the near future, we'll have some of the latest and greatest Danube and Nile AMD laptops with K, N and P series processors. We're particularly interested in seeing what the quad-core Phenom II parts can do, as we've never tested an AMD notebook with more than two cores, but we also hope to see improved battery life and performance on the dual-core parts. The Phenom II P920 is rated at just 25W TDP, compared to 35W for many of the higher clocked dual-core processors, so certainly the results of our application testing aren't the final say for AMD laptops just yet. Intel i3/i5 is faster than dual-core AMD, yes; that was pretty much a given. The question is whether AMD's laptop partners can provide a compelling alternative at a competitive price. It's more than just being faster, or providing better battery life; it's not just about being less expensive either. What's important is putting together an entire package that's worth the price of admission. Interested in seeing the next part of this rematch? So are we, so stay tuned….