Original Link: http://www.anandtech.com/show/3764/two-omap-3430-phones-nokia-n900-and-motorola-droid


The Motorola Droid continues to be the king of Android devices that include a hardware keyboard, and the smartphone which bore the Android flagship crown for some time before the Nexus One. Meanwhile, the Nokia N900 runs Maemo linux 5 - the operating system which - with polish and joint collaboration with intel - will soon emerge as MeeGo and power a host of Moorestown-packing devices. We're doing something a bit irregular by reviewing both phones in one article, but that's again because they're both running on the same Texas Instruments OMAP3 SoC. Let's dive into both phones and see how they fare.
Motorola Droid - Still Does

As you probably already know, the Motorola Droid marked a turning point for Motorola, for Verizon's smartphone lineup, and quite possibly a coming of age for Android as the first shipping smartphone with a mature 2.0 release. It wowed the market when it debuted Google Navigation, but puzzled everyone with its initial lack of multitouch support inside all official Google apps - despite packing a full multitouch digitizer.
Since launch, the Moto Droid has and will continue to see continual incremental updates. First, the Android 2.1 update added multitouch to the browser, gallery, and google maps, along with a number of other improvements brought alongside the entire platform update. At Google I/O 2010, we've now learned that the Moto Droid will see another update to Android 2.2 before year's end - bringing a promised 2-5x speed boost to Android's Dalvik virtual machine with a new JIT compiler, full in-browser Flash 10.1 in addition to Adobe Air support, cloud-to-device push APIs, OS-level WiFi tethering, and browser speed increases among other features.

It's obvious that despite the recent release of the HTC Incredible, the Moto Droid will continue to hold a place in Verizon's growing lineup of Android smartphones - and likely at a lower price point than HTC's new flagship. Currently, Verizon is offering a buy one get one free Motorola Droid promption with purchase and a 2-year contract.
The Droid's chief differentiating factor (other than likely continued lower price point) is the hardware keyboard. For so many, having a hardware keyboard is still a fundamentally important feature, though virtual keyboards aren't as bad as they used to be - and they're getting better. As an aside, it's amazing how quickly 'Big Red' Verizon turned its lineup around and became host to so much Android hardware.

Nokia N900 - a 'mobile computer'

There's no doubt about it - the Nokia N900 is a unique beast. In fact, it's that uniqueness which makes it a difficult sell for all but the most hardcore smartphone consumers, but also potentially the most powerful. The N900 is a landscape QWERTY slider with a 3.5" resistive LCD, front and back facing cameras, 3G HSPA for T-Mobile bands, and runs the debian derivative Maemo 5 OS.

I think it's a fair argument to make that the N900 hasn't received as much love state-side as it has abroad, or rightfully deserves. That's probably due in part to only being sold unlocked with no subsidy, by no specific carrier (though it is targeted at T-Mobile for 3G support, and will work with 2.5G EDGE on AT&T), for $499 at retailers like Amazon. But it isn't just Nokia grappling with that issue - Google recently learned how hard of a sell unsubsidized, bring your own plan schemes are with its Nexus One. In general, it's hard to sell people on a $500+ smartphone if they can't try the device beforehand, or get carrier support.

That aside, the N900 is likely the final evolution in a long chain of internet tablets designed by Nokia - starting with the N770 in 2005. Maemo linux has been as open as open source can be since the very beginning; its application manager started as little more than an APT frontend. If you prefer, it can even still be used that way from the XTerm terminal with an apt-get install. It's a platform that's been adorned and worshiped as the ultimate linux smartphone platform by hardcore *nix nerds ever since, and I intend to do it justice.
The SoC - OMAP3 3430

Before we dive into the phones, let's take a look at the SoC at the core of both. We talked about the OMAP 3430 back in 2009 (well maybe not way back, but it sure feels like it) in the context of the Palm Pre, which uses the OMAP 3430. It turns out that Texas Instruments' OMAP 3430 SoC is quite popular if not a microcosm of the generation of smartphones we're talking about; it's common to the N900, Motorola Droid, and Palm Pre.
The Texas Instruments OMAP 3430 is designed for a 65nm manufacturing process, in fact, all of the OMAP34x series are designed for 65-nm process, whereas OMAP36 is intended for 45-nm processes. OMAP 3430 supports up to 12 megapixel cameras on its onboard image-signal processor, and packs an onboard IVA 2+ image, video and audio DSP accelerator clocked at 430 MHz, and a PowerVR SGX 530 GPU. Those clocks are recommended by TI, but in practice handset OEMs set them through a dialog with carriers to meet appropriate performance and battery life targets. OMAP3430's IVA 2+ supports MPEG-4 and H.264 encode/decode of 30 fps video at 720x480, and WMV9 decode at the same resolution and framerate. OMAP3430 can drive displays up to WXGA (1280x800) resolution at 24-bits. Note that the OMAP3 series SoCs don't pack internal cellular modems, meaning OEMs shop around for their own and connect over internal USB or multi channel buffered serial (McBSP).

At the heart of the OMAP 3430 SoC is the 600 MHz ARM Cortex A8 CPU. Remember that Cortex-A8 is an ARMv7 design with a 13 stage pipeline, compared to the 8 stage ARM11 (ARMv6) design common to OMAP2 and the CPU in the iPhone 3G. In practice, the performance delta between ARMv6 (ARM11) and ARMv7 (Cortex-A8) is between 2x and 3x.


As enthusiasts of the N900, Palm Pre, and Motorola Droid alike know, the 600 MHz clock is somewhat conservative, as many have been able to get up to 1 GHz relatively easily with custom ROMs and other kernel patches. In fact, the OMAP 3440 has a recommended clock target of 800 MHz, some 200 MHz higher than the recommended 600 MHz target for the OMAP 3430. Notably, the OMAP36x series running at 45-nm has recommended clocks of 720 MHz for all but the highest end OMAP 3640, which is 1 GHz. It's entirely likely that the difference between the OMAPxx40 and the lower clocked OMAPxx30 for each process target is binning, possibly explaining why some are able to get devices running at even over 1 GHz.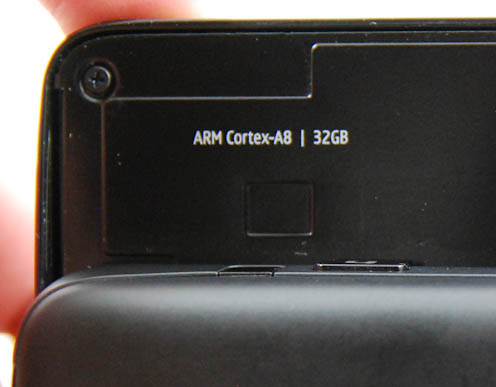 Of course, the primary comparison for this generation is arguably Qualcomm's popular Snapdragon SoC. The primary differences between these two popular SoCs are two things: the Qualcomm SoC includes celluar modems, but more notable is the difference in GPU. We've talked briefly before about how the QSD8250/QSD8650 both include Qualcomm Adreno 200 GPUs which are actually re-branded AMD z340 GPUs brought over with the IP Qualcomm bought when it acquired AMD's handheld graphics and multimedia assets division. Interestingly enough, the AMD z340 is related to the Xenos GPU in the Xbox 360. Standards support wise, however, the Adreno 200 and PowerVR SGX 530 both target OpenGL 2.0 ES, but performance wise we now know the PowerVR SGX 530 is superior performance wise over the z340. Keep in mind the iPhone 3GS has a slightly higher spec'ed version of PowerVR SGX GPU, an SGX 535.
It's difficult to be absolute about how much the performance delta between the Adreno 200/AMD z340 and the PowerVR SGX530 really is, as so much of the difference is the result of driver differences. Add in further complexities surrounding how well implemented features are on different smartphone OSes, and it becomes even more challenging to give you a real objective answer. Point is, without a common software stack, it's difficult to give a solid benchmark. That said, it's hard to argue that Imagination's PowerVR SGX series isn't faster in practice across the board.
Of course, the untold story here is that although the 3430 ships with modest clocks (which the Motorola reduces by 50 MHz), it has seen largely uniform overclocks to 1 GHz. In fact, what's really interesting here is that in principle, a 1 GHz OMAP 3430 should outpace a 1 GHz Snapdragon SoC in a number of use scenarios because of the vastly better GPU onboard the 3430.
Motorola Droid - Impressively Thin

For Motorola, the Droid was a "Hail Mary" launch of a phone. Before launch, many had written off the handset maker as an abject failure. It was important for Motorola to go big - with the largest carrier, the latest Android software, and the most impressive spec sheet - or go home and wait for the company to be sold off in pieces. Given that this nightmare scenario never played out for Motorola, it's fair to call the hardware a definite success.
At first glance, the Droid is strikingly utilitarian - it's an unabashedly square, no nonsense, masculine style. At front is the glass-topped 3.7" 854x480, 265ppi screen, (which we'll talk more about later), and around it is a narrow, seamless bezel. At its bottom are the four capacitive android buttons common to Android phones. There's a small detent at the bottom where the slider meets the base packing the keyboard. Quite possibly, this is possibly Motorola's subtle riff on the G1's much maligned "chin." Just a few millimeters off center on that chin lies the microphone. What's interesting is that at right is the Verizon name and swoosh, instead of somewhere around the screen where it would've shaven precious space away from the screen. This is definitely a nod in the right direction, guys, it's phone first - carrier second.
Top to bottom: N900, Motorola Droid, HTC Incredible, iPhone 3GS
The Droid is thin - impressively thin for packing a hardware keyboard. But what's most impressive is that it manages to stay thin and contemporary without feeling cheap and flimsy. In fact, most of the phone is metal, and you can feel it in the Motorola Droid's heft - you won't forget it's in your pocket. Just tapping on the exterior, there's very little if any flexing anywhere. The slider refuses to rotate or wobble when the keyboard is exposed, and there isn't flexing or plastic squeaking as you get it open. The travel mechanism has a notable start and stop detent, keeping the phone open or shut with a reassuringly snug - but not impossibly stiff - snap. There's no spring assist to the slider, so you have to push to open and close the keyboard, but that's hardly a negative. What's also superb is that there's no clearance between the keyboard and screen assembly when closed, I couldn't even get a fingernail inside.

It's impressive Motorola was able to get this right. Previously, only the likes of HTC could get sliding mechanisms to feel just right, yet completely solid. And even then, an occasional slider mechanism would just be errant and misbehave. I remember my HTC Mogul surprising me one day when I slid out the keyboard and it suddenly explosively separated - due to wear on the spring loaded system - sending the display assembly rocketing across a room, ribbon cable flailing behind. I don't feel like the Motorola Droid would put me through a similar ordeal. It's solid.
What really set my impression the most though was how snug and firm the battery door feels. Compared to other snap-on plastic battery doors, the Moto Droid's is perfection. It's strange how much I'm impressed with it, really, but it's a surprisingly good microcosm for how good the mechanism is. It's an honest-to-goodness metal cover that slides and locks onto the back. It doesn't jiggle when the phone vibrates, and consequently doesn't make obnoxious noises either. I later learned that all of the Motorola Droid's case is metal, with the exception of a plastic strip where the camera is - for the antennas. Incidentally, right here is also where the phone gets warmest during use.
The only major gripe hardware wise is that the volume rocker on the side feels loose. Searching around online, this seems to be a relatively common complaint, although the volume rocker never missed a button press, it was a bit unnerving. Similarly, the camera button required an impressive amount of force to trigger - usually the only way to know was by feeling for the vibration feedback. In Motorola's defense, this is probably to prevent accidental input in your pocket, but it's a hearty amount of pressure to get that camera app open if you're using the button. Just use the application launcher; really, you'll save scaring yourself.

N900 - A tank

Nokia has a reputation for building solid, nearly indestructible phones, and the N900 is no exception. Getting your hands on one, it's immediately obvious that the N900 takes nods from its ancestry: the N810, N800, and N770. The N900 obviously builds on the relatively tall and wide form tablet form factor heritage of those devices, squeezing it down into a pocketable form factor. That's clearly been done by trading the wide, tall, but thin internet tablet form factor from the N8xx and N770 for a thicker but smaller footprint device profile. It's obvious this is an internet tablet scaled down; part smartphone, part internet tablet. Compared to the Motorola Droid and HTC Incredible, it's an unabashedly thick phone; this is a serious piece of hardware that doesn't make any design compromises just for the sake of staying slim.
I already showed one photo illustrating the thickness against a few other smartphones, but here's a different angle just to drive home that point - the N900 is beefy.
But maybe that's not such a bad thing. The N900 is seriously well constructed - and I'm ashamed to admit that I found myself testing that rigidity. About a week after I got mine, I forgot that I left it on a dresser, and accidentally sent it flying across the room in a manner that would've been catastrophic for most any other smartphone. I was horrified. Miraculously, the N900 hadn't sustained a scratch, dent, or nick. It's darn near invincible in my mind after living through that one.
The N900 has a number of signature Nokia quirks that you'll be familiar with if you've used Nokia devices, but might strike others as a bit odd. First of all, on the top of the N900 is where the microUSB port is located, and a speakerphone outlet.
On the bottom, you've got the spring activated standby/resume switch and 1/8" 3.5 mm headphone jack, along with a second speakerphone outlet and the end where the stylus is extracted. For me at least, putting the headset jack at the bottom is a bit confusing, as you get used to holding it this way (and considering it the top, since power is there) only to become disoriented when it's time to answer a call. I mean, look at the USB cable coming awkwardly out of the top. It just doesn't seem natural!
It's an aesthetic criticism that's hardly a major issue, but it's another small quirk that really drives home the point that this is an internet tablet in smartphone skin.
On the left side of the N900 is the region the stylus sits in for the resistive touch screen.
Finally, on the longer side opposite the stylus is the two position camera button, the power button (for really turning the device on or off), and the volume rocker.
The entire backside of the N900 is the removable battery, SIM, and microSD slot cover. It snaps on and snaps off; there's no sliding mechanism, just a small place to get your fingernail under and pry the whole thing off with. That isn't to say that the back isn't snug, it's just a bit unnerving to rip the back off the N900 the first time, but that's really how you do it.
It's also on the back that the sliding camera cover and integrated kickstand reside. The kickstand isn't perfect; since it's off-center if you put the phone down in landscape mode as intended there's a bit of a tendency for the device to tripod on the other side if you tap on the screen. It's clear that this is really meant as an aide to viewing videos, say on a transatlantic flight.
On the front is the resistive topped 800x480 3.5 inch LCD, and up at the very top in the center is the small speaker not much bigger than a grain of rice for making phone calls. I was a bit worried at first that volume would suffer, but it's on par with every other handset I've used. Off to the right of that is the front-facing VGA camera, and on the far left side is the IR proximity sensor.
Two vastly different software stacks

Without knowing anything specific about either Android or Maemo except that they're both linux derived, you'd probably at first thought expect a lot of similarities. When I think linux derived, I think package manager, exposed terminal, window manager, and all the familiar goodies to keep *nix nerds satisfied, and all the configuration files ready for tweaking to my heart's desire. Suffice it to say, Android and Maemo couldn't be further apart in practice.
Motorola Droid - Pure Android

I'll talk briefly about Android, but for in-depth analysis I'd encourage you to read Anand's Nexus One review where he thoroughly discusses the Android 2.1 OS. What's really important to talk about regarding the Motorola Droid is that the packaged Android 2.1 experience is entirely stock Google. There's no Moto Blur, no HTC Sense, no UI skins or wrappers. What you're getting here really is a native android device. Whether or not you prefer one of those two UI skins is a matter of personal taste, but the native experience keeps the Moto Droid feeling relatively snappy without much distracting flash or pizazz.
Maemo is Debian

That really brings us to what we haven't talked in depth about before; Maemo. Nokia's Maemo operating system started - as I mentioned earlier - as a tablet operating system for the N770, and saw updates for the N800, and N810. As it stands now, all three legacy internet tablets can run up thorough Maemo 4.1.
The N900, however, launched with and continues to exclusively run Maemo 5. The N900 we played with was flashed to PR 1.1, and recently Nokia released PR 1.2 - unfortunately just a few days after we had to part ways with our N900. PR 1.2 brings bugfixes and a few new features to the platform, including support for Skype and Google Talk video calling (which I'll get to in a moment), performance increases for the core OS and browser JavaScript engine, and Qt 4.6.2. The core of the Maemo OS remains largely the same however.

Maemo is derived from Debian and runs natively compiled code, uses GNOME for much of the UI, has an X-Window system, and uses BusyBox core utilities. For all intents and purposes, using Maemo is exactly like using almost any other computer running Debian. What other phone seriously ships with X Terminal installed and presented front and center in the launcher? It really is a bona-fide handheld computer by day, smartphone by night.
One of the first things I noticed is that the N900 is meant to be used almost exclusively in one orientation - landscape. Maemo's tablet heritage is so ingrained that, outside of the phone interface itself, the N900 is exclusively landscape. But at the same time, this really starts feeling natural when you're using they keyboard and after you've oriented yourself. To start, the N900 has a four-page desktop wall where you can drop launchers, widgets, and browser shortcuts. It's obvious that Android took some nods from Maemo here - you can swipe back and forth between screens and pressing and holding on an item lets you move it around or close desktop items. Notably, the desktops loop back around unlike Android which has a hard left and right window. It can get a bit confusing the first time you scrub through all four windows. By default, there's not much here, and there aren't many widgets, but you can install more from the applications manager which we'll get to in a moment.
In Maemo 5, up at the top is the menu and status bar. This is a bit of a strange departure for earlier Maemo users who likely are used to the same bar being at the left. Regardless, tapping on the icon at top left from the desktop brings up the application launcher, which consists of a 5 by 3 grid of applications overlaid on a beautiful defocused version of your desktop. What's really impressive is how buttery smooth the transition from desktop to launcher is; no doubt a huge testament to some GPU acceleration on the OMAP 3430's PowerVR SGX.
Getting to the next page of apps is unfortunately not a scroll gesture away, instead, you have to tap more in the bottom right corner. This is something that has changed in PR 1.2 however, as 'more' has been removed in favor of touch scrolling, and apps can be rearranged.

This out-of-focus blur is a consistent UI element that acts as Maemo's way of establishing what many on the desktop would identify as window 'focus.' Of course, in this context, it's more likely to be applied to a menu or some launched property panel.
For example, tapping and holding for a copy/paste or save file command brings up a blurry background surrounding the new property window. It's impressive how smooth this transition is, I just can't stress it enough.

Multitasking and Notifications

Moving on, Maemo has native multitasking support. Launch anything, and the application launcher icon in the top left changes to a different icon with 6 windows.
Tapping on it does just that, the windows shrink down into smaller preview 'cards' and keep running. Nokia calls this window management screen the 'dashboard,' and it feels very much like how WebOS handles multitasking by presenting small previews of running windows. It's very different from the Android or iPhone OS 4 approach. There's something to be said for being given visual previews of the windows instead of abstract icons or a drag down list; in practice I was able to rapidly switch between multiple browser windows, email, and messaging. Maemo's 'dashboard' is essentially exposé for smarphones, and the cards themselves get appropriately smaller and smaller as you add running applications to the grid. You can kill applications from here by tapping an x in the top right corner - matching the larger x when an application is full screen.
Notifications pop up as transparent yellow windows that disappear after a few seconds. After you get a notification, tapping on the window manager button will reveal the windows, but this time the application relevant to the notification will also have a yellow overlay with the number of notifications you've missed and some relevant text. I think this implementation is fantastic. It's different from the Pre, and Android, and light years beyond the iPhone OS's intrusive bubble overlay. It works without being a constant reminder that you're behind on everything.

Maemo's App Store

Nokia offers a simple application marketplace called the Ovi Store. In practice, this isn't anywhere near fleshed out like it should be, as launching the Ovi Store fires up the browser and takes you to the Ovi Store in the N900's browser. What's much more compelling is the Applications Manger, which is a well disguised debian package manager frontend, but admittedly polished enough to be used exclusively. You can add 'catalogs' - Nokia's parlance for repositories - from within here, and choose from a huge selection of FOSS packages that install over the air on the N900. The applications manager is every bit a graphical package manager, you can uninstall, download, and update every package on the phone.
It has categorization and feels like it was given plenty of thought, but really lacks the kind of polish other application marketplaces do on other platforms. For example - open up a big category with a couple hundred applications, and you'll find yourself scrolling for a few minutes to get to the desired one.
Take one look through the packages, and you'll know that Maemo has serious potential in the right hands - what other application marketplace has Wireshark, Kismet, Aircrack-ng and Nmap sitting unsuspectingly inside? That's awesome!

The Browser

There has been an enormous volume of debate centering around Flash on mobile platforms lately. While Android 2.2 will eventually bring full Flash 10.1 and AIR support to the entire platform, it's impressive to think about how the N900's browser on Maemo has been running full Flash 9.4 since release.
Until Froyo 2.2 brings a faster browser and Flash support to Android, it's difficult to not argue that the N900 offers the best browsing experience on the platform.
Out of box, the Mozilla-supported browser is almost all you need. There's even extension support for AdBlock Plus directly in the marketplace - and best of all? It works perfectly.
Almost all the Flash content I tried played fine, though the implementation still isn't perfect. I can understand now what Adobe means when it notes that only certain video codecs play back smoothly or are "mobile optimized."
Playing back videos from Vimeo was unwatchable
For example, playing videos on Vimeo resulted in extremely choppy framerate and audio - the experience was unwatchable. However, YouTube videos played back perfectly, complete with audio. Hulu refuses to work on the platform, though this is likely due to the licensing issues they maintain prevent them from streaming to mobile devices. Who knows, perhaps support is just a user-agent string change away.

If the OS default browser doesn't suit you, there's also Firefox and Chromium in the marketplace.
Chromium on the N900 is very beta, but Firefox is almost good enough to supplant the normal browser. It's slower feeling, but has a very desktop feel.
Messaging and Skype

Messaging on the N900 is done in a very WebOS fashion - IMs and SMS alike are managed by the OS and aggregated into a central application called "conversations". I signed in with Google Talk and Skype, and the integration is seamless. But what's most impressive is how Skype and Google Talk handle calling. Maemo considers Google Talk and Skype VOIP and IM enabled accounts, and after they're added, you can make and receive calls over Skype, and do the same with Google Talk. Although we tested with PR 1.1, PR 1.2 further builds on this by enabling video calling for Skype (between PC and other skype video clients), and Google Talk (with the PC web client, or any other XMPP Jingle video client, including the N900, N810, and N800). There's also support for SIP video calls.
But the best part is that VOIP calls are treated just like a normal call. In fact, for a while, I was completely confused by Skype because I expected it to live by itself somewhere - similar to how it works on other platforms. But that's not how it works at all - enter your account details, set your availability status, and you're ready to call and be called over Skype. In Europe, where international calling can be expensive and sometimes confusing, this is a huge feature.
Though video calling on Android through Qik, and FaceTime on iPhone 4 has been received to much fanfare, Maemo has quietly had video call support since launch. With PR 1.1, video calling was admittedly a bit of a challenge - requiring calls to be made from the PC client of Google Talk to the N900, with the PC initiating the voice call. Or requiring Fring for Skype video calls to work (which I could never get working, sadly), but PR 1.2 now makes this a core part of the operating system in a way that really does work.

Phone Dialer

The dialer is virtually the only application that's portrait and landscape on the N900. It's admittedly very barebones. Launching it, you're first presented with a list of recently made and received calls, a shortcut to the contacts application, or the dial pad. The dial pad unfortunately doesn't have any smart dialing functions like HTC usually includes, it's just a plain ol' keypad - you can however just start typing a contact's name and see their contact card.
There's turning control for the N900 which launches the phone application whenever it's turned vertical - I never tried this - or you can force the phone to always be landscape/portrait from a setting.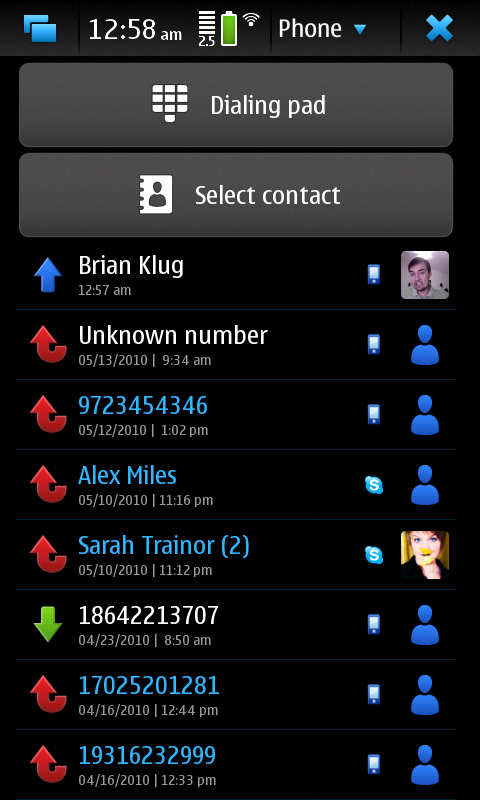 Fortunately, there's landscape and portrait of both, and they do what they're supposed to do. In the call-in-progress screen, there's the usual options for mute, speaker, dial pad, and end. When you're in a skype call, there's a skype logo in the top left of the user's avatar.
When the call is over cellular, there's a picture of a phone - self explanatory. Otherwise the call screen is virtually identical for the entire gamut of call types - VOIP over 3G/2.5G or WiFi, and normal 2G/3G calling. The integration is truly flawless - there's no excuse that other platforms haven't fully integrated VoIP like this. On the other hand, carriers would throw a fit and likely never subsidize, carry, or support the phone (which might explain the N900's lack of adoption in the US), but we can dream, can't we?

Conversations

As I mentioned earlier, both SMS and IMs are consolidated in the 'conversation' application, similar to what we've seen on WebOS. There's threading support and emoticons inside, and remaining characters shown at the bottom.
Unfortunately, what's lacking is MMS - you'll have to find another application in the marketplace called fMMS to make that happen. As it ships though, you don't get any notice that you're missing MMSes - they just don't happen.
Otherwise, conversations works very well and is everything one would expect from a modern smartphone in the way of an SMS application.
Email Client and Account Types

Email accounts are configured through the account setup wizard, which supports the full suite of email protocols, including POP/IMAP and Microsoft Exchange. I had a heck of a time getting Google Sync working on the N900, however, and never succeeded in making it work fully. I consulted a bunch of different people online, and the consensus was that things had changed in the Exchange support Google was using and the Exchange client for Maemo, and that only contacts and calendars would sync to the N900 - email would continually fail and refuse to sync. While that's not the end of the world, it's one of those YMMV situations if you rely on Google Sync for push email and seamless contact and calendar synchronization across a bunch of platforms. I ended up using IMAP for my google apps email account, which works, but makes me feel like I'm living 2008 all over again.
The other push email option is Nokia Messaging, which functions as a consolidation point and enables you to check up to 10 email accounts at once - for free. Essentially, Nokia takes a RIM-like support by handling the power-hungry IMAP rest functions at their own datacenter, and pushes out notifications and emails to you as they arrive. I didn't test this, but understand that it's widely favored among Nokia diehards.
Other than that, the email client is straightforward. There's support for formatting messages in full HTML/Rich Text, and attachment viewing including PDFs, images, and office documents through the included and multiplatform Documents To Go suite.
Ovi Maps

The N900 has A-GPS and Nokia's mapping application called Ovi Maps. At launch, the application immediately starts to acquire your location, though I'm unclear whether it supports a location service like Skyhook or Google's own database, it found me decently fast.
From here, you can search, or just pan around, and change from a maps view to terrain or satellite, and optionally include 3D landmarks. Nokia thankfully includes a night mode for increased contrast without killing night vision for when you're already dark-adapted at night.
You can search for a location, and after finding it get routing directions. There's also options for waypoints and customization preferences for routing via a bunch of route preferences, including - yes this is real - ferries.
Though it isn't turn by turn, you can optionally have the map track you and rotate based on direction (there's no compass), which does a fairly good job of guiding you between point A and point B - but it's no Google Navigation.

FM Radio, File Browser, Other Apps

One of the things I was most impressed by on the N900 was the FM radio stack, and just how completely this is implemented. Out of box, the N900 supports FM transmission for all audio - so you can listen to it on the speakers in your car, and FM tuning for use as a radio.
Go into settings, and you can toggle the FM transmitter on, and change the frequency with more granularity than I've ever seen on an aftermarket FM transmitter. You can choose between 88.1 and 107.9 MHz. While my car already has an aftermarket head unit with an auxiliary input and dock connector, this is hugely attractive for people who are using OEM units that only tune FM. I showed this to a friend of mine and compared with the FM transmitter he uses with a BlackBerry Bold - the quality was notably better from the N900, and the power more than adequate for a car. Enabling the FM transmitter makes it function as a virtual speaker of sorts - anything audio goes over the FM transmitter.

Though it isn't used in the OS by default, the N900 also has an FM receiver and tuner. Searching through the applications marketplace, I found an FM radio which even pulled down the FM station name over the Radio Data System (Radio Broadcast Data System in the US). Using the FM reciever requires headsets to be plugged in - which effectively function as the radio's antenna. The sound was as crisp and enjoyable as an FM radio should be.
The N900 ships with a bunch of requisite applications for any smartphone, including a clock, notes application, calculator, and calendar. I'm not going to go in very much depth here, but they do what they're supposed to do. Calendar is very attractive and supports the Exchange calendars or local calendar, and the rest of the applications I've taken screenshots of and are in the gallery.

There's also a full walkthrough of the N900's super comprehensive settings pages, and a bunch more screenshots in here:
N900 Camera

I've already talked briefly about the N900's camera, which is true to form for Nokia devices and pretty impressive. The software implementation that Nokia has put together for the N900 on Maemo is well polished. As mentioned before, sliding the camera cover open while the device is on immediately launches the camera application, or you can get there from the applications window. After launching, there are black bars at each side, the right side of which is used for settings icons. Nokia has included a ton of options here, including optional geotagging, settings for exposure, ISO, and preset shooting modes. You can capture in 3.5 megapixel or 5 megapixel modes, and have ISO 100, 200, 400 or automatic to choose from. In auto mode, it seems like the camera can go all the way to ISO 800 if necessary, but you can't set that manually. True to the rest of Maemo, the camera only works in landscape orientation.
Smartphone Camera Showdown

I'm a strong believer in objective comparison - I can opine for pages about the cameras and what I think about them, but ultimately you have to see the difference and make conclusions on your own. After all, the differences are obvious. For these camera reviews, I visited 7 different locations and took photos and one video with a number of phones. I'm going to do this for every phone I get my hands on, and build up a running comparison so we can really get a feeling for camera image quality. We're starting out with just a few, but I've got more for some phone reviews that aren't fully finished that'll come soon. ;)
We're working on a rollover table and gallery mashup that will let you view and compare all of the bench photos in an easy manner, but it isn't complete yet. Look for it soon, though!
Until then, all of the images are available in a zip file at full resolution (42 MB) here, and I've chosen one of the 7 locations to inline for comparison below.
There are also videos from each of the phones at the highest quality settings, and uploaded them to YouTube. For these videos, I haven't made any modifications or edits, just uploaded the videos in their native formats from the desktop:
These should give you a pretty good feel for camera performance in a variety of locations - bright and dark, and of subjects with lots of colors. Where the N900's video is both higher resolution and crisper, the Motorola Droid's looks a bit noisy and seems to have a lower bitrate. The iPhone 3GS actually seems the most fluid in practice, though it adjusts exposure very aggressively while panning from the brightly-lit intersection to the shadowed wall across the street.

It's pretty apparent that the N900's camera is superior to the Motorola Droid's. The Motorola Droid's camera could use a bit more saturation and appears to have totally missed focus on the first image of the tree, if not a couple other images. I took the best photo of a few - all of these were marginal. The N900's camera is shockingly good - rivaling the HTC Incredible's in a number of cases. Interestingly, the HTC Incredible totally misses white balance in image 6, appearing way too blue.

There's quite a bit of variety in image aspect ratio and focal length between all of the cameras. Keep in mind I stood in the same location for all these tests.

Screen - Display

Both the N900 and Motorola Droid use traditional LCD displays. Of course, the interesting comparison points are the HTC Incredible and Nexus One displays, which use AMOLED. Though they advertise the same resolution, they do so using a proprietary RGBG grid marketed under the trade name 'PenTile' while the traditional LCDs use an RGB bayer grid pattern.

It remains an interesting point of contention whether the PenTile pattern offers superior spatial resolution than the traditional bayer grid pattern. Ultimately one needs to take into account the human eye system and subsequent response to really make a definitive answer. The AMOLED display is incredibly contrasty, so much so that I measured the black level as 0. That's right, 0 - meaning our contrast is effectively infinity. In fact, that makes sense - AMOLED subpixels are turned off when displaying black by nature of how they work. However, the white point I measured seems too low - interestingly, this is probably a result of the unique subpixel arrangement.
Personally, I can notice the difference in dithering and can discern the unique subpixel arrangement, but I know what to look for. For me, not being able to see the pattern or an offset screen door effect makes the Motorola Droid or N900 displays the better choice.
But if contrast and brightness are what matter, the AMOLED blows the competition away.
Side by side, the Motorola Droid and AMOLED display on the Incredible seemed just as bright, with the Incredible just edging out the Motorola Droid. Having played with two AMOLED displays, it appears like the displays are very oversaturated - perhaps at the expense of being accurate. Take a look at the yellows and oranges in the AnandTech webpage - it's easy to see that they're more saturated. I'm still trying to come up with a foolproof way to measure color accuracy, however.

The N900 isn't quite as bright or contrasty as either of the two phones. It's entirely possible that this is due to the resistive screen versus the two capacitive digitzers. Note that I'm positive the AMOLED display on the Incredible is causing some sort of measurement error to occur on my i1D2 colorimeter, as it definitely appears substantially brighter than the Motorola Droid. It's highly likely that the measurement is being skewed because of the unique PenTile arangement, or something inherent in the AMOLED display technology.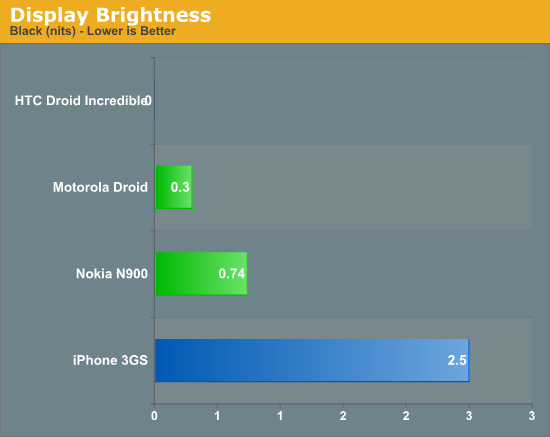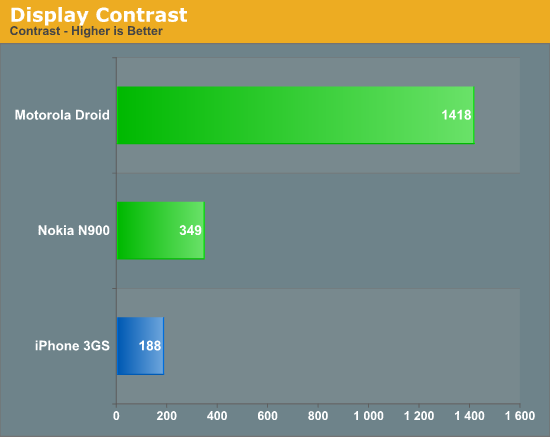 The HTC Droid Incredible is notably absent from the display contrast graph because contrast is... well... infinite in this circumstance. Or at least indeterminate. Whatever the case, AMOLED delivers the absolute best contrast possible. It's really amazing in person.

Outdoors, however, the N900 is an obvious winner - just look at the direct sunlight example down below. The AMOLED display on the Incredible is more difficult to read in indirect sunlight, and very challenging to look at in direct sunlight.
One last thing I'd like to note is that I've read in more than a few articles some claims that the AMOLED display is readable with polarized glasses - that there aren't any angles where there is complete extinction like with normal LCDs. This is false; rotate any AMOLED screen around, and brightness will still fall off following cosine squared like any other analyzing polarizer.
Middling Performance

To measure performance, I continued using the WiFi page loading test methodology Anand described in his HTC Droid Incredible review, and also added in a few other tests that are android specific.

Our first test is loading the AnandTech.com front page, where we've got lots of text and images to stress bandwidth and parsing.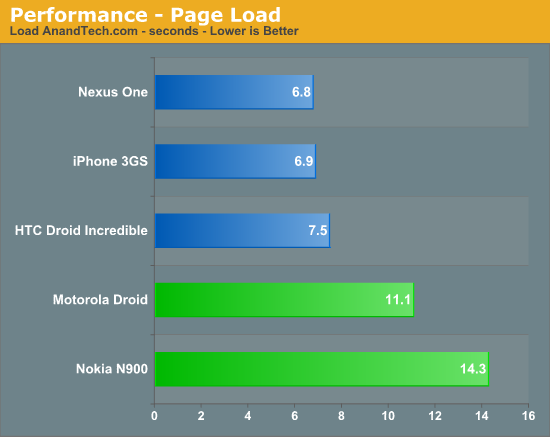 Next is the very intensive engadget.com homepage load. There are a number of flash elements here, taxing the HTC Incredible and N900 alike.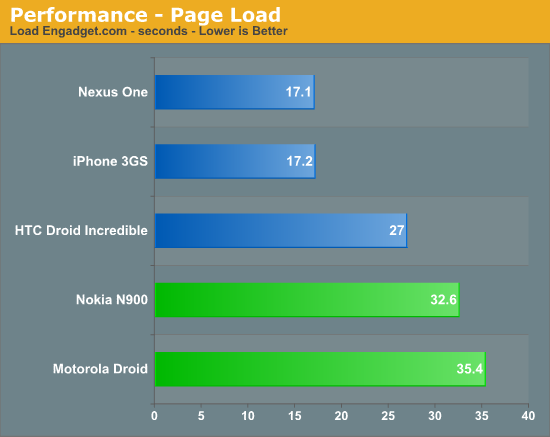 We also continue to run the SunSpider 0.9 JavaScript benchmark. This interestingly enough will illustrate the huge JavaScript performance delta between the N900's Maemo browser and the Android browser, however the comparison across Android devices gives a good idea how much the OMAP 3430 differs from the Qualcomm Snapdragon.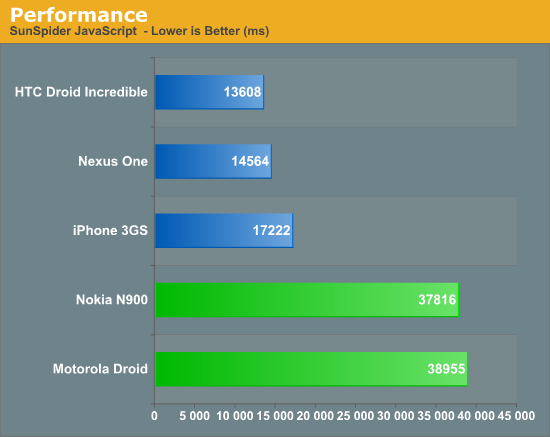 Common to the Android platform are two benchmarking applications that have slowly seen a rise in popularity - Linpack for Android and Benchmark Pi. Here we can get a good idea of the performance difference between the OMAP 3430 and the Snapdragon SoCs.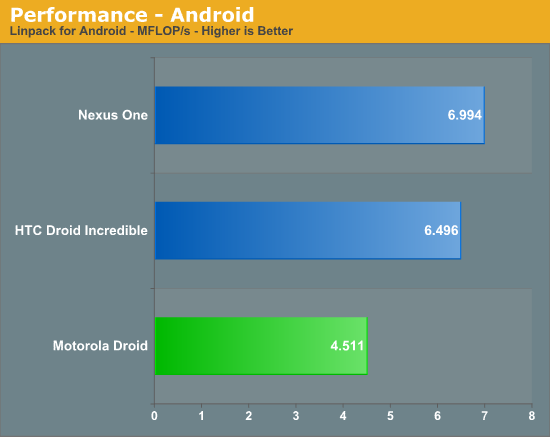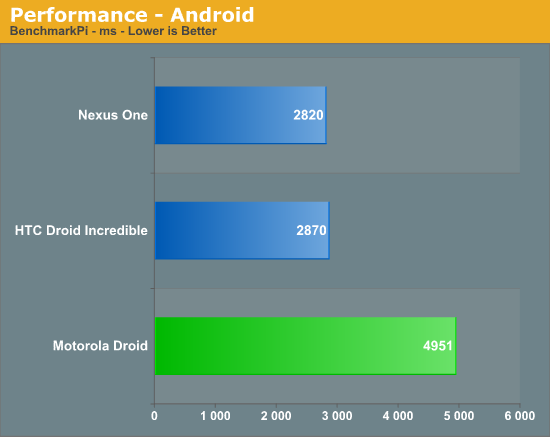 We can see that the OMAP 3430 holds its own, but still just isn't as fast as the 1 GHz Snapdragon SoC. What's interesting here is that the Motorola Droid's Cortex A8 is running at 550 MHz, some 81% slower than the 1 GHz Snapdragon. However, the performance difference between the two is only 44% for Linpack. Benchmark Pi numbers are closer to the kind of scaling I'd expect, as the 81% increase in clock speed results in a 73% faster compute time.

In practice the N900 is undoubtably a snappy phone. While using Maemo, I never once wanted for more power, even though users have successfully achieved 1 GHz or more on the OMAP 3430 in the N900 and Motorola Droid. Only after getting 8 or more webpages open did I really start to notice any lag or slowdowns at all. On the Motorola Droid, Android 2.1 was more than usable, and far faster in practice than the ARM11 class SoCs used in some of the other Android phones, like the 528 MHz Qualcomm MSM7600A or MSM7200A in the HTC Hero.
Battery Life

The OMAP 3430 delivered an interesting mix of battery life conclusions. It's interesting to see how much of the battery savings is implementation, radio chipset, and OS. Thankfully, we have the opportunity to do so here with the N900 and Motorola Droid.

Of course, the Motorola Droid is on Verizon, meaning our call test uses a CDMA 1xRTT '2.5G' network for voice, and '3G'r EV-DO for data. Our N900 came with an AT&T SIM, and unfortunately I don't have any T-Mobile SIMs laying around, so the call test used '2G' GSM voice, and '2.75G' EDGE-GPRS for data. That makes direct comparisons a bit tricky - though in practice it's easy to get a feel for what 3G calling and data on the N900 will be - it will be less than what we measured here for the 2G case.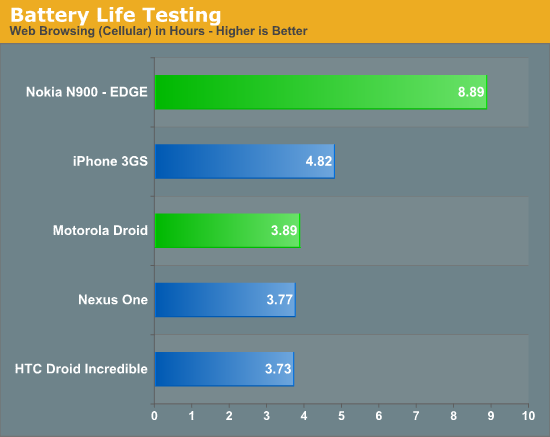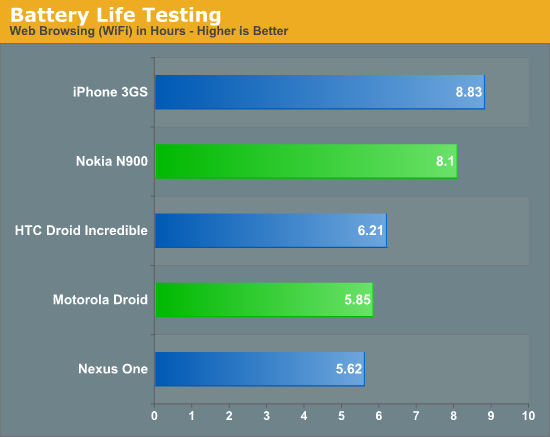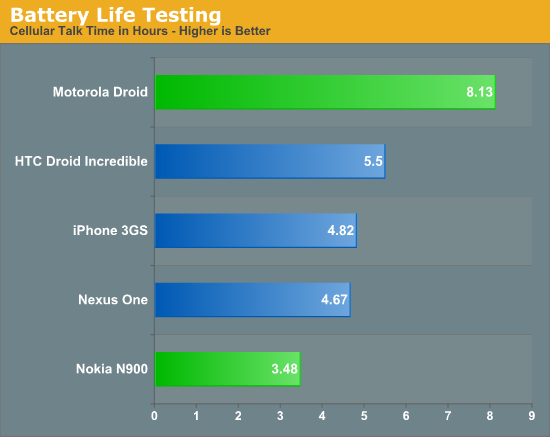 I was shocked when I saw the call time numbers for the Motorola Droid, and ran the test 2 more times - all with the same outcome. If call time is what's important to you, the choice is a no-brainer. On the other hand, the N900 easily bests the Motorola Droid for WiFi browsing time, though 3G web browsing isn't a good comparison because of the EV-DO versus EDGE difference.

It's clear that battery life is very much an OS stack and radio stack dependent problem, even though we're running the same SoC. Remember that the N900 is running the 3430 at 600 MHz, and the Motorola Droid is running at 550 MHz.
Speakerphones: A New Test
A huge contributing factor for a lot of smartphone shoppers is how loud the smartphone's speaker goes. Rather than subject you to objective cricisms that really are just a measure of how well my hearing is, we're going to report speakerphone volume.
To do this, I place a call to the local ASOS automated weather service (which plays a continual report of the weather in an emotionless computerized voice) on the speakerphone at maximum volume. I then use an Extech USB sound level datalogger connected to my computer and collect data until the call hangs up automatically, usually one to two minutes, and take the average. Unfortunately I lack an anechoic chamber, so ambient noise level was a somewhat loud 51.8 dBA.
The microphone is 6 inches above the smartphone, display side up.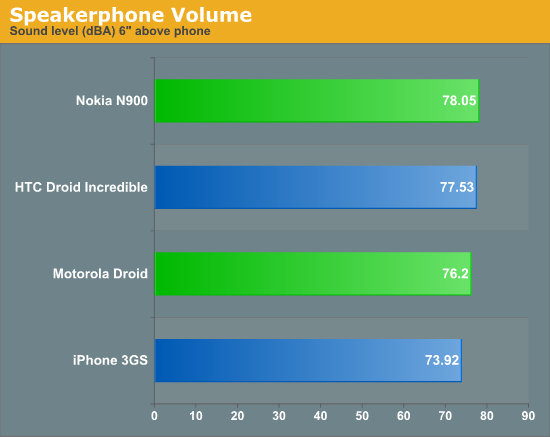 We can see that the N900 is the loudest of the bunch, likely thanks in part to the dual speakerphone setup which is along the sides of the phone. It's an excellent design that means volume is the same face up and face down. Both the HTC Droid Incredible and Motorola Droid put the speakerphone on the bottom of the device, though they're equally loud here.
The iPhone 3GS puts the speakerphone at the bottom of the device, giving it good face up and face down performance, but it's still measureably quieter than the bunch. I'm going to have another article soon with some other interesting iPhone specific findings...
Conclusions

We've revisited two phones running the same SoC, each a bit over halfway into their product life cycles. It's an interesting perspective that this gives us, as they're no longer the latest and greatest, but still far above average, and a ways from being obsolete.
From a physical perspective, the Motorola Droid remains the flagship of Android phones that come with a hardware keyboard - a feature that enthusiasts and casual users alike still identify as hugely important. If having a hardware keyboard is important to you, the Motorola Droid is almost the only option out there with a modern ARMv7 CPU.
Even though Motorola's summer refresh is looming - likely bringing along the Motorola Droid 2 and Motorola Droid Xtreme - the phone that launched Android 2.0 will still get an update to Android 2.2 'Froyo,' and likely be offered at a discount price as it continues its life cycle. Already, Verizon is offering buy one get one free on the device. In fact, although many expected Motorola Droid sales to slow down significantly after the HTC Incredible's launch, sales continue to shore up supply, with Motorola's Sanjay Jha making note of device shortages similar to the HTC Incredible's due to demand.
Motorola's made support for its current Droid an obvious priority, as we've seen the device get multitouch in the browser, maps, and gallery, with Android 2.1 among other important features. From a performance perspective, the Motorola Droid's 550 MHz Cortex A8 simply isn't a match for the 1 GHz A8 in Snapdragon's Scorpion CPU - but the Motorola Droid's GPU is faster. The OMAP 3430 still has a lot of life in it waiting for overclockers - in fact, many already do. From a battery life perspective, call time on the Motorola Droid is absurdly long compared to other smartphones at 8.13 hours. In spite of the looming Droid 2 and Xtreme, the original Droid is a sound choice to make if you're on Verizon and absolutely need a hardware keyboard. Though we didn't test it - I would expect much of the same from the handset's GSM cousin - the Motorola Milestone.
When I sat down to tackle the N900, I was hugely excited because of how much potential Maemo still has as it evolves into MeeGo. A month later, I still feel the same way - like I've explored maybe 10% of the platform's real depth. There's something to be said for how truly and completely open Nokia's approach is compared to platforms like Android and iOS. For as big on 'open' as these latter two platforms advertise being, it's refreshingly mindblowing to see Nokia offering instructions on how to get superuser access on their own handset, on their own support website. Contrast that to iOS or Android where one has jailbreak or 'root', respectively, to do things the platform creators don't intend. To that end, I find it incredibly depressing when the Linux chief architect himself, Linus Torvalds, (who is notably Finnish, same as Nokia) embraces Android over Maemo. It's the difference between a platform that lets you fire up a preinstalled X-Term and apt-get install away versus one that doesn't. While that's not really an end-user feature that any handset maker will tout, it's telling about platform philosophy.