Original Link: http://www.anandtech.com/show/3762/apples-13inch-macbook-pro-early-2010-reviewed-shaking-the-cpugpu-balance


I'm convinced that there's no perfect mobile form factor. You can make arguments in favor of and against everything from the smartphone and tablet to 17" desktop replacement notebooks. There's simply a time and a place for everything.
Sometimes you don't need to do a lot but want to be able to couch around and browse the web on a tablet. Other times you need to do actual work but don't need a ton of CPU horsepower; that puts you into 13-inch notebook territory.
For even more productive beings there are larger 15 and 16-inch systems. And given how thin the system is, it's also not hard to make an argument for Apple's 17-inch MacBook Pro. You get a desktop-like screen resolution and mainstream desktop performance.
It's like having a set of screwdrivers. You may use some more often than others but having the entire set helps. Unfortunately having a set of notebooks and mobile devices isn't really an option for most. Inevitably you have to choose. And for portability, that choice often leads you to something a bit larger than a netbook for performance, but small enough to comfortably carry around.
For Apple users this portable sweetspot is the 13-inch MacBook Pro.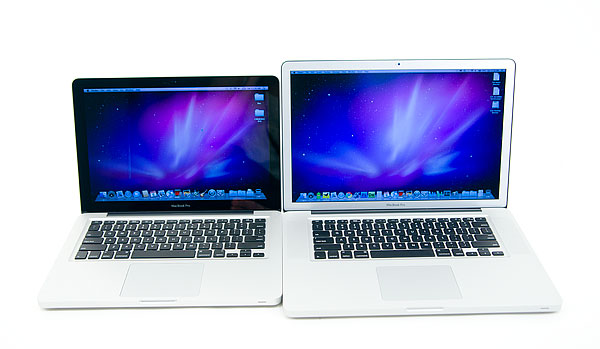 Apple's 2010 13-inch (left) vs. 15-inch MacBook Pro (right)
I've praised the 2010 15-inch MacBook Pro as being the one to get thanks to its combination of performance and battery life. When Apple made its 2010 upgrade public however, the 13-inch model was somewhat neglected. It got a faster GPU and bigger battery, but only a mild CPU bump. Priced at $1199 you get a 4.5 lbs aluminum unibody chassis, a 13.3" display and a 2.4GHz Core 2 Duo CPU. Keeping up with recent tradition, a NVIDIA GeForce 320M chipset is also under the hoo..err, keyboard. While the rest of the MacBook Pro lineup got shiny new Core i5 and i7 processors (dual core + Hyper Threading), the new 13-inch is stuck with an older Core 2 Duo.
On the bright side, Apple finally outfitted the 13-inch MacBook Pro with a sufficient amount of memory: 4GB. It's still spread out over two DIMMs (making upgrading more expensive than it should be), but it's enough to get you going. I'd say that given the usage model for most notebooks, 4GB should be plenty with OS X 10.6.


The 13-inch MBP comes with all the ports the 15-inch model has, minus dedicated line in/out. You get GigE, FireWire 800, mini DisplayPort, 2 x USB 2.0, a SD card readerand a shared line in/out port. Click to Enlarge
| | | |
| --- | --- | --- |
| Apple's 2009 Lineup | 13-inch MacBook Pro (Early 2010) | 13-inch MacBook Pro (Late 2009) |
| CPU | Intel Core 2 Duo 2.40GHz | Intel Core 2 Duo 2.26GHz |
| Memory | 4GB DDR3-1066 | 2GB DDR3-1066 |
| HDD | 250GB 5400RPM | 160GB 5400RPM |
| Video | NVIDIA GeForce 320M (integrated) | NVIDIA GeForce 9400M (integrated) |
| Optical Drive | 8X Slot Load DL DVD +/-R | 8X Slot Load DL DVD +/-R |
| Screen Resolution | 1280 x 800 | 1280 x 800 |
| USB | 2 | 2 |
| SD Card Reader | Yes | Yes |
| FireWire 800 | 1 | 1 |
| ExpressCard/34 | No | No |
| Battery | 63.5Whr | 60Whr |
| Dimensions (W x D x H) | 12.78" x 8.94" x 0.95" | 12.78" x 8.94" x 0.95" |
| Weight | 4.5 lbs | 4.5 lbs |
| Price | $1199 | $1199 |
Today we're going to find out if the sweetspot got any less sweet as a result of the unusual upgrade. If you're unfamiliar with Apple's unibody MacBook Pro and integrated battery design I'd recommend reading our older articles on the topic.
Not Arrandale, but Better Graphics
Apple is up to something. For the past 1.5 years every single Mac has shipped with some form of NVIDIA graphics, standard, regardless of price. These are all G9x based GPUs with full support for OpenCL. From the looks of it, Apple is trying to broaden its install base of OpenCL compliant machines. In preparation for what I'm not really sure, but something is coming.
The unwillingness to ship a Mac without real GPGPU support leads us to the current problem with the 13-inch MacBook Pro. There's not enough motherboard real estate to include an Arrandale Core i3/i5 CPU plus an NVIDIA discrete GPU like Apple does in the new 15 and 17-inch models. Rather than sacrifice the GPU, Apple sacrificed CPU speed.
The new 13-inch MacBook Pro starts with a 2.4GHz Core 2 Duo processor based on the three year old Penryn core. It's an upgrade from the 2.26GHz model that shipped with last year's model, but no where near as fast as the Core i5 you get with the 15-inch MBP.
Apple justifies the mild CPU upgrade by including a much more potent GPU: the GeForce 320M. The 320M has 48 cores up from the 16 that were in last year's GeForce 9400M. Like the 9400M, the 320M has a full fledged chipset to go along with it. A single chip for the CPU and one for the chipset/GPU, that's how Apple is able to keep its current motherboard/chassis design with the upgrade. Something Apple didn't want to sacrifice by going to the Core i5.

Looking at Intel's roadmaps, there are no package shrinks planned for Arrandale throughout 2010. If Apple wants to move the 13-inch platform to a Core i3/i5/i7 it needs to redesign its system to somehow make it fit or pray for a NVIDIA Arrandale chipset.
Is the upgraded NVIDIA GPU worth it? To find out I ran a handful of gaming benchmarks, both under Windows 7/Boot Camp and OS X (thank you Valve). We'll start with World of Warcraft running at 800 x 600: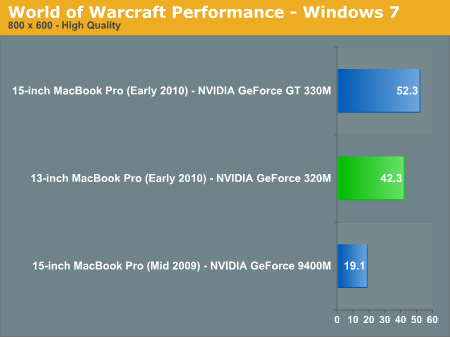 Performance is much better than last year's GeForce 9400M, you're looking at more than double the frame rate. Our WoW test actually went from choppy to playably smooth on the new 13-inch MacBook Pro compared to last year's 15-inch with a 9400M. The GeForce 320M also offers around 80% of the performance of the GT 330M in the 15-inch. The benefit? You don't have to worry about switching between GPUs, there's only one to deal with in this system.
Next up is Left 4 Dead under Windows 7: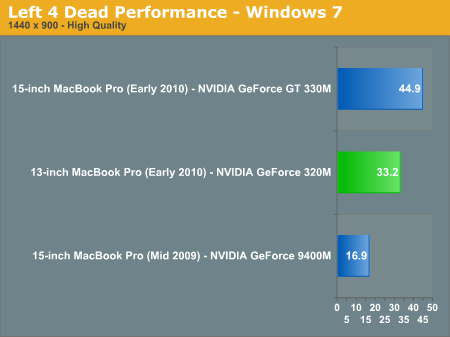 Up the resolution to 1440 x 900 (we had to resort to an external display to get it this high on the 13-inch) and the performance improvement over last year's 9400M remains consistent. The new 13-inch MacBook Pro has roughly twice the gaming performance of the GeForce 9400M found in last year's. At higher resolutions the gap between the 320M and GT 330M widens however. The 320M now offers less than 70% of the performance of the GT 330M. For its native panel resolution, the 13-inch's 320M is sufficient however. Apple usually does a good job of hardware selection.
While Source engine performance under OS X isn't all that great, the new 13-inch MacBook Pro is at least playable in even the most GPU intense games Valve offers: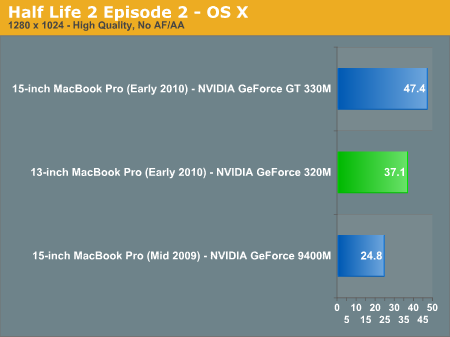 The performance improvement over the 9400M here isn't as great, but still noticeable. The 320M offers 78% of the performance of the GT 330M. Overall I would call the GPU upgrade the 13-inch MacBook Pro received significant, but it's only something you'll notice if you're a gamer. If you aren't playing 3D games on your notebook, the upgrade is mostly meaningless today.
Looking forward, I suspect that Apple may stick with its GPU strategy for at least one more cycle. While Sandy Bridge (due out in 2011) will have much improved graphics performance, I don't believe it will have much of a compute focus. We may not see that from Intel until Ivy Bridge in 2012 or Haswell in 2013. Apple has been talking to AMD about Llano so that's another potential solution for small form factor Mac notebooks moved forward.
General Performance: A Mild Improvement
We know what the GPU upgrade is good for, but what about the mild CPU bump in the 2010 13-inch MacBook Pro?
General OS usage is a difficult thing to quantify, but one measure of performance has always been the number of bounces an icon in the dock makes before an application loads. I decided to take it to the next level and write a quick script to launch 15 applications in a row, timing how long the entire process takes.
I launched, in order: Mail, Safari, Activity Monitor, iTunes, iCal, DVD Player, iPhoto, Photo Booth, Quicktime Player, Disk Utility, Preview, iMovie, Front Row, Garage Band and Aperture.
The entire process stresses both the disk and CPU, which is why we see a huge improvement when going to an SSD as well as differences between CPU speeds.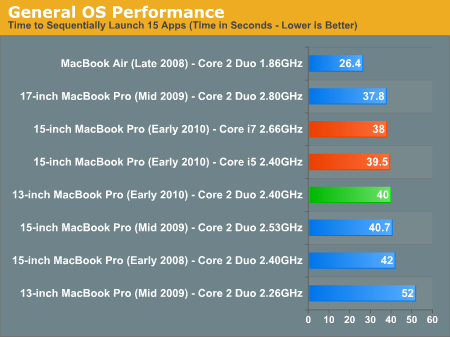 Application launch performance improves tremendously compared to last year's model thanks to the now standard 4GB of memory. The 2GB last year's model came with just wasn't enough. Now if you upgraded your previous gen 13-inch MBP then you'll hardly notice a performance improvement.
Also pay attention to just how well the Late 2008 MacBook Air does in this test. That's thanks to its SSD. Add an SSD to any of these notebooks and you'll see a similarly awesome increase in performance.
Adobe Photoshop CS4 Performance
The Retouch Artists Speed Test we use for our CPU testing under Windows also works under OS X. We're running the exact same benchmark here, basically performing a bunch of image manipulations and filters and timing the entire process.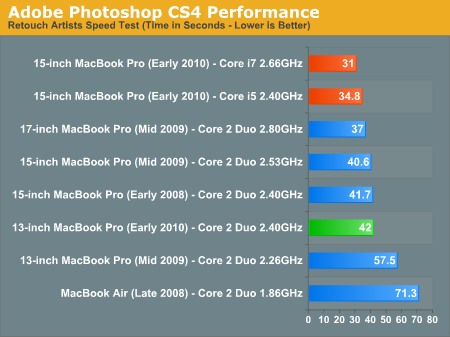 Start doing real work with the 13-inch MacBook Pro and you'll note that it's significantly slower than the new 15-inch models. The Core i5 just rocks. Compared to last year's model the new MBP is much faster, but again that's due to the 4GB vs. 2GB of DDR3 that comes standard with the machine. An upgraded 2009 13-inch MBP would be basically the same speed.
Aperture 2 RAW Import
For my Aperture test I simply timed how long it took to import 203 12MP RAW images into the library.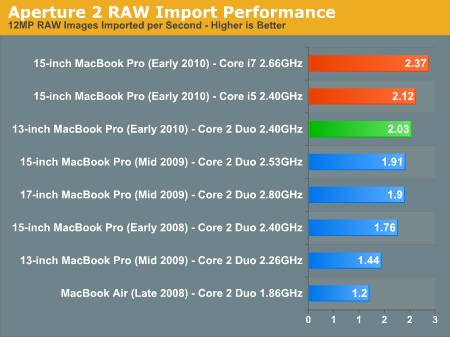 Photographers and digital media creation professionals will want to opt for the 15-inch MacBook Pro, the faster CPU is definitely worth it.
Cinebench R10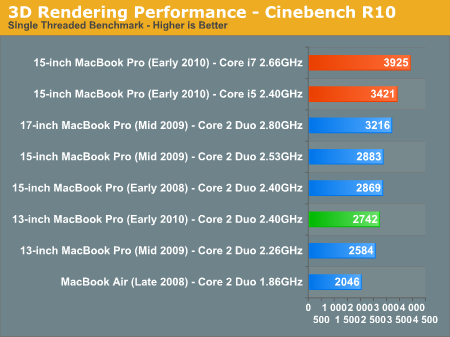 In situations where we're not memory bound, the improvement over the previous generation 13-inch model is small. The performance improvement here is 6%. I'd say in most apps you'd see a 2 - 4% improvement over the 2.26GHz 13-inch from last year.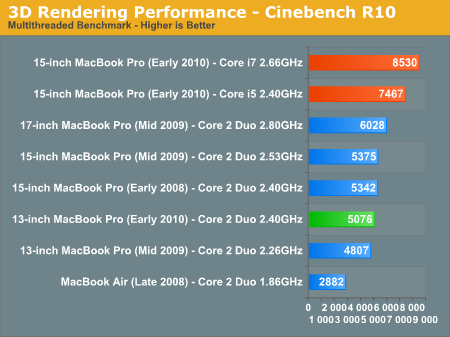 Quicktime H.264 Video Encoding
Our final benchmark is more consumer focused. Here I'm taking an XviD and converting it to an iPhone-supported H.264 format.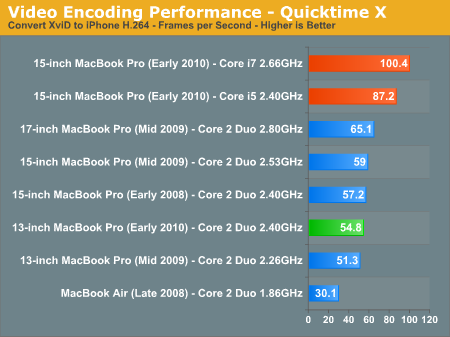 Encoding performance is improved over last year's 2GB/2.26GHz model, but no where near as much as the Core i5/i7 managed with the 15-inch model. If you're doing anything CPU intensive, the new 13-inch MacBook Pro isn't an upgrade.
Notebook Performance, Netbook Battery Life
For light web browsing, emails and general writing, many have looked to the netbook as an answer. You get a ton of battery life but the minute you try to do something a little more intensive you're reminded that you own a netbook.
Two years ago Apple shipped a 68WHr battery in its top of the line 17-inch MacBook Pro. Today, the new 13-inch MacBook Pro comes with a 63.5WHr battery. That's absurd.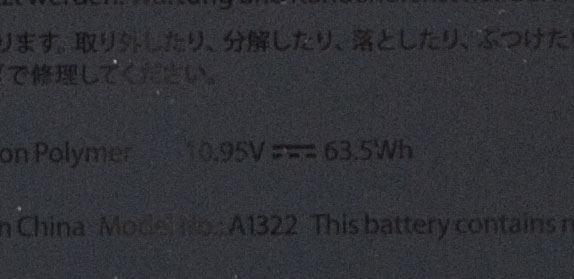 The result is that the 13-inch MBP gives you a good balance of available performance and battery life. Even better than the 15-inch thanks to the lower power CPU and absent discrete GPU. When you're just lightly using the machine you can get nearly 10 hours of battery life. But the system is always responsive, even if you need more out of it.
Light Web Browsing
Our first test is the one that yields the longest battery life: the light web browsing test. Here we're simply listing to MP3s in iTunes on repeat while browsing through a series of webpages with no flash on them. Each page forwards on to the next in the series after 20 seconds.
The display is kept at 50% brightness, all screen savers are disabled, but the hard drive is allowed to go to sleep if there's no disk activity. The wireless connection is enabled and connected to a local access point less than 20 feet away. This test represents the longest battery life you can achieve on the platform while doing minimal work. The results here are comparable to what you'd see typing a document in TextEdit or reading documents.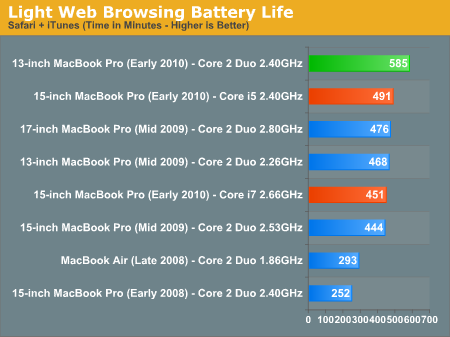 The new 13-inch MacBook Pro lasts another 19% longer compared to the new 15-inch. This is now the best battery life Apple offers in a notebook. At 9.75 hours we're in netbook/CULV territory but with a normal 2.40GHz Core 2 Duo.
Flash Web Browsing
Our next test more closely simulates a very heavy web browsing scenario. The test here has three Safari windows open, each browsing a set of web pages with between 1 - 4 animated flash ads per page, at the same time. Each page forwards onto the next after about 20 seconds.
As always, the display is set to 50% brightness, audio at two bars, screensaver disabled and the hard drive is allowed to go to sleep if idle. The wireless connection is enabled and connected to a local access point less than 20 feet away.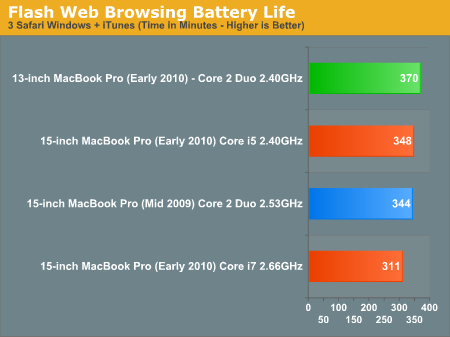 We had to rerun our flash web browsing tests now that Apple fixed the Snow Leopard Safari/Flash battery life issue so we don't have a full list of numbers here. The battery life improvement over the new 15-inch is pretty small here, only 6%. I'm guessing Hyper Threading is at work to keep Flash execution nice and efficient on the Core i5.
XviD Video Playback
Watching movies on your laptop is very realistic usage model, but I wanted to spice it up a bit. The DVD playback test is so done, I wanted something a little more forward looking. I ripped The Dark Knight to XviD and played it back continuously in QuickTime X with Perian installed.
For this test the display was set to full brightess and audio was set at two bars below maximum. Once more the hard drive was allowed to go to sleep if it was idle. The AirPort (wireless LAN) was enabled and connected to a local access point less than 20 feet away.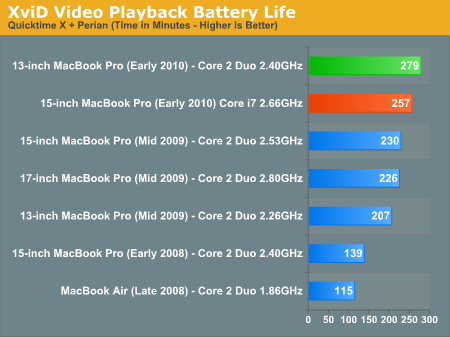 You can get 4.65 hours of battery life out of the new 13-inch while watching XviDs, that amounts to two full movies and maybe some spare battery life to get some work done.
Multitasking Battery Life
Our final battery life test is the worst case scenario. In this test we have three open Safari windows, each browsing a set of web pages with between 1 - 4 flash ads per page, at the same time. We're also playing an XviD video in a window all while downloading files from a server at approximately 500KB/s.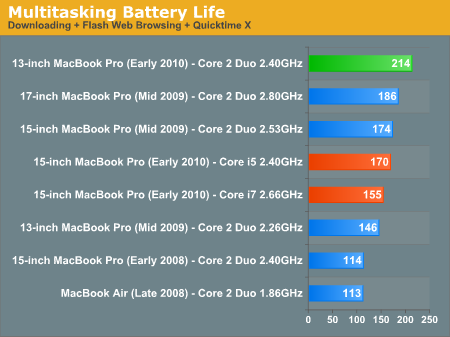 The Core i5 and Core i7 based MacBook Pros have the ability to be more power efficient than their predecessors as well as draw more power, all dependent on what sort of workload you subject them to. In our worst case battery life test the new 13-inch manages a bit over 3.5 hours, a full 25.8% longer than the 15-inch Core i5.
The Display: Just as Good
Apple's MacBook Pro lineup is all about consistency. In everything from aesthetics to the keyboard, you really just have to pick your desired screen size and go from there.
That means the 13-inch MacBook Pro has the same keyboard as the 15 and 17-inch models. In other words, you get the best chiclet keyboard on the market. It's great for anyone who wants to do a lot of typing. Like the rest of the Pro lineup, the keyboard is backlit. You can turn off the backlight as well as control its brightness.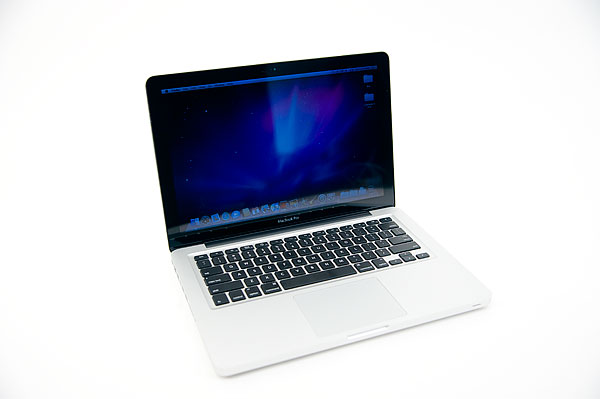 The aspect ratio is an Apple-standard 16:10 with a comfortable but slightly old-lady 1280 x 800 resolution. There is no matte screen option, so outdoor use in direct sunlight will be a problem. Indoors however, the display looks great.
In terms of brightness, color gamut and contrast ratio there's virtually no difference between the 13-inch display and the 15-inch high resolution matte display we reviewed a couple of months ago. It's not the best panel we've ever seen, but a clear step above what you find in average netbooks/notebooks.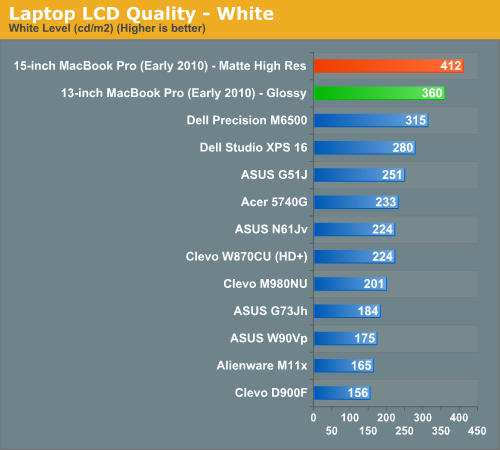 The MacBook Pro displays can get very bright. They need to in order to make the glossy display usable outside, but indoors and in the shade the brightness is enough to suit anyone's needs.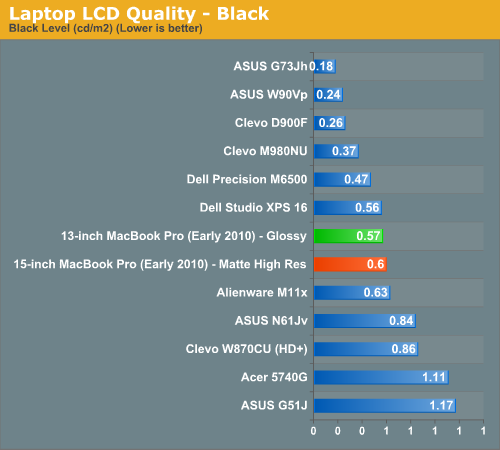 The black level is reasonable but nothing spectacular, thanks to the bright whitepoint the resulting contrast ratio is pretty solid: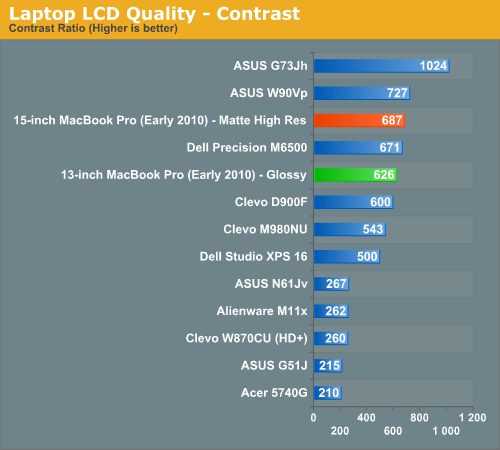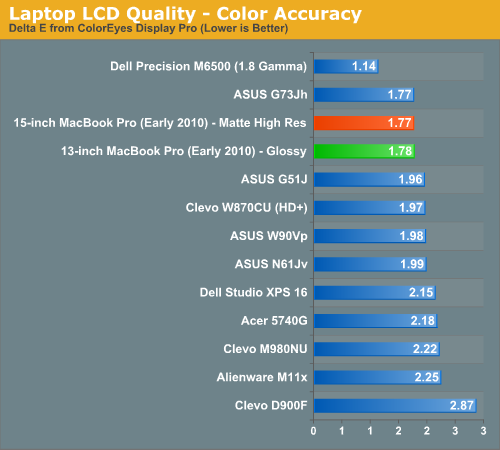 Given Apple's focus on creative professionals the color accuracy of the 13-inch's panel is excellent. And despite the lower price tag, you give up nothing compared to the 15-inch panel.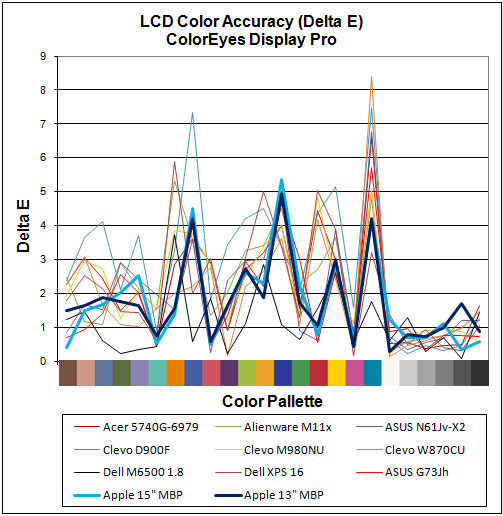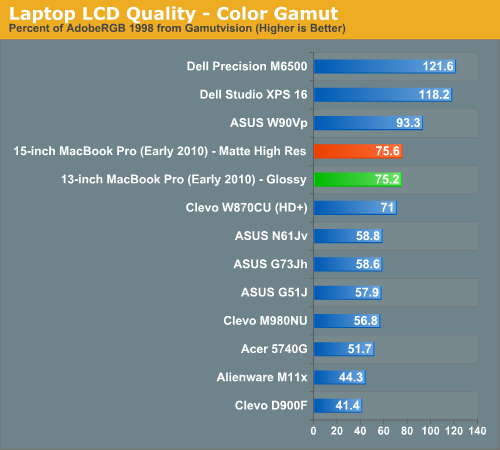 Color gamut is also impressive, again not the best we've seen but way better than the majority of laptops on the market. And again, identical to the 15-inch MacBook Pro.
Thermals: The Leg Test
At the end of my 2010 15-inch MacBook Pro review I mentioned that the bottom of the chassis can get uncomfortably warm. The higher peak power draw of the Core i5/i7 combined with the discrete GPU of the 15-inch MBP can result in more heat dissipated than the previous model.
The 13-inch MacBook Pro is built off a mature yielding 45nm Core 2 Duo CPU. Given how long Intel has been making this CPU it's safe to assume that this chip is running as cool as physically possible. While the mobile Core i5/i7 still have a lot of improving to go through. While the base of the 13-inch MBP can get warm under normal use (aluminum conducts heat very well...towards your lap), it's not as bad as the new 15-inch. I'd say it's pretty much on par with last year's models.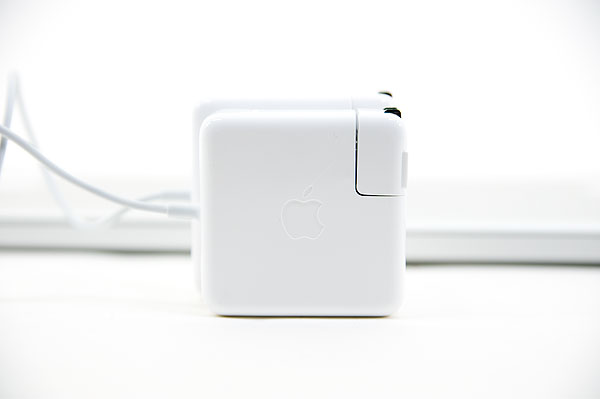 To quantify these differences I pointed an infrared thermometer at the bottom of a few MacBook Pros and reported the surface temperatures. They were taken in a room with an ambient temperature of 76F.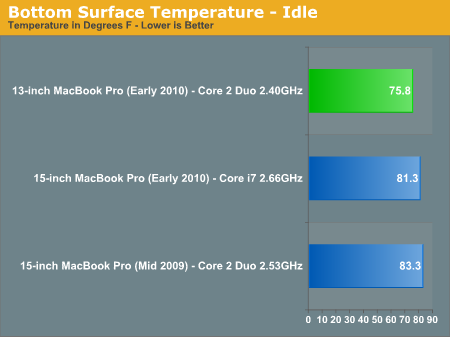 At idle the 13-inch MacBook Pro is about room temperature. The new 15-inch is a few degrees warmer and the 2009 15-inch is actually the warmest. Remember that the Core i7 in the 15-inch has a very low idle power thanks to Intel's power gating.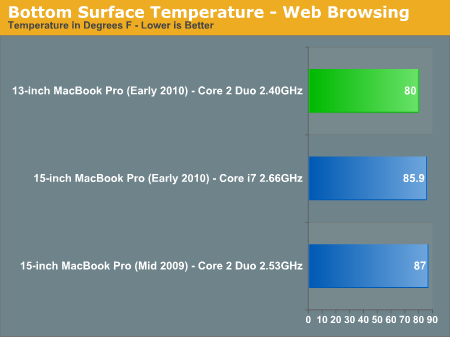 While browsing the web the temperatures climb up considerably. The new 13-inch is still cooler than anything else, while the new 15-inch model's power efficiency let's it run cooler than the previous model.
Running Half Life 2 Episode 2 changes things dramatically. Now all three machines are running at or above 90F and the 2010 15-inch MacBook Pro is finally warmer than the previous model. If I measure temperature near the exhaust fan on the notebooks the new 15-inch model peaks at 105F compared to 99F for the previous generation and 92F for the 13-inch.
In all cases the new 13-inch MacBook Pro keeps surface temperatures under control. In most situations the 2010 15-inch MBP is actually cooler than the previous generation, it's only when the dGPU is active or under heavy load that the surface temperature can go well above what the older model would do.
TRIM Support On the Way?
Several readers wrote me once they received their new 13-inch MacBook Pros and told me that System Profiler lists TRIM support as an option for SSDs on these systems. I confirmed: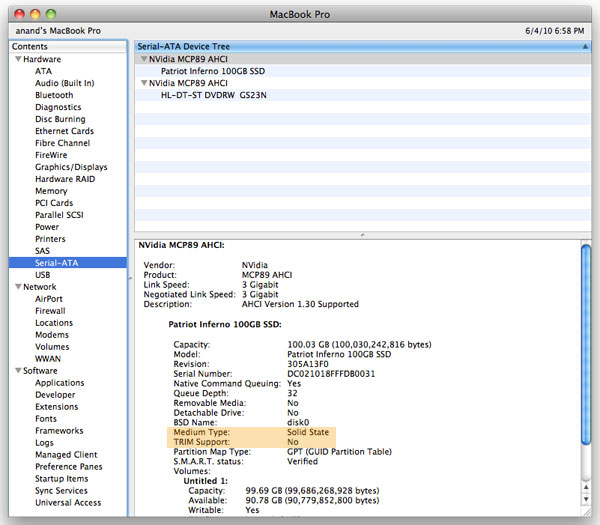 This appears to be limited to the new 13-inch MacBook Pro. I tried my 2nd gen unibody 15-inch as well as the new 15-inch i5/i7 model and neither of them have TRIM listed as an option with an SSD installed. It appears that the driver for the GeForce 320M chipset in the new 13-inch MBP supports TRIM at some level.
The OS still incorrectly identifies SSDs with TRIM support as not supporting the instruction, but I get the feeling we're close to having TRIM support in OS X. At which point we'll be even closer to Apple shipping some halfway decent SSDs in their systems. It's taken this long but we're getting there.
What About the new MacBook?
Last month Apple introduced the new MacBook. With a 13-inch 1280 x 800 display (not sure about panel quality), the new MacBook looks a lot like the 13-inch MacBook Pro but at a $200 cheaper price tag. In fact the only differences boil down to 2GB vs. 4GB of memory, plastic vs. aluminum chassis, a backlit keyboard, SD card reader and Firewire port.

The battery life and performance should be identical between the two given they're using the same hardware.
Based on specs alone, the 13-inch MacBook Pro appears to be worth it. The standard MacBook ships with 2 x 1GB DDR3 SO-DIMMs. In order to upgrade to 4GB you need 2 x 2GB modules, which will set you back around $130. You could sell the leftover modules for about $40 on eBay which makes the MacBook $110 cheaper than the 13-inch MBP. But you do get a thinner, lighter and better looking chassis, not to mention the backlit keyboard which is very nice for late night writing or on an airplane.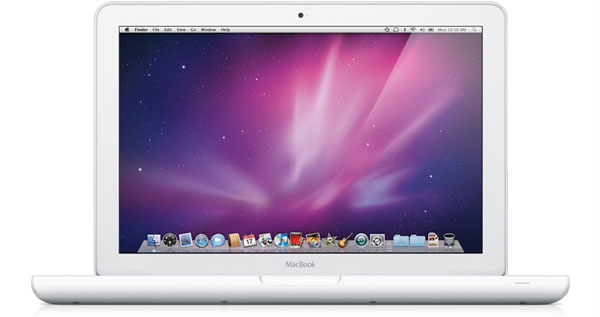 I haven't reviewed one yet but the price difference seems small enough where the 13-inch MacBook Pro is worth it.
Final Words
The 13-inch MacBook Pro continues to be portable Mac of choice for most users. You get a decent performance over the MacBook Air while maintaining a good degree of portability and battery life. It doesn't hurt that it's also by far the most affordable in the Pro lineup.
Apple also keeps delivering with its honest battery life claims. I measured between 3.5 and 9.75 hours of battery life on the new 13-inch MacBook Pro depending on workload. The 13-inch gives you a good combination of netbook-like battery life but with the performance on tap when you need it.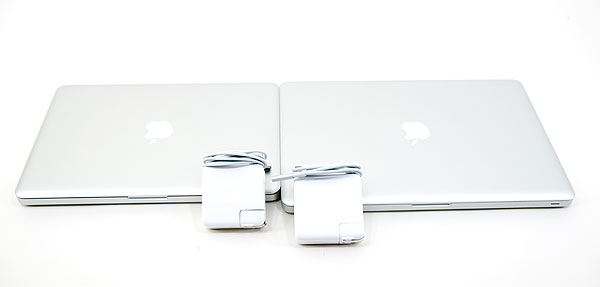 The missing Core i5 is by far the biggest issue in my eyes. It's the only thing that makes the 13-inch MacBook Pro a good portable but not the perfect notebook. While it's fast enough for most tasks the Core i5/i7 are significantly faster in anything that's CPU intensive, and it's a difference that's noticeable. For me personally, it's the faster CPU and higher resolution that make the 15-inch model my choice. While I can appreciate Apple's desire to have a base level of GPU functionality across its entire lineup the fact of the matter is that today, the killer apps for GPUs continue to be 3D games. If you aren't spending a lot of time gaming on your notebook then Apple's CPU/GPU balance isn't optimal.
If you've got last year's 13-inch model you'd get more bang for your buck by upgrading to 4GB of memory and/or buying an SSD. The exception of course being if you play any 3D games.
The GeForce 320M in the 13-inch MacBook Pro is fast enough to play anything Valve has out for OS X today. If you reboot into Windows you can even get over 60fps at the panel's native resolution in Half Life 2 Episode 2. Stick around in OS X and you're looking at the mid-40s. Not bad. This is roughly twice the performance of the GeForce 9400M used in last year's model.
I'm very curious to see what Apple will do going forward. At some point it will have to abandon the Core 2 platform in favor of the new Core i3/5/7 family. Moving back to a 3-chip solution will require a board redesign, which I'd expect out of the next generation MacBook Pro. Apple is very committed to using powerful GPUs in its products, I'm more interested in finding out why. There's got to be a killer app brewing somewhere in there.