Original Link: http://www.anandtech.com/show/3701/acer-aspire-1410-singlecore-culv-takes-on-atom


Acer Aspire 1410: Introduction
We've already looked at a number of systems with Intel's CULV platform, but interestingly, all of them have been of the dual-core variety. We frequently champion the CULV platform as offering massive battery life and decent performance at a very reasonable price, and usually present the lower end, single-core CULV machines as an alternative to netbooks. So it's only fair to the netbook class that we test an ultraportable based around the single-core CULV platform.
The notebook we have here is the one I personally feel is the best reason not to buy a netbook—the Acer Aspire 1410. The AS1410 is similar to the Acer Timeline 1810T we looked at as part of our CULV roundup. Compared to the AS1410, the 1810T has a dual-core processor, Bluetooth, more RAM and a larger battery, but does cost significantly more. The two notebooks share the same 3.10lb chassis, 11.6" screen, and chiclet keyboard, so the AS1410 is essentially just a stripped down 1810T.
Acer Aspire 1410 Specifications
Processor
Intel Core 2 Solo SU3500
(1.40GHz, 45nm, 2MB L2, 800FSB, 5.5W)
Chipset
Intel GS40
Memory
1x2048MB DDR2-667 @ 4-4-4-12 Timings
Graphics
Integrated Intel GMA 4500MHD
Display
11.6" LED Glossy 16:9 WXGA (1366x768)
Hard Drive
2.5" 250GB 5400RPM 8MB (Hitachi HTS543225L9A300)
Networking
Atheros AR8131 PCI-E Gigabit Ethernet
Intel WiFi Link 5100 802.11a/g/n WiFi
Audio
Realtek AL269 2-Channel HD Audio
(2.0 Speakers with headphone/microphone jacks)
Battery
6-Cell, 10.8V, 4400mAh, 48Wh
Front Side
None
Left Side
1 x USB 2.0
VGA HDMI
AC Power Connection
Right Side
SD/MMC reader
Microphone/Headphone Jacks
2 x USB 2.0
Kensington Lock
Gigabit Ethernet
Back Side
None
Operating System
Windows 7 Home Premium
Dimensions
11.22" x 8.03" x 1.03" (WxDxH)
Weight
3.10 lbs (with 6-cell battery)
Extras
1.3MP Webcam
Available in Black, Blue, and Red
Warranty
1-year standard Acer warranty (USA)
Price
Black AS1410-8804 starting at $399
Our test unit has a Core 2 Solo SU3500 processor, which has a clock speed of 1.4GHz, 3MB of L2 cache, an 800MHz FSB, and a 5.5W TDP. Paired to that is the usual GMA 4500MHD graphics chip, 2GB of DDR2-667 memory, 250GB 5400RPM hard drive, 11.6" WXGA LED-backlit screen, a 6-cell, 4400 mAh battery (48Wh), and Windows 7 Home Premium for a retail price of $449. It must be noted that this is an older SKU that has since been discontinued in favor of a lower priced model with the Celeron M 743 ULV processor, though this model is still available from Staples at $399 and from other online retailers for around MSRP.
At $399, this is an insane buy. Literally just $50-60 more than the higher end SKUs of mainstream netbooks (I'm talking Eee 1001P, Aspire One 532h, and MSI Wind U135 here mainly), it offers a lot more performance and value for the money. We'll show just how much you get for the moderate price increase in just a moment, but let's recap the design for those who may have missed it the first time around.
In and Around the Acer Aspire 1410
In use, the AS1410 is similar to the 1810T. The glossy plastic exterior is somewhat cheap feeling, and aesthetically doesn't impress. This is understandably a cost-driven measure, but the amount of flex shown by the LCD lid is still disappointing nonetheless. Build quality is similar to that of the Aspire One 532h netbook.
On the inside, the faux, brushed aluminum looking plastic used for the palm rests is appreciated, mostly for its non-glossy finish. It feels good to the touch, better than the glossy plastic used on the 532h, but does exhibit some flex under stress. With that said, the palm rests are so small that you'll probably end up resting your palms on the desk you're typing on and won't ever really put pressure on the palm rests.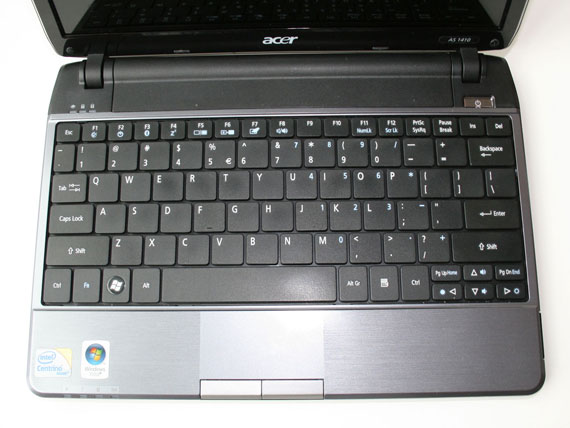 I personally like the keyboard, since it's a full sized chiclet unit that is easy to use. Jarred didn't like the keyboard that much, but I honestly have no problems with it and think it's one of the better ultraportable keyboards out there. The Dell Inspiron 11z has a smaller 92%-sized keyboard, as do all netbooks, so the key size alone makes this one better to type on. There's a slight amount of flex to it that reinforces the feeling that this is a low priced laptop. The multitouch trackpad works as advertised, though it'd be nice if the mouse buttons weren't quite so clicky.
The ports are pretty similar to most netbooks, with one major, major addition: HDMI! And because the CULV platform can actually deal with HD video playback, said HDMI port is actually usable. Other than that, we've got the standard three USB, VGA, headphone out, line in, Ethernet, Kensington lock, 1.3MP webcam, built-in mic, and a memory card slot. The webcam and mic work fine for Skype—no complaints on either end. The speakers are located at the bottom of the notebook and work okay for an ultraportable. I mean, hey, at least it's got two speakers, unlike some of the business-class 12-inchers that make do with one. But the real story here is HDMI. That and the HD video playback alone are worth the extra $50 over a netbook.
Acer Aspire 1410: Usability vs. Netbooks
So, what does the jump from netbook to "budget ultraportable" entail? We'll get to the performance numbers in a minute, but for the moment, let's just talk usability. There are a number of reasons the AS1410 is a far more useful and usable device than a netbook, but by far the most important factor is the screen.
Let me be straight with you, the 1410 has a pretty woeful LCD panel as far as quality goes. Inexpensive laptops have inexpensive LCDs. Color accuracy isn't great, backlight bleed is noticeable in dark scenes, and the viewing angles are truly pitiful. But for all that, the little extra screen area and significant increase in real estate goes a long way in making up for the quality issues. Having 1366x768 means this behaves like most full-sized laptops out there. Windows 7 was designed for at least 768 vertical pixels, so you don't feel like you're being suffocated as you do on a netbook. None of the extra scrolling in system windows, a lot less scrolling in webpages and lists, and just overall much freer and less annoying to use.
Speaking of Windows 7, here we get Windows 7 Home Premium. Real Windows, not the cut down Starter edition nonsense they put on all the netbooks these days. The ability to change wallpapers is much appreciated. The bump from Starter to Home Premium is roughly a $30 upgrade.
The Core 2 Solo processor works well. In most basic tasks you don't miss the second core; it's really only in processor intensive or multithreaded apps that the lack of a dual-core processor is noticeable. It'll handle anything you'd throw at a normal netbook and then some with ease. Just don't try to push for HD Flash on it, because you actually do need the second core for that.
HD video playback through VLC or Media Player Classic works well, though some of the higher bitrate 1080p files can give you some frame drops. Outputting to an HDTV through HDMI works brilliantly, so the 1410 can serve as a mini HTPC in a pinch. Not that it's ideal for that type of thing, but it can if you really want it to.
Honestly, in practice, it works like any full-sized laptop. The limitations of a single-core processor go away as soon as you start to use it and don't rear their head often if you're not pushing the system. The greatest part about all this is that the 1410 is so similar to netbooks in both form factor and price; a 0.3lb increase in weight and $50 is a small amount to sacrifice for such a drastic improvement in all-around usability and capability.
Acer Aspire 1410: Performance
So now we hit the benchmarks, where we can really see where the SU3500 falls in comparison to the Atom N450 and the SU4100/SU7300. Does the added clock speed make any difference, and how much does it get hurt by the lack of both Hyper-Threading and a second core?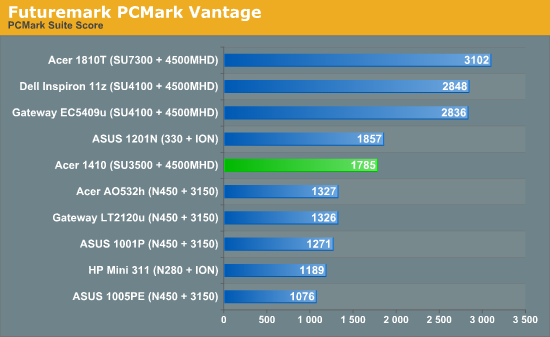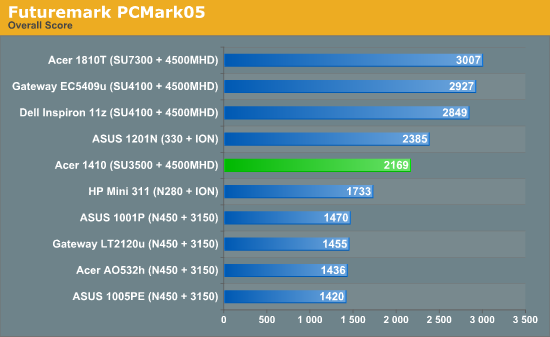 If you looking at the PCMark benchmarks, the answer is quite a bit. It gets hammered by being a single thread, single-core processor—it's down 800 points in PCMark05 and a staggering 1300 points in PCMark Vantage compared to its Core 2 Duo brother, the 1810T. Even the Eee 1201N beats it in both benchmarks (though not by much) and that's just an ION netbook with a dual-core Atom. It's worth noting that the ION part doesn't make much of a difference in PCMark (based on results of the HP Mini 311), and that even the basic N450 netbooks actually aren't that far off in either PCMark test. I'm going to put this down to the Hyper-Threading that the Atom relies on. The PCMark results seem to suggest that the Core 2 Solo is closer to the Atom performance class than the real notebook class.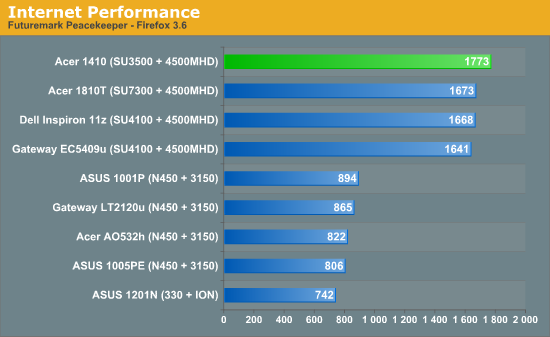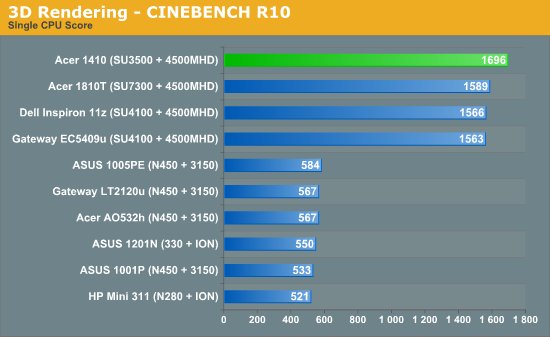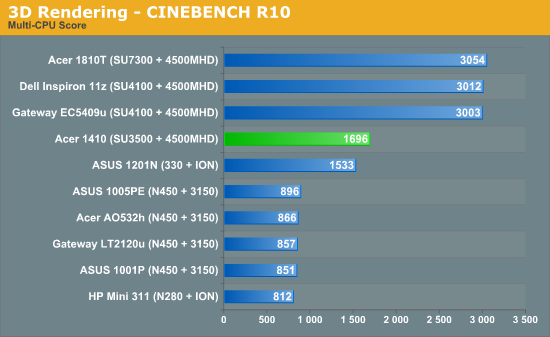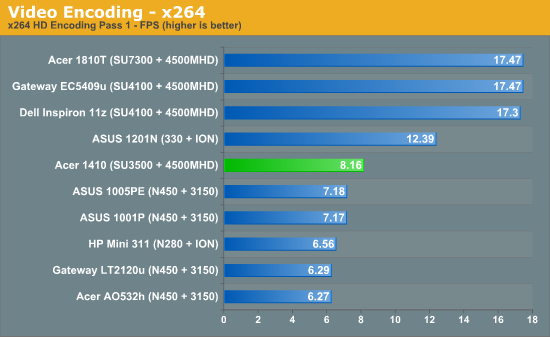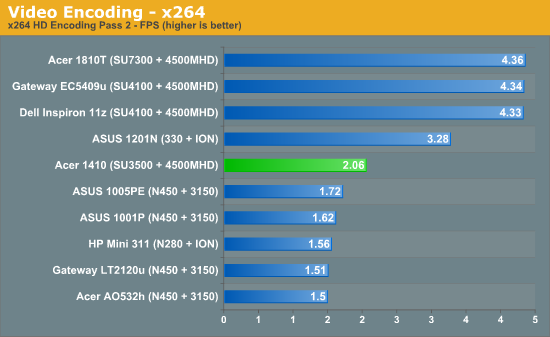 Now if we look at single-threaded benchmark and application performance, we see that even with just one logic processor, the Core 2 architecture will still blow Atom out of the water; it's just useless for multithreaded benchmarks. In Cinebench R10 (single CPU only; we've used the same score in the multi-core chart) the 1410 absolutely wipes the floor with Atom, and because of the higher 1.40GHz clock speed it actually outdoes its dual-core brethren as well. What's interesting to note is that the 1410's single CPU result is faster than the Eee 1201N's multi-CPU result, which really shows the horsepower difference between the Core 2 and Atom architectures. Peacekeeper paints much the same picture, with the 1410 obliterating Atom and slightly outperforming the SU7300/SU4100 machines.
The HD x264 encoding test is another multithreaded benchmark, and again, the SU3500 gets hammered. It's not significantly faster than the netbooks, and it's waaay behind the dual-core CULV systems. With that said, if you're depending on a $400, 3.1lb ultraportable for media encoding purposes, maybe you're looking at the wrong types of computers.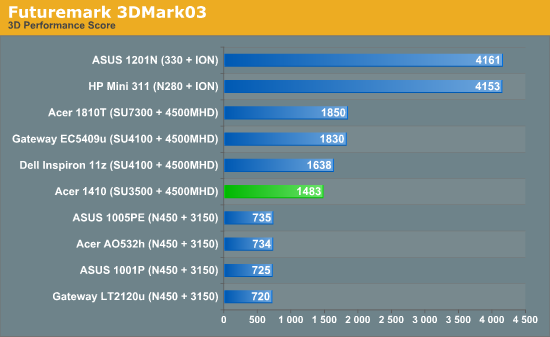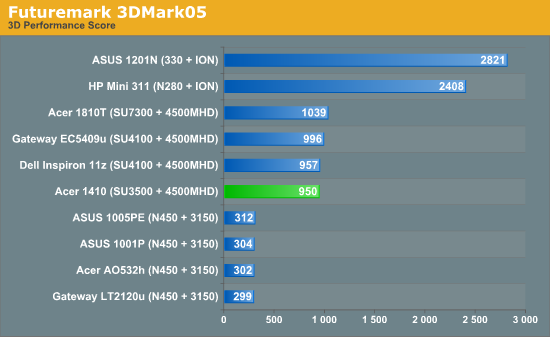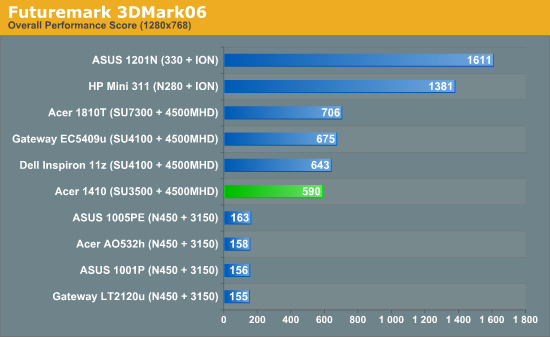 3DMark results show us that, yes, GMA 4500MHD, though a huge improvement over the packaged-into-Atom GMA 3150, is still a pretty useless gaming chip. But hey, at least it breaks the 200 mark in 3DMark06. Really, the 4500MHD is best for games released in the 3DMark03 time frame. The 1410 is in the same range as the other CULV/GMA machines, though the dual-core processors likely helped the others in the CPU tests. Fair enough.
What I would wager is that the 1410 will be slightly faster in whatever old titles you can manage to play on any of these systems due to the higher CPU clock speed. GMA 4500MHD isn't going to be playing any newish titles, and without a CD drive it's going to be a pain to get your games onto the system anyways. (We'd suggest Steam or GOG.com as easy, legal ways to put games on the 1410). Just don't hope for a great gaming experience if you do make the effort.
Acer Aspire 1410: Battery Life
Now for the part where we usually equivocate when we recommend the CULV machines over netbooks: battery life. Performance is without fail the biggest reason we push CULV units, and the high res screen also plays a role in it. But with far better performance and a larger screen, battery life is bound to take a hit when both systems use comparably sized batteries. And take a hit it does.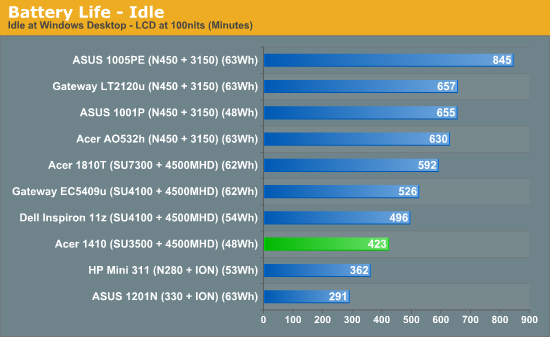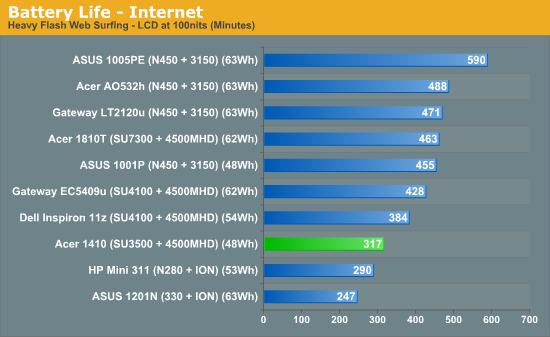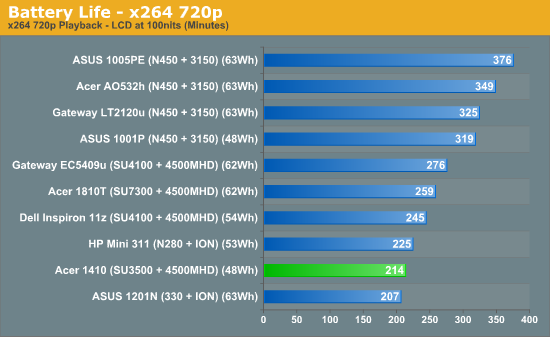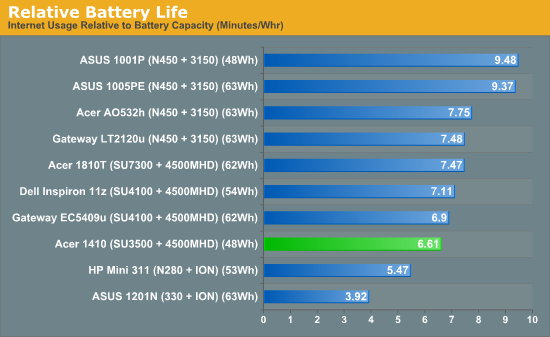 In battery life testing, we see numbers far short of those put up by the CULV units with higher capacity batteries, to say nothing of the more power efficient netbooks. On average, you can expect around 2/3 the battery life of the Acer Eee 1001P (48Wh battery) and 3/4 the battery life of the 1810T (63Wh battery). I was disappointed by the 1410's showing, especially compared to the dual-core CULV machines, However, in the relative metric all of the CULV laptops are quite similar, and CULV still trumps the early ION platforms. Still, the C2S SU3500 has half the TDP of the C2D SU7300, so even with a smaller battery I expected the AS1410 to be relatively competitive to the 1810T. Sadly, this is not the case. Even so, the battery life is still reasonable when evaluated on its own, with a 7 hour max life and well over 5 hours of internet browsing and light usage.
Acer Aspire 1410: Conclusion
The Acer Aspire 1410 is a great alternative to the netbook class of devices. With its single-core ultra low voltage processor, it runs single threaded applications well and offers far better performance than any Atom-based (non-ION) netbook. Add to this the higher resolution screen, Windows 7 Home Premium, double the memory, and it starts to look a lot more appetizing than a netbook for just $60 more.
Take, for example, the ASUS Eee PC 1001p, our favorite current netbook. The Acer is on a different level entirely when it comes to performance, in both computationally and graphically intense tasks. Plus, the all-important benchmark of smooth 1080p video playback is pretty much accomplished here. (HD Flash, on the other hand…not so much.) The Acer gets knocked for its lack of multithreaded processing, but that doesn't make any difference in basic usage, and as a laptop to use for standard tasks, the SU3500 offers a much smoother and less painful experience than the Atom N450. Typing comes nicer, with the full sized keyboard and the overall Windows experience is more pleasant because of the upgrade to Home Premium and the shininess of Aero Glass.
The screen could be a debatable point—the AS1410 has a higher resolution (and thus far less limiting) screen, whereas the Eee 1001p has a far higher quality panel that offers much better contrast ratios and a matte finish. Honestly, while I love the way the 1001p display looks, I prefer the openness and more usable resolution of the 1410. Windows was built for at least 768 vertical pixels, and in a netbook, you really miss that extra real estate. For those that prefer numbers, a 1366x768 panel offers a whopping 70% more pixels than your standard 10.1" 1024x600 netbook display.
The 1410 loses out in a couple of places: styling is not that great, and neither is build quality. The Acer also has a slightly larger footprint and weighs a bit more, though the 0.3 lb (10%) weight increase doesn't make any difference when thrown in a backpack or carrying case. But the real problem is battery life. It gets hammered on the battery life front, with runtimes down 35% from the ASUS. However, with 6-7 hours of battery life still on tap, it's still a fairly long running laptop—just not up to the netbook standards or the top of the CULV class.
If you can live with the hit on battery life, there are many, many reasons to spring for an Acer 1410 or a similarly low priced CULV ultraportable notebook, even with a single-core processor. They offer adequate performance, embarrass the Atom, and come equipped with some nice features that most netbooks leave on the wayside to reduce cost as much as possible.