Original Link: http://www.anandtech.com/show/3669/apples-15inch-2010-macbook-pro-more-battery-life-tests-display-evaluated


Apple is in a position that's enviable by any consumer facing company. It drums up genuine excitement for nearly every product it launches. Apple has somehow found a way to make something as small as just another processor refresh exciting.
It's not all smoke and mirrors though. The previous generation unibody MacBook Pro posted some incredible battery life numbers. And two weeks ago Apple paired it with Intel's Core i5 and i7 mobile CPUs, delivering the sort of desktop-like performance we've been waiting for.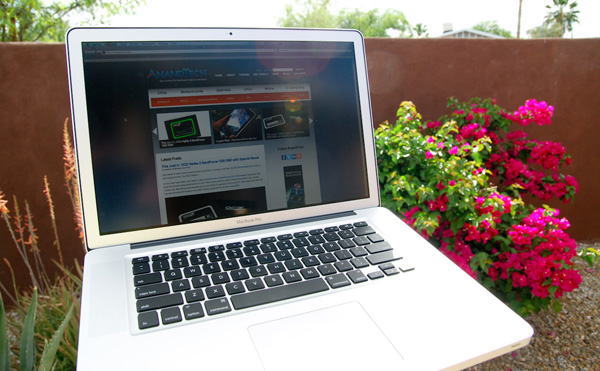 Since the release we've had the time to answer a few more questions about the new systems. We updated our launch article with Core i5 vs. Core i7 results. But today, in response to many of your requests, we've got more battery life results and a full evaluation of the 15-inch MacBook Pro's display quality. Apple is often the go-to manufacturer for creative professionals, we put our colorimeter on the MacBook Pro to find out if they're making the right choice.
Battery Life: Better and Worse in the Real World
Battery life on the new MacBook Pro is a lot more varied than it was on the old one. While our light web browsing test does a good job of showing you what very light usage can give you, I find that the new 15-inch MacBook Pro spends more time at states of higher power draw than the old one. This is difficult to show as a single benchmark result but it appears to be because of two things.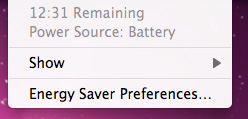 The obvious cause is that the Core i5/i7 CPUs let you do more with the machine. Tasks complete quicker, the system is more responsive and as a result you end up doing more with the machine.
The second part of the problem is Apple's automatic graphics switching technology. While it relies on applications that use specific frameworks (e.g. OpenGL, OpenCL, Quartz Composer, Core Animation and Core Graphics), many have pointed out strange behavior when doing something as harmless as browsing the web.
An attentive Mac Rumors reader pointed out that by looking at OS X's System Profiler you can find out what GPU is being used: the active GPU will list the specs of the display it's driving: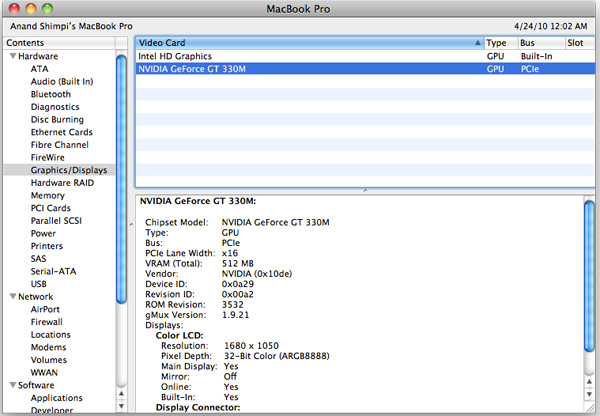 The inactive GPU will simply state that there's "No Display Connected". Start up Photoshop and you'll see the discrete GPU kick in, close it and you'll see Intel's HD Graphics take over.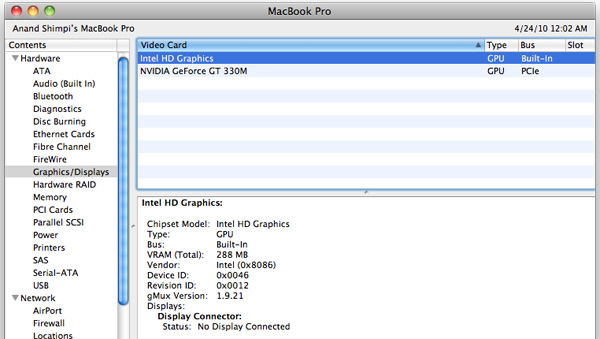 Readers of my first Month with a Mac article will know that one thing I quickly embraced about OS X was the idea of just leaving applications open. If you've got enough memory, OS X tends to do just fine with a ton of applications open. In fact, the UI is designed around it; closing all application windows rarely quits the app itself, Apple appears to want you to leave your frequently used apps open and idle. It makes switching between them that much faster. The fact that the new MacBook Pro's discrete GPU won't power down if you have an application like Photoshop open flies in the face of this leave-your-apps-open usage model.
So you've got to be mindful of what applications will trigger the discrete GPU to take over. That's not terribly hard, but there's just one problem: sometimes your web browser can wake up the dGPU. I've found numerous cases where Google Chrome will activate the discrete GPU, while our own Brian Klug found that Firefox did the same. I haven't extensively tested Safari to see if it has the same issue. I suspect this is a software bug, but it is one that lowers battery life in real world usage scenarios. The discrete GPU remains powered down in all of my OS X battery life tests, but I found that in my using the new MacBook Pro my battery ran down much quicker than I was expecting. Part of it is the potentially more power hungry Arrandale CPU, but part of it is the fact that the discrete GPU was active when it had no reason to be.
You'll still get better battery life compared to an older MacBook Pro, and you have the potential to get better battery life than last year's 2nd gen unibody MacBook Pro. But as I mentioned in our review, there's also the chance that you'll see lower battery life than the previous model. And as I've come to realize, that chance is higher than I originally thought because of the issues mentioned above. It's even higher if you opt for the Core i7 model...
Core i5 vs. Core i7 Battery Life
With access to the top-of-the-line Core i7 MacBook Pro, I decided to run comparative battery life tests between it and the entry level Core i5 system. The main difference is a higher clocked CPU and an extra MB of L3 cache. The i7 ends up being up to 15% faster than the i5, but at what detriment to battery life.
The results below echo what I've seen in real world usage. You generally lose a little under 10% battery life when you opt for the Core i7 MacBook Pro vs. the entry level Core i5. You do gain more than that in performance, a noticeable increase in my opinion, but if you value battery life more than performance you're better off with the i5. If you're upgrading from the previous generation, you may actually see a real reduction in battery life depending on your workload if you go to the i7. Update: The Core i7 model we're testing also uses the high res display, which should consume more power than the low res standard display. The difference in battery life isn't just due to the CPUs but the display as well.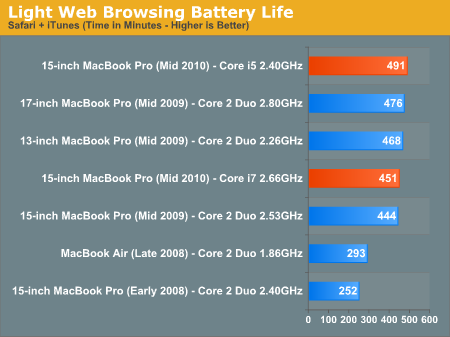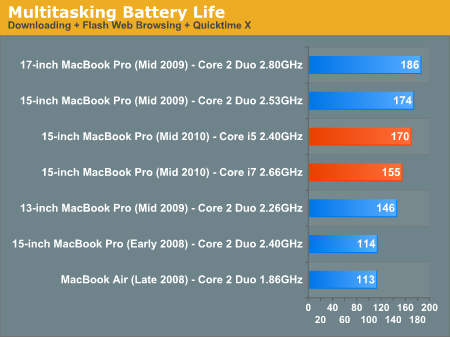 Note that your mileage may vary considerably here. Years ago Intel started shipping its processor families with a range of core voltage options. Two 2.66GHz Core i7s may run at wildly different core voltages, which would ultimately impact battery life. It's possible that I got a particularly bad Core i7 (or particularly good Core i5) and that you'll see a different gap than I did.
I also ran the i7 system in the rest of our Apple battery life suite.
XviD Video Playback
I ripped The Dark Knight to XviD and played it back continuously in QuickTime X with Perian installed. For this test the display was set to full brightess and audio was set at two bars below maximum. Once more the hard drive was allowed to go to sleep if it was idle. The AirPort (wireless LAN) was enabled and connected to a local access point less than 20 feet away.
XviD playback actually demonstrates our largest improvement in battery life over the previous generation. If you've got a MacBook Pro from just two years ago you'll have roughly twice the battery life with a new one.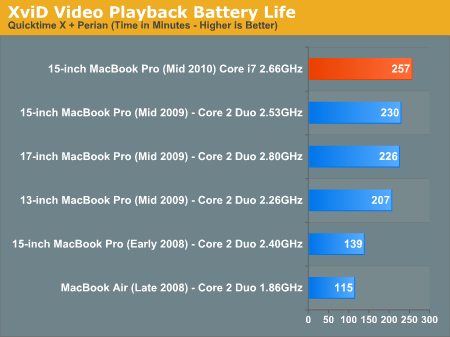 Flash Web Browsing
The test here has three Safari windows open, each browsing a set of web pages with between 1 - 4 animated flash ads per page, at the same time. Each page forwards onto the next after about 20 seconds.
As always, the display is set to 50% brightness, audio at two bars, screensaver disabled and the hard drive is allowed to go to sleep if idle. The wireless connection is enabled and connected to a local access point less than 20 feet away.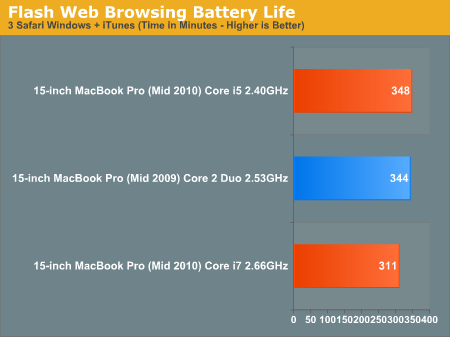 Heavy flash web browsing is effectively no better on the new MacBook Pro compared to the old one. If you opt for the Core i7, you'll actually take a hit compared to the older MacBook Pro. You might be wondering why we don't have more historical data for our Flash web browsing battery life test. I'm glad you asked...
Snow Leopard Battery Life Issues with Flash: Fixed
Snow Leopard brought forth 64-bit versions of many Apple applications. Finder, TextEdit and Safari (among others) could now run in x86-64 mode. However, last year I found that browsing websites that used Flash with 64-bit Safari dropped battery life by over 40% in Snow Leopard compared to 32-bit Safari in Leopard. To fix the problem you had to force Safari to launch in 32-bit mode.
While Apple never recognized the problem nor discussed why it happened to begin with, it appears that it's since been addressed in OS X 10.6.3. The results below tell all:
Snow Leopard Battery Life Improvement
Flash Web Browsing Battery Life
OS X 10.6.1
OS X 10.6.3
15-inch MacBook Pro (Mid 2009) - Core 2 Duo 2.53GHz
277 minutes
344 minutes
Flash web browsing battery life improved tremendously from the original release of Snow Leopard. While it's still not as high as in Leopard, it's a definite improvement.
Windows 7 Battery Life
A handful of users asked that I look at battery life under Windows 7. Being your humble servant, I of course obliged. I attempted to recreate my OS X benchmarks under Windows 7 as best as possible, using Chrome and Windows Media Player in place of Safari and iTunes of course. You can't draw any conclusions about OS X vs. Windows 7 battery life from these numbers however. As I mentioned in the original review, under Windows 7 the MacBook Pro keeps the discrete GPU enabled 100% of the time. There's no way to shut it off. Battery life will inevitably be lower than OS X.
Windows 7 Battery Life
Light Web Browsing
Flash Web Browsing
XviD Playback
15-inch MacBook Pro (Mid 2010) - Core i7 2.66GHz
255 minutes
255 minutes
153 minutes
It appears that the dGPU being on all the time is the reason we can't get better browser battery life regardless of workload. The XviD playback test also takes a hit compared to OS X thanks to the discrete GPU. In our previous articles we found OS X to be roughly equal to Windows 7 in XviD battery life.
High Resolution, Matte Display: Tested
For creative professionals and digital photography or videography enthusiasts alike, LCD quality of the MacBook Pro is a huge consideration. Luckily, Apple delivers in this department.
Apple thankfully provides matte high resolution display options for both the 15" and 17" MacBook Pros. If you're partial to glossy displays, there's also a glossy high resolution display option available online, though it isn't one of the SKUs that will be stocked in Apple retail stores - you'll have to order it online.
Since many creative professionals likely will seek the matte option (and because it's the only high resolution display option available in-store), we chose to do monitor profiling and analysis with this particular model. On the surface, very little has changed, the display itself still substitutes the black glass bezel for an aluminum one. The LCD sits inset from the aluminum bezel about a millimeter, diminishing the chances of your keyboard smudging and scratching up the display like what was so endemic with the pre-unibody design.
15-inch 2010 MacBook Pro 6,2 Core i7

Matte High Resolution Display Option

Panel Type
TN (Samsung LTN154MT07)
Pixel Pitch
0.197mm
Viewable Size
15.4 diagonal
Resolution
1680 x 1050 (WSXGA+)
Screen Treatment
Matte (anti-glare)
The first thing that strikes you about the 2010 MacBook Pro LCD is how bright it is. As we'll show in a minute, it's the brightest LCD we've tested, thanks in part to its WLED backlighting. While the color gamut is only above average, Delta E tracking is also very good.
For these tests, we used ColorEyes Display Pro with an X-Rite Eye-One Display 2 colorimeter. I originally tested at maximum brightness, and then at precisely 200 nits of luminance. The black level down below is given at maximum brightness. Interestingly enough, Delta E tracking and color accuracy remains largely the same at both settings.
Another note I'll leave you with is that although using a calibration tool is still an absolute must for the best monitor performance, Apple's display profile that ships with OS X is surprisingly good. Out of box, the display's white point was almost exactly 6500K, and the LUT curves subjectively nearly matched those that eventually resulted after calibration. Color tracking and Delta E weren't good, but subjectively the display looked good.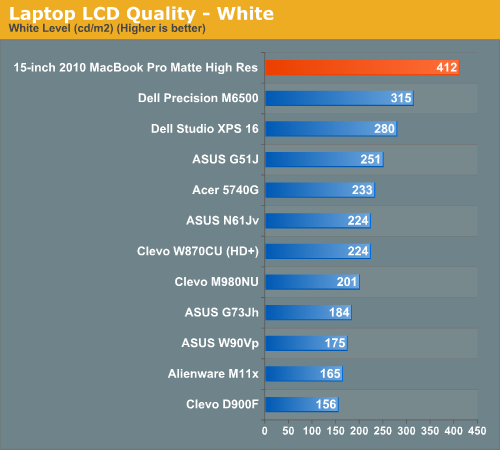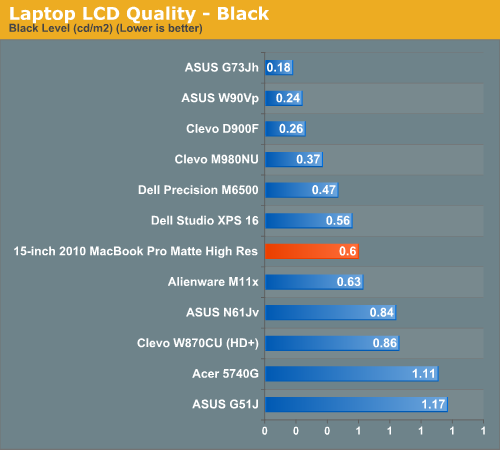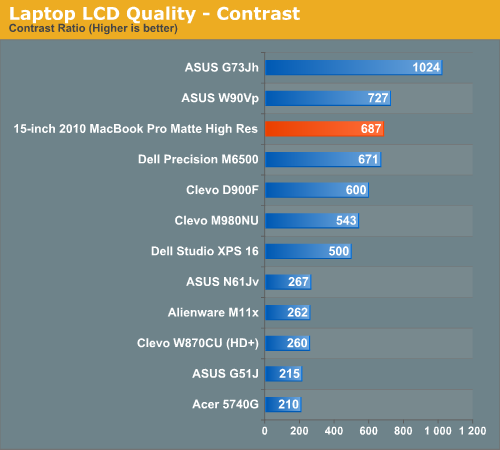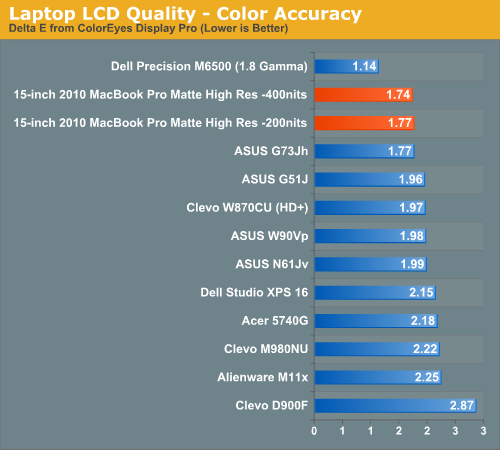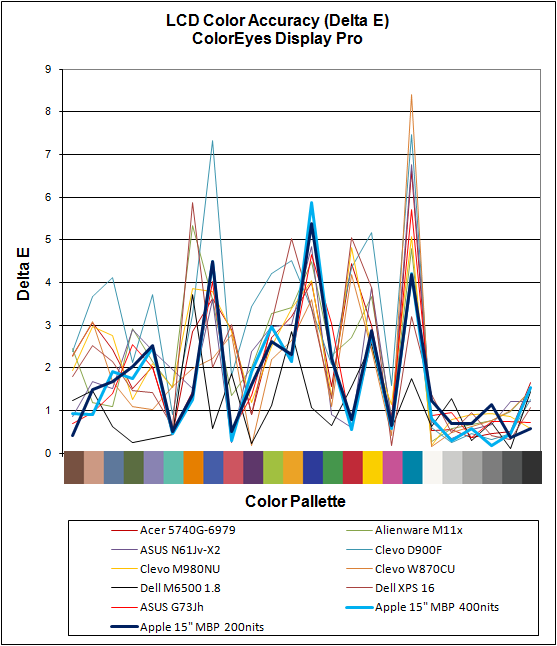 The LED backlight Apple uses in the display still isn't RGB LED, so color gamut isn't anything spectacular, but it isn't bad either. Performance is average, but what we get is both expected and pretty good for this class of LED backlit notebook displays.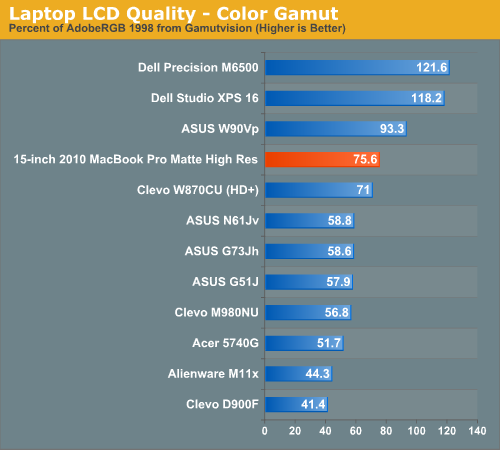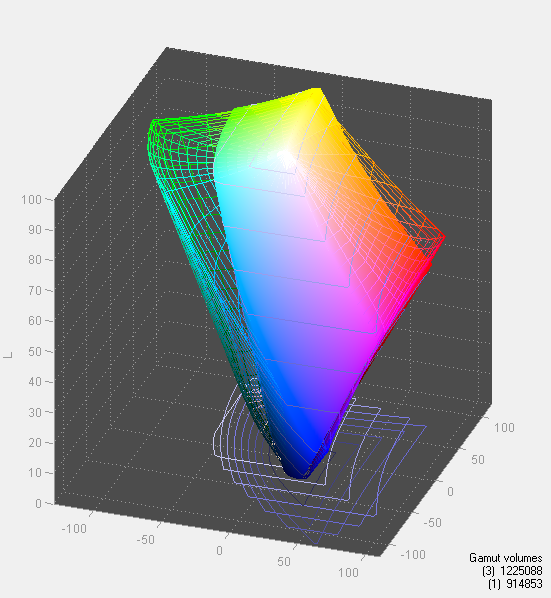 Display uniformity is very good; there is virtually no distracting light leakage from any of the displays. In addition, black level is very good throughout. The viewing angles remain largely what you'd expect from any TN panel in its class. There isn't an overwhelming amount of color shift when viewing the monitor at horizontal angles. Vertical is another story - there's a tight range of vertical angles over which the color shift is negligible.
The performance we get with the MacBook Pro's display is very good - but it still could be better. Among WLED backlit, TN packing notebook LCDs, it certainly shines out as one of the best options. That said, there's no reason this "Pro" notebook shouldn't see RGB LED backlighting and potentially even an IPS panel as options soon. Enthusiasts and professionals are more than willing to shell out the cash for large gamut LCDs on the desktop - why not on the notebook? It's obvious that Apple isn't averse to IPS panels, especially considering the iPad.
Outdoor Glare - To Matte or Not to Matte
You're going to think something is wrong with me, but I actually prefer the glossy display of the MacBook Pro to the optional matte display. I rarely use my machine outdoors and the glossy display just looks nicer to me. The picture just looks punchier and more contrasty.
In Apple stores around the country however is an ultra high end preconfigured option: a 15-inch MacBook Pro with a high resolution, matte display. The higher resolution is something I applauded Apple for offering in the original review. The matte option however is an answer to a question I never personally asked.
Having a chance to use the high res matte display I'm going to have to stick to my original take on it. If you use the machine primarily indoors or outdoors but not in direct sunlight, go for the glossy display. The matte option really only makes sense if you plan on using it a lot outdoors in overwhelmingly sunny conditions.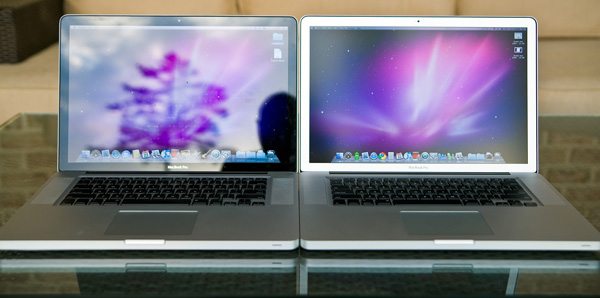 As expected, glare outside isn't overwhelming like it has the potential to be with the glossy display. In direct sunlight, it's still occasionally difficult to read, even given the display's very high brightness. In the shade, however, it's very readable.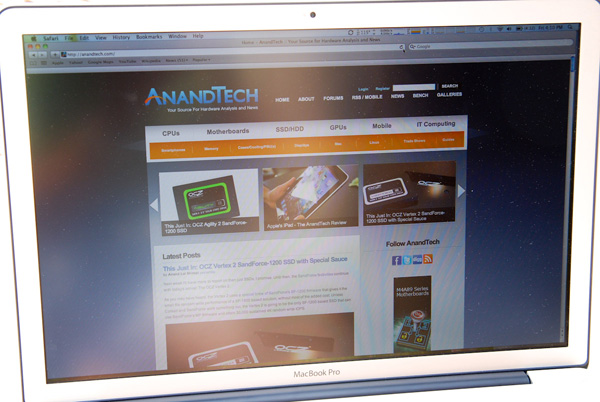 On the other hand, if your primary use scenario is indoors, there's relatively little to gain so long as the occasional glare doesn't distract. In practice, it's continually changing glare from people moving behind you, or perhaps cars driving by while you work at a cafe, that has the largest potential for frustration with the glossy display. The matte option doesn't eliminate it entirely, but mitigates most of the distraction.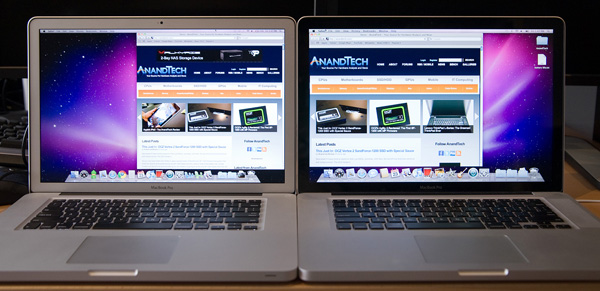 The high resolution display is nice for productivity. You can fit more or larger windows on your desktop than you can with the default 1440 x 900 display. It's not a huge increase in desktop resolution but it is nice.
It does make reading a bit more challenging thanks to the higher PPI of the display. For me personally it's on the borderline. I do appreciate the extra desktop space, but I feel like browsing the web and reading is easier on the standard res screen. Perhaps the right balance is to use this for work and an iPad for leisurely consumption. Just kidding :)
I'd definitely recommend spending some time using the two screens in person before marrying one.
Final Words
For the most part, our conclusions about the 2010 15-inch Macbook Pro remain true. If you're using an older MacBook Pro, the upgrade is well worth it. You'll see a sizable performance boost and an increase in battery life as well. It's only compared to the previous generation unibody MacBook Pro that you'll find the upgrade tougher to justify. Not to mention the finicky switchable graphics and potentially more power hungry CPU can make real world battery life closer to the 4 - 6 hour range rather than the almost guaranteed 5+ hours you'd see on the previous generation.
If you properly manage when the discrete GPU is running (I smell a widget in the making), you can still see a tangible increase in battery life. It's when you're doing a lot of work or miss an application launching that turns on the dGPU that you'll come away disappointed. Granted we're still talking about great battery life given the size/performance of the notebook, it'd just be better if we could completely disable the discrete GPU.
As far as the glossy vs. matte, high vs. low res display options go. It depends on how good your eyesight is. Personally I'd opt for the high res, glossy setup. If I spent more time writing outdoors I'd probably go for the matte option. I also find that when my eyes are tired it's more difficult to read/write on the high res panel compared to the standard 1440 x 900 display.