Original Link: http://www.anandtech.com/show/3656/corsairs-force-ssd-reviewed-sf1200-is-very-good


Update: Random write performance of the drive we reviewed may change with future firmware updates. Click here to find out more.
Corsair's late entry into the SSD market meant that it missed the JMicron mess of the early days, but it also meant that Corsair missed the bulk of the early Indilinx boat. Not interested in making the same mistake twice, Corsair took the same risk as many other SSD makers and got in bed with a little company called SandForce.
Widely believed to be the creator of the technology behind Seagate's first SSD, SandForce has been popping up all over the place lately. We first encountered the company late last year with a preview of OCZ's Vertex 2 Pro. SandForce's technology seemed promising.
The problem of maintaining SSD performance is a lot like keeping a room tidy and clean. If you make sure to put things in the right place the first time and don't let dirt accumulate, you'll end up with an organized, pristine looking room. However if you just throw your stuff around and let stains go untouched, you'll spend a lot more time looking for things and probably end up ruining the place.
The same holds true for SSDs. If the controller doesn't properly place data it'll take longer to place new data. And if the controller doesn't properly wear level, you'll end up reducing the life of the drive.
I've explained the how behind all of this countless times before, so I'll spare you the details here. Needless to say, it's a juggling act. One that requires a fast enough controller, a large amount of fast storage (whether it is on-die cache or off-chip DRAM) and a good algorithm for managing all the data that gets thrown at it.
At a high level Crucial/Micron, Indilinx and Intel take a relatively similar approach to the problem. They do the best with the data they're given. Some do better than others, but they ultimately take the data you write to the drive and try to make the best decisions as to where to put it.
SandForce takes a different approach. Instead of worrying about where to place a lot of data, it looks at ways to reduce the amount of data being written. Using a combination of techniques akin to lossless data compression and data deduplication, SandForce's controllers attempt to write less to the NAND than their competitors. By writing less, the amount of management and juggling you have to do goes down tremendously. SandForce calls this its DuraWrite technology.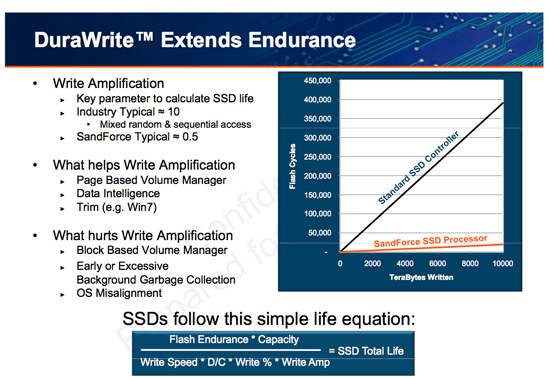 DuraWrite isn't perfect. If you write a lot of highly compressed or purely random data, the algorithms won't be able to do much to reduce the amount of data you write. For most desktop uses, this shouldn't be a problem however.
Despite the obvious achilles' heel, SandForce's technology was originally designed for use in the enterprise market. This lends credibility to the theory that SandForce was Seagate's partner of choice for Pulsar. With enterprise roots, SandForce's controllers and firmware are designed to support larger-than-normal amounts of spare area. As you may remember from our earlier articles, there's a correlation between the amount of spare area you give a dynamic controller and overall performance. You obviously lose usable capacity, but it helps keep performance high. SandForce indicates that eventually we'll see cheaper consumer drives with less NAND set aside as spare area, but for now a 128GB SandForce drive only gives you around 93GB of actual storage space.
Introducing the SF-1200
The long winded recap brings us to our new friend. The Vertex 2 Pro I previewed last year used a full fledged SF-1500 implementation, complete with ridiculously expensive supercap on board. SandForce indicated that the SF-1200 would be more reasonably priced, at the expense of a performance hit. In between the two was what we got with OCZ's Vertex Limited Edition. OCZ scored a limited supply of early controllers that didn't have the full SF-1500 feature set, but were supposedly better than the SF-1200.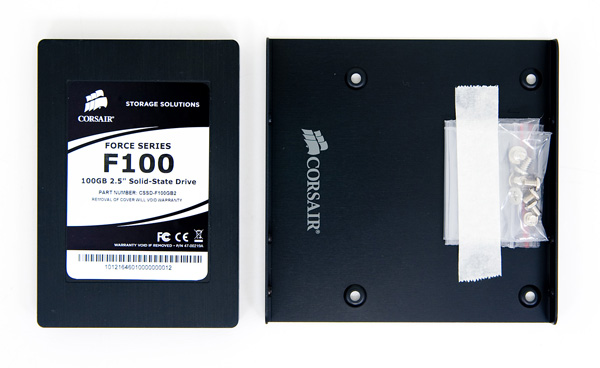 Today we have Corsair's Force drive, its new performance flagship based on the SF-1200. Here's what SandForce lists as the differences between the SF-1500 and SF-1200:
SandForce Controller Comparison
SF-1200
SF-1500
Flash Memory Support
MLC
MLC or SLC
Power Consumption
550 mW (typical)
950 mW (typical)
Sequential Read/Write Performance (128KB)
260 MB/s
260 MB/s
Random Read/Write Performance (4K)
30K/10K IOPS
30K/30K IOPS
Security
128-bit AES Data Encryption, Optional Disk Password
128-bit AES Data Encryption, User Selectable Encryption Key
Unrecoverable Read Errors
Less than 1 sector per 1016 bits read
Less than 1 sector per 1017 bits read
MTTF
2,000,000 operating hours
10,000,000 operating hours
Reliability
5 year customer life cycle
5 year enterprise life cycle
The Mean Time To Failure numbers are absurd. We're talking about the difference between 228 years and over 1100 years. I'd say any number that outlasts the potential mean time to failure of our current society is pretty worthless. Both the SF-1200 and SF-1500 are rated for 5 year useful lifespans, the difference is that SandForce says the SF-1200 can last for 5 years under a "customer" workload vs. an enterprise workload for the SF-1500. Translation? The SF-1500 can handle workloads with more random writes for longer.
The SF-1500 also appears to be less error prone, but that's difficult to quantify in terms of real world reliability. The chip sizes are identical, although the SF-1500 draws considerably more power. If I had to guess I'd say the two chips are probably the same with the differences amounting to be mostly firmware, binning and perhaps fusing off some internal blocks. Maintaining multiple die masks is an expensive task, not something a relative newcomer would want to do.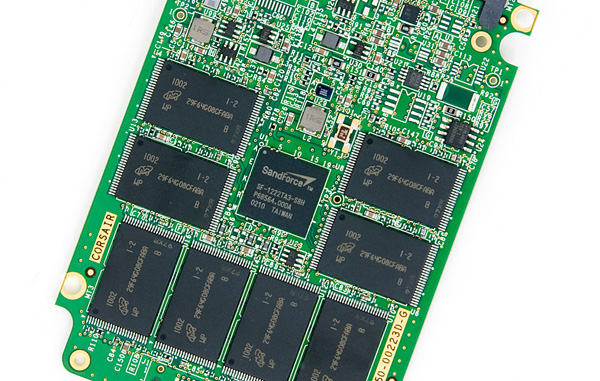 Note the lack of any external DRAM. Writing less means tracking less, which means no external DRAM is necessary.
Regardless of the difference, the SF-1200 is what Corsair settled on for the Force. Designed to be a high end consumer drive, the Force carries a high end price. Despite it's 100GB capacity there's actually 128GB of NAND on the drive, the extra is simply used as spare area for block recycling by the controller. If we look at cost per actual GB on the drive, the Force doesn't look half bad:
SandForce Controller Comparison
Drive
NAND Capacity
User Capacity
Drive Cost
Cost per GB of NAND
Cost per Usable GB
Corsair Force
128GB
93.1GB
$410
$3.203
$4.403
Corsair Nova
128GB
119.2GB
$369
$2.882
$3.096
Crucial RealSSD C300
256GB
238.4GB
$680
$2.656
$2.852
Intel X25-M G2
160GB
149.0GB
$489
$3.056
$3.282
OCZ Vertex LE
128GB
93.1GB
$394
$3.078
$4.232
But looking at cost per user addressable GB isn't quite as pretty. It's a full $1.12 more per GB than Intel's X25-M G2. It's also a bit more expensive than OCZ's Vertex LE, although things could change once Corsair starts shipping more of these drives.
Power - A Telling Story
I'm quietly expanding our SSD test suite. I haven't made the results public but you'll see them in the coming months appear in articles and in Bench. One of my tests happens to be a power consumption test where I measure how much power the drive itself requires during a few scenarios. The results with the SandForce SSDs in particular were fascinating enough for me to unveil some of these numbers a bit earlier than I'd originally planned.
In an SSD you have two main consumers of power: the controller, any external DRAM and the NAND. Now as long as you're not bound by the speed of the controller, the biggest consumer of power should be the NAND itself. Now here's where things get interesting. SandForce's DuraWrite technology should mean that there's far less writing to NAND going on in the Corsair Force drive compared to more conventional SSDs. Unless the controller consumes an absurd amount of power, we should see this reflected in the power numbers.
Note that I am not running with Device Initiated Power Management enabled, which is disabled by default in desktop installations of Windows. Power consumption in a notebook will be lower on drives that support it but I'll save that for another article.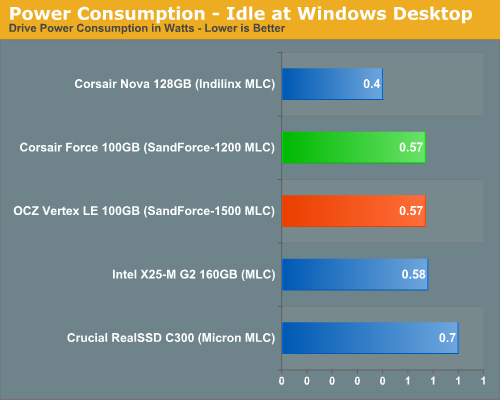 At idle the two SF drives and Intel's X25-M G2 consume roughly the same power. Crucial's C300 is a bit more power hungry while the Indilinx based Nova is noticeably lower.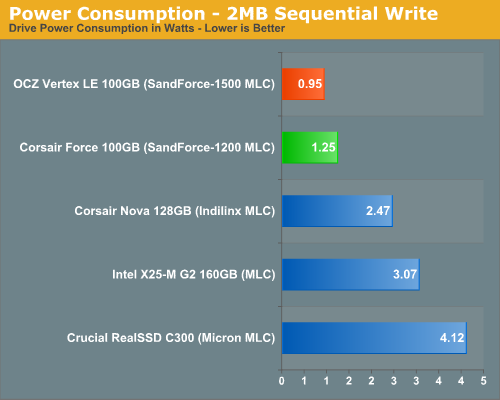 The highest power draw scenario is a sequential write test. The NAND is being written to as quickly as possible and thus power consumption is at its highest. Here we have proven our hypothesis. The SandForce drives are writing less than the competition and thus their power consumption is less than half of the Intel and Crucial drives. Based on the power numbers alone I'd say that SandForce's compression is working extremely well in this test possibly only writing about half as much data to the NAND itself. In practice this means the controller has less to track, the NAND has a longer lifespan and performance is very competitive.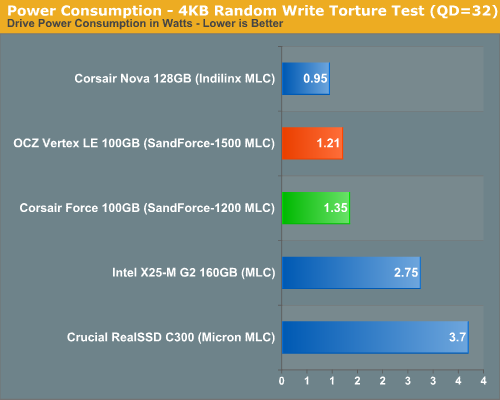 In our random write test, the power gap between the SF and Intel drives narrows but not tremendously. The Indilinx drive actually beats out the SF offerings but I have a feeling that's because we're actually more controller bound here and the data just isn't getting out to NAND.
Another curious observation is the fact that the SF-1200 based Corsair Force actually draws more power than OCZ's Vertex LE. It's not noticeable in real world desktop use, but it's odd. I wonder if the SF-1200s are really just higher yielding/lower binned SF-1500s? Perhaps they draw more power as a result?
The Test
| | |
| --- | --- |
| CPU | Intel Core i7 965 running at 3.2GHz (Turbo & EIST Disabled) |
| Motherboard: | Intel DX58SO (Intel X58) |
| Chipset: | Intel X58 + Marvell SATA 6Gbps PCIe |
| Chipset Drivers: | Intel 9.1.1.1015 + Intel IMSM 8.9 |
| Memory: | Qimonda DDR3-1333 4 x 1GB (7-7-7-20) |
| Video Card: | eVGA GeForce GTX 285 |
| Video Drivers: | NVIDIA ForceWare 190.38 64-bit |
| Desktop Resolution: | 1920 x 1200 |
| OS: | Windows 7 x64 |
Sequential Read/Write Speed
Using the 6-22-2008 build of Iometer I ran a 3 minute long 2MB sequential test over the entire span of the drive. The results reported are in average MB/s over the entire test length:
I'll go ahead and ruin the surprise right now - in the synthetic tests, you can't tell the difference between the Vertex LE and Corsair's Force drive. The two are identical performers. And it's not a bad thing, because they're both among the best.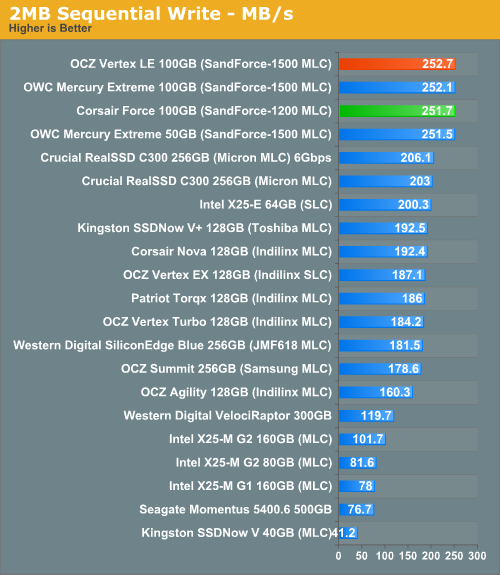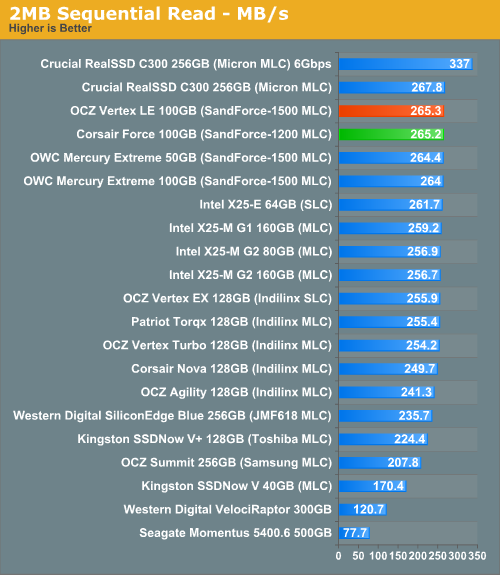 Random Read/Write Speed
This test reads/writes 4KB in a completely random pattern over an 8GB space of the drive to simulate the sort of random access that you'd see on an OS drive (even this is more stressful than a normal desktop user would see). I perform three concurrent IOs and run the test for 3 minutes. The results reported are in average MB/s over the entire time.
I've had to run this test two different ways thanks to the way the newer controllers handle write alignment. Without a manually aligned partition, Windows XP executes writes on sector aligned boundaries while most modern OSes write with 4K alignment. Some controllers take this into account when mapping LBAs to page addresses, which generates additional overhead but makes for relatively similar performance regardless of OS/partition alignment. Other controllers skip the management overhead and just perform worse under Windows XP without partition alignment as file system writes are not automatically aligned with the SSD's internal pages.
First up is my traditional 4KB random write test, each write here is aligned to 512-byte sectors, similar to how Windows XP might write data to a drive:
Update: Random write performance of the drive we reviewed may change with future firmware updates. Read here to find out more.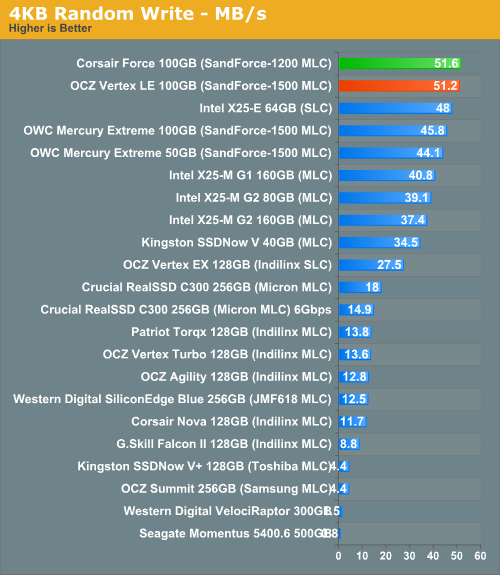 Again, we have the Force and Vertex LE running shoulder to shoulder. The situation doesn't change at all when we look at 4K aligned writes (similar to how Windows 7/OS X 10.5/6 would behave):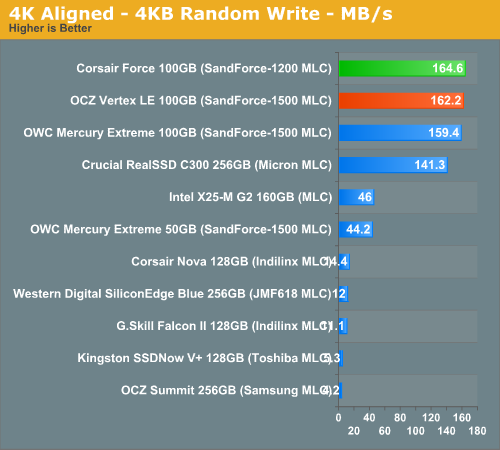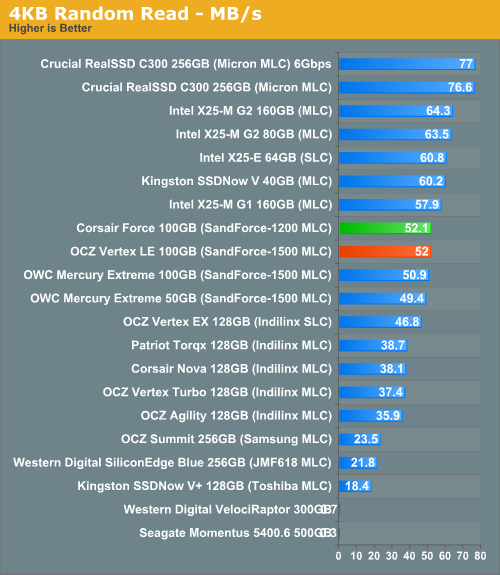 Random read speed rounds out our tests and shows us no difference between the SF-1200 and earlier SF-1500 derived SSDs.
Overall System Performance using PCMark Vantage
Next up is PCMark Vantage, another system-wide performance suite. For those of you who aren't familiar with PCMark Vantage, it ends up being the most real-world-like hard drive test I can come up with. It runs things like application launches, file searches, web browsing, contacts searching, video playback, photo editing and other completely mundane but real-world tasks. I've described the benchmark in great detail before but if you'd like to read up on what it does in particular, take a look at Futuremark's whitepaper on the benchmark; it's not perfect, but it's good enough to be a member of a comprehensive storage benchmark suite. Any performance impacts here would most likely be reflected in the real world.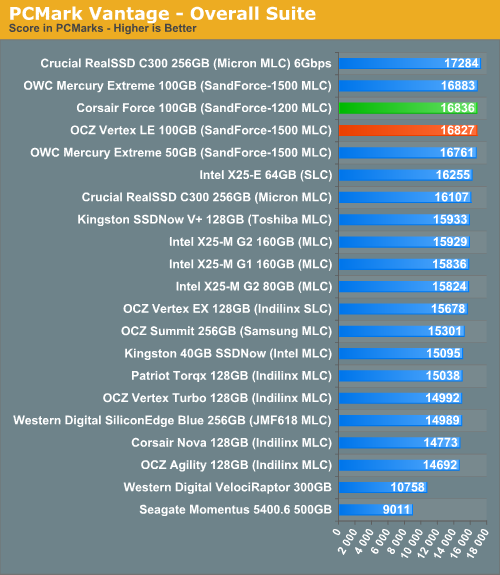 Real world performance is very competitive. Corsair's Force is easily in the top 3 for best performing SSDs on the market today.
The memories suite includes a test involving importing pictures into Windows Photo Gallery and editing them, a fairly benign task that easily falls into the category of being very influenced by disk performance.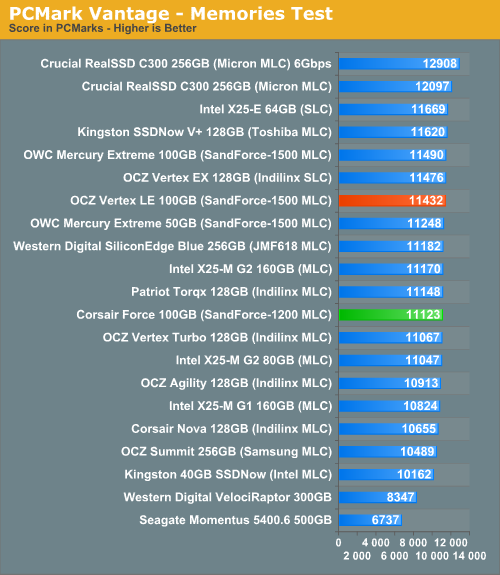 The TV and Movies tests focus on on video transcoding which is mostly CPU bound, but one of the tests involves Windows Media Center which tends to be disk bound.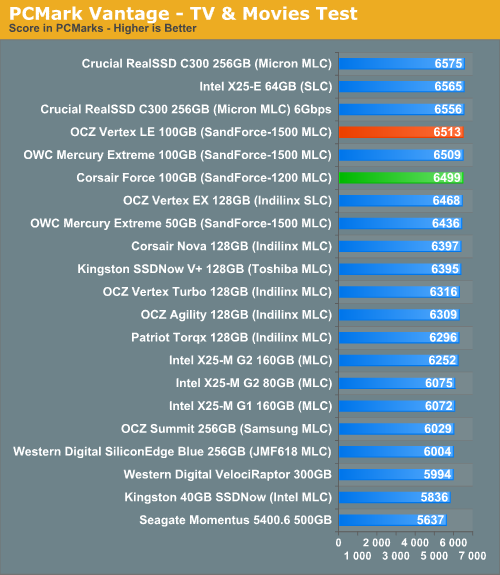 The gaming tests are very well suited to SSDs since they spend a good portion of their time focusing on reading textures and loading level data. All of the SSDs dominate here, but as you'll see later on in my gaming tests the benefits of an SSD really vary depending on the game. Take these results as a best case scenario of what can happen, not the norm.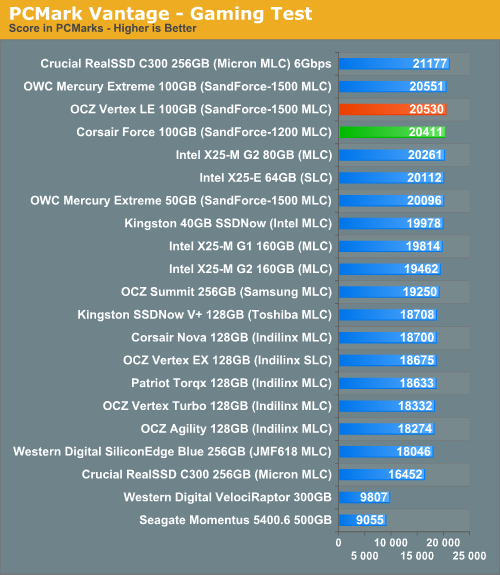 In the Music suite the main test is a multitasking scenario: the test simulates surfing the web in IE7, transcoding an audio file and adding music to Windows Media Player (the most disk intensive portion of the test).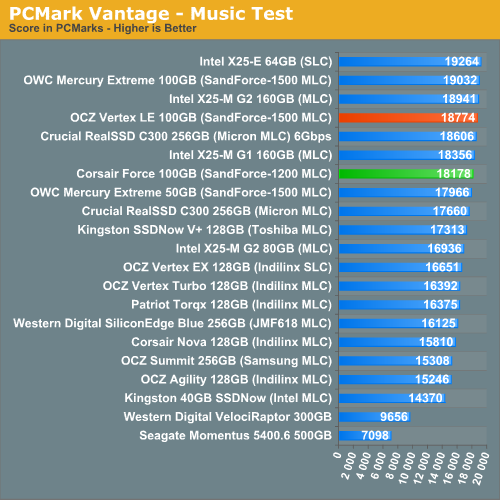 The Communications suite is made up of two tests, both involving light multitasking. The first test simulates data encryption/decryption while running message rules in Windows Mail. The second test simulates web surfing (including opening/closing tabs) in IE7, data decryption and running Windows Defender.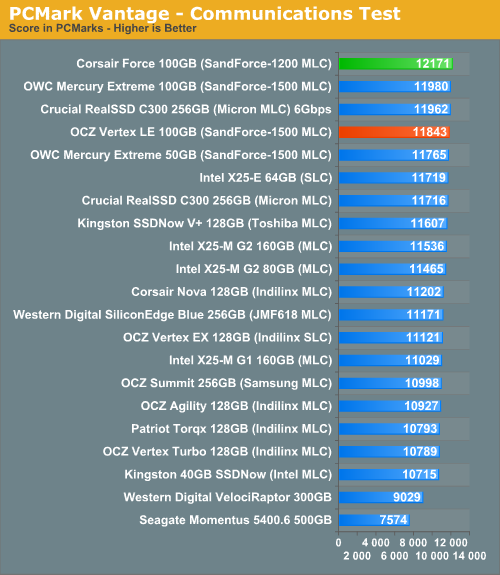 I love PCMark's Productivity test; in this test there are four tasks going on at once, searching through Windows contacts, searching through Windows Mail, browsing multiple webpages in IE7 and loading applications. This is as real world of a scenario as you get and it happens to be representative of one of the most frustrating HDD usage models - trying to do multiple things at once. There's nothing more annoying than trying to launch a simple application while you're doing other things in the background and have the load take forever.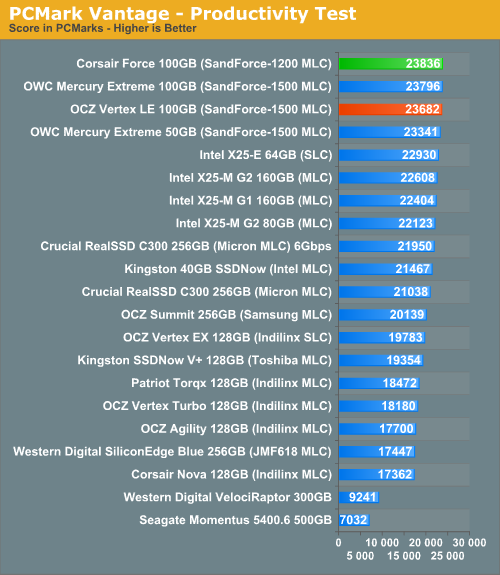 The final PCMark Vantage suite is HDD specific and this is where you'll see the biggest differences between the drives: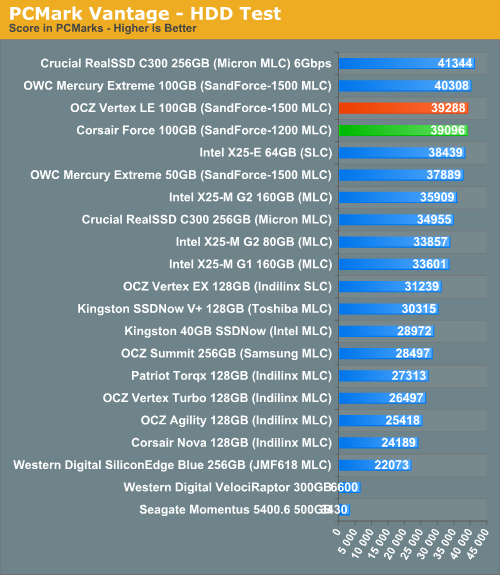 AnandTech Storage Bench
Note that our 6Gbps controller driver isn't supported by our custom storage bench here, so the C300 results are only offered in 3Gbps mode.
The first in our benchmark suite is a light usage case. The Windows 7 system is loaded with Firefox, Office 2007 and Adobe Reader among other applications. With Firefox we browse web pages like Facebook, AnandTech, Digg and other sites. Outlook is also running and we use it to check emails, create and send a message with a PDF attachment. Adobe Reader is used to view some PDFs. Excel 2007 is used to create a spreadsheet, graphs and save the document. The same goes for Word 2007. We open and step through a presentation in PowerPoint 2007 received as an email attachment before saving it to the desktop. Finally we watch a bit of a Firefly episode in Windows Media Player 11.
There's some level of multitasking going on here but it's not unreasonable by any means. Generally the application tasks proceed linearly, with the exception of things like web browsing which may happen in between one of the other tasks.
The recording is played back on all of our drives here today. Remember that we're isolating disk performance, all we're doing is playing back every single disk access that happened in that ~5 minute period of usage. The light workload is composed of 37,501 reads and 20,268 writes. Over 30% of the IOs are 4KB, 11% are 16KB, 22% are 32KB and approximately 13% are 64KB in size. Less than 30% of the operations are absolutely sequential in nature. Average queue depth is 6.09 IOs.
The performance results are reported in average I/O Operations per Second (IOPS):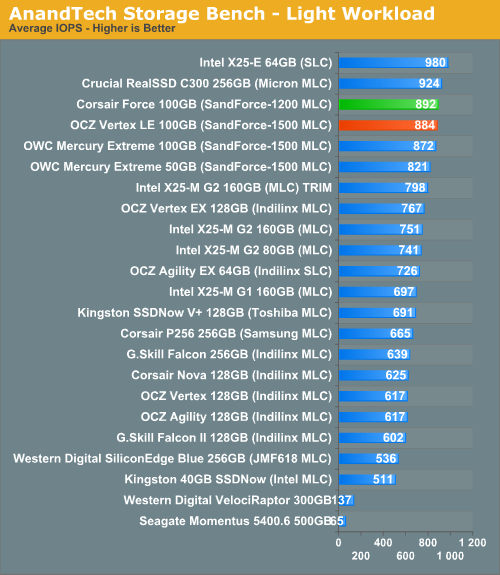 I've always loved the performance of SandForce's controllers, I've just been worried about their reliability. While we wait for the latter to prove itself over time, the performance is very good today. The Corsair Force is very competitive, as fast as any other SF drive and faster than nearly all other SSDs.
If there's a light usage case there's bound to be a heavy one. In this test we have Microsoft Security Essentials running in the background with real time virus scanning enabled. We also perform a quick scan in the middle of the test. Firefox, Outlook, Excel, Word and Powerpoint are all used the same as they were in the light test. We add Photoshop CS4 to the mix, opening a bunch of 12MP images, editing them, then saving them as highly compressed JPGs for web publishing. Windows 7's picture viewer is used to view a bunch of pictures on the hard drive. We use 7-zip to create and extract .7z archives. Downloading is also prominently featured in our heavy test; we download large files from the Internet during portions of the benchmark, as well as use uTorrent to grab a couple of torrents. Some of the applications in use are installed during the benchmark, Windows updates are also installed. Towards the end of the test we launch World of Warcraft, play for a few minutes, then delete the folder. This test also takes into account all of the disk accesses that happen while the OS is booting.
The benchmark is 22 minutes long and it consists of 128,895 read operations and 72,411 write operations. Roughly 44% of all IOs were sequential. Approximately 30% of all accesses were 4KB in size, 12% were 16KB in size, 14% were 32KB and 20% were 64KB. Average queue depth was 3.59.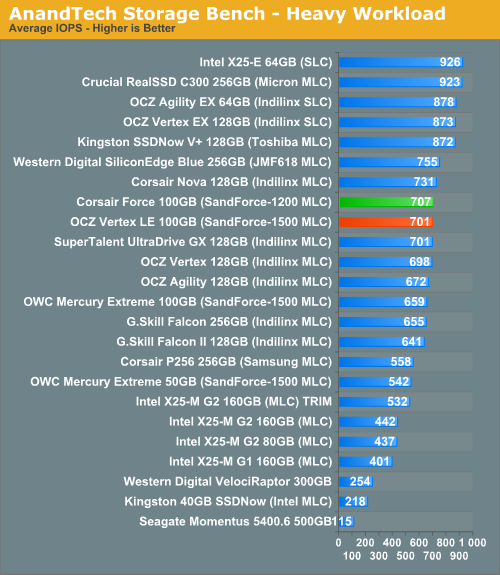 Once again, very little difference between Corsair's Force and OCZ's Vertex LE. SandForce's performance isn't as strong in our heavy downloading workload, the Corsair Nova (with the latest Indilinx firmware) actually does better.
The gaming workload is made up of 75,206 read operations and only 4,592 write operations. Only 20% of the accesses are 4KB in size, nearly 40% are 64KB and 20% are 32KB. A whopping 69% of the IOs are sequential, meaning this is predominantly a sequential read benchmark. The average queue depth is 7.76 IOs.
Here we're completely bound by read performance. I'm afraid the only way you'll get faster is via RAID or a 6Gbps controller in Crucial's case.
TRIM Performance
The SF-1200 fully supports TRIM and to test it out I peppered the Corsair Force drive with random writes and used HD Tach to look at sequential read/write speed across all LBAs of the used drive.
Remember we should be seeing sequential read/write performance of around 265/251 MB/s:
Performance is down, as you'd expect, but not to unbearable levels and it's also pretty consistent. While most drives will have worse write performance than read performance, if you look closely you'll see that read speed falls further than write speed. Perhaps all of the tracking overhead is making calculating and retrieving data more difficult? Remember that you can't just read data back from the SF drive since the full data isn't stored, you have to perform math on the stored data to retrieve what was actually written.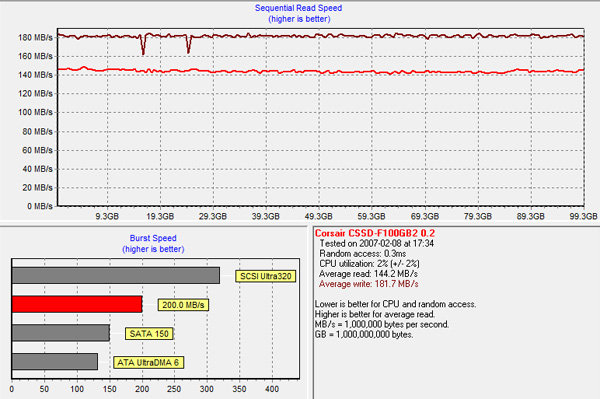 I then TRIMed the entire contents of the drive and re-ran the test: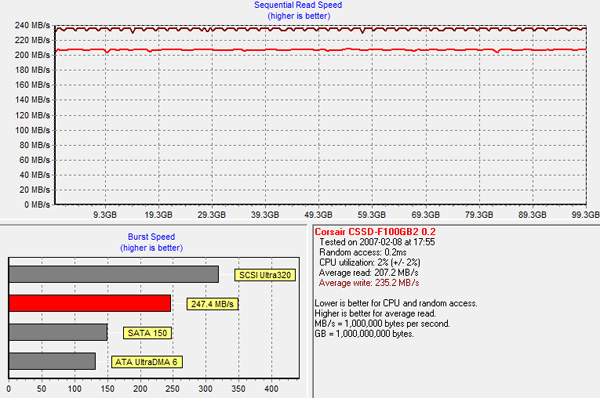 Performance looks better. It's not at peak performance yet (~78% of peak read speed, 93% of peak write speed) but TRIM appears to be working relatively aggressively. The SandForce controller is very resilient, especially when combined with TRIM. My only concern continues to be long term reliability of these drives.
Final Words
Update: Random write performance of the drive we reviewed may change with future firmware updates. Click here to find out more.
Well, so much for the SF-1200 being a slouch. From the looks of it, I'd say that what you're looking at is a binned SF-1500 that performs well enough for most client use. Corsair's Force delivers the exact same performance as OCZ's Vertex LE, which also makes it your best bet if you're looking for a single drive that offers better-than-Intel performance. Unfortunately you do pay for it. If you look at how much you're paying per usable GB of space, these SandForce drives carry a ~33% price premium over Intel's X25-M G2.
The Corsair Force drive should be resilient enough to maintain good performance regardless of desktop workload. SandForce's unique architecture means that read performance actually suffers more than write performance over time, thankfully you'll never be in a situation where you'll need to read back LBAs that have garbage data in them so this shouldn't be a problem.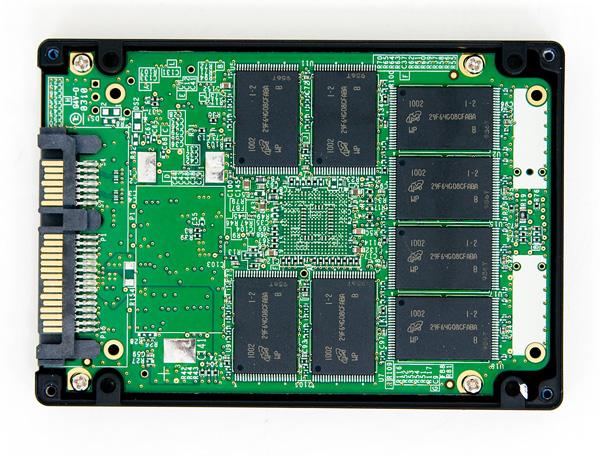 I really have no performance complaints about the SF-1200 or Corsair's Force drive. Both did very well in our tests. My concerns continue to be about long term reliability since we've only really seen these drives shipping in earnest for a couple of months now. If you're fine taking the risk, the performance is very nice. Otherwise I'd wait to see how these drives hold up over time before committing.